Beautyrest Black Brilliant Sun Crib Mattress Review
Your little sunshine will love sleeping on this beautiful and comfy crib mattress.
---
Mommyhood101 independently tests and curates baby gear to help you make informed decisions. If you buy products through links on our site, we may earn a commission.
The Beautyrest is one of the most popular and widely-know mattress brands of all time, and their crib mattress is no exception!
The Beautyrest Beginnings Black Brilliant Sun crib mattress is one of the most premium models from Simmons Kids, offering dual-firmness, a waterproof and stain resistant cover, Greenguard GOLD certification, gel memory foam, and a dense array of 190 pocketed coils.
We put it through our testing and came away with a reasonably positive impression! Rather than making you read through the entire article, here are the main things we liked and disliked about it:
✔️ Made in the USA.
✔️ Low VOC CertiPUR-US certified.
✔️ Greenguard GOLD.
✔️ Woven waterproof backing.
✔️ Blended cotton cover.
✔️ Good edge support.
✔️ Dual-firmness.
✔️ Pocketed (190) coil springs.
✔️ No chemical flame retardants.
✔️ Ships flat.
✔️ Reasonably priced.
❌ Polyurethane foam core.
❌ Extremely heavy.
❌ Mattress cover and sheet needed.
The Beautyrest Beginnings Black Brilliant Sun may not be the best crib mattress on the market, but it's definitely a front-runner of the best innerspring crib mattresses!
While you can certainly find a better crib mattress, it's unlikely you'll find a better innerspring crib mattress one for the same price point (around $170).
Overall, we give it a 4.1 out of 5! Click the below image to check prices at Amazon.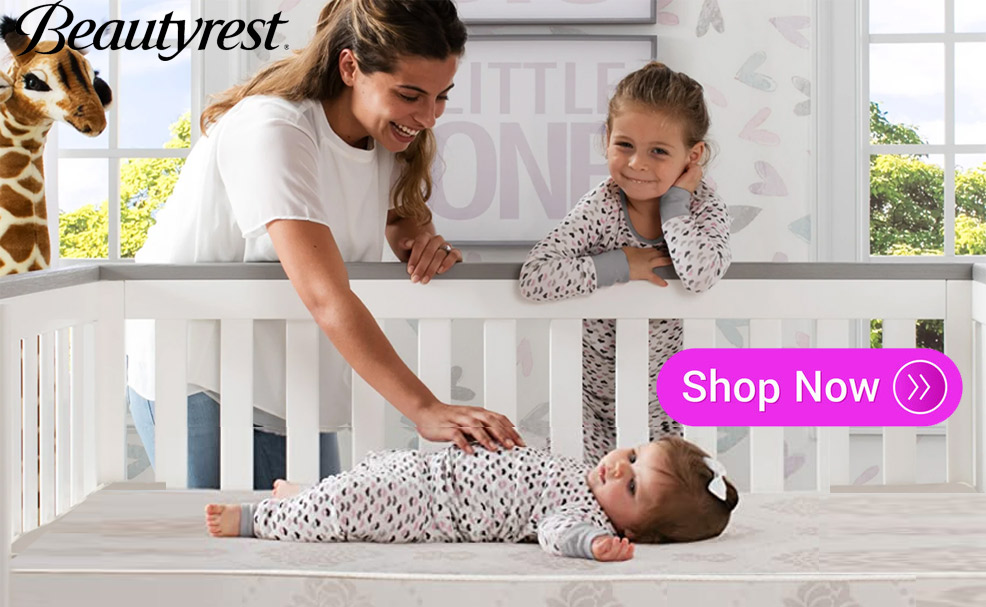 Want to learn a little more about this crib mattress? Keep reading!
Beautyrest Beginnings Black Brilliant Sun Review
For those of you unfamiliar with the vast line of Beautyrest mattresses, the Black models are some of the most luxurious options.
They include super supportive gel memory foam with an array of dense innersprings at the core.
The Beginnings Black models are very similar, offering high quality and a luxurious construction, but at a surprisingly reasonable price for a crib mattress.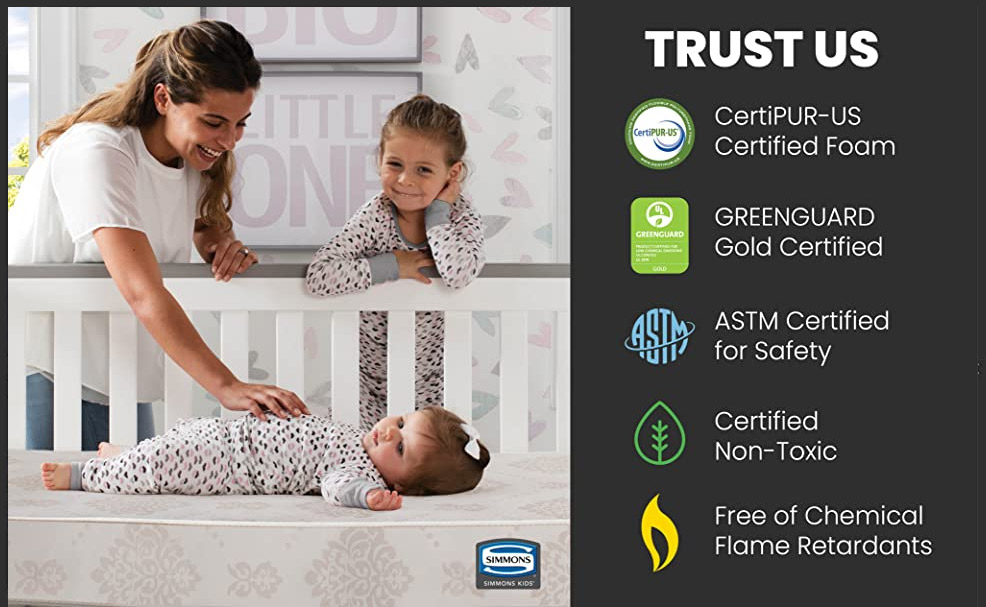 It has some great low VOC features and certifications, including Greenguard GOLD and CertiPUR-US.
It doesn't use any toxic chemical flame retardants, instead using a natural cotton fire protection layer that sits directly underneath the blended cotton cover.
That blended cotton cover is also waterproof and doesn't crinkle or make noise like traditional vinyl covers. It's not soft by any means, but you should always be using a sheet, if not a mattress cover and sheet.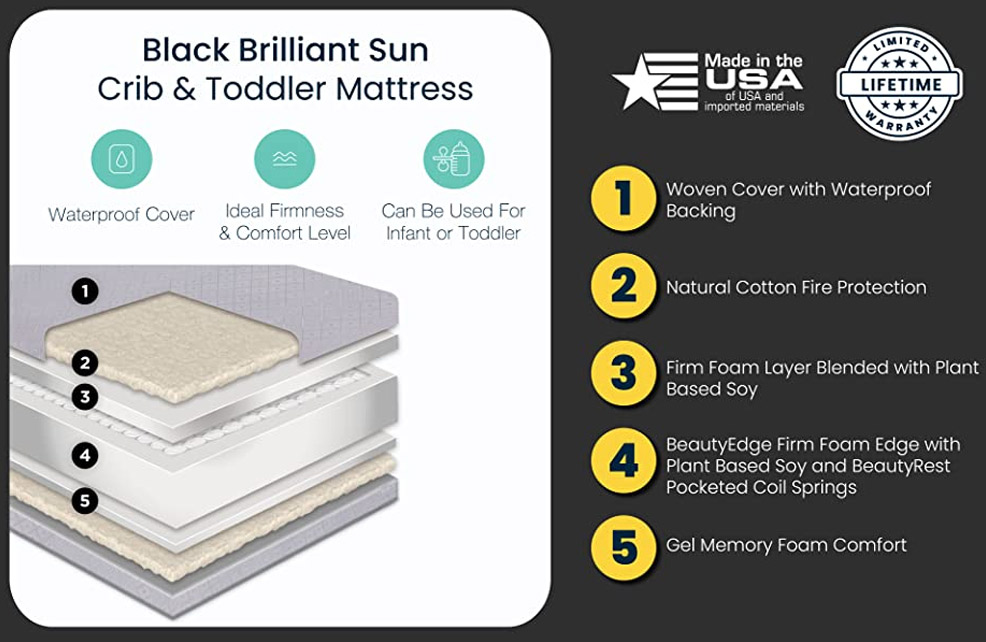 Underneath the cover and cotton fire protection layer, the infant side has a firm foam layer (blended with plant-based soy for extra cooling), then a thick layer of pocketed innerspring coils.
On the toddler side, underneath the cover and cotton fire protection layer there is super comfortable gel memory foam that your little one will absolutely love sleeping on!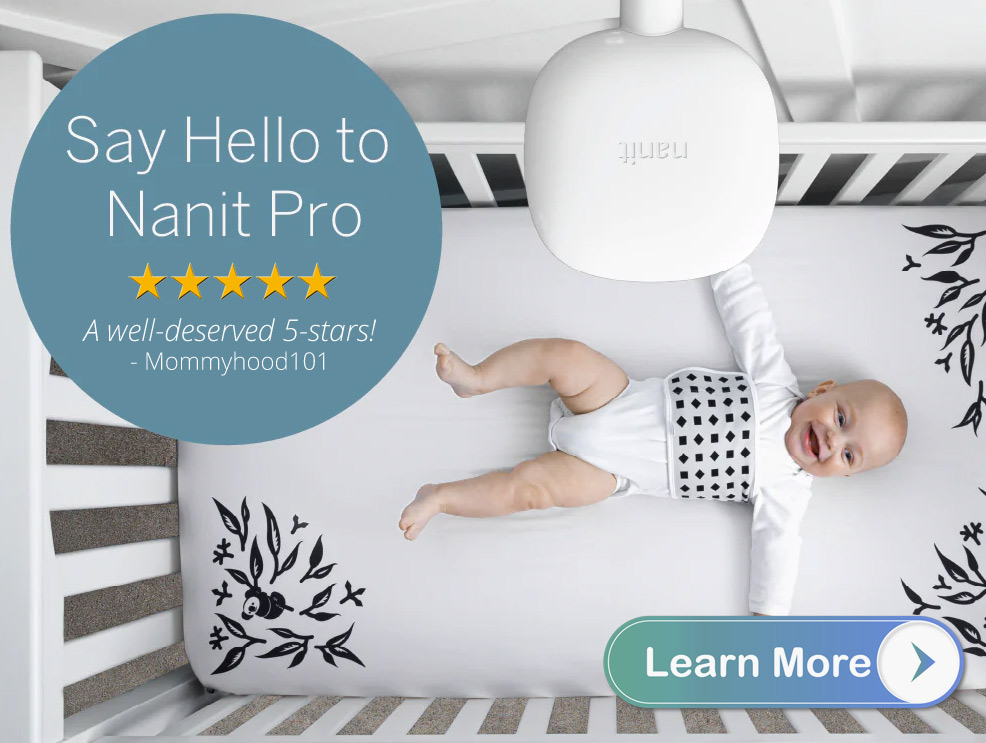 When we got our hands on it for testing, there were a few things we loved.
First, it shipped flat in a giant box, meaning that you don't need to wait for it to unroll and expand (like many foam crib mattresses).
Second, we didn't notice any off-gassing with this crib mattress, which is always reassuring.
Third, it was super heavy! Coming in at close to 20 pounds, it can be difficult to flip over or lift to change sheets.
Out of the box, we fit it easily into our DaVinci test crib without any issues. It fit very snugly along the sides and into the corners.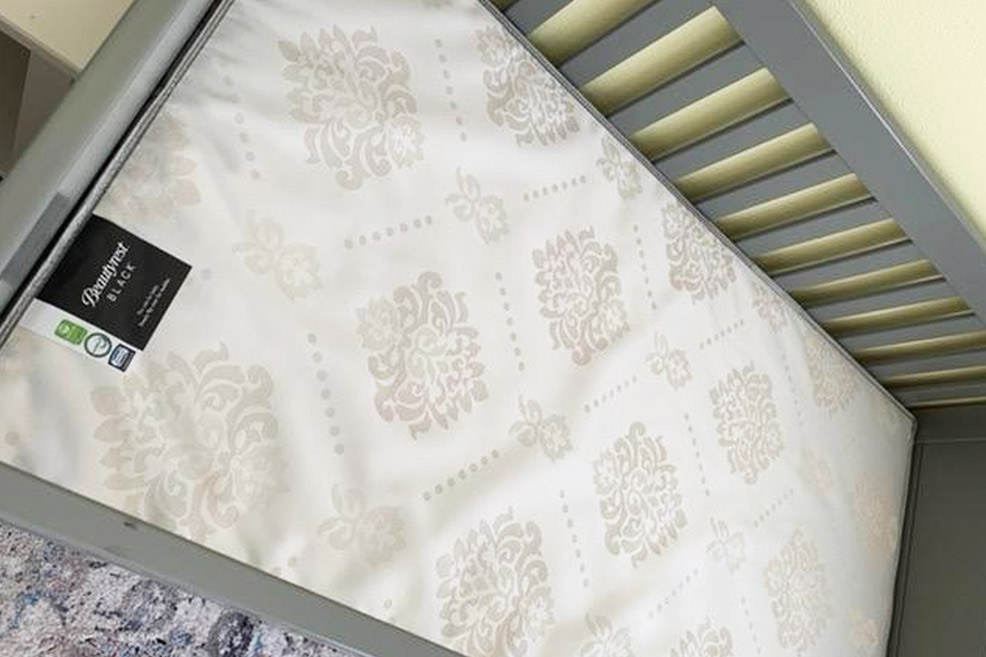 The squared corners helped the mattress fit snugly into the crib. The exact dimensions of the Brilliant Sun crib mattress are 52" long, 27.5" wide, and about 6" thick.
Because it's not entirely apparent to people which side is firm (infant) and which is softer (toddler), Beautyrest provided a label.
It's right on the top surface near the corner, and reads "this side for baby. simply flip over for toddler" - here it is: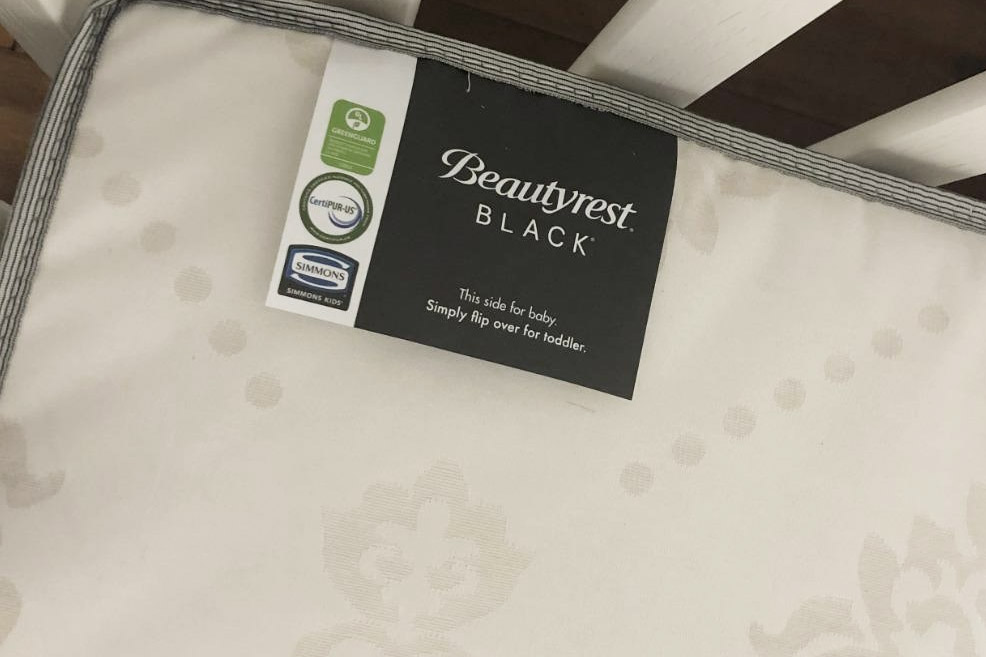 We were impressed with how well-built and sturdy this mattress felt.
Unlike many innerspring crib mattresses, this Beautyrest Beginnings crib mattress was surprisingly not bouncy. It was firm and supportive, and surprisingly comfortable on the toddler side. But just like most innerspring crib mattresses, it was pretty hefty!
Heat is one of the challenges people deal with when it comes to memory foam mattresses. Many newer models are infused with plant-based soy to help airflow and cooling. We didn't find this mattress particularly hot, which was nice - no baby wants to wake up in a puddle of sweat!
Overall, we were impressed with how high quality this mattress was, and how well-constructed it felt. While we don't really like foam core crib mattresses or memory foam, we thought this mattress is a good compromise between a rigid and bouncy traditional innerspring mattress, and a wimpy and droopy foam mattress.
We also thought the dual-firmness did a nice job finding the right balance between firmness and comfort, and that the toddler side was especially comfortable.
Beautyrest Beginnings Black Brilliant Sun: Cons
While we appreciated many of the features of the Brilliant Sun crib mattress, including its Greenguard GOLD and CertiPUR-US certifications, dual-firmness, waterproof cover, and super comfortable toddler side, we also found a few shortcomings.
First, this is a very heavy crib mattress. Yes, it could be heavier, but a 20-pound crib mattress can make it challenging to lift for sheet changes, crib height changes, or flipping over. That's the trade-off for an innerspring mattress with superior progressive support that will not form uncomfortable indentations over time.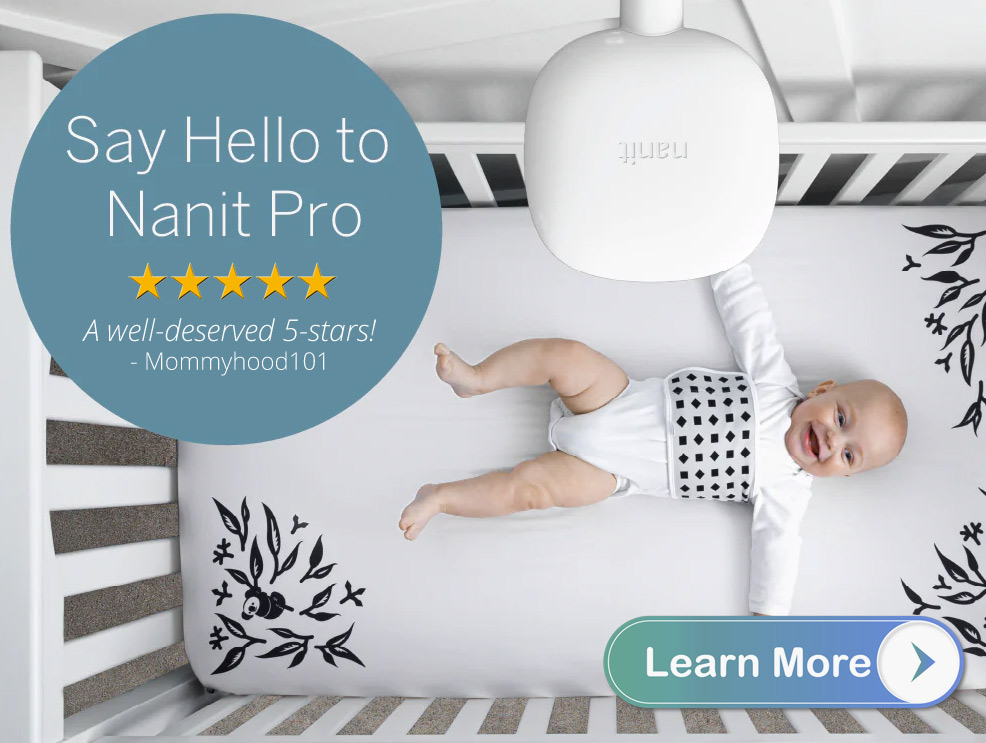 Second, we've said it already but it bears repeating: we are not huge fans of crib mattresses with foam cores. This includes gel foams, memory foams, traditional polyurethane foams, and "soy foams" - there are so many better options on the market that do not have any risk of emitting chemicals or volatile organic compounds (VOCs). Foam is still the standard, and the certifications help provide peace of mind, but we still don't prefer it.
Finally, the cover is not very soft against the skin and cannot be removed or washed. You will probably need to purchase a separate washable cover and sheets, which will cost you some extra cash. Keep that in mind when comparing prices.
Overall, we think the Beautyrest still offers some decent bang for the buck, especially for parents interested in a supportive innerspring construction and super comfortable memory foam on the toddler side (and who isn't!?). We give it a 4.1 out of 5.
Interested? You can check out this Beautyrest Beginnings Black Brilliant Sun Crib Mattress here.