Contours Vibes Crib Mattress: Full Review
It's such a good vibration! Soothe your baby to sleep with these gentle vibes.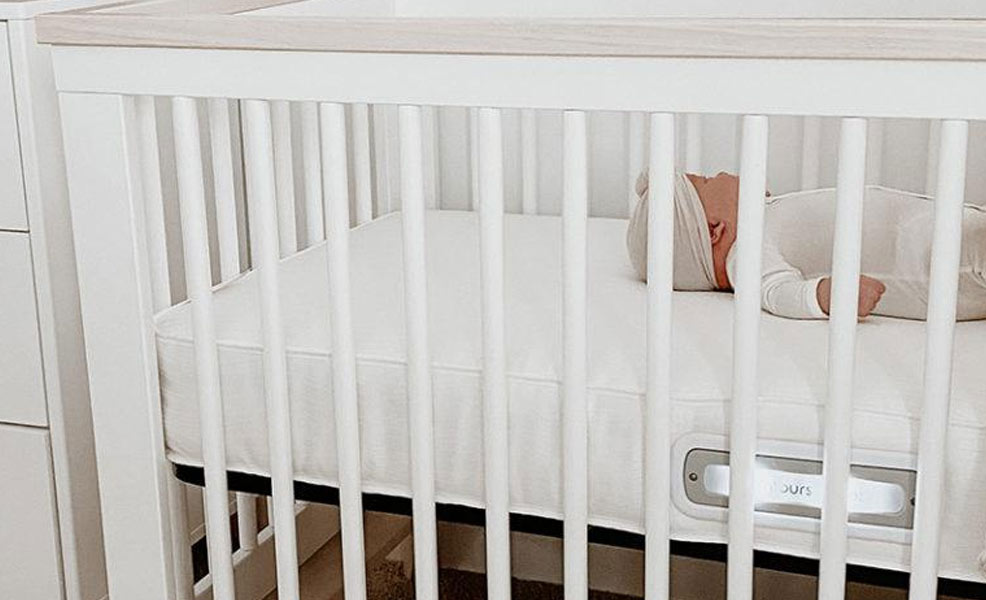 ---
Mommyhood101 independently tests and curates baby gear to help you make informed decisions. If you buy products through links on our site, we may earn a commission.
The Contours Vibes crib mattress is revolutionizing the baby mattress industry, including not only a highly capable mattress construction but also a versatile and remote-controlled vibration function proven to help babies self-soothe, fall asleep faster, sleep longer, and have fewer wake-ups.
With Greenguard GOLD certification, a breathable cotton sleeping surface, design and manufacturing in the USA, two-stage construction, a waterproof outer shell, and CertiPUR-US certification, the Contours Vibes is racking up the gold stars before we even consider its vibration feature.
We put the Contours Vibes crib mattress through our hands-on testing to evaluate comfort, off-gassing, durability, firmness, weight, crib fit, ease of use, breathability, and of course the amazing vibration feature!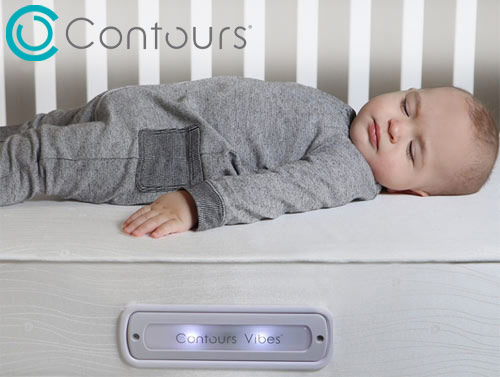 Overall, we came away with a very positive impression of the Contours Vibes crib mattress, and for parents looking to help their newborns and infants get better and more sleep, we think it could be a great addition to your nursery!
The Contours Vibes crib mattress has some serious features that make it stand out against the competition. While some manufacturers like Newton and Avocado tend to focus on breathability and sustainability, respectively, the Contours Vibes introduces something that will actually help your baby sleep better: soothing vibrations!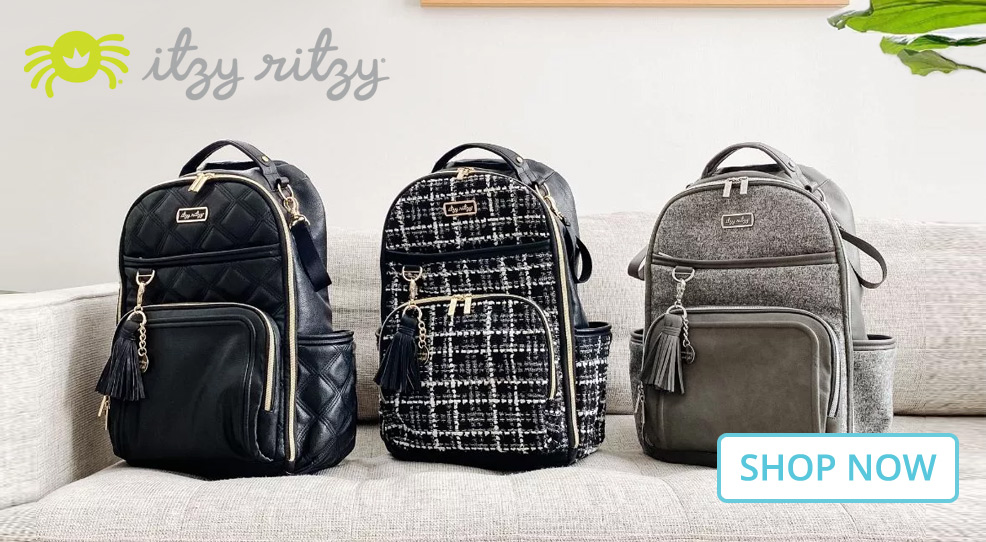 The idea is that this mattress completely eliminates the need for a vibrating bassinet, providing the same gentle vibrations while saving you some serious cash and reducing the number of times your baby has to adjust to a transition between sleeping locations.
Better sleep while saving money? Count us in!
Contours Vibes Crib Mattress: Overall Impression
Nobody wants to read through an entire article to get to the conclusions, you've got more important things to do! So here are our findings, right up front.
Spoiler alert, we are very impressed by the Contours Vibes crib mattress and were grateful to get a chance to test it out! The Vibes crib mattress represents serious innovation in the crib mattress market, which we think was sorely needed.
Here is a summary of what we loved, and some things that could be improved.
✔️ Made in USA (North Carolina).
✔️ Breathable cotton cover.
✔️ Waterproof lining.
✔️ Innerspring core.
✔️ Two-stage dual-firmness.
✔️ Greenguard GOLD certified.
✔️ CertiPur-US certified.
✔️ No odors or off-gassing.
✔️ Ships completely flat.
✔️ Three-phase vibrations.
✔️ Remote-controlled vibration.
✔️ Auto-off vibration timer.
❌ No removable cover.
❌ Uses some polyurethane (2%).
That is a lot of amazing features, making this a fantastic crib mattress overall. We love that it is made right here in the USA, and that it combines a breathable cotton blend surface with an underlying waterproof liner to protect the core batting.
The core uses high density innerspring construction, with 201 steel coils with 16 gauge thickness, along with a sturdy border rod. Surprisingly, the mattress is able to stay reasonably lightweight (15 pounds) even with the steel innersprings. We love that it ships flat and is ready to set up right out of the box.
The two-stage firmness is very well designed. The infant side has a slightly plush surface with ample firmness as it is compressed; the toddler side is very comfortable (see our compression tests later in this article).
Greenguard GOLD certification provides a level of trust that parents can be confident with, demonstrating low emissions of volatile organic compounds (VOCs) and off-gassing. This means no harsh odors or chemicals.
The most amazing feature, however, is the vibration! Pop in three D batteries and use the included remote to turn on and off the vibration, adjust its intensity, and set an auto-off timer. The vibrations worked amazingly well, were subtle and quiet, and the batteries lasted for several months.
For cons, we do prefer a removable and washable cover, which the Contours Vibes does not include. Of course, you can purchase one separately if you're so inclined. It also uses some polyurethane foam which we tend to avoid due to VOC emissions; however, we do note that it only uses 2% polyurethane content that is situated deep in the core of the mattress surrounding the motor, and is thus very unlikely to pose any sort of emissions issue. This is evidenced by the Greenguard GOLD and CertiPUR-US certifications.
Feel like a baby mattress expert now? You should! But if you're still uncertain, continue reading to see how we reached these conclusions!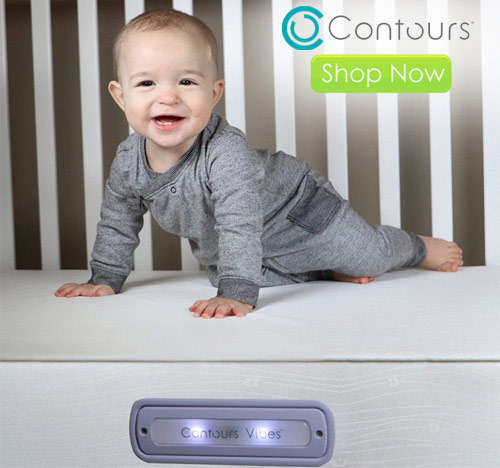 Contours Vibes Crib Mattress: First Impressions
To be 100% transparent, Kolcraft Contours sent us sample mattresses for testing (thank you, Contours!).
That doesn't necessarily bias us; in fact, nearly half of what manufacturers send us does not make it onto our site due to quality concerns.
Shipping took about 3 days from order confirmation to arrival at our doorstep - super fast!
The Contours Vibes mattresses are made in Aberdeen, North Carolina. Contours is owned by the same company that also makes Kolcraft children's products, Sealy mattresses, and Tempur-pedic. Needless to say, they have some serious experience making quality mattresses!
One of the things we love about the Contours Vibes is the mattress does not come rolled up, it is shipped completely flat in a full-size box, and is wrapped in a zippered plastic cover: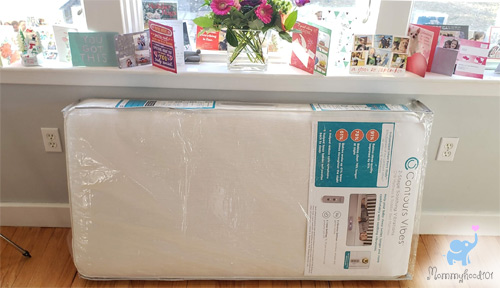 Shipping the mattress this way is much more expensive than it being rolled up, but we totally avoid the risk of a rolled-up mattress not expanding fully, or ending up with a lumpy, uneven surface.
The box isn't too big to handle, and it's actually surprisingly lightweight.
In the above photo, there is a Thank You card on our window sill that was sent from an anonymous reader of our reviews - while we don't know who you are, we truly appreciate it! We also appreciated the small donation. :-)
Unboxing the Mattress
We slid the mattress out of the box and it was very well sealed in plastic.
While most mattresses are in a flimsy plastic bag that you need to rip open, the Contours came in a high quality, zippered and reusable plastic mattress bag. Super handy for storing the mattress once your child grows out of it, and while it's waiting for its next use!
Stepping back and looking at the mattress, it has a pretty classic design with subtle sleepy wave pattern (we see what you did there, Contours!)
Taking it out of the plastic wrap, there was only a very slight odor, which is always a welcome surprise and not something we can say for many other crib mattresses. Our 11 year old son is basically a super-sniffer, and he said it was only "a tiny bit smelly" - which is actually saying a lot!
The Mattress Label
Here is what the label says:
All new material consisting of Polyester Fiber Batting (66%), Blended Fiber Batting (32%), and Polyurethane Foam (2%).
Reg. No. PA 23169 (NC)
Made by Kolcraft Enterprises, Inc., 10832 NC Hwy 211 East, Aberdeen, NC 28315, (800)453-7673
Finished Size: The standard size, at 27 1/4 in x 51 5/8 in, Net Weight Filling Materials: 5.19 lbs.
Made in USA of US and Imported Parts. Here is a close-up of the mattress tag: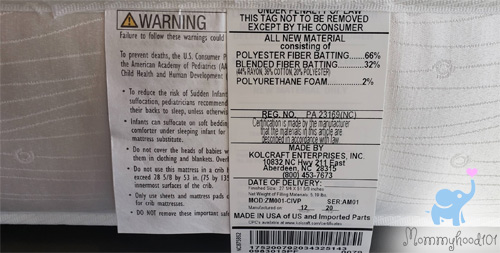 What is Blended Fiber Batting? The batting fills all the gaps between the innerspring coils, providing the mattress with high comfort levels and even compression. Blended fiber batting that is used in this mattress is comprised of 44% Rayon, 35% Cotton, and 20% Polyester.
What is Polyurethane Foam? This foam is typically used as the top-most layer underneath the mattress cover to provide a flat surface with consistent comfort and compression levels. In this mattress, the polyurethane is only used to surround the vibration motor, and is thus not close to the sleeping surface; also, the polyurethane constitutes only about 2% of all materials used in the mattress.
Two-Stage Dual Firmness
The Contours Vibes crib mattress has dual-sided firmness, with one side designed for infants and one for toddlers.
You can recognize which side is for Infants and which for Toddlers by reading the convenient label: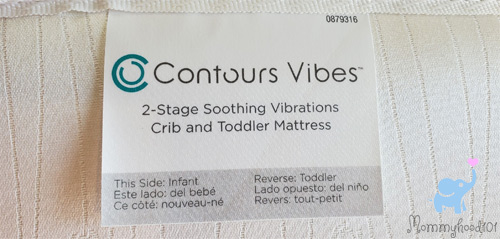 The infant side is expected to be firmer than the toddler side, to promote a safe sleeping surface in accordance with AAP guidance. To verify this, we conducted a compression test.
Compression Test
We conduct our mattress compression test using an 8-pound dumbbell to measure how deep the mattress sinks in response to the added weight.
For an infant, it should sink between about 0.5 to 2 cm deep, and for a toddler it should be about 2-4 cm. These firmness levels are very typical to mattresses we test, and inline with recommendations of the American Academy of Pediatrics.
With the 8-pound dumbbell, the infant side sank down about 2.5 cm, and toddler side sank down about 4 cm. These are great numbers, though the infant side could be a bit firmer in our opinion.
Pictures speak louder than words:
Because most people are not aware of the AAP's Safe Sleep guidelines, we appreciate how clear Contours was in their labelling of the mattress sides.
The Innerspring Core
Crib mattresses with an innerspring core are becoming unfortunately rare, which you can read about in our crib mattress buying guide. This is for a few reasons.
First, steel innerspring coils and border rods can be heavy, and parents prefer lightweight mattresses that are easy to remove for sheet changes.
Second, innersprings are not cheap, and if the mattress isn't well constructed they can become uncomfortable over time. Think about those old fold-out couches with springs that are basically popping through the foam batting. If you are going to make an innerspring coil crib mattress, you need to do it right!
We believe that Contours did an excellent job with the core of this mattress. Innerspring coils are very sturdy and provide even compression for many years without wearing down. They also make fantastic trampolines for toddlers learning to jump in their crib, for better or worse!
The Vibes mattress uses an impressively high coil count, 201 to be exact. Each coil is rather thin, coming in at 16 gauge thickness, which gives them relatively comfortable compression.
Pushing down on every area of the crib mattress, there was no point at which we could feel any evidence for innerspring coils. That is a very good sign!
The Mattress Surfaces
Contours says the cover is composed of a cotton blend that provides surface breathability for your baby.
We had to test that out! If you saw us doing this test, you would think we're crazy! We literally mash our faces into the mattress and make sure we can breathe normally.
This is important because if your baby figures out how to roll onto their tummy (remember, back to sleep!), they might end up with their face up against the mattress cover.
The good news is that the cover itself appears to be somewhat breathable. It's nothing like the Newton, but it's definitely better than a vinyl cover that you see on so many mattresses.
Why do we care? Parents get a little anxious about Sudden Infant Death Syndrome (SIDS) and Sudden Unexpected Infant Death (SUID), and for good reasons. If your baby rolls onto his or her stomach during the night, with the Contours Vibes mattress their face will be up against a somewhat breathable surface.
This could possibly reduce the risk of SIDS or SUID if your baby figures out how to roll onto their tummy during sleep; even the American Academy of Pediatrics suggests that a breathable mattress may be preferable to a non-breathable option. They don't so far to recommend a breathable crib mattress, but there is definitely some implicit hint in that language. Even if there's no solid evidence that a breathable crib mattress can reduce the risk of SIDS/SUID, we think it's worth the peace of mind.
The cotton surface also keeps the mattress a little cooler in the summer months.
Second, the mattress surface uses a reasonably soft fabric while also feeling like it would be easy to wipe down if there were a little accident. The cover itself cannot be removed, which is unfortunate, and we do not suggest using this mattress without at least a sheet if not a crib mattress cover.
Good Vibrations!
We're children of the 80's, so we can't help but think of Marky Mark and the Funky Bunch when we talk about this mattress - it truly is a sweet sensation!
This is the most unique aspect of this crib mattress. There is a little door on the side that you can slide open by loosening two small screws (you can use a regular or cross-head screwdriver to loosen them).
When you slide that door out, it reveals a few things: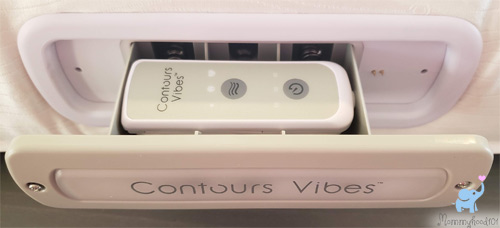 First is the remote control. Simply pull the remote control up and out of the drawer to remove it. You will need to insert the coin batteries (CR2032) into the remote to get it working. There is a great rubber ring attached to the remote so you can hang it on a doorknob or anywhere else.
Second is the battery compartment that is used to power the vibration motor. The battery compartment takes three D size batteries. These are unfortunately not included with the mattress, so you will need to purchase them separately.
To get the vibration working, you simply put the batteries into the remote (they stack on top of one another like pancakes) and install the three D batteries in the drawer. Then close the drawer and tighten the screws. Note that the vibration feature will not work unless the drawer is closed and tightened.
To activate the vibration, hold down either button for 2 seconds and vibrations will start. Click the wave icon button to change between three settings: whisper, gentle, or heartbeat. Click the timer button to activate an auto-off timer to set vibrations for 15, 30, or 45 minutes duration.
To turn off vibrations at any time, hold down either button for 2 seconds.
In our testing, we noticed a few things. First of all, the vibrations are amazing; we loved the whisper setting and think it would be sufficient for most babies. The vibrations were most pronounced near the center of the sleeping surface. Second, you need to be within about 15-20 feet of the mattress for the remote to work, so don't expect to be able to control the mattress from a few rooms away. Third, if you can't find the remote you can simply press the large white "Contours Vibes" button on the side (see above photo) of the mattress to turn it on or off. It will remember the last remote setting you used.
A few minor points. If batteries are low in the mattress, the LED lights on the side of the mattress will blink. If you have multiple of these mattresses in your home, there is a pairing function that lets you manually pair any of your remotes with the mattress. See owners manual here.
Better and Longer Sleep?
When we first learned about the Contours Vibes we were a little skeptical about the claims of achieving better quality and longer sleep.
We're happy to say, however, that Contours has provided us with the results from an independent study conducted by Wellness Discovery Labs (Jacksonville, FL). In this study, the lab compared sleep quality, sleep duration, and number of night wakings when babies slept on the Contours Vibes versus a non-vibrating crib mattress.
The results were compelling: Sleep quality as assessed through movement monitoring improved by 91%. Babies also slept 78% longer during the night, and woke up 61% fewer times throughout the night.
That's pretty impressive! The study also asked parents about health-related outcomes and found that the vibrating mattress can help reduce colic and help fussy babies self-soothe back to sleep during the night.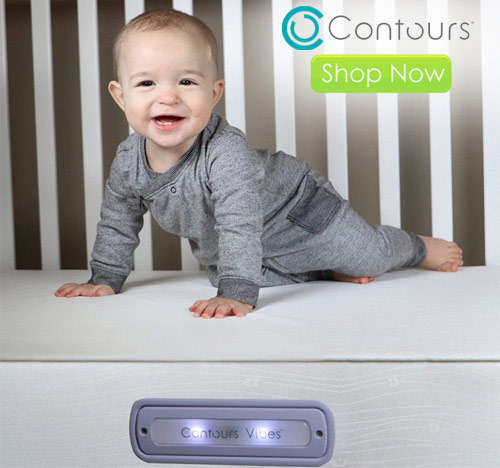 Contours was kind enough to give us three mattress samples to test in three households. Two of the three parents who tested the mattress reported some improvement in sleep, noting that their babies seemed to be calmer at bedtime, fell asleep faster, and seemed to extend sleep between night feedings.
Those are pretty great testimonials and to be honest, we really couldn't ask for much more! We think it's totally worth the cost if it can possibly help your baby sleep better and longer.
Crib Mattress Pricing
The Contours Vibes crib mattress is relatively expensive, basically on par with other relatively premium crib mattresses like the Newton or Avocado.
We only found it for sale at BuyBuy Baby and directly through the Contours website. In both cases, it costs $299.
When considering that price, also consider that purchasing this vibrating crib mattress might let you completely avoid needing to purchase a separate vibrating bassinet.
If that's the case, this is a no-brainer!
Conclusions of our Review
We were very excited to get our hands on the Contours Vibes crib mattress for a hands-on review!
The primary selling point with the Contours Vibes is the innovative vibrating feature. No other mattress lets you activate, customize, and remotely control vibration levels. And we don't think this is a gimmick given the study results and the results of our own testing.
The only downfall of the vibrating is that you'll need to replace the C batteries every couple months, and the panel on the side of the mattress has LED lights that glow when the vibration feature is on. They're not bright by any means, but parents interested in having a full black-out nursery might find them a little frustrating (you can cover them with electrical tape if needed). In our testing, we didn't really notice them glowing through our mattress cover and sheet.
No, the Contours Vibes cannot compare to the comfort and amazing construction of something like the Avocado (see our review of the Avocado crib mattress here) or the breathability and washability of the Newton (see our review of the Newton crib mattress here). But those options also do not provide any features that will actually help your baby fall asleep faster and have better quality and longer sleep.
To us, that's pretty compelling. Also compelling is how Contours didn't totally compromise on the remainder of the mattress. They made a traditional innerspring coil mattress without including a nasty vinyl cover or high polyurethane foam content, and got all the certifications you would expect to see in a high quality mattress.
Overall, do we think the Contours Vibes is worth $299? Absolutely. No other crib mattress holds potential to actually help your baby sleep better, and to us that's worth the cost. Also keep in mind that you might not need to purchase a vibrating bassinet, saving you some serious cash.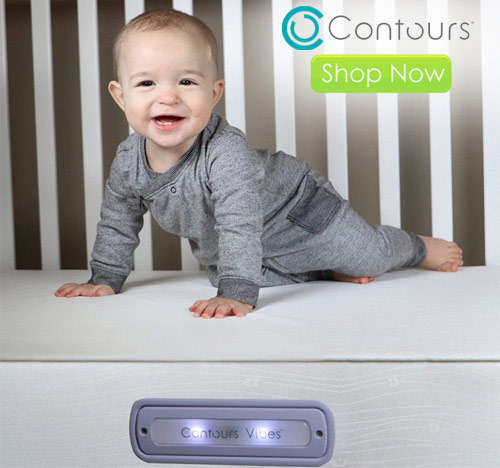 References Cited