Newton Crib Mattress Review: Hands-on Testing
Sitting in a top-spot on our annual reviews of the best crib mattresses, the Newton crib mattress brings innovation and convenience to an entirely new level, with Greenguard GOLD certification, a completely washable and breathable cover and core, design and manufacturing in the USA, and lightweight but comfortable construction well-suited to both infants and toddlers.
We put the Newton crib mattress through our hands-on testing, evaluating comfort, off-gassing, durability, firmness, weight, crib fit, ease of use, breathability, and washability. Overall, we came away with a very positive impression of the Newton mattress!
It's got nearly everything you could look for in a crib mattress, plus some serious convenience features that make it stand out against the competition. For parents looking for the perfect combination of quality and sensibility, the Newton crib mattress is a top choice.
Newton Crib Mattress: Some Quick Distinctions
Newton makes a few different crib mattresses.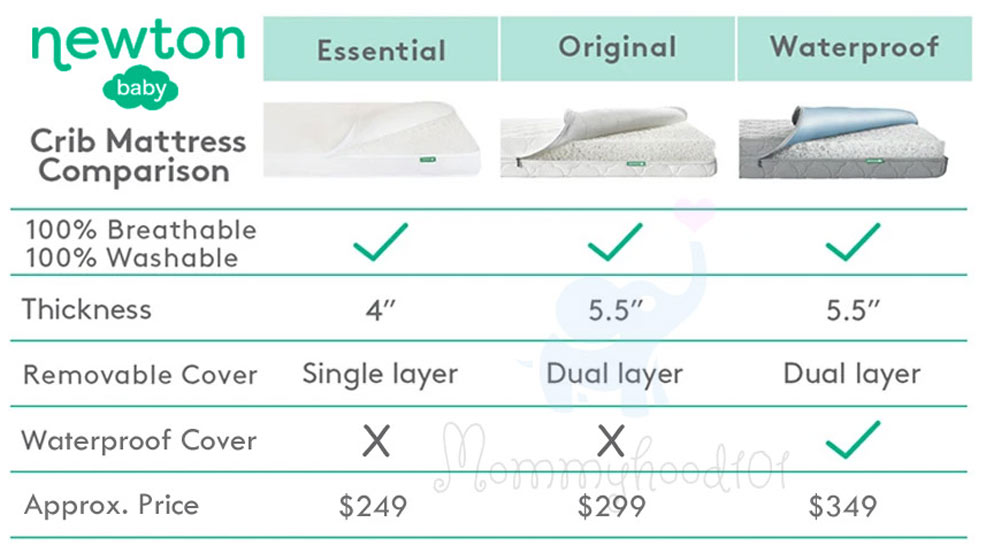 The Original. First is the most common, and what we tested, called the Original crib mattress. This is a standard-size crib mattress with all the features, and typically sells for about $299.
The Waterproof. Second is an upgrade to the Original, called the Waterproof crib mattress. You guessed it, this adds a waterproof barrier to the toddler side to help you keep your sanity during potty training. A bit more expensive, coming in at about $349.
The Essential. The third is called the Essential crib mattress. This is also a standard-size crib mattress, but it's not as thick or cozy as the Original. Instead of 5.5" thickness, it's only 4" thick, and the cover is thinner. But it's also the least expensive, coming in at about $249.
Mini Crib Option. They also make a mini crib mattress that has the same features as the Original, coming in at about $249.
Newton Crib Mattress: Overall Impression
Nobody wants to read through an entire article to get to the conclusions, you've got more important things to do! So here are our findings, right up front.
Spoiler alert, we are very impressed by the Newton crib mattress and were grateful to get a chance to test it out! The Newton crib mattress represents serious innovation in the crib mattress market, which we think was sorely needed.
That said, it is definitely deserving of its top position on our list of the best crib mattresses of the year. Here is a summary of what we loved, and some things that could be improved.
✔️ Made in USA (Tennessee).
✔️ Highly breathable cover.
✔️ Highly breathable core.
✔️ Zip-off machine washable cover.
✔️ Washable core!
✔️ No polyurethane or foams.
✔️ No chemical flame retardants.
✔️ No vinyl or latex.
✔️ Flippable lightweight core.
✔️ No heavy metal springs.
✔️ Greenguard GOLD certified.
✔️ Wovenaire food-grade LDPE core.
✔️ No odors or off-gassing.
✔️ Ships completely flat.
✔️ Quality stitching and seams.
❌ Waterproof cover is extra.
❌ No dual-firmness.
Note that it's basically impossible to make a fully waterproof mattress cover without using vinyl, plastics, non-breathable materials, or synthetic chemical coatings.
That being said, unlike other high-end options like the Avocado crib mattress, you don't need to worry about the core of the mattress getting wet or soiled. Why? Because it's completely washable! We'll get to that later.
But if you're really concerned about the waterproofing aspect, Newton does sell the version that includes a waterproof cover.
For the second con, that it doesn't have the dual-firmness, Newton found a way to make both sides the perfect firmness to support infant safety and musculoskeletal development, while also making it comfortable enough for toddlers.
In our testing, we found the surface firm enough for us to feel like we were achieving the Safe Sleep recommendations of the AAP, and comfortable enough to support toddler sleep.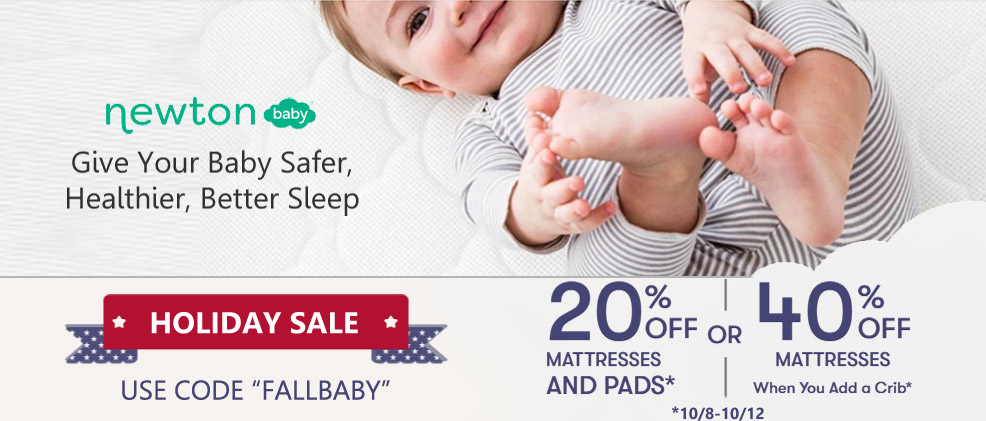 Newton Crib Mattress: First Impressions
To be 100% transparent, Newton sent us a sample mattress for testing (thank you, Newton Baby!).
That doesn't necessarily bias us; in fact, nearly half of what manufacturers send us does not make it onto our site due to quality concerns.
Shipping took about 3 days from order confirmation to arrival at our doorstep.
The Newton mattresses are handmade in Tennessee, and the zip-off cover is made in China.
One of the things we love about Newton is the mattress does not come rolled up, it is shipped completely flat in a full-size box:
Shipping the mattress this way is much more expensive than it being rolled up, but we totally avoid the risk of a rolled-up mattress not expanding fully, or ending up with a lumpy, uneven surface.
The box isn't too big to handle, and it's actually surprisingly lightweight. The box has handles on the sides too, making it very easy to move around.
Unboxing the Crib Mattress
We slid the mattress out of the box and it was very well sealed in plastic.
Peeking through the plastic cover, the quilted fabric cover looked comfortable and highly breathable (very porous).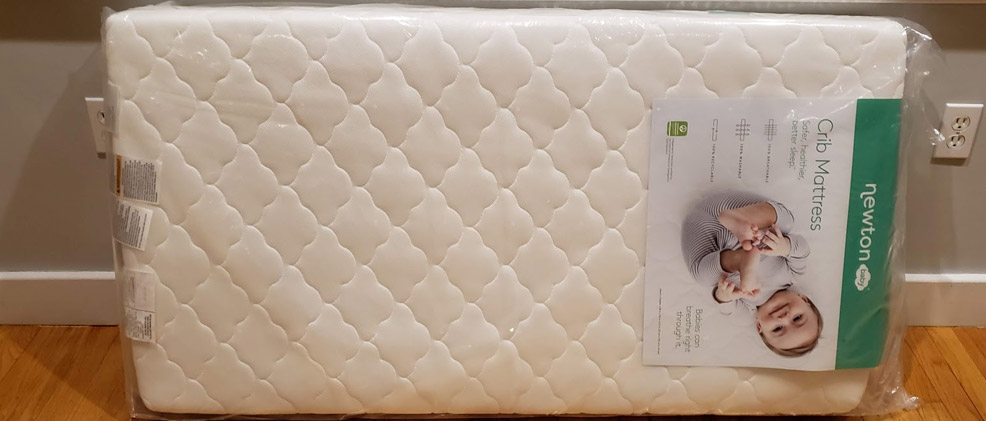 Stepping back and looking at the mattress, it has a really nice modern design, crisp color, and symmetry.
Taking it out of the plastic wrap, there was absolutely no off-gassing odor, which is always a welcome surprise and not something we can say for many other crib mattresses. Our 11 year old son is basically a super-sniffer, and he said it was surprisingly "not stinky" - so that's saying a lot!
The Mattress Label
Here is what the label says:
All new material consisting of Polyethylene Pad 100%. Cover: Polyester 84%, Viscose 16%
Reg. No. UT 3755 (TN)
Made for Newton Baby Inc., 295 Fifth Avenue, Suite 1112, New York, NY 10016
Finished Size: 28 in x 52 in, Net Weight Filling Materials: 9 lbs 12 oz.
Filling made in USA, Cover made in China, Filled and Finished in USA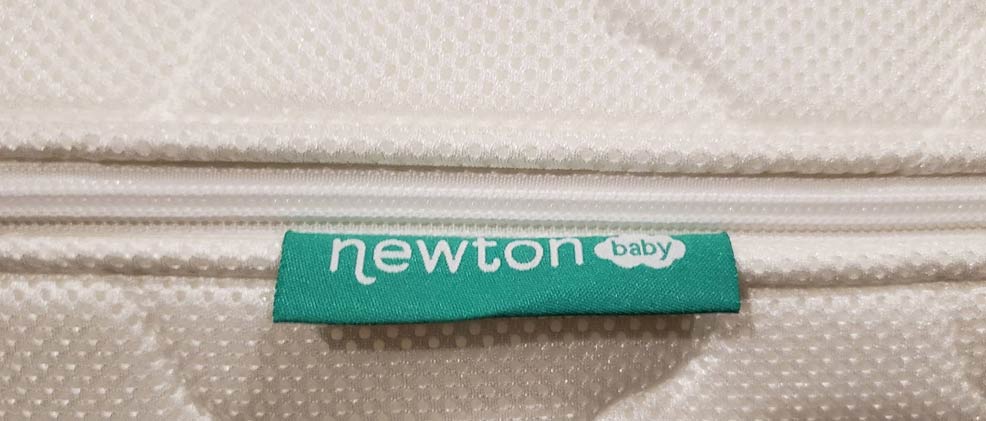 What is Polyethylene? Polyethylene is a high density food-grade plastic that is very strong and lightweight. It has various ideal properties for use in a crib mattress, given that it is resistant to mildew, mold, and insects, and is unlikely to crack or degrade over time. It is the same plastic commonly used in yogurt containers and milk jugs. If it's safe enough to eat and drink out of on a daily basis, we think it's definitely safe and durable enough to be down in the core of your mattress.
Two-Stage Firmness
The Newton crib mattress does not have dual-sided firmness, with one side being for infants and one for toddlers.
Instead, it uses what it calls two-stage firmness, which basically means it's an ideal firmness for both infant and toddler stages.
The heavier your child gets, the more the mattress will adapt to their size and shape. Starting as an infant, the mattress feels super firm, but as you add more weight onto it, it has a nice responsiveness that feels suitable for a toddler as well.
An advantage of a mattress without dual-firmness is the ability to flip it over without worring about which side is up. One less thing to worry about during sheet and pad changes.
Compression Test
The Newton mattress shows a very nice compromise between being firmness suitable for an infant, and comfort suitable for a toddler.
We do a mattress compression test using an 8-pound dumbell to measure how deep the mattress sinks. For an infant, it should sink between 0.5 to 2 cm deep, and for a toddler it should be about 2-4 cm. These firmness levels are very typical to mattresses we test, and inline with recommendations of the American Academy of Pediatrics.
With the 8-pound dumbell, the mattress sank down about 2 cm, placing it right in the sweet spot for firmness and comfort suitable for both infants and toddlers.
Pictures speak louder than words: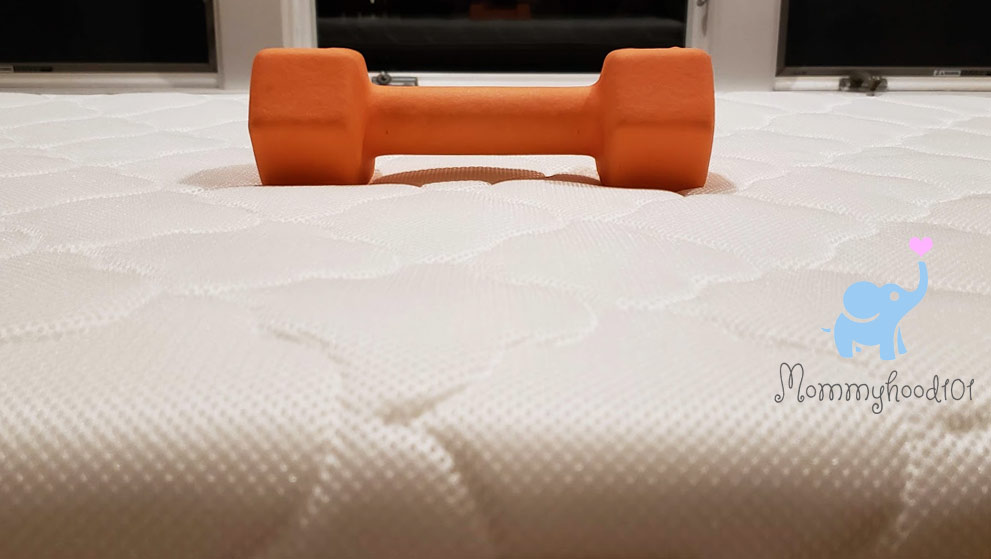 Because most people are not aware of the AAP's Safe Sleep guidelines, or think an infant mattress is too firm for their baby's comfort, we actually think it's good to have a mattress that's equally firm on both sides. Not too firm for comfort, but the perfect in-between firmness to keep things safe and comfy.
The only small point to make is that when you push down on the mattress, you can slightly hear and feel the webbed core underneath.
The Newton Wovenaire Core
This is such a cool concept that we had to take a picture of it. The core is made of a dense 3-dimensional web of polyethylene plastic. It looks pretty cool, and is functionally superior to its foam competitors.
Here is a picture of the Wovenaire core: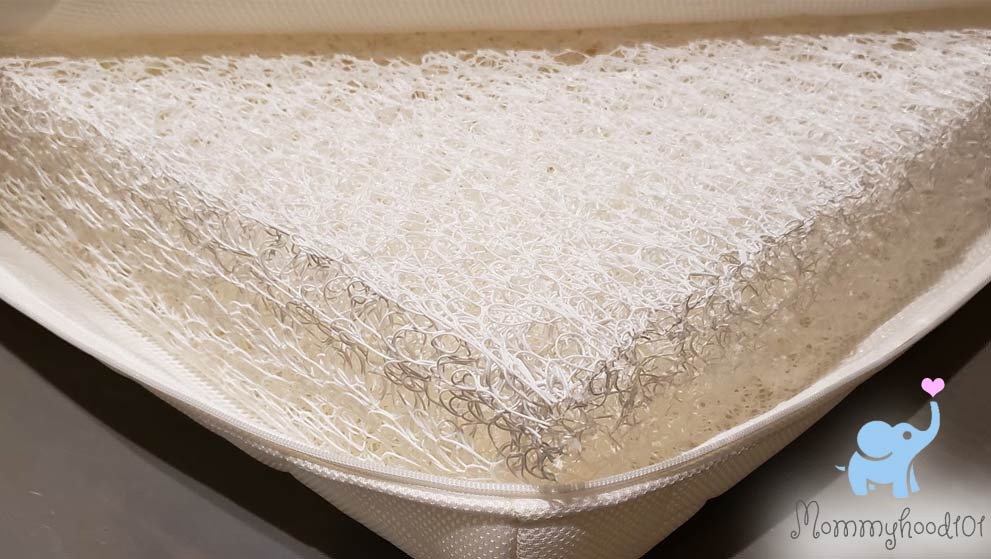 One of the most appealing aspects of this mattress has to do with the core: it is completely washable!
You can zip off the cover and completely clean the core by spraying it down in the shower or outdoors with a hose.
Had an accident in the bed? Not a problem, throw the cover in the wash and spray down the core!
Here's a close-up of the Wovenaire core: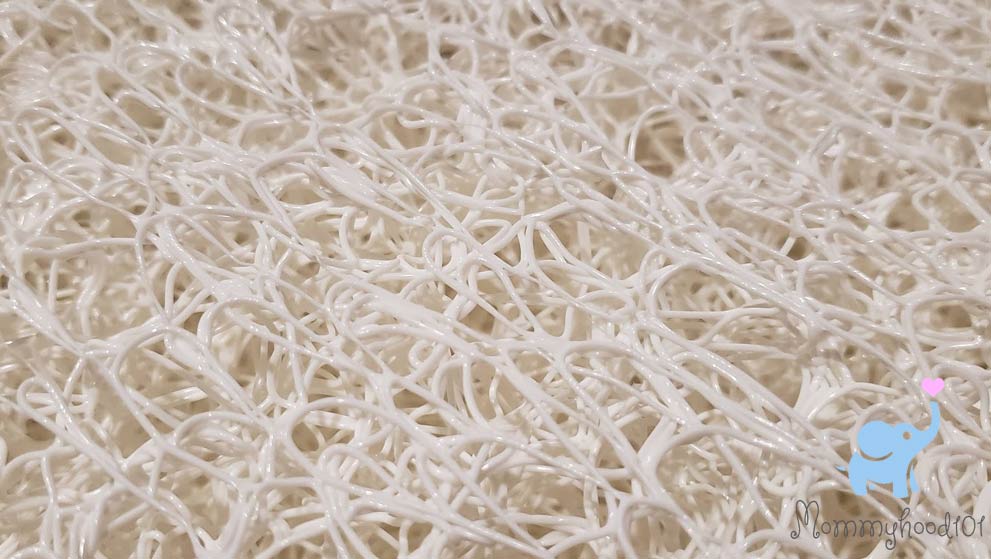 Crib Mattress Cover & Core Breathability
If you saw us doing this test, you would think we're crazy! We literally mash our faces into the mattress and make sure we can breath normally.
This is important because if your baby figures out how to roll onto their tummy (remember, back to sleep!), they might end up with their face up against the mattress cover.
The good news is that not only is the cover super breathable, so is the entire core. Honestly, it doesn't even feel like you're breathing through anything, it has nearly zero perceptible breathing resistance, which is pretty darn impressive! If only they made face masks for kids with that level of breathability!
Why do we care? Well, obviously high breathability can help reduce the risk of SIDS if your baby figures out how to roll onto their tummy during sleep.
Second, the very highly breathable core on this mattress will definitely help keep it from getting too hot during the summer months. No more sweaty backs!
As you might know, or remember from sleeping on foam fold-out couch mattresses as a kid, mattresses with a polyurethane foam core get notoriously hot and sweaty during warmer months, which can get very uncomfortable.
Things to Feel Good About
We really love the Newton crib mattress, and think it has a lot of things going for it that are relatively intangible.
Not only are you getting a fantastic crib mattress, but you can feel good about the way the materials were sourced and the mattress was manufactured. Here are some highlights to think about:
✔️ The core, the most important part of the mattress, is made in the USA.
✔️ Greenguard GOLD Certification for low VOC emissions.
✔️ 100% recyclable core.
✔️ No foam, latex, springs, or glues.
✔️ Hypoallergenic.
✔️ No sheets or extra covers needed.
✔️ Company based in USA (NYC).
Waterproof Crib Mattress Cover?
Unlike many other crib mattresses, the Newton does not include a waterproof cover.
Why? Likely for a few reasons. First, because it's basically impossible to make a highly breathable and waterproof cover, since waterproofing usually involves using vinyl or other plastic films. Second, the only other way to achieve a truly waterproof cover is by using harsh spray-on chemical coatings.
Second, a crib mattress for infants should definitely prioritize breathability over waterproofing. Once you get into the toddler years and start overnight potty training, you might want to consider a waterproof cover. At that point, breathability isn't quite as important.
Newton does offer a version of this mattress with a waterproof cover that does exactly that: there is a highly breathable and non-waterproof infant side, and a waterproof toddler side.
Conclusions of our Review
We were very excited to get our hands on the Newton crib mattress for a new review! We tested it about 3 years ago and it has definitely improved in core support and overall quality.
The beauty of the Newton is the innovative design. No other mattress allows you to zip-off the cover wash the entire core. If you think about the reasons why you throw away an old mattress - stains, tears, smells, cracking vinyl cover, and indentation - you'll come to the realization that the Newton should last for many years to come. The one we tested 3 years ago is still being used by a family on their fourth baby, still going strong!
Newton recommends not using any additional sheets or covers for the first year, maximizing breathability for your baby. However, we will point out that many parents find the zip-off cover not quite soft or smooth enough for direct face contact, and end up using a thin cotton sheet. We agree that this is probably a good idea in most cases.
There are so many competitors in the high-end crib mattress market - Newton, Avocado, Naturepedic, Organic Dream, and more. All of these crib mattresses are just about $300, but offer very different features and versatility. We think the Newton edges out most of these other mattresses for its innovative washable core, unparalleled breathability, and high build quality.
No, it's not as comfortable as the Avocado (see our reviews of the Avocado crib mattress here), and it doesn't have an organic cover like the Organic Dream mattress, or dual-firmness like most of the others. But what it does have is peace of mind that your baby is sleeping safely and comfortably, and that when accidents do happen (and they will!) the mattress can be completely cleaned, and it's not a hassle at all.
Is the Newton Crib Mattress worth $299? Absolutely. We've been reviewing crib mattresses for over 10 years and we've seen dozens of them come and go. The Newton is here to stay, and its overall quality, safety, and versatility make it a no-brainer at this price point!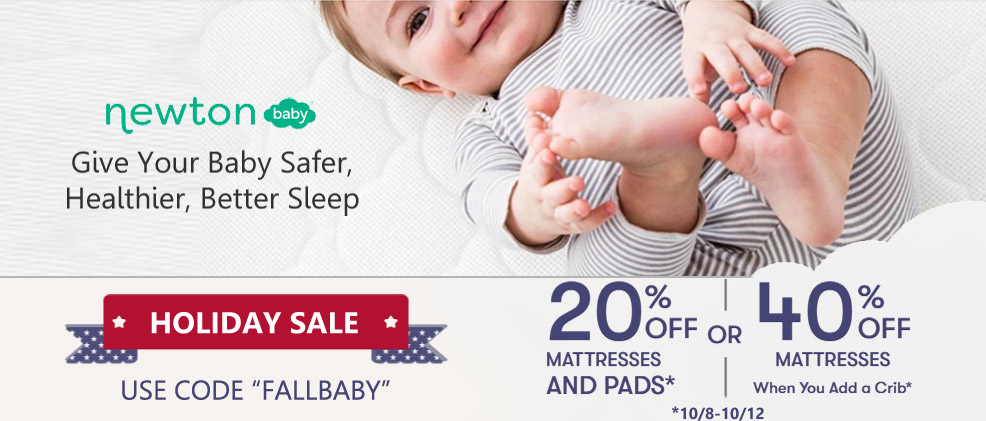 References Cited
AAP Safe Sleep Recommendations
Related Articles to Check Out!