Avocado Crib Mattress Review & Testing
With organic materials and supreme comfort and quality, the Avocado aced our tests.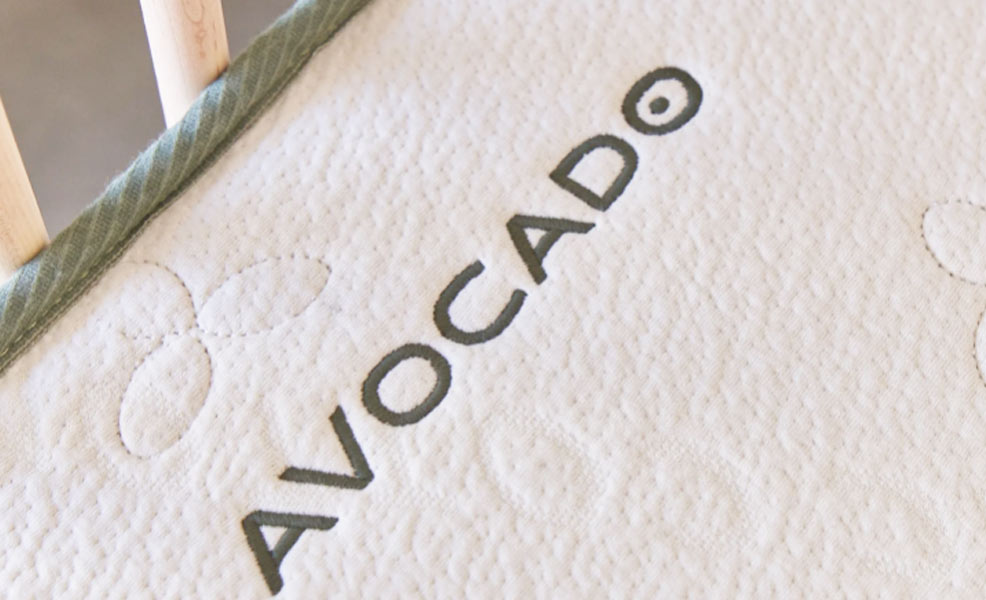 ---
Mommyhood101 independently tests and curates baby gear to help you make informed decisions. If you buy products through links on our site, we may earn a commission.
The Avocado crib mattress brings quality and comfort to an entirely new level, with GOTS-certified organic cotton and wool, dual-sided construction, Greenguard GOLD and MADE SAFE certification, and hand-made construction in California.
But is it worth the cost? We put the Avocado crib mattress through our hands-on testing, and came away with a very positive impression!
The Avocado has nearly everything you could look for in a mattress, plus a ton of things to feel good about. For parents looking for the highest quality crib mattresses on the market, the Avocado baby mattresses are a top choice.
You might be comparing the Avocado to its competitors made by Newton and Naturepedic; if so, be sure to check out our Newton Crib Mattress Review and our list of the best crib mattresses of the year, and see how they all stack up!
Quick Distinctions
Avocado makes two crib mattresses.
The first is called the Avocado Green Crib Mattress, which we review here. This typically sells for about $279.
The second is called the Avocado Luxe Crib Mattress, which we have not yet reviewed. The Luxe version typically sells for over $1000.
Overall Impression
In the military, they call this a "bottom line up front" - which basically means summarize everything right up front, and don't make me read through the entire article to get to the heart of the matter!
Spoiler alert, we LOVE the Avocado mattress and are grateful to have tested it out! The Avocado crib mattress makes zero compromises and is well worth its top position on our list of the best crib mattresses of the year.
Here is a summary of what we loved, and some things that could be improved.
✔️ GOTS & GOLS organic materials.
✔️ Dual-firmness.
✔️ Made in USA (California).
✔️ Breathable cotton surfaces.
✔️ Non-toxic, MADE SAFE certified.
✔️ Greenguard GOLD certified.
✔️ No polyurethane or foams.
✔️ No chemical adhesives.
✔️ No chemical flame retardants.
✔️ No vinyl.
✔️ Super firm infant side.
✔️ Cozy toddler side.
✔️ No heavy metal springs.
✔️ Organic coconut husk & latex core.
✔️ No odors or off-gassing.
✔️ Ships completely flat.
✔️ Beautiful stitching and seams.
✔️ Breathable surface and core.
❌ No waterproof cover included.
❌ Long shipping times due to COVID.
Note that it's basically impossible to make a fully waterproof mattress cover without using vinyl, plastics, non-breathable materials, or synthetic chemical coatings.
That being said, you will definitely want to get a breathable and water-resistant mattress cover to protect this beautiful mattress.
The good news is that Avocado partnered with Brentwood Home to make an organic and waterproof crib mattress cover that uses a thin waterproof film sandwiched between two layers of organic cotton. It works wonderfully to protect this mattress through the toddler years!

Avocado Crib Mattress Review
To be 100% transparent, Avocado sent us a sample mattress for testing (thank you, Avocado!).
That doesn't necessarily bias us; in fact, nearly half of what manufacturers send us does not make it onto our site due to quality concerns.
Shipping took about a month from order confirmation to arrival at our doorstep. For most parents, this will be completely fine, especially if they're setting up their nursery (see some awesome nursery ideas here!) in advance.
The mattresses are handmade in California, and the company is taking all precautions to keep employees safe and healthy (which slows things down a bit).
One of the things we love about Avocado is the mattress does not come rolled up, it is shipped completely flat in a full-size box.

While some rolled-up crib mattresses are actually pretty good, we prefer to avoid the risk of a mattress not expanding to the correct size, or expanding into some lumpy mess.
Since it's a crib mattress, the box is very reasonably sized, and it includes convenient handles on both sides. Very manageable, even if you're alone.
Unboxing the Crib Mattress
There were two things in the box.
First, the mattress was nicely sealed in plastic wrap (see photo).
Second, there was the book A Little Blue Planet, which describes our great responsibility to care for our planet and protect everything it provides.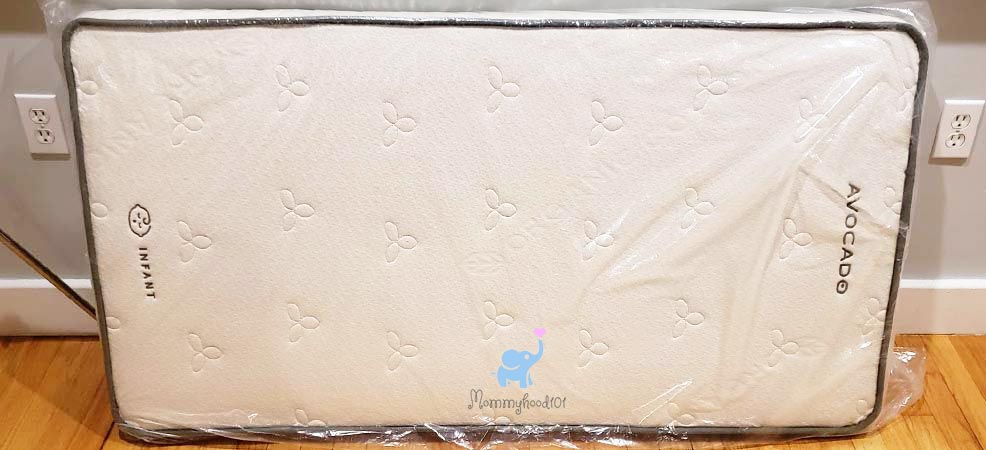 Stepping back and looking at the mattress, it's truly beautiful. We love the quilted organic cotton fabric on the sleeping surfaces and sides.
The green trim gives the mattress a natural look, complementing its non-toxic, organic, sustainable construction.
The Avocado crib mattress is truly the most beautiful mattress we've ever unpacked!
And it's worth pointing out that there was absolutely no off-gassing odor. It honestly smelled like a cotton sweater just pulled out of the dryer, which we cannot state for any other crib mattress we've tested!
The Mattress Label
Here is what the label says:
All new material consisting of: Latex Coir 57%, Latex foam rubber pad 36%, wool fiber 7%. Cover: ORGANIC COTTON 100%
Reg. No. CA 46096
Made for Avocado Mattress, 701 Burning Tree Rd, Suite A, Fullerton, CA 92833
Finished Size: 28 in x 52 in, Net Weight Filling Materials: 24 lbs 12 oz.
Made in the USA of Domestic & Imported Material
What is Latex Coir? Coir is natural coconut fiber, extracted from the outer husk of a coconut. The infant side of this mattress uses a firm coconut core infused with GOLS organic certified latex.
Dual-Sided Firmness
The Avocado crib mattress features dual-sided firmness. There are two things to love about this.
First, the infant and toddler sides are very clearly labeled, which is rare and appreciated.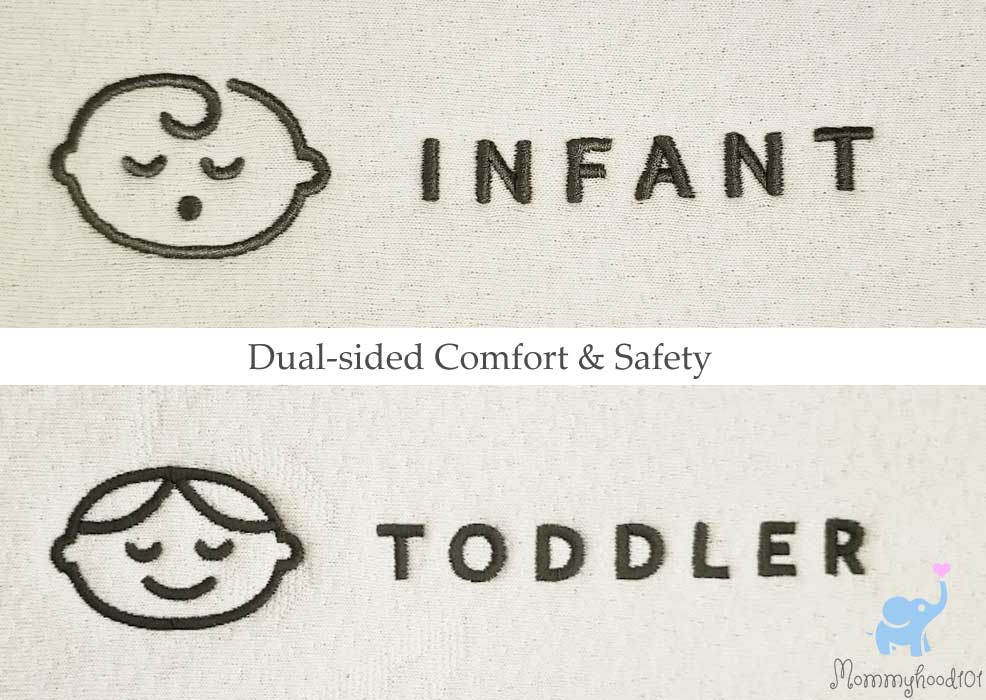 Not only does each side say INFANT or TODDLER in very clear letters, there's also an adorable little face to go along with it.
Compression Test
Second, we absolutely love how firm the infant side is, which is very much in line with the recommendations of the American Academy of Pediatrics.
To demonstrate the dual firmness, we placed an 8-pound dumbbell on each side and tested how deep the mattress sunk down.
On the infant side, the mattress sank less than 1 cm, demonstrating superior firmness. This is exactly what you want from an infant mattress!
On the toddler side, the dumbbell sank down into the beautifully plush toddler surface, sinking about 3-4 cm.
Pictures speak louder than words: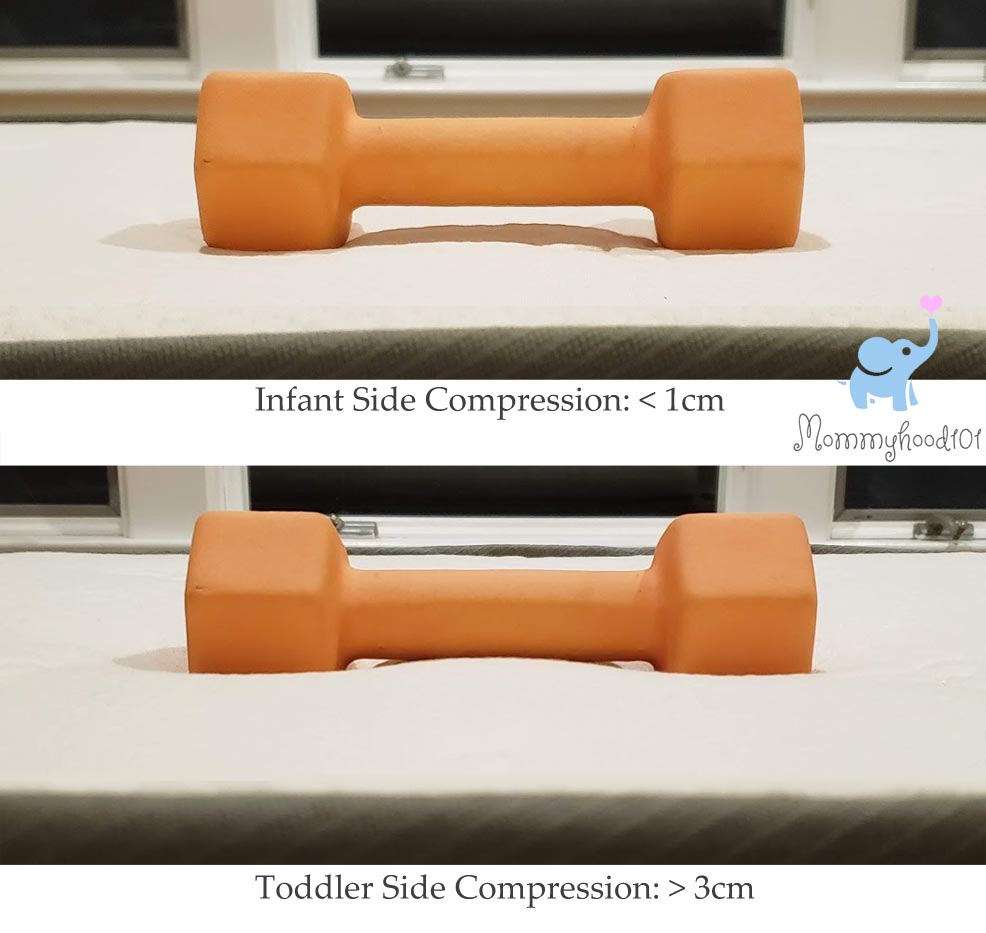 After this test, we were a little amused that Avocado went to the lengths of labeling the infant and toddler sides so clearly. A simple press of the hands makes it very clear which side is which!
Alas, most people are unfortunately not aware of the AAP's Safe Sleep guidelines.
Another note about the toddler side: SO comfortable! Honestly, our 11-year-old laid down on it and was willing to give up his mattress in a heartbeat!
Superior Craftsmanship
It's very rare that we get to test a crib mattress, or any baby product for that matter, with clearly high-quality craftsmanship.
When reviewing the Avocado crib mattress, we were repeatedly struck with the impression of quality and care in its construction, similar to how we felt in our review of the Emily crib mattress.
Check out this photo of the stitching and seams. Everything is so nicely put together, and the quilted organic cotton is as beautiful as it is soft and plush.

We love the trim along the perimeter. So many crib mattresses do not add this extra little touch, but it's super effective at preventing that last little nudge and tumble of a pacifier over the edge.
This type of trim helps fill the gaps in the corners and along the edges. Smaller gaps mean safer sleep and less of a tendency for pacifiers and loveys to disappear during the night. It also provides a bit of extra edge support.
Breathability
This is the most awkward part of our testing when we mash our faces into the cover and try to breathe normally!
The good news is that the organic cotton surfaces, wool, and coconut husk are highly breathable and offer very nice airflow.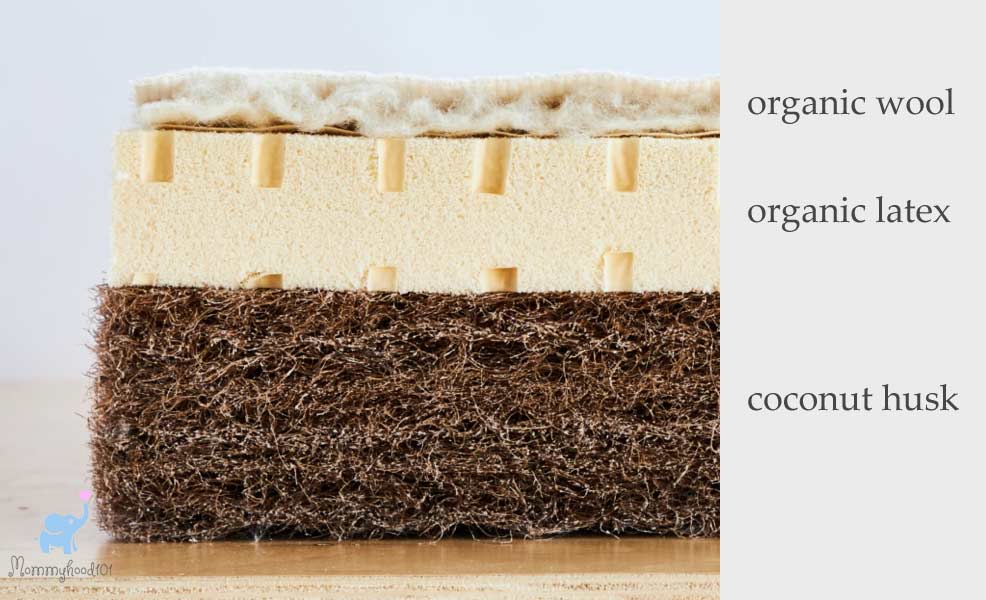 This helps in a few ways. First, it can help reduce the risk of SIDS if your baby figures out how to roll onto their tummy during sleep.
Second, it can help keep the mattress from getting too hot during the summer months.
Mattresses with a polyurethane foam core get notoriously hot and sweaty during warmer months, but coconut husk and wool have excellent airflow to keep things cool and breathable.
Things to Feel Good About
There are many crib mattresses around this price point that use natural materials and organic covers.
Few are as well-constructed and high-quality as the Avocado. Beyond that, however, Avocado has achieved unparalleled certifications for not only the mattress but also its farming practices and manufacturing processes.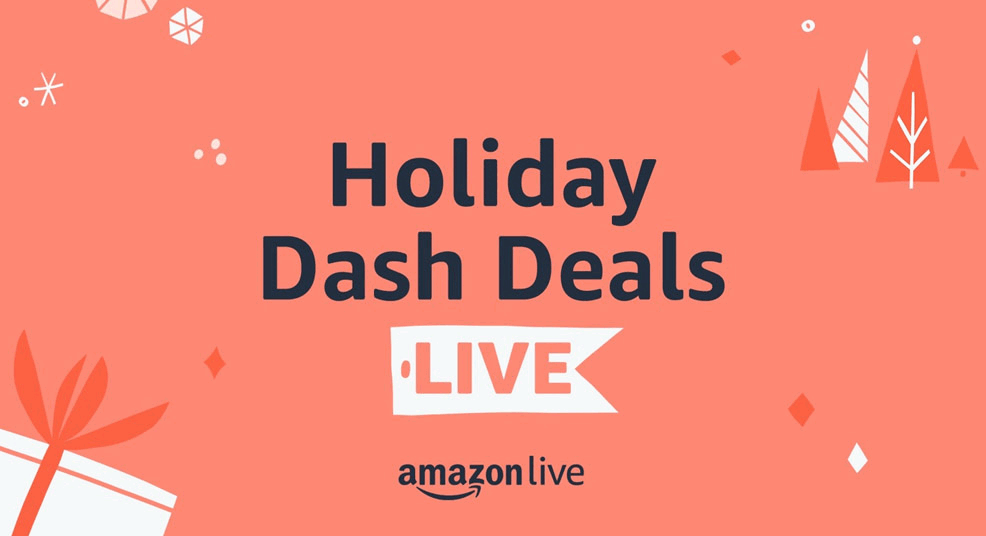 We're not going to bore you by listing all of the certifications. We'll touch on a few important ones, but you can read all about them here.
The bottom line is that you're not only getting an amazing crib mattress, but you can feel good that the way the mattress materials were farmed and sourced, and the way the mattress was constructed, are all sustainable.
✔️ Greenguard GOLD certification.
✔️ MADE SAFE certification.
✔️ GOTS organic textile standards.
✔️ GOLS organic latex standards.
✔️ UL Certified Formaldehyde Free.
✔️ OEKO-TEX STANDARD 100 certification.
✔️ Carbon-Negative manufacturing.
✔️ Sustainable material sourcing.
✔️ Climate Neutral Certified.
✔️ Clean Energy Partner certified.
Waterproof Crib Mattress Cover?
Unlike many crib mattresses, the Avocado does not include a waterproof mattress cover.
We expect this is for a few reasons, but mainly because it's impossible to make a completely natural and organic waterproof crib mattress cover without using vinyl or other plastics, or spray-on chemical coatings.
Any company advertising a completely organic and natural waterproof cover is either not being honest, or it's not actually waterproof. Yes, you can achieve water resistance, but not waterproofing, without plastics or coatings.
Avocado does sell an organic crib mattress protector pad that attaches at each of the four corners. They are very clear in their description of that product that it is not waterproof because it does not use any plastic films or chemical coatings. With so many crib mattress covers making wild claims, we appreciate the honesty.
Conclusions
We are proud to say that three of our friends and family have already purchased an Avocado crib mattress after seeing us testing it, and hearing us rave about it!
When we first heard about the Avocado crib mattress, we were immediately skeptical. Yet another mattress company making possibly unsubstantiated claims of natural and organic materials.
Ever since the lawsuit filed against Moonlight Slumber over misleading organic crib mattress claims, we can't help but be a little skeptical.
But to be completely honest, we were blown away by the overall quality and transparency of Avocado, and their commitment not only to the mattress and our children but also to the environment.
The mattress we tested was beautiful, and we're truly impressed with its comfort and quality.
Is it heavy? Yes. Cover and sheet changes will make you engage your core and biceps, just like you would when lifting a 2-year-old. We've tested coil innerspring mattresses that were much heavier, and of course foam and polymer core mattresses that were lighter.
Is the Avocado Green Crib Mattress worth $279? Absolutely. To be honest, that price is surprisingly reasonable when you compare it to the other crib mattresses offering similar features and specifications.

There are only two minor drawbacks. First, shipping times are extended due to current world events, which are largely outside of Avocado's control!
Second, the mattress protector must be purchased separately. Of course, you can put any crib mattress cover onto this mattress, to suit your preferences and needs.
Overall, we give the Avocado Green Crib Mattress a 4.9 out of 5, deducting points only for not including a removable and washable cover (that is at least water resistant).
References Cited
UL Formaldehyde-free Certification