Besrey Bedside Bassinet Review & Videos
Keep your baby close and comfy in this bedside bassinet from Besrey.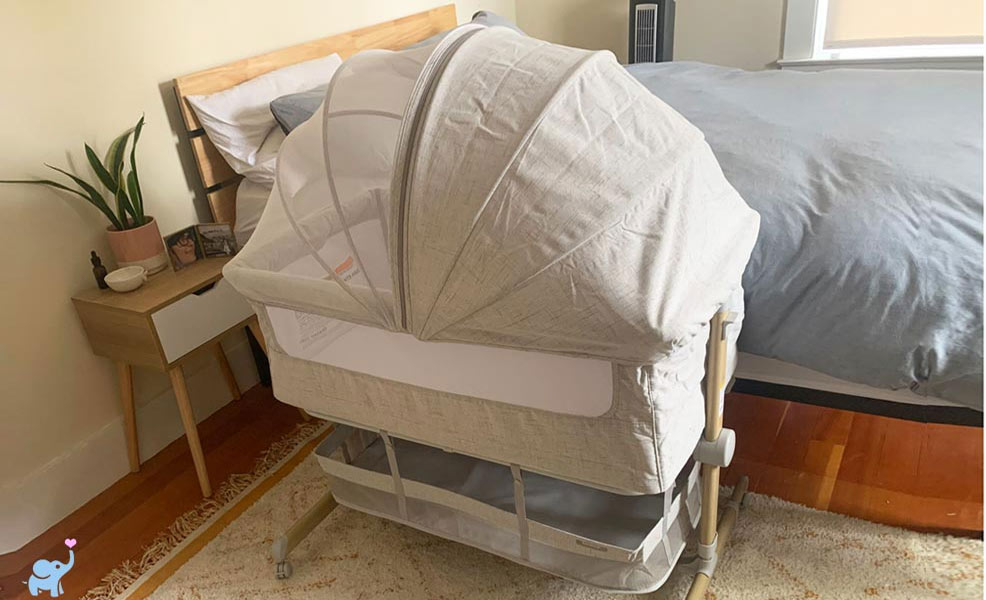 ---
Mommyhood101 independently tests and curates baby gear to help you make informed decisions. If you buy products through links on our site, we may earn a commission.
The new Besrey Bedside Bassinet offers an excellent set of features for what seems to be a very reasonable price. We put it to the test to ensure it has high quality, safety, and ease of use.
We assembled it, tested all of its features, and used it for daytime napping and nighttime sleep. Our overall impressions were very positive, and we definitely think it's worthy of a spot in our best bassinets article!
Full disclosure: Besrey was generous enough to provide us with free samples of their bedside bassinet for testing, and we're very grateful (thank you!).
But we also found some small shortcomings that you might want to consider before purchasing.
As of this writing, the Besrey Bassinet is available at Amazon, for about $149-179 depending on any discounts that might be available at the time of purchase.
Besrey Bassinet Review
Based on our hands-on reviews, we give the Besrey Bedside Bassinet a 4.6 out of 5 stars:
Most parents don't have time to read through this entire article, so here is a summary of what we found.
We were excited to get our hands on this awesome new bedside bassinet, and we were pleasantly surprised by the following aspects:
✔️ Easy 15-minute assembly.
✔️ High build quality.
✔️ Durable and soft fabrics.
✔️ Firm yet comfy mattress.
✔️ Breathable mesh sides.
✔️ Amazing canopy & mosquito net.
✔️ High-quality YKK canopy zipper.
✔️ Excellent height adjustment.
✔️ Locking caster wheels.
✔️ True bedside fit (all mattress types).
✔️ Big storage basket.
✔️ Meets ASTM, CPSIA, CCPSA standards.
✔️ Removable top rail for easy access.
✔️ Sturdy & level build quality.
✔️ Washable materials.
✔️ Use from birth to 33lbs.
✔️ Includes travel bag.
However, like with any review we write, we also had some little gripes worth mentioning:
❌ Mattress is polyurethane foam.
❌ Rails can be a little squeaky with movement.
❌ No storage pockets.
Overall, we think the Besrey Bedside Bassinet is an awesome option for parents who want a beautiful and high-quality bedside bassinet from a company that has basically considered everything in its design!
We loved the impressively wide range of features for a bassinet at this price point and thought it showed surprisingly high build quality and comfort. Our test baby slept (wait for it...) like a baby in this bassinet, falling asleep quickly and staying asleep for his duration.
The only little gripes we found were that the mattress was polyurethane foam, though that's basically every bassinet on the market. Some of the best crib mattresses use more eco-friendly materials, or at least gain CertiPUR-US certification for low emissions. One option that does not use a foam mattress is the Newton bassinet and bedside sleeper (see our review here).
The other little gripes were that the rails can be a little squeaky when your baby wiggles around (a bit of WD-40 fixed that for us), and there aren't any storage pockets (though the storage bin is huge).
Save for those relatively minor setbacks, we think the Besrey Bedside Bassinet is one of the best deals you will find on a full-featured bedside bassinet, and we highly recommend it!

About Besrey
Besrey is a relatively new brand to emerge in the baby market, so they don't yet have a strong history.
From our research, Besrey is owned by a parent company called Stiger, Inc., which is based in Diamond Bar, California (a southwestern suburb of Los Angeles).

According to our research, the company is owned by Jingying Huang. There is not a lot of information available online about Stiger, Inc.
We can only assume that Stiger is an import company that purchases bulk shipments of baby gear (including bassinets and strollers) from China, and sells them on Amazon.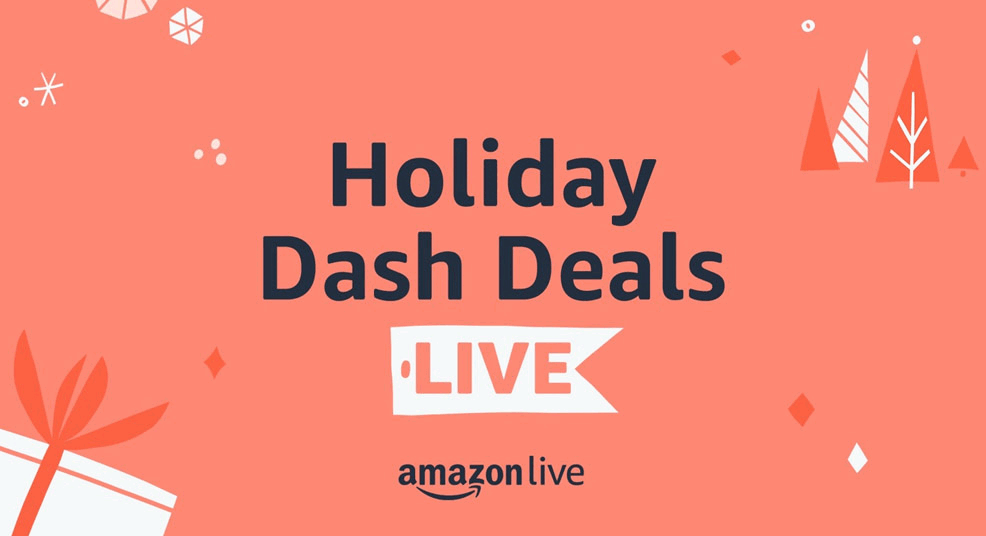 For example, we were able to find a shipment from Hong Kong of 500 bassinets in early April 2022, shipped by a company by the name of Xinqiang Limited.
This is all pretty common for many baby products and brands sold on Amazon, so it's nothing surprising. The only risk is that Besrey, unlike more established baby gear companies that sell bassinets (like Halo, 4Moms, BabyBjorn), will not be around for very long. If so, this could make returns or product support become challenging.
Features & Specifications
The Besrey Bedside Bassinet has a ton of excellent features that even the best bassinets would be proud of.
We were excited to get our hands on this awesome new bedside bassinet, and we were pleasantly surprised by the following aspects:
✔️ Durable and soft fabrics.
✔️ 1" thick, firm yet comfy mattress.
✔️ Breathable mesh sides.
✔️ Full-closure canopy & mosquito net.
✔️ 9" of height adjustment.
✔️ Locking caster wheels.
✔️ Retracting front legs for bedside fit.
✔️ Big storage basket.
✔️ Removable top rail for easy bedside access.
✔️ Washable materials.
✔️ Use from birth to 33lbs.
✔️ Mattress is 34.5" x 20" x 1"
✔️ Bassinet is 36.5" x 26.5" x 39.5".
✔️ Bassinet weighs 28lbs.
✔️ Includes travel bag.
A bedside bassinet should be able to scoot right up to the side of your bed's mattress, even when your box spring or box frame rests on your bedroom floor.
Some bedside bassinets fail in this regard because they have front legs that protrude several inches beyond the front of the bassinet. If your bed's frame extends down onto your bedroom floor, there's nowhere for those protruding feet to go, which will result in the bassinet being several inches away from your bedside. Note that if your bed is raised, the legs will protrude right under your bed, so it's not an issue
Besrey solved that challenge by using collapsible front legs that you can adjust inward to become flush with the front of the bassinet. In this regard, the bassinet can scoot right up against your bed. Of course, the shorter legs also mean lower stability, so Besrey provided a set of mattress straps that you should use to secure the bassinet against the side of your mattress.
Here is a photo where we have circled the adjustable feet that help the bassinet slide right up against your bedside, even if your box spring or box frame goes all the way down to your floor: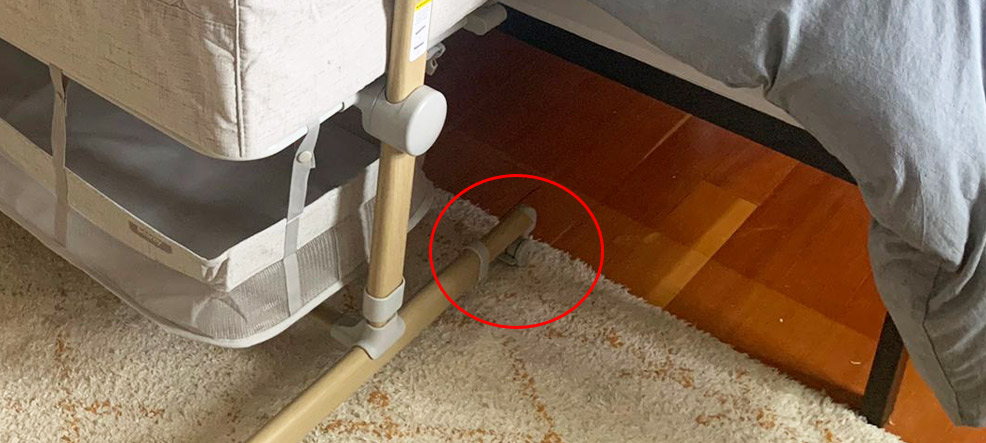 Speaking of the wheels, all four of them are locking casters, which means you can roll the bassinet anywhere in your home, and then lock the wheels to keep it in position.
Here is what those look like: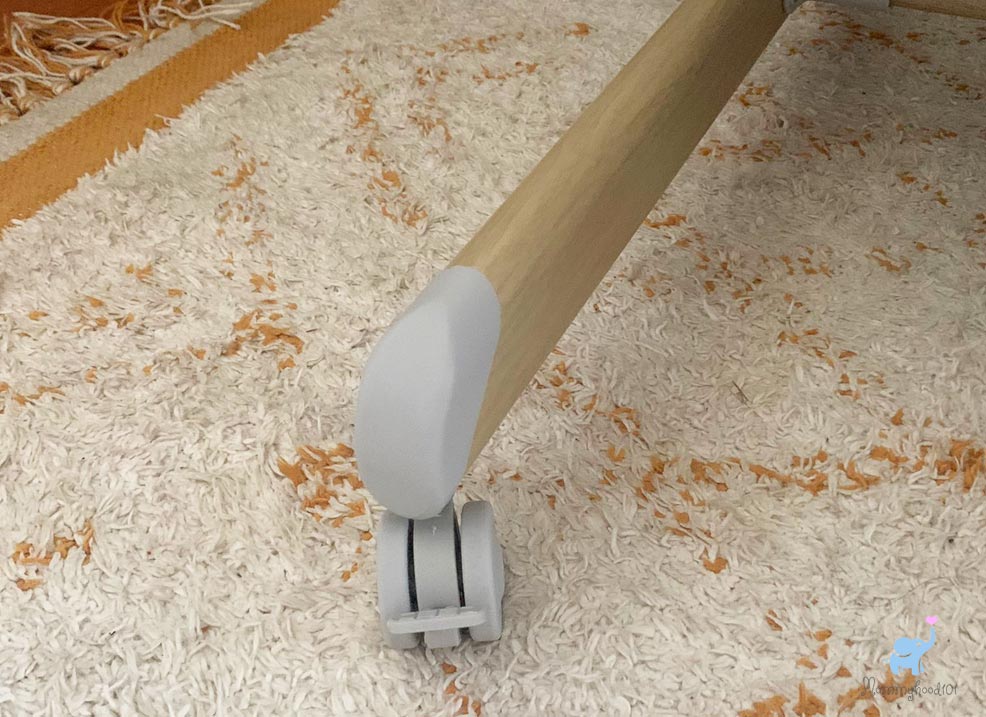 One of the big highlights of the Besrey bedside bassinet is the huge double-sided canopy.
One side of the canopy is see-through mesh, and the other side is a privacy fabric. Each side can be raised or lowered independently and then closed fully in the center by a zipper. Awesome for privacy, keeping out a curious cat, or preventing mosquitoes from entering.
Here is what the canopy looks like when fully zippered: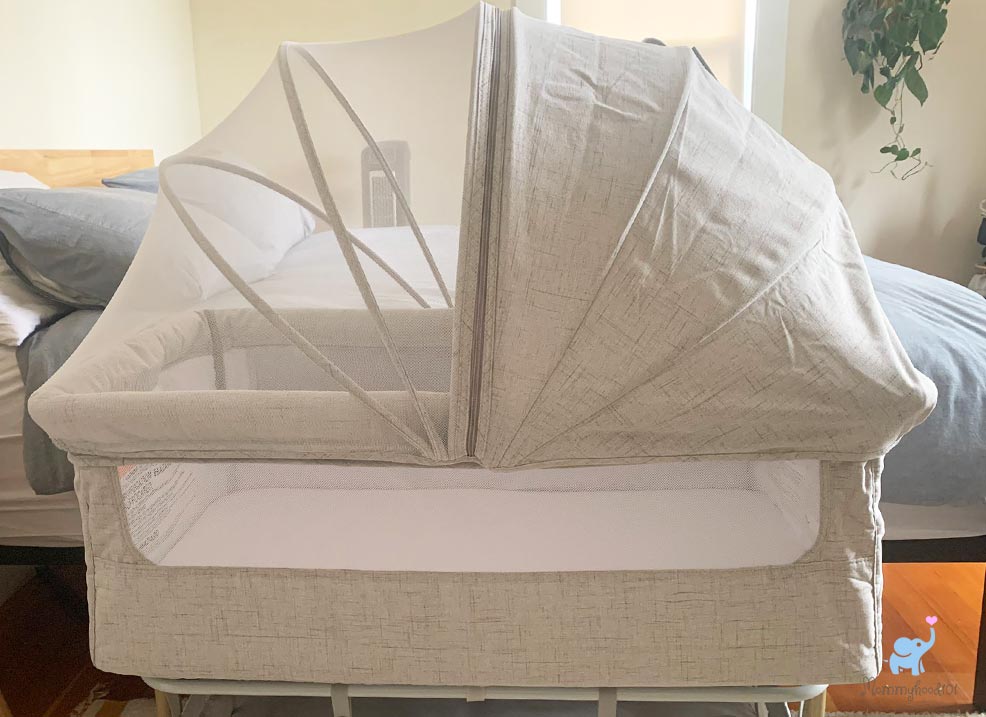 And here is a video of the canopy when fully zippered:
We think the canopy is beautiful and highly functional, and we love that the netting makes it suitable for outdoor use (camping, picnics, etc) to keep the little bugs out.
Another nice feature is the huge storage basket that hangs off the bottom of the bassinet and can hold some clothes, blankets, diapers, baby wipes, and more! Here's a close-up of the storage basket: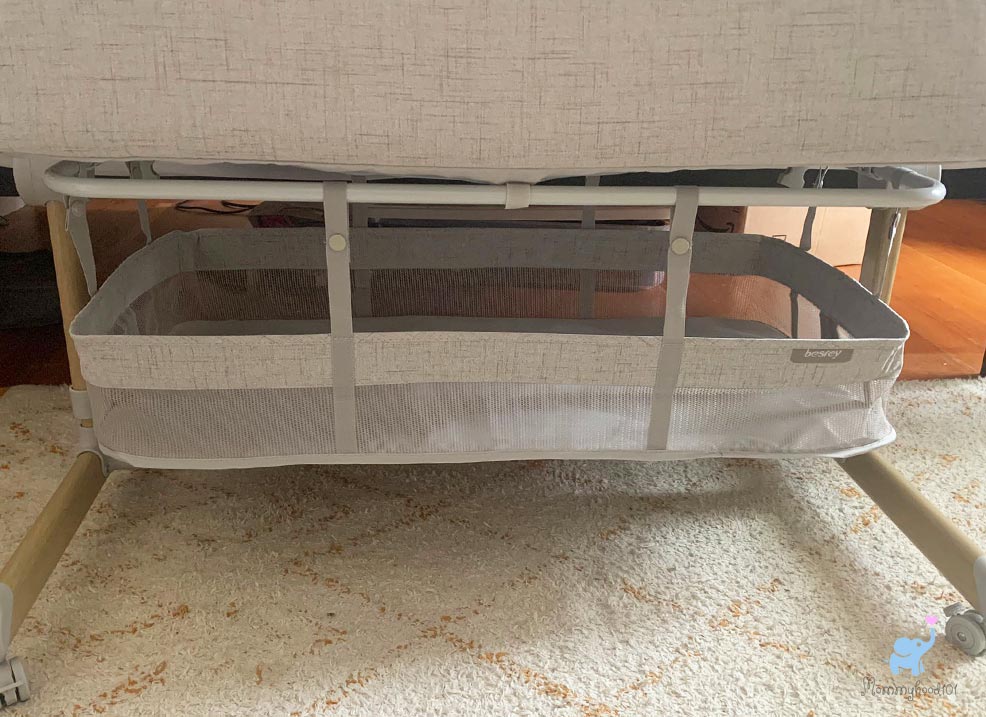 The mattress itself is about 1" thick and made of polyurethane foam, just like most bassinet mattresses.
It is reasonably firm, which is great for safety, while also maintaining a good comfort level. The mattress dimensions are 34.5" long x 20" wide x 1" thick. Besrey includes a sheet with the bassinet, but we don't think Besrey sells any replacement sheets.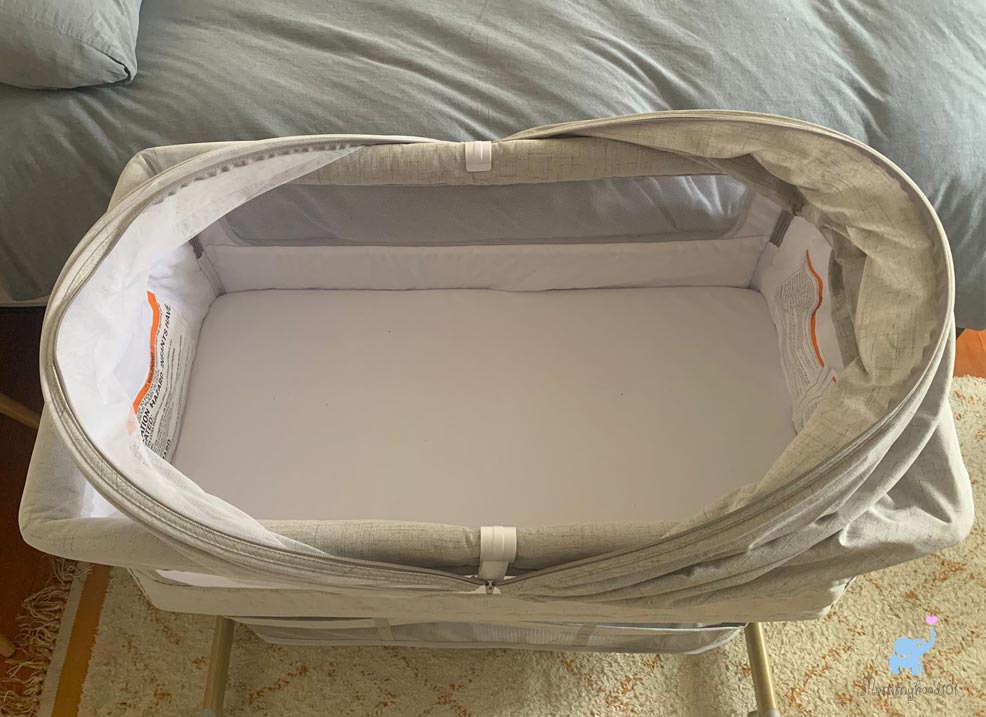 The good news is that you can use some replacement large bassinet sheets (such as these) and also some diaper-changing pad covers (such as these) that seem to fit just fine. The mattress fits very nicely into the bassinet, without any gaps around the perimeter or at the corners (see the above photo).
Another cool feature worth mentioning is that one side of the bassinet can fold down to provide even more access to your baby in a bedside configuration. Simply pop the canopy off both top rails, unzip the two corners, and fold down the top rail. We forgot to take a picture of that feature, but here is what it looks like: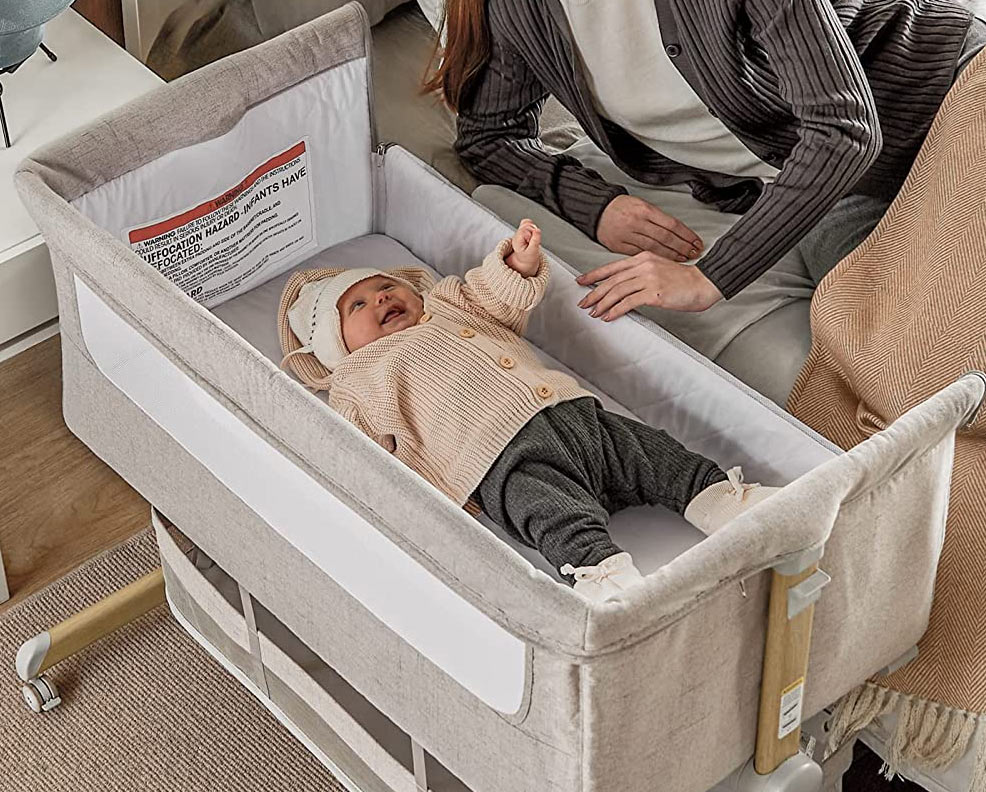 Remember that you should always keep that top rail in the upright position whenever your baby is sleeping, and the top rail of the bassinet should never be lower than the top of your mattress. There is a major risk that a blanket or pillow could easily fall into the bassinet and suffocate your child. Please be careful and follow all of the instructions!
Assembly & Use
The Besrey bedside bassinet was a bit more involved to assemble than we anticipated.
Out of the box, it comes in about a dozen different pieces that need to be assembled. Here is what that looks like: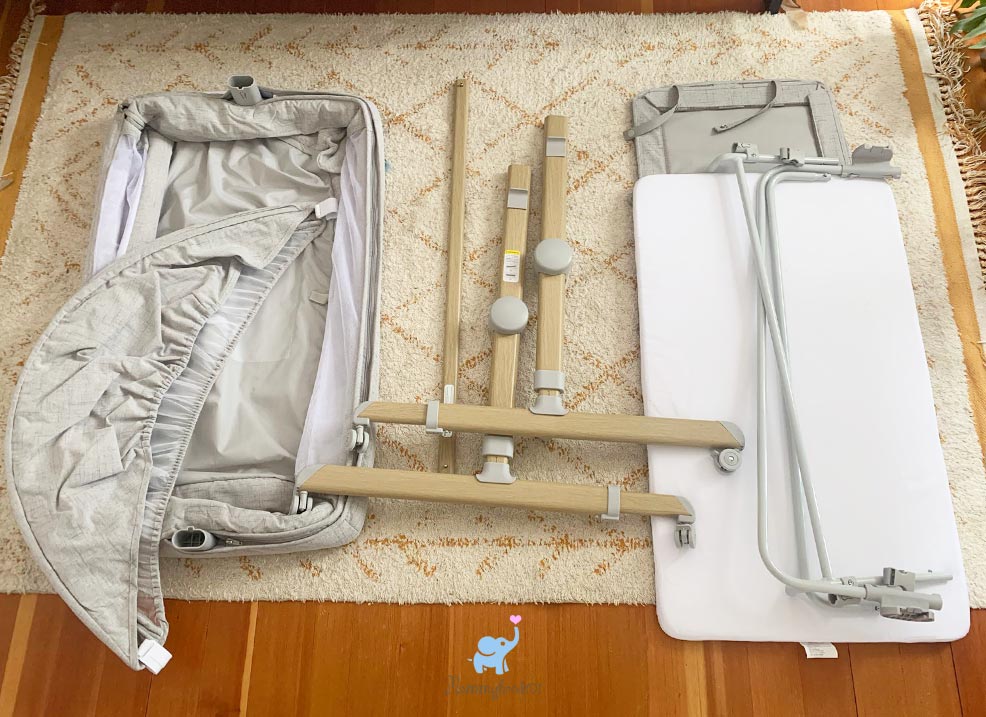 Fortunately, the assembly instructions were somewhat straightforward, and we didn't run into any issues.
Assembly took about 15 minutes, and all of the parts fit nicely together and felt like they were of decent quality.
Once we got it assembled, we found everything very easy and intuitive to use, and it looks great! Here is a video walk-around:
The height adjustment was easy to use, and had a wide range of adjustability. Basically, it adjusts in about 1" increments within a range of about 9".
Functionally, that results in a minimum height of about 31" from the floor to the top rail of the bassinet, all the way up to about 39.5" high. The top rail is about 14" higher than the mattress, which means you can adjust the mattress height from about 17" up to about 25.5".
The canopy was easy to position and secure, the zippers were high quality, and honestly, everything worked very well! We were surprised with the level of functionality and quality of a bassinet with this reasonable price point.

Comfort & Quality
There are a few things that we appreciated about the comfort and quality of the Besrey bassinet:
All of the fabrics are soft yet durable, hand-washable, and appear to be high quality.
The wooden pieces and plastic fasteners were sturdy and high quality.
The zippers were high quality, quiet, and easy to use.
The mattress is firm enough for safety, yet comfortable enough for overnight sleeping.
The medium-density fiberboard underneath the mattress provides a nice flat and stable sleeping surface.
All of the major touch-points on the bassinet, such as the top rails and canopy, are soft-touch.
When properly attached to the bed, we thought the bassinet was very sturdy for even the biggest wiggle-worm babies.
Once your baby begins to roll over and pull up, it will no longer be safe to continue using a bassinet (see our list of the best cribs for that situation!). Here is a good example video of why it would be unsafe!
Overall, we loved testing the Besrey bassinet and thought it was and thought it was fun, smooth, and versatile!
Small Annoyances
No bassinet is perfect, whether it's $150 or $1500, so we always have some gripes!
The first thing we noticed is that the mattress label says polyurethane foam. While this is extremely common for bassinet mattresses, we would prefer that the foam is at least CertiPUR-US certified for low VOC emissions.
The second thing is that while the storage bin is huge and convenient, there are no storage pockets for smaller things. For example, it would be nice to have a couple of pockets on each end of the bassinet, where you can keep extra pacifiers or diapers, without having to bend down to the storage basket. This is most important after a c-section when it will be difficult if not impossible to get out of bed for several days.
If we're being really picky, another little gripe is that the canopies, when attached, do protrude a bit into the sleeping area. You can see that in the below photo: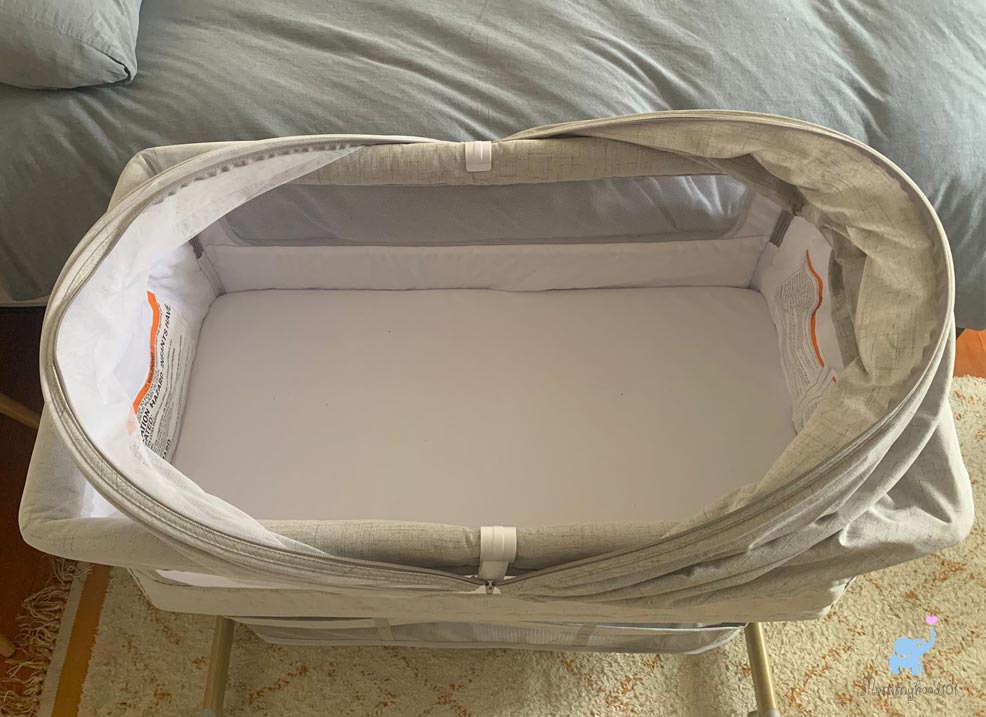 As your little one grows, this could become a slight hassle when putting your baby in or taking them out of the bassinet. Realistically, even with a super tall baby, we doubt it will ever be an issue, but it's worth mentioning. Besrey could have made the canopy frame a bit larger so that it doesn't take up as much perimeter space.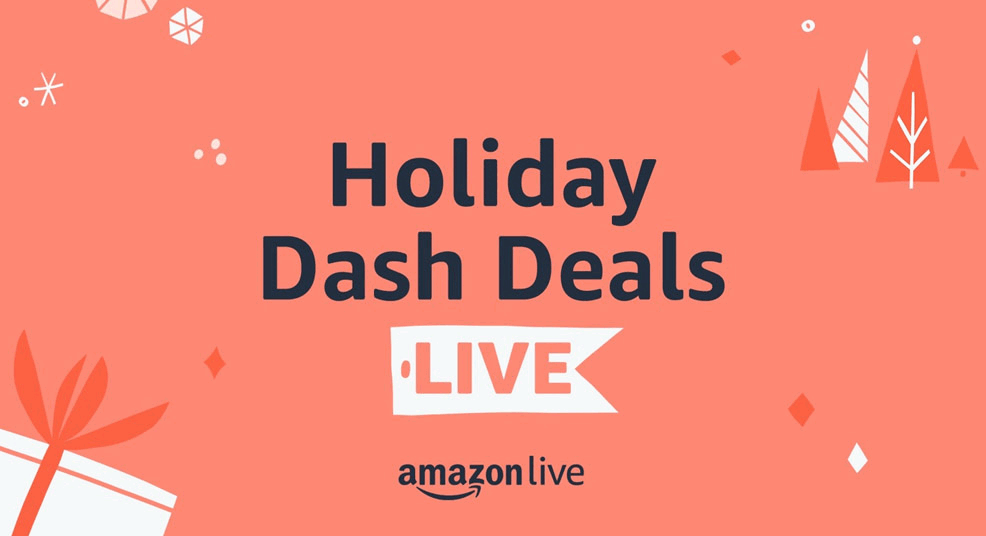 Finally, if your baby is very actively kicking and wiggling, the bassinet might squeak a tiny bit. That was the case for us, and we ended up putting a tiny bit of WD-40 into one of the joints, which fixed it.
Overall, none of these represents a huge deal, but they are worth pointing out for the more discerning parents!
Overall Conclusions
We were impressed with the overall execution of this bassinet!
It's like the designers considered nearly everything and really listened to parents' input about the essential features of an awesome bedside bassinet. And their execution was nearly flawless, save for some minor drawbacks.
We think the Besrey bedside bassinet is the perfect option for families looking for a fully-featured bedside bassinet that shows great versatility, comfort, and quality, without breaking the bank!
Our testing will continue for several more months, and if we run into any challenges we will update this article.
Where to Buy the Besrey Bassinet
We suggest purchasing the Besrey bassinet through Amazon.
The price is typically about $160-180 depending on discounts available at the time of purchase.
You can click the below image to check the current prices.