Newton Bassinet Review: Hands-On Testing
In the nursery or at your bedside, this bassinet will keep your baby comfortable and safe.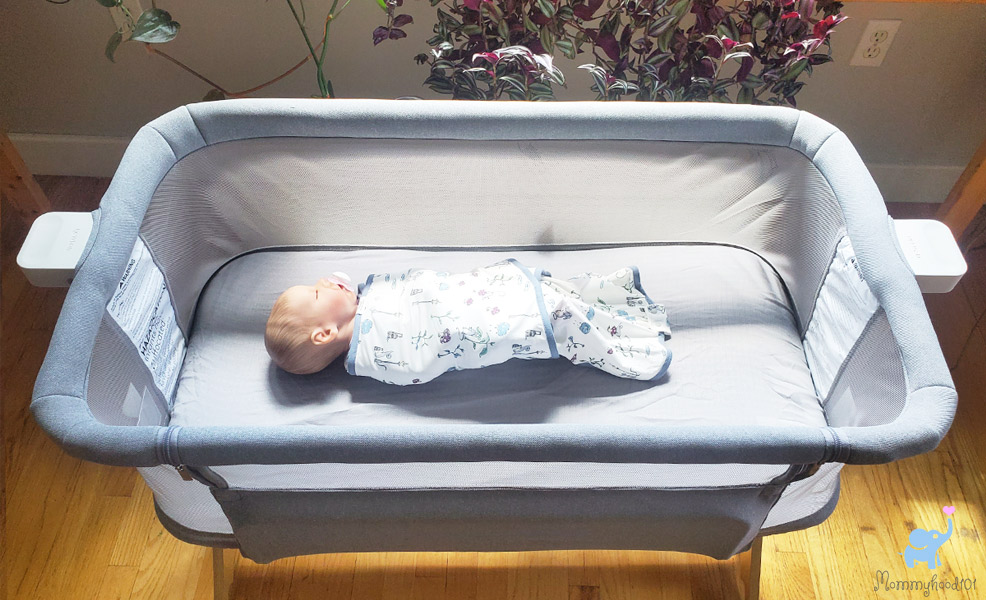 ---
Mommyhood101 independently tests and curates baby gear to help you make informed decisions. If you buy products through links on our site, we may earn a commission.
Sitting near the top of our annual reviews of the best bassinets, this all-new bassinet and bedside sleeper from Newton Baby brings comfort, versatility, and quality to an entirely new level!
We put the Newton bassinet through our hands-on testing and evaluated its ease of assembly and use, quality, comfort, durability, and price.
Overall, we came away with a very positive impression of this bassinet, and think it could be the perfect addition to your bedroom, nursery, or anywhere in between!
Take-Home Message
Nobody wants to read through an entire article to get to conclusions, you've got more important things to do! So here are our findings, right up front.
Spoiler alert, we are very impressed by the Newton bassinet and were grateful to get a chance to test it out (thanks for the sample, Newton!).
That said, it is definitely deserving of a top position on our list of the best bassinets of the year. Here is a summary of what we loved, and some things that could be improved.
✔️ Made in USA and Europe.
✔️ Highly breathable sides.
✔️ Highly breathable mattress.
✔️ Zip-down side.
✔️ Washable mattress core!
✔️ Thick & comfy mattress.
✔️ No polyurethane or foams.
✔️ No chemical flame retardants.
✔️ No vinyl or latex.
✔️ Huge sleeping surface.
✔️ Solid birch wood frame.
✔️ Sturdy & stable construction.
✔️ Adjustable height.
✔️ No odors or off-gassing.
✔️ Washable cover.
✔️ Lightweight, travel bag.
✔️ Moderately easy assembly.
❌ No mesh on front panel.
❌ No motions or music.
❌ Height adjustment difficulty.
Of course, not everyone wants a bassinet that bounces, sways, or plays music - in fact, we prefer simpler bassinets that are lighter weight, less expensive, aesthetically pleasing and have fewer complicated parts to malfunction or break.
Regarding height adjustment, it works best with two people, one on each end. We wish we were able to adjust it with one person.
Feel like a bassinet expert now? You should! But if you're still uncertain, continue reading to see how we reached these conclusions!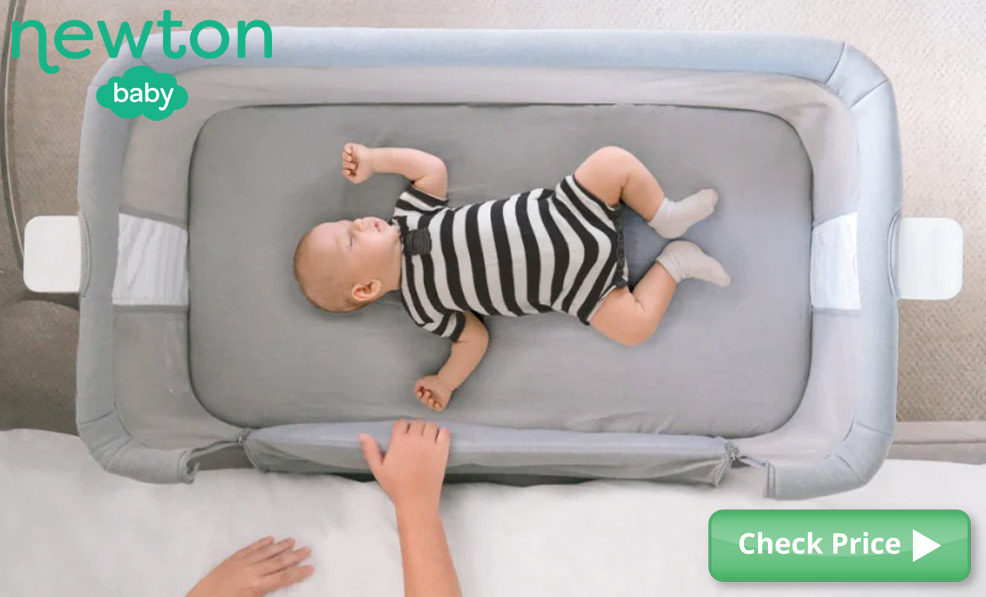 Newton Bassinet Review
To be 100% transparent, Newton sent us a sample bassinet for testing (thank you, Newton Baby!).
That doesn't necessarily bias us; in fact, nearly half of what manufacturers send us does not make it onto our site due to quality concerns.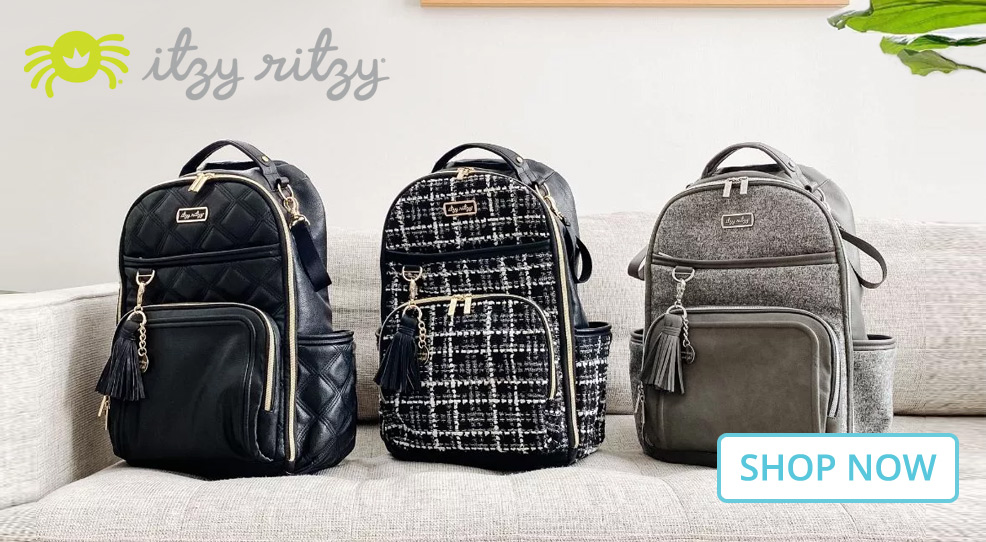 The Newton bassinets follow a diverse journey around the world during manufacturing. They are designed in Tennessee, all the parts are made in the Netherlands, and then the final assembly is done in China. By the time it gets to your doorstep, it will be very well-traveled!
One of the things we loved about the packaging is that it's very manageable and relatively lightweight: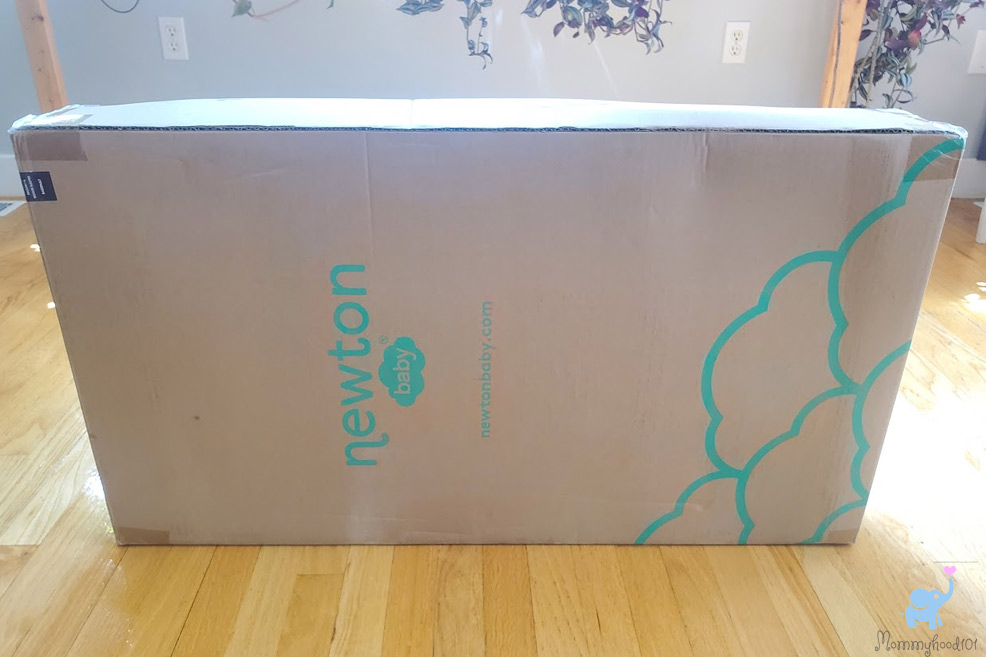 The box measures about 38" long, 21" wide, and 6" high. It's nearly the size of a mini crib mattress.
The packaging cardboard is thick and sturdy, making it unlikely to get damaged during transit. The bassinet mattress hiding inside is also shipped flat, which we love.
Unboxing the Newton Bassinet
We slid the bassinet out of the box and it was very well sealed in a zippered carrying bag.
It's probably unlikely that you'll be taking this jet-setting (that's why there's the Newton travel crib and play yard!), but it's nice to have the option for storage or a trip to grandma's house.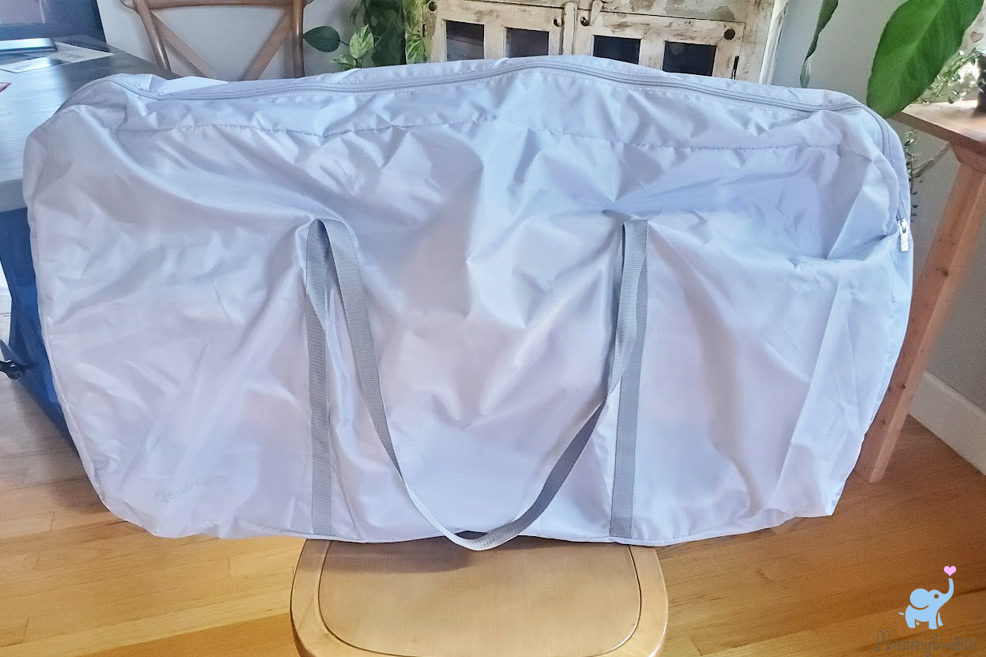 The bag has large shoulder straps and a high-quality zipper.
It is able to accommodate the bassinet with room for anything else you might want to squeeze in there, such as extra sheets.
Unzipping the bag, we slid out a stack of parts that was neatly organized, padded, and well-secured.
Bring scissors or a knife to remove a few zip ties.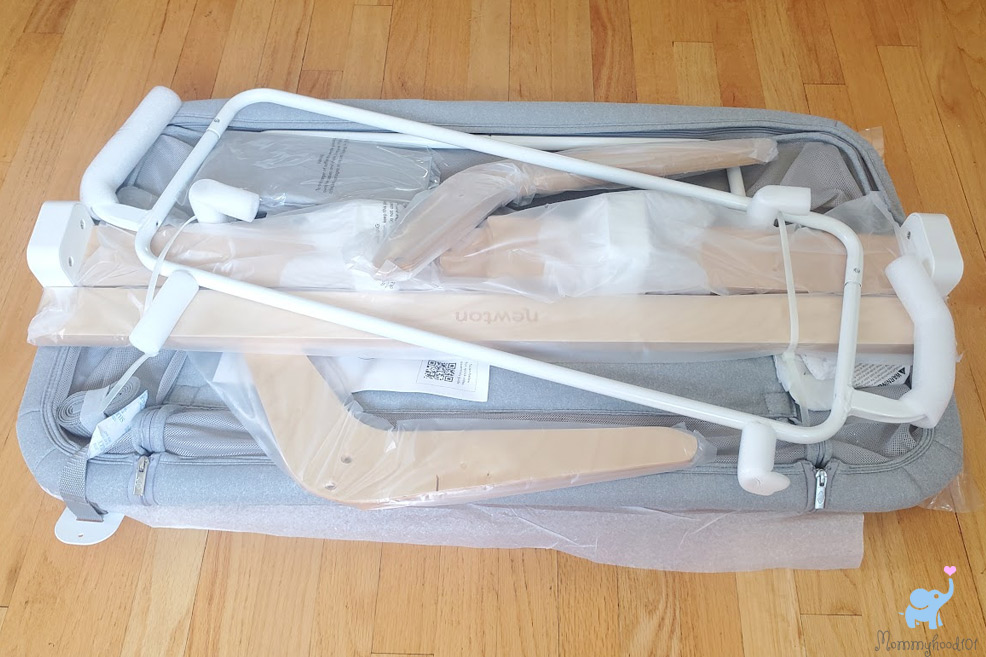 At this point, we noticed absolutely no off-gassing odor.
This is always a welcome surprise when opening up new baby gear!
Assembling the Newton Bassinet
The Newton bassinet includes everything you need for assembly, other than the scissors mentioned above.
Assembly is manageable with one person but would be easier with a helper.
Overall, assembly takes about 7-10 minutes, and the owner's manual has very clear instructions and images.
In fact, my husband was able to assemble the bassinet one-handed, as you can see in this video:
Of course, he has over a decade of practice assembling baby products, so definitely don't expect it to be that easy!
Our only recommendation for improving the assembly process is related to the large wooden horizontal bar. That bar has a dowel only on one end, and not on the other. If Newton put a dowel on both ends, it would help stabilize the bar when it's being assembled by one person.
Other than that, easy peasy!
Newton Bassinet Specifications
Once the bassinet was assembled, we broke out our measuring tape and scale.
Here is what we found for basic dimensions:
Exterior dimensions: 41.5" long, 22" wide, up to 32" tall.
Interior dimensions: 35" long, 19" wide, 11" high.
Mattress dimensions: 35" long, 19" wide, 1.5" thick.
Height from floor to top edge, highest height setting: 32" high.
Height from floor to top edge, lowest height setting: 26.5" high.
Here is what we found for basic specifications:
Weight: 20 pounds (or 22 with box).
Weight limit: 20 pounds.
Height adjustment: 8 levels.
Frame: solid birch plywood.
Hardware: stainless steel, plastic.
Sheet: organic cotton muslin.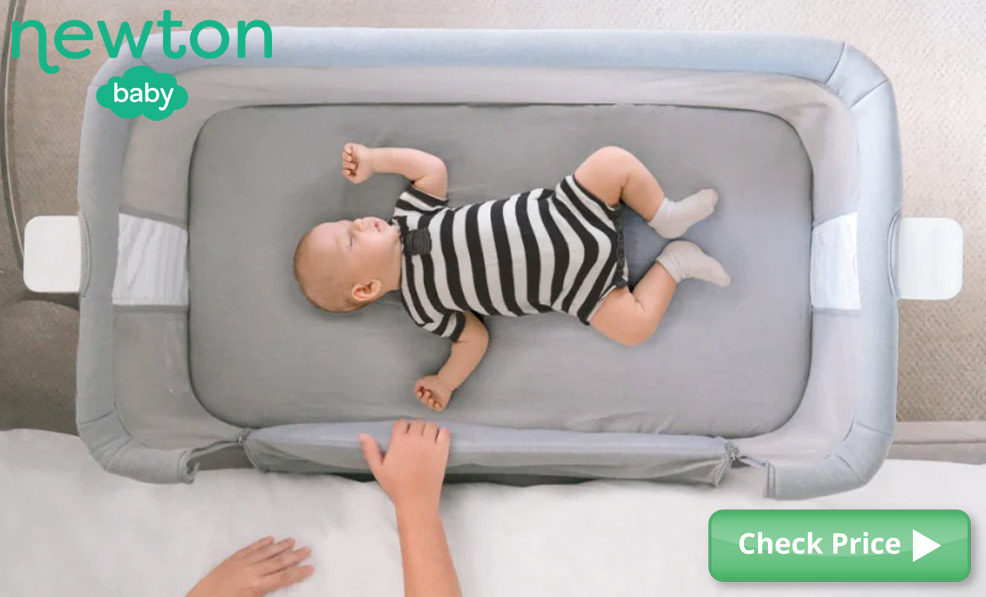 Note that one breathable fitted sheet is included, but Newton offers more bassinet sheets for sale here.
Testing
To test the Newton bassinet, we tried it with a one-month-old infant in the bassinet and bedside sleeper modes.
We tried out the infant access opening and height adjustments, and tested out its stability and durability.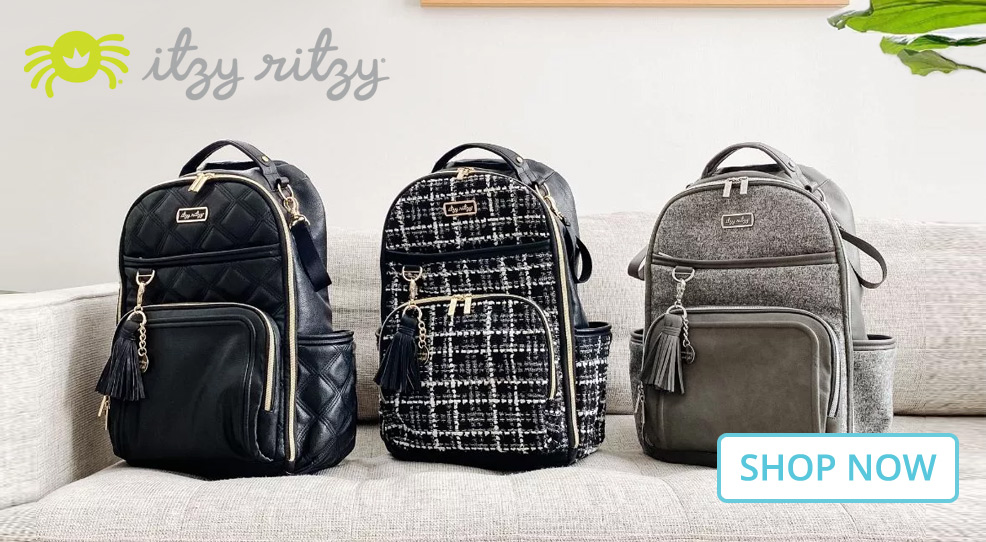 In bassinet mode, we thought it was highly stable and had a great range of height adjustments (about 5.5" of travel).
The height adjustment has numbers to help you make sure that both sides are at the same height: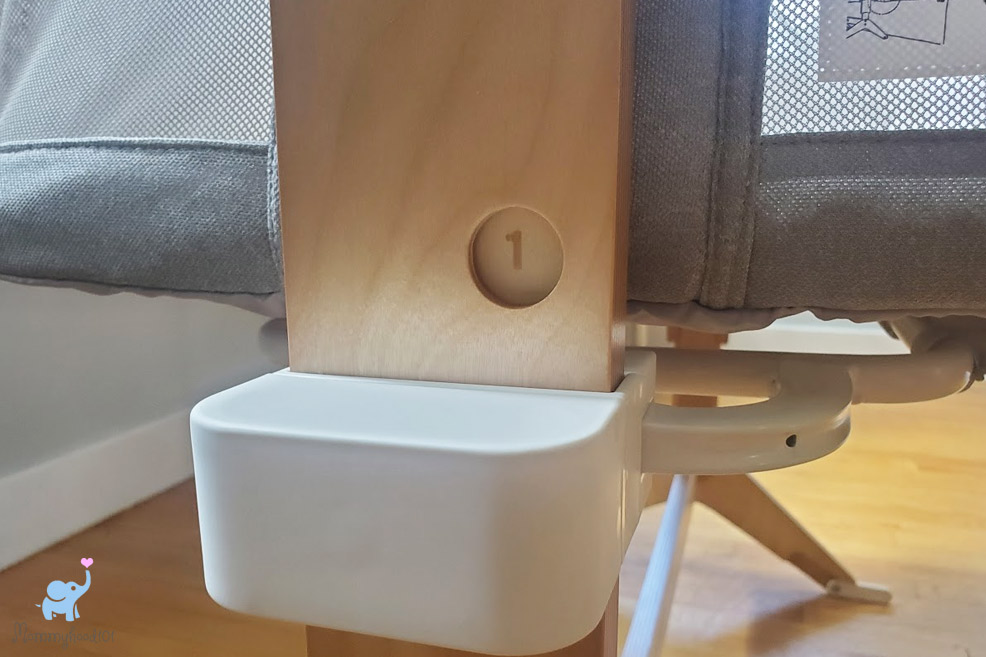 In accordance with the AAP's Safe Sleep guidelines, NEVER use a bassinet as an inclined sleeper, always be sure both sides of the bassinet are adjusted to the same height.
Our test infant was about 18" tall, allowing us to showcase just how spacious this bassinet is: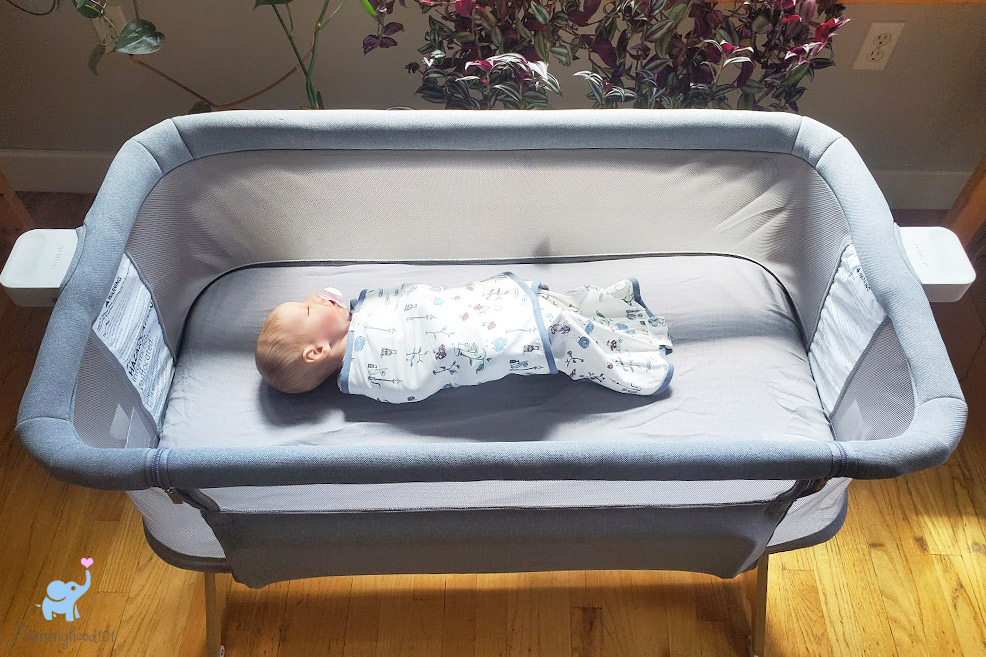 Notice how much room he has to grow!
By the way, if you're loving that adorable swaddle sleep bag as much as we do, you can buy one yourself at Nest Designs!
Here is another view of the little one, peeking in through the breathable mesh sides: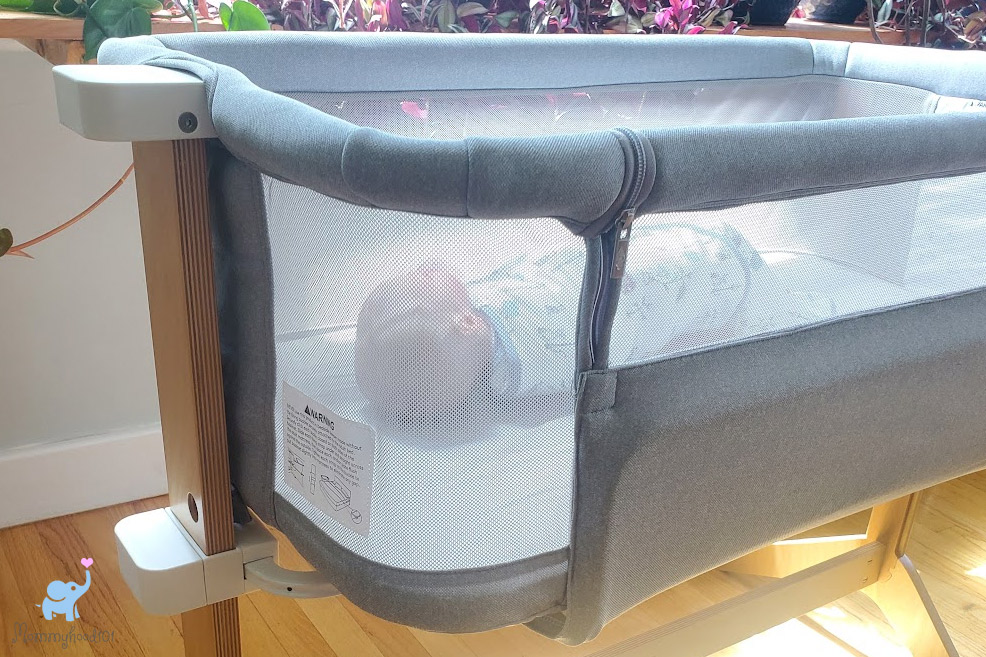 Our next test was to put the bassinet next to our bed, allowing us to evaluate the bedside sleeper mode.
The zip-down side panel was very easy to use, and affords ease of access to your baby during the night.
Here's what that looks like: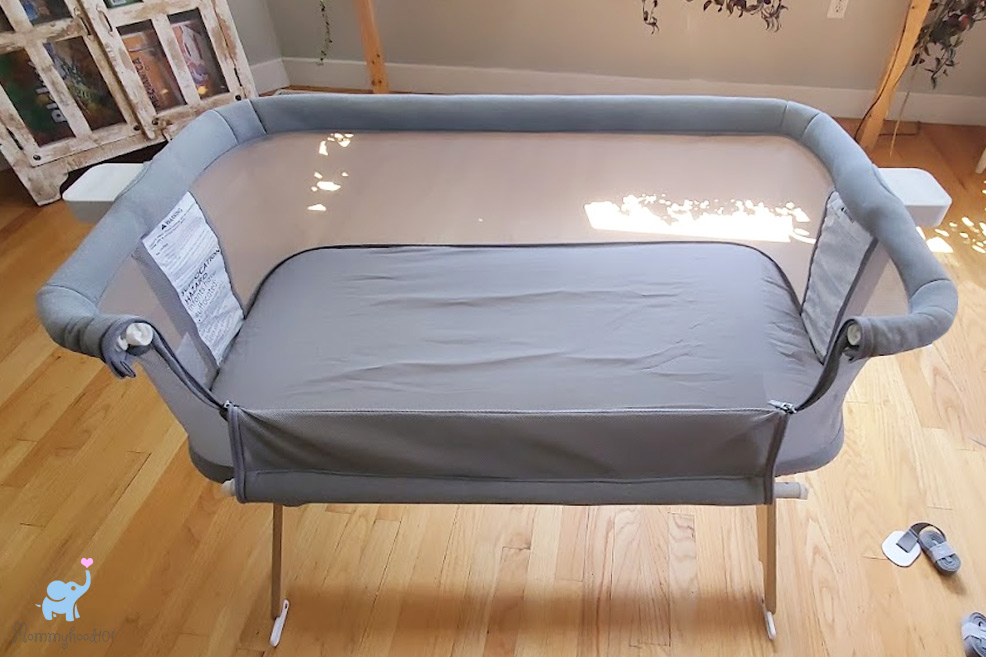 This can facilitate night feedings and makes it much easier to transition your baby into and out of the bassinet.
It also makes it easier to reach in and find a wayward pacifier!
We loved the tiny pockets Newton integrated into the bassinet, where you can hide the zippers when the panel is open.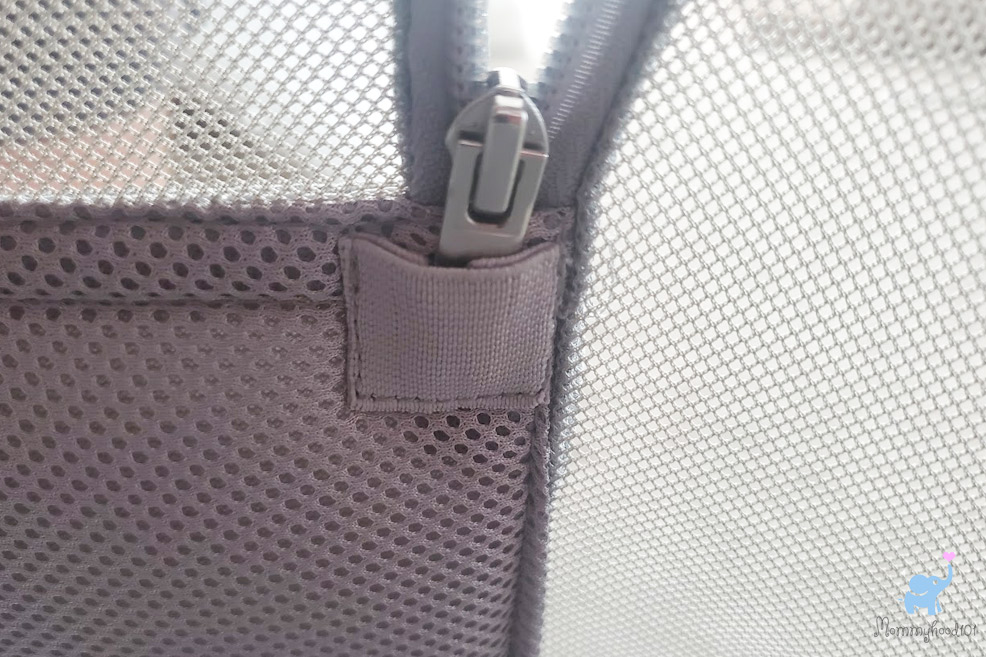 The little details are so important, and Newton was definitely paying attention when designing this bassinet!
When used up against our queen-size bed, the Newton was the perfect height (at its tallest setting). Our bed is about 30" tall to the top of the mattress and comforter.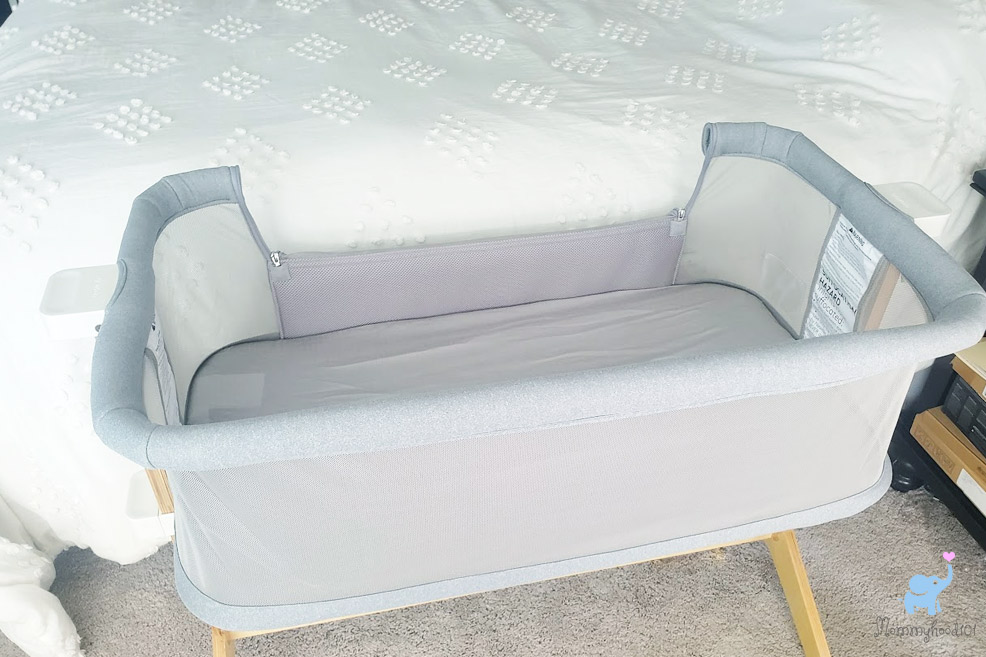 One minor con worth mentioning here: Notice how there is one non-mesh section of the bassinet, where the infant access panel resides? We do wish the entire surround was breathable mesh.
When using the bassinet in the bedside configuration, be sure to attach the bassinet to the bed using the two fixing straps, each with a buckle and anchor plate.
The fixing straps look like this: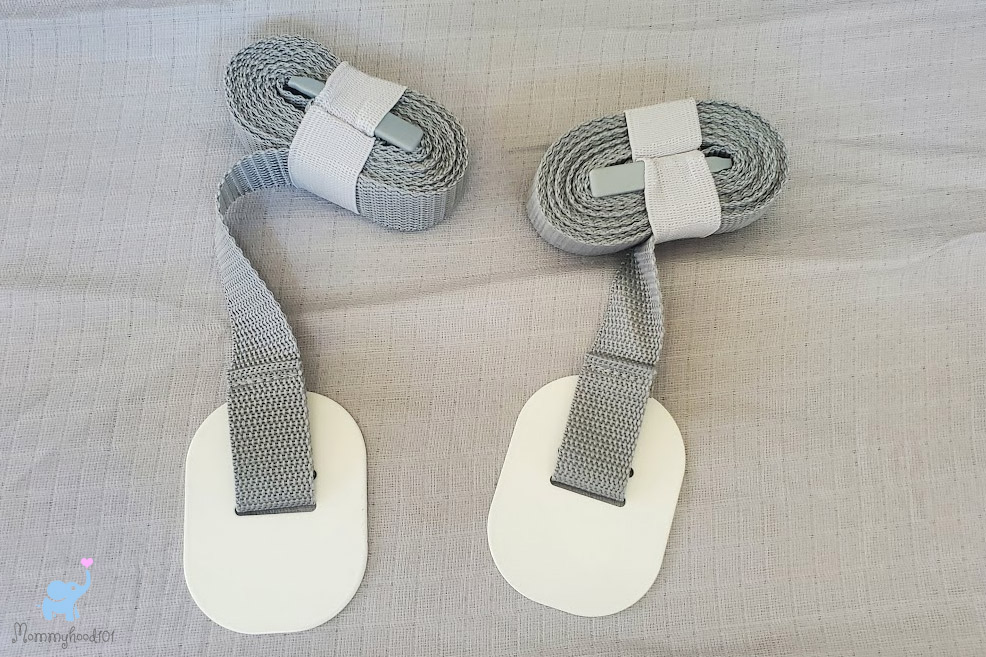 Each strap has a clip on one end, and a metal plate on the other.
The clip ends attach to each side of the bassinet, to the clips that look like this: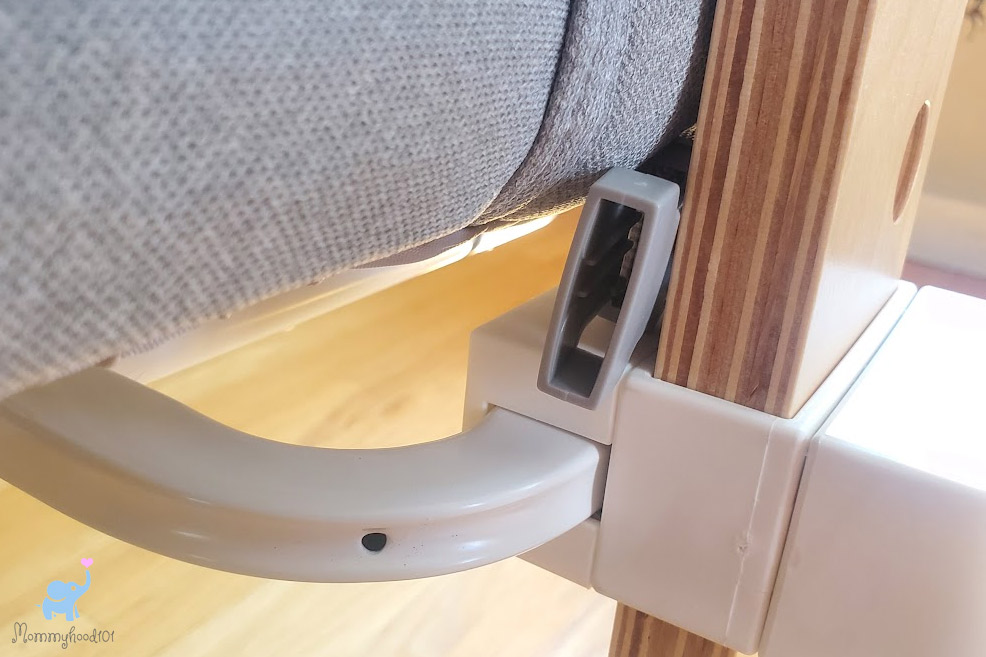 The other end of the strap, with the metal plate, needs to be slide under the top mattress on the adult bed and secured to the other side of the bed.
Be sure to read the owner's manual to see how this is done. It is extremely important to attach the bassinet to the adult bed, to prevent death by entrapment (when the baby gets wedged between the bassinet and bed).
Do not use the bassinet in bedside mode without attaching it to the adult bed!
Across all these modes, we found the Newton bassinet to be very sturdy and durable.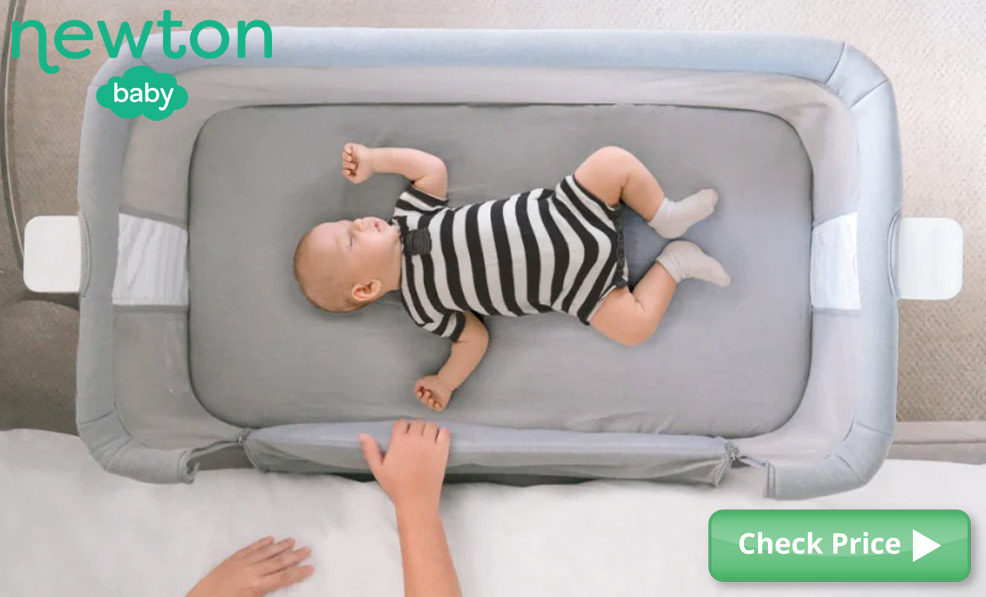 We appreciated the leg extensions to decrease the risk of tipping the bassinet, and we found the entire bassinet to be level (flat) and highly durable.
Safety & Sustainability
If you know anything about Newton Baby, you know that they take safety very seriously.
Here are the primary safety-related features we found in this bassinet:
The mesh sides of the bassinet promote breathability. This is important when your baby might drift or roll and their face becomes pressed up against the side of the bassinet.
The Wovenaire mattress promotes breathability. Just like the famous Newton crib mattress, this mattress is 100% breathable (and washable!), constructed from a dense 3-dimensional web of polyethylene plastic.
The mattress is firm to promote safety. Infant mattresses should be very firm to ensure safe sleep and lower the risk of SIDS, and this mattress does a great job balancing portability, comfort, and safety.
The wide feet promote stability. The bassinet is not top-heavy and the wide base of support helps it remain firmly planted on the floor.
The height adjustment ensures safe bedside placement. When used in bedside mode, the adjustable height ensures that the top edge of the bassinet remains above the top edge of the adult bed, reducing the risk of items (blankets, pillows) falling into the bassinet and the associated risk of suffocation.
Greenguard GOLD certification reduces the risk of harmful exposures. This certification process ensures that the bassinet and its components do not contain toxic chemicals or emit harmful levels of volatile organic compounds (VOCs).
For sustainability, the Newton bassinet has a few relevant features:
The sheet is organic muslin cotton. Organic textile practices help promote sustainable farming and manufacturing, reducing harmful pesticides, herbicides, and associated wastewater runoff.
The birch wood frame is a good choice. Birchwood, including birch plywood, is a relatively sustainable source of wood because it comes from abundant and fast-growing hardwood trees, can be locally sourced, and causes minimal impact on biodiversity when cut down.
The washable mattress core reduces waste. Thousands of crib and bassinet mattresses get thrown away and end up in landfills on a daily basis. The washable mattress core makes this less likely, allowing parents to completely wash and continue using the core for many years to come.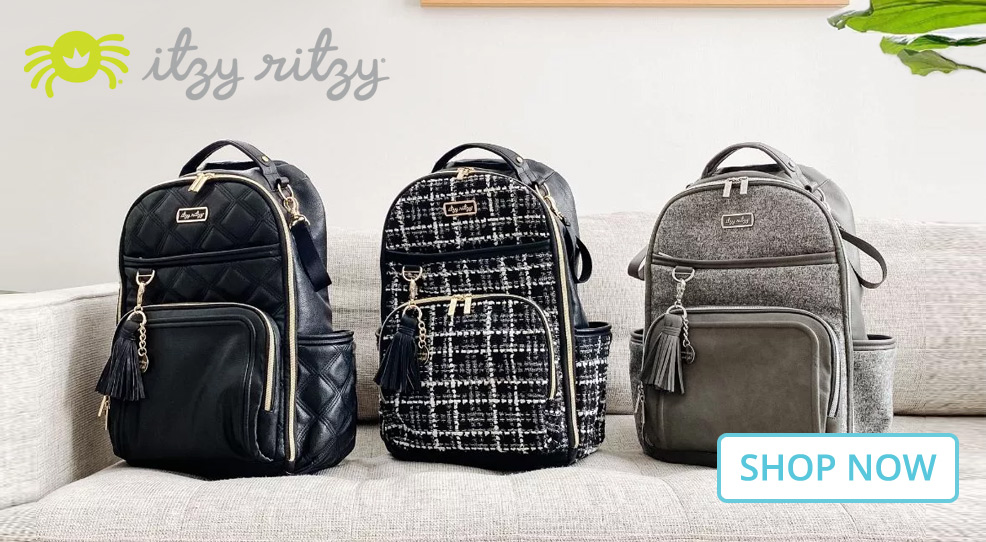 Overall, we were impressed with the safety and sustainability of the Newton bassinet, and think it sets a good example for other bassinets that are predominantly plastic, use foam mattresses, are minimally breathable, and use uncertain finishes and chemicals.
Pricing & Availability
The Newton bassinet and bedside sleeper is priced at $299.
As of this writing, it is only available in grey, and can be purchased at the Newton website or Amazon.
The Newton website is frequently running promotions so you're likely to save considerably relative to purchasing at Amazon.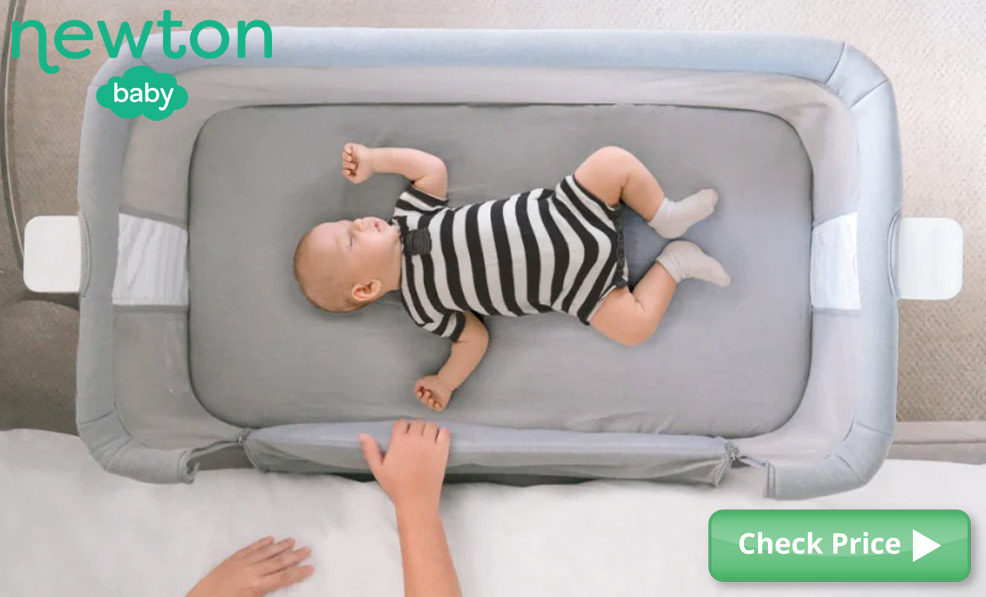 Conclusions
In conclusion, the Newton Baby bassinet and bedside sleeper repeatedly demonstrated exceptional qualities throughout our testing.
With a focus on comfort, safety, and sustainability, this bassinet has truly raised the bar in terms of what parents can expect from their baby's sleeping environment.
The combination of Greenguard GOLD certification, breathable Wovenaire mattress, sturdy construction, and thoughtful design elements positions it as a standout choice among an increasingly complex array of bassinet options.
Notably, the bassinet's extensive sleeping surface, adjustable height, and innovative features such as the zip-down side and washable mattress core add to its allure.
Through our testing, it quickly became clear that this product offers a harmonious blend of quality, comfort, and ingenuity, making it an ideal selection for parents seeking an exceptional sleeping solution for their baby.
With its features and dedication to safety and sustainability, the Newton bassinet has certainly earned its place as a top contender against competing bassinets!
References Cited
AAP Safe Sleep Recommendations