Besrey Lightweight Stroller Review & Video
Maneuverable meets affordable with this new lightweight travel stroller.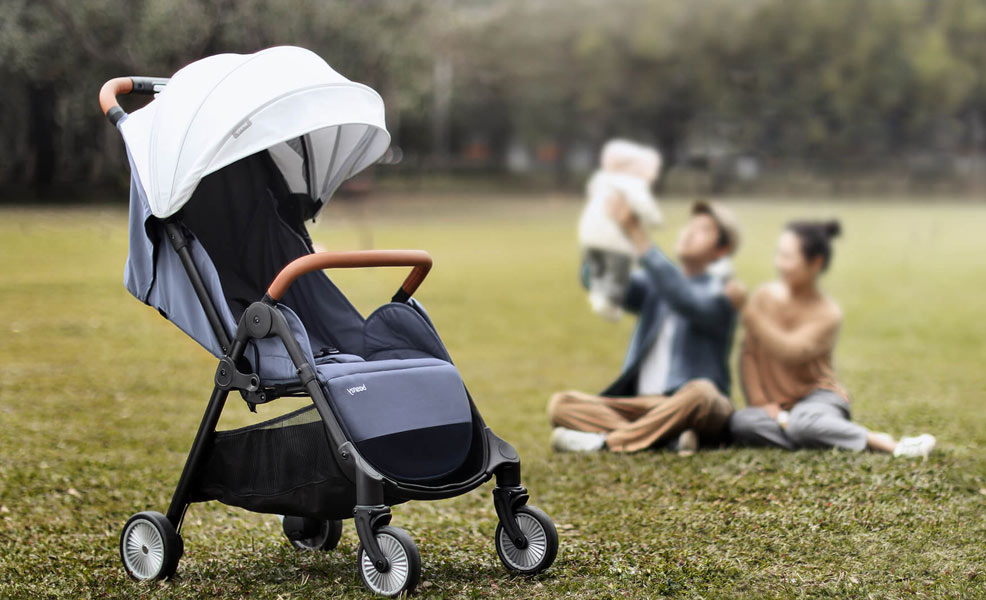 ---
Mommyhood101 independently tests and curates baby gear to help you make informed decisions. If you buy products through links on our site, we may earn a commission.
The new Besrey lightweight stroller offers impressive quality and ease of use in a lightweight travel-friendly package that is available at a very reasonable price. But how does it perform?
To find out, we put the Besrey stroller to the test!
We assembled it, tested all of its features, and took it out for a day on the town! Our overall impressions were relatively positive, and we think the Besrey does a good job competing with other mid-range lightweight strollers.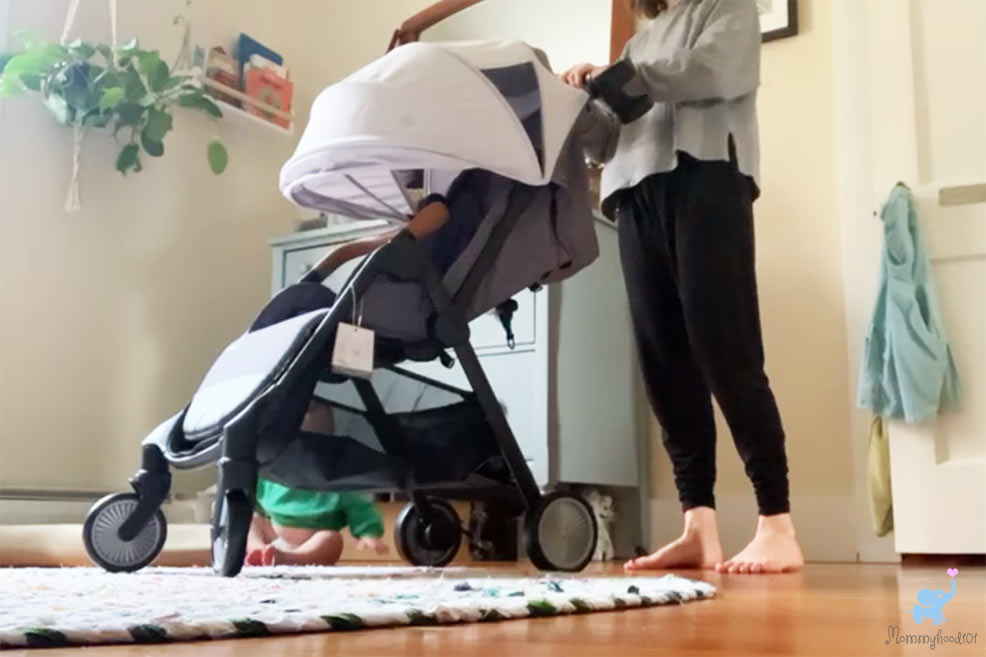 But we also found some small shortcomings that you might want to consider before purchasing.
As of this writing, the Besrey lightweight gravity fold stroller is available through several major retailers including Amazon, and can be found only in the dark gray color with the off-white canopy (pictured). The MSRP is $399, but it usually sells for about $250.
Full disclosure: Besrey was generous enough to provide us with a free sample of their new lightweight gravity fold stroller for testing, and we're very grateful (thank you!).
Besrey Lightweight Stroller Review
Based on our hands-on reviews, we give the Besrey Lightweight Stroller a 4.1 out of 5 stars:
Most parents don't have time to read through this entire article, so here is a summary of what we found.
We were excited to get our hands on this new lightweight Besrey Stroller, and we were pleasantly surprised by the following aspects:
✔️ Very easy assembly.
✔️ Decent build quality.
✔️ Huge canopy with window.
✔️ Reclining seat.
✔️ Very easy to maneuver.
✔️ Easy to fold and carry.
✔️ Adjustable footrest.
✔️ Lightweight (only 14.4 lbs).
✔️ Use from 10 to 65lbs (3-36 mos).
✔️ Cup holder & storage pocket.
✔️ Sophisticated styling.
However, like with any review we write, we also had some little gripes worth mentioning:
❌ Flimsy wheels.
❌ Not sturdy with child > 50 lbs.
❌ Rigid ride over bumps.
Overall, we think the Besrey is a reasonable contender to some mid-range lightweight strollers such as the ZOE XL1 and Colugo, offering some of the features of a full-size stroller while maintaining an easy and compact fold, lightweight build, and luxury styling.
The Besrey lightweight stroller performed well in our testing, and we loved how many features they were able to squeeze into a lightweight and reasonably-priced stroller. The waterproof canopy was large and provided excellent coverage, the colors and materials looked great, the one-handed gravity fold worked very well (it can stand on its own when folded!), and we loved the adjustable footrest, cupholder, and strorage pockets. The Besrey stroller was lightweight and folded to a very compact package.
However, we thought there were a few cons worth mentioning. First, the wheels were somewhat flimsy and the tires were too firm for comfort, leading to a bumpy ride. The seat wasn't quite as comfortable as some other strollers, and the cupholder was not very stable. Finally, while Besrey suggests that it can be used up to 65 pounds, we thought it didn't feel sturdy with any child over about 50 pounds.
Of course, those cons are not major, and we think this stroller could be a great choice for parents who love the style and value its lightweight build quality, easy fold, and convenience features.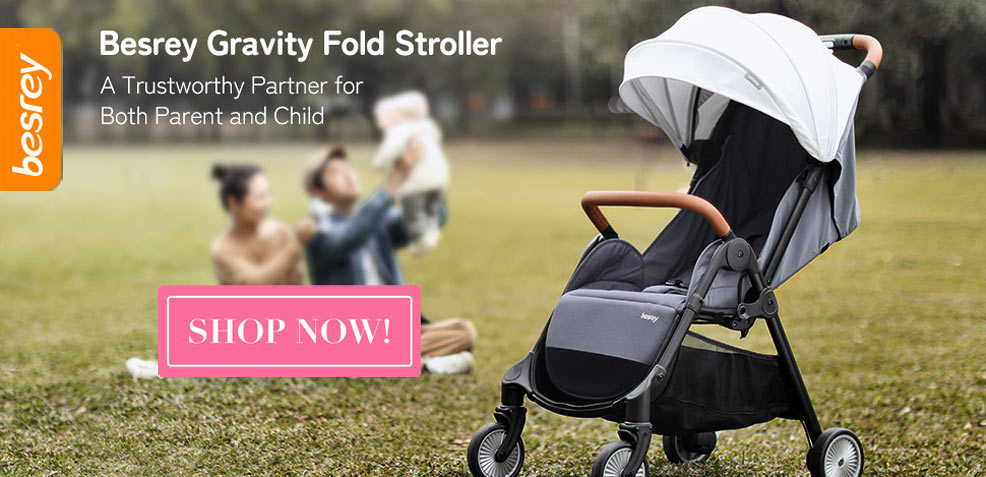 About Besrey
Besrey is a relatively new brand to emerge on the baby market, so they don't yet have a strong history.
From our research, Besrey is owned by a parent company called Stiger, Inc., which is based in Diamond Bar, California (a southwestern suburb of Los Angeles).

According to our research, the company is owned by Jingying Huang. There is not a lot of information available online about Stiger, Inc.
We can only assume that Stiger is an import company that purchases bulk shipments of baby gear (including bassinets and strollers) from China, and sells them on Amazon.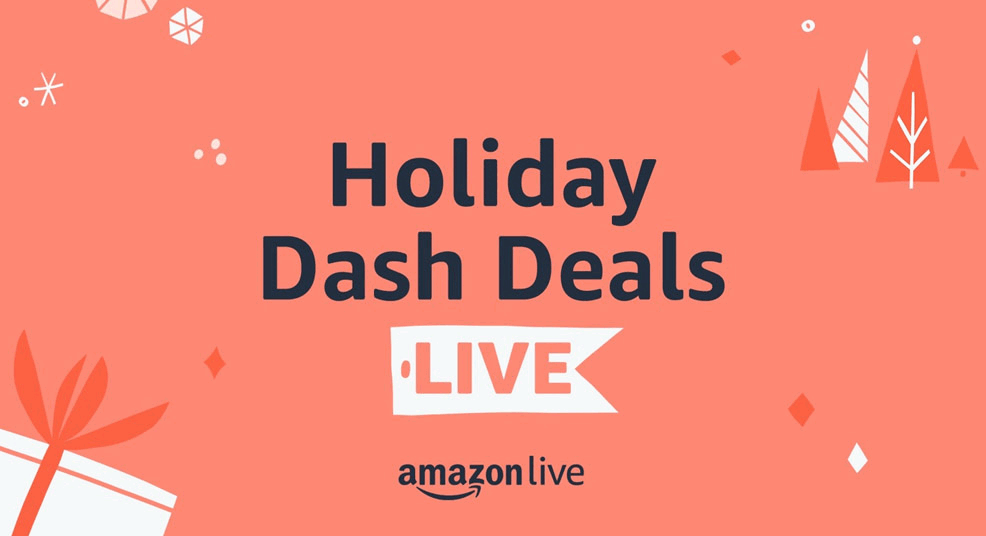 For example, we were able to find a shipment from Hong Kong of 500 bassinets in early April 2022, shipped by a company by the name of Xinqiang Limited.
This is all pretty common for many baby products and brands sold on Amazon, so it's nothing surprising. The only risk is that Besrey, unlike more established baby gear companies that sell the best lightweight strollers (like Summer, ZOE, Babyzen), will not be around for very long. If so, this could make returns or product support become challenging.
We begin with a summary of features and then discuss the assembly, comfort, and ride quality, and end with some little annoyances that are worth mentioning.
Features
The new Besrey gravity fold stroller is what we would consider a lightweight stroller, which typically means it will weigh under about 15 pounds, and fold into a highly compact package that can fit into even the smallest vehicles.
The challenge with lightweight compact strollers is that they typically lose several features that tend to increase the weight and bulk of the stroller. These include some convenience features such as adjustable handlebars, a full coverage canopy, sturdy wheels and soft tires, an adjustable footrest, and storage pockets.
However, we think you'll be impressed with the full feature list:
✔️ 5-point harness with shoulder pads.
✔️ Three harness heights.
✔️ Multi-position reclining seat.
✔️ Big storage basket.
✔️ Storage pocket.
✔️ Cupholder.
✔️ Large expandable UPF 50+ canopy.
✔️ Peek-a-boo window.
✔️ Easy foot brake.
✔️ Locking front wheels.
✔️ Stands when folded.
✔️ True one-handed fold.
✔️ Removable bumper bar.
✔️ Adjustable footrest.
✔️ 65-pound weight capacity.
✔️ Smooth, comfortable ride.
As you can see, the Besrey stroller packs a pretty decent set of features.
Some of the convenience features are typical in much more expensive strollers, such as the one-handed gravity fold that can stand on its own when folded, the adjustable footrest (great for the littlest ones!), storage pockets and a cup holder.
Let's focus on a couple of additional features that we appreciate.
First, the five-point harness was easy to buckle and unbuckle, and the three height positions provided a good range for infants to big kids.
Second, the canopy was huge and provided great protection from the sun and rain. It's not only UPF 50+, it's also waterproof, which is awesome!
Third, the storage basket was reasonably large and easy to access, and it was nice to have the storage pocket on the back.
Finally, the adjustable footrest was great for infants (3+ months) who need to be comfortably reclined while using this stroller; by pulling the footrest in the upper position, babies can keep their legs relatively flat and extended.
Here's what that looks like: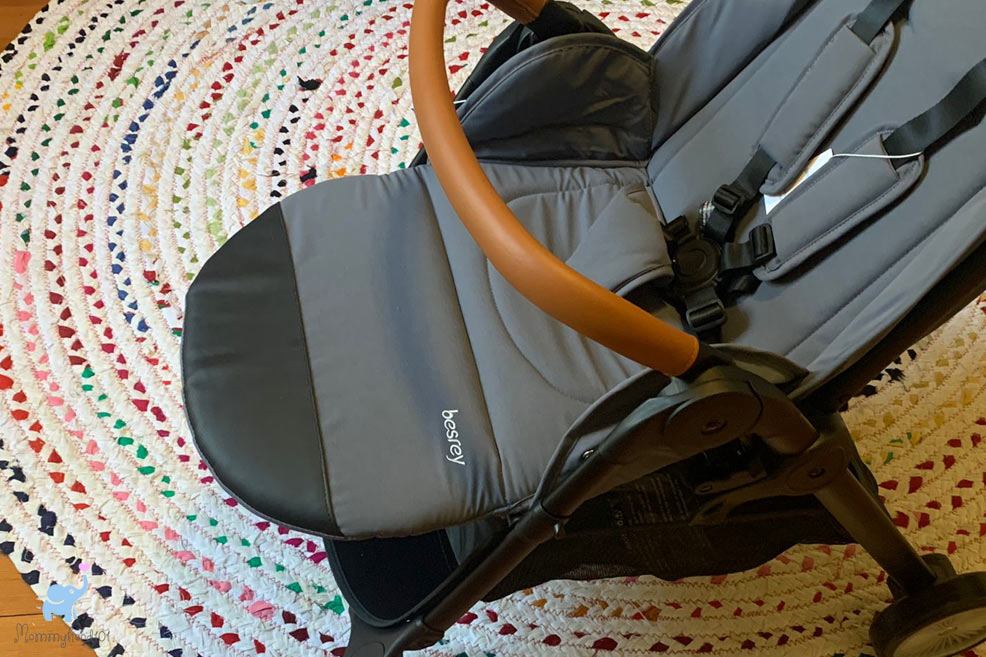 The canopy was huge and high quality. It has a zippered extension panel and a velcro peek-a-boo window that gives you a nice view down onto your little one.
Look how large it is: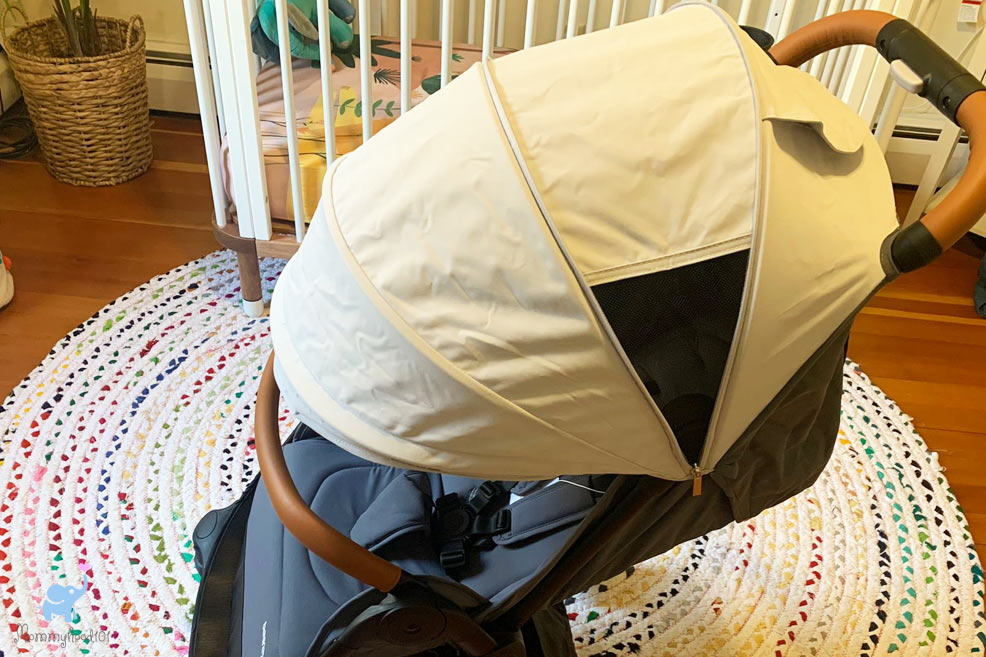 The wheels are somewhat small in diameter, which is typical for a lightweight stroller. They are also a bit flimsy and the tires themselves are not soft or rubberized. There is only one rear brake lever, but it locks both rear wheels simultaneously, which is a nice convenience.
Here is a picture of the rear wheels and foot brake on the right wheel only: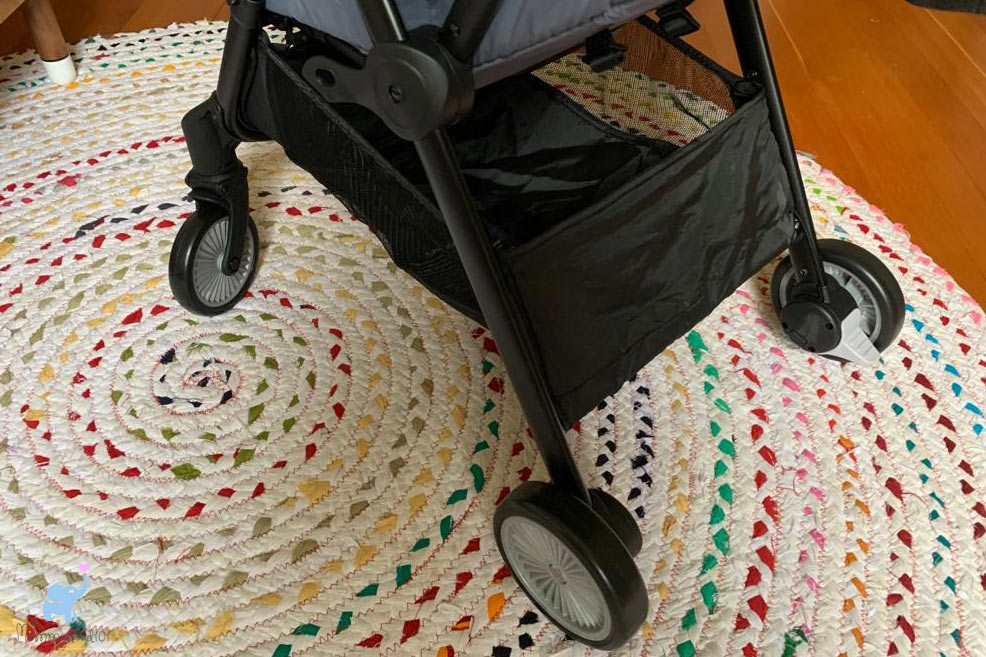 You can also see the decent-sized storage basket in the above photo. Not huge, but also not too small for a normal diaper bag.
The recline function was decent. Here is the seat in its most upright position: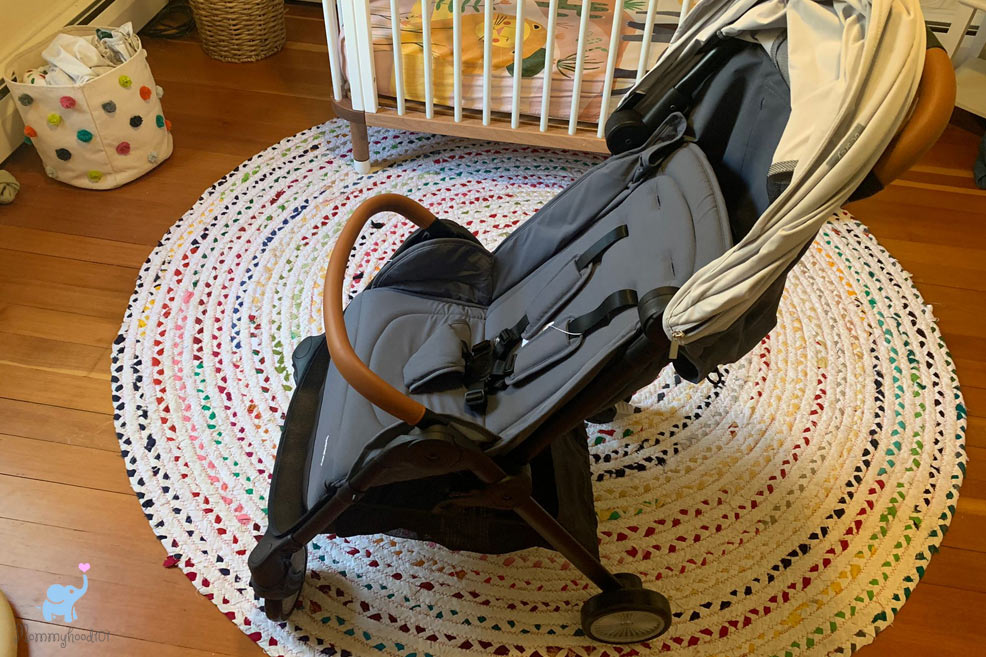 And here is the seat in its maximum recline position. Not quite lay-flat, but pretty good!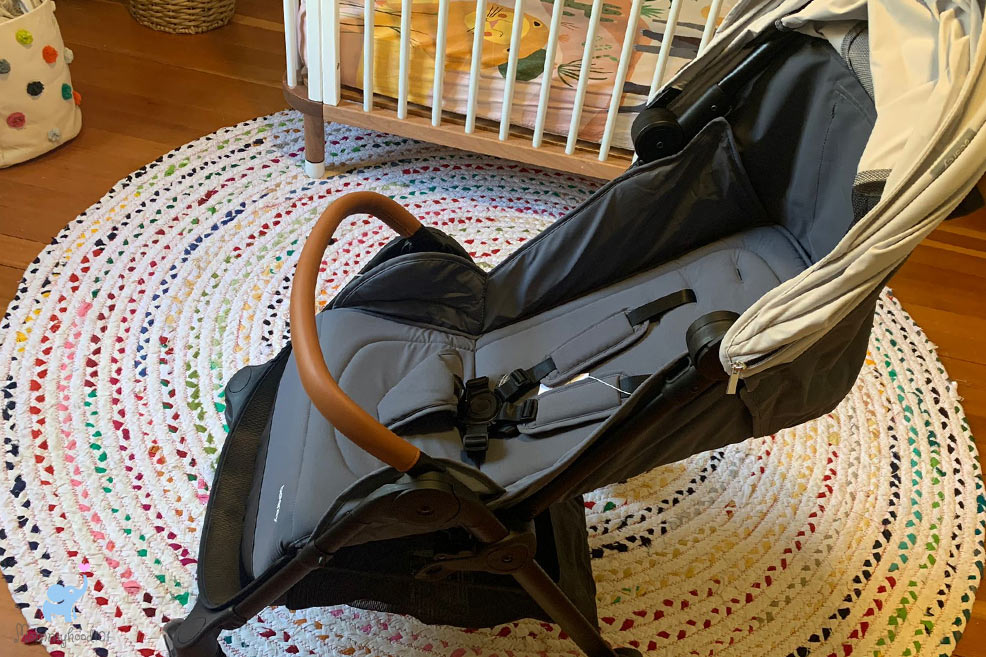 We did appreciate that the stroller has a storage pocket for parents, which is large enough for phones, keys, and wallets: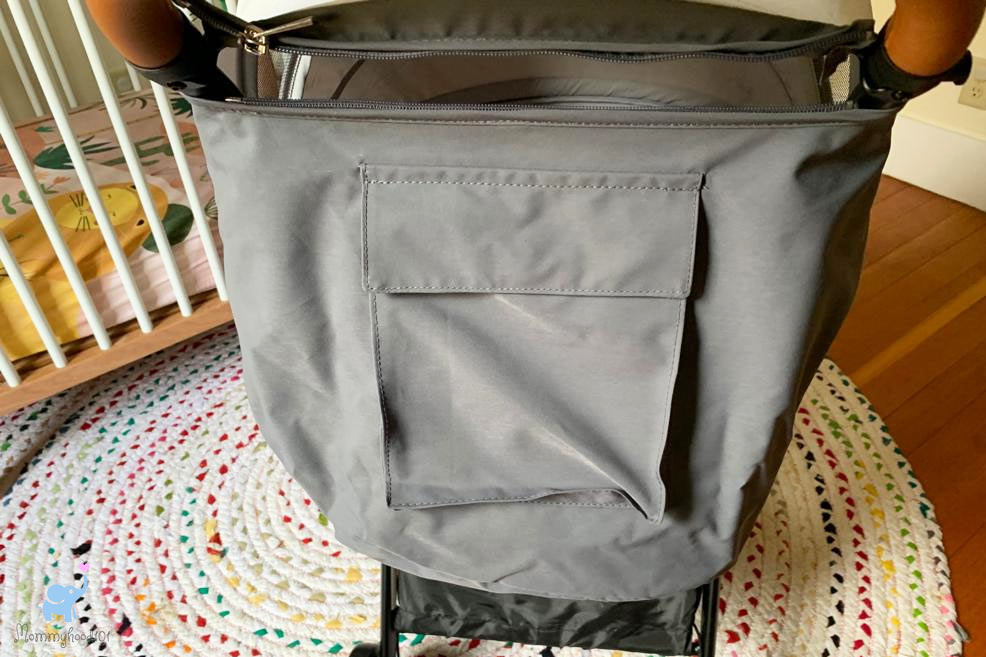 It also has a convenient cup holder, which is a nice touch. Note that it's not super sturdy and does rotate easily, possibly spilling your beverage. It's best for drinks with a lid: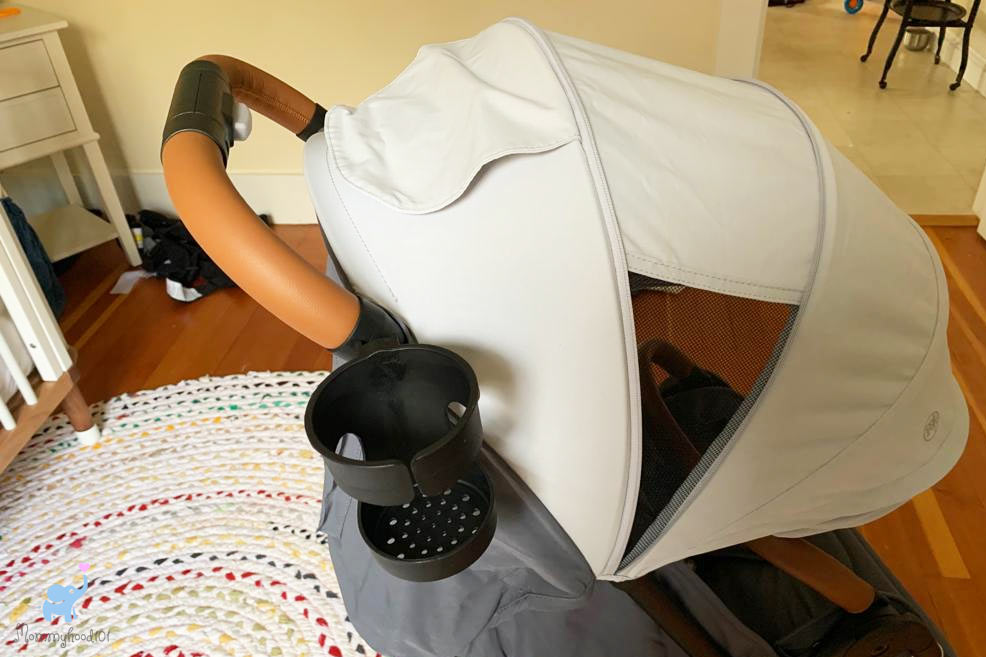 Overall, that's an impressive set of features for a lightweight stroller at this price point!
Assembly & Folding
The Besrey stroller was super easy to assemble, similar to most other lightweight strollers.
Out of the box, it only has five pieces that need to be attached: the four wheels and the bumper bar.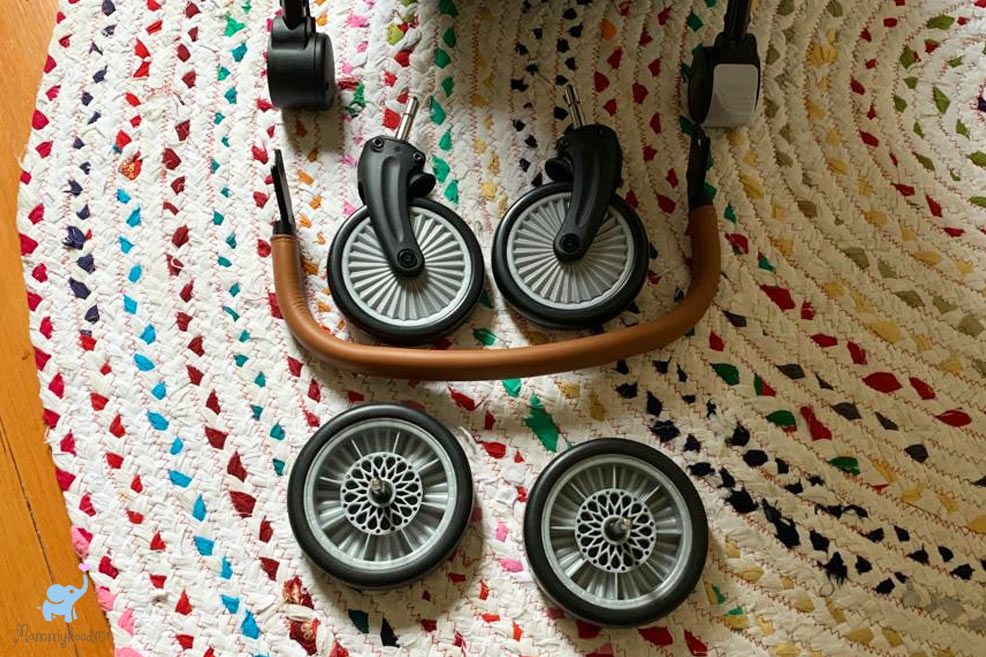 This was a super easy assembly, made even easier by our little helper!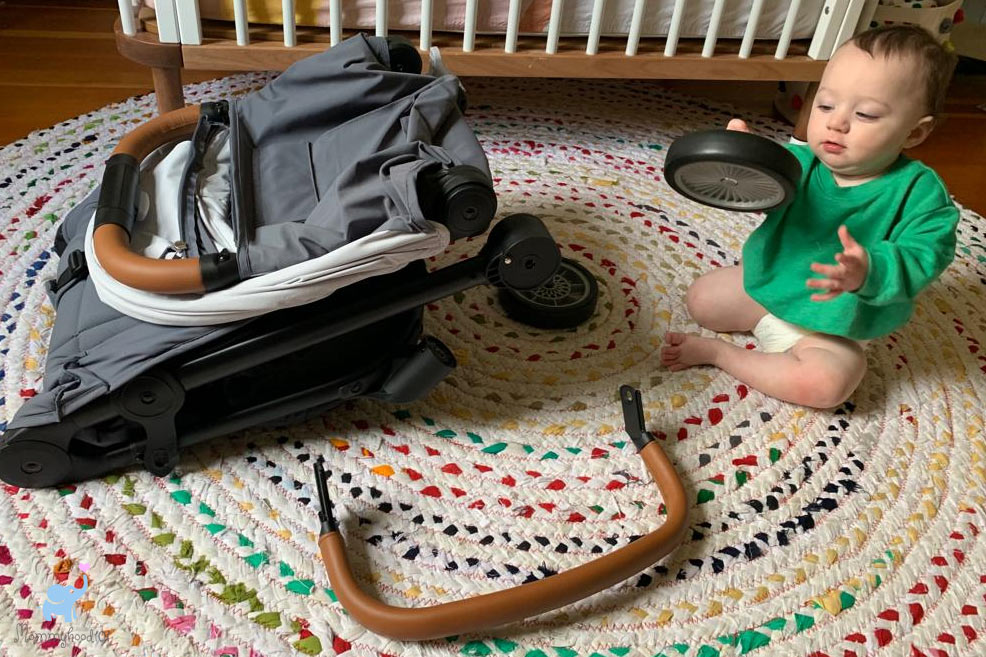 A couple of small things to point out. First, that bumper bar is removable, but should always be attached when the stroller is in use.
Second, the front wheels can be locked to prevent swivel, which is convenient for pushing through sand or on a gravel trail.
Folding
The Besrey uses a gravity fold, which means that it doesn't require any upper body strength to fold. We love that!
Simply rotate the handle forward and the entire stroller will fold downward into a locked position.
Here's how to fold and unfold the Besrey lightweight stroller:
The motion is fluid and easy, and we love how the folded stroller can stand on its own!
We were impressed with how compact the fold was, coming in at about 19.7" W x 25.2" H x 11.8" D. That's about the size of two classic briefcases stacked atop one another.
Overall, we think the folding process is easy and fluid, and we're impressed with how compact the fold is.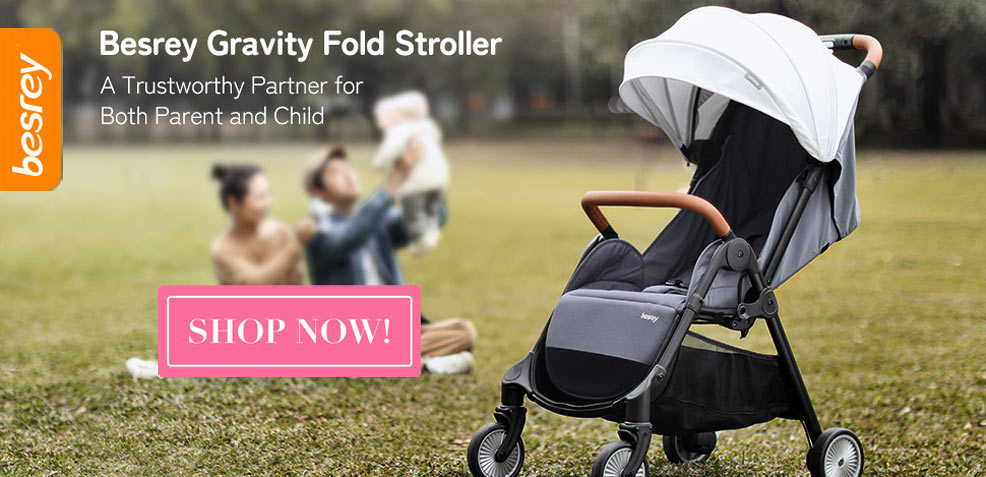 Handling & Ride Quality
The Besrey lightweight stroller is extremely nimble and easy to maneuver. It has a very tight turning radius, can be controlled one-handed, and feels reasonably stable and sturdy.
While Besrey suggests this stroller can support children up to 65 pounds, we strongly recommend limiting that to about 50 pounds. In our experience, the stroller is not very stable with a child over 50 pounds, especially as they grow taller (and become more top-heavy).
Besrey's marketing materials also suggest that it has "shock-absorbing" wheels, which implies that the wheels use a suspension system (e.g., springs, dampers).
However, on further inspection, they simply mean that the tires use a foam that can absorb some impact.
The wheels and tires could have been better: they were somewhat flimsy over uneven surfaces, and the tires did a pretty poor job of absorbing any impacts. Even sidewalk cracks felt too impactful for a sleeping baby!
Here is a walk-around video of the Besrey stroller during our tests:
Given how lightweight the Besrey is, it was easy to hop up and down curbs, and narrow enough to fit through all the doorways we encountered.
The leather-trimmed handlebar is soft and comfortable, and the seating position was reasonably comfortable for our test 8-month-old baby, though the padding could have been better.
Small Annoyances
No stroller is perfect (or we're just really picky!), so we always have some gripes!
There are some small things that could be helpful with this stroller:
Softer tires and/or integrated suspension to absorb bumps.
Adjustable handlebars to suit taller parents (above 6-feet).
Slightly larger diameter wheels to help with uneven surfaces.
Better side coverage to block the sun from hitting the arms and legs.
A bit more padding on the seating surfaces.
A more stable cupholder.
As you know, we're pretty picky here at Mommyhood101, so none of these things should surprise you! But we also want to point out that these are relatively monitor concerns, nothing major.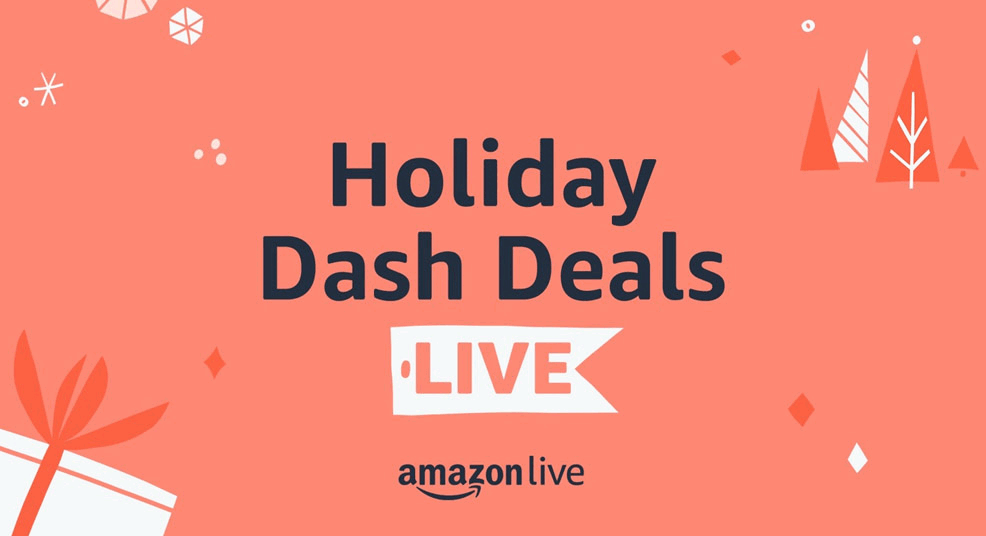 We still think the Besrey stroller is a great option for parents looking for a super nimble and lightweight stroller that packs an impressive set of features!
Overall Conclusions
The Besrey lightweight stroller offers an impressive set of features for a stroller weighing only about 14 pounds, has great styling, and a smooth and easy fold.
On the road (well, sidewalk), it's very nimble and easy to steer and maneuver. One-handed steering is a breeze, and hopping up and down curbs is effortless.
We did find some limitations, however, primarily related to the ride quality and comfort. The wheels and tires seemed to be the primary culprit, though the stroller could benefit from some additional padding and comfort-oriented features.
Overall, we think the Besrey is an impressive offering, and if you can find it for around $225, we think it's worth every penny!
Where to Buy the Besrey Stroller
We suggest purchasing the Besrey lightweight gravity fold stroller through Amazon.
The price is typically between $220-260, depending on whether you find a sale.
You can click the below image to check the current prices.