Inglesina Quid Stroller Review & Videos
This compact, stylish, and comfy stroller hits all the right spots for life on the go.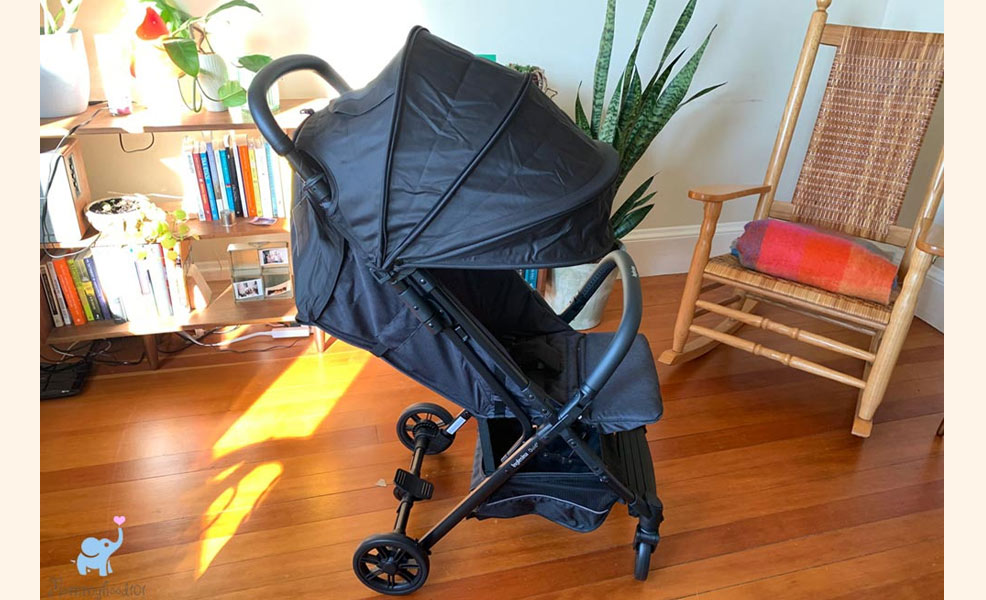 ---
Mommyhood101 independently tests and curates baby gear to help you make informed decisions. If you buy products through links on our site, we may earn a commission.
The new Inglesina Quid stroller provides superior versatility and quality in a super lightweight and compact package, with style and sophistication to match! But how does it perform? To find out, we put the Inglesina Quid to the test!
We assembled it, tested all of its features, and took it out for a day on the town! Our overall impressions were very positive, and we definitely think it's worthy of a spot in our best lightweight strollers article.
But we also found some small shortcomings that you might want to consider before purchasing.
As of this writing, the Inglesina Quid 2 is available through several major retailers including Amazon and buybuyBaby, and can be found in navy, black, grey, and Vespa blue.
Important note: This review is for the Inglesina Quid 2, which is the only Inglesina Quid sold in the USA. Europe saw the original Quid, but USA only gets the Quid 2.
Full disclosure: Inglesina USA was generous enough to provide us with a free sample of the Inglesina Quid for testing, and we're very grateful (thank you!).
Inglesina Quid Stroller Review
Based on our hands-on reviews, we give the Inglesina Quid Stroller a 4.3 out of 5 stars:
Summary
Most parents don't have time to read through this entire article, so here is a summary of what we found.
We were excited to get our hands on this new Inglesina Quid 2 stroller, and we were pleasantly surprised by the following aspects:
✔️ Very easy assembly.
✔️ High build quality.
✔️ Super lightweight (13 pounds).
✔️ Super compact & travel-ready.
✔️ Huge canopy with peek-a-boo.
✔️ Comfortable & reclining seat.
✔️ Supportive leg rest.
✔️ Very easy to maneuver.
✔️ Easy to fold and carry.
✔️ Looks and feels great!
However, like with any review we write, we also had some little gripes worth mentioning:
❌ Handlebars not adjustable.
❌ Finicky front wheel locks.
❌ Hard to pop open.
❌ Small storage basket.
Overall, we think this new Inglesina Quid 2 stroller is a great option for jet-setting parents who need to save weight and space, and aren't worried about spending some extra cash to do so. The Inglesina performed very well in our testing, and we loved how maneuverable and lightweight it was, without compromising on overall build quality.
Save for some relatively minor drawbacks, we think the Inglesina Quid is an awesome option for parents looking for a lightweight travel stroller with style and functionality!

About Inglesina
Inglesina is one of the original European stroller companies, back when strollers were called perambulators and prams, making high-quality options since 1963!
Inglesina is an Italian company based in Vicenza, Italy, which is in the northeast near Venice and Padua.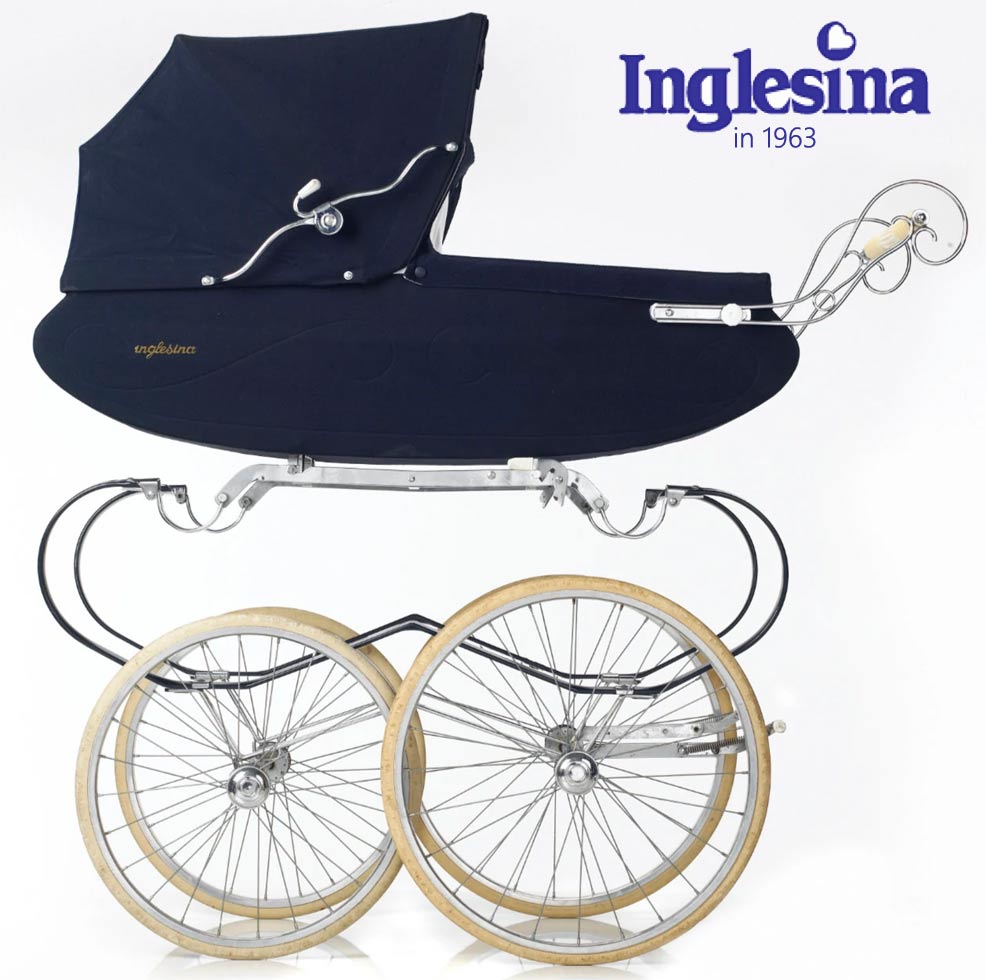 Fast-forward about 60 years and Inglesina has become a major international baby products brand, with not only strollers but also car seats, high chairs, baby bouncers, and more!
Inglesina has earned a reputation for making high-quality baby products with Italian style and modern simplicity, and the Quid is no exception!
Features
The Inglesina Quid is a super lightweight and compact stroller, which typically means that it will not pack a ton of features.
After all, adding more features would increase the weight!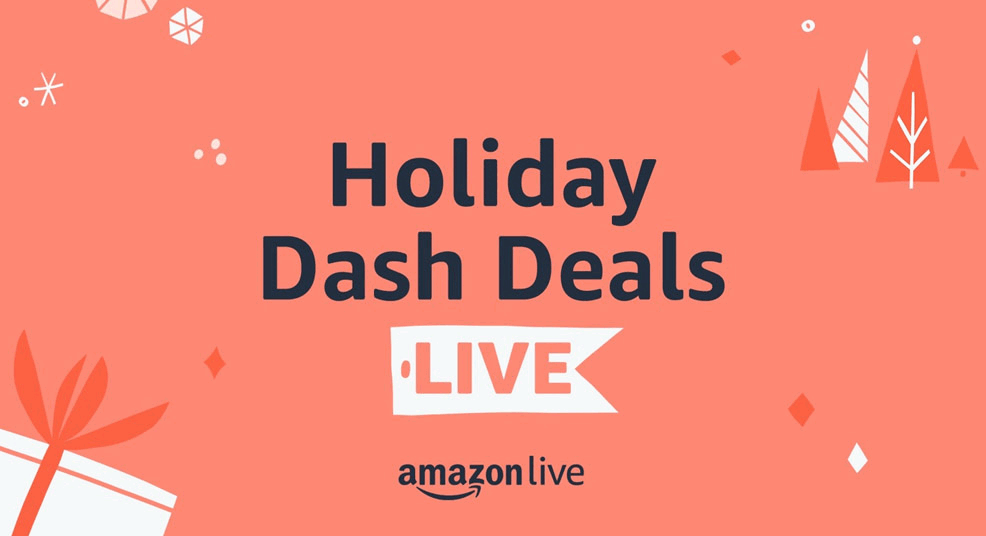 However, we think you'll be impressed with the full feature list:
✔️ 5-point harness with shoulder pads.
✔️ Three harness heights.
✔️ Multi-position reclining seat.
✔️ Adjustable leg rest.
✔️ Storage basket.
✔️ Large UPF 50+ canopy.
✔️ Large and easy foot brake.
✔️ Locking front wheels.
✔️ Front wheel suspension.
✔️ Stands when folded.
✔️ Carry handle on the side.
✔️ Removable bumper bar.
✔️ Footrest for bigger kids.
✔️ 50-pound weight capacity.
✔️ Reflective surfaces for visibility.
As you can see, for a super lightweight and compact stroller, the Inglesina Quid actually packs a strong set of features.
Here is a short walk-around video to show you the basics:
Let's focus on a couple of additional features that we appreciated.
First, out of the box, the Quid was super easy to assemble. All you need to do is attach the front wheels and bumper bar. It's literally a snap to put together!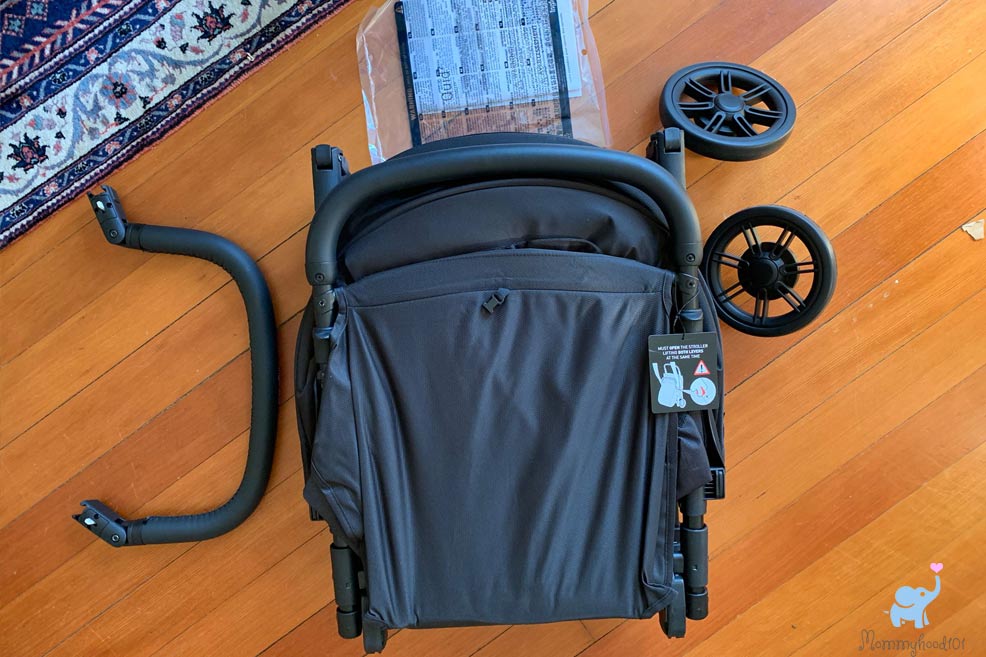 It's even easier if you have a little helper (or maybe not)!
The protruding piece on the below photo is the bumper bar, which is removable if you're looking for an even more compact fold.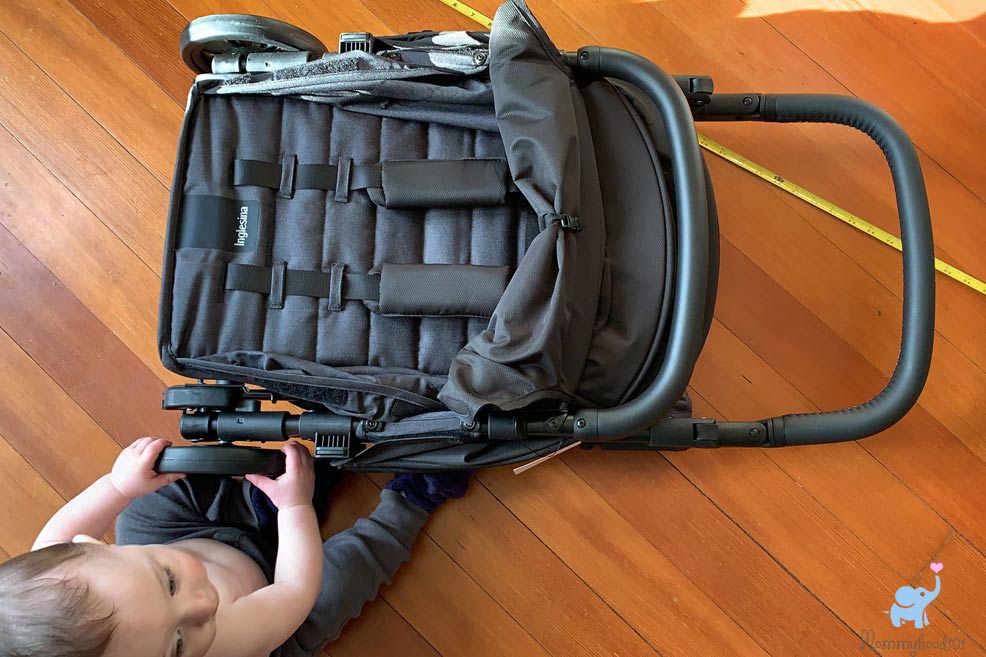 Second, we love the huge canopy. It opens up nice and large, offering UPF 50+ sun protection and water resistance, and has a little zip-open extension that helps you get even more coverage.
Pretty impressive for a lightweight stroller!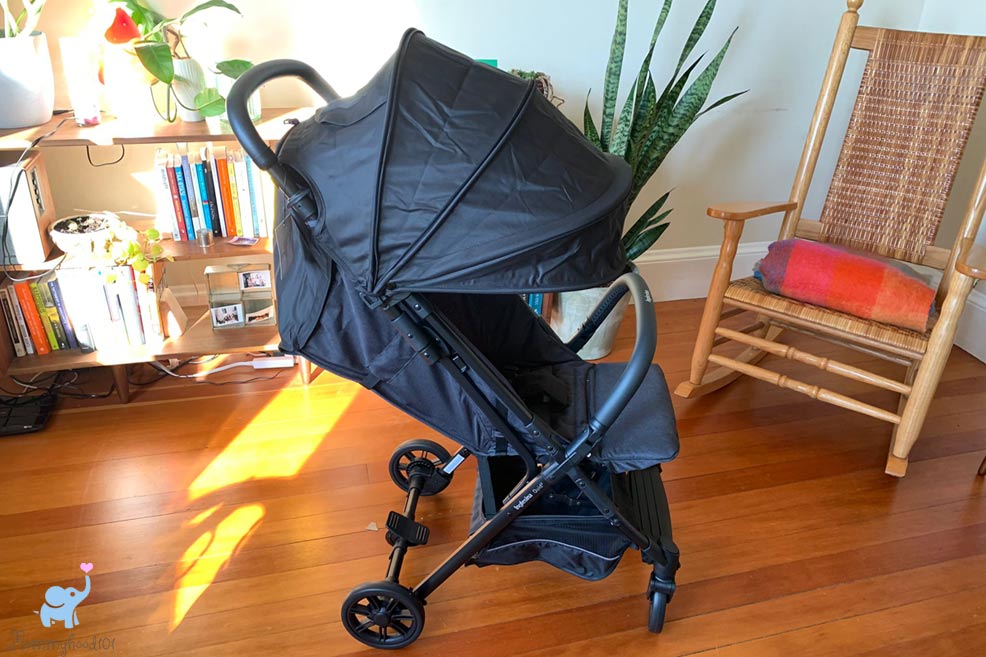 On the top of that canopy is a convenient mesh peek-a-boo window with a roll-back cover.
It provides a nice view of your baby and some extra ventilation. Even more ventilation can be had by removing the Velco panel on the back.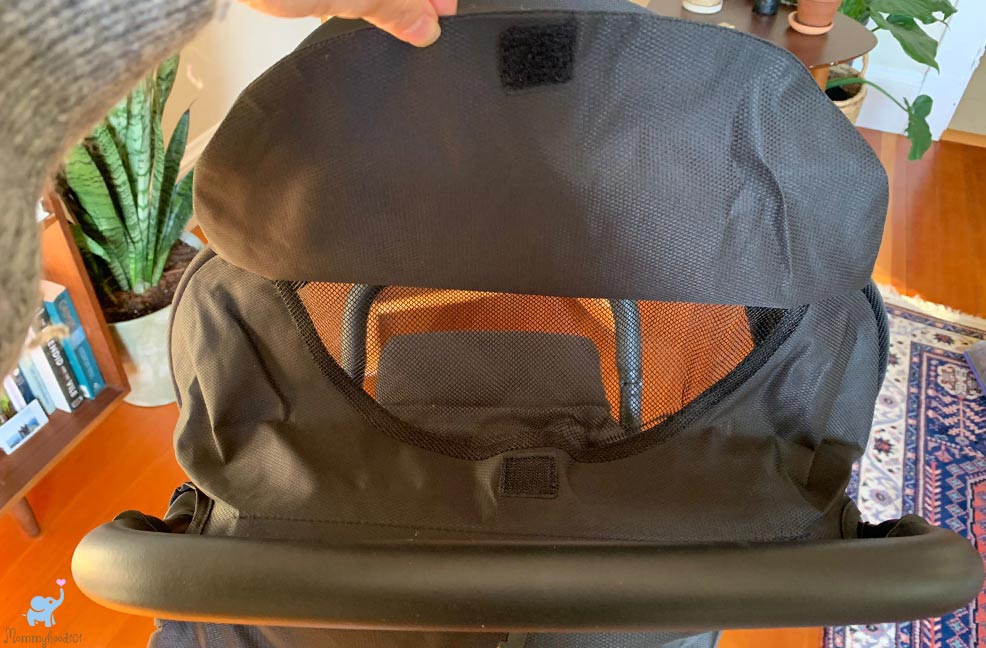 Third, we appreciated that the Quid has an adjustable leg rest that can help an infant lay relatively flat (photo on the right).
Of course, it can also be folded down for a toddler who is ready to sit relatively upright (photo on the left).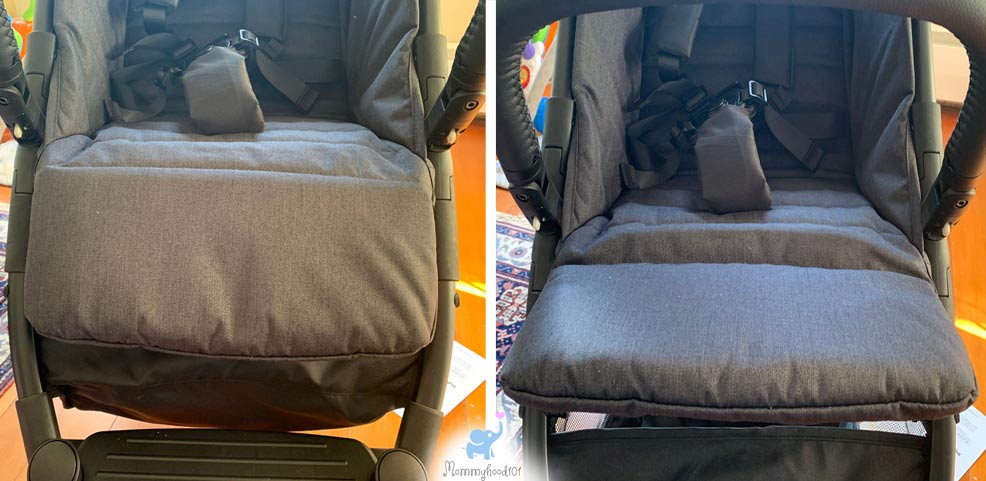 And here is what that leg rest looks like when a little one takes advantage of this comfy little bonus: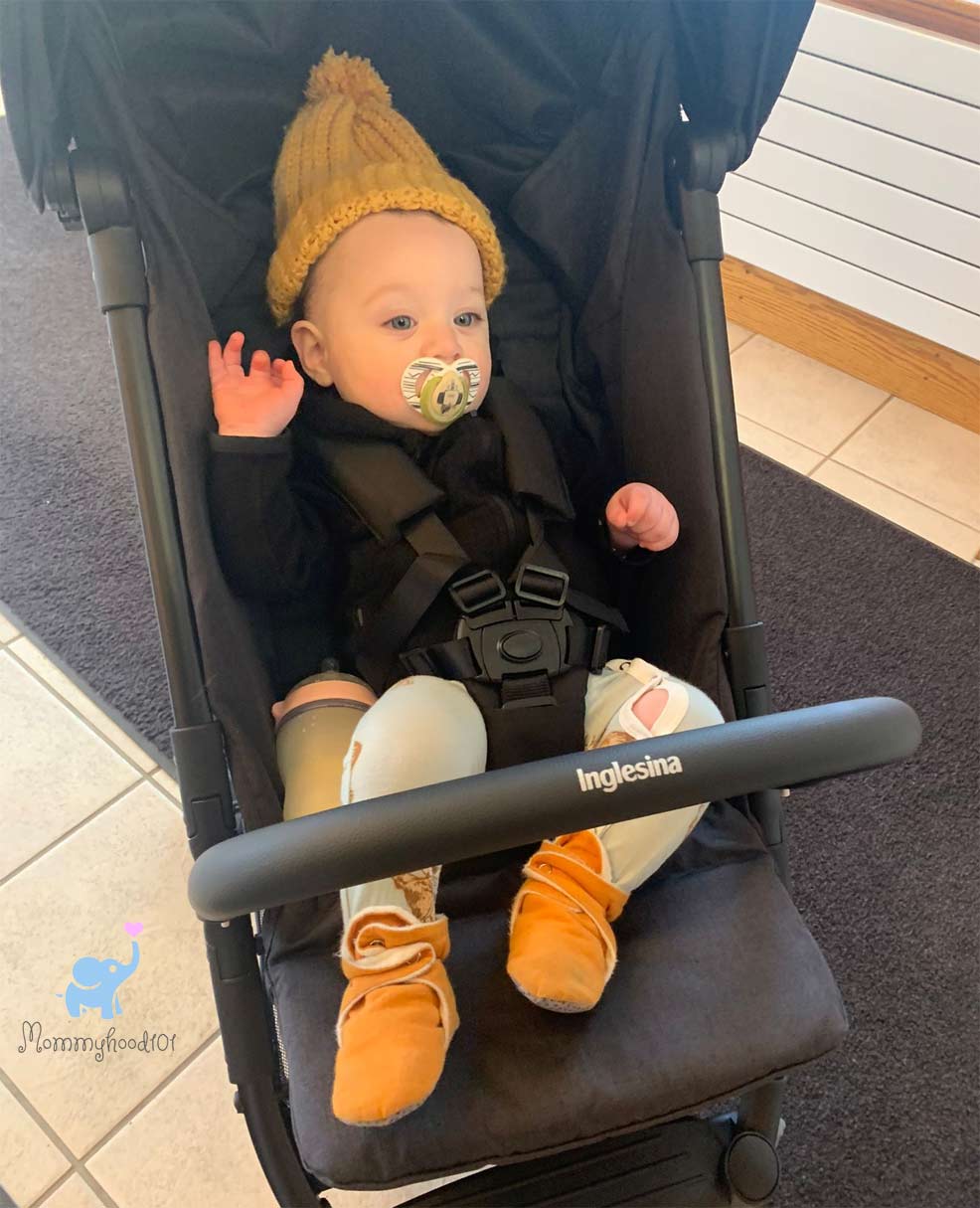 Fourth, we thought the seat cushioning was sufficiently comfortable without being too bulky or heavy, and the 5-point harness was very easy to use, had padded shoulder straps, and the straps didn't get easily twisted.
It also has three height slots for when your little one becomes a bigger one: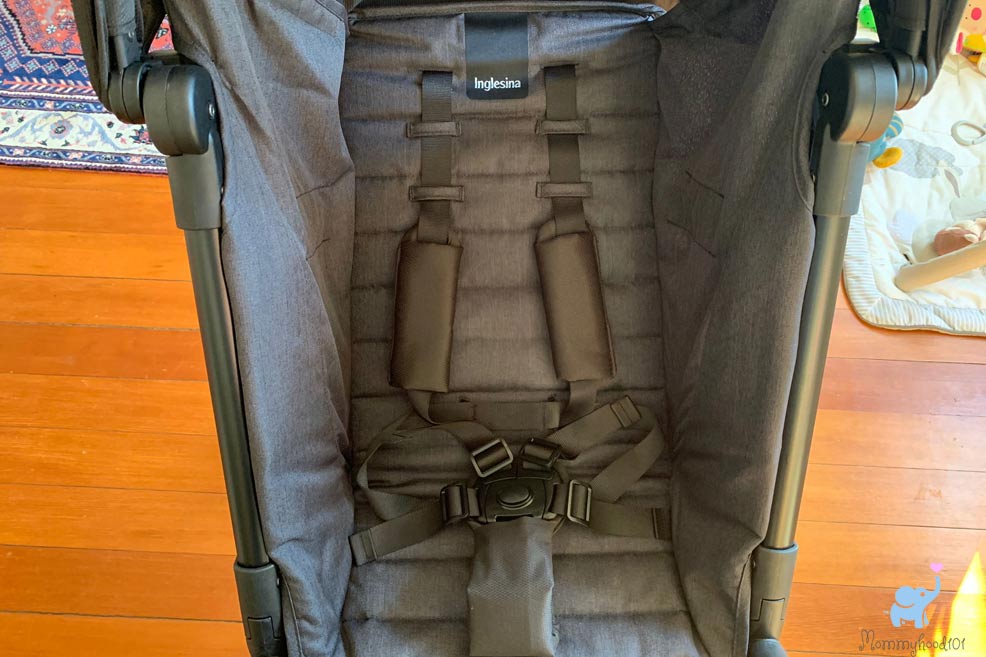 There is also a nice padded bumper bar for little ones who want to grab on and lean forward a bit.
It's removable and, in fact, you will want to remove it when folding so that it adopts a more compact profile (more on that later).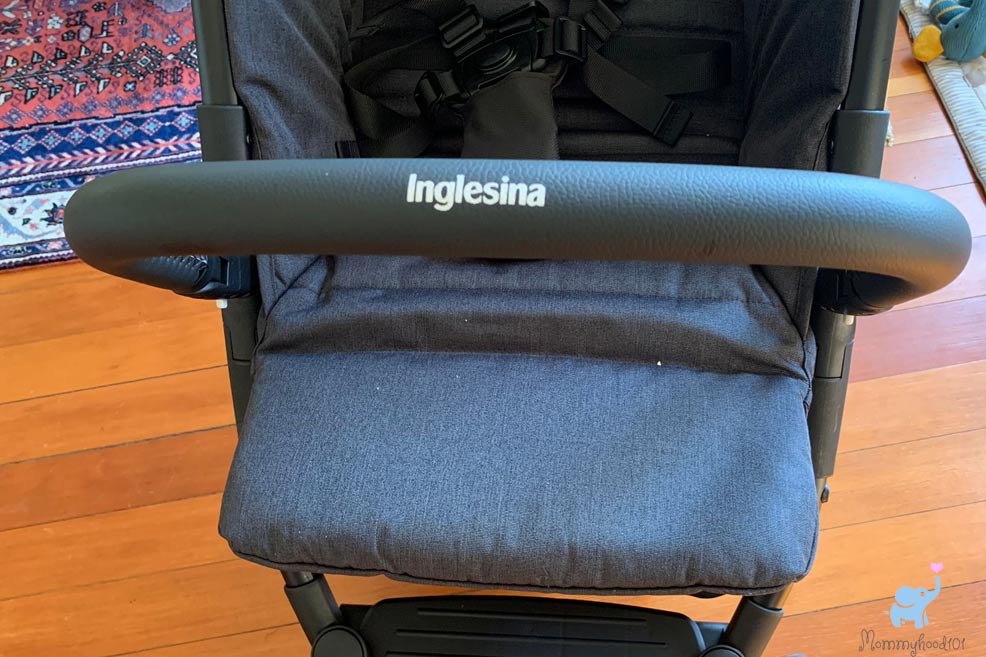 Finally, there is also a sturdy storage basket down below. Not quite large enough for many diaper bags, but definitely big enough for some small supplies.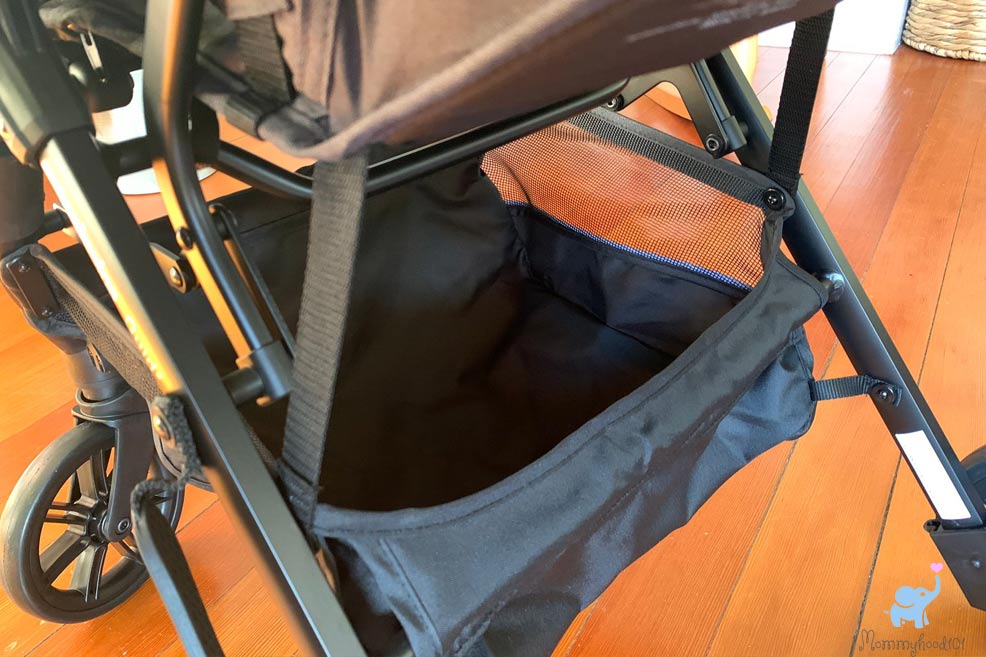 Overall, that's an impressive set of features for a lightweight stroller.
We were impressed with how well everything worked together, and think that the overall quality of the parts was excellent!
Portability
The Inglesina Quid is designed to be a super portable stroller that can go everywhere with parents.
Not only can it be easily carried upstairs to your apartment or thrown in the back of a subcompact car, it can also fit in the overhead bin of most airplanes. That's pretty impressive!
When folded, the Quid measures a super small 18.3" wide x 22.8" long x 6.8" tall.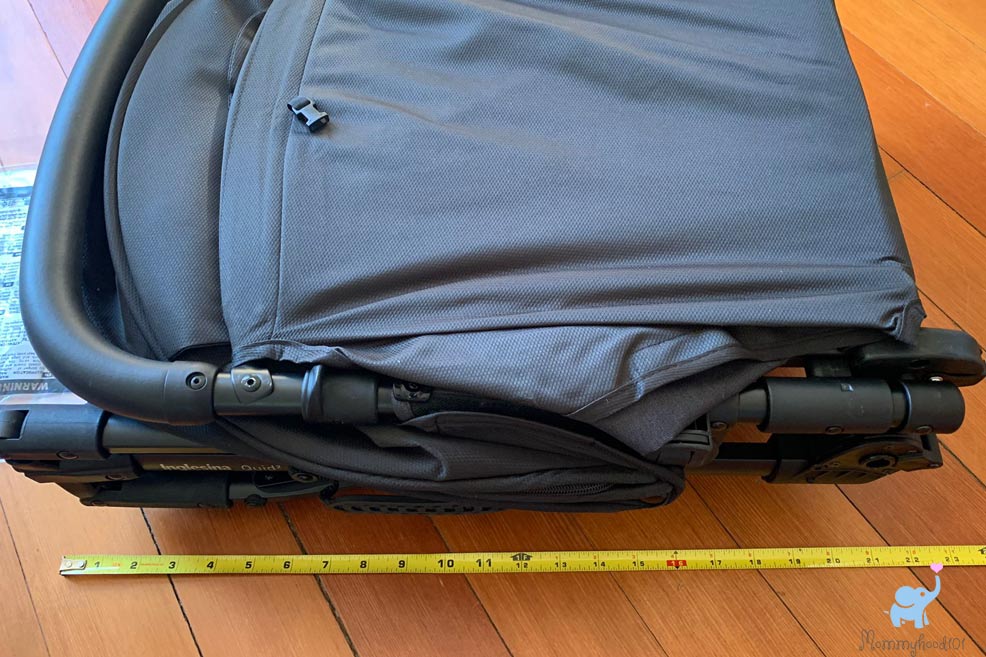 If you have a very compact car, it will fit. If you need to stuff it into a large suitcase, it'll fit there too.
In fact, if you need to fit it into a bag, you can purchase one separately from Inglesina and carry it around on your back!
It's super small and we love that. Fair warning, however, if you leave the bumper bar attached, it protrudes quite a bit when the stroller is folded: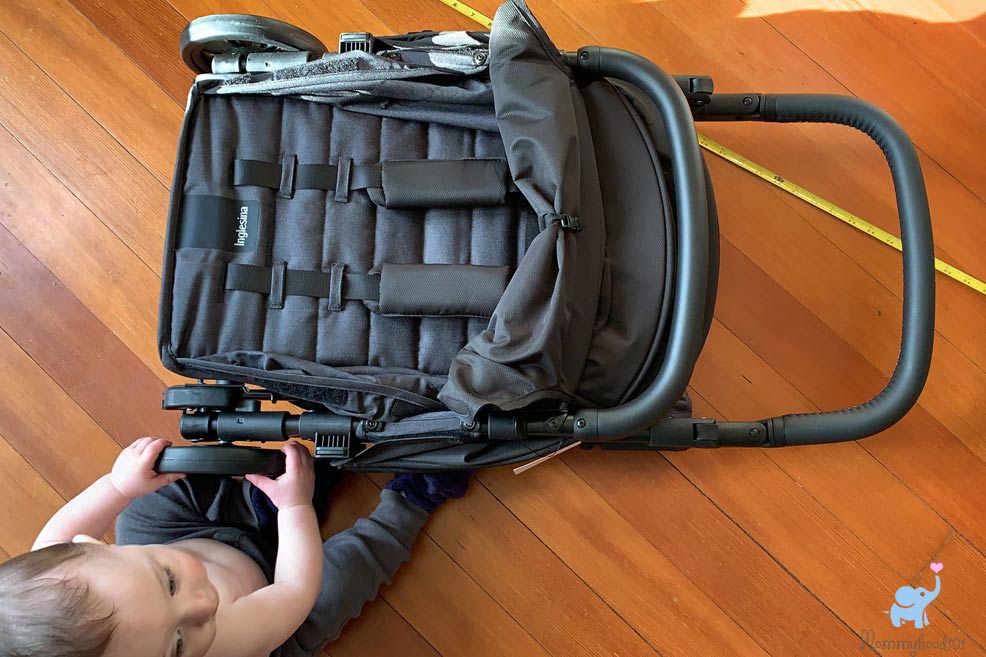 We were a little surprised that when you remove the bumper bar, you can't simply stash it in the storage basket (the stroller won't fold correctly). So you'll be stuck carrying around a bumper bar separately from the folded stroller, at least if you need it to be folded into its most compact form.
Want the Quid to stand on its own when folded? Swing the self-standing lever up and you have a kick-stand style leg that will help it stand on its own. Clever! Here is a close-up photo of the kick-stand: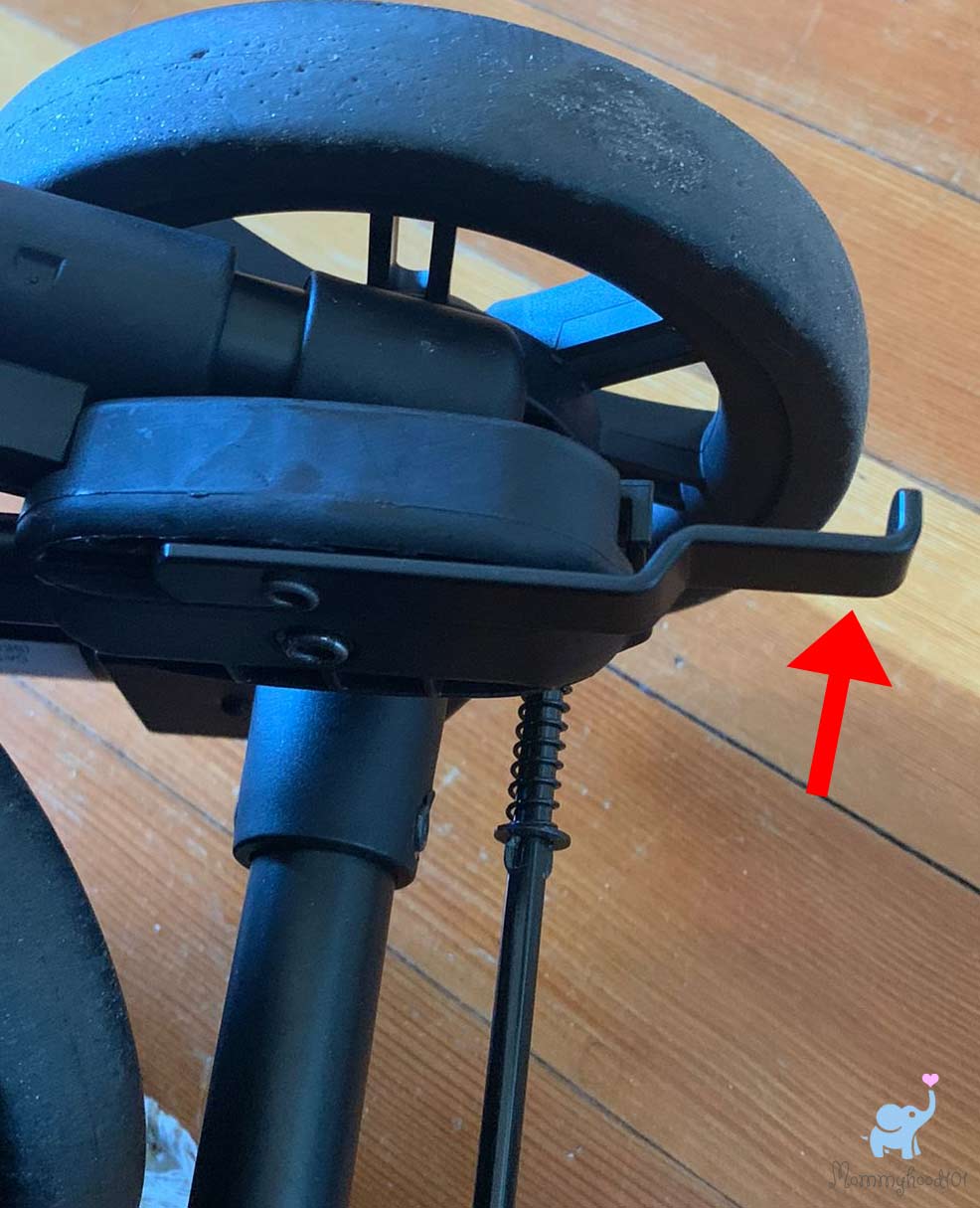 And here is what it will look like when standing on its own: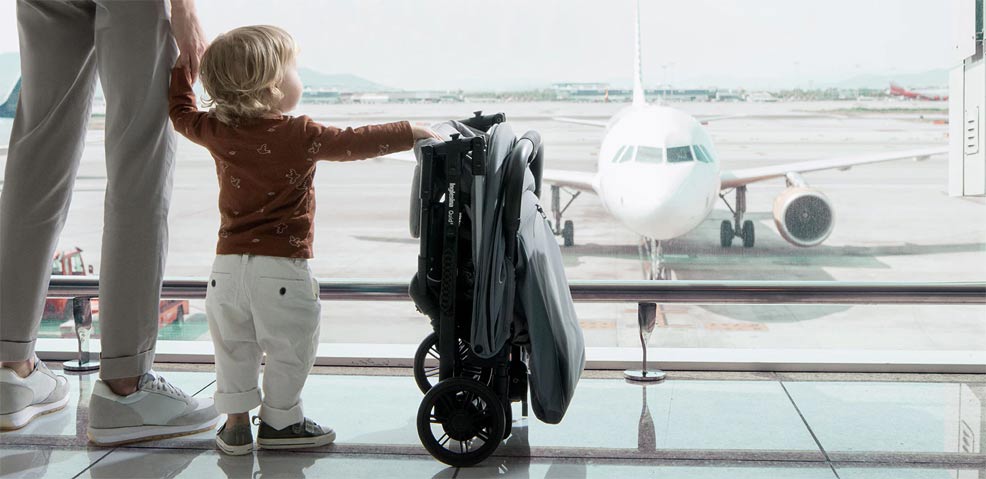 Not only is the Inglesina Quid relatively small, it is also super lightweight.
Coming in at only 13 pounds, it is one of the lightest strollers we've ever tested! In fact, by the time your baby starts using this stroller (at 3 months), they might already be heavier than the Quid!
Handling & Ride Quality
Given how small and lightweight this stroller is, you probably won't be surprised to learn that it is super maneuverable.
You can squeeze through narrow doorways, turn on a dime, and easily navigate sidewalk obstacles.
The lightweight build also makes it super nimble for hopping up curbs and navigating steps.
The wheel suspension helps absorb sidewalk cracks and other little imperfections but don't expect it to be an especially smooth ride. The wheels are relatively small in diameter and the tires are relatively stiff, so that doesn't help.
Some other notes about using this stroller: the foot brake is easy to use, the handlebar is soft and comfortable, the footrest is placed in a nice position for a toddler, and the entire stroller feels stable and sturdy.
Small Annoyances
No stroller is perfect (or we're just really picky!), so we always have some gripes!
There are some small things that could be helpful with this stroller, such as a cup holder, a larger storage basket, and some pockets for parents' things (keys, wallet). Of course, we realize that those would add weight, so it's understandable that they're missing in many lightweight strollers.
Parents under about 5'4" tall will find the handlebar height a bit high, and those above 6' tall will find it very low. The point is that it's not adjustable, which is a little frustrating in a $300 stroller!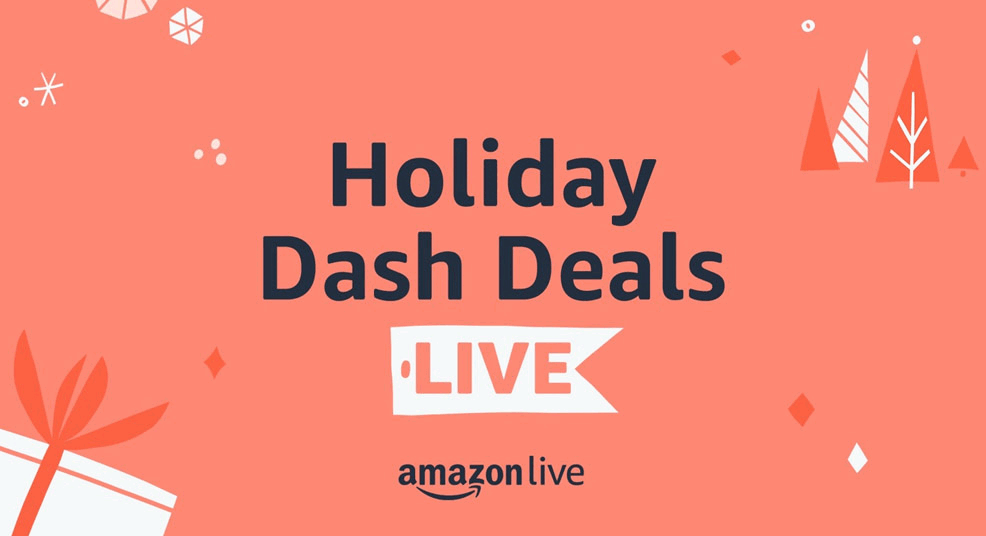 However, our primary gripes were with the stroller's folding and opening process. Two things in particular.
First, the Inglesina Quid website suggests that the stroller has one-handed folding or opening, but you definitely need to use two hands. In fact, it's impossible to open the two latches (one on each side) without using two hands. We do realize that once you unlatch both sides, you can probably open it one-handed (if you have incredibly strong upper arms!), but we thought the advertising materials were a little misleading.
Second, the stroller was very difficult to fully pop open. Even with a relatively forceful downward pop, it still didn't always lock open. This video shows what we mean:
We eventually got a hang of it, but it honestly required way more Oomph to open than we've experienced with other strollers.
Overall Conclusions
The Inglesina Quid 2 offers some excellent features and quality for a super lightweight stroller that can go anywhere life takes you.
Assembly was simple, build quality was high, and the styling and fit and finish highlighted its Italian origins.
The ride quality was good, showing nice stability, a reasonably soft ride, and a comfortable seat. It was super nimble and maneuverable, owing to its compact profile and lightweight build.
The Quid also had an impressive array of features for such a lightweight and compact stroller, especially ones oriented around keeping your little one comfortable.
There were, however, a few challenges we encountered. These were mostly related to unfolding the stroller, and the lack of some basic features such as a height-adjustable handlebar and cup holder.
Outside of those, we think the Inglesina Quid is the perfect companion for families who are always on the go, whether by car, train, or plane. The Inglesina Quid can go right along with you on your adventures, and you'll barely even know it's there.
If that sounds like your family, we think the Quid is worth every penny!
Where to Buy the Inglesina Quid
We suggest purchasing the Inglesina Quid through Amazon or buybuyBaby.
The price is fixed right now at $299 and we have not been able to find any discounts so far.
You can click the below image to check the current prices.