The Best Travel Strollers - 2023 Reviews
On the go with your baby? These strollers are perfect for the jet-setting family.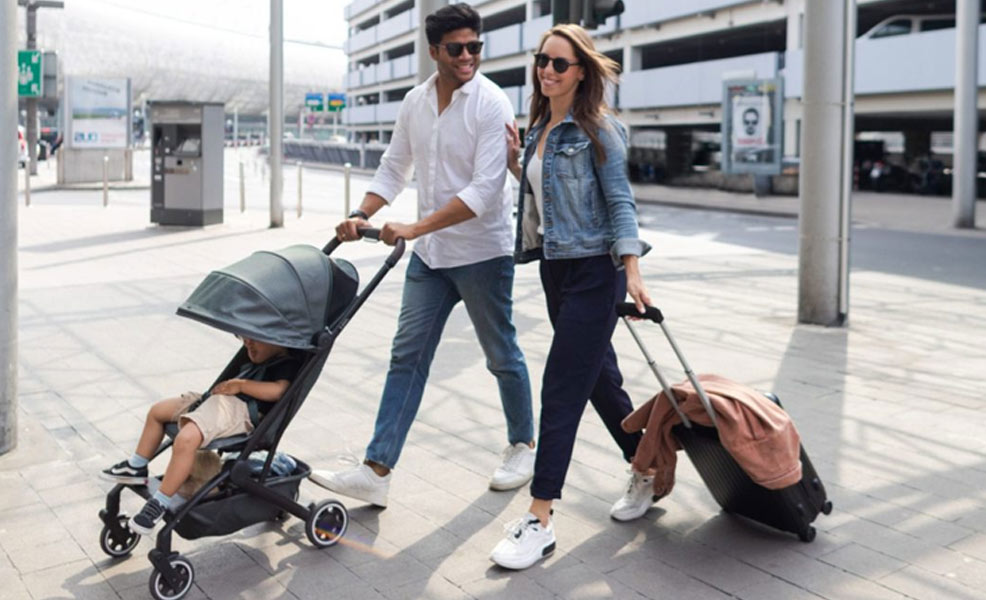 ---
Mommyhood101 independently tests and curates baby gear to help you make informed decisions. If you buy products through links on our site, we may earn a commission.
There are two main types of lightweight travel strollers:
First is the umbrella stroller, named for its ability to fold up into a long and narrow footprint that looks like, you guessed it, an umbrella!
Second is the more modern travel stroller that has a one-piece handlebar and folds into a small rectangular footprint.
In both cases, the best travel strollers are lightweight, compact, and portable while maintaining comfort, features, and quality. Even better, it will fit the TSA and airline guidelines (typically 9" x 14" x 22" max) for fitting in an airplane's overhead bin!
We've been reviewing lightweight and travel strollers for over 10 years, and if we made our own, here is what it would look like:
✔️ Weight limit 50 pounds or higher.
✔️ Infant car seat attachment.
✔️ Bassinet attachment.
✔️ Expands to double stroller.
✔️ Near lay-flat recline.
✔️ Large UPF 50+ canopy.
✔️ Lightweight, under 15 pounds.
✔️ Folds to under 22" x 14" x 9".
✔️ One-handed fold.
✔️ Stands when folded.
✔️ Storage basket.
✔️ Adjustable handlebars.
✔️ Comfortable seat.
✔️ Easy to roll and maneuver.
✔️ Carry bag or shoulder strap.
✔️ No flame retardants.
✔️ Washable fabrics.
✔️ Intuitive & easy assembly.
Of course, you will also want the travel stroller to fit your style (color, patterns) preferences and meet your budget constraints. That's a lot to ask, and very few lightweight strollers meet the needs of picky parents!
Full disclosure: Some of these travel strollers, including the Ergobaby, Babyzen, and Zoe options, were sent to us as free test samples by the manufacturer.
The top 5 travel strollers we've found are listed below, followed by in-depth reviews of several different models.
For our testing, we took the travel strollers on walks, loaded them up with babies and supplies, folded and unfolded them, put them in trunks and overhead bins, and tested out all the features. The top-rated model has the honor of appearing on our list of the year's best strollers!
Here are the Best Travel Strollers of 2023!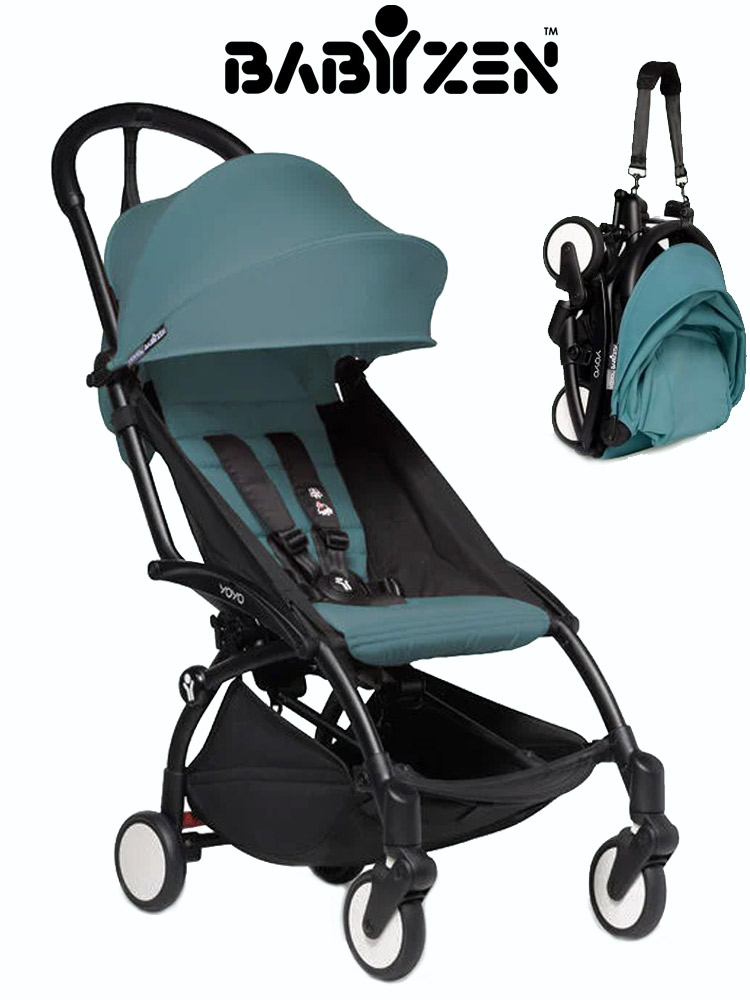 The Babyzen YOYO2 is the newest release from Babyzen and the newest addition to our list of lightweight travel strollers! Technically a luxury stroller, the YOYO2 has very high build quality, great style, and amazing versatility - but you'll pay for it, coming in at about $500. We were excited to get our hands on it to see if it's worth the relatively high cost. When we received the box, we were immediately surprised by how small it was - we started to wonder how such a great stroller could possibly fit in a box this size! Once we unfolded it, we were impressed with the style and build quality. The lightweight frame is sleek and well-made, the hinges functioned smoothly, and all levers were easy to use. Out of the box, the YOYO2 comes equipped for infants 6+ months old (they call this the 6+ version), though you can separately purchase either a bassinet or newborn pack attachment, which will allow you to use the YOYO2 from birth onward. We didn't test out those two accessories, but they range from about $200-250, and from what we've seen, they offer some great comfort and quality. The new YOYO2 also offers a double stroller solution using the YOYO connect system, which basically allows you to connect another YOYO2 in tandem (one behind the other).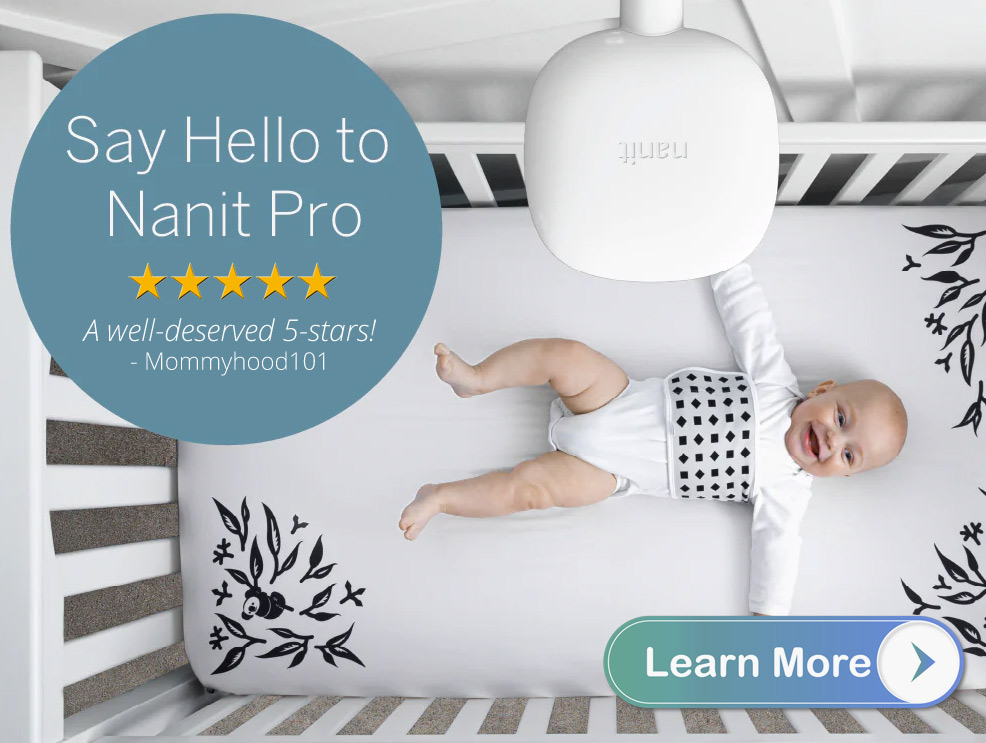 The 6+ version has a multi-position recline, a comfortable seat, a large waterproof and UPF 50+ canopy with a peek-a-boo window, and can be used with children up to nearly 50 pounds (48.5 to be exact). With the 6+ seat, as tested, the YOYO2 weighs just about 13.5 pounds, and it folds down to a small footprint of only 20.5" long, 17" wide, by 7" thick. This can either be carried on your shoulder with the included shoulder strap or in the included carrying bag. We tested the YOYO2 with a 10-month-old boy, and absolutely loved it! The seat was comfortable, the 5-point harness was easy to use, and the entire stroller was very smooth and easy to maneuver. Over paved and densely packed dirt or gravel surfaces it was very smooth. The storage basket was reasonably sized (supports up to 11 pounds of weight), the handlebar was super plush and comfortable (we loved the shape!), and the steering was super nimble. The entire stroller was not only lightweight but also very compact for fitting through tight spaces and around tight turns, and the build quality is phenomenal. Overall, we loved the YOYO2 and can't think of a better stroller to have when jet-setting around the world with a little one! The only con we could find was that the folding wasn't as intuitive or easy as the Joolz AER (below). Who else loves the Babyzen YOYOs stroller? Our friends at WhatToExpect, Babygearlab, and The Wirecutter also consider it an excellent pick! Impressed? You can check out the Babyzen YOYO2 here.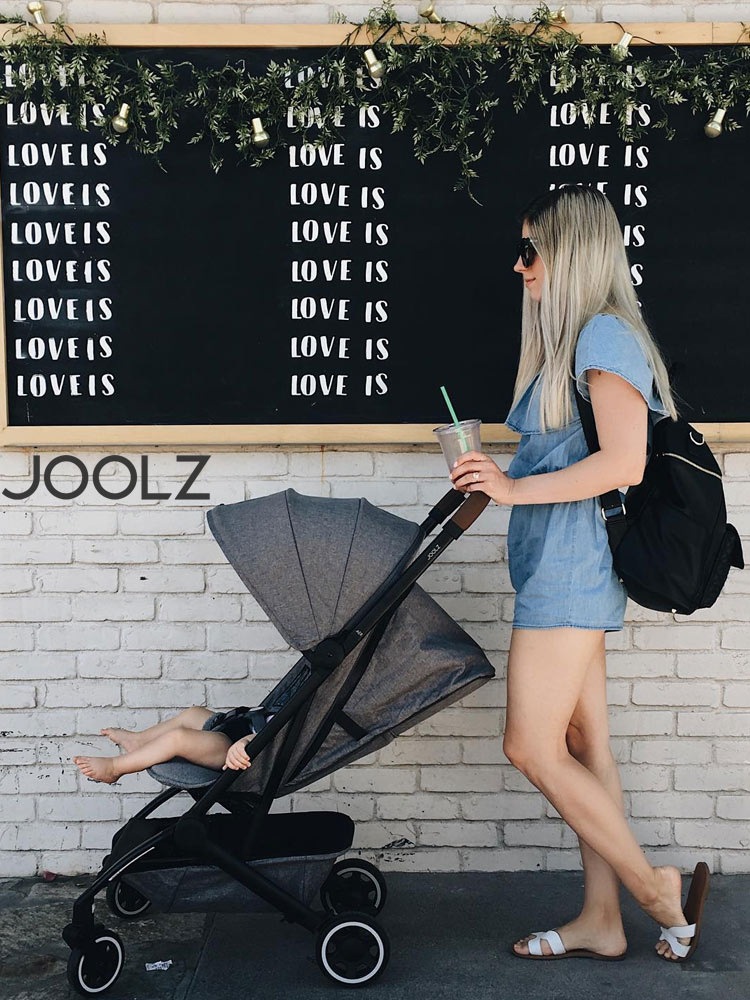 The Joolz AER hit the market by storm over the past couple of years, rising quickly to achieve the honor of best travel stroller by The Bump, Babylist, and here at Mommyhood101! For specifications, the Joolz AER is very similar to the Babyzen YOYO2 in a few regards: it is used for 6 months up to about 50 pounds, it has a one-handed fold and adjustable recline, a lightweight build (13.4 pounds), and has an extremely compact fold measuring 21" long, 18" wide, and 8.5" high (and a carry bag is included). That's only slightly larger than the YOYO2 when folded. Also similar to the YOYO2, you can separately purchase a carrycot to hold your newborn baby in a proper bassinet-style attachment (slightly larger and more comfortable than the YOYO2 bassinet). In terms of advantages, the AER has a slightly larger seat width and height for larger children, providing more head support and comfort; it also has a more intuitive fold than the YOYO2. In terms of disadvantages, the YOYO2 has many more accessories and a more compact fold. That being said, they are both fantastic travel strollers and you'll be quite happy with either!
In our testing, we absolutely loved the Joolz AER. It was intuitive and simple to fold and unfold one-handed, with smooth transitions and an easy locking mechanism. The seat is comfortable and the canopy is sufficiently large (though we think it could benefit from an extension), the recline is great for children about 6 months and older, and the storage basket is easy to access. The stroller is extremely easy to roll and maneuver. The wheels and bearings are extremely fluid and nimble, making it easy to turn on a dime and control through dense areas. The fabrics and all touch surfaces are high quality, and the entire stroller is very sturdy and well-constructed. Overall, we think it is a fantastic stroller, save for two tiny limitations: it's not quite as compact as the YOYO2 when folded, and that might limit your ability to throw it in an overhead bin on an airplane. That said, you really can't go wrong with the Joolz AER, and we're very excited to feature it here on our list! Who else loves the Joolz AER stroller? Our friends at The Bump, Babylist, and Good Housekeeping also consider it a top pick! Impressed? You can check out the Joolz AER here.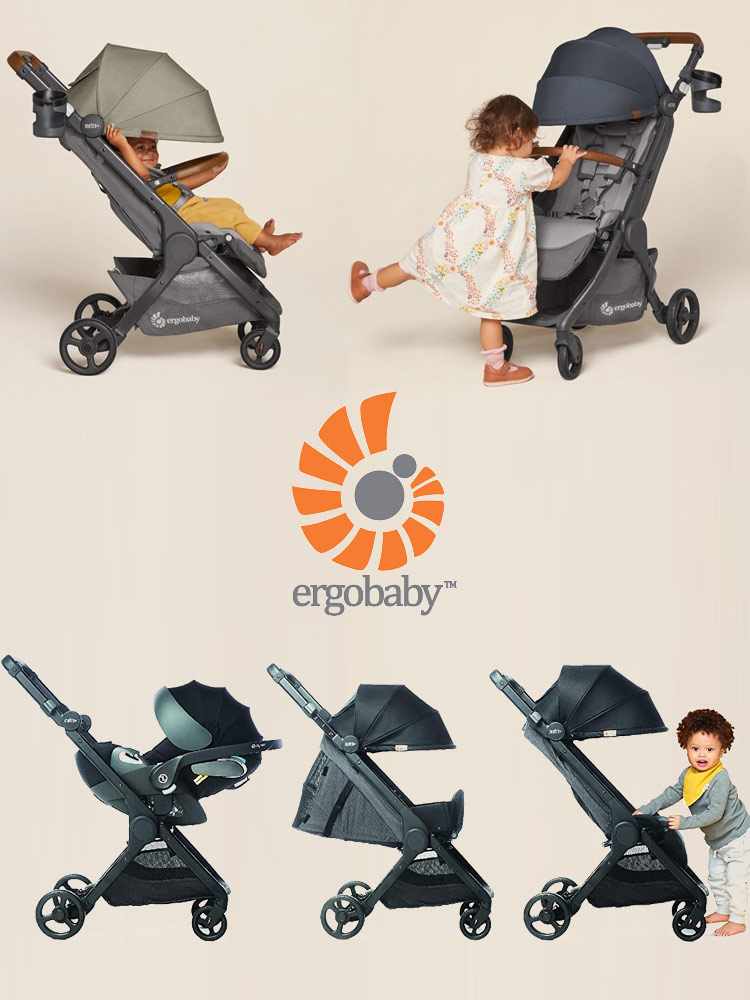 Ergobaby is world-renowned for making some of the most comfortable and supportive baby carriers on the market, with high-quality components, great style and functionality, and reasonable prices. Recently, Ergobaby has expanded its line of baby gear to include strollers, high chairs, and baby bouncers, and we've been lucky enough to get our hands on samples for testing! For basic specifications, this new Ergobaby Metro+ travel stroller comes in at 17 pounds, folds down to a 21" x 17" x 9" footprint, and can support newborns and up to 50 pounds. For features, the Metro+ has an extendable handlebar, comfortable seating, deep (basically lay-flat) recline with a fold-up leg rest, comfortable seating, newborn nest flaps, a storage basket and seat-back pocket, large canopy, one-handed fold, and front wheel suspension. The Metro+ Deluxe (for $100 more) uses more premium materials, an expandable storage basket, and additionally includes a cup holder, weather shield, and bumper bar; for both the Metro+ and Metro+ Deluxe, you can separately purchase an infant car seat adapter for $30 (compatible with Cybex, Nuna, B-Safe, Maxi Cosi, Graco, Chicco, Bugaboo).
In our testing, when we took the stroller out of the box we were impressed with the high-quality materials (aluminum, plastics, fabrics) and pleasantly surprised that it requires no assembly! Just take it out of the packaging, unfold it, and you're ready to go. When we first unfolded it, we thought the unfolding mechanism was smooth, intuitive, and easy to use; it was impressive how small the stroller is when folded, and how substantial the stroller was when opened. We tested it with a 2-month-old in the seat's lay flat configuration (with the newborn nest flaps), and with a 22-month-old in the toddler mode. Comfort was everywhere: the handlebar was comfortable with its faux leather padding, the seat was super comfortable with ample padding on the bottom and back (the newborn immediately napped!), and the front suspension and large rear wheels (7" diameter) made for a nice smooth ride. The stroller was easy to maneuver even with the heavier child, and it was lightweight and narrow enough to easily traverse sidewalks, steps, and doorways. As always, there were a few minor cons worth mentioning. The storage basket could be larger and the leg rest's ease of use could be improved (especially when folding). Overall, we loved testing the Ergobaby Metro+ stroller and think it is a great new addition to our list of the best travel strollers of the year! Interested? you can check out the Ergobaby Metro+ Stroller here.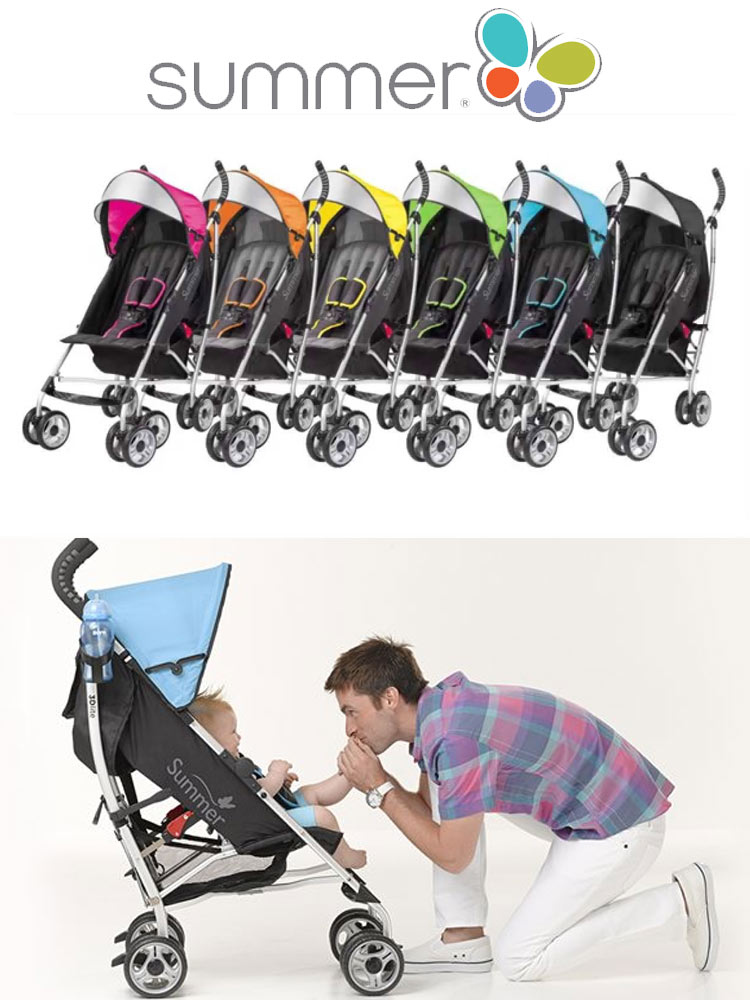 The Summer Infant 3Dlite is a lightweight umbrella stroller with a twist: not only does it fold together laterally, it also folds down vertically, giving it a compact fold that can fit into some of the smallest spaces (trunks, closets). Specifically, it folds down to about 44" high, 14" wide, 12" deep. Probably not small enough to fit into the overhead bin (more likely it will be gate-checked), but definitely small enough to fit into small European rental car trunks or a tiny closet in an urban apartment. Not surprisingly, the Summer Infant 3Dlite is one of the best-selling strollers of all time, coming in at only 12 pounds and with some really great build quality, comfort, and features. Even with its lightweight and low cost (usually under $80), this is not a flimsy stroller at all. It's sturdy, turns well, has good brakes, and isn't tipsy. If you do run into any issues, Summer Infant has a very long reputation for reliability and customer service.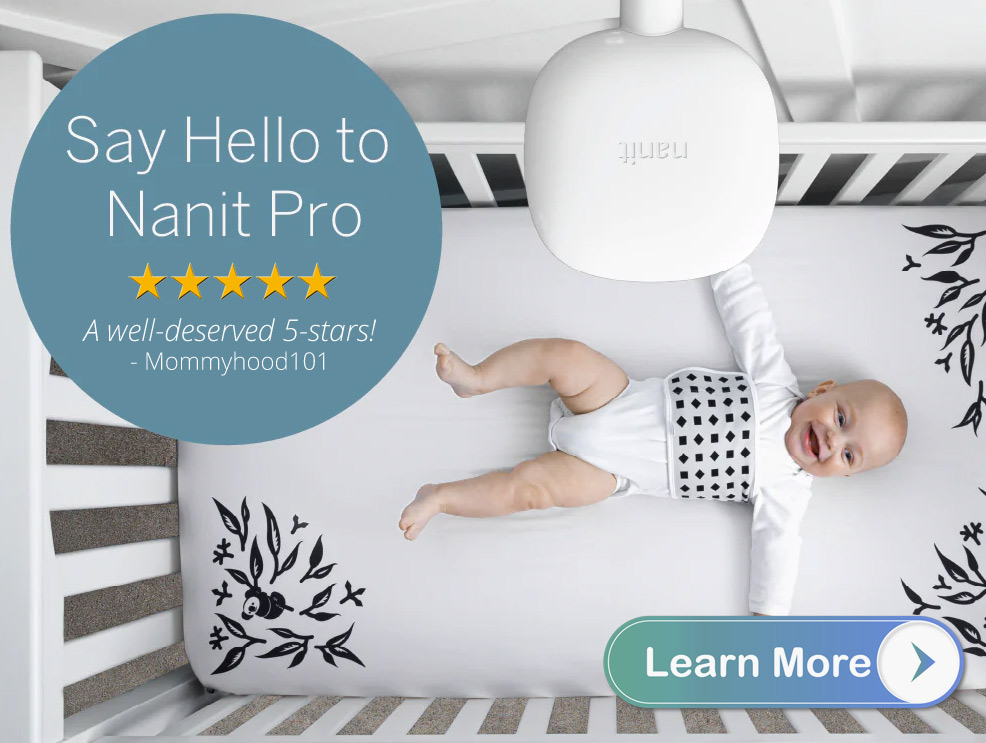 In our testing, we liked the curvy lines of the frame, the handlebar shape and grips, the front wheel suspension, and the fact that it includes a carry handle (for when it's folded) making it easy to sling over your shoulder. It has an ample-sized storage basket that is actually easy to access from the rear, a decently-sized canopy (see the ZOE XL1 for a huge canopy!), padded shoulder straps, and a pretty comfy seat (and deep recline). There's also a cup holder and a little pouch for mom or dad. Cons? We couldn't figure out how to get it to stand on its own while folded, and there are no cup or snack holders for the baby. Outside of that, for this price point, you are getting a surprisingly great stroller! Who else loves the Summer Infant 3dLite Stroller? Our friends at The Bump, Babylist, and WhatToExpect call it a top pick! Interested? you can check out the Summer 3Dlite Stroller here.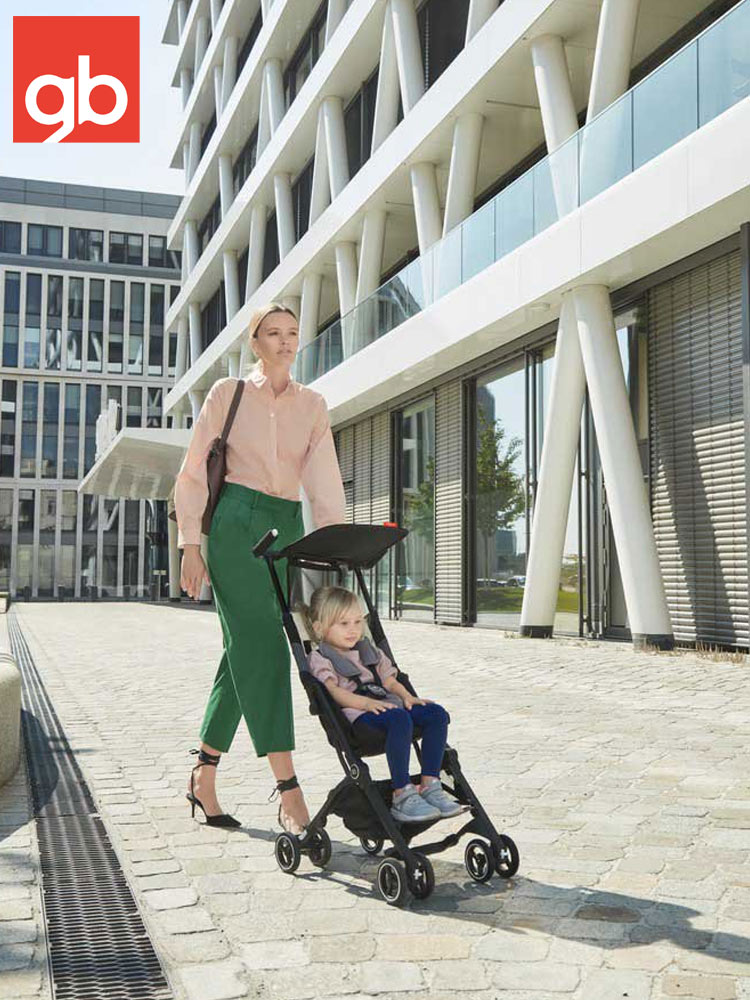 This is definitely one of the more extreme lightweight options on this list. It is the most portable, compact, and lightweight travel stroller we've ever reviewed, and that's saying a lot! We want to be clear that this stroller is for people who really want to minimize the weight and size of a folded stroller for the ultimate in portability and travel. With the GB Pockit, you can put the folded stroller into even smaller overhead bins, which is a very impressive feat! You can also throw it into your suitcase or a duffel bag without any issues (they also make a Pockit travel bag that you can sling over your shoulder). Just how small is it when folded? Under 12" wide, 14" long, and 7" thick. That's like a stack of 5 laptops on top of one another - much smaller than any other option on this list; in fact, it's so small that it won the award for the smallest folded stroller in the Guinness Book of World Records! When we first got our hands on this stroller, that was our immediate first impression: the box seemed too small to have a functional stroller in it! Pulling it out of the box, it's only about 9.5 pounds, making it super light and easy to maneuver.
Once out of the box, you'll need to read the owner's manual because it uses a unique folding design that will take a few minutes to get used to. Unfolded, this stroller is pretty sparse. It's narrow and simple, super easy to maneuver around tight spaces, yet somehow is able to support kids up to 55 pounds (with an additional 11 pounds of gear in the storage basket!). While it's not appropriate for newborns and does not attach to any infant car seats, once your baby is about 6 months old and has head and neck control, they can use this stroller. In terms of features, it's relatively lacking, but that's not surprising given the portability aspect - it does have a canopy but it's pretty small (see the Pockit+ for a larger canopy), it does have storage but it's small, it does recline but it's cumbersome to use and restricted in range, and it has no cup holders or small storage pockets or trays (for parents or kids). But what it does have is superior portability that leaves all the other lightweight strollers in the dust, and a price (around $200) that isn't too outrageous for one of the best travel strollers out there. And that's why it's so high up on our list! Who else features the GB Pockit as a top pick? Our friends at The Bump, Babylist, and WhatToExpect! Interested? Check out the Pockit Air here or Pockit+ Stroller here.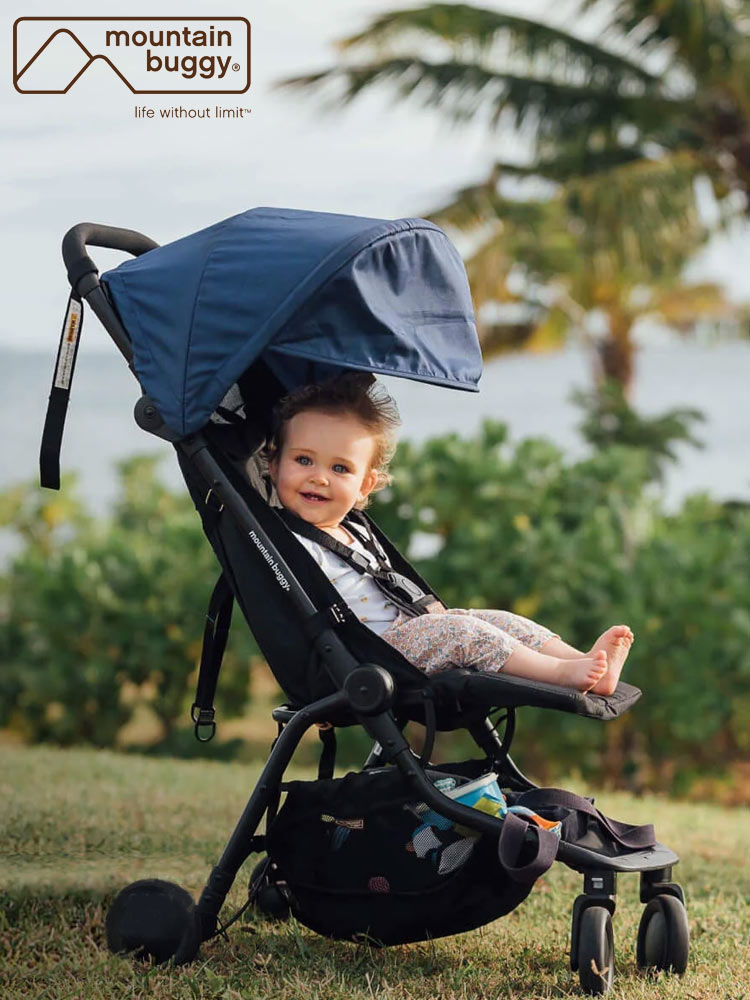 This is a surprisingly full-featured travel stroller from Mountain Buggy, a company known for making high-quality, rugged, and great-looking strollers. Heading to Europe for an adventure with a baby or toddler? Want something that can brave the elements with its large canopy, help you haul your fashion finds with its huge storage basket, and keep your little one comfortable on extended journeys? The Mountain Buggy Nano V3 might be perfect for you! The Nano V3 folds down into a nice small footprint, about 22" long by 20" wide and 12" thick, that fits perfectly into the included carry bag. Not built for chunky monkies, the seat is somewhat narrow and the weight limit tops out around 40 pounds. The stroller itself weighs 13 pounds, and it's very clever in its design, well built and reliable, and narrow enough to fit through small doorways and openings. The folding is very effective, but also requires two hands; when folded, it can go into the included carry bag, or you can use the handle for easy portability.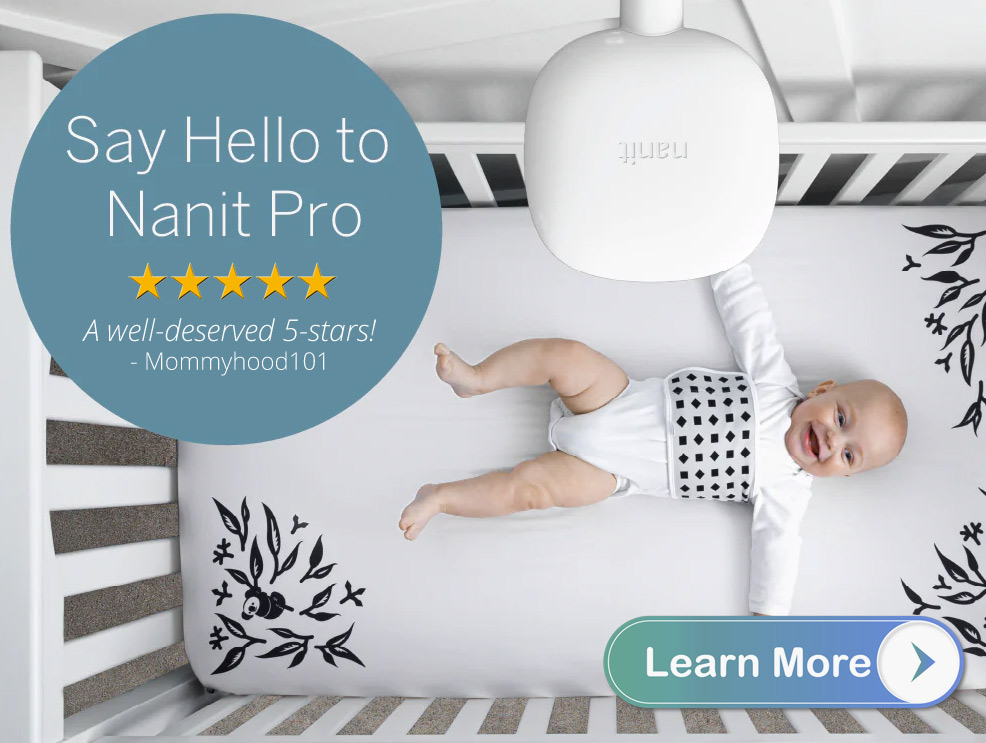 Even with its relatively minimalist design, it has some good features for travel: an adjustable footrest, rear wheel suspension, and a canopy with a nice extension to block sun or rain. The build quality is very high, and the price is surprisingly reasonable for the quality. We found it very easy to maneuver and carry, the canopy worked well to block the sun and rain, and the seat is very comfortable for toddlers (especially when the footrest is up!). Some additional features are worth mentioning because they are not entirely common for a travel stroller: the front wheels can be locked or free to swivel, you can purchase a lie-flat cocoon bassinet, and it includes a safety belt and toggles to attach basically any infant car seat (making this one of the only travel system strollers on this list!). Overall, we love the style and quality of the Nano V3, and we're not alone: our friends at Babylist, Babygearlab, and The Wirecutter all consider it a great option. It is also the recipient of the red dot award, the JPMA innovation award, and is recommended by TripSavvy. That's a lot of accolades and for good reason! Interested? You can check out the Mountain Buggy Nano here.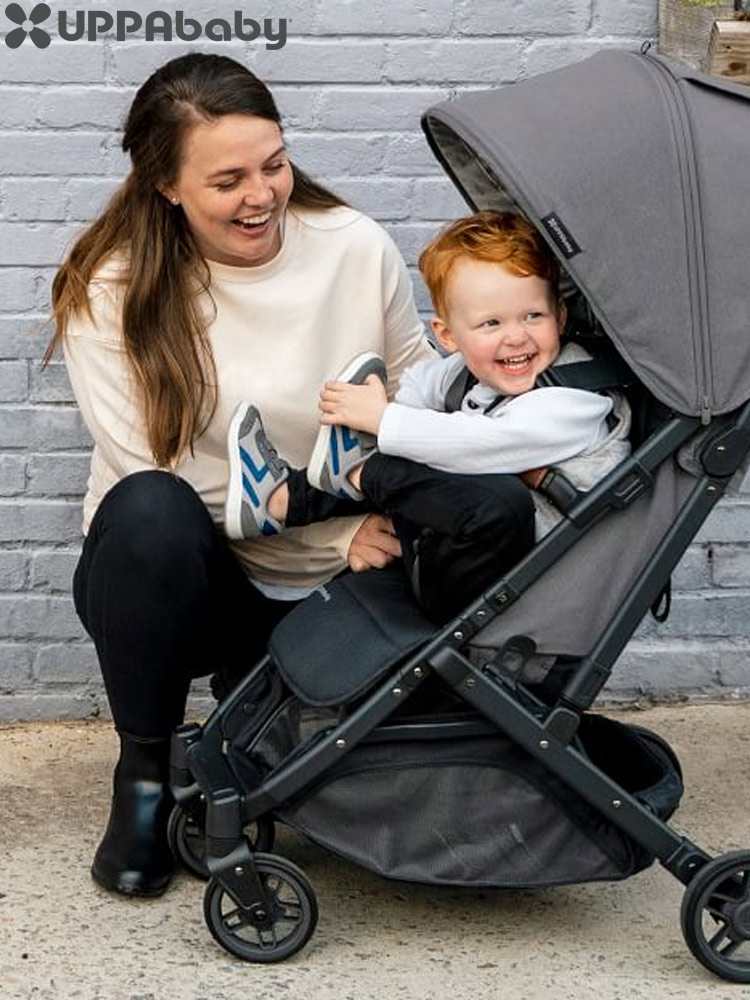 UPPAbaby is very well known for its luxurious and versatile Vista stroller and MESA infant car seat; when combined, those become one of the best travel systems you can find! Needless to say, we were excited to get our hands on the new UPPAbaby Minu v2 stroller for testing. For specifications, the Minu supports infants as young as 3 months old and big kids up to 50 pounds. If you'd like to use this stroller from birth, it can be used with the MESA infant car seat or the UPPAbaby bassinet, both sold separately. The Minu v2 weighs about 17 pounds and folds into a footprint measuring about 23" long, 20" wide, and 16.5" high (which is larger than the YOYO2 or AER). For features, it includes a one-hand folding mechanism, a large zip-out (UPF 50+) canopy with peek-a-boo window, an adjustable leg rest for comfort, no-rethread harness, adjustable seat recline, suspension on all four wheels, and a large storage basket that can hold up to 20 pounds of gear (and a small storage pouch behind the seat). Not to mention the UPPAbaby style and quality, including brushed aluminum and real leather accents!
In our testing, we were impressed with how a stroller with this many features and versatile support can fold down into such a compact footprint. When folded, it has a convenient carry handle and shoulder strap, but the travel backpack is sold separately. Assembly takes about 10 minutes and includes attaching the wheels, canopy, and bumper bar (if desired). Opening the Minu v2 stroller is fluid and easy, and it locks into the open position very readily. The seating area is surprisingly spacious for your little one (and bigger one, up to 50 pounds!), and we appreciated the inclusion of the shoulder pads and easy-to-buckle five-point harness. The wheels and tires have very low rolling resistance and the entire stroller is extremely easy to maneuver. The handlebar is comfortable and we liked the style and feel of the genuine leather handlebar (and bumper bar); for those who appreciate vegan leather, this might be a deal-breaker. The rear wheel lock is easy to use when wearing proper shoes (right side locks, left side unlocks), but not ideal for flip-flops or sandals given the smaller size and somewhat awkward position. Recline uses the strap tightening method which is very common for lightweight strollers, and requires two hands to adjust. Everything worked very nicely - folding and adjustments were easy and intuitive, the stroller was smooth over sidewalk cracks and bumps, and it was easy to maneuver. The seat is comfortable and supportive for toddlers, and the stroller is sturdy enough to not be overwhelmed and flexed by a larger child (30+ pounds). However, because we're looking specifically for the best lightweight and compact travel stroller, it's worth noting that the Minu v2 is less compact than the YOYO2 and AER, weighs more than them, and cannot be converted to a double stroller if needed (unlike the YOYO2). Overall, an outstanding stroller but a bit larger and heavier than others, and a price that might be steep for your family (about $450). Interested? You can check out the UPPAbaby Minu v2 here.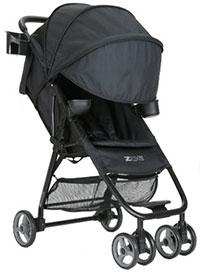 The awesome Zoe XL1 uses a modern folding design that is different from a traditional umbrella stroller, folding into a relatively small size: specifically, it folds down to 26" long, 15" wide, and 7" thick. That size will fit right into an overhead bin on most commercial airplanes, and easily behind the seat of a Jeep Wrangler. And lifting it into either of those places is a breeze, with the XL1 coming in at only 10 pounds! Don't let that low weight fool you, the XL1 is very well-equipped: there is a great snack holder and cup holder for baby, a detachable cup holder and storage pouch for the parents, front wheel suspension, a HUGE canopy (the biggest we tested), a reclining seat, a peek-a-boo window to check on your baby (sleeping yet!?), detachable padded front belly bar, rear wheel brakes, and a decently large storage basket on the bottom. In our testing, the XL1 was surprisingly sturdy and stable, and showed great maneuverability around town, over curbs, and down steps. The one-handed fold was super easy, and it folds into a very compact package - the wheels can be popped off to make it a couple of inches shorter if needed. We suggest using this stroller from about 6 months of age, up until about 45-50 pounds maximum. Zoe accomplished such a durable stroller and high weight capacity by using a lightweight but strong aluminum frame.
All of the accessories are also lightweight, like the plastic cup holders and belly bar. Surprisingly comfortable and versatile, this super lightweight stroller can be purchased for around $180, which we think is a very reasonable price. Cons? A carry strap would have been nice, but they do make a backpack that it slides into pretty nicely. Also, it's difficult to find and rather expensive given the fierce competition from the YOYO and AER. Overall, we love the XL1 and think it is very deserving of this spot on our list! Who else loves the Zoe XL strollers? Our friends at WhatToExpect and Babygearlab also consider them excellent picks! Impressed? You can check out the ZOE XL1 here, and the double version XL2 here.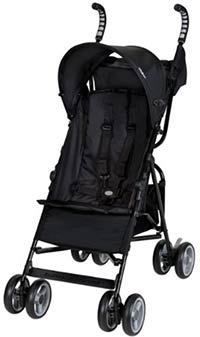 This is a great, well-featured, and reasonably priced (only about $50) umbrella stroller. Baby Trend has a good reputation for making good quality products at very reasonable prices. Nothing fancy here, but definitely a great bang for the buck! This is a classic umbrella stroller that folds up to a long and narrow form, but then folds in half vertically again to make for a very compact stroller that fits nicely into an overhead bin. In our testing, we found some things that we really loved. First, this is a great stroller for tall parents. The top of the handles is over 40" above the ground, which makes it much easier for tall parents to reach the handles without hurting their backs. If you're really looking for tall strollers, this is a good option, another even taller option is the Joovy New Groove ultralight stroller, which is about another inch taller. Second, the ride was surprisingly smooth and handling was nimble, and the brakes worked pretty well, and we loved the 5-point harness which was easy to use and adjust.
Third, the handles were comfortable, there is a little zippered pocket for your keys or phone, there are cup holders for parents, and it feels much more durable than some of the other inexpensive umbrella strollers we've tested. Finally, we found the fabric easy to clean yet comfortable enough for baby. It's designed to support babies who can sit upright on their own without support (it is not made for infants), all the way up to 50 pounds. We did notice, however, that the seating surface itself is a bit narrow so it's better for the tall-and-lean than the short-and-chunky kiddos. Of course, we're talking about an umbrella stroller here so it has many of the same limitations as other umbrella strollers: very limited recline functionality, small and fickle wheels, and a small canopy and storage basket. At this price, those limitations aren't surprising, but they're worth mentioning. Overall, this is a great stroller that could be a bit lighter weight (it's 13 pounds), but offers high bang for the buck!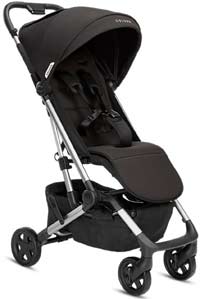 If you haven't heard of Colugo strollers before now, you're in for a pleasant surprise! This Colugo Compact stroller comes in at a lightweight 16 pounds, which is a bit heavier than some others on this list, but we think it might be worth the rich set of features. The Compact supports little ones starting around 6 months all the way up to 55 pounds while maintaining a relatively small footprint measuring about 17" long by 26" wide when unfolded, and 17" x 24" x 10" when folded (which can fit in a large overhead bin!). The stroller has some great features including no-flat rubber tires, a super simple one-handed fold, removable and washable fabric, a large UPF 50+ canopy, a lay-flat recline, and a big storage bin. Some interesting little features are the magnetic seat buckle and harness, detachable cupholder, a backpack, and a separate infant kit (for 0-6 months) that provides a beautiful bassinet attachment for your little one.
In our testing, we quickly fell in love with how easy it was to fold and unfold the Colugo Compact. It's truly a one-handed fold that you can perform while also holding your baby on your hip. Once it's folded, it's a bit heavier than others on this list, at 16 pounds, so you might not be able to lift it and put it in the trunk single-handedly. The stroller is highly nimble and maneuverable, with very agile steering, and a small turning radius. The handlebar is comfortable but it doesn't adjust the height for shorter or taller parents. The wheels have very low rolling resistance, but they are not large enough in diameter to suit rougher surfaces (sidewalk bumps, holes, cracks). The one awkward thing we found was that while pushing this stroller, the rear axle was pretty far back towards your legs and feet. With taller parents, this can cause their stride to kick the stroller. The same thing happens to an even greater extent when you attach the infant bassinet, which sticks pretty far back toward the parent's knees. Outside of those little issues, we think the Colugo is beautiful, practical, highly functional, and reasonably priced at under $300. Who else recommends the Colugo Compact? Our friends at Wirecutter and Babylist consider it a top pick! Interested? You can check out the Colugo Compact stroller here.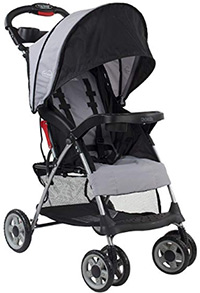 Looking to get your hands on a capable and reliable lightweight convenience stroller that won't break the bank? Maybe the Baby Trend Rocket is a perfect fit, or maybe you're looking for something a little different. Enter the Kolcraft Cloud Plus! This stroller comes in at only 11.8 pounds, can support children up to 40 pounds or 40" tall, and packs some great features. While this stroller cannot be used with newborns, once your child is able to sit unassisted and has full control of their head and neck, this stroller is a great fit. Out of the box, we were impressed with how small this stroller is when folded - it was about 12" thick, 18" wide, and 34" long. Yes, it's not quite as much of a compact stroller when folded as many other options on this list (like the ZOE XL1 or Mountain Buggy), but that's a pretty decent size that you'll be able to fit into the back of a Jeep Wrangler or Smart Car if you needed to. Unfolding it was a breeze - you simply grab it by the handle while squeezing the red lever. Theoretically, it could be done one-handed but you'd probably have to be over 6 feet tall and have shoulders and biceps like Hulk Hogan (or the Arnold) so you can shake it open. So assume you'll need to use two hands for this.
Once unfolded, there were some things we really liked about it: first, the canopy was impressively large at this price point, providing some great protection from the elements. Second, there are two cup holders and a tray for parents, and a detachable tray and cup holder (and a nifty area that serves as a juice box holder) for your kiddo. Third, it was super easy to maneuver around tight spaces, with its narrow frame and versatile wheels (there is a front suspension, but we don't think it does much). The recline settings were pretty decent - there is no "lie flat" option, but you can get reasonably close for a nap. Cons? A few: the backrest isn't very comfortable, we found the locking mechanism a little finicky when folded, the cup holders were way too shallow for most bottles and drinks (my Grande Starbucks coffee tipped over within a minute), it does not fit any infant car seats, and the storage bin could be a little larger and more accessible. Outside of that, this is definitely a good addition to this list, especially considering that it can be had for only about $70. Who else recommends the Kolcraft Cloud? Our friends at Babygearlab and WhatToExpect also consider it a top pick. Interested? You can check out the Kolcraft Cloud here.
How to Pick a Lightweight Stroller
Easy Folding
All of the best umbrella strollers are lightweight, and this is a really critical characteristic. You're buying a lightweight travel stroller for a reason. You want it to be quickly and effortlessly fold up and fit into the half-full trunk of a compact car, fit into the overhead bin on a plane, fit neatly into an apartment closet (or restaurant coat area!), or strap onto a suitcase during travel. Folding with only one hand is even better. You also want it to unfold with ease and not too much hassle, preferably also with just one hand. These were really important features for us.
There are basically two folding modes for the strollers we review here. First, the traditional umbrella stroller folds by squeezing the two handles together and then folding them in half lengthwise. Second, other lightweight strollers fold by collapsing lengthwise, usually using three folding points. Either way, you're going to be able to fit these into the overhead bin of a normal size airplane (though usually, you can just gate-check a stroller), into the back of vehicles with smaller trunk areas like a Jeep Wrangler, and into the corner of a restaurant without taking up too much space.
Safe and Reliable
The best umbrella strollers will fold easily, but won't fold up with your baby inside, or have several exposed hinges that could pinch their little fingers. The stroller needs to have a 5-point harness, not tip over easily, have good locking wheel brakes, and have a sturdy build quality that will last for years. There are many lightweight strollers on the market that are flimsy, tipsy, and won't last you more than a year. Those don't show up on our list; also not on this list are double strollers since they tend to be much heavier and we review them elsewhere.
Comfy and Lightweight
There's a trade-off between a super comfortable stroller and a super lightweight stroller: rarely will you find a stroller that meets both of those needs, especially not an umbrella stroller. To keep an umbrella stroller super lightweight (under 10 pounds), you often compromise a bit on seat, head, and side cushioning. The best lightweight strollers strike a good balance between weight, build quality and comfort. When we tested out the Baby Jogger City Tour LUX as a potential candidate for this list, we totally loved it; it was easy to use, comfortable, versatile, and highly maneuverable. But it weighed 19 pounds, so we decided to leave it off this list - but if you're willing to consider a stroller that is a bit heavier, definitely check out the Baby Jogger City Tour.
For more information about how to pick a stroller, check out our full stroller buying guide.