Mockingbird Single-to-Double Stroller Review
From single to double trouble, this stroller expands to your growing family!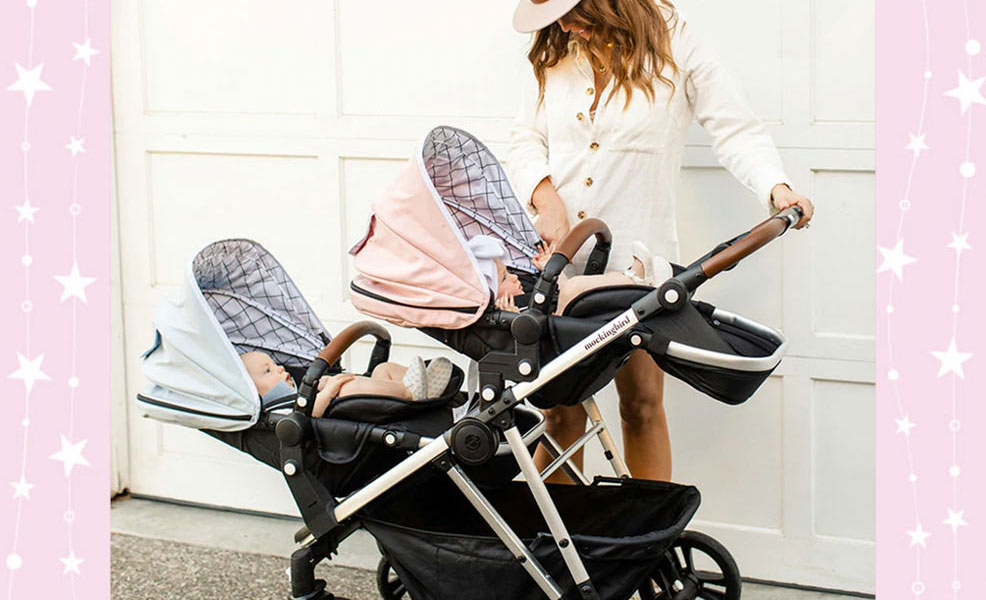 ---
Mommyhood101 independently tests and curates baby gear to help you make informed decisions. If you buy products through links on our site, we may earn a commission.
The new Mockingbird Single-to-Double Stroller is one of the most versatile strollers we've ever tested, with quality, style, and sophistication to match!
It's also offered at a relatively reasonable price - but how does it perform? To find out, we put the Single-to-Double Mockingbird to the test!
Full disclosure: Mockingbird was generous enough to provide us with a free sample of the new Single-to-Double stroller for testing, along with several awesome accessories, and we're very grateful (thank you!).
We assembled it, tested all of its features, and took it out for a day on the town! Our overall impressions were very positive, and we definitely think it's worthy of a spot in our annual best strollers list.
But we also found some minor shortcomings that you might want to consider before purchasing.
As of this writing, the Mockingbird Single-to-Double stroller is available directly through the Mockingbird website and can be found in several combinations of the canopy and trim colors (such as a black canopy with a silver frame and penny leather trim, which is what we tested!). The price is tightly controlled at $450, regardless of where you purchase it.
Important note: This review is for the Mockingbird Single-to-Double stroller, not the original Mockingbird single stroller. If you purchase directly through the Mockingbird website, you can make sure you're receiving the most recent/updated model.
Mockingbird Single-to-Double Stroller Review
Based on our hands-on reviews, we give the Mockingbird Single-to-Double Stroller an impressive 4.5 out of 5 stars:
Overall Impressions
Most parents don't have time to read through this entire article, so here's a summary of what we found.
We were excited to get our hands on this awesome stroller, and we were pleasantly surprised by the following aspects:
✔️ Easy assembly.
✔️ High build quality.
✔️ Expands from single to double stroller.
✔️ Excellent configuration options.
✔️ Compatible with most infant car seats.
✔️ Huge canopy with great coverage.
✔️ Huge airflow canopy window.
✔️ Very wide range of recline positions.
✔️ Comfortable seating & adjustments.
✔️ Surprisingly nimble & maneuverable.
✔️ Easy one-handed folding.
✔️ Looks and feels excellent!
✔️ Great customer service & resources.
However, like with any review we write, we also had some little gripes worth mentioning:
❌ Made in China (like the Vista).
❌ In double mode, very large and heavy.
Overall, we think the Mockingbird Single-to-Double is one of the best strollers we have ever tested. We love its versatility and overall quality, and think it's the perfect companion for any family with twins or looking to expand!
The Single-to-Double is not only versatile and high quality, but it's also surprisingly nimble and easy to use. The fold is intuitive and easy, the adjustments make for comfortable parents and little ones, and Mockingbird has done an excellent job with their support resources and customer engagement.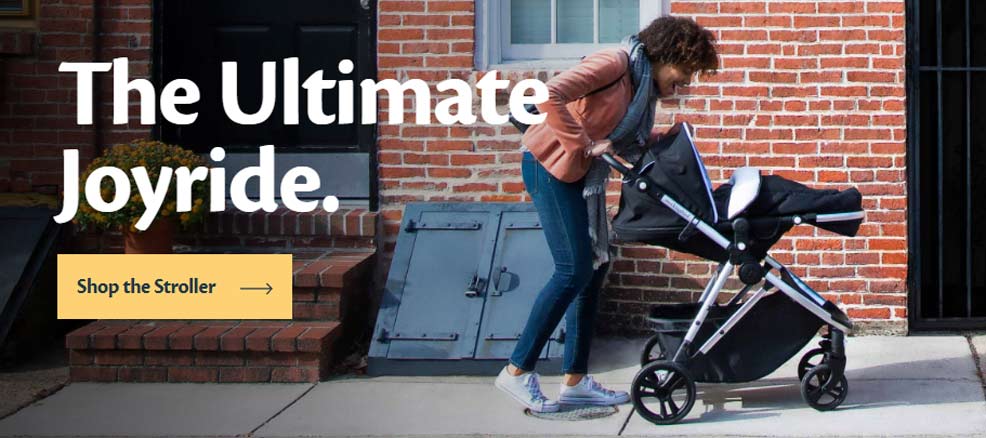 The only drawback is that the stroller is quite large and heavy when two toddler seats are attached. The folded double stroller is also really large. Large enough that you'll need at least a mid-size SUV (e.g., RAV4, CR-V) to haul it around.
Of course, you could pop the seats off before folding, which will save you some space and make it possible to fit the Mockingbird into smaller trunks.
Also, while we prefer baby products made in the USA, we also realize that the competitive price point of the Mockingbird would likely be impossible to maintain with US manufacturing.
Overall, we think the Mockingbird is a no-brainer for families with a second child (or one on the way!) who are looking for style, quality, versatility, and comfort at a reasonable price!
About Mockingbird
Mockingbird strollers are made by a company called Baby Generations, Inc., which is based in New York, NY.
From what we gather, Baby Generations, Inc. was founded in 2017, but as of 2019 is doing business (dba) as Mockingbird.
Eric Osman is the founder and CEO of Mockingbird, founded in 2019. Mr. Osman is an expert in direct-to-consumer products and marketing.
As a direct-to-consumer company, that means they not only manage the design and manufacturing of their strollers, but they also manage the marketing, distribution, and sales. That's a huge job for a product that has quickly gained so much attention! For the past 3 years, Mockingbird strollers had only been available for sale at the Mockingbird website, but very recently they announced a distribution to Target, signaling some big aspirations!
In reading customer feedback on Facebook, Instagram, Twitter, and consumer ratings sites, Mockingbird (as a company) does have some mixed reviews. Overall, Trustpilot gives them about a 4 out of 5 (which is pretty good), and the BBB gives them a B+. Not bad! The two complaints that were lodged with the BBB were both resolved within a month or two of being submitted.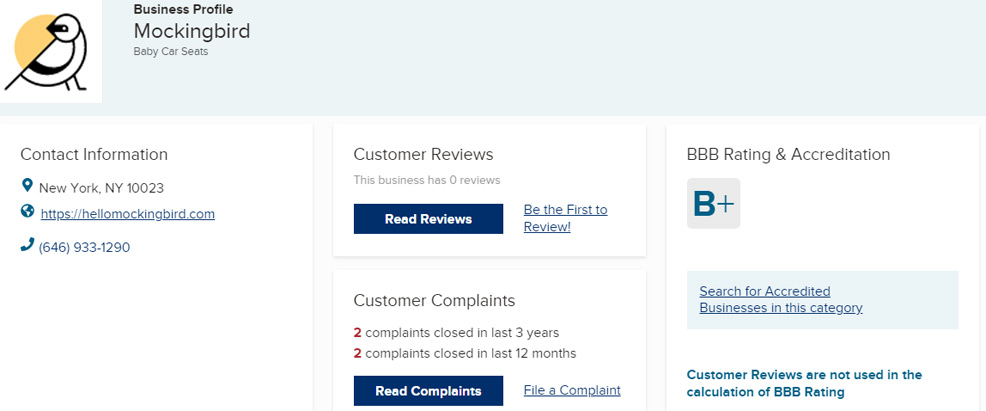 The negative feedback we could find is primarily surrounding delays in manufacturing and shipping strollers, second seat kits, and accessories. These were particularly a challenge during the height of the pandemic (late 2020 to mid-2021), but seem to have resolved themselves more recently. Some of their products, such as certain color combinations of the Single-to-Double stroller, do tend to be on backorder.
Over time, it seems like Mockingbird has experienced some growing pains, and these were compounded by pandemic-related supply chain constraints.
Now that things are slowly getting back to "normal" (to the extent that's possible), it seems like they are doing a better job managing their supply chain and getting products shipped to customers in a timely manner.
Mockingbird has also improved their communications with customers, noting clearly on their website which products are in stock, which are not, and when they might be available (but making no promises!).
Hands-on Testing
The Mockingbird Single-to-Double has a ton of features that we needed to try out!
We begin with a summary of features (and accessories) and then discuss the versatility, comfort and ride quality, ease of use, and folding, and then end with some little annoyances that are worth mentioning.
Features & Accessories
The Mockingbird packs a serious set of features that are complemented by some accessories that you can purchase separately.
We think you'll be impressed with the full feature list:
✔️ 5-point harness with shoulder pads.
✔️ Three harness heights.
✔️ Multi-position reclining seat (w/ pram mode).
✔️ Adjustable leg rest.
✔️ Storage basket & hidden pocket.
✔️ Large UPF 50+ canopy.
✔️ Large and easy foot brake.
✔️ Locking front wheels.
✔️ Frame & seat suspension.
✔️ True one-handed fold.
✔️ Stands when folded.
✔️ Adjustable handlebar.
✔️ Expands to double stroller.
✔️ 19+ front- or rear-facing configurations.
✔️ Pocket for personal items.
✔️ 45-pound (per seat) weight capacity.
✔️ 42" height limit.
✔️ Removable bumper bar.
✔️ Compatible with most infant car seats.
✔️ Lifetime warranty.
As you can see, the Mockingbird has basically every feature you're probably looking for in a stroller.
You will notice, however, that the Mockingbird Single-to-Double does not include a second toddler seat that allows it to convert to a double stroller. You will need to purchase that separately ($145). Speaking of selling things separately, Mockingbird also sells a ton of awesome accessories.
Here is a list of Mockingbird accessories, their price at the time of this writing, and whether they were included in our hands-on test:
Second toddler seat ($145, included in test).
Car seat adapter ($45, included in test).
Cup holder ($20, included in test).
Snack tray for kids ($40, included in test).
Parent organizer ($25, included in test).
Mosquito net ($15, included in test).
Rain cover ($25, not in test).
Infant seat pad insert ($35, not in test).
Riding board for third child ($95, not in test).
Seat liner ($25, not in test).
Footmuff ($60, not in test).
Hand muff ($40, not in test).
We think the accessories are pretty reasonably priced given the quality and functionality.
The most essential ones are the second toddler seat (if you have a second child), car seat adapter (if you'll use it with an infant car seat), and cup holder.
Assembly
If you purchase the second seat and/or accessories, be prepared to receive a ton of boxes from Mockingbird!
It can be a little overwhelming at first, but we promise that they've done a great job with their easy-to-follow instructions, making everything a breeze (though we do wish there were less cardboard waste!).
For the basic stroller (without the second seat or accessories), expect assembly to take about 10 minutes. And it's pretty easy.
The stroller comes partially disassembled in nine pieces, four of which are the wheels.
You will open the frame, attach the wheels, then attach the toddler seat (in front- or rear-facing configuration), canopy, and child bumper bar. Done!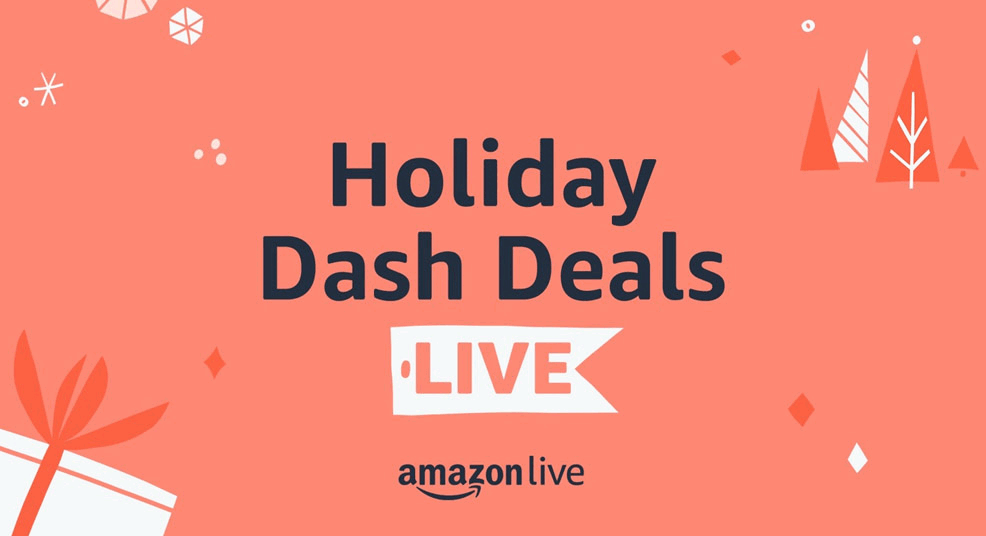 Here's what it looks like when fully assembled: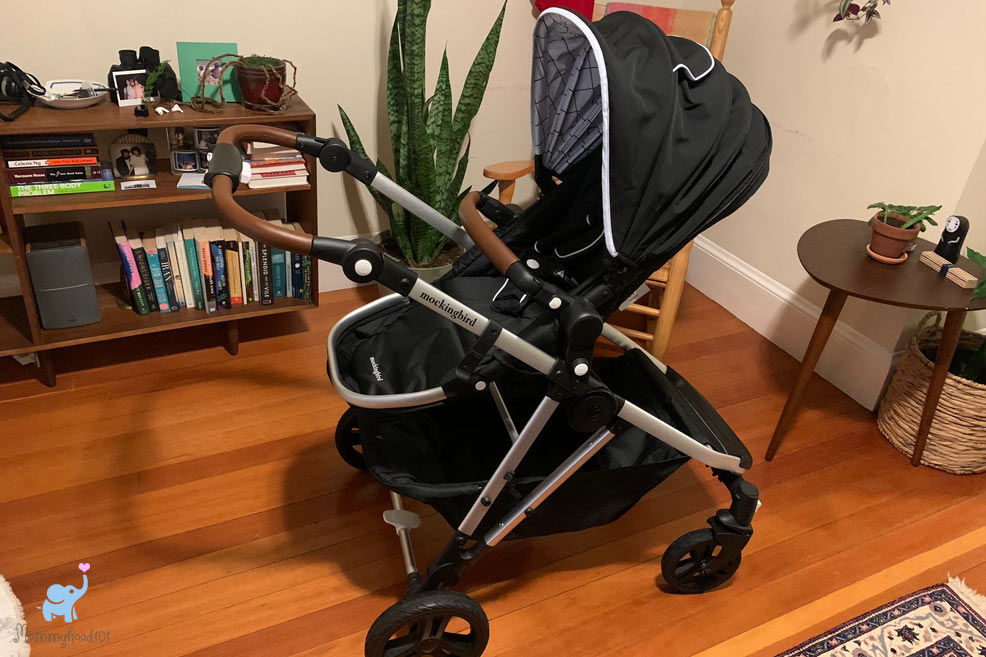 Looking good! Everything feels high quality and easy to attach, and we didn't run into any issues during assembly.
Let's focus on a couple of additional features that we appreciate.
First, we loved the adjustable handlebars, which can be adjusted both upward and downward to accommodate a ton of parent heights.
To do so, you press the small buttons on the left and right side of the handlebar and lift it up and down to your desired height.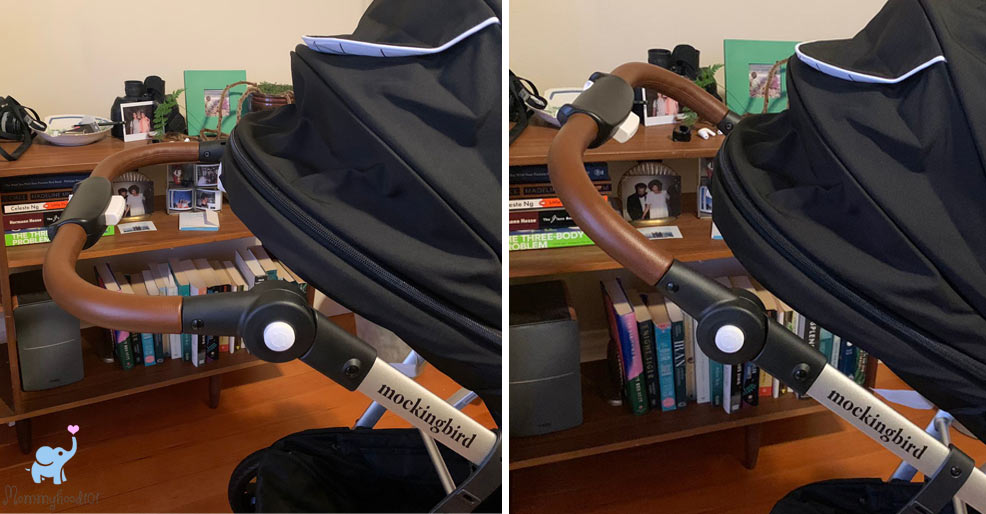 This made things comfortable for our shortest test mom (at 5'0" tall) and tallest test dad (at 6'3" tall). Note that the handlebar is not telescoping, which means that the bigger stride length (leg swing) of taller parents might cause them to kick the rear axle. More on that later.
Second, we loved how wide-ranging the seat recline feature was. It can be very upright for an awake and engaged toddler, or basically lay flat (pram mode) for a sleeping little one.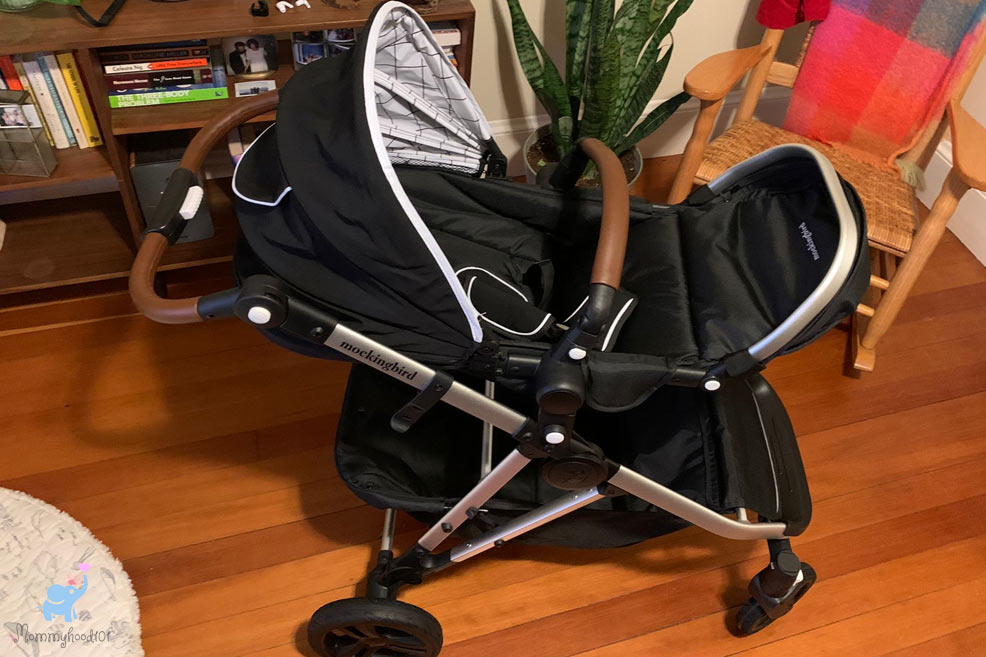 Note that the footrest is also highly adjustable, and this relatively upright setting (in the above photo) wouldn't be the most comfortable for a reclined baby!
To adjust the seat recline, you use this little lever on the back of the toddler seat: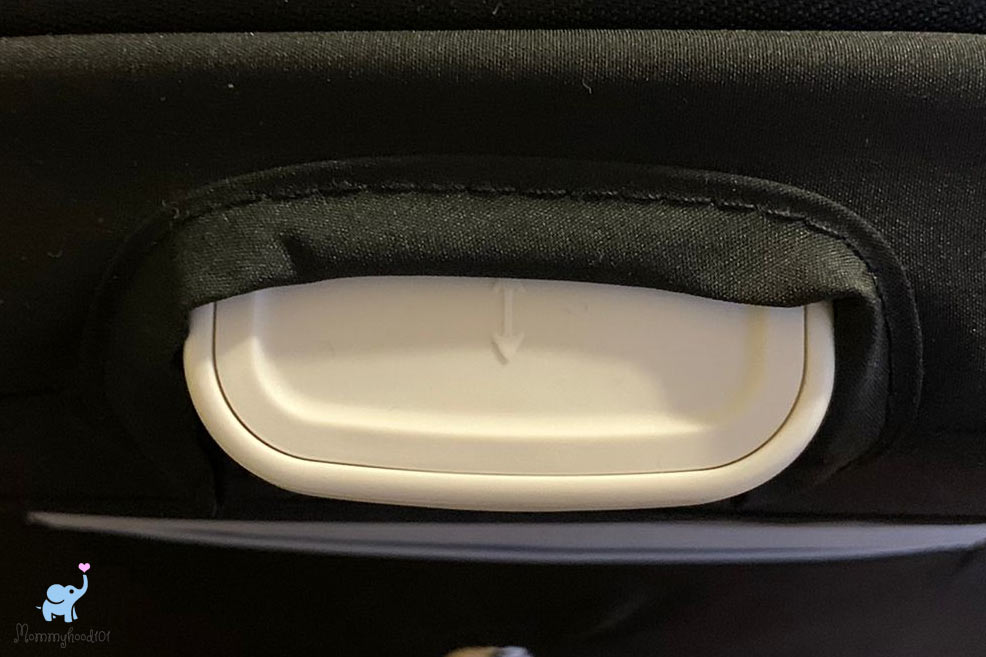 Third, we appreciated how large the lower storage basket was!
It can support up to a 25-pound load (!) and is big enough to fit even some of the largest diaper bags.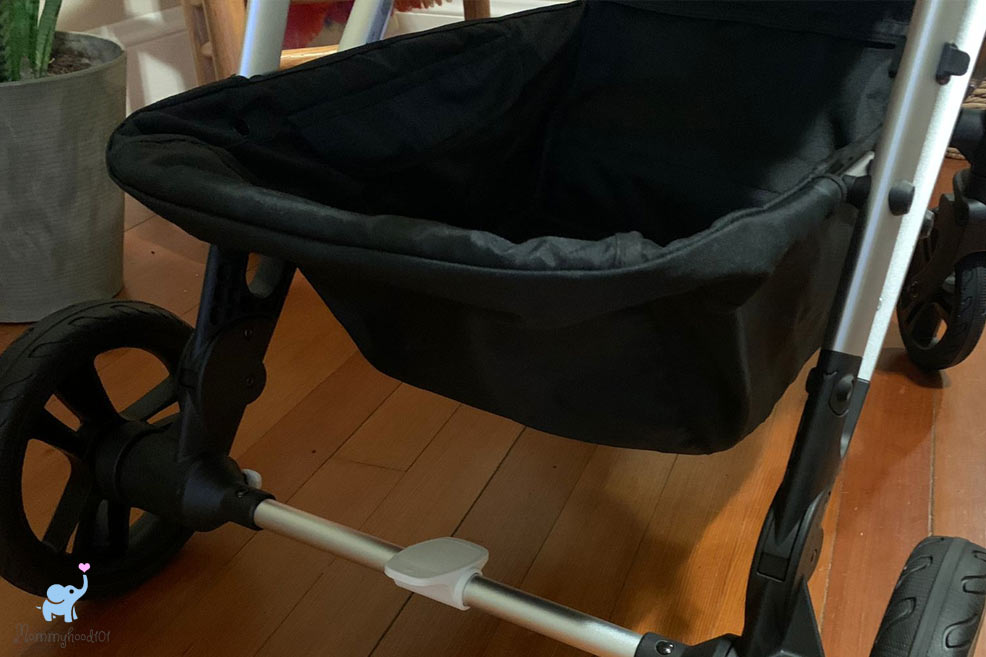 There is also a secret little pocket on the side of the storage basket where you can place smaller items out of the way from sliding around or being damaged, such as sunglasses or keys.
Fourth, we appreciated how large the canopy was, the large zip-open airflow panel, and the cute peek-a-boo panel: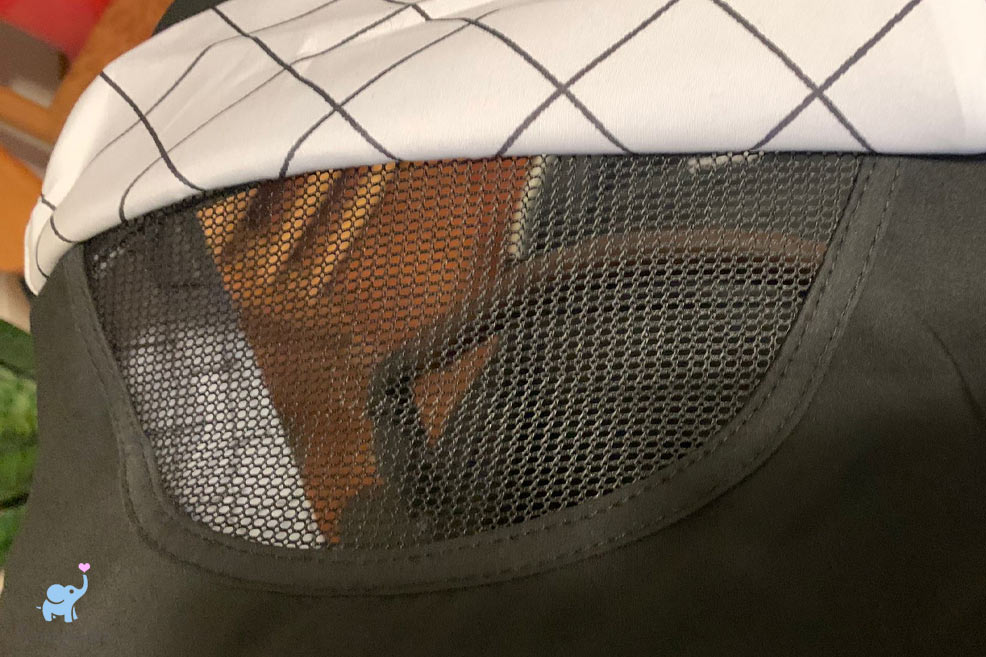 On the back of the seat, there is also a small parent's pocket that can hold a phone or wallet.
Nice touch!
Finally, everything was super intuitive and easy to use. The recline and handlebar height were simple to adjust, the rear brake was easy to engage and disengage.
We do think the front wheel lock switches could be a bit larger and easier (for weaker hands or wet hands) to manipulate: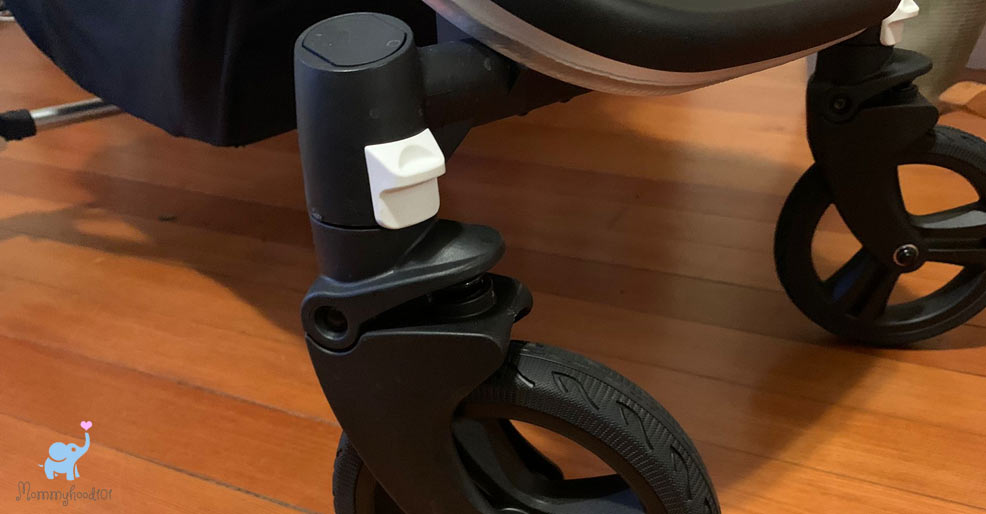 Overall, the feature list was really impressive, hitting all the basic features you might look for in a stroller. A great start to our review!
Mockingbird Accessories
Mockingbird was also kind enough to send us a bunch of accessories, which we really appreciated.
As we said above, obviously, the second seat will be a necessity if you have more than one child.
Beyond that, we think the infant car seat adapters will be necessary for most families. There are two small brackets, one for each side of the stroller, that allow you to attach the most popular infant car seats.
Compatible infant car seats for the Mockingbird Single-to-Double Stroller include:
Britax B-Safe (35, Ultra)
Britax B-Safe Gen2 (FlexFit, FlexFit+)
Chicco Keyfit and Fit2 (all infant car seat models)
Cybex Cloud Q
Evenflo Embrace & Nurture
Graco SnugRide (all infant car seat models)
Maxi-Cosi Mico (30, Max 30, Max Plus)
Nuna PIPA (including the Lite, Lite LX, Lite RX, and RX)
UPPAbaby Mesa (2020 model or later)
Baby Jogger City GO 2.
Here is what the infant car seat accessory bracket looks like when attached to the stroller, in this case with our Chicco KeyFit 30 attached: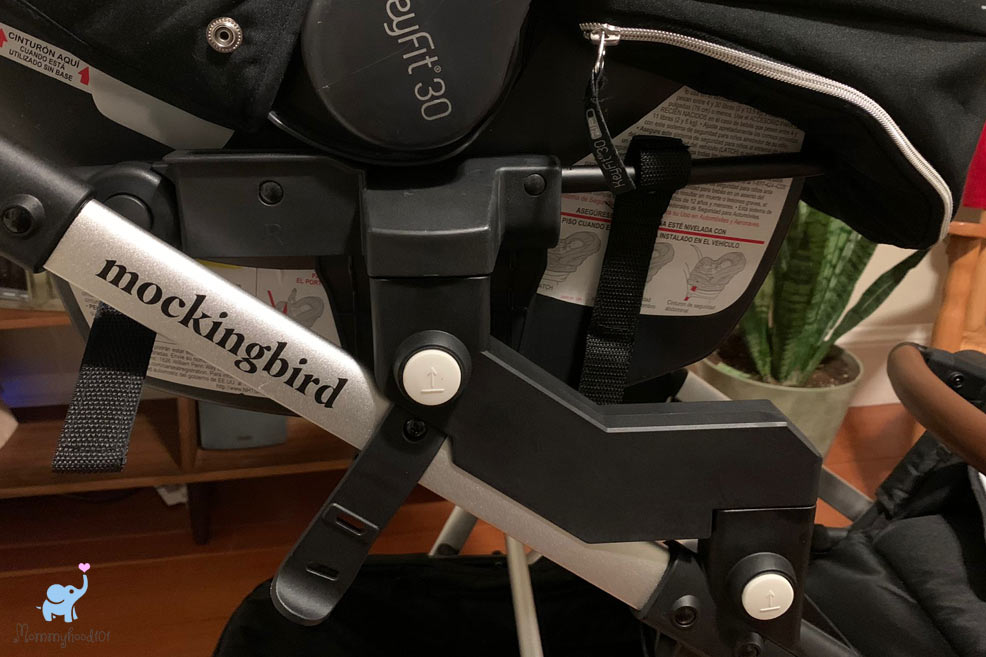 We also appreciated the parent organizer accessory, which adds more space to the existing pocket.
It has a large compartment and a smaller zippered pocket: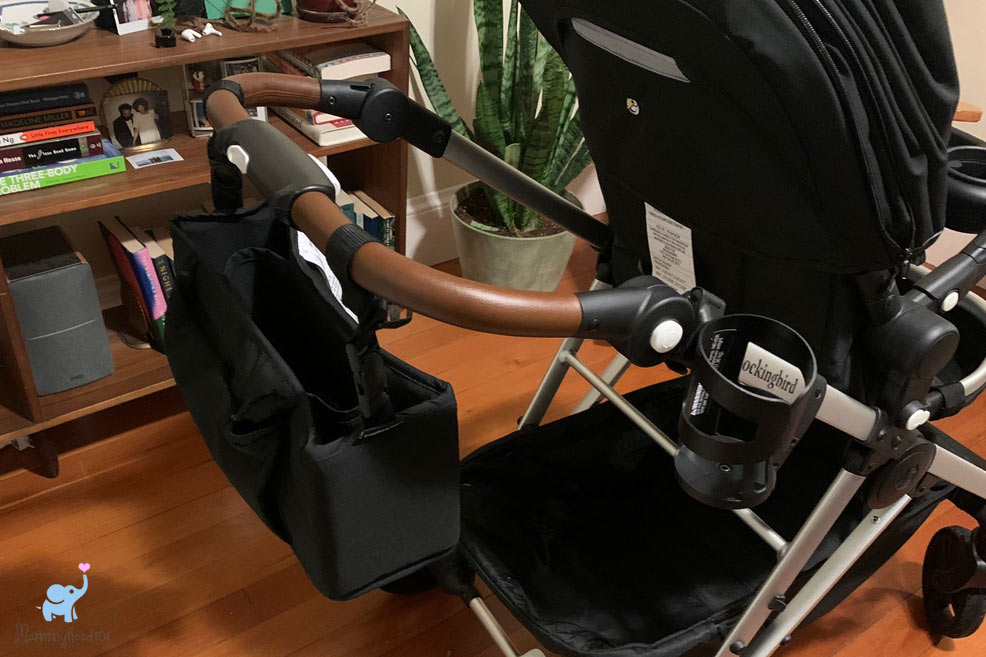 The only downfall of the parent organizer is that it partially blocks access to the storage basket. In the above photo, you can also see the convenient little cup holder.
Finally, our test toddler loved the snack tray!
It has a cupholder that is perfectly sized for a baby bottle or sippy cup, and a snack tray to keep your journeys both hydrated and yummy: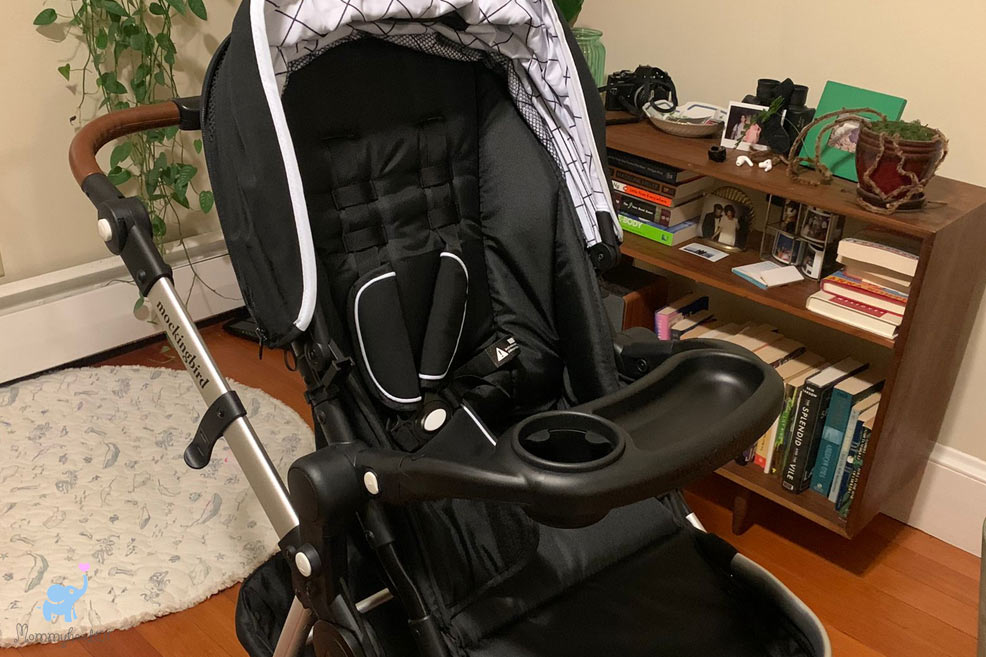 Note that not all of these accessories can be left on the stroller during folding, so keep that in mind for practical purposes.
Also, keep in mind that your stroller will become a bit heavier and bulkier with a lot of accessories.
Versatility
This is where the Mockingbird really shines!
The second toddler seat attaches very easily to the stroller and can be positioned in the front- or rear-facing position. Swapping them between front- and rear-facing positions, and between upper and lower positions, is a snap!
Here is what it looks like with both toddler seats attached in a rear-facing (toward the parent) configuration: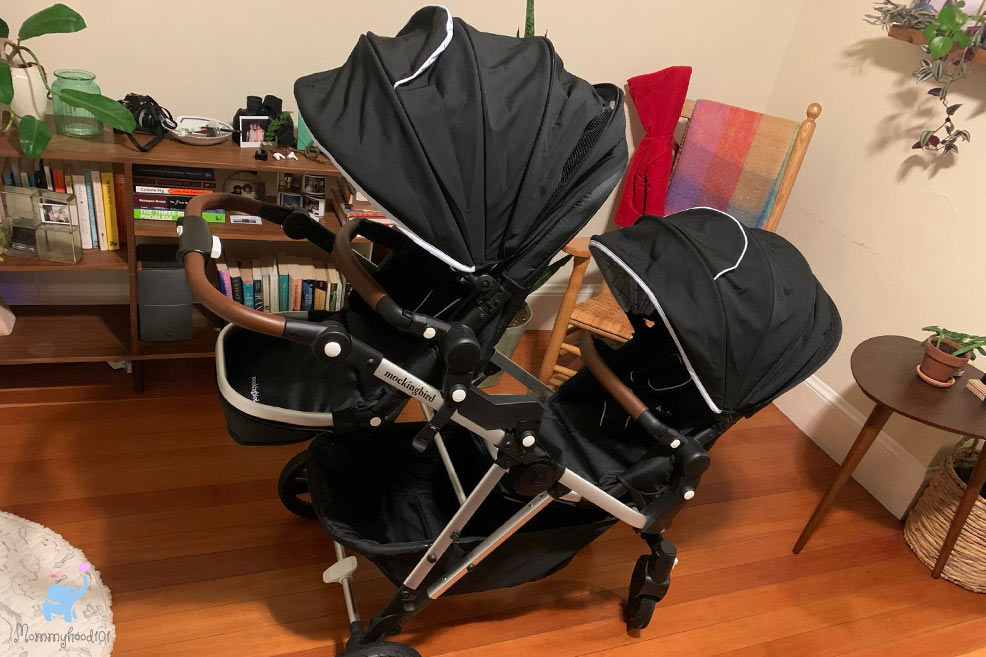 Here is what it looks like with both toddler seats attached in a front-facing (facing outward) configuration: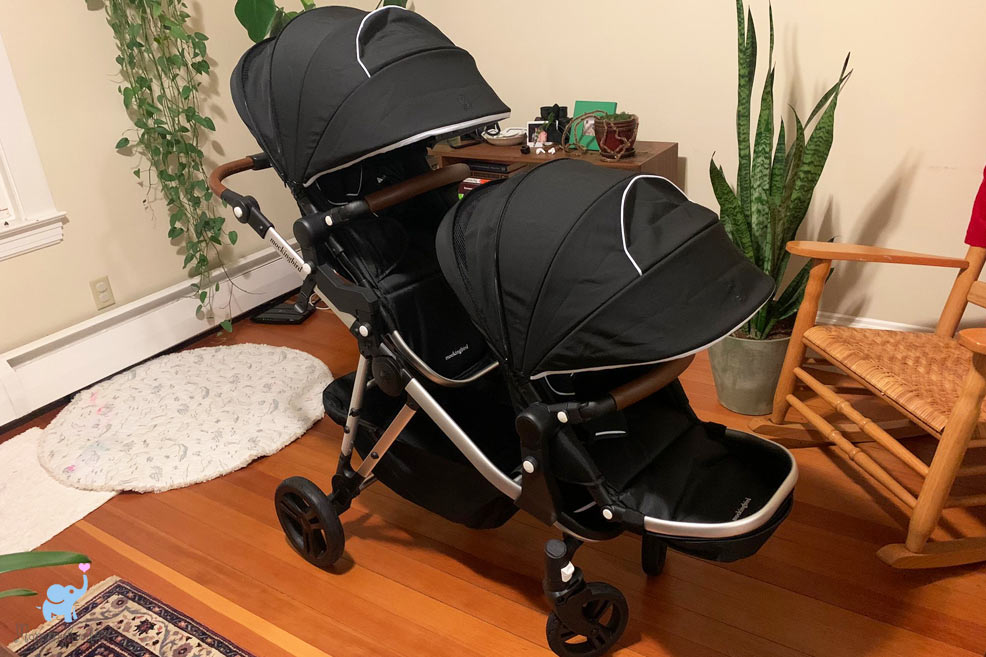 We prefer the front-facing position because it gives both children a nice view. In rear-facing positions, the lower seat has a not-so-nice view of the back of the upper seat.
The two seats are configured as a tandem double stroller, meaning that one is in front of the other (rather than side by side).
Tandem strollers are much easier to maneuver through tighter locations (hallways, doorways, etc). They are also ideal for when one child is sleeping and one is awake and lively, or when they get into a little tiff and you don't want them sitting next to each other (it happens)!
While we're only showing two configurations above, the Mockingbird has at least 19 different ways that you can configure two infant car seats, two toddler seats, or a combination of an infant car seat and a toddler seat.
Here they are: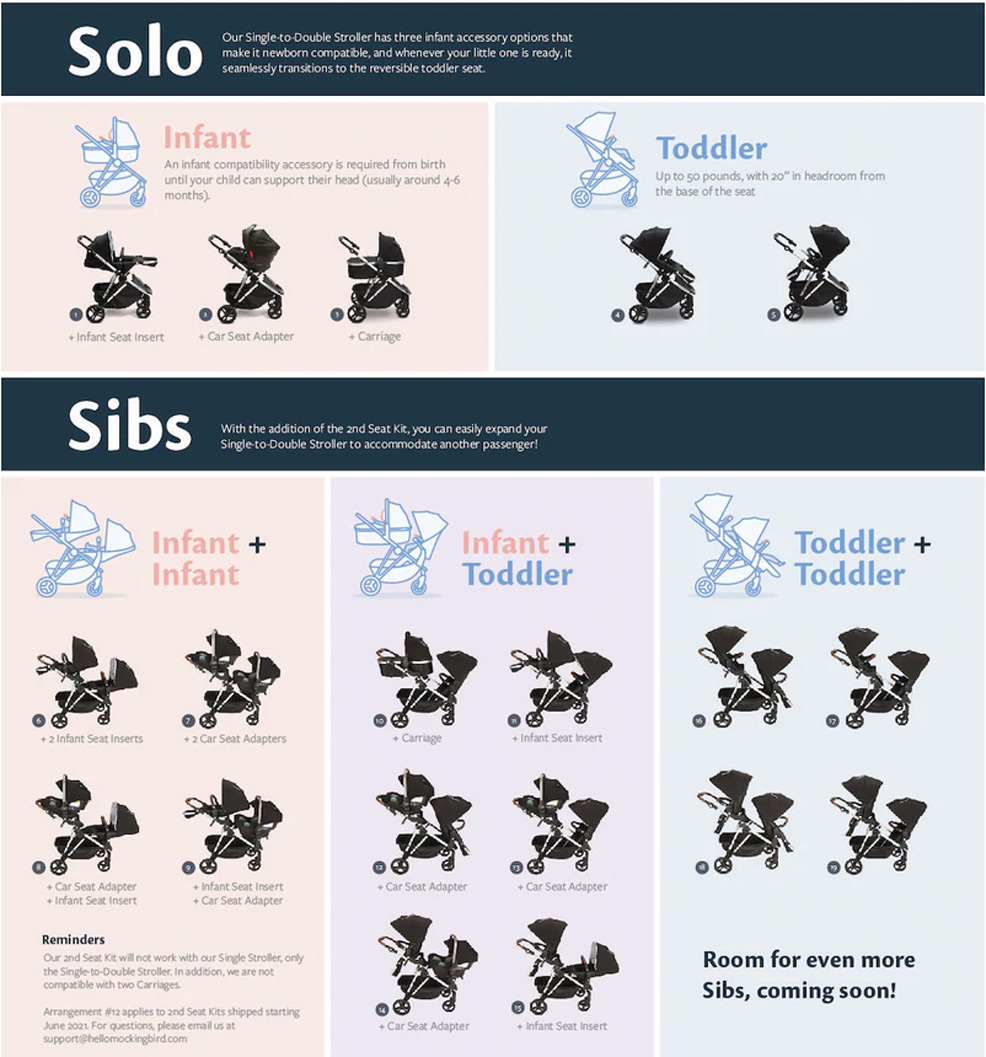 In addition to an infant car seat and toddler seat, you can also attach the carriage or bassinet, sold separately.
If you have the Mockingbird bassinet, you can also use it at home attached to their bassinet stand. For full details, see our Mockingbird bassinet stand review!
Notice in the above image that not only can you attach two toddler seats, but you can also attach two infant car seats, or combine one toddler seat with one infant car seat.
When you have a baby and an older toddler or child, most parents appreciate the below configuration, with the infant car seat up top, and the toddler seat down below: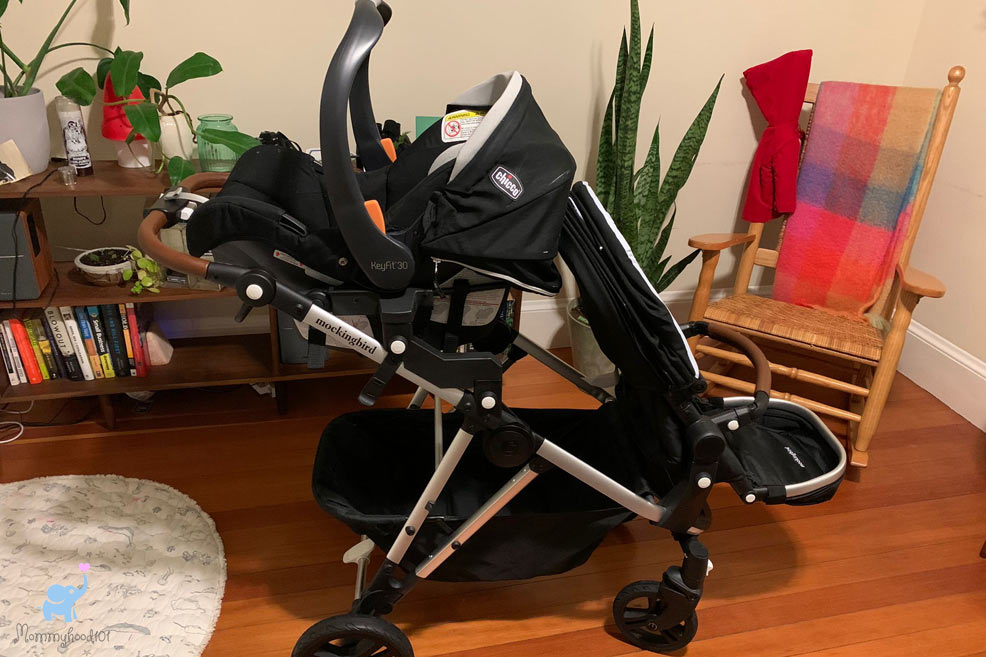 This is a great configuration because mom or dad can clearly see the baby and is close enough to interact with them and help them out when needed. The toddler in the lower seat is in a more independent and visually stimulating position, allowing them to see (and engage with) all the action!
Comfort & Ride Quality
With one child, the Mockingbird stroller was very nimble and easy to maneuver. While it's a bit on the heavier side (about 26 pounds), it was surprisingly easy to manage.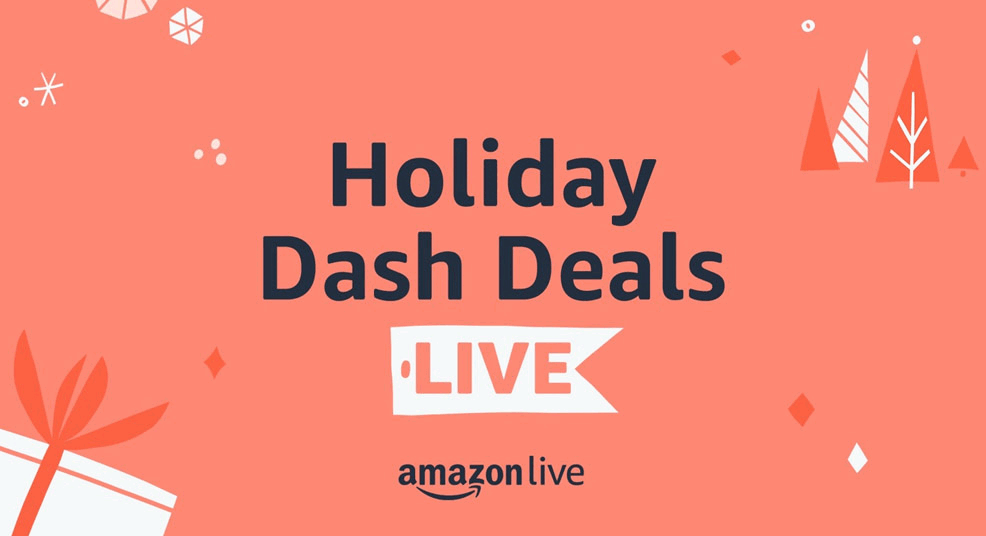 This includes hopping up and down curbs and pushing through softer ground. The larger diameter wheels (rear are 9", front are 7") helped smooth over bigger bumps, and the locking front wheels made it easier to push through sand and other soft surfaces.
We thought it felt very stable and sturdy, and the shock absorption integrated into the seat and frame worked well to smooth things out. The tires themselves could have been a bit softer to help absorb smaller imperfections.
We had a ton of fun around town with the Mockingbird, and our test kiddos loved it too!
Here is our test mom with two little ones, one 9 months old and a 2-year-old:
With two children, the Single-to-Double stroller was a bit heavier overall and a little more challenging to maneuver. This isn't unique to the Mockingbird: in our tests of the Vista we experienced the same exact thing.
When the stroller is very weighed down, for example with two 40-pound toddlers, it does get a bit more challenging to maneuver. Not terrible, but worth mentioning. With two heavy kids, you might be better off with a side-by-side stroller that keeps the center of gravity quite a bit lower (though kids are usually out of strollers by then).
Folding & Portability
Folding the Mockingbird Single-to-Double is simple and intuitive.
Unlike many strollers on the market, especially double strollers, the Mockingbird has a true one-handed fold. This means you can be holding your baby on your hip with one arm, and fold the stroller with the other.
Here is what it looks like when it's folded while keeping one toddler seat attached: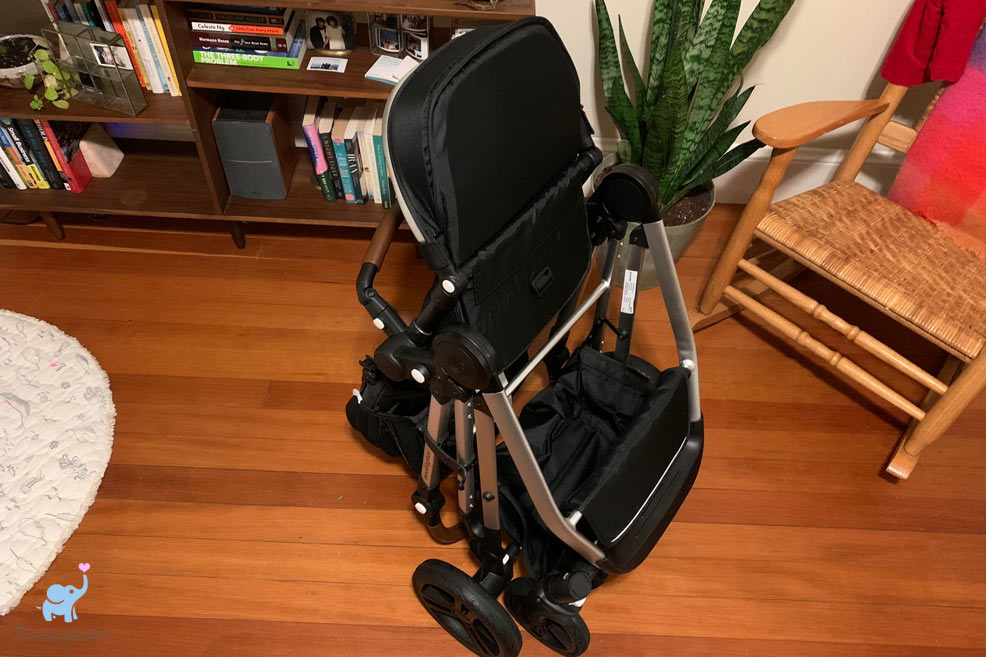 To make the fold even more compact, you can fold the footrest down. Note that the seat needs to be in a forward-facing position to be able to fold the stroller.
When folded, it measures about 34" long, 25.5" wide, and 18" thick. That's about normal for a full-featured stroller.
You'll also notice in the above photo that the folded Mockingbird can stand on its own!
For better or worse, the Mockingbird can also be folded while it has two toddler seats attached.
This is good for convenience purposes (i.e., you don't need to remove the second seat before folding), but when you see how large it is you might reconsider this plan: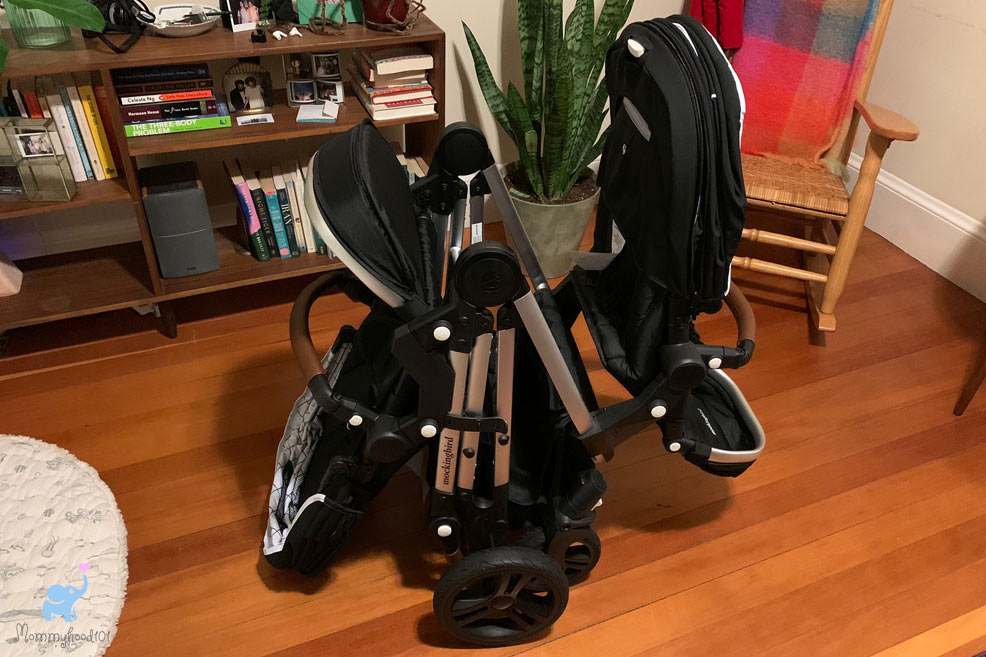 While it's huge and heavy when used in this manner, we were still able to squeeze it into the back of our RAV4: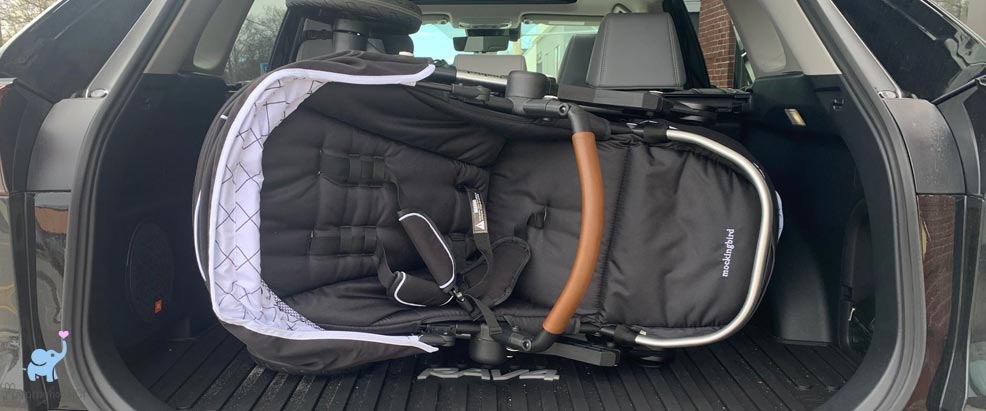 Of course, if you remove the two seats it will fold into a much more compact package.
It's important to note that Mockingbird made it very easy to attach and detach the seats, which will give you more flexibility if you have a smaller trunk space.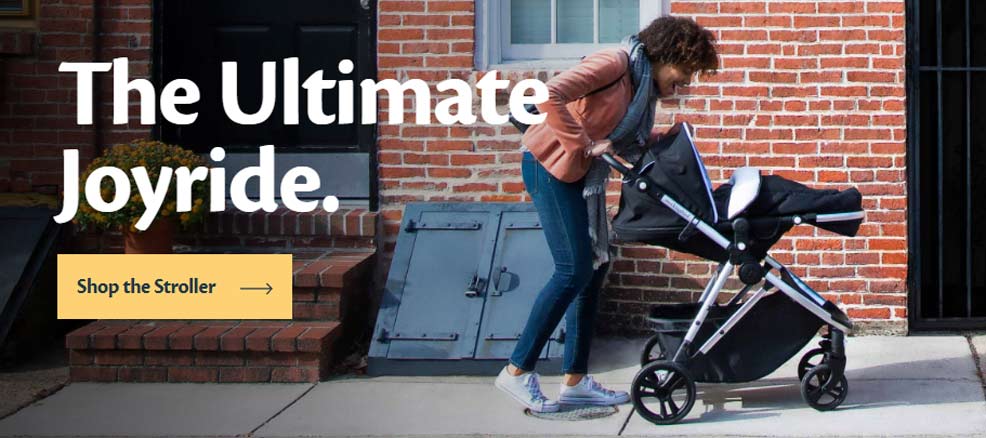 Small Annoyances
No stroller is perfect (and we're really picky!), so we always have some gripes!
One obvious limitation is that because so many aspects of the Mockingbird are sold as accessories, the price can rise pretty quickly when you add them to your order.
If possible, we suggest purchasing the basic stroller for your first child, and then the accessories when you get close to having your second child. This will reduce the financial impact and also give you a chance to try the stroller out with one child and figure out what accessories you might need.
A second minor annoyance is how heavy and cumbersome the Mockingbird is when two seats are attached. This isn't unique to the Mockingbird per se, but we think a more robust suspension could have helped to keep the ride a bit smoother when it's under the burden of increasing weight.
Third, some very little things: when the toddler seat is used in lay-flat mode, the canopy sometimes collapses over big bumps; and, the rear wheel brake lever can be in the stride length of taller parents, which means they might accidentally kick the rear axle or accidentally lock the rear wheels.
Outside of those little concerns, we were very impressed with the Mockingbird!
Overall Conclusions
The new Mockingbird Single-to-Double stroller offers some serious capability and quality, especially at this price.
We were very impressed with how easy it was to assemble and configure, and with the expansive range of seating options.
Around town, the Mockingbird attracted a lot of attention from other parents with its beautiful style, and we found it very nimble and easy to steer and maneuver. Especially when used in single mode, or with two younger (and lighter weight) children.
Aside from some minor drawbacks, we think the Mockingbird Single-to-Double is an awesome option for a growing family, offering quality and versatility that is very rare at this price point!
Overall, we give it a 4.5 out of 5, and think you and your little ones will love it!
Where to Buy the Mockingbird Single-to-Double
We suggest purchasing the Mockingbird Single-to-Double stroller directly through the Mockingbird website.
You can click the below image to check the current prices.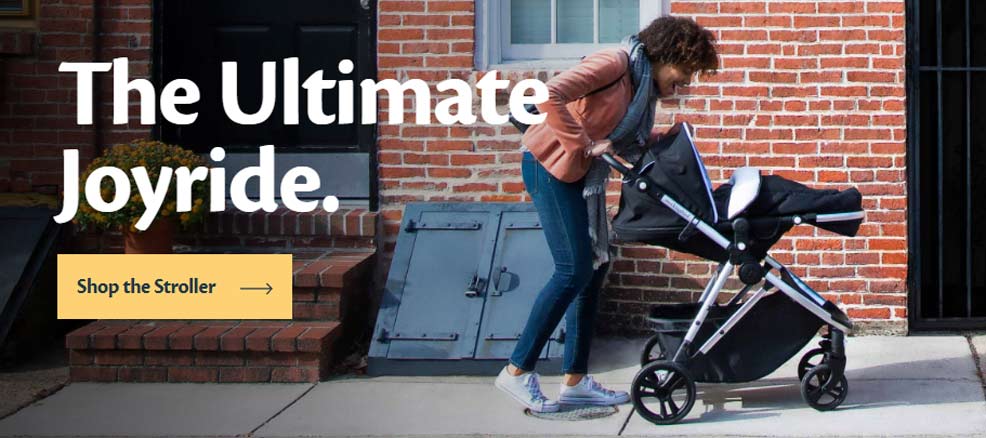 Alert: Mockingbird announced a recall of certain Mockingbird Single-to-Double strollers for a defect that causes the frame to crack. The issue is very rare and does not affect any Mockingbird strollers currently being sold at their website or any other major store. You can read more information about the Mockingbird stroller recall here. Note that we have not experienced any issues with frame cracking in the multiple strollers we have tested first-hand, nor do we know any parents who have experienced this issue.