Best All-Terrain Strollers of 2023: Expert Reviews
These top-rated strollers help you conquer even the roughest terrain with ease.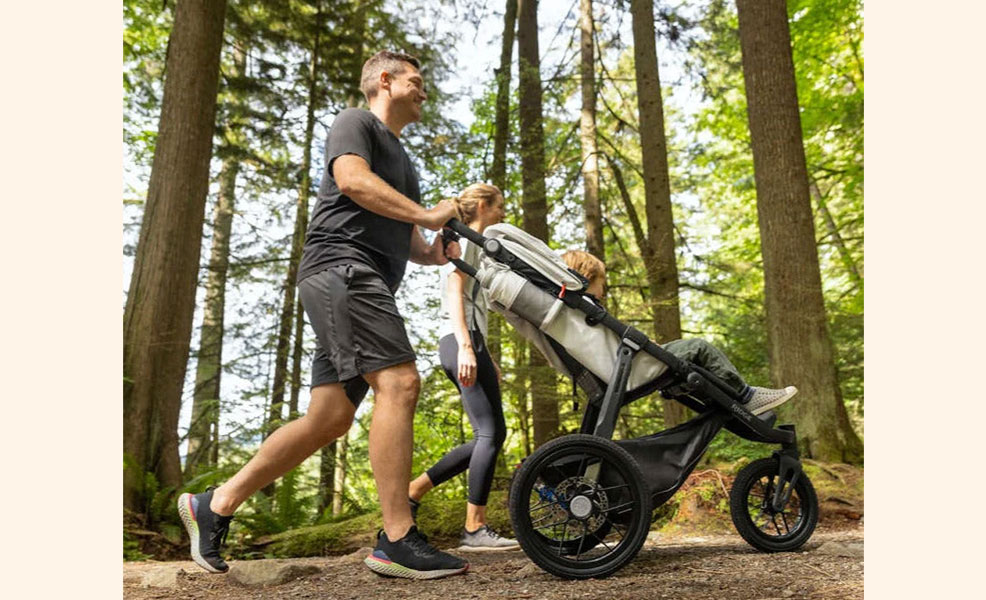 ---
Mommyhood101 independently tests and curates baby gear to help you make informed decisions. If you buy products through links on our site, we may earn a commission.
Hitting the trails with your little one? Hiking, trail running, camping, and exploring the great outdoors are great ways to get your little one exposed to nature.
Research shows that outdoor activity at a young age can promote mental and physical health, prevent obesity, and foster creativity (read the research here and here).
Just for fun, what does ChatGPT-4 think is the best all-terrain stroller!?
"The BOB Revolution Flex 3.0 is the best all-terrain stroller that is designed to handle any type of terrain, including rough terrain, gravel paths, and uneven surfaces." -ChatGPT-4
We don't always agree with robots, but they might be on the right track! Fortunately, we've been reviewing hiking and all-terrain strollers for over 10 years, and if we made our own, here is what it would look like:
✔️ Weight limit 50 pounds or higher.
✔️ Four-wheel suspension.
✔️ Large diameter wheels.
✔️ Locking front wheel(s).
✔️ Stable, low center of gravity.
✔️ Durable and rugged construction.
✔️ Infant car seat compatible.
✔️ Expands to double stroller.
✔️ Reversible seat position.
✔️ Newborn infant insert.
✔️ Large UPF 50+ canopy.
✔️ Under 25 pounds.
✔️ Stands when folded.
✔️ Storage basket.
✔️ Adjustable handlebars.
✔️ Easy to roll and maneuver.
✔️ Fits in midsize trunk.
✔️ No flame retardants.
✔️ Washable fabrics.
✔️ Intuitive & easy assembly.
Of course, you will also want the all-terrain stroller to fit your style (color, patterns) preferences and meet your budget constraints. That's a lot to ask, and very few strollers meet the needs of picky parents!
Full disclosure: Some of these all-terrain strollers, including the Veer, BOB, and Chicco options, were sent to us as free test samples by the manufacturer.
The top 5 all-terrain strollers we've found are listed below, followed by in-depth reviews of several different models.
For our testing, we took the all-terrain strollers on gravel paths, through winding double-track trails, and across conservation land. The two best strollers went with us on a three-day camping and hiking trip in Acadia National Park to test their limits. Of course, the top-rated model has the honor of appearing on our list of the year's best strollers!
You might notice that many of these strollers are also on our list of the best jogging strollers. This is because all-terrain strollers and jogging strollers share some critical features: large-diameter wheels, durable construction, and room for long strides. But all-terrain strollers go one step further to include suspension systems, rugged materials, and superior stability over bumps. All-terrain strollers also do not necessarily prioritize low rolling resistance like a jogging stroller should, or having low unsprung weight (i.e., air-filled tires).
Here are the Best All-Terrain Strollers of 2023!
Veer makes one of the most versatile stroller systems on the market. The Switchback seat is compatible with the Veer stroller frame (&Roll), jogging stroller frame (&Jog), bike mount, and camp chair, offering superior versatility: from strolling to jogging, and from biking to chilling out. Veer was generous enough to provide us with a sample of the Veer Switchback &Roll system, which combines their Switchback seat with their all-terrain stroller frame. For basic specifications, the Veer Switchback &Roll comes in at a beefy 27.6 pounds (the seat is 7.5 pounds, and the frame is 20.1 pounds) and offers a superior weight limit of 50 pounds in the rear position, and 40 pounds in the front position. Why are there two positions? Well, the Veer &Roll stroller frame can serve double-duty as a tandem double stroller, compatible with two Switchback seats, one Switchback and one infant car seat, or two infant car seats. While you probably won't be hitting the trails with a newborn (in the bassinet, infant car seat, or with the infant insert), the &Roll makes it easy to purchase one stroller that can do it all: strolling around town or conquering the toughest hiking trails. The &Roll stroller frame makes your all-terrain dreams come true with its large-diameter wheels (12" rear, 9.5" front diameters), rubber tires, dual front suspension, adjustable shock-absorber dual rear suspension, and a large storage bin with zippered pouches. Not to mention the other high-end stroller features including adjustable handlebars, a large removable canopy, foot brake, adjustable recline (4-position), calf support (3-position), removable bumper bar, peek-a-boo window, front- and rear-facing seating, and locking front wheels. Available infant car seat adapters can make the &Roll frame compatible with Britax, Chicco, Cybex, Maxi-Cosi, Nuna, Graco, and UppaBaby car seats (in front- or rear-facing position).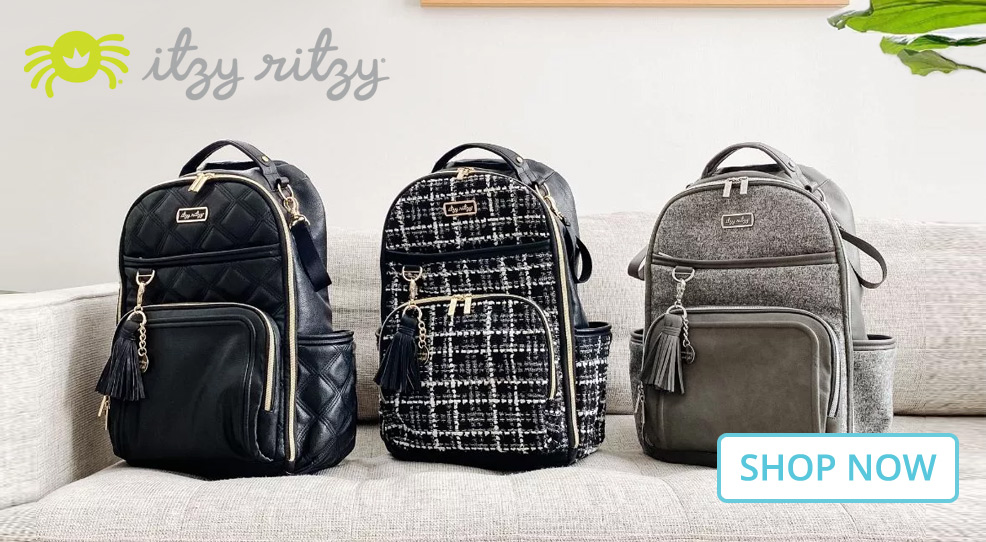 In our testing, we took the Veer Switchback &Roll on adventures through town, on trails through the woods, and hiking through Acadia National Park. The Veer Switchback &Roll felt at home in all of the different environments, showcasing its versatility, comfort, and style! While the frame is quite heavy, it's for good reason: we found the thick and durable materials to be highly rugged, and the giant shock absorbers were highly responsive and comfortable for riding over very rough terrain. We also appreciated the adjustable rear shock absorber dials, similar to what is found on a mountain bike, allowing you to dial in the perfect amount of comfort. The seat is comfortable and cavernous, and we loved how far back the seat could recline; the shoulder harness and pads were comfortable, and the buckles were easy to use. The stroller was surprisingly nimble, making steering and maneuvering easy enough to do one-handed. We loved the huge storage bin and its compartments, the sleek but industrial design elements, and the wide range of handlebar adjustability. The folding was truly impressive. Even with the seat attached, the folding was easy and surprisingly compact. It fits easily into the back of an MDX, RAV4, and Impreza without removing the wheels. While the &Roll frame doesn't come with a cup holder, you can purchase them separately (the stroller frame can accommodate two of them). You can also separately purchase a weather cover, a beautiful and cozy winter muff, a newborn infant insert, and a drink and snack tray. The only downfall of the Veer Switchback &Roll is the price, coming in at about $399 for the seat and $499 for the frame. If you want the versatility to pop the Switchback seat onto the back of your bike, we think the Veer system is a no-brainer for adventurous parents who are always on the lookout for their next adventure! Who else loves the Veer Switchback &Roll stroller? Our friends at Forbes, TheBump, Pregnant Chicken, and Mom.com also consider it a top pick! Impressed? You can check out the Veer Switchback &Roll here.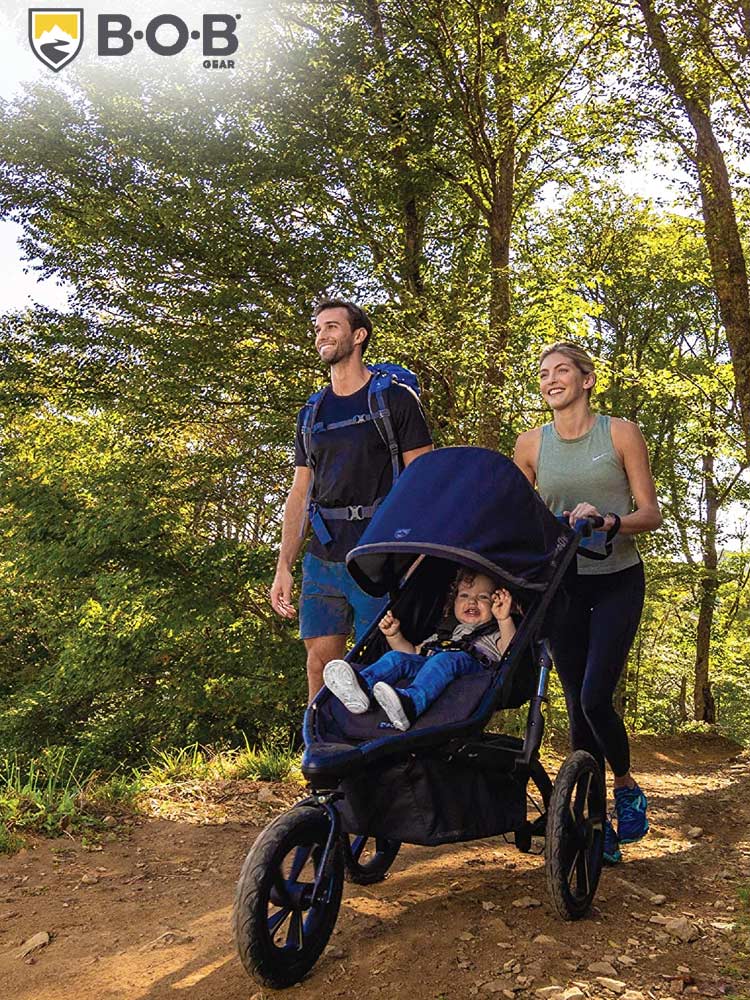 If you like everything about the Veer Switchback &Roll but don't need the versatility to remove the seat and pop it onto your bike or use it as a camping chair, then the BOB Gear Alterrain might be a great fit and help you save some cash. Similar to the Switchback &Roll, the BOB Gear Alterrain uses heavy-duty rear shock absorbers, large-diameter wheels, and has some serious features. Unlike the Switchback &Roll, it uses a single front wheel and includes a wrist strap, and does not have front suspension; the Alterrain Pro additionally includes a hand brake, a zip-top storage bin, a waterproof canopy, and some reflective accents. For specifications, the BOB Gear Alterrain supports children all the way up to 75 pounds (or 44" tall), weighs about 32 pounds, and is about 25.5" wide, and up to 48" tall. For features, it includes rear wheel suspension, a locking front wheel, a self-standing fold, a peek-a-boo window, a large cargo basket, seat recline, large rear (16") wheels and front (12") wheel, adjustable handlebar, a large canopy with UPF 50+ sun protection, no-rethread harness, wrist strap on the handlebar, and pneumatic (air-filled) tires. Car seat adapters are available to fit Britax, Chicco, Peg Perego, and Graco infant car seats. That's a ton of great features, so we were excited to check it out!
In our testing, we thought the BOB Gear Alterrain was one of the highest quality and most durable strollers we've ever tested. Out of the box, we were a little frustrated that the pneumatic tires were not fully inflated, so make sure you have a bicycle tire pump available for assembly (inflate to 30 PSI). Outside of that little hiccup, our first impression was that every element of this stroller is very high quality, from the aluminum frame to the plastics and fabrics, everything fits together and functions very well. We were impressed with the quality of the fabrics and zippers, the shock absorbers, and the tires. While the stroller is large, it is surprisingly nimble and easy to maneuver, with the single front wheel providing great forward tracking and the ability to turn around even the tightest corners. The rear shock absorbers were excellent at absorbing impact over even the roughest terrain, and the air-filled rubber tires provided a nice degree of shock absorption themselves. The biggest downside of this stroller is the weight and bulkiness; the obvious downside of using durable and rugged materials is that they are also very heavy, and the beefy frame and large diameter wheels make the stroller very large, even when folded. We appreciated that the rear wheels are very easy to pop off, decreasing the footprint considerably. If you have at least a compact SUV, you likely will not have any issues transporting the stroller (but don't try to bring it on an airplane!). While we never experienced a flat tire, we were a bit worried about using air-filled tires on rough trails. It's easy to catch a rock on the tire's bead or get a puncture; our preference is foam-filled, though we do realize that they aren't quite as good at absorbing impact from small bumps. Who else loves the BOB Gear Alterrain? Our friends at The New York Times (Wirecutter) and Lucie's List also consider it a top pick! Impressed? You can check out the BOB Gear Alterrain here.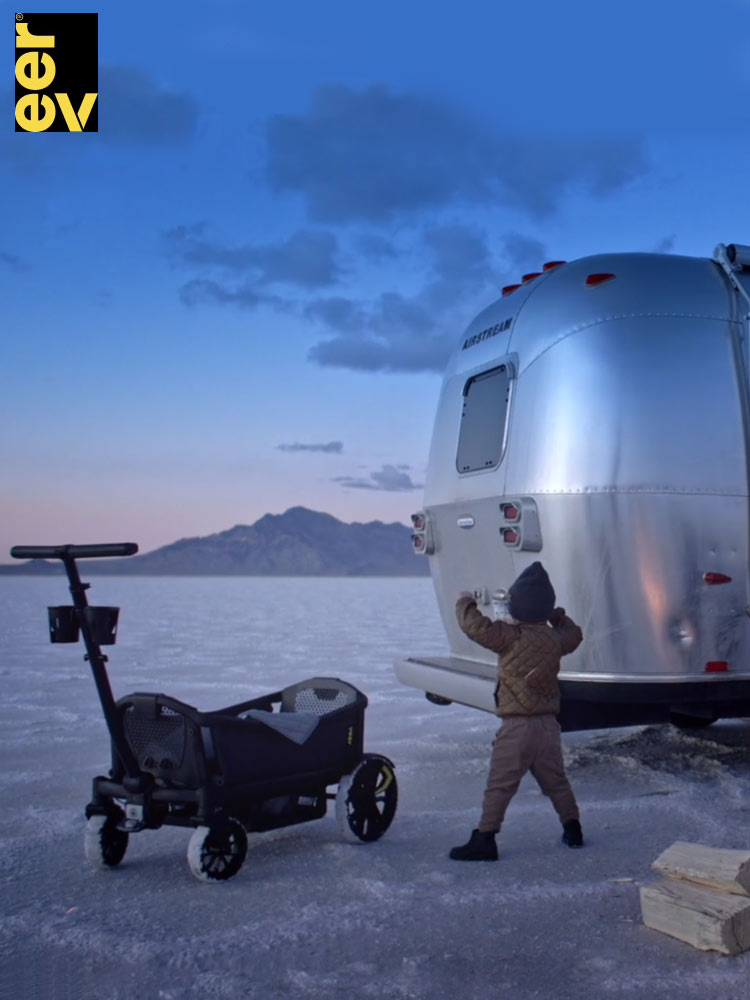 The Veer Cruiser is a new addition to this list, packing some serious versatility and durability into a beautiful all-terrain wagon that can conquer even the roughest trails with seating up to four! We first got our hands on a sample of the new All Terrain Cruiser XL (thanks, Veer!) in mid-2023 and were excited to hit the local trails with the kids. Before we tell you how it went, let's start with some specifications. There are two versions of the All Terrain Cruiser, the original and the XL. The original had seating for two, and the XL built upon that success and made a larger wagon that can fit up to four toddlers (each with a 3-point harness) or a combination of kids, gear, and/or an infant car seat. The XL measures about 37" long, 24" wide, and 23" high, and can haul up to 220 pounds of kids (55 pounds per seat) or 250 pounds of cargo. That's impressive, especially for a wagon that weighs under 37 pounds. Not only can the Cruiser XL fit four kids, it can also accommodate an infant car seat; Veer has an adapter for most major brands including Graco, Britax, UPPAbaby, Nuna, Maxi-Cosi, Cybex, Clek, Chicco, and Peg Perego. The Cruiser XL also features an expandable footwell for the kids' feet, cup holders for kids and parents, front suspension to absorb bumps, and no-flat tires with rear fenders to keep things clean.
Speaking of keeping things clean, it was one of our favorite features of the All Terrain Cruiser XL: it can be completely washed down with a hose to remove dirt, mud, sand, and ice cream. Out of the box, assembly was easy and intuitive, taking us about 10-15 minutes. In our testing, we took the Cruiser through town, on a gravel trail, on a double-track trail, and to the beach. No matter what we threw at the Cruiser, it handled it with ease and grace. It was nimble and had low rolling resistance, making it easy to push or pull. We were able to steer it around tight corners and it kept its grip on tipsy trails. The suspension did a nice job absorbing the smaller bumps, the wagon had a low center of gravity and thus high stability, and the handlebar was adjustable and comfortable. Leaving the trail, the wagon can be folded down into a relatively small footprint (37" x 24" x 14"), and you can trim that last dimension down to only 9" if you pop off the wheels. That's small enough to fit easily into the back of a compact SUV, and it stands on its own when folded. The large rear brake was easy to use, and the test kids absolutely loved sitting in the Veer and cruising around (and even when the weather was hot, the vented seats were helpful). One of our big takeaways from reviewing the Cruiser XL is that it's very high quality. From the fabrics to the plastics, hinges, and bearings, everything felt sturdy and smooth. We fully expect this to last for many years to come, making it worth every penny. Impressed? You can check out the Veer All Terrain Cruiser XL here.
Baby Jogger made one of the first jogging strollers in existence, and they have a long track record of success developing all-terrain strollers, with the Summit X3 being a prime example. For specifications, the Baby Jogger Summit X3 can support children up to 75 pounds (or 40" tall), and comes in at just over 28 pounds. It is slightly wider than the BOB Gear Alterrain, at just under 26" wide, but quite a bit shorter coming in at just under 42" tall. For features, the Summit X3 has all-wheel suspension, a wrist strap, and hand brake, a locking front wheel (controlled from the handlebar), a near-flat seat recline, a large (UPF 50+) canopy, a large storage bin, and a small seatback storage pouch. Baby Jogger also offers car seat adapters that are compatible with an impressively wide range of infant car seats from Baby Jogger, Britax, Chicco, Clek, Cybex, Graco, Peg Perego, and Maxi-Cosi.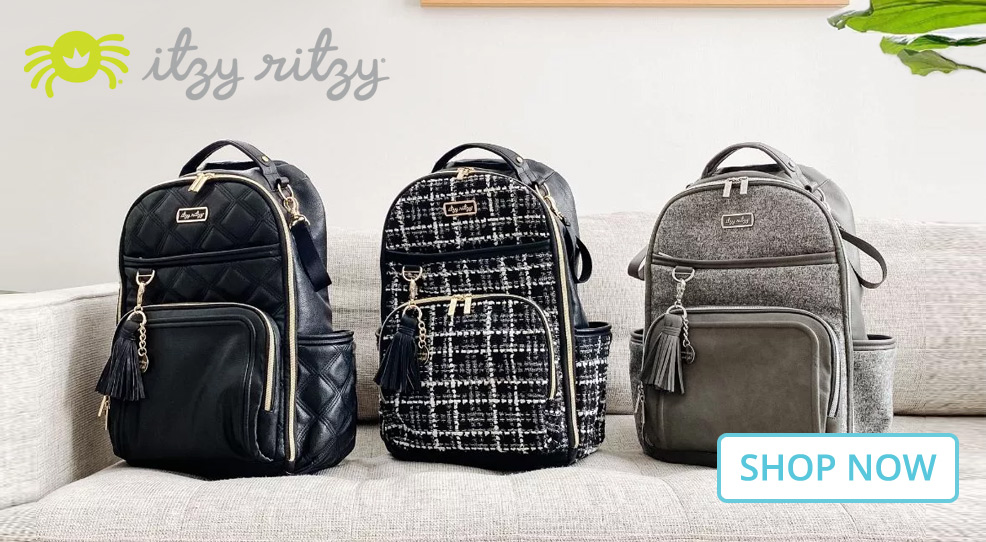 In our testing, we thought the Baby Jogger Summit X3 was most similar to the BOB Gear Alterrain. They both use a three-wheel construction with a 12" front wheel and 16" rear wheels, pneumatic air-filled tires, and most of the basic features. Relative to the Alterrain, the Summit X3 has a wider range of infant car seat compatibility and tons of accessories including hand and foot muffs, snack trays, and more. But there are also a few things that Summit X3 does not have, relative to the Alterrain: the Summit X3 uses a less substantial shock absorption system, has a very low height limit (40"), does not have adjustable handlebar height, and the storage basket is limited to 10 pounds. Out of the box, make sure you have a bicycle tire pump available to fully inflate the tires (20 PSI). The folding mechanism was smooth and truly one-handed. The stroller is heavy and large, but we were impressed with how smooth it rode and how easy it was to maneuver. The suspension system was great for absorbing smaller bumps and sidewalk irregularities, but with a heavier child, it was definitely not as good as the Veer or BOB Gear Alterrain, especially when traversing rougher trails. The stroller felt durable and high quality, but not quite to the standard of the BOB Gear Alterrain (or their Revolution Flex). For the price ($499), we think that you would be better off with the BOB Gear Alterrain unless you need wider infant car seat compatibility or have a strong style or brand preference. It's certainly a great all-terrain stroller, but it has fierce competition from the BOB products! Interested? you can check out the Baby Jogger Summit X3 here.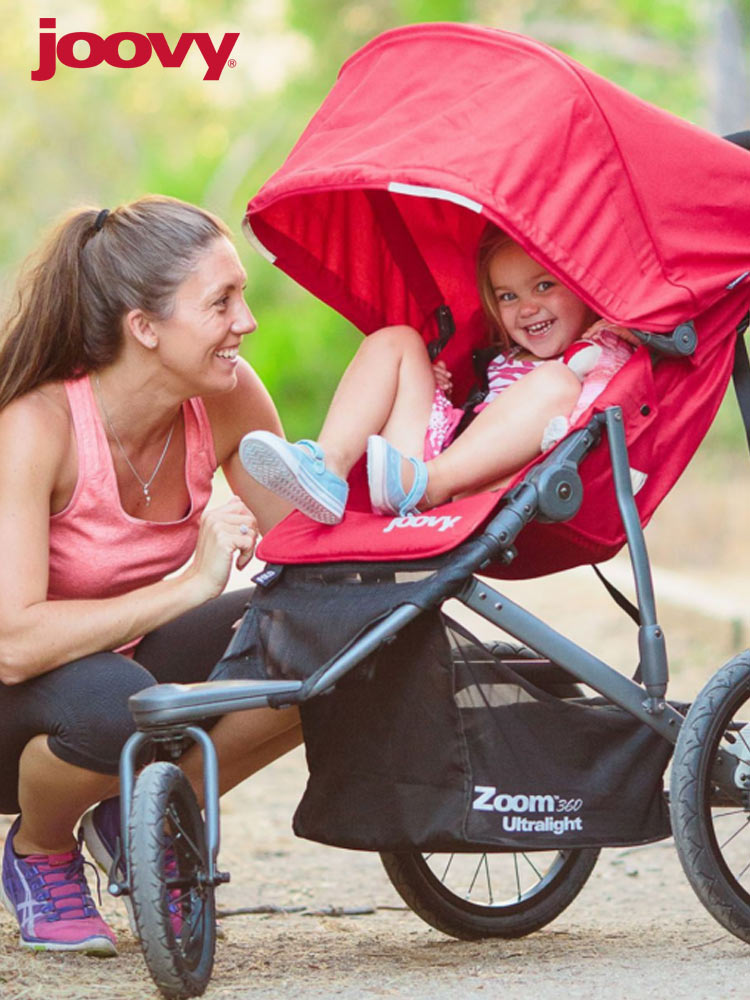 The Joovy Zoom 360 labels itself an "ultralight" stroller, coming in at 26.25 pounds, which is at least 2 pounds lighter than most other options on this list. That's not to say it's a lightweight stroller overall, but when it comes to a rugged all-terrain stroller, shedding a few pounds is definitely impressive and helpful. For additional specifications, the Joovy can be used with little ones from 3 months old up to 75 pounds (or 44" tall), and measures 25" wide and 46" tall. For features, the Joovy Zoom 360 uses a three-wheel construction with 16" rear wheels and 12" front wheels, air-filled tires, has rear suspension, a locking front wheel, and it includes cup holders and a small zippered pocket (for keys, phone, etc). Relative to the front-runner all-terrain strollers on this list, the Joovy Zoom 360 is missing an adjustable handlebar, wrist strap, hand brake, and stand-alone capability when folded. However, it's worth pointing out that the Joovy Zoom 360 has a relatively competitive price, coming in at about $350.
In our testing, we were impressed that the Joovy Zoom 360 included a small air pump to help inflate the tires during assembly - nice touch! Out of the box, while you're only saving about 2-5 pounds with this stroller, it was immediately obvious that it was relatively lightweight. The aluminum frame is thinner than most others, though it still felt plenty sturdy and durable. On smooth surfaces, it was very easy to push and maneuver through tight spaces (though we would prefer an adjustable handlebar), and we thought the suspension did a decent job absorbing sidewalk cracks and smaller bumps. The seating surface was reasonably comfortable and the recline adjustments were vast and continuous, and we loved the addition of the parent accessories. On rougher terrain, the Joovy Zoom 360 fell short of our expectations when it came to shock absorption; the shock absorbers are very small and do not have wide travel or adjustability. While the stroller is relatively lightweight, we thought it was surprisingly durable over trails and cobblestone streets. Overall, we think the Joovy Zoom 360 is a great choice as an all-terrain stroller, with some minor drawbacks. At this price, we think it's very competitive and capable of doing most things, and doing them well. Who else recommends the Joovy Zoom 360 as an all-terrain stroller? Our friends at Parenting Pod and Mom Loves Best also consider it a top pick! Interested? you can check out the Joovy Zoom360 Stroller here.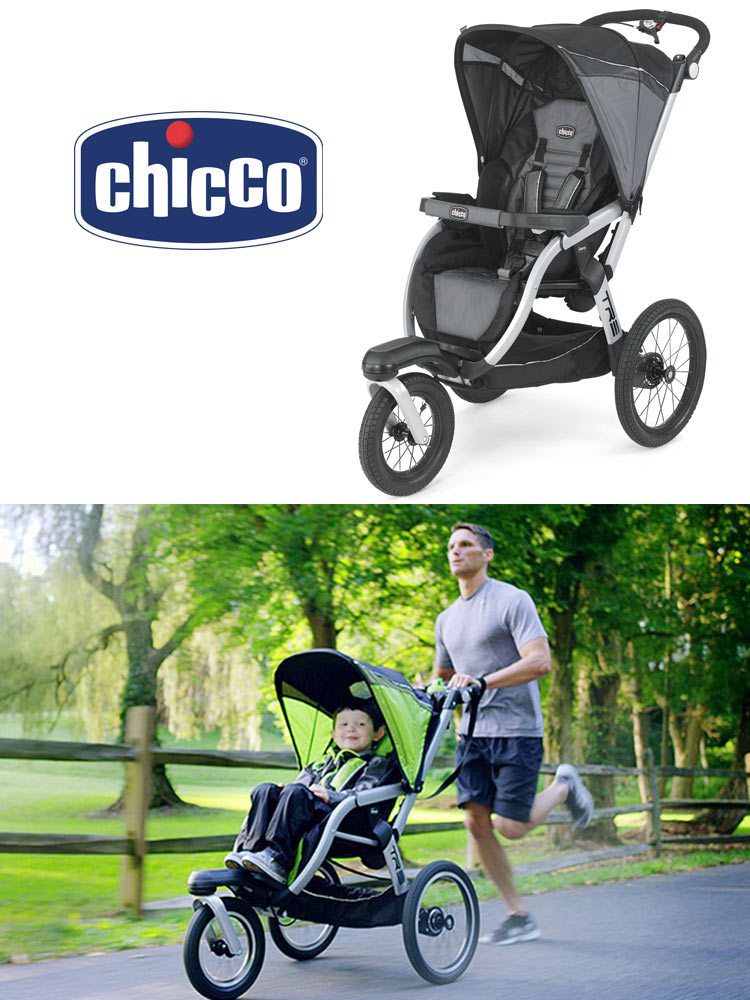 We all know and love Chicco for their awesome infant car seats and travel systems, so it should come as no surprise that we will have a Chicco product in our top 5. This all-terrain stroller supports little ones as young as 6 months and up to 50 pounds and weighs 28.5 pounds. The Chicco TRE stands 25.5" wide and about 47.5" tall. For features, it has large 16" rear and 12" front wheels, all air-filled. For features, it also has an adjustable handlebar, a wrist strap, a hand brake, adjustable suspension, a reclining seat, and multiple fold configurations for fitting into tighter spaces. That's a good set of features for an all-terrain stroller, so we were excited to give it a shot!
In our testing, when we first took it out of the box and assembled and unfolded it, we were intrigued by the very different stance of the stroller. It tends to stand high and tall, giving little ones a nice upright vantage point, but also changing the dynamics and center of gravity relative to other all-terrain strollers. An extreme opposite example would be the Thule Urban Glide, which has a very sleek and reclined stance for superior aerodynamics and a low center of gravity. The relatively upright stance helps taller parents maintain a comfortable posture during longer treks, and helps children get a better view of the environment, but can also increase drag and lower lateral stability. On the trail, the large air-filled tires did a great job over the smaller bumps and the adjustable suspension did a great job absorbing some of the larger rocks, roots, and stumps. The stroller was easy to turn and steer but probably isn't ideal if you want to use it as a running stroller (it doesn't track perfectly straight). On uphill trails, the tall stance made it unnecessarily difficult to push uphill, especially for shorter parents. The high stance also made it a bit more top-heavy when the stroller was rolled to the left or right over irregular terrain. If you're planning on using this for relatively mild off-road experiences, such as gravel or level dirt trails, we think the Chicco TRE is a great option; but for the more technical and difficult terrain, we would recommend one of the other all-terrain strollers on this list. Interested? Check out the Chicco TRE stroller here.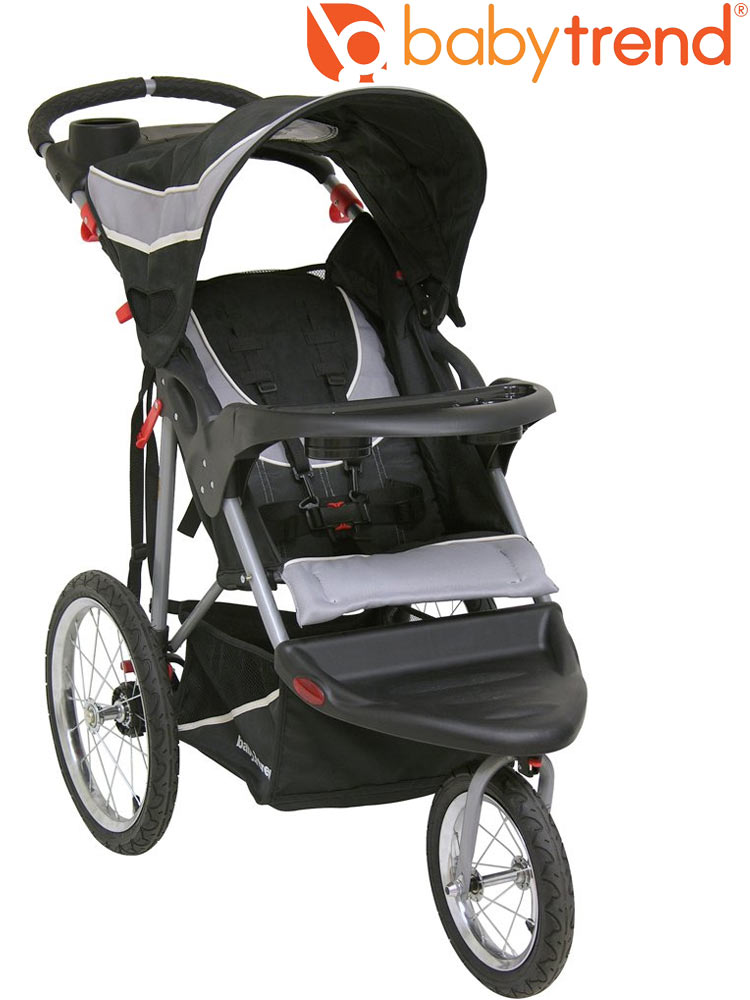 This Baby Trend Expedition is definitely the best value all-terrain stroller on this list. Coming in at under $150, the Expedition offers some impressive specifications and features. For specifications, it supports children from 6 months old up to 50 pounds (or 42" tall), weighs about 23.5 pounds, and stands about 24" wide and 47" tall. That makes it the lightest weight all-terrain stroller on this list, and also the narrowest; but surprisingly, that doesn't limit the size or weight of the child it can support, at least relative to most other options on this list. It also doesn't totally limit its features, which include all-terrain air-filled rubber tires (16" rear, 12" front), a lockable front wheel, a parent tray and cup holders, a child tray and cup holders, a multi-position reclining seat, an adjustable 5-point safety harness, and a large storage basket. It will fit most Baby Trend and Graco infant car seats. What's missing, relative to most front-runners on this list, are adjustable handlebars, a hand brake, shock absorbers, and the high quality, style, and modern finishes you see on most other strollers. Frankly, the Expedition looks dated, but we also realize that the price is less than half of any other option on this list!
In our testing, we needed to scale back our expectations given the lower price point. This is a budget all-terrain stroller and should be considered as such. Out of the box, we were surprised with how lightweight the stroller is - if the Joovy Zoom 360 uses the term "ultralight" we think this could be called a "hyperlight" stroller! That lightweight build quality makes it very easy to assemble, fold and unfold, and throw into the trunk when needed. The wheel bearings and tires provided low rolling resistance, especially if the tires are fully inflated, and the stroller was reasonably easy to maneuver through tight areas. On the trail, the lack of suspension was the first thing we noticed - even small bumps were somewhat harsh, and the child tends to get jostled around over rough terrain. When you are done with the adventure, we were impressed with how compact the Expedition folds, and it even stands on its own. The overall quality was decent, but we were not confident that it would stand the test of time over rougher terrain. If you're only traversing gravel trails or hard-packed dirt trails, you'll probably be fine. But for anything more intense, we definitely suggest a different option. Overall, we were impressed with the bang for the buck offered by the Baby Trend Expedition, and we think it is a decent all-terrain stroller for families on a budget. Who else thinks it's a great deal? Our friends at Babygearlab and Lucie's List think it's a great option! You can check out the Baby Trend Expedition here.
All-Terrain Stroller Buying Guide
What exactly makes an all-terrain stroller different from any other stroller, especially a jogging stroller? That's a great question, and one we focused on when compiling this list. Here are five things to look for when picking the perfect all-terrain stroller for your outdoor adventures!
Wheel Diameter
The larger the wheel diameter, the more easily the wheels will be able to move over relatively large surface irregularities: bumps, rocks, sticks, roots, stumps, and more.
Look for wheels with at least a 9-10" diameter. In general, the bigger the better, but remember the trade-off: larger wheels make the stroller fold into a larger package, which may or may not fit well into your vehicle. We think a 10-12" wheel diameter is ideal for an all-terrain stroller.
Suspension
The more robust the suspension system, the smoother the stroller will be when traversing rough terrain. Shock absorbers are designed to absorb the impact of bumps, which reduces the amount of impact transferred to your child's body (and your arms).
Some strollers have very robust oil-filled or pneumatic suspension systems that are similar to the ones found on high-end mountain bikes. You can see these on the Veer and BOB Gear Alterrain models. These are the gold standard for an all-terrain stroller, offering exceptional dampening of impact and a very long travel range. The best ones also feature adjustable softness.
Of course, these high-end shock absorption systems are heavy and bulky, but we think you will be grateful to have them if you're traversing tough terrain, especially at higher speeds (like a jog or brisk walk).
Other strollers have small spring-loaded shocks that have a restricted range of travel and can be a bit bouncy when traversing uneven terrain. As your child gets older, these spring systems also tend to bottom out and lose effectiveness.
The suspension system is one of the most important aspects of an all-terrain stroller and sets it apart from conventional jogging strollers. We strongly encourage you to purchase a system with robust pneumatic or oil-filled suspension systems, such as seen with the Veer Switchback &Roll or the BOB Gear Alterrain.
Lateral Stability
When you are traversing uneven surfaces, the stroller should be suitable for withstanding a 20-30 degree lateral roll. For example, if you have one side of the stroller up on a ledge or rock, you do not want to risk having the stroller topple over onto its side.
To achieve this, a good suspension system will help level out the stroller, and a low center of gravity will help keep the stroller grounded.
Look for a stroller with a relatively wide stance (over 25" is ideal), a high-end suspension system (pneumatic or oil shocks are ideal), and a low center of gravity (a low seating position is ideal).
Try to avoid strollers that have a narrow footprint, a high seating position, and a little or non-existent suspension system.
Tire Types
Tires present a difficult trade-off for all-terrain strollers.
On the one hand, you want soft rubber tires to help absorb bumps and lower rolling resistance and unsprung weight.
On the other hand, you do not want a tire to be vulnerable to punctures or the many other causes of flat tires.
In our opinion, a foam-filled rubber tire is ideal because it gives some of the responsiveness of a pneumatic tire while also being invulnerable to puncture or flat tires.
The other thing to look for is a tire with a reasonably aggressive tread pattern. While you aren't sending power to the tires and worrying about their grip, you do need to worry about traction for two primary reasons.
First, tires with more aggressive tread will help you maintain a straight track through slippery surfaces, avoiding lateral (side-to-side) movement and slipping.
Second, tires with more aggressive tread will help the stroller stay parked on a slight incline, lowering the risk of it sliding down loose terrain while unattended. Note that you should never leave your baby in an unattended stroller, especially on slippery, uneven, or inclined terrain.
Adjustability
When you are experiencing the great outdoors, you won't want anything to cut your journey short - especially not due to discomfort in your shoulders or back from pushing a stroller that was not adequately adjusted to your size and posture.
A great all-terrain stroller will offer adjustable handlebars, adjustable suspension, and adjustable front wheel tracking. For your little one, it will offer adjustable harness heights, adjustable recline, and an adjustable leg rest.
While strollers with more adjustability also tend to be more expensive, they will also make for a comfortable journey for both you and your child.
Durability
A key attribute of any all-terrain stroller being used for hiking, trail running, or camping, is durability.
All-terrain strollers need to be able to conquer even the most rugged and demanding outdoor environments and be ready to do it all over again the next day.
That means you need an exceptionally strong frame, high-quality bearings, hinges, and latches, rugged tires and wheels, and durable fabrics.
Ideally, the stroller will also have a large and waterproof canopy to block out the elements or offer a weather shield accessory that can be easily donned and doffed.
The last thing you want is a broken frame or wheel while on an outdoor adventure, and the top all-terrain strollers on this list should keep that risk to a minimum with their high quality and rugged components.