The Best Jogging Strollers of 2021
A good jogging stroller makes the difference between a smooth relaxing run and a wild bumpy ride for you and your baby.
Unlike a traditional stroller, jogging strollers have several features that make them great for your outdoor workout: larger wheels, a single locking front wheel, adjustable and ergonomic handle bars, suspension, long stride area, cup holders, storage bins, hand/parking brake, and a supportive and comfortable seat. Below are the top 5 jogging strollers we found, followed by our in-depth reviews.
To find the top running strollers of the year, we got together with 4 moms and tried out 13 different strollers. Our hands-on reviews checked out the features, popped in our kids, and went out on a jog.
We ran on a gravel trail, a bumpy sidewalk, and through some suburban streets. What remained for our top-rated jogging stroller list is a set of truly excellent jogging strollers. To read more details about the factors we considered, scroll down to the bottom of this page. Note that the top-rated jogging stroller has the honor of also appearing in our annual reviews of the best strollers on the market.
Here are the Best Jogging Strollers of 2021!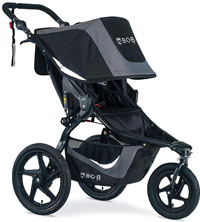 This top-rated BOB Revolution Flex jogging stroller is one of the best of the bunch! A bit more expensive than our other options, but definitely worth the premium price. This stroller has it all, the 9-level adjustable handlebars, adjustable suspension, a decent storage bin, and a very comfortable seat. The "Flex" name comes from the fact that there are so many adjustable components to suit all users and contexts. Along with the adjustable suspension (with 3" of travel!), the inflatable rubber tires make for a very smooth and stable ride with great traction on a variety of surfaces. The sun canopy is also excellent with huge coverage to block sun and rain on longer runs, a peek-a-boo window, and water resistance. The seat has several recline settings, with the highest being nearly upright, and the lowest being at about a 30-degree angle. Though this BOB stroller doesn't have any cup holders, you can purchase some accessories: BOB makes a great handlebar console (with tire pump!) for parents that includes two cup holders, and a great snack tray with a cup holder for kids (both are about $30). Of the strollers we tested, this one felt the sturdiest and most durable, inspiring a ton of confidence while running. Maneuverability is great with a tight turning radius and a swivel front wheel that can be locked out for jogging over uneven terrain. The ride is comfortable and smooth for children, and the seat is very supportive for children over about 8 months. The wheels are not only large in diameter but they are real inflatable rubber tires, not those hard and cheap tires you find on many other models. The suspension does a great job of absorbing impacts, and we love how many pockets there are - for phones, diapers, and whatever else you might need to stow away. The pocket on the the back of the canopy is the perfect size for a cell phone or wallet.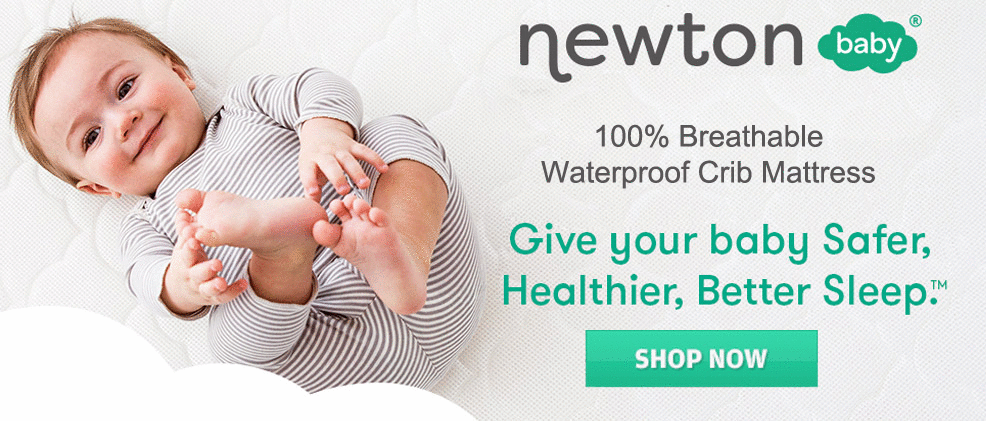 This BOB Revolution is for babies from 8 weeks old up to 75 pounds (or 44" tall)! Of course, always read the manual because most jogging strollers are not designed for running with an infant under about 6-9 months old. This model in particular states that it can be used with an attached infant car seat (compatible with Britax infant car seats!) from 0-8 weeks newborns, then 2-8 months for walking only with your child in the main seat, and then from 8+ months for running. For negatives, we were missing a cup holder and hand brake, and there is an extra locking step at the end of the folding sequence. Once it's folded, the profile is still pretty large unless you detach the wheels; you'll be able to fit it into a mid-size sedan's trunk or in the back of a compact SUV, but you might run into a challenges with a smaller vehicle. Like most jogging strollers, it's also a bit heavy, coming in at about 29 pounds. Overall, we love the BOB Revolution Flex 3.0, and think it is definitely one of the most amazing jogging strollers we've gotten our hands on! Who else loves the Flex 3.0? Our friends at Babylist and Babygearlab consider it a top pick! Interested? You can check out this BOB jogging stroller here.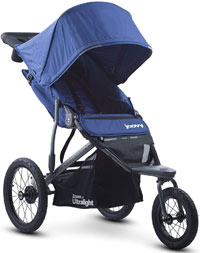 If the BOB Revolution Flex 3.0 is out of your price range and you're worried about its weight and bulkiness, the Joovy Zoom 360 Ultralight jogging stroller might be the perfect compromise! The Joovy Zoom 360 comes in at only about $250, weighs about 3 pounds less than the BOB, and folds into a slightly more compact package. It includes some really great features for the price point: independent rear suspension, a large storage bin, a comfortable seat, a great sun canopy, cup holders, a center console parents' tray for a phone and keys, and pockets in the seating area for your kid (to hold a bottle, sippy cup, or snack container). The Joovy also has a great feature that sets it apart: they set the rear axle farther in from the handlebar, allowing for a much longer running stride without unintentionally kicking the back of the stroller. This was a truly awesome feature, especially for our taller testers. In fact, we didn't even notice that aspect until we had a 6-foot+ tall dad ran around the block with it and was beaming about how he didn't need to completely change his stride and posture just to avoid hitting his shins or feet on a rear axle or storage basket. In our tests, the Joovy was really awesome with great maneuverability, stability, and build quality. It was really easy to push around given its lightweight aluminum frame and swivel front wheel (it can be locked, by the way), and folding is smooth and intuitive. The stroller can support children as small as 5 pounds and up to 75 pounds (or 44" tall). Joovy recommends that the lowest recline setting is suitable for infants 3 months and older, and any more upright position can be used for infants 6 months and older. They do not make any recommendation about ages suitable for running versus walking with the stroller, so please check with your pediatrician (it's typically about 8 months for running).
Note that you can use attach an infant car seat to use this stroller with infants under 3 months, though it needs to be purchased separately for about $40 (adapters are made for Britax, Chicco, Graco, UPPAbaby, and Maxi-Cosi car seats). In our testing, we loved how lightweight the stroller was while still feeling like a stroller that will hold up well to bumpy roads and long miles. We also thought the seat was very cozy, and the aluminum frame was very sleek and stylish. The wrist tether is a nice touch, and the lower parking brake is easy enough to use. The storage basket is a nice touch, and we liked the fact that it includes the parent console without making a separate purchase. So, what are the drawbacks? We were missing the hand brake, the canopy isn't as water resistant as the BOB, and the handle bars are not adjustable. Our tallest parent, at 6' 3" found himself hunched over a bit to maintain a grip on the handles. Also, the handle bars are not ergonomically angled which can increase wrist strain on long runs. Overall, this is an excellent stroller and great option when the price and weight of the BOB steers you elsewhere. As long as you're under about 6' 2" tall we think you'll be very happy with this option! Who else loves the Joovy Zoom? Our friends at Babylist, The Bump, and WhatToExpect also consider it a top pick! Interested? You can check out this Joovy Zoom 360 jogging stroller here.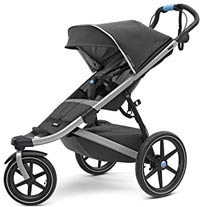 Thule makes two excellent, high quality jogging strollers. One is the Thule Glide 2.0 Performance Jogging Stroller, which is a superior all-out jogging and running stroller. It's not for a little jog around the neighborhood, it's for the more serious runners - it can be used for a 5k, 10k, half-marathon, or marathon. You want to run a marathon and push your child along for the ride? The Thule Glide Performance stroller is for you, though it's a bit more bare-bones, super long, and less maneuverable than the Urban Glides. For most other joggers, there is the Thule Urban Glide 2 Jogging Stroller, which is a truly excellent jogging stroller but a bit tamer than the Performance version. That's the stroller we used for our hands-on review, and we fell in love with it! The Urban Glide has tons of amazing features. It can support children from 6 months old all the way up to a 75-pound child (or 43.7" tall), which is very impressive given how lightweight this stroller is (about 23 pounds). Note that if you want to use this stroller with an infant under 6 months, you'll need to attach an infant car seat using the Thule universal adapter (about $70). Children sit up nice and high - about 21" off the ground, so they can get a great view of the running experience. The seat is super comfy and can be reclined pretty far back, the canopy is large, and there are great little mesh pockets inside to hold a sippy cup, bottle, or snack cup. But enough about the baby, this thing is made for jogging. It has large diameter 16" rear wheels, with 12" wheels up front. These wheels and the suspension system are awesome at absorbing impact from even the largest bumps, and that front wheel can be on the swivel setting for normal strolls, or locked straight for jogging. Jogging with this stroller is very comfortable, in fact, I would argue that it is the most comfortable to jog with on this entire list. This is largely thanks to its relatively light weight (about 25 pounds, same as the Joovy Zoom), its adjustable handlebar height (which was about 9" of adjustment range, which is awesome), the hand-brake system, and its ergonomically designed handlebars that are so darn comfy that we want them on every stroller we own! The hand-braking system is easy to use, with a twist hand brake that works on both rear wheels simultaneously, and the rear wheels are nice and wide apart to prevent your foot from accidentally kicking one while running.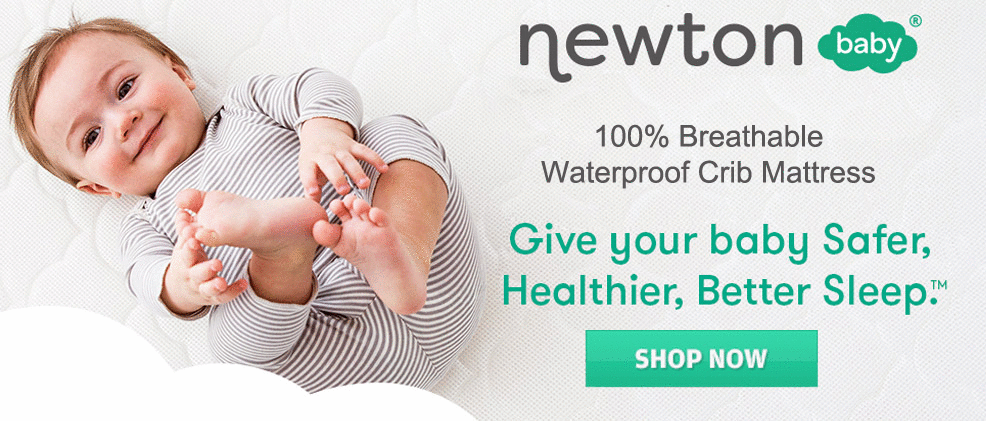 Did we mention how nice this thing looks? Ours had high-quality black fabric with a sleek brushed aluminum frame - in our few weeks of testing we got more second-looks and compliments about it than with any other stroller on this list! As a testament to the Thule quality and fit-and-finish, the bottom storage bin is second-to-none with its zip-top cover, pocket, and compartments. It's like having a little Thule roof bin underneath your stroller! And it folds down into a really impressively small footprint that fits easily into a small trunk. We really love everything about this stroller, and have no major complaints. But we didn't mention the price - yes, it's a little crazy - coming in at about $500-700 depending on colors. If this jogging stroller included all of the Thule stroller accessories, like the parent tray, bumper bar and child tray, cup holder, and car seat adapter, then it might be a more reasonable price. But the fact that all of those are sold separately makes this a really expensive purchase. That's the only real downfall here, and why it's not higher up on our list. Other than that, it's really fantastic, and we're always super impressed with Thule products. Who else is impressed by the Thule Urban Glide 2? Our friends at Babylist, Babygearlab, WhatToExpect, and The Bump all consider it a top pick! Interested? You can check out this Thule Urban Glide 2 Jogging Stroller here.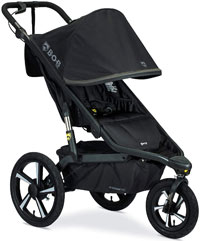 We swear we don't own stock in BOB, they just make fantastic running strollers! We used to feature the BOB Ironman and Revolution PRO strollers in this position, but both were recently discontinued in favor of this awesome Alterrain stroller. If you're looking to trail run, or want the versatility to make that possible, the BOB Gear Alterrain jogging stroller is the perfect combination of a great road running stroller with the ruggedness and impact absorption to make cross-country running a possibility. This jogging stroller basically takes all the great features of the BOB Revolution Flex 3.0 and adds on a few great features. These include SmoothShox air-shock rear suspension (like on a mountain bike), more reflective markings, a zip-top cargo basket, a hand-brake, a waterproof canopy, an easier folding sequence, and when folded the stroller can stand upright on its own. Everything else that makes the BOB Revolution Flex 3.0 a great stroller is included here, and all weight and height specifications are the same. Of course, with all these extra features the Alterrain comes in at a hefty 32 pounds! That's about 4 pounds heavier than the Revolution Flex. The result is a truly rugged trail jogging stroller with some serious capability and sturdiness. The downfall, however, is that we could really feel the weight and bulk of this stroller. The rolling resistance with higher than others, and we were really struggling to push it uphill. When you combine the weight of the stroller with a toddler, let's say 40 pounds, you're pushing a 72 pound stroller up a hill! We do realize that's only about 6-8 pounds heavier than most other options, but the extra weight does make a difference. Outside of that little issue, we thought maneuverability was excellent, and the folding was much easier than with the Revolution Flex. The ride was super comfortable for children, and the entire stroller remained stable and easy to control over dirt, gravel, and bumps. While we love this new addition to our list, we think it has a very specific use case: frequent trail running. If you're only going to hit a trail a couple times a year, we think you'll be happy with most other options on this list. Who else recommends the BOB Alterrain for this purpose? Our friends at Babygearlab, also think it's a top pick! Interested? You can check out this BOB Alterrain Pro jogging stroller here.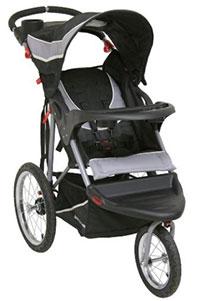 While most of our top jogging strollers will cost you at least $250-300, the Baby Trend Expedition offers a surprisingly capable and inexpensive jogging stroller that comes in at only about $120! The Expedition supports infants as young as 6 months and up to about 3 years or 50 pounds (or 42" tall). Those specs are relatively restricted in comparison to other options on this list, though the Expedition is also relatively lightweight, coming in at only about 25 pounds. That weight surprised us given that it uses a relatively beefy steel frame rather than aluminum. But don't let any of that fool you, this jogging stroller has some seriously impressive features! These include a lockable front swivel wheel, a parent console with two cup holders and storage compartment, large diameter wheels with inflatable rubber tires, a reclining seat and reasonably-sized canopy, and a decent storage basket. In our testing, we thought this stroller showed good maneuverability, decent stability, and a smooth ride. Over urban terrain, it was well-mannered and didn't get away from any of our testers. The front wheel was easy to lock into the straight position, and we thought that it did OK over bumps but with more jarring feedback than any other option on this list. It's best on sidewalks and roads, and less suitable for bumpier rides. The seat itself was also a bit flat on the back so it didn't seem quite as comfortable. The child console tray is a nice touch, and it also allows you to attach Baby Trend car seats (like the Flex-Loc or Inertia seats) without any adapters, saving you some serious cash. The Baby Trend car seats are among the cheapest infant car seats on the market, making this a great budget combination. Note that if you attach a car seat, you can use this stroller with infants younger than the 6 month minimum. But don't forget you get what you pay for: the Baby Trend Expedition Jogging Stroller is missing adjustable handlebars, a hand-brake, a lightweight aluminum frame, suspension to help you absorb bumps, and higher quality fabrics and padding. But for the price, we thought this makes an excellent option for the parents who want a back-to-basics jogging stroller that is very capable and will suit them (and their budget) very well for many years. Who else recommends the Baby Trend Expedition Jogging Stroller? Our friends at Babylist, Babygearlab, WhatToExpect, and The Bump also consider the Expedition a top pick! Interested? You can check out this Baby Trend Expedition Jogger stroller here.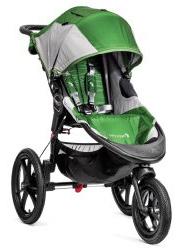 If you want some of the premium features of the BOB Alterrain but without the high price, like the awesome hand brake and trail-ready ruggedness, this is a great jogging stroller for you. The Baby Jogger Summit X3 is on par with the Joovy Zoom but not quite as stylish and nearly twice the price. But you get some great features. This stroller is very sturdy and reliable, and we loved how it felt over the bumpy trail. The easy-access front wheel lock was awesome: there is a lever on the handle bar that allows you to alternate between a fixed front wheel during running and a swiveling front wheel without stopping and bending down. This is great if you're transitioning from road to trail in your jog, and don't want to pause to lock the front wheel. That's a really nice touch, we cannot say enough things about how convenient this was! It also has all-wheel suspension, a great hand brake for downhill assistance, a huge sun canopy and storage bin, and a comfortable and reclining seat. Also, don't tell Baby Jogger about this but one of the kids spilled milk on our demo stroller's seat; fortunately, the fabric was super easy to clean and we don't think it absorbed into the cushioning. The weight limit is a hefty 75 pounds. What are the downfalls? Well, price is a bit steep for our taste even for the added convenience of the hand brake and easy-access front wheel lock. We also thought that for this price it should include an adjustable handlebar to accommodate different height runners, a parent console for keys/phone and a drink, and maybe a tray for the kiddo. We don't think that's a lot to ask for in a $450 stroller! We also want to point out that, in spite of its name, the Baby Jogger City Mini is not a jogging stroller - the Summit X3 is the only actual jogging stroller made by Baby Jogger. Interested? You can check out this Baby Jogger Summit X3 jogging stroller here.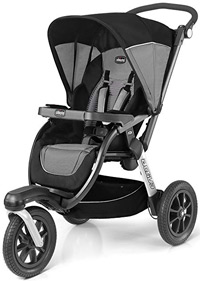 This is definitely one of the best jogging strollers for Chicco car seats (KeyFit and Fit2), especially if you're looking for something in the lower price range that doesn't require purchasing additional car seat adapters. But that's not all this jogging stroller has going for it! Given its relatively low price (about $250), we were surprised to see its adjustable handlebars (4 positions), adjustable rear suspension, wrist strap, foam-filled tires (they can't go flat), peek-a-boo window, large storage basket with rear and front access, and parent console with cupholders and a little storage area. Aside from those features, it also has a very large and water-repelling canopy, a super easy one-hand folding mechanism, reclining seat (not lay-flat), and a removable bumper bar that serves as a KeyFit (and Fit2) attachment point. Some other cool features include being able to lock and unlock the front swivel wheel from a knob on the handlebars, a hand brake, and three folding configurations (self-standing mode, trunk fold, and storage fold with removed wheels). We tested the Chicco Activ3 out at a baby expo and were really impressed with its overall comfort and features, especially for the price. Steering and maneuverability were quite good for a jogging stroller, and we thought the seating fabric had great airflow. It was really nice having the front wheel swivel lock right at arm's reach rather than bending down, and we liked the concept of the fabric parent console with cupholders - because it's fabric, it folds more easily and doesn't add weight. Suitable for both newborns (using an attached car seat) up to big kids weighing up to 50 pounds, this supports a broad range of sizes. The stroller itself is heavy, coming in at about 28 pounds, the same as the BOB Revolution Flex; this makes it difficult for some parents to get into and out of a car, and some might find it difficult to maneuver with heavier children aboard. A few more cons are worth noting. First, while this is ideal for light jogging, more seasoned runners might find it restrictive due to the relatively close rear axle that can limit stride length, and the tires are not very large diameter and have quite a bit of rolling resistance relative to a spoked pneumatic wheel and tire combination. Also, the hand brake knob is a little difficult to operate relative to a bicycle-style hand brake, and the foot rest is small and not adjustable. In general, we also thought that the quality of parts and connectors wasn't quite up to the standards of something like the BOB or Joovy, making us less excited about this jogging stroller. We should point out that there is an upgraded Chicco jogging stroller that's about $100 more expensive, the Chicco TRE that solves some of these issues, such as using a proper hand brake, bigger pneumatic tires, and a seat that's easily removed so the stroller can be used as a lightweight frame with a Chicco car seat. But that pushes the budget up towards some of the higher-end BOB models, making it less competitive in terms of features and overall quality. Interested? You can check out this Chicco Activ3 Jogging Stroller here.
How to Pick a Jogging Stroller
First, the best jogging strollers have larger wheels, usually at least 12" in diameter but often upwards of 15-18", giving it more directional stability and agility over rougher terrain (like rocks, bumps, sidewalk seams, curbs, etc.). This applies to the rear wheels and front wheels, though you will notice that some jogging strollers still don't have very large diameter front wheels; the best jogging strollers will have larger diameters up front and in the back. They also tend to be a bit knobbier which will give you better lateral stability when running on the looser ground, like on gravel or dirt. The knobbier tires will also help you maintain traction when using the hand-brake on looser ground surfaces. You do not want to try jogging in any serious way with a conventional stroller. Those tiny wheels will wobble incessantly, the front end will constantly veer off course, and you might find the stroller suddenly stopping when you hit what you thought was a small bump.
Second, the best jogging strollers have adjustable handle bars to accommodate different heights (like mom vs dad!) and running positions. This feature provides a more ergonomically appropriate running position for you, reducing the risk of discomfort and injury. Some models, like the Baby Trend Expedition and the Thule Urban Glide 2 also provide an angled handle bar that allows you to place your hands and wrists at a more appropriate and natural angle. This is an especially important feature for longer runs. This is the same concept used by ergonomic keyboards and mice, helping your wrists maintain a more natural position rather than flexing them to hold onto a straight bar.
Third, the best jogging strollers often have some form of wheel suspension to help absorb road bumps and make your up-down running movements less jostling for the frame and baby. The suspension systems aren't what you'll find on a Lexus, but they do help out a bit over the bumpy stuff. Options with suspension tend to be a bit more expensive, however.
Other things to look for in a great jogging stroller include cup holders for child and parent, a good-sized storage bin, one-hand fold, a hand-brake to slow you down during downhill runs, and a supportive and comfortable seat. You also want the entire system to be super sturdy and well-built; the last thing you want is a jogging stroller that has the structural rigidity of an umbrella stroller! Finally, you want the basic safety features, such as as five-point harness, rear brakes, and few pinch-points for little fingers. All of the best running strollers reviewed above balance these features with reasonable cost.
You are here:  

The Best Jogging Strollers of 2021
Related Articles to Check Out!