The Best Luxury Strollers of 2023
Want to pamper yourself and your baby with a beautiful luxury stroller that will not only turn corners but also heads?
We won't judge - there are some absolutely beautiful luxury strollers on the market, and to be honest they are truly impressive not only for style but also comfort, versatility, and quality! Here are the top 5 luxury strollers we found, followed by our full reviews!
This year we tested 3 beautiful new strollers, all of which were new to the market. Each of them had their own benefits and limitations, and one did not end up on this list due to issues with quality control, versatility, and ease of use. The ones that remain are not only relatively expensive, but also very high quality, easy to use, super stylish and comfortable, and surprisingly versatile.
If you're going to drop upwards of a thousand dollars on a stroller, we want to make sure you're making a good decision. Sometimes the best-looking strollers dramatically underperform moderately-priced options, but sometimes they are very impressive. Look for options from major brands such as Bumbleride, Britax, Bugaboo, Babyzen, UPPAbaby, and Baby Jogger, and you'll be more likely to find a quality product. Note that this year's top-rated luxury stroller also appears on our list of the best strollers!
Full disclosure: Some of these strollers, including the Baby Jogger model, were sent to us as free test samples by the manufacturer.
Here are the Best Luxury Strollers of 2023!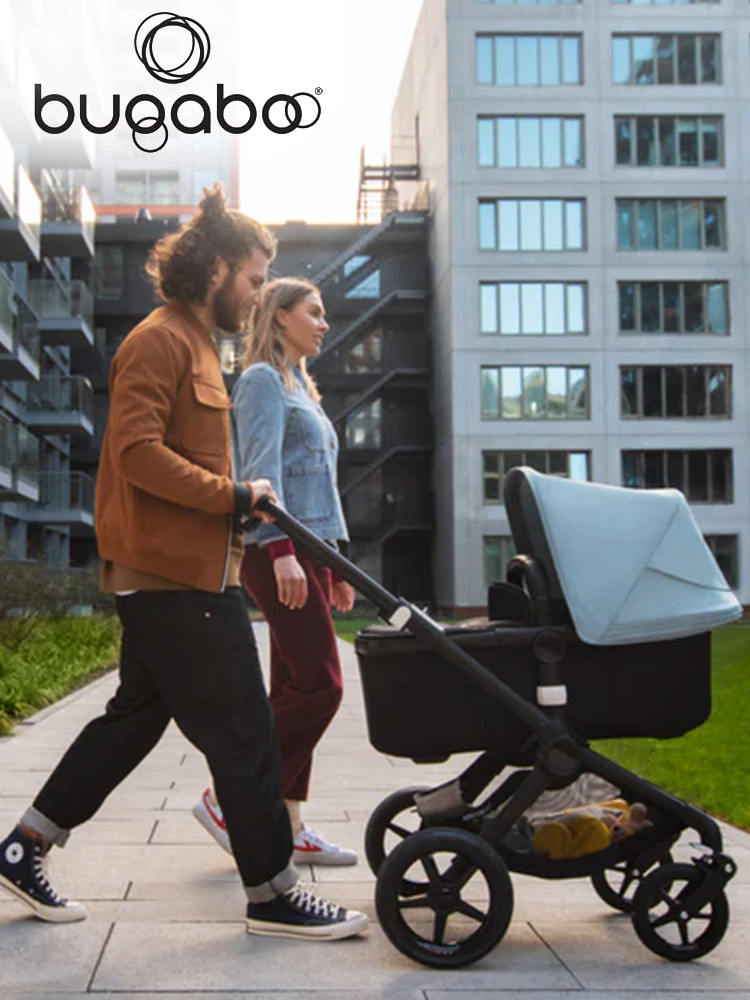 About $1000-1400. Looking for superior style, brand recognition, quality, and versatility? Then definitely check out the Bugaboo line of strollers! The highest end stroller in their line-up is the Bugaboo Donkey, available in single, double, and twin stroller versions; the Donkey is one of the most robust and high quality strollers we've ever laid our hands on (see our review below). Next up is the Bugaboo Fox, which provides basically everything you love about the Donkey but without the ability to turn it into a double stroller, and a price tag that is about $200-500 cheaper. Let's start with the basic specifications. The Bugaboo Fox accommodates newborn babies with its bassinet attachment, and goes all the way up to a 50 pound weight limit with its toddler seat attachment. The stroller itself weighs only 21 pounds with the seat attachment. The folding is highly innovative and allows two fold types: one that brings it down to a 18" x 24" x 35" self-standing fold, and an ultra-compact fold that brings the size down to about 26" x 21" x 8", which is small enough to fit in a large carry-on bag. The stroller is 24" wide, and the storage basket is very large (and holds up to 22 pounds of stuff).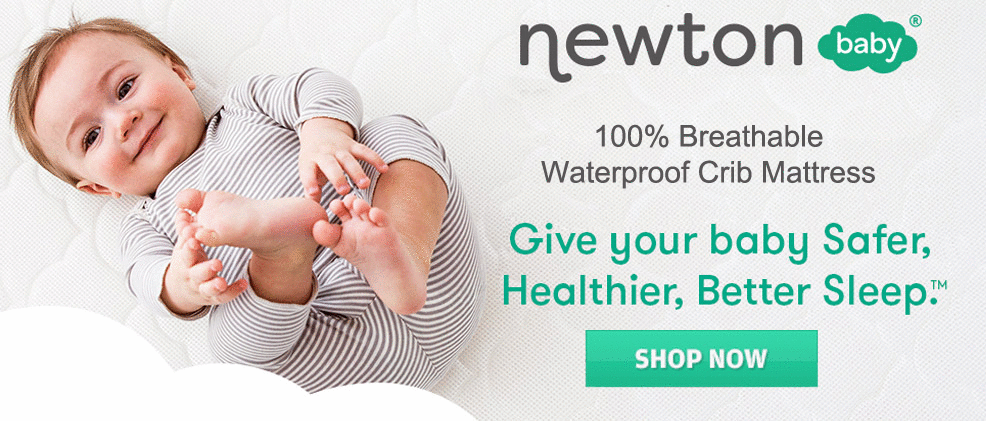 We had the pleasure of testing out this stroller for a day, thanks to Bugaboo, and we really fell in love! The steering and maneuverability are unmatched - it's lightweight and turns on a dime, and is super smooth on even and uneven terrain, thanks to its suspension on all four wheels and its big diameter wheels (9" front, 12" rear). The bassinet stroller attachment was comfortable and high quality, it's surprisingly long and ideal for taller babies, and attaching it and detaching it was easy; it has a large canopy, and when combined with the bassinet cover it allows for full-body coverage of an infant. The bassinet and toddler seat attached in a nice high-up position which makes viewing great for toddlers and parents, but also makes it easy to place your child in and out of the stroller without breaking your back. When attached, they do have a tiny bit of front-back sway to them - at first we thought it was strange or that we didn't tighten something enough, but then realized that it helps with impact absorption and makes for a smoother ride (it's nothing dramatic). Two cool things about the toddler seat are that it is reversible to be rear-facing or front-facing, and that you can easily detach it from the stroller and it stands on its own, which means you can basically use it as a portable seat when visiting friends or family (and not disrupt a nap when you need to go inside). The bassinet also lays flat on the floor, so you can do a similar thing with it. Switching between the bassinet and toddler seat was a bit involved since they use the same frame, but it's likely you'd only need to do that once when your baby grows out of the bassinet and is ready for a more upright ride. The canopy provides great coverage and UV protection - it's not a full-body coverage when used on the seat, but it's pretty decent. We were really impressed with how easy it was to fold and unfold the stroller, recline the seat, adjust the handlebars, and access the basket. Out of the box, the Bugaboo Fox is compatible with the Bugaboo Turtle infant car seat, and with adapters it can be used with the Nuna (Pipa), Chicco (Keyfit), Britax (B-Safe), Maxi Cosi (Mico), Peg Perego Primo Viaggio, and Cybex (Aton, Cloud) car seats. The wrist strap, UV protective canopy, and leather handlebar and bassinet handle were nice touches too. We can't overstate how easy it was to push and maneuver this stroller! You can push and steer it with one finger, it's super nimble and easy to get in and out of tight spaces, and we don't know any other stroller that feels like this. Note that while this is not a double stroller like the Bugaboo Donkey, you can get a rider board to pull an older child behind it. This is the best luxury stroller of the year, but it also has a very steep price tag that might be difficult to swallow. Small cons include no cup holder or storage for parents, and no hand brake. For this price, we might expect some of those perks, but do also understand that they might make it look a little more utilitarian than Bugaboo would prefer. Interested? You can check out the Bugaboo Fox Stroller here.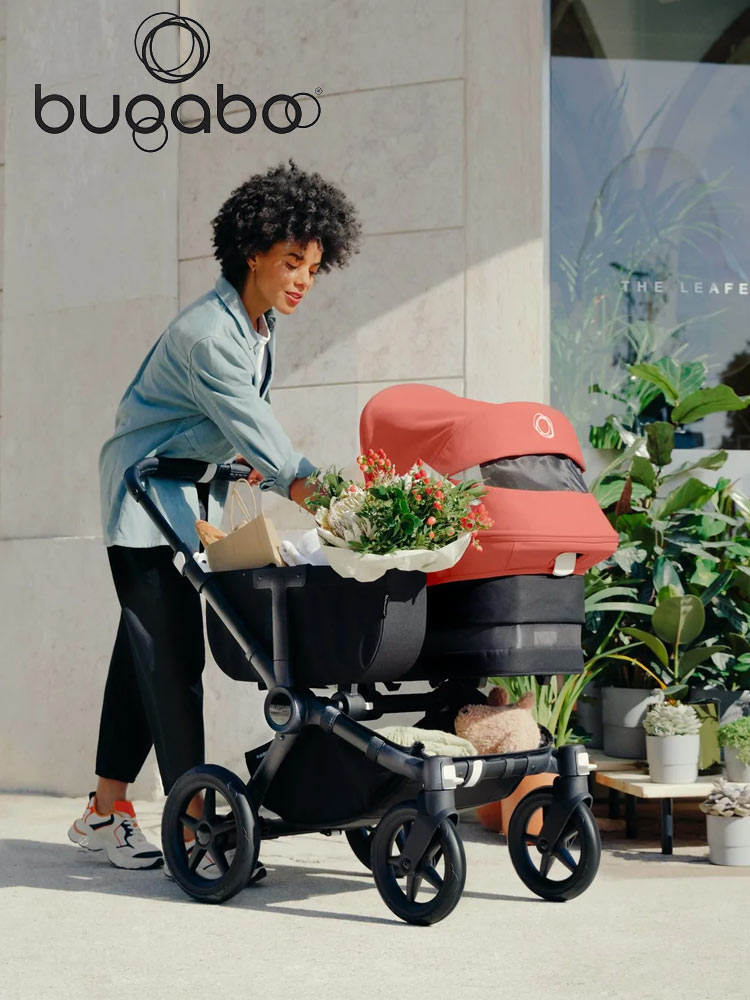 About $1400-1800. The Bugaboo Donkey and Fox are basically tied as the best luxury strollers available, but the Donkey adds the versatility of three modes: mono, duo, and twin. The Donkey Mono can support one child in the bassinet or toddler seat. The Donkey Duo can support two children, one infant in the bassinet and one toddler in the toddler seat, or two toddlers (it cannot support two bassinets). The Donkey Twin can support two infants (two bassinets) or two toddler seats. The beauty of the Bugaboo Donkey is that it begins as a Mono stroller with a convenient storage bin in a side-by-side configuration (as pictured above), and then can be expanded to the Duo mode with the purchase of the Duo Extension Set, or into a Twin mode with the purchase of a second bassinet. The Bugaboo Donkey uses unique expansion locks that allow the stroller to be widened from Mono to Duo or Twin mode. This feature allows you to use the same stroller frame in all three modes; a bonus is that it lets you keep a narrow profile when its used in Mono mode (until you have a second child). In addition to versatility, the Donkey 5 offers a few new features relative to the outgoing Donkey 3 including a higher seating position, ventilated bassinet mesh panels, an easier to use harness buckle, and more accessories.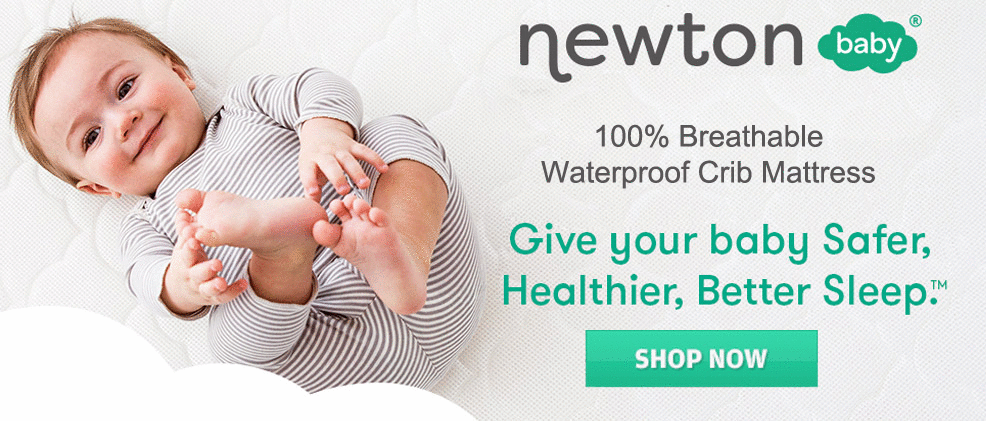 For basic features, the Bugaboo Donkey 5 strollers offer self-standing fold, two huge storage baskets with high weight capacity (22 pounds each), large (10" front, 12" rear) puncture-proof tires, a huge sun canopy with peek-a-boo window, rear wheel lock, front wheel steering locks, padded and adjustable height (from about 34" to 42" high) handlebar, and suspension for rougher terrain. In Mono mode, the stroller weighs 27 pounds and is about 24" wide, and in Duo or Twin mode it's about 33 pounds and 29" wide. The bassinet should be used until about 4-6 months old (depending on their neck and head control), and each toddler seat can be used from 6 months onward and supports up to 48.5 pounds. In our testing, we fell in love with the Donkey 5! It was extremely easy to maneuver, smooth over bumps, comfortable for parents and kids, easy to reconfigure, and the versatility was second-to-none. The toddler seat can be positioned front- or rear-facing, the extendable canopy was huge, the turning radius was tiny, the quick-click harness was extremely easy to use, the bumper bar was easy to remove and swivel out of the way, we loved the three-position seat recline (with lay-flat!), and the folding process was simple. In Mono mode, the top luggage compartment was very convenient for shopping and diaper bag stowing, and is a clever way to occupy the unused side-by-side space. We absolutely loved testing this stroller and only had a few small cons. First, it's large and heavy, and even when folded it's relatively large. It's still smaller than most other single-to-double strollers, but worth mentioning. It also has a lot of parts to assemble (enlist some help!), and the side-by-side Duo mode configuration can be too wide to fit through narrow interior doorways. Outside of that, like Mary Poppins it's practically perfect in every way, and we highly recommend it! Interested? You can check out the Bugaboo Donkey 5 Stroller here.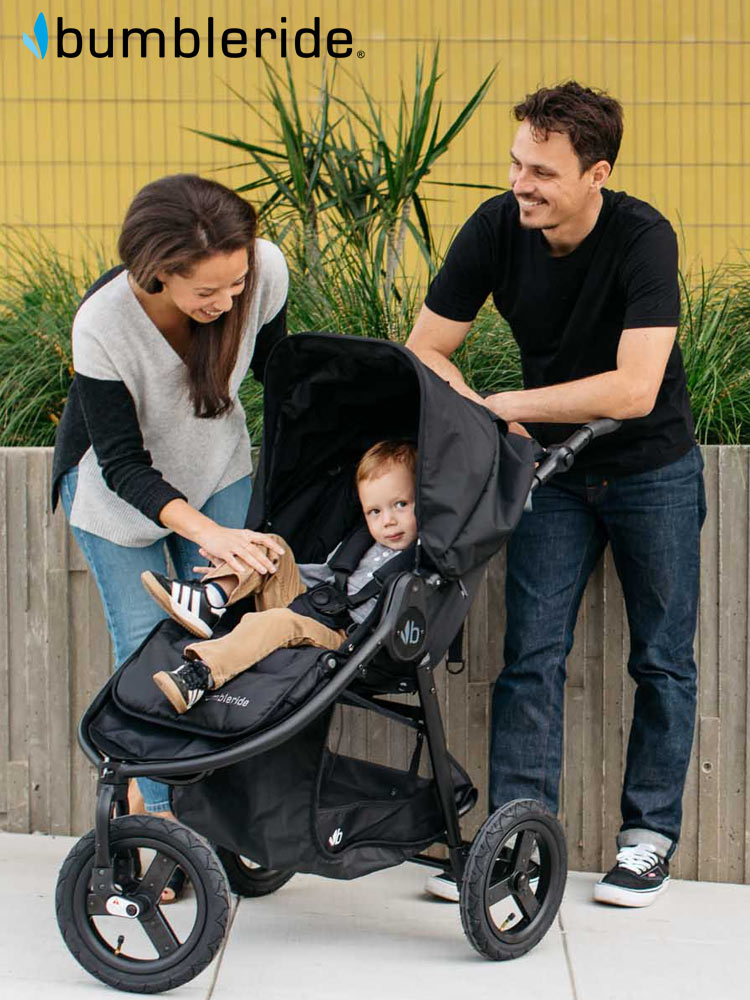 Another sleek, contemporary looking three-wheel luxury stroller that will get heads turning with its soft lines, mixed aluminum materials, and high quality fabrics. The Bumbleride series is a very high quality, reliable, and durable stroller with excellent features and craftsmanship. In our testing, we thought this was one of the smoothest strollers on the market: turns and curb-hops were like butter, and the lightweight (only 22 pounds) frame makes it easy to negotiate the urban jungle! The fabric is super soft and high quality, and uses eco-friendly recycled materials. The recline is very deep, which is awesome, and the canopy comes out really far over your baby's head, torso, and upper legs. We tested it out on babies from 3 months (about 15 pounds) and up to the weight limit of about 55 pounds (!). It was definitely too small for our 53-pound 10 year old, but outside of that it worked excellently up to about 35-40 pounds. For infants, you can recline the seat way back and adjust the footrest up to basically turn the seat into a bassinet, which is a unique and cozy feature. Combine that with the canopy, and you can have a very nicely supported infant that's protected from the elements. For infants, the seat goes *nearly* flat, and for toddlers it goes *nearly* upright - so while you can connect some infant car seats (with the adapter), like the Maxi Cosi or Cybex Aton, you might not need that as much as you'd think.
We also liked the adjustable handlebar height, the lock-out front wheel for jogging (they also have a specific indie version for jogging, with larger rear wheels), the jogging wrist strap, and the decently compact folding size (32" x 24.5" x 11.5"). The storage basket was also reasonably sized and easy to access from the rear (but not from the sides), folding was super easy and intuitive, and we were impressed by the 3 year warranty. All of the materials were very high quality, the fabrics were soft and durable, and the mechanisms (adjustments, brakes, folding) worked very well. Overall, this is an excellent luxury stroller for year-round use with both infants and big kids. Cons? Well, the seat is deep and canopy so large that it can make it difficult to pull your baby out - even when the canopy is retracted it blocks access a bit, especially for taller babies. And no cupholders for baby or parents, but that seems par for the course with luxury strollers. Overall, an excellent option! Interested? You can check out the Bumbleride Indie here.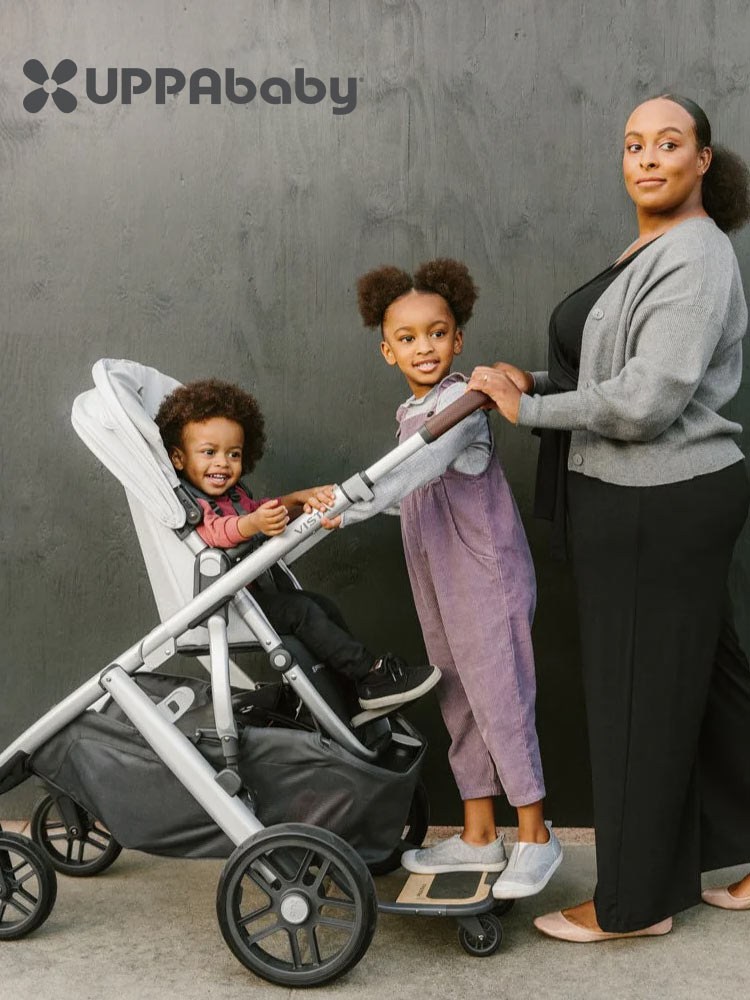 No list of luxury strollers would be complete without the UPPAbaby Vista! The Vista is definitely one of the most popular high-end strollers and has quickly become a status symbol among discerning parents. With the toddler seat and bassinet included, the UPPAbaby Vista comes in at about $1000, making it a bit more affordable than the above options. But don't confuse that relatively low price with lower quality, features, or style! Starting with newborn babies, the Vista includes an adorable and highly functional bassinet attachment with one of the largest extendable canopies we've seen on a bassinet! The bassinet padding and fabrics are beautiful and comfortable for infants. Of course, you can also directly attach the UPPAbaby Mesa car seat without any extra adapters, making it an awesome travel system. Once your child reaches about 3 months old, they'll be ready for the equally awesome toddler seat, which is full of features such as reversible facing direction, five-position recline, and a huge extendable canopy for sun and rain protection (UPF 50). The toddler seat is high quality, comfortable, and looks great; for this year, UPPAbaby made the toddler seat a bit longer overall in the head and feet, to help suit taller toddlers. For parents, the Vista feels amazing to push, steer, fold, and carry. There is an adjustable handlebar, a 5-point harness that adjusts without rethreading (that was new for last year), amazing all-wheel suspension and soft tires, locking front wheels, true one handed seat recline adjustment and folding, and the stroller stands on its own when folded up (if you put the handlebar into the highest position). The storage basket is huge and includes an extra little pocket.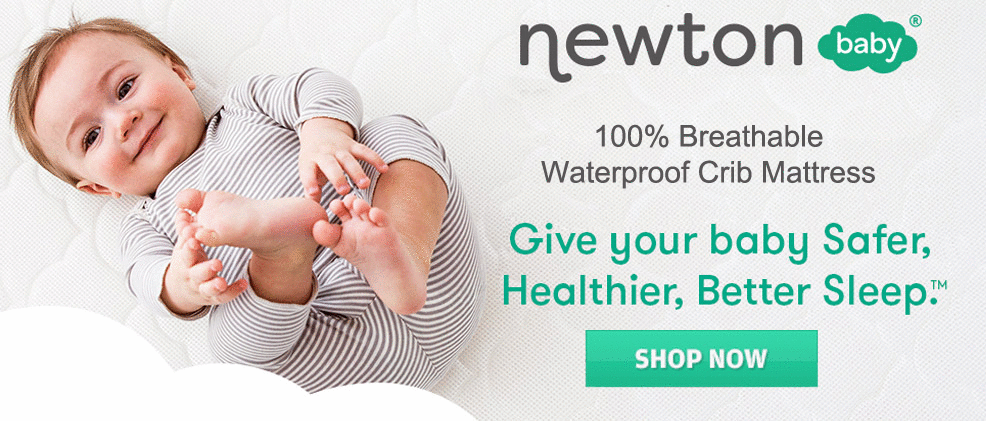 In our testing, we always love the Vista - it's smooth, comfortable, versatile, and navigates over bumpy terrain effortlessly. The bassinet and toddler seats attach and detach easily, folding is simple and smooth, and it looks like a million bucks. Speaking of which, the Vista fabrics and colors are beautiful, and the sleek frame has the perfect angles. UPPAbaby includes rain and bug shields for the toddler seat, and a bug shield for the bassinet, so you won't need to purchase any extras. We've been pretty glowing about the Vista, and we haven't even begun to discuss one of its best features: versatility. The Vista V2 has over a dozen configurations and easily turns into a double stroller when you're ready: two toddler seats, two bassinets, two infant car seats, or nearly any combination thereof (other than bassinet + infant car seat). The Vista's got you covered for many years! Interested? You can check out the UPPAbaby Vista here.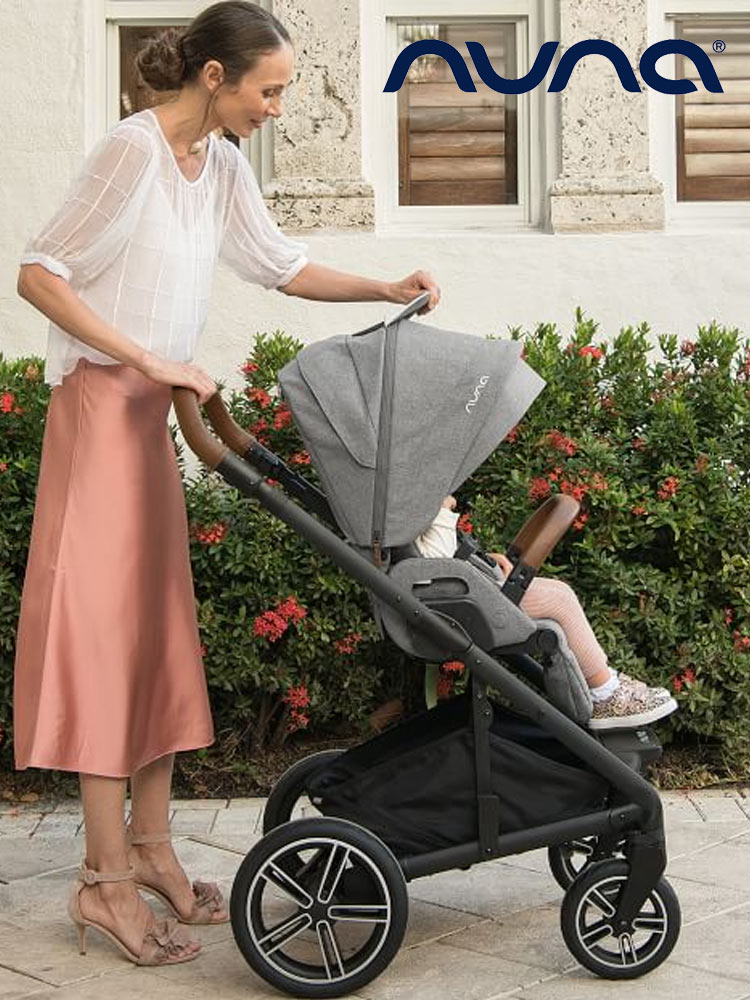 The Nuna Mixx is a bit different than other strollers on this list, with a slightly different emphasis. With the Mixx, everything is about quick and easy convenience from a highly portable and capable luxury stroller. The Mixx has a very short wheelbase with 4 wheels, making it super easy to push, steer, and maneuver. The toddler seat can be reversed forward- or rear-facing, has lay-flat recline, a no-rethread harness height, adjustable calf support, and excellent comfort. One cool aspect of the toddler seat is that the top layer of fabric can be snapped off to reveal a highly breathable mesh seat for hotter weather. The toddler seat pops off and the new Mixx (for the past 2 years) includes the ring car seat adapter, which allows you to attach a Nuna car seat. Some things we loved about the Mixx in our testing included the removable bumper bar, the large two-section storage basket, the front and rear suspension system, and the super nimble chassis. For style, we appreciated the leatherette accents, the subtle colors and textures, and the simple dark lightweight frame. Folding the Mixx is a breeze, as is opening it. It folds down into a very impressively compact package that is suitable for smaller vehicles and travel, and opening it can be done one-handed. Overall, we find the Mixx very impressive, especially if you want to prioritize maneuverability and simplicity. No, it doesn't convert to a double stroller, and it doesn't have the sleek brushed aluminum frame to turn heads, but for about $650 you're getting a super high quality, highly maneuverable, and easy to use stroller with some excellent features. We love it, and think you will too! Interested? You can check out the Nuna Mixx Stroller here.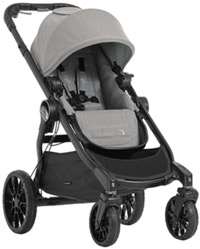 Baby Jogger makes a beautiful line of strollers, and the City Select LUX is one of their highest quality and most versatile models. Most similar to the Vista V2, the City Select LUX allows for over 20 different combinations, extending from a single stroller to a double stroller that can be used with an infant car seat, toddler seat, and/or bassinet. When you first check out this stroller you'll realize that the price is a bit lower than most other luxury strollers, coming in at about $600. However, if you want to add the bassinet attachment or a second seat, you'll be paying another $150-200, and a universal car seat adapter is another $60. Add it all together and you're looking at about $1000, putting it right on par with the UPPAbaby Vista V2 for costs and features. We love the City Select LUX and think it offers excellent features and versatility. Starting with the toddler seat (6+ months), it has multiple recline positions and a lay-flat capability. It can also be reversed to forward-face or rear-face, and has a very large extendable canopy. The seat itself is comfortable and well-suited for normal-sized kids (not too tall or heavy); the 5-point harness height requires rethreading from the rear for adjustment. The separately-purchased bassinet attachment is also comfortable, easy to attach/detach, and has a nice canopy (though nowhere near as large as the Vista!). For the stroller itself, it has some unique features: the wheels are no-flat rubber (foam filled) and large diameter (8" front, 12" rear), which is helpful for bumpier terrain. The suspension system also helps absorb impacts, and we loved the hand-brake that can be used both as a parking brake but also a brake to help you slow down. The adjustable handlebar height is good for shorter and taller parents, and the storage basket is very large. Folding isn't quite as smooth and simple as with some others, but it gets the job done - usually with two hands to help. The weight is similar to others, at about 30 pounds, and it supports children up to 45 pounds (a bit lower than others) per seat. Speaking of which, we found the toddler seat to be a bit limited in height for taller kids, and limited in width for chunky monkeys. Ride quality is excellent, maneuverability is decent (but not as great as the Mixx or Fox), and we think it definitely looks fantastic! Overall, we think the City Select LUX makes an excellent addition to this list and we think it's an awesome option. In comparison to the similarly priced and featured UPPAbaby Vista V2, we think it's definitely a second choice, but if you prefer the look we say definitely go for it! Interested? You can check out the Baby Jogger City Select LUX Stroller here.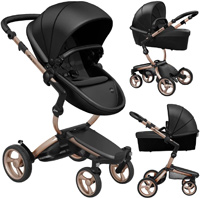 If you haven't hear of Mima yet, you're in for a wonderful surprise! The Mima Xari is one of the most popular luxury strollers on the market this year, and for good reason. The Mima makes a statement without saying a word, with its sleek aluminum frame (in champagne gold, silver, or black), leatherette trim, and its unique and bold frame design. The Mima Xari screams style and sophistication, and has the features to back it up. It can be used as a bassinet (they call this a "carrycot") for babies up to 6 months old, then converts to a front- or rear-facing toddler seat to support little ones up to 37 pounds. The seat height is adjustable between two positions, the handlebars are adjustable between three positions, and recline adjusts between three positions (sit up, recline, or lay flat). It has two storage compartments on the bottom, one in the front and one in the back; they're not the usual basket but rather a magnetic locking door with relatively small pockets underneath. There is a removable bumper bar, a good-sized canopy, and all the luxury trimmings you'd expect. All that style comes at a cost, both in price and weight, with the Xari coming in at about $1500 and nearly 30 pounds! But how does it perform!?
We got our hands on the Mima Xari for testing early this year, thanks to one of our local Instagram followers who purchased the Xari for her newborn! Our first impression was that it looked fantastic! The fit and finish were superb, the colors and textures all fit nicely together, the frame design was super fancy, and it looked lightweight and nimble. When we started using it, things came together really nicely. The ride was super smooth and the stroller was highly maneuverable. It was very easy to push it one-handed, or even one-fingered! The negotiated curbs and bumpy sidewalks without hesitation, and the steering was top-notch. If the seat is in toddler mode and facing forward, away from the parent, the entire stroller can fold up in one smooth motion. If you're using the seat in bassinet mode, or in parent-facing (rear-facing) mode, you'll need to pop the seat off before folding. Speaking of folding, that's when we quickly realized that while the Xari looks lightweight, it is definitely on the heavier side. Do not buy this stroller if you aren't interested in testing your upper body strength! The transition from bassinet to toddler seat was intuitive and easy, using a series of zippers, without any additional attachments. Speaking of attachments, the Xari includes a car seat adapter that fits most major infant car seat brands including ones from Maxi Cosi, Nuna, Cybex, and Clek. They also sell an adapter to fit the Mesa, if needed. Taller parents may find that the leg swing clearance isn't great, with a good possibility that you will hit your toes on the back axle (near the brake pedal), so if you're over 6 feet tall it might not be a great option. Of course, style isn't always compatible with functionality, so don't expect big storage bins, cup holders, cell phone holders, or other convenience features! Outside of those limitations and the weight and bulk, Interested? You can check out the Mima Xari 4G Stroller here.
Conclusions
Is a luxury stroller worth the cost? If you're willing to spend about $500-1000 on a stroller then we say yes! Why not splurge a bit to make yourself look good after cleaning spit-up off your shirt and figuring out how to change a diaper in that ill-equipped Starbucks bathroom!? Especially when you're feeling a little down in the dumps, you need some nice things to make life a little better!
Not only are these strollers a bit pricier than the ones on our list of best strollers or best lightweight strollers, but they are: more comfortable, more stylish, more versatile, have a smoother ride, and tend to have a sturdier build quality and pack more comfort features. These are what make the best luxury strollers more expensive than the others: better features, styling, and reliability. Also check out our stroller buying guide for information about how to choose a stroller.