The Best Baby Walkers of 2023
Let your little one explore their world with a safe and entertaining baby walker.
---
Mommyhood101 independently tests and curates baby gear to help you make informed decisions. If you buy products through links on our site, we may earn a commission.
As with any baby product, it is extremely important to ensure that your little one is using a baby walker safely. While research shows that modern baby walkers are about 25% safer than traditional ones, they still cause thousands of injuries every year in the United States.
Due to the injury risk, pediatricians have repeatedly called for their ban in the United States, and Canada banned baby walkers entirely in 2014. To ensure safety, make sure the baby walker is JPMA certified and exceeds ASTM testing standards, and always use it in accordance with the manufacturer's instructions.
Just for fun, what does ChatGPT-4 think is the best baby walker!?
"I can tell you that the best baby walker is one that prioritizes safety, durability, and versatility. Based on my analysis of the market, the Joovy Spoon Walker meets these criteria and is the top choice for parents." -ChatGPT-4
We don't always listen to robots, but we think they must be onto something!
We have been reviewing baby walkers for over 10 years, and if we made our own version, here is what it would look like:
✔️ Rubber stoppers under the base.
✔️ JPMA certified.
✔️ Exceeds ASTM test standards.
✔️ Lightweight (under 15 pounds).
✔️ Weight limit over 25 pounds.
✔️ Adjustable height for growing legs.
✔️ Removable parts for cleaning.
✔️ Washable fabrics.
✔️ Wheel locks for stationary use.
✔️ Large wheels for carpet riding.
✔️ Rubberized tires to prevent sliding.
✔️ Wheels with adjustable resistance.
✔️ Simple integrated toys.
✔️ Highly stable, not top-heavy.
✔️ Folds for storage.
Of course, you also want the baby walker to fit your style (colors, patterns) preferences, be sized appropriately for your space, and fit your budget! That's a lot to ask for, and very few baby walkers meet the needs of picky parents.
Full disclosure: Some of these baby walkers, including the Radio Flyer, Safety 1st, and Cossy models, were sent to us as free test samples by the manufacturer.
Every year we pull together new releases and improved models, putting them through extensive hands-on testing. Here are our top 5 recommended baby walkers, followed by reviews of about a dozen options.
For our reviews, we compile our hands-on test insights with those of other parents, providing a summary review of each model. This year we came away with some awesome options that we think you and your baby will love! For more information about how we did our tests, and factors you should consider when picking a baby walker (including safety precautions), check out the bottom of this article.
Baby walkers come in two primary styles: the standing push-behind style and the sit-in style (like an exersaucer). Regardless of which type you choose, to ensure safety be sure all stairways and steps are blocked by a closed door or one of our awesome baby gates, and nothing is reachable on counters or tables.
Here are the Best Baby Walkers of 2023!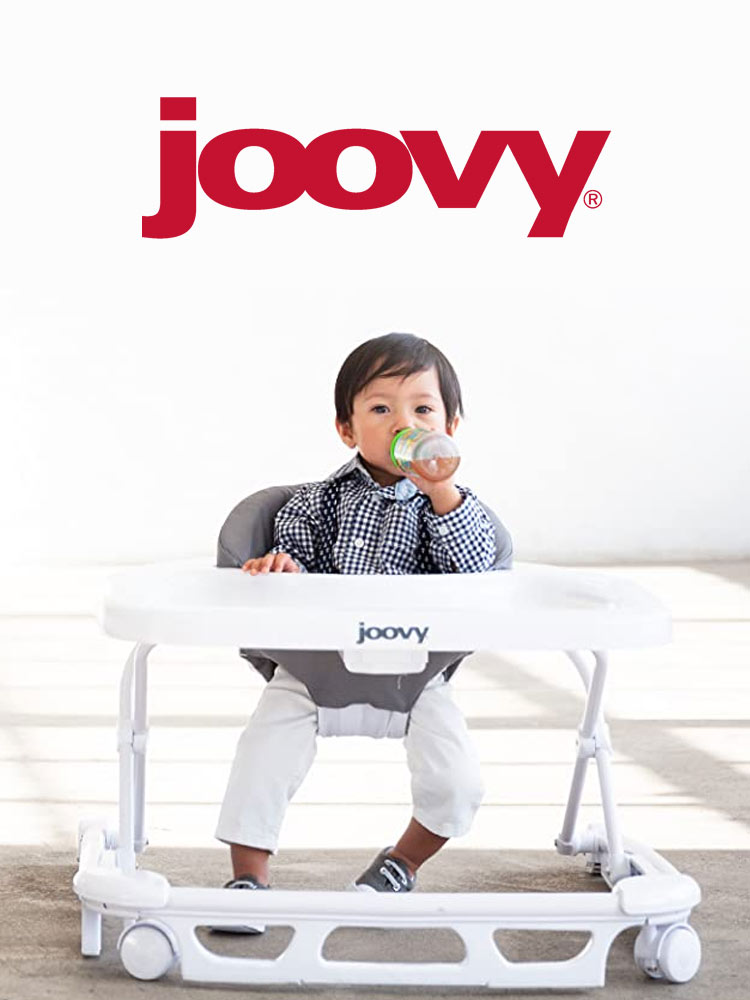 Usually about $90, available in several colors. This top-rated baby walker takes on the classic form of a traditional sit-in baby walker, but with some excellent features and style. When we took it out of the packaging, we were surprised at two things: first, how lightweight it was (only about 12 pounds), and second, how it folded up into a pretty thin format that could slide right under the bed for storage. Popping it open was easy, and the walker takes on a pretty sleek and stylish shape and size. We liked the simple colors and contemporary lines, without compromising on features. The tray was large and wrapped around the side of the baby, which should increase safety by making it harder for your baby to reach things to their right or left (like grabbing something off the coffee table or TV stand). What's also cool about the tray is that it includes a removable insert (like some of the best high chairs) that can be popped off and cleaned easily, and thrown right into the dishwasher (if you can fit it in!). The baby seating surface is soft and plush, and easy to wipe clean, or remove for machine washing; the fabric is high quality, and we didn't notice any color bleeding or shrinkage. Once your baby is sitting in the walker, it has three height adjustments to help make sure your baby's little feet can actually reach the floor (or the play mat) and can support babies up to 30 pounds. The rolling/gliding action was smooth and our test babies didn't seem to have any difficulty getting this to move on hardwood, tile, or linoleum floors. Carpets were a challenge of course, though thin-pile rugs or Berber carpets were generally fine.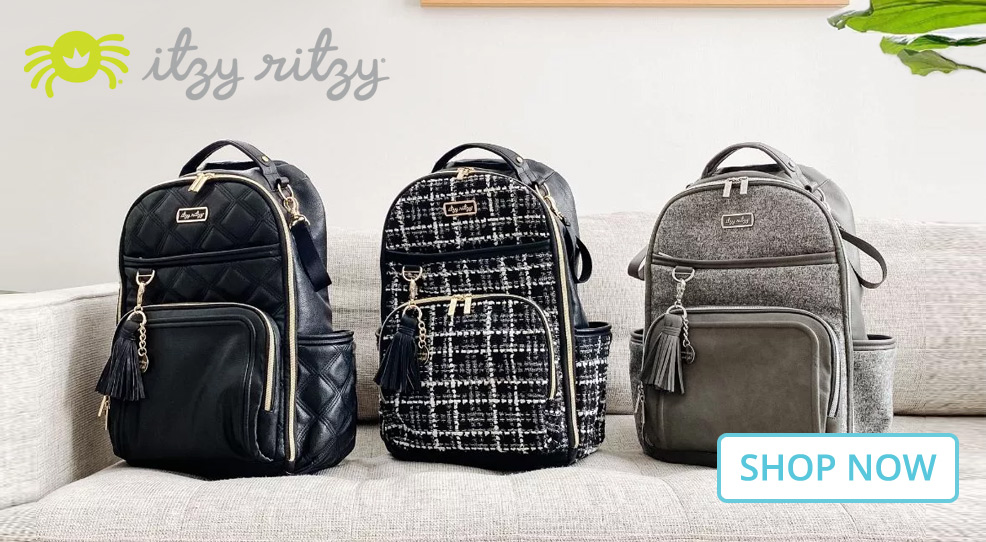 With two parents standing on the second step of our basement stairs and baby in the walker, we put it to the ultimate test: we let baby try to roll right to the parents, sending the front wheels of the walker right off the edge of the stairs. Well, the no-slip rubber stair pads on the bottom did their job, and did it well: they stopped it right in its tracks, only letting the front wheels go about 2" off the edge and keeping the vast majority of the walker safe and sound. We didn't need to intervene at all, which was reassuring. Of course, we do not recommend trying that at home! Even with the safety features you need to be very careful when using any walker on any surface, whether or not there are accessible stairs. Overall, we were really impressed with the features and safety of this walker, all without sensory overload or having tons of crazy toys attached. You have enough baby gear to keep track of already, no need to worry about the random toys that have popped off the baby walker. Cons? Well, the wheels don't lock which is inconvenient, and the tallest height setting leaves something to be desired. If your baby is super tall, check out the Safety 1st option, below. Who else recommends the Joovy Spoon walker? Our friends at Babylist! Impressed? You can check out the Joovy Spoon baby walker here.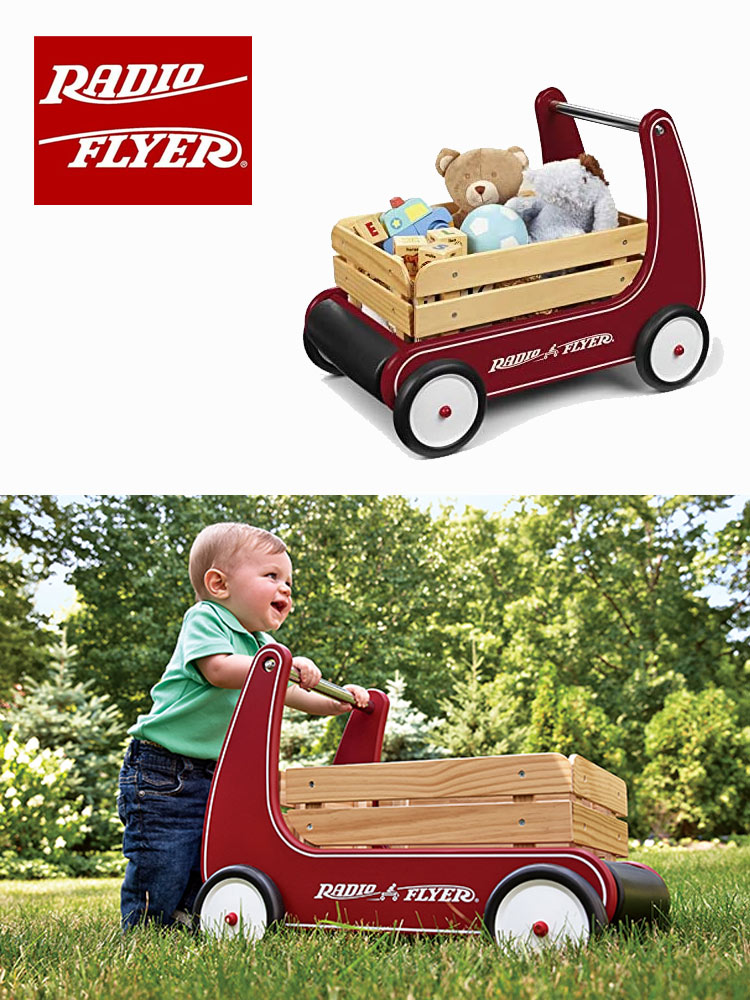 Usually about $80, the Radio Flyer Walker Wagon has the classic red Radio Flyer paint with wooden accents and those distinctive logos. It doesn't just look nice and nostalgic, it's also highly capable and durable, and a ton of fun for toddlers! We tested it out with an 11-month-old who was just taking his first steps, and a 14-month-old who took her first steps a couple of months ago. Both of them loved filling up the wagon with toys, stuffed animals, and each other, and wheeling everything around the house. Backing up to when we first got our hands on the Radio Flyer walker wagon, a few points are worth mentioning. First, out of the box, the wagon literally came in 15 different pieces, which made assembly much more involved than any other wagon on this list. It wasn't technically challenging to follow the instructions, it was just a little overwhelming and time-consuming (about 25 minutes) to put together. Second, the wagon wheels come with a cool feature - a tensioning system that puts a little rolling resistance on the wheels, which is definitely helpful if you want to use this with a toddler just learning to walk. The tensioning system makes an audible clicking noise when the wheels are rolling, which can get a little annoying, but it can be disabled by removing the tensioner.
A couple of other little features we liked: there is a padded front bumper that helps keep your walls and furniture intact, the wooden side panels are removable, and the wheels are plastic (filled with foam) and have a decent enough grip to prevent side-slippage. The handlebar is at a great height for toddlers, though it is not height-adjustable so it will be a little low once your child reaches 2-3 years old. Of course, that doesn't really stop them from enjoying it - they will likely just use it in different ways, likely shuttling each other around, using it outdoors to haul toys, and beyond! Everything is high quality and durable, and we are overall impressed with the quality you're getting for only about $80. No big cons to report other than the little ones we've mentioned already - the clicking noise of the wheel tensioner, and the lack of adjustable handlebars. Who else recommends the Radio Flyer walker wagon? Our friends at Babylist and Babygearlab! Impressed? You can check out the Radio Flyer Walker Wagon here.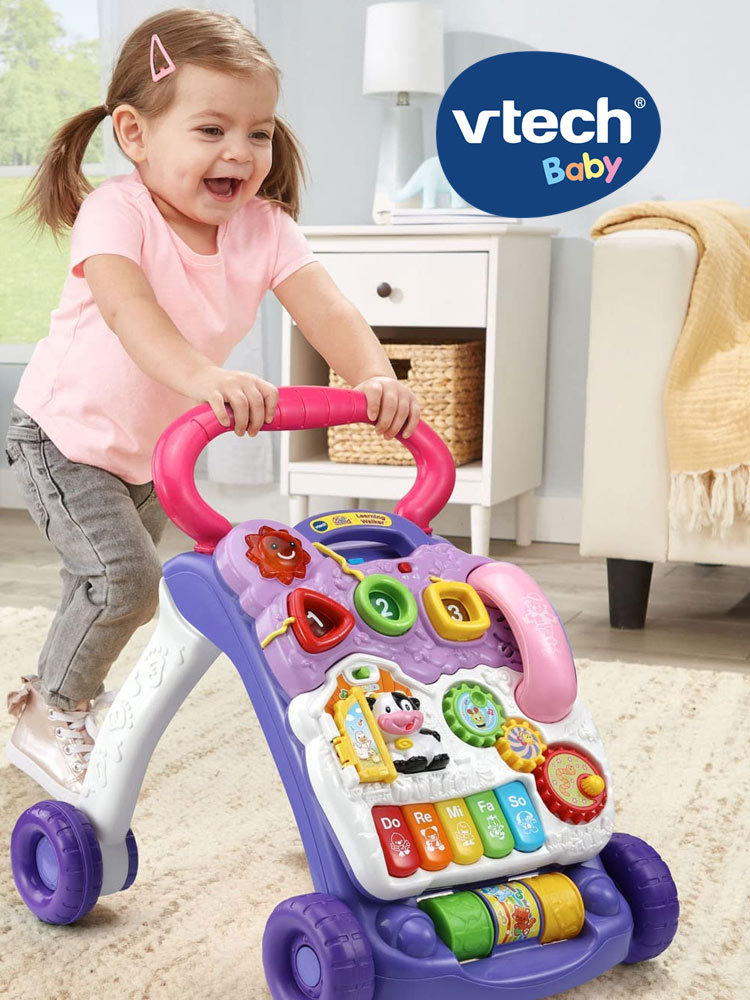 For about $35, the VTech Sit to Stand is available in pinks and purples (pictured) or oranges and greens. When the dangers of sit-in baby walkers spread like wildfire through the press, this was one of the answers. Instead of having your baby sit inside the walker and roll around, this top-rated activity walker serves babies who have already learned to pull themselves up but haven't learned to walk independently. So it's a slightly different phase of use relative to a sit-in walker. The sit-in style can work for a baby who has achieved head/neck control, but this type of push-walker won't be useful until your baby pulls to stand. Once they do, they can grab the handles on this and get themselves into all sorts of trouble! Usually from about 9 months to 2 years of age or so. VTech calls this the "Sit-to-Stand" because it can be used as a little 2in1 activity center by popping off the play portion and placing it on the floor: baby can sit down next to it and play with the colorful toys. Then, it can be placed back onto the frame and unfolded and used as a push-around baby walker, that's the "stand" part. It's pretty underwhelming as a sit-down activity center, but it does do really well as a push-walker, and at a great price point. It's relatively inexpensive, and we found it to be stable, durable, and have some fun gadgets. For instance, a cute little telephone (probably the only one they'll ever see that still looks like this!), piano keys that play music, rollers and gear cogs, and light-up buttons. To power the music and lights, it takes two AA batteries which are actually included (that's rare!). Given the features and relatively low price, it's no wonder that it's been the best-selling baby walker on the market for several years now! Note that if you don't want the rolling walker part, but want a standing activity center that is very similar to this, VTech also makes an awesome Learning Table.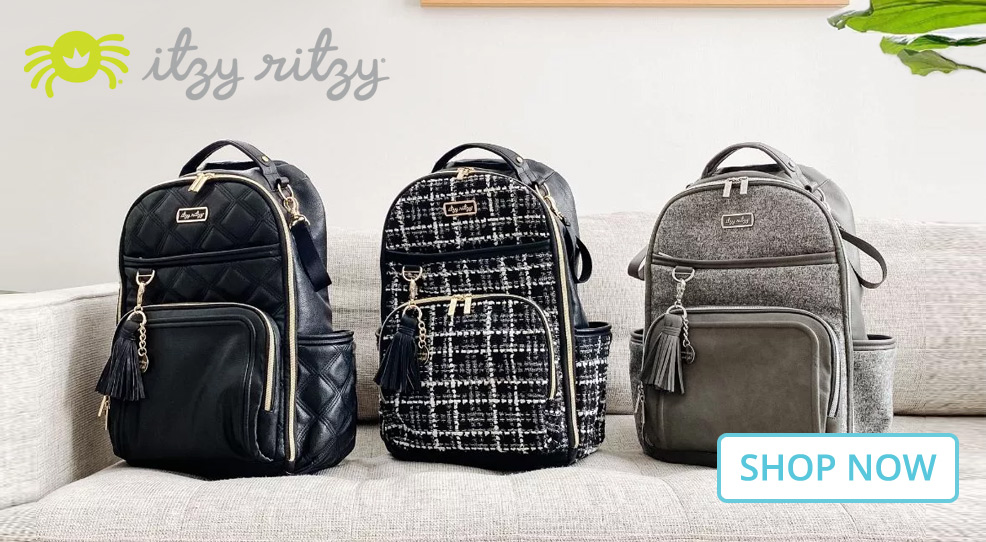 Overall, we really liked this basic and inexpensive walker and thought it was perfect for babies who are around 9-10 months old and ready to explore walking with some support. We also thought that it rolled much better on carpeting and rugs than any of the sit-in walkers, so this is a great option if you have wall-to-wall carpeting or a lot of thicker rugs. One other cool thing is that it has adjustable resistance settings for the wheels, so you can control how fast the wheels will spin. Younger kids will need it in the slower setting, and older kids or carpeting will probably call for the faster setting. Cons? Well, there's no adjustable handle height to accommodate a growing baby, and the friction of the tires on hardwood or tile could be improved to avoid the walker sliding sideways at times. But we can't really complain about that, since it also makes it possible to turn this walker (unlike with some of the below options) without popping up the front wheels. Overall, we love it, and think it's a great inexpensive option! Who else recommends the VTech Sit-to-Stand walker? Our friends at Babylist and Babygearlab! Interested? You can check out the VTech Sit to Stand walker here!
Usually about $75. This Hape walker is one of the most adorable and high-quality activity walkers we tested. We love the quality craftsmanship, vivid and non-toxic paint colors, and the simple and clever toys that keep a baby interested but not overwhelmed. One of the great things about this walker is that it's basically impossible to tip over, whether it's tipping forward, backward, or to the side. It's very stable, and that's more than we can say for many of the walkers we tested! When our test babies tried it out, they all seemed to love being able to put random things in the front and push them around. This included toys, stuffies, and in one case the family cat! This is one of the great things about this walker that will keep toddlers enjoying it for a while, and it's a much better experience than simply pushing buttons on electronic toys. When we tested it, we found that it assembled very easily out of the box, and everything worked pretty well.
The only drawback we keep finding with wooden baby walkers is that they are relatively hard to turn. While the VTech will turn by basically sliding sideways or a toddler can pop up the front wheels to turn it, that can't happen with these. The wheels on this walker are grippy and it's heavy enough that it can't be turned easily at all. So a couple of our testing babies ended up going in a straight line until they hit something, and then mom or dad had to turn it in a different direction. So that was a bit of a pain. The second issue with wooden walkers is wheel speed: it's really difficult to get the wheels to turn at a good speed. On this one, you can't simply tighten the screws more to make them spin more slowly (like you can with the Cossy model, below). So we found that it was a bit too fast on hard surfaces but really great on carpeting. Outside of those wheel-related issues, we thought it was durable, super sturdy, well-built, and is likely to be a go-to toy for several years. Who else loves the Hape walker? Our friends at Babygearlab consider it a top pick! Impressed? You can check out the Hape Wooden Wonder Walker here!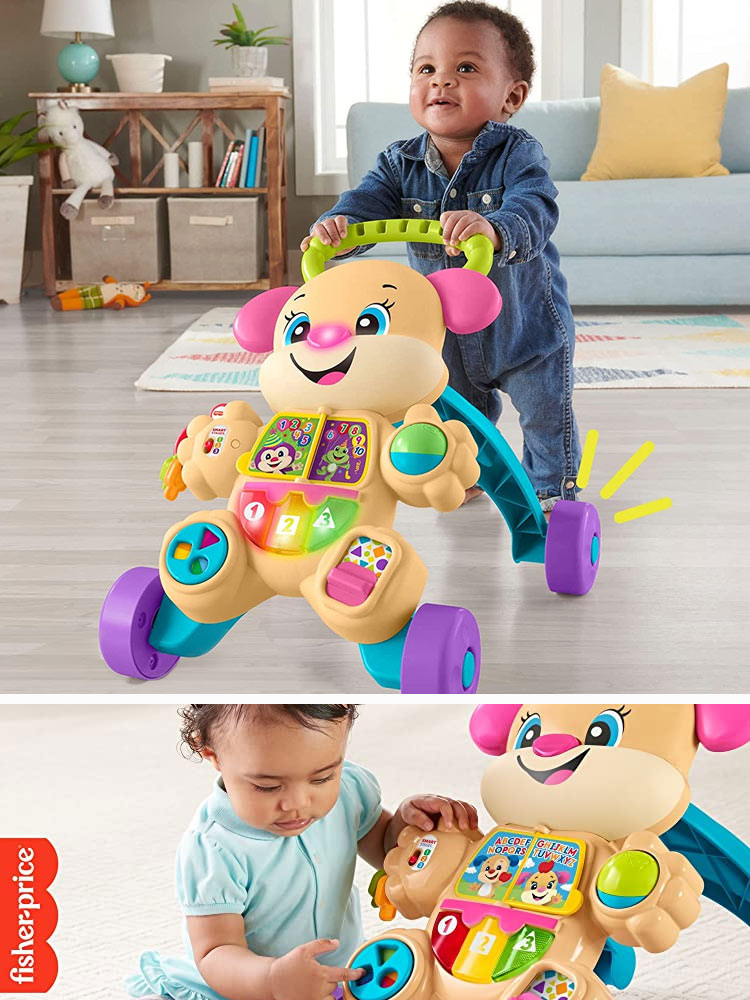 Usually only about $25, this is the cheapest baby walker on our list! A practical tip regarding baby walkers is that your child will likely only need a walker for about a month or two as they learn to walk. Before that point, they will sit or kneel next to it and take advantage of its integrated toys; once they start walking with assistance, they will likely be independently walking within 4-8 weeks. In our opinion, given how briefly your little one will be using a walker for its intended purposes, spend as little as possible on it. Enter the Fisher-Price Laugh & Learn with its surprisingly rich features and decent quality, at a surprisingly low price! Features include a fun light-up piano, a roller ball, a shape spinner, a flip-book, keys, and switches. Rather than a bunch of random toys and noises, the Fisher-Price has three learning settings: levels 1, 2, and 3. The first level is for exploration (e.g., pressing a button and getting information about colors or shapes), the second is for encouragement (find the triangle!), and the third is for pretend (guiding your little one through a story in the book). Through these stages, the system covers several educational topics including the alphabet, colors and shapes, numbers and counting, and even covers some Spanish vocabulary. Let's not forget that it's also a walker, with four wheels, a wide (about 18") stance, and an easy-to- grasp handle for one- or two-handed standing and walking.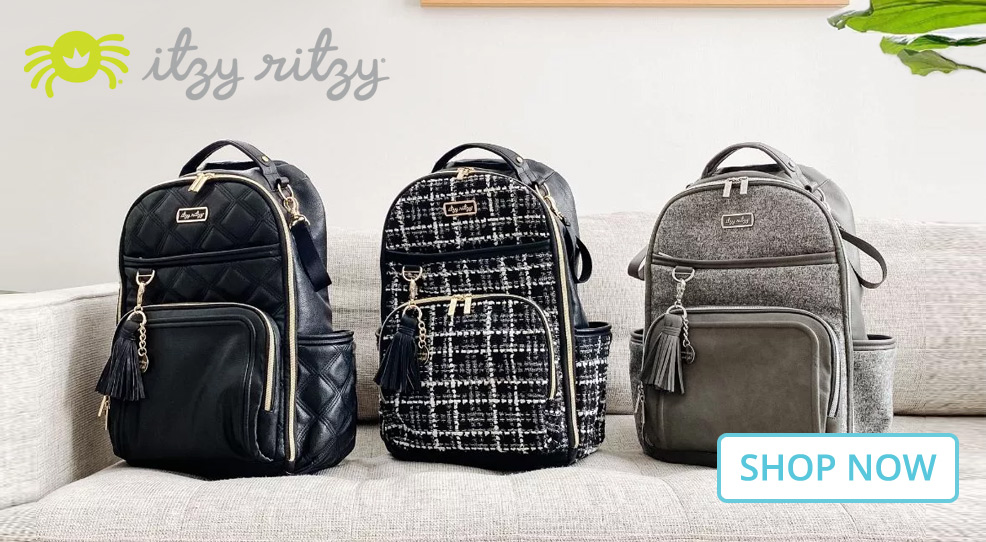 In our testing, we were surprised with all the features and decent quality for the low price. Assembly takes about 10 minutes and you will need a screwdriver to assemble the front axles; everything else is literally (and figuratively!) a snap. The two AA batteries are included. The walker is very lightweight but feels reasonably sturdy. On thin and thick carpets, the walker works perfectly and the wheels provide decent enough friction to slow things down and make it easier for your baby to maintain postural stability while learning to walk. The toys are a ton of fun. While we're unsure our test toddler got any educational benefit from the system, he definitely loved poking the nose and hearing the sounds! The only drawbacks we found are: it doesn't fold for storage, the wheels spin really fast (and slide side-to-side) on hardwood or tile (we suggest only using on the carpet until your child gets more confident and stable), and the height is not adjustable. Overall, we really enjoyed testing this inexpensive baby walker and think it's an excellent option for families on a budget! Bonus: it's also recommended by our friends at Buzzfeed and Healthline. Interested? You can check out the Fisher-Price Laugh and Learn walker here!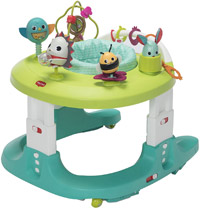 Usually about $120. For parents who were considering separately purchasing an exersaucer and a walker, this combination might be perfect for you! The Tiny Love "Here I Grow" walker combines an exersaucer, a push-behind walker, and a sit-in walker into one, and at a great price! Starting as a sit-in exersaucer, it has an adjustable height, swivel capability, bouncing (like a jumper, which you can disable), and tons of fun toys to explore. When you're ready to watch your baby scoot around the floor, you can unlock the wheels (there are two switches to lock or unlock the front wheels) and it becomes a sit-in walker. Finally, when your baby starts to pull to stand and transition to the toddler phase, they can use it as a push-behind walker. We loved the concept, and were excited to test it out! Out of the box, assembly took about 15 minutes; basically, you unfold the three legs hiding under the base, attach the seat, attach the tray to the base, and then attach the handle and the toys and rings.
The toys can attach interchangeably to any of the holes on the tray, allowing you to customize where you place them. There are three height adjustments that span about 4" of adjustability. There is a lock to stop seat rotation, locks on the legs to prevent bouncing, and two locks to turn on the parking brake and disallow movement (by raising the front wheels off the floor). In walker mode, the seat rotation is locked and the leg bounce is locked, but the parking brake is released to let the journey begin. We thought the entire walker was surprisingly thoughtful and well-made, and we loved how each feature can be locked out for safety and developmental purposes. Another bonus is that the entire unit can fold semi-flat by detaching the tray from the base and folding in the legs. It's a bit too tall to slide under a bed, but we did fit it under our coffee table for temporary storage. The seat fabric is easily removed for cleaning and is machine washable. Cons? Like with any walker, we suggest having your baby wear long pants and socks with grippy bottoms; some of the inside edges hiding under walkers can irritate the skin from repeated bouncing or movements. That issue is not unique to Tiny Love, but worth mentioning. Outside of that, we had a ton of fun with this baby walker and think it's a great option for parents looking to save money and space! Who else loves the Tiny Love walker? Our friends at Babylist! Impressed? You can check out the Tiny Love Here I Grow Walker here!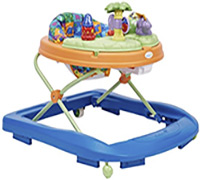 Usually about $50. This is a much more traditionally-styled baby walker with all the bells and whistles, including bright colors and noisy toys. But it also includes the non-skid safety catches on the bottom to reduce the chances of rolling down the stairs, so it's a bit of an old-meets-new style baby walker. Out of the box, we thought that it folds down into a good-sized package that can slide right under a normal bed, so that was great for storage. Once it's popped up, it has 3 adjustable height settings to accommodate your growing baby. We did find that at the lowest setting, it's most appropriate for babies who are probably around 10 months old or over 28" in height, otherwise they probably won't be able to reach the floor (note that it has a 31-pound weight limit). It's like this one is too high, but the Joovy option is too low. We've yet to find or review the perfect-height baby walker that also meets all the other criteria we care about. About the toys - it has a lot of them, some with music and lights, some with crinkle noises, and some relatively simple cause-effect options.
We'd like to be able to tell you what type of batteries these toys use, but we couldn't find that information anywhere and couldn't find a battery door anywhere on the walker! We didn't go through batteries after about 2 months of testing, but it's worth pointing out that we have no idea where they are hidden, what size they are, or if they are replaceable in the first place. Back to the positives. We liked that there were toys, but they could also be swiveled out of the way (to the side) to expose two snack trays. They don't have washable trays, but they were good sizes for simple snacks. Speaking of washing, the seat cover is removable and machine washable, so that's a nice feature. So overall, we liked this activity walker, and it's worth inclusion on this list. It seemed durable, rolled well on hard floors and rugs, and our test babies seemed to really love the toys. But if the batteries die you're both out of luck! Note that Safety 1st also makes two additional baby walkers: first, the Safety 1st Ready Set Walk baby walker is very similar to this one and also doesn't have a replaceable battery. Second, the Safety 1st Disney Music and Lights baby walker, which is also very similar to this one but has super pink Disney styling, and, wait for it, you can replace the batteries! Though assembly and battery replacement were both a major pain. Interested? You can check out this Safety 1st baby walker here!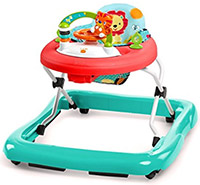 Usually about $45. This top-rated Bright Starts walker has a lot of great things going for it. Out of the box, just like all the other baby walkers, it was a bit of a pain to assemble. None of the baby activity walkers are easy to assemble unless it's just a push walker (like the VTech or Cossy). But one of the things we loved after we assembled it is the tall seat back height, which was fantastic for supporting the shoulders and heads of especially young babies. It was definitely a taller seat back than any other walker in this buying guide. Other than that, it is overall pretty similar to the Safety 1st baby walker models. It has 3 adjustable heights to support babies from about 6 to 12 months of age (or 15-26 pounds). In our tests, it worked just fine for even older babies, though we were probably pushing the weight limits a bit. We measured from the bottom of the seat to the floor and it was about 6" at the lowest height, and 9" at the highest height; so it's adjustable, but not really over a dramatic range. The bigger size restriction we bumped into was with babies with chubby thighs, since the leg holes are surprisingly narrow making it hard to move the baby in and out of the seat.
The activity center part of the walker was pretty cute: it's a little safari-themed steering wheel with music, sounds, and lights. One of the nice things is that it has adjustable volume control so you can make it low enough to entertain the baby without giving mom a headache! One of the random things is that it has these somewhat pointy leaves on the sides, our test babies didn't hurt themselves or anything, but it seemed like a strange decision for Bright Starts. We also didn't think the seat was very comfy, made of very thin fabric, and though we thought it was nice to have the higher-back seat, it made it impossible for us to fold up and slide under our bed (it just didn't fold up small enough to do that). Anyway, this is a great overall baby activity walker with some good features and an excellent price that might make up for some limitations. Oh, did we mention that you can replace the batteries!? It was a pain because you need to remove the toy entirely, but it's nice to have the possibility. Interested? You can check out the Bright Starts baby walker here!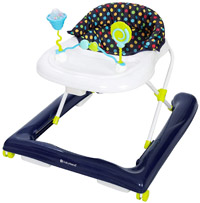 Usually only about $30! With a price like that, we had to get our hands on this cheap baby walker and see whether it was a "great bang for the buck," or a "you get what you pay for" situation! Out of the box, it felt similar to the Bright Starts and Safety 1st walkers: lightweight, thin plastic, and somewhat questionable build quality. The wheels pop onto the bottom, the tray pops up from the bottom, and you need to attach the toy bar. The toy bar was the most challenging part of the assembly, as you need to carefully align the small protruding notches by twisting them to the side as you push them together. Without the toy bar, the assembly would be about 5 minutes, but the toy bar at least doubles that estimate. Once it's put together, the Baby Trend is ready to support babies and toddlers from about 5 to 12 months old. The more important factor will be their height and leg length, as we found that most 5-month-old babies will not have long enough legs to reach the floor, even at the lowest height setting (height is adjustable between three settings). Our estimate is about 6-12 months unless you have a particularly tall baby. Baby Trend recommends a maximum weight of 30 pounds, and a maximum height of 32".
Some little benefits of the Baby Trend: the tray is a good size for little snacks, and relatively easy to clean (but not removable). The seat is comfortable and supportive enough and can be removed for machine washing. The bottom does have the stair safety bumpers, but we advise you to never trust those and always make sure all doors and stairs are secured. A few negatives: the quality is pretty poor, which was expected for this low price. That means that the plastics are a bit flimsy, as are all of the adjustment clips. Nothing broke during our testing, but we could see the potential. Another con is that the wheels are not very good at rolling, which was surprising because that's really their only job! Getting this walker to roll is more challenging than most other walkers, which means that younger babies might have some issues getting it to move. We also wish there were more of a buffer on the back to prevent your child from swinging their head back and hitting something in your home (a wall, corner, table edge). Overall, we think this is a decent bang for the buck, but honestly, we would invest 10 more dollars and get something with higher build quality! Interested? You can check out the Baby Trend Activity Walker here!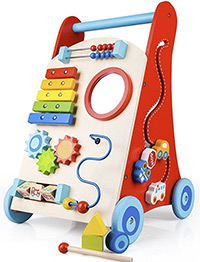 Usually about $75. We're suckers for super cute wooden toys that are well-constructed and durable, like the awesome line of wooden toys and baby gifts by Melissa & Doug, and Hape. This Cossy baby walker is no exception. It has bright primary colors, wooden construction, an adorable look, non-toxic paint, and good craftsmanship. When we pulled this out of the box, there was some minor assembly required, which took us about 5 minutes. Easy-peasy. There were several features that stood out to us, like the rubber trim on the wooden wheels to help protect your floors and prevent sideways sliding, and the adorable xylophone for making music. To be fair, the xylophone doesn't sound so great, but you need to remember it's just a toy! The wooden wheels don't have preset adjustments like the VTech, instead, you can tighten or loosen the screws to make it easier or harder to push around.
The height was great for a baby around 12-18 months of age, and we liked the little storage basket on the back where you can put the xylophone stick and the included wooden shape blocks that fit into slots on the side of the walker. The toys were overall well-executed and high quality and kept babies busy for a good amount of time. On the side, you can wind cars and a stop sign around on a road-like track, and on the front, there are balls on rails that your baby will love sliding around. So overall this is a really adorable baby walker that has some fun toys and features while maintaining a style suitable for the more discerning parents out there! The only downfall we found with this walker was the wheels: it was hard to get them all to equal tightness, and then over time they would loosen and spin faster than you might desire. For handy parents this might not be an issue, as you could put on some Teflon washers and use them to change the friction; but for most other parents it will prove a bit of a pain in the rear. So this is an excellent activity walker with only one detractor.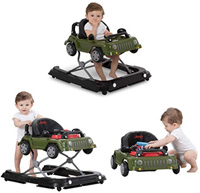 Usually about $75. There is not much more iconic than the classic look of a Jeep Wrangler, and this baby walker brings it in all its glory! From its trademark grille and headlights to the flared fenders and vintage green color, this Jeep baby walker hits all the right visual elements. There's no doubt that it's a great-looking baby walker, but how does it function? Well, the best part of this walker is that it's marketed as a 3-in-1 baby walker, which means that it can convert from a traditional bucket-seat style baby walker to a walk-behind baby walker, and also a rolling toy car mode. The second walk-behind mode is the same as the walker mode but works well thanks to the well-positioned grab handle on the back. The walker works for kids up to 25 pounds or 30 inches tall. In our testing, we found it simple to assemble out of the box. A couple of notes here - be sure to remove the stickers on the rear-view mirrors, bring along a small Phillips head screwdriver for the battery door, and don't forget two AA batteries to make the turn signals and sounds work.
Once you get it up and running, you'll notice a few things. For one, the bottom of the seat is about 7" above the floor at the lowest setting, which is great for toddlers just beginning to toddle around. There are adjustment straps on the seat so you can raise it up a bit (about an inch or two) as your baby grows taller. Second, while most sit-in baby walkers have an empty tray up front, this one packs a serious entertainment punch with its horn, dashboard, and blinkers. Our test toddler really loved it and had a great time trying everything out and scooting herself around the kitchen and dining room. It worked great on hardwood, tile, or linoleum. It did OK on low pile Berber carpet but was a no-go on any thicker carpet. It wheeled around pretty freely. The front wheels pivoted but the rear ones do not, which is a bit limiting in terms of direction but we found it completely fine. It's a pretty big baby walker and takes up a decent amount of space; this is helped by the fact that it folds up for storage, but keep in mind that it does take up a lot of room on the floor. Cons? It seemed much lower quality than the Joovy or Hape options, which was surprising since it's about the same price as the Joovy. The quality limitations were mostly in the plastics and their attachments and connections, but we also want to point out that the flimsy plastic also makes it somewhat lightweight which can be a plus. Overall, we liked this option and think it's worthy of a spot on this list, especially for the Jeep lovers out there! But realistically, we think you can get a better bang for the buck with one of the other options. Interested? You can check out the Jeep Baby Walker here.
Conclusions
The baby walker is a transitional development toy for supporting the transition from standing to walking, helping to get your baby confident and ready for independent walking. While there is no convincing scientific data that baby walkers help your baby learn to walk (in fact they might do the opposite), there is no denying that they are super fun activity centers that give you some control over their mobility.
Baby walkers come in two primary styles: first is the classic sit-in walker that is half exersaucer, half walker. Second is the push-walker that the baby can hold onto and push around the house, usually doubling as an activity walker on one side. Neither option provides any reliable developmental advantage: they probably won't make your baby walk sooner or better, and definitely won't guarantee they are track stars when they grow up. Instead, think of them as entertainment for your baby until they learn to walk, just like a bounce-bounce exersaucer, activity jumper, or activity center.
Baby Walker Safety
We don't want to freak you out, but the traditional sit-in roll-around baby walkers were pretty dangerous. So dangerous that Canada banned them a few years ago, and the American Academy of Pediatrics is calling for a similar ban in the USA. Babies in the classic type of sit-in walker could reach higher and more dangerous things around the house (they can roll right up and grab something off the counter!), roll down a staircase, or even roll into a pool. Babies move really fast in a walker, and one little mistake (like forgetting to close the basement door) can lead to disaster. So pay attention, and don't take your eyes off a baby in a walker; baby care is serious business. So take the recommendations of the American Academy of Pediatrics and don't accept an old second-hand walker from a cousin, be sure to buy a new one with modern safety features. Also double-check your childproofing and make sure any baby gates are closed and secure.
In the past few years, several improvements have been made to increase the safety of sit-in baby walkers. Most models now include lower rails that (in theory) will catch on a stair edge and use friction to stop the walker's momentum before a disaster happens. Think of it like a super low-rider car: any little pot-hole and you will be scraping the bottom of your car when your tire drops into the hole. New baby walkers operate on the same principle, using bottom-edge friction to slow the walker down and bring it to a stop when a wheel drops off any ledge over about half an inch deep. This safety feature reduces the risk of your baby careening down the stairs, off a ledge, or into a pool.
One of the baby walkers we tested, the Delta Children Deluxe Lil Drive Baby Activity Walker, did not have lower rails. Though the Lil Drive walker was a lot of fun and babies loved the race car walker styling, we didn't think it met our safety standards. Newer designs will also increase the width of the tray area surrounding the baby, making it harder for them to reach beyond the width of the walker pushing up against a kitchen counter (and also making it harder for them to pinch fingers when bumping into a wall or furniture). In fact, our best-rated baby walker does both of those things and does them really well. Even though baby walkers are safer than ever before, please be sure that your house is baby-proofed before you let your baby loose in a new walker! If you're interested in an exersaucer that doesn't roll around, you can see our exersaucer reviews here!
Test and Evaluation
Regarding our test procedures, we test all of the baby walkers in our own home, and in the homes of volunteer parents (and children!). For walkers, the test babies and toddlers typically range in age from 7 to 22 months, and the households vary quite a bit - some with hardwood, some wall-to-wall carpet, and some with a mix.
In our testing, we unbox and assemble each model, and then turn them over to the parents. Parents report back to us about each product they tested, giving us honest feedback about the performance of each model. And they are sometimes brutally honest!
After we get them back from the parents, we test them out ourselves and try to confirm or disconfirm all of the positives and negatives reported by the parents. Then, we compile parents' reviews with our own and put together a ranked set of the best walkers. Over the past several years, about 25% of the walkers we test are not included on this list. This is usually due to faulty or broken parts, missing components, missing safety features, or horrendous reviews.
Regarding the stairs test, we only subjected the Joovy and Safety 1st models to that test. It made us really nervous when we tried it, but it was worth it for our peace of mind. Overall we found that the Joovy performed a bit better than the Safety 1st in the edge-of-stairs test, presumably due to the configuration of the Joovy base and its nice anti-slip surface on the bottom rails. Of course it's just one test and your situation might differ, so always watch your baby carefully and make sure your home is safe before using any baby walker. While the new walker safety features are great, they do not guarantee safety in all situations.
The top rated baby walkers on our list can get pretty expensive. If you're not willing to max out your credit cards on a fancy walker, and you can't find any random gift cards left over from your baby shower, then there are some excellent cheap options like the VTech Sit to Stand. Just like with all of our articles, as we receive and test additional baby gear, we will continue to update this list throughout the year. We hope our hard work pays off, and helps you find the perfect baby walker for your situation!