Best Audio Baby Monitors 2022
Not everyone needs a fancy baby monitor with video, WiFi, and other bells and whistles. A sound-only baby monitor will suffice for most situations, and they tend to offer superior battery life, signal range, and portability.
We've been testing audio-only baby monitors for over 10 years, and we've seen the good, bad, and downright ugly! Here are the top 5 sound-only baby monitors for the year, followed by reviews of several options.
While we spend most of our time reviewing relatively fancy models for our best baby monitors list, testing these sound-only baby monitors was surprisingly fun! As it turns out, for under about $100 you can get an audio-only baby monitor with pretty impressive quality and features.
To find you some great options, our hands-on tests considered 3 newly released models alongside 9 existing models from prior years. We tested them in big and small houses, indoors and outside, and on battery and plugged in; we tested battery life, sound quality, and any special features.
Full disclosure: Some of these baby monitors, including the Babysense and Philips models, were sent to us as free test samples by the manufacturer.
Here are the Best Audio-only Baby Monitors of 2022!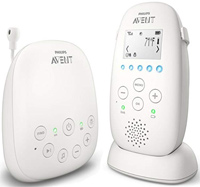 Coming in at #1, the Avent DECT is a fantastic baby monitor with an impressive set of features. The DECT technology provides the clearest and most reliable reception on this list, along with the peace of mind of high security and privacy. It also has fantastic range, coming in at about 1000 feet outdoors, and about 160 feet indoors. Other than video, it has all the features you're looking for, including two-way intercom, a nursery temperature monitor, remotely controlled nightlight, and 5 different lullabies you can play. The battery life was pretty good, coming in at up to 18 hours. It also has a battery saver mode (they call it ECO mode) that helps extend the battery life a bit, as long as the nursery is nearby. A unique nighttime mode dims the parent unit and lets you customize the audio alerts, including turning them to vibration only.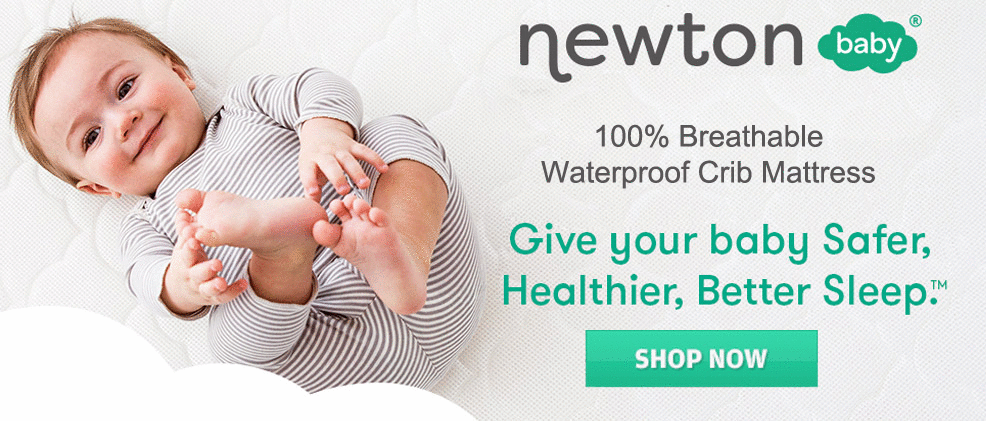 In our testing, we thought it was super easy and intuitive to use, the reception was excellent, the sound was very high quality, and the temperature monitor was surprisingly accurate (we compared it to a digital thermometer). Another positive is that you can change the sensitivity of the microphone to ignore the relatively quiet whimpers and only activate for the louder squeals. Overall, this is an excellent sound-only baby monitor! The only downfall is the price, coming in at well over $100. That's very steep for a sound-only baby monitor, and honestly at that price you might want to consider a full baby monitor with video for the same price. Who else loves the Avent DECT monitor? Our friends at Babygearlab and WhatToExpect also consider it a top pick! Impressed? You can check out the Philips Avent DECT Sound-only Baby Monitor here.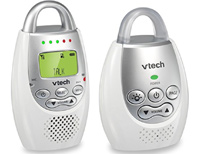 This is one of three VTech baby monitors on this list, and this one comes in above the others for overall features and functionality. In addition to the basic audio monitor functionality, it also includes a two-way intercom (so you can talk back to your baby, like a walkie-talkie), a vibrating sound alert (for when it's muted), a rechargeable battery in the parent unit, and a night light on the baby unit. Like the Avent and DM111 it uses the DECT 6.0 technology for digital transmission and noise reduction. In our testing, there were a few nice things to point out. First, we liked the big loops at the top of the baby monitor and parent unit, making them very easy to pick up and move around. There is also a belt clip on the back of the parent unit, since it's a bit large to fit in the pocket, you can put it right on your hip. Second, we loved the "page" function, which allows you to press the page button on the baby unit, which will make the parent unit beep until you find it (buried in the couch cushion). Third, we also liked the night light, which is nice for brightening things up a bit, for instance when you read a baby book at night, or do a night-time feeding or diaper change.
Unlike the DM111, you can adjust the volume and sensitivity separately, which is a great feature to reduce the odds that a false alarm will wake you in the middle of the night. Finally, the rechargeable battery in the parent unit lasted for over 15 hours in our testing, which was pretty impressive. That means if you accidentally leave it on during a morning nap, it won't be dead by bedtime. Range was decent in our testing, and it gives a beep to warn you when you're getting too far away (for us, that happened in the back yard). Overall, this is a great baby monitor, and is well worth the price at only around $40! Who else loves the VTech DM221? Our friends at Babygearlab, WhatToExpect, and The Bump also consider it a top pick! Impressed? You can check out the VTech baby monitor here.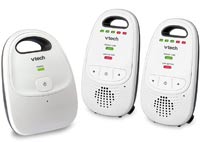 You've probably noticed that VTech makes a ton of sound-only baby monitors, and the DM112-2 is one of their most updated releases. For the new release, they added rechargeable batteries to the parent units, so now you can freely walk around the house without worrying about needing to plug it in. The basic DM112-2 includes a single parent unit, or you can purchase it with two parent units. We prefer upgrading to two parent units for about $10 more, to give you the flexibility of placing the units around the house (for example, one in your bedroom, one in the living room), or having a backup for when you forget to charge one of them. One of the reasons that the VTech baby monitors are so great is that they are super simple, easy to use, and they last forever. The DM112-2 is no exception. Its basic features include DECT 6.0 encrypted digital audio with up to 1000 feet of range, volume control, belt clip, rechargeable batteries in the parent units, and a low battery indicator. The parent units do also have a green-red LED sound level indicator. Outside of that, there's nothing to really set this unit apart: no night light, no adjustable sensitivity, no auto-off timers, no cry detection, no batteries in the base unit, and nothing else you might ask for!
In our testing, we found that it worked perfectly as expected: decent sound quality, decent volume control, decent indoor range, and decent battery life. When we first started testing it, battery life was about 8-9 hours, and then after a couple months of use it was about 7-8 hours. There were some periods of time when the parent units would randomly produce white noise for a couple seconds, but those were rare. Overall, we think this sound-only baby monitor does a great job and offers great bang for the buck. It's typically a bit less expensive than the DM-221 (above), and a bit more expensive than the DM-111 (below), which you would expect given the feature sets. Interested? You can check out the VTech baby monitor here.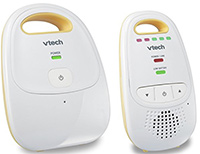 Here is a super simple and inexpensive baby monitor with some decent features and high reliability. The VTech baby monitor uses the DECT 6.0 audio transmission for high sound quality and lower background noise. It is a basic baby monitor with adjustable volume, a sound level meter to indicate how much noise is in your baby's room (even when it's on mute), and the parent unit has a belt clip. In our testing, we thought this baby monitor did a decent job for such a cheap option. It was sensitive enough without bringing in too much fuzz sound (there was a bit of a humming noise even on low volume), the range on the parent unit was pretty good (it worked upstairs and across the house, and in our small yard), and the batteries seemed to last several hours (about 8) when unplugged. What we didn't like was that the volume didn't seem to go low enough, even at the lowest volume the speaker was pretty loud and had this subtle droning noise to it (which got a bit annoying), and the batteries in the parent unit are not rechargeable.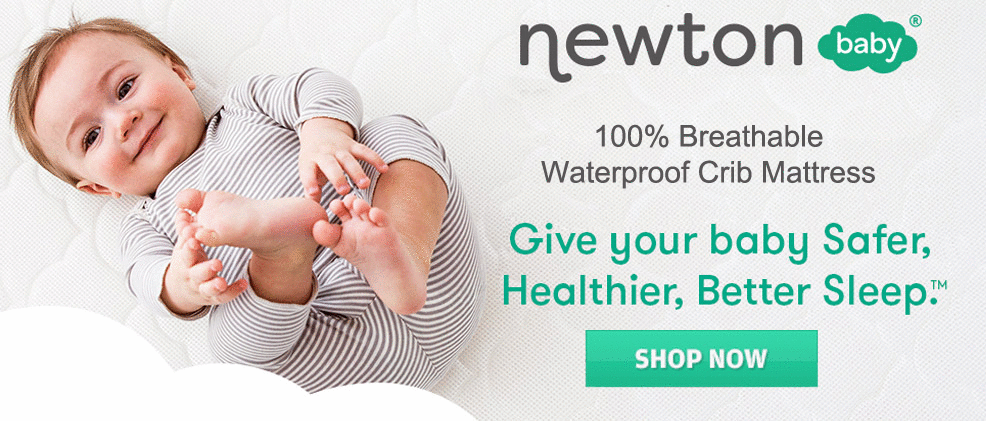 It eats through AAA batteries pretty quickly, ours lasted only about a week with normal use. Either buy stock in your favorite battery company, or go with a unit that has a rechargeable parent unit. We just left it plugged in most of the time, so it didn't eat through batteries too quickly. Overall, this baby monitor offers good bang for the buck for parents looking to get something inexpensive, basic, and reliable. But for only about $5 more, we suggest upgrading to the DM221. Who else recommends this baby monitor? Our friends at Babygearlab and WhatToExpect consider it a top pick! Interested? You can check out the VTech DM221 here.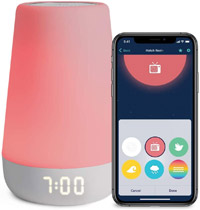 What happens when you combine our best infant sound machine with a high quality audio baby monitor? You get the amazing Hatch Rest+ system! Coming in at about the same price as the Avent DECT system, this system offers from serious versatility. First and foremost, the Hatch Rest+ functions as an audio baby monitor with high quality audio, two-way intercom, and secure communication. Second, it functions as a white noise machine with high quality sounds, and includes a night light with a time-to-rise feature. In our testing, the sound machine and time to rise features worked really well. The night light had customizable color, which is a nice touch. The Hatch connects to your smart phone using their app and your home's WiFi system, and we found connectivity to be relatively reliable. The audio baby monitor feature seemed like a bit of an afterthought. It had a high latency (delay) for both hearing our child (we would hear his voice a few seconds before hearing it through the monitor), and also using the two-way intercom function. Also, when you have the sound machine feature active, you can't hear anything in either direction - just a bunch of static. Overall, we weren't super impressed with the Hatch Rest+, though we do think it makes a great sound machine! To our knowledge, only WhatToExpect recommends this system, though they may not have tested one of the newer models that use WiFi (the older ones used Bluetooth, which was much better!). Interested? You can check out the Hatch Rest+ Sound-only Baby Monitor here.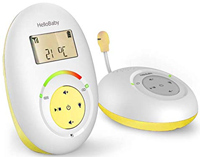 We were excited to get our hands on this sound-only baby monitor because it's only about 30 bucks and offers a lot of features, including DECT technology (like most others on this list), long range transmission, nursery temperature monitor, two-way intercom, lullabies, and a nightlight. For around $30 you aren't getting the highest quality baby monitor on the market, but you're definitely getting something that functions impressively well for the cost. In our testing, we found that the secure encrypted DECT transmission was impressive - it has really long range, into the backyard, across three levels (from basement to second floor), and from one side of a long ranch house to the other. The reception was basically the same as the $100 Philips Avent DECT model, but for about a third of the price. The battery life of the parent unit was just OK, coming in at about 4-5 hours when not connected to the charger. Unfortunately it doesn't use a basic USB charger cord, so you can't just plug it into your existing device chargers and use it in other areas of your home (kitchen, living room, etc). If needed, you can buy extra chargers for the parent unit - here is one that we know works, though there might be cheaper ones available online. The temperature monitor actually seemed pretty accurate, and the two-way intercom worked just fine (and it has adjustable volume). The clarity of the sound wasn't great, and the volume adjustments were somewhat limited. The lullabies didn't sound great and the nightlight was super dim, but then again it's only about $30 for this thing. We need to keep reminding ourselves of that price point, because it justifies some of the short-comings. Overall, this option has a lot of features for the price, but the overall quality of the rechargeable battery and sound leave something to be desired. Note that Hello Baby also sells an even less expensive version of this, the HB178, that drops the temperature monitor, rechargeable battery, and lullabies, but also drops another $5 in price. Who else recommends the Hello Baby HB180? Our friends at WhatToExpect call it a top pick! Interested? You can check out the Hello Baby Sound-only Baby Monitor here.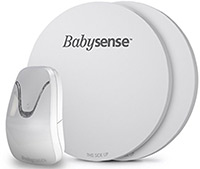 This unit is a bit different from the others because it doesn't default to tracking sound only and then add a bunch of random features, it's really designed for the parents who are only concerned about tracking movement. This Hisense baby monitor tracks movement only, not the sound of your baby. Using two super thin sensor pads placed under your baby's mattress, it detects even very subtle movements and alerts you through the receiver. If your baby doesn't move for 20 seconds, or no micro-movements are detected for 10 seconds, the device will sound an alarm. This is the system for parents who are worried about SIDS, particularly in preterm babies. With all the dangers facing infants during their early stages of development, our testers noted that this was a great idea. They also noted that it worked quite well, but they weren't convinced that it was worth the high price. Instead, they said they would have opted for the Angelcare. We agree with this sentiment, but also point out that other parents noted that this system was more sensitive and reliable, and had fewer false alarms. So if you're looking for just a movement monitor, this is a great option. Note that the Babysense sensors do not work well underneath memory foam crib mattresses, like the Milliard, which absorb too much movement-related energy.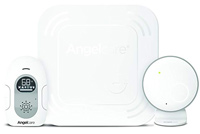 This combines the best features of an audio baby monitor with an awesome movement tracking monitor. The blue pad goes under your baby's mattress and is able to detect even the most subtle of movements. The microphone device detects breathing sounds and any other noises your baby makes, and those are indicated as movement lights on the receiver unit even if you turn off the sound. The system will trigger an alarm if it does not detect anything for 20 seconds; our tester parents who had a premature baby really loved this feature as it reduced their worries during the night. The full color digital display also shows the temperature in your baby's room to give you confidence that it's not too hot or cold during the night. The receiver unit is portable and automatically recharges when placed in the convenient cradle by the side of your bed. Our parents noted that its range was very long, the sound quality was high, and they loved the extra features (temperature monitor, movement monitor). So there are a ton of great things going for this baby monitor. The cons? Some of our parents mentioned that it was a bit complicated in terms of its lengthy feature list, and another mentioned that it tended to false alarm a lot so they had to turn down the sensitivity of the pad. Overall, parents were very positive about this unit. The biggest challenge at this point is that Angelcare released a new model and it doesn't perform anywhere near as well as the old one. We found it online for about $80.