We sat down and discussed baby registries with over a dozen moms, with combined experience having over 35 babies. We took notes, and they gave ratings for each registry. All had tried at least one registry, and provided us with thorough baby registry reviews, including Babies R Us, Target, Buy Buy Baby, Amazon, WalMart, Pottery Barn Kids, Diapers.com, Babylist.com, and some smaller registries such as Giggle and Magic Beans.
Below we tabulate all of our final results from our research. Note that we update this list every few months, in response to changing terms and conditions of each registry, and in response to changing experiences in our mom community. After our table of results, we give fuller reviews of the top 5 rated baby registries, using five primary criteria for selection: range of available items, competitive prices, fast shipping, easy returns, and overall customer service experience.
Created with Compare Ninja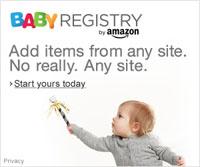 Winner! Amazon.com Baby Registry. We all know that Amazon.com has the largest selection of products on earth. Looking for full nursery sets? Got it. Gliders? Got em. Dressers, changing tables, cribs, toys, small appliances, books? No problem. You can add anything from a small set of receiving blankets to large furniture items, all at extremely competitive prices and with fast shipping (free if spending over $49, or if they have Amazon Prime, and who doesn't!?). Moms who used the Amazon baby registry loved that they could get anything under one roof, and didn't have to make several baby registries to cover all the different things they wanted. They also reported that Amazon customer service was excellent and the return or exchange process (within 90 days) was free and easy, and the gift giver does NOT find out that the gift was returned or exchanged (you can get Amazon credit to use toward other things). There are also a few other great features. First, Amazon uses what's called a universal baby registry, which means that you can add a button to your browser that will allow you to add products to your registry from any other website you might find. For instance, if you find something at Babies R Us that you can't get at Amazon, you can add that item to your Amazon registry with a click of a button. Second, they offer a substantial completion discount of 10-15%. If you sign up for Amazon Prime you'll qualify for the full 15% discount; otherwise, you'll get the default 10% discount. The completion discount is eligible on remaining baby registry items within 30 days of the baby's due date, for up to $5000 worth of items (but must be a one-time purchase, and items must be baby-relevant). This can amount to hefty savings: with Amazon Mom, you'll get a $500 discount on a $3500 purchase of remaining registry items. There is also usually a sweepstakes that you can enter for a chance to win your entire registry for free; obviously not a huge likelihood that you will win, but nice to have the chance. Amazon also has one of the most comprehensive and unbiased item review systems on the internet, with many products having thousands of candid user reviews, so you'll know what you're getting yourself into before deciding on an item. Overall, Amazon's baby registry is a clear winner for many reasons. Negatives? The moms who used Amazon's baby registry didn't report any major problems. One did note that not all items on Amazon are eligible for free 2-day Prime shipping, and sometimes it's nice to be able to visit the store to touch and see actual products rather than ordering only online (which I think is solved by the universal registry system, which allows you to add items from any store). To learn more about creating an Amazon baby registry, click here.

First Runner-up: Target Baby Registry. According to our research, this is the second best baby registry option out there. It was a close second to Amazon, mostly because moms really appreciated that friends and families could buy online or in the store. They also could stop at a Target on the way to visit you (or on the way to your shower) to buy that last minute gift! So Target is definitely a good baby registry option if you have a lot of absent-minded friends and family members who need a convenient option. Target, like Amazon, has a very wide range of products available for registries: they have the little things, like receiving blankets and towels, up to the larger things like dressers, changing tables, cribs, and gliders. Their range of options isn't anywhere near as wide as Amazon, their range of baby-specific options isn't as wide as Babies R Us, and their reviews aren't as comprehensive as Amazon. Regarding selection, Target has recently started the "Add from Anywhere" which allows you to add items to your registry from other websites, which helps with some of the limited selection. But they do have fast shipping and your friends and family are likely familiar with Target and comfortable shopping there. In terms of negatives, if your friends and family buy baby registry items in-store, moms report that the return and exchange process is easy and fast, and the customer service folks are usually very easy to deal with. However, if the items are purchased online, some report horrible customer service (and several phone calls to India), and it's a crap-shoot whether the store will accept a return of an online purchase. Like Amazon, Target also offers a completion discount of 15% off items remaining in your baby registry within 6 weeks of your due date. That discount is 5% higher than the basic Amazon discount (without signing up for Amazon Mom), and starts 2 weeks sooner than the Amazon discount. However, keep in mind that the Amazon prices on many items might actually be lower, and 2-day shipping is free with Amazon Prime, so the net cost might be similar. Also, Target sells many items online-only, which some moms report can make in-store returns difficult or impossible (though Target claims otherwise). To learn more about creating a Target baby registry, click here.

Second Runner-up: Babies R Us Baby Registry . The moms we interviewed showed very high appreciation for the Babies R Us registry, and as many who recommended Amazon and Target also recommended Babies R Us for the best baby registry of the year. Amazon won by a small margin, mostly because their selection and prices are unbeatable, they simply have far more options, and offer free 2-day shipping and free returns which moms noted are both "amazing" and "very reliable." To compete, Babies R Us offers a ton of incentives for new baby registries. These include: endless earnings cash back, with 5% earnings on the first $300 of purchases, and 10% earnings purchases totaling over $300; and earnings are unlimited, and will be given to you in the form of store credit. For instance, if your registry has purchases of $2000 total, you will get $185 in store credit that you can use to purchase almost anything at Babies R Us (some exclusions apply, like gift cards, special orders, etc). They also have a completion discount program; you will receive a postcard in the mail about a month before your due date, and the card will have a 10% discount code that you can use to purchase remaining registry items. Not quite as high as the Amazon 15% discount completion program, and moms note that it's annoying to wait for the postcard and have to do it manually (Amazon and Target automatically activate the discount once you hit a specific date). Apparently there are also some limitations to what is actually eligible for the completion discount: no diapers, formula, furniture, and a few other things. But Babies R Us does offer the best return policy on our list: returns are accepted up to 1 year after purchase! And moms report very little trouble returning things to the store or online. So there are a lot of positives here, making it a great option on our best baby registry list. Here are some more specific negatives: some items are online-only and not available in stores, and some items are the opposite. Online-only purchases returned through the mail get credited to the person who purchased the item (not to you!), so definitely return in-store for credit. To learn more about creating a Babies R Us baby registry, click here.

Luke-warm: Buy Buy Baby . Did you know that Buy Buy Baby is the baby version of Bed, Bath, & Beyond? You might be wondering why you should care. Well, you know those 20% off coupons you get in the mail but rarely use? You can use those at Buy Buy Baby, giving you a potential discount much larger than some of the other baby registry options (but this is only eligible for a single item). Don't get those coupons? Sign up here at Bed Bath and Beyond and they will send you a coupon via email the next day (they'll also send one to your house). Moms reported that Buy Buy Baby offers a slightly larger selection than Babies R Us, and tends to have excellent customer service (as does Babies R Us). Though gift wrapping is an added fee when using the website, Buy Buy Baby does provide free wrapping paper and tape in the store so you can wrap your own gifts purchases. But Buy Buy Baby doesn't have anywhere near as many locations as Babies R Us, and their prices tend to be a bit higher (thought they will price match with Babies R Us or Amazon if you make a fuss). Of course, Buy Buy Baby has a completion discount (10%), but like Pottery Barn Kids, it doesn't start until after baby's due date. They did just update their policy to include free shipping for items over $49 (used to be $99). Moms report that the return process is easy, and customer service is generally excellent. However, a few of our moms had very strong negative things to say about the Buy Buy Baby gift registry, including difficulty returning or exchanging in store without an original receipt. To learn more about the Buy Buy Baby registry, click here.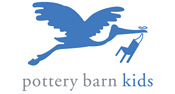 Not so hot: Pottery Barn Kids. Here's an option that is very highly reviewed by the relatively few moms who have actually used it. It's not that it's not a fantastic baby registry (it is), but rather that it tends have more expensive options than our other recommended baby registries, and some moms aren't comfortable asking their friends and family to spend $1300 on a dresser or $1000 on a glider. However, moms note that if your friends and family are comfortable with these prices, the products are definitely very high quality. Pottery Barn Kids does a good job of keeping only options that are soft (blankets, swaddlers, sheets, etc), durable, and have very high customer satisfaction and low returns. In other words, the increased price might be worth it - and in this case, you typically get what you pay for. With Pottery Barn Kids you're paying for higher quality and usually cuter styling. Most moms agreed that Pottery Barn Kids has some of the cutest and most stylish baby registry options out there. So how does it compare in terms of features? Customers can buy online or in store, just like the others. Of course, there aren't as many Pottery Barn Kids stores out there as there are Target or Babies R Us stores (which feel like they're in nearly every town), so it might not be quite as convenient for friends and family. They have a 10% completion discount for a 6 month period, but it only begins AFTER your baby's due date (not before it like the others). If you are having more than one baby (twins, or triplets!) they offer a 10% discount on multiple registry items (so if you ask for 2 of the same blanket, there's a discount). They also have an ongoing $1500 monthly drawing, and your name will be automatically entered into the drawing and you might win that amount towards your registry purchases. Of course, none of the 4 moms who used this registry actually won the monthly drawing, but you gotta be in it to win it, right? To learn more about the Pottery Barn Kids baby registry, click here.