The Best High Chairs of 2022
Starting around 4-5 months, your baby will begin spending a couple hours a day in their high chair: eating meals, snack times, and watching parents prepare meals in the kitchen.
The best high chairs provide postural support for infants exploring first foods, and a sturdy and easily-cleaned place for toddlers eating, growing, and exerting independence! Here are the top 5 high chairs we found, followed by in-depth reviews.
Congratulations - your baby is ready to join you at the table in his or her own special chair! A high chair fills so many different purposes: it is a place to eat, a place to play, a place to explore when starting solid foods, and a place to sit and socialize with the rest of the family. Your baby will use this special high chair for a long time so you want to make sure you choose the right one. But there are so many options out there that it's hard to know where to begin. Well, we did the work for you!
Each year we update our reviews with new high chair releases and updated models, providing summaries of our hands-on testing for versatility, durability, ease of cleaning, comfort, style, safety, and of course price! For more details about how we considered these factors when finding the best high chairs of the year, scroll down to the bottom of this page.
Full disclosure: Some of these high chairs, including the Joovy and 4Moms models, were sent to us as free test samples by the manufacturer.
Here are the Best High Chairs of 2022!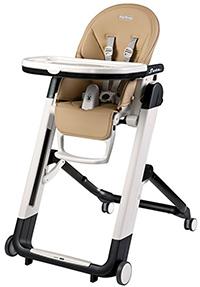 At the top of our list is the Peg Perego Siesta with its superior comfort, durability, versatility, quality, ease of use, and style. Let's start with comfort: the seat provides rigid but soft-cushioned support that helps keep good posture. The fabric is very easy to wipe clean (using some good baby wipes), with a soft faux leather fabric. It uses a 5-point harness that can be unbuckled with one hand, which is a nice touch, and a passive crotch bar that keeps baby from sliding down too low. It reclines between 5 positions, with the farthest back position being like completely laying down. It's not just the back that reclines, it's the entire seat, which is a nice touch. The height is also very adjustable, between 9 positions, going up considerably higher than the other chairs we tested. In fact, at its highest level it was just about high enough to fit under our pub-style dining room table and use at our kitchen breakfast bar. The foot-rest also adjusts by swinging up and down, and all of the adjustments were very easy to use and intuitive, and we loved the fact that you can fold up the entire high chair to be about the size of a stroller, allowing you to quickly throw it in the closet or trunk.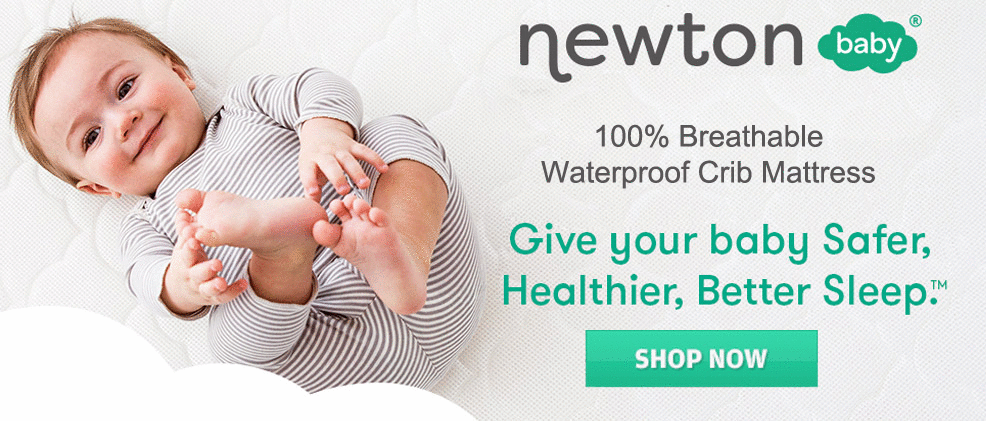 Don't let the sleek styling fool you, we also thought this high chair was super rigid and durable. Our kids climbed all over it and it didn't flinch, ready to stand the test of time. We thought the build quality is fantastic. The tray is stellar, can be removed with one hand, and also has a removable tray liner (with a nice cup holder area) for easy cleanup. The high chair claims to accommodate from birth up to 45 pounds, though the crotch bar made it uncomfortable for our 4-year-old test child. Take all of those excellent features and combine it with the high build quality and sleek styling, and you've got yourself a clear winner that really can grow with your child. That is, if you're willing to cough up about $300 to get it. If not, check out some of the less expensive options below. The only downfall we found with this high chair was that the cover is not machine washable. Who else loves the Peg Perego Siesta? Our friends at Babygearlab, TheBump, and WhatToExpect call it a top pick! Impressed? You can check out the Peg Perego Siesta here.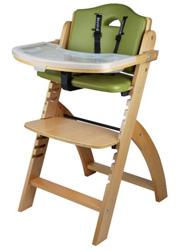 Close to the top of our list for several reasons, the Abiie Beyond is a great compromise between an expensive rigid upright ergonomic high chair (like the Tripp Trapp) and a more traditional plastic (like a 4-in-1) high chair. This high chair is versatile, comfortable, safe and secure, durable, and easy to clean. It is perfect for babies from 6-months and up, but can be adjusted to suit even an adult (at an extreme) with its awesome slot-based adjustment system. The chair uses the popular contemporary ergonomic design but with smaller babies in mind, including padding, 5-point harness, a bar between the legs (to stop sliding), and an adorable and detachable easy-clean tray. The simple design makes it easy to clean with minimal nooks and crannies to capture and collect food, no cloth cover to become crusty and dirty, and it also has an antimicrobial finish to prevent the nasties from building up on the wood surface. The tray is dishwasher friendly, the cushions are water resistant, and the wood is biodegradable beech sustainably sourced in Europe. The 5-point harness can be converted to a 3-point safety harness as your baby grows.
In our testing, the Abiie was awesome! We loved the style and how sturdy the entire high chair felt. The harness was easy to use, the opaque plastic tray easily detached and laid nearly flat on the counter, and the crotch bar, back, and foot rest encourage a really nice upright seating position that helps with gas and reflux. But one of best things about this high chair is that it's truly versatile: you can adjust the seat height and foot-rest height to ensure awesome support for a range of ages. Keep that back upright and those knees at a 90-degree angle with the feet flat on the foot-rest, and you've got yourself some awesome ergonomic support to help with posture, swallowing, and digestion. Cons? The tray would benefit from more positions for adjustment, and cleaning could be easier. Nothing huge, and definitely not tempering our enthusiasm for this option! Who else loves the Abiie Beyond? It's also a top-pick by our friends at TheBump and WhattoExpect. Interested? You can check out the Abiie Beyond here.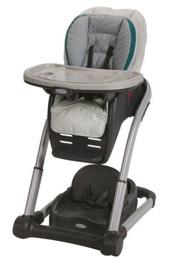 The Graco Blossom 4in1 convertible high chair is Graco's top-rated high chair, coming in around the same price as the Abiie. We think choosing between the Graco and Abiie comes down to two things. First, if you want to do infant feeding in a high chair (like with a bottle), this high chair has the correct padding and three recline settings for newborn babies. The Abiie, in contrast, is recommended only for about 6 months and up. The second primary difference is the ergonomics/posture issue. Notice how the back is not quite straight up enough, and there is no foot-rest. So, this option doesn't promote good posture (and digestion or swallowing) like the Abiie. But where it doesn't have the posture support, it makes up in versatility, convenience, and comfort. This high chair converts in several ways: use it as a full-on high chair (as pictured, up to 40lbs), an infant feeding booster (attached to your dining chair, up to 60lbs), a toddler booster (without the tray or high back, up to 60lbs), and a youth chair that can position kids up to about the 4th birthday (or 60lbs). That's quite good, though the weight limit is much lower than the Abiie.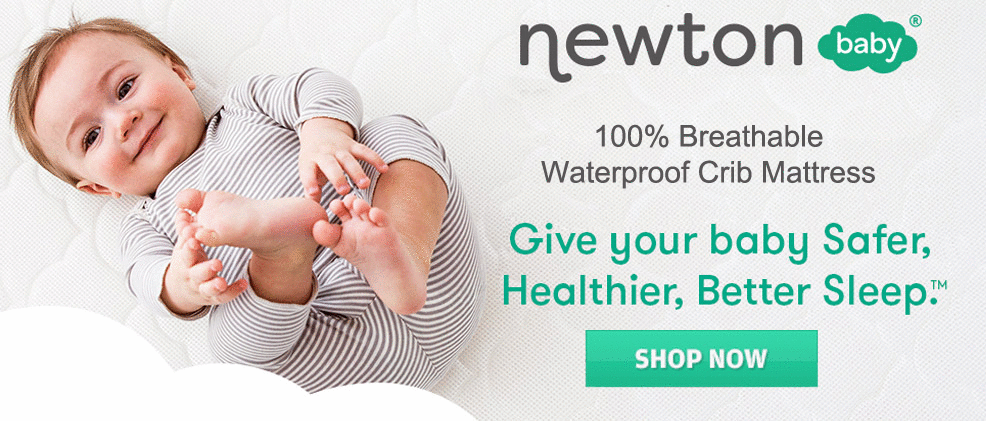 It has six height adjustments to accommodate most table heights (even a kitchen breakfast counter or pub-style table). It is also very comfortable with its supportive seat and thick padding. Also, some very convenient features, like removing the tray with only one hand, and a tray liner that can go in the dishwasher. You can also machine wash the seat cushion, which is very helpful. Another great feature is that it can seat two kids at the same time. For instance, if you have kids about 1-2 years apart, the baby can be in the high chair while the toddler uses the included booster attached to a dining room chair. So overall you can't go wrong with this chair unless you're interested in more ergonomically appropriate chairs like the Abiie, Keekaroo, or Tripp Trapp. If you want a great Graco high chair without the 4-in-1 convertible high chair versatility, we recommend the Graco TableFit. Who else loves the Graco Blossom high chair? Our friends at Babylist, Babygearlab, and TheBump call it a top pick! Interested? You can check out this Graco Blossom high chair here.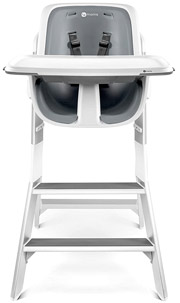 4moms makes some of the most innovative baby products on the market, including the popular mamaRoo and rockaRoo baby swings. The 4moms products are expensive but also very high quality, and their high chair is no exception. For innovation, it offers the only magnetic tray on the market. What is a magnetic tray? Two things: first, the tray uses magnets on each side to attach and detach from the chair, and second, there are magnets hidden under the tray that can be used to position cups, bowls, and plates securely. Of course, compatible magnetic dinnerware accessories would need to be purchased separately (stainless bowls, plates, and cups work too). If you haven't begun to start solid foods with your babies, you may not realize how important this magnetic feature is. Imagine seating a racoon in the high chair with its flailing arms knocking everything off the tray; that's basically your baby, but hopefully not as furry. It's not the perfect solution for a highly determined baby, but it's a good step towards sanity. The magnet works best without the tray liner inserted, and is strongest near the center of the tray. Speaking of the tray, it has adjustable depth, lays flat when removed, and the removable tray liner can fit in the dishwasher. A few other small features are worth mentioning. First, the foam padding on the seat is completely removable and washable (as is the harness), which is super helpful after a food disaster or diaper blowout. Second, it's lightweight while maintaining adjustable height, and has a small footprint. In our testing, we thought the seat cushion was comfortable and helps keep babies positioned appropriately along with the crotch bar. We loved the adjustable tray depth, the 60-pound weight limit, adjustable leg height, and how easy it is to use and clean the tray. However, we also thought that the seatback was relatively low height, and were discouraged by the lack of wheels, seat recline, and folding. Another silly point is that the magnetic tray can be kicked or pushed off by a feisty toddler. Not huge deals, but you might be expecting more from a $300 high chair! Overall, we really like the 4moms high chair, and think it's a great addition to our list! Who else loves the 4moms high chair? Our friends at WhatToExpect and The Bump call it a top pick! Interested? You can check out the Peg Perego Siesta here.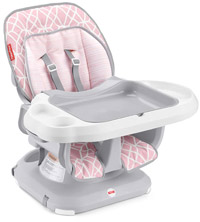 If you already have dining room chairs and a matching table, why get a high chair with legs? If you're looking for the perfect high chair to attach to your dining room chairs, this is the one to get! The Fisher Price SpaceSaver is definitely appropriately named - it doesn't take up any additional space than the chair you attach it to, making it a great option for smaller homes and apartments, and for parents looking to cut down on the unnecessary baby gear scattered around the house. The other great features of this high chair include adjustable height (2 heights) to make it perfect for your specific table and chairs, and adjustable recline (3 recline settings) for babies who still have some difficulties sitting upright but would like to join the family at the dinner table. A couple of additional awesome features: the entire seat, tray, and tray insert are dishwasher safe! It has a 5-point harness that converts to a 3-point harness for older kids, the main part of the tray has a detachable tray insert, the tray itself has very deep areas for food and cups, and the insert is easy to remove and machine washable. There is another little convenience feature that lets you attach the tray to the back of the seat for storage, but we didn't find that very useful since the back is up against the chair when attached. In our testing, we thought the seat was easy to assemble and attach to the chair, and everything was easy to use including the harness, height adjustment, and recline. The tray was simple to take on and off. There were a few little things worth mentioning. First, the seat isn't very stable or sturdy when your baby exceeds about 25 pounds, it can get a little wobbly if your baby shifts his or her weight around a bit. We also didn't like how the tray insert doesn't snap into place on the main tray. But realistically, this is also a $50 high chair with some serious capability and versatility, and we think it offers great bang for the buck! Who else recommends the Fisher Price SpaceSaver high chair? Our friends at Babylist, The Bump, and WhatToExpect! Interested? You can check out the Fisher Price SpaceSaver here.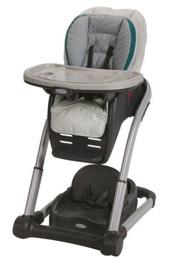 Keep it simple, silly! The IKEA does most tasks, and does them reasonably well. Coming in at only 20 bucks, it's a no-brainer solution for most families, as long as they are OK with the simplicity and IKEA styling. The IKEA Antilop comes in at under 8 pounds, is smaller than most high chairs on this list, and has a very sleek design that won't clutter even the most contemporary homes. The age range is a bit restricted relative to other options because you can only begin using the Antilop once your child can sit on their own unsupported, and then the maximum weight is 33 pounds (or 3 years old). Reasonably, you'll get about 2 years of use out of the Antilop. Given the low price, that's less than 3 cents per day, or 1 cent per meal! Cheap and simple, but you probably knew that already - it's IKEA afterall!
But how does it perform? If you're like us, you get the feeling of dread everytime you think about assembling an IKEA product. All the different pieces and screws and vague instructions are enough to drive anyone insane! But the Antilop is surprisingly different. Out of the box, you simply flip the seat over and snap the legs on. Buckle your baby in, using the three-point seat belt, and you're ready to go! If you need to adjust the seat tightness, you can do so using the adjustments found underneath the seat. The tray snaps on just as easily: tilt it up and put the two ends into the slots, then lower the front of the tray down into position. From opening the box to feeding your child, assembly takes about 5 minutes, and no tools are required. The top of the high chair tray sits about 28" off the floor, which is a great height for most dining room tables. The seat depth is about 8" and the seat back height is about 14". There is no padding on the seat, but there is a nice crotch bar to stop kiddos from sliding down. Chunky legs can get a little tight in the leg slots, but the size is perfect for little ones from about 6-7 months up to about 24-30 months old depending on size. There are two cons with this design. First is that as your child gets bigger, pulling them up and out of the seat can be challenging. Second is that the you need to tilt the tray towards your child to attach or remove it, which means that anything on the tray might spill or fall onto your child's lap or into the seat. Other than that, the high chair is exactly what we expected from IKEA: functional, simple, stylish, and inexpensive. We think it will be sufficient for most families, save for those little nuisances. Who else loves the IKEA Antilop high chair? Our friends at Babylist and The Wirecutter call it a top pick! Interested? You can check out this IKEA Antilop high chair here.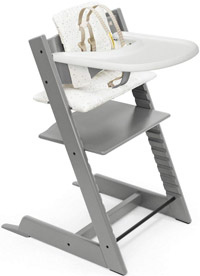 The Stokke Tripp Trapp high chair is among the best of the best, widely recommended by infant feeding specialists and therapists for its ergonomic seating position that facilitates swallowing and digestion, and minimizing gas and reflux. Looking at the style of the Tripp Trapp, you won't be surprised to learn that it's made in Europe by a Norwegian company with a flare for Scandinavian design, using beech and oak wood sustainably sourced from European forests. That distinctive style is also extremely durable and versatile. Our family has had two Tripp Trapp chairs from when our children were 7 months old until now (9 and 11 years old!), and they continue to use them at their desks. That's right - these high chairs have serious versatility that will last your family for a decade or more, and once they're done being used as a high chair they can be used as a regular chair with awesome ergonomics. The foot rest and seat can be adjusted across the full range of 15 positions; as your child grows, you first phase out of the padded infant positioner, then the tray, and then eventually you'll phase out of the foot rest when their feet can touch the floor with their knees at a 90-degree angle (likely around 10 years old). That's some seriously extreme versatility, and honestly our Tripp Trapps are like new after over 10 years of use, which is a strong testament to their durability. That shouldn't be entirely surprising given the simplicity of their design and the quality of wood and metal components. All that adjustability also means that you can easily modify the height of the seat and foot rest to make it fit nearly any dining room table height, for when your toddler is ready to join the family at the table. From the start, the Tripp Trapp makes a great infant and toddler high chair with excellent posture, the right supports and comfort, and a nice large (and lay-flat!) tray. The infant positioner attachment is a little awkward to get an infant's legs into and out of, which is our primary gripe with this seat. The trade-off is that your child will be very nicely supported, almost like in a baby swing at the playground, and they cannot possibly slouch or slide their bum down. Another great aspect of this chair is that cleaning is super easy: the fabric padding can be machine washed, and the plastic infant positioner and the entire wooden frame can be wiped down easily. There are no major nooks or crannies for food to fall into. We've even taken the frame outside and hosed it down once to get off a bunch of finger paint (and dried it off immediately after), and it worked out really well and didn't affect the finish. Overall, we love the Tripp Trapp, but with two primary cons: first, the infant positioning setup is a little awkward to use, and second, the price is a little outrageous! If you can stomach the price, we think this is a great option! Who else loves the Tripp Trapp? It's recommended by our friends at Babylist, Babygearlab, TheBump, and WhatToExpect! Interested? You can check out the Tripp Trapp here.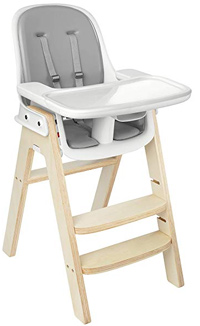 The OXO Tot Sprout is a relatively no-frills option that is comfortable, well built, and has some great features. For those looking for the OXO Tot Seedling, it was recently discontinued and replaced by this relatively modern option. In our testing, out of the box the Sprout took about 15 minutes to assemble using the included Allen wrench and our own screwdriver. Once it was assembled we thought it was really impressive - the seat itself was very comfortable, with soft and easily wipe-cleaned padding that fit well. It has a 5-point harness restraint, can support babies from 6 months to 60 pounds (about 5-7 years of age), and comes in several modern color options. The tray is dishwasher friendly and easy to slide on and off with only one hand. The tray also sits flat on the counter because the crotch post stays attached to the chair, which is much more convenient than a tray with the crotch post attached. The height is adjustable, though the range isn't super impressive overall; the seat depth is also adjustable, which is pretty unique, and the footrest can also be moved up and down between 4 positions. What's also great about this high chair is that it's convertible from the full high chair to just the toddler seat that can be attached to your own dining room chairs. In fact, the entire crotch post can be removed for this later phase, making things more comfortable and appropriate for a growing child's seating position. Another thing we liked is how heavy and sturdy it was. It's not on roller wheels like most other options, but it does take up an impressively small amount of space and has a very sturdy base. Of course, not having wheels is a bit of a downside because it makes it harder to scoot the chair forward and back without dragging on the floor. A couple other minor gripes: the seat pad is comfy but it creates a lot of nooks and crannies where food gets stuck, making it harder to clean. There is also no recline feature to make the chair more suitable for infants. OXO says 6 months, but you need to be sure your baby can sit on their own and have great head and neck control before placing them in this upright position. While the seat height is adjustable, the tray height doesn't change with it, making it less suitable for positioning near varied table heights. Even with these little cons, we think the Sprout is a great high chair option with some small drawbacks, and a somewhat steep price. And we're not the only ones - this chair is also a top-pick by our friends at Babylist and WhatToExpect. Interested? Good luck trying to find it, it's either been discontinued or it's simply out of stock everywhere you look! You can try to find it at the OXO website here.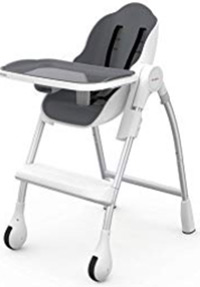 This is a relatively new option on the high chair market, and we didn't get our hands on it for testing until the middle of last year. Oribel makes some high-quality baby products with sleek contemporary styling; this high chair is no exception, with its minimalist design and a sleek shape. Not only are their products stylish and high-quality, but they also tend to have a lot of features. This high chair has a lot of great ones, including front wheels, adjustable height (6 positions), adjustable recline (3 positions), removable and dishwasher friendly tray liner, folding for easy storage, detachable parent tray for feeding without the main tray, and decent weight capacity (45 pounds). Like most of the high chairs on this list, it has a minimum age of 6 months, which is perfect for beginning to explore first baby cereals like oatmeal (see the best baby foods here). It uses a 5-point safety harness with 3 shoulder height adjustments, and the tray includes a crotch bar (safety post) to prevent babies from sliding down (though the seat belt helps with that too). The seat surface is rubberized like the inside of a baby bath tub, making it less slippery and easier to clean, and the corners are all rounded so crumbs and liquids don't get trapped and smelly. We liked that it can be reclined pretty far back for early self-feeding with a bottle, and that the tray doesn't need to be attached for this configuration (the parent tray was helpful for this too). In fact, when you're not using the main tray you can attach it to the back legs with a cool magnet system; that was a nice touch, especially considering the tray has the safety post built in so it's really awkward to place on a counter or anywhere else. In our testing, we found the high chair to be pretty simple to assemble, sturdy and safe, and versatile in its adjustments. But we also found a few drawbacks that are worth considering. First, the seating surface is a bit firm for our tastes; it's super easy to clean but it's a bit of a pain in the butt (literally) for toddlers sitting in it for extended periods of time. Note that Oribel does make a Cocoon seat liner that adds cloth padding, but it's an extra 40 bucks on top of an already expensive high chair. Second, the overall high chair is large and takes up a hefty foot-print in your dining room (nearly 6 square feet), so keep that in mind for relatively constrained spaces (apartments, condos, small houses). Of course, this means that some important things are large - like the huge feeding tray, and the wide stance makes it more stable. Finally, when comparing it to the OXO Tot, we thought that the bang for the buck wasn't quite there given its price point around $200, but if you value the styling you might not be too concerned about the price. Overall, this is another excellent high chair to consider, with some contemporary style and decent features. Also, some limitations, but certainly worthy of its spot near the top high chair list! Who else likes the Oribel Cocoon? Our friends at WhattoExpect call it a top pick! Interested? You can check out this Oribel Cocoon high chair here.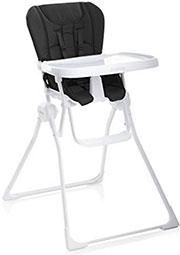 This is a bit different from the other options on our list. It's not as versatile in terms of having a detachable seat or booster, or the multiple height adjustments with suitability into really high ages. Like the Abiie, this high chair has a minimum age of 6 months, but it only goes up to a 50lb weight limit. But it is also one of the lightest and most compact on the list. Coming in at only 15lbs, and having the ability to fold down to 24" x 28" at only 9" thick. So, you could throw that into your trunk, into an overhead bin on an airplane, in the back of a Wrangler, or in the closet for storage. Grandparents love this option for when the grandkids visit! It's great that it folds, but you lose some of the other height, recline, and size/age versatility of the above options. But it also has some unique features that are worth considering. First, the tray includes a removable insert for the dishwasher and a little cupholder area that's great both for sippy cups or baby bottles but also as a little bowl for snacks. Speaking of the tray, it also swings out so you don't need to lift it off and put it somewhere just to get the baby out. There is also a foot-rest to help with posture a bit, and the back isn't excessively reclined. Regarding safety, we liked the 5-point harness, the bar between the legs to stop the baby from sliding down, and the nice sturdy and wide stance (even though at first glance it looks like it wouldn't be). The only downfall other than the ones we've already listed is we think it would be beneficial if the tray would come in a bit closer to the baby. As is, there is a bigger gap between the baby's belly and the tray than with most other options. Not a big deal, but worth mentioning. Also worth mentioning is that the cover is a nice soft leatherette that is really easy to wipe clean, and gives a nice padded seat for baby. Overall, this is a great high chair, and the best folding high chair on the market (especially for only about $120)! This chair is also a top-pick by our friends at Babygearlab and TheBump. Interested? You can check out this Joovy Nook high chair here!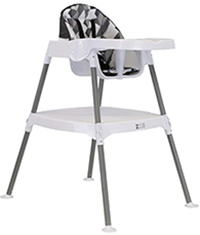 When this product was first released, it was available as the Evenflo high chair and as the ZOE high chair, with slightly different color options. The ZOE seems to have been discontinued this year, so this review now only applies to the Evenflo model. This is a convertible high chair, which means that it can be used as a traditional high chair but also in several other ways; specifically, the seat can be removed from the base so that you have a chair and a table, and you can use that with or without the harness, and with or without the tray. So that gives you some nice flexibility: rather than purchasing a separate play table and chair for your baby or toddler, you can simply reconfigure the high chair. Is reconfiguring easy? It really wasn't that bad, the clips on the base of the chair (where the chair lets meet the table) were easy to pop on and off. Overall, the high chair is pretty simplistic other than its reconfigurable uses. It uses a simple plastic and aluminum design, a somewhat thin seat cushion and fabric, and a relatively small tray. The tray was easy to pop on and off the chair, though it is either completely on or off, you cannot leave one side fastened and swing it open. Speaking of the tray, it also has the long center piece that sticks down between the legs, which means that it can't simply be placed on the counter and stand on its own. That's a bit of a pain, though we do like that the bar isn't permanently attached to the seat, so it can be more flexibly used as a regular chair. A little more about the tray - it is not adjustable at all, so you can't move it closer or farther away from your baby. If your baby is really small, that means there will be a big gap, and if they are getting bigger or have a big tummy, that means they might be pushing up against the tray a bit. The harness and buckle are easy to use, and the entire high chair (when assembled) is easy to wipe clean. A few small things about cleaning: when the tray is removed it leaves a little cup-like spot that collects food and liquid, and is a pain to clean. And when the table is detached and being used, it has big holes at the corners, which are perfect places to accumulate food, play-doh, and other gunk. Other than those minor annoyances, we really liked this high chair. It could benefit from more adjustability for the tray and overall height, but it is overall easy to clean, versatile, safe and stable, and a good height for most dining room tables. Probably worth the relatively low price tag (about $55) if you're looking for a good quality but cheap high chair that will last you several years. Interested? You can check out this Evenflo high chair here!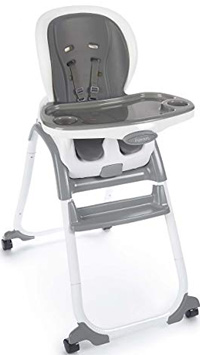 This is a 3-in-1 high chair with some awesome features and versatility. First, let's talk about the SmartClean aspect - this high chair uses a completely washable and wipeable design without an annoying cloth cover to machine wash, shrink, rip, or misplace. Instead, you take a wipe and clean it off - did it get really dirty? Take it outside and hose it down! Second, it uses an adjustable-height 5-point harness that can be easily removed (with one hand) and washed, and an adjustable tray with 4 positions. Third, it has an easily removable high chair tray insert with spots for a sippy cup or bottle and a snack area. We washed it on the top rack in the dishwasher and it didn't warp or otherwise get ruined, and it sits flat on the counter which is nice. Fourth, it works in three ways: as a full-height high chair that you can pull up to your table or kitchen counter, as a booster high chair that you can attach to your dining room chair (with tray and all), or as a toddler chair (without the tray). It's a great option if you have a toddler around 2 years old and are having a second baby - you can put the baby in the booster high chair on a dining room chair, and put the toddler in the toddler chair. For reference, the height from the wheels to the tray is about 30", and the entire chair stands about 44" high (to the back of the seat). The height doesn't adjust, and while it's nice having a foot rest, it doesn't adjust either. In our testing, everything worked fine though we did think it felt overall a little bit flimsy for an $80 high chair. The tray worked really well, the wheels were fine (they can be locked), and the chair was really easy to wipe clean. Cons? We found a few. First, there's no recline so it's not really suitable for smaller babies who haven't gained good torso, head, and neck control. Second, it's really huge, taking up a really large footprint in your dining room, and it doesn't fold for storage. So definitely some good aspects with some decent limitations to consider. Interested? You can check out this Ingenuity Trio Elite high chair here.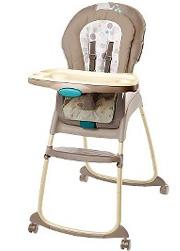 This is a very similar option to the Graco Blossom, but without the detachable booster seat to put on your dining room chair. Instead, the Ingenuity Trio 3in1 deluxe convertible high chair has a third-stage booster that stays attached to the legs and wheels, which sometimes makes it difficult to pull the growing baby up to the table (since the wheels can hit the table legs or sides). Outside of that, it does a very similar conversion, and here are the three stages of the seating system: first, it can be used as a full-on high chair (as pictured) with three recline positions (and a removable infant pad). Second, it can be detached from the legs/wheels and attached to a dining room chair (with the back, and tray if wanted). Third, it can be used as a (rather uncomfortable) booster seat toddler's chair that is still attached to the legs and wheels, as we mentioned. Regardless of how you're using it, there is a 50lb weight limit, 10lb less than the Graco. The Ingenuity uses a clever design to switch between the 3 stages, with the high chair seat itself attaching atop of the booster part, with the booster part permanently attached to the legs and wheels. Like the Graco, this design allows you to use the high chair seat attached to a dining room chair and the booster at the same time (in case you have 2 kids about 1-2 years apart from each other in age). The tray and tray insert are dishwasher friendly, and removing the tray was super easy. The cover/pad is machine washable. It is safe, with a 5-point harness for infants and 3-point safety harness for toddlers. Cons? Well, the high chair overall isn't quite as sturdy as the above options, and it's not the same ergonomic quality as the Abiie, Keekaroo, or Tripp Trapp. Also, we found it odd that the wheels don't actually spin, just slide across the floor (so I guess they're not really wheels at all!). And it doesn't fold for storage, but neither do most of our other options (but see #5). Overall, a great convertible high chair option with some small drawbacks and a great price. Interested? You can check out this Ingenuity Trio high chair here.
Discontinued High Chairs.
Baby Bjorn High Chair. We really liked the popular Baby Bjorn high chair, with its simple modern style and high build quality. Unfortunately, the Baby Bjorn high chair was discontinued as of last year.
Boon Flair High Chair. This retro-style high chair was super popular for a couple years, bringing back Jetson family vibes while maintaining great functionality. Unfortunately, it is extremely difficult to find now unless you're buying used, and to our knowledge it has been discontinued.
ZOE High Chair. This was an interesting high chair because it was basically identical with the Evenflo convertible high chair, with some slightly different style and color options. Then ZOE modified the design a bit, and then seems to have discontinued it entirely.
How to Pick a High Chair: Factors to Consider
Versatility
Just like a good convertible car seat, the best high-chairs will grow with your baby, from infant to toddler and right through the later years. Some chairs start as stand-alone high chairs that you pull right up to the dinner table, then the seat/booster portion pops off and straps to your dining room chair, first with the tray attached and then without the tray (using your table instead of the tray).
Good examples of this concept are the Graco Blossom 6-in-1, or the Ingenuity Trio 3-in-1, both of which grow with your baby. Some others provide a full range of adjustability so that you never need to use one of your dining room chairs; instead, they have an adjustable seat and foot-rest height that can suit from baby all the way up to basically an adult (like the Abiie Beyond, or the Stokke Tripp Trapp). These are the best ergonomically supportive chairs, recommended by physical and occupational therapists.
The reason these professionals care about the ergonomics of a high chair is that it turns out that the position of your baby is very important for supporting swallowing, digestion, and posture. The more upright your baby the easier to swallow and the less likely they will get indigestion and gas during or after eating. These are highly recommended for babies with sensory needs, low muscle tone, or special needs.
Unfortunately the most ergonomically appropriate high chairs also tend to be the most expensive, and some of them (like the Stokke Tripp Trapp) are relatively uncomfortable, and don't do a great job supporting the shoulders and head of a younger baby. Note that we also tried out the Skip Hop Duo Convertible High Chair. It converts from a typical high chair to a toddler chair without the tray and harness, but can be used at the dining room table or elsewhere (like at an arts and crafts table). But we found the tray really finicky to use, the safety harness was difficult to use, and we weren't impressed with the levels of comfort or adjustability. We consider each high chair's versatility and support in our reviews.
Durability & Cleaning
If you want your high chair to last several years, and maybe even be used by several children, it needs to be durable. Many high chairs have flimsy tray mechanisms, unreliable caster wheels, and height adjustments that break after a few months. There are also several high chairs out there without easily removed parts and covers for cleaning. High chairs get disgusting - Cheerios crumbs, spilled milk and juice, squished fruits and vegetables, and rotting purees.
The last thing you want is a chair that doesn't make cleaning convenient - if it's hard to clean, you'll find yourself cursing your purchase decision on a weekly basis! Trays should pop off and clean easily (and in the dishwasher if possible), cloth covers should be machine washable, and there shouldn't be too many nooks and crannies to capture and store crumbs. Turns out that's a lot to ask for in a high chair under $250, but we try our best to find you the biggest bang for the buck. Our best high chairs list only includes options with a strong reputation for making durable products, and options that are relatively easy to keep clean.
Comfort and Style
There are always trade-offs between how cute and stylish a baby product is, and how comfortable it is. Just like a great pair of shoes, you want to find the perfect balance between something that will look great and you actually will want to use. If you want to use the high chair for an infant, you need to make sure it has the appropriate supports and harnesses; you don't want a drooping baby and floppy head in an unsupportive chair. If you're going to use a high chair for an infant to start food exploration, you want a chair that has sufficient padding (just like a good infant car seat) and a 5-point harness.
If you're looking for a baby over 6-8 months, they will likely be a bit better at supporting their head and body and you won't need as much padding for comfort and support. Then there's the style aspect. That's a hard one, and a matter of personal preference. We tend to like the more contemporary designs, with sleek lines and simple designs. But many of our readers like the more traditional styles, like the traditional spindle wooden high chairs. So we give you our best of list below, and do our best to find the options that will appeal to the widest set of parents!
Safe and Sound
High chairs come with a range of harness options and features, and vary in their stability and fit. All infants should be secured with a five-point harness to prevent sliding out, falling out, or climbing out. Toddlers will likely only need the lap belt portion, and preferably a strap that goes between the legs to prevent sliding down (this can also be accomplished with a leg divider built in to the seat).
In addition to securing your baby, you also need to worry about tipping risk. Babies can be movers and shakers, so you want to make sure the high chair is stable with a wide base of support to prevent tipping. If your baby kicks against the edge of your dining room table you want the high chair to roll back or do nothing, not tip backwards. We take safety very seriously here at mommyhood101, and tried our best to find the high chairs that should keep your baby safe and sound.
Travel Options
By the way, speaking of versatility if you're looking for a convenient travel high chair that will stuff into your diaper bag and can attach to basically any chair, be sure to check out a portable high chair. Another great convertible high chair option is Fisher Price Healthy Care high chair, which has some fun toys on the tray. We like to keep eating and toys separate to minimize distraction during eating, and avoid getting the toys really dirty, so the Healthy Care high chair didn't make it onto our list.
The opposite of the Healthy Care is the Ikea Antilop high chair that's only about $20 and is the simplest high chair you'll ever experience. It's fine, but is excessively simple and, frankly, uncomfortable. There are several types of high chairs available. Another option we evaluated is the Fisher Price Space Saver high chair, which attaches directly to your dining chairs. The problem we found was that the seating position was never quite right at the table, and the high chair always seemed a bit far from the table.