The Best Nursery Humidifiers of 2022
Whether you're combating the winter's dry air or helping your baby recover from the symptoms of a cold, a humidifier is a great way to moisten the air in your little one's nursery.
An essential element for any prepared parent, a humidifier can help soothe a dry and scratchy throat, clear a stuffy nose, or help the other symptoms of a cold or croup. The result? Better sleep! Below are the top 5 baby humidifiers we've found, followed by in-depth reviews.
How is a nursery humidifier different from any other humidifier? Unless you're looking for a cutesy humidifier, the only real difference is which features you need to prioritize: a good humidifier will not only moisten the air but also be dimly lit, whisper quiet, have an auto-off function, and demand very low maintenance. The last thing you want to do is wake your baby with a loud humidifier, bright lights, or need to worry about shutting it off in the middle of the night.
Nurseries can get very dry in the winter, especially if you have forced-air heat or like to keep the house on the warmer side. That dry air can exacerbate the symptoms of the common cold and make for an uncomfortable sleeping experience. Turn on the humidifier about an hour before naps or bedtime to prepare the room for your baby or toddler, and keep it running on low during naps and overnight.
Pro-tip: Always use distilled water and not tap water, which can be purchased at your local grocery store, to avoid common humidifier issues such as a white mist on furniture, brown build-up inside, and premature failure.
Full disclosure: Some of these humidifiers, including the Taotronics, Miro, and Safety 1st models, were sent to us as free test samples by the manufacturer.
Here are the Best Nursery Humidifiers of 2022!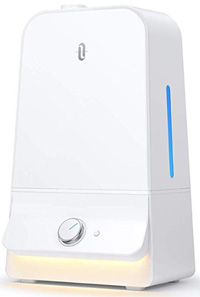 About $60. TaoTronics consistently impresses us with their quality, features, reliability, and price. This cool-mist humidifier packs a huge 6 liter tank capacity that blows most other humidifiers out of the water (pun intended)! That capacity makes this humidifier run for nearly 60 hours straight on the lowest setting. Yes, 60 hours! We didn't believe it when we read the specs, but in our testing it lasted 58.5 hours - which was amazing because we used it through 5 straight nights in a row without refilling. Of course, you'll probably run it at something more like medium mist, but even with that setting we got it to run for 2-3 nights in a row. Every parent needs one less thing to worry about during the day, and we'll take all the help we can get! In terms of functionality, this is the quietest humidifier we've ever tested - it's truly whisper quiet (under 26dB!) which makes it really ideal for a nursery. No glug-glug sounds every 30 minutes that are so typical with other humidifiers. No, it doesn't look like an adorable teddy bear or elegant accessory, but you can't argue with this functionality. Refill is easy and similar to other humidifiers, and the wide refill opening was a nice touch. No filters to clean, and no risk of steam burns that you get with a warm mist unit. It does have a subtle warm yellow glowing night light on the bottom, but that can be turned off using the button up front.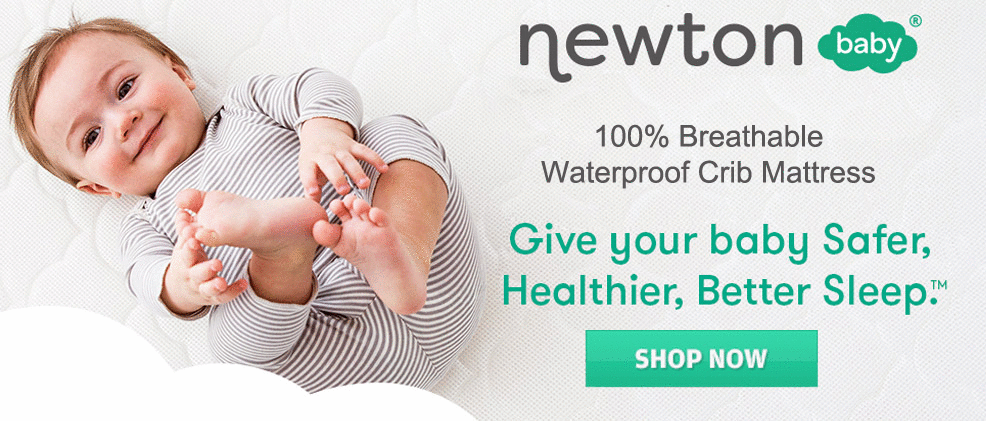 Note also that light turns red when the water level is low, which is a nice feature. Speaking of lights, you can turn on Sleep mode and all of the lights turn off, including the digital screen, which is perfect for a dark nursery. Additional customizations let you set the humidity level to whatever you'd like, set an auto-off timer (1-12 hours), and rotate the mist nozzle to point wherever you'd prefer. Cons? Nothing really. It's not for use with aromas or essential oils, if you're looking for that. Also, because the tank capacity is so large you'll likely need to fill it in your kitchen sink or in the bath tub, since the tank may not fit under the faucet in a smaller bathroom sink. Overall, we fell in love with this humidifier and have been using it for over a year now without any issues! Who else loves the Taotronics humidifiers? Our friends at WhatToExpect, Babygearlab, and The Bump consider them a top pick! Impressed? You can check out the TaoTronics 6L Nursery Humidifier here.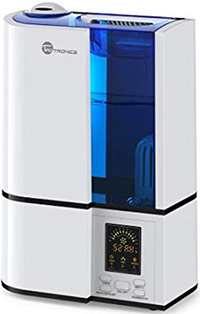 About $50. This humidifier offers the overall best features at a truly excellent price. This unit has 3 different speed settings (low, med, high): the low setting is super quiet, and the medium and high settings are still very quiet overall. Taotronics is known for producing very high quality humidifiers, but also for their relatively large tank sizes - this one is no exception, with its ample-sized 4 liter tank (just over a gallon of water). It is rated for up to 30 hours of humidifying (at its low setting), and in our testing we got 2 nights on medium setting (about 10 hour nights), and about 1.5 nights (about 15 hours) on high setting. This humidifier also has several advanced features and a nice LED screen. It has a built-in humidity meter to tell you what the current conditions are in the room, and let you set a desired humidity level. It has an auto-off timer you can set at night, a rotating nozzle, a night light, and a sleek profile.
It has a very quiet operation (less than 38dB), with only a very subtle glug-glug noise ever 15-20 minutes. Nothing that would wake up your baby, and frankly we find it somewhat peaceful. Speaking of waking up your baby, the sleep mode turns off the light and LED screen, which we love. Cleaning is the same as the other units: clean out the tank and brush off the metal ring. The reliability on this unit is fantastic, and the company is very responsive to any questions or concerns. Just like with the 6L Taotronics, above, the tank is a bit larger than some others so it will likely need to be filled in your kitchen sink. Other than that, there are no other drawbacks to this humidifier that we could find. Not for use with aromas or essential oils (see below for that). Definitely highly recommended as an excellent, high-capacity and high-tech nursery humidifier. Who else loves the Taotronics humidifiers? Our friends at WhatToExpect, Babygearlab, and The Bump consider them a top pick! Interested? You can check it out here.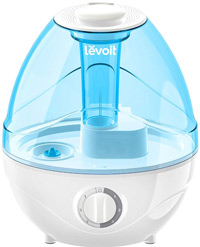 About $40. Looking for a nursery humidifier with smaller footprint, a fully see-through tank, and basic functionality at a relatively low price? The Levoit could be the perfect option for you! While the Taotronics options are definitely not cutesy, the Levoit takes a step in that direction with a baby blue or light pink tank option. When the nightlight is on, it creates a nice blue or pink glow in the nursery, and it can be turned off using the front knob. The knob is a unique design, with three humidifier intensities (low, medium, high): if you turn the knob clockwise to 1, 2, or 3, the nightlight will be off, but if you turn it counter-clockwise to those settings, the nightlight will be on. This is a clever way to do it, rather than using a separate nightlight button. The tank is on the smaller side (2.4L or 0.63 gallons), making it easier to fill in your bathroom sink, and taking up less space in the nursery. In our testing, the low setting lasts for about 22 hours, on medium about 12 hours, and on high about 9 hours. The mist levels were impressive, especially on the high setting, and you can rotate the mist nozzle in any direction you'd like.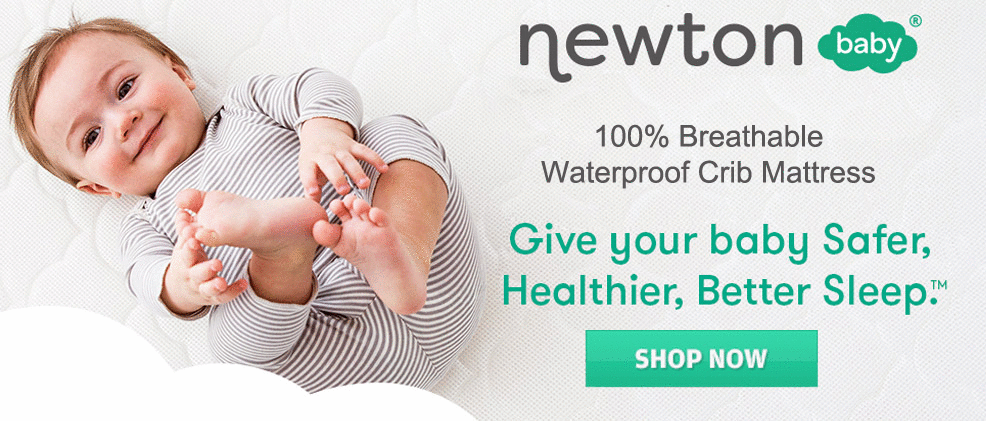 One of the best things about this humidifier is how whisper quiet it is, especially on the low setting (24dB), with the high setting not too far behind (30dB). Refilling was easy, and we liked that the refill cap was a partial-turn style thread, rather than screw-on. Of course, we'd be remiss not to clarify that this is a very basic humidifier, without the perks of more expensive options: no auto-off timer, no hygrometer, and you can't set a preferred humidity level. The smaller tank is simple and lightweight, but it also will need to be refilled on a daily or semi-daily basis. Other than that, this is a truly excellent humidifier for an awesome price. Highly recommended! Who else loves the Levoit humidifiers? Our friends at Babygearlab and The Bump call them a top pick! Interested? You can check it out here.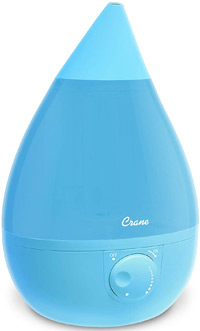 About $45. This is an excellent humidifier that offers great bang-for-the-buck and highly reliable operation. Its tank is a bit smaller capacity than some others, coming in at 3.8 liters. In our testing, on a very low setting that lasted about 23 hours, on medium about 14 hours, and on high about 7.5 hours. The testing was a bit harder to do than with others, because the intensity setting is continuous. Rather than setting it to low, medium, or high, you can turn the knob to the exact position where you want it. This is great for customizability, but not great for figuring out exactly how long it lasts! Like the Levoit, this is a relatively basic nursery humidifier, with an elegant water-drop shape. It comes in several colors, including not only blue but pink, green, yellow, and white, making it a great option for colorful nurseries. In our testing, the highest setting was very intense but still surprisingly quiet. Crane says under 38dB, which we think is roughly accurate - not the loudest on the list, but definitely not the quietest humidifier we've tested. Refilling and cleaning were easy enough, though the refill opening isn't quite as wide as some of the above options. The nozzle cannot be redirected, and there is no nightlight. Like the Levoit, this is a simple and reliable nursery humidifier that will last your family many years. No special features, but also nothing to break, and a relatively low price. And if it fits your nursery decor, this could be perfect! Who else recommends the Levoit humidifiers? Our friends at What2Expect, Babygearlab, and The Bump consider them top picks! Interested? You can check it out here.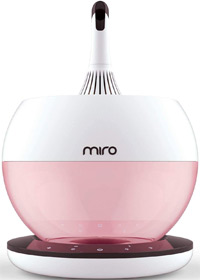 About $120, which happens to be the most expensive humidifier on our list. Before the price scares you away, the Miro has some unique features for germaphobe parents like me: While most humidifiers have a base that fills up with water and can't be cleaned, the Miro completely disassembles for cleaning. This means you can clean every single part of the humidifier, not just the tank. Worried about mildew build-up, discoloration, or mold? This humidifier will put your mind at ease. Yes, it's time-consuming to take apart and clean every piece, but definitely a perk. And the Miro has a unique and beautiful design, well-suited for a modern nursery, with a color-changing base (6 different colors). In our testing, we thought it looked great and functioned reliably and quietly. The humidifier uses 3 settings (low, medium, high), and at the lowest setting it lasted for about 24 hours, about 13 hours on medium, and 7 hours on high. The lights look great, or can be turned off; however, even when off, the humidifier still has a subtle glow. Pretty dim, but not ideal if you want a completely dark nursery. Operation was very quiet, though there is an audible beep when the device turns off (even when using timer mode). After about 8 months of testing, the Miro is still working great, looking great, and totally clean! The only cons other than the light and beep, there's no hygrometer or ability to set a preferred humidity level. Outside of that, we think Miro has solved a very common issue with nursery humidifiers, the ability to thoroughly clean the system, and they deserve a ton of credit for the innovation. Who else recommends the Miro humidifier? Our friends at The Bump call it a top pick! Interested? You can check it out here.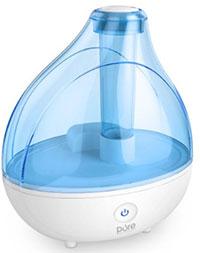 About $40. A great overall humidifier; in our testing, this humidifier lasted for over 14 hours; this was great because you can turn it on 2-3 hours before bedtime (maybe like 4 pm) and it would go all the way to morning (about 8 am)! Another great feature is that it's very simple to operate: there literally is only one button that controls the power and whether the subtle glowing night light is on or off. Here are some additional features: you can swivel the nozzle around 360-degrees to position it exactly how you'd like. It shuts off automatically when the water level gets low, or if the tank is removed. We also think it is one of the quietest one on the list - like, really super quiet (you'll be surprised). No annoying filters to clean, no complicated features, and all at a really great price. If you want a humidifier with fancy features, check out the TaoTronics option above, it's also a great humidifier. The only con with this humidifier is that its tank is quite small, at only 1.5-liters capacity. That means that even though it may last an impressive 14 hours, you're actually not getting as much moisture into the air during that time relative to other humidifiers on this list with larger tanks. Interested? You can check out this Pure Humidifier here.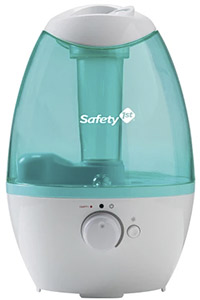 About $40. We got our hands on this humidifier for testing last year (thanks, Safety 1st!) and were pretty pleased with its overall performance. It has a smaller capacity than the bigger humidifiers on this list, coming in at about 3 liters (.8 gallons). In our testing, at the lowest setting it lasted for just about 24 hours, which is pretty impressive, though at that setting you could barely see any mist coming out of it at all. Though there is a nice continuous dial to change the mist intensity, it basically still only has a low, medium, and high setting since once you start turning the knob it quickly gets pretty intense. At a more medium setting , it lasted for about 16 hours. So that's probably enough time to turn it on at bedtime and off early in the morning, and be able to do that for 2 nights in a row without refilling the water. At the highest setting, we think it lasted for about 6 hours - we're not really certain because it ran out of water at some point in the middle of the night and we didn't see it until the morning (about 8 hours later). In our testing we found a couple things we really liked. First, when you're refilling the tank there is a carry handle on the bottom, which is helpful. Second, we love the concept of a humidifier with a night light, and this has a nice subtle glow to it that our kids really liked (note that the humidifier has to be on to use the night light option, and if you use it when the tank is empty then you have to deal with the red "empty" light also being on). Third, it was really quiet and has only a very subtle hum to it while operating, and a little bubbling/gurgling sound every hour or so (which they all have). Other than those, it has many of the usual options, like auto shut-off when it runs out of water, no filters to replace, a nozzle that rotates around 360-degrees so you can position it however you'd like, and it's relatively easy to refill. Overall, we like this humidifier and think it is worthy of this spot on our list, especially given the awesome night light feature. After we've used it for several months, we will update this review to reflect its long-term reliability. Interested? You can check out this Safety 1st Soothing Glow Humidifier here.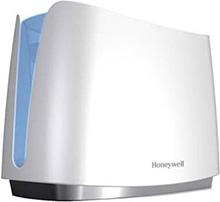 About $50. This is a powerhouse humidifier that's been manufactured by Honeywell for several years. We were able to get our hands on one of these units and give it a thorough review two years ago, and we are happy to report that it is still running strong! This humidifier has a 1-gallon (about 3.8 liters) water capacity, which keeps it running on high for about 9 hours (overnight), or up to about 24 hours on low. That's excellent for running all day to keep a room moist for naps and then bedtime. The operation was whisper quiet especially on the low setting, though there was a gurgling sound every once in a while, as the water moves down from the reservoir. We found the reservoir easy to refill, with a nice wide fill hole, and easy to clean as well. Honeywell markets this as "germ-free" by using ultraviolet light to kill a range of bacteria before it is misted into the room. Unlike most other cool mist humidifiers, this unit does not use a nebulizer. Instead, it uses a moisture wicking filter and blows room air through it to release moisture into the room. It works very well, though we have to be honest that it's a pain to replace these filters every few months (and it gets pricey!). But that filter does do a nice job of trapping minerals in your water, rather than releasing them into your room and causing the white mist on your furniture. Another drawback is that the unit is short and wide, so it does take up a lot of space on the top of a dresser or table. Overall, you're getting an excellent, high capacity and reliable humidifier here. If you're willing to put in the work and cost to change the filter every few months, this will be an excellent option for you. And at only about $50-60, it's a great deal! Who else recommends the Honeywell humidifiers? Our friends at Babylist, WhatToExpect, The Wirecutter, and The Bump all consider them a top pick! Interested? You can check out the Honeywell humidifier here!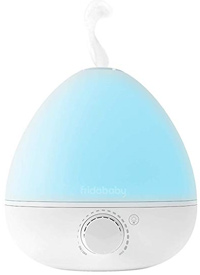 About $50. FridaBaby is a popular baby product company that makes the funny by functional noseFrida nasal aspirator (snot sucker!). They recently came out with this humidifier and we had to get our hands on it for testing. Out of the box, it's most similar to the Safety 1st in terms of size, which means it's relatively small (1.9 liter) capacity but also takes up less space in the nursery. Setting it up was easy, all we had to do was fill the reservoir with water through the somewhat small hole and then place it on the base. When you turn the knob past the OFF position it makes a beep sound and you'll see the mist start. And it's a lot of mist - this humidifier really pushes a lot of humidity out, even on the lowest setting! The dim blue nightlight is optional, meaning you can turn it on or off using a little touch-sensitive button on the front. On the low mist setting, we found that the water would last about 16 hours, and on high it would last about 8 hours. It doesn't sense humidity in the nursery - instead, you set it to a mist level and it will keep that level all night. In addition to the humidifier and nightlight features, it also lets you put aromatherapy grade essential oils into the water tank. Unlike some other humidifiers that use an oil-diffusing pad, this one you place right into the water itself. Which is a little strange because the oils kinda just float on top of the water and don't do much at all. Aside from that oddity, the humidifier and nightlight features work pretty well overall, and we're actually still using it in our bedroom for a long-term test. Relative to some of the top humidifiers, we have a few gripes to mention. First, it beeps when it turns on, and then beeps when it runs out of water - which means that it could wake a sleeping baby. Second, it's a bit noisier than other options with a faint buzzing sound and the drip-glug sound once in a while. Third, the filling hole is small and it can be hard to fit the tank under the faucet in a smaller bathroom sink. And there's the little essential oil issue we already mentioned. Considering all those little gripes, we think you're better off with one of the higher-rated options on this list, especially given the $50 price tag! Interested? You can check out the FridaBaby Nursery Humidifier here.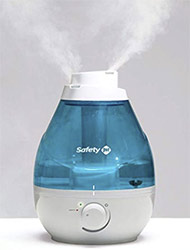 About $30. Here's another good option made by a company with a strong reputation for making high quality baby products at a reasonable price. There are a few things that make this is a great option for your family. First, it is whisper quiet, and even after several weeks of testing it hasn't gotten any louder. When you're looking for a nursery humidifier, the sound level is really important and this makes a great quiet option. Second, it has an awesome dual-direction 360-degree nozzle, so you can orient the cool mist in two directions at the same time. This is super helpful when you're trying to evenly fill a room rather than point it in one direction (and end up with a moist carpet in the morning!). Third, it uses a 2.5 liter tank which is a pretty small size, lasting about 20 hours on a low setting. Speaking of adjustable settings, rather than using discrete low-medium-high settings, this humidifier uses a continuous knob that lets you dial in the perfect setting for your room size and duration of use. We put it on a medium setting and it lasted through the night (from 8pm to 7am) and had about an inch of water remaining in it. Like many of the other humidifiers on this list, it is ultrasonic and doesn't require a filter. It will auto shut-off when it runs out of water, and a light will turn on when you're running low on water. Not too bright to wake up a sleeping baby. So overall we really liked the features and functionality of this humidifier, and definitely suggest checking it out if you're looking for a relatively cheap nursery humidifier that will pack a pretty good punch. Downfalls? Well, relative to other options on this list, its construction isn't quite as high quality. Some of the parts, such as the screw-on fill cap, felt a little flimsy and brittle; some customers have complained on Amazon that it broke when trying to remove it. Never happened to us, but like with all humidifiers you need to be really careful about how much you tighten that fill cap - you want to hand-tighten it until it's barely snug. If you over-tighten it, the expansion of the plastic will make it a total bear to remove. So be careful with that. A second thing is that cleaning is pretty difficult because the fill cap is so small. You will only likely need to clean it about once a month, especially if you don't let water sit in it for several days. But when it is time for cleaning, it's not as easy as most of the other options. With those negatives being said, it's important to realize that this is a 2.5-liter humidifier that can be purchased for under about 30 bucks. And that's a sweet deal and makes it worthy of this spot on our annual list! We'll update after several months of use.
Cool versus Warm Mist Humidifiers for Babies
Doctors recommend cool mist humidifiers. There are two types of humidifiers - cool and warm mist. Both add moisture to the air, but warm mist humidifiers are more dangerous. Both cool and warm mist humidifiers add moisture to the air, but they do so differently. Cool mist humidifiers force water to dissipate into your room without using heat. Warm mist will heat the water and then send it into the room in the form of steam.
While you might think that warm mist would be better because it will keep your baby warm and cozy at night, cool and warm mists are just as effective as each other for helping coughing and congestion (if you don't believe us, read about it at the Mayo Clinic). However, warm mist humidifiers are dangerous for use in a baby's room: they can spill hot water, and burn your baby if they get too close to the steam. They are also more expensive than cool mist because they have the added heating element, and they are much noisier at night with the bubbling and hissing involved in heating the water.
Noise Levels
Some humidifiers run low-quality fans and fan motors that introduce a loud drone into your baby's room. The better-quality humidifiers use quieter fans, or even better, no fan at all and instead rely on ultrasonic humidification. Cool mist humidifiers are also quieter than warm mist because there is no background bubbling and hissing noise from boiling the water inside the unit. The humidifiers we recommend above are some of the quietest we could find.
Germs and Bacteria
If your baby is sick, the last thing you want to do is pump more germs into their room. All humidifiers, even the ultrasonic ones, and both the warm and cool ones, can build up mold and bacteria in their tanks and other components. If you're considering using a humidifier in your baby's room you must be sure to clean it regularly (like every few days)! A solution of 90% water and 10% bleach is perfect, just make sure you follow the manufacturer's instructions (they might not allow any cleaners to be used) and rinse well after cleaning. Also be careful where you point the humidifier in your baby's nursery: try to avoid pointing it directly at your baby's crib, bassinet, or nursery glider, since that might cause dampness, mildew and mold to form on the furniture.