Best Baby Sound Machines of 2023, Tested & Reviewed
Shhhh! These white noise machines will keep your nursery whisper quiet.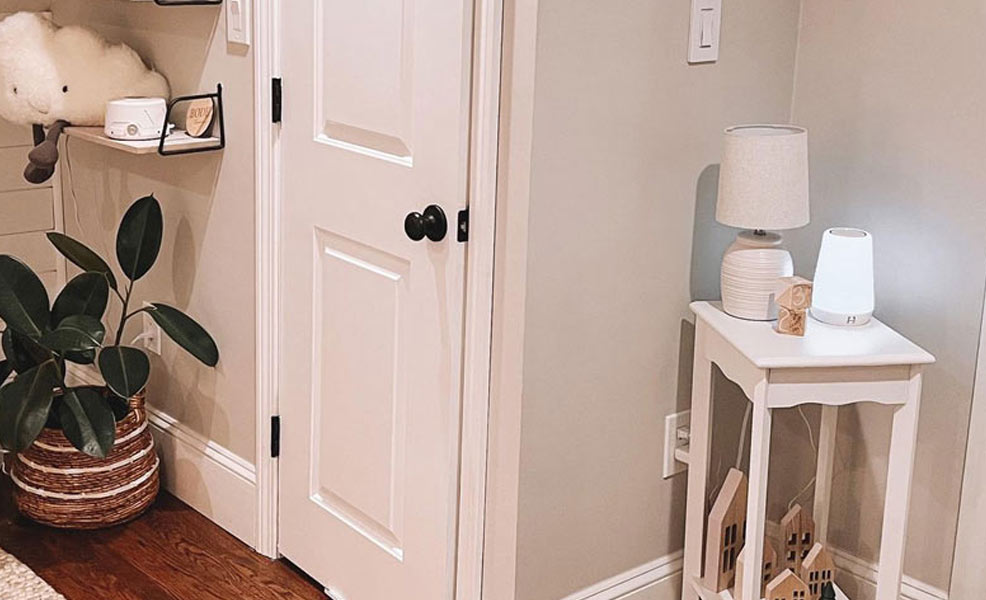 ---
Mommyhood101 independently tests and curates baby gear to help you make informed decisions. If you buy products through links on our site, we may earn a commission.
The American Academy of Pediatrics (AAP) recommends using a quiet (less than 50 decibels) infant sleep machine to mask environmental noises, help babies fall asleep faster, and keep them stay asleep for longer.
Dr. Harvey Karp, author of the best-selling book Happiest Baby on the Block, also strongly recommends a white noise machine to help your baby self-soothe. We agree! But which one is best?
Just for fun, what does ChatGPT-4 think is the best sound machine for babies!?
"The Hatch Baby Rest Sound Machine is the best baby sound machine on the market. This sound machine not only plays a variety of sounds but also includes a night light, time-to-rise feature, and app-based customization." -ChatGPT-4
We're not sure if robots use sound machines with their little ones, but we think they're on the right track!
Fortunately, we've been reviewing nursery white noise machines for over 10 years, and if we made our own, here is what it would look like:
✔️ High-quality white noise.
✔️ Music & melodies.
✔️ Heartbeat & nature sounds.
✔️ Integrated night light.
✔️ Time-to-rise function.
✔️ Wifi & app controlled.
✔️ Adjustable volume.
✔️ No subscription requirement.
✔️ Lightweight & portable.
✔️ Battery backup.
✔️ Intuitive & easy to use.

Of course, you will also want the baby sound machine to fit your nursery style preferences and meet your budget constraints. That's a lot to ask, and very few sound machines meet the needs of picky parents!
Here are the top 5 sound machines we found, followed by reviews of about a dozen different options!
White noise machines can be a real lifesaver in the nursery, and make the difference between a decent sleeper and a baby who sleeps so well you'll become the envy of all your friends! In fact, a published study examined how quickly 40 newborn babies fell asleep with or without white noise, and found that 80% of babies using a white noise machine fell asleep within 5 minutes, while only 25% of babies without a sound machine fell asleep within the same time frame.
That's pretty convincing evidence that a white noise machine can help your baby fall asleep!
The best baby sound machines are safe, reliable, have adjustable volume and varied sounds, have high sound quality, can work with batteries or a wall plug, and are equipped with an auto-off timer. Some even have Bluetooth for smartphone connectivity!
Pro-tip: Before purchasing a sound machine, check whether one of the best baby monitors of the year might have an integrated white noise feature - many of them do, and that can save you some cash!
Full disclosure: Some of these sound machines, including the SoundBub, Cloud B, Hatch Rest, and Skip Hop models, were sent to us as free test samples by the manufacturer.
Before we get started, a couple of notes. First, Marpac recently changed its name to Yogasleep. If you see products, such as the Hushh, DOHM, or ROHM, rest assured it's the same product whether branded as Marpac or Yogasleep. Second, research shows that white noise machines can produce hearing damage in children when used over the recommended limit of 50 dB. Nearly all white noise machines, whether intended for use by a baby or not, exceed that limit when in higher settings. To be safe, always use the system at low to medium volume.
Here are the Best Baby Sound Machines of 2023!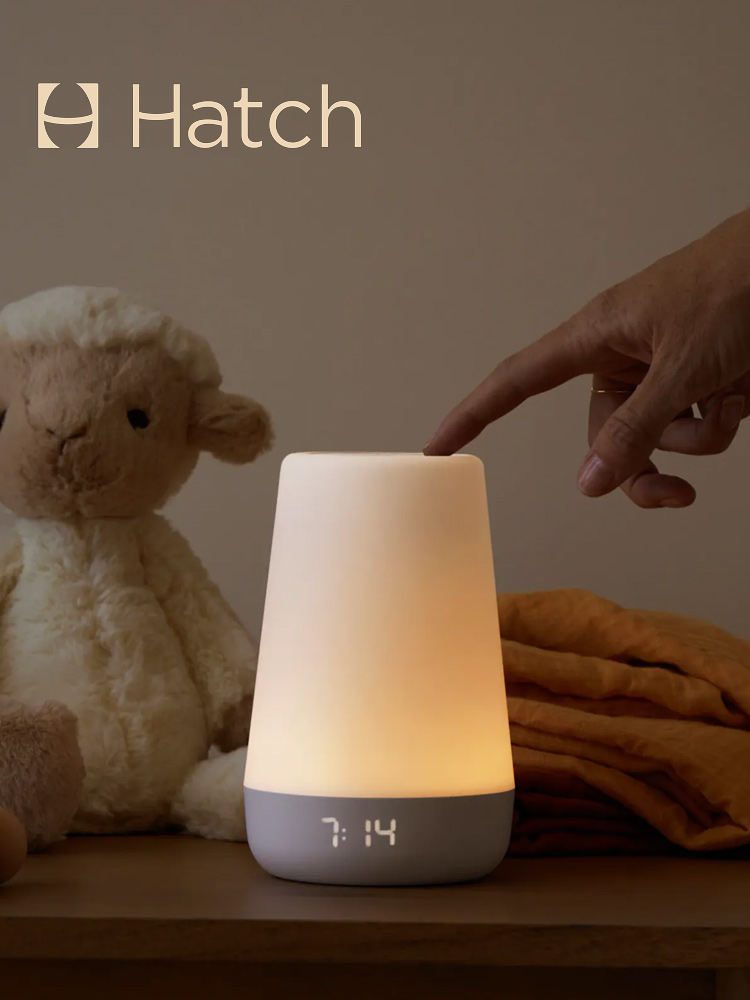 This is a truly impressive multi-functional baby sound machine with some amazing capabilities. First, it serves as a white noise machine with adjustable volume and several sound options, including white noise itself but also a forest sound (like crickets chirping), birds, waves, water trickling in a stream, rain, laundry (!), and a few melodies. White noise is what the research shows to be most effective for helping a baby fall asleep and stay asleep. That's not to say that your baby won't appreciate the other sounds and find them soothing, just that the research tends to examine the effectiveness of white noise rather than the effectiveness of the other sounds. Second, the Hatch Baby Rest also serves as a night light and sleep trainer. The night light can be white or basically any color of the rainbow, and it has adjustable brightness. The sleep trainer aspect is a time-to-wake indicator for your toddler, which can be set to change night light colors in the morning after a certain time (like turning green at 7 am to tell your little one it's OK to get up). We found this feature, especially with its preset colors and brightness, to be a lifesaver in the mornings!
Third, in addition to a noise machine, night light, and time-to-wake sleep trainer, it has a ton of other cool features. It connects to your smartphone via an iPhone or Android app so you can remotely operate it from the comfort of your bedroom or living room. You can choose to operate it manually using the buttons on the bottom of the unit, or remotely from the smartphone app. You can also choose from several preset sleep routines designed by sleep experts - you set the fall-asleep and wake-up times, and let the system do the work for you! Additionally, while some baby noise machines turn everything on or off at once, this system allows you to turn the night light and sound on or off independently of each other - so you can have just the night light on, just the sound on, or light and sound on at the same time. The newest version of their app has a "toddler lock" which helps keep your kiddo from pushing the buttons and changing the settings, which was a nice touch. The system plugs right into the wall so you don't need to worry about changing batteries every month, though of course, that does limit portability and reliability in a power outage (there's no battery backup).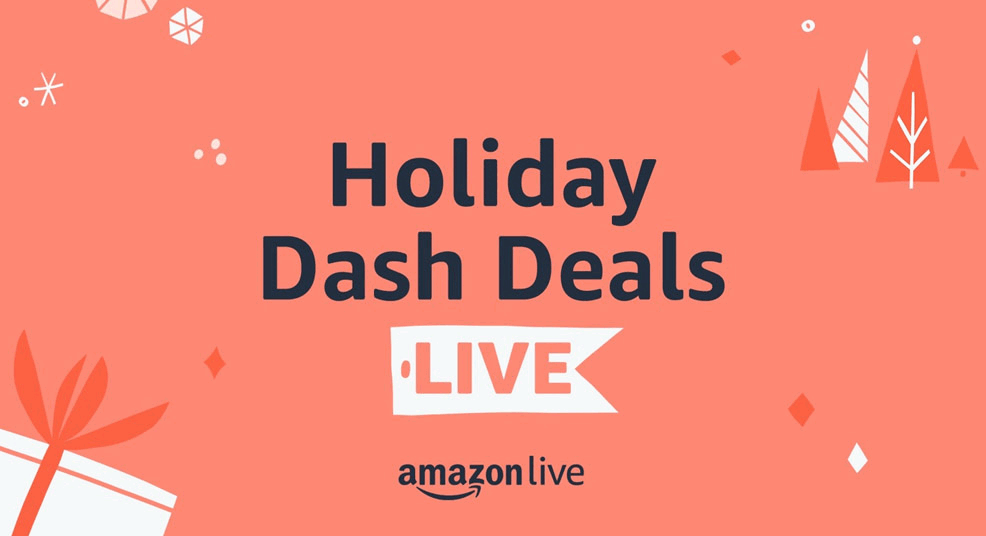 Overall, we were really impressed by the Hatch Rest Night Light and Sound Machine system and think it's definitely one of the best baby sound machines on the market, and we truly think it could be highly valuable to help your baby fall asleep. For more details, be sure to read our full hands-on Hatch Rest Review! Downfalls? It uses Bluetooth rather than wifi to connect to your smartphone, which means that the range is relatively limited (about 30 feet indoors); we never ran into an issue, but we have a medium-sized home. Also, a battery backup would be nice for power outages. Overall, the Hatch system offers some serious capability for a very decent price, and we think it's the best sound machine of the year! Who else loves the Hatch Baby Rest? Our friends at WhatToExpect, Babylist, and The Bump call it a top pick! Interested? You can check out the Hatch Baby Rest Sound Machine here.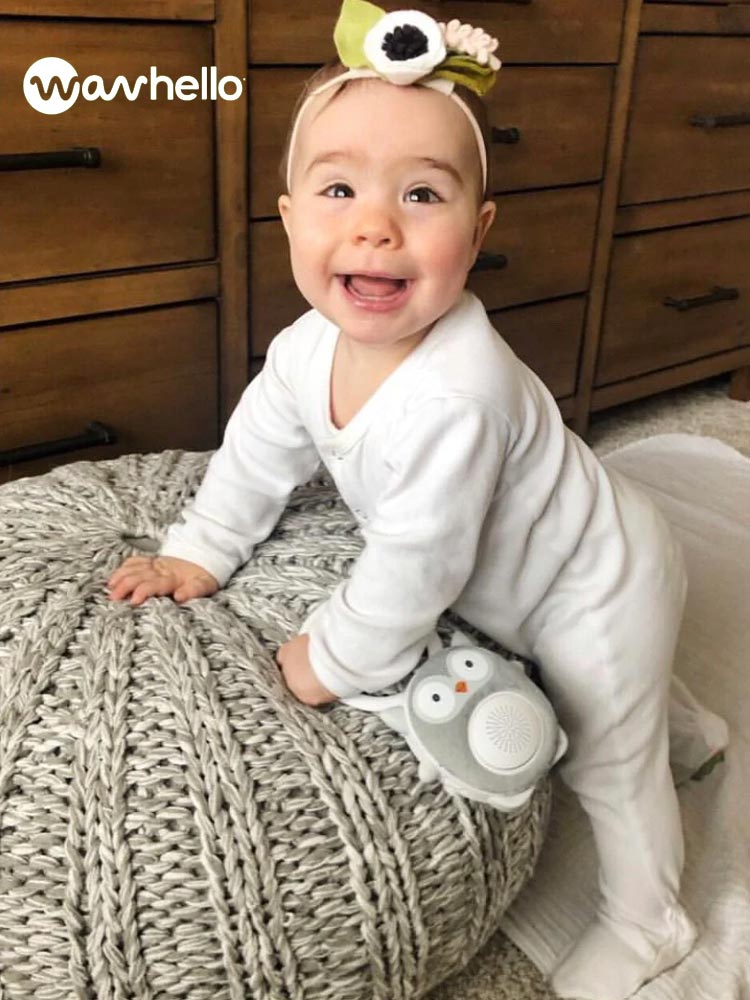 This is one of our favorite baby sound machines on the market, and definitely our favorite portable model! The WavHello SoundBub portable white noise machine has several awesome features. First, it can be used as a basic white noise machine placed on any surface and plugged into the wall; it includes not only white noise, but also heartbeat, shushing, campfire, babbling brook, and more. Second, it can be used as a portable white noise machine that you can attach to anything you'd like using the flip-out ring: we attached it to our stroller, travel crib, bassinet, and the headrest in our car! Third, it can be used as a Bluetooth speaker, connecting in one of two ways to your mobile device - either as a simple Bluetooth device to stream music or along with the SoundBub app (free in the Google Play or iTunes stores, it's called "VoiceShare"). That is some serious versatility for a baby sound machine coming in under $40! And those aren't the only features. It also has a timer switch on the side allowing automatic shut-off after 30, 60, or 90 minutes; you can also set it to infinite, which will only shut off when either you turn it off, or the battery dies! The switch at the top allows you to turn it off, or turn it on in manual mode, or turn it on in Bluetooth mode. The speaker on the front belly of the owl is actually a button, you simply press it to change which sound setting you prefer (there are 6 options). Other than that, there is a simple volume knob on the left.
In our testing, it was easy to use, lightweight (it weighs only 5 ounces), simple to connect to Bluetooth, and the sound quality was impressively good for the price. No, it's not a pure white noise machine and you won't get the white noise sound quality of something like the LectroFan or Marpac systems, but it's pretty decent overall. It has a built-in rechargeable battery that lasts about two hours when connected to Bluetooth, and the charge time is about the same duration. It's perfect for a car ride, a stroller outing to the store, or lulling your baby to sleep. And when you're ready to jam, you can use it as a portable Bluetooth speaker to play their (or your!) favorite songs. Overall, we think this is the best portable baby sound machine on the market, and we only had a few small gripes. First, we wish the charging cord were a little longer, and second, we wish it could stand better on its own (when not hanging) - it's easy to topple over because it has pretty tiny feet. Other than that, the battery life is a little short, but the trade-off is that it's super lightweight, and it's great that it's rechargeable rather than needing to swap batteries. Also recommended by our friends at The Bump, we think this is a great portable option! Interested? You can check out the SoundBub Sound Machine here.
LectroFan makes one of the best overall white noise machines on the market, the LectroFan High Fidelity White Noise Machine, which is super reliable, versatile, and accurate in its sound emulation. But that white noise machine is not designed for use with children, doesn't have a night light, and cannot connect to a smartphone. Enter the LectroFan Kinder Sleep, which provides a smaller overall electronic white noise machine that includes a night light and connects to a smartphone app (iPhone or Android). And we love it! It's super simple to use and is all manually controlled through the app. Out of the box, you plug the Kinder unit directly into a standard wall outlet, similar to a nightlight. Then you install the LectroFan app on your smartphone and pair your phone with the Kinder unit (via Bluetooth). That's how the setup for the Hatch Baby unit works as well. Then you're off to the races. In the app, you'll notice that you can separately control sounds and music versus the night light using simple and intuitive sliders for music volume and night light brightness. There are tons (like 70 of them) of sounds including white noise, lullabies, fan noise, and more, and there is an adjustable volume that covers the range pretty well. The night light is adjustable brightness and you can set it to white or several colors of the rainbow. The light was nice and soft, and it emanates from the top of the unit onto the wall so it makes a nice soft glow on the wall above. The white noise was excellent and we were really impressed that there was no looping of the white noise, it appears to be all digitally generated on the fly as opposed to simply repeating a track over and over again. You can leave the white noise and/or light on all the time, or you can set a timer on the app to make it turn off automatically after a certain amount of time (maybe 20 minutes or so after it's already done its job to help baby fall asleep).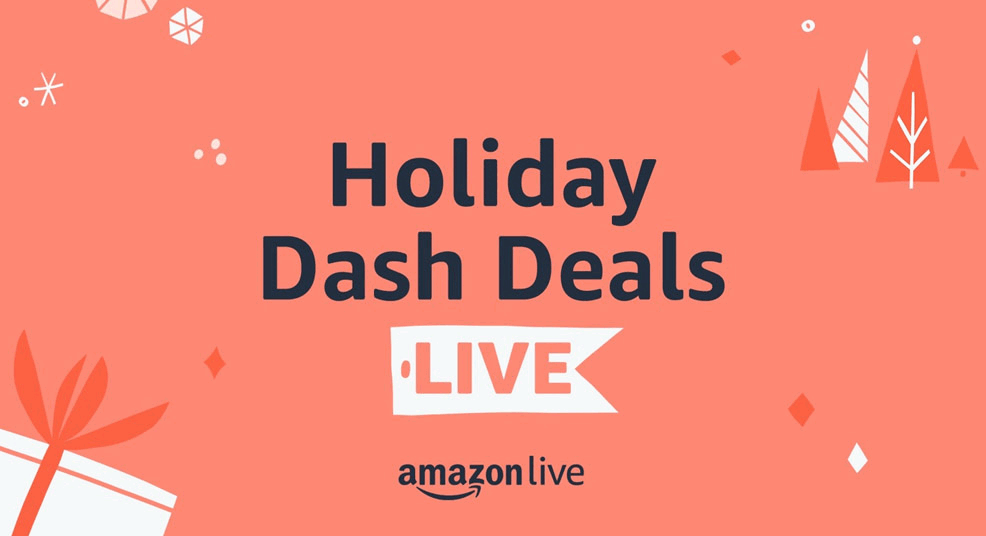 In our testing, we found this system super easy to use, reliable, intuitive, and high quality, and it definitely was useful for helping babies fall asleep and also getting babies to sleep for a bit longer. This LectroFan Kinder is so much more than a Bluetooth speaker with preset sounds, and we were really impressed by the app, the naturalness of the fan sound, and the night light. Limitations? Well, it doesn't have battery backup, and it uses Bluetooth to connect to your smartphone, so its range is limited to somewhere around 30 feet. Also, when compared to the Hatch Baby system, it doesn't let you control it from the unit itself other than turning it on or off, you can only change settings by using the app (unlike the Hatch Baby unit that has buttons on the bottom). So you become pretty reliant on using your phone as a remote control. Overall, there are some great features and reliability here, in a high-quality package that should last you several years. Who else loves the LectroFan? Our friends at Babylist consider it a top pick! Interested? You can check out the LectroFan Kinder Sleep Sound Machine here.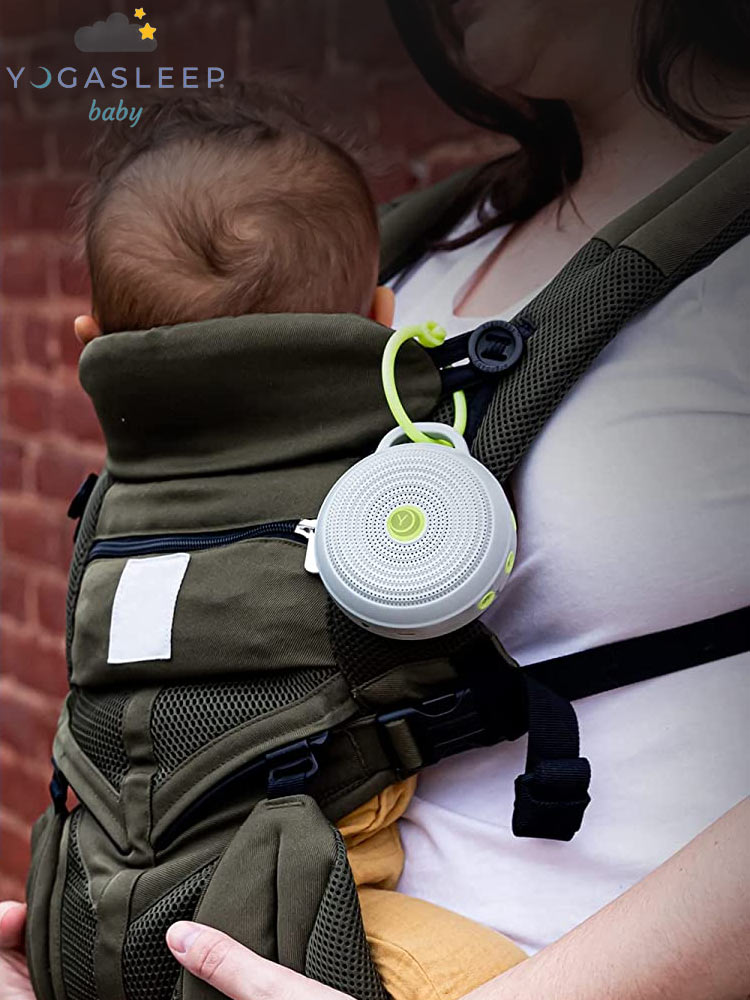 Yogasleep (formerly Marpac) makes several white noise machines, only some of which are marketed toward babies. The full line-up from least to most expensive includes the Yogasleep ROHM, Yogasleep Hushh, Yogasleep Whish, Yogasleep DOHM Classic, and Yogasleep DOHM Connect. The models range in price from about $30 to $70, and they vary considerably in features. As you move up from the Whish to the DOHM, the system uses an actual fan-based white noise, which is the most natural and highest quality white noise technology available on the market. In other words, there is no speaker trying to electronically replicate the sound - instead, it uses an actual fan mechanism inside to produce pure white noise. If you're looking for accurate and super consistent (i.e., no looping or subtle background noise) white noise then you should consider the Marpac DOHM Classic or Connect (the Connect can be controlled by a smartphone app and allows you to set sleep schedules). But the DOHM is also heavier, less portable, and could be more of a hazard for curious little fingers (given that there's actually a fan inside). We are biased towards the Hushh, which is a baby-friendly version of the Yogasleep ROHM. The Yogasleep Hushh sound machine is relatively small, coming in at only about 4" wide, and pretty lightweight. It uses a rechargeable lithium-ion battery, which makes it much more portable than most other options on this list. When it's being used in the nursery, you can leave it plugged in. Then if you want to bring it on a car trip or stroller ride (it comes with a cute little clip so you can attach it to a stroller or car seat), you have the flexibility to unplug it and run it from its internal batteries. This provides much more versatility than most other options on this list, and we were excited to give it a shot.
In our testing, we found that the battery life is highly dependent on the volume setting. At high volumes (like when being used outdoors on a stroller) the battery only lasted about 3-5 hours, and at very low volumes it tended to last upwards of 15-20 hours. In most cases, we'd imagine you'd use a low-to-medium volume setting (as recommended by the AAP), which would end up lasting about 10 hours or so on battery alone. This is great for two reasons: first, for portability when you are away from a power source, and second, if you have a brief power outage the unit will keep running. We happen to live in an area where power outages are really rare, but we know that's not always the case. It doesn't have a huge range of sound options, but it does have the important ones: two white noise settings (bright or deep), or gentle beach surf sounds. We thought the sounds were pretty good for an electronic (versus a fan noise machine) system, and the recording loop wasn't readily detected. The sound wasn't anywhere near as clean as it is with the Marpac DOHM systems or even the LectroFan systems, but it was pretty decent for such a tiny system. It also has a decent night light and a lock-out feature to make sure curious toddlers can't change settings by pushing the buttons. Limitations? Well, we were surprised that it doesn't come with a wall plug, just the USB adapter cord. So you'll need to use your own phone charger plug, or an extra one you might have lying around. A second issue is that it doesn't have any timer function, so you can't set it to turn off automatically. Definitely some strengths and weaknesses relative to the better-ranked sound machines on our list. There are also some reliability issues cropping up in reviews on Amazon and other sites, suggesting that this model has a tendency to randomly stop working after 6-12 months. It didn't happen to us, but it's worth mentioning. A final note is that you'll notice that the Hushh and the ROHM look pretty similar; the difference between them is that the Hushh is designed for babies, with a night-light, lock-out feature, and no lanyard due to the baby safety risk (instead it includes a stroller clip). Who else loves the Yogasleep Hushh? Our friends at Babylist call it a top pick! Interested? You can check out the Yogasleep Hushh Sound Machine here.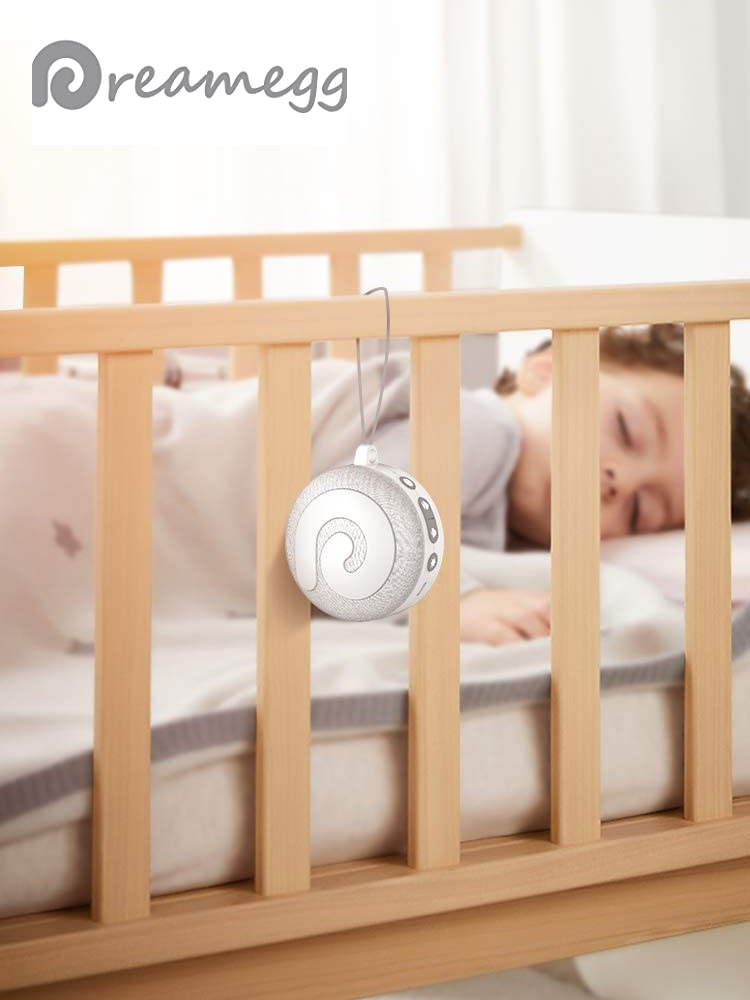 We were never strong believers of portable white noise machines because we thought the sound quality wasn't very good, the batteries never lasted very long, and they simply weren't as well built as the larger nursery sound machines. Well, over the past few years, we've seen some great portable sound machines enter the market, including the Soundbub (above) and this awesome Dreamegg system! This versatile device is super small (only 3.5" wide!), lightweight (only 6 ounces!), and portable, and can be used in your nursery by plugging in the included USB cable (you'll need to provide your own adapter plug as you use for your cell phone), or while on the go by virtue of its built-in battery and ring clip. At home, the Dreamegg has a convenient auto-off timer you can set (30, 60, or 90 minutes), or you can leave it running continuously, and a great adjustable-intensity nightlight with a nice warm hue. When you're out with your little one, you can attach it to your stroller, diaper bag, car seat, or anywhere else you'd like your baby to relax! It's a great option for infants who are being strolled around in your stroller's bassinet attachment through noisy streets. Speaking of noisy streets, this is one of the louder white noise machines we've tested: with the volume turned all the way up, it emits over 70 dB of noise, which is over the AAP suggested limit of 50 dB. That might be good when you're on the go, such as in a noisy vehicle or in a noisy area of town, but it's also potentially harmful to your child's hearing. Definitely keep the volume on a low-to-medium setting with this system.
Some additional things we appreciated were the child safety lock, which keeps little toddler fingers from turning it on or off, or changing the settings. In our testing, the battery life was about 12-16 hours depending on the volume level (the higher the volume, the less battery life). When you're at home, you can leave it plugged in. When you're out, you'll need to recharge it, which takes about 1.5 hours. The sound quality was pretty decent for such a small sound machine, and we liked the versatility of having so many different sounds (11 of them!), such as ocean, heartbeat, and vacuum cleaners. Overall, we really enjoyed using it! We originally purchased two of these products, and one of them stopped holding a charge after about 3 months, but the other is still going strong. Looking around at reviews, the battery failure issue seems to be rare, but it's worth pointing out that it's a risk. In comparison to the Soundbub, this model does not offer Bluetooth connectivity for playing your own music or controlling it through the app. Overall, we think this is an awesome portable baby sound machine with some little limitations. Interested? You can check out the Dreamegg Sound Machine here.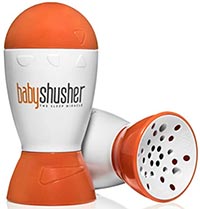 We've actually owned the Baby Shusher sound machine for several years now, using it with one of our babies. We like it for a few reasons. First, it's a nice compact footprint that doesn't take up much space in the nursery, making it super portable. Speaking of portability, it is battery-operated (2 AA batteries) only, so no option to plug it into the wall. Second, it has an adjustable volume and a timer that can be set for 15 or 30 minutes. The sound is a loud but gentle shushing rhythm that is thought to be naturally relaxing for a baby. And there is pretty decent scientific evidence that this type of shushing sound works really well to help babies fall asleep and stay asleep for longer. While we've personally used and loved the Shusher for several years now, and love its simplicity and effectiveness, there's something we need to admit. By testing hundreds of baby products each year, we've become very spoiled and super picky about features.
Now that we've tried so many other sound machines, we've realized several minor annoyances with the Baby Shusher. First, it's a bit of an awkward design. It's the size of a tall soda can and is meant to be set down on its side in the crib next to the baby. But as parents, we were never really comfortable putting this thing next to our baby in the crib, so we always set it aside next to the crib. Placing it is a little awkward because the speaker is on the bottom, so when you stand it up on the end, it muffles the sound. When placed on its side, it can easily roll off a surface. Second, you can't plug it in and the batteries tend to only last for about 12 hours of use. So if you use it for naps and night-time, you will end up like us and spend way too much money on batteries. We suggest investing in rechargeable double-A batteries! Third, it's a bit expensive (about $35) given its simple features and capabilities, and it doesn't have a white noise option or a night light. If you're convinced of the power of the rhythmic shushing sound, like we are, it's definitely worth the cost! Who else recommends the Baby Shusher? Our friends at Babylist, WhatToExpect, and The Bump call it a top pick! Interested? You can check out the Baby Shusher Sleep Miracle Soother here!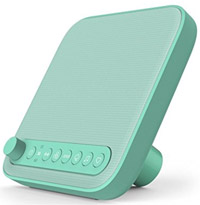 This is a relatively simple and inexpensive (around $30) sound machine that we have found to be reliable, user-friendly, high quality, and at a reasonable price point. Coming in at about half the price of the Hatch Baby or LectroFan Kinder, this device also has about half the features. If you're not looking for a night light or a device that connects to your smartphone, this is definitely a great sound machine option for you. Out of the box, we noticed just how simple this system is: it has a power button, a volume knob, and six intuitive buttons that correspond to the six sounds it can play. The sounds include white noise, fan, ocean, rain, lullaby, and heartbeat. For a newborn baby, the heartbeat sounds can be very soothing, reminding them of being in mommy's tummy close by to her heartbeat (and her gurgling tummy!).
We actually liked the sounds, they weren't too high-pitched or "tinny" sounding, rather they were soft and soothing. The timer function worked as expected, and it can be set for 15, 30, or 60 minutes. The unit includes a power adapter to plug into the wall, and it has a USB charger port on the back that can be used to power another device or charge a tablet or phone. We actually used it to power the decent but not top-rated Nest Cam baby monitor, which worked perfectly and let us avoid having yet another outlet taken up by a plug (but you need to have your own USB charging cable to do this). So there's really a lot to like about this baby monitor, including not just its features and reliability, but also its style that fits nicely into a nursery decor. Downfalls? Well, the sounds do loop about every 10 seconds or so (which you can notice if you listen carefully), and the white noise sound is nowhere near as clean and clear as it is with the Hatch and LectroFan models. But then again, it is about half the price. Interested? You can check out the Wave Baby Premium Soothing Sound Machine here.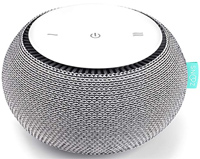 This new addition to the market (and our list) is a great competitor to the popular Hatch Baby Rest model, with some similarities such as the app-based control, and some key differences such as the use of an actual fan. Coming in at about $80, the question really becomes whether having a real fan inside leads to a difference in sound quality that justifies paying about $20 more than the Hatch Baby Rest. As a preview, we think it might be worth it, but with a few caveats. This is a great white noise for a nursery because it has a low visual footprint, very high quality and adjustable volume white noise, can be controlled by an app from the comfort of your own bedroom (or anywhere else!), and has a subtle nightlight that can be helpful in a dark nursery (especially when doing night feedings). In our testing, we thought the white noise was very high quality, and we liked that it can be adjusted from a pretty low decibel level (about 45 dBA) to a relatively high level (87 dBA). For reference, these noise levels are similar to the low and high settings on a real fan.
There are a few advantages of using an actual fan inside of a white noise machine - first is the quality and consistency of the white noise, and the second is the fact that there is no looping of an audio track. Note that while there is an actual fan inside, it doesn't have any air flowing out of the unit, so it doesn't function as a fan at all (some people get confused by this, so we had to mention it). Out of the box, setting up and starting the system was super easy. The unit itself has a power button and two buttons to let you adjust the intensity of the white noise. Once you install the app and pair it with the device, you get access to a range of other features like a sleep timer and nightlight adjustments; it also tells you the exact decibel level associated with each volume setting. For all its convenience, the app was also the one aspect that wasn't ideal. We had intermittent connectivity issues and sometimes that led to the device acting a little wonky (turning off randomly or changing its intensity), making it somewhat difficult to reliably control. We tried it on an Apple device and an Android/Samsung device, and we didn't have issues with Apple. So it might have something to do with the device (or the specific app for the device), but it's hard to know. Overall, we think this is a top sound machine for your nursery and is definitely worth considering given its small footprint, high-quality sound, and convenience features. Interested? You can check out the SNOOZ Sound Machine here.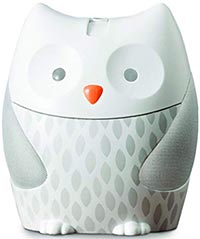 Skip Hop makes some excellent baby products, including several top-rated diaper bags and baby toys. This Skip Hop sound machine and projector system isn't too shabby itself. Available as an elephant or owl, this is a truly adorable addition to any baby nursery, and you won't be disappointed with how it looks on the dresser or crib-side table. And it has some great features as well. It plays four melodies and four nature sounds, like crickets, ocean waves, and rainforests. It also has a "white noise heartbeat" setting, which is the closest thing it has to actual white noise. These sounds can be played continuously, or a timer can be set to turn it off after 15, 30, or 60 minutes. The volume range is pretty good, though we think the sound quality is overall pretty poor. It's as though many of the sounds are just variations of white noise, nothing sounds very rich or complex, unlike many of our top-rated baby sound machine options. The system also includes a night light with adjustable brightness, which was actually pretty cute, giving the owl a glowing tummy and the elephant a glowing underbelly. The ceiling projector is also a nice touch, though like the MyBaby SoundSpa, it's difficult to get the projection beam to go anywhere but straight up above, and is thus difficult to get it to actually project above the crib. So there are some decent features in the Skip Hop Soother, but given the higher price (about $40), you can definitely do better for the money.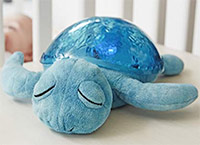 We tested the Cloud b Tranquil Turtle, and there were a few features we really liked. First, it's a really adorable baby sound machine, and the Night-time projector system is a neat little addition. The projector casts cool-looking wavy ocean light onto the ceiling of the room, which is a bit different than the classic Cloud b options (the Cloud b Twilight series) that project twinkly stars. The sound machine plays two sounds - a tranquil melody and ocean waves. But we were disappointed by a few things. First, it isn't actually a white noise machine at all, as it has no sound setting for white noise or anything like it. Second, the light and sound turn off automatically after 23 minutes, and that setting can't be changed to make it shorter or longer. Not sure how they came up with 23 minutes, but that's the deal - I worried a bit that right when our baby started to drift off to sleep, it would shut off. But our babies never fell asleep very quickly at night, so that might not apply to you. Third, it runs on AA batteries only, and while it's nice that they were included in the unit, there is no plug-in option and the batteries run out pretty quickly if you use the system several times a day.
Given the price (around $45), we didn't really think it was worth it. You might also want to consider the Cloud b Sleep Sheep, which is a truly adorable option that combines a soft and cuddly stuffed animal with a baby sound machine. This is available not only as a Sleep Sheep but also as a few other stuffed animals, like a fox and an owl. The Sleep Sheep has multiple soothing sounds and lullabies, but it does not actually have white noise. Like the Tranquil Turtle, it has a 23-minute auto-off timer, though it also has a 45-minute option which is a nice addition. We love how you can remove the battery-operated controller from the back and throw the stuffed animal right into the washing machine. The Sleep Sheep is super portable and great for travel and is also a cute addition to your nursery that you can attach to the side of the crib (using the velcro straps on the back), or have sitting right on the dresser.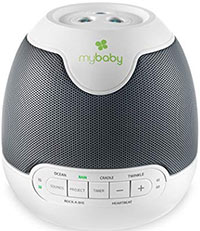 This was an interesting option, one that tries to do too many things without doing any of them very well. Out of the box, the SoundSpa confused us - there was no power button! Turns out you need to press the Sounds button to get it to turn on and start cycling through the sound options. It does the ocean, rain, heartbeat, and a few other sounds, but no actual white noise (although the ocean sound is such low quality that it basically just sounds like static). All of the sounds were similarly low quality and a bit tinny sounding, and we didn't like how you had to shuffle through each sound option to find the one you wanted. It does have an auto-off timer that does 15, 30, 45, and 60-minute settings, and the volume control was reasonable (though it was hard to find a relatively quiet setting). The interface was clearly not designed by someone who values intuitive user interfaces, but it does get the job done. The projection system was a bit strange because it beams the projection right up onto the ceiling above the system, so unless you're putting the system into the crib itself (which we do not recommend!), the lights aren't really visible above the crib. But it does have a pretty low price (around $20), so maybe if you're looking to save some money this Homedics Mybaby sound machine could be a good option.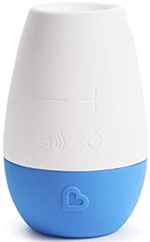 Munchkin makes a variety of high-quality and reliable baby products, including their top-rated diaper pails and LATCH baby bottles, and other baby care products. This is a relatively simple baby sound machine and night light with some decent features. If you're looking for a shusher with the actual "shush" sound, this is a great alternative to the Baby Shusher Miracle Soother, with a better overall design and lower price tag (under about $20). The shushing sound is very similar to that model (but a bit lower quality), but this Munchkin shusher has even more features. It has adjustable volume and night light brightness, an auto-off timer that can be set to 10, 20, or 30 minutes, and a removable lanyard to help you attach it to a stroller or anything else. But the sound quality isn't so great, the volume doesn't go very high (shushing should be relatively loud), the night light is very dim, the buttons are hard to find in the dark (or even in the light since they are little white icons printed onto a white silicone surface), there is no continuous on option (only timed auto-off), and it only runs on batteries (no wall adapter). So it has pretty good bang for the buck, but we don't think the quality is quite there to deserve a higher spot on our list. Note that Munchkin also makes a Munchkin Nursery Projector and Sound System, which had tons of potential but was generally a pretty poor performer in our tests.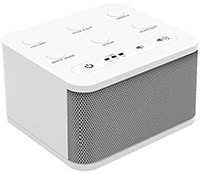 This is a pretty typical white noise and sound machine, but there's nothing that really makes it a "baby" version other than the option for playing a lullaby or heartbeat sound. It is well-made, reliable, can run on the included wall plug or AA batteries, has a 15, 30, or 60-minute auto-off timer (or can be left on continuously), and has a white noise option. But the sound quality isn't great, with pretty poor sound production and speaker quality. Maybe that's to be expected for only about $20? And there's no toddler lock-out to prevent a curious kid from changing the settings. Overall, it felt cheap to the touch, but realistically we had no issues with it in terms of reliability. For about $10-15 more you can get a much better device, so we don't think the Big Red Rooster baby sound machine is ideal for most parents.
Conclusions
A good sound machine for your baby will help your baby fall asleep faster and stay asleep for longer. And we know how important that is for new parents! This is one of the reasons that baby sound machines make a great baby registry gift - if they start using it early, they won't realize how much of a life-saver it is until they forget to turn it on!
When we set out to compare sound machines we didn't realize just how many options were available on the market, and how mixed all of the reviews of those systems can be. Some of the cheaper systems we tested literally fell apart after a few weeks or stopped working entirely - we don't include any of those on this list.
With the safety of your little ones as a top concern, we try to steer you clear of risky systems (one system actually melted its battery pack and was short-circuited!). One of the most common questions we get about baby sound machines is whether to get a portable unit or a system designed to stay in one place. It's the very same question we get when people read a baby monitor buying guide. We suggest the more versatile the systems, the better. If it can be plugged in while in the nursery, and run on batteries when not in the nursery, that's ideal. Same thing for whether to get a combination sound machine that has a night light, nursery projector, and sound machine all in one, as opposed to a simpler system. To us, the more features the better, even if you end up ultimately using only one or two of them, they're certainly nice to have when you need them.
When we had our first baby, we found that we never used the night light for helping the baby fall asleep, but when we were breastfeeding or bottle feeding in the middle of the night, it suddenly became super helpful to be able to turn it on and off as needed. And as parents it's an important part of our job to make sure our babies are getting a good night's sleep, so the less you need to wake them up with bright lights or loud noises, the better for everyone!