The Best Nursing Bras of 2021
Breastfeeding is an amazing bonding experience for mother and child, and will usually last for at least the first 6-10 months of life.
During that time your body will undergo many changes in shape and size, and you'll need to keep your nourishing breasts comfortable, supported, and at the ready! Below are the top 5 nursing bras to get the job done, followed by in-depth reviews.
As you know, along with maternity and nursing comes several wardrobe challenges! Your breasts will become large and firm when it's time for feeding, and then smaller and softer after breastfeeding. And they will be much larger and heavier than you're used to, so your usual favorite bras will no longer work very well. Finding the perfect nursing bra will keep you comfortable throughout this transition, and will give you the convenience you need to make breastfeeding or pumping possible while at home, work, or out and about. Speaking of comfort and convenience, also check out our list of the best nursing pillows!
The best nursing bras are comfortable, durable, convenient, and supportive while maintaining the style you prefer. So that's a lot to ask for in the perfect nursing bra! Note that nursing bras come in three primary styles: the clip-down nursing bra, the pull-aside nursing bra (also great as a sleep bra), and nursing tank that combines the bra into a tank-top. Many nursing bras also have an option to purchase a separate breast pump holder that attaches to the nursing bra clips for hands-free pumping (check out the best breast pumps). Of course, there are also the pumping bras themselves, but those tend to not be as popular as the more versatile bras.
Here are the Best Nursing Bras of 2021!
We have been super impressed with the comfort and versatility of the Simple Wishes nursing bras, and are excited to feature them at the top of our list! The Simple Wishes Hands-Free Pumping and Nursing Bra comes in sizes XS to Large, and Large to Large-Plus. Out of the box, the fabric was soft and the seams were high quality. The tag says these are made from Oeko-Tex Standard 100 Certified Fabric, with 83% cotton and 17% spandex. The spandex gives it a nice responsive support to accommodate your breasts as they change shape and size from full to empty, and the Oeko-Tex cotton is super soft and high quality. The fit of these bras is amazing, using a large Velcro rear panel that adjusts a full 10" to fit your changing postpartum body, and it can be worn as a strapless band or with the included straps for extra support. In most cases, we found the straps necessary, especially for larger bust sizes. Speaking of sizing, most women with a bra size below about a 38D will fit the Small-Large size, whereas above a 40B will fit better into the Large-Large-Plus size; the widely adjustable rear panel helps fit a wide range of body shapes within each size. In the larger size, the Simple Wishes bra is amazing for plus-size women.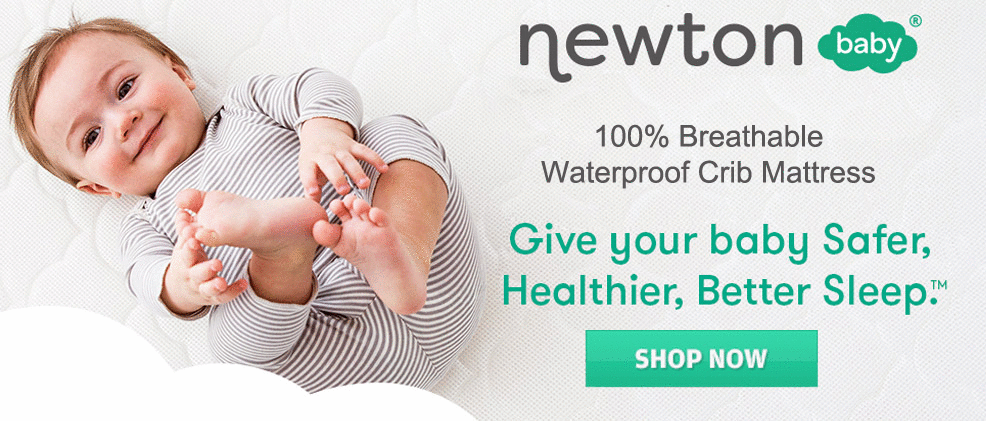 The best aspect of this bra, however, is the amazingly designed openings that hold your breast pump's shields very comfortably against your breasts, promoting a reliable leak-free seal. The opening flaps have enough flexibility to move the sheild around a bit to accommodate different nipple positions, which we found very helpful, and there is a zip-in center panel that can help even more. We tried this with Medela, Spectra, and Ameda breast pumps, and it worked perfectly in all cases. We think you're going to love the convenience and versatility of the Simple Wishes nursing bra just as much as we did, and we highly recommend trying it! Who else loves it? Our friends at Babylist, The Bump, and WhatToExpect also consider it a top pick! Interested? You can check out the Simple Wishes Nursing Bra here.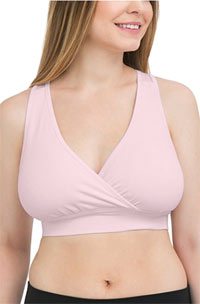 This is the best overall comfort-oriented nursing bra on the market for the year, and we have been consistently impressed by its comfort, durability, style, ease of use, and support. It's best for women with cup sizes up to about D, after which you might want more support from an underwire or elastic bottom band, and removing your breast from this style of bra might be more involved than you'd like. For most women this will be an excellent option. It is one of the more simplistic nursing bras on the market, using the pull-aside method for breastfeeding as opposed to the pull-down flap method. The bra itself is super soft using a french terry fabric that is soft, durable, and a little flexible to support your changing breast size and firmness between feedings. It is a racerback nursing bra with a versatile style that can be used on a daily basis but also appropriate for using during yoga or exercise. We found it especially comfortable for sleeping, which is why Kindred Bravely tends to market this as a sleep bra.
With comfort as our #1 priority, this sports-style nursing bra is a clear winner. For breastfeeding, the front crossover design makes it super easy to pull the bra aside and expose the entire breast - and we could easily do it with one hand while holding a baby, which is essential. It comes in 6 regular sizes, and 6 additional "busty" sizes that include an extra elastic band for support of larger breasts. The fabric is super soft (92% bamboo rayon) and reasonably flexible given its spandex content (8%). The bottom band doesn't have any elastic straps which makes things much more comfortable for prolonged wear. And we had no problem fitting nursing pads into it, and keeping them in the right position. Overall, we loved this sporty racerback nursing bra, and are excited to continue using it on a daily basis. It's not a sleek seamless bra (see below for those), but rather a mom-first comfort-oriented bra that is supportive, comfortable, versatile, and super easy to use for breastfeeding. Combine this with the Hofish Seamless Nursing Bras below and you'll have a great combination of more and less casual options for your wardrobe! These are usually about $30 per bra, and are also considered a top pick by our friends at Babygearlab! Interested? You can check out the Kindred Bravely Nursing Bra here.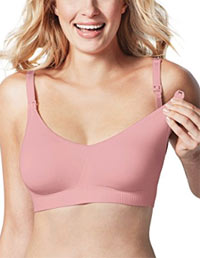 Here is another seamless and silky smooth nursing bra option for moms looking for a higher quality and softer option than the Hofish. In fact, its design is quite similar the Hofish, with the pull-down flaps for breastfeeding, elastic bottom band and vertical center strip, nursing cup pockets, and adjustable straps. If you have very large breasts then this option goes all the way up to a size 46DDD(F), which is much higher than the Hofish goes, and higher than we recommend for the Kindred Bravely option. One of the cool things about this Bravado nursing bra is that it can be used with the Bravado Clip and Pump system, which is a nursing accessory that can hold two breast pumps simultaneously for hands free pumping (turning it into a pump bra). In our testing, we found the bras to have excellent quality craftsmanship, a super soft polyester and spandex blend fabric that was truly silky-smooth, a good range of adjustments, and superior support and comfort. The stretchy fabric was really impressive, and it was able to stretch in multiple directions rather than the usual 2-way stretch you find with other fabrics (like with the Hofish). Under clothing, it was impressively seamless and looked great. It does include two foam inserts, which were less than ideal. The inserts were clearly not absorbant for nipple leaks, and they had a very cupped round shape. We replaced them with regular nursing pads that fit right into the bra's inside pockets without an issue.
Overall, we were really positive on the look, feel, and functionality of this nursing bra. Downfalls? Well, we didn't understand why a nursing bra would come with foam inserts that were basically useless for anything other than hiding the outline of the nipple. Second, the price is among the most expensive that we tested, coming in at about $50 per bra! Yes, that's a lot for a single nursing bra, even if it's pretty high quality. But you might find it worth the cost, it is super comfy! Who else recommends the Bravado Body Silk Bra? Our friends at Babylist and Babygearlab also consider it a top pick! Interested? You can check out the Bravado Designs Body Silk Nursing Bras here.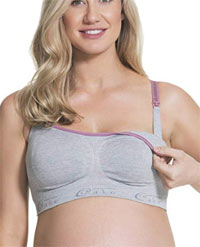 This is one of the best overall nursing bras available to moms this year, and we absolutely love the style, quality, functionality, and comfort. It is an award-winning maternity bra and appears at the top of many best-of lists in popular magazines and on the best websites (like ours!). Awards include the Mom's Choice Award, UK Mother and Baby Award (for 3 years in a row!), and the Parent Tested Parent Approved Award. It is a super soft polyester fabric with 8% elastic content, made from super durable fabrics that keep their shape and softness after machine washing. It uses an awesome design that basically combines a racerback style bra with a conventional lower back clasp for support. This design makes for a seriously supportive and fashionable fit, because it pulls up in the right places with its adjustable racerback straps, while also keeping a tight layer of lower support through its elastic bottom band. The inside of the bra itself is seamless for sensitive breasts (check out our best nipple creams), and we found it to be super breathable fabric that was silky-smooth against the hands and breasts. Remember that means that it will also be super soft against baby's face, so the fabric is super important. Speaking of which, the fabric uses Oeko-Tex Standard 100 materials which means that it is free from harmful chemicals. The cups themselves are double-lined but they are not padded, so it is a nice thick fabric without padding (of course, most moms don't need padding during this time of their lives!). Note that it does not have pockets to hold nursing pads, but we did find the fabric firm and thick enough to hold pads in place without much movement, and without any obvious pad lines visible through clothing. The Lanisoh and Bamboobies pads worked perfectly. In our testing we found that it looked great, was super comfortable and supportive, and was made from high quality materials that you can be confident about. It's not the sexiest of bras around, but it's a good cross-over between a super loungy-style bra (like a sleep bra) and a sexier lace bra that will lack some of the comfort and support of this bra. So it's a good middle-ground to have for daily out-of-the-house use, while also having a couple back-up sleep nursing bras and fancier bras for more sophisticated outfits. The only con we found with this nursing bra was that we would have liked it to have a firmer bottom band - there were times when it felt a bit too loose underneath. Not loose enough to let anything fall out, but loose enough to make us think that might be possible. But overall this is a truly excellent nursing bra that is worthy of its spot near the top of our list! A little expensive, coming in at around $75-80 per bra, but also recommended by our friends at The Bump! Note that Cake also makes a relatively traditional seamless nursing bra, called the Rock Candy, that you might want to check out as well. Interested? You can check out the Cake Cotton Candy Nursing Bra here.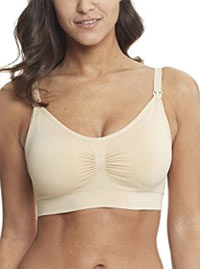 Here is a seamless nursing bra option for moms looking for excellent support with good lines for wearing under normal clothes. The Hofish nursing bras are known for their comfort, support, durability, ease of use, and fantastic customer support. They truly care about the moms who are using their breastfeeding bras, and they work really well for supporting moms with even very large cup sizes (comes in sizes up to 36D, 38C, or 40B). It uses the pull-down flap for breastfeeding, which we found super easy to use with only one hand. The fabric is great, and it uses elastic in all the right places to promote support and comfort, such as on the bottom band and vertical center area of the bra. The adjustable shoulder straps were helpful for this as well, as are the clips they provide for holding together the back straps - these clips help keep the straps out of the way in case you're wearing a racerback shirt, and are also great for fine-tuning the support. Speaking of fine-tuning the support, they also throw in a clasp extender which can help you out a ton especially when you're first starting to use the bra and your breasts are more engorged. This particular bra includes washable nursing pads that fit into pockets built into the cups (these were a god-send!). In our testing, we found these bras to be well-made, versatile (given all the adjustments provided), comfortable, and easy to use. We were consistently impressed, and appreciated all the thought and care that this company puts into their bras. And did we mention the price? Each bra is only about $8 which is amazing, and they tend to come in a 3-pack with all of the cups, clasp extensions, shoulder strap clips, and bras included. Typically available in a light pink, black, beige, or grey. Note that Hofish makes a hands-free nursing bra attachment that connects directly to this bra, making hands-free breast pumping more convenient. Downfalls? Well, the nursing pads aren't very soft to the touch, though they are completely fine and comfortable when they are in their pockets. Of course, more importantly they are super absorbant for and leakage that happens during the day or night. Second, some moms might find the bottom elastic band uncomfortable for extended wearing, but realize that these are not for sleeping - check out the Kindred Bravely option for that! Interested? You can check out the Hofish Nursing Bras here.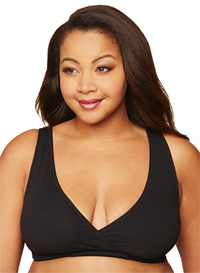 Another comfortable nursing bra that is most similar to the Kindred Bravely option, but with a slightly lower price and fewer color and pattern options. This nursing bra is designed to be comfortable all day and night, with 95% cotton and 5% spandex materials, a surplice wrap front, wireless cups, and no snaps or hooks and loops. For reference, we had a hard time understanding the bra sizes, which are Small (34), Medium (36), Large (38), Extra Large (40), 1XL (42), 2XL (44), and 3XL (46). The numbers correspond to your current bra size, and cup size works for A through about D. In our testing, anything larger than a DD cup size is not very well supported by this bra, and we had some issues with breasts slipping out with DD+ sizes. Not if you're simply lounging around the house or using it for sleeping, but if you're going to venture out of the house you might want a more supportive nursing bra. For any breast size, it's a top nursing bra for night nursing, cozying up with a book and tea, and for any other situation where you don't need more support. We found the bottom elastic really comfortable and it didn't dig in at all. It did a good job holding in nursing pads, and the seams are low profile enough to not stand out really badly in a t-shirt. It's so soft and comfortable for nursing moms, we had situations when we would completely forget we were wearing it! In terms of washing, we machine washed in cold with some intermittent spot treatment for leakage, and threw it in the dryer. It did shrink a tiny bit with washing, but it has 5% spandex so any shrinkage was gone after about 10 minutes of wearing it again. Overall, we think it's really great! The only improvements could be for plus-sized moms who might need more space in the underarm area, and might find some "side boob" peeking out. Also, we found that it runs a bit small, so if you're uncertain about sizing we suggest going a size up. Not quite as soft and comfy as the Kindred Bravely, but it's also quite a bit less expensive. Interested? You can check out the Motherhood Maternity Nursing Bra here.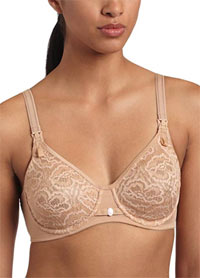 This is one of the only underwire nursing bras on our list, and we loved it for its support, style, comfort, and performance. Out of the box, we thought the bra felt super high quality and it was true to size - it's one of the few nursing bras that allows you to order a specific bra size rather than grouping by small/medium/large etc. The underwire helps support and position the breasts really nicely, but it's not too intrusive or bulky so you can't feel it digging in around the ribs or breast. The style is for moms looking to get into a nice-looking lace bra while nursing, but don't mistake that for a lack of nursing functionality! Some key features include the clip-down nursing flaps being super easy to use with one hand, super soft micro-fleece on inside for seamless comfort, adjustable stretchy straps, a 3-position and 3-clip fastener, and a super soft fabric that is 80% nylon and 20% spandex. One of the coolest features is a little bead attached to the front of the bra that you can slide from left to right as a reminder of which breast you want to use first for your next breastfeeding. That's a nice touch and something we hadn't seen in any other nursing bra. We thought that the bra provided a very natural support and shape, with a great custom-feeling fit. The only drawbacks of this bra are: First, the lace is pretty thin and the outline of either your nipples or the nursing pads will likely be seen through your shirt. Second, there is no pocket for inserts or nursing pads, so they can shift around a bit during use. One option is to use something like the Bamboobies Nursing Pads and then wear an undershirt over it. That might be worth it for moms looking for a regular bra that is similar to what they're used to wearing in terms of fit and style. But you'll also need to cough up some serious cash to make that dream a reality - these bras tend to be about $70 a piece! Interested? You can check out the Anita Maternity Underwire Nursing Bra here.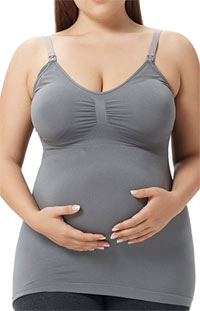 Hofish has really made a splash in this year's best nursing bra review, and we've been really impressed with their quality, comfort, ease of use, and price. Did we mention how darn inexpensive the Hofish products are for their quality!? It's like they saw this review coming a mile away and pulled out all the stops to make us some awesome products at unbeatable prices. This nursing tank-top cami is no exception! It basically combines the best-selling Hofish seamless nursing bra with an adorable tank-top that is stretchy and form-fitting for all pregnancy and post-birth body types. We loved how this tank-top felt with its soft and stretchy fabric, and the fit was great with its adjustable straps, elastic bottom band, and high quality stitching. The bra itself is basically the same as the Hofish nursing bra reviewed above but without the back clasps. It includes the soft and absorbant nursing pads (inserts) that fit into inner pockets inside the bra; and the inserts were a nice shape, not the odd cupped shape of the Bravado nursing bra. The flexible bra and tank top were great at supporting a wide range of breast shapes and sizes. The length of the tank top was great, falling down to about the hips for a medium-height woman, which means you have plenty of material for tucking it into pants if you'd like. So overall we really liked this nursing tank-top, with no major complaints. The only downfall to a nursing tank like this is that it's only really flattering during pregnancy and for the first month or two after pregnancy. Unless you have like zero tummy fat, the very form-fitting style might accentuate the tummy more than you'd like. At that point, you might want to consider something more like these excellent CAKYE nursing camisols. Interested? You can check out the Hofish Seamless Nursing Bra Tank-top Cami here.
Here is yet another seamless pull-down style nursing bra that is similar to the Hofish and Bravado, with some excellent quality, comfort, and features. Like the Bravado, it is a great option for moms with larger busts, going all the way up to a size 42DDD(F) and featuring great support overall with its flexible spandex and nylon material, bottom elastic, and adjustable straps. In our testing, this bra reminded us a lot of the Bravado Body Silk, with its design and comfort. It's super soft and comfortable, one of the most comfortable bras we've ever worn, nevermind one of the most comfortable nursing bras! The fit was a bit small so we had to jump up to the next size, but that seems to be a trend with most nursing bras - we always suggesting sizing up if you're near the upper limits of a size range. That will do a better job accounting for the ups and downs you will have with your breast size during breastfeeding. As with the Bravado, this bra has the foam inserts that we needed to replace with absorbant ones. Overall, we liked this bra and thought that it was a worthy addition to our best nursing bra list. A bit difficult to find at times, and sometimes pretty pricey (about $40 per bra) but if you can get your hands on it for cheaper we highly suggest it! Interested? You can check out the Pea in the Pod Seamless Nursing Bra here.
You are here:  

The Best Nursing Bras of 2021
Related Articles to Check Out!