The Best Nipple Creams for Breastfeeding Moms 2023
Soothe those nips like a boss with these top-rated nipple creams, salves, and balms.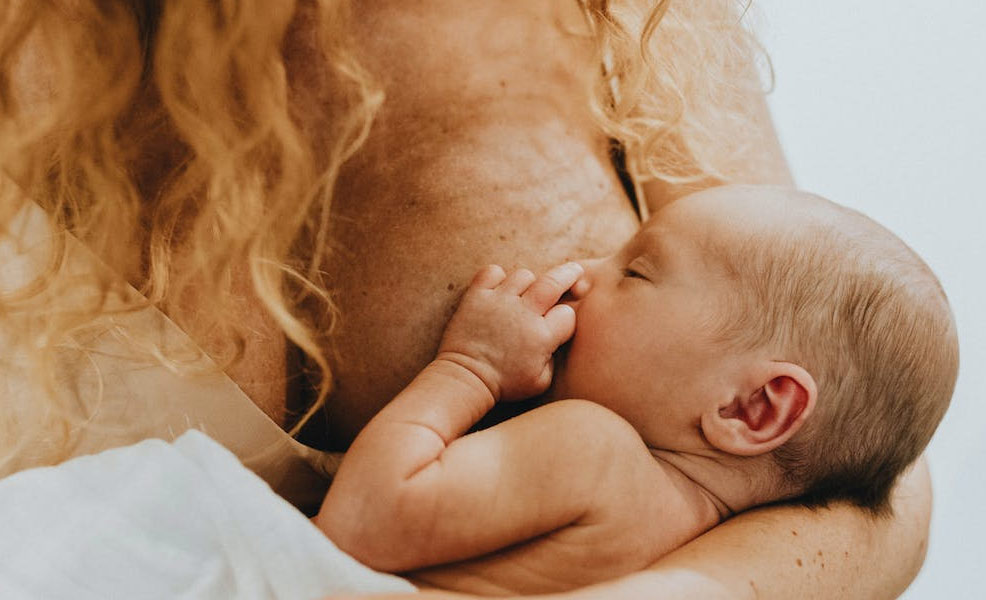 ---
Mommyhood101 independently tests and curates baby gear to help you make informed decisions. If you buy products through links on our site, we may earn a commission.
Breastfeeding takes a lot out of your breasts, literally and figuratively! Nipple cream is a great way to prevent and treat dry, cracked, and irritated nipples, making for a much more pleasant breastfeeding experience.
We tested over a dozen popular nipple creams, balms, butters, and ointments, including natural and organic options.
Just for fun, what does ChatGPT-4 think is the best nipple cream!?
"Based on my research, I can confidently recommend the Earth Mama Organic Nipple Butter for its gentle yet effective formula using natural and organic ingredients." -ChatGPT-4
We've never seen a robot applying nipple butter, but we'll take their word for it!
Fortunately, we've been reviewing nipple creams for over 10 years. If we made our own, here is what it would look like:
✔️ USDA Organic.
✔️ Non-GMO verified.
✔️ No lanolin or petroleum.
✔️ No washing off before feeding.
✔️ Soothes cracks & dryness.
✔️ Reduces redness & irritation.
✔️ Hypoallergenic formula.
✔️ No strong fragrances.
✔️ No strong tastes.
✔️ Applies thick and stays on.
✔️ Does not stain bras or clothing.
✔️ No animal testing.
Of course, you will also want the creams to meet your fragrance preferences and budget constraints. That's a lot to ask, and very few nipple creams meet the needs of picky moms!
Here are the top 5 nipple creams we found, followed by our full reviews of several options.
According to CDC research, most moms (about 81% of them) breastfeed their babies starting at birth.
Breastfeeding can be a beautiful bonding experience between mom and baby, with tons of health and developmental advantages. But many breastfeeding moms also experience dry and cracked nipples, tenderness, rashes, soreness, and chafing, and research shows these symptoms can cause women to stop breastfeeding entirely.
The best nipple creams do a great job relieving sore and chapped nipples, have only organic ingredients that are hypoallergenic and suitable for baby's consumption, and are odorless and tasteless. Our rule of thumb: if you wouldn't put it in your mouth, don't put it on your breastfeeding nipples! The most important thing is that the product is safe for babies and effective for mom.
Full disclosure: Some of these nipple creams, including the Honest Company and Earth Mama varieties, were sent to us as free test samples by the manufacturer.
Here are the Best Nipple Creams of 2023!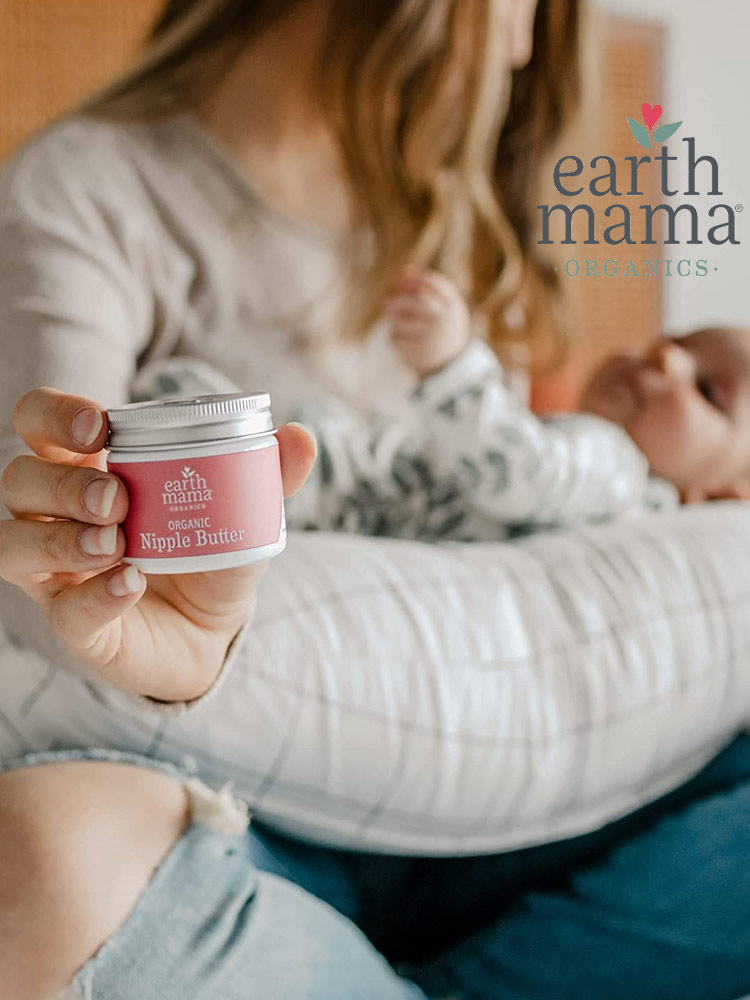 This is the best nipple cream on the market for the year, and we have been consistently impressed by its quality and effectiveness. It contains only certified organic and non-GMO ingredients, including olive oil, beeswax, cocoa seed butter, shea butter, mango seed butter, and calendula flower extract. All of these ingredients are food safe and score a 1 (lowest possible risk) in the Environmental Working Group's safety database. That means you can feel confident in the products safety, and the fact that your child will likely consume a bit of it during breastfeeding. When we first received it, we thought the jar was a bit small, but also point out that it's usually only about $10 and we were impressed how long it actually lasted. Our other first impression was the odor: it smells like very mild chocolate, a smell it gets from the cocoa seed butter. For anyone wondering, cocoa seed butter does not contain any caffeine, so you don't need to worry about that! Next, we noticed that it has a slightly odd texture, a tiny bit grainy to the touch but nothing too difficult to apply a thin layer of. And that grainy texture seemed to go away once it was put on the nipple.
Our testing moms said that this was fantastic at healing dry and cracked nipples, and some of them said it produced results overnight, which is really amazing. They also made a few additional comments: first, it doesn't stain breast pads or bras with an oily stain like lanolin nipple cream can. Second, none of their babies rejected the breast when it was on, which is more than we can say for some of the others we tested. Third, they liked that they didn't have to worry about wiping it off before breastfeeding, unlike lanolin nipple cream (but you know it's not being entirely wiped off either way). Fourth, one of the moms tasted it (so did we!) and said that it was basically tasteless, which we agree with. Finally, they said that the small tube lasted over a month with twice-daily use, so that's pretty darn good for only about 10 bucks. Note that Earth Mama also makes the popular Earth Mama Angel Baby diaper rash ointment, which we discuss in our reviews of diaper rash creams. So overall, this is our favorite nipple cream (or nipple butter) - it is effective, high quality, inexpensive, smells and tastes good, and babies don't seem to reject it. Who else loves the Earth Mama nipple cream? Our friends at Babylist, WhatToExpect, and The Bump also consider it a top pick! Interested? You can check out the Earth Mama Organic Nipple Butter here.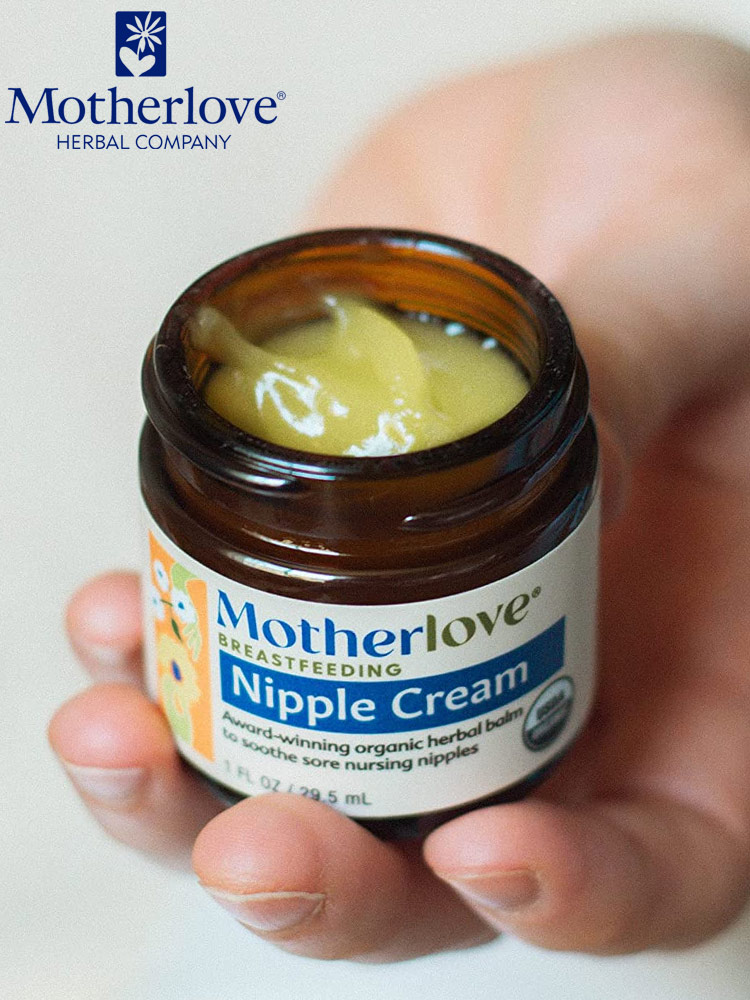 This nipple cream (they call it a nipple salve) is very similar to the Earth Mama option above, and we had a difficult time deciding which should be at the top of our best nipple cream list. The Earth Mama option edged out the Motherlove cream by a slim margin. When we received the jar of Motherlove, it was surprisingly small, even smaller than the Earth Mama, coming it at only 1 ounce for about the same price ($10). The jar was actually so small it was hard to get 2 fingers into it! But after we got over the size, we were really impressed with its performance. It's an excellent nipple cream, and its organic non-GMO ingredients all sound pretty familiar: olive oil, beeswax, shea butter, marshmallow root extract, and calendula flower. The only ingredient distinguishing it from the Earth Mama is the marshmallow root, which according to the Environmental Working Group is a lowest-risk skin conditioner.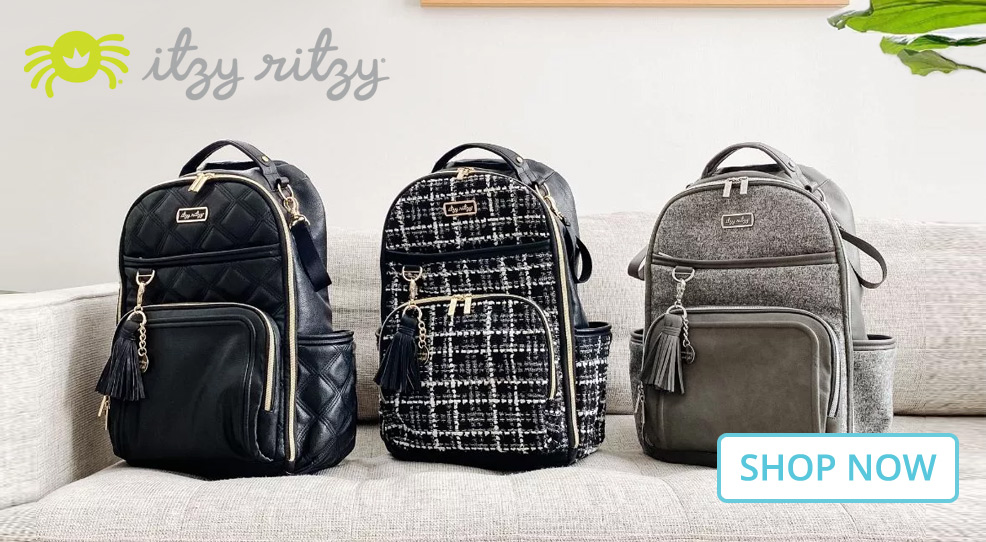 Out of the box, we actually liked the jelly-like texture of this nipple cream much more than the Earth Mama, it went on easily without any of the strange texture. But there are trade-offs: the Earth Mama stays on the nipple better, and this Motherlove cream seems to rub off a bit more easily onto nursing pads, bras, and clothing. Smell? Slightly like olive oil, very mild odor and flavor (yes, we tried it!). The breastfeeding moms who tested out this nipple cream had great things to say about it. They loved not having to worry about wiping it off the nipple in the middle of the night before breastfeeding. They also liked that it had such a mild odor and was easy to apply. Several said that it was very effective at treating chapped and dry nipples, and worked pretty quickly. The only major downfall is that some milk-banks will not accept donations from moms who use nipple creams containing marshmallow root; so keep that in mind if you're donating your breast milk. So overall we have an excellent and highly effective nipple cream with a nice, easy to use texture, reasonable price, and very high effectiveness. No babies seemed to be turned off by the odor or taste, and our testing moms gave it overall very high ratings. Only slightly behind the Earth Mama nipple cream. Highly recommended! Who else loves the Motherlove nipple cream? Our friends at Babylist, WhatToExpect, and The Bump also consider it a top pick! Interested? You can check out the Motherlove Organic Nipple Salve here.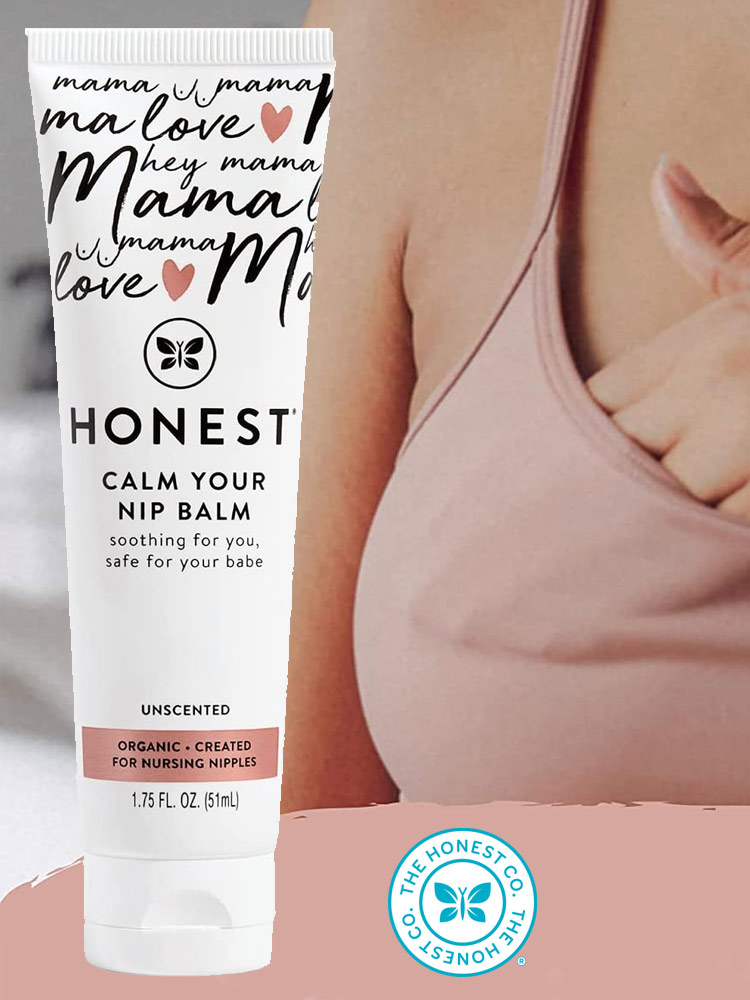 Here is another excellent organic nipple cream (they call it a nipple balm) that contains over 95% organic ingredients: canola oil, coconut oil, beeswax, shea butter, corn starch, jojoba seed extract, aloe leaf extract, soybean oil, tocopherol (vitamin E), silica, water, and citric acid. The only non-organic ingredient is the silica, which is a hydrated silica that is used to give the product a "gel" like consistency. Silica is classified by the FDA as generally regarded as safe for consumption, and is commonly used in natural products (Toms of Maine uses it in most of its toothpastes). The silica might be responsible for making the texture one of the best on the list! Out of the box, we liked that the packaging was larger than most others (1.75 ounces) at a similar price (about $10). The texture is not too thick, not too thin, and not too jelly-like or pasty. The corn starch makes it smooth and the silica makes it have a slightly gel-like consistency. And it actually stays on the boob really nicely: we didn't encounter any issues with stains to shirts, nursing bras, or nursing pads. It absorbs really nicely into the skin, though it might have a slightly greasier hand-feel than the Earth Mama or Motherlove options.
The odor was pleasant, nothing readily identifiable but maybe a faint smell of coconut if you're paying close attention. Most imporantly, we found that it was very effective at relieving and healing dry and chapped nipples, and of course it can work elsewhere on your body as well (dry patches on hands and faces)! Our testing moms also commented that it worked overnight at relieving chapped nipples, and over the course of a few days (with twice to three-times daily application) it could heal even some moderately cracked nipples. And because it basically is odorless and tasteless (we tasted it, of course!), babies did not show any signs of rejecting the nipple. One of the nice things about the smooth texture of this nipple cream is that you don't need to rub it on with any effort - nobody wants to be rubbing a sore nipple, and the smooth texture makes application really effortless and painless. A little of the balm goes a long way, though not quite as far as the thicker Earth Mama nipple balm, simply because you tend to use more of this balm due to its softer texture. Overall we're really positive on this nipple cream, though we think it would have been better to exclude the silica and have a fully organic nipple balm, and we think it would be better from a jar than a tube (like it used to be). Who else recommends the Honest Company nipple cream? Our friends at Babylist and WhatToExpect also consider it a top pick! Interested? You can check out the The Honest Company Calm Your Nip Balm Balm here.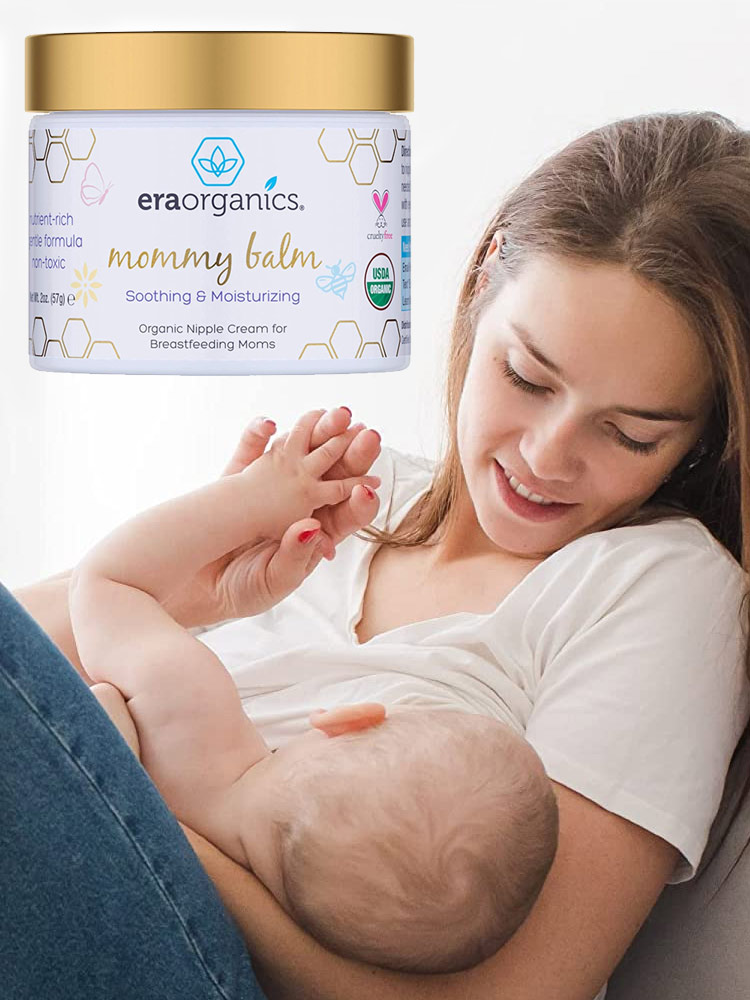 Here is another excellent organic nipple cream (they call it a mommy balm) that is marketed not only for use as a super effective nipple balm, but also for application on any chapped, chaffed, or cracked skin. That's really the case for any nipple cream on this list - you can use it anywhere on your body! (well, externally at least) In fact, Era Organics also makes our #1 rated diaper rash cream, which has similar ingredients and consistency. We really love their line of products and this organic nipple cream is no exception. It contains sunflower oil, cocoa butter, beeswax, apricot oil, vegetable glycerin, arrowroot powder, evening primrose oil, chamomile extract, calendula oil, rosemary extract, and tocopherols. So it's the only sunflower seed oil based nipple cream on this list, but judging by the smell we think it has a similar amount of cocoa butter in it. That's because you can get a mild scent of sunflower seed, but the cocoa butter scent is a bit stronger - and we think it smells much better than sunflower seed oil, so we're happy about that! Out of the box, we liked that this was a good-sized 2-ounce container, though we do note that it's a bit more expensive than some of the others, coming in at about $15. The odor is mild and nice, a mix of sunflower seed and cocoa butter. None of the babies rejected breastfeeding when using this nipple cream. Moms also found it super soothing and effective.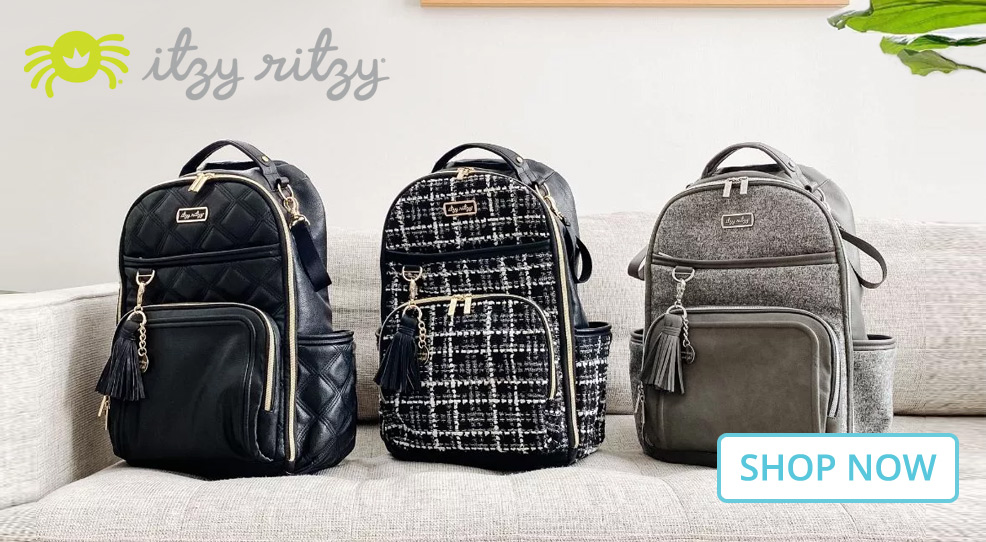 The Era Organics Mommy Balm is a bit difficult to get out of the jar but then it melts on your hands and skin into a thin oil that does a good job staying on and not staining fabrics too badly. The texture is a little odd, just like the Earth Mama, but once it warms on your skin the uneven texture goes away immediately. Because it's marketed as a Mommy Balm, our test moms seemed much more adventurous in trying it out on other body parts. They reported that it also makes a great hand cream for dry and cracked knuckles, a great lip balm for chapped lips, and several also used it as a diaper rash cream for their baby. Technically, you could do all of that with any of the nipple creams on this list, but calling it a Mommy Balm seemed to encourage it. Some moms also commented that it was a little less embarrassing to have a Mommy Balm in their diaper bag or on their bathroom counter, rather than a label that screams "sore nipples!" at anyone looking. That's a good reason to consider Mommy Balm for a baby registry or baby shower gift! So overall this is an excellent nipple cream that will likely be a good option for most moms. The only downfalls we found were: moms noted that it will leave stains on your clothing if you don't let it dry completely before getting dressed. They also said it helped to put on a very thin layer. A couple moms also said that they didn't like the smell of sunflower seed oil, which we agreed with - the cocoa butter smell does mask it a bit, but not entirely. Also, the inconsistent and sometimes lumpy texture was a little odd at times, but nothing so different from several other options on this list. Also recommended by our friends at The Bump, you can check out the Era Organics Mommy Balm here.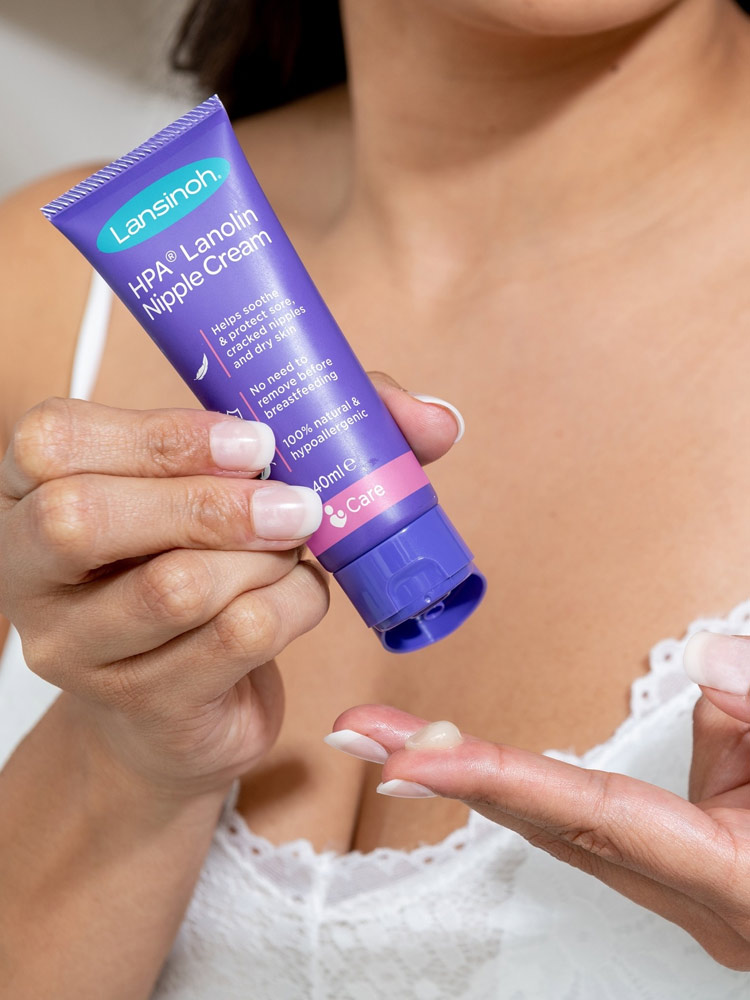 This is one of the best-selling and most widely-recommended brands of nipple cream available on the market, and for some great reasons. It contains only natural modified lanolin, which is listed as lowest possible risk in the EWG Skindeep database. Lanolin is sourced from sheep's wool, and according to research, modified lanolin has any pesticide or detergent residue removed and undergoes a process to improve safety and reduce possible allergic potential. The result is a very pure lanolin that is free from toxins, preservatives, parabens, and fragrances. Importantly, this nipple cream is hypoallergenic, does not need to be removed before breastfeeding, and does a really great job at moisturizing nipples, preventing nipple soreness, and treating nipple pain. The cream is very thick and goes on evenly. We tested it after breastfeeding, before showering (to protect nipples), and before bedtime. In all cases we found it to be gentle, easy to apply, and very effective. There's really no odor at all, and the cream is very consistent and we didn't see any oil separation during storage. It's an obvious choice for nursing moms, especially if other options aren't working for you - such as the popular coconut oil, beeswax, or olive oil options. We're not ashamed to admit that we also used it as a lip balm, put it on dry patches, and even used it to coat a cloth diaper! The tube lasted a couple weeks with daily use, though we did wish it was a bit larger - we found it in a 1.41-ounce tube that cost about 10 bucks. That's a little pricey, but maybe it's fair for the number 1 recommended (by physicians) nipple cream on the market! Cons? Well, at the bottom of this article we detail some of the issues with lanolin in general, but these include staining, possible allergic effects, and the fact that most breastfeeding experts suggest you should wipe lanolin off before breastfeeding. That final point contradicts the manufacturer but it's worth mentioning. Also recommended by our friends at Babylist and WhatToExpect, you can check out the Lansinoh Lanolin Nipple Cream here.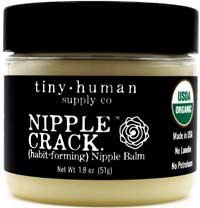 The Tiny Human Supply Company makes a growing range of personal care products, many of which are targeted towards moms and babies. These include diaper rash creams, baby lotions, shampoos and baby washes, and of course this amazing Nipple Crack cream! Like many of their products, Nipple Crack is certified organic, lanolin-free, cruelty-free, is made in the USA and uses plant-based ingredients. Specifically, it uses coconut oil, sunflower seed oil, beeswax, olive oil, shea butter, aloe leaf juice powder, and calendula flower oil. Those ingredients are very similar to the Honest Co. Calm Your Nip Balm, but without the silica or corn starch, which is likely to influence the texture (more on that later). All ingredients are baby safe, which means you don't need to wash off this nipple balm before breastfeeding. A little pricier than other options, the 1.8 ounce jar of Nipple Crack is typically about $13, making this one of the more expensive options on this list. But how does it perform!?
Out of the box, the jar is easy to unscrew and provides a nice wide opening so you can fit a couple fingers in. The cream is interesting. Likely because it doesn't contain silica or corn starch, the texture is a bit temperature dependent. When it arrived after sitting outside in 45-degree weather, it was thicker and behaved more like a nice thick balm. After a few hours at room temperature (around 72 degrees), it behaved a bit more like an ointment. We hesitate to call it a cream because it's not really creamy, it's somewhere between oily and watery in texture. Not ideal, but it does make it very easy to apply. It has a slight odor of coconut and shea butter, but nothing too strong, and it goes on the nipple nice and evenly. It does a great job preventing, soothing, and healing dry and chapped nipples, especially very mild cases. If you use this on a daily basis, you should be able to avoid those issues entirely. We really like Nipple Crack, and realize there's a trade-off between using all organic ingredients and achieving the ideal texture. For those looking for something on the more natural end of the continuum, this is an excellent option! Also recommended by our friends at Shape Magazine, you can check out the Tiny Human Nipple Crack here.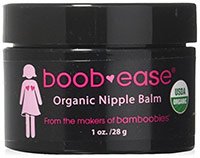 This Bamboobies Boob Ease nipple cream contains the exact same organic ingredients list as the Motherlove option above. It seems to be a newer nipple cream on the market, so we suspect they simply copied the success of Motherlove's ingredient list. On the one hand we think that shows a lack of innovation and is a little sketchy, but on the other hand if it ain't broke why fix it? This is the same company that makes the very popular Bamboobies washable nursing pads, and it looks like they branched out into a nipple balm, building on the popularity of their nursing pads. Makes sense. So to reiterate the ingredients of the Motherlove option, this contains organic olive oil, beeswax, shea butter, marshmallow root, and calendula flower. All very low risk and safe ingredients according to the Environmental Working Group. Out of the package, it was very similar to the others coming in a small 1 ounce jar that costs a little bit more (about $13) than the other options. The odor was very mild like olive oil, and the jar was a bit wider than the Motherlove, making it easier to stick a couple fingers into it. The texture was nice and a bit denser (like a Chapstick) than the Motherlove, so it seemed to stay on a bit better, but it was a very small difference overall. Our testing moms made very similar comments to the Motherlove, which shouldn't be surprising given the exact same ingredients list. They liked that it was easy to apply, had low odor, no babies rejected it, you don't need to wipe it off before breastfeeding, and it was very effective at fighting dry and cracked nipples. One mom said it was the most effective among all of the nipple creams at quickly relieving chapped redness around the nipple. Overall, highly recommended, but for a little less money we'd just go for the Motherlove! Also, we don't really like copy-cats and feel like this product simply copied the popular Motherlove nipple cream. Also recommended by our friends at Babylist, WhatToExpect, and The Bump, you can check out the Boob Ease Organic Nipple Balm here.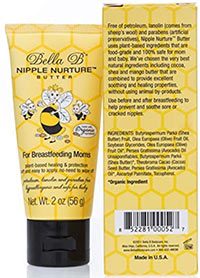 This nipple cream (they call it a nipple butter) is not fully organic, but it is made with organic ingredients. Three of them actually, olive oil, shea butter, and avocado oil. These are combined with shea butter fruit, soybean glycerides, cocoa seed butter, ascorbyl palmitate, and tocopherol. In case you're wondering, ascorbyl palmitate is Vitamin C (safe, harmless) and tocopherol is Vitamin E (also safe). So while it's not technically USDA Organic with at least 95% organic ingredients (that's the U.S. requirement for being considered organic), it's all natural, plant-based, and uses some organic ingredients. Like the other options on this list, there is no need to wipe this nipple butter off the breast before breastfeeding your baby. Unlike the other nipple creams on this list, it comes in a tube which makes dispensing a bit different. The texture is much more like a cream, similar to some of the lanolin nipple creams, which makes it very easy to dispense and rub onto the nipples. When it's cold, it gets hard to squeeze out of the bottle, but if you keep it room temperature or a little warmer (like above the refrigerator), it's much easier and smoother to dispense and apply. And once you put the cream onto your hands, it's like it melts a bit upon skin contact (with hands or breasts) and makes application a breeze. But it does go on a bit oily and doesn't dry quickly at all, and some of our moms noted that it stained their bras, nursing pads, and shirts. So always wear a nursing pad when you're using this nipple cream, or keep a good stain remover around for laundry day! Moms also reported that it provides very fast relief for chapped and red nipples, but it doesn't seem to heal them in the same way that some of the other options do. No moms reported any rejection of breastfeeding while using this product, likely due to its low odor (and it's basically tasteless too). The price is pretty competitive with the other options on this list, coming in at about $12 for a 2-ounce container. So that'a pretty good bang for the booby-buck. So overall this is a pretty good non-organic option for an all natural nipple cream that won't break the bank, is basically odorless and tasteless, and does a good job soothing chapped nipples. Also recommended by our friends at The Bump, you can check out the Bella B Nipple Nurture Butter here.
Types of Nipple Creams
There are some classic lanolin-based nipple creams for breastfeeding that have been around for many years and are very popular. Some of them, like the Medela Tender Care Nipple Cream and the Lansinoh HPA Lanolin Nipple Cream, might have even been provided to you for free by the hospital when your baby was born. Each of these products contains lanolin and is very effective at soothing and healing chapped, cracked, and sore nipples, but they are not preferred by us due to their ingredients and the fact that you need to clean them off before breastfeeding. That's a total pain in the middle of the night, and in our experience most moms forget or are too tired to do it. Not only that, but the actual action of rubbing a cream off of your nipple can be really irritating for a tender nipple. We suggest making things easier and using a natural or organic nipple cream and not having to worry about wiping off the lanolin creams' chemicals before nursing your baby. But if you find that you're suffering from a pretty cracked and painful case, then you might need to break out the lanolinbased nipple cream to help out for a few days.
While lanolin nipple creams can be very effective at soothing and healing skin, they have some downfalls. First, lanolin is an animal-based product that's derived from the oily sweat secretions of sheep. So if you want to avoid animal byproducts (for whatever reasons you might have), lanolin nipple creams are probably a no-go for you. Second, lanolin can be an allergen for both moms and babies, so keep that in mind if you or your baby tends to have sensitivities. Keep a more natural nipple and your baby will be happy! Finally, lanolin stains really badly and you might be upset to find that your favorite nursing bra (see our reviews of the best nursing bras) is ruined!
Additional home remedies for chapped nipples during breastfeeding include extra virgin olive oil, coconut oil, mango butter, aloe vera, beeswax, Chapstick, Blistex, and Vaseline. Some of these are great ideas, like the olive oil and coconut oil, but realize that this can get really messy and stain your clothing pretty badly. But some of the personal care products are relatively bad ideas, like Vaseline, Blistex, or Chapstick, given the chemicals present in some of those products that are not always safe for ingestion (eating/consumption). They may help with dry skin and be safe for mom, but they are not always safe for babies to consume. Stick with the Earth Mama (some people mistakenly call this the Earth Mama Angel Baby Nipple Butter) or Motherloves nipple cream and you'll be good to go. We also want to point out that all of these nipple conditions are not specific just to breastfeeding moms, as similar things can also occur when using breast pumps (see our reviews of the best breast pumps).
Conclusions
We learned a few very important things about nipple creams that you should consider. First, there is no perfect nipple cream or nursing balm for every breastfeeding mom and every baby. Some of them worked really well to relieve sore and chapped nipples, providing temporary soreness and pain relief, but babies didn't like the smell or taste. Some others didn't work very well for nipple rash, but babies didn't reject breastfeeding at all when they were on. So finding the best nipple cream is not a one-size-fits-all solution for all moms and babies; unfortunately, this is probably the last thing you want to hear when you're suffing from sore cracked nursing nipples! We suggest starting with the Earth Mama Angel Baby and seeing how thing go.
Second, some nipple creams have questionable ingredients that you might not want to put on your sore nipples, nevermind put them in your baby's mouth. So we were really careful to check the safety of all nipple cream ingredients with published safety databases (like the EWG Skin Deep rating database). Some common harmful ingredients used in nipple cream for breastfeeding include: alcohol (which is drying and dangerous for consumption), petrolatum (classified as likely toxic or harmful), mineral oil (classified as likely toxic or harmful, and also a possible allergen), sulfates (classified as likely toxic or harmful, known skin irritant), parabens (immune toxin, hormone disruptor, irritant, allergen), perfumes (irritants, allergens), and dyes (irritants, allergens).
Third, most nipple creams are relatively inexpensive, but it's worth considering their prices. Most of the competitively priced nipple creams are about $10 for 2 ounces of cream, but some others are about the same price for half as much product. And we didn't find any organic nipple cream that we could justify spending more money on for better overall effectiveness. Expect that a 2-ounce tube or jar of nipple cream will probably last for about a month with daily or twice-daily use. Once you get your nipples comfortable with breastfeeding, consider making your arms and back more comfortable during breastfeeding with one of the best nursing pillows of the year!