The Best Breast Pumps of 2023
Just like you, breast pumps come in all shapes and sizes. Let's find the perfect fit!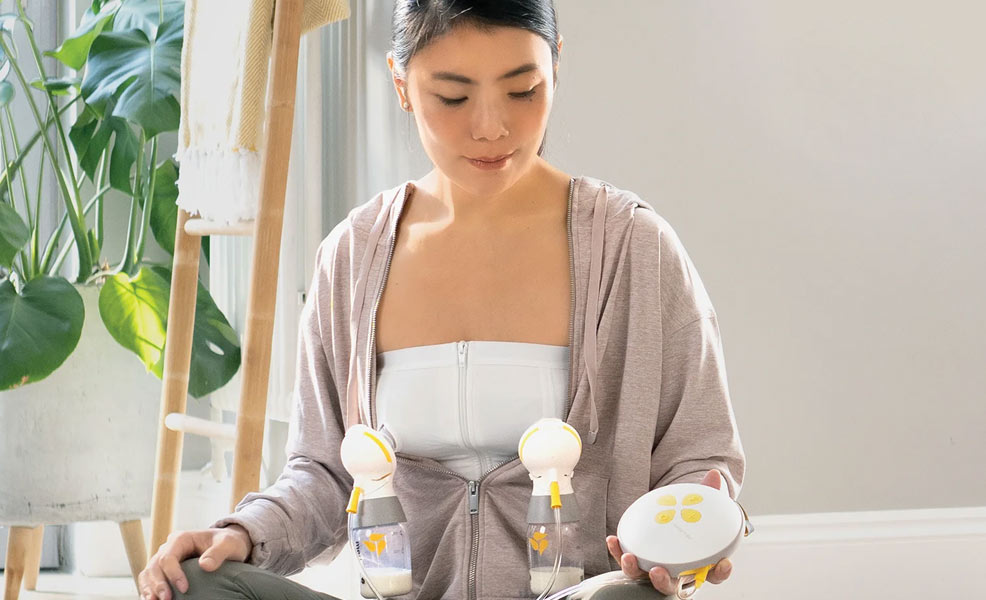 ---
Mommyhood101 independently tests and curates baby gear to help you make informed decisions. If you buy products through links on our site, we may earn a commission.
Breast pumps provide moms with the convenience of collecting and storing breast milk whenever breastfeeding is not possible or convenient, including at home, out of the house, or at work.
While we know that breastfeeding carries many benefits for your child's development, research also shows that intermittent pumping can increase milk supply and help busy and working moms breastfeed for longer. But finding the perfect breast pump can be a struggle!
Just for fun, what does ChatGPT-4 think is the best breast pump!?
"As an AI language model trained on vast amounts of data, I can tell you that the Spectra S1 Plus and the Medela Pump in Style Advanced are the best breast pumps on the market. They are both highly recommended by experts and parents, offer quiet operation and strong suction, and are portable, comfortable, and easy to use." -ChatGPT-4
The robots have spoken, and we happen to agree with their conclusions!
Fortunately, we've been reviewing breast pumps for over 10 years, and if we made our own, here is what it would look like:
✔️ Portable and rechargeable unit.
✔️ At least 3 hours battery life.
✔️ Single or double pumping.
✔️ Closed system.
✔️ Backflow prevention.
✔️ Ultra quiet operation.
✔️ Adjustable strength & speed.
✔️ Automatic letdown and massage.
✔️ Includes three breast shield sizes.
✔️ Includes baby bottles.
✔️ Compatible with most bottles.
✔️ Covered by insurance.
✔️ Reliable and durable.
Of course, you will also want the breast pump to fit your unique body shape and sensitivities, and meet your budget constraints. That's a lot to ask, and very few breast pumps meet the needs of picky parents!
There are three main styles of breast pumps: the classic manual hand breast pump, the double electric breast pump, and the new wearable breast pumps for discreet pumping while on the go. Our reviews consider all three styles and are based exclusively on our own hands-on experience and direct feedback from moms.
Here are the top five breast pumps we found, followed by our full reviews!
Breastfeeding comes with its own challenges and uncertainties, but the right breast pump will help you express that liquid gold comfortably, effectively, and efficiently!
In our experience, most budget breast pumps are simply not worth the risk of discomfort and inefficiency. Expect to spend about $200-300 on a high-quality breast pump, and it will be worth every penny. Gone are the days of hand-expressing breast milk into a bottle; nowadays, expect your pump to be portable, battery-powered, and maybe even able to sync with a smartphone app!
To read more about our testing approach and how we arrived at our list of the best breast pumps of the year, see the bottom of this article.
Full disclosure: Some of these breast pumps, including the Motif, Willow, Medela Swing Maxi, and Evenflo models, were sent to us as free test samples by the manufacturer.
Here are the Best Breast Pumps of 2023!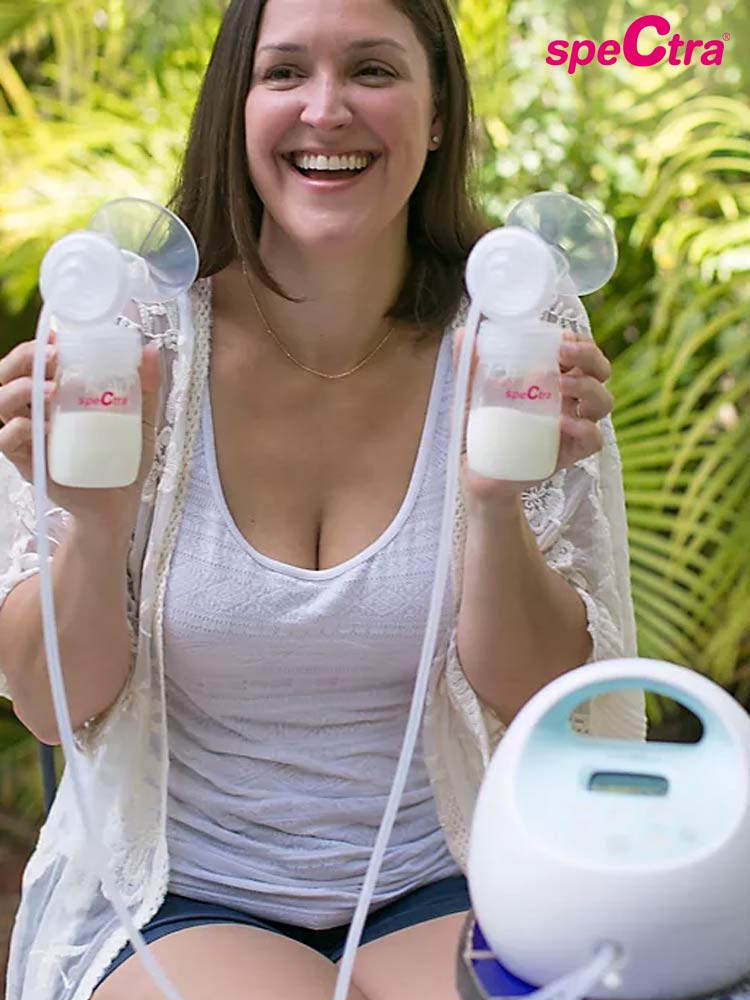 About $200. With a small footprint, advanced pumping features, high comfort suction, and superior reliability, the Spectra S1 is a fantastic overall choice. When we tested the Spectra S1, we thought it had slightly more comfortable suction than the Medela Pump in Style while maintaining similarly powerful suction. There are some great features here: the suction strength and speed are separately controlled, allowing you to fully customize the rhythm to match your body's needs. You can also do single or double breast pumping without losing power, it is very lightweight and easy to move around, and it has a convenient nightlight and timer. We also thought it was very quiet - something you could use next to a sleeping baby without too much worry (or in a restroom without drawing too much attention). We also thought the S1's battery life was quite good, lasting through three full pumping sessions before needing a charge; the included battery and its relatively small size make this a great pump for working moms who need versatility for when there may not be an outlet available during pumping. Given its superior battery life, it's likely that you would only need to charge it overnight unless you're pumping more than a few times per day.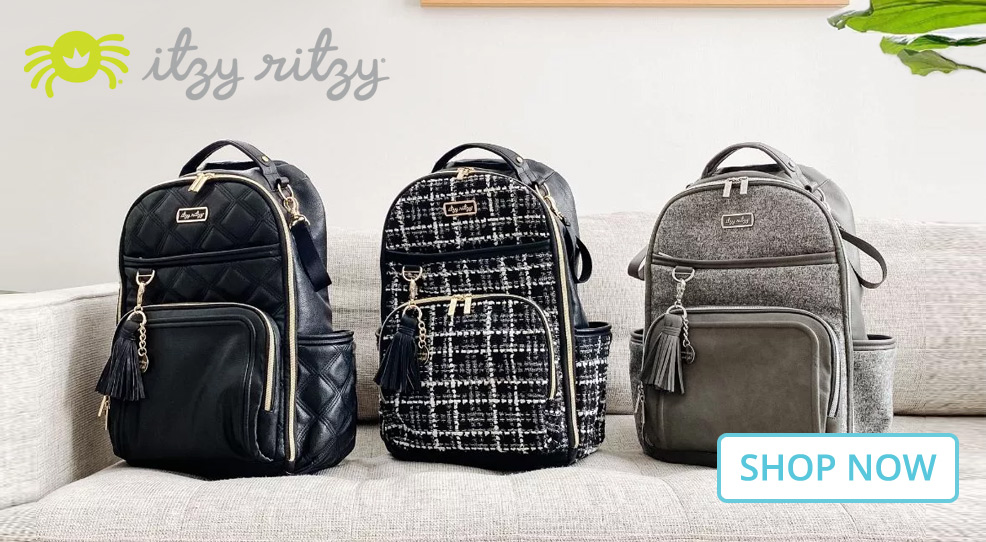 We also tried the Spectra S2. The only substantial difference between the Spectra S1 and S2 is that the S2 must be plugged in - there is no rechargeable battery. Unless you have a dedicated lactation room or other private office space with an available outlet, we strongly recommend the S1 for added versatility. Relative to the Medela breast pumps, Spectra parts and accessories are not as widely available in stores. If you need a different breast shield size or other spare parts, you'll need to order them online unless your local medical supply store can order them. We do note, however, that the Medela bottles (and Avent bottles) did fit the Spectra S1 very well. Our second little con is that the Spectra S1 doesn't come with a travel bag like most other pumps (it's purchased separately), but it is small enough to fit into most diaper bags. Overall, we think the Spectra S1 is the best breast pump of the year and we love its hospital-grade features and effectiveness. Who else loves the Spectra S1? Our friends at Babylist, Babygearlab, WhatToExpect, and The Bump also consider it a top pick! Interested? You can check out the Spectra S1 breast pump here.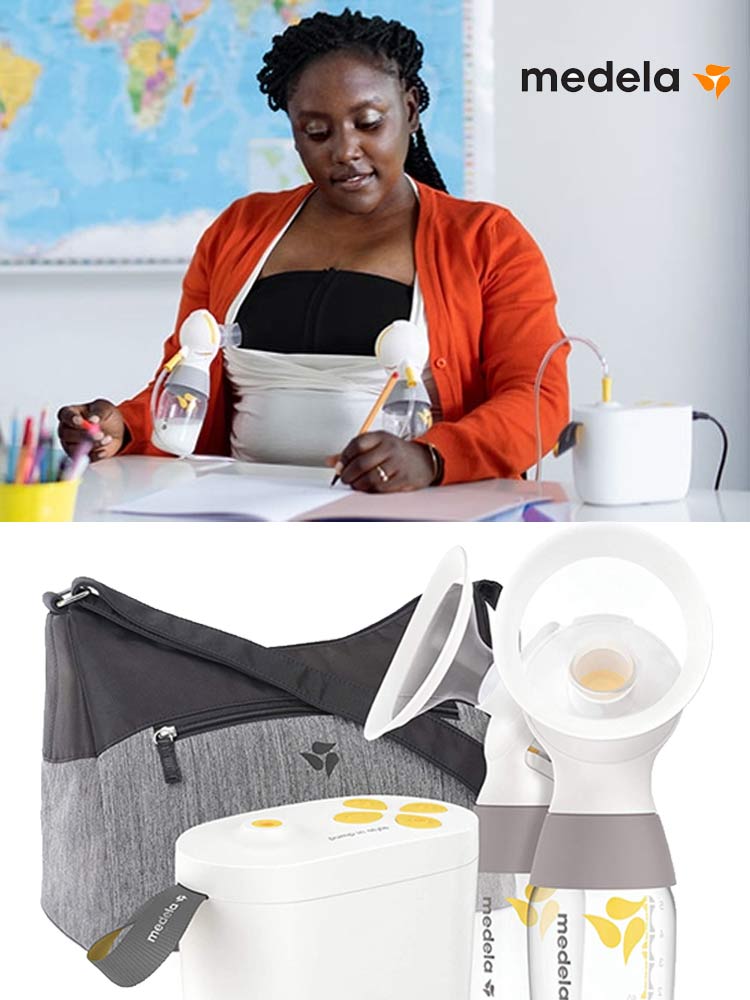 This is the ultimate in reasonably priced automatic breast pumps, and it stole this position for very good reasons. Made in the USA and sold with a sleek tote or backpack, the Medela Pump in Style is the most versatile option on the market. This powerful sealed pump really gets milk flowing, with its 2-phase pumping (stimulation mode lasts for 2 minutes, then expression mode begins), powerful suction, and reliably consistent pumping rhythm. It is highly portable, with a rechargeable battery and an included cooler for cold storage until you get to a refrigerator or freezer. In our testing, we fell in love with the system's quality, comfort, and efficiency. Out of the box, everything felt durable and well-made. Stimulation was very effective, and expression was sufficient to fully drain breasts in about 20 minutes. The shields were among the most comfortable on the list, and the parts were decently easy to clean. We thought that things were packed away in a well-organized manner and didn't find the bag too heavy for daily carrying, such as to and from work. The let-down button was a great feature, and we loved the flexibility, allowing us to customize pumping phases to individual preferences. Some additional things we loved were that there are several breast shield sizes that vary widely in size, have a very comfortable oval shape, and are easy to attach/detach. We also found the system highly reliable, and we had no issues with malfunctioning or failure. Also, we were surprised to see how impressively quiet it is, which helps when trying to be discreet at home or in the workplace.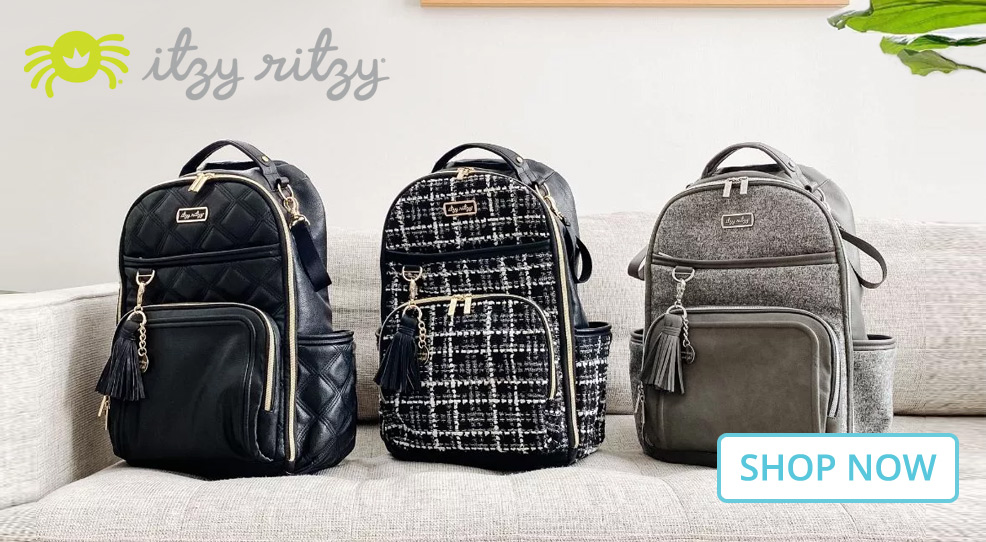 Overall, the pumping rhythm was comfortable and strong, the entire system was well-made, and the flexibility of settings allows you to customize it to your own body's needs. One of our testing moms had been using a Spectra S1 pump until trying this one and was floored by how much more milk the Medela pump was able to pump in a similar amount of time. For cons, it only has a single vacuum speed and pressure dial, whereas some other systems let you separately adjust suction pressure and pumping speed. We do note, however, that while this might appear limiting, it actually worked very well. Medela developed its speed and intensity settings based on research to identify the optimal combination to help with milk production and comfort. Overall, we think this is one of the best breast pumps available this year, with several great features and the Medela reputation for quality and value. The new Medela Pump in Style is usually available for less than $200, which is a good deal given that it includes bottles, shields, an ice pack, and everything else you need to get started! Note that if this system seems too large for you, Medela makes a more portable version of this pump, the Medela Freestyle breast pump, but the pumping strength and battery life aren't anywhere near the Pump in Style with Maxflow. Who else loves the Medela Pump in Style and thinks it's one of the best breast pumps of the year? Our friends at Babylist, Babygearlab, and WhatToExpect all call it a top pick! Impressed? You can check out the Medela Pump in Style breast pump here.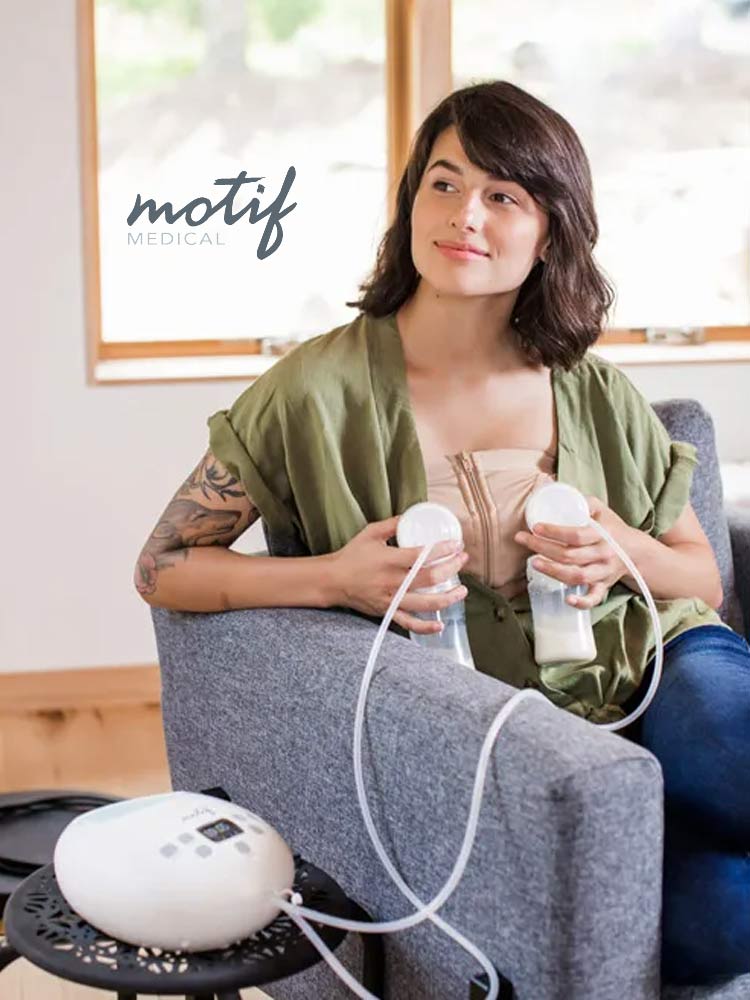 We got our hands on the all-new rechargeable Motif Luna breast pump early last year (thanks, Motif!) and at the time of this writing, we have put it through over a year of hands-on testing! It has some awesome features, comfort, pumping effectiveness, size, and low noise levels. In fact, we found it very similar to the Spectra S1 in a few ways, but a bit more powerful, smaller, and quieter - while also being compatible with the Spectra parts (so you can use Spectra flanges if you prefer). Like the Spectra it's a closed system, which is essential, as no new mom wants to spend time cleaning out tubing. It does seem quieter as well, which is appreciated as the pumping sound can be jarring for some infants and can ruin any privacy you might desire in quieter areas! It certainly does live up to its advertised "More Milk in Less Time" motto. Our two testing moms were able to pump their normal amounts in much less time (they estimate about 10-15% time savings). Another advantage of the Motif Luna Double Breast Pump is that it is compatible with the glass Avent bottles – it's always nice to save a few dishes and use some of the best baby bottles on the market. We tried the Motif Luna with the included bottles as well, and they fit the pump nicely and did not leak on the journey home (perhaps even a tighter fit than the Avent bottles and tops).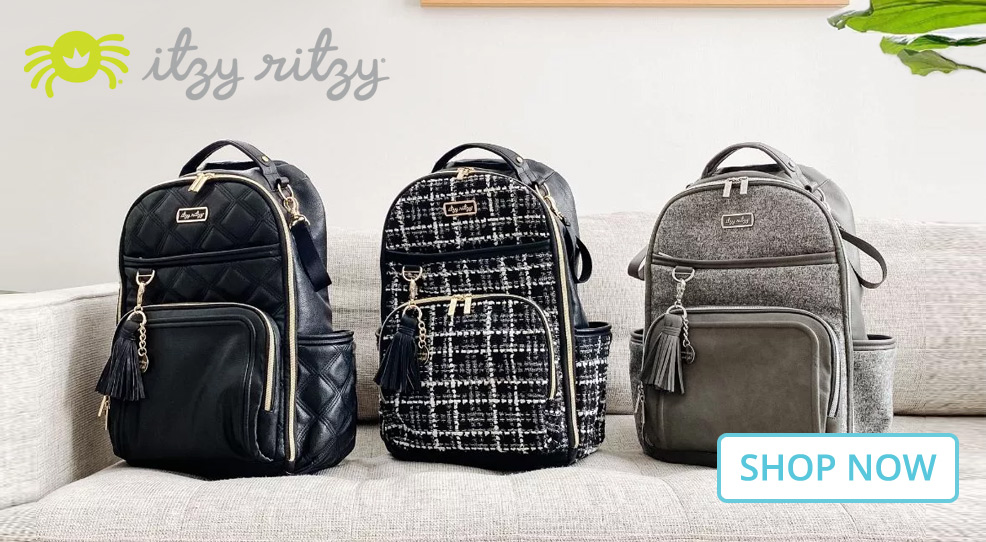 The biggest advantage of the newest version of the Motif Luna is that it doesn't need to be plugged in. A power adaptor is included (of course), but now you can operate it untethered using its built-in rechargeable battery, which is a huge convenience! Not only did Motif manage to fit a battery into this small-profile breast pump, but they also kept it surprisingly lightweight and super long-lasting: we were able to get over 5 hours of pumping on a single charge! That is truly awesome, and it allowed us to do six 30-minute pumping sessions while at work, without needing to recharge the unit. Relative to the original Motif Luna, which is also awesome but doesn't include a battery-operated feature, the pumping is just as effective - which is to say, amazing! The Luna is truly able to pump more milk in less time than most other breast pumps, and that's saying a lot when up against some of the more expensive and established competitors! Overall, we love this pump for its quiet operation, small size (fits into even smaller diaper bags!), long battery life, and fantastic pumping effectiveness! It's not as portable, cheap, or tiny as the Motif Duo, but it certainly packs a much stronger pump! It's usually available online for under $250. Who else loves the Motif Luna breast pump? Our friends at WhatToExpect, Fatherly, and The Wirecutter also consider it a top pick! Interested? You can check out the Motif Luna double electric breast pump here.
We got our hands on the new Medela Swing Maxi double electric breast pump for testing last year, and we were blown away by its quality and pumping power! The Swing Maxi offers some serious features, including app connectivity (Android or iOS), two-phase expression (stimulation/let-down, expression), nine pumping levels, a rechargeable battery, and a closed system. Medela is world-renowned for its expertise in everything infant feeding, and it consistently shows in the quality of all its products, including not only breast pumps but also nursing pillows, baby bottles, pacifiers, and more! The Swing Maxi is a relatively new addition to the Medela breast pump line-up, and we were super excited when we received a free unit for testing (thanks, Medela!). To test it out, we tried all the parts and features ourselves and then gifted it to one of our testing moms who typically uses (and loves) the Motif Luna. Speaking of parts, the Swing Maxi comes with everything you need to get started with your pumping journey, including not only the pump itself but also bottles and bottle stands, tubing, a USB cable (for charging), breast shield connectors and membranes, and a small and lightweight backpack. What we haven't mentioned are the awesome PersonalFit Flex breast shields it includes, in sizes 21mm and 24mm, which use a modern oval shape to provide a better fit to more diverse breast shapes. More on that later.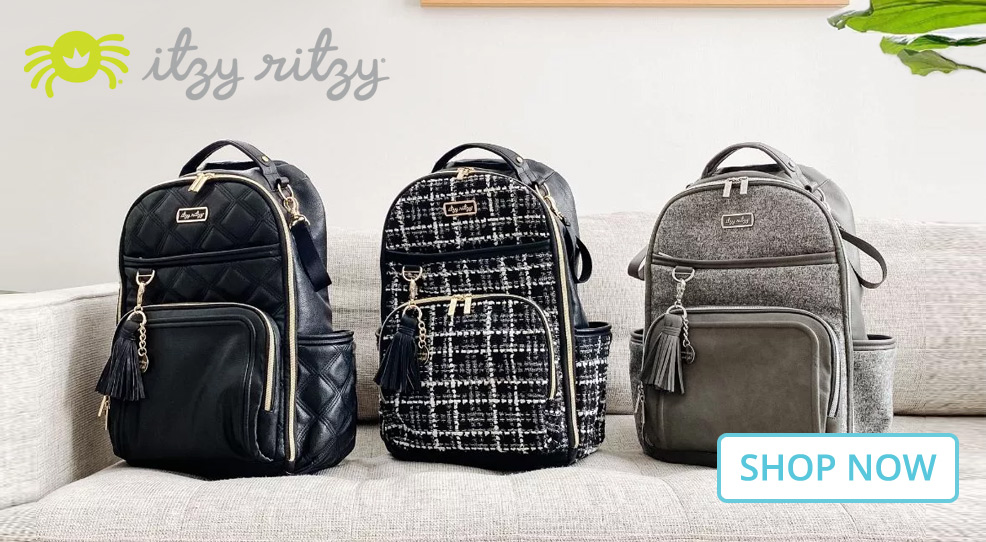 In our testing, we were impressed with how small, portable, and lightweight the entire system was. The pump literally fits in your hand and only weighs about a pound. The mom who tested the Swing Maxi for us has used the Evenflo, Medela Pump-in-Style, and then settled on the Motif Luna. She raves about the Luna, and we were a little worried that would cloud her judgment of the Swing Maxi, but were surprised to learn how much she loved it! She thought the breast shields were incredibly comfortable and had no issues with leaking or pumping while reclining. While it's not a hands-free pump, she found that with a good pumping bra she was able to walk around the house while pumping (she put it in a fanny pack!). She also noted that the battery life was decent, at about 1.5 hours when fully charged, and it was surprisingly lightweight. Her biggest praise for the Swing Maxi was how powerful and effective it was at stimulating letdown and expressing milk, even when operating on battery. She said in comparison to the Luna, it was just as effective at getting good quantities of milk in a short time, without any discomfort or pain. Realistically, that's probably the most important attribute to look for in any breast pump!
She loved how intuitive the controls were, how easy the shield connectors and membranes were to clean and assemble, and just how easy Medela made everything to use. She also tried out the Medela Family app on her iPhone and said it was simple to pair with the pump and get real-time updates on the status and pumping time. Overall, she was very impressed with what she called the "little pump that could", but also had a few cons worth mentioning. First, the battery was strong, but it didn't last as long as she would like; she was able to get 4 pumping sessions out of it before the battery died, which didn't get her through the workday. The Luna, in contrast, has about twice the battery capacity. Second, she said the shields were comfortable and effective at keeping a seal, but they weren't as easy to see through as most shields, due to the white edge. That made it a little harder to make sure she positioned the shield properly and was getting good nipple rise and fall during pumping. Other than that, she rated it at 4.5 stars and said she would consider it as her primary pump (had she not already fallen in love with the Luna). Overall, we think this is an excellent breast pump option and will work perfectly for most moms; for moms on the go, and working moms, you simply need to be willing to charge it in the middle of the day. Interested? You can check out the new Medela Swing Maxi breast pump here.
The Elvie wearable breast pump is the hands-free pump that everyone wants to love! Relative to its competitor, the Willow, it offers some serious features. It has a larger (5 ounces) capacity in each pump, two-phase pumping, it includes two reusable storage containers and has great battery life (about 90 minutes total). In our testing, we also found it more comfortable and effective than the Willow. In general, with any wearable breast pump, we recommend pumping more frequently than you might with a typical breast pump; for example, if you usually pump every 4 hours, you might want to shift to pumping every 3 hours. This will compensate for the fact that wearable pumps are simply less powerful and are likely to produce a bit less milk than a traditional double-electric pump. But the trade-off is convenience: you can wear these pumps discreetly under your bra while at work, and the suction is extremely quiet when it's operating (quieter than the Willow).
One of our test moms is a teacher, who was able to pump while also chasing second graders around a classroom; another has a desk job and was able to pump without leaving conference calls. We recommend using a darker-color bra to prevent the power light from shining through your clothing. In our testing, we found the Elvie to be very easy to use, the app to be intuitive and relatively accurate in estimating the quantity of milk produced, and the parts to be easy to clean. Comfort levels were much higher than the Willow, which we were very grateful for. While the Elvie is a very impressive system and we believe it's overall a better option than the Willow, the Willow does have a couple of advantages: there are fewer parts to clean, and it can be used while laying down (the Elvie leaks if you attempt to lay flat). Other than that, we think the Elvie is the best wearable breast pump on the market and are happy to have tried it out! Who else loves the Elvie? Our friends at WhatToExpect and The Bump consider it a top pick! Interested? You can check out this Elvie wearable breast pump here.
The cheapest electric breast pump on our list, the Bellababy double electric breast pump is offered for under $50 making it an excellent choice for budget-savvy consumers. Don't let the price fool you, the Bellababy breast pump offers an impressive set of features. These include a very portable and lightweight design, single or double pumping, closed system design, 4 pumping modes (massage and stimulation, continuous suction, frequency conversion suction, and normal suction), 9 suction levels, a 2200mAh rechargeable lithium-ion battery (or plug-in), and the inclusion of milk storage bags. That's an impressive number of features and capabilities for any breast pump, never mind one that costs only about $45!
We got our hands on the Bellababy breast pump for testing late last year and were surprised by the overall quality, ease of use, pumping effectiveness, and portability. Out of the box, it's worth noting that the Bellababy pump was slightly larger than we had expected - the photos on Amazon and elsewhere make the pump itself look much smaller than it actually is. Not to say it's large, it's still only about 4" thick, but we were expecting something that could fit into a pocket. Once we got over that hurdle, we were impressed with how easy it was to set up and start using the Bellababy pump. The tubes connect easily and there is minimal assembly. The flanges (shields) are permanently attached to the base connector (it includes 24mm flanges and extra 22mm petals), and we appreciated that the connectors fit popular wide-mouth baby bottles such as AVENT and Tommee Tippee. The control screen was easy to use and showed the current suction level, timer, suction type, and battery level. When you start the pump, it automatically progresses from a massage and stimulate mode to normal pumping mode, at which time you can adjust the suction level (and it will remember that setting for next time). In our testing, we were surprised with how efficiently and powerfully the Bellababy pump was able to stimulate and pump milk in double pumping mode. The battery life lasted for about three moderate-length pumping sessions, and the shields were generally comfortable. If you have very small or large breasts, you might find the one-size-fits-all shields a bit uncomfortable. Also, the pump was quite a bit noisier than most others on this list. Outside of those minor concerns, we think this relatively inexpensive breast pump is worthy of this competitive spot on our list given the excellent bang for the buck! Who else loves the Bellababy? Our friends at WhatToExpect and Babylist also consider it a top pick! Interested? You can check out this Bellababy breast pump here.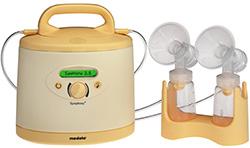 This is the gold standard in electric breast pumps, but anyone unwilling to spend upwards of $1500 on a breast pump should go for Medela's more reasonably priced option. Nothing really compares to the effectiveness and reliability of this breast pump. It is the choice of most hospitals and midwives and sets the bar very high for any other breast pump available on the market. In our testing, this pump outperformed every other pump in terms of fast operation and the quantity of breast milk produced. The initial expression of milk occurred in very little time, and the flow was fantastic. Medela was the first to invent the 2-phase expression technology, which works amazingly well. You can use it for one or two breasts simultaneously. This is the go-to breast pump for moms experiencing NICU stays, poor latching, C-sections, or any other reason to produce high quantities of breast milk in a single sitting. Because it's hospital grade, that also means that it is designed with hygiene in mind, so that multiple moms can use the same pump if they bring their own accessories. That's what makes a hospital-grade breast pump truly "hospital grade," in addition to its powerful pumping mechanism.
Compared to the Medela Pump in Style, the Symphony is much more comfortable, has a much higher quality motor, and produces like no other pump we've tried. But we also want to mention that the two Medela options use many of the same parts: the breast flanges, membranes, bottles, and bottle caps. But you will need to purchase the Symphony tube kit, which includes the tubes and caps that attach the motor to the hoses. Things get pricey very quickly here, with the pump coming in at around $1500, and the tube kit around $50. Not to mention that there are none of the accessories that are included with the Pump in Style, like the cooler bag, freezer pack, battery pack, or carrying case. Not a high portability pump, but if you want the most effective breast pump on the market, it might be worth it. We also want to note that the Symphony has a very high resale value, so once you're finished using it, you will be able to sell it for a considerable chunk of change. The price is the primary downfall, but the functionality clearly pays off in the long run. Some other minor gripes are cleaning the skinny tubes, which can be a bit of a pain, and the membranes are tiny, so they are easy to lose or accidentally drop down the drain. Overall, our experience with this breast pump was truly fantastic, and we highly recommend it to anyone willing to spend this amount on the best quality breast pump on the market. The only reason we don't list it at #1 is because of the crazy price! Who else loves the Medela Symphony? Our friends at Babylist call it a top pick! Interested? You can check out this Medela Symphony Breast Pump here.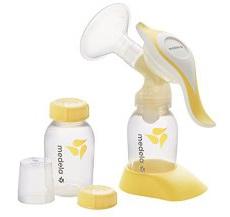 Medela has been doing breast pumps for a very long time and they truly know what they are doing. From the Medela Harmony manual breast pump for about $30, to the $2000 hospital-grade Symphony, you can't go wrong with the quality and reliability of a Medela breast pump. To find the best manual breast pump, we tested this Harmony model and compared it to the Lanisoh and Haakaa Manual Breast Pumps. The Harmony came out on top as the ultimate in super-portable breast pumps, with the ultimate in comfort and effectiveness. The Medela Harmony is equipped with a two-phase stimulation and expression option; first, you use your thumb to pump for stimulation, and when let-down occurs you switch to the long handle and use your entire hand. This phased expression helps a ton to stimulate let-down and then transition to a higher-intensity pumping phase. The breast shield is very nicely contoured and soft, the handle pivots for comfort and left- or right-handed use and it's super portable and obviously extremely quiet (the quietest breast pump on our list!). After using it, we thought the clean-up was relatively easy without the mess of tubes and membranes, and there was relatively little to put away or lug around.
No heavy pump, and no wires, chargers, batteries, or tubes. Of course, with any manual breast pump your hands will get a bit tired after 5 minutes of pumping; one of our testing moms flat-out called it ridiculous and wondered why anyone would get a manual pump in the first place. Most of them, however, appreciated its simplicity and effectiveness but also noted that they had to use a bit of breast compression with their free hand occasionally. Cons? Well, we think we've just about covered those. But an additional finding is that a little rubber O-ring tends to wear out quickly and cause leaks; it can be replaced by contacting Medela for parts. Also, you can do double-pumping with these, but most people prefer to use their free hand to massage their breast to help with pumping. Interested? You can check out the Medela Harmony breast pump here.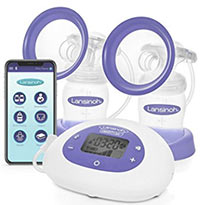 It was only a matter of time until one of the breast pump companies made a smart breast pump that could communicate with your smartphone - and here it is! This Lansinoh Breast Pump will connect to your smartphone (Apple or Android apps) via Bluetooth and automate your scheduling and tracking of pumping sessions. They basically took the already excellent Lansinoh Signature Pro breast pump and added an app; so, this review is not only applicable to the Lansinoh Smartpump but also the Lansinoh Signature Pro, which is exactly the same except lacking the Bluetooth and app capability. Even without the Smart Pump feature, this breast pump is truly excellent in several more fundamental ways. First, it is a hospital-grade breast pump, which means that it can be used by multiple moms if each brings their own accessory kit. This means that the system likely does a good job isolating the pump and tubes from any milk, moisture, or bacteria (they usually call this a hygienic closed system). We do note, however, that the term "hospital grade" is not regulated by the FDA, so breast pump companies can really use it however they'd like. In our testing, we thought this Lansinoh breast pump did a really great job keeping the pump itself and the tubes from getting wet with milk or full of moisture. Second, it is a very powerful pumping mechanism, leaving several of its competitors in the dust! It has two pumping modes (2-minute let-down and longer expression), three pumping styles to match your baby's natural feeding habits (short pulses, medium pulses, and long pulses), and eight suction levels. Those suction levels get powerful, and when you combine them with a longer pulse pumping style (pump style #3), you get some serious action out of this pump. It really is "good to the last drop," and we were really impressed with its power. All the settings can be easily changed using intuitive buttons on the system itself. When you stop pumping, the system automatically tells the app so that it knows exactly how long you pumped for (and you can enter how much milk you produced as well).
Third, the breast shields are padded and make for some super comfortable breast pumping. We can't tell you how nice the padding feels, and what a difference that little feature makes when you're pumping several times a day! Fourth, it comes with a lot of great accessories, including the cooler, extra bottles, caps, and nipples that you can attach right to the milk collection bottles and use to feed your baby, rather than connecting to a different baby bottle. Finally, the system is super portable and lightweight. It fits nicely into the included bag but can also be slid right into most diaper bags without a hassle. It can be plugged into the wall using the included AC adapter or can be turned into a more portable breast pump by popping in 6 AA batteries to make it a battery-powered breast pump. The pumping strength was similarly good with the wall adapter and batteries, though the batteries only lasted for a single lengthy pumping session. So you're definitely better off just plugging it in! Downfalls? Well, not many, but if we're being picky there are a couple. We found it to be quite a bit noisier than most of the other top-ranked systems on this list, which made it a little less ideal for discreetly pumping at work or elsewhere. Also, the screen is awesome, but it has no backlight so it doesn't light up at night, making night-time pumping very difficult unless a light is on. Also, we didn't love the smartphone app or its features; at first, we were excited to try out a Smart Pump but then realized it's just as easy to reach over to change settings on the pump itself. Usually available online for about $120, Lanisoh breast pumps are also a top pick by our friends at WhatToExpect and The Bump! Interested? You can check out the Lansinoh Smartpump breast pump here.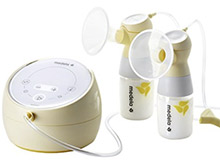 Medela provided us with a promotional sample of this excellent new breast pump that is made in the USA! Most like the Spectra S1 in terms of form factor and ease of use; it's small, sleek, and simple to use, and the moms who tested it for us had some great things to say. Let's start with the positives. We found the pump to be very powerful, especially for its small footprint; it seemed more powerful than the Pump in Style, but less so than the Symphony. Even when it was operating in battery mode, the pumping felt just as powerful as when it was plugged in. Speaking of the battery, in our testing we found that it would last for 2 full pumping sessions. You might be able to squeeze out a third, but the battery might die along the way, it all depends on how long you're pumping for and on which setting. That's decent battery life, especially for the small form factor (and small internal battery). Another highlight is its quiet operation (likely the quietest on this list), which is great for pumping on the go (or late at night) when you want some privacy: you can pump in your office without all your coworkers hearing the rhythmic pulsing of the motor. Like the other pumps, it has a two-phase expression, with a one-touch let-down, and two pumping rhythms for your comfort. Also has a convenient timer right on the front, so you don't need to keep checking the clock to track pumping durations.
We found the breast shields comfortable, though the adapter sections were a bit heavy and reduced comfort. One thing that really sets this pump apart is that it's a "smart" pump, using Bluetooth to communicate with your smartphone. Download the app (on Apple or Android) and you can keep precise track of all your pumping, and it will also give you a smart alert for low pump battery life. This is an awesome feature, bringing breast pumps into the 21st century! The best part is having an accurate log of pumping sessions, including when they happened and how long they lasted. There are a ton of great features here, and as a result, the price tag is a bit higher than most others on this list. What are the negatives? Well, first the screen display is a little odd and hard to read at times. Second, the shields and flanges cause a strange back-splashing of breast milk against the nipple before the milk moves down into the flange. That's not a big deal, though two of our testing moms commented that it's a strange sensation. Finally, this is a completely new model for Medela, and you can expect some hiccups along the way. As they improve upon the model over the next few years, we anticipate it will really begin to stand out against the crowd. In the meantime, you might need to rely on Medela's excellent customer service to resolve any issues that arise. We found this pump is usually around $299 online. Who else recommends the Medela Sonata? Our friends at The Bump consider it a top pick! Interested? You can check out this Medela Sonata breast pump here.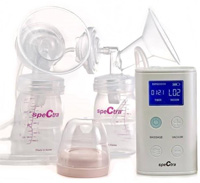 Spectra has a wide range of excellent models, with this one being the most portable breast pump available in the group. We finally got our hands on this breast pump for testing, and our test parents had tons of great things to say about it. Let's start with the features. The size of this breast pump is fantastic, it's about the same size as an old Game Boy (if you remember those!), and is lightweight and easy to carry. It fits right into a jacket pocket, an awesome diaper bag, or a purse. But don't let the size fool you. This breast pump has two speeds: a faster one called "massage" which is intended to stimulate let-down, and a slower expression mode to continue pumping. And the suction strength is adjustable as well, so you can customize it to what feels best for your unique situation. It's a double breast pump, but note that those controls are for both suction lines, you can't control them independently. The screen is small and simple. It provides a timer, tells you what your current suction level is, and tells you how much battery remains. Speaking of battery, this breast pump is super portable and has a battery that lasts for up to 3-4 pumping sessions (about 30 minutes each)! That's very impressive given its small size.
The moms who tried this pump out for us said that the breast shields were comfortable and nicely sized, the bottles were fine (though some preferred larger ones), and things were easy to disassemble and clean. We also found out that the other Spectra Baby USA bottles that come with the S1 and S2 pumps will fit onto this one as well. The narrower-mouth Medela bottles don't seem to fit, but we did get several AVENT bottles to fit without any issues. Overall, this is a great, highly portable breast pump that is perfect for moms on the go. The battery life is great, features are good, comfort is high, and from what we could tell it is very reliable. Only a few minor drawbacks were reported by our moms. First, if you're used to a very powerful pump like the Medela Pump in Style, or the Spectra S1, then you might find the suction on this pump a bit on the weaker side. Most moms don't have trouble with this, but if you're coming from a more powerful pump this might be an issue. Second, the breast shields are a bit expensive, though you can get the ones made by Maymom for quite a bit less. Interested? You can check out the Spectra S9 breast pump here.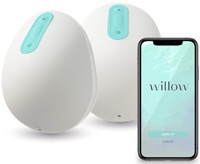 The Willow breast pumps follow a similar principle to the Elvie and Freemie Freedom breast pumps, offering a hands-free, in-bra wearable breast pump solution for moms on the go. The Willow pumps have some great basic features: completely wireless and hands-free operation, rechargeable batteries, super quiet, seven suction levels, sensitivity adjustment, and an amazing app. About the app: it's available for Apple and Android devices and provides not only control of the pumps but also real-time status monitoring of how much milk has been produced. Milk is collected in one of two ways. You can use the pump-and-store method which involves fitting each cup with a freezable storage pouch or the pump-and-pour method which pumps into a small container in each up that you can then pour into your favorite storage container (bottles, pouches, etc). Each of those containers, the reusable one or the freezable one, holds 4 ounces of milk. Before purchasing the Willow, you'll need to do a self-assessment of your nipple and breast size (the app helps with that) to find the perfectly-fitting flange (there are 3 flange sizes, 21, 24, or 27mm).
In our testing, we really loved the concept of the Willow. You might need to increase your cup size a bit to fit the Willow into your bra (ideally a stretchy fabric with a flap), but once it's in, it is surprisingly comfortable. The app works well to start and control the pumping, and we didn't have any issues with leakage or spills. The cool thing about the Willow relative to the Freemie is that it can be used in any position without causing leaks: sitting upright, laying down, or otherwise relaxing. This makes it ideal for c-section recovery and moms who like to adopt a specific position to help themselves relax enough to effectively pump. The battery life was also impressive, lasting for about three 20-minute pumping sessions. Could you discreetly wear the Willow at work? Definitely. But of course, the size and shape might be noticeable. The comfort and effectiveness of the Willow were the primary challenges we encountered. All three of our test moms said it was less comfortable than their own pumps, and that they expressed less milk with the Willow. Sometimes the app would overestimate how much you've pumped, which can be frustrating. Additional little cons were that it would be nice to have two chargers included rather than just one, the collection bags are expensive, and the reusable container is not included. Overall, this is a great concept but not perfectly executed. Interested? You can check out this Willow wearable breast pump here.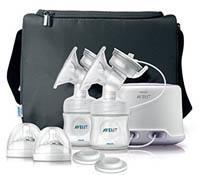 The Philips AVENT breast pump is probably most like the Medela Pump in Style in terms of features, size, and portability. It has some great features that our moms pointed out were quite nice, especially for the lower price point (about $199). After stimulation mode, the AVENT has three different expression modes (low, medium, high) that you can choose between once the let-down begins. This model also has a unique design that lets you sit upright without leaning forward to get the right alignment of the bottle. Speaking of which, AVENT makes some of the best baby bottles on the market, which can be screwed right onto this breast pump. It also has a unique breast shield design, with flower petal-like parts that are soft and comfortable against the breast.
Overall, our moms thought that it was a good no-frills second option to the Medela Pump in Style, but without some of the better features like the cooler and ice pack, battery for cord-free use, and continuously adjustable suction (rather than simply 3 different categories of suction). Another con is that the AVENT reliability isn't quite on par with the Medela. Long-term users report various issues with the unit that can render it useless until it is repaired or replaced. If you can splurge the extra $20 or so, we suggest the Medela Pump in Style. That being said, the AVENT Double Breast Pump is considered a top pick by our friends at Babygearlab, WhatToExpect, and The Bump. Interested? You can check out this AVENT breast pump here.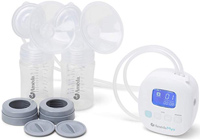 The Ameda Mya is a new addition to the breast pump market, and it offers a great combination of portability, power, quietness, comfort, and compatibility. Starting with portability, the actual pump is super small and fits right into the palm of your hand, or into even a small diaper bag. It's also surprisingly lightweight (about half a pound) given that it houses a high-capacity rechargeable battery. In terms of power, it provides hospital-grade suction power (280mmHg) with two phases: stimulation and expression. We loved the massage stimulation mode (it has 5 levels for letdown) and the 10 levels of expression, offering great customizability to individual comfort and pumping needs. In terms of noise levels, this is one of the quietest breast pumps we have ever tested! It's the sort of silence that you could use in a bathroom stall discretely without anyone even knowing - and that's impressive! For comfort, all the different expression and stimulation levels are super helpful; it comes with comfortable flanges (24mm is included, but you can also purchase 28 and 30mm), and if you own another Ameda pump you can use its shields and tubing if you'd like. This gets into the compatibility topic - the wide-mouth bottles use the same threads as several popular baby bottles, such as the Philips AVENT, and they sell adapters to help attach to wider-mouth bottles like Comotomo, or narrower-mouth bottles like Medela.
This is a completely closed system and we didn't experience any milk getting into the tubes or other parts. We had 3 different moms test this breast pump and they all came away with very positive things to say. One said that it increased her milk supply after about 5 days of use, and she was so confident that it was due to this pump that she kept using it (replacing her AVENT pump). Another said that it was one of the more comfortable pumps she's used and that the stimulation modes were more effective than her Spectra S9. So that's really good feedback. They also noted that the battery lasted up to 2 hours of pumping before needing to be recharged, and that recharging took a couple of hours. One mom reported that she was a little frustrated with battery life, noting that the battery did not do a great job holding a charge. There is a battery level indicator on the system. Cons? Not many! There was the battery life challenge reported by one of our moms, and when we looked at some online reviews there were several moms reporting the same issue. So we think it's relatively rare, but worth considering that some of these systems might have that limitation. Overall, this is a great new addition to our list, and we were overall very positive about it (save for the rare battery issues). For the relatively reasonable cost (about $170), it might be worth the risk, and Ameda is very responsive and would likely replace a faulty battery if requested. Interested? You can check out this Ameda Mya breast pump here.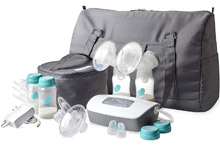 First, a big thanks to Evenflo for sending us a few samples of their new Advanced breast pump for testing and review, much appreciated! Now that we've gotten that out of the way, let's talk about what Evenflo attempted to do with this pump: create a powerful double breast pump using a closed system that can be plugged in or battery-powered, and include all the accessories you need to get started (including three different flange sizes!), all while keeping the price under $150!? That's something to be applauded, and we think Evenflo made a great first attempt at a breast pump hitting all these points. For features, this double electric breast pump uses a closed system, independent speed versus suction strength settings, single or double pumping modes, and the ability to be used with the included AC adapter, or with batteries. Out of the box, the unit is surprisingly small and lightweight, at least partly owing to the fact that there is no lithium-ion battery included. Turning it on, it was also surprisingly quiet - Evenflo claims they partnered with noise cancellation experts to make the pump 50% quieter than some competitors. And we believe it, it was surprisingly quiet, even with stronger and faster pumping settings.
In our testing, we thought the suction speeds were sufficiently broad, but the suction strength left a bit to be desired. The pump starts at the highest speed with the lowest suction to help stimulate letdown, like the stimulation mode seen in most other pumps. Once milk begins to flow, you will need to manually decrease the speed and increase the suction strength. The three women who tested this pump for us had very mixed reviews. One used it as her first pump and loved it, and thought it was great, especially for at-home use; she had no issues stimulating letdown or maintaining flow, though she did mention that the suction strength seemed to get weaker over her month of testing. The second woman used it twice and decided that she would go back to her usual Motif pump, noting that the suction was nowhere near powerful enough, the flanges were uncomfortable, and the battery situation was untenable (more on that later). Finally, the third woman had very strong negative opinions about it, noting that it was nothing like her Medela and that she would never try it again. Regarding the battery situation, that is one of the biggest limitations of this model: it does not include any rechargeable battery. Instead, you need to supply your own AA batteries (6 of them) to power the unit when you don't have access to an outlet. We found this to not only be inconvenient and unfortunate (even at this price), but also very wasteful. Overall, we think Evenflo made a great attempt with this breast pump, and we appreciate all the accessories and how simple and intuitive everything was to use. But with the effectiveness issues and battery limitations, we can't justify putting it higher on our list. Interested? You can check out this Evenflo Deluxe Advanced breast pump here.
Factors to Consider when Finding a Great Breast Pump
To find the best breast pumps of the year, we got together a group of new moms who were currently breastfeeding. Some already had a go-to breast pump, some hadn't tried one yet, and others were looking for something better. We had the moms try out the different versions, take a look at all the parts, try cleaning them, and give us their honest opinions. Some moms used pumps on a daily basis while at work or otherwise not with their baby, while others used breast pumps to increase milk supply after breastfeeding.
After pulling together all their thoughts we conducted our own hands-on tests with each option, considering the following factors: automatic versus manual pumping, single versus dual pumping, BPA and phthalate content, portability, milk storage options, comfort (see our best nipple creams here), expression phases, safety, battery life, and of course, price!
Automatic versus Manual
Most moms opt for the automatic powered breast pump, whereas others prefer the manual method. There are a lot of pros and cons for each method. For the electric pump, you benefit from the phased expression that automatically mimics the sucking pattern of a baby, faster let-down with shorter overall pumping times, no hand/wrist strain from manual pumping, and a sit-back-and-relax sort of device that doesn't involve too much work. You can text on your phone or otherwise do some work while pumping, which some moms find super convenient. But with an automatic pump, you also need to worry about battery levels, charging, device size/weight, higher cost, and noise. If you work in a small office environment, for example, you might be concerned that the automatic pumps are relatively noisy and others might hear the pump running; let's be clear that they aren't really noisy, but certainly noisier than a manual pump.
For manual breast pumps, you benefit from the highly customizable speed, no worrying about batteries/charging, a smaller form factor that is more portable, and a basically silent operation that is highly discreet. But pumping times can be a bit longer, you need to figure out when to switch expression phases, and you can't really do anything else while pumping since your hands will be occupied. Moms also report getting sore hands and wrists from manually pumping for extended durations. We think that the best option is the one you're most comfortable with and that fits your unique lifestyle. One is not necessarily better than the other, though the electric pump is certainly worth the added cost for the convenience factor alone.
As of last year, we also began reviewing wearable breast pumps, which offer superior versatility for discreet pumping. Wearable under your bra, they offer completely hands-free pumping that is controlled via an app on your phone. The most popular wearable breast pumps at this point are the Elvie, Willow, and Freemie. In our opinion, we believe it's a great concept, but not perfectly executed at this point. The pumps tend to be weaker than others and do not produce as much milk as a traditional double electric pump. They can also be intermittently leaky and less comfortable. Not to mention that they are about double the price of a regular breast pump. If you love the concept of discreet, hands-free pumping that is hidden under your bra, then a wearable breast pump could be an awesome option. Just don't expect it to be as effective as a traditional pump.
BPA and Phthalate Content
When my babies were little, we were just beginning the trend toward BPA and phthalate-free breast pumps. Moms were worried that the parts coming in contact with breast milk, like the shields and bottles, might contain harmful chemicals. Nowadays, all of the major manufacturers are making their systems BPA-free, so you no longer need to search long and hard for one of these options. The models we list above are all BPA-free.
Portability & Storage
If you go the manual route, you will have the most portable possible breast pump that you can buy. The compact bottle and breast shield, along with the small pump handle, all fit readily in a medium purse or diaper bag. Automatic systems are much larger since you need to include the breast shields, bottles, pump system, battery pack, charger(s), vacuum tubes, etc. With either automatic or manual you will also need a place to store your pumped breast milk, either in disposable bags or bottles, at or below about 59 degrees (F). So, with either option, you will need to also carry a small cooler with an ice pack.
According to Medela, the maximum amount of time you can keep the milk in this storage type is 24 hours, then you'll need to move to a refrigerator or freezer (see the breast milk storage guidelines to the right). This is why manufacturers of automatic pumps have shifted toward providing everything in a single bag to maximize portability and convenience; this includes not just all the pumping equipment but also a cooler and ice pack.
Comfort
This is a difficult factor to assess since comfort with a breast pump tends to be highly individualized, and every mom has her own pumping experiences and preferences for pumping patterns, strength, duration, and accessories. Typically, comfort comes down to a few primary factors.
First is you must select the appropriately sized breast shields (these are also referred to as the breast flange sizes). Medela, for instance, manufactures 5 different breast shield sizes (aka flange sizes) to accommodate all women. In general, you need to make sure your nipple is centered in the shield and not rubbing the sides as it is pumped, your areola (the dark skin surrounding the nipple) has space to move up and down as it is pumped, and your breast moves gently and rhythmically with the pumping, and feels comfortable during pumping. If any of these aren't correct, your breast shield may be too small, and it is likely that you will not get a good let-down.
Second, you must correctly time the shifts of expression phases to accommodate your body's unique let-down pattern. Typically, pumps will begin in a "stimulation" phase and then after 2 minutes automatically switch to the expression phase. This 2-minute pattern is optimal for many women, but you might find that you need more or less time in a stimulation phase before switching to expression. The Medela pump, for instance, gives you flexibility with this timing by offering a let-down button that allows you to either switch to the expression phase earlier or go back to the stimulation phase if the unit switched automatically to expression before you were ready. This customizable phase timing feature is great for optimal comfort during use.
Third, you will likely need to adjust vacuum strength/speed while pumping. Most breast pumps suggest increasing the vacuum speed/strength until you feel slight discomfort and then backing down a bit. This process of selecting the correct breast shield size, switching pump phases as needed, and customizing your vacuum speed, should result in high comfort levels for most women. Of course, if you're pumping exclusively, then comfort is going to be paramount since you'll be doing it more times a day and have more potential for small annoyances to build up into something uncomfortable when you're using 5-10 times per day. Note that some nursing bras are pumping bras that allow you to attach the pumps to each breast without taking off your bra, and the bra will hold it in place hands-free which can be super convenient. Check out our reviews of the best nursing bras here.
Cleaning/Maintenance
All breast pumps, regardless of whether they are manual or automatic, will have a lot of parts that need to be cleaned. Some of these parts are large, like the breast shield and connectors. Some are small, like the valve and little rubber membranes. Some are easier to clean, like the breast shield, and some are harder, like the vacuum tubes. Most breast pumps ask for warm soapy water for cleanup between uses and also allow you to put the larger components into the dishwasher (air dry only). They also recommend daily sanitization of the parts in boiling water. So, there are a lot of parts, and cleanup is a bit of a pain regardless of which system you have. Medela offers a single-piece breast shield and connector which makes life a bit easier