The Best Travel Cribs of 2023
Experience sweet dreams on the go with these top-rated portable travel cribs.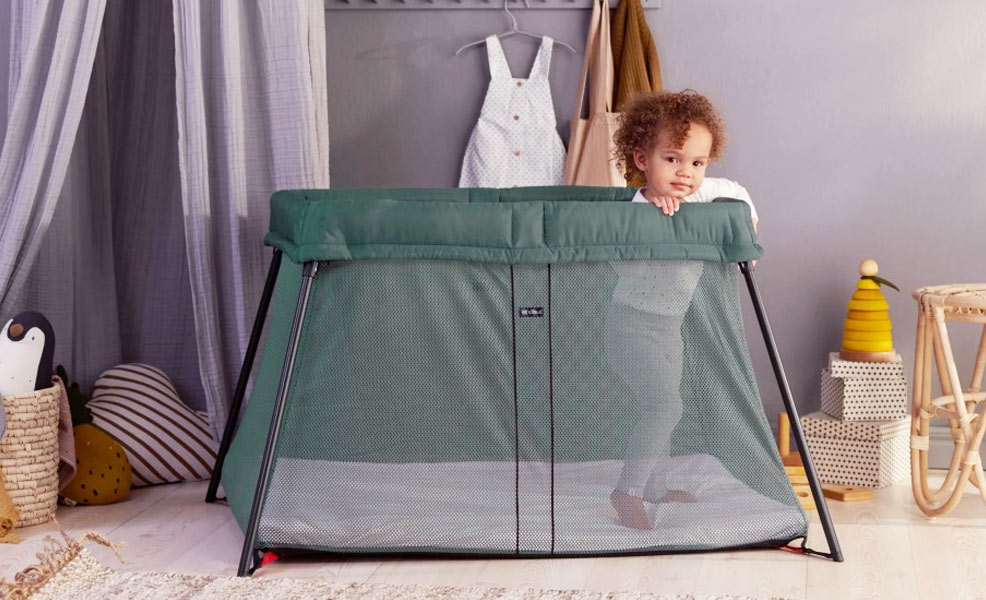 ---
Mommyhood101 independently tests and curates baby gear to help you make informed decisions. If you buy products through links on our site, we may earn a commission.
Looking for a portable, comfortable, safe, sturdy, lightweight, and reasonably priced travel crib? You've come to the right place!
The American Academy of Pediatrics (AAP) recommends your baby sleep in a portable crib, bassinet, or travel crib close to your bed for at least their first 6 months of life. Setting up a room-sharing situation can reduce the risk of SIDS by as much as 50% and it's much safer than sharing a bed.
Just for fun, what does ChatGPT-4 think is the best travel crib!?
"The BabyBjorn Travel Crib is the best overall portable crib on the market and is recommended by both experts and parents. This lightweight and easy-to-set-up travel crib has a sleek and ultra-portable design, and is made with safe, breathable materials." -ChatGPT-4
We don't always agree with robots, but they might be on the right track!
Fortunately, we've also been reviewing travel cribs for over 10 years, and if we made our own, here is what it would look like:
✔️ Lightweight (<15 pounds) design.
✔️ Compact, fits through doorways.
✔️ Easy fold and unfold.
✔️ Fits into a backpack carrier.
✔️ Breathable mesh sides.
✔️ Padded top rail.
✔️ Comfortable & firm 1" mattress.
✔️ Greenguard GOLD certified.
✔️ No flame retardants.
✔️ No harsh chemicals.
✔️ Machine washable fabrics.
✔️ No weight limit.
✔️ Sheets included.
✔️ Difficult to climb out of.
✔️ No accessible pinch points.
✔️ At least a 2-year warranty.
✔️ No flame retardants.
✔️ Washable fabrics.
Of course, you will also want the travel crib to fit your style (color, patterns) preferences and meet your budget constraints. That's a lot to ask, and very few products meet the needs of picky parents!
Below are the top 5 best travel cribs we've found, followed by in-depth reviews of about a dozen different options.
Traveling has never been easier for parents - no longer do you need to rely on a hotel or in-laws to have a clean and safe crib for your baby. With a travel crib (sometimes called a playpen, playard, or Pack 'n Play), you simply unzip it from its carrying case, unfold it, and put on a sheet. Your baby or toddler is then ready to sleep, play, or relax in a portable crib that is both convenient and safe. It's also great when you need to shower, get ready, get dressed, or do some cleaning - a safe place where your baby can't get in trouble while you're not in direct view. Super convenient for home or travel!
This year, we considered three new models alongside over a dozen existing models, some of which have been around for nearly a decade! Our hands-on tests considered five primary things: weight and portability, ease of use, durability, comfort, and safety. The result was about a dozen of the best travel cribs of the year, with some truly exciting newcomers.
Full disclosure: Some of these travel cribs, including the Joovy, 4Moms, and Kidco models, were sent to us as free test samples by the manufacturer.
If you're looking for a regular crib for the nursery, check our reviews of the best cribs of the year, and best bassinets. Without further ado, here are the results of our testing!
Here are the Best Travel Cribs of 2023!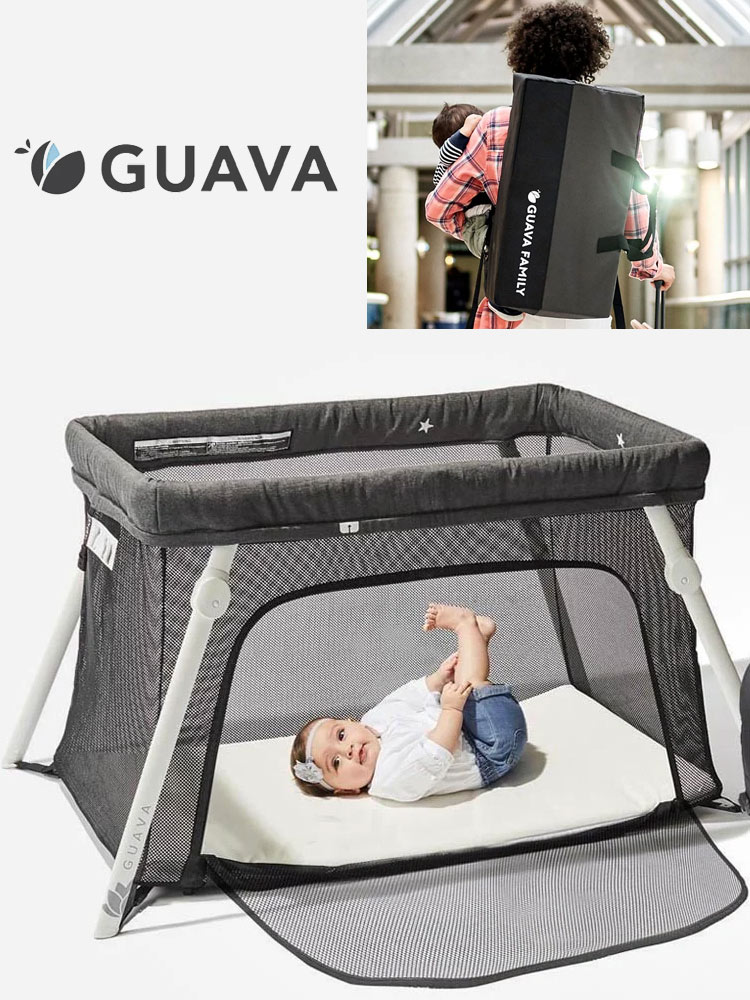 This is the best travel crib option of the year and for some fantastic reasons! The Lotus Travel Crib is made by the Guava Family, which has a stellar reputation for quality and customer support. The Lotus hits all the right spots: it's ultra-portable, lightweight (11 pounds!), stylish, can fit into an included backpack, and can be brought on a plane as a carry-on (folded, it measures about 24" x 11" x 7"). Parents absolutely love it, and so do we! It assembles and disassembles in about a minute each, is nicely padded and comfortable, is GreenGuard GOLD Certified for low VOC emissions, free of harmful chemicals (PVC, BPA, Lead), and has a zippered side-door for fun (think: play fort!) and easy access to put down a sleeping baby. It has a unique style and shape, durable construction, and is super easy to use. In our testing, we loved the all-mesh sides for breathability, the padded upper bar, the sleek and lightweight legs, and the zip-down side. We also loved how the legs are separated from the mesh, so your child won't lean or roll into them uncomfortably.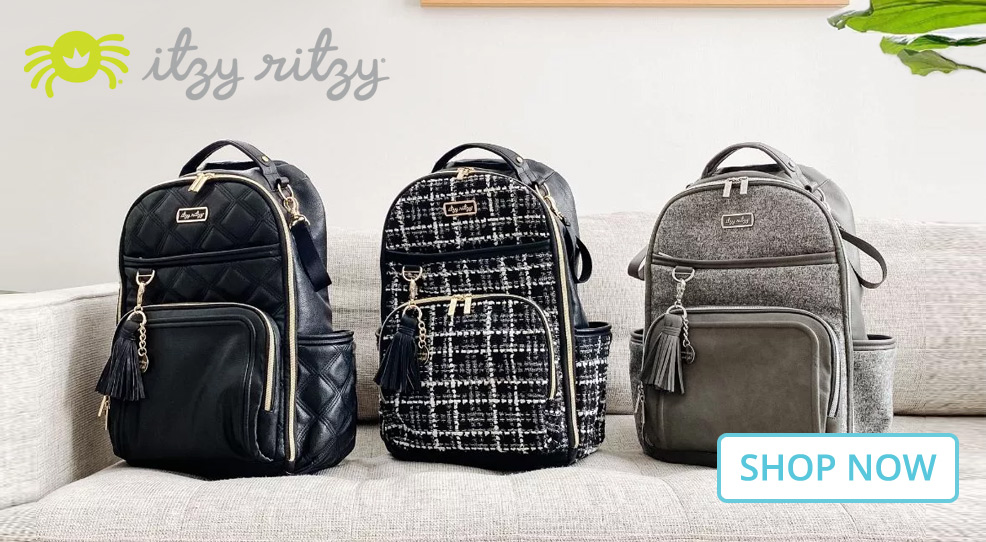 We measured the crib at about 42" long, 32" wide, and just over 25" high. The legs do stick out a bit on the corners, so the length and width measurements are actually about 5" longer and wider when measuring from leg to leg. It includes a typical foam mattress that is about 1" thick, making it a good firmness for newborns and infants. We found the legs and other supports to be high quality and sturdy, the fabrics to be well-made and easily wiped clean, and the mesh sides to be surprisingly durable. As a playard it's a ton of fun with the zippered side, the wide top opening, and the see-through mesh; the size is impressive at about 7 square feet of play space. The entire travel crib folds up and fits into an included backpack. Yes, the backpack is pretty large, but this is still an awesome capability! The only little cons are that the mattress is relatively thin (about half the thickness of the BabyBjorn option), and the price is a little steep at about $230. Outside of that, we love it, and think it's definitely the best travel crib of the year! Who else loves the Lotus travel crib? Everyone! Our friends at Babylist, Babygearlab, WhatToExpect, and The Bump also call it a top pick! Interested? Check out the Lotus Travel Crib here!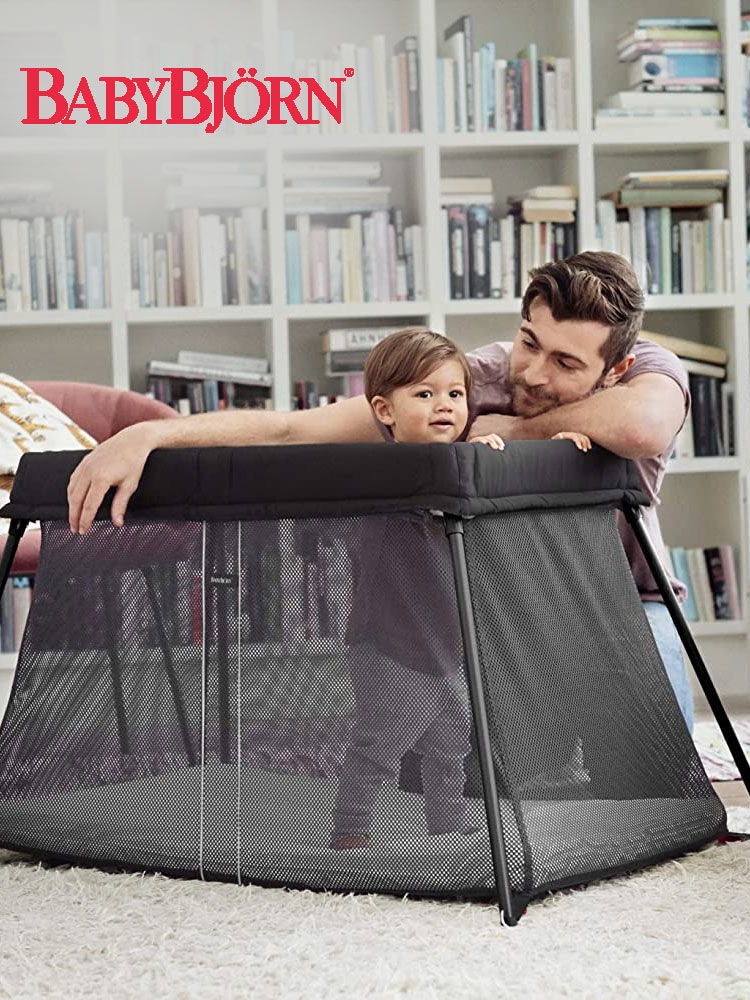 This excellent playard is very similar to the Lotus option, with a few important differences. The BabyBjorn Travel Crib Light is stylish, lightweight (11 pounds!), ultra-compact (but doesn't fit in a carry-on-sized backpack like the Lotus), assembles and disassembles in about 30 seconds, has a very thick and comfortable mattress, and is durable and easy to use. The BabyBjorn is similar in size to the Lotus, coming in at about 42" long, 32" wide, and 25" high. The shape is a bit more angular, tapering to a relatively small opening once it reaches the top. It uses airy mesh sides, and high-quality Oeko-Tex certified fabrics that can be removed and machine washed. In our testing, the opening and closing of the BabyBjorn were very similar to the Lotus and just as easy. The mattress was impressively thick and soft, coming in at about 2" thick, and the entire travel crib felt high quality, sturdy, and durable. When folded, it measures about 24" long, 19" wide, and 6" thick, which is about 8" wider than the folded Lotus.
There are a few-trade offs when choosing between the BabyBjorn versus Lotus travel cribs. With the BabyBjorn, there is no zip-up side, it folds to a larger size, and it's about $100 more expensive. The lack of the zip-up side can make it more challenging to lower a sleeping baby onto the mattress, especially for shorter parents. On the other hand, we do think the quality of the BabyBjorn is slightly superior to the Lotus, and the mattress is definitely more comfortable for a toddler. Whether those points justify the higher price is up to you! Who else loves the BabyBjorn travel crib? It is also a top pick by our friends at Babylist, Babygearlab, and The Bump! Interested? Check out the BabyBjorn Travel Crib Light here.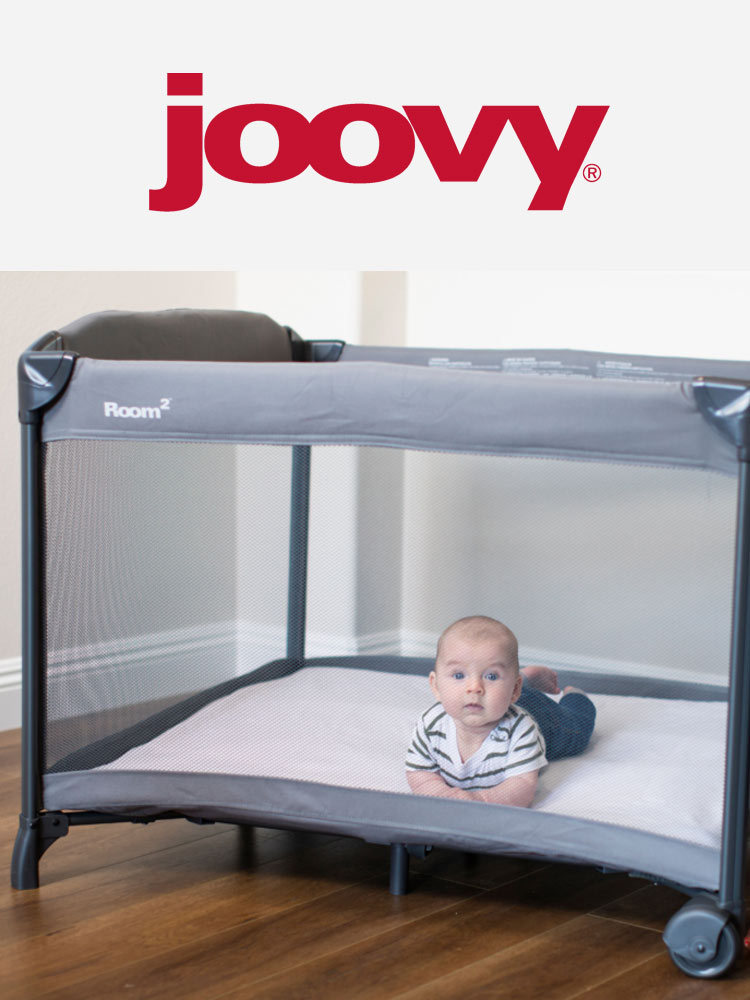 The Joovy Room2 is all about, you guessed it, room! The biggest travel crib on our list, the Room2 comes in at about 40" wide, 40" long, and 31" high. As one of the only square travel cribs on our list, it offers a huge 11 square feet of sleeping and play space - this makes it a great option for twins, or simply more play space for a baby and toys. In our testing, we didn't think the mattress was very plush, but it did feel very sturdy, well-made, and safe. It has awesome breathable/ventilated mesh sides that aren't too scratchy on the face or skin. While it is very sturdy and looks great, it's also quite a bit heavier than other options, tipping the scales at just under 30 pounds! That makes it simply too heavy for most parents to comfortably carry to the beach or through the airport, making it an ideal option for at-home use. It's pretty heavy, but we also point out that the weight pays off in the sturdiness department.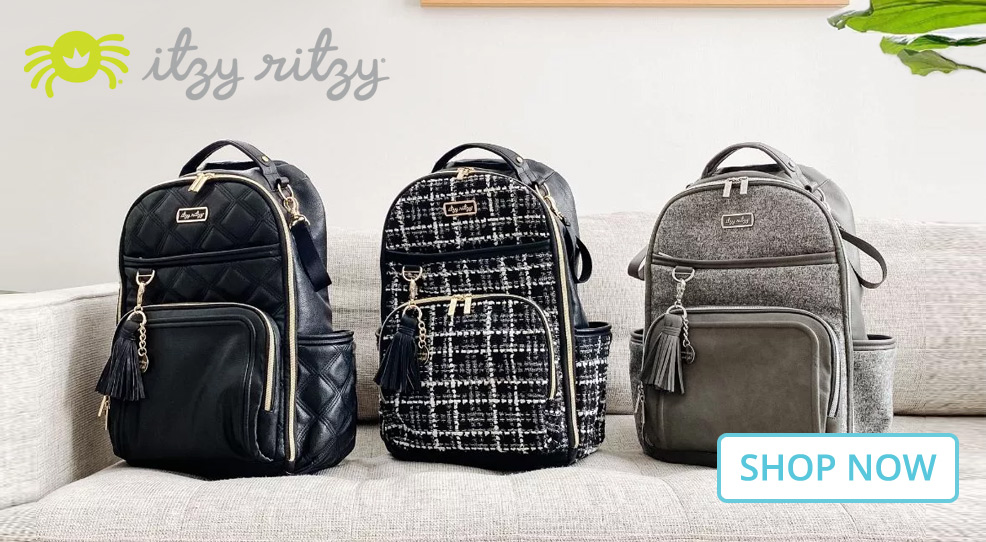 The major downfall with this unit is that it was honestly rather difficult to set up, and required a bit more brute force than we thought it should in order to fold open. The mattress is about the same thickness and comfort as the Lotus, which means it's just fine (but nothing like the BabyBjorn). Outside of that, it's an excellent playard option and you'll likely get used to the opening/folding mechanism after a few uses. This thing is big, but the price is not, coming in at about $140! Who else loves the Joovy Room Travel Crib? Our friends at Babygearlab and The Bump call it a top pick! Interested? Check out the Joovy Room2 Travel Crib here.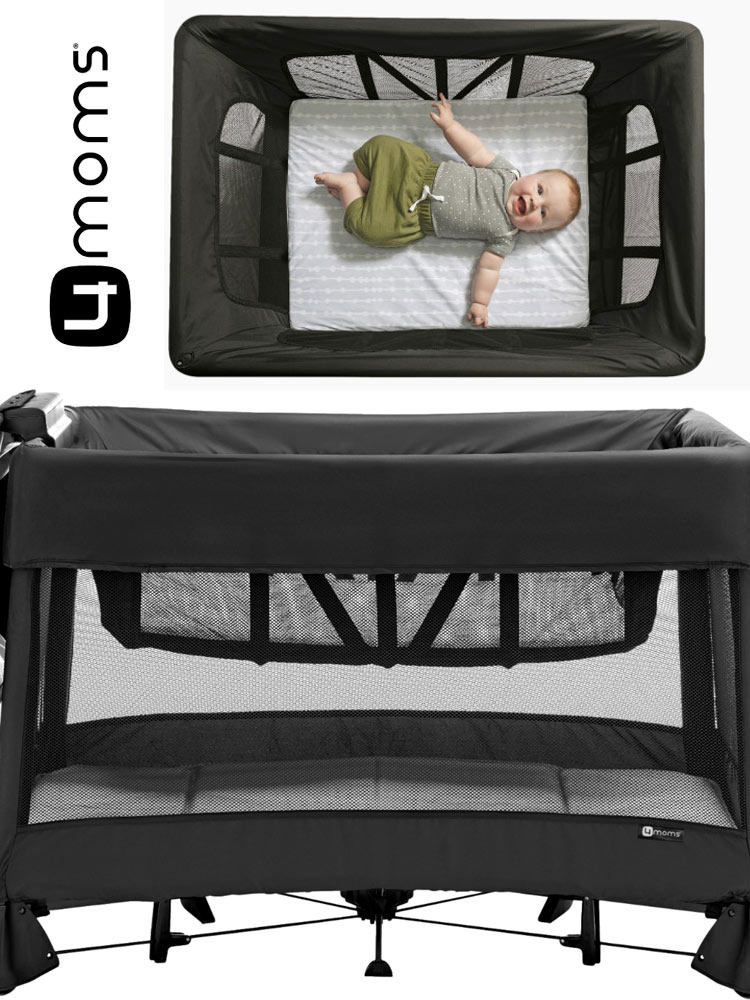 This is an awesome newcomer, and we're happy to have gotten a chance to test it out (thanks, 4Moms!). The Breeze is good sized and a bit heavy, coming in at 46" by 33" by 29" high, and just under 25 pounds. That's enough to make a sore arm if you need to carry it through an airport. The size makes it comparable square footage to the Joovy Room2, both coming in just over 10 square feet of room for sleep and play. The 4Moms is slightly rectangular, and the Joovy is square. They call this the Breeze for good reason - it is extremely easy to pop open and close up when you're done using it, especially on a hardwood or tile floor. It's not quite as easy on carpet since the legs can't slide out into position easily on a thick carpet (too much friction). It has a convenient bassinet feature that attaches and hangs from the top sides. This is great for infants to keep them at a higher level (like at bed level), but you'll only get a few months out of this feature since its max weight is 18 lbs (it can also be used as a changing table later on).
The bassinet is convenient but unfortunately not very soft or comfortable. Of course, infant sleeping surfaces are supposed to be quite firm, so this is expected. The primary mattress is actually quite good, not too firm or soft. We really liked this playard for these reasons. We also liked that it is well built and sturdy, has a nice simple style, and is very spacious. What we didn't like is that it's quite heavy and awkward to carry along, the bassinet attachment doesn't fit into the carrying case, and its price is a bit outrageous coming in at around $300! Not to mention that the 4Moms fitted sheets for this playard are an additional $40 or so. That's too much for us, especially when you can get other great options for substantially less money. So, it has good features and high quality that put it high on the list, but a price that drops it down several notches. Who else recommends the 4Moms Breeze? Our friends at Babylist, Babygearlab, WhatToExpect, and The Bump all call it a top pick! Interested? Check out the 4Moms Breeze Travel Crib here.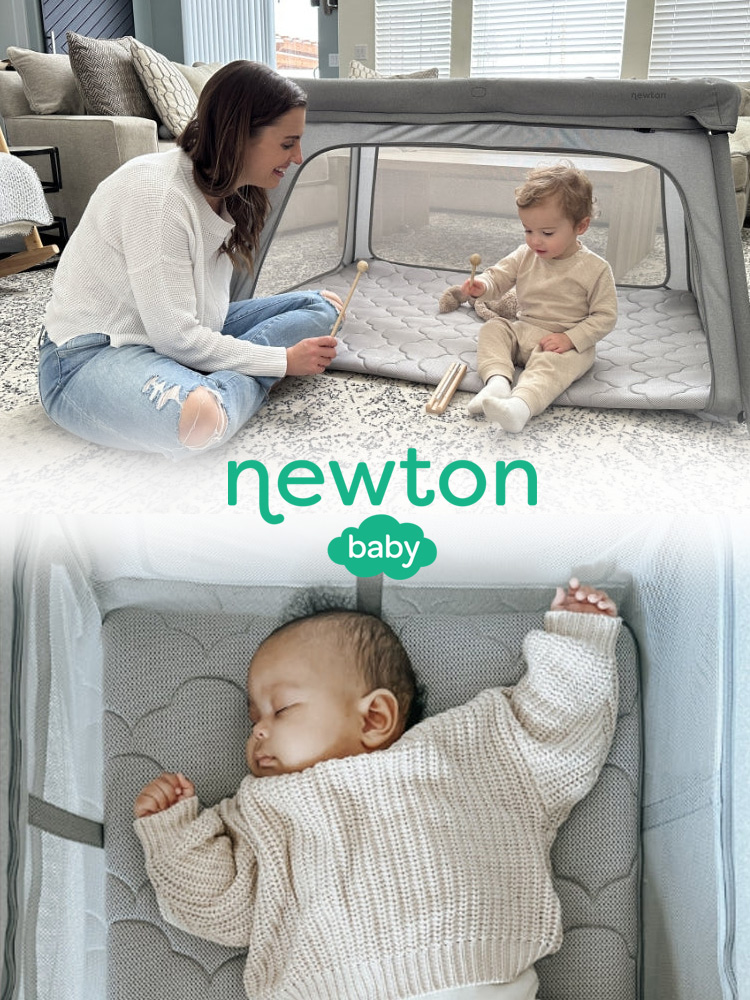 Newton Baby is known for their high-quality nursery products, including their famous crib mattress, bassinet, and pregnancy pillows. This travel crib and play yard is one of the newest additions to Newton's arsenal, and it upholds their strong reputation for safety, quality, style, and practicality. For safety, this Newton crib has fully mesh sides that are completely breathable. It also has a fully breathable mattress that is sufficiently firm for infants while comfortable enough for toddlers and bigger kids. It also uses an organic cotton sheet and is Greenguard GOLD certified for low VOC emissions. For quality, it uses a durable lightweight steel frame, high-quality fabrics that are soft and durable, and zippers and clips that feel very sturdy and reliable. For style, Newton always goes for simplicity with soft colors and orthogonal lines, fitting perfectly into both contemporary and traditional homes. For practicality, Newton thinks a lot about how you want to use your travel crib: at home, for infants, for toddlers and big kids, while traveling, and for sleep and playtime.
In our testing (see our full Newton travel crib review here), our first impressions included how large and spacious this travel play is, how sturdy all of the hardware felt, and the quality and fit of fabrics and materials. The mattress is wonderful, using Newton's famous Wovenaire technology to provide a comfortable yet firm mattress that is breathable, washable, and recyclable. The mattress is about 1.5" thick, which is right up against the maximum thickness allowable in a travel crib or bassinet (according to ASTM requirements). While we didn't get a chance to test out the bassinet attachment, it is sold separately and zips onto the top of the travel crib to provide an elevated sleeping experience for infants (to make it easier for parents to reach in). The travel crib was extremely sturdy and well-built, and with an infant and jumpy toddler we had no fear that it was going to tip over, collapse, or rip. The only downfalls are the somewhat difficult assembly and disassembly process (folding and unfolding). You'll get used to it after a little bit of practice, but it's worth pointing out. Coming in at $299, we think the Newton travel crib is a good deal - and if you purchase it directly from Newton they frequently have discounts! Interested? You can check out the Newton Travel Crib here.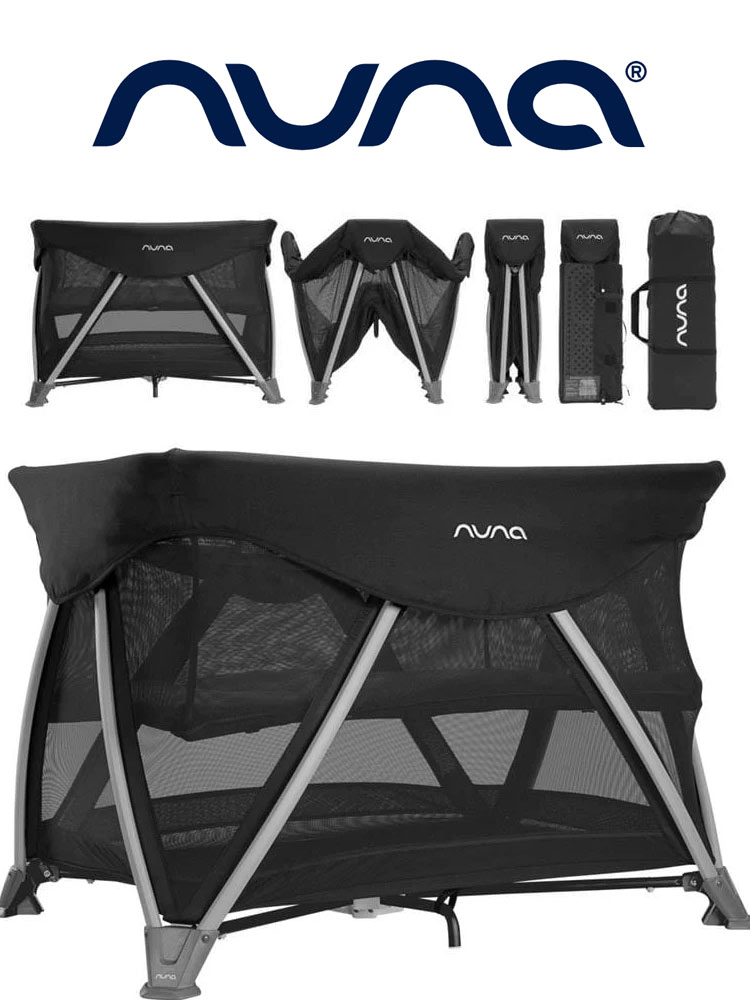 This is an awesome, stylish, portable crib that has a unique look and feel. Like all Nuna products, such as their awesome car seats, it is very high quality, well designed, and uses soft-touch fabrics. This travel crib has an awesome feature where the mattress can be placed at a higher position to make it a bassinet - providing a sleeping surface that is much higher up than the bottom of the actual travel crib. That means it's great for use with infants and toddlers alike, transitioning from an infant bassinet to a toddler travel crib within minutes. What's really cool is that the entire unit folds up with the bassinet system in it. Unlike other portable cribs with bassinets that require you to remove the bassinet attachment and pack it separately, this system combines it all into a single folding mechanism that fits easily right into the included carry bag. When we tried this portable crib out, we found it easy to assemble and use. It has a removable changing station you drop right onto the top when needed, true one-handed folding, and a truly excellent quilted mattress that is among the most comfortable portable crib mattresses used. We also thought it was super sturdy, with its 8 grippy feet on the bottom and its cross-rails.
Overall, we really liked this Nuna SENA Aire travel crib, and it gave us peace of mind for safe sleeping during family travel to grandma's house and beyond. But we also want to point out some things. First, it's really expensive and only available at premium retailers like Nordstrom, coming in at around $300. Second, it's a bit heavier than some other options, coming in at 25 pounds, so keep that in mind if you'll be traveling alone and trying to carry this, your bags, and wrangle your baby at the same time. It's still nowhere near as heavy as a Graco Pack-N-Play, but worth mentioning. Third, it's only rated up to about 3 years of age, at which time they'll be able to climb out and probably get too heavy for the mattress and bottom supports. Finally, the cross-bar design is stylish and super functional, but we found that our 2-year-old could push his foot against the mesh side and used the cross-rails to step on and boost himself out of the travel crib. Keep that in mind if you have a little monkey, like us! So overall, it's an excellent portable crib, but just like the 4Moms system, it's a bit too expensive for our tastes. Interested? You can check out the Nuna SENA Aire here.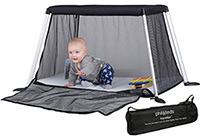 This is the lightest travel crib on our list, coming in at only 6 pounds, but offering some impressive features and functionality. Just in case it's hard to conceptualize what 6 pounds feel like, that's lighter than a single brick! When it's all folded up in the small carry bag, it feels super lightweight and easy to transport, making it the perfect travel crib for air travel or travel in smaller vehicles. Another huge benefit of the Phil and Teds Traveller, in addition to its superior portability, is that it has a zip-open front like the Lotus Travel Crib. We love the concept, making it amazing for play and also super convenient to pull a little baby in and out (since the mattress height doesn't adjust). In our testing, we actually ended up taking this portable crib on a little road trip and set it up in a hotel for our 18-month-old to use. It fits nicely between the bed and the wall, and our toddler loved playing in it during the day. When it was time for bed, the mattress is very firm against the floor, making it a bit uncomfortable for a toddler (but good for an infant).
The only con is related to how lightweight it is: because the entire thing only weighs about 6 pounds, it's not very sturdy or stable, and we worried a bit about it tipping over when our toddler was leaning on the side. Phil and Ted clearly were aware of this risk, so they put some goofy-looking feet on it that stick out to the side and lower the risk of tipping. Other than the potential stability issue, if you're looking for a super lightweight and highly functional travel crib for a relatively low price (about $180), this might be a good option for you. Who else recommends the Phil and Teds Traveller Crib? Our friends at Babylist, Babygearlab, and WhatToExpect all consider it a top pick! Update: Version 3 (v3) of the Traveller has been discontinued, in favor of Version 4 (v4), so be sure you're getting the most recent version. Interested? Check out the Phil and Teds Travel Crib here.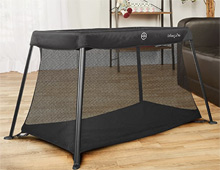 This is one of the cheapest travel cribs on our list, coming in at around $60. But don't let the price fool you, the Dream on Me Light travel crib has some great features and capabilities. For basic specifications, this travel crib comes in just over 10 pounds (10.5) for weight, and measures about 40" long, 27" wide, and 26" tall. It uses breathable mesh sides, an aluminum frame, and a padded upper rail covered with fabric. It folds up to a size measuring about 23.5" long, 19" wide, and 6" high, and fits into an included zip-shut tote-style travel bag. The Dream on Me Light travel crib supports kids up to 36 pounds, and the mattress measures about 40" long by 24" wide (and about an inch thick). We got our hands on it for testing late last year and were impressed with the overall bang for the buck.
In our testing, assembly was a bit more involved than with other travel cribs. The entire crib folds down extremely small, but that also means that there are some pieces that need to be reassembled. Rather than popping it open, you also need to reattach the four lower frame legs, which can take a bit of effort on your hands and knees. The good news is that the entire travel crib is very lightweight, making this an easy process. The upper rail and breathable mesh are good quality and easy to wipe clean with a soapy sponge (or baby wipe!). The mattress leaves a little something to be desired in the comfort department, but that's not surprising given how lightweight and portable the crib is. Overall, we found it to be durable, easy to use (save for a more involved open/close procedure), and lightweight and portable without compromising quality. Interested? Check out the Dream on Me Light Travel Crib here.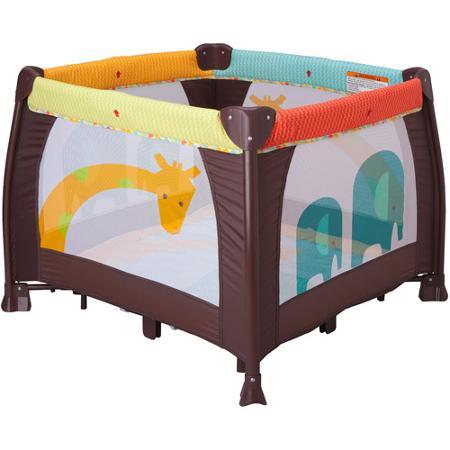 Just like the Joovy option, this is another square playard. The square units are quickly gaining in popularity, giving parents and babies more flexibility to spread out and nap without having to face one direction or another. It's more like the old-fashioned playpen rather than the traditional playard shape. This particular Delta Novel Ideas unit is a bit smaller than the other two, however, coming in at 36" x 36" (9 square feet of play area), which may seem large but when it's next to the Joovy Room2 it looks quite small. It is close to other options in terms of weight, however, it does come in a bit heavy at 28 pounds. When we took it out of the box we were pleasantly surprised that it was not only fully assembled, but it was very easy to pop completely open and have it ready to use within a minute or two. The mattress was decent, if not a bit thin. Overall, our testing moms thought this was one of the best options for those on a limited budget. They thought it really gets the job done. Not quite as sturdy as the Joovy, and not quite as spacious, but it's also only about $75. You can't go wrong with this playard. Since it is relatively new to the market, however, we're holding off on putting it higher on our list until we see some good reliability out of it. We'll update in a few months with some more info. Interested? Check out the Delta Novel Ideas Travel Crib here.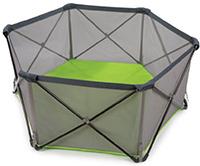 This is a great, large, inexpensive, no-frills playard that is perfect for at home, on the beach, and in the yard use. We found it very sturdy, easy to pop open and fold closed, and quite large. It comes in at 48" wide and about 26" tall. At 14 square feet of play area, this is the largest playard on our list. Less for sleeping, and more for playing, unlike the Lotus and BabyBjorn options. We found it perfect for car travel to the beach or park, great for an indoor ball pit or out in the yard, but less suitable for travel by plane. Even completely folded up in the included carrying case, it's just way too big for that type of travel. The mattress is fine, but not really comfortable for sleeping. So overall, you're getting a very large, sturdy, and well-constructed playard that is great for some particular uses. So why so far down on our list? Well, the architecture of the playard is a bit unfortunate with the cross-bars all around the sides. The mesh netting is a bit loose, so a few things happened during our testing. First, one 20-month baby quickly climbed right out by pushing his foot to stretch the netting and climbing on the cross bars. Second, when we used it as a ball pit, one toddler bonked his head on the cross bars. There are some ways to solve this, for instance by placing foam pipe insulation (or even pool noodles!) on the bars, but that seems like a bit of work that should have been done by the company in the first place. In any event, we definitely think this is a great playard, but you will need to do something about to pad the cross bars. Of course, this doesn't solve the climbing issue. Interested? Check out the Summer Infant Pop and Play Travel Crib here.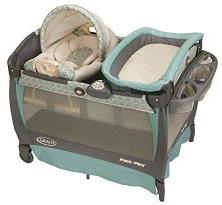 The Graco Pack N Play is like the Cadillac of playards - you can get a basic model for a mid-range price, or you can load it up and get it into a much higher range with all sorts of options: attachable changing tables, baby rockers, music players, vibrations, etc. With all those options you will end up paying around $150-200. You'll have a great playard, but you'll also have a very heavy (37 pounds!) and cumbersome portable crib with lots of peripheral parts to lose, break, and replace batteries in. Graco has ruled the playard market for over a decade now, so much so that their trademarked name "Pack N Play" has become a more common term than playard, making it one of the most popular travel bed options on the market. It was one of the first portable cribs to make the idea of traveling babies more tolerable for parents, providing a safe and clean option for infants and toddlers, rather than using the old and often dingy and dirty hotel crib or bassinet. But it's also a little bit outdated in comparison to the portable cribs higher up on this list. It's big, heavy, cumbersome, and not great for anything other than car travel, making it one of the less ideal travel cribs for babies. But it's sturdy, well built, and has basically any feature you can imagine having in a playard - except for an ultra-portable carrying case or zippered side. Note that Graco makes a lighter-weight version of this, the Graco Travel Lite Crib, which brings the weight down to under 20 pounds (though that's still pretty heavy overall). Prices range from about $100 to $200 depending on the number of features you need. Interested? Check out the Graco Pack and Play Travel Crib here.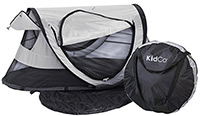 This is a super unique portable crib that looks like a miniature tent for your baby or toddler, complete with zip-up mesh sides and fly covers. It's a truly awesome idea for more adventurous kids who would value the experience of sleeping in something that looks and feels like real camping. There are a lot of types of travel cribs, most of which are crib based, but this one really takes the cake for its unique form and function. We're not really sure whether to call it a travel crib, but it's definitely the lightest travel bed that we've seen, coming in at less than 4 pounds and folding down into a super small circular pouch. We actually bought it and used it only as a baby beach tent, which is ideal given its UV protection and anchor straps to secure it down into the sand (with stakes, which it doesn't include). We never used it as a travel crib because we're not quite that adventurous, but we do see how valuable it could be to have something so small and light to take with you when traveling. Kudos to Peapod for figuring out that new marketing angle for this! Overall, it's cute, durable, functional, and super fun for babies and toddlers who might like this sort of thing. Or you can just use it as a baby tent for the beach or pool; for about $90, it might be worth the versatility and ease for portably baby travel. Interested? Check out the Peapod Plus Travel Bed here.
Looking for a Fisher Price travel crib, or any other travel crib with a reclining or inclined sleep surface? Bad idea! You can check out the recall notice on the Fisher Price Ultralight Travel Crib here!