Newton Travel Crib Review: An Awesome Play Yard!
For naps or playtime, the Newton travel crib is big in size and even bigger in quality and features.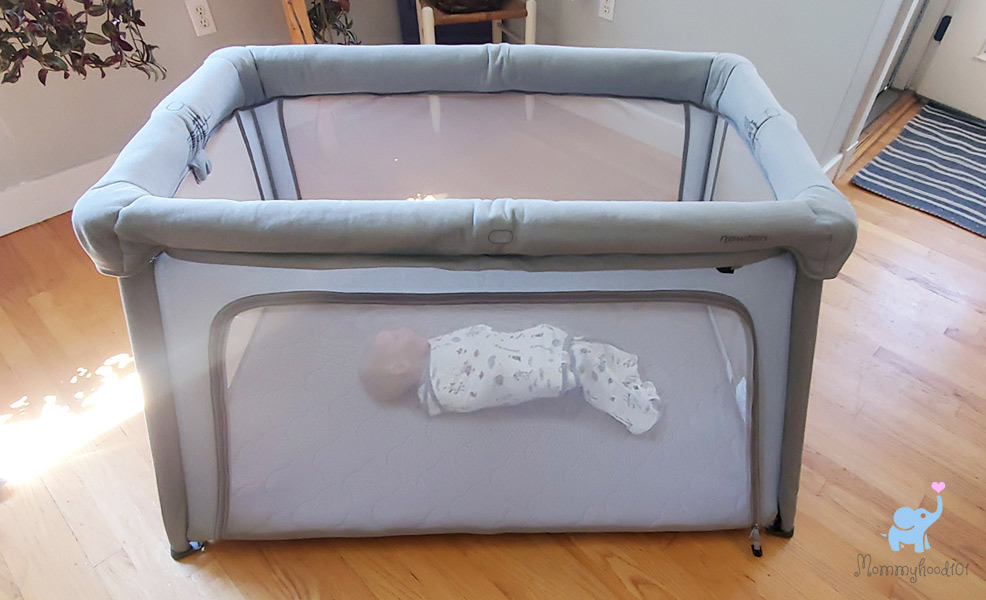 ---
Mommyhood101 independently tests and curates baby gear to help you make informed decisions. If you buy products through links on our site, we may earn a commission.
Sitting pretty on our list of annual of the best travel cribs, this all-new travel crib and portable play yard from Newton Baby brings safety, fun, and comfort to an entirely new level!
We put this new travel crib through our hands-on testing and evaluated its ease of assembly and use, quality, comfort, durability, and price.
By the way, if you're loving that adorable swaddle sleep bag as much as we do, you can buy one yourself at Nest Designs!
Overall, we came away with a very positive impression. Is the Newton travel crib worth the price at $299? Absolutely. We think you will love it!
Take-Home Message
Nobody wants to read this entire article to get to the point. You've got way more important things to do!
Here are our findings, right up front. Spoiler alert, we were generally impressed with the Newton travel crib, with only some minor room for improvement.
Here is a summary of what we loved, and some things that could be improved.
✔️ Made in USA and Europe.
✔️ Breathable mesh sides.
✔️ Breathable mattress.
✔️ Washable mattress core.
✔️ Washable padded cover.
✔️ Thick & comfy mattress.
✔️ No polyurethane or foams.
✔️ No chemical flame retardants.
✔️ No vinyl or latex.
✔️ Huge sleeping or play area.
✔️ Lightweight construction.
✔️ Sturdy & stable.
✔️ Bassinet attachment.
✔️ No odors or off-gassing.
✔️ Travel bag included.
✔️ Lightweight, travel bag.
✔️ Greenguard GOLD certified.
❌ Made in China.
❌ Complicated assembly.
❌ Difficult to disassemble.
That's a ton of fantastic features and characteristics!
Regarding assembly, it is a little difficult to attach the no-skid feet to the four corner legs. You'll get a hang of it, but the first couple of times might be frustrating.
Regarding disassembly, it is a little difficult to remove the four legs for folding.
Feel like an expert on the Newton travel crib now? You should! But if you're still uncertain, continue reading to see how we reached these conclusions.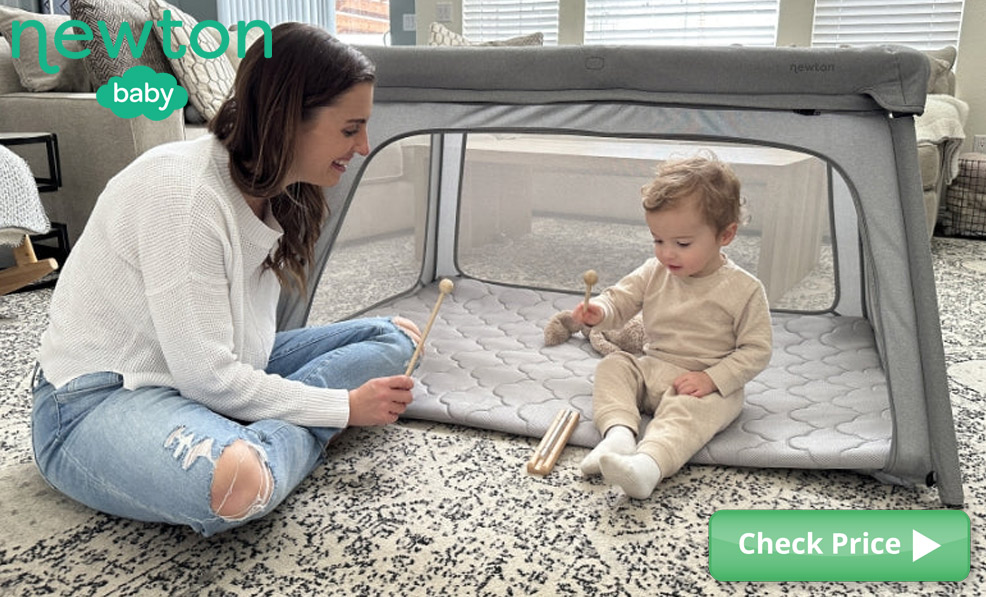 Newton Travel Crib Review
To be 100% transparent, Newton sent us a sample travel crib for testing (thank you, Newton Baby!).
That doesn't necessarily bias us; in fact, nearly half of what manufacturers send us does not make it onto our site due to quality concerns.
A label on the box indicates that it was designed in the US, and made in China. This isn't particularly surprising in comparison to the other travel cribs we've reviewed, but worth mentioning.
One of the things we loved about the packaging is that it's very manageable and relatively lightweight: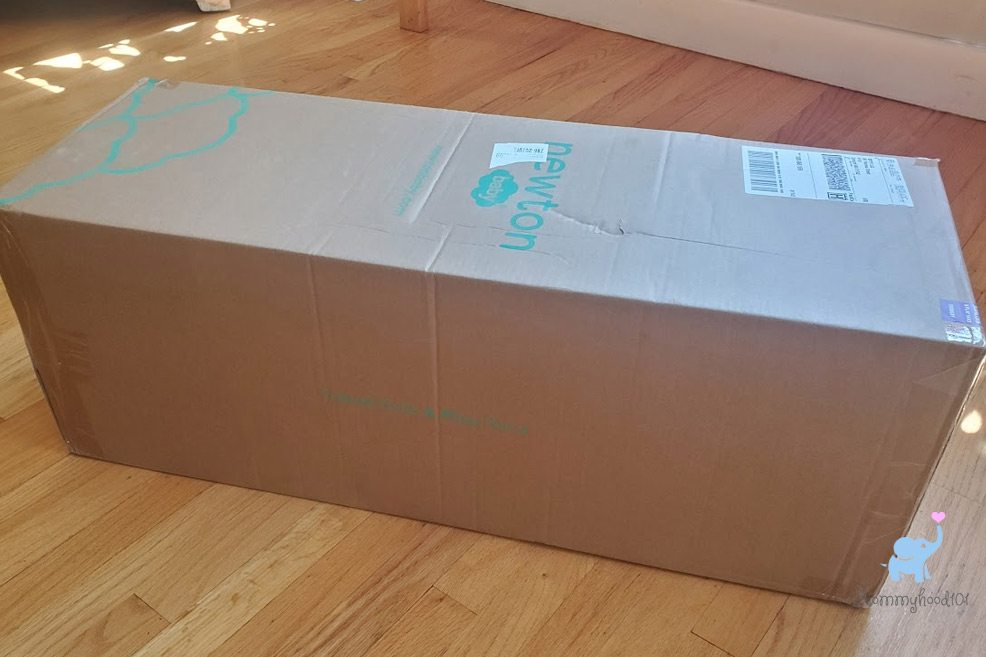 The box is about the weight and size of a rolled-up twin-size mattress, coming in at about 20 pounds and 35" long, 13" wide, and 13" deep.
It is unlikely to get damaged in transit given the relatively thick cardboard used for packaging. Our box had a very light scratch on top (see the above photo), but it wasn't substantial enough to puncture the cardboard.
Unboxing the Newton Travel Crib
We slid the travel crib out of the cardboard box and it was well-sealed in plastic.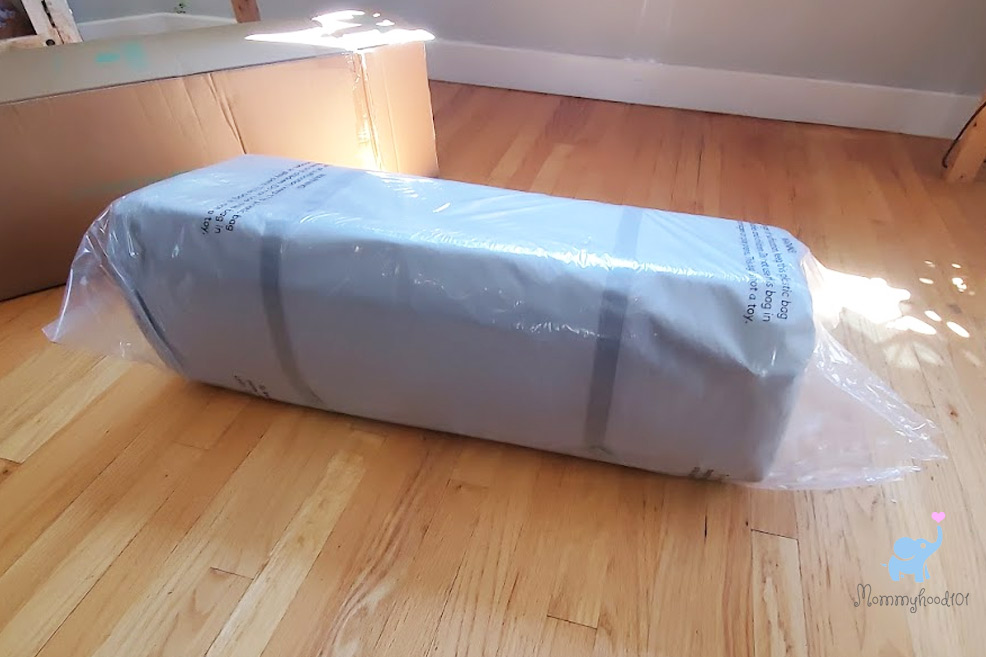 Taking it out of the plastic, we were pleasantly surprised that the entire travel crib was packed into a handy travel bag.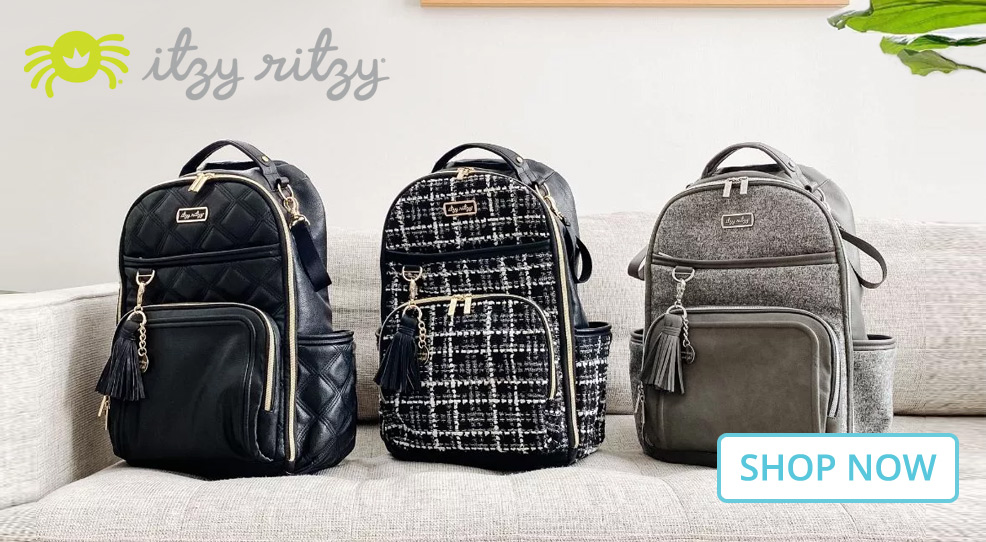 The bag has two large shoulder straps and a pad, which should make lugging this through the airport a bit easier.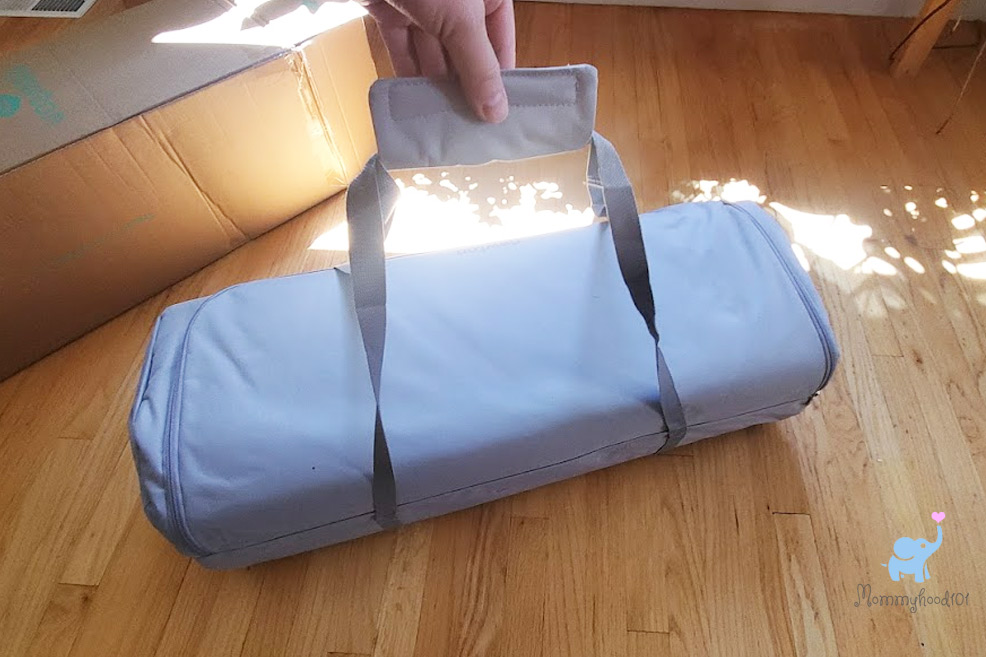 Unzipping the bag, the travel crib was folded up inside the mattress, which was wrapped around the outside like a burrito.
Opening it up, we found the owner's manual and some additional information inside:
At this point, we noticed absolutely no off-gassing odor, which was a pleasant surprise.
Now, to assemble this travel crib.
Assembling the Newton Travel Crib
The Newton travel crib includes everything you need for assembly.
Which, by the way, is absolutely nothing!
You won't need any hardware, tools, scissors, or anything else. Just your own two hands.
Here is what the travel crib itself looks like when it's first taken out of the bag: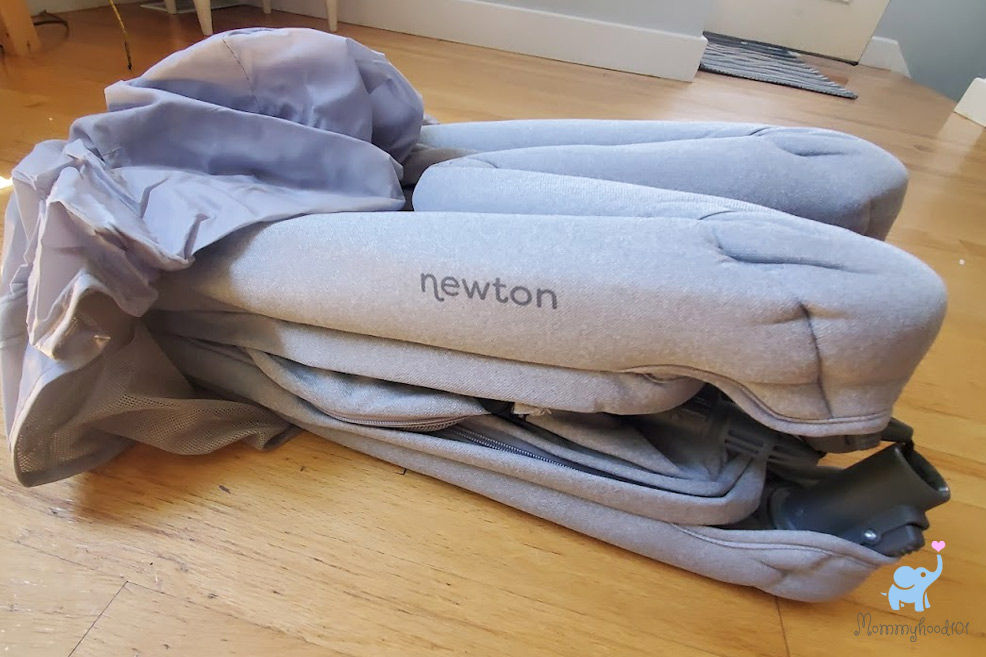 Assembly is very manageable with one person, but is always easier if you have a helper!
Overall, assembly takes about 5-8 minutes, and the owner's manual has very clear instructions and images.
Here is a quick video overview of the assembly process:
Overall, it wasn't very complicated or difficult.
However, there were two snags we encountered:
The four plastic feet are frustrating to attach. Each corner of the mattress has a plastic foot attached. Those feet need to go through holes on the sheet's corners (the sheet is included, by the way), and then through the bottom of the travel crib through holes at each bottom corner. See the above video for a demonstration; it's a finicky and frustrating process. To make it easier, unzip the side panel of the crib and crawl inside to pass the feet through to your helper. The feet will then pop onto the bottom of each corner bar.
The legs are difficult to remove during disassembly. When it comes time to break-down the travel crib, you might find that the legs are very difficult to detach from the top rail. We found that it's easier to detach the legs while the travel crib is still partially open. De-tension the four top rails to give yourself some slack, and then flip the crib over; now, pull the legs up and out one at a time. It will get easier with practice, we promise!
Other than that, assembly and disassembly are relatively intuitive and easy, especially once you get a hang of it!
Newton Travel Crib Specifications
Once the travel crib and play yard was assembled, we broke out our measuring tape and scale.
Here is what we found for basic dimensions:
Exterior dimensions: 51" long, 28.5" wide, 34.5" tall.
If you purchase the bassinet insert (sold separately for $99), it's 31.5" long, 19.5" wide, and 8" deep.
Folded dimensions: 35" long, 12.5" wide, 11" tall.
Here is what we found for basic specifications:
Weight: 17 pounds (or 20 with box).
Frame: lightweight steel.
Sheet: organic cotton muslin.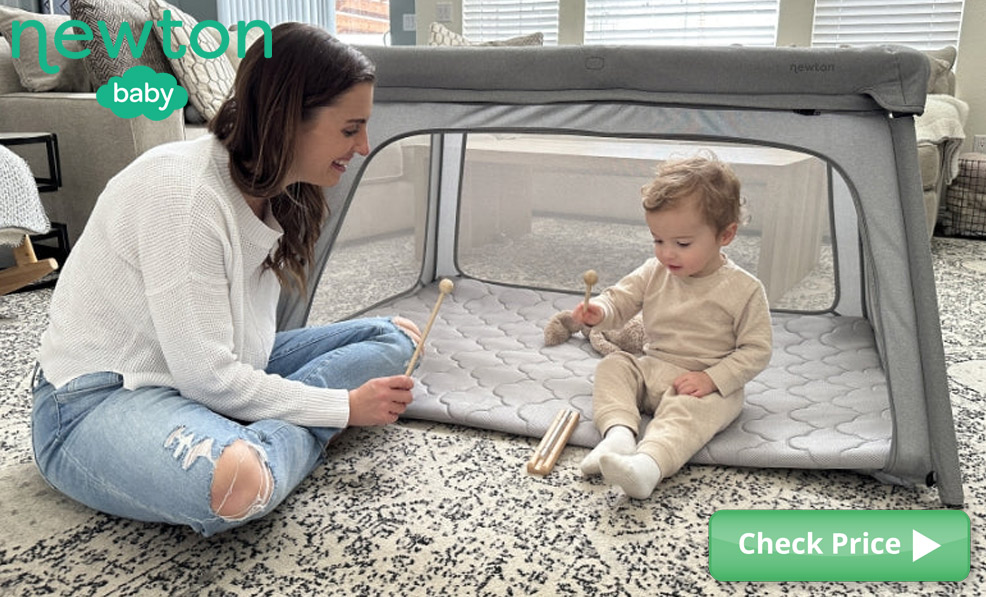 Note that one breathable fitted sheet is included, but Newton offers more travel crib sheets for sale here.
Also, note that while the Newton travel crib is relatively large, it is compatible with the 3.0 version of the Slumberpod.
Testing
To test the Newton travel crib and play yard, we tried it with a one-month-old infant and a toddler.
Newton did not send us the bassinet attachment, so we cannot speak to how that works.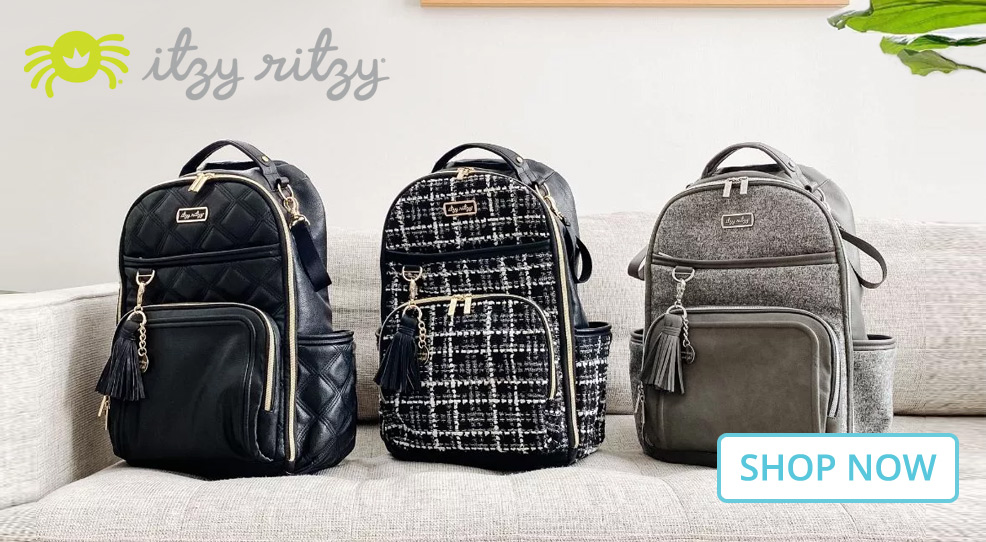 The front zipper was high quality and very easy to use. It has a clip to secure it in the closed position: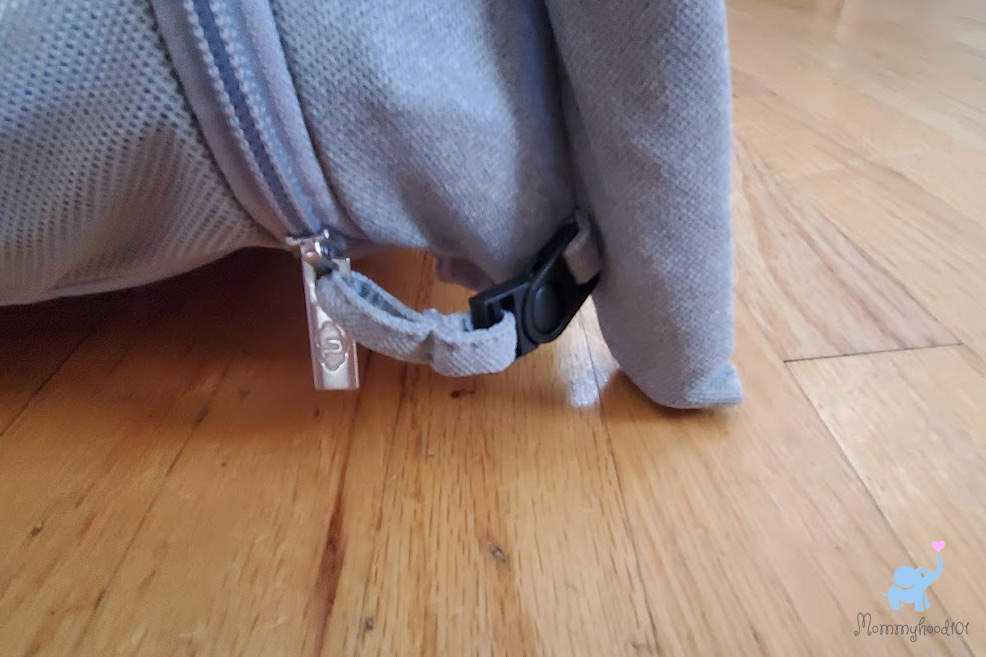 This is an awesome feature to keep clever toddlers from figuring out how to unzip the panel.
When zipped open, the opening is very large and reveals a truly cavernous play (or sleep!) area.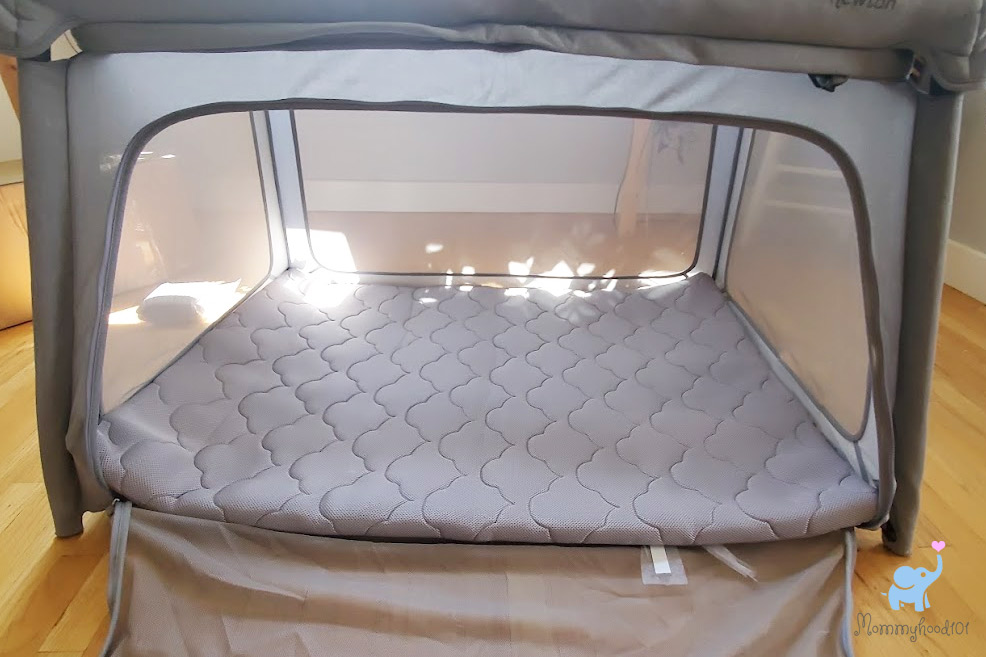 The zipper worked very smoothly. The breathable mesh sides were soft and durable.
The mattress is unsurprisingly awesome. It's a Newton Wovenaire, after all!
It's about 1.5" thick, which is the legal limit for a travel crib or bassinet mattress.
The mattress is firm yet comfortable and sits directly on the floor. If you're on a carpet it will be even plusher.
The top edge of the travel crib is softly padded, and we found the thing to be very sturdy and stable.
Even with a jumping and climbing toddler, it held its own without any sign that it would collapse, tip over, or rip.
Overall, we think the Newton is highly functional, practical, durable, and high quality. The mattress is comfortable and the front access door is a game changer! This is similar to what we found in our Newton bassinet review.
If you have an infant, we recommend using the bassinet attachment for ease of use.
One comment about practicality: The Newton travel crib is large, even when folded up and put into its bag. It is too large to fit into an overhead bin on an airplane and must be checked luggage. To help lug it around airports and elsewhere, it would have been nice for Newton to provide a backpack-style carrying bag.
Safety & Sustainability
If you know anything about Newton Baby, you know that they take safety very seriously.
Here are the primary safety-related features we found in this travel crib:
Fully mesh sides. This is important when your baby or toddler might drift or roll and their face becomes pressed up against the side of the crib.
Breathable Wovenaire mattress. Just like the famous Newton crib mattress, the travel crib mattress is 100% breathable (and washable!), constructed from a dense 3-dimensional web of polyethylene plastic.
Firm mattress for safety. To lower the risk of SIDS, infant mattresses should be very firm. This mattress does a great job balancing comfort and safety.
The wide stance promotes stability. The travel crib is well planted on the floor with a wide base of support, helping reduce the risk of it tipping over with a rambunctious little one.
Greenguard GOLD certification reduces the risk of harmful exposures. This certification process ensures that the travel crib and its components do not contain toxic chemicals or emit harmful levels of volatile organic compounds (VOCs).
For sustainability, the Newton travel crib has a few relevant features:
An organic muslin cotton sheet. Organic textile practices help promote sustainable farming and manufacturing, reducing harmful pesticides, herbicides, and associated wastewater runoff.
The washable mattress core reduces waste. Thousands of bassinet and travel crib mattresses get thrown away and end up in landfills on a daily basis. The washable mattress core makes this less likely, allowing parents to completely wash and continue using the core for many years to come.
Overall, we were impressed with the safety and sustainability of the Newton travel crib!
Pricing & Availability
The Newton travel crib and play yard is priced at $299.
As of this writing, it is only available in grey, and can be purchased at the Newton website or Amazon.
The Newton website is frequently running promotions so you're likely to save considerably relative to purchasing at Amazon.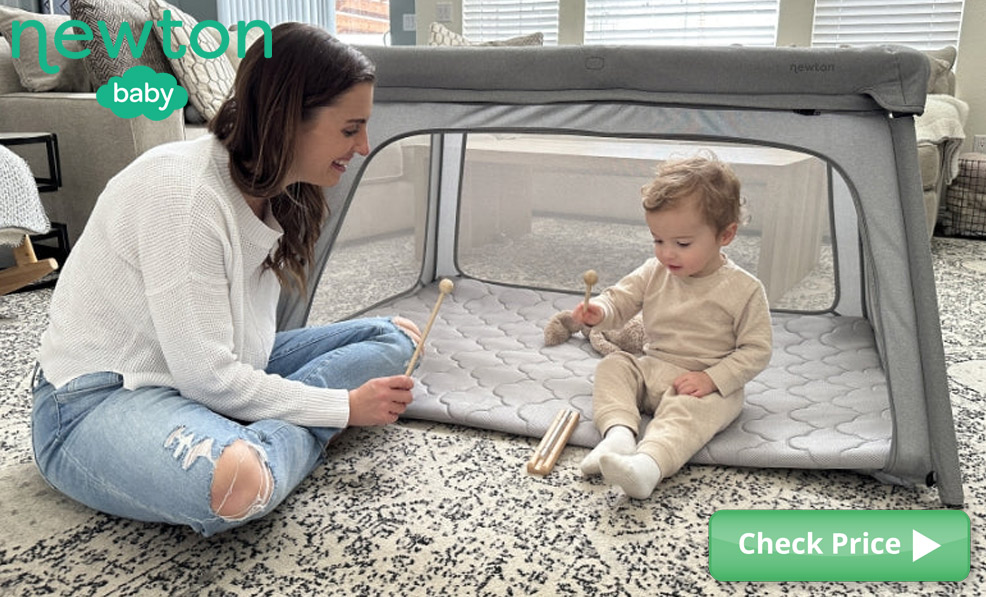 Conclusions
In summary, the Newton travel crib and play yard emerges as an excellent addition to Newton Baby's lineup of premium baby products prioritizing safety and sustainability.
This travel crib showcases impressive attributes that cater to both the comfort and security of babies and toddlers.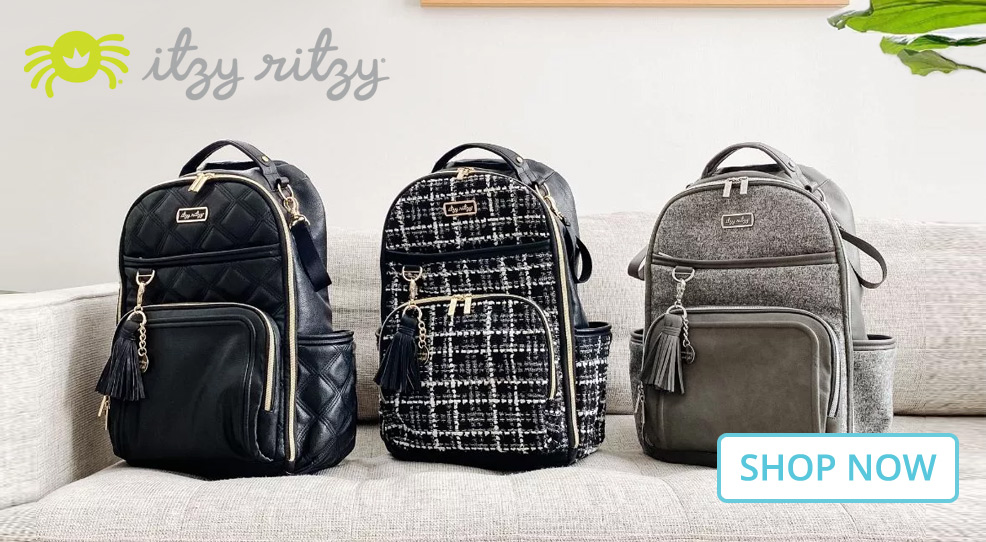 The substantial size of the crib, coupled with its top-notch quality and features, positions it as a standout choice for both naps and playtime.
Our overall impression of the Newton travel crib is overwhelmingly positive. Priced at $299, the crib's blend of safety, convenience, and thoughtful design makes it a good investment. We think its build quality will help it last for decades to come, and it will make a great hand-me-down to a friend or family!
Its assortment of exceptional features, including its breathable mesh sides, washable mattress core, and sturdy construction, solidify its status as a worthy contender among travel cribs.
While certain assembly and disassembly aspects may present mild challenges, these minor setbacks are outweighed by the crib's overall functionality and performance. Newton's commitment to safety and sustainability, evident through features like Greenguard GOLD certification and organic materials, further reinforces the crib's appeal.
In conclusion, the Newton travel crib not only meets the demands of discerning parents but also exceeds expectations, offering a secure, comfortable, and well-crafted solution for on-the-go resting and play for infants and toddlers alike!
References Cited
AAP Safe Sleep Recommendations