Cradlewise Review: The Best Smart Crib & Bassinet?
Sleep smarter with artificial intelligence: the Cradlewise is all that and a bag of sleeps.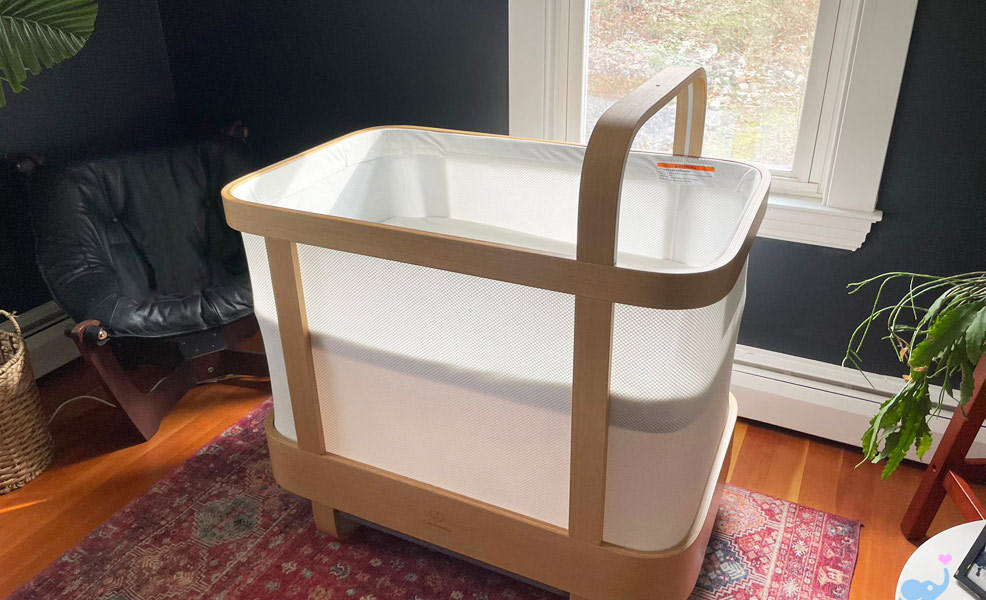 ---
Mommyhood101 independently tests and curates baby gear to help you make informed decisions. If you buy products through links on our site, we may earn a commission.
The new Cradlewise All-in-One Smart Crib and Bassinet is revolutionizing the baby market with its beautiful style, exceptional functionality, versatility, and quality.
Recent research shows that soothing motions from smart cribs can quickly and effectively calm a fussy baby, lowering their fussiness by 73% and helping them get better sleep. While the Cradlewise will ensure your little one is comfortable and well-rested, it will also help you follow the American Academy of Pediatrics (AAP) safe sleep guidelines with its firm mattress, tight-fitting sheets, and breathable mesh.
To see how the Cradlewise performs we assembled it, tested its features, used it for daytime napping and overnight sleep, and showed it off to all our friends!
Full disclosure: Cradlewise was generous enough to provide us with a free sample of their smart bassinet and crib for testing, and we're very grateful (thank you!).
Our overall impressions were extremely positive, and for those doing comparison shopping, we think Cradlewise is a better overall option than SNOO.
The smartest of the smart cribs, we think the Cradlewise is definitely worthy of a spot in our best cribs round-up list!
While we're very positive about the Cradlewise all-in-one crib, we did find some small shortcomings that you might want to consider before purchasing - be sure to check those out.
As of this writing, the Cradlewise product is only available at the Cradlewise website, with prices as low as $1699 (pricing valid as of April 2023) if you plan ahead for several months.
Cradlewise Smart Crib: Overall Ratings
Based on our hands-on reviews, we give Cradlewise a 4.9 out of 5 stars:
Overall Conclusions: Cradlewise Smart Crib & Bassinet
Most parents don't have time to read through this entire article, so here is a summary of what we found.
We were excited to get our hands on this amazing, full-featured smart bassinet and crib combination, we were pleasantly surprised by the following aspects:
✔️ Easy & intuitive assembly.
✔️ Very high build quality.
✔️ Great fit & finish.
✔️ Durable and soft fabrics.
✔️ Firm yet comfy mattress.
✔️ Breathable mesh sides.
✔️ Excellent & reliable app.
✔️ Reliable smart sensing.
✔️ Soothing movements.
✔️ Whisper quiet motion.
✔️ Integrated baby monitor.
✔️ Integrated sound machine.
✔️ Easy bassinet-to-crib transition.
✔️ Beautiful styling.
✔️ JPMA & Greenguard Gold certified.
✔️ Meets all ASTM standards.
✔️ Use from birth to 33 lbs.
However, like with any review we write, we also had some little gripes worth mentioning:
❌ Large & heavy packaging.
❌ Baby camera quality could be improved.
Our biggest gripe with the Cradlewise is that it arrives in a single massive cardboard box that weighs about 70 pounds. It's awkwardly large and heavy, and we wish Cradlewise had divided the shipment up into a few separate boxes (like is done with Nestig cribs).
We are in pretty good physical shape but still needed to solicit help from two neighbors to bring it up to our second-floor nursery. Keep that in mind for when this arrives on your doorstep!
Outside of that, we basically loved everything about Cradlewise. It is extremely high quality and well-constructed, and everything worked perfectly in our testing. It meets ASTM testing standards for cribs (see the standards here), bassinets (see the standards here), and crib mattresses (see the standards here).
Most importantly, the infant and toddler we tested it with absolutely loved it too, and the Cradlewise did a fantastic job soothing them asleep for naps and overnight.
Overall, while Cradlewise is a big investment, we think it offers some serious bang for the buck. The versatility and quality are second-to-none and for the cost, you're getting a fully featured bassinet, crib, baby monitor, and sound machine in one integrated package!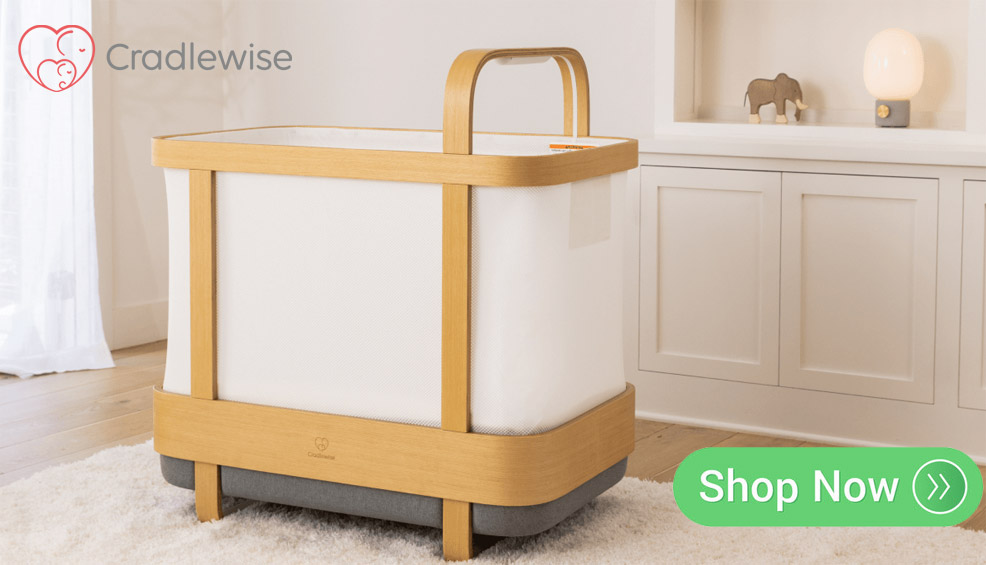 About Cradlewise
Cradlewise is based in San Francisco, CA, and was founded in 2018 by parents Radhika and Bharath Patil, who saw a need for smart cribs to help soothe babies and let parents get better sleep.
With backgrounds in engineering, they raised funding in 2019 to produce their first prototype smart bassinet and crib.
After winning TIME Magazine's Best Inventions Award in 2020 (see below), they began shipping the Cradlewise smart crib across the USA in 2021.

Since that time, they have been growing rapidly and helping thousands of parents make their nurseries smarter, more intuitive, and more conducive to better and longer sleep!
According to our research, Cradlewise is very responsive to customer inquiries and quickly offers support when needed.
Cradlewise Review: Smart Bassinet & Crib
The Cradlewise Smart Crib and Bassinet has a ton of features that we needed to try out!
We begin with a summary of features and then discuss the assembly, quality, comfort, features (our favorite part!), and versatility, and then end our review with some little annoyances that are worth mentioning.
Features & Specifications
The Cradlewise Smart Crib has a ton of excellent features that even the best bassinets and cribs would be proud of.
Here are some of the core features and specifications of Cradlewise:
✔️ Smart cameras detect signs of waking.
✔️ Soothing up-down motion with varied speeds.
✔️ Integrated baby monitor.
✔️ Integrated sound machine.
✔️ Free smart app.
✔️ Sleep tracking on an App.
✔️ Customizable soothing routines.
✔️ Expands from bassinet to mini crib.
✔️ Includes a high-quality mattress.
✔️ Includes waterproof fitted sheets.
✔️ Greenguard GOLD certified.
✔️ JPMA certified.
✔️ Birth to 33 pounds.
✔️ Dimensions 33.5" H, 40" L, 25" W.
✔️ Bassinet mattress 10" from the top edge.
✔️ Crib mattress 22" from the top edge.
✔️ Mattress is about 23" x 38".
✔️ Mattress is about 1.3" thick.
✔️ Weight is 67 pounds.
That is a ton of features in a heavy but relatively compact package. For a bassinet, it is rather large; for a crib, it is the size of a traditional mini crib.
In comparison to other smart bassinets and smart cribs on the market, to our knowledge, no other product has this level of versatility and richness of features.
Cradlewise Assembly
The Cradlewise Smart Crib arrives in a single massive cardboard box.
The box is about 42" long (and about 30" wide and 20" high) and weighs about 70 pounds. The size and weight make it extremely awkward to manage.
When you get the shipment notification, be sure to ask others to help lift and haul the box up any stairs. We are very active 30-something parents but still needed to get help from our neighbors. We suggest you do the same!
Out of the box, it becomes immediately clear that this is a very high-quality and well-constructed piece of nursery furniture.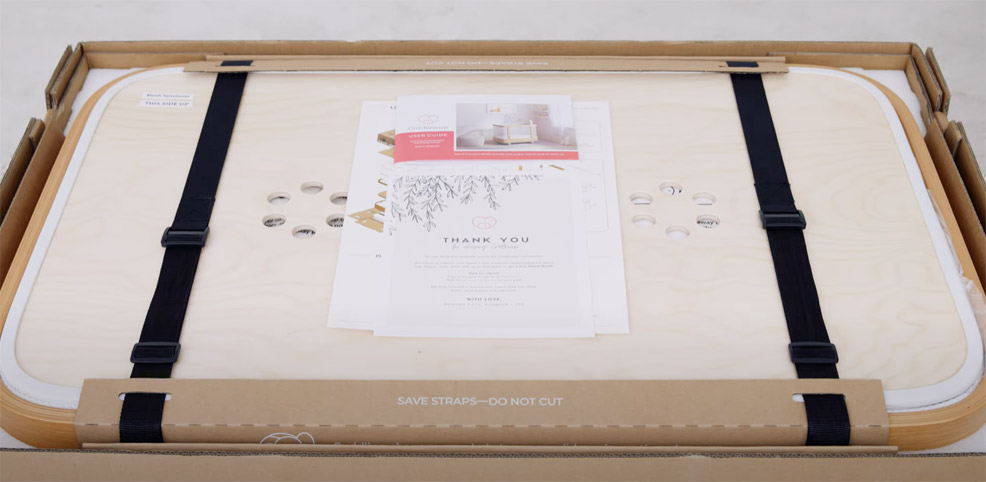 Cradlewise clearly put a lot of thought into first impressions. Everything is organized very nicely, and they made a great video describing how to assemble the crib (see below).
While it takes about 30-45 minutes to assemble, we must admit that the instructions were extremely clear and everything you need is provided in the box. This includes all the hardware and tools (Allen wrench, screwdriver).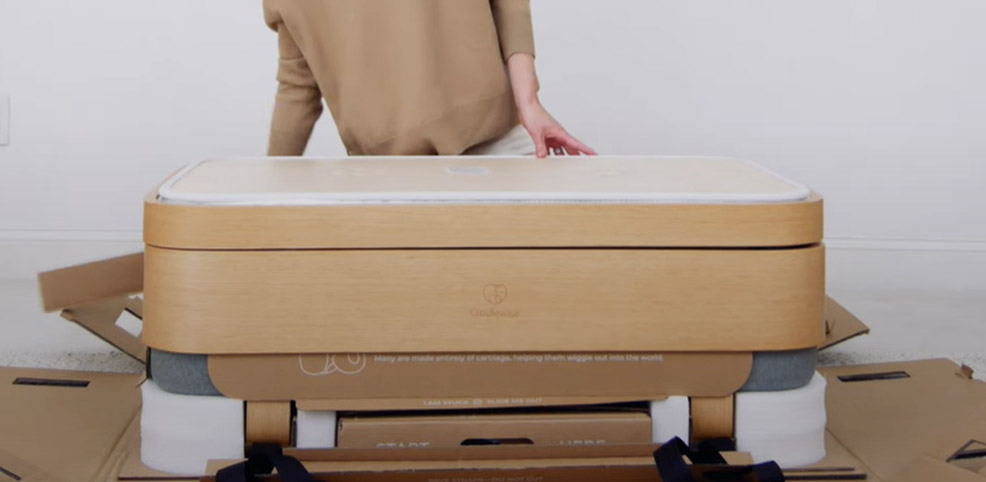 In a nutshell, here is the assembly process:
Attach the four crib wall posts.
Attach the top crib rail.
Attach the top monitor arc.
Connect the monitor cable and cable cover.
Zip the cradle mesh onto the top rail.
Lower the mesh tensioner platform.
Remove the lower cardboard shims.
Bassinet: Lower the bassinet board.
Bassinet: Attach bassinet mesh.
Bassinet: Install mattress.
Once you conquer this process, the next step is to plug in the power adapter. The cord is about 6 feet long, so be sure to position the crib close enough to a wall outlet.
The next step is to download and install the Cradlewise app on your iPhone or Android device and register for a free account.
There is a small blue LED light on the top of the monitor arc that will turn blue when the crib is ready to pair with the app.
The app is intuitive and guides you through the pairing process. We had no issues getting the iPhone or Android app to pair successfully.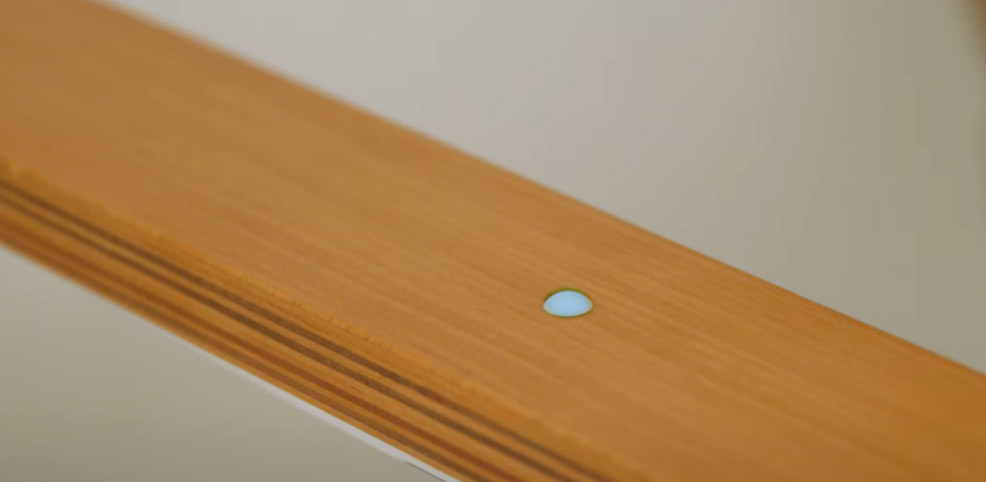 Overall, while the box was frustratingly large and heavy, we give the Cradlewise assembly process an A+ for how thoughtful and intuitive the assembly process is. Not to mention that every part fits together like a glove!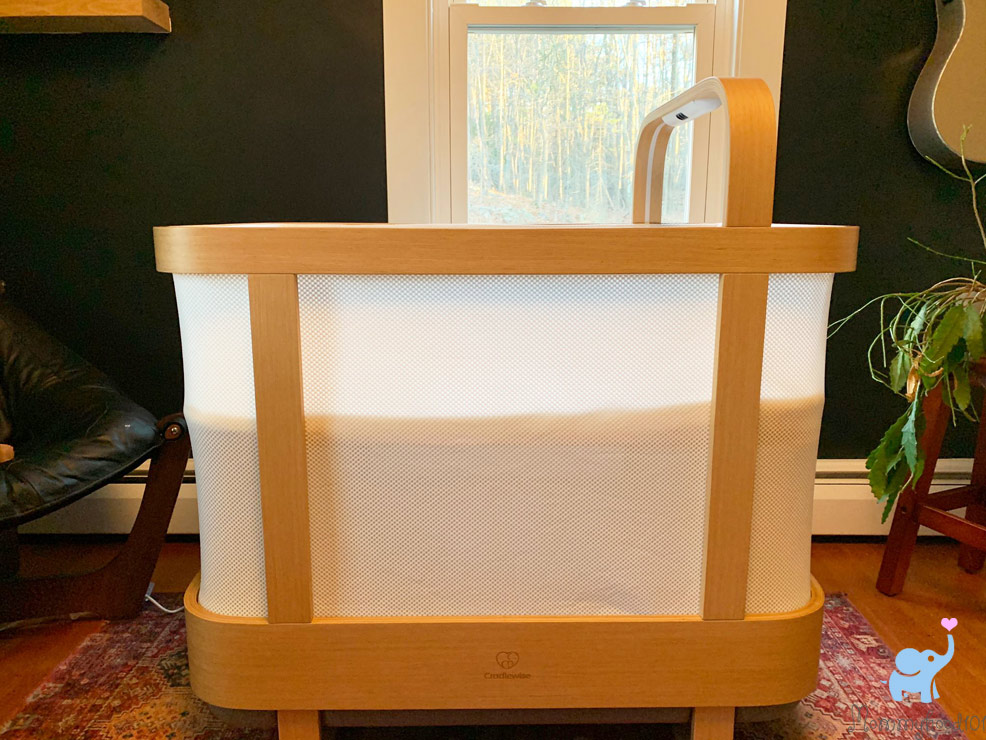 The final assembled product is rewardingly beautiful!
Comfort and Quality
When it comes to comfort, there are three primary considerations.
First, you want to make sure that all touch surfaces, including the upper rail, mesh walls, mattress, and sheets, are all soft and safe to touch. For both you and your baby!
This includes a wooden top rail that is smooth and splinter-free, a mesh fabric that is soft and breathable, and sheets that are comfortable and practical (waterproof, machine washable). Cradlewise passes these tests with flying colors!
In the below photo, notice how smooth the wood trim is, how nicely it all fits together at the seams, how streamlined the mesh lining is, and how comfortable the sheets look!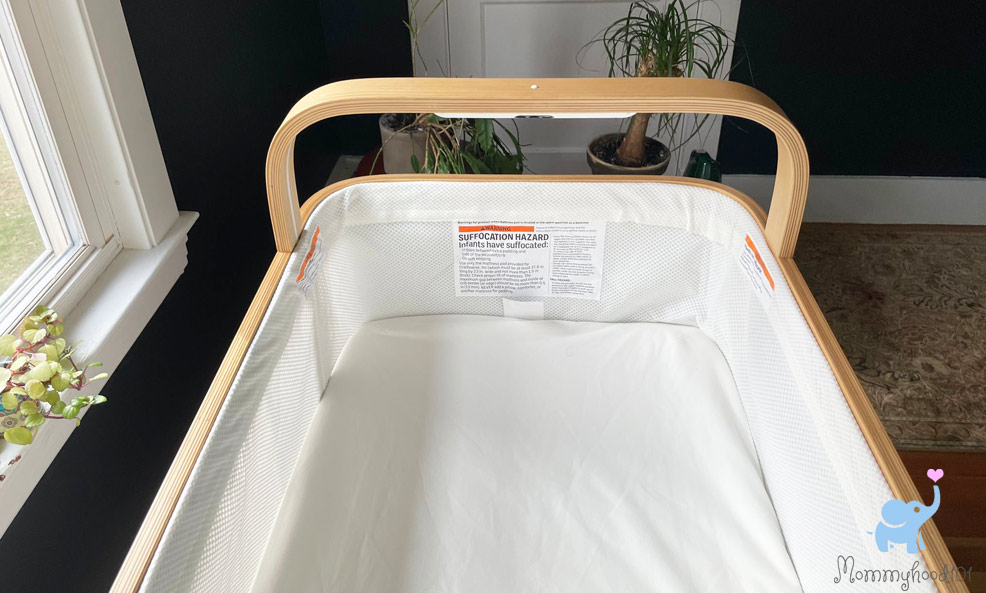 Second, you want to make sure that the mattress is comfortable but also safe for infant sleep.
This is a difficult balance, especially with an all-in-one crib. When it begins as a bassinet, you want the mattress to be very firm for safe infant sleep. Once you transition to a mini crib, you want the mattress to be comfortable for a growing toddler.
In our opinion, Cradlewise has done a great job finding the perfect compromise between firm and comfortable; the mattress is more comfortable than most (thin and flimsy!) bassinet mattresses, but also firm enough to promote safe sleep.
Third, with the Cradlewise smart crib, comfort is customizable! The Cradlewise includes soothing motions, music and lullabies, and white noise, all of which can be customized to suit your baby's specific needs.
For us, that makes it one of the most comfortable and comforting cribs on the market! More on those smart features later.
When it comes to quality, it's apparent in every detail of the Cradlewise crib.
First, they didn't just throw in a block of polyurethane foam masquerading as a mattress (we won't name names!), they developed a very high quality and Greenguard GOLD certified mattress with great materials that reminded us of some of the best crib mattresses (like the Avocado!) on the market: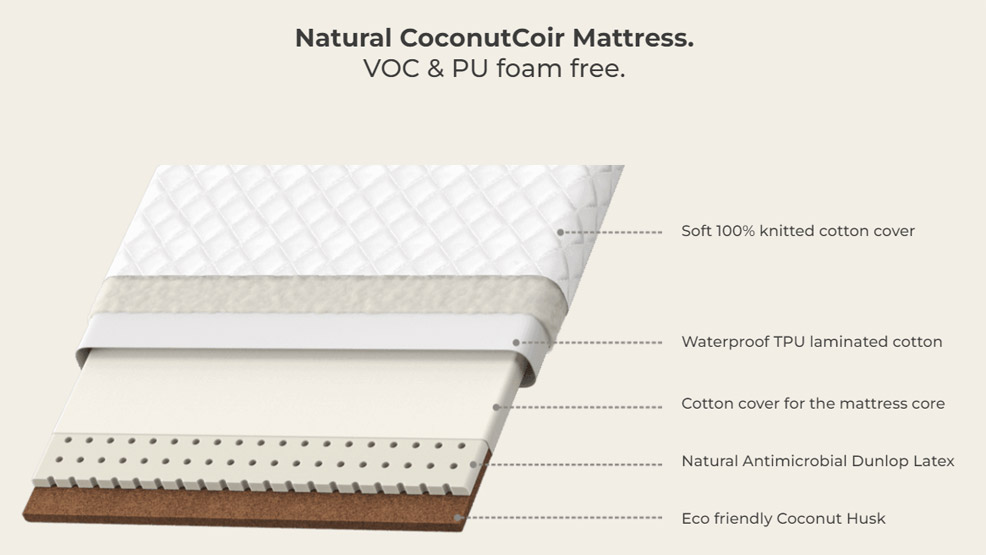 They also threw in two fitted sheets, which fit very nicely onto the mattress, with a low likelihood of them popping off unintentionally.
Here are the top and bottom of the mattress: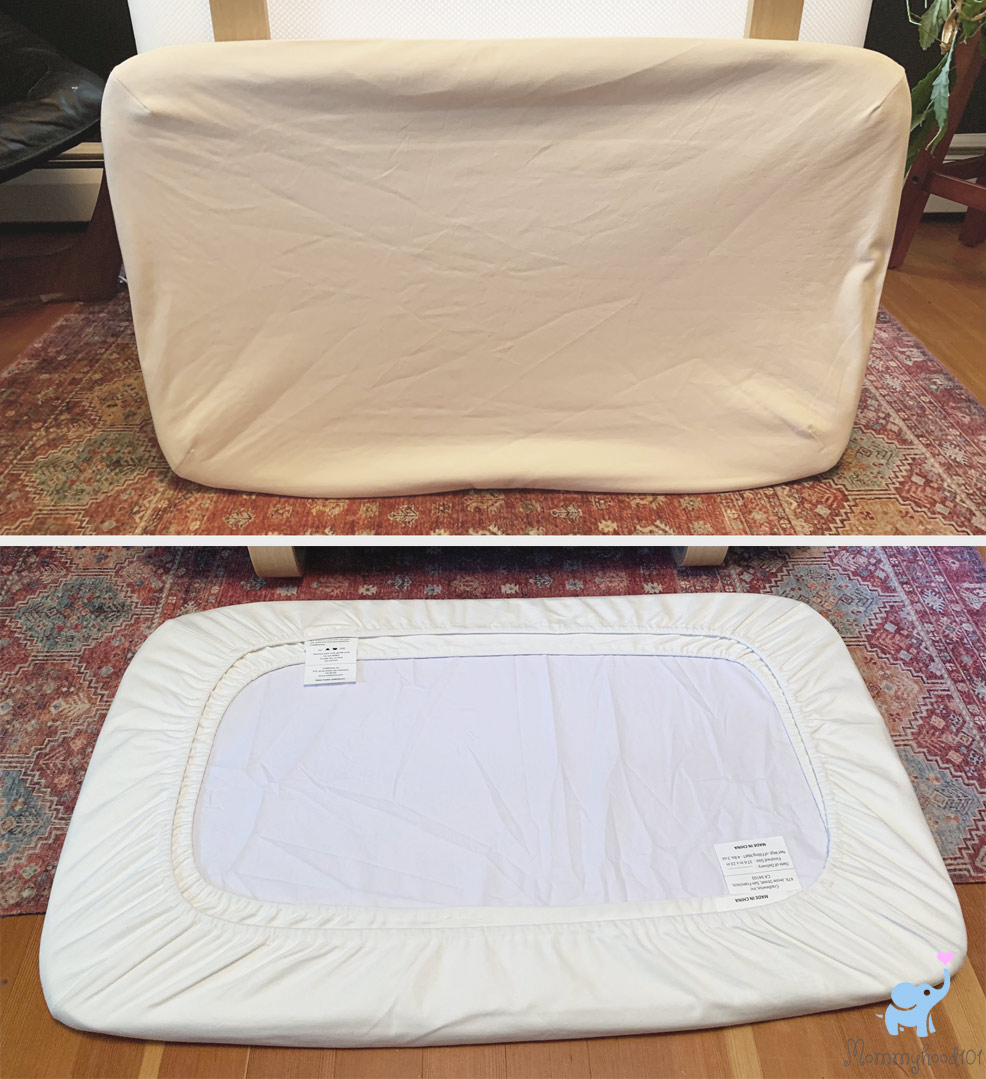 Second, Cradlewise used high-quality wood.
While the wood itself is not solid wood (unlike the Nestig cribs), it is a beautiful and high-quality ply with a smooth veneer surface.
The trade-off with solid wood is you lose some precision: parts will not line up nicely together and may change shape over time. In contrast, this engineered wood makes every seam fit like a glove!
You can notice the quality fit and finish in this photo: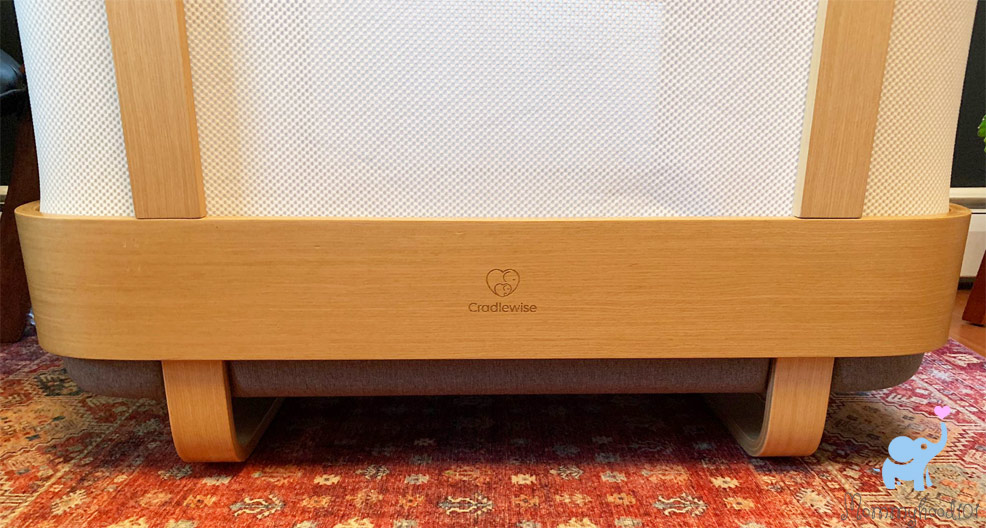 Third, the quality of the mesh sides is very high.
We were initially concerned that the mesh would be vulnerable to punctures or tears (from fingernails or little feet).
However, we were pleasantly surprised by how durable the mesh was: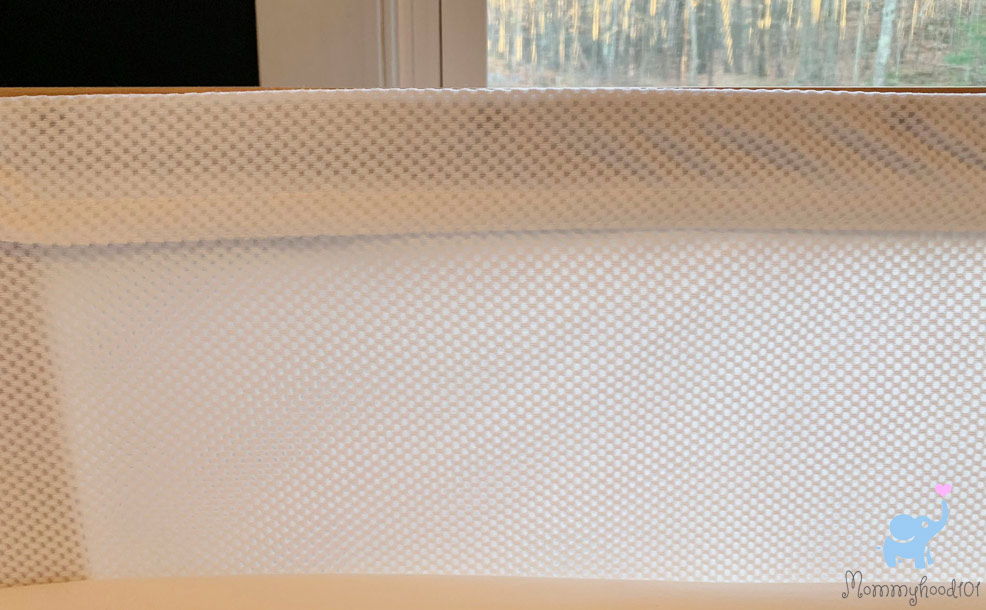 The only thing we didn't like about the mesh was the big warning labels.
They're a bit of an eyesore, but we do realize they're also a necessary (and sometimes lifesaving) feature.

Other signs of quality were present during assembly, including the high-quality hardware and tools.
Quality is also apparent in the consistency of wood color across individual parts, and the reliability and effectiveness of the crib's smart features.
Overall, we think the comfort and quality are very high with the Cradlewise crib. They are clearly not cutting any corners with its design and development and should be commended for making such a great product.
Smart Features
As though the Cradlewise doesn't have enough going for it already, smart features are where it really shines!
There are several smart bassinets and cribs on the market, including the popular SNOO and 4Moms Mamaroo, as well as new options from Graco and Fisher-Price. The Cradlewise isn't without formidable competition, so they have a lot to prove!
Let's start with the app. The free Cradlewise app is available for both iPhones and Android devices and connects easily with the crib (as detailed in the assembly section, above).
The app is where you will do the following:
View the baby monitor.
Save photos and video of your baby.
Control the music and lullabies.
Control the sound machine (white noise and more).
Manually control the bounce and intensity.
Set up smart routines (bounce, music, white noise).
View sleep tracking data and trends.
View the nursery temperature.
Receive alerts.
Basically, the app controls everything. Without the app, you will not be able to access any of the smart features of Cradlewise. In other words, no baby monitor, bouncing motions, or sound machine.
The app is intuitive and easy to use, very fully featured, and gives manageable alerts.
The only downfall is that the baby monitor quality isn't quite on par with other models. The quality isn't poor by any means, but it certainly could be better, for both daytime and night vision.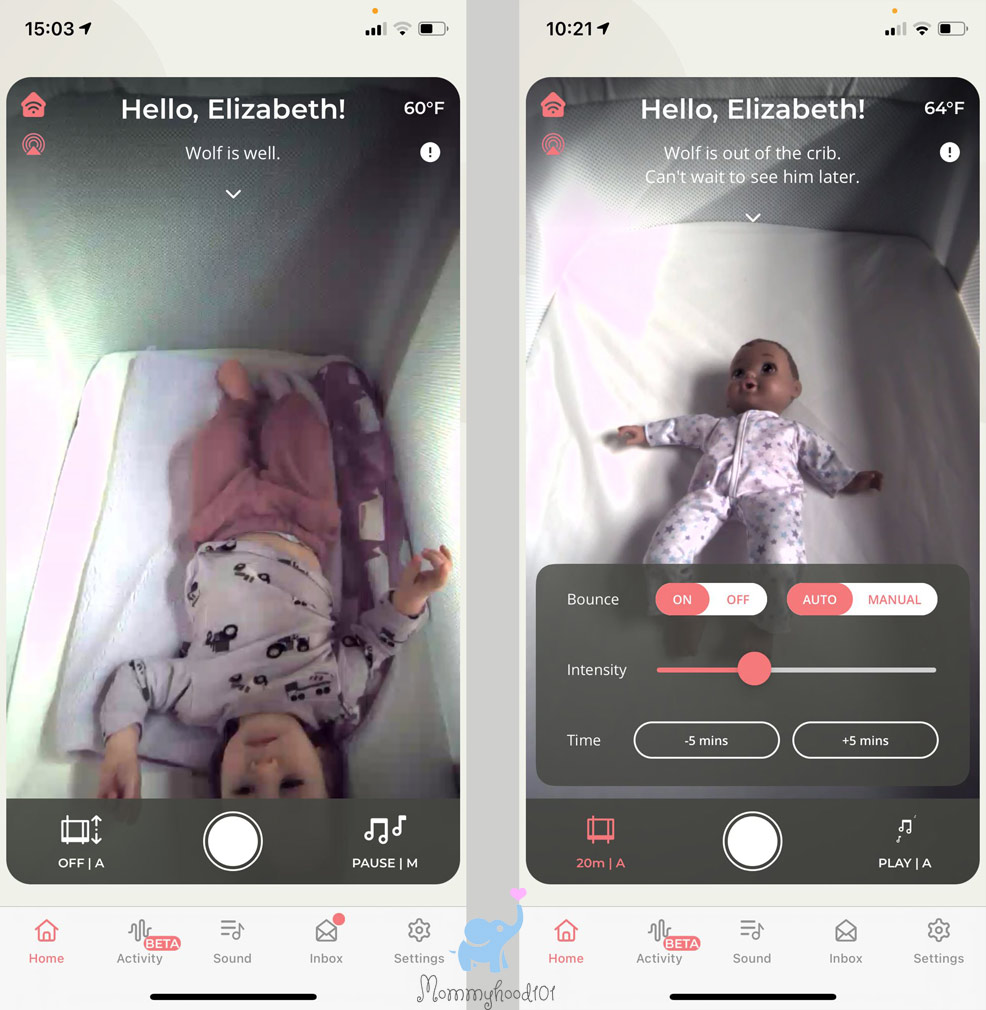 In the above photo, there are a few things to notice.
First, all the information is right at your fingertips (literally!) and everything is easy to navigate and control.
Second, you might notice that the camera quality isn't great. These photos were taken during the daytime, and you can see how the nearby window light is saturating the camera and degrading its quality. The night vision is a bit better quality than the daytime vision. We have no major complaints about any of this, everything was still visible in the crib, and we could readily see the important information (movement, position, eyes open/shut, etc.).
Third, we wanted to demonstrate the smart sensing of waking activity.
The Cradlewise doesn't only detect when your baby wakes up and begins to fuss, it uses artificial intelligence and machine vision to detect subtle movements that are predictive of when your baby is likely to wake up. It does this out of the box, but also gets better at it over time as it learns your baby's specific sleep habits.
We put a doll in the crib to showcase how smart the Cradlewise really is - we couldn't trick it into thinking that the doll was a child, which was reassuring!
The bouncing motion is fully adjustable from very slow to surprisingly fast! Here is a video showing the full range of bouncing speeds, from fast to slow:
While you can manually control the bouncing from the app, it can also be automatically triggered by the crib's smart sensing technology.
The sensitivity of the Cradlewise smart sensing was very impressive. The system uses its cameras to detect micro-movements of your baby and will slowly start a pre-programmed routine to soothe your baby. You can customize the soothing routines to include any combination of bouncing, white noise, and music.
The system detects whether the routine is working and will slowly let the routine progress or let it dissipate as your baby is soothed asleep.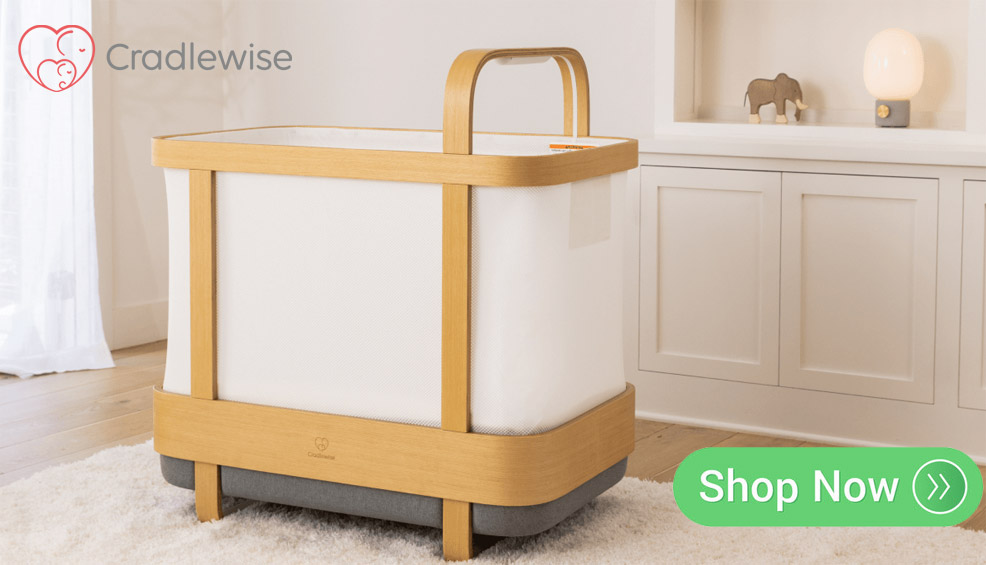 One of the unique aspects of the Cradlewise is how whisper quiet the bouncing motion is, quieter than any other smart bassinet or crib we have tested!
Overall, we think the smart features are truly smart but also very well executed with the Cradlewise. Everything works reliably and effortlessly, transitions are smooth, and the crib does a great job soothing your baby asleep.
Will the motion work to soothe all babies all the time? No, no smart device can do that, but Cradlewise is a huge step in the right direction!
Bassinet to Crib Transitions
One of the unique aspects of the Cradlewise, especially relative to the SNOO or Mamaroo, is its ability to transition from a bassinet to a mini crib.
The Cradlewise does this by changing the height of the sleeping surface relative to the top rail.
In bassinet mode, you will use the wooden bassinet board to raise the sleeping surface to about 10" below the top rail. The bassinet board is basically a platform that raises the mattress's height.
This will make caring for your little one easier during naps and overnight sleep. However, once your baby begins to roll over or otherwise shows increasing mobility, it's time to transition to crib mode.
To transition the Cradlewise to its mini crib mode, you simply remove the bassinet board and the bassinet mesh and place the mattress on the bottom board (the mesh tensioner platform) of the crib.
Here is the Cradlewise in crib mode: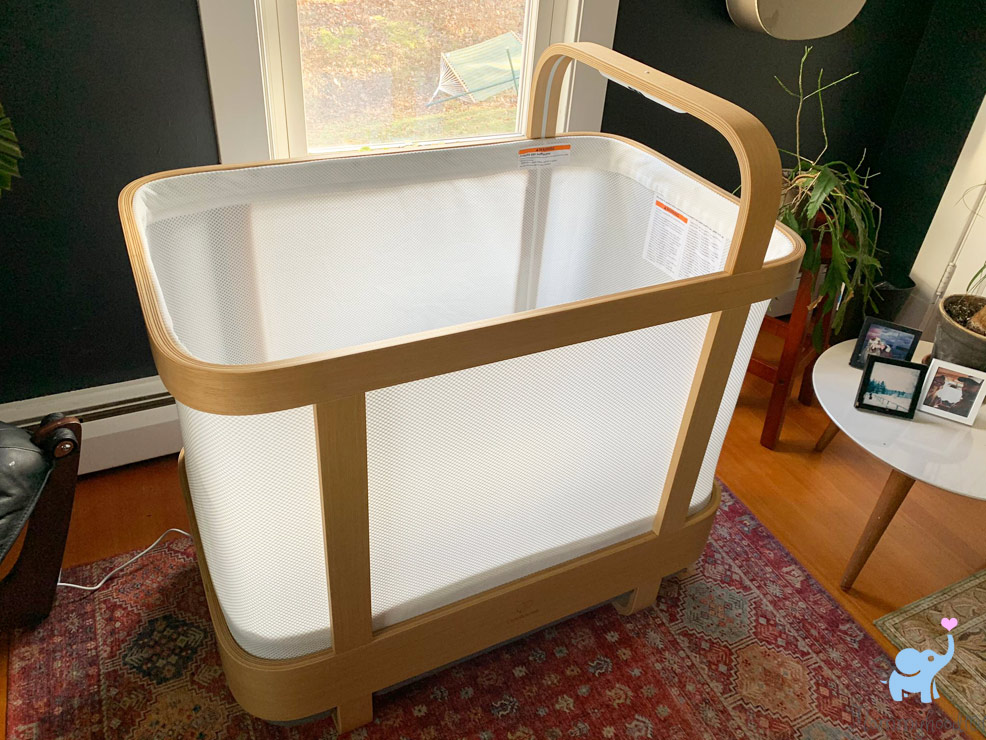 Notice how much lower the mattress is?
You might be concerned that a mini crib may not be sufficient for a growing toddler, but most children can use a mini crib until they are 2 years old.
The mattress is about 38" long, so until your child is over about 36" in height, they will likely be perfectly comfortable in this crib.
Here is our test toddler (18 months) enjoying the crib mode!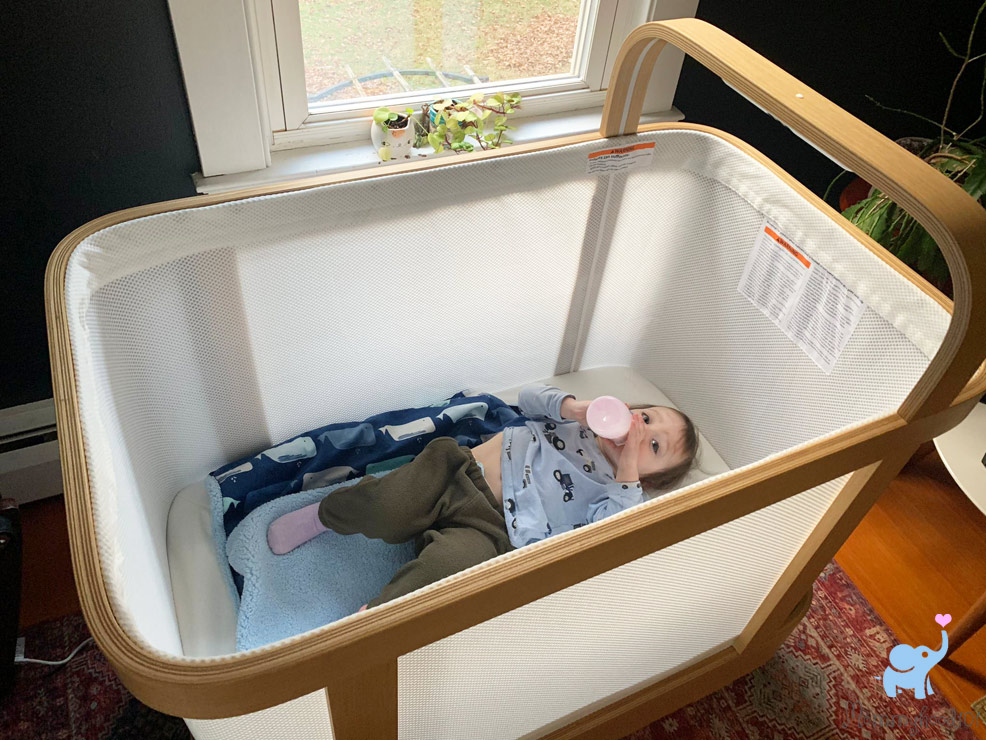 Overall, transitioning from bassinet to crib was very easy with Cradlewise. Much easier than raising and lowering the mattress height on a conventional crib.
The ability to use this as a bassinet and easily transition to a mini crib makes the Cradlewise stand out very strongly against the smart bassinet competition.
Quirks and Annoyances
There aren't many quirks and annoyances to mention with the Cradlewise, but there is always room for improvement!
First, we mentioned how large and heavy the shipping box was. While you might have very strong household members to quickly lift and move the box, we didn't, and it was a bit frustrating. By comparison, Nestig does a nice job shipping parts separated into a few more manageable boxes, which Cradlewise might want to consider. In the meantime, phone a friend or two!
Second, the baby monitor could be of higher quality. Certainly not a deal-breaker and it can accomplish your basic monitoring needs without issue, but don't expect the visual quality of a high-end baby monitor (like the Nanit or Infant Optics). The power of this baby monitor is really in its integration into the crib and its smart features.
Finally, some parents are specifically interested in a bedside bassinet; Cradlewise is unlikely to fulfill that need. It's large and the top rail is high. It can scoot up against the side of your bed for convenience, but it is likely to sit much higher than your top mattress.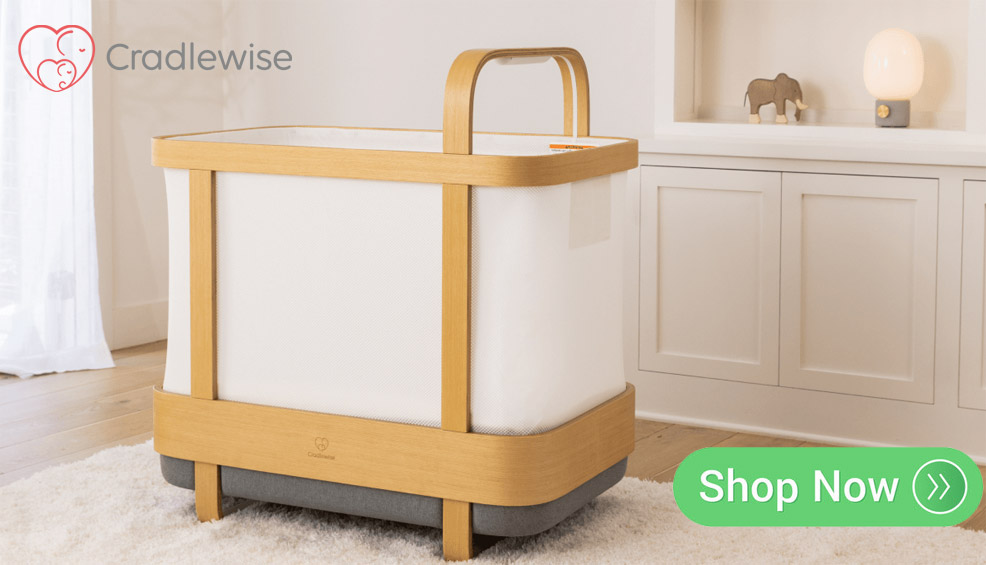 Frankly, those are minor concerns and a couple of them are not specific to Cradlewise. The quality, features, and versatility of this smart crib far outweigh these nitpicky concerns!
Cradlewise versus SNOO
One common question about Cradlewise is how it compares to the SNOO.
We believe there are pros and cons for each of these systems.
Benefits of the Cradlewise versus SNOO:
Can be used for 24 months or up to 33 pounds. The SNOO is only for 6 months.
Converts to a mini crib. The SNOO is only a bassinet.
Can be used without an attached swaddle. The SNOO cannot.
Bounces are like the natural movement of a soothing parent. The SNOO rocks.
Starts soothing motion before baby cries. The SNOO soothes after crying starts.
Has an integrated baby monitor. The SNOO does not.
Can play music or white noise. The SNOO plays white noise.
Holds Greenguard GOLD certification. The SNOO does not.
Offers discounts with delayed shipment. The SNOO does not.
Benefits of the SNOO versus Cradlewise:
Includes three integrated swaddles. The Cradlewise does not.
Assembles in less than 15 minutes. Cradlewise 45 minutes.
Offers a unique rental program. Cradlewise does not.
Is relatively lightweight (50 lbs.). Cradlewise is relatively heavy.
The price point of the two smart bassinets is very similar.
Overall, we believe there are many advantages of Cradlewise relative to SNOO, making Cradlewise the obvious winner!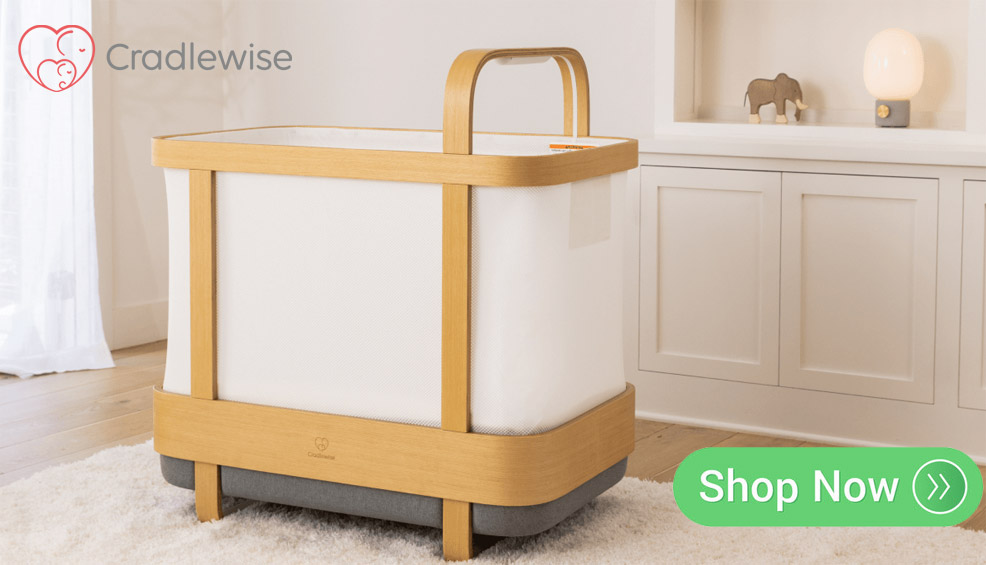 We also think that the Cradlewise benefits extend to its comparison to other major smart bassinets including the 4Moms Mamaroo and Graco Sense2Snooze.
Overall Conclusions
To say we are impressed with Cradlewise would be a gross understatement!
Sometimes it is difficult to bring such a lofty concept to fruition, but Cradlewise has managed to combine beauty, smarts, versatility, and practical functionality into a smart crib and bassinet combination.
When we first learned about Cradlewise, we thought it was a great concept with an unrealistic price point.
Now that we've tested it ourselves, we think Cradlewise is worth every penny!
From the easy assembly and high-quality parts to its beautiful style and effective smart features, it has everything you could ask for in a bassinet or crib. When you consider that it offers five separate purchases in one: smart bassinet, smart crib, mattress, baby monitor with sleep tracking, and sound machine, it's truly a no-brainer!
While we did find some minor inconveniences with the Cradlewise, we think that it is an obvious solution to a serious challenge: getting your baby to fall asleep and stay asleep for longer!
As Napoleon once said, "Let her sleep, for when she wakes, she will shake the world!" The Cradlewise will bring you one step closer to that fantasy!
Pricing and Where to Buy
As of this writing, the Cradlewise smart crib is only available directly through the Cradlewise website.
There are a few purchasing options, each of which is associated with a slightly different price:
You can purchase the Cradlewise for ASAP shipping, for a one-time payment of $1999.
You can purchase the Cradlewise for ASAP shipping, using Klarna for monthly payments of about $68/month.
You can purchase the Cradlewise for delayed shipping, usually discounting the crib by $50/month. For example, if you initially agree to the purchase in January, it would be discounted to $1949 for February shipping time, $1899 for March, $1849 for April, $1799 for May, $1749 for June, and $1699 for July (a 6-month shipping delay).
Our advice is to order early and take advantage of the deep discount. Looking for a simpler bassinet for about 8 times cheaper? Check out our review of the Newton bassinet!
Click the below image to visit the Cradlewise website and see more details!