Nestig Cloud Crib Review and Video
Is the new Nestig Cloud the crib of your dreams? We put it to the test to find out.
---
Mommyhood101 independently tests and curates baby gear to help you make informed decisions. If you buy products through links on our site, we may earn a commission.
We got our hands on the Nestig Cloud crib early last year (thanks, Nestig!) for testing, and were super impressed with its overall build quality, features, assembly, and versatility.
With JPMA certification, sustainably-sourced solid Brazilian mahogany wood, a wooden mattress support platform, beautiful styling, and the ability to transition between mini, full, and toddler sizes, the Nestig Cloud was racking up the gold stars before we even took it out of the box!
Overall, we came away with a very positive impression of the Nestig Cloud crib, and are very grateful to have gotten our hands on it for testing. We think it would be an excellent addition to any nursery, and highly recommend it for parents looking for modern style, quality, and versatility!
The Nestig Cloud crib has some excellent characteristics that stand out against the competition, placing it near the top of our best cribs list!
It's very rare for a crib to have the versatility to transition all the way from a mini crib to a full size crib, and then transition again to a toddler bed. The Nestig Cloud lets you skip the bassinet purchase and move right into a beautiful mini crib that matches your nursery style and saves you some cash in the process.
While some manufacturers cut corners and use heavy particle board or other cheap wood products, the Nestig uses Brazilian wood that is not only beautiful and hand-carved, but also sustainably sourced.
Looks good and makes you feel good at the same time? Sign me up!
Nestig Cloud Crib: Overall Impression
Nobody wants to read through an entire article to get to the conclusions, you've got more important things to do! So here are our findings, right up front.
Spoiler alert, we are very impressed by the Nestig Cloud and were grateful to get a chance to test it out! Against an increasingly competitive array of crib options, the Nestig really stands out.
Here is a summary of what we loved, and some things that could be improved.
✔️ Made in Brazil (not China).
✔️ Sustainable Brazilian Mahogany.
✔️ JPMA Certified safety.
✔️ Sturdy steel spindles.
✔️ Lead and Phthalate free.
✔️ Non-toxic finishes.
✔️ Solid mattress support.
✔️ No odors or off-gassing.
✔️ Easy 15-min assembly.
✔️ Mini crib has locking wheels.
✔️ 3-height adjustable.
✔️ Looks beautiful!
❌ Included mattress isn't great.
❌ Inconsistent wood colors.
❌ Wood slightly misaligned.
That is a lot of amazing features, making this a fantastic crib overall.
We love that it is made at a family-owned (father and son) workshop in southeastern Brazil, and that it combines beautiful and modern steel spindles with soft and smoothly-contoured wood.
The spindles are spaced perfectly for safety, with even spacing and gaps that are all under the maximum gap width of 6 cm or 2.375". We couldn't find any pinch points or sharp edges, and we love Nestig's transparency regarding the use (or lack thereof!) of lead, phthalates, and toxic finishes.
Assembly was very easy, the instructions were excellent, and there were no detectable odors or off-gassing.
The only little downfalls included the mini crib mattress quality, which was a little flimsy (but also included for free, so we can't really complain). The upgraded mini crib mattress is highly recommended.
The wood colors were not entirely consistent across different pieces of wood, and we couldn't get some pieces to perfectly align. Not a huge deal and only a slight aesthetic concern, but it also shows how the hand-crafted wood pieces have some variation that's expected with real wood.
Feel like a Nestig Cloud expert now? You should! But if you're still uncertain, continue reading to see how we reached these conclusions!
Nestig Cloud Crib: First Impressions
To be 100% transparent, Nestig sent us a sample of the Cloud crib for testing (thank you, Nestig!).
That doesn't necessarily bias us; in fact, nearly half of what manufacturers send us does not make it onto our site due to quality concerns.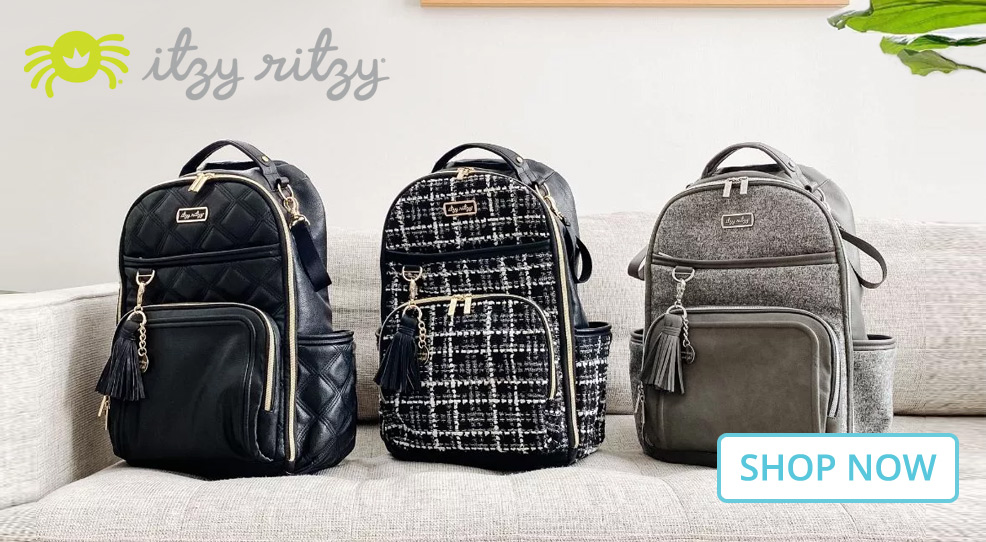 Shipping took about 2 weeks from order confirmation to arrival at our doorstep - not bad, and faster than suggested on the site!
The Nestig Cloud crib is made in southeastern Brazil with Brazilian hardwood. The manufacturer, Nestig, Inc., is a registered corporation in New York, located at 200 W 67th Street.
The company is co-owned by Sara Adam Slywka and Gui Piccioto. As a small start-up company they can provide a very personal touch. When you email, you'll actually get a reply from Sara herself, who will guide you through everything you need.
One of the things we loved about the Nestig Cloud is that it's shipped in very high quality wood-lined packaging, not just a flimsy cardboard box. This helps protect it during shipping and reduce the odds that your product will have any imperfections when it arrives.
There were three boxes, one for the mini crib, one for the full crib, and one for the toddler attachments. If you're assembling the mini crib, you only need the first box. If you're assembling the full crib, you'll need the first two boxes, and so forth.
Don't worry, Nestig will send you an awesome email letting you know all the details about how to assemble the crib!
All of the parts felt super high quality and strong, including not only the wood and steel components but also the hardware - screws, wheels, feet, and toddler rails.
Assembling the Crib
The instruction manual was super clear with easy-to-follow pictures.
The package includes everything you need, including an Allen wrench to tighten the screws.
One of the Allen-head screws is pictured below. They are shiny silver so they do stand out against the white crib a bit, but nothing too salient.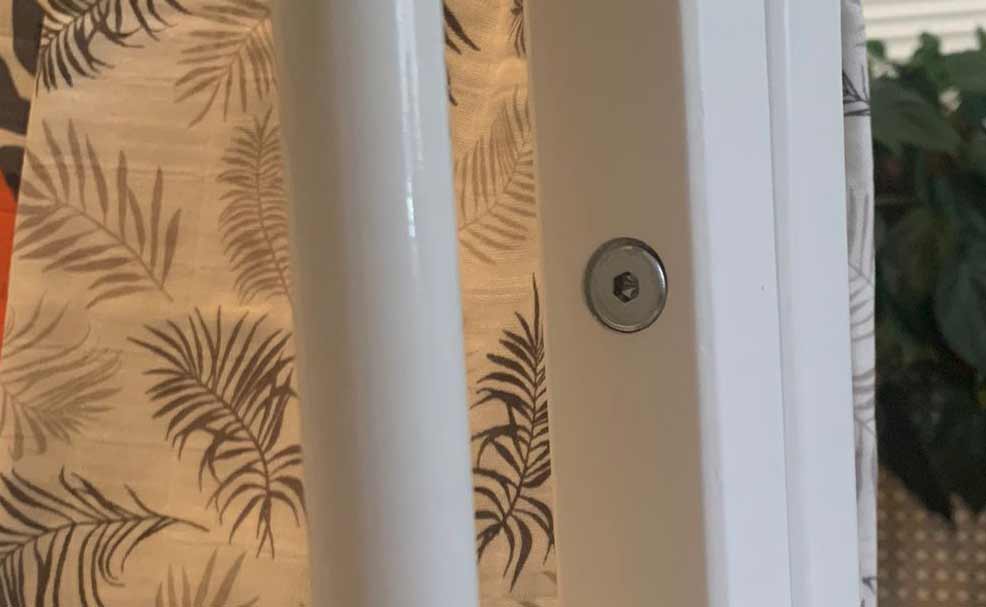 Assembly itself only took about 15-20 minutes, and works best as a two-person task. It's possible with one person, just use a wall to support one side while tightening the other.
We first assembled the mini crib, which was surprisingly easy. We then disassembled the mini crib and turned it into the full size crib, which took about a half an hour. The toddler bed, in contrast, is super simple to assemble, especially if you have a partner to help.
Mattress Options
Nestig does include a little mini crib mattress when you purchase the Nestig Cloud, but frankly it is a little flimsy and uses a polyurethane core. It's also free, so no complaints!
They do offer an upgraded mini crib mattress made by Lullaby Earth for an extra $129, which is highly recommended. It's Greenguard GOLD certified, a bit more comfortable than the one included, and has a waterproof surface and a breathable cover.
The trade-off is that the waterproof surface of the Lullaby Earth is a bit crinkly, though the soft cover does mitigate most of that effect.
For a full-size crib mattress, we suggest checking out the Newton crib mattress or Avocado crib mattress, or basically any of our best crib mattresses of the year!
Testing the Nestig Cloud Mini Crib
The mini crib is suitable from birth to about 6 months of age.
We love bassinets, but the Nestig takes versatility to an entirely new level!
Instead of dropping a couple hundred bucks on a separate bassinet, the mini crib is the perfect bassinet alternative, especially for parents who want to keep a consistent nursery style from newborn through toddler.
While some mini cribs are stationary and relatively limited in convenience, the Nestig Cloud includes locking caster wheels at the bottom. And they look fantastic with their shiny clear rubber! Check them out: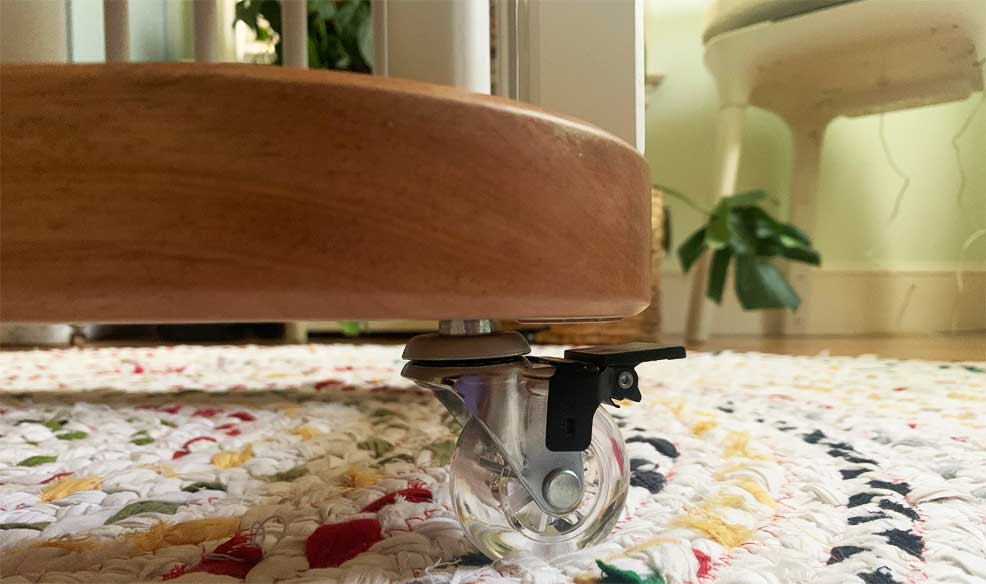 The wheels make it super easy to roll into the master bedroom (it fits easily through interior doorways at only 25" wide!), roll up against your bed, or scoot it around the nursery.
Speaking of having it near your bed, the highest mattress height (there are three) makes pulling your baby out of the crib super convenient.
Another unique aspect of the Nestig Cloud crib is the solid mattress platform support.
Instead of using a steel wire platform like most cribs, this is sturdier and prevents squeaking and bouncing. Check it out: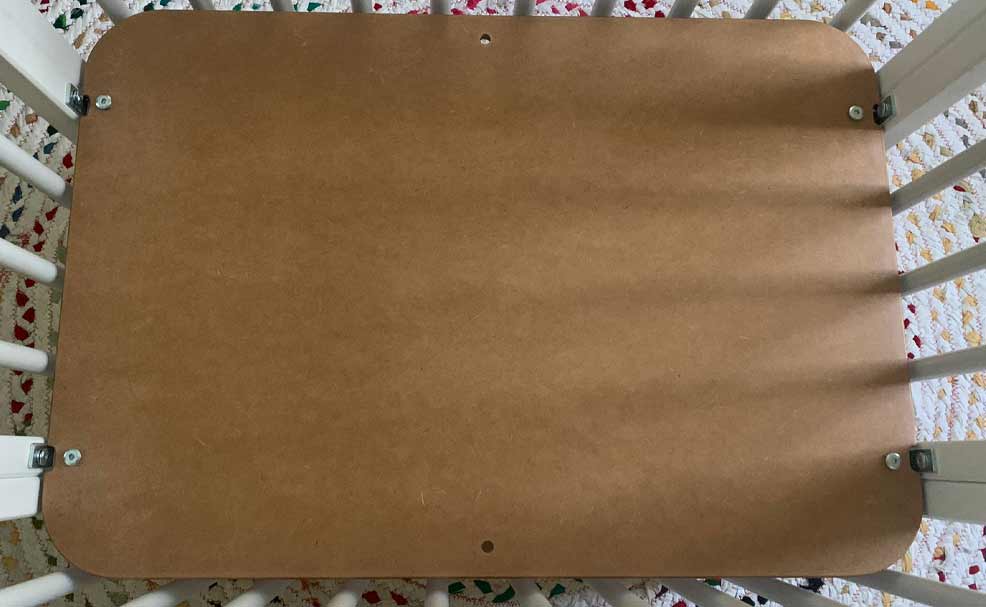 With the mattress and sheet, honestly the mini crib looks super cozy!
Look inside, who wouldn't have sweet dreams in this crib!?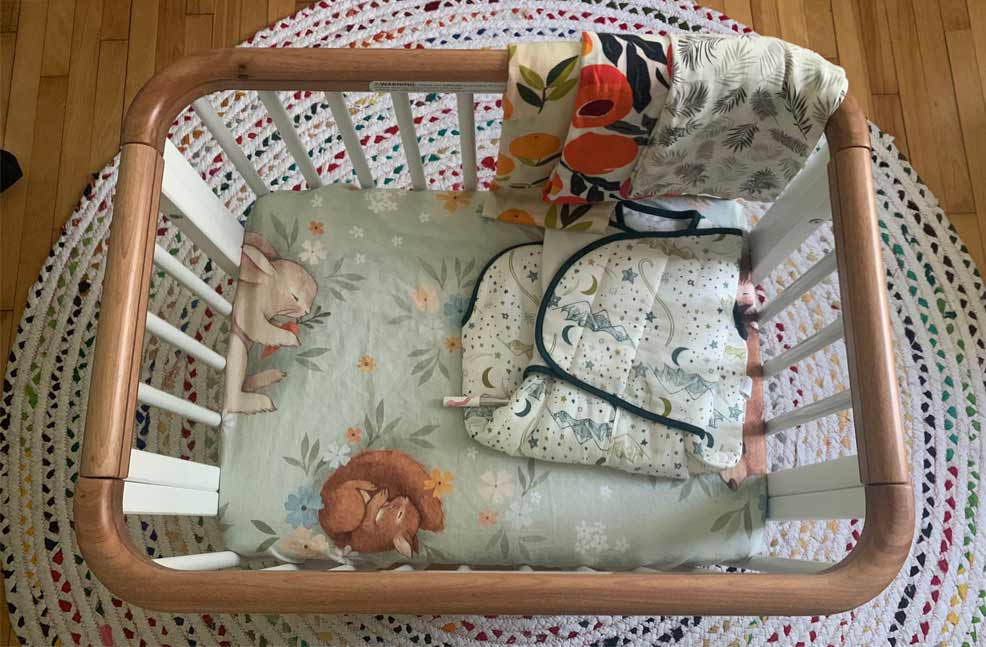 Testing the Full Crib
The full-size crib is suitable from birth until your child begins to climb or reaches 35" tall (whichever comes first).
After testing the mini crib, it took about 30 minutes to partially disassemble the mini crib and transition it to a full-size crib.
Not bad, but set aside some time!
The full-size crib assembles with large sides and four new feet. No more wheels.
It retains the solid wood mattress support platform.
We tested the size and mattress fitment with the Newton and Avocado, and both fit perfectly. The Avocado had smaller gaps around the edges than the Newton.
We love the style of the full-size crib, which somehow helps the crib maintain an airy and lightweight look in your nursery.
Rather than a bulky sleigh-bed style crib that can make any nursery look small, this crib looks fantastic in any size nursery!
Build Quality
We love the soft curves of the Brazilian wood, and think it looks truly fantastic.
Bending real wood like this is not easy, so it's impressive how they can use such high quality craftsmanship while keeping the price so reasonable.
All of the wooden and steel components were high quality, as was the hardware.
We only had two little quality control complaints.
First, we had a hard time getting some of the wooden pieces to align properly. Here's an example: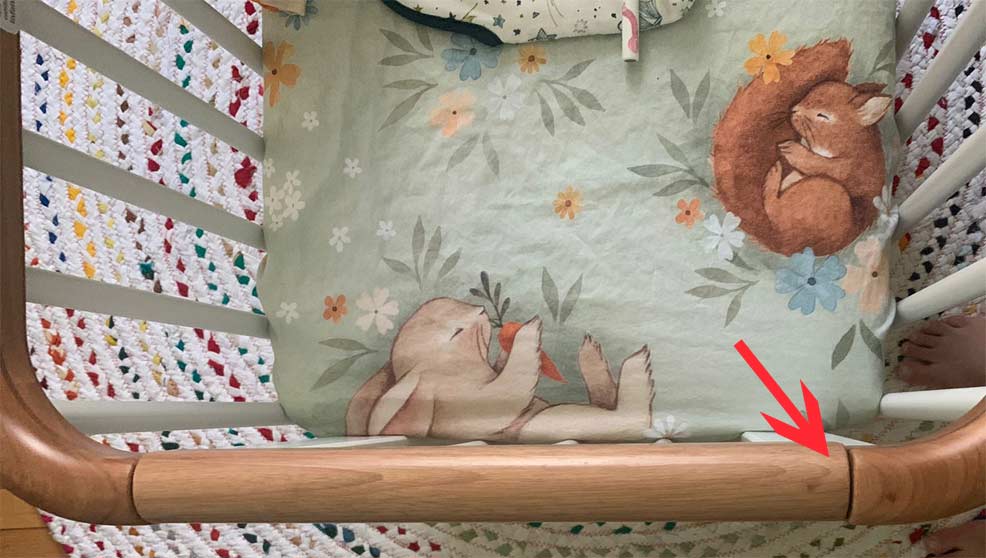 Not a huge deal, but worth mentioning. The little misalignment might bother some of the more detail-oriented (dare I say neurotic!?) parents!
Another little thing that might bug some parents is the color variation across sections of wood. To bend wood and make the beautiful curves, it needs to be heated, steamed, and/or soaked in water or other liquids until it becomes flexible. That can also darken wood a bit, which might be the culprit here: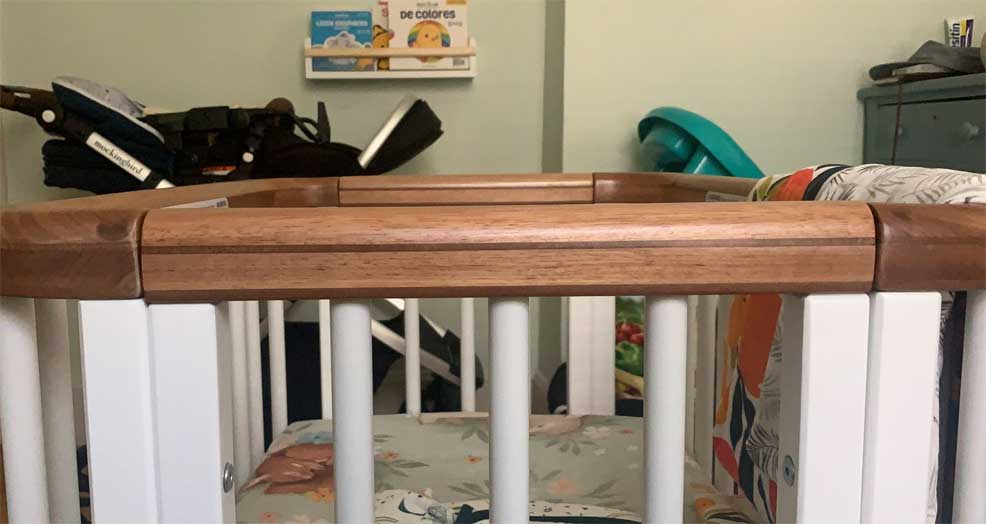 We actually liked the color variation because it gave it a more natural look, but it's worth pointing out as some parents might not be happy with it.
Outside of those little concerns, we think the quality is overall excellent!
Nestig Cloud Safety
Nestig had the Cloud crib JPMA certified, demonstrating not only Nestig's commitment to safety but also the build quality of the crib itself.
JPMA certification involves testing against government requirements for both safety and intended use.
This is actually impressive because there are three different regulations for this type of convertible crib, one for mini cribs (ASTM F406), one for full size cribs (ASTM F1169), and one for toddler beds (ASTM F1821). In other words, potentially unique requirements for each configuration of the crib.
In our own testing, we found the crib to be super sturdy in all configurations, the distances between the slats/spindles were nice and narrow, and there were no sharp areas or pinch points to be found.
The mattress height is adjustable across three height settings (for both mini crib and full size crib modes) to ensure safety as your child begins to pull-up to stand, crawl, and even climb. Be sure to follow AAP Safe Sleep guidelines when it comes to picking sheets any other crib-related accessories!
It's reassuring knowing that all surfaces are free of lead, phthalates, and other toxic ingredients found in some finishes.
You'd be surprised what babies put in their mouths, and how many of them will use the top crib rail to soothe teething pain! It feels much better when you know that they're not licking or biting anything dangerous.
Overall, we're impressed with the safety of this crib, and would trust it for any of our children!
Nestig Cloud Crib Pricing
We mentioned that you might be able to save a bit of cash with the Nestig Cloud, especially if it lets you skip purchasing a bassinet altogether.
The entire Cloud bundle is $599 at the Nestig site, which is definitely the best place to purchase this crib (especially for personalized advice and support).
This includes the mini crib parts, the full size crib conversion parts, and the toddler bed conversion kit. It also includes a mini crib mattress, all the hardware you need, and assembly tools.
One competitor worth comparing the Cloud to is the Babyletto Hudson, which costs $399 but does not convert to a mini crib. If you add the cost of a popular bassinet, such as the Halo Bassinest ($289) or BabyBjorn Cradle ($350), you're going to exceed $599 by a good margin.
So is the Nestig a good deal? Well, it's definitely an expensive crib. The above pricing comparison is for premium products, but of course there are much cheaper cribs and bassinets available.
In our opinion, if you think it's as beautiful as we do, it's definitely worth the cost given the quality and versatility!.
Conclusions of our Review
We were very excited to get our hands on the Nestig Cloud crib for a hands-on review!
Is it perfect? Not quite, but it's darn close! We give it 4.6 out of 5 stars.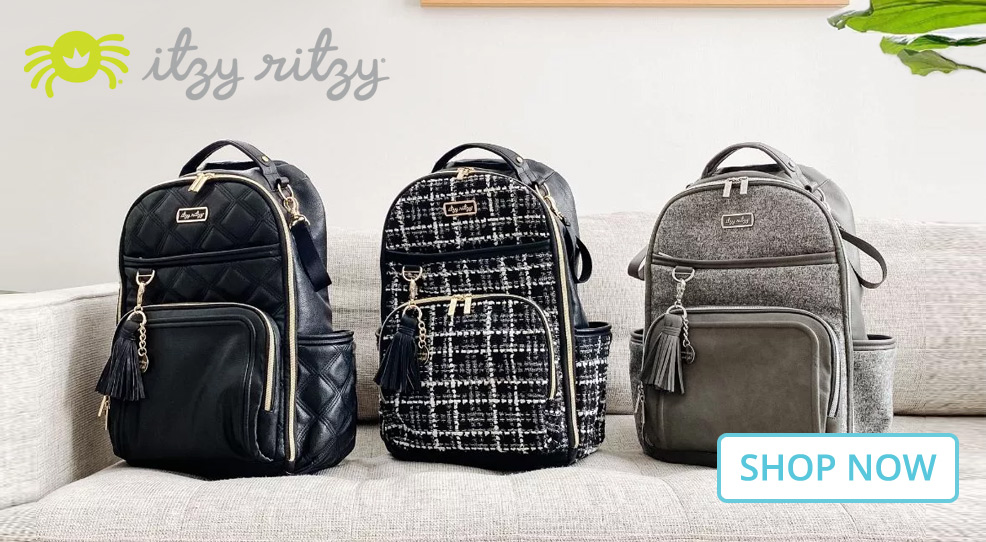 We absolutely love the style and design, the versatility and quality, and the ease of assembly.
It looks amazing in our nursery, and we are excited for our little one to take his first nap in the mini crib!
If you're a visual perfectionist you'll love the design, but you might also be bothered by the wood color variation and/or slight misalignment. We weren't bothered by it, but we know everyone is a little different. It's also a somewhat inevitable byproduct of using natural wood materials that will have inherent variation in size and color.
Yes, it's expensive. But for parents who want the best for their children and will avoid purchasing a separate bassinet, we think this is a perfect option!
References Cited
Federal Crib Safety Guidelines - Spindle Gap Spacing