Hatch Rest Sound Machine Review & Video
Sweet dreams are made of these! The newest Hatch Rest is everything you need.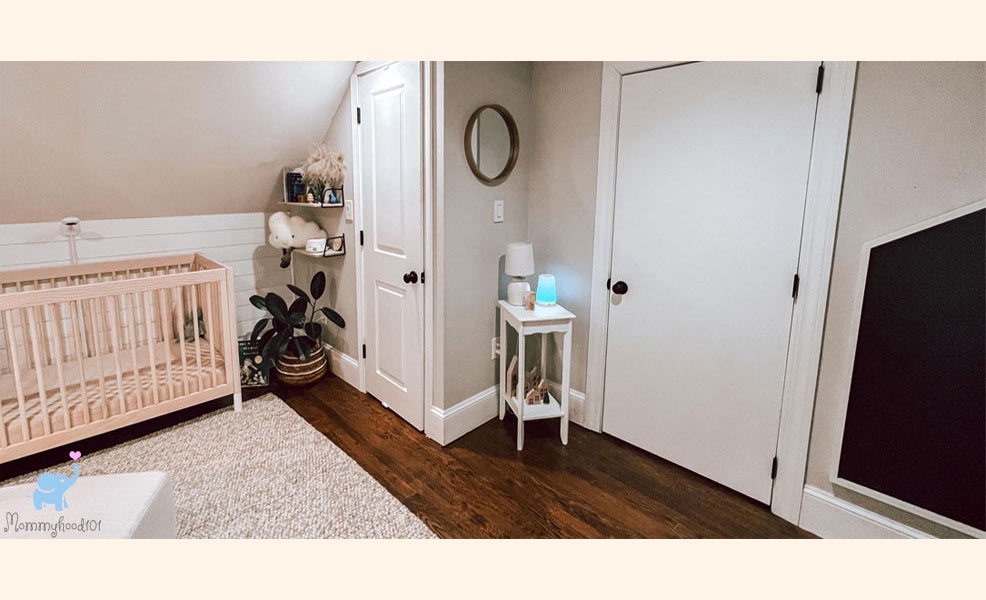 ---
Mommyhood101 independently tests and curates baby gear to help you make informed decisions. If you buy products through links on our site, we may earn a commission.
The Hatch Rest is the ultimate in baby sound machines, offering some serious features and versatility including the ability to control it remotely via an app on your mobile device.
But how does it perform!?
Full disclosure: Round Barn Labs, which represents certain aspects of Hatch product marketing and affiliate relationships, was generous enough to provide us with free samples of the Hatch Rest for testing (thank you!).
For this review, we were lucky enough to get our hands on a few samples of the Hatch Rest (thanks, Hatch!) and put them to the test!
With features including baby sound machine, night light, and time-to-rise programs, the Hatch is unparalleled among the best sound machines on the market!
As of this writing, the Hatch Rest sound machines are available directly at the Hatch website for about $70.
Is it worth the cost? Let's see how it performs!
Hatch Rest Sound Machine: Overall Ratings
Based on our hands-on reviews, we give the Hatch Rest a whopping 4.8 out of 5 stars:
Overall Conclusions: Hatch Rest
Most parents (or parents-to-be!) don't have time to read through this entire article, so here is a summary of what we found.
We were excited to get our hands on the Hatch Rest, and we loved the following aspects:
✔️ Very simple setup.
✔️ Intuitive & stable app.
✔️ Flexible sleep programs.
✔️ High quality speaker.
✔️ Beautiful glowing colors.
✔️ Lightweight and small.
✔️ Soft night light.
✔️ Good white noise quality.
✔️ Good connectivity.
✔️ Easily wiped clean.
✔️ Reasonably priced.
However, like with any review we write, we had some little gripes worth mentioning:
❌ No battery.
❌ Buttons on the bottom.
Overall, we think the Hatch Rest is an excellent sound machine with some seriously smart features that will help you and your baby sleep better and longer.
The ability to remotely change the programs and settings is more convenient than we thought it would be, and now we're totally hooked!
We're pretty picky, and that's a very small list of cons. In fact, it might be one of the smallest lists we've had in a review!
Just two little things. First, it would be nice to have an integrated battery so that the device could operate through power outages. Second, the buttons for controlling the device manually are on the bottom of the base, meaning you need to flip it over to change settings; we used the app, but do understand that this could be limiting for some parents and situations.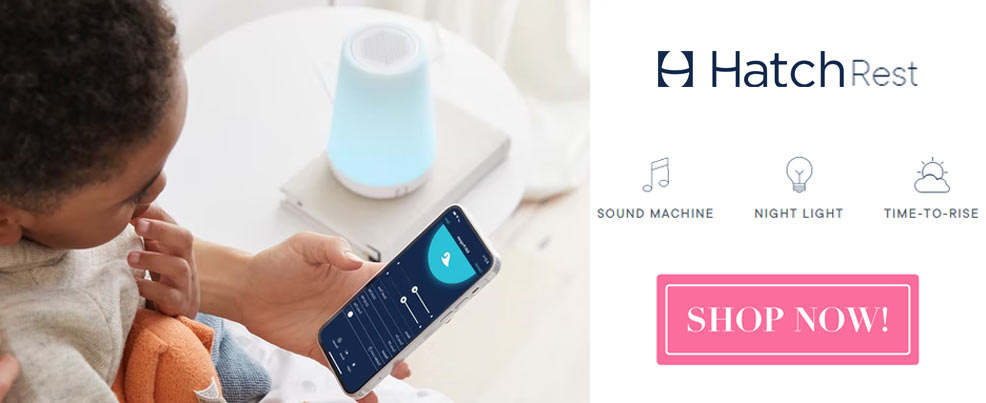 About Hatch
Based in Menlo Park, CA, Hatch was started by a husband-and-wife team who sought to improve their family's sleep quality through innovative technologies.
You may have seen them appear on Shark Tank back in 2016 when they were known as Hatch Baby.
Since then, they've expanded their products and vision to include not only sound machines for babies but also for adults (with their new Restore product).
The Hatch Rest has two versions, the original Rest, the Rest Mini, and the Rest+. While we haven't reviewed the Rest Mini or Rest+, they have some additional unique features or characteristics. For example, the Rest Mini is small and portable (but drops the night light), and the Rest+ adds on a clock and voice control.
As a start-up company, Hatch is moving fast with product innovation, releases, and marketing. But they haven't left people behind: they have very positive reviews by current and former employees, their customer support is excellent, and they have attracted over a million customers for their baby products!
The Hatch Rest is very well-reviewed, achieving a 4.8/5.0 on Amazon, a 4.6/5.0 on Bed Bath & Beyond, and high rankings by our friends at Babylist and BabyGearLab.
While Hatch is based in the USA, the Rest sound machines are made in China.
Hatch Rest Review
The Hatch Rest was a ton of fun to setup, install, and test!
We tried out three of the devices to ensure consistent performance, testing them in two nurseries (with a 2-month-old and 2-year old) and in our home.
Below we go through the unboxing, setup, app features, and our overall impressions of the Rest. Spoiler alert - we love it!
Unboxing & Setup
Out of the box, the Hatch Rest looks great and feels durable and high quality.
The packaging is nicely constructed, and there is a tamper-proof seal on the top to make sure you're getting an unopened unit. We love that!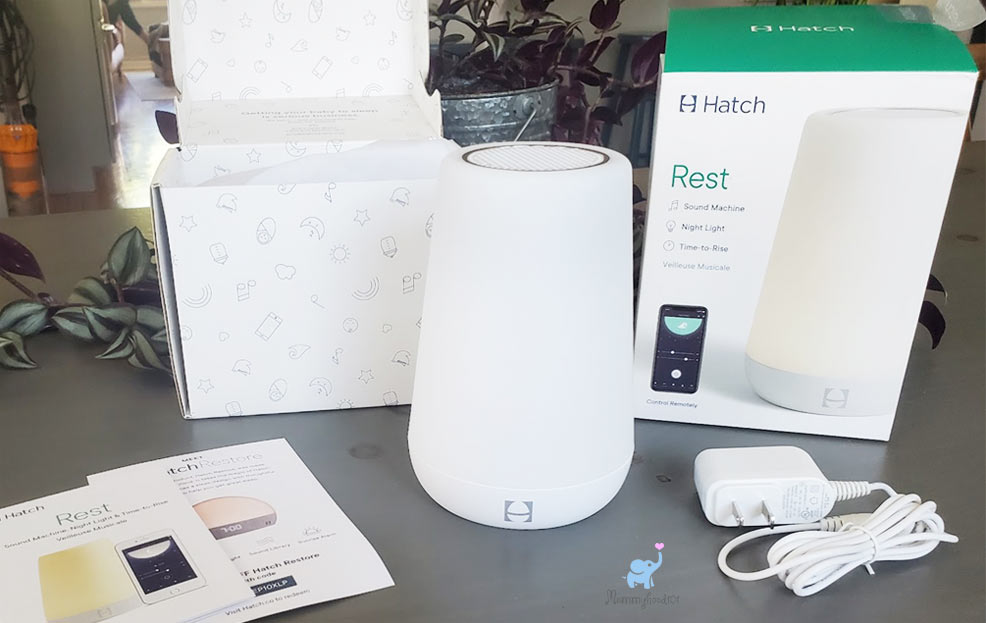 After unpacking the box, you'll find an instruction manual, power cord (5V, 2.0A, compatible with 100-240V), and the Rest unit itself.
We appreciated the personal message hiding under the box's lid: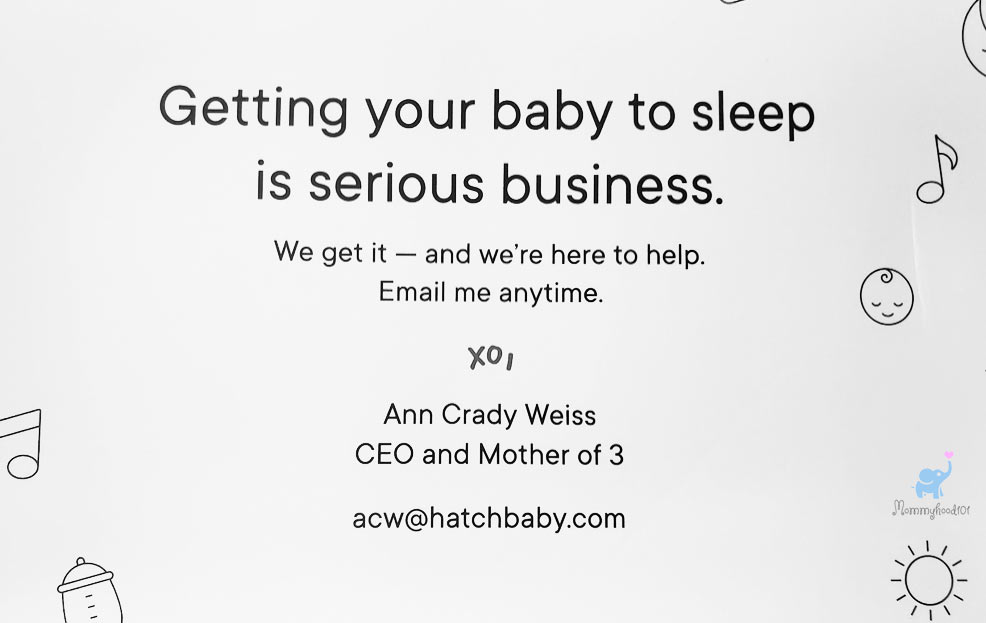 It's nice to know there's a real person on the other side of the line if you ever need help!
On the bottom of the box, you'll find the FCC disclosures, model information (HBREST), the serial number, and some additional information: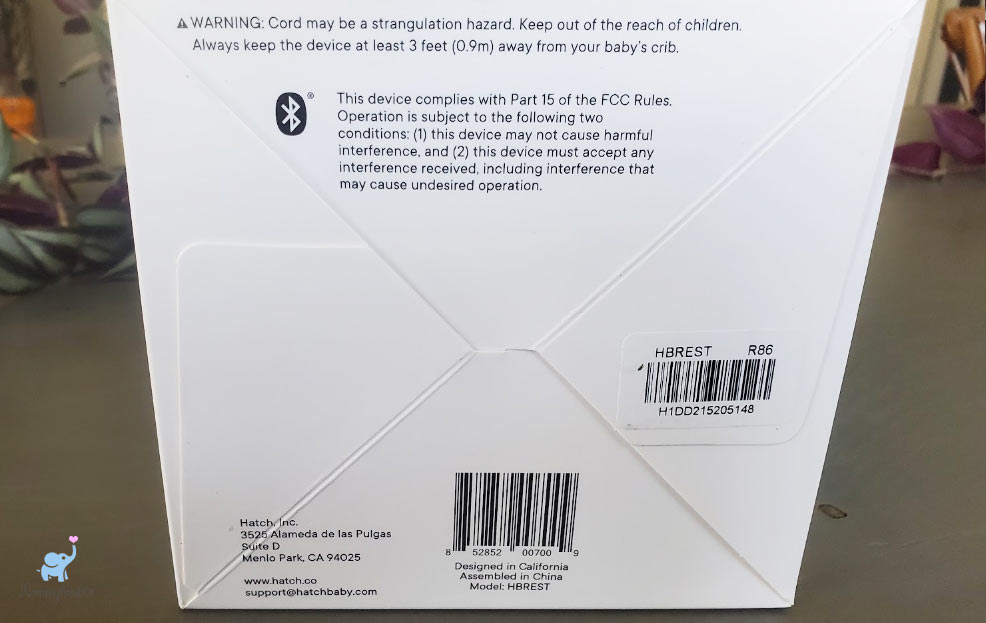 No surprises, and the instructions manual was very helpful and clear.
Hatch Sleep App
The Rest is very sleek and contemporary, and there are no obvious buttons or switches on the top or sides of the unit.
At first, we didn't know how to operate it - how do you even turn it on!?
We began by plugging it into the wall and installing the app on our phones (we used an Android and iPhone).
The good news is that the app guided us through everything in an extremely simple and intuitive manner. Of course, we read the instructions manual later and it was similarly helpful, we were just eager to get started and skipped the manual entirely!
When you first install and open the Hatch Sleep app, it will ask you to plug in your device and then select which type of device you're trying to pair: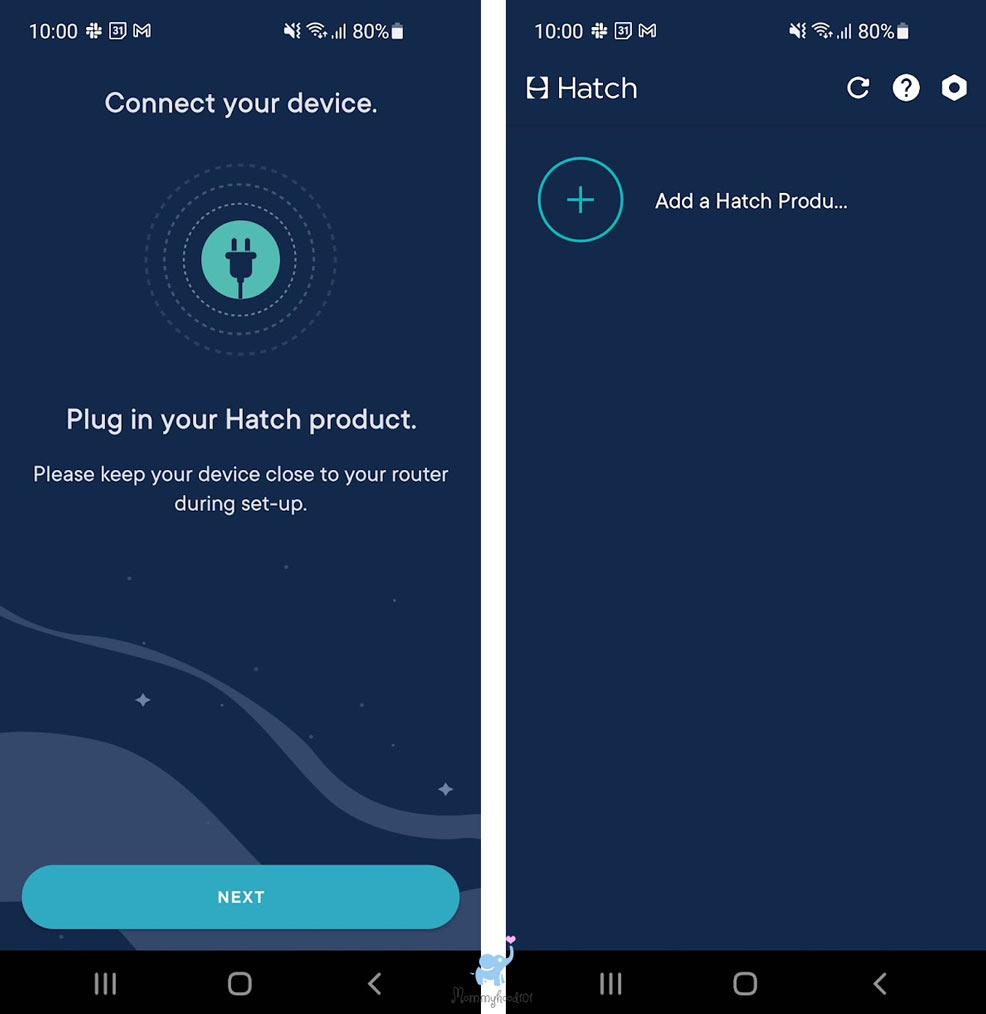 Once you select the appropriate device (in this case the Rest), it will begin making a Bluetooth connection: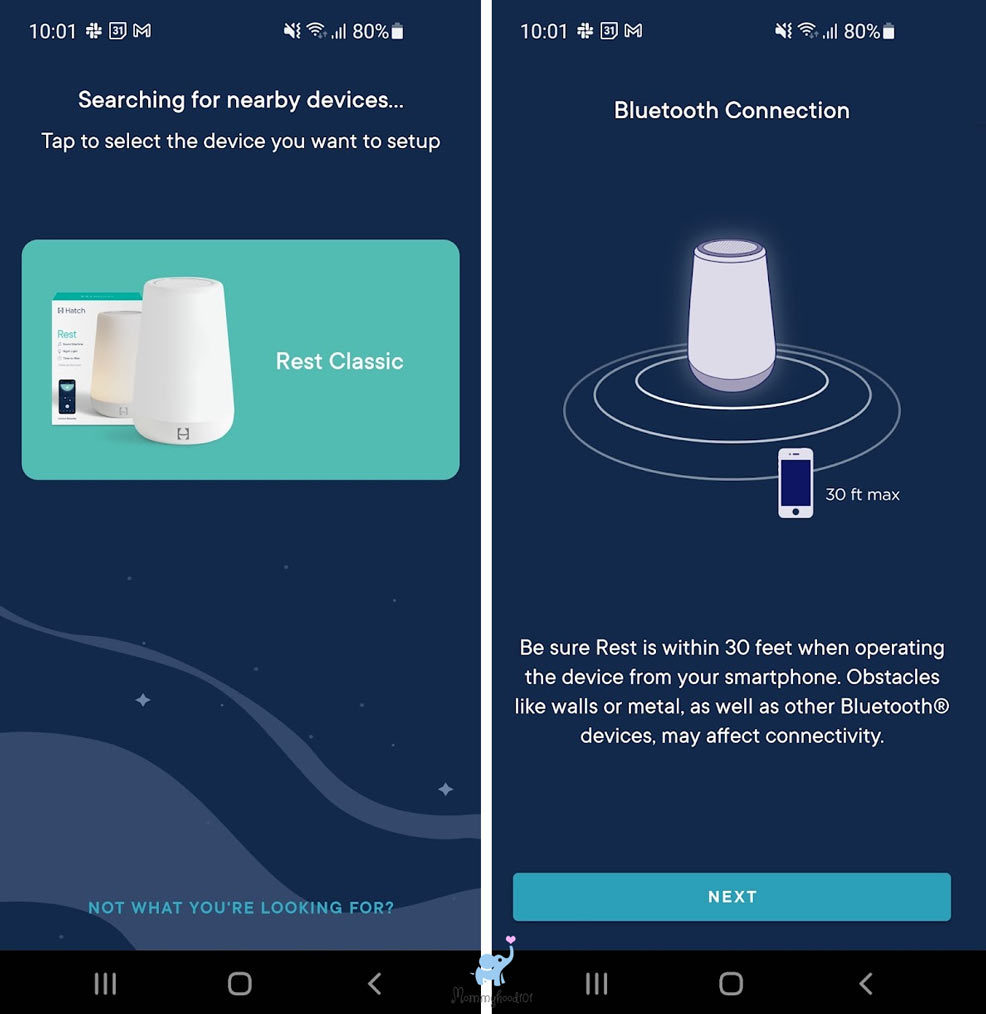 Then, just in case you have more than one Hatch device paired with your phone, it will allow you to select which one you want to use.
Clever, because you might want to have a Rest in each of your children's bedrooms!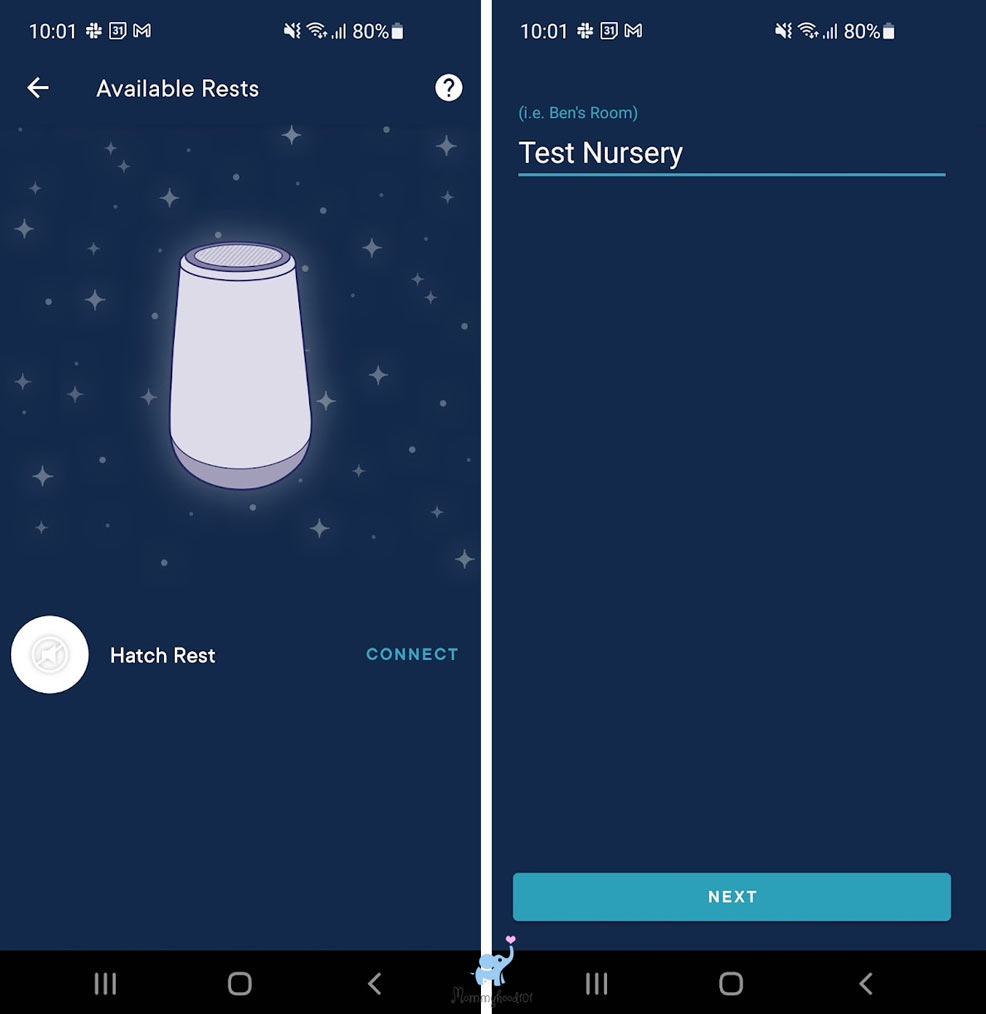 Then the app tells you how to use the silver touch ring to control the Rest. Since we hadn't read the manual, this was obviously very helpful!
Basically, you tap the ring with your finger to wake the device, and touch and hold your finger to the silver ring to put the device to sleep: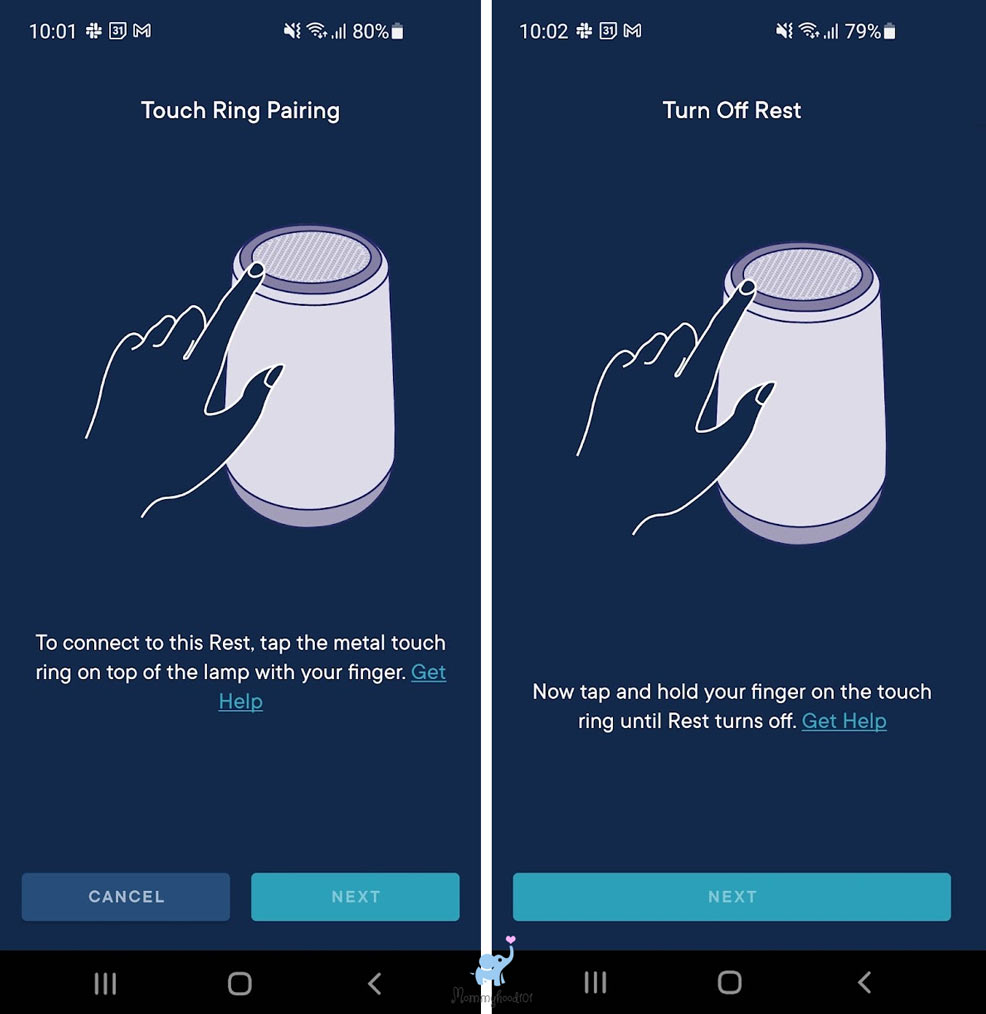 You can also tap the ring to cycle through each of the favorites you set in the app. These favorites are specific combinations of lights and sounds, including the brightness of the light and volume of the sound.
This is also when we learned that there are a bunch of buttons hiding on the bottom of the Rest. These include all the basic controls other than the color of the light: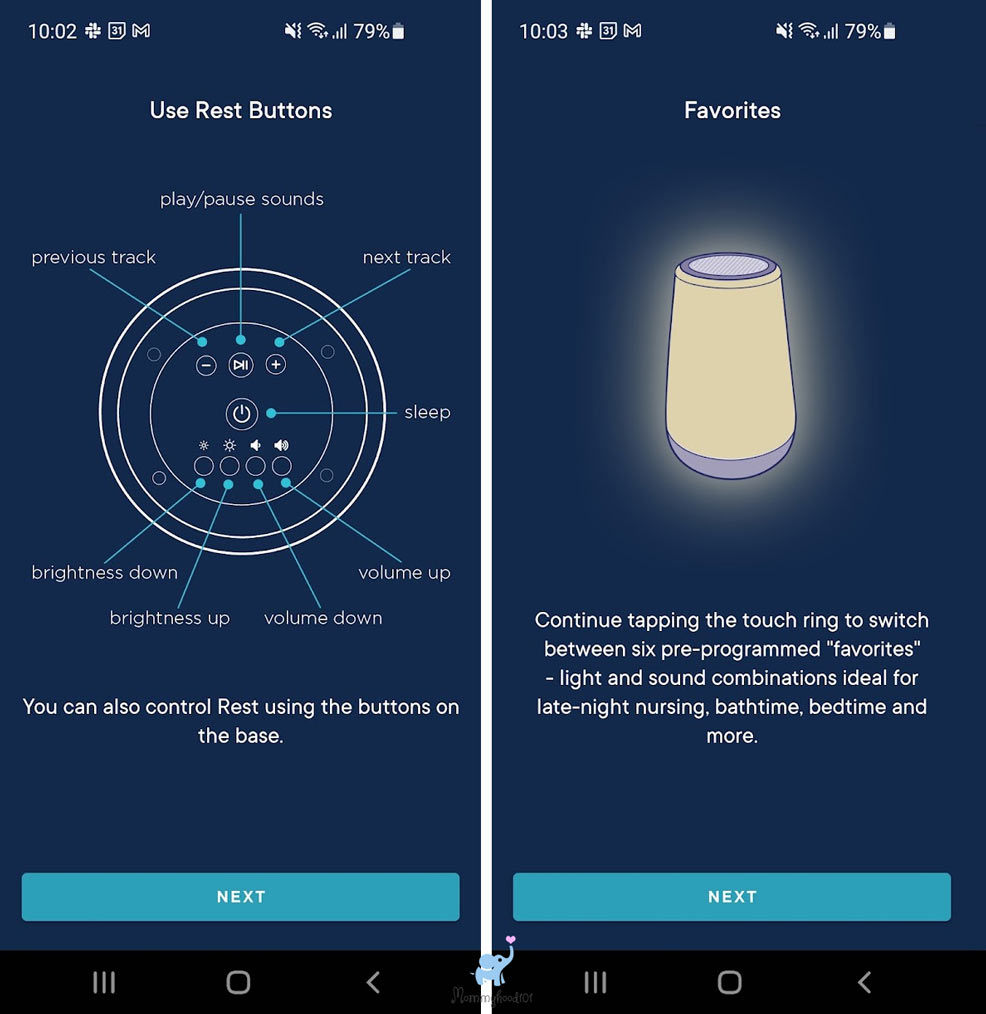 Of course, if you have the app, you'll never really be using these buttons once everything is programmed (sleep times, nap times, time to wake).
This is when things got fun! You can now program your own (or your child's own!) favorite combinations of sounds and lights.
The clever icons show you what is programmed into each favorite slot: for example, the second favorite has white noise (the TV icon) and an orange glow). If you click on the text of the favorite, it will take you to a customization screen where you can choose the color, brightness, sound type, and volume: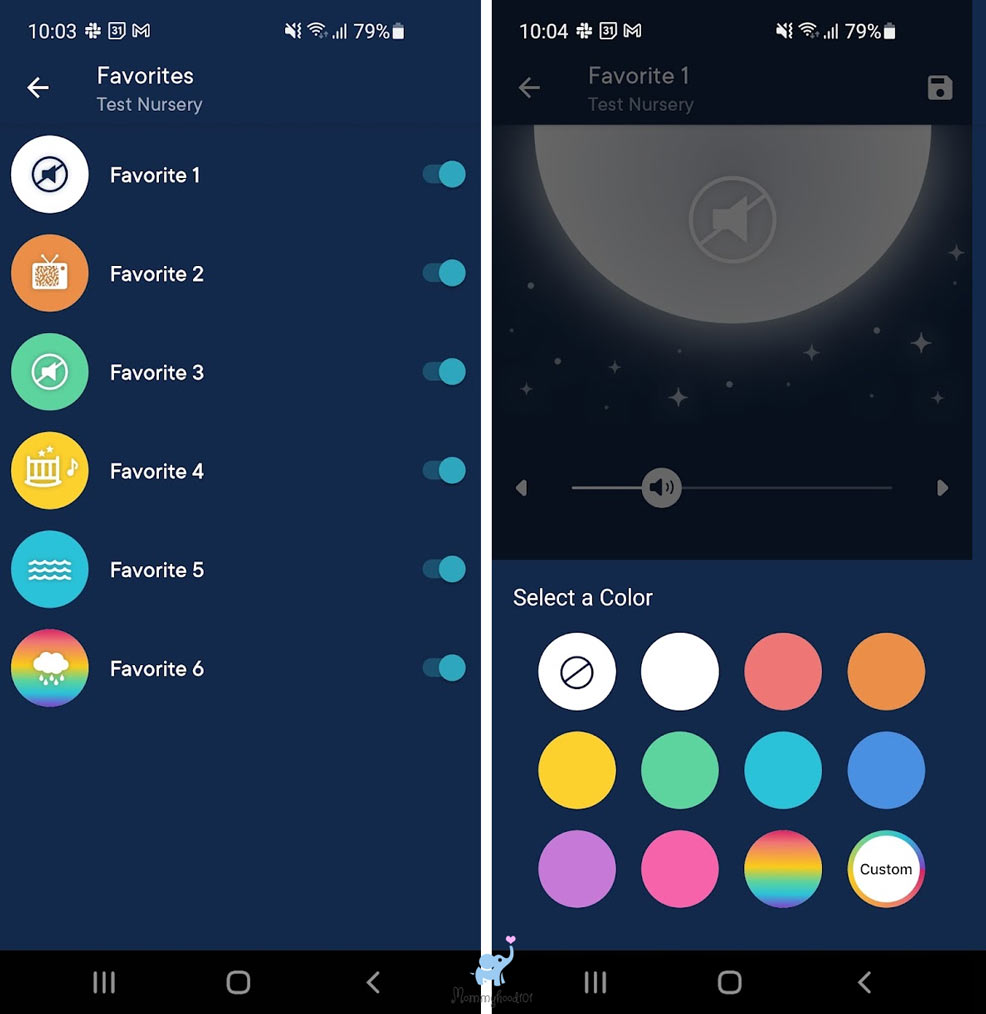 You can also make specific programs, telling the Rest to perform certain actions at certain times of the day. For example, you can tell it to automatically turn on white noise or lullabies at 8pm and turn them off at 9pm every night. Same thing for naps. We loved this feature!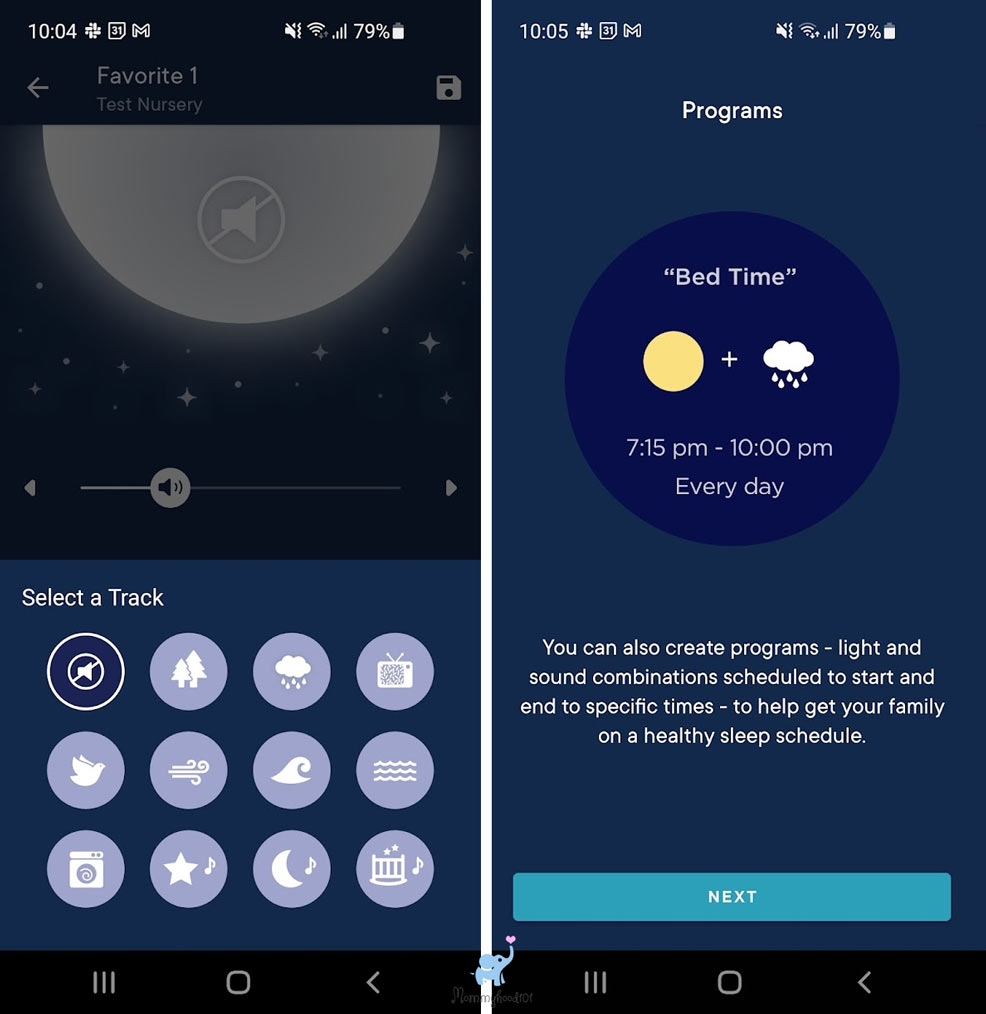 And for the older kiddos, from about 2 years onward, you can set custom "time to rise" schedules that will help cue your child when it's time to get up versus time to close their eyes for a bit longer (and help you get a bit more sleep!).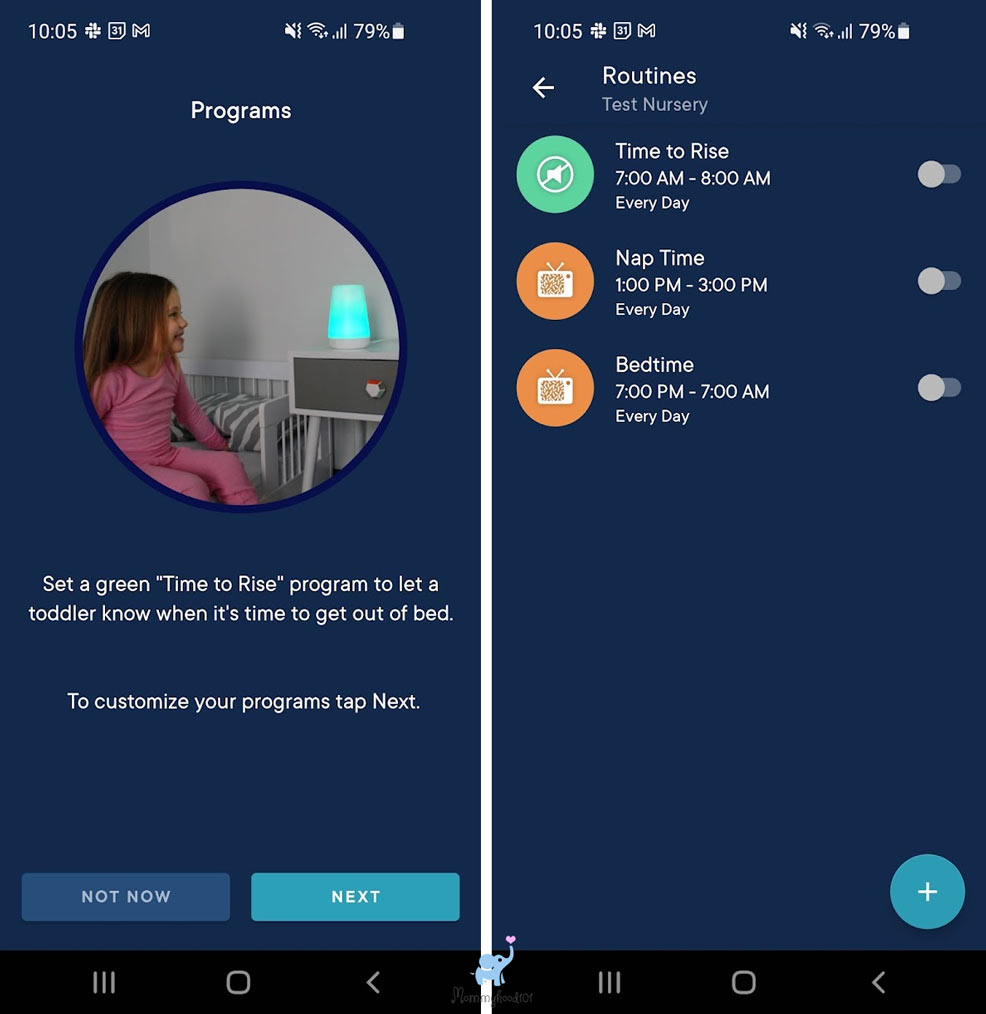 The app not only connected really quickly, but it was also very stable. We experienced no hesitation or crashes during our testing, and everything worked very smoothly. You can see from the photos above that the entire setup only took about 5 minutes.
Note that the Hatch sleep app used to ask for your child's age and gender, but they've improved their privacy and no longer ask for any such information. They will ask for your name and email address, however, which is good for registering the device and getting support.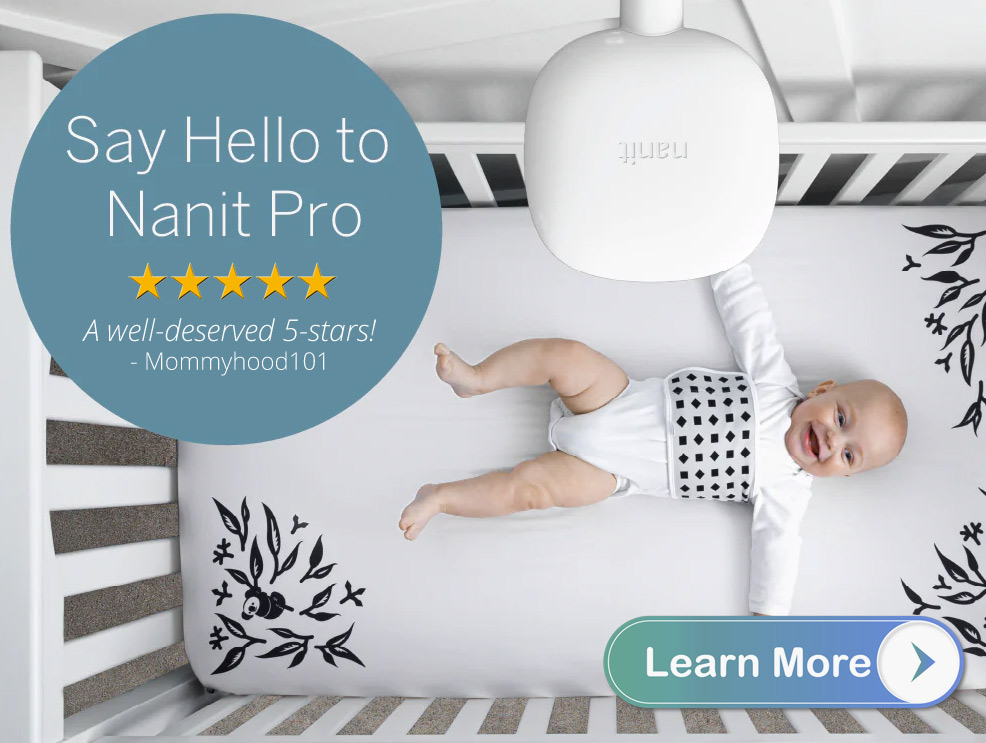 It's important to realize that the app and Rest connect via Bluetooth, not internet. This means that you'll need to be within about 30-40 feet of the device for it to connect and stay connected.
In our testing, it worked if the nursery was directly upstairs from you (or upstairs and one room away), next door from you, or across the hallway. Overall, we thought the connectivity was surprisingly good, and we never found ourselves disappointed that we couldn't connect. But it's not a baby monitor, so don't expect it to work from the backyard, or from the opposite corner of a 2000+ square foot house.
Lights & Audio
With all those capabilities and features of the app, we were excited to give it a shot!
Here is how the Hatch Rest looked when we put it in our nursery, with the white light on: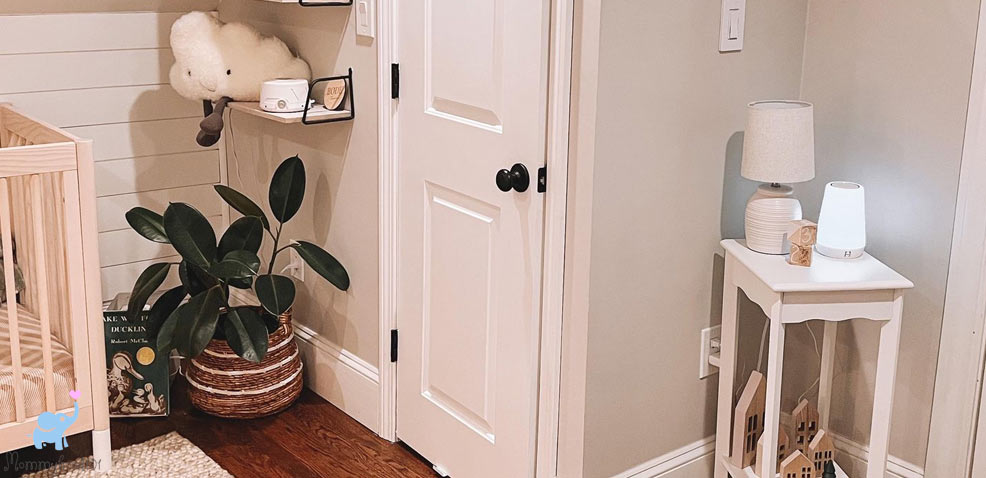 We had so much fun testing out all the lights and sounds!
Here is the beautiful purple glow: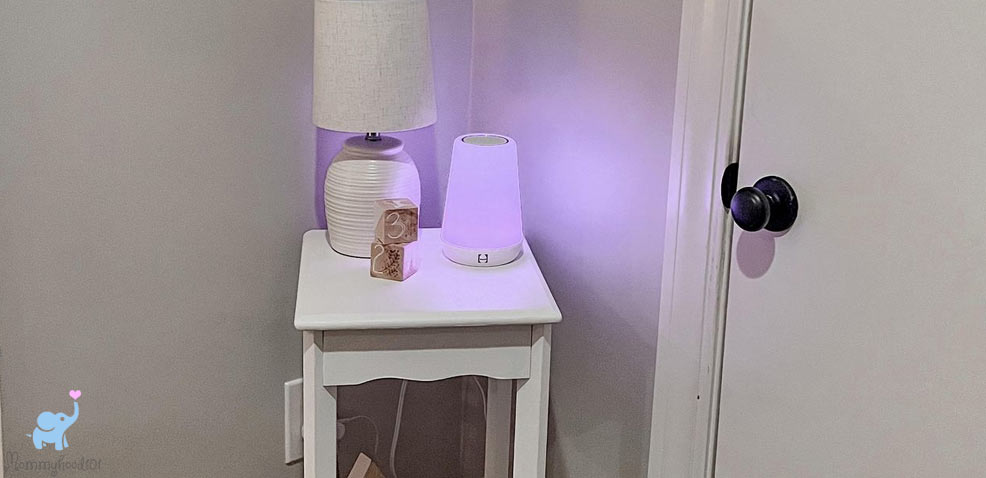 And here it is with the blue glow: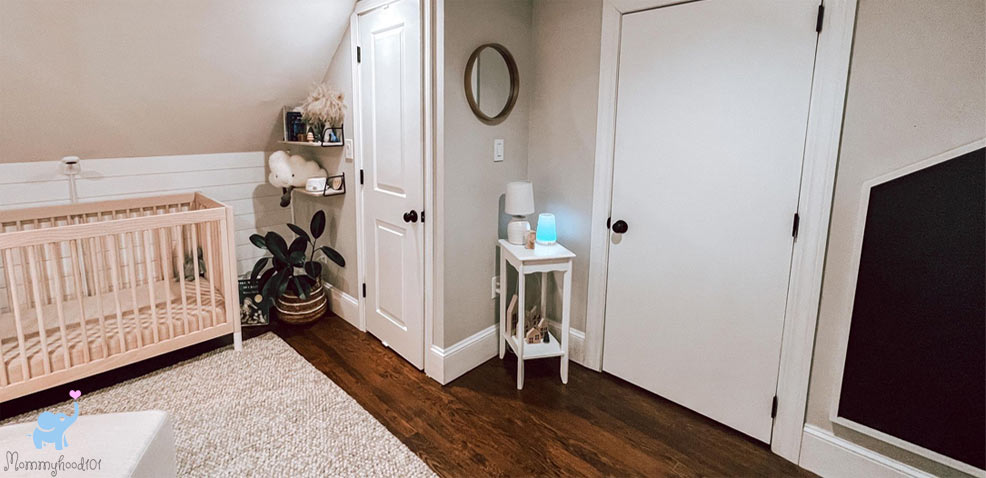 It's very hard to take a good photo in the dark, unless you have professional camera equipment (and we don't!).
Here is the best we could do, to showcase what the Hatch Rest looks like in the dark (well, in a dimly lit room!):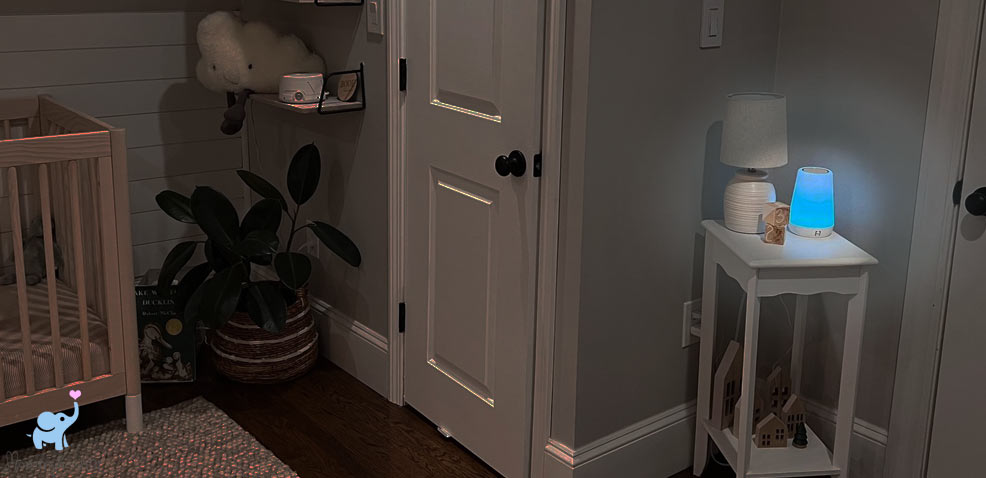 We loved all the features!
The sounds were very high quality, and the adjustable volume had a very wide range.
The colors of the night light were soft and provided a nice subtle glow in the nursery. The orange and yellow were very similar to one another, but the other colors were beautiful.
All the features and programming worked perfectly, without fail. The only issue we had was when there was a power outage in the evening, so the usual white noise favorite didn't turn on (as would be expected).
Here is a video demonstration of cycling through the preset favorites list:
Looking good!
Additional Features & Points
The most important thing we realized while testing the Hatch Rest is that it can really help your baby sleep and, in turn, help you sleep!
And we think that's what parents are looking for her: a simple solution to help their baby fall asleep faster, get higher quality sleep, and stay asleep for longer.
Both parents commented that their little ones responded very positively to the Rest, showing more restful bedtime routines and better sleep. What more could you ask for!?
We were also impressed by a few additional little features:
The white noise was high quality, and there are 10 other sounds to choose from.
The color wheel makes it possible to basically choose any color you want, not just primary colors. Nice touch!
The app was easy to use and didn't seem to drain the battery. When you're not changing a setting, you can close it and let the programs do their magic.
The app works with iOS 14 or higher, and Android 7 Nougat or higher. Which means it even worked on our old iPhone 6, 7, and SE.
The bottom buttons work well in a pinch, like when your phone battery is dead.
Hatch Rest: Conclusions
We loved testing out the Hatch Rest and are very grateful to have gotten on our hands on it!
Overall, we think it's the best sound machine for babies available on the market, and were extremely impressed with its features, quality, and ability to calm and sooth even the fussiest babies to sleep.
The app functioned very well, and the range of options and customization was very powerful, representing a much-needed disruption on the sound machine market!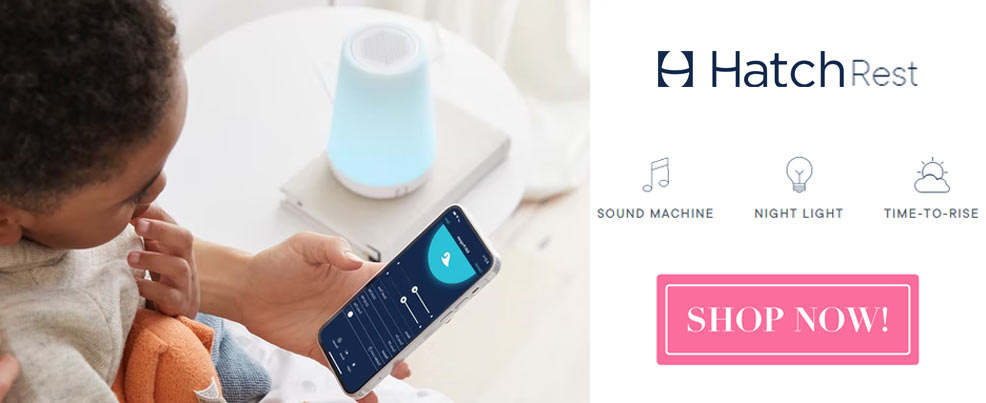 The only little cons we encountered were two-fold:
First, it would be nice to have an integrated battery to help keep things running while the power is out. As a second possibility, it would be nice to use a common USB plug (like USB-C which can also do 5V at 2.0A), which would enable using portable power bricks to keep this running.
Second, while we didn't need to use the buttons very often, it would be nice if they were on the back instead of the bottom. That way, you wouldn't need to flip it upside-down to control the unit; this was a little challenging in the dark, or when holding the baby with one arm.
Outside of that, we think the Hatch Rest is the perfect baby sound machine with some serious bonus features, connectivity, and customizability. After 6-12 months, we'll update this article with a long-term reliability assessment.
Where to Buy the Hatch Rest Sound Machine
If we told you that we could almost guarantee better sleep for you and your baby, what would you be willing to pay for it!?
$100? $200? I know for a fact that I would have been willing to pay thousands for something to make my older son sleep better!
Well, you can get the Hatch for only about $70-80, which we think is an excellent price for something with this set of capabilities. Highly recommended!
We suggest purchasing directly through the Hatch website, where you will get the most updated model, free shipping, and the best prices and personalized support.
Click the below image to check prices at the Hatch website: