Hubble Nursery Pal Baby Monitors: Reviews & Videos
Is the Nursery Pal your baby's best buddy? We put it to the test and found out.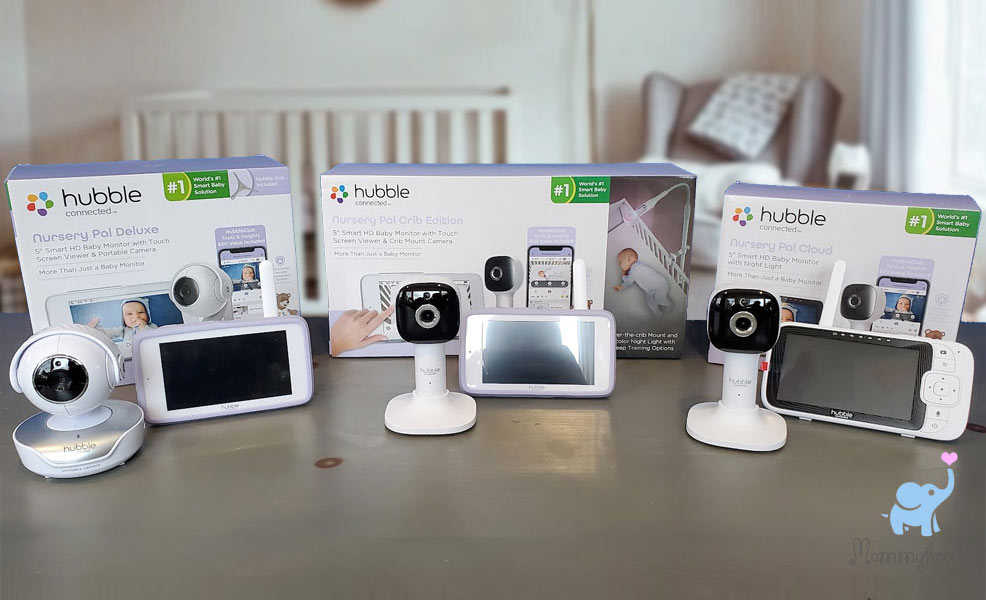 ---
Mommyhood101 independently tests and curates baby gear to help you make informed decisions. If you buy products through links on our site, we may earn a commission.
The Hubble Connected baby monitors are making a splash, with their excellent features, comprehensive cloud-based platform, versatility, quality, and fair prices!
For this review, we were lucky enough to get our hands on three models of the Hubble Nursery Pal baby monitors (thanks, Binatone!): the Nursery Pal Crib Edition, the Nursery Pal Deluxe, and the Nursery Pal Cloud.
While we'll provide details about all three, we focus our review primarily on the Nursery Pal Deluxe, which was our favorite of the bunch. It's also reasonably priced for a baby monitor with this many features, coming in at about $199.
Full disclosure: Binatone North America, Inc., the manufacturer of the Hubble Connected devices, was generous enough to provide us with three free samples for testing.
As of this writing, there are ten different models of Hubble Nursery Pal baby monitors, with the most expensive and feature-rich being the Nursery Pal Crib Edition ($249), and the simplest and least expensive being the Nursery Pal Glow Deluxe ($79). It's a confusing array of options, so hopefully we can help you figure out which one you might need.
Will the Hubble Connected make it onto our list of the best baby monitors of the year? Let's find out!
Hubble Baby Monitors: Overall Ratings
Based on our hands-on reviews, here are our overall ratings of the Hubble Connected Nursery Pal baby monitors (Crib Edition, Deluxe, and Cloud):
Overall Conclusions: Hubble Baby Monitors
Most parents don't have time to read through this entire article, so here is a summary of what we found.
We were excited to get our hands on this new line-up of Hubble Connected baby monitors, and we were pleasantly surprised by the following aspects:
✔️ Very simple setup & operation.
✔️ Parent unit and smart phone.
✔️ Remote pan, tilt, & zoom.
✔️ Nursery temperature monitoring.
✔️ 5" HD 1080p screen on parent unit.
✔️ Two-way intercom talk.
✔️ Clear infrared night vision.
✔️ Lullabies and sounds.
✔️ Movement & sound alerts.
✔️ Works in power outage (Deluxe).
✔️ Works with internet outage.
✔️ 18 months of HubbleClub for free.
✔️ Cloud-based recordings (24 hours).
✔️ Powerful app & convenience tools.
✔️ Works with Alexa & Google Assistant.
✔️ Sleep timer (15min increments).
✔️ Optical pan, tilt, zoom (Deluxe & Crib).
✔️ Parent unit flashlight (Deluxe & Crib).
✔️ Stories & games (Deluxe & Crib).
✔️ Touch screen (Deluxe & Crib).
✔️ Manual privacy mode (Deluxe & Crib).
✔️ Amazing crib mount (Crib Edition).
However, like with any review we write, we also had some little gripes worth mentioning:
❌ Finicky touch screen (Deluxe & Crib).
❌ Annoying HubbleClub Premium ads.
❌ Limited HubbleClub subscription.
❌ Camera unit lasts 3 hours on battery.
❌ Finicky kick-stand on parent unit.
Overall, we think the Hubble Nursery Pal Deluxe and Crib Edition are awesome options for families living the connected lifestyle. The ability to stream on the parent unit or your mobile device (Apple or Android) simultaneously, integrate with Google Assistant and Alexa, in addition to the high quality night and daytime video, all the awesome cloud-based features of HubbleClub, and the quality and reliability, make the Deluxe Pal series a great option!

About Hubble Connected
Hubble Connected products are made by a company located in Bangalore, India (Hubble Connected India Pvt ltd.), which manufactures products in an ISO27001:2013 certified factory.
They are imported and distributed by Binatone North America, Inc., which is located in Indianapolis, Indiana (USA).
While Hubble and Motorola were previously related, they appear to be independent now; for a similar baby monitor with some shortcomings relative to the Nursery Pal, also check out our Motorola PIP1510 baby monitor review!
About the HubbleClub App
Hubble Connected uses the HubbleClub app, which provides parents with a comprehensive set of smart features via a mobile app that can be loaded on your iPhone or Android device.
Each new Hubble baby monitor includes a free 18-month subscription to HubbleClub, which provides access to relatively basic features. At the point of this writing, after that trial period the subscription is $2.99 per month.
When you first start the app, you will need to create an account. It requires you to enter an email address. Here's what the app looks like during setup: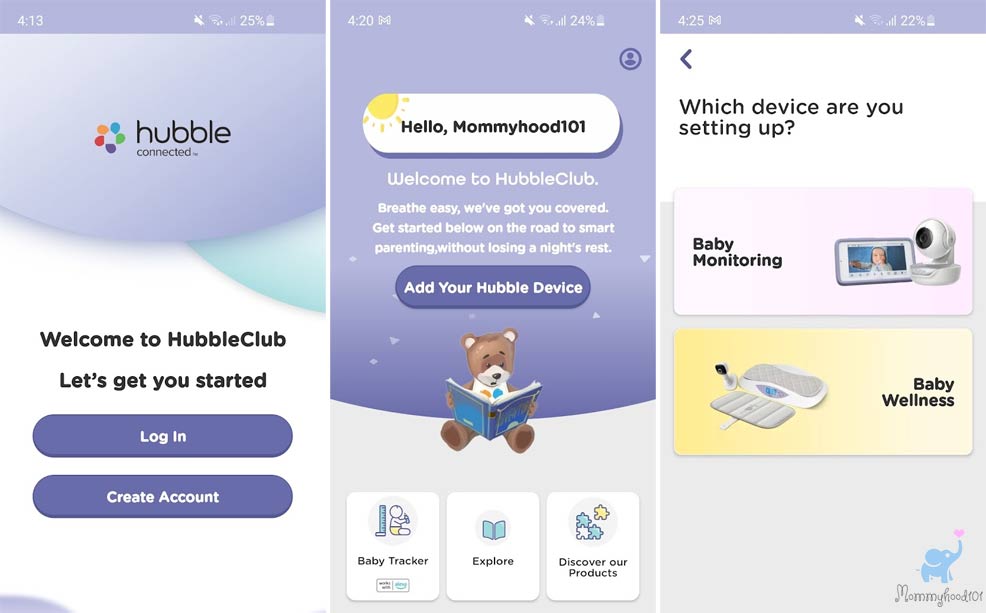 This is a good time to point out that Hubble Connected makes additional baby gear that is compatible with the HubbleClub app, including a changing table and digital scale.
Once you select baby monitoring, you will need to select which specific baby monitor you're connecting, and then the app will display a QR code.
You will need to show that QR code to the camera unit to fully activate.
Important note: If your home only uses a 5.0GHz wifi network (which is unlikely), the HubbleClub will not be compatible and you will not be able to live-stream the baby monitor on your mobile device. It only works with 2.4GHz networks.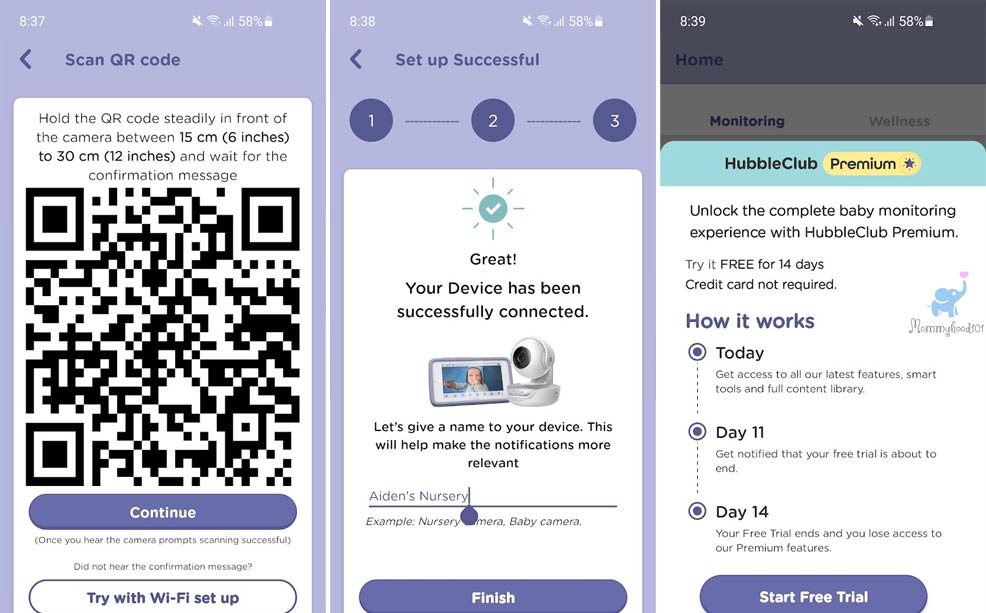 This is probably a good time to point out the annoying HubbleClub Premium ads that will intermittently pop-up on your app. Super annoying - our advice for their software developers is to stop displaying ads once the user declines, and simply provide an upgrade button in the corner.
The HubbleClub app makes it possible to stream video from the baby monitor camera directly to your smart phone, no matter where you are (as long as you have a decent signal!).
We're not going to describe all the features that the HubbleClub app provides, but here are some highlights:
✔️ Real-time video & audio streaming.
✔️ Up to 2 connected devices.
✔️ Alerts (sound, motion, temperature).
✔️ Save snapshots during live video.
✔️ Motion activated recordings.
✔️ 24-hour cloud-based video storage.
✔️ Custom baby zone definition.
✔️ Lullabies and stories.
✔️ Two-way intercom.
✔️ Growth tracker.
✔️ Adjustable motion & sound sensitivity.
✔️ Feeding records.
Overall, we think the first bullet is what makes the HubbleClub app so convenient. You can be away from home or simply away from the parent unit and still live-stream video and audio of your child's nursery. This is great for working parents (or during date night!) who want to keep up with what's going on at home with their baby and his or her caregiver.
Note that you can stream simultaneously to your phone and the parent unit.
Nursery Pal Deluxe Review
The Nursery Pal Deluxe is our favorite of the three we reviewed. We think it has the perfect balance of features and price, and would work very well for most families.
Features
The Nursery Pal Deluxe has a strong set of features. We've already covered the fact that you can stream video and audio to the parent unit and/or to your mobile device with the HubbleClub app, which is super convenient.
Here is a short walk-around video to show you the basics of the Nursery Pal Deluxe.
We also already listed the primary features up above in our list, so you should be familiar with those already.
Let's focus on a couple additional features that we loved.
First, the parent unit has excellent communication range. We were able to go down two levels from where the camera was located, and all the way to the other corner of the house, and still get great reception and signal quality. Just make sure you have the antenna in the upright position!
In the image below, notice how even in the depths of our basement, two levels down from the camera, we were able to get two out of four bars of signal - pretty good!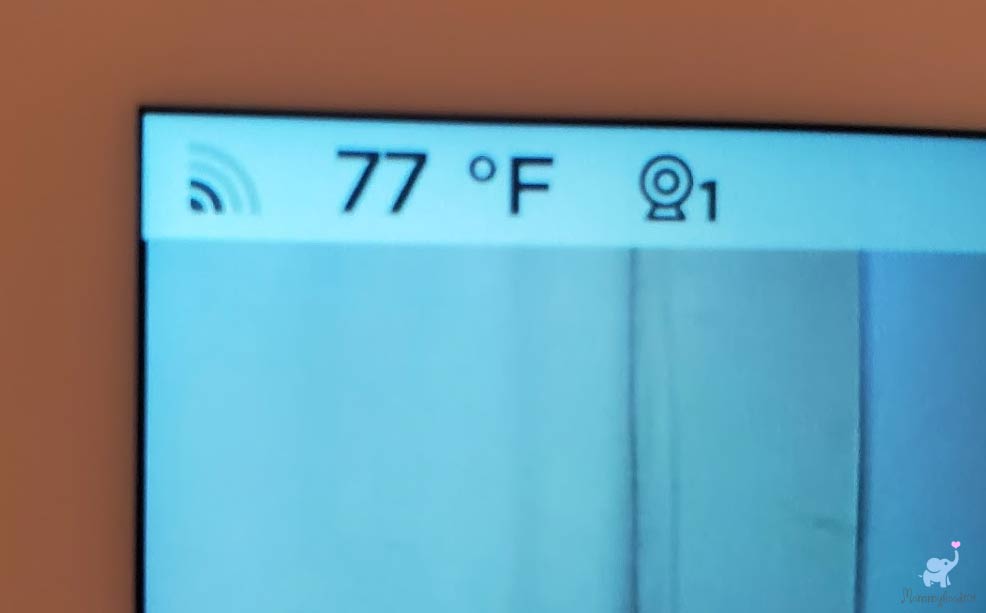 Second, we enlisted our super-tech-wiz 12 year old son to attempt to hack the camera connection over wifi. He's usually able to break into about half of the baby monitors sent to us for testing. The good news is that he was not able to crack into this device, both over wifi (to the smart phone) and traditional radio (to the parent unit).
Third, we love how quickly the parent unit finds the camera unit when you first power on the system. It's nearly instantaneous and doesn't require any sort of complicated pairing. Nice touch!
Parent Unit
The parent unit is what you'll spend most time looking at, carrying around the house, and fiddling with in the middle of the night.
For those reasons, you want the screen to be bright and high resolution, the night vision to be clear and crisp, the interface to be intuitive and easy, and the battery life and range to be excellent.
You also want the parent unit to be rugged and easy to carry around (or clip to your side).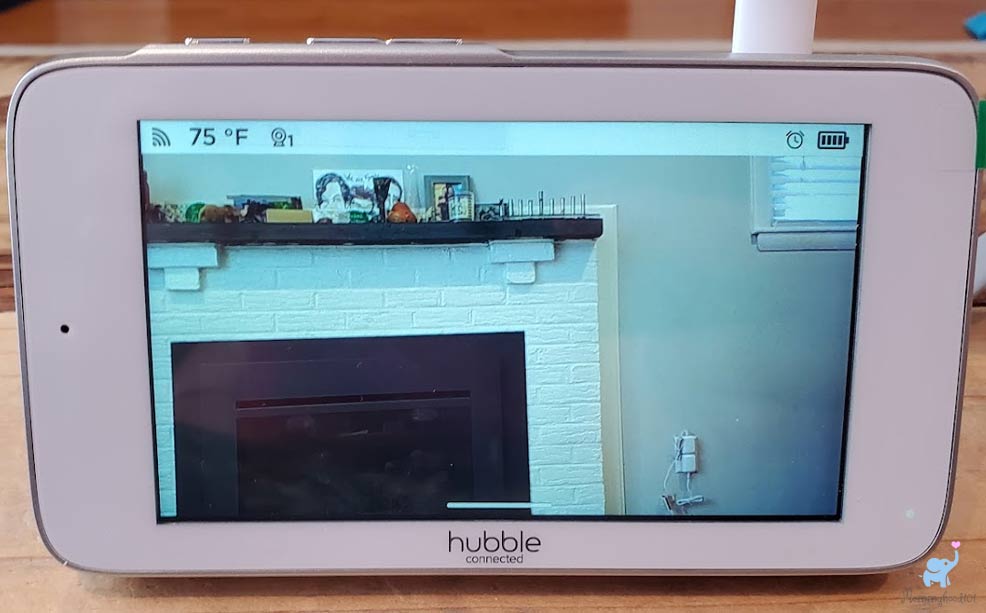 The Nursery Pal Deluxe parent unit hits most of those marks.
The screen is sufficiently large (5", which is the same as most other high-end baby monitors), bright (and adjustable brightness), crisp and clear. In daylight, colors come through nicely and contrast is very high (see above photo). There is a noise level indicator (green, yellow, red) that works even when the screen is off, which is a nice touch.
Our test nursery gets a bit too much natural light for us to do a full darkness test, so we tested the night vision in one of our older children's bedrooms. It looks great, very similar to most other baby monitors we've tested, including the Infant Optics DXR-8 Pro and the Nanit: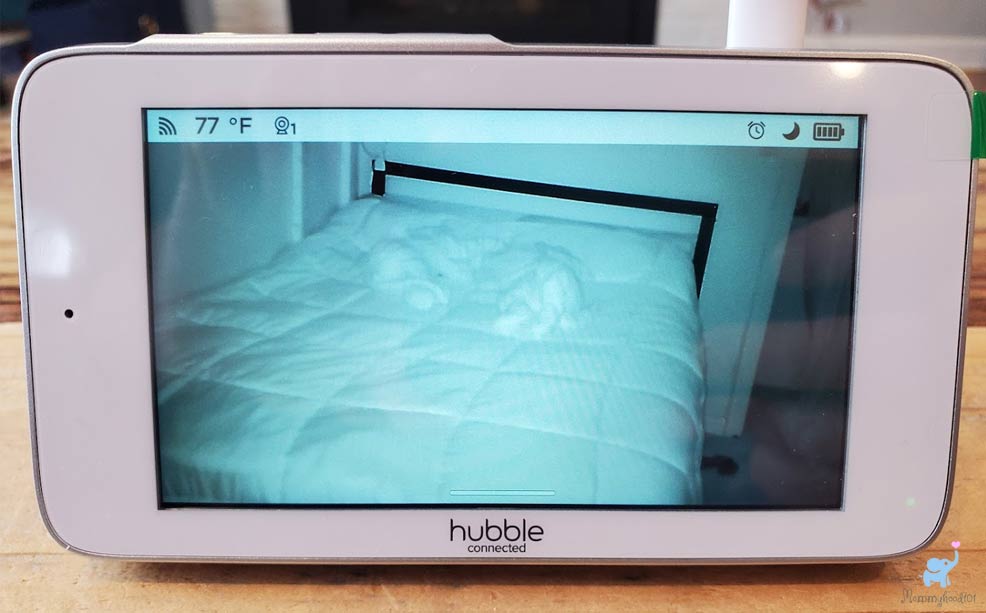 One thing to notice is that there is a little bit of bleeding at the edges, meaning that the infrared is not hitting the periphery as well as the center area.
This is perfectly fine given that this camera has remote panning and tilting, allowing you to adjust it and get your little one right in the middle of the scene. To pan or tilt the camera, you simply slide your finger along the touch screen in the direction you want it to move, either horizontally (moving camera side to side) or vertically (moving camera up and down). It works pretty well.
In the above photo, you can also see that there is a small menu bar at the bottom of the screen. When you swipe up at the bottom center, a low profile menu will pop up onto the screen. Here is a photo of the menu at the bottom of the screen: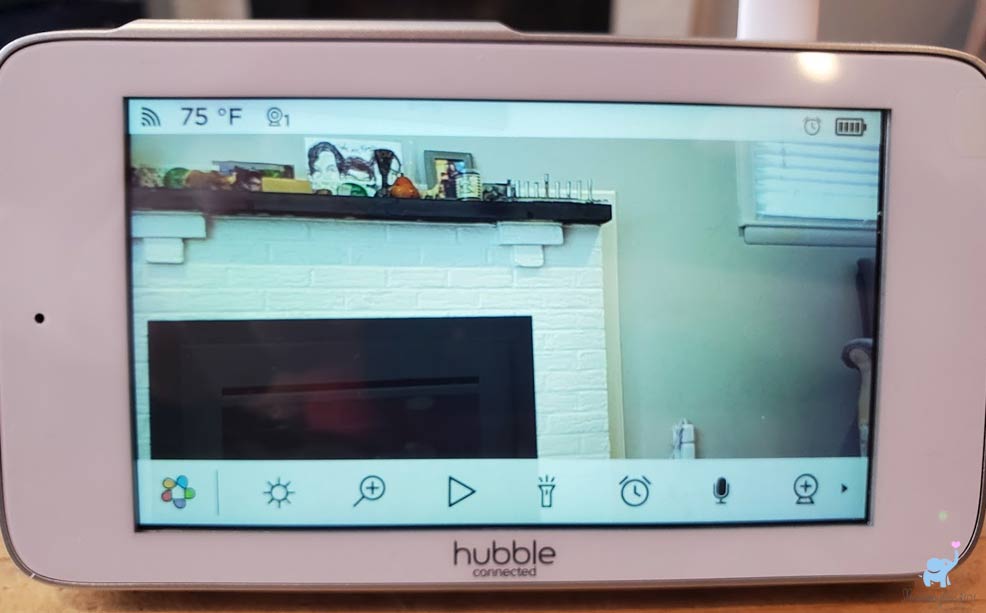 In the above photo, you can tap each of the icons to bring up additional options.
For example, tap the one that looks like the sun and you can change screen brightness. Tap the magnifying glass and you can zoom in. Tap the play icon and you can select from lullabies, stories, or your own recordings to play to your baby (through a speaker on the camera). Tap the flashlight button to use the parent unit to find those fallen pacifiers! You get the picture!
Here is a video of my husband going through some menu options:
The HubbleBaby apps are accessed through the colorful icon on the left of the menu. There are three fun activities in there for infants and toddlers: Hubble Videos, Hubble Stories, and Hubble Play & Learn games
All of them worked well and were nice to have built into the parent unit. There were some misspellings on the menu, which was odd, like "Kids Volcabulary," but otherwise we appreciated the feature.
A couple other things to notice in the above video.
First, there are a ton of options, providing a ton of versatility. You can set notifications, add cameras, use two-way talk, etc.
Second, the touch screen can get a little finicky sometimes. If you don't have tiny fingers, sometimes the buttons are too small to effectively press, sometimes they take a few tries.
There are also some unintuitive menu options. For example, the very same left-arrow (go back) icon can do different things depending upon where you are in the HubbleBaby software.
Another small gripe is the positioning of the power and volume up/down buttons. On many smart phones, the volume up button is closer to the top (near the power button or silence switch), and volume down button is under it. But on this unit, the volume buttons are in the opposite layout, which can take a bit of getting used to. Here's a photo of what we mean: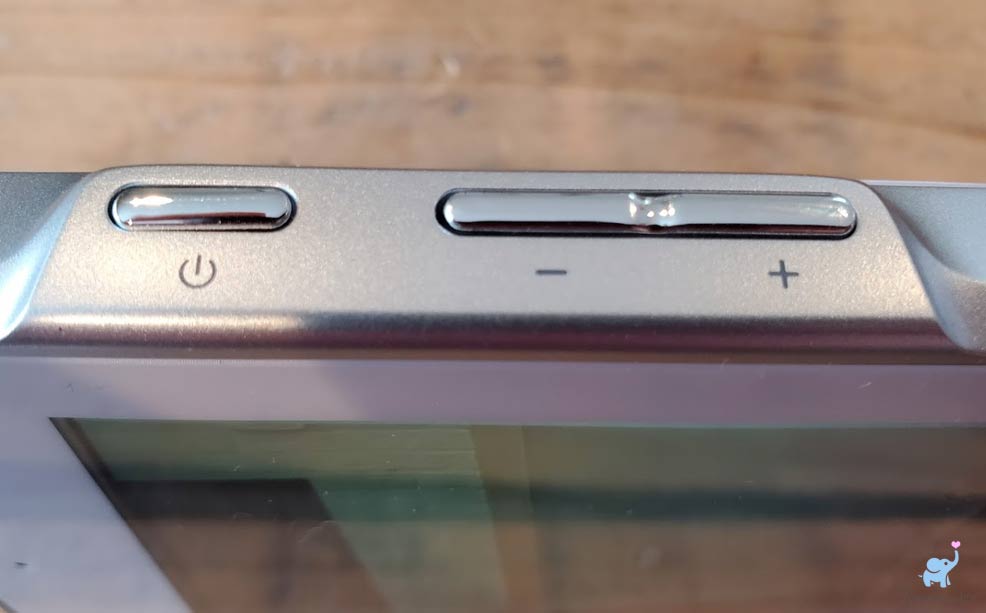 Not a huge deal, but worth pointing out. The last thing you want to be doing is turning the volume way up when you're trying to turn it down in the middle of the night!
When you're using the parent unit and it is unplugged (running on battery), the screen automatically turns off after about 5 minutes. You simply touch the screen and it will turn back on.
The battery life of the parent unit is great, lasting about 8 hours in our testing (with the screen on about half the time, and brightness at 50%).
The parent unit does come with a nice rubber protector (like a phone case), which makes it more durable and easier to carry. Here's a view of the back of the rubber protector, also showing the kick-stand: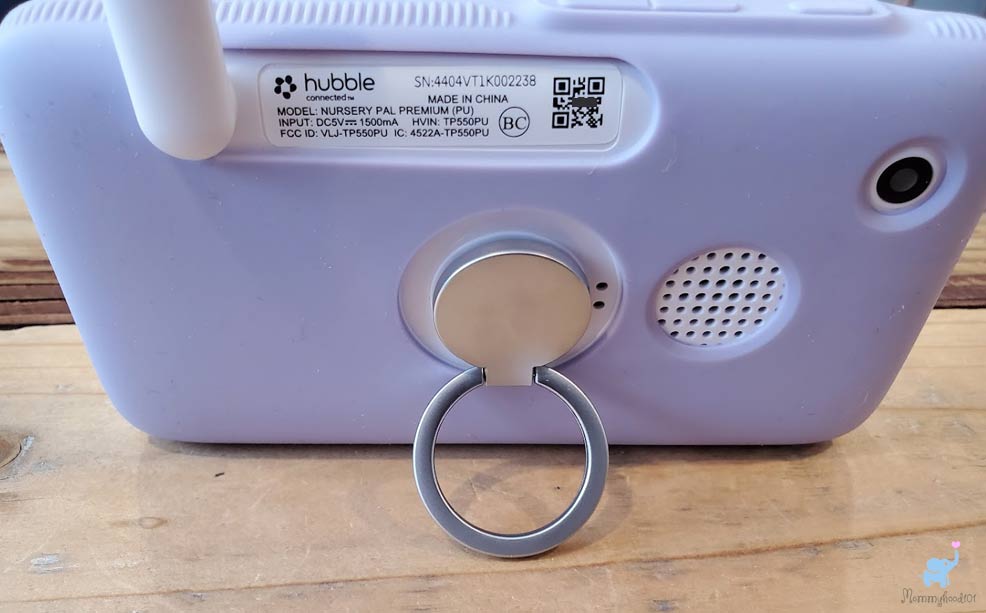 The only other little gripes are that the kick-stand on the back is tough to use, and there is no belt clip (and it's a bit too large to reasonably fit into a pocket, especially on women's pants!).
For the kick-stand, you need to find the perfect angle for it to stay in position, and if you push back on the screen (like while trying to press buttons), it can sometimes fold the kick-stand in and make the entire parent unit fall down.
Camera
While the camera on the Nursery Pal Deluxe doesn't look as modern and sleek as the one on the Nursery Pal Cloud or Nursery Pal Crib Edition, we actually prefer it for a few reasons.
First, it has an awesome privacy shield that you can pull down over the camera lens. This is perfect when you want privacy in the nursery. For example, when you don't want breastfeeding to be seen by others in the home (or others you've shared the WiFi video stream with via the app). Nice touch!
Second, this camera has a built-in battery so it will even work during a power outage! The built-in battery lasts for about 3 hours. While that's not very long, it's certainly better than having no baby camera functionality at all if the power goes out! The only other little con is that while the camera is running on battery, the App will constantly alert you of a low camera battery after about an hour. But it will not tell you how low the battery actually is, or how much time is left until it dies.
Third, this camera has true remote tilt and pan. This means the actual camera angle changes, rather than a relatively ineffective optical panning.
Fourth, this camera has a tripod screw hole on the bottom, which gives you total versatility during mounting. Look on Amazon for "UNC tripod attachments" and you can find a ton of gadgets to help you mount this camera nearly anywhere!
Finally, this camera comes with a nifty little three-leg (tripod-like) stand that is flexible and you can use it to attach to nearly anything.
You can use it as a basic stand, like we pictured below, or you can bend each leg to attach the camera to nearly anything you want (like the edge of a crib!). You can even use the holes at the ends to attach the camera to your wall!
We didn't really like how the tripod screw hole is off-centered, making the included legs a little off-balance, but we still appreciate the concept!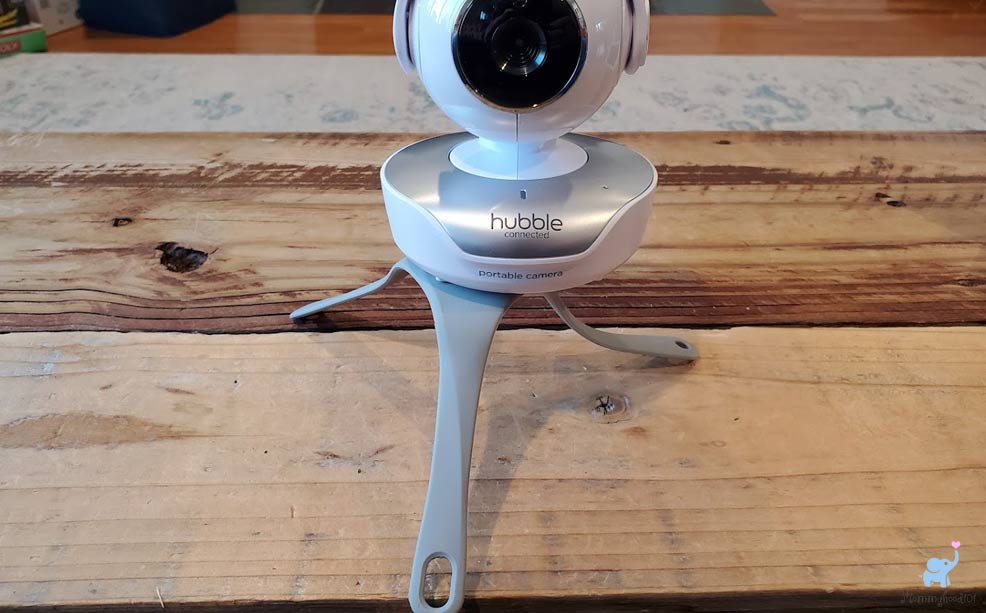 Overall, the camera worked very well during both day and night conditions. It moved smoothly and quietly to tilt/pan.
It also has no visible lights that might keep your baby awake, which is a huge plus!
Pros & Cons
Overall, we're impressed with the features and versatility of this baby monitor, and think it's the perfect option in the vast range of Hubble Connected baby monitors.
It is a bit expensive, coming in at about $199, but the ability to stream on your mobile device AND on a parent unit is honestly worth every penny.
We're not totally impressed with the touch screen or menu system, and we think the kick-stand could have been better executed.
We also were a little frustrated by the fact that there are HubbleClub Premium ads taking up screen real estate on the App, appearing at random times as you navigate the menus, and appearing as full-screen ads when you start up the parent unit.
Clearly subscription models are profitable for Hubble Connected, but parents will get a little frustrated having that shoved in their face all the time.
Speaking of subscriptions, while the first 18 months of HubbleClub basic are included, that means for your second (or third) child, you will be stuck paying $2.99/month if you want to continue streaming video on the mobile app. That may or may not be worth it for you.

Once we finish a long-term test, we'll return to this article mid-year and update you on the system's reliability.
Nursery Pal Crib Edition Review
The Nursery Pal Crib Edition is our second pick from the range of Hubble Connected baby monitors.
The Crib Edition combines the same 5" touch screen display of the Deluxe with a lightweight camera and crib mount: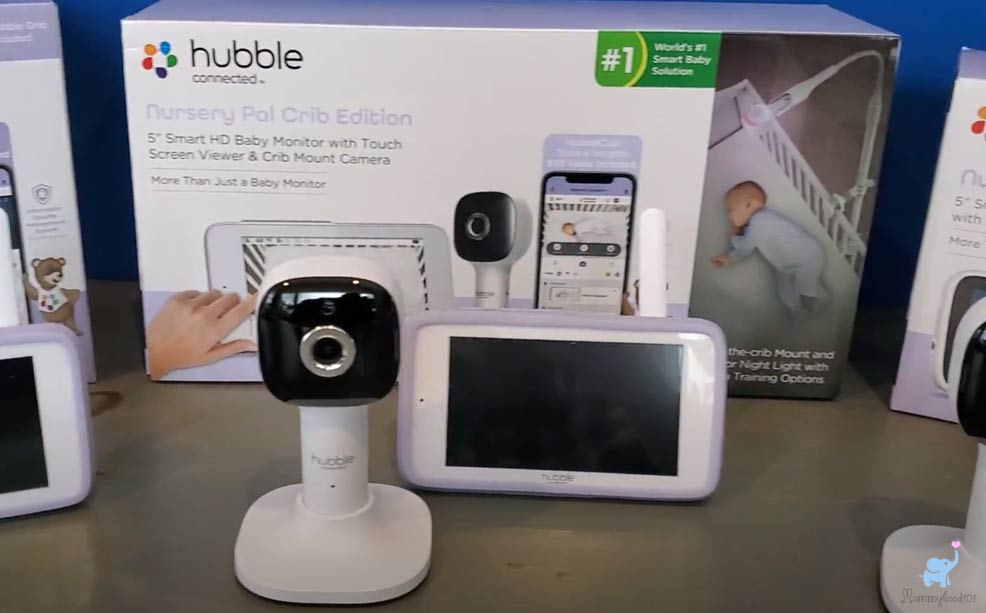 There are a few things we like about this camera relative to the Deluxe.
First is that the camera base uses a cool magnetic mount that allows you to manually angle it in any way you'd like. You can remove the camera and stem from the base entirely, and the base can be attached easily to your wall using the two mounting holes on the back.
Second is that it can also attach to the tall crib arm and give you a perfect overhead view of your little one in their crib. This is similar to the way the old Motorola Halo+ baby monitors worked, but better.
Finally, it has a multi-color night light built-in, which is fun.
However, it doesn't have the true remote tilt and pan function (only optical), the tripod mounting hole on the bottom, the battery operation of the camera (in the event of a power outage), or the privacy shield that you can lower over the camera lens. We still prefer the camera that comes with the Deluxe over this one.
The crib mounting system is awesome and flexible in its attachment and positioning methods. It keeps a great view while also keeping it out of reach of your child.
For parents looking for a great crib attachment method, along with a great camera and parent unit, and the ability to stream to their mobile device, the Hubble Connected Nursery Pal Crib Edition is an excellent option! Coming in at about $250 it's a bit expensive, but similarly priced with its competitors.
Nursery Pal Cloud Review
The Nursery Pal Cloud uses the same camera as the Crib Edition, but combines it with a more basic parent unit without a touch screen.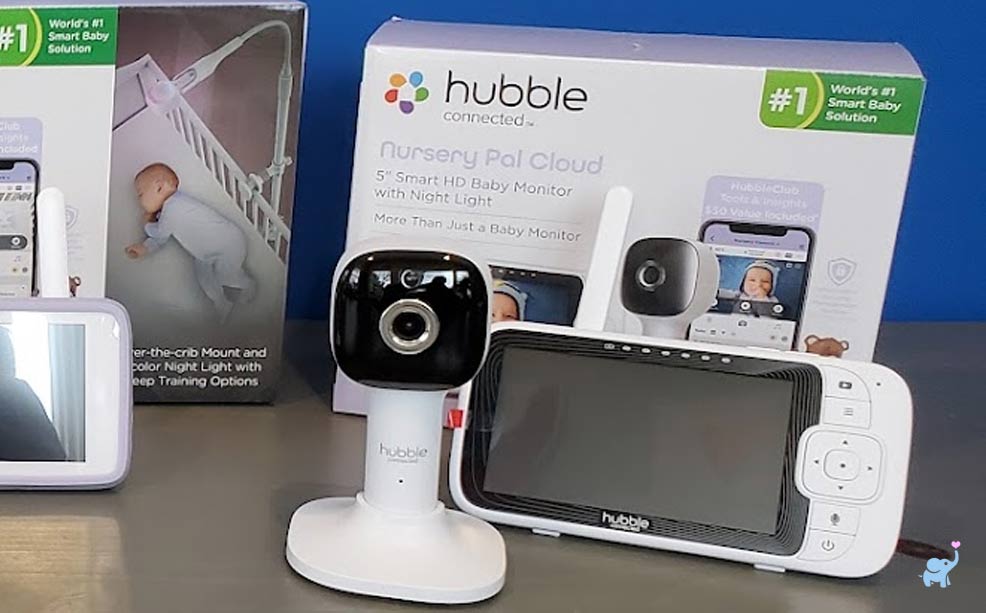 The (somewhat large and cumbersome) parent unit works pretty well, especially given the relatively low price.
For parents not wanting to fiddle with a touch screen, this could be a great option.
All of the basic features of the Deluxe model can be found in this parent unit, including two-way intercom, lullabies and stories, room temperature sensing, great night vision, high definition streaming, and compatibility with Amazon Alexa and Google Assistant.
A bonus is that the buttons and menus are way easier to use than the touch screen on the Nursery Pal Deluxe. The downfall is that the camera isn't quite as good as the one included with the Deluxe model, there is no flashlight feature on the parent unit, and the reception range wasn't quite as good as with the deluxe.
Where to Buy Hubble Baby Monitors
Hubble Connected baby monitors are sold via Amazon (see them here), and at other major online retailers.
We prefer purchasing them directly through the manufacturer, which makes any warranty claims and returns much easier. They often have deals and discounts that are specific to the site and won't necessarily show up on Amazon or elsewhere.
You can click the below image to check out the Hubble Connected baby monitors at Amazon!