Motorola PIP1510 Connect Baby Monitor Review & Video
Peace of mind at your fingertips? We test this new baby monitor to find out.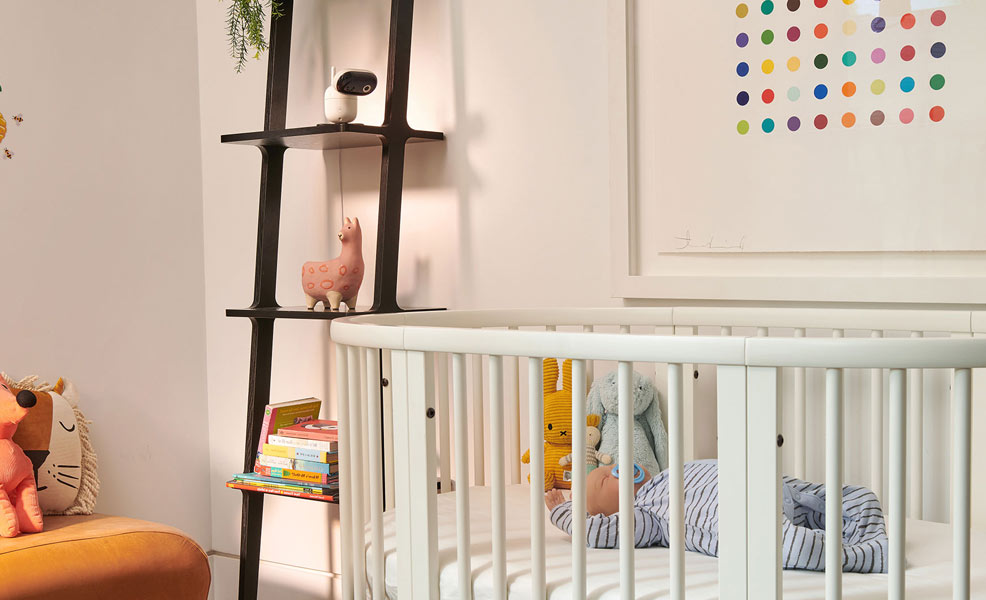 ---
Mommyhood101 independently tests and curates baby gear to help you make informed decisions. If you buy products through links on our site, we may earn a commission.
Motorola baby monitors have been a favorite among parents for several decades, offering superior quality, security, and functionality. We put Motorola's new flagship baby monitor, the new Motorola PIP1510 CONNECT, to the test!
For this review, we were lucky enough to get our hands on three samples of the new PIP CONNECT baby monitor, and we tested them in daylight, darkness, and streaming on the parent unit and our smartphones. We explored the menu system, tested all of the features, and evaluated reception range both indoors and outdoors.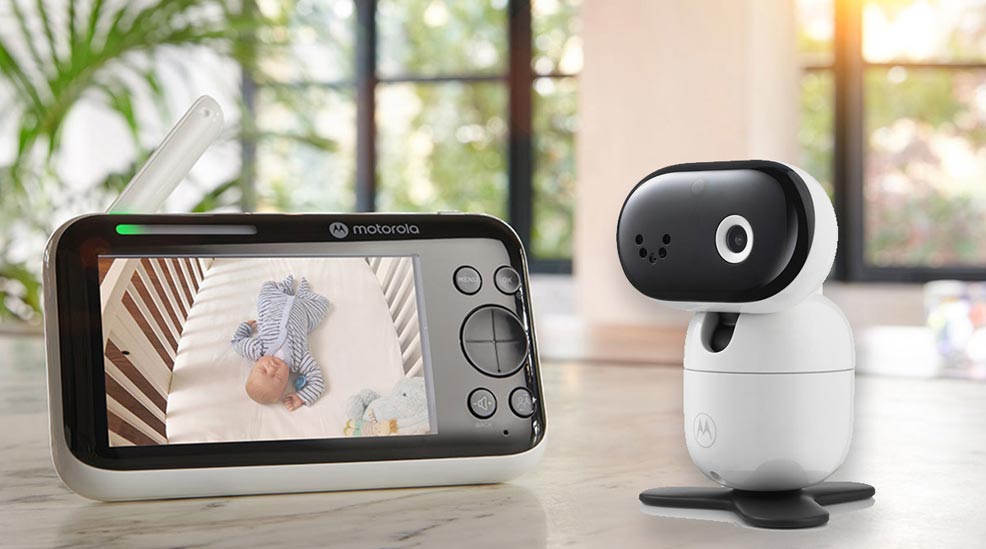 As of this writing, the new Motorola PIP1510 CONNECT baby monitor is available through Amazon and Nordstrom, and sells for $189. At the end of this article, we provide a few purchase options.
Will the Motorola PIP1510 CONNECT baby monitor make it onto our list of the best baby monitors of the year? Let's find out!
Full disclosure: Marque Communications, which is managing the press release and marketing for the new PIP1510, was generous enough to provide us with three free samples of the new PIP1510 baby monitor for testing (thank you!).
Motorola PIP1510 Baby Monitor: Overall Ratings
Based on our hands-on reviews, we give the Motorola PIP1510 CONNECT baby monitor a 4.1 out of 5 stars:
Overall Conclusions: Motorola PIP1510 Baby Monitor
Most parents don't have time to read through this entire article, so here is a summary of what we found.
We were excited to get our hands on this new Motorola baby monitor, and we were pleasantly surprised by the following aspects:
✔️ Very simple setup & operation.
✔️ Parent unit and smartphone use.
✔️ Remote pan, tilt, & zoom.
✔️ Nursery temperature sensor.
✔️ 5" display on parent unit.
✔️ Two-way intercom talk.
✔️ Clear infrared night vision.
✔️ Lullabies, stories, & sounds.
✔️ Movement & sound alerts.
✔️ Works with internet outage.
✔️ Pair up to 4 cameras.
✔️ View 4 cameras simultaneously!
✔️ Free pics and video in App.
✔️ Sleep timer (5, 30, 60mins).
✔️ Wall mount included.
✔️ 2800mAh battery.
However, like with any review we write, we also had some little gripes worth mentioning:
❌ Low resolution parent unit.
❌ Very bulky parent unit.
❌ No battery in camera.
❌ Limited reception range.
❌ Finicky app settings.
❌ No smart home integration.
Overall, we think this new Motorola baby monitor is a great option for families looking for a baby monitor that can stream to your smartphone or tablet as well as the included parent unit, simultaneously, and has the ability to support up to 4 paired cameras. Save for some relatively minor cons, we think the PIP1510 CONNECT provides some compelling features and quality for the price!

About Motorola & PIP
Motorola has been making baby monitors for over a decade through their subsidiary Motorola Mobility LLC.
This baby monitor is made by SGW Global, which licenses the Motorola brand for selling nursery products, including not only baby monitors but also an array of sleep monitors, soothers, baby thermometers, nursery humidifiers, and scales.
SGW Global is based in London, UK, and they manufacture this baby monitor in Meizhou, China.
The PIP family of baby monitors are designed by Tej Chauhan, an award-winning industrial designer, to provide style and substance, complementing even the most sophisticated nursery decor!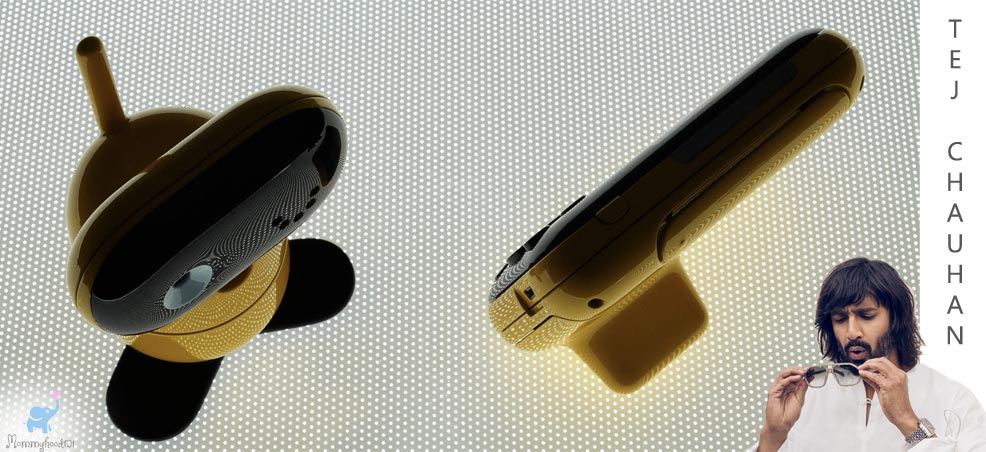 Tej likes to call his designs Souvenirs of the Near Future, which we think is very fitting!
The camera design reminds us a bit of the Netgear Arlo baby monitor, but without the bunny ears, and with a slightly more sophisticated look.
The parent unit design is very rounded and frankly a bit bulbous, but we'll get into how that affects functionality later.
Tej called the design of this baby monitor duo Pip + Pop, with the camera unit being named Pip and the parent unit being named Pop. Now that it has launched (as of February, 2022), it is simply referred to as PIP.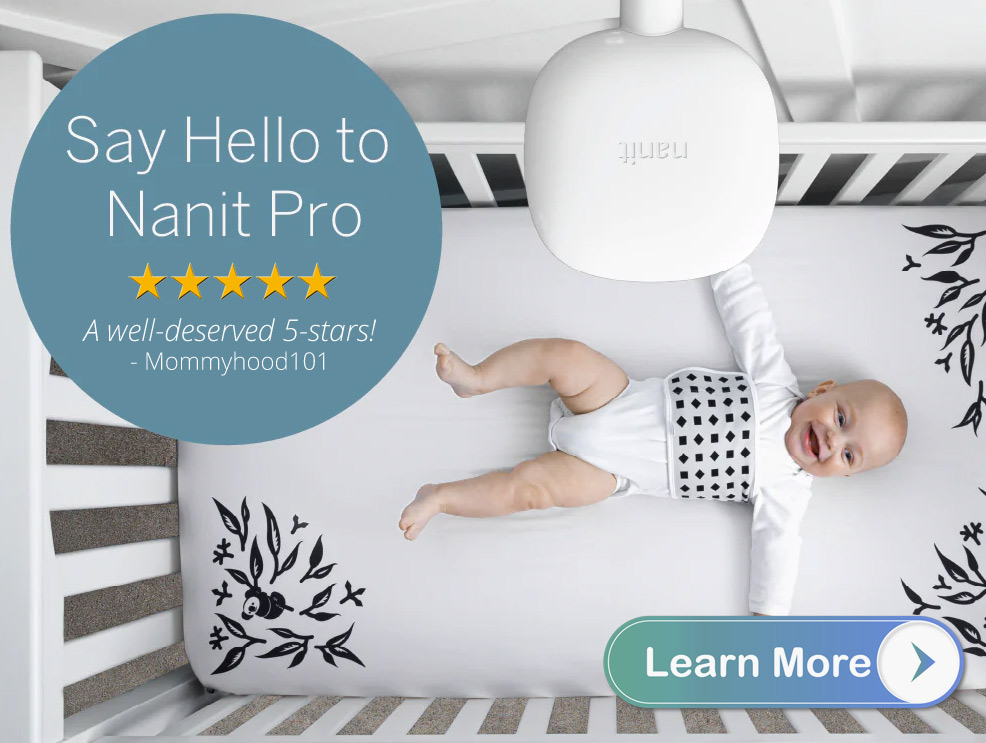 There are two additional PIP baby monitors available currently, which include the PIP10 and PIP11, which are both adorable little audio-only baby monitors.
About the CONNECT Model
Similar to Hubble Connected baby monitors, which use the HubbleClub app, the Motorola CONNECT models provide the Motorola Nursery App, which can be loaded on your iPhone or Android device.
The CONNECT capability allows, you guessed it, connectivity to the camera in more than one way!
Specifically, you can stream to both the included parent unit and to the App loaded on your smartphone or tablet.
This new level of connectivity is becoming increasingly common among baby monitors, and Motorola was one of the first to offer this feature (with the Motorola Halo+).
Personally, we think it's excellent to have more than one connectivity option for baby monitors. While popular models such as the Nanit, Wyze, and Cubo provide excellent streaming to a smartphone, they do not also include a parent unit.
The convenience of on-the-go viewing combined with the flexibility to have a home-based parent unit provides superior versatility relative to baby monitors with only a parent unit or only app-based streaming.
This level of versatility is great for working parents (or during date night!) who want to keep up with what's going on at home with their baby and the caregiver, while also not needing to deal with the hassle of getting a caregiver set up with the app and password.
Note that the Motorola PIP CONNECT lets you stream simultaneously to your phone and the parent unit, which is an awesome bonus feature.
Motorola PIP1510 CONNECT Review
The Motorola PIP1510 CONNECT has a ton of features that we needed to try out! We begin with a summary of features and then discuss the camera, parent unit, video streaming, and the Motorola Nursery app.
Features
The Motorola PIP1510 CONNECT baby monitor has a strong set of features.
We've already covered the fact that you can stream video and audio to the parent unit and/or to your mobile device with the Motorola Nursery app, which is super convenient.
Here is a short walk-around video to show you the basics of the PIP1510:
We also already detailed the primary features up above in our list of overall pros and cons, so you should be familiar with those already.
Let's focus on a couple additional features that we loved.
First, the parent unit has an impressive 2800mAh battery, which is similar to what is in the new Infant Optics DXR-8 PRO and the Eufy Spaceview S. The only baby monitor that vastly exceeds that battery life is the VAVA HD, which has a 4500mAh battery. While that might make the Motorola look like a slouch, you'll be happy to hear that the battery in the parent unit lasts overnight without being plugged in!
Second, the remote panning capability (from the parent unit or app) is truly impressive, offering the ability to rotate the camera (right to left) nearly 360-degrees! It also has a decent tilt function, allowing you to lower the camera by about 30-degrees, though we do wish that it would tilt higher up (more on that later).
Fourth, the parent unit lives up to its name (PIP) by allowing full picture-in-picture simultaneous viewing of up to 4 cameras at the same time. The screen gets divided up into quadrants and you can stream all of the cameras simultaneously!
Fifth, we love how quickly the parent unit finds the camera when you first turn on the system. It only takes about 5 seconds and doesn't require any sort of complicated pairing. Nice touch!
Parent Unit
The parent unit is what you'll spend most time looking at, carrying around the house, and fiddling with in the middle of the night.
For those reasons, you want the screen to be bright and high resolution, the night vision to be clear and crisp, the interface to be intuitive and easy, and the battery life and range to be excellent.
You also want the parent unit to be rugged and easy to carry around (or clip to your side).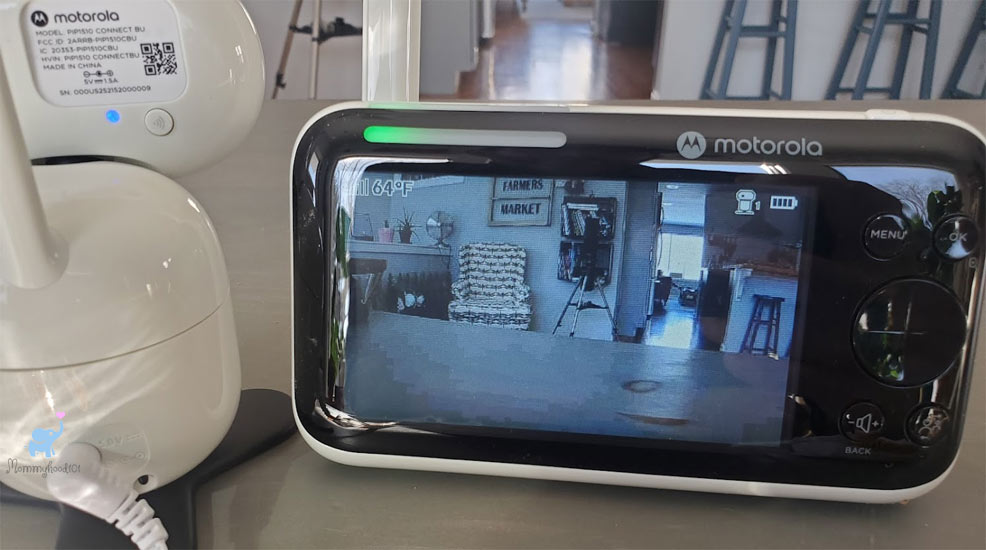 The Motorola PIP1510 CONNECT parent unit hits many (but not all) of those marks.
The screen is sufficiently large (5", which is the same as most other high-end baby monitors), bright (and adjustable brightness), crisp and clear.
In daylight, colors come through reasonably well, and the contrast is decent (see above photo).
When you look a little more closely at the parent unit, however, you will notice that it is very pixelated (see below photo). This is not entirely surprising given that the parent unit has a relatively low-resolution 480x272 display, but it's worth pointing out.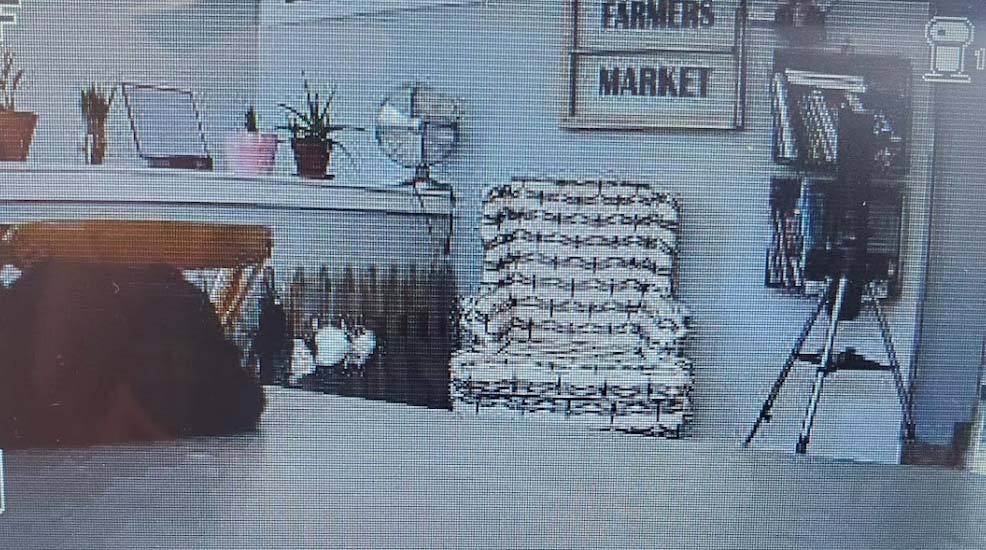 Our test nursery gets a bit too much natural light for us to do a full darkness test, so I tested the night vision camera in my husband's man cave (don't tell him!).
I positioned the camera about 10 feet from the couch, and you can see that it does a decent job with night viewing. However, you can notice the same pixelation in the scene and the relatively low contrast image. It's not terrible by any means, but it's also not excellent.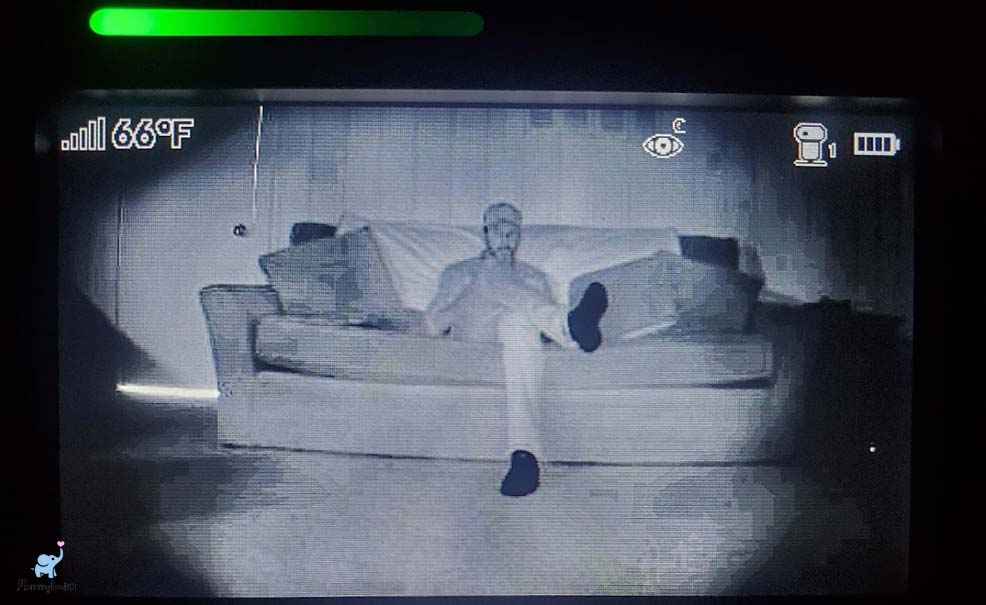 One thing to notice is that there is a little bit of bleeding at the edges, meaning that the infrared is not hitting the periphery as well as the center area.
This is perfectly fine given that this camera has remote panning and tilting, allowing you to adjust it and get your little one right in the middle of the scene. To pan or tilt the camera, you simply use the right/left and up/down buttons on the parent unit, which work pretty well.
The PIP1510 also has a ton of features accessible via an on-screen menu (by pressing the menu button):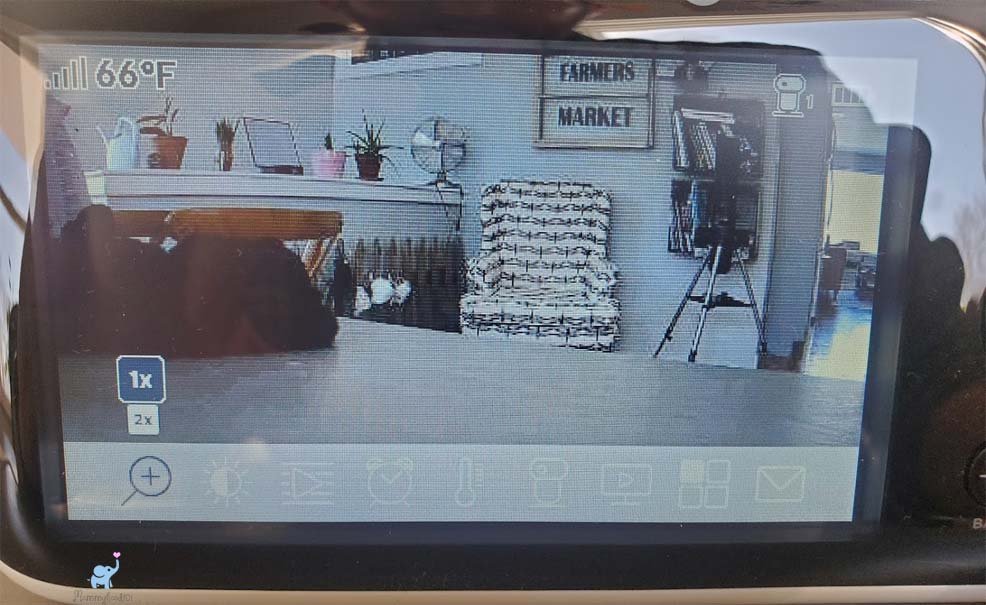 By moving the controller right/left and up/down, you can cycle through each of the menu options.
These include (from left to right on the menu):
Zoom icon: You can choose between 1x (default) and 2x (zoomed-in) digital zoom.
Sun icon: Brightness, you can choose between 8 levels.
Playlist icon: You can play music, stories, pre-recorded messages, or two-way talk (intercom).
Alarm icon: You can choose to be woken by an alarm after 2, 4, or 6 hours.
Thermometer icon: Room temperature, which can be in C or F.
Camera icon: Camera selection, which lets you add up to 4 cameras, view a specific camera, or cycle through views of the cameras.
Screen Play icon: Screen auto-off timer, which can be set to 5, 30, or 60 minutes.
Quadrant icon: View multiple cameras simultaneously, which will divide the screen into quadrants to show each camera.
Envelope icon: View messages from the Motorola Nursery app.
The menu is easy and intuitive to use, and we had no challenges getting everything to work.
Reception Range Testing
Rather than using DECT like older Motorola baby monitors, the PIP1510 uses 2.4GHz connectivity, similar to your home's wifi router.
The beauty of using his communication protocol is that it's secure and fast. The drawback is that reception range may not be fantastic.
And that's exactly what we found. In our first test, we went 2 floors above the camera unit to the opposite corner of a 2300-square foot house.
The signal quality was very good, still showing maximum reception (four bars, see photo):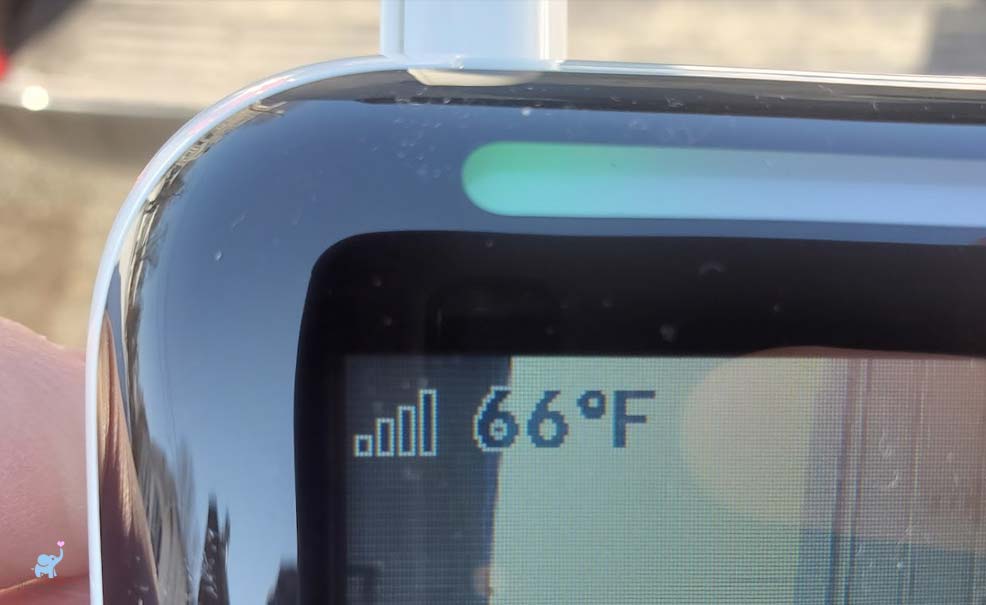 Then we decided to take it out into the back yard.
On the back deck, close to the house, it worked pretty well, even when the camera was positioned on a different floor.
When stepping off the deck and walking into the yard, the signal got very weak very suddenly.
It was interesting because there was a space of about 5 feet where the signal would drop from 4 bars to nothing (and the camera would drop off entirely) suddenly.
Here's what that looked like: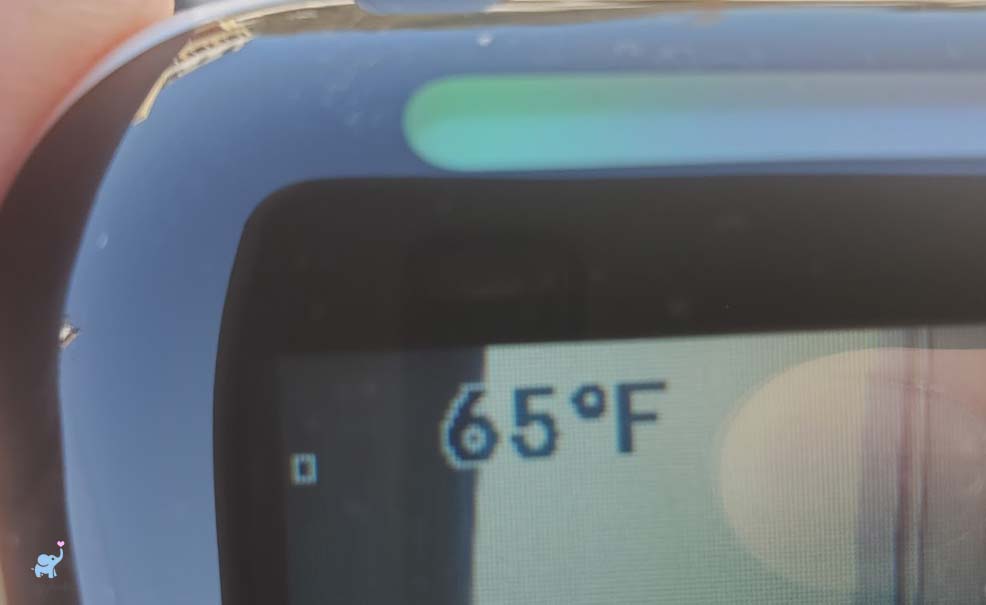 This showed us that the signal reception meter is not very stable or accurate, and will drop off suddenly, especially outdoors.
The good news is that once I turned around and walked a couple steps back towards the house, the camera re-paired with the parent unit and was streaming again within a few seconds.
Parent Unit Portability
The design of the parent unit is certainly aesthetically pleasing, with its soft and modern design lines. We also like the stowable antenna.
The biggest challenge we faced with the parent unit is the bulk: while it is a normal size in terms of width and height (for a 5" display unit), we think it is way too thick.
The shell itself is about an inch thick. It's a little odd because the display screen is inset by about a quarter inch from the outer glass, demonstrating that the entire unit could have been much thinner.
The issue is compounded by an integrated kickstand that is not retractable: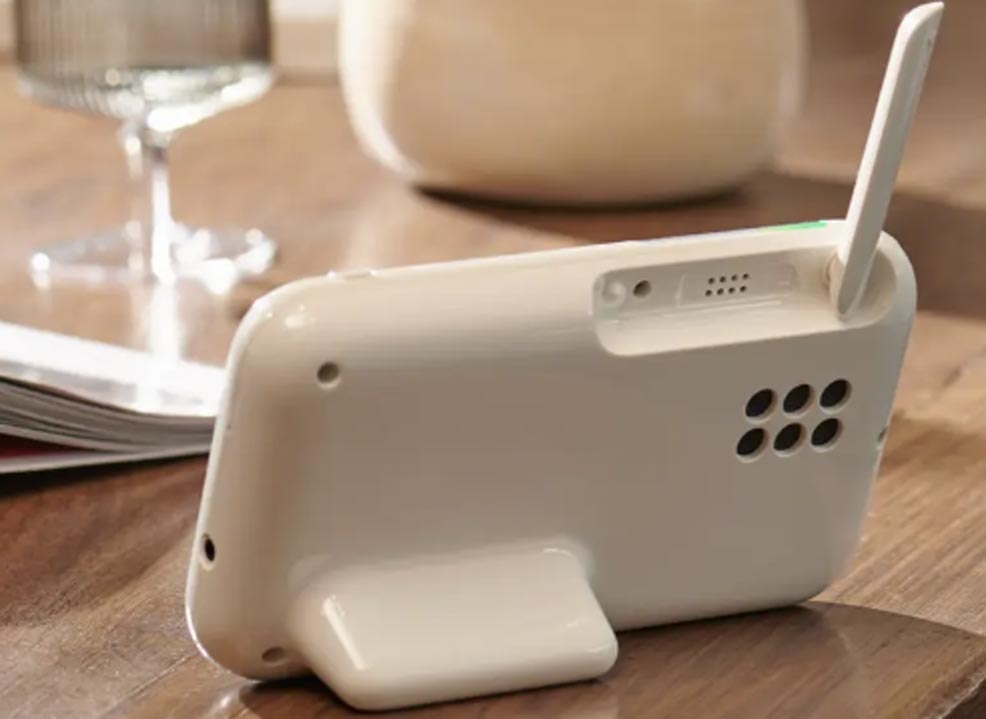 While the kickstand works very well to keep the parent unit super stable, it also makes the entire device nearly 3 inches thick!
That's way too large to fit in your pocket, and there's no belt clip. In other words, you'll need to keep this in your hand or on a surface.
Camera
We think the camera looks fantastic, and we love the design!
The little smiley-face on the front is adorable, and the overall aesthetic is great.
Note that the camera unit comes with the basic desk stand as well as an easy-to-use wall bracket (and screws/anchors).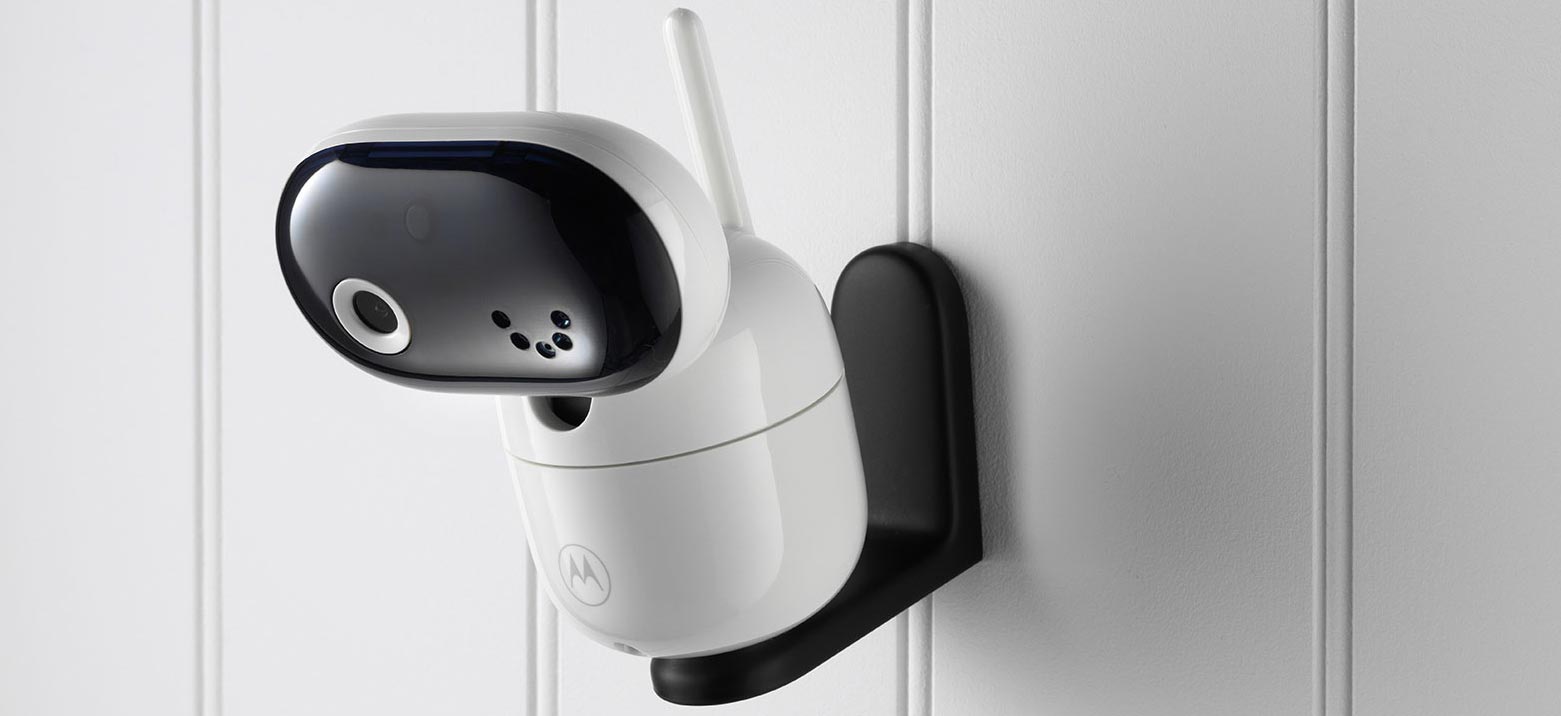 We mentioned the amazing span of the panning feature, which lets you move the camera remotely left-right by nearly 360-degrees, which is a huge range!
The up/down tilt was less impressive. The camera points a bit downward by about 5-10 degrees at its highest setting. This won't be an issue if you're looking down into a crib from a nearby dresser or wall, but if you plan on mounting this in a manner that requires looking upward (or even straight ahead), you'll be disappointed.
One of the things we appreciated about the camera unit is the little tripod screw hole on the bottom, which gives you total versatility during mounting. Look on Amazon for "UNC tripod attachments" and you can find a ton of gadgets to help you mount this camera nearly anywhere!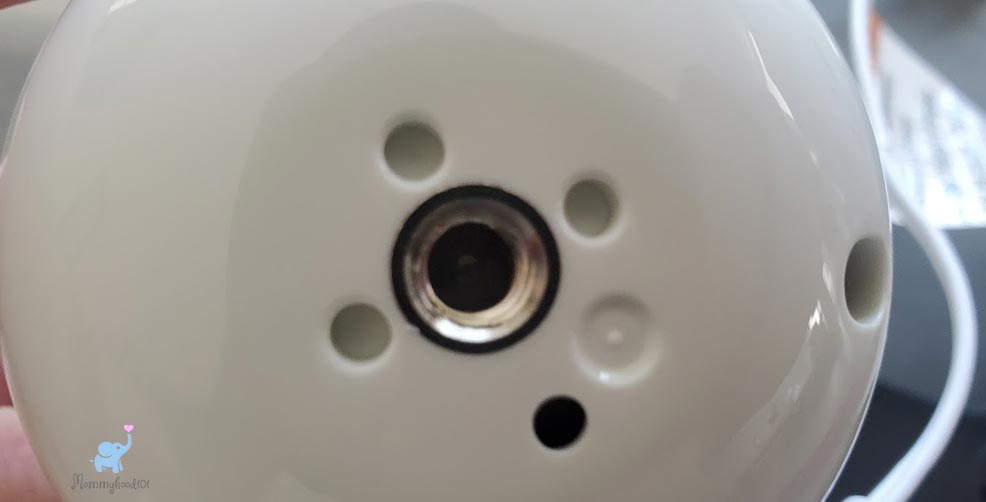 Overall, the camera worked very well during both day and night conditions. It moved smoothly and quietly to tilt/pan.
It also has no visible lights that might keep your baby awake, which is a huge plus!
Motorola Nursery App
If you want to stream the camera to your mobile device, you will need to install the Motorola Nursery app, which is available for Android and iPhone OS.
The app installs for free and very easily, and setup is relatively simple, involving a signup and pairing, as shown in the below photos.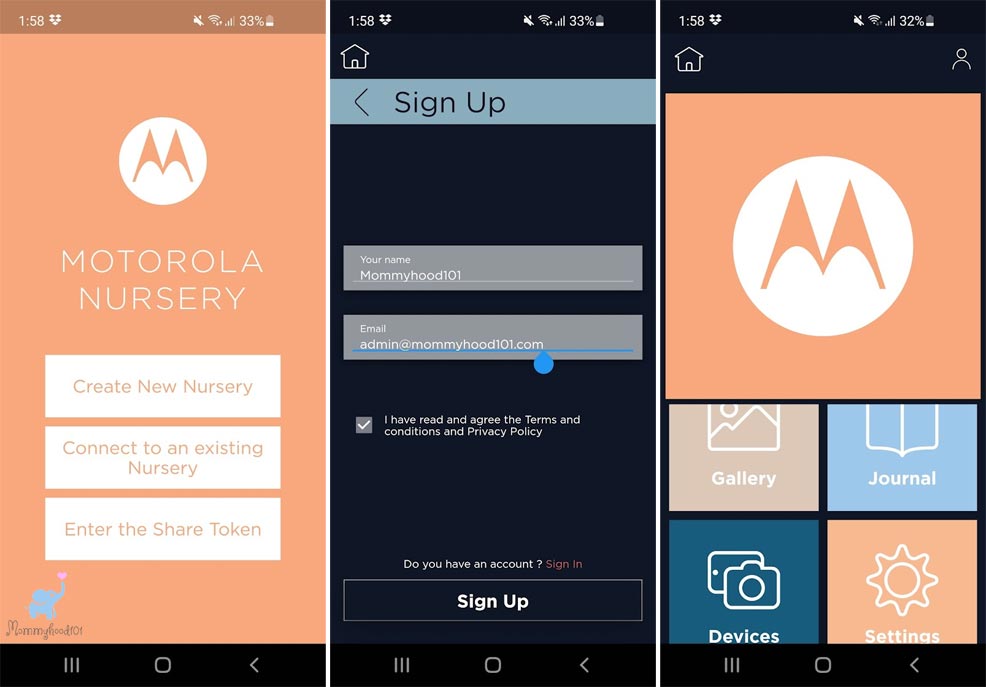 Once you sign up for Motorola Nursery, you can add any Motorola CONNECT devices you have in your home.
So if you also have another Motorola baby monitor, such as the VM64 CONNECT, you can stream its video and audio from the same app.
Once you add the device, you will need to connect the camera to wifi, which involves entering your wifi information and then showing a QR code to the camera for pairing.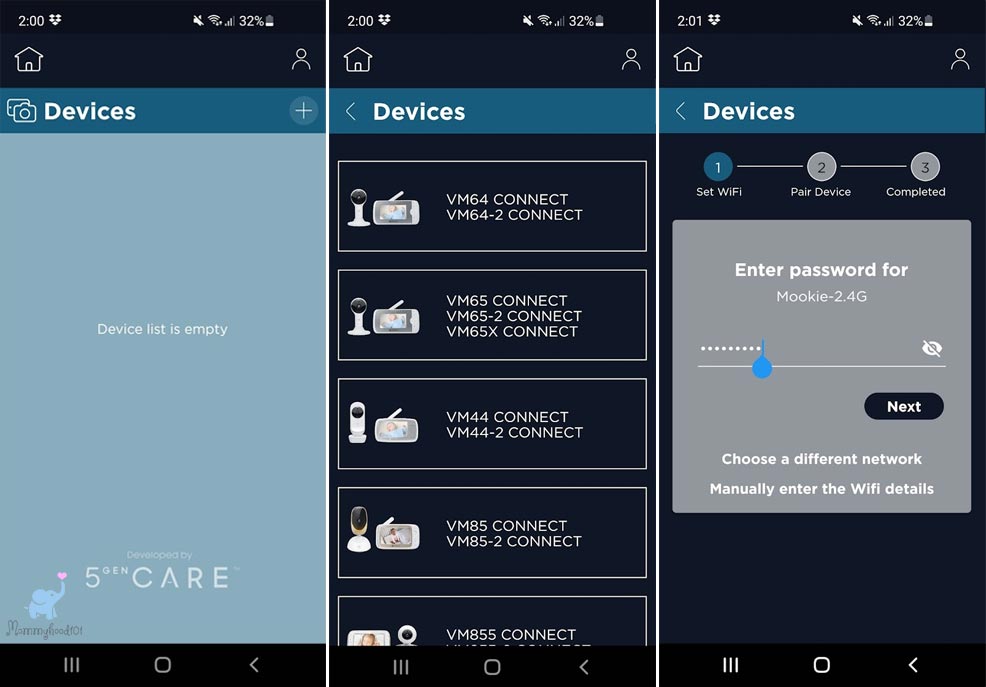 The app does a great job guiding you through the process in a step-by-step manner.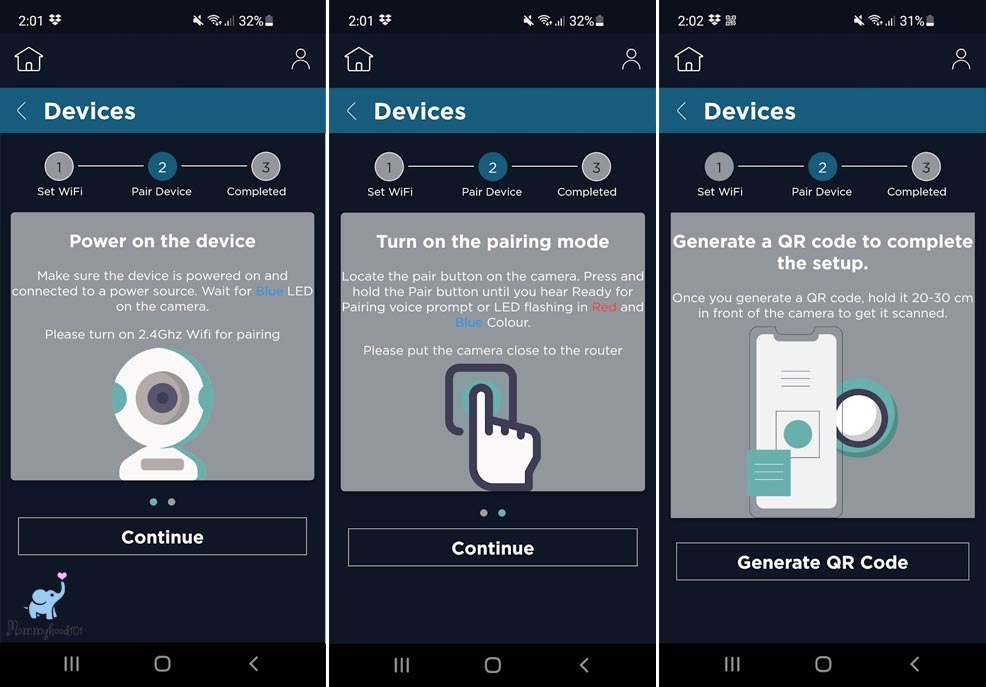 The only challenge we ran into during app setup was in the account settings.
We tried to set our child's birthdate in the app, but it would only allow us to choose the current date in 2004, which was odd.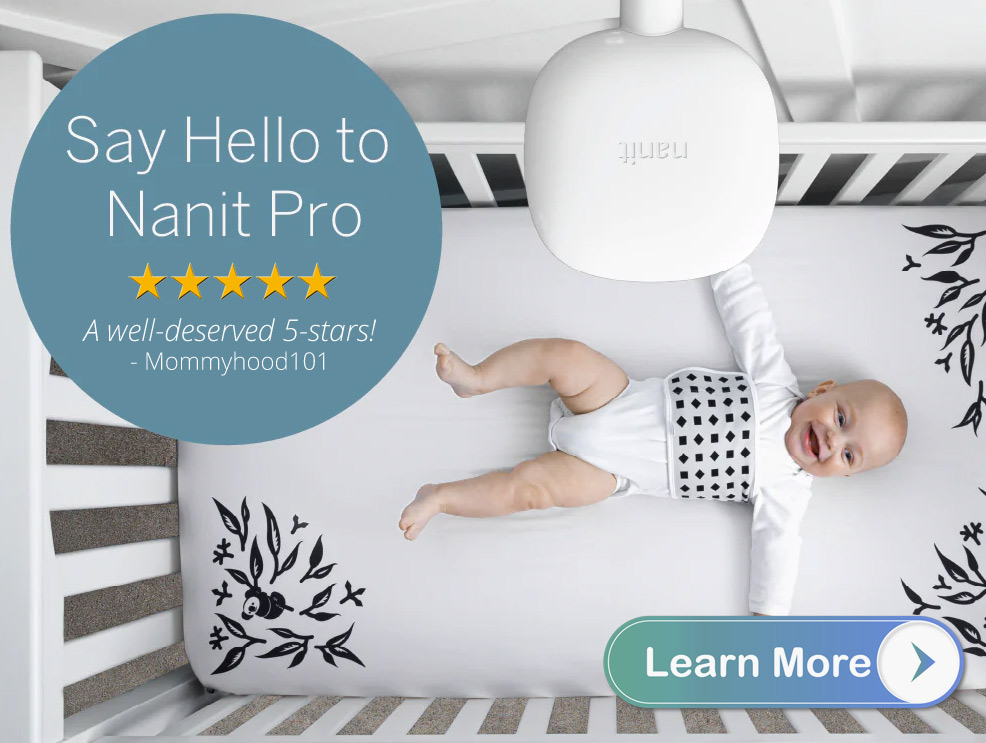 Whenever we would spin the date dial, it would spin us right back to 2004! An odd bug in the software, but we assume it will be patched in a future release.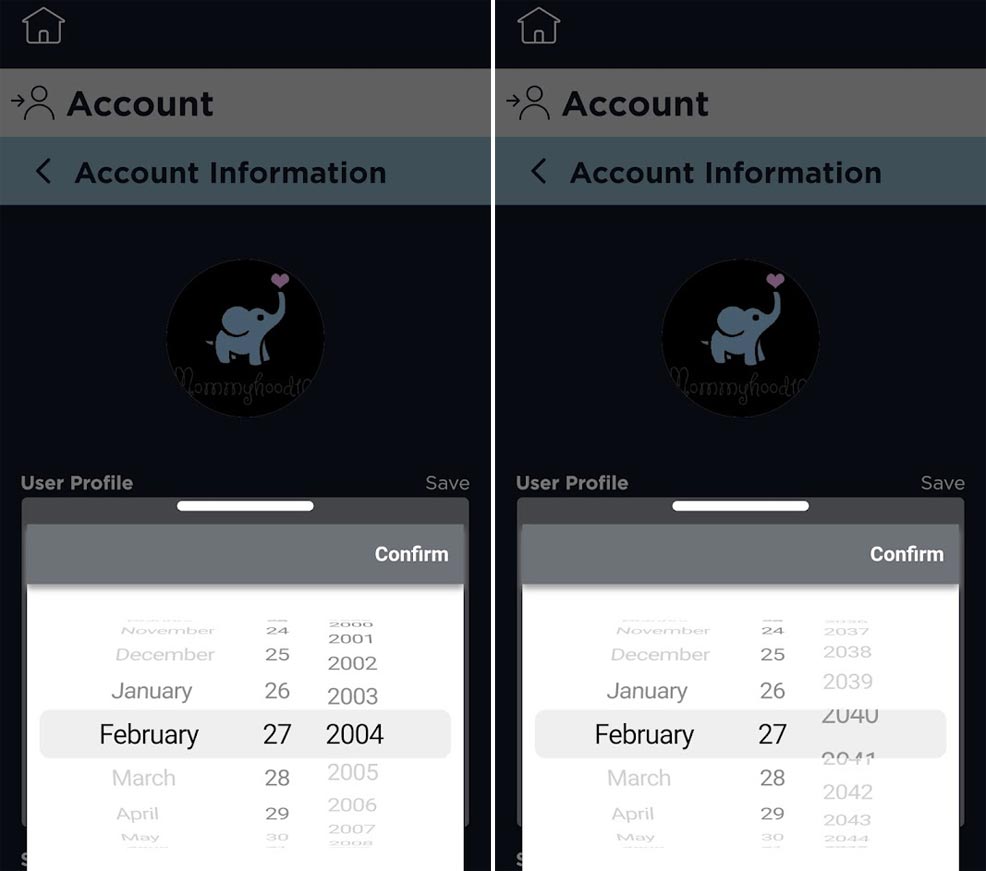 Outside of that, we found the app to be relatively stable and intuitive.
Smart Phone Streaming
An interesting little aspect of streaming PIP1510 video via your smartphone is that it streams in a beautiful HD 1080p quality!
While the parent unit has relatively poor display resolution, the stream looks excellent on a mobile device: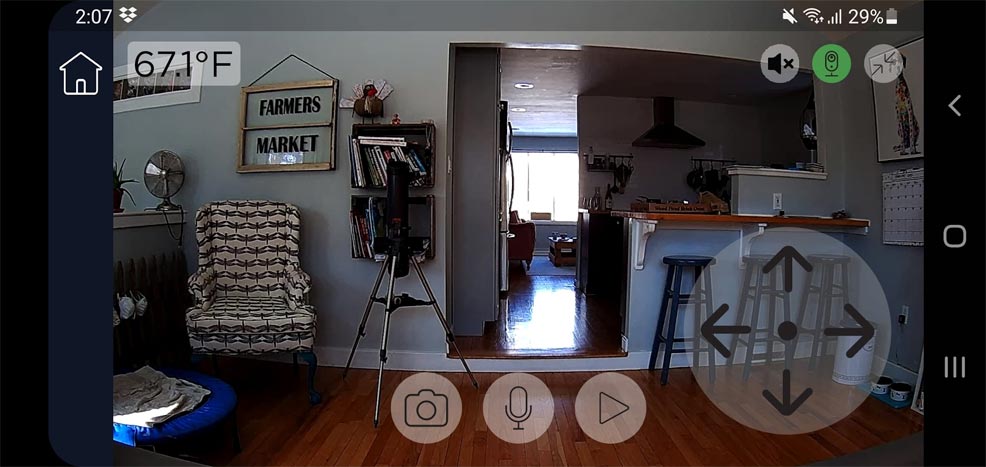 Notice the crisp colors, high contrast, and lack of pixelation?
Looking good! We wish the parent unit had a similarly high-quality display, because clearly the camera is capable of streaming a much higher resolution than 480x272.
One little issue we had with the app is that the camera would intermittently become disconnected and show a spinning wheel (see below):
The only other issue we had was that the video streaming was surprisingly high latency.
When streaming on the same wifi connection, video took about 10 seconds to update, which was surprisingly slow.
When streaming over 4G LTE network connection, video took about 4 seconds to update, which seemed about right.
We're not sure why it would be so much slower when your device is on the same wifi network as the camera, but that doesn't seem like a primary use case for the mobile app anyway.
Note that the app shows nursery alerts very well, including sound and motion alerts: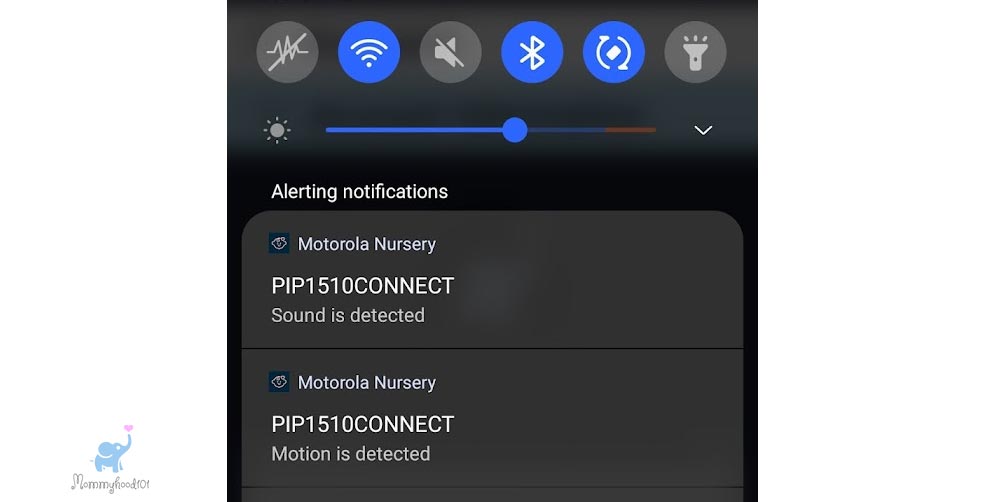 Overall, we think the streaming is exactly what you would expect. Save for some slow-down when you're connected to the same wifi network as the camera (which was odd), the streaming latency was similar to other top-rated baby monitors when on a 4G or 5G connection.
Overall Conclusions
Overall, we're impressed with the features and versatility of this baby monitor, and we think it's a great option for parents looking for a baby monitor that includes a parent unit and smartphone streaming on your phone or tablet.
We can't help but compare the PIP1510 to our recent review of Hubble Nursery Pal baby monitors, which are similarly priced and offer very similar features.
For about $10 more, the Nursery Pal Deluxe offers everything the PIP1510 baby monitor offers plus touch screen, a 1080p parent unit that can actually fit in a pocket, and a camera unit that has a built-in battery.
Of course, the PIP1510 offers the beautiful design and the Motorola reputation; it also doesn't have any annoying upgrade advertisements on the app or parent unit, which is much better than what we found with the Hubble Connected app.
The PIP1510 did have some minor annoyances. These included the size, low resolution, and bulkiness of the parent unit, the decline angle of the camera unit, and the slow streaming (on wifi) and minor bugs in the Motorola Nursery app.
Do the features, quality, style, and expected reliability outweigh these cons? For the most part, yes, we think they do!
Overall, we give the new PIP1510 a 4.1 out of 5, which puts it right in the middle of the range of baby monitors we've reviewed.

Once we finish a long-term test, we'll return to this article mid-year and update you on the system's reliability.
Where to Buy the Motorola PIP1510 Baby Monitor
The new Motorola PIP1510 CONNECT baby monitors are sold at only a few places so far, which includes Amazon and Nordstrom.
The price is fixed right now at $189 and we have not been able to find any discounts so far.
You can click the below image to check out the PIP1510 baby monitor at Amazon!