Milliard Crib Mattress Review
Premium comfort without premium price in this popular foam crib mattress.
---
Mommyhood101 independently tests and curates baby gear to help you make informed decisions. If you buy products through links on our site, we may earn a commission.
One of the cheapest crib mattresses we've ever tested, coming in at only about $55, the Milliard has a lot of potential for parents on a tight budget.
Our Review
We put the Milliard hypoallergenic crib mattress through our hands-on testing and came away with a mediocre impression of its quality and suitability. Rather than making you read through the entire article, here are the main things we liked and disliked about it:
✔️ CertiPUR-US certified.
✔️ Waterproof cover included.
✔️ Squared corners.
✔️ Fits crib tightly.
✔️ Lightweight.
✔️ Very well-priced!
❌ Polyurethane foam core.
❌ Uncomfortable cover.
❌ No dual-firmness.
❌ A bit soft for an infant.
❌ Very thin and unsupportive.
❌ Polka dots show through sheets.
❌ Gets hot in summer.
As you can see already, the Milliard is definitely not the best crib mattress we've tested. It has one of the lowest scores we've given to a crib mattress in over 13 years!
Coming in at about $55, it does offer an extremely competitive price and might be a good cheap crib mattress for families on a budget. While it's not perfect we appreciate the price point and give it a 3.9 out of 5.
Click the below image to check prices at Amazon.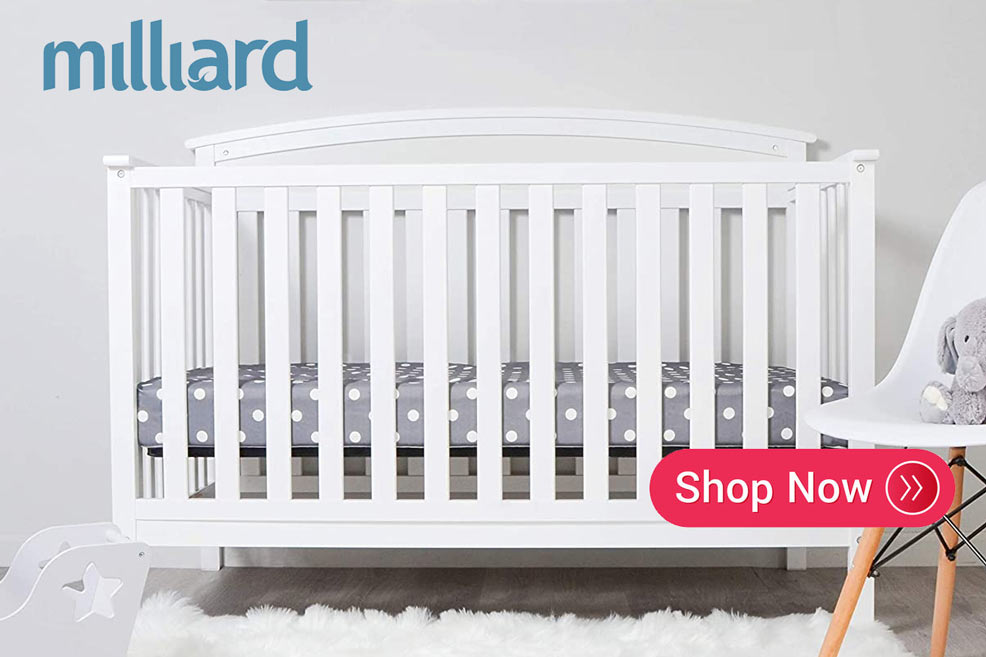 Want to learn a little more about this crib mattress? Keep reading!
The Milliard brand is relatively new to the crib mattress market; we first noticed and reviewed it back in 2017, and some minor improvements have been made along the way. For example, their original cover was not sufficiently waterproof and they replaced it with a more effective cover back in 2019.
The Milliard has gathered thousands of positive reviews at several retailers, including Amazon, though they are balanced by many reviews challenging the quality, durability, and safety of the mattress.
Coming in at only about $55 (at the time of testing), most parents don't expect much from this mattress. Not surprisingly, they also don't get much.
Unboxing
The Milliard is pretty bare-bones: it combines a polyurethane foam core and a zip-off waterproof cover.
When we first received the mattress, it arrived rolled up in a long and narrow box. According to the instructions, we needed to lay it flat for 72 hours to allow it to expand. And so we did.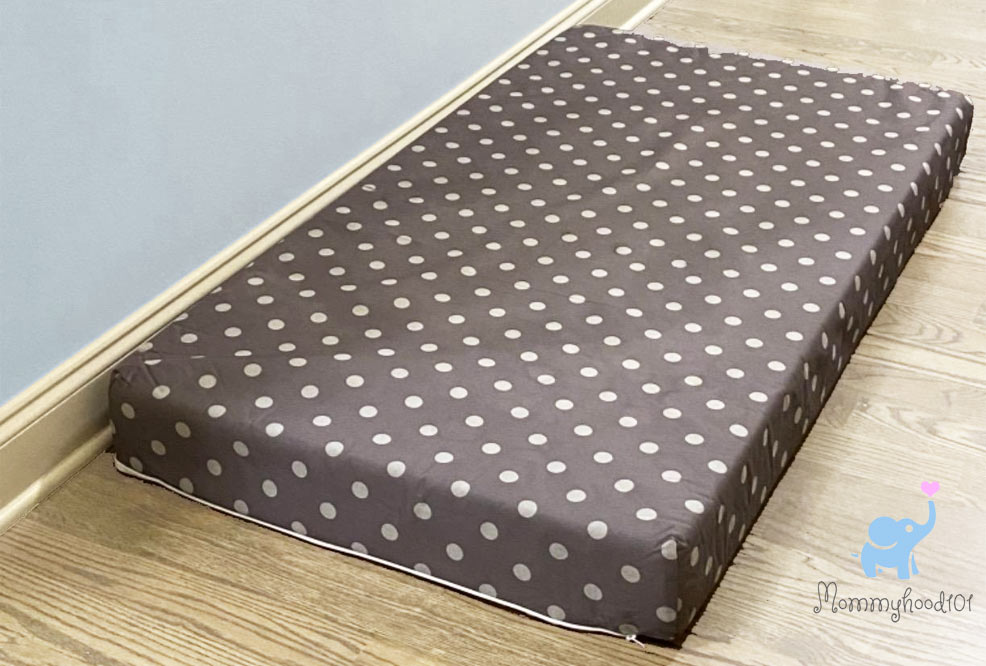 In fact, we let it lay out for about 4 days.
During that time, we were expecting the mattress to expand to about 4.75" thick (as advertised).
We were able to achieve about 4" thick: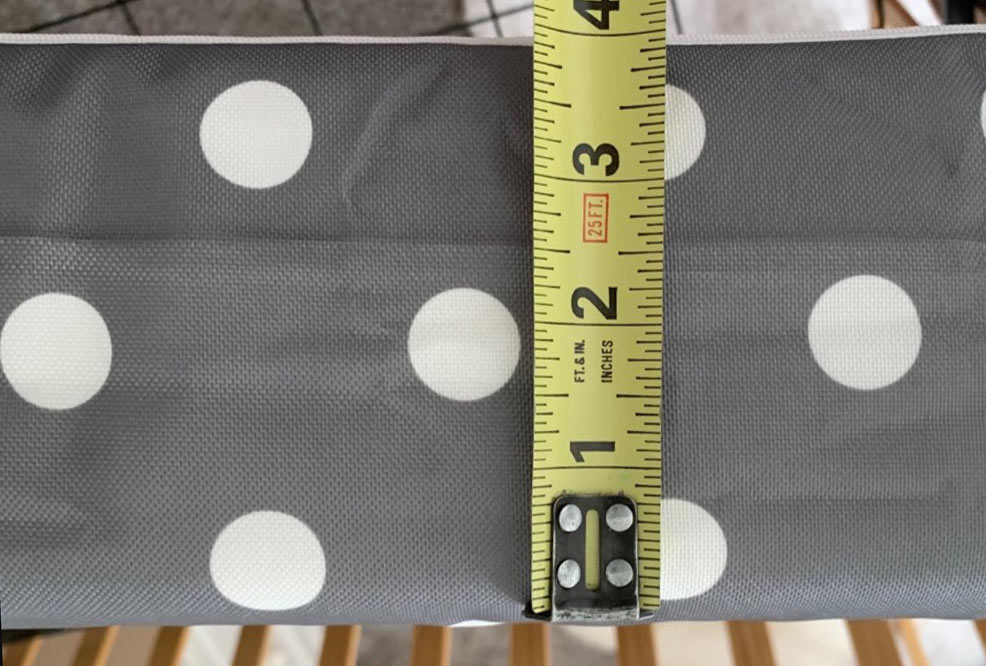 After another few days, it got up to about 4.3" thick. Still not as thick as advertised, but not a huge difference.
Pushing down on the foam with our hand, it felt surprisingly soft for an infant crib mattress. Not so soft that it was necessarily a safety concern, but soft enough to make us a little concerned about infants sleeping on it.
The foam was interesting. We wouldn't call it a memory foam by any stretch of the imagination, but it did leave a bit of an impression after pushing into it with our hand or elbow. Laying down on it, it felt reasonably soft and comfortable, but not supportive like an innerspring or mixed-media core mattress.
Checking out the label, there wasn't much information other than what we already knew: the core is made of 100% polyurethane foam and the cover is 100% polyester with a polyurethane coating.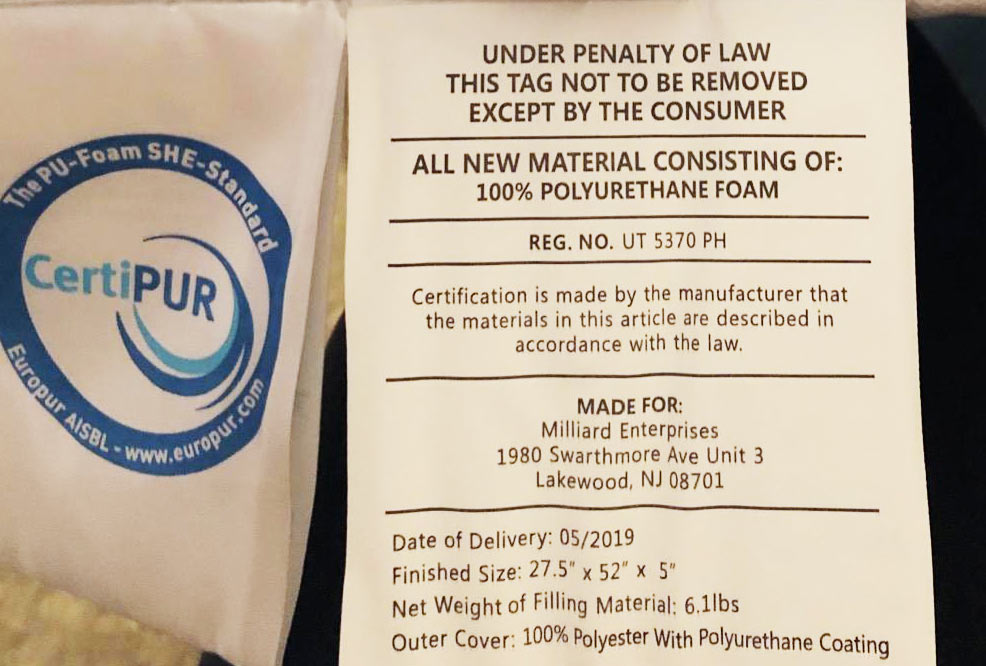 That's a lot of polyurethane.
And you know how much we dislike polyurethane foams!
The good news is that the cover is machine washable and the mattress fit very nicely into our test crib.
By our measurement, it was about 51.75" long and 27.4" wide.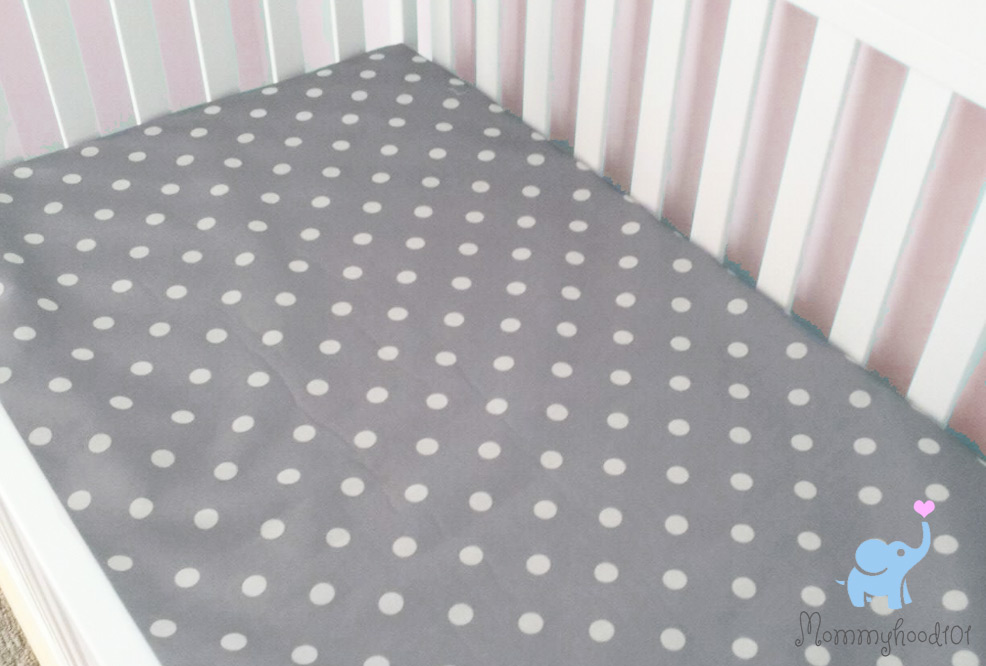 The biggest gap between the mattress perimeter and the crib was only about one finger's width, which is acceptable.
Nice fit!
In our testing, the cover was definitely waterproof, even with a lot of liquid that is left on the surface for several hours (similar to what might happen with an overnight wetting/accident). Any reviews you find online suggesting otherwise are likely from earlier than 2019 when Milliard upgraded their cover.
Milliard Hypoallergenic versus Milliard Memory Foam Crib Mattresses
The Milliard crib mattress we tested, sometimes referred to as the Milliard Hypoallergenic model, is dual-sided but not dual-firmness. This means both sides have the same firmness level. By "dual-sided" they simply mean that both sides are a suitable sleeping surface. Usually, dual-sided crib mattresses like this will be relatively firm on both sides; this is because they need to meet firmness requirements for infants on both sides.
The newer Milliard Memory Foam crib mattress, however, is dual-firmness. This means that one side is relatively firm (for infants) and one side is relatively soft (for toddlers).
The regular Milliard is about $55, and the dual-firmness memory foam version is about $85. In our opinion, all things being equal the Milliard Memory Foam version is worth the extra $30.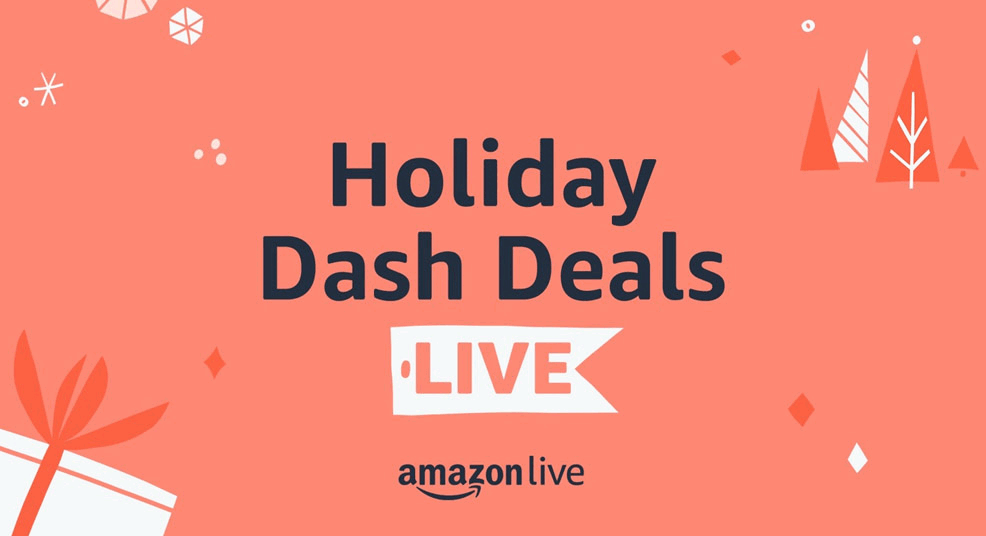 Overall, we think the Milliard crib mattress is a reasonable option for families looking for one of the cheapest crib mattresses possible. If they are willing to compromise a bit on quality, comfort, and material safety (in terms of potential emissions and contact-based exposure to surface chemicals), it's a good deal. We wouldn't expect it to last for more than one child, and it might not be super comfortable for heavier toddlers given how thin (and flimsy) the mattress is.
The Milliard crib mattress is usually about $55 (check it out at Amazon).
Some Limitations
While the low price makes the Milliard appealing to many families, we think it has many important drawbacks to consider before making a purchase decision.
First, the entire mattress core is a single block of polyurethane foam. There is nothing in the core to provide additional support, no extra layers to provide non-linear support, and the potential for harmful off-gassing from the usual chemicals in this type of foam. While your little one's skin won't be in direct contact with the foam, it does have emissions that they will be breathing while asleep.
Second, the mattress cover is made of polyester and uses a polyurethane waterproof coating. If you use an extra sheet (which we strongly recommend), your baby's skin will not be in direct contact with this coating. Again, however, it could have some volatile organic compound (VOC) emissions that are of concern. The CertiPUR-US certification helps give peace of mind, but our understanding is that nearly any polyurethane foam can qualify for this standard.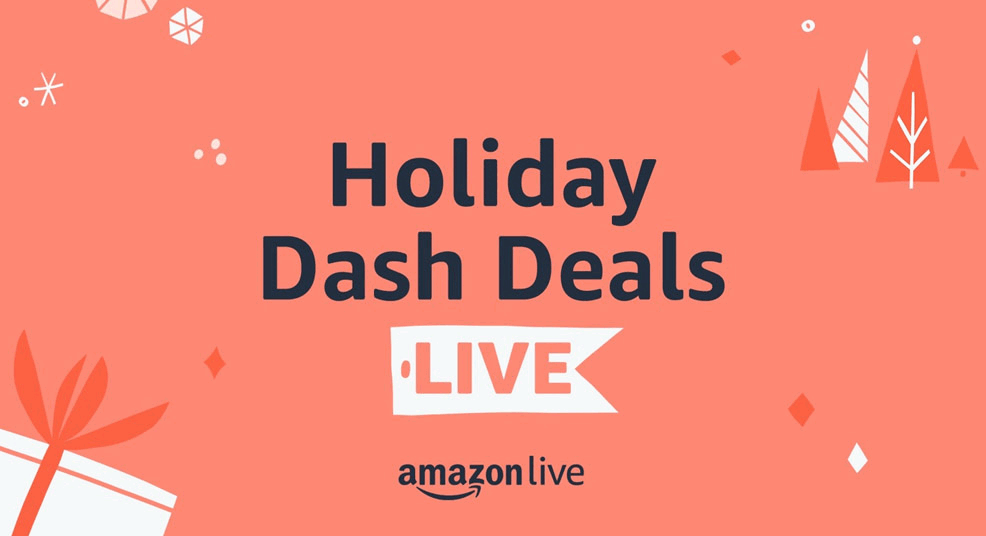 Third, the mattress is not dual-firmness, and the entire thing is relatively soft. In other words, your infant will be sleeping on a surface that might be a bit too soft for safety, and your heavier toddler may sink in a bit more than what is desired. We suggest considering the Milliard memory foam model, which is dual-firmness.
Fourth, the mattress is very thin. Ours expanded to just under 4.5" thick. This means that you can push your hand in and feel the contours of the crib's mattress support bars or metal. Not ideal, and not comfortable for a heavier toddler.
Finally, we found that the foam core gets a bit hot during the warmer months. Because foam has poor breathability, babies tend to wake up with a sweaty back. This is common for foam core mattresses, only improved by breathable batting and covers. A high-quality breathable mattress cover will help, but not solve, this situation.
A few other small things: the off-gassing odor was mild but worth mentioning, there is no edge support around the perimeter, and the cover is not dual-sided (so you can't simply flip the mattress over, you need to also reverse the cover). Another (silly) thing is that the polka dots on the cover will likely show through your sheets. Thicker and darker color sheets are less susceptible to this issue.
To be fair, we're talking about a $55 crib mattress here, so some of these cons are totally understandable.
Overall, we give it a 3.9 out of 5, and think it offers some decent capability and quality at a reasonable price.
Interested? You can check out this Milliard crib mattress here.