Delta Children Twinkle Stars Crib Mattress Review
Achieve starry sleep with the popular Twinkle Stars crib mattress.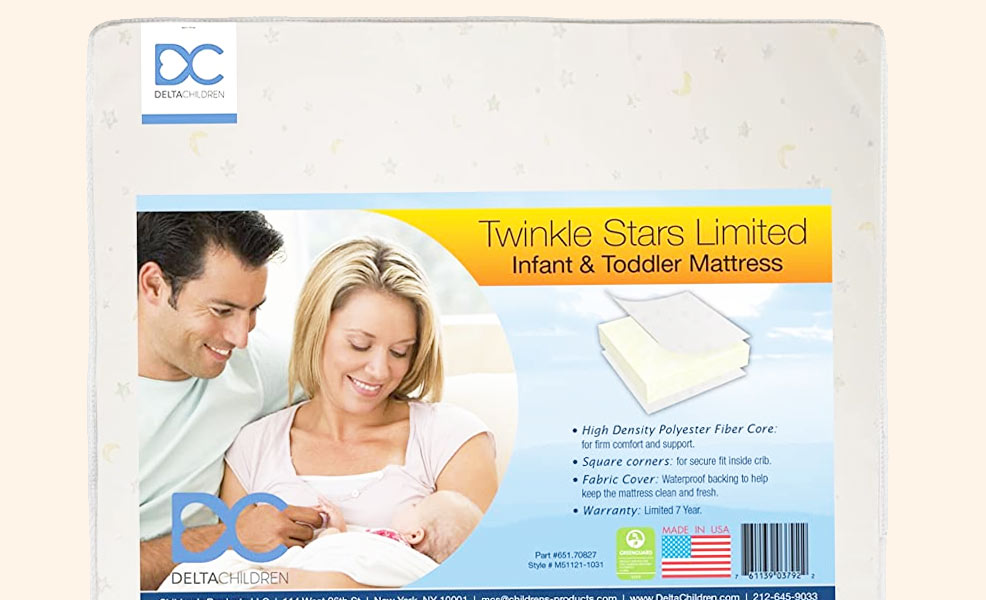 ---
Mommyhood101 independently tests and curates baby gear to help you make informed decisions. If you buy products through links on our site, we may earn a commission.
The Delta Twinkle Stars is a surprisingly cheap crib mattress, coming in at about $50. It offers a firm polyester fiber core, waterproof vinyl cover, and Greenguard GOLD certification.
It's also made right here in the USA! We got our hands on the Delta Twinkle Stars crib mattress and put it through some hands-on testing. We came away with a decent impression, but there are definitely better options out there.
Our Review
Rather than making you read through the entire article, here are the main things we liked and disliked about it:
✔️ Made in the USA.
✔️ Greenguard GOLD certified.
✔️ Polyester fiber core.
✔️ Waterproof surface.
✔️ Squared corners.
✔️ Fits crib tightly.
✔️ No foam core.
✔️ No toxic flame retardants.
✔️ Ships flat!
✔️ Very well-priced.
❌ Vinyl cover.
❌ Not breathable.
❌ No dual-firmness.
❌ A bit firm for a toddler.
❌ Gets hot in summer.
The Delta Twinkle Stars is clearly not one of the best crib mattresses we've tested, but it certainly offers decent bang for the buck!
Coming in at about $50, it leaves room to purchase a mattress cover, sheets, and maybe one of the best cribs of the year! It's not perfect, but we give it a 4.0 out of 5, mostly because it's such a reasonable deal.
Click the below image to check prices at Amazon.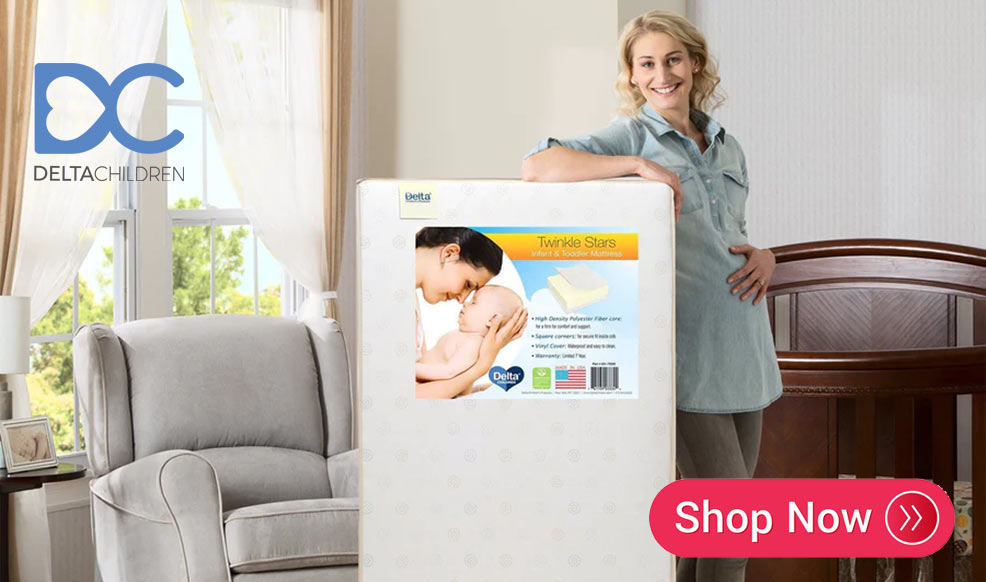 Want to learn a little more about this crib mattress? Keep reading!
Delta Children makes a wide range of baby, toddler, and big kid products.
This includes their popular line of cribs, bassinets, dressers, and nursery gliders.
They also make several crib mattresses, some of which are labeled as Delta, but many of which are labeled with the Serta and Beautyrest brand.
In general, the ones branded as Delta Children, like the Twinkle Stars, tend to be relatively inexpensive.
Coming in at about $50, this Delta Twinkle Stars is one of the cheapest crib mattresses we've ever tested. While there are a few foam crib mattresses that might be cheaper, they tend to be thinner and use polyurethane foams.
The Delta Twinkle Stars is a bit different. Rather than using polyurethane foam, it uses a polyester fiber core made from recycled (up-cycled!) plastic bottles. Not only that, but they made it a nice 6" thick mattress to provide greater support and comfort (ours measured about 5.8" thick).
It's not the first crib mattress to use this type of fiber core, with the most popular being the amazing Newton crib mattress.
But the Delta Twinkle Stars has a lot of other great features: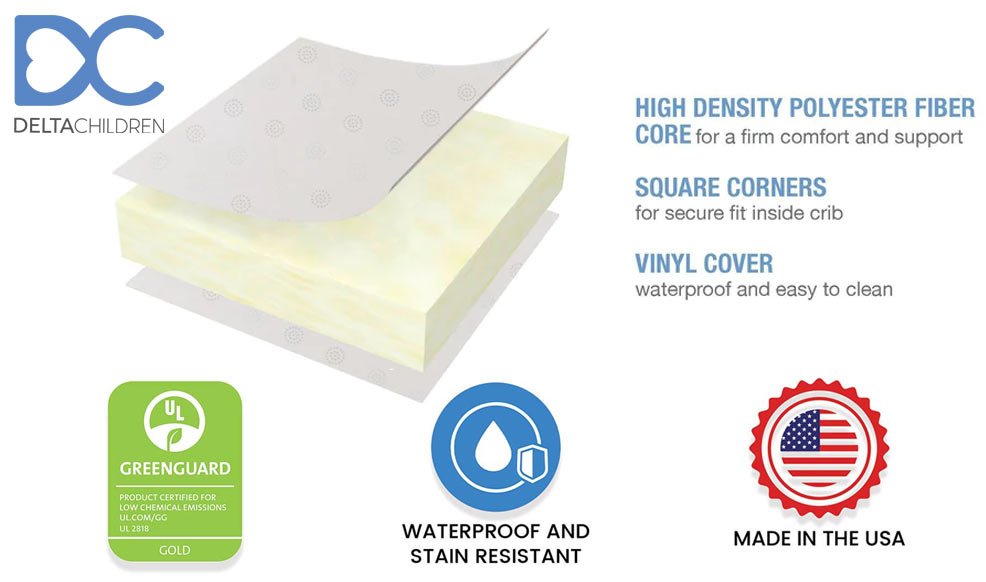 The Greenguard GOLD certification ensures that the materials used in the mattress meet or exceed chemical emissions standards, to promote clean air and your baby's health.
You probably know that we have a strong preference against vinyl mattress covers. We do realize it has some benefits - namely waterproof and stain resistant - but we do not like the risk of any chemical off-gassing.
The mattress is also made in the USA and has a 7-year warranty to protect you against any defects related to craftsmanship. Given the vinyl cover, it's like this mattress will last your family only a couple of years, especially if you live in a relatively dry area of the country (like Arizona, Nevada, etc).
Delta Twinkle Stars versus Serta Perfect Start
The Delta Twinkle Stars might seem a little familiar to those with a keen eye for detail. That's because it's the same mattress as the Serta Perfect Start.
As far as we could tell, there are only two differences between the two mattresses:
1. The Serta Perfect Start has a blue vinyl cover with sheep patterns, and the Delta Twinkle Stars has an off-white vinyl cover with circle patterns.
2. The Serta Perfect Start is priced about $15-20 more expensive than the Delta Twinkle Stars.
Unless you have a strong yearning for the sheep design, we encourage you to go with the less expensive Twinkle Stars!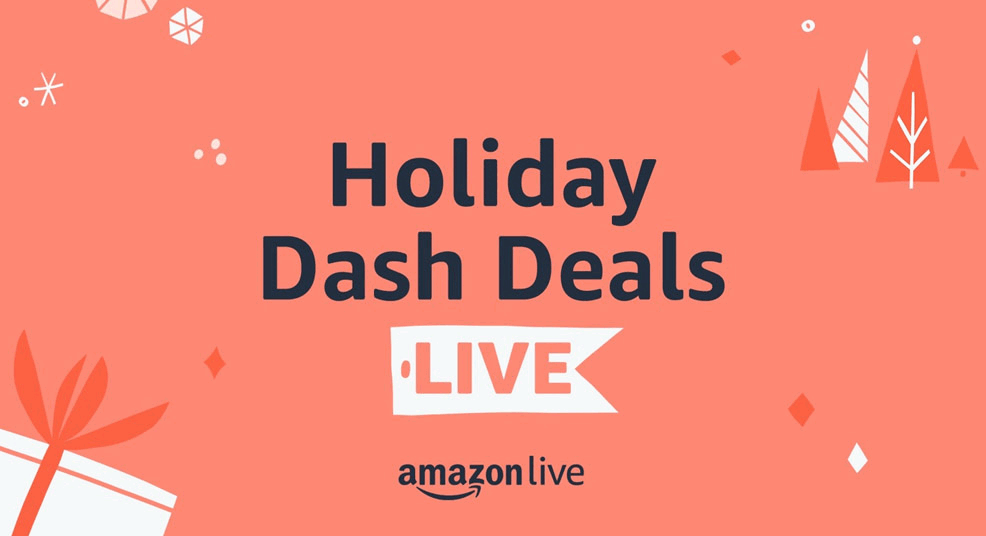 First Impressions
Out of the box (it ships flat!), there were a few things we noticed.
First, the cover is a traditional vinyl material, for better or worse.
For better, vinyl mattress surfaces are waterproof, easily cleaned, and cheap. For worse, vinyl always contains some chemicals you may not want your baby's skin coming in contact with (such as phthalates), and they can be a little loose and rippled over the core.
Vinyl also tends to get dried out and weaken over time and might be a little noisy when your baby moves around on it - making that classic crinkling crib mattress sound.
Second, the size of the Twinkle Stars fits our two test cribs perfectly, a DaVinci and Nestig crib, without excessive gaps along the sides.
Note that the cover is not removable, but it can be wiped clean. It's definitely waterproof!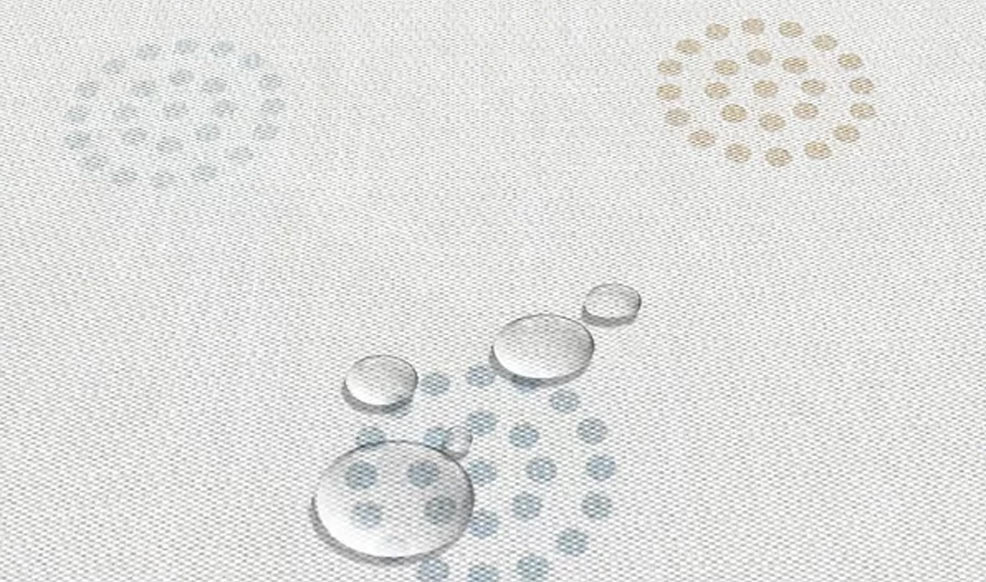 Third, the mattress did have some plastic odor when we pulled it out of the box and plastic bag. This isn't entirely surprising for a foam core (ahem, fiber core) mattress, but it's worth pointing out.
Off-gassing from crib mattresses is always a major turn-off. It wasn't especially bad with the Twinkle Stars, but definitely worse than most higher-end mattresses.
We aren't worried too much about the odor given the Greenguard GOLD certification, which means it has relatively low chemical emissions.
Finally, the mattress was a little heavy for a foam core, coming in at about 10 pounds. Innerspring coil mattresses are even heavier, but something like the Newton crib mattress (which also uses a fiber core made from recycled plastics) is way lighter.
That's not as bad as some of the bulky innerspring mattresses, but also not as lightweight as something like the Newton crib mattress (which uses a similar core as this one). Heavier mattresses can make it more challenging to flip over or change sheets, so keep that in mind when picking a crib mattress.
The Twinkle Stars crib mattress measures about 51.75" long, 27.1" wide, and just under 6" thick.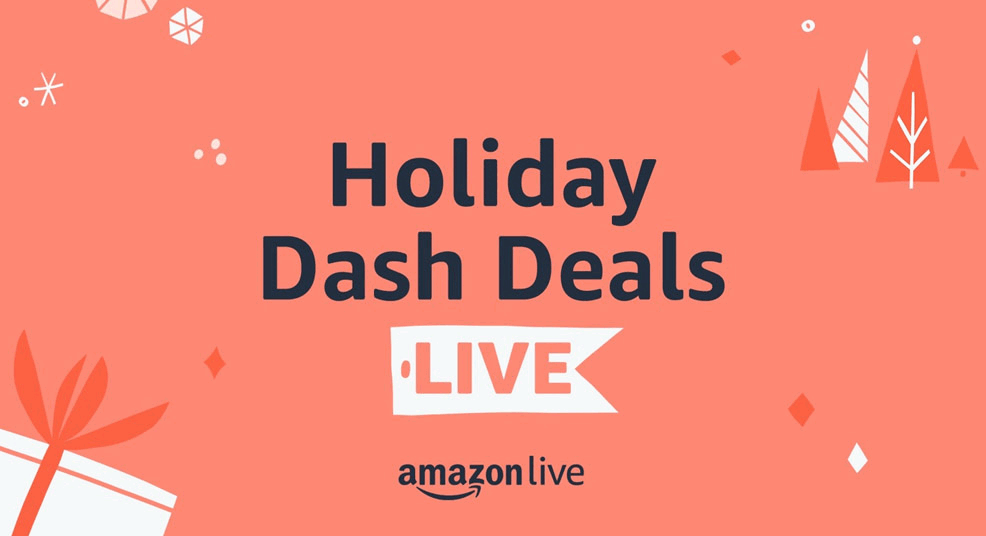 One of the nice things about a foam core mattress is that there are no bouncy springs. Your little one can't use it as a trampoline, and it's impossible for springs to break and stick out of the mattress (it happens!). Another bonus is a relatively uniform core surface without any hard spots. There are a few downfalls with a foam core, which we'll discuss in the Cons section, below.
Overall, we think the price is right with this mattress. It's no-frills, but also a good deal, offering some of the most basic mattress features that a family could be looking for. The Greenguard GOLD certification is a nice touch, and we appreciate the alternative to the polyurethane core. It definitely has some considerable limitations, which we review below, but at this price, it's a decent deal.
The Delta Twinkle Stars crib mattress is usually about $50 (check it out at Amazon).
Delta Twinkle Stars Crib Mattress: Cons
While we were impressed with the overall mattress features, including its Greenguard GOLD certifications, waterproof surface, and (very) low price, we also found some shortcomings worth discussing.
First, the vinyl cover is a bit noisy, not breathable, cannot be removed or washed (only wiped clean), and might have some mild off-gassing. Our advice is to invest in a separate mattress cover and sheets.
That will cost you another $50 or so but is definitely worth the investment.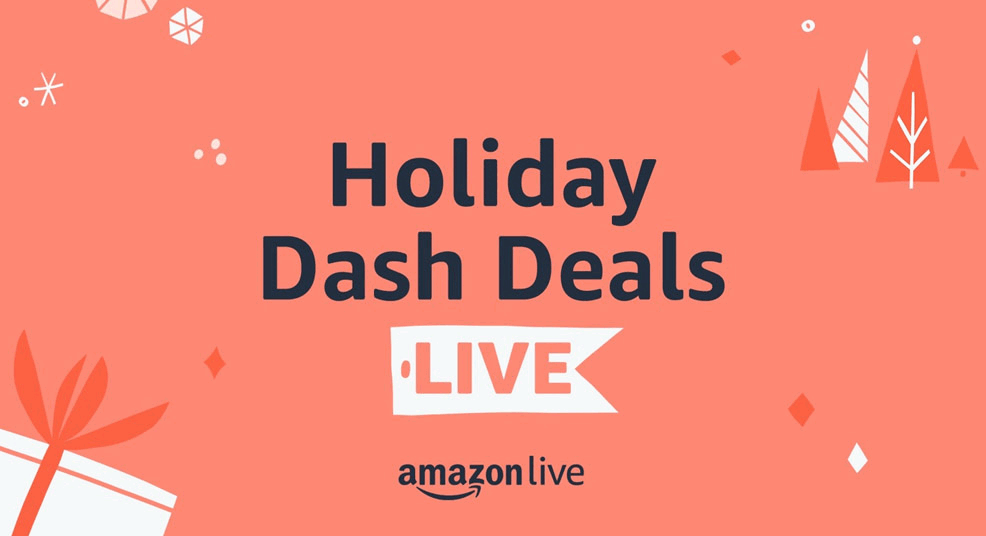 Second, the mattress is dual-sided but not dual-firmness. The entire mattress is relatively firm, which is ideal for infants. However, that firmness level might not be very comfortable for toddlers seeking a softer sleeping surface.
Finally, the foam core gets a bit hot and sweaty during the warmer months. This is due to the vinyl cover not being breathable, but also due to the thick foam core not providing any airflow. Babies will wake up with sweaty back during the warmer months, a common issue with any foam core mattress. A high-quality breathable mattress cover will help, but not solve, this situation.
A few other small things: the off-gassing was concerning, the edge support around the perimeter was lacking, and vinyl covers tended to get old and crack with time.
To be fair, we're talking about a $50 crib mattress here, so some of these cons are totally understandable. While we gave the (very similar, if not identical) Serta Perfect Start a 3.9 out of 5, we think this one is slightly better given the lower price.
Overall, we give it a 4.0 out of 5, and think it offers some decent capability and quality at a reasonable price.
Interested? You can check out this Delta Twinkle Stars crib mattress here.