Post-Baby Belly: The Best Exercises, Wraps and Bands
Bounce back to the old you with these post-baby belly exercises and tools.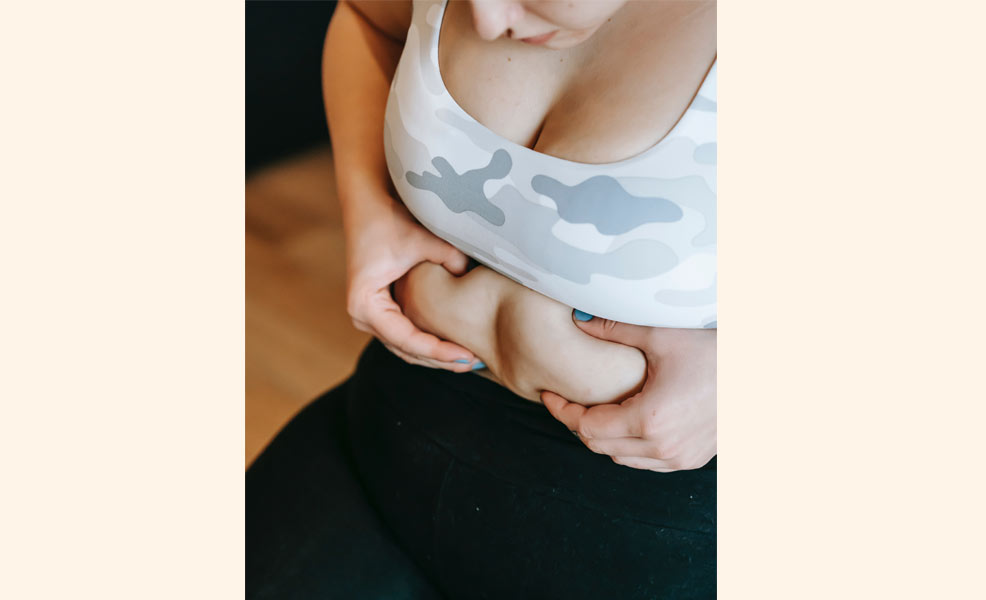 ---
Mommyhood101 independently tests and curates baby gear to help you make informed decisions. If you buy products through links on our site, we may earn a commission.
Congratulations on making it through months of carrying around an ever-growing, tummy-stretching, little love bug! You're probably realizing that your tummy doesn't look quite like it used to.
Loose saggy skin, stretch marks, and the added weight from pregnancy can put a real damper on your mood and keep you from slipping confidently back into that favorite pair of jeans.
Well, we know a little something about the post-pregnancy belly, so we've got you covered! We pulled together the best post-baby exercises for slimming your tummy and strengthening your core, and the best tummy bands and wraps for those of you looking to help keep things out of sight for a little while.
In general, we don't recommend dieting immediately after having a baby unless you're not breastfeeding. You want to keep those nutrients coming in for your little one to take advantage of. Whether you choose to exercise only, or to exercise and use a belly wrap or band, it's most important to always do what you're comfortable with, what your doctor approves, and what makes you feel your best!
Best Tummy Exercises for New Moms
We pulled together the best tummy and core exercises, along with some of the best products currently on the market for helping you work your tummy, butt, and thighs, burn calories, and have fun. We tried all of them ourselves to make sure they're effective at working the core muscles. And we've kept our recommendations all under $200, so you won't find any giant home gyms or costly treadmills in this review. What you will find are some fun solutions to get you up out of the glider and moving your body! Baby napping? Take 10 minutes to work your core while barely breaking a sweat!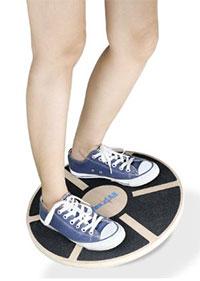 The Yes4All Wooden Balance Board. The Yes4All board is an awesome 15.75" diameter wobble disk that challenges your balance while exercising and training your core, butt, and thighs. It's built with high quality wood with a great non-skid standing surface, and is attached to a sturdy 2" high beveled base. Here's how we use it: place it in front of the TV or pop on the headphones (check out our review of the awesome volume-limited BuddyPhones headphones for kids!) with your favorite music and do the twist! You can tip it side to side in a slow or fast rhythm, swivel it side to side like you're doing a shimmy-shake dance, or try to get it to spin all the way around clockwise and then counter-clockwise. You'll soon realize that keeping your balance on the wobbly board while twisting your body around provides a fun and pretty intense exercise! After a few minutes you'll be feeling the burn in your upper legs and tummy, and might even be breaking a sweat! Works on carpet or hardwood floors. Do it for about 10-15 minutes and you've got yourself an awesome workout, do that every day or two and you've got yourself a trim, toned tummy and thighs! Want something like this, but bigger and with some great demonstrations and a DVD? Then check out the Bosu System, below. We've seen the Yes4All online for about $30.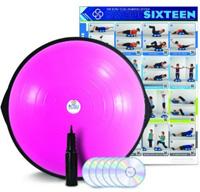 Bosu Total Balance Trainer System . For those looking for a balance trainer that includes all the instructions you need in order to get going into a routine, then the Bosu System might be perfect for you! It includes the Bosu balance board (similar to the Fitaboo but larger), 2 DVDs with tons of great exercise routines and demonstrations, and a pump to blow up the ball on the bottom. That's probably the only unfortunate aspect of the Bosu, is pumping up the ball when it comes - it took us about 5 minutes with the included pump, but that's about half as long as it took us to pump our larger yoga balls! Once it was pumped up, we never had to refill it with air for several months. We were able to get some awesome cardio workouts on here, and really use several of the included workouts to target those tummy areas! Our favorite exercises involve sitting or laying on your back and pulling your knees to your chest, all while attempting to keep your balance without putting your hands on the ground. It's a great challenge and you'll get the hang of it after a few attempts. When you first start using it, we suggest being close to something to grab onto (like a door frame or wall), since it will take you some time to gain the balance skills especially if you're doing a standing exercise. Increase your strength, train your balance and flexibility, and work up a great sweat, all at home and for only about $110 . Not bad, and certainly one of the best sub-$200 training systems on the market.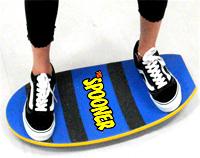 The Spooner Balance Board. The Spooner is marketed as a kid's toy, but we've been using it for years as an awesome exercise balance board! Use it for the first 6-12 months after having your baby, then give it back to your kid when they're about 2 or 3 years old and they will have a blast with it. That's money well spent! The Spooner is made out of thick but slightly flexible plastic and can support any adult, as long as they're under the weight limit of 50,000 pounds! At higher weights over 300 pounds (we tested it), it basically just flattens out. Just like the Fitaboo (above), you can place this in front of the TV or use it while you're listening to music. Shimmy yourself back and forth, rotate it around clockwise and counter-clockwise. Whatever you do, just keep moving! A few minutes into it, you'll start feeling the burn in your thighs, butt, and tummy muscles. It has traction strips on the surface to keep even bare feet firmly planted, and it can be used on carpeted or hardwood floors. It's a great, fun workout that doesn't break the bank and doubles as a kid's toy later down the road. We've even used it at work while typing at a standing desk. We've seen it online for about $50 in several colors.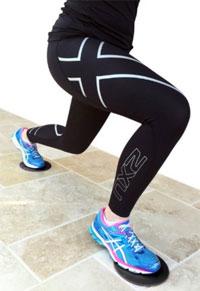 Elite Core Sliders. The Bosu, Fitaboo, and Spooner use a similar premise, to keep you balancing while standing, and providing the opportunity to challenge your balance while also getting a great workout. These Elite core sliders are a bit different. They are small low-friction disks that you stand on, allowing you to do pretty intense leg and abdominal workouts by pushing your legs back and forward in the same way you'd do lunges at the gym. While it doesn't help with balance per se, and it works the legs a bit more than the abs, it's still an excellent tummy workout that will get you feeling the burn in very little time! These particular sliders are great because one side is carpeted (for use on hardwood floors) and the other side is smooth (for use on carpeted floors), so they are more versatile than many others on the market. They are also better built, we've been using ours for a few years now and they are still in great condition. They are also much more compact and lightweight than the Bosu, Fitaboo, or Spooner, and fit easily into a suitcase or carry-on when traveling. When you receive them, you will also be given information on how to access free videos online showing you a variety of great exercises that you can start doing in minutes. You can get these online for about $20.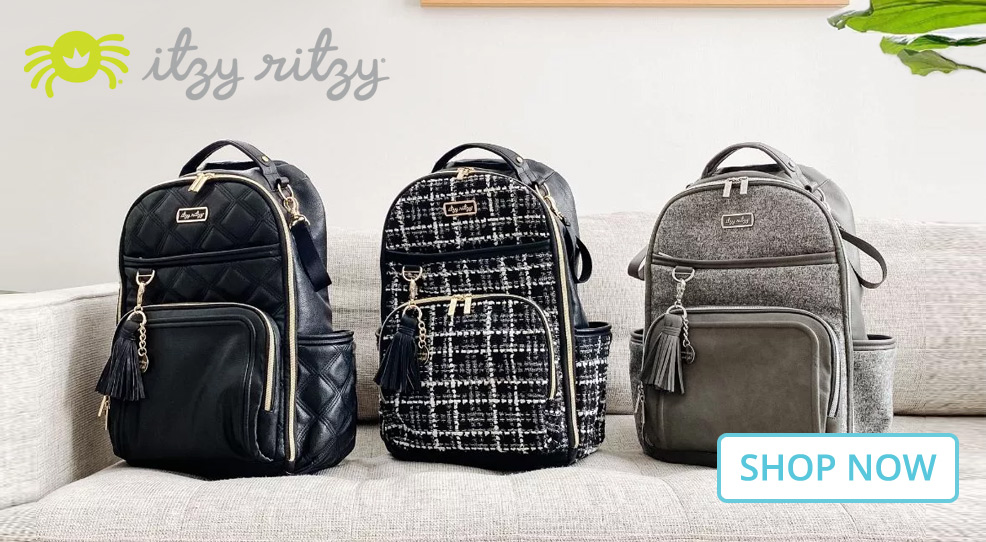 Best Belly Bands and Wraps:
In addition to working out those tummy muscles, many moms want a quick fix that will keep them feeling great and fitting into some of their favorite outfits on Saturday night. And that's where the belly bands and belly wraps come in. As unattractive as a girdle might sound, belly bands actually do a great job of hiding that extra belly for those first 2-3 months when the situation down there isn't looking its best.
Not only do they work to tidy things up for that first evening out, but many people also claim that they make losing belly fat faster and easier. We're not sure whether that's true or not, but we definitely know if it makes you feel good about yourself, we highly recommend it!
There are a few things to consider when choosing the right belly band. First, you want to buy one of the slightly pricier ones because they tend to be thinner, less bulky, and make out of higher quality stretch material that won't make you uncomfortable or leave you with a rash. Second, you may want to buy more than one color: one for under darker clothing (like black), and one for under white clothing. Third, don't bother getting one that doesn't go cover a lot of vertical space: you want it to start low and end high, otherwise it just squeezes things out of the top or bottom, and you might not like how that looks. Below are the best belly bands we've found.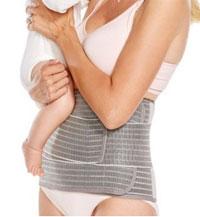 Mamaway Post-Partum Belly Band. This is the best, and one of the more expensive, belly bands on the market. It uses very high quality and comfortable stretch materials, and goes on a comes off very easily. Unlike many others on the market, the Mamaway uses two awesome custom-positionable compression straps that allow you to target your body's trouble areas. Each woman's body is unique, and this lets you target in a really innovative way. Another great feature is that it uses thin bamboo charcoal fibers to absorb sweat and odor, and prevent bacteria. Sounds gross, but every new mom sweats when lugging around their baby! It also does a great job of not riding up throughout the day, and is machine washable (in a laundry bag). And we didn't experience any issues with it shrinking in the wash. Overall, this is an awesome belly band that is highly deserving of the #1 spot on our list!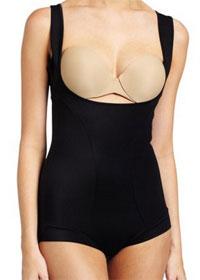 Maidenform Flexees Women's Shapewear Romper. If you experience any issues with something like the Mamaway riding up, or you just want some extra support without too much straps and tightening, then the Flexees are be a great bet. These rompers support from the crotch all the way up to the top of the tummy, held up with wide but thin shoulder straps. No more adjusting and tightening straps, or worring about something pushing up and out, this body shaper covers all the trouble areas and is extremely well reviewed. Not specifically designed for post-partum use, but definitely useful for women looking for just a little bit of help without any bulkiness under the clothes. If you're the type of person who likes to wear form-fitting tops, then this is a great solution for you! It also lets you wear your own panties and bra, so if you're using a nursing bra that's a really convenient feature. The elastic is both highly flexible and comfortable, and the shoulder straps are wide and soft. Also, it has super convenient crotch area hook closures (just like a bra), so using the bathroom is a breeze. Note that because these serve as a second layer, they can get a bit sweaty on the warmer days, so you'll need to wash it every couple days to keep things fresh. We found it online for about $25-50 depending on colors and sizes.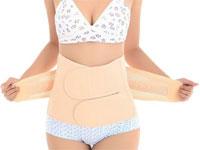 Trendyline Women Postpartum Girdle. This is a less expensive, but very good option for those looking to only spend about 15 bucks on a tummy shaper. Like the Mamaway it uses velcro straps (in this case 4 of them) to tighten up the tummy, and seems to be very well made. It is not the same high quality fabric, however, and it does not do a good job keeping sweat and odor under control. It also doesn't cover quite as much as the Mamaway, and tends to be a bit bulkier under the clothes because two of the straps close right up front and stick out a bit at the edges. But, did we mention it's only about $15!? Definitely worth it if you're looking to spend less money and want something quick and dirty, especially if you're trying to help hold things together after a c-section.