The Best Activity Centers and Exersaucers - 2023
Foster creativity and development in a safe and entertaining exersaucer.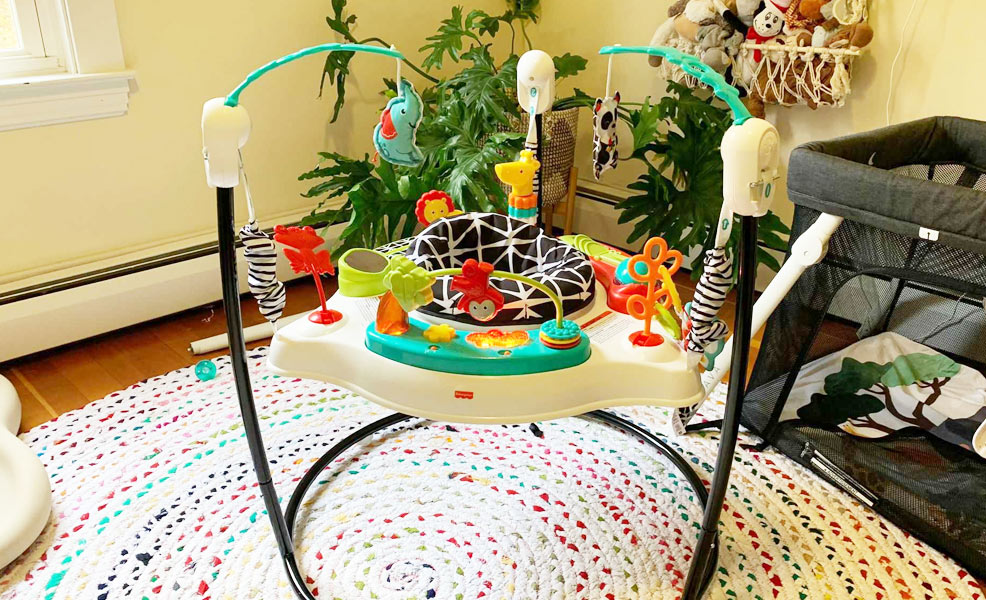 ---
Mommyhood101 independently tests and curates baby gear to help you make informed decisions. If you buy products through links on our site, we may earn a commission.
An exersaucer gives your baby a secure place to jump, spin, play, observe, and explore while stimulating their senses, motor system, and development.
Exersaucers and activity centers vary widely in function, quality, and price, making it challenging to find the perfect option for your family!
Just for fun, what does ChatGPT-4 think is the best exersaucer!?
"Based on customer reviews and expert opinions, I strongly recommend the Fisher-Price Rainforest Jumperoo. This popular exersaucer has a rainforest-themed design with toys and activities to engage your baby's senses. It also has a 3-position height adjustment and a machine-washable seat pad." -ChatGPT-4
We don't always agree with robots, but they hit the nail on the head!
Fortunately, we've been reviewing activity centers and exersaucers for over 10 years, and if we made our own, here is what it would look like:
✔️ Weight limit at least 25 pounds.
✔️ Adjustable height.
✔️ Rotating seat.
✔️ Comfortable seat pad.
✔️ Washable seat cover.
✔️ Removable & washable toys.
✔️ Primary colors & patterns.
✔️ Optional music & sounds.
✔️ Durable and rugged construction.
✔️ Wide tray to prevent reaching.
✔️ Folds for storage.
✔️ Lightweight, under 20 pounds.

Of course, you will also want the exersaucer to fit your style (color, patterns) preferences and meet your budget constraints. That's a lot to ask, and very few models meet the needs of picky parents! Below are the top 5 baby exersaucers we found, followed by in-depth reviews of about 10 different options.
This year's reviews include both long-standing models and many new and popular activity centers that have recently hit the market. We scoured the reviews, read up on recalls, asked over a dozen moms, conducted hands-on reviews of 16 different models, and compiled all the information here in our list of the best baby exersaucers and activity centers of the year. If you are looking for an exersaucer with wheels, check out our reviews of baby walkers.
Full disclosure: Some of these activity centers, including the Infantino and Oribel models, were sent to us as free test samples by the manufacturer.
The Best Baby Exersaucers of 2023!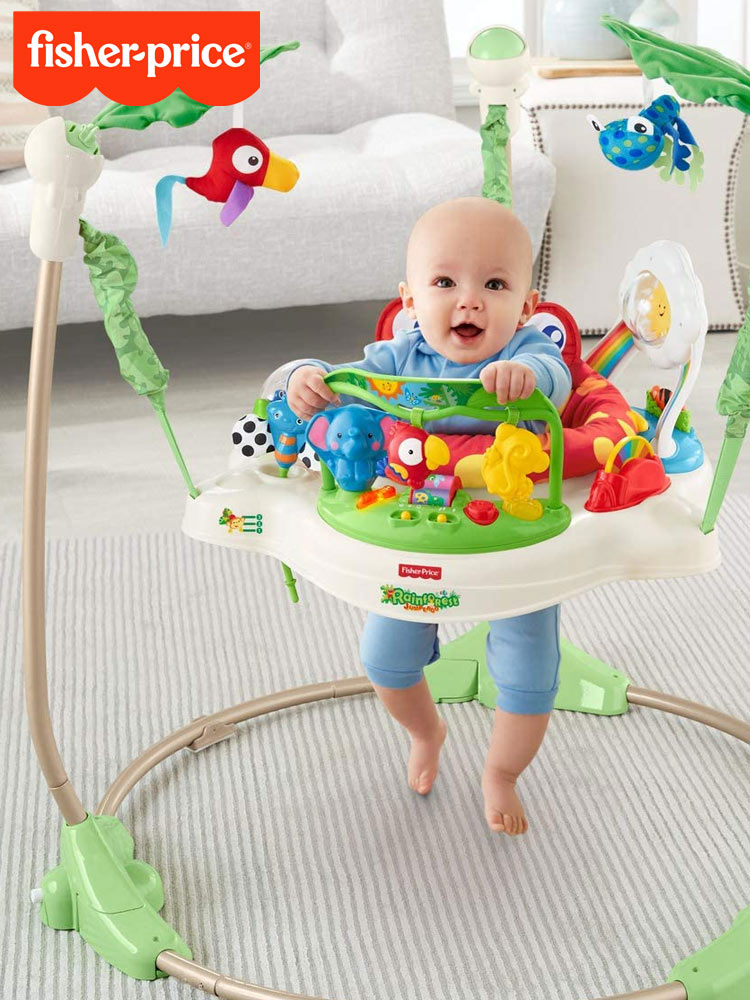 About $100, and a #1 best-selling activity center. This activity center is very similar to the Baby Einstein (below). Like that unit, the Jumperoo adds a "jumper" with hanging elastic supports that provide a fun jumping/bouncing experience for your baby. The Jumperoo is definitely one of the bounciest activity centers we've tested, allowing your baby to truly explore movement and go a little wild! In addition to the jumping, they'll be surrounded by visually stimulating toys, including hanging birds, a spinning sun, and swinging animals. Right up front is an array of buttons and lights that are activated by bouncing movement or touch, along with fun zoo animal sounds. The seat itself can rotate 360 degrees to help your baby reach everything, and it has a built-in teether toy and a tray for snacks. Here is a video of our 4-month-old test baby loving his time in the Jumperoo!
In our testing, we found that the Jumperoo is easy to assemble (about 10-15 minutes), and very sturdy and well-constructed. It's a bit lighter than most other traditional exersaucers and takes up a relatively small footprint in your home. Also, when things happen (and they always do!), like a ripped seat, Fisher-Price is super responsive to warranty repairs or replacements. Other great features include the adjustable height for shorter or longer legs, adjustable volume for the lights and sounds, and the removable and machine washable seat. For more details, check out our full hands-on Jumperoo review here! Limitations? Just a few. If your baby is smaller and lighter than others (like in the 30th percentile for height and weight), their little legs might not be able to reach the floor. The height is adjustable, but even at the lowest setting your little baby may not stretch the elastic enough to help their little legs reach the floor. We tested it with a 4-month-old baby who is 60th percentile for height, and we needed to fold a little blanket and place it on the floor underneath - it worked just fine, but keep that in mind if you've got a little one! You can also stack a few play mat tiles underneath their feet. Overall, we think this is a great jumper activity center, and definitely worthy of its spot at the top of our list! Who else loves the Fisher Price Jumperoo? Our friends at Babylist, What2Expect, and The Bump all call it a top pick! Impressed? You can check out this Fisher Price Exersaucer here.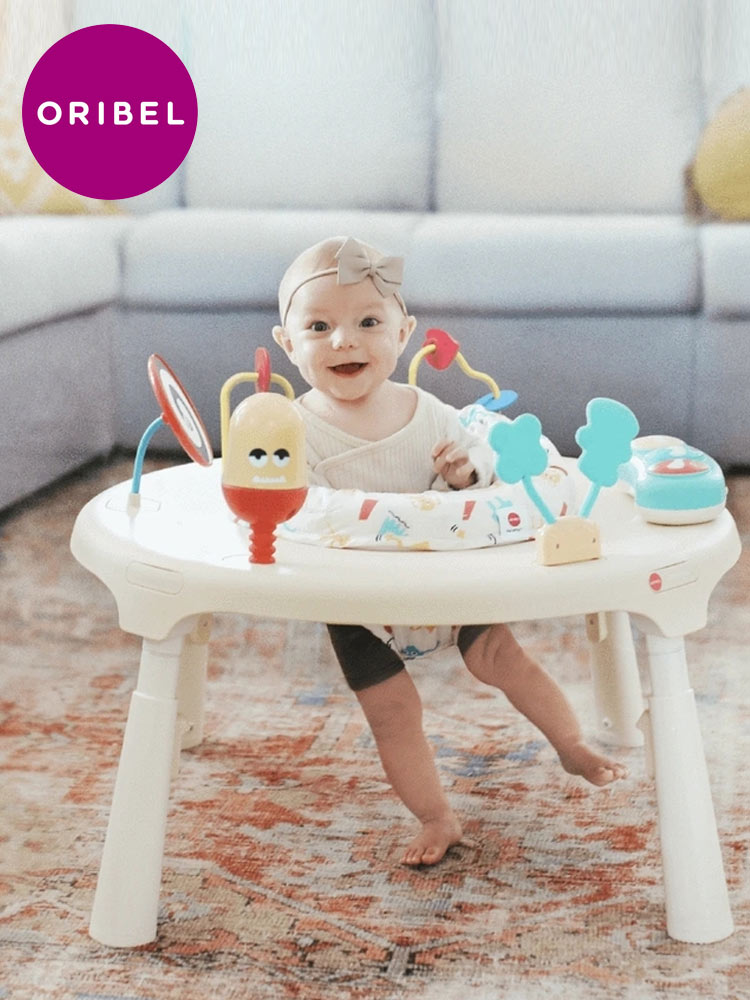 About $150. This is another exciting addition to our list, with great versatility (4in1), high quality, flexibility, and durability. We tested this activity center for the first time last year and were really impressed with it! We loved the modern styling, simplicity, and features that help both babies and parents alike. Let's start with the features. First, this 4-in-1 exersaucer can be used in 4 ways: first, you can quickly fold up its legs for easy storage, and in this configuration, we were able to slide it right under our bed after popping off the toys. Second, you can use it as the activity center itself, by snapping the toys onto the top and unfolding the legs. This was definitely the best part! You can adjust the leg height about 5" up and down, which means that you can get it as low as about 13" from tabletop to floor, and as high as about 18" from top to floor. That adjustable height is key for making sure this can be used across a wide range of baby heights (and leg lengths!). The toys are simple but fun, and they use a cool pop-on/off design that lets you swap them into different positions; for example, you can put 2 toys on for a few days, then swap out 2 different ones to help keep the baby's attention and interest. The seat spins around 360 degrees, and we found it to be very sturdy on both hardwood and carpeting. The seat itself seems to have a little bit of elasticity to it, which means that the baby can bounce up and down a bit for entertainment.
Once your toddler is walking, you can remove the seat and toys and put the included cover over the seat-hole to turn it into a play table. This table can be used as a stand-and-play table, or you can purchase separate chairs to use it as a sit-and-play table. They also sell a cool art paper roll dispenser separately as well, which we also liked. There are a lot of great features here, but what it doesn't have are toys that require batteries or that make lights and noise - we prefer this type of relatively simple exersaucer ourselves, but we'll leave that up to you to decide what you'd like for your baby. Downfalls? Not many! One thing to mention is that when it's used as a table, it does have grooves in it from where the seat was and where the toys were, which means that it's not a perfectly smooth surface for coloring and art. Overall, this is an excellent exersaucer made by a great company with a growing reputation for safety and reliability. Highly recommended! Who else loves the Oribel activity center? Our friends at Babylist, WhatToExpect, and The Bump also call it a top pick! Impressed? You can check out this Oribel PortaPlay here.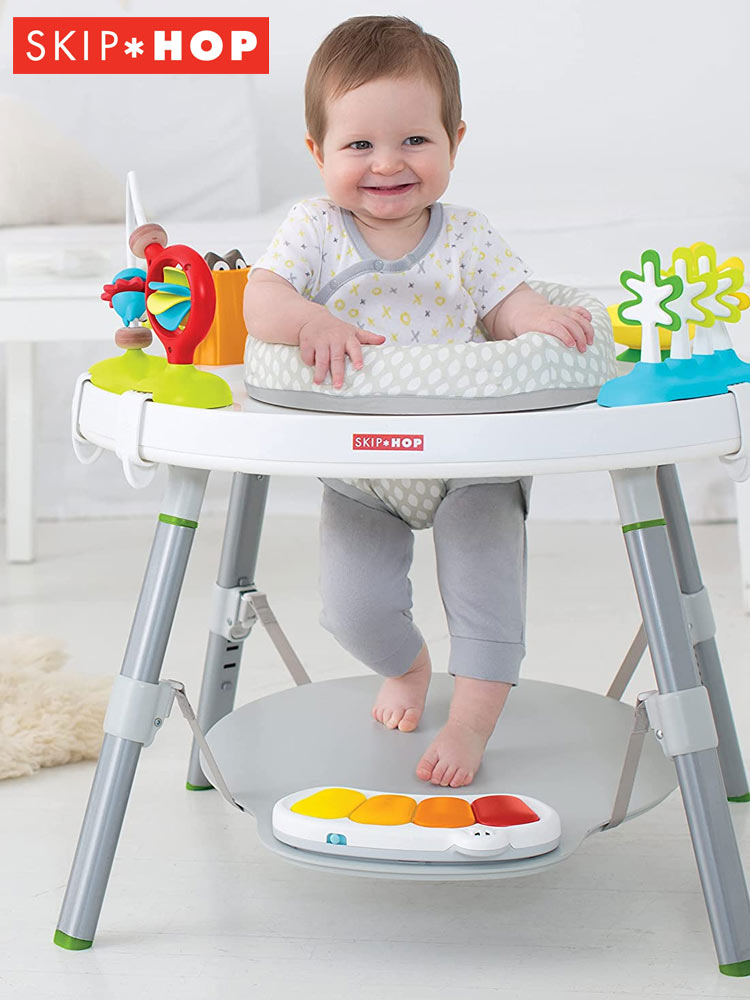 About $130. Skip Hop makes high-quality, simple, durable, and stylish products that are nice to look at and practical to use. This exersaucer and activity center is no exception. It features a comfortable rotating seat, an adjustable-height foot platform, and an adorable array of colorful and functional toys. The cool thing about that foot platform is that it can be adjusted up and down to suit your baby's height, so you won't run into the issue of your baby bouncing around freely with their feet not reaching the floor (like when shorter babies use the Jumperoo). Down on that foot platform is a little foot-operated keyboard that, if your baby steps on it, will light up and play some tunes. A little discovery window is positioned above it so babies can look down and see what their little toes are up to; the keyboard can also be removed from the foot tray and placed right onto the discovery window for use with the hands.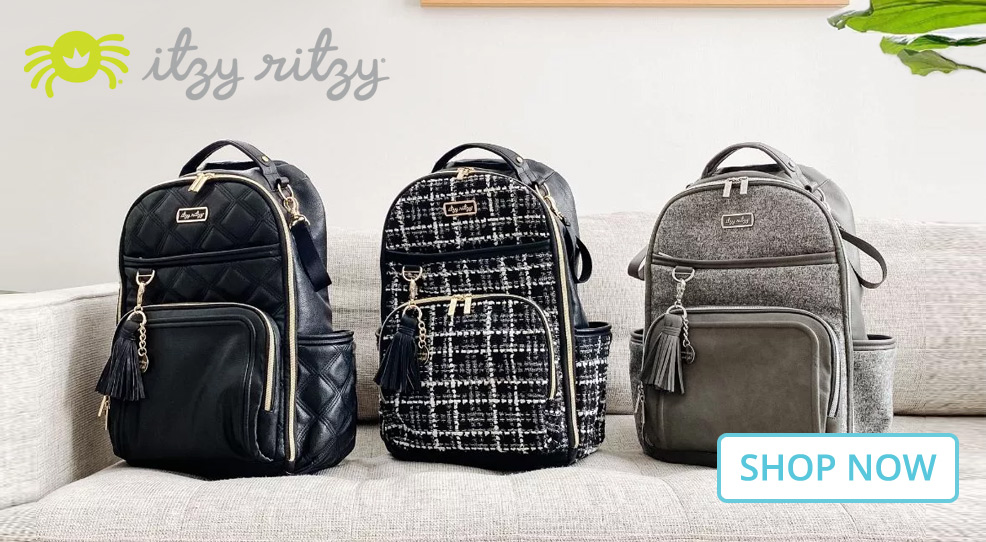 The toys were great for a few reasons: we loved that they were relatively simple, with bright primary colors, and fun spinning, flipping, and popping with some nice multisensory feedback without overloading them with a ton of crazy toys. The toys also use a clever clip-on/off mechanism so you can remove them for washing and then just clip them back on wherever you'd like to position them. And it's really versatile. It starts off as an activity center for seated play, then can be used for cruising by removing the foot platform and using it to cover the seat, and then as a table for toddlers. In our testing, we really loved this activity center and didn't find any major gripes with its functionality. It doesn't fold up, but it was just a couple of minutes to pull the legs off for relatively easy storage. The only thing that would be nice is to maybe make the foot platform a bit spring-loaded so the baby can bounce a bit more. Overall, this is an excellent and versatile activity center that your baby is sure to love! Who else loves the Skip Hop activity center? Our friends at Babylist and The Bump consider it a top pick! Interested? You can check out this Skip Hop Exersaucer here.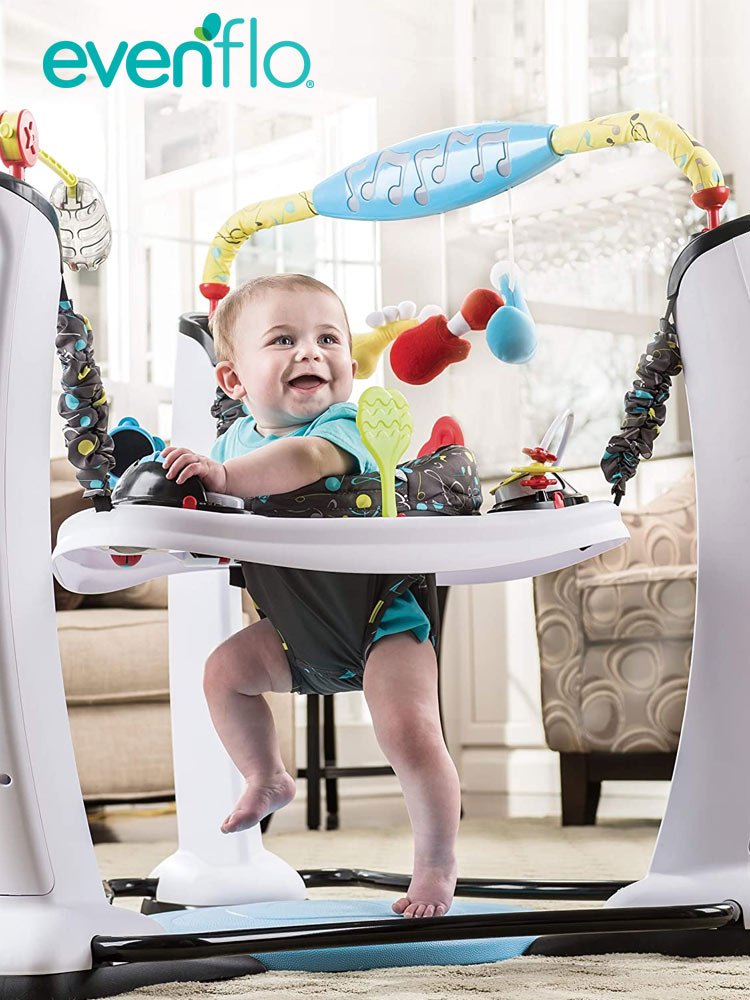 About $100. Evenflo has a few varieties of exersaucers, they have the Fun, Double Fun, and Triple Fun versions, with the exersaucers getting increasingly busy and wild as you increase in the "fun" level. For those looking for something a little simpler with less sensory stimulation for their baby, this is one of Evenflo's newer and best options. There are a lot of great features here: the seat rotates around 360 degrees to give your baby access to all of the activities, the activities are simple and high quality including good cause-effect relationships and sensory feedback (we loved the elephant noise!), and some toys can be removed and taken with your baby. It also has an awesome height adjustment with 3 different levels; with smaller babies, you can use the lowest setting which lets the seat sit down lower to the floor, and then as your baby's legs grow you can use the higher settings to accommodate the change. Height is a big challenge with most exersaucers, and this is a great feature. The seat fabric is removable and machine washable, and the fabric is soft yet durable enough to withstand some serious bouncing!
In our testing, we did find that the seat opening was a bit too large in diameter for smaller babies around 4 months of age, and we had to use a folded blanket or towel up front to support the torso a bit better. There also is no lock-out to prevent bouncing if you want some calmer play, though we did realize that you can put the seat on the highest height setting and prevent baby's feet from touching the floor in the first place. There are some drawbacks to the removable toys: when the toys get pulled off, they can get lost or dirty, or chewed up by your pet! Some parents might find that feature a nuisance. Others, however, appreciate this feature because it makes it much more convenient for cleaning the parts their baby chews on. Also, it uses six AAA batteries to power its sounds and music, though you can always just run them dead and leave them if you want some serenity from the repetitive tunes! Overall, this is an excellent option for relatively sleek and simple exersaucers with some great features. And the price is right! Who else loves the Evenflo Jump and Learn activity center? Our friends at Babylist, WhatToExpect, and The Bump consider it a top pick! Interested? You can check out this Evenflo Exersaucer here.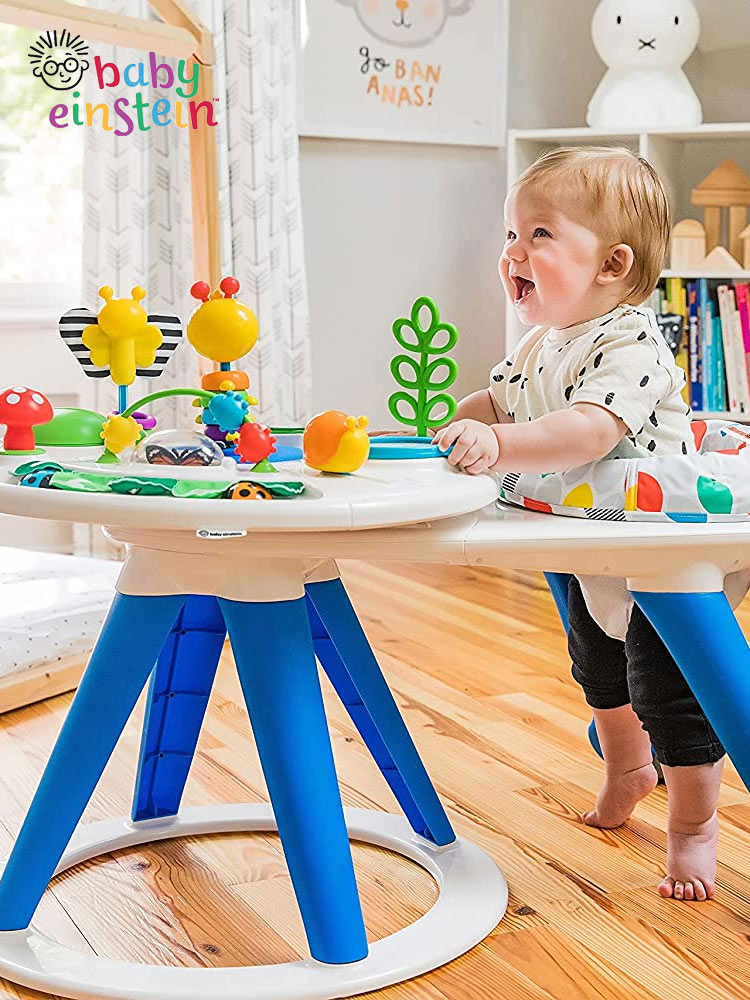 About $100. If you're interested in a seated baby walker but concerned about safety, the Baby Einstein Around We Grow might be the perfect option for your family! The Around We Grow combines an activity table with a clever rotating seat that can spin around the entire activity table as your baby learns to scoot. When they begin walking on their own, you can remove the seat entirely and use it as a standing activity center, and then you can remove the toys and use it as an arts and crafts table. That's great versatility! The activity center itself has four fun components: a colorful piano and flip-book that plays fun animal sounds, a set of leaves that lift up to reveal little countable critters, a peek-a-boo toy and rings, and cute little bugs in a pretend petri dish. The seat height can be adjusted to fit different leg lengths and the seat itself can be removed and machine washed. Overall, we love the concept and versatility!
In our testing, we thought the assembly was more complicated than most other exersaucers and activity centers, owing largely to the modular toy table design. After scratching our heads and starting over a few times, we were able to assemble it in about 20 minutes. The entire activity center is relatively large, about 36" across, but relatively lightweight. It requires 3 AA batteries, which were not included. The seat height can be adjusted across three levels which made it possible for even our smallest test baby's legs to reach the floor (a 6-month-old at the 60th percentile for height). The youngest test baby didn't figure out how to scoot it around the center table, but the 10-month-old baby had a total blast! The seat rotates smoothly around the table and works very well on thin pile carpet, hardwood, or tile floors. On thicker carpets, there is too much friction for most little ones to get it moving. The toys were high quality and our kids thought they were tons of fun - the piano was an especially big hit! We only ran into a couple of small challenges. First, the assembly could be more intuitive or better explained. Second, the entire activity center tended to move across some floors (hardwood, tile) when our test babies got more aggressive with it. Be sure there is no risk of open stairs or other hazards, just in case it wanders around more than you'd expect. Note that a play mat fixes that issue. Overall, we love the concept and think this is an excellent option for parents who want an exersaucer and walker without purchasing two products, and without the safety risks. Highly recommended! Interested? You can check out the Baby Einstein jumper here!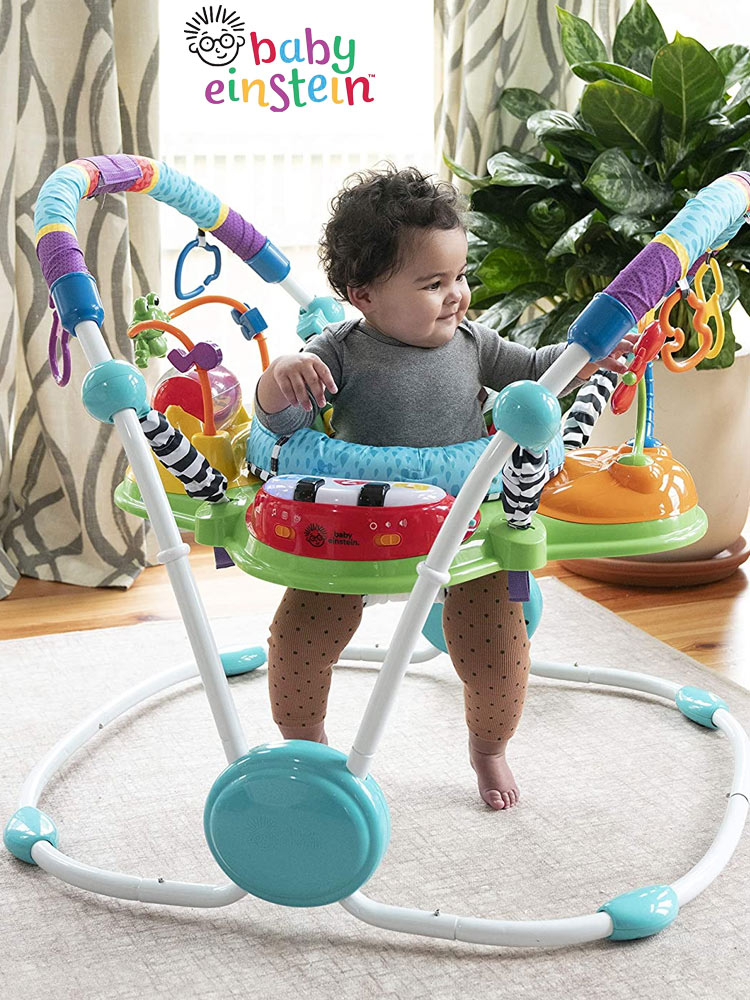 About $100. Similar to the Evenflo and Jumperoo options, this activity center adds a fun "jumper" with elastic supports that provide a fun jumping/bouncing experience for your baby. In our experience, babies really like all the different activities on it, that they can spin around 360 degrees to reach all the different toy stations, and that it has a fun electric piano. It also has extra loops where you can attach additional toys - like your baby's favorite rattle or stuffed animal, and its music isn't as loud and obnoxious as some of the Fisher Price options. It also has easily adjustable height so you can lift it up slightly as your baby grows taller, and a small tray area where you can place some finger foods like Cheerios or puffs.
This Baby Einstein activity saucer and jumper is good for babies from 4 months until they are walking/climbing; if your baby seems to be getting close to climbing out, then we don't suggest using an activity center anymore! Limitations? We found that it's not quite as bouncy as some other options, and the seat opening can be a bit wide. The wide seat opening can cause some babies with lower core strength to flop forward/backward a bit; to solve this, some parents (like us!) place a folded blanket or small pillow in front to help support the baby's posture. Who else recommends the Baby Einstein activity jumper? Our friends at WhatToExpect! Interested? You can check out the Baby Einstein jumper here!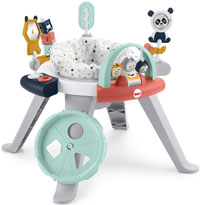 About $70. This is a new addition to our list for this year, and we're happy to have given it a shot! The Fisher-Price Spin and Sort Activity Center is perfect for families who don't need a wild jumper like the Jumperoo, and don't want to pay the branding premium for something like the Oribel. The Spin and Sort offers great versatility, converting from an infant entertainer with a seat that spins 360 degrees around, to a toddler table with a block-sorting center. The beauty of this model is you can remove every single toy and let your child use them wherever they'd like: on the high chair, on the floor, in a bouncer, etc. That little feature also makes cleaning so much easier. It also has high-quality toys that are a lot of fun, a smaller footprint than most others, and easy assembly.
Out of the box, the Spin and Sort took about 15 minutes to assemble and the instructions were very easy to follow. Attaching the legs was super easy, and then you spend a little more time assembling and attaching the four different toys, and assembling the seat ring. Speaking of the seat, there is a clever buckle-based height adjustment with three levels: unbuckled for infants, and then two additional buckle positions as your child's legs grow longer. The idea is to have your child's feet resting flat on the floor as they grow. Speaking of growing, the sit-and-play function is designed for use from 6 months onwards (up to 25 pounds), and the toddler play table from 9-36 months. The sit-and-play function is a lot of fun and not too overwhelming for the younger children, which is nice. The seat spins completely around 360 degrees, and all of the toys are readily within reach. The toys do not easily detach when tugged on, though there are some extra play shapes provided that can be picked up (and thrown!). The activity center is relatively lightweight and has a smaller footprint than most others, coming in at only about 2 feet in diameter. When your child is ready to use it as a toddler table, you simply pop the seat out and pop in the block sorting circle, for some age-appropriate fun! Overall, we thought it was a great simple exersaucer option for parents looking for something more portable, simpler, and less expensive than some of the front-runners in this category. Some little cons include a minimally padded upper seat edge, which can be uncomfortable for infants still learning to support their upper bodies, and the fact that the model doesn't have any bouncing motion (even a little!). Other than that, we think this is an awesome option and we were happy to have tested it out! Who else loves the Fisher Price Spin and Sort? Our friends at Romper also consider it a top pick! Impressed? You can check out this Fisher Price Activity Center here.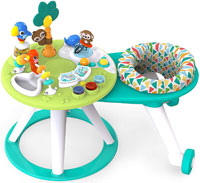 About $80. We love the concept here. Rather than jumping up and down, babies using this activity center run around in circles like a dog chasing its tail! Our test babies loved it once they figured out how to get it to move around. It was fun to watch and see babies learn how to go spin around toward the toy they want to play with. While your baby is small, it's a great activity center with a unique design. When they grow out of it, you can detach the seat and use it as an activity play table, which is a great concept. We know of only one other highly-rated activity center that can convert into a play table; the Oribel PortaPlay converts into a small arts and crafts table by removing the toys and putting on an included cover. Really cute, and works very well, but a bit more expensive at around $120-130 (or $150 when you buy it with the chairs). Back to the Around We Go - we also found that while a baby was in the seat, older kids could walk up to the play center and do some parallel play with the baby, which was nice to see. It includes a lot of cute and fun toys, like a little piano, book pages to flip, and spinning rattles. Nothing too loud or annoying. And there's a little snack tray and cup holder that can fit most baby bottles right into it, which is really unique for an exersaucer and frankly a great idea. Only a couple of downfalls here. First, its design makes it take up quite a bit of room in the house. Second, as the baby spins around the center, we also found that the entire thing can shift/slide across the floor a tiny bit - if you put it on a good foam play mat this wasn't an issue. Also, some of the toys don't stay well attached and fall off when moved. Other than that, we think this is a really unique concept and think it's a great option!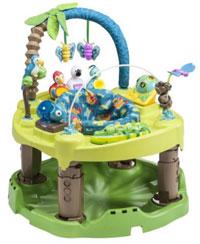 About $100. This is an awesome new addition to our activity center list. Rather than only being an exersaucer (as pictured to the left), it also can serve as a playmat and activity table. For newborns (0-4 months), the playmat is awesome for laying your baby down on the mat and letting them reach up to cute toys dangling above. Also, a great opportunity to practice rolling and pushing up with their arms. After about 4 months, the exersaucer is a great entertaining option with several toys and music. We liked that the exersaucer has height adjustment so even the littlest of legs can reach the base. And the music wasn't excessively annoying like some other options. Finally, once your baby is of walking age (around 12 months), it converts into an activity table that's great for one or toddlers to play with. So, this is definitely the most versatile option on our list, growing with your baby from newborn to toddler. In our tests, we thought the exersaucer configuration was definitely the best and most useful, though it's not very dynamic (doesn't really bounce or rock, just the seat spins to change direction). The playmat was a bit simple, not quite as plush as other options on the market, and doesn't integrate any tummy time supports; so, we'd give the playmat about a 3 out of 5. The activity table is a great concept, but we didn't think it was very stable and our toddlers pushed it over a few times; so, we'd give the activity table about a 3 out of 5. Overall, we think this is a great 4th option if you're looking for versatility that will last several years. As always, there's a trade-off between versatility and just how great any single configuration is.
Conclusions
Toys, fun, bouncing, spinning, engaging, and interactive games, all while keeping your baby stationary in a secure location? Brilliant! Parents love activity centers and exersaucers for many reasons. First, they are the perfect and relatively portable place to put your baby while you need to do something and guarantee your baby isn't moving. Need to shower? Get dressed? Take out the garbage? Do some cooking? Activity saucers are perfect for this.
Second, the good activity centers are truly engaging for your child, combining several whole-body activities that combine multiple senses in play. This makes it not only an exersaucer but also a learning center that can promote sensory-motor and cognitive development. For instance, the baby can bounce, walk/spin around, use their hands to manipulate little toys and learn cause-and-effect relationships. There's also a little secret for parents who know their baby needs to poop but might be a bit constipated: activity centers are one of the best ways to get things moving!
We also want to point out that research shows that babies who use these activity centers, bouncers, and exersaucers, show no difference in motor development relative to babies who do not. So while there's no cause for concern with using these in a developmentally-appropriate manner, there's also no reason to believe that it will benefit your baby in any particular way. Just don't expect any amazing benefits to gross motor skills, fine motor skills, or anything else in particular. A good activity center tends to be around $100 - but you'll get a lot of use out of it, and likely will be able to sell it and get some money back after a year of use (think Craigslist or Facebook Marketplace!). Questions? Remember you can always reach out to us on Facebook!