The Best Baby Playmats of 2023
From tummy time to first steps, your little one will love one of these soft playmats.
---
Mommyhood101 independently tests and curates baby gear to help you make informed decisions. If you buy products through links on our site, we may earn a commission.
The American Academy of Pediatrics (AAP) recommends 2-3 tummy time sessions every day, and a playmat is a perfect place to get started! There are two main types of baby playmats: carpet-style roll-up foam playmats, and interlocking tile-style playmats. Both are made of soft foam and carry their own pros and cons.
We considered both playmat styles in our reviews, giving you some flexibility in options. In general, look for a playmat that is soft, easy to assemble and clean, durable, sized to fit your space, and fun!
Just for fun, what does ChatGPT-4 think is the best baby playmat!?
"The best playmats for babies are made by Skip Hop, Wander & Roam, and Lovevery. They are all soft, padded, and easy to clean, and provide a safe play area for your baby or toddler." -ChatGPT-4
While the Lovevery gym is more of an activity center than a playmat, we think the robots might be onto something: the Wander & Roam and Skip Hop playmats are indeed excellent choices!
We've been reviewing baby playmats for over 10 years, and if we made our own, here is what it would look like:
✔️ Non-toxic & BPA-free.
✔️ No lead or formaldehyde.
✔️ No chemical fire retardants.
✔️ At least 0.5" thick foam.
✔️ Soft yet durable.
✔️ No slippery surface.
✔️ Easy to clean & vacuum.
✔️ Waterproof.
✔️ Fun & reversible design.
✔️ No sharp edges or folds.
✔️ Rolls or folds for storage.
Of course, you will also want the playmat to fit your style (color, patterns) preferences and meet your budget constraints. That's a lot to ask, and very few models meet the needs of picky parents!
The top 5 playmats we found are listed below, followed by our in-depth reviews of several options!
In our testing, we assembled playmats on hardwood floors, tile, and carpet. We walked on them, crawled on them, did some tummy time, spilled on them, rolled our baby walkers on them, cleaned them, and had our dog walk all over them.
Some of the playmats we tested were softer and more resilient than others, some had lower odor and off-gassing, some were more versatile in their interlocking pieces, and some were made with higher quality manufacturing practices and the exclusion of toxic chemicals. Some were also safer for babies, only using larger parts that can't be placed fully into the mouth (more on that aspect later!).
Note that playmats using interlocking tiles tend to be less expensive than the roll-up carpet-style playmats; this is at least partially due to shipping costs associated with very long boxes, but also the cost of printing designs on such large surfaces. If you're looking for a deal, it's more likely to happen with a tiled playmat.
Full disclosure: Some of these playmats, including the Wander and Roam, Berry Lane, and Wee Giggles models, were sent to us as free test samples by the manufacturer.
Here are the Best Baby Playmats of 2023!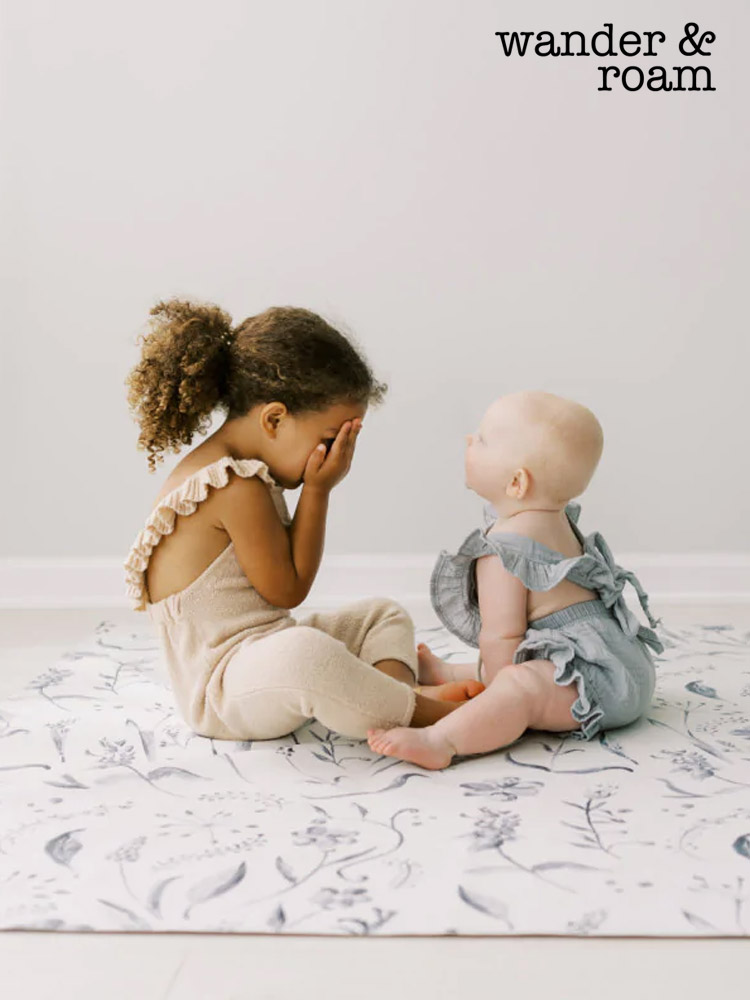 Usually about $160 for the large size we tested. The large size is about 78" long (6.5 feet) and 54" wide (4.5 feet), and about a half-inch thick. It comes in a few different patterns, the one we tested had a white and grey ikat print on one side and a white and grey stripe on the other; there is also a similar one available that replaces the grey with a dark blue pattern, but is otherwise identical. We received this playmat for testing (thanks for the sample, Wander & Roam!) and immediately loved it! This is a roll-up style playmat, which means it arrives rolled up like a carpet. Out of the box, the playmat took about 12 hours to flatten out: you remove the velcro straps, unroll it, and let it sit overnight with the curled-up edges facing down onto your floor. For us, that means we had the striped side up while it flattened out. We rolled it out at about 4 pm and by the next morning, it was completely flat. The texture and softness are both very nice. It has a fine slightly dimpled texture if you look closely at it, and the size is perfect for most small rooms (it's about 4200 square inches or about 29 square feet).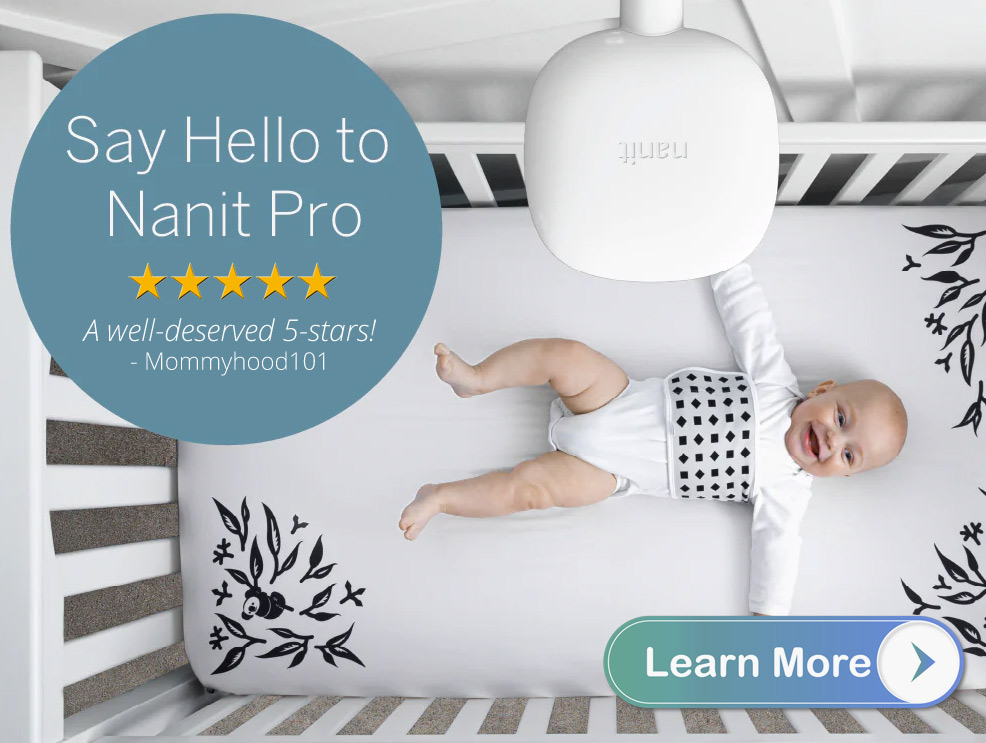 There were a few things we loved about this playmat. First, there was basically zero off-gassing odor when we took it out of the box. This is one of the first things we noticed and it made us feel pretty good! Second, it is made from TPU foam, meaning that not only is it non-toxic and free of lead, latex, phthalates, and formaldehyde, but it is also not made with PVC foam (which typically contains plasticizers/phthalates, polyvinyl chloride, and other toxic chemicals). Relative to a PCV foam playmat, this seems to be a safer alternative. Third, it is made by a new, woman-owned small business that cares about its products and customers. And they will reply to your emails and concerns - go ahead and send them an email, or ask them a question on their Amazon listing and you'll see what we mean! Together, these three things make us feel pretty good about this product. In our testing, we found it to be soft, plush, durable, and waterproof, and it looks great! Given the style, it's well-suited for use in a living room as much as in a playroom. It's super easy to wipe clean, and it does have a bit of a grippy texture to it that helps keep it from being slippery (against your floor, and for your baby). Overall, we're very happy with this foam playmat, and strongly encourage you to check it out! Who else loves the Wander & Roam playmats? Our friends at ScaryMommy call them a top pick! Interested? You can check out the Wander & Roam Playmat here.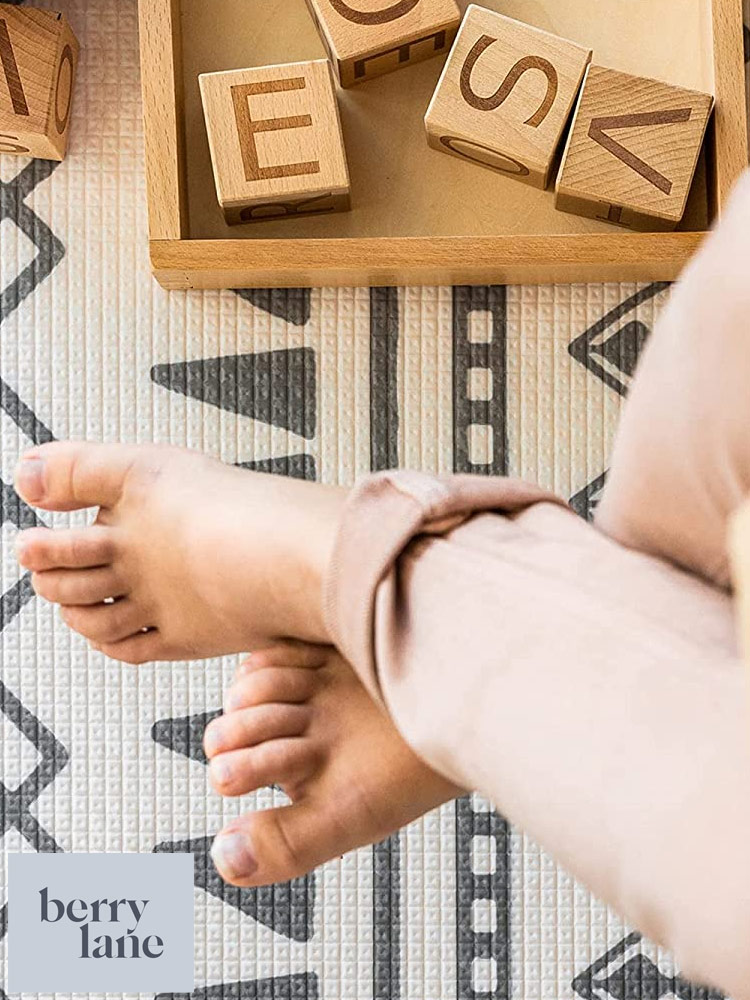 Usually about $150 in the large size we tested (about 6' x 4.5'), about $100 in a smaller size (about 4.5' x 3.5'), or a little more for an awesome round version (about 55" diameter, which is about 4' and 7" wide). We first got our hands on this playmat for testing last year (thanks for the sample, Berry Lane!), and were really impressed with its quality, style, size, and thickness. In fact, it's so darn plush and comfy that I'm sitting on it right now while writing this review! First impressions: out of the box, this playmat is rolled up tightly and secured with Velcro straps. This might sound trivial, but the Velcro straps are a nice touch because it means that you can roll it back up and secure it without worrying about it unraveling in a closet. Most other mats we've tested come wrapped in plastic or plastic tape that can't be reused - so we appreciated that little bonus. Unrolling it, there was absolutely no odor or off-gassing, the seam along the outer edge wasn't sharp at all, and we liked the subtle texture on the surface. Once it was placed on our hardwood floor, it took about 24 hours for it to fully flatten at the ends, which is to be expected for anything other than a traditional foam block playmat. The challenge with interlocking foam playmats is three-fold: your baby will end up pulling out pieces and misplacing them (and putting them in their mouths), crumbs and dirt will get in the cracks, and they often get discolored and frankly a little gross. Don't get us wrong, we like the interlocking foam playmats, but we definitely prefer this type of one-piece rug-style playmat.
The first time we stepped onto this Berry Lane playmat we were pleasantly surprised by its plush and responsive core. It's not super thick when you look at it from the side (it's about 0.6" thick), but when you step on it, it feels very thick and luxurious! On both hardwood and carpet, we haven't had any issues with it sliding around, and we like how the outer edges slope down to reduce the risk of tripping over the edge. It has a nice subtle texture that makes it much less slippery than some other foam mats, but it's still smooth enough to make cleaning easy with a cloth or wipe. Like several others on this list, it's non-toxic and free of latex, BPAs and phthalates, PVC, lead, formaldehyde, and HVA, which makes us feel good about having this in our home (and again, we love how it has zero odor, even when brand new). We know style is a personal preference, so we won't harp on the style too much - but in general, its minimalist style and colors blend in nicely with a modern home, and of course, it's reversible so you can switch things up when you get tired of looking at it! Cons? It's a bit expensive, but very similar in price to one of its nearest competitors, the Wander & Roam playmats. Whether your baby is looking to crash toy cars together, make first attempts at crawling, or do a little tummy time, this is a truly awesome option! Interested? You can check out this Berry Lane Playmat here!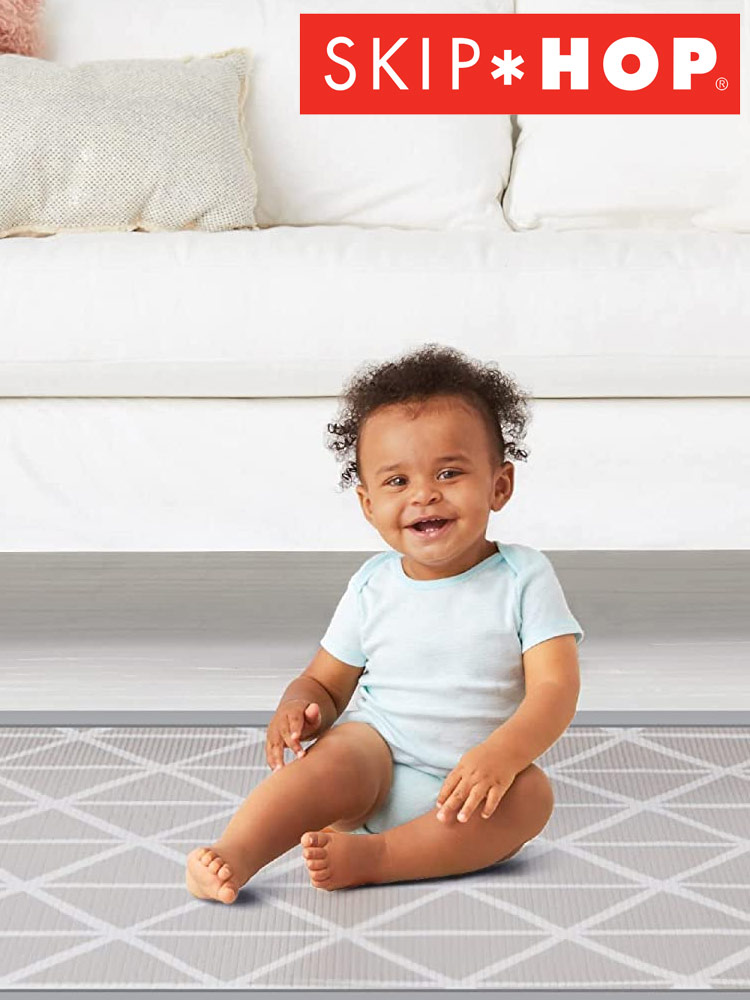 Usually about $110 for the large size we tested. This playmat offers some pretty good overall size for the price, coming in at 86" x 52" (or 7' x 4.5'), which is about 4500 square inches or 31 square feet. That's slightly larger than the Wander & Roam option, and slightly smaller than the Wee Giggles option. Out of the box, it comes rolled up like a carpet in a long box, and wrapped in plastic. After unrolling the playmat, it took about 16 hours to fully flatten; we laid it down after dinner and it was pretty much fully flat by morning. The design is adorable, we tried out the one with the world atlas on one side, and zig-zags on the other. They also have a really cute one with a road and buildings, which could be fun for a toddler who likes to play with cars and trucks. The thickness is a bit less than half an inch, making it slightly less plush than some other options, but it's still quite plush and comfortable to walk and crawl on, and we liked the subtle waffled texture.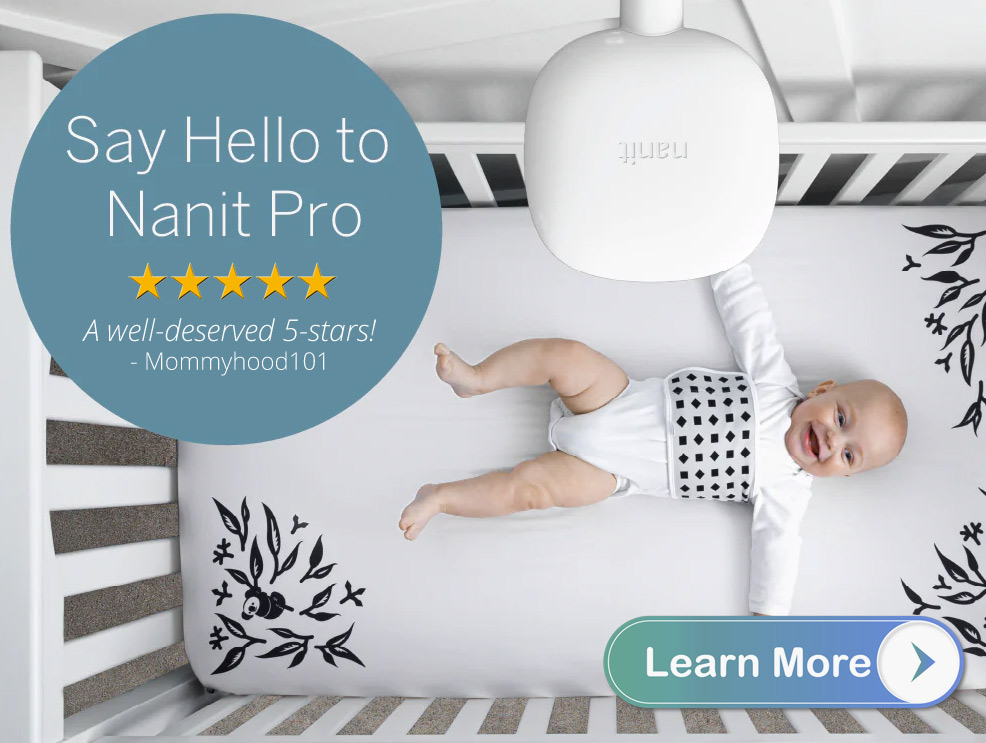 The subtle texture can make cleaning a bit more challenging, but it also makes it much easier to grip when a baby is trying to scoot and crawl, and less slippery when wet. Both sides have a waffled texture, making it completely reversible. This is great when you don't want your living room to look like a playroom, or in a few years when you transition your playroom into a family room. We found the playmat to be highly durable and easily cleaned, and there was no strong off-gassing odor. The foam itself is PVC-free and phthalate-free. The edges and corners are soft and rounded. The only con we encountered was that the foam itself wasn't quite as strong as other playmats, so it was relatively easy to pick (or bite!) a chunk out of the playmat. Outside of that, we really loved it! Who else recommends the Skip Hop playmats? Our friends at Babylist and WhatToExpect call them a top pick! Interested? You can check out this Skip Hop Playmat here!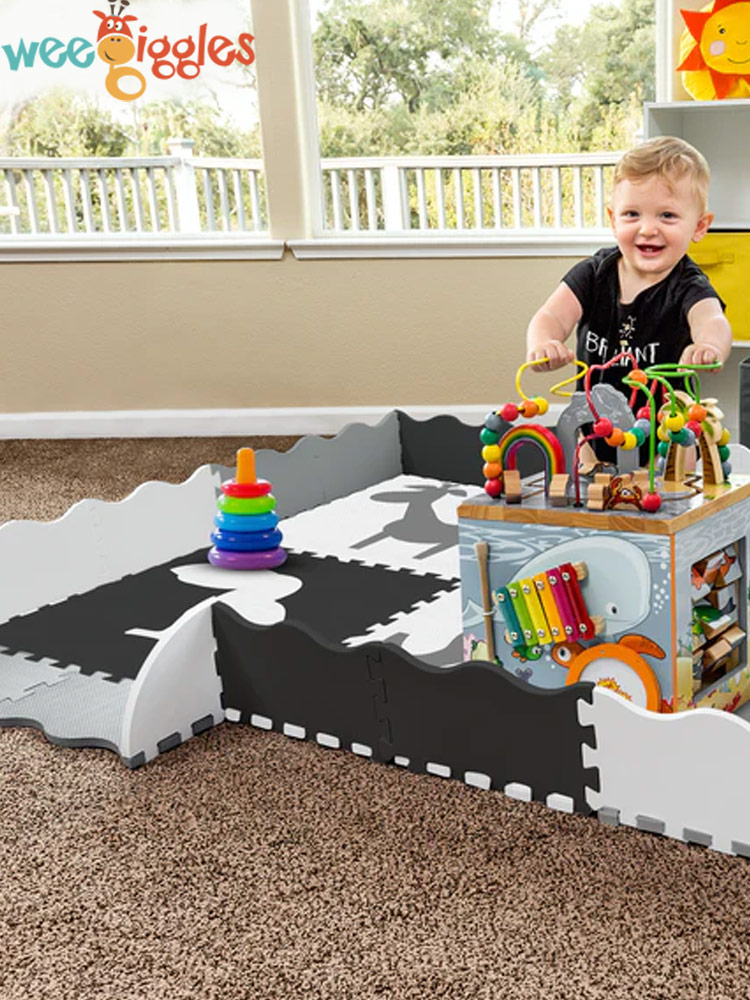 Usually about $80 in the large size we tested (in black/grey/white colors, as pictured), or about $50 in a much smaller size that comes in a bunch of adorable colors like pinks, blues, greens, or black and white. This top-rated baby playmat has so many great things going for it, and received the most praise from our parent reviewers, our children, and from us! When we received the package, it became immediately apparent how large and high-quality these foam tiles were. Each tile is about 24" x 24" square, and they are neatly packaged in a see-through plastic zippered bag with cloth edges and handles - even the packaging was cute (making it a great gift!). When we opened the packaging, we were impressed with two things. First, the tiles were really thick, like half an inch, making them super soft and cushioned. Second, the floor tiles had only a very mild odor, which is more than we can say for a few other playmats we tested. This likely has something to do with the fact that these mats are non-toxic, and do not contain BPA, phthalates, lead, latex, formaldehyde, or formamide. They are made from EVA foam. There are two ways to assemble the tiles together; the first way is to lay them all down on the floor, which makes a rectangular space that's about 5 feet wide and 7 feet long (or 84" x 60", which is about 5000 square inches or 35 square feet). The second way is to arrange the large square tiles on the floor and use the edges as little walls to keep the baby in a relatively contained space. The wall idea was great and well-executed, though it's not intended to keep the baby in that location, it just better defines a play space and keeps balls and other rolling toys from quickly going out of the baby's reach.
In our hands-on tests, we found this Wee Giggles playmat to be well-constructed, super soft and cushioned, and really adorable with its gender-neutral greyscale animal prints. The animals were nice and large too, which means that when the baby pulled them out they weren't small enough to fit all the way into a baby's mouth - we can't say the same for the little dots (in the holes of the number 8) on the alphabet playmat we tested! The slight texture of the mat was nice to make it relatively slip-free, and clean-up was easy with baby wipes or a damp cloth. A couple of other things worth mentioning: you can buy multiple sets of these and connect them without any issues, which is great. For minor cons, the white portions can get dirty somewhat easily, and it is not reversible (the bottom is not textured like the top). Outside of that, we think this is the best option if you're looking for a playmat with interlocking tiles. And the price is pretty great! It's a fantastic playmat that will last you for several years of tummy time and play. Who else loves the Wee Giggles playmats? Our friends at ScaryMommy call it a top pick! Interested? You can check out this WeeGiggles Playmat here!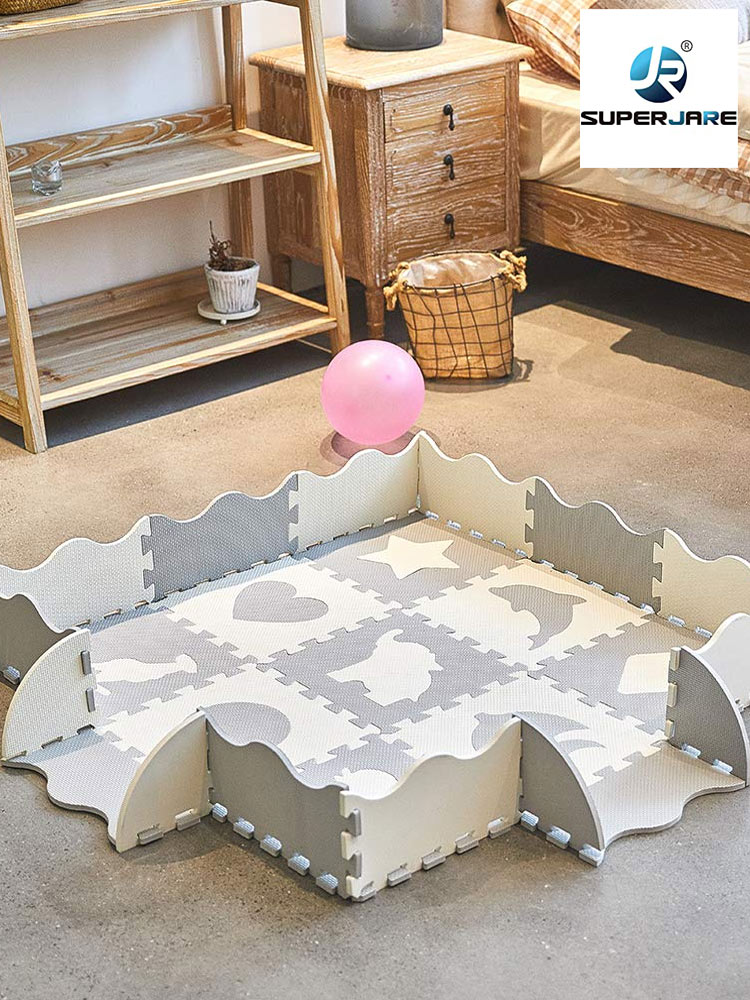 Usually, about $50 for the larger size (about 60" x 60"), or about half the price of the Wee Giggles, making it an awesome backup option if your budget is lower or the Wee Giggles model is unavailable. The concept here is very similar to the Wee Giggles: provide a versatile playmat surface that can be laid completely flat or used as a corral by turning the outer tiles upward. While the Wee Giggles uses fewer large (about 24" x 24") tiles, the Superjare uses about twice as many smaller (about 12" x 12") tiles. The tiles arrived in a plastic carry bag with handles, which is great for storage or transport (like to grandma's house!). The bag contains 16 square tiles, 4 corner tiles, and 16 smaller edge tiles that can be laid flat or turned upward at a 90-degree angle. The tiles had a little bit of rubber odor that went away after about 24 hours, but rest assured they are free of lead and phthalates (BPA). When laid flat, the larger size (the one we tested) made a square about 5 feet by 5 feet wide. When you turn up the edges around the perimeter, it makes a space about 4 feet by 4 feet wide.
Relative to the Wee Giggles, because the Superjare uses more tiles it also uses more little removable animal shapes, for better or worse! These tend to pop out and go into mouths starting at about 4-6 months old. Also, as the tiles get older and are crawled and walked on more, they will inevitably start to get a little more misshapen than larger tiles - for example, curling edges or animal shapes that no longer fit perfectly because they get a little warped. In our testing, we found the playmat to be a nice thickness (about half an inch) and soft enough for crawling on (our knees weren't sore after a few minutes of play). The tiles seemed sturdy and not easily ripped or damaged. The perimeter border is great for stopping a rolling ball, preventing a curious animal (like our dog) from going in, and making it a slightly cozier space (at least visually) for babies. After a few months of testing with a crawler, we did find that many of the pieces no longer lay flat on the floor. If you take the tile out and bend it a bit by hand, you can get it to lay flat again, but it's still a bit of a nuisance. Other than that, we think this is a pretty good deal for a reasonable quality playmat. Interested? You can check out this Superjare Playmat here!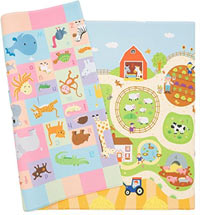 Usually about $110-150 in the large size we tested, or less than $100 in the smaller size. The large size is about 83" long (just under 7') and 55" wide (about 4.5'), and the smaller size is still pretty large at about 73" long (6') and 49" wide (about 4'). For reference, the large is about the same size as a queen mattress. These top-rated playmats use an awesome concept: they are completely reversible, with one pattern on one side, and another pattern on the other. You can get two baby patterns, like shown in the picture on the right, or you can get a rug pattern (like chevrons, polka-dots, or floral design) on one side, and a baby pattern on the other. So there's some amazing versatility here. The one we tested had a blue Moroccan rug pattern on one side, and an adorable alphabet and animal print on the other. When the Moroccan rug pattern is showing, it looks like a normal area rug from a distance. Up close, of course, it's foam, so you won't be tricking anyone. When the baby rug pattern is showing, we were impressed by the cute patterns and texture. There are no interlocking blocks to deal with, no puzzle playmat pieces to fall out and get lost, so that's definitely a great way to design a playmat for parents who don't want to be reassembling and putting pieces back into the mat all the time. The foam itself is thick and soft for comfortable tummy time and play, the same thickness as the Wee Giggles playmat, at about half an inch.
The playmat arrives rolled up like a normal area rug, and it takes a couple of days to get the corners to uncurl and settle down all the way - just let gravity do its job, just like with any new area rug. The odor was pretty mild out of the bag. The edges are tapered like a normal rug, rather than just a squared edge, which is nice. And it's waterproof and easy to clean - we used baby wipes to spot-clean it but also took the vacuum cleaner right to it once to get rid of crumbs. You can't do that with the playmats with removable puzzle pieces, since they'll get sucked right into the vacuum. Like the Wee Giggles playmats, this playmat is also non-toxic and does not include BPA, phthalates, lead, latex, formaldehyde, or EVA; it does include PVC rubber. We found the foam cushioning super soft and absorbent, and over the course of a few months of testing, we found it to be durable and not prone to any color fading or scuffing. So there are no removable pieces, which on the one hand makes it easier to assemble, clean, and maintain, but on the other hand, it isn't a toy like most other playmats, so kids won't have the fun visual and fine motor experience of popping out the shapes and putting them back in. Outside of that, the only other negative about this playmat is the price, coming in at about $100 to $150 depending on the size. Overall, we loved the concept of this reversible playmat, and also loved the softness, durability, and adorable patterns - definitely recommended! Who else recommends Baby Care playmats? Our friends at WhatToExpect call them a top pick! Interested? You can check out the Baby Care playmats here!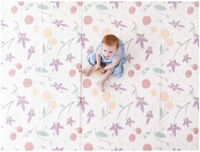 An excellent deal, coming in typically around $40 for a large 70" x 59" fold-up playmat. For reference, that's just under 6 feet wide by 5 feet long, or 30 square feet of play space, which we think is sufficient for most spaces. The JumpOff Jo has some very appealing features for the price: it is not only large, but it also is double-sided with a different design on each side, is soft and decently think (about three-eighths inch thick), it's waterproof and easy to wipe clean, uses an anti-slip surface texture, and folds up (into a 30" x 14" x 4" rectangular block) for storage or transport. That's a lot of good features for only $40, and we should point out that it's also BPA and phthalate free. The version we tried had blue unicorns on one side, and a floral design on the other. There is another version with elephants on one side and orange rainbows on the other.
The playmat arrived folded up into a surprisingly small package, and there were no strong odors or off-gassing when we unfolded it. It was a little thinner than we thought it would be, coming in at closer to a quarter inch thick, making it a little thinner than anticipated. The micro-texture on the surface was great for making the top surface less slippery, and the entire playmat had a reasonably soft surface. It was easy to wipe clean with baby wipes or a wet cloth, even with the subtle texture on the surface. Other than it being a little thin, there were two additional cons we encountered. First, on tile or hardwood flooring, the playmat has a tendency to slip around a bit more than we'd like. We actually ended up putting the leg of a nearby table in one corner to keep it stable. The second con is that the surface is easily damaged - you can dig a fingernail in and take a chunk out, or anything with a sharp corner might damage it. Of course, we're talking about a playmat that's about 30 square feet for only $40, so we didn't expect it to be anything super durable. Overall, we think the JumpOff Jo playmats offer great bang for the buck, save for some minor limitations. Interested? You can check out the Jumpoff Jo playmats here!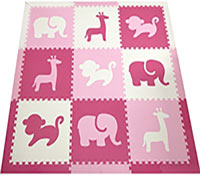 Usually about $120 for a 78" x 78" (that's 6 feet by 6 feet square, or 6084 square inches) playmat, the biggest on our list! Like the Wee Giggles playmat, each of the tiles is about 24" wide. Unlike the Wee Giggles, they interlock with each other to form a square rather than a rectangle, so the space is 36 square feet whereas the Wee Giggles is 35 square feet. When they arrived for testing, we were impressed by a few things. First, this playmat is thicker than any other mat on this list, coming in at about 5/8" thick, so it's thicker by an eighth inch than the Wee Giggles mat. You might not even realize that the surface is thicker, but it's worth mentioning. Second, it's really soft. Maybe it has to do with the thicker tiles or a different type of foam, but it was really cushioned and soft. So soft that our dog's claws actually scratched it pretty quickly, but that was our own fault! Third, the colors are bright and vivid.
While we show you the pink and white carnation color option in the picture, this SoftTiles playmat is available in about a dozen other bright and adorable colors, all using the same animal patterns. Fourth, the edges are tapered so they slope down to your floor along the edge, which is nice and lowers the risk of tripping when walking onto the playmat. Finally, we liked the animal patterns, especially given that there were no small parts to get lost or worry about your baby sticking in their mouth. But that being said, the animals were also a bit harder to pull out and put back in because some of them have thin and long parts (like the monkey's tail) - not a big deal, but worth mentioning. Out of the box, there was a bit more odor than some of the other mats on this list, but nothing major. Note that these foam playmat tiles are non-toxic and free of formamides, BPA, and phthalates. Other than the odor and intricate pieces to put in/pull out, the only other downside is the price. About $120 for a pretty simple 6-foot by 6-foot playmat? It's great, but we're not sure it's worth the cost - if you're going to spend that money, we prefer the Baby Care reversible playmat above. Overall, a great top-rated playmat but a bit pricey for our tastes! Who else recommends the SoftTiles playmat? Our friends at Babylist also call it a top pick! Interested? You can check out the SoftTiles playmats here.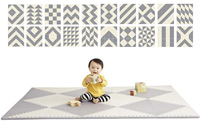 Usually about $80 for a 70" x 56" (that's about 5.5 feet by 4.5 feet). That's quite a bit smaller than most others, especially for the price. One of the interesting features of this interlocking foam playmat is that you can configure it in multiple designs (see the picture) to suit your interior design and also keep things interesting and novel. It comes with 40 triangular interlocking pieces, along with 30 edge pieces. That's a lot of pieces that your baby can pull up and wander around with (and keep track of!), but the trade-off is that you can configure it in several ways. Out of the box, the pieces felt very thick (about 3/4" thick) and high quality, and we liked the thumb-style interlocking notches as opposed to the triangle-style ones that are on most playmats. There was no strong smell, and Skip Hop assured us that these EVA foam mats are non-toxic (and free of BPA, PVC, and phthalates) so they should be safe for your baby to pick up and chew on.
When we put it together, we thought the pieces interlocked really easily with each other and without any gaps or awkwardness. After a week of use, we didn't notice any discoloration or staining on the hardwood floor underneath, and the foam was durable and didn't show much sign of wear and tear. The only odd thing was that some of the white/cream colors were mismatched, so when you placed them next to each other they were slightly different shades. It didn't bother us much, but we did think that for this price you should expect to get a consistent color. Other cons? Well, it doesn't have edges that slope down to your floor, and it's a bit small for the price. Overall, we were happy to get our hands on this and test it, and we think it's a great idea to have multiple designs and configurations in a single set. If the price came down a bit and the quality control came up, we think it would be at a higher spot on our list. Who else recommends the Skip Hop Tiled playmat? Our friends at Babylist and WhatToExpect call it a top pick! Interested? You can check out the Skip Hop Foam Playmat here.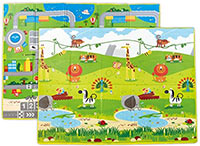 Usually about $70 for a playmat that's just under 5' x 6' (like 29 square feet). for a 78" x 78" (that's 6 feet by 6 feet square) playmat. This is a very unique playmat for our list, as it is actually folding - it folds up into a pretty small package that's about the size of one of the tiles from the Wee Giggles or SoftTiles playmats. So it's much easier to fold up and put away than any other playmat on this list, and it has a pretty small footprint for storage (unlike the Baby Care roll-out playmat). Another cool thing is that it's reversible, with one side showing green fields with animals and ponds, and the other side being more interactive with a road network that toddlers will love to drive toy cars around on. Like the other playmats in this buying guide, the Hape playmats are non-toxic, free of phthalates, and had no strong off-gassing when it was new. But it's down here on the list for a few primary reasons. First, it's much thinner than the other playmats on this list, coming in at about 1/4" thick. Second, the folding seams are flimsy and it never really has a nice flat surface, which is a bummer when toddlers try to drive cars around on the roads. Third, speaking of the roads, the pattern repeats itself every couple of feet, making it a little repetitive. Finally, it's a bit pricey given the smaller size and these limitations, coming in at around $70. But if you're looking for a portable playmat that's easy to fold up, this might be a good bet for you! Who else recommends the Hape playmats? Our friends at WhatToExpect call it a top pick!
Conclusions
Soft foam floor playmats are a comfortable and fun baby essential, providing hours of tummy time, playtime, and a soft crawling surface. They are the perfect addition to your playroom, and have become an essential playroom addition, much like storage bins and a great play kitchen! Playmats can encourage the development of gross motor skills by providing a forgiving surface to build confidence and buffer any little falls while learning to crawl and walk and being a perfect place for trying out new baby gear like toys and activity centers.
Most playmats are like a giant puzzle, helping your baby develop some fine motor skills and the hand-eye coordination involved in pulling out shapes and putting them back in. A top-rated playmat will provide a safe and rich sensory environment for your infant, while also making it more comfortable for you when you're sitting on the floor playing for hours! Another bonus is that it can provide a nice slip-free surface for putting a good baby bouncer seat on.
We had a lot of fun buying and testing playmats, and we came to a pretty strong agreement about which were the best, and which were not so great. One of the things we did realize is that baby playmats tend to vary in safety, in terms of parts size and toxic ingredients, size and cushioning, price, and in function and durability. Another thing we realized is that if you're going to use a playmat on top of a rug or carpet, you'll want to do it only on really thin carpets or rugs. If it's too thick, then the playmat squishes into the carpet in funny ways and contorts itself - and if it has interlocking pieces, they will pop up and out of the mat as the baby crawls across. So infant and toddler playmats are really best for either hard floors (hardwood, tile, linoleum) or really thin and dense carpeting (like Berber carpets).
In addition to the top-rated baby playmats reviewed above, we also tested out the Skip Hop Geo Playspot and were unimpressed with its quality and durability: it dented relatively easily and also tended to stretch itself apart along the joints. We were surprised given Skip Hop's otherwise stellar reputation for making awesome baby gear. Second, we also tested out the ProSource alphabet playmat but were unimpressed that it contained formamide, a toxic ingredient used when making some EVA foams. Finally, we tested out the Exultimate Foam Playmat, which we thought was adorable with its roads and buildings, but it was pretty flimsy and didn't come with any edge pieces so it looked very unfinished.