Fisher-Price Jumperoo Activity Center Review and Videos
Your baby will jump for joy with this entertainingly bouncy activity center.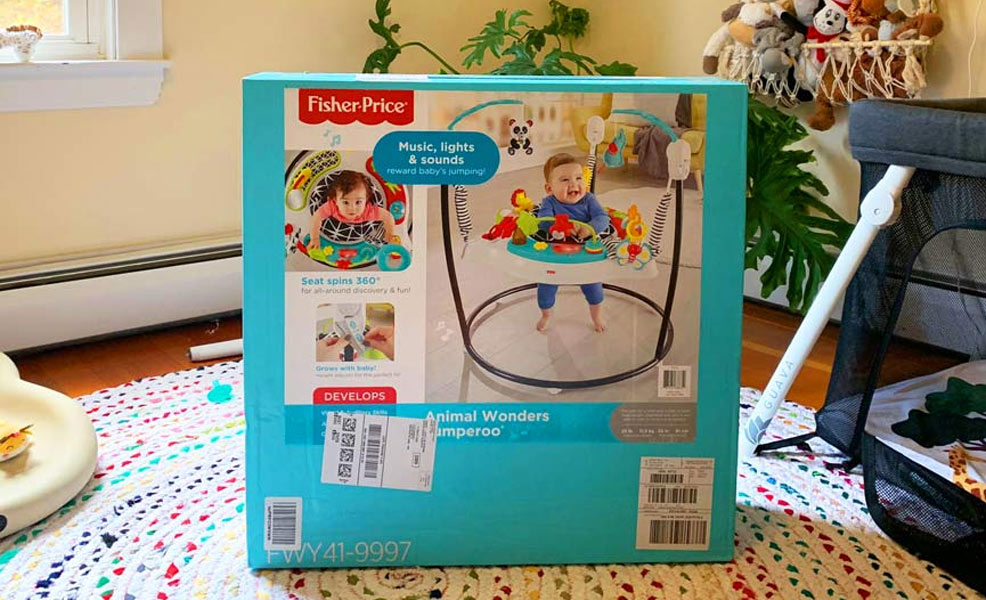 ---
Mommyhood101 independently tests and curates baby gear to help you make informed decisions. If you buy products through links on our site, we may earn a commission.
Winning the honor of being the best exersaucer and activity center of the year, the Fisher-Price Jumperoo is the king of the hill!
But how did it end up in that excellent position? Read our hands-on review to find out!
The Jumperoo comes in a few different models: the Jumperoo Animal Wonders, Animal Activity, Color Climbers, and the older Rainforest and Pink Petals designs.
For this test, we purchased one of the newer models with the Animal Wonders design, and put it to the test with two babies: a 4-month old and a 9-month old.
The newer Jumperoo models have more contemporary designs that are a bit less gender-specific, with more subtle color palettes. They also lose the bulky feet. Outside of that, this review is generally applicable to all Jumperoo models.
Overall, we came away with a very positive impression of the Fisher-Price Jumperoo, and think it's very deserving of its top position on our list!
Jumperoo: Overall Impression
Nobody wants to read through an entire article to get to the conclusions, you've got more important things to do! So here are our findings, right up front.
Spoiler alert, we love the Fisher-Price Jumperoo and think it is a fanastic addition to your entertainment arsenal!
The Jumperoo managed to combine an easy assembly with high stability, quality, and fun while maintaining a reasonable price of about $100.
Here is a summary of what we loved about the Jumperoo, and some things that could be improved.
✔️ Super easy assembly (< 10 min).
✔️ Great accessory selection.
✔️ Adjustable jumping height.
✔️ Relatively lightweight build.
✔️ Comfortable seat and padding.
✔️ Stable and high quality construction.
✔️ 360-degree seat rotation.
✔️ Adjustable toy volume.
✔️ Removable seat for cleaning.
✔️ Easily cleaned toy tray.
✔️ Adorable designs and colors!
❌ Requires batteries (no plug-in option).
❌ Seat is a bit high for little legs.
That's a lot of amazing attributes for an exersaucer activity center that costs only about a hundred bucks! We were really impressed with how easy the assembly was, and all the various toys were entertaining and high quality. Both of our test babies had an excellent time playing in the Jumperoo and kept going back for more, which is a great sign!
Overall, we think the Jumperoo offers some great bang for the back, with only two little drawbacks. One of the toys has lights and sounds and requires three AA batteries to function, but they aren't included. Of course, you can choose to forgo the multimedia experience and use it without batteries.
The only other little thing is that the seat is about an inch too high for little legs (the 3-month old), even on its lowest setting. There's a simple solution to this issue (no, not stilts!), placing a folded blanket under the feet. We'll get into details later in the article.
Interested already? You can check out the Jumperoo here!
Feel like an expert on the Jumperoo now? You should!
But if you're still uncertain, continue reading to see how we reached our conclusions!
About the Fisher-Price Jumperoo
For some background, the Jumperoo is made by Fisher-Price, one of the biggest toy companies in the United States, owned and operated by Mattel.
A trusted family brand, Fisher-Price is based in New York and has been making some of the best educational toys for infants, toddlers and preschoolers for over 90 years!

The Jumperoo was first released over 10 years ago, and Fisher-Price has made substantial improvements along the way. This includes changes to the toys, accessories, and frame, as well as updates to the design and colors.
Its features, design, versatility, and FUN have given it the benefit of being listed as a top choice not only on Mommyhood101, but also being adored by our friends at Babylist, What2Expect, and The Bump.
It's definitely hard to impress all of us, so thats a great sign!
Jumperoo Assembly
When the Jumperoo arrived, it was fully disassembled and packed into a box about the size of a small suitcase.
Inside, everything is nicely packed together - the rods to assemble the frame, the play tray, toys and accessories, and the seat rim and fabric. Here is everything: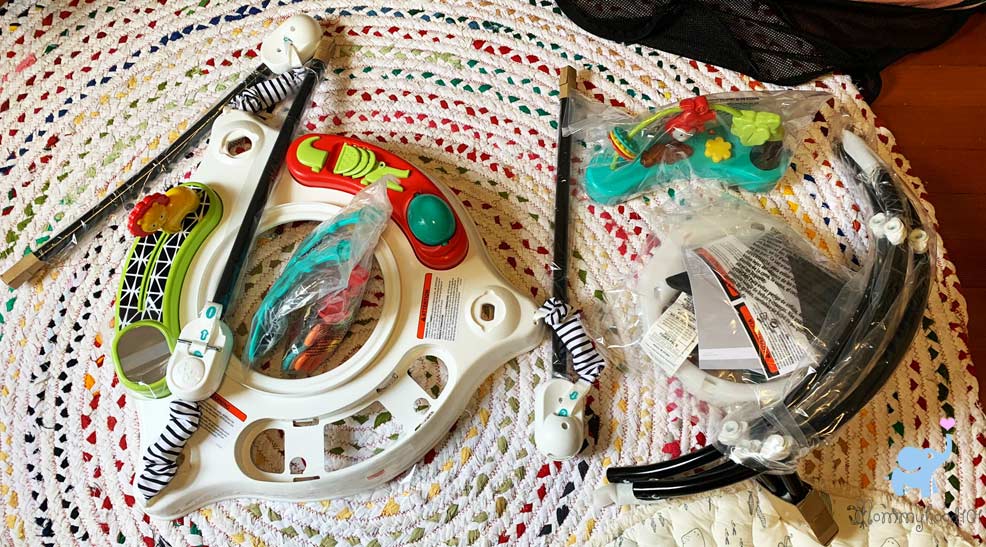 You begin by assembling the toys and accessories onto the play tray, and installing the batteries. Three AA to be exact: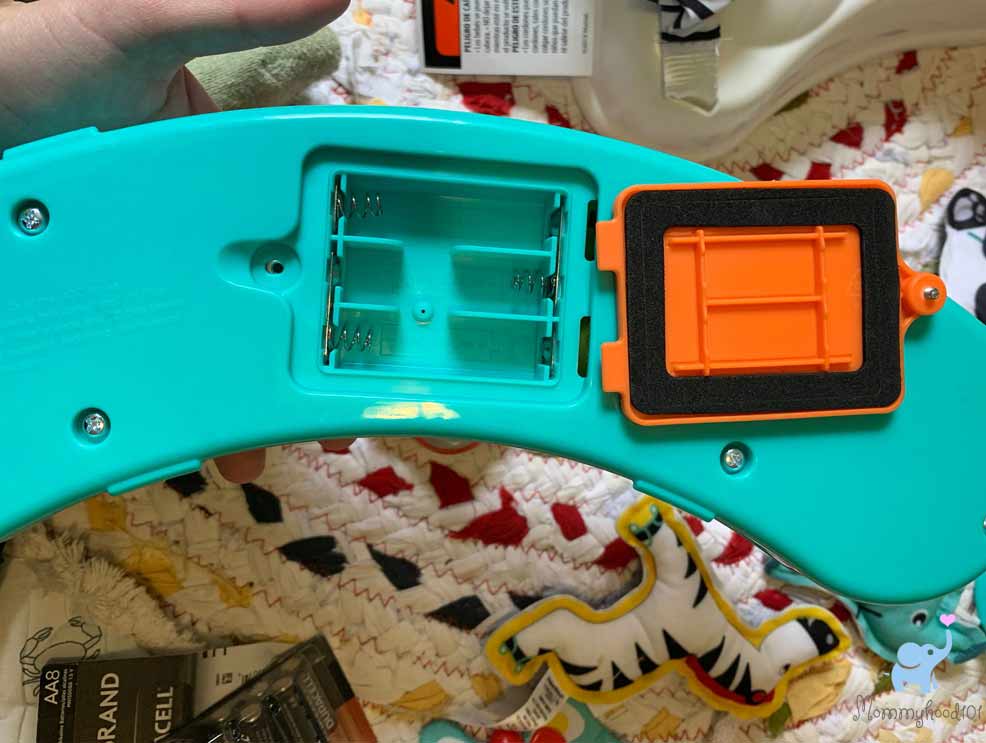 Then you will put together the black frame, and attach the play tray onto the assembled frame. Here is what that will look like: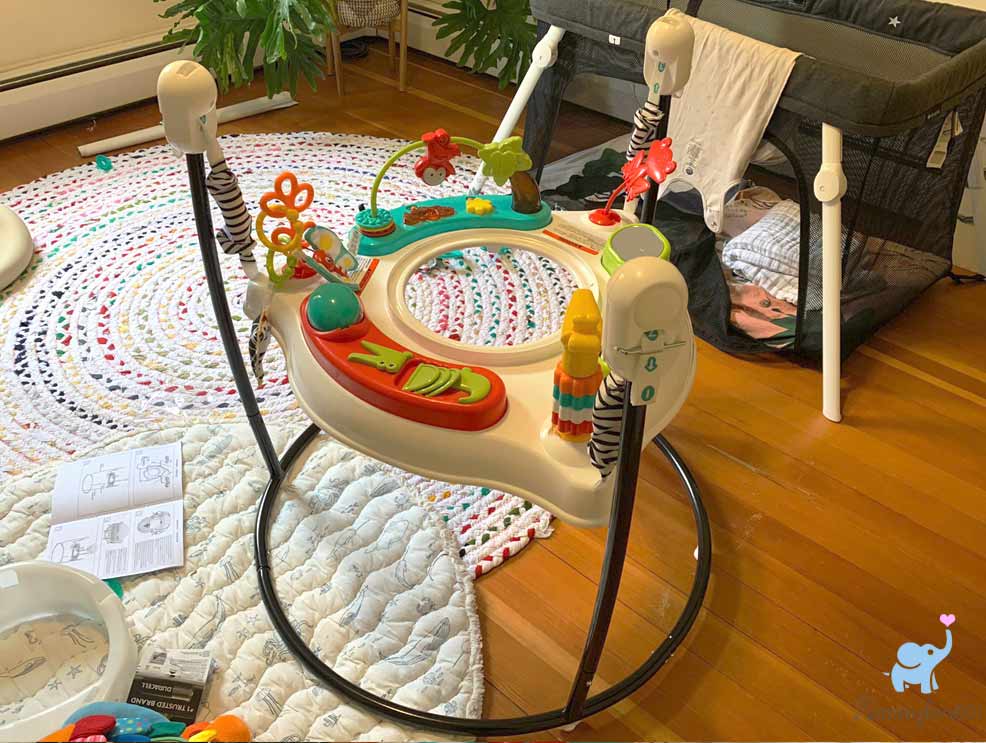 Almost done! The only part missing at this point is the seat support and fabric.
Once all is said and done, we were able to do the full assembly in under 15 minutes! Two things to have available: a Phillips head (cross head) screwdriver, and three AA batteries. Instructions are easy to follow and intuitive. Here is the Jumperoo fully assembled and ready for action!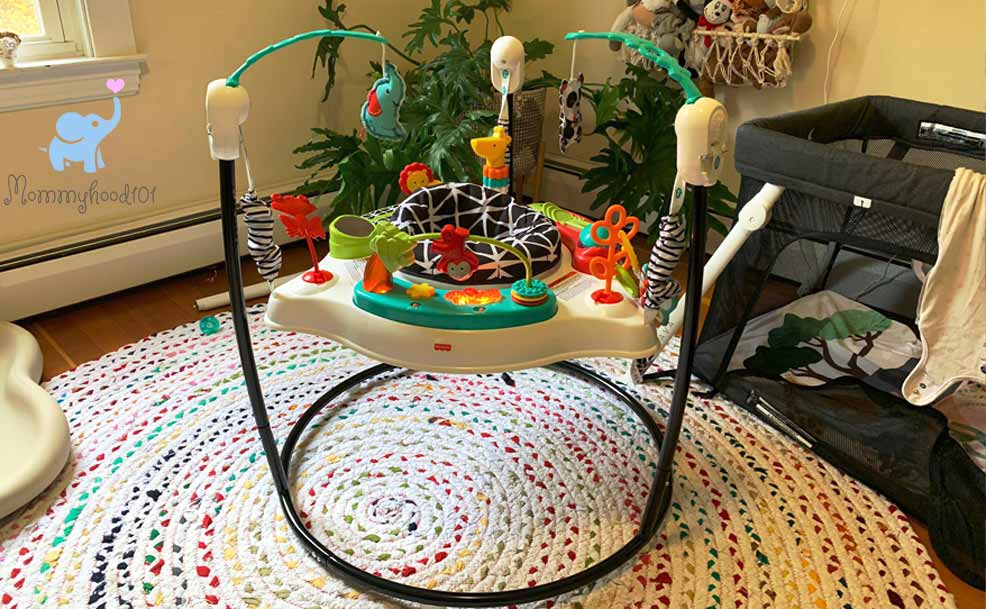 The overall dimensions once assembled are about 35" wide by 35" tall.
Jumperoo Features
The Jumperoo has a great set of entertainment and convenience features worth mentioning.
First, many of the toys are removable and can be easily reattached. This is great for babies interested in grabbing and chewing on some of the toys.
Second, the music and sounds are optional. You can turn them on or off, but also adjust the volume between two intensities. We honestly thought both of them were a bit too lound for an infant, but nothing too terrible!
Third, because each child will have different leg lengths, the Jumperoo has adjustable height to make sure those cute little feet come in contact with the floor (for jumping success!). Height is adjustable between three positions, using the cloth straps on each of the three struts. Here is what that looks like: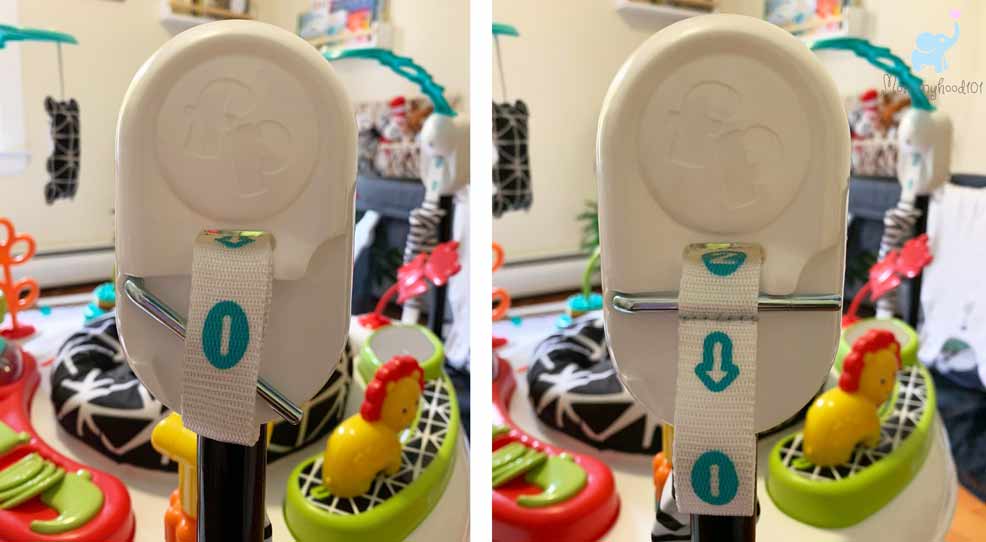 On the left, it shows the height at Level 1 (lowest), and on the right it's at Level 2 (middle). Each setting changes the height by about 2 inches.
Fourth, there are a few convenience aspects worth mentioning: The play tray is easily wiped clean, and the seat fabric can be removed and machine washed, which is a total game-changer!
Finally, we would be remiss to not mention that the entire platform does a great job bouncing and responding to your baby's input. Not only that, but the seat can spin 360-degrees around in a full circle, which is awesome!
What we Loved and Disliked
Our list up above (in the overall impressions section) gives a full overview of what we loved and disliked, but we will include a few additional points here.
We love how the Jumperoo moves! It shakes side to side with little kicks, and does a nice smooth bouncing motion with big kicks and jumps. In this regard, it responds nicely to the force your baby is able to exert, matching their power to the responsiveness of the baby jumper.
We also loved that there are no actual springs used, reducing the risk of pinching or breakage. In fact, an older Fisher-Price swing was recalled for exactly that reason (see references). Instead, Fisher-Price uses strong bungee straps surrounded by fabric webbing, for fun bouncing combined with relative safety.
We only encountered a couple little cons. First, it didn't include the three AA batteries, so you will need to supply those yourself. Second, our 4-month old test baby's legs were slightly too short for the Jumperoo, so we needed to fold a small blanket and put it under his feet. An easy solution, but would have been nice to have one extra adjustment setting for the little ones! Here is how we solved that problem: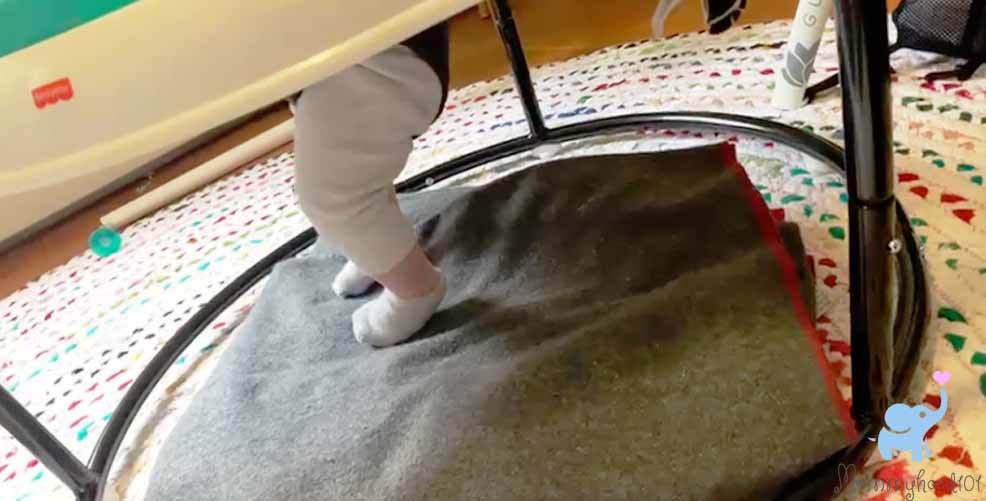 Overall, those are pretty minimal dislikes, and we're overall really happy with the Jumperoo's build quality, ease of assembly, and value!
---
Jumperoo Videos
If a picture is worth a thousand words, a video must be worth a million!
Here is the Jumperoo immediately after assembly:
Here is a video of our 4-month old test baby absolutely loving the Jumperoo:
And here is a third and final video of him figuring out the jumping feature:
It should be pretty clear from this video that he absolutely loved it! As did the older test baby!
Both of them fit into the seat pretty well. Fisher-Price says the Jumperoo can be used from 3 months up to 3 years. A couple notes about that.
First, we suggest making sure that your infant has good head and neck control before attempting to put them into the Jumperoo (see references). Some babies at 3 months are not quite ready for this adventure! Second, Fisher-Price suggests a weight limit of 25 pounds, which is likely to occur long before the third birthday! It's likely your toddler will be ready to stop using this around 14-18 months old.
Conclusions of our Jumperoo Review
Overall, we give the Jumperoo really high scores, nearly reaching a perfect 5! We basically love everything about it, save for some very minor annoyances that were easily remedied.
Looking broadly at the field of activity centers and exersaucers, the Jumperoo really stands out against the competitions in its features and build quality. And given how much fun it is, we think it's a great deal! Perfect for babies from about 3 to 18 months, at this low price the Jumperoo will prove itself worth every penny!
Interested? You can check out the Jumperoo here!
---
References
CPSC Recalls Baby Jumper Seats
Children's Hospital of Los Angeles discusses exersaucer and activity center safety.