The Best Diaper Pails of 2023
Say goodbye to smelly diapers with these top pails for hassle-free disposal.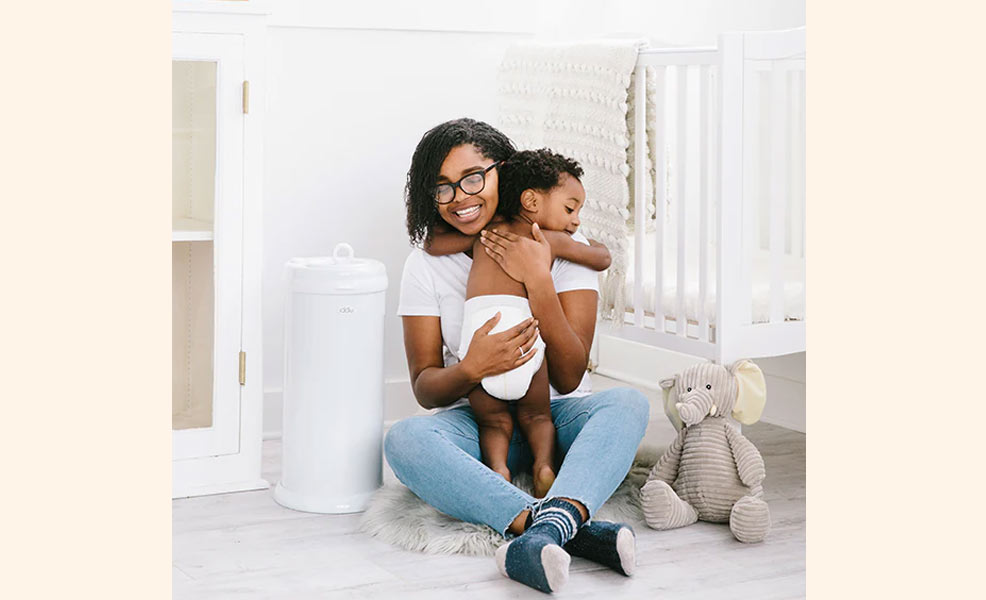 ---
Mommyhood101 independently tests and curates baby gear to help you make informed decisions. If you buy products through links on our site, we may earn a commission.
The diaper pail is one of the most important investments for new parents, allowing them to temporarily block the inevitably foul odor of dirty diapers until they find the time to take out the trash!
Just for fun, what does ChatGPT-4 think is the best diaper pail!?
"Based on parent recommendations and expert reviews, the best diaper pail is the Ubbi Steel Diaper Pail, which is made of steel to help control odors and keep the nursery spelling fresh. It also has a childproof lock, and works with standard kitchen trash bags." -ChatGPT-4
That's pretty good advice!
Unlike ChatGPT, we've been reviewing diaper pails for over 10 years. If we made our own, here is what it would look like:
✔️ Hands-free operation.
✔️ >25 diaper capacity.
✔️ Double-seal odor control.
✔️ Baking soda odor control.
✔️ Non-porous materials.
✔️ Uses standard garbage bags.
✔️ Foot pedal opening.
✔️ Automatic closing.
✔️ Childproof lock.
✔️ Easy bag changes.
✔️ Narrow footprint.
✔️ Easy to open & clean.
✔️ Durable & reliable.

Of course, you will also want the pail to meet your style preferences, fit your planned location, and meet your budget constraints. That's a lot to ask, and very few diaper pails meet the needs of picky parents!
To find the best diaper pails of the year, our reviews summarize results from our hands-on testing with over 25 different diaper pails to date. Some were great, some just OK, and some downright stinky!
Here are the top 5 diaper pails, followed by full reviews of about a dozen different options.
Poopy diapers stink, especially if you leave them around overnight or during a warm day. As your baby gets older their diets become increasingly varied and their bowel movements get bigger, resulting in even stinkier diapers! Enter the (partial) solution to this problem: the diaper pail.
A good diaper disposal system will effectively seal in the odors and prolong the time between taking the diapers out to the garbage. A great diaper pail will also have one-handed (or one-footed!) operation, and be durable, reliable, stylish, and reasonably priced.
Before we start our reviews, let's get something straight. Nothing other than a hermetically sealed chamber or being upwind is going to stop the stink of soiled diapers. Diaper pails are not miracle workers, they just buy you some time before you need to do the inevitable bag change. Every time you open it up to put in a new diaper, you'll see (or smell) what we mean! Also, these diaper pails can be used for disposable diapers or cloth diapers, though we suggest using one with great odor containment for cloth diapers given that they cannot be tightly rolled up like a disposable diaper.
Full disclosure: Some of these diaper pails, including the Munchkin and Safety 1st models, were sent to us as free test samples by the manufacturer.
Here are the Best Diaper Pails of 2023!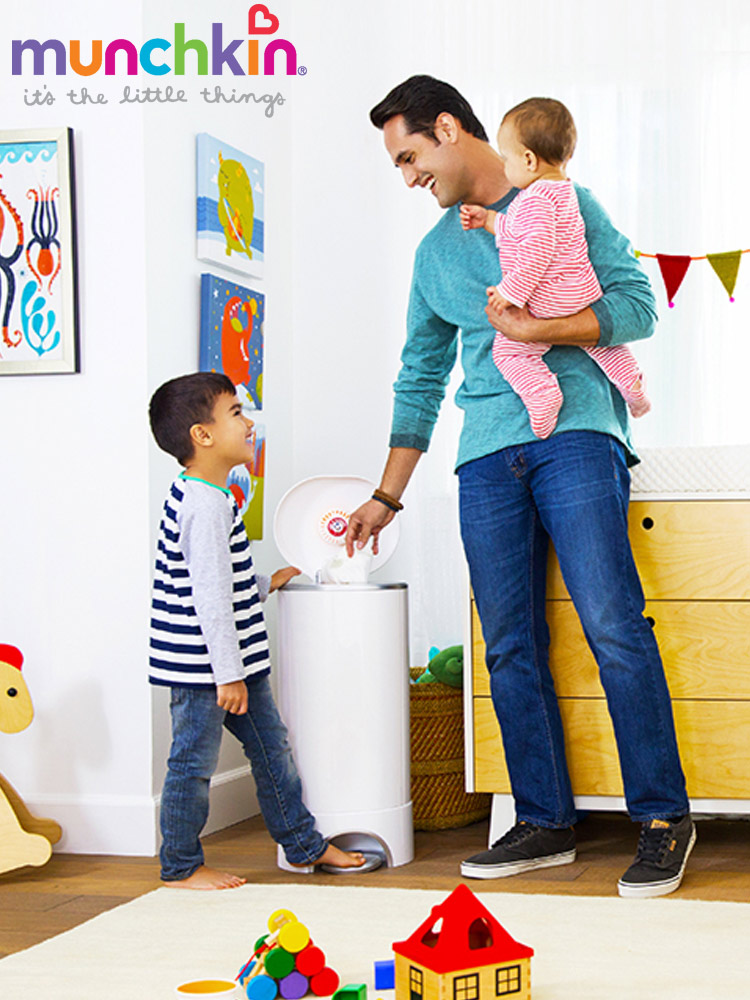 We got our hands on the Munchkin Step for testing and we're happy we did, landing it right at the top of our list! It has a sleek profile, matte white with silver trim, so it doesn't look like a typical industrious diaper pail (like the Diaper Genie or Champ). It is just over 2 feet tall and uses a great step mechanism to open the top flap. When the flap opens, it also opens the internal bag, which uses a ring-style refill system. When the flap is closed, it uses a unique twist technique to seal the bag shut. Definitely better than the squeeze-shut mechanisms. In addition to the Munchkin refill rings, it's also compatible with the snap, seal and toss bags, which is a nice touch. The secret to this diaper pail is that it uses an Arm & Hammer baking soda puck attached to the underside of the lid to help absorb odors, and a mild lavender scent that helps keep things fresh.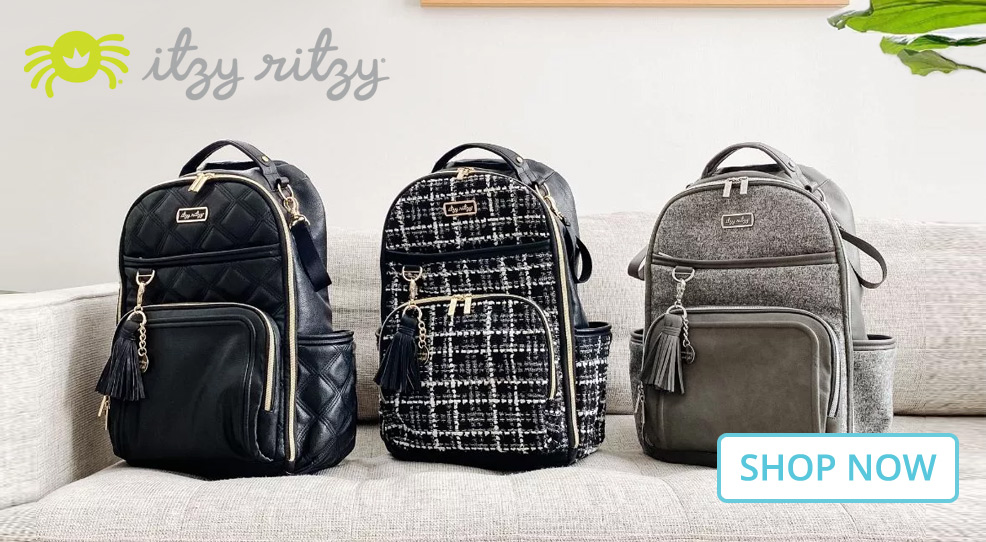 In our testing, we thought this was one of the best diaper pails for concealing odors, thanks to the powerful mechanical seal and the added odor management. Along with its high capacity, convenient step-open mechanism, and subtle design, this puts the Munchkin Step squarely at the top of our list. The biggest selling points are the odor control and foot pedal, which we believe are two of the most important aspects of a good diaper pail. Everything is easy to use and intuitive: the foot pedal works smoothly, the Arm & Hammer pucks are easy to replace, and the snap, seal and toss bag cartridges are easy to use and swap out (and reasonably inexpensive). There are just a few minor downfalls with this pail: first, you need to physically push the diaper down into the pail (you can't just drop it in). This might seem like a pain, but it's also part of what seals the odors so well. Second, the lid doesn't close automatically, you need to push it down to lock it shut. Not a huge deal since your hand is already there, and it also means that you don't need to keep your foot on the pedal for the lid to stay open. Overall, we think this is an excellent diaper pail and very deserving of this spot on our list! For about $70, it's also a decent deal given the effectiveness. Who else loves the Munchkin Step diaper pail? Our friends at Babylist, Babygearlab, WhatToExpect, and The Bump also call it a top pick! Interested? You can check out the Munchkin Diaper Pail here.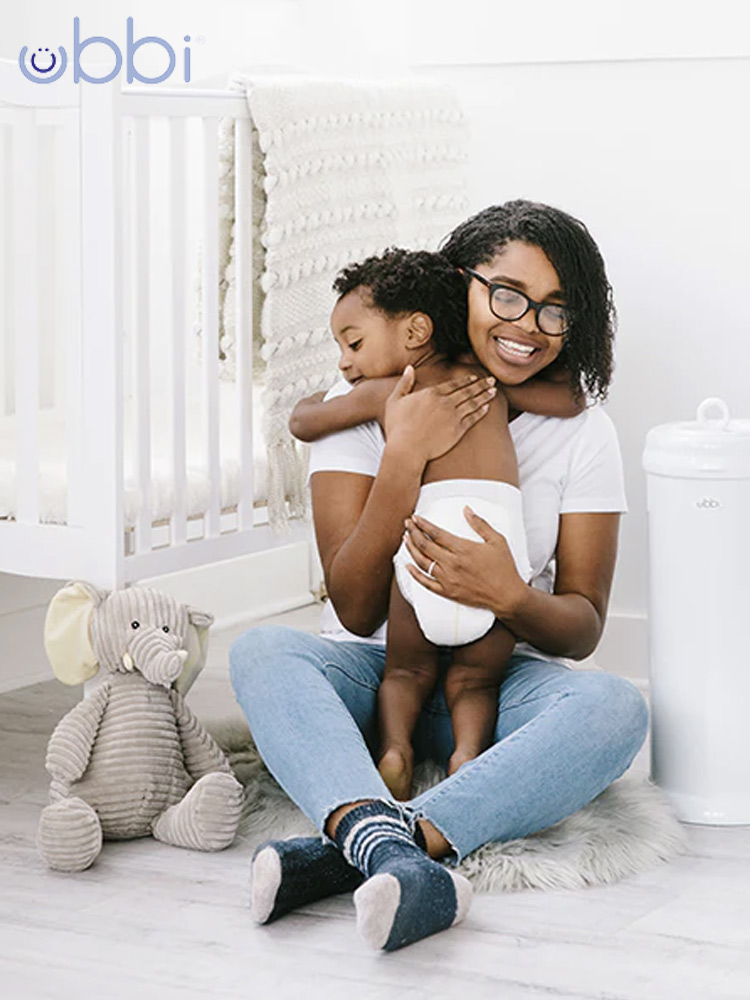 This is an awesome diaper pail and one of the best-rated and best-selling units on the market. And for good reason! Ubbi used steel instead of plastic when they designed this diaper pail, which is much less porous than plastic and reduces the chances that odors will be absorbed and permeate through the material. This, in conjunction with rubber seals on the top door, helps keep odors inside the pail. In our testing, we were very impressed with the Ubbi's ability to contain odors, even when fully loaded with dirty diapers. Another bonus is that this diaper pail allows you to use any bags you'd like in it. That means no more purchasing replacement diaper pail cartridges!
In our testing, we used tall kitchen trash bags and thought the Glad OdorShield Febreeze trash bags were especially great for this task. Rather than a flip-top lid, the Ubbi uses a lid that slides open. While not quite as easy as a diaper pail with a foot pedal, it does a slightly better job at sealing in odors. To toss in a diaper, you slide the lid back, throw in the diaper, then slide it closed; we had no issues doing this one-handed. There is also a baby-proof knob on the top to prevent a curious toddler from sliding it open entirely. Emptying the bag was easy: lift the lid and the ring, and then simply tie the bag and pull it out. The only minor downfall is that it doesn't have a foot pedal to make opening the lid a hands-free experience. Overall, we think this is a great diaper pail: it looks great, works well, and is under a hundred bucks! Who else loves the Ubbi Steel diaper pail? Our friends at Babylist, Babygearlab, WhatToExpect, and The Bump also consider it a top pick! Interested? You can check out this Ubbi Steel Diaper Pail here.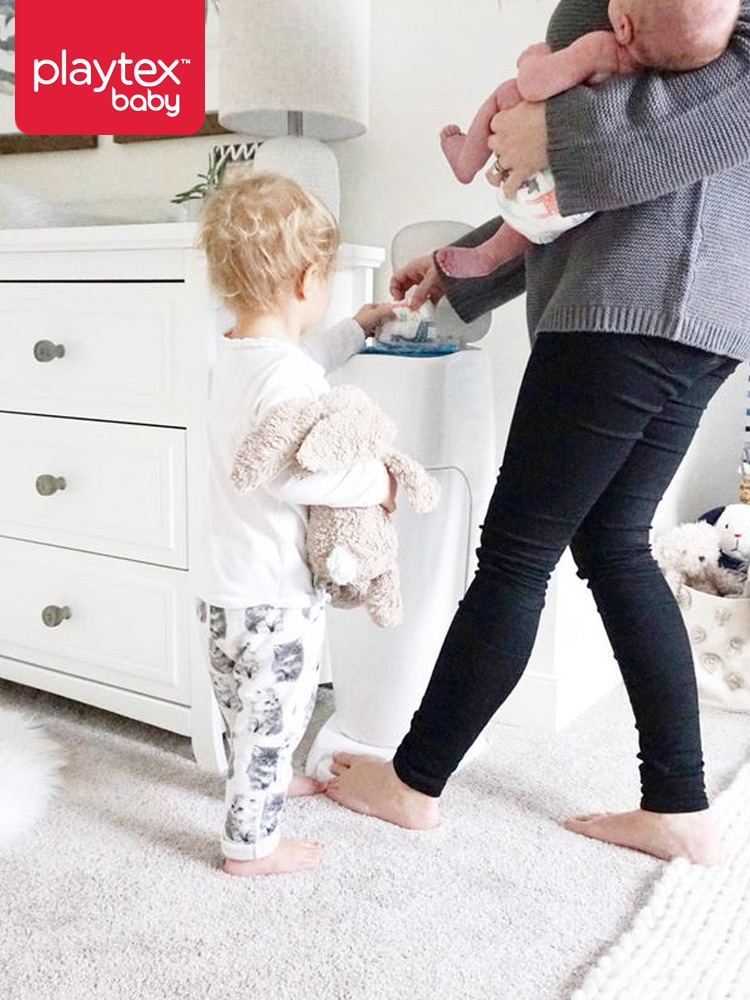 This is one of very few foot-pedal controlled diaper pails that provide a true hands-free operation, letting you hold your baby with one hand and dirty diaper with the other, and toss the diaper right in! The Diaper Genie Complete is a great product, has a nice smooth operation, and does a surprisingly good job containing odors. When you press the foot pedal, it opens up not only the lid but also two layers of air-tight clamps that help seal in the odors. To help out, the inside of the diaper pail is coated with an odor-controlling anti-microbial, the bags are an odor-blocking multi-layer plastic film, and there is a carbon filter hiding under the lid. Together these do a pretty good job of stopping odors, though the effectiveness of the carbon filter does fade after 4-6 weeks of use; we suggest replacing the carbon filter about once a month to keep up. Changing the bag was easy enough, and the Genie uses refill cartridges that claim to hold about 270 diapers per cartridge.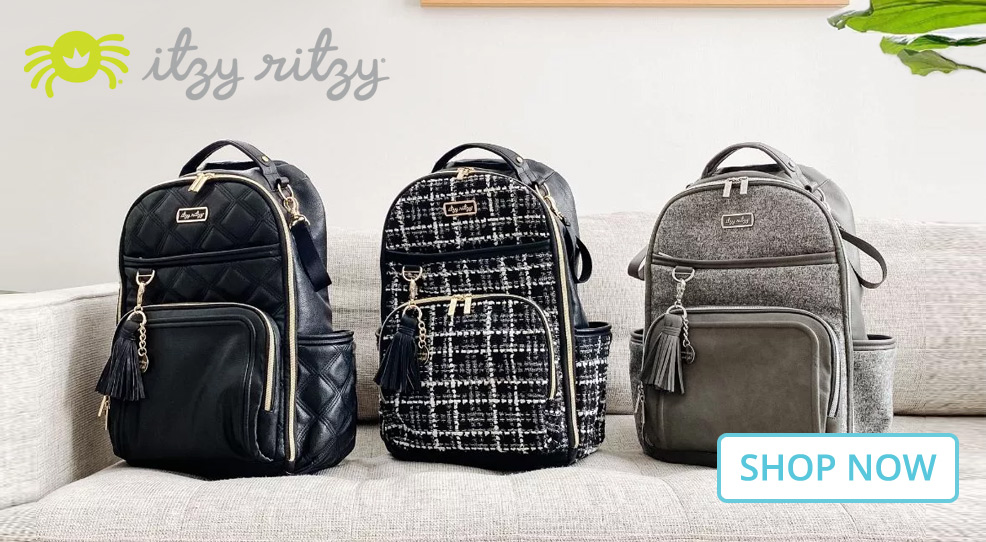 In our experience, you can get about 10 bag refills out of each cartridge. Given that cartridges cost about $6 each, that amounts to a cost of about 2 cents per diaper. Pro-tip: instead of changing the entire bag each time it's full, use scissors to snip the knot off the bottom and dump the diapers into a cheaper kitchen bag or an old grocery bag, and throw them in your outside garbage. If you use that trick, you'll get about 100 refills out of each cartridge! Another simpler option is to use the Genie for dirty diapers and throw wet diapers into your kitchen trash can. Of course, if you're fine with the cost of the Diaper Genie refill cartridges you can ignore these tips! If you would like to dress up your diaper pail with some cool designs, check out the Diaper Genie Expressions version, which comes with decorative sleeves. Overall, we think the Genie Complete is a great diaper pail with some awesome capabilities, ease of use, and odor-blocking skills. And the price is right, coming in at about $50, though purchasing the carbon filters and refill cartridges will add up over time. Who else loves the new Diaper Genie? Our friends at Babylist, Babygearlab, WhatToExpect, and The Bump also call it a top pick! Interested? You can check out this Playtex Diaper Genie here.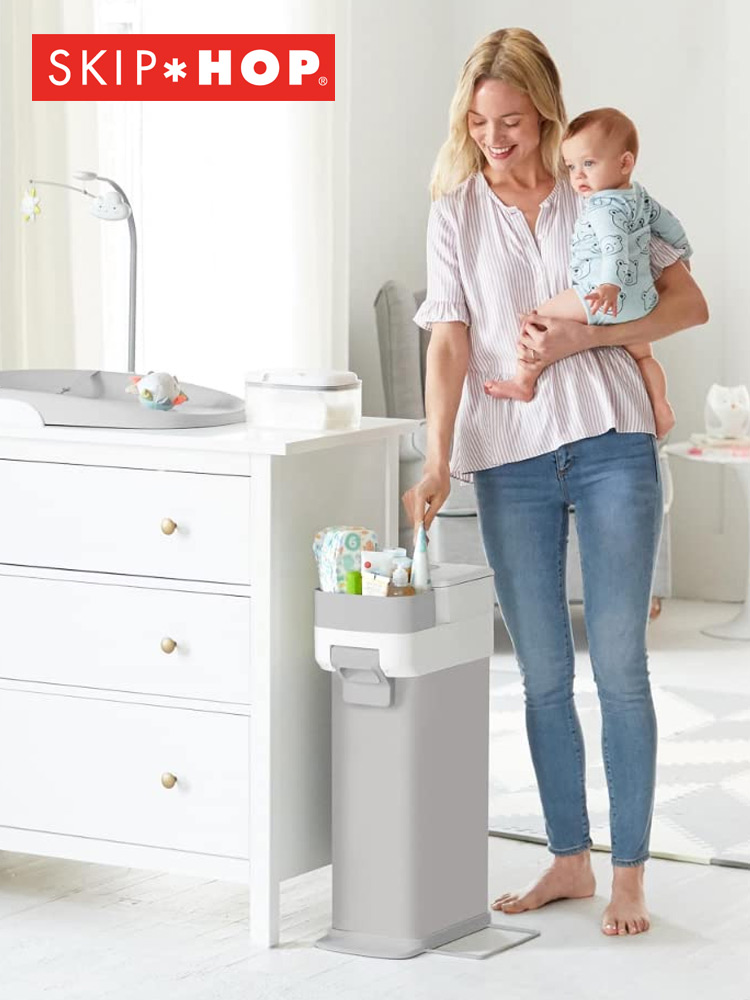 The Skip Hop Nursery Style diaper pail is different from most diaper pails in a few primary ways. First, it is rectangular rather than a circular shape, making it easier to fit squarely up against a changing table or wall. Second, it has a unique storage compartment on the top that can be used to hold diapers, wipes, diaper rash cream, and more. It can also be used to hold a baby wipe dispenser, which Skip Hop sells separately. Third, it uses a dual air-lock system to trap odors, including the lid and an internal flap. Finally, the Skip Hop Nursery Style diaper pail does not require any proprietary refills - you simply use standard kitchen trash bags. That's a lot of unique features and we were excited to get our hands on this diaper pail for testing!
Out of the box, the diaper pail was very easy to assemble and prepare for use. If you're going to use it up against a wall or the side of a changing table, they include a small metal leg to prevent tipping. This is important to install because the diaper pail can get very top-heavy when you use the upper storage area. To install a trash bag, you lift the entire lid open and place the bag onto the pail's edges - just like you do with a kitchen garbage bag. This was interesting because it also means that anything you keep in the upper storage area will need to be removed prior to changing the bag; otherwise, it will all tip over sideways and fall onto the floor. Don't ask how we know! Fortunately, Skip Hop provides a removable storage bin to hold your diaper change supplies, and it's easily popped off the top. The hole for inserting diapers is hidden under a small lid. While there is no foot pedal for opening the lid, it can be opened and closed easily with one hand. The diaper lid is definitely clever: you open the outer lid and throw the diaper in, then close the outer lid. The diaper will sit atop an inner flap until you press a second button that opens the flap and lets the diaper fall into the bag. In other words, this diaper pail uses a true air gap, which we noticed helped tremendously in reducing odor. For cons, we think it's not the best-looking diaper pail on our list, but we'll leave that up to personal preference. Another con is that it's not quite as good at sealing odors as the Ubbi Steel or others on this list. We do love the functionality and versatility, however, and appreciate being able to use standard kitchen diaper bags! Coming in at about $60, we think it's a decent deal. Who else recommends the Skip Hop diaper pail? Our friends at Babylist also call it a top pick! Interested? You can check out this Skip Hop Nursery Style diaper pail here.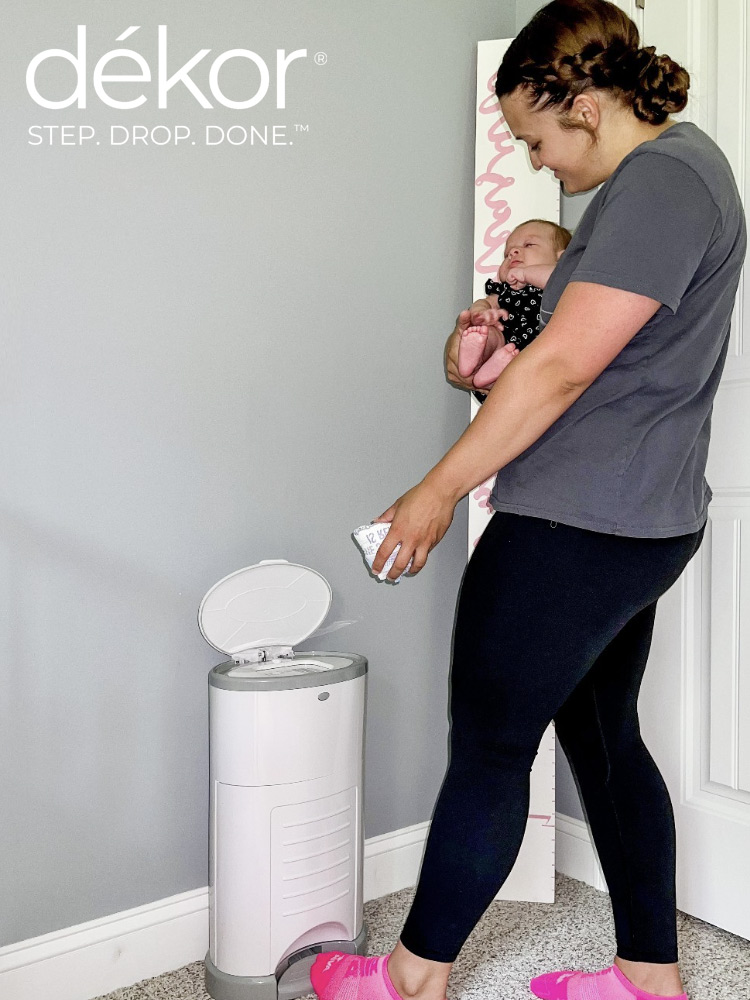 This is a stylish and sleek alternative to the typical (and frankly somewhat ugly!) Champ and Genie pails. The Diaper Dekor Plus functions much like the Genie but is a bit more durable. You press the foot lever for hands-free operation, which opens up the top and exposes a square flap hiding the hole where you'll toss the dirty diaper. The flap is a nice touch: unlike the Genie, when you push the foot lever, it doesn't immediately give you a giant waft of odor. That's because the stink is hiding behind yet another layer of plastic. When you fill it up, you open the front of the pail and pull the bag down, cut it with a little kid-safe blade, and knot it. Then pull down a fresh bag and knot it. Very similar to the Genie in this regard, but a bit less stink escaping when you use the foot lever. Our testing moms loved that it was completely hands-free, so you can hold your baby and put in the diaper (the Genie is also hands-free). Two moms noted that they bought the Diaper Dekor system after their Diaper Genie broke - usually, the flap hinges are the first to go. This system overall is highly recommended, and as a bonus, it looks quite a bit better than the others and comes in multiple colors. It's usually only about $50 online. We did the calculations for you, and the cost of bag refills is about 1 cent per diaper. Downfalls? Well, after several months of use, the plastic began to absorb odors pretty badly; because there is no extra deodorizing insert, the long-term stink factor is definitely not great. We suggest cleaning it out with a hose and vinegar every 3-4 months. Who else recommends the Diaper Dekor Plus? Our friends at The Bump consider it a top pick! Interested? You can check out the Diaper Dekor Plus Diaper Pail here.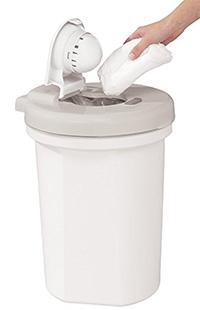 We finally got our hands on one of these Easy Saver diaper pails and put it to the test. We actually hadn't seen it around on the market, and it wasn't until one of our Facebook fans told us to test it out. Overall, it's good enough to make it onto our "best diaper pail" list, but it's definitely not up to par with some of the others. Let's get into the positives first. The Easy Saver lets you use your own tall kitchen garbage bags (the 13-gallon ones), which is really convenient so you don't need to buy separate refills. It also includes a baking soda deodorizer disk that fits into the underside of the top flap, a bit like the Diaper Genie. That disk does help with the stink quite a bit until it runs out and you need to replace it (about once a month). The design is sleek and simple, and the top flap mechanism seems to be decently high in build quality and reliability. Given the relatively low price of this diaper pail (about 20 bucks!), this makes an excellent option for parents looking for an inexpensive diaper pail without any of the perks and features of a more expensive model. In our testing, we used odor-absorbing kitchen trash bags, which in conjunction with the deodorizer disk worked like a champ at stopping the stink. We also found some negatives. First, to open it you need to use a small button on the top, which pops open a flap that you stick a diaper into. It works just fine, but we really prefer the foot pedal style, it's just so much easier to use when you're already carrying a baby in one hand and a dirty diaper in the other! Second, the odor control wasn't quite as good as some of the better ones on this list, especially when the deodorizer ring needs to be replaced. Third, we thought the hole on the top was way too small and awkward to stuff a diaper into. It's mostly because the bulge on the bottom of the lid flap is so big, that it simply gets in the way. Of course, you then need to push it shut after opening it. So definitely some cons relative to other diaper pails on this list. But if you're looking for a well-built diaper pail on a budget, this is definitely a great option!
Here is a completely new concept for diaper disposal. Rather than having a permanent diaper pail sitting in your house and accumulating odor, this is a completely disposable system that functions more like a collapsible laundry basket. But in this case, once it's filled up you simply throw the entire thing in the trash. Each pail fits about 30 newborn or 20 toddler diapers before it's full, and each pail costs about $2. In the end, it's definitely a more expensive and wasteful option than a typical diaper pail, but there are definitely circumstances where this is ideal. These include travel, camping, and vacations where you don't have access to your normal diaper pail but want something to contain odors and not take up too much space. Speaking of odors, this does a surprisingly decent job at stopping the stink! It's not as good as the Ubbi steel or other more permanent disposal systems, but it's really pretty good given its portability, convenience, and low cost. While the photo makes it look rigid, it's not very rigid at all - it collapses down into a very small package the size of a frisbee so you can fit it into your diaper bag or stroller basket pretty easily. As you add diapers, it expands and stands on its own. The entire thing is made of plastic and feels sort of flimsy (it's 2 bucks, after all), and don't expect it to withstand extended or repeated use. It's simply not designed for that. As the only truly portable diaper disposal system on our list, it has a clear purpose, and it's not extended and repeated use. Our only major gripe with this system is the waste that's generated - not only are you filling landfills with diapers but also with a plastic disposal system. We're not going to judge you for using this, you need to do what's best for your situation but just wanted to point that out. Interested? You can check out this Munchkin Toss here.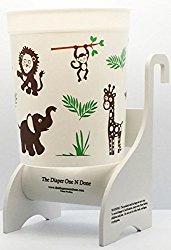 Don't let the picture fool you, this thing is really compact! Here's a new entry into the diaper pail market, with a very different strategy. Instead of having a separate large container to store diapers, this system lets you use your existing garbage can. It reminds us a bit of having a puppy: you individually wrap each offensive item into a small plastic bag, then throw in the garbage. The Diaper One N Done is substantially smaller than any other diaper pail on our list. Because it's not really a diaper pail. It combines a perforated roll of bags, much like those little doggie clean-up bag rolls. You open a new bag and put it over the pail edges (similar to what you probably do already with the bathroom garbage can!). Then you put a dirty diaper in, tie it, rip the bag off the roll, and put a fresh new bag over the edge. Then you throw the bagged diaper into your regular garbage can. It seems like a bit more work, but here's how our testing moms saw it: first, the system is about half the price of the others. Second, since you're using your regular garbage, you don't have to worry about taking out yet another pail full of garbage. Third, since it's bagged and tied, the stink actually does an OK job staying in the bag. Fourth, it is a really small pail that can sit on top of your changing table, or use the hook so you can hang it on the side. That's a lot of positives! The negatives? Well, if the Champ is unfortunate because it requires 1 hand to operate, the One N Done really loses out because it requires both hands to tie the bag and reinstall a new bag. If you can foresee yourself being able to put down your baby while you tie the bag, then this is the system for you. It's about $40 typically online and comes with several different fun designs. We did the math for you, and the cost of refills is about 7 cents per diaper, which is pretty steep! You'd be better off purchasing a few rolls of dog poop bags, which are less than 2 cents each when purchased in bulk.
Discontinued Diaper Pails
Diaper Champ Discontinued: Where did the Diaper Champ go!? One of the original diaper pails, the Diaper Champ was super popular for over a decade. Baby Trend discontinued it last year, and with all the new options to choose from, we haven't looked back! However, if you're looking for a good Diaper Champ alternative that matches the original design, check out the one made by Creative Baby!
Tommee Tippy Simplee Nappy Discontinued: Where did the Tommee Tippee Simplee Nappy go!? This diaper pail was most similar to the Diaper Dekor in design, using a ring-shaped diaper refill, a two-layer odor protection mechanism (lid and flap), and a very reasonable price (about $40). Unfortunately, it is no longer being manufactured, though you might be able to find the remaining inventory online.
Conclusions
After our testing was said and done, we realized that some diaper pails really stank (literally), and some were fantastic! There were dozens of options - some are convenient, some not. Some are great at masking odors, some not. Some are durable and reliable, some not. And some require proprietary bags whereas some let you use whatever bag you want. So many options, and lots of differences between them.
How do you take care of the poopy diaper problem? The obvious solution is to take your dirty diaper out to the garage, dumpster, or outside garbage can every time you change a diaper. That strategy will work for about a day. Then reality will set in - nobody has the time or energy to take out every single diaper, especially when you're changing your baby every hour or two. You also don't want to be filling up your kitchen or bathroom garbage can with diapers, because that will get really smelly really quickly! Instead, we suggest investing about $80-100 in a good-quality diaper pail. Remember, you can always wash and sell it on Facebook Marketplace when you're done using it!
For more in-depth details on how to pick the perfect diaper pail, check out our full diaper pail buying guide. Also, check out our reviews of the best diaper changing pads!