Best Diaper Changing Pads 2023
Changing time made comfy with these top changing pads for your little wiggle worm.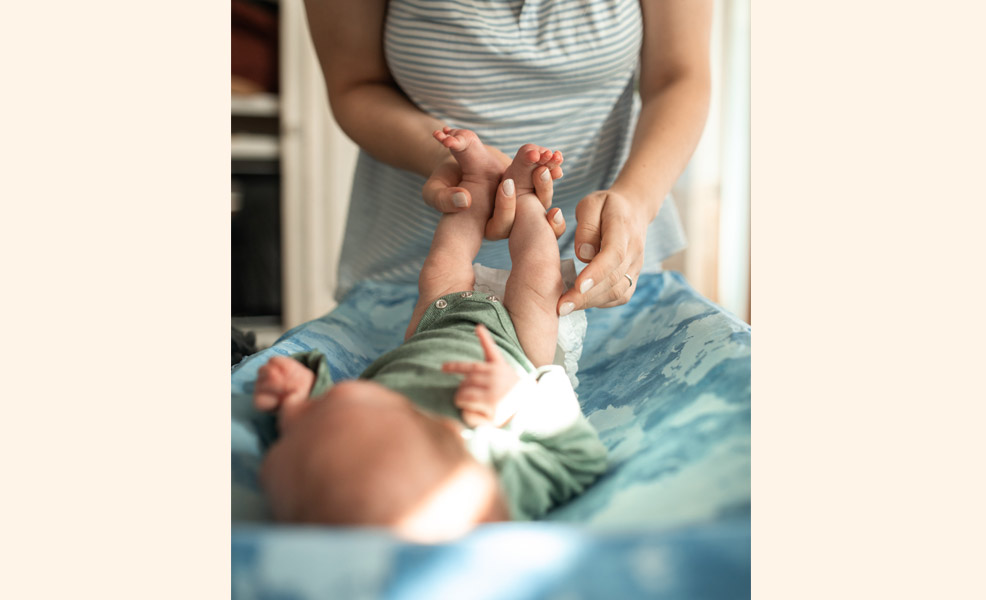 ---
Mommyhood101 independently tests and curates baby gear to help you make informed decisions. If you buy products through links on our site, we may earn a commission.
Newborn babies will need their diaper changed up to 10 times a day, and you'll want a good place to lay your baby down, grab some baby wipes, clean up the mess, and put on a fresh disposable diaper or cloth diaper.
Whether at home on a changing table or on top of a dresser, or when you're on the go, you'll want a changing pad that is comfortable, safe, and easy to clean.
Just for fun, what does ChatGPT-4 think is the best diaper changing pads!?
"After conducting thorough research and analyzing expert and parent opinions, I have found the Keekaroo Peanut Changer to be the best for its durability, easy-to-clean surface, and comfortable design for both baby and parent." -ChatGPT-4
I've never seen a robot change a diaper, but we think they're onto something!
Fortunately, we've been reviewing changing pads for over 10 years, and if we made our own, here is what it would look like:
✔️ Soft & comfy surface.
✔️ Removable & washable covers.
✔️ Water repellent surface.
✔️ At least 30" long.
✔️ At least 16" wide.
✔️ Attaches to table/dresser.
✔️ Includes safety belt.
✔️ Easy to clean surface.
✔️ Anti-slip bottom.
✔️ Lightweight.
✔️ JPMA safety certified.
✔️ Non-toxic & durable materials.
✔️ At least 1-year warranty.
Of course, you will also want the changing pad to meet your style preferences, fit easily onto your table or dresser, and meet your budget constraints. That's a lot to ask, and very few diaper changing pads meet the needs of picky parents!
Here are the top 5 changing pads we've found, followed by our in-depth reviews.
Diaper blow-outs never come at an opportune time, so you'll want to have at least one changing pad for home use (ideally one on each floor of your home), and at least one portable changing pad that you can keep in your diaper bag.
Full disclosure: Some of these changing pads, including the Hatch and Munchkin models, were sent to us as free test samples by the manufacturer.
Here are the Best Changing Pads of 2023!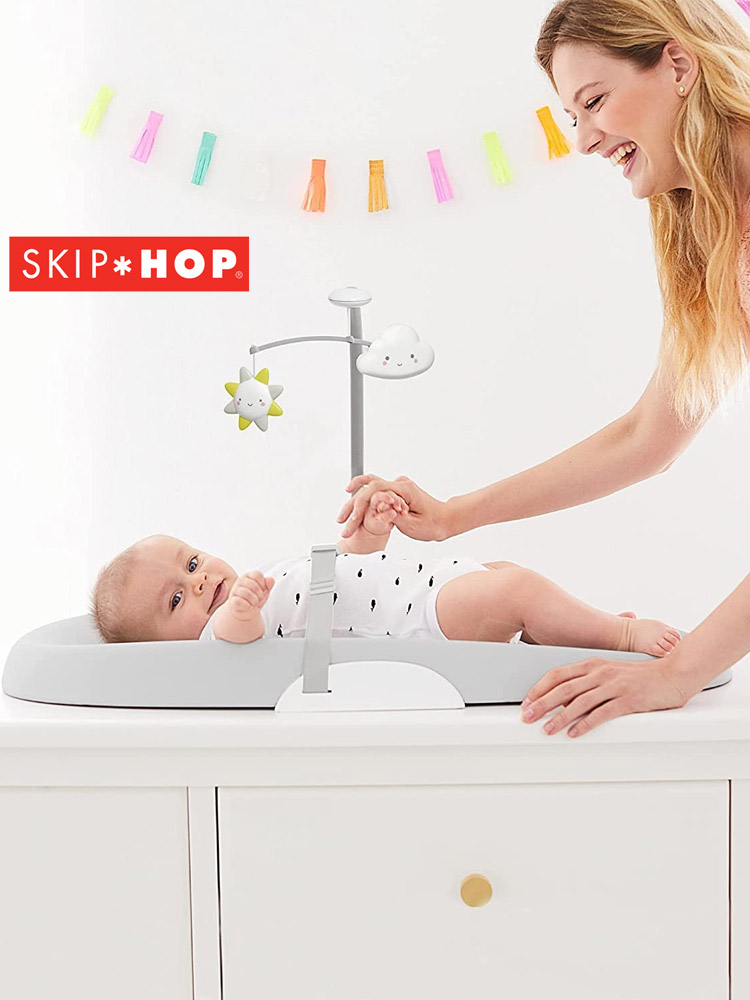 For parents who like the look and feel of a modern nursery, the Skip Hop changing pad has simple lines and colors, is well-built, and fits into nearly any decor. Out of the box, we were surprised with how large this changing pad is, measuring about 31.5" long, 18.25" wide, and 2.5" high. It's not huge, but it is a bit longer and wider than most of the others on this list. If you're planning on putting the pad on top of a dresser, be sure to check the dimensions first. Hopefully, your furniture is big enough because the Skip Hop changing pad is awesome! In addition to its great style, it also has some great functionality: the foam core is firm and free of PVC and phthalates, and is waterproof and easy to wipe down for cleaning. There are adhesives on the bottom to secure it to a dresser or changing table, and a safety buckle to go across your baby's tummy. One of the unique aspects of this changing pad is the hanging mobile with a little sun and mirror on it to entertain your baby during diaper changes. If you don't like it, you can either swing it down when not in use, or you can remove it entirely.
Overall, we loved using the Skip Hop and think it's not only adorable but also durable and high quality. One of the things we were worried about with this changing pad is whether the rubber pad would be too cold on a baby's bare back. There are no covers for this changing pad - it's designed to be used without one. In our experience, however, we found that it doesn't get very cold at all and wasn't ever a problem (even in the New England winter!). If your baby is a little more sensitive, we suggest getting some changing pad liners (like the Munchkin ones) for when your baby has a bare back. Overall, we love the look and functionality of this changing pad, and think it's an awesome option! It goes great with the popular Hemnes dresser from Ikea, as you might notice in tons of our nursery idea photos. It's a bit more expensive than a basic changing pad, coming in at about $80, but it's also twice as much fun! Who else recommends the Skip Hop changing pad? Our friends at Babylist and The Bump! Interested? You can check out the Skip Hop Changing Pads here!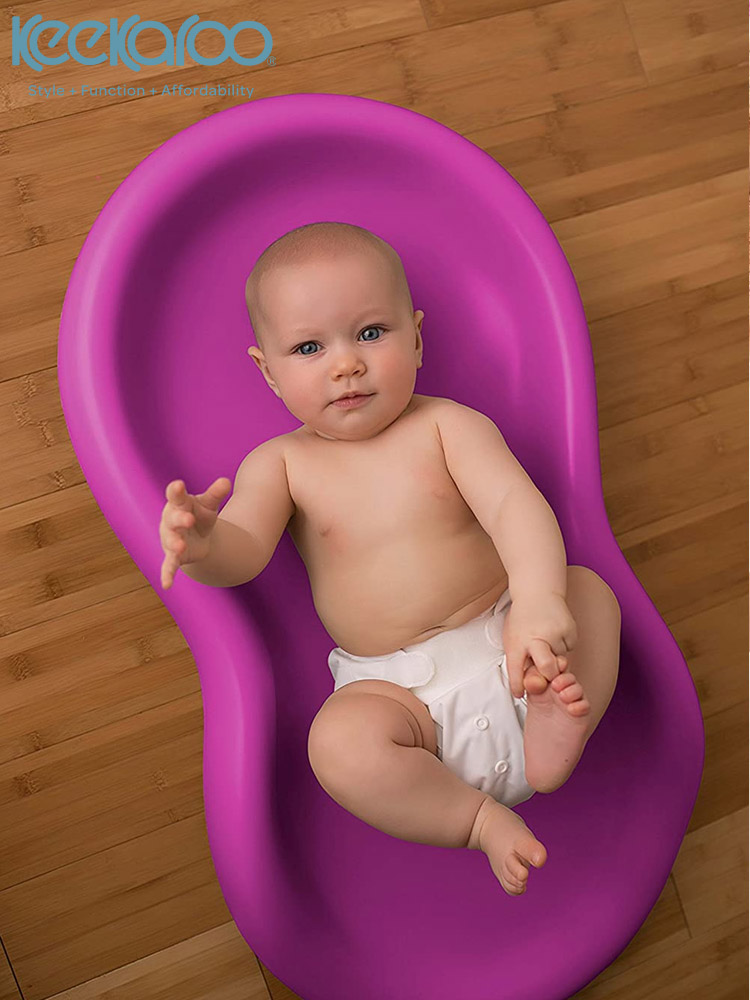 This is the most expensive changing pad we tested, coming in at about $130. In terms of look and feel, it's most similar to the Skip Hop but sets itself apart in a few ways. First, the Keekaroo Peanut is a bit narrower, coming in at slightly under 17" wide; the length of 32" and height of 4" are pretty standard. If you have a dresser that isn't very deep, this Keekaroo Peanut makes a better option. Second, the Keekaroo is softer and more cushioned than the Skip Hop and we think this translates to a more comfortable surface. Third, we like the shape and contours, and appreciate the relatively high ledge at the top to prevent your baby from scooting up and off the changing pad. The bottom is anti-slip and does a nice job on basically any surface, and we really like the thick safety belt. Designed to be used without a cover, the Keekaroo Peanut is waterproof and super simple to clean. The white version (called vanilla) can stain a bit if you don't wipe it down immediately after a mess, but the darker and brighter colors don't have that issue. During the colder months, the rubber surface can get a little cool to the touch (if your baby is naked and more sensitive), so we used a changing pad liner.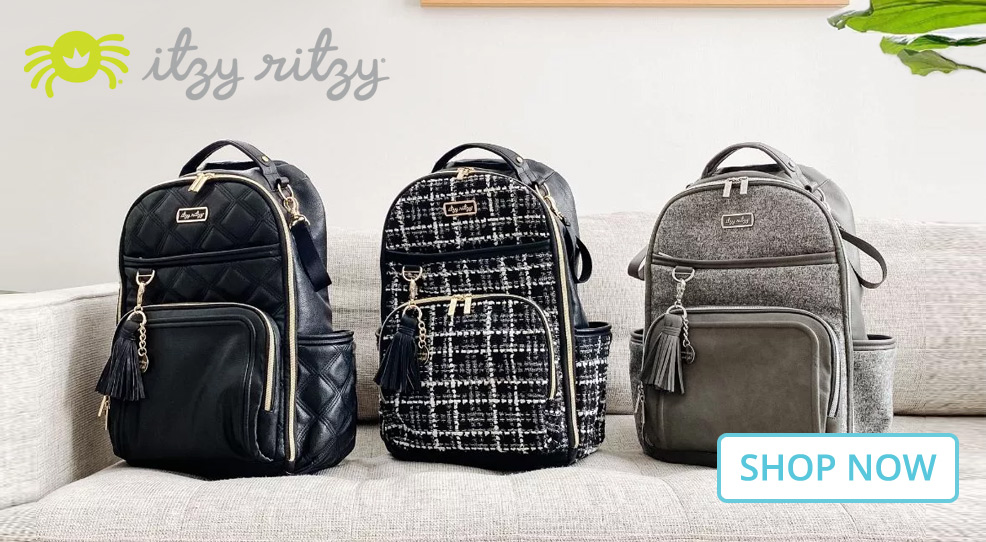 Is it worth $130? That's one of our biggest remaining questions. Yes, it's very high quality, comfortable, stylish, easy to use, and Made in the USA. But we also realize that's a big splurge for a changing pad. If the price doesn't scare you, we think it's a great (and adorable) choice! Who else loves the Keekaroo Peanut? Our friends at Babylist, The Bump, and VeryWellFamily also consider it a top pick! Interested? You can check out the Keekaroo Peanut Changing Pads here!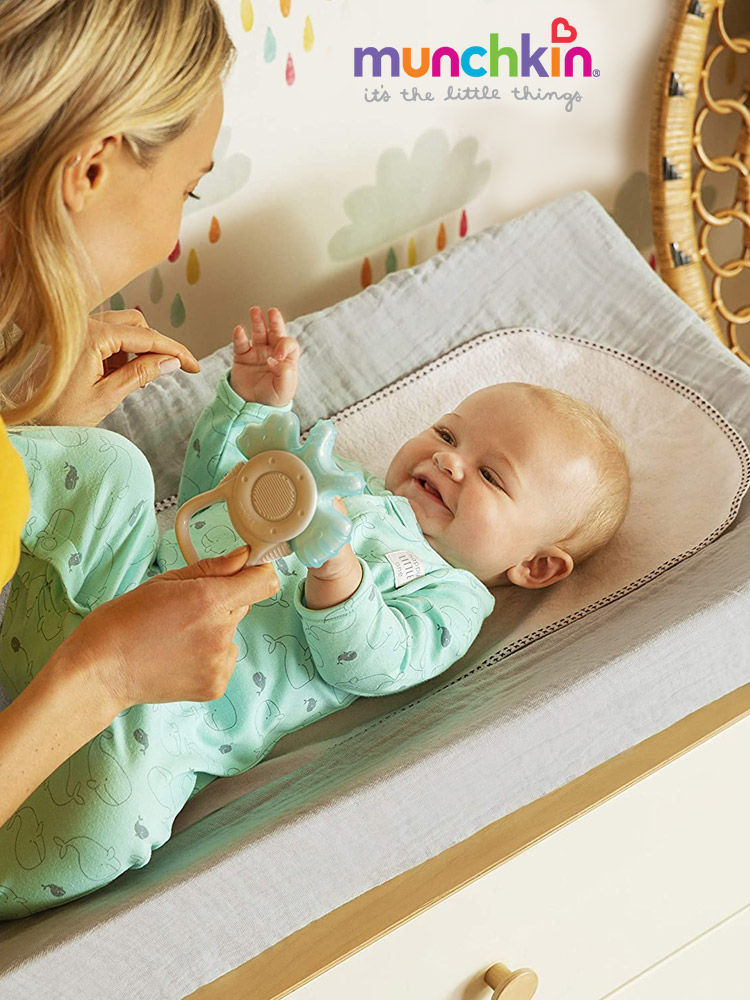 The Munchkin Secure Grip is the latest model in Munchkin's long history of making basic, inexpensive, and high-quality changing pads. For parents looking for a basic and easy-to-use changing pad that won't break the bank, it's definitely one of the best changing pads on the market! Measuring 31" long, 16" wide, and about 4" tall, it's the same standard size as most changing pad covers (like these awesome ones). Its dimensions make it super convenient for finding new and inexpensive changing pad covers if yours get stained or torn. The pad itself is lightweight polyurethane foam covered with waterproof vinyl. The foam core is cushioned enough to keep it comfortable, and the vinyl cover is waterproof and super easy to clean. One of the things we love about this vinyl top layer is that it's not textured (or "quilted"), so that cleanup is a bit easier and more effective with a basic wipe-down. It has two nylon straps (about 4" long) on its side that you can screw into the back of your changing table (or dresser) for security.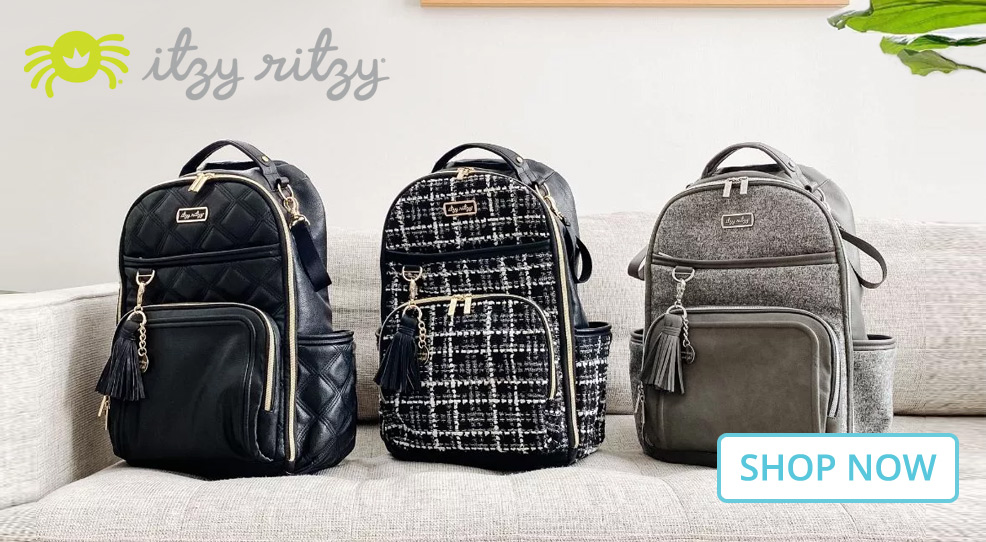 Even if you don't attach it to your changing table or dresser, there are anti-slip grippy feet on the bottom that help keep the changing pad from sliding around. Of course, you should always secure it for extra safety: when our 11-month-old was learning how to walk, he reached up and pulled our unsecured changing pad right off the dresser along with the package of wipes that bonked him on the head. Speaking of straps, it has an easy-to-use safety belt across the top that can be used to help keep your squirmy baby from wiggling out of your grip. If you're looking for an awesome, basic changing pad and don't need anything fancy, then this is probably the best option for you. Coming in at only about $30, the price is right where it should be, and low enough to leave some room in the budget for changing pad covers and the great Munchkin Changing Pad Liners. No frills to be found here, but also no cons to speak of! Who else loves the Munchkin Secure Grip Changing Pad? Our friends at The Bump and VeryWellFamily also consider it a top pick! Interested? You can check out the Munchkin Secure Grip Changing Pads here.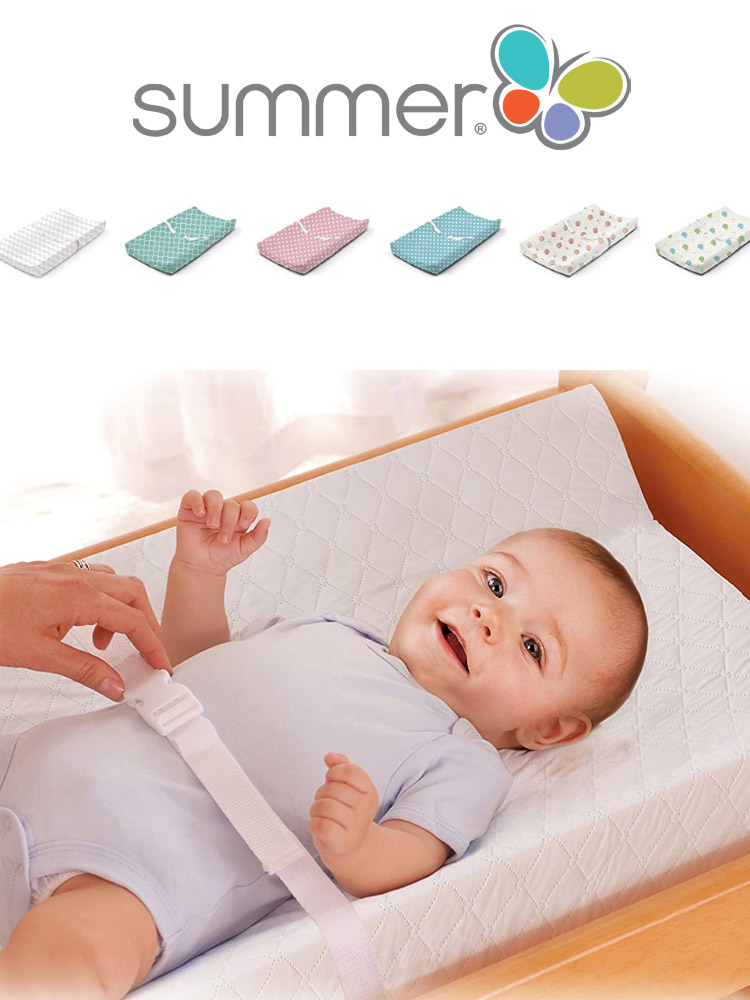 Looking to only spend about 20 bucks on a changing pad? This is an awesome option for you! The Summer Contoured changing pad is cheap and simple: it is very similar to the Munchkin Secure Grip in size and features. For size, it's a bit longer, coming in at just under 32" long (by 16" wide and about 4" tall). The foam core is very similar in cushioning and weight, it also uses a waterproof vinyl cover, and it has a safety buckle on top to help keep your baby from wiggling around too much. The biggest differences between this and the Munchkin are: first, this vinyl cover has a subtle texture to it (what they call "quilted"), which looks a little nicer but isn't quite as easy to clean. If you have a blow-out on this changing pad, bacteria can get trapped in the nooks and crannies of the texture. Second, the vinyl cover is a bit loose on this changing pad, making it a bit more difficult to clean.
So while there are a few things we didn't love, did we mention that this is only about $30? For that price, you can buy some awesome changing pad covers and liners and still keep the price under the Munchkin model. The liners will help cover up the vinyl texture anyway, resolving the cleaning issue. We used the Summer Contoured changing pad with our second baby and it's still going strong 6 years later, being used for our nephew. We always used a cover with it and found it to be durable and long-lasting. Sweet deal! Made in China, for what it's worth. Who else loves the Summer Contoured Changing Pad? Our friends at Babylist, The Bump, and VeryWellFamily also consider it a top pick! Interested? You can check out the Summer Contoured Changing Pads here!
With a newborn, you won't need to worry too much about rolling and scooting around on the changing pad. But as they start to grow up and become more curious and active, there is a risk that they will figure out an awkward gymnastics maneuver to get them off the pad. If your baby is especially wiggly and active, then the Poopoose is an awesome option! Rather than the typical strap-based safety belt that is loose and somewhat ineffective, the Poopoose uses a thick swaddle-like strap to secure and calm your baby during diaper changes. The strap uses Velcro and is adjustable for all different types of tummy sizes. Before we jump into our review, here are the basics: the changing pad measures 32" long, 16" wide, and just under 4" high. The phthalate-free polyethylene foam cushion (made from recycled materials!) is softer and more like a memory foam than the Munchkin and Summer, and the non-vinyl cover is texture-free, easy to wipe clean, and removable.
In our testing, we loved the concept of the swaddle-like safety belt. It's super soft and comfortable, provides a nice secure fit, and can be removed for washing. Of course, even with this belt, you can never leave your baby unattended on a changing pad. When we used the Poopoose to change diapers, we had to slide the baby down a bit so that the strap was closer to his armpits than his waist, to avoid the risk of getting the strap dirty. That worked out just fine, but it's worth mentioning. The other thing that happened was that our 10-month-old test baby quickly realized that he could grab the edge of the strap and make a fun Velcro ripping noise that would also set him free. He's a very curious baby and doesn't like sitting or laying still for more than a few seconds, so that's probably not going to happen with most babies. Like most changing pads, you're going to want to use a cover, which complicates things a bit because of the unique strap position and size. Fortunately, Poopoose makes changing pad covers that fit perfectly, but they are a bit more expensive than other covers. Overall, we love the Poopoose, and think it's the best changing pad for wiggly kids and nervous parents. Made in the USA and coming in at about $60 we think it's a fair price for peace of mind and comfort. Also recommended by our friends at The Bump, you can check out the Poopoose Changing Pads here!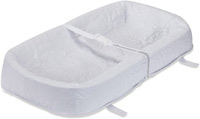 This is a true 4-sided changing pad, which means that the 4" high edge surrounds the entire pad perimeter (it's about 2.5" to 3" high from the inside). This is great for when your baby starts to wiggle, roll, and scoot around. The primary downfall is that a taller baby might grow out of the shape and be a bit uncomfortable. Until then, the LA Baby Cocoon is pretty awesome. It has straps to secure to the dresser or changing table, a safety belt, a waterproof cover, and a no-skid base. In our testing, we thought the cocoon-style shape was comfortable and comforting for smaller babies and the entire pad felt high quality. The vinyl cover is textured which is unfortunate for cleaning and staining, though it is waterproof and can be wiped clean. The dimensions are pretty standard, coming in at 30" long by 16" wide (and 4" high), which means that almost any changing pad cover will fit onto it just fine.
The LA Baby changing pad we tested had a pretty strong plastic odor when new and needed to be off-gassed for a couple of days on our screened-in porch. Outside of that, the only other con is the textured cover and the fact that taller babies will outgrow this changing pad faster than two-sided or three-sided options. The price is great at about $25, and we think you're getting a lot of bang for the buck with this option! Who else recommends the LA Baby Cocoon? Our friends at The Bump and VeryWellFamily also consider it a top pick! Interested? You can check out the LA Baby Cocoon Changing Pads here!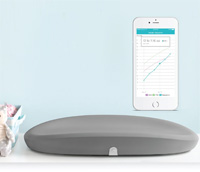 This is what happens when you take the shape and size of the Skip Hop changing pad, remove the toy mobile, and add a baby scale with smart connectivity. What you end up with is the first and only smart changing pad that offers the features of a good pad (soft waterproof and wipeable surface, safety belt, anti-skid feet on the bottom) with the practicality of a baby scale to help you keep track of weight gain. This is a great changing pad for premature babies, babies with feeding challenges, and any other baby that needs close monitoring of weight gain. The changing pad itself is a bit smaller than most others, coming in at 29" long, 16" wide, and about 3.5" high. The foam core is firm like the Skip Hop, and can get cool to the touch in the winter. It uses four rubber feet on the bottom, just like most scales, which prevents sliding across most surfaces. It does have a safety belt to help secure your baby in place. The unique shape makes it difficult to use a changing pad cover, and you risk messing with the accuracy of the scale with a bulky cover.
Speaking of the scale, you can download the Hatch app to an iPhone or Android device to communicate with the scale and log your baby's weight over time. There is no display on the scale itself, so the app is necessary if you want to view the measured weight. The older version of the Hatch actually had a little display attached to it, which we think was a little more convenient than using a mobile device. We tested the scale's accuracy with a series of weights, some of which were in increments of half an ounce. Surprisingly, if you use the scale as directed, it was very accurate! Of course, it's not a medical-grade scale like in your doctor's office, but it does provide a rough guide to weight gain progress that you can communicate to your pediatrician. Coming in at about $150, it's one of the most expensive changing pads on our list - but if you're going to purchase a baby scale anyway, this might be a good bet! Who else recommends the Hatch Changing Pad with Scale? Our friends at Babylist and The Bump also consider it a top pick! Interested? You can check out the Hatch Changing Pad with Scale here!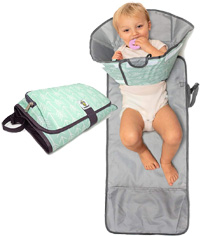 Nowadays, most of the best diaper bags come with a small folding changing pad that will work in a pinch. But it's pretty unlikely that the included changing pad will be anywhere near as awesome as the Snoofybee! In an era when hand-washing and clean hands are more important than ever, the Snoofybee offers a great solution for parents worried about curious hands reaching down and around to dirty surfaces. Using a cone-like padded surround, the Snoofybee envelopes your baby's arms, hands, and head into a little cocoon that helps prevent their curious hands from getting into trouble. It's an awesome concept that reminds us a little bit of those silly cat and dog cones of shame, but definitely more comfortable! In our testing, we liked that the pad folded and zipped up into a little pouch (about 13" long, 8" wide, and 4" thick) that can be stuffed into a diaper bag. We also liked the wipe-clean surfaces of the changing pad, the adjustable Velcro "cone of shame" size, and the various pockets and pouches you can use for storage. Another bonus is there are little plastic loops inside the cone that you can use to attach toys to entertain your baby.
When unfolded, the diaper changing pad is impressively large, coming in at about 37" long and 13.5" wide. It's great for portable diaper changes, on the beach, in the grass, and anywhere else you want to keep your baby's hands occupied and safe. The only little issues we ran into were that it can't be machine washed (hand-wash only), and one of the two we purchased had a split stitch along the side (we exchanged it). Also, if your baby is really curious and wants to touch something, this thing probably won't stop them! Outside of that, this is an awesome concept and a great portable changing pad option! Also recommended by our friends at The Bump, you can check out the SnoofyBee Clean Hands Changing Pads here!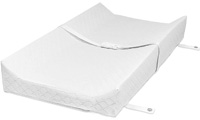 The DaVinci Changing Pad offers a ton of awesome features for a reasonable price. It's one of the only Greenguard GOLD-certified mattresses, uses a polyethylene core (rather than polyurethane), uses a waterproof polyethylene cover (rather than vinyl), and it has safety straps and a belt. It measures the standard dimensions of 31" long by 16" wide and 4" tall, meaning you can use basically any changing pad cover. The core is nicely cushioned, the safety belt is easy to use, and it's perfectly sized for DaVinci changing tables. In our testing, we found it to be high quality and durable, and very similar to the Summer Contoured changing pad. Did we mention that it's Greenguard GOLD certified and only about 30 bucks? That's pretty amazing! Downfalls? Well, we don't appreciate the textured cover that is basically a bacteria trap and makes it hard to wipe clean. Also, after about 4 months of use the cover split along the bottom seam, which was unexpected. Outside of that, we think this is a great option. Combine it with an organic changing pad cover, and you've got a changing pad you can feel good about! Interested? You can check out the DaVinci Non-Toxic Changing Pads here!
This is the only organic changing pad on our list, using not only organic fill and an organic cotton surface but also a food-grade polyethylene core and waterproofing. Made in the USA, it is GOTS certified, Greenguard GOLD Certified, and doesn't contain any polyurethane, latex, soy, vinyl, formaldehyde, flame retardants, PFCs, or phthalates. That's pretty impressive for a diaper-changing pad under 100 bucks! For parents concerned with volatile organic compounds (VOCs) and want to make sure their product choices are sustainable, this is a great option. The Naturepedic changing pad comes in two-sided and four-sided options; the four-sided option is pictured to the right. Both options measure the standard dimensions of 31.5" long, 16.5" wide, by 4" high, which means you can use basically any changing pad cover. It includes two safety straps to attach to a dresser or changing table, and a safety belt to help keep your baby in place. As you know, Naturepedic also makes amazing crib mattresses, so you won't be surprised to learn that this is a super comfortable changing pad! Cons? Really nothing major to speak of. The bottom doesn't have much for anti-skid protection so you will definitely want to attach the straps. Second, unless you're willing to pay 4 times the price to get an organic option, we think you could simply get the DaVinci changing pad and use an organic cover. But that's a matter of personal choice. Who else recommends the Naturepedic Organic Changing Pad? Our friends at The Bump and VeryWellFamily also consider it a top pick! Interested? You can check out the Naturepedic Contoured Changing Pads here!
How to Pick a Diaper Changing Pad for Home or Travel
❤️ Size and Fit: Measure the top of your dresser, changing table, or wherever else you plan to use your changing pad. Make sure there is at least an inch of wiggle room on each side to allow for a bit of sliding, and to make it easier to access the buckles and straps. If you're buying a portable changing pad, make sure that when folded, it will fit in your bag of choice. We provide changing pad dimensions in all our reviews, to make your life easier.
❤️ Safety Straps: Most changing pads designed for home have safety straps that allow you to attach the pad to your surface of choice, like a changing table, dresser, or tabletop. Some parents find this reassuring that the pad is less likely to slide around, but some find it unnecessary or frustrating to use (especially when it comes to cleaning, or replacing a changing pad cover).
❤️ Grippy Anti-Slip Bottom: If the changing pad is made of a rubbery material, such as the Keekaroo, the odds are that it will grip very nicely to nearly any surface. But if it's plastic like on most traditional changing pads, you'll want to find one with anti-slip grippers on the bottom, such as seen with the Munchkin Secure Grip (thus the name!). When in doubt, also use the safety straps.
❤️ Waterproof and Easy Cleaning: Your baby will definitely have at least one unexpected pee-sprinkler or blow-out while on the changing pad, making it especially important that the core of the pad will not be exposed to poop or pee. Basically all modern changing pads are waterproof, which also makes them super easy to clean. The smoother the surface and less texture, the easier the pad will be to clean. Keep that in mind when you see "quilted" vinyl pads that look nice, but might trap bacteria. We suggest a washable changing pad cover that you can remove, wash, and reuse; this makes wiping down the changing pad nice and easy while you wash the cover, perhaps along with your cloth diapers!
❤️Safety Belts: Safety first! If you have a wiggly or curious baby, you might be worried that they'll rollover and do gymnastics off the changing pad. Most of the changing pads we tested have a safety belt that helps prevent too much movement when you need to reach down for diapers, or over for baby wipes. Always keep one hand on your baby's tummy when you're looking away; your baby will learn to roll and shimmy around at some point, and you don't want it to happen while up at this height!
Our Testing
We conducted hands-on reviews of 17 different changing pads of all shapes and sizes. We gave them to four different parents to try out, and they gave us feedback on ease of use, comfort, durability, and how easy they were to clean. Of course, we also tried them out ourselves.
Here are the changing pads we purchased and reviewed: Munchkin Secure Grip, Summer Infant, LA Baby Contour, Skip Hop Wipe Clean, Keekaroo, LA Baby Cocoon Style, Poopoose, Delta Children, Hatch Pad and Scale, Naturepedic Contoured, Bumbo, Maman Portable, Snoofybee Large Clean Hands Portable, Colgate, DaVinci, Moonlight Slumber, and Serta Sertapedic.
Not all of them made the cut; below are the top 10 changing pads we found, with in-depth reviews of each option.
Conclusions
One of the biggest challenges we dealt with when reviewing the changing pads was the issue of cleaning. Blow-outs and pee-sprinklers are inevitable when changing a baby, and anything but a smooth untextured surface can be challenging to keep clean. Even the tiny textures on many changing pads can trap bacteria and become discolored, which is pretty disgusting to think about (and look at!).
This is a crowded market and it's becoming hard for companies to set their products apart and offer something unique. This issue led to the introduction of newer styles like the Keekaroo and Skip Hop, and the Hatch smart changing pad that adds a baby scale feature.
The newer styles, like the Keekaroo and Skip Hop, that are intended to be used without a cover, can get a little cool to the touch. If your baby isn't wearing a shirt this can be pretty uncomfortable in the colder months. Definitely invest in some changing pad liners to keep their backs and legs warm during the winter.
Overall, there are some awesome options out there, and we think you'll be happy with any of our top 10 changing pads! Questions? Visit us on Facebook and send a message!