Best Diaper Rash Creams 2023, Tested & Reviewed
Keep that cute little tushy happy with these highly effective diaper rash creams.
---
Mommyhood101 independently tests and curates baby gear to help you make informed decisions. If you buy products through links on our site, we may earn a commission.
According to pediatric dermatology research, most babies will develop mild, moderate, or severe diaper rash within the first 20 months of life, causing itching, tingling, burning and discomfort.
Good diapering habits, breathable diapers, and an effective diaper rash cream can help prevent, soothe, and treat mild and moderate cases of diaper rash.
Just for fun, what does ChatGPT think is the best diaper rash cream!?
"After analyzing various factors such as ingredients, effectiveness, safety, and overall popularity, I have identified the Boudreaux's Butt Paste Diaper Rash Ointment as the best." -ChatGPT
It's unclear how much experience robots have with diaper rash cream, but they're making a surprisingly good suggestion!
Fortunately, we've been reviewing diaper rash creams for over 10 years. If we made our own, here is what it would look like:
✔️ Thick but easy to apply.
✔️ Spreads evenly.
✔️ Non-nano zinc oxide.
✔️ Natural & organic ingredients.
✔️ Dermatologist tested.
✔️ NSF certified.
✔️ No parabens or PEGs.
✔️ No artificial fragrance or dye.
✔️ No petrolatum or lanolin.
✔️ No mineral oil or silicones.
✔️ Hypoallergenic.
✔️ Cruelty-free.
✔️ Lasts > 8 hours.
✔️ Forms a protective barrier.
✔️ Soothes irritated skin.
✔️ Prevents & fights diaper rash.
Of course, you will also want the cream to fit your fragrance preferences and meet your budget constraints. That's a lot to ask, and very few diaper rash creams meet the needs of picky parents!
Here are the top 5 diaper rash creams we found, followed by our in-depth reviews.
For this hands-on review, we pulled together over a dozen of the top-rated baby diaper rash creams, ointments, and pastes on the market and put them to the test, evaluating them for ingredient safety, effectiveness, sensitivity, odor, ease of use, and price.
A few points are worth nothing. There is no perfect diaper rash cream for every baby and every bum. Different types of baby rash creams, ointments, balms, pastes, and powders are better for different stages of diaper rash (mild, moderate, to severe). Finally, some diaper rash creams are better than others for the sensitivity of ingredients, which we consider in all our reviews.
Full disclosure: Some of these diaper rash creams, including the Honest Company, Seventh Generation, and Weleda varieties, were sent to us as free test samples by the manufacturer.
Here are the Best Diaper Rash Creams of 2023!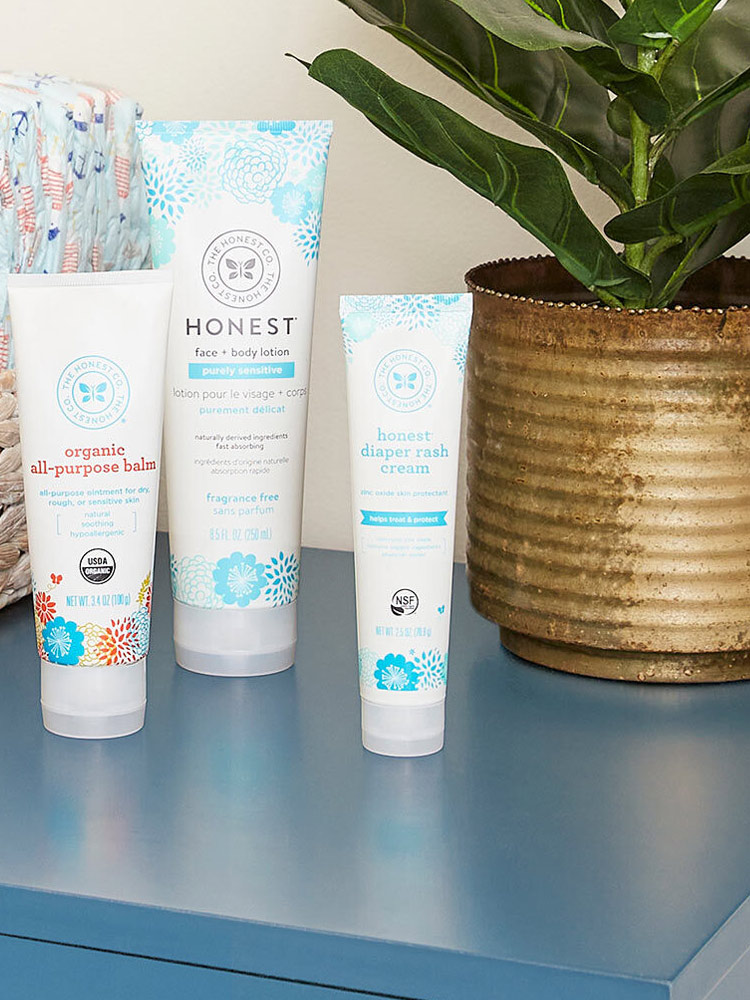 This is best for mild to moderate diaper rash and is usually about $9 for a medium size tube of cream. The Honest Company diaper rash cream contains zinc oxide (14%) to treat and protect your baby's bum and is truly excellent in its quality, effectiveness, sensitivity, and safety. Let's start with what it doesn't have: no parabens, artificial colors or fragrances, mineral oil, petrolatum, dimethicone, or lanolin. What it does have is a great natural active ingredients list, including only ingredients that are rated by the EWG as having no to minimal risk. The only ingredient that has a rating higher than 1 is the zinc oxide itself (EWG 2-3, low to moderate risk), but that's the most important part of this diaper rash cream - serving as a critical skin protectant. This particular diaper rash cream is really the best at finding the right balance between being really effective and not including harsh chemical irritants, toxins, or allergens.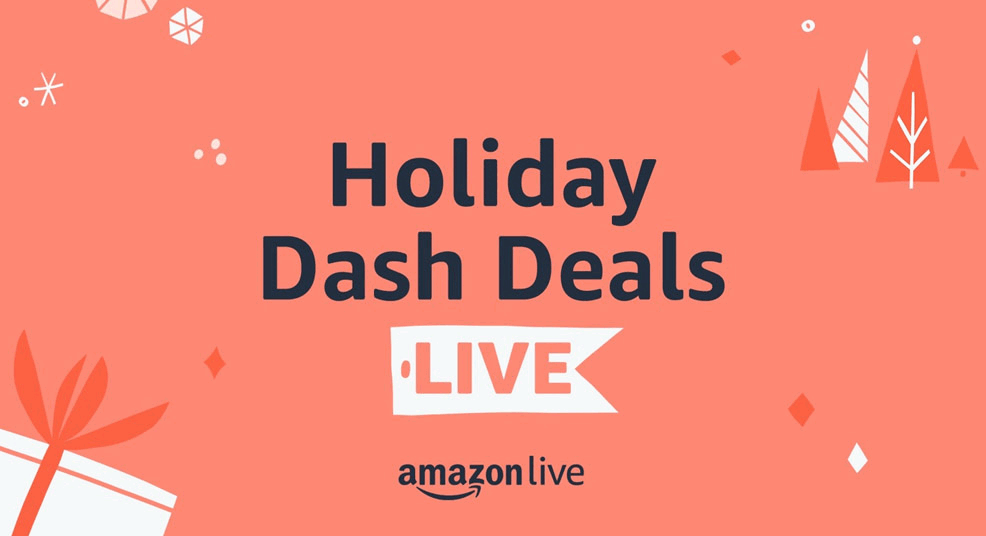 In our testing, we found it also to be the best combination of thick but easy to apply, effective but gentle, and great for the prevention and treatment of both mild and moderate diaper rash. It went on pretty thick and did a good job staying on through diaper changes and wiping. It has no strong odor, just a bit of a baby sunscreen odor from the zinc oxide (like what a zinc oxide sunscreen smells like). We didn't see any allergic reactions to this cream, though we do note that some very sensitive skin might be sensitive to coconut oil or beeswax, so keep that in mind. Overall, we found this to be the best diaper rash cream while maintaining a great ingredient profile that will make you and your baby feel good about your decision! Who else loves the Honest Company diaper rash cream? Our friends at Babylist, Babygearlab, WhatToExpect, and The Bump also consider it a top pick! Interested? You can check out the Honest Company Diaper Rash Cream here.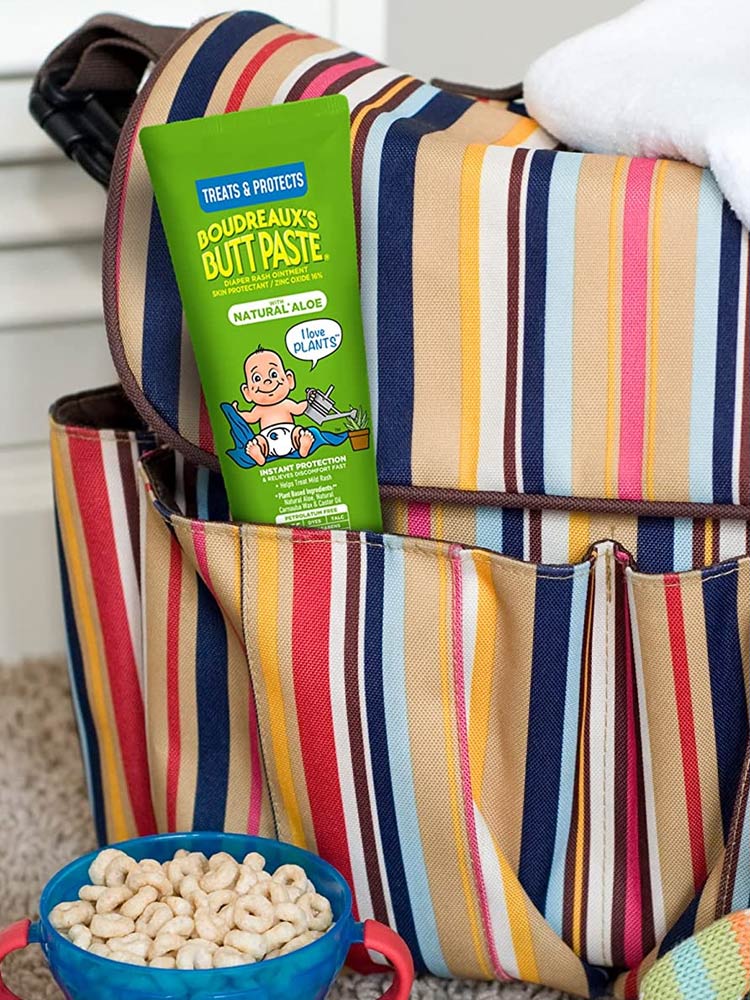 This is great for mild to moderate diaper rash and is usually under $8 for a good-sized tube of cream. The Boudreaux's Butt Paste contains zinc oxide (16%) to treat and protect your baby's bum and comes in a ton of varieties - original (16% zinc oxide), maximum (40% zinc oxide), and natural (this one). The natural version is most similar to their original version but has much safer ingredients while in our experience being just as effective. There's no petrolatum or mineral oil, and the natural ingredients are excellent, including not only zinc oxide but aloe vera, beeswax, carnauba wax, and oils. When they say "butt paste" they aren't kidding - it is very thick - not quite a paste, but more like thick cream or ointment, and it went on nice and smooth, leaving a super effective protective barrier against moisture.
We thought it worked fantastically on mild to moderate diaper rash. We have always appreciated the concept of Butt Paste but didn't appreciate the ingredients of the Original version, so this is a welcome addition to our butt-soothing arsenal! Another great thing is that this is one of the only natural diaper rash creams without coconut oil, so if your baby has a little sensitivity to coconut oil this could be a good option for you. The only downfall we found is that it doesn't contain any fragrances so it smells pretty strongly of zinc oxide; not surprising given the 16% zinc oxide content, and we prefer fragrance-free creams. Overall, this is an excellent, safe, and super-effective diaper rash cream that we strongly suggest giving a try! Who else loves Boudreaux's Butt Pastes? Our friends at Babylist, Babygearlab, WhatToExpect, and The Bump also consider them a top pick! Interested? You can check out the Boudreaux's Butt Paste Natural Diaper Rash Ointment here.
This is best for diaper rash prevention and mild diaper rash and is usually under $15 for a medium size tub of balm. The Era Organics balm is one of the best options out there for discerning parents and sensitive bums. It's perfect for maintaining a healthy bottom side and treating minor diaper rash. We do not suggest using it for medium-to-severe cases of diaper rash, because we found it to be much better at prevention than treatment. Here's what we loved about this diaper balm. First, it has all-natural ingredients and doesn't contain petroleum/petrolatum, alcohol, mineral oil, sulfates, parabens, perfumes, dyes, or other harmful or irritating ingredients. It's made from all organic ingredients including cocoa butter, oils, and extracts.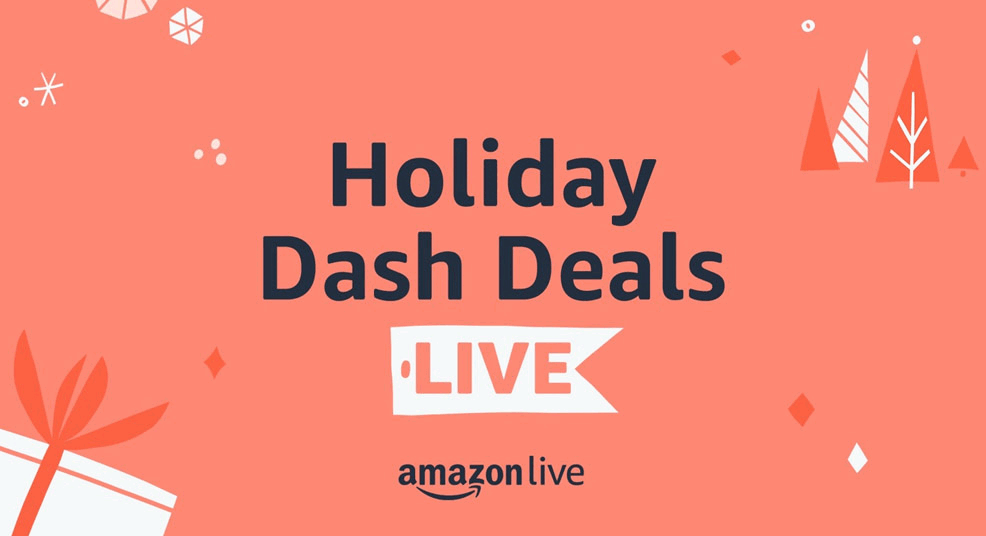 In our testing, the 2-ounce tub is small and lightweight, but we came to realize that you only need a little bit of this balm. It goes on a bit like a lip balm consistency, and if you keep it in a warmer area (like on top of your refrigerator, next to a baby wipe warmer, or on the mantle of the fireplace) it will get a bit softer. Rub a couple of fingers in it (in circles), then rub it right onto your baby's bottom. The smell was completely fine, a little bit waxy, but note that there are no fragrances added so that's to be expected. We thought it did a great job protecting sensitive bottoms, and it did a pretty good job treating some mild diaper rash that one of our test babies had. Once it goes on, it does a good job staying on and you probably won't need to apply it for every diaper change. Note that while none of our test babies had an allergic reaction to this, some babies might be sensitive to coconut oil or beeswax. Always test it out on a little area first. Finally, it's also a great diaper rash cream for cloth diapers, as it will not stain and can be easily removed from fabric (in contrast to zinc oxide, which tends to stain cloth diapers pretty badly). Overall, we were really impressed with this diaper balm, and we kept some around the house for our hands and knuckles! Interested? You can check out the Era Organic Diaper Balm here.
Earth Mama makes a growing variety of organic mom and baby care products, including nipple creams, lotions, and of course this amazing diaper balm. Not only is this USDA-verified organic, it's also non-GMO Project verified and EWG verified for the safety of its ingredients. Ingredients include olive oil, shea butter, beeswax, jojoba seed oil, lavender oil, calendula oil, St. Johns Wort extract, chickweed extract, plantain leaf extract, and tea tree leaf oil. All of these ingredients score a 1 (Best) on the EWG list, with the exception of tea tree oil, which gets a 6. Overall, given how little tea tree oil there is, the EWG rates this diaper cream as the best possible combination of ingredients for this purpose. And that's rare! In our testing, we thought this was an excellent diaper balm! The application was nice and easy: the jar was wide enough to stick a couple of fingers into, and the texture was silky smooth and easy to apply.
Just like the top-rated Earth Mama nipple creams, the cooler you keep the balm, the better the texture; when it's warmer or it undergoes extreme temperature changes, it gets a little goopy. Of course, this is a byproduct of not using various non-organic ingredients such as lanolin or silica, or various binding and gelling agents. In terms of the fight against diaper irritation, it works impressively well for such a simple set of ingredients, helping to prevent and treat minor to moderate diaper rash. We tested it on two infants, one aged 3 months and one aged 6 months, and didn't experience any issues with sensitivity or odor (it's basically odorless). Just nicely soothed bums. Overall, we think this is an excellent organic diaper rash cream option for discerning parents - the only drawback is the variable texture, and its inability to treat more intense diaper rash challenges. Who else recommends the Earth Mama diaper balm? Our friends at Babylist, WhatToExpect, and Babygearlab! Interested? You can check out the Earth Mama Diaper Balm here.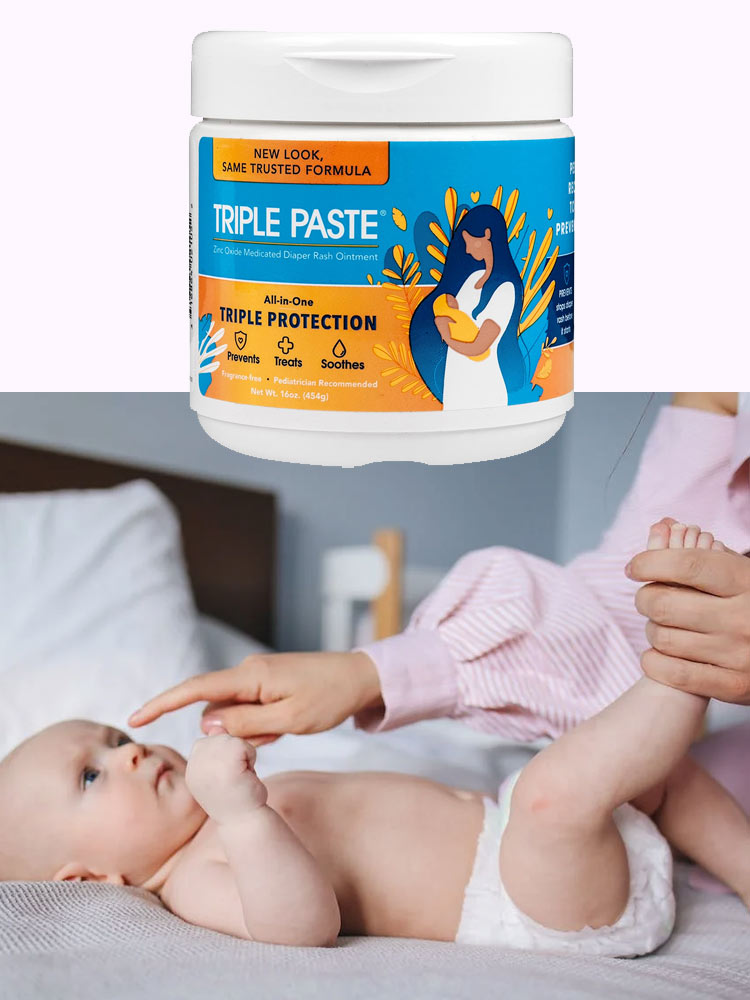 Time to break out the big guns in your fight against diaper rash? Well, we have the ultimate tool to help you win that battle - Triple Paste Medicated Ointment is one of the most effective treatments for moderate to severe diaper rash. It combines non-nano zinc oxide (12.8%) with petrolatum, corn starch, lanolin, stearyl alcohol, beeswax, bisabolol, cholesterol, water, glycerine, oat kernel extract, and polysorbate 80 (a preservative). While a couple of these ingredients are not ideal from a sensitivity perspective (especially the white petrolatum, which gets a 4 score from EWG), they are also extremely effective against diaper rash. In fact, the EWG gives Triple Paste an overall score of 2, which is very impressive overall. In our testing, we've always found Triple Paste to be one of the most effective ointments in your diaper rash arsenal. It goes on thick, stays on, and provides a soothing and protective barrier that only zinc oxide and petrolatum can provide. Our recommendation is to use something like Earth Mama on a daily basis for preventative purposes, then use Triple Paste when the going gets rough. That's a great one-two punch that even the fiercest cases of diaper rash can't withstand! Who else recommends Triple Paste? Our friends at Babylist, WhattoExpect, and Babygearlab! Interested? You can check out the Triple Paste Diaper Rash Cream here.

The A+D diaper rash ointments and creams are super popular, especially the original lanolin- and petrolatum-based ointments. This one is a bit different in a few ways. First, this is not a greasy ointment like the original A+D product, so it's a little easier to clean off hands and bums, and less likely to stain. Second, it doesn't contain petrolatum or lanolin, for parents concerned about exposure to petroleum products or animal-derived oils. Third, it's a bit more expensive than the original A+D ointment, coming in at just over $1 per ounce (the original is usually around 70 cents per ounce). Instead of lanolin and petrolatum, this diaper rash cream contains a few key ingredients: dimethicone (1%), zinc oxide (10%), aloe, coconut oil, and beeswax. Here is the full ingredient list along with EWG database ratings: Zinc oxide (2-3), dimethicone (1-3), aloe barbadensis extract (1-3), benzyl alcohol (2-5), coconut oil (1), cod liver oil (1), fragrance (8), glyceryl oleate (1), light mineral oil (1-3), ozokerite (1), paraffin (1), propylene glycol (3), sorbitol (1), synthetic beeswax (1), water (1). Overall, this ingredient list isn't as bad as some other options on this list, but there are a few things that stand out - especially fragrance, benzyl alcohol, and propylene glycol.
Given these, it's not an ideal option for babies with possible sensitivities or allergies. In our testing, we really liked this cream in terms of its consistency and effectiveness. The cream is consistent and smooth and goes on nice and thick like a zinc oxide sunscreen. It does leave a significant pasty-white film when applied, but that's not surprising at all given the mineral (zinc oxide) content. For prevention and treatment of diaper rash, it is really fantastic! When we tested it, it all but eliminated a moderate case of diaper rash within two days, and we only had to apply it about two to three times a day. The tube does get used up pretty quickly, so only expect it to last a couple of weeks with daily use. The smell was fine, nothing too strong, which made us wonder whether it was worth it to include an artificial fragrance. We think this type of cream is best for treatment rather than prevention given the effectiveness and the somewhat harsh ingredients; we suggest breaking out these big guns only when things get bad. This is a great alternative to the original A+D diaper rash ointment, and we think it's definitely worth trying as a backup diaper rash treatment option when things get rough! Who else recommends an A&D diaper rash ointment? Our friends at Babygearlab, WhatToExpect, and The Bump! Interested? You can check out the A+D Diaper Rash Cream here.

This is best for moderate+ diaper rash treatment and is usually under $8 for a medium-sized tube of cream. This is another diaper rash cream with zinc oxide, but with a whopping 40% zinc oxide content, which is actually the highest percentage you can find in your local store. So this stuff is intense, and we only recommend it for stubborn cases of diaper rash rather than daily use. It goes on super thick, smells pretty strongly like zinc oxide (not surprising), and does an unbelievable job staying on through diaper changes. The protection capability is unsurpassed, though it is basically matched by Desitin Maximum Strength, which also contains 40% zinc oxide. The good news is that this diaper rash paste doesn't contain any parabens, dyes, phthalates, talc, or preservatives. But it does contain castor oil (EWG 2), mineral oil (EWG 1-3), paraffin (EWG 1), Peruvian balsam (EWG 1), and white petrolatum (EWG 4). So this diaper rash ointment actually does pretty well for being maximum strength, with only one primary concern - white petrolatum. Petrolatum is listed by Canada as a high human health priority and expected to be toxic or harmful, and it is somewhat restricted in cosmetics.
Of course, petrolatum is very commonly used for kids and adults, for instance in petroleum jelly (Vaseline), lotions, and other adult and baby care products. This ingredient is why we don't have A+D Diaper Ointment or Triple Paste high on this list since they are petrolatum-based (containing 53% petrolatum in AD Original), and also why we don't rank Desitin diaper rash cream high on this list. Both of those work well, but we're wary of the daily application of petrolatum to a sensitive baby bum. But this Butt Paste has white petrolatum as the last ingredient, which means that it is the least-used ingredient, even less than Peruvian balsam. Of course, we don't know exactly what percentage of this ointment is petrolatum, but we guess that it's less than 10%. In our testing, this was the overall most effective at treating moderate diaper rash, preventing diaper rash, and staying on really well between diaper changes. We don't like that it contains petrolatum, but we do like the ingredients are pretty mild in comparison with other maximum-strength baby rash creams. So if you have a tough case of diaper rash, visit your doctor first, and if they suggest a strong diaper rash cream this could be a good bet! Who else recommends the maximum strength of Boudreaux's Butt Paste? Our friends at Babylist and Babygearlab also consider it a top pick! Interested? You can check out the Boudreaux's Maximum Strength Diaper Rash Cream here.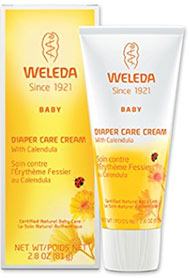 This is best for mild to moderate diaper rash treatment and is usually under $9 for a medium size tube of cream. This is another diaper rash cream with zinc oxide, but only 12% which is relatively low. And that shows in its consistency which can be a bit watery at times, and in its protective capability which is pretty good but not great. Like the Era Organics option (above), it contains soothing calendula and chamomile, which is great for reducing mild irritation. Its full ingredients list (in addition to zinc oxide) is: beeswax (EWG 1), benzyl benzoate (EWG 6), benzyl salicylate (EWG 7), calendula flower extract (EWG 1), chamomile flower extract (EWG 1), geraniol (EWG 7), glyceryl linoleate (EWG 2-3), hectorite (EWG 2), lanolin (EWG 1), limonene (EWG 6), linalool (EWG 5), sweet almond oil (EWG 1), sesame seed oil (EWG 1), and water. We are pretty unimpressed by the ingredients list, and concerned about the addition of geraniol, benzyl ingredients, and several others. Geraniol is a fragrance that is restricted in cosmetics for its immune system toxicity and allergen properties.
Benzyl salicylate is similarly hazardous for immune system toxicity and allergen properties. In our hands-on testing, we found it to be a little bit watery and separated coming out of the tube, which was most annoying and frustrating, but also we wondered what was separating and if we were getting maximum effectiveness once we dripped out the oily top liquid. Going on it was a little watery, but it was reasonably effective. Nothing like some of our top-ranked creams in their ability to stay on the skin for long-term effectiveness. Our testing parents said that it really wasn't as effective as most others at treating diaper rash, but also commented on the fact that this is probably related to the fact that it tends to come off the skin somewhat easily. So overall we were unimpressed by the hazardous ingredients used in this diaper cream, the consistency, the application, and the effectiveness. We do use some of Weleda's products for adult skin care - including lotions and creams, but this was rather disappointing for us, so we won't be using their diaper rash ointments any time soon. Also recommended by our friends at Babygearlab and The Bump, you can check out the Weleda Diaper Care Cream here.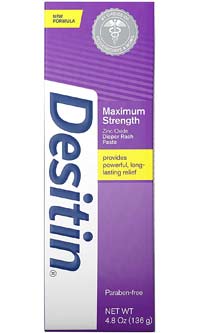 When we reviewed the Triple Paste, we said it's for when you're ready to break out the big guns. Well, that has 12.8% zinc oxide. Given that this Desitin Maximum Strength has 40% zinc oxide, it's like breaking out a tank in your fight against diaper rash! This diaper rash paste is the absolute best option for treating moderate to severe diaper rash, and in our experience, it works every time. It is basically odorless and goes on super thick, like a really thick baby sunscreen, and doesn't come off. Really, it's nearly impossible to get off the bum once you put it on! Even with some of the best baby wipes, it's still tough to get rid of! And while it's on there, it's doing an excellent job soothing and protecting your little one's bum against environmental elements!
While this is the most effective overall diaper rash cream, it also has somewhat harsh ingredients. These include tocopheryl acetate (3), petrolatum (4), talc (5), and fragrance (8). Those are pretty high EWG scores, and not in a good way! Overall, the EWG scores this diaper rash cream as a 4, which isn't terrible but also not ideal. It scores worst for allergies and immunotoxicity, and honestly, anything with talc turns us off immediately. But that's not to say it isn't super effective, it is, but you need to make that sensitivity compromise when using this extreme of a diaper rash cream. Overall, we think it's a great backup to have in the case of a diaper rash emergency, but we do not suggest using it on a daily basis. Also recommended by our friends at Babylist and WhattoExpect, you can check out the Desitin Maximum Strength Diaper Rash Paste here.
What is Diaper Rash?
You can check out a bunch of our diaper rash pictures here. Diaper rash is red, flaky, or chafed skin around the buttocks and genitalia, usually with dry and raised bumps that can be a bit warm to the touch. It's itchy, stingy, and generally uncomfortable for your baby. In mild cases, you will see some light-red rash beginning to form, for example where the two buttocks rub together during crawling.
In moderate cases, you will see darker red patches of raised bumps and your baby's discomfort levels will be higher (they might be fussier and not like being in certain positions, like sitting).
In more severe cases, you will see large red patches that might be a bit wet and oozing, and these might also have a fungal infection involved. You should definitely see your pediatrician for moderate or severe cases of diaper rash, as only they will be able to tell you the full extent of the rash and how to effectively treat it.
What Causes Diaper Rash?
There is no single cause for all diaper rashes, and each baby has different sensitivities. Some of the most common causes of diaper rash are:
Excessive moisture in the diaper. This can be caused by humid environments, or not changing the diaper often enough when there is urine or poop inside. Poop is much more irritating than urine, especially when left in a diaper for more than 15-20 minutes.
Chafing and rubbing of diapers and clothing against the butt and thighs can create irritation and a rash, just like it will in adults, especially if things are too tight-fitting. This will be especially the case for babies learning to move their legs a lot - rolling and crawling.
Exposure to new substances and chemicals, such as a new laundry detergent, baby wipes, new baby diapers, fabric softener, bath soap, lotions, powders, or even diaper rash creams themselves. Even the best baby lotion can cause problems for a super-sensitive baby.
Yeast and bacteria can quickly develop and turn a mild diaper rash into something much more uncomfortable and difficult to treat. If this happens, it will spread quickly to areas in addition to just the bum and cause a larger problem. This is one of the reasons to treat an emerging rash quickly, but also a good reason to use prevention by applying a natural diaper rash cream with every one or two diaper changes.
New introductions to your baby's diet, especially foods with a higher acidity than breast milk and cereal, can cause or aggravate existing diaper rash. Many babies get their first diaper rash when they begin eating fruit and veggie purees because of the disruption to gut flora and the higher acid content in the stool.
If your baby has sensitive skin, they will be more vulnerable in general to any irritants, whether they are in a product you're using, in their stool, or in mom's breast milk. For babies with super sensitive skin, there is a difficult cycle - they are more prone to developing diaper rash, but the most effective diaper rash treatments also tend to contain many potential irritants and allergens. So this can make a sticky situation where prevention is key (the Era Organics Diaper Balm is great for this) - and hopefully prevention will work well enough that you won't need any more powerful treatments.
Antibiotics used by baby or mom can also cause some disruption of gut flora, which can mess with the pH of poop and cause diaper rash. While antibiotics are great for treating unfriendly bacteria, they unfortunately also kill off a lot of the beneficial bacteria that can keep things running smoothly in the gut. Pediatricians will sometimes advise the consumption of probiotics in yogurt or supplements while mom or baby is taking antibiotics.
How to Prevent Diaper Rash?
There is no single prevention tip that will work for all babies and all circumstances, but the following activities should help:
Keep the diaper area clean and dry. This can be harder than it sounds, given that it's difficult to know exactly when your baby pees or poops, and you might not be in an appropriate situation to immediately change the diaper, or you might use daycare where you can't guarantee when they will check and change. Do your best, and don't hesitate to tell your daycare providers if you want your baby's diaper changed more often. Since you'll be changing your diapers more often, you'll probably want to invest in one of the best diaper pails.
Rinse and repeat. After a diaper change, rinse your baby's bottom with water or use a sensitive baby wipe, and then apply your favorite diaper cream. Never scrub your baby's bottom, and try to avoid baby wipes and diaper creams with harsh chemicals (like alcohol, fragrance, preservatives, astringents, and harsh cleaning agents).
Go commando! If your baby has developed some early signs of diaper rash, feel free to let him or her lie around or crawl around without a diaper at all. This is especially good after bathtime to help the area dry out completely. Speaking of bathtime, check out our reviews of the best baby bathtubs.
Keep things loose. Don't over-tighten diapers or force your baby into tight pants, as that will increase chafing and rubbing, and exacerbate or cause diaper rash.
How to Treat Diaper Rash?
This is where diaper rash creams come in for treating irritated skin. It has been and always will be the best diaper rash remedy. It works better than all the random things your friends will suggest - like putting breast milk on the diaper rash (that doesn't work), vinegar (that's a painful thought), oatmeal (what a mess), and other random home remedies for diaper rash that always have us scratching our heads. The key is to catch the diaper rash early when it is still mild and before it spreads and gets infected. A mild diaper rash can be easily treated, but if you miss it and it develops into something more severe you'll be kicking yourself for not catching it sooner, and your baby will be too!
If the diaper rash is anything other than mild, or if your baby seems to be in more discomfort than usual, definitely visit your pediatrician. No medical advice that you find online can substitute for your pediatrician being able to examine your baby and give you sound advice, like a pediatrician's recommended treatment plan. For mild to moderate cases of diaper rash, most cases can be treated right at home with over-the-counter products.
All of the prevention tips above also apply to treating diaper rash. You need to gently clean the area without any soaps or chemicals. Warm water is enough. Then gently pat the area dry with a soft cotton towel (or paper towel), and leave a diaper off for at least 15 minutes to help things dry out. Then, apply your favorite diaper rash cream and put a new diaper on. Now that you've gotten diaper rash, you'll need to be really vigilant and make sure you don't miss a pee or poop. If at any time the diaper rash appears to worsen despite your treatment, your baby becomes very uncomfortable, the rash area is oozing or changing color, or your baby develops a fever (check out our best baby thermometers), definitely call your doctor immediately.
We always suggest carrying a tube of your favorite diaper rash cream around with you in your diaper bags, and if you're using one that is all-natural and either low or no zinc oxide, then we suggest applying a little bit of it at every diaper change. Anything with zinc oxide is technically a medicated ointment for diaper rash, so keep that in mind because while it may be a soothing diaper rash cream, you are also putting chemicals on your baby's bottom every time you use it. If you use disposable diapers, you will be fine with any creams for your baby that contain zinc oxide; but if you use a cloth diaper (we review the best cloth diapers here) you will notice that zinc oxide will stain and discolor the diaper. So keep that in mind. For cloth diapers, your best bets are the Era Organics Diaper Balm, and the Earth Mama Angel Baby Bottom Balm. Of course, those options do not contain zinc oxide so they do not make a good skin protectant.