The Best Play Kitchens of 2023
Whip up some fun with these top play kitchens for budding little chefs and their helpers.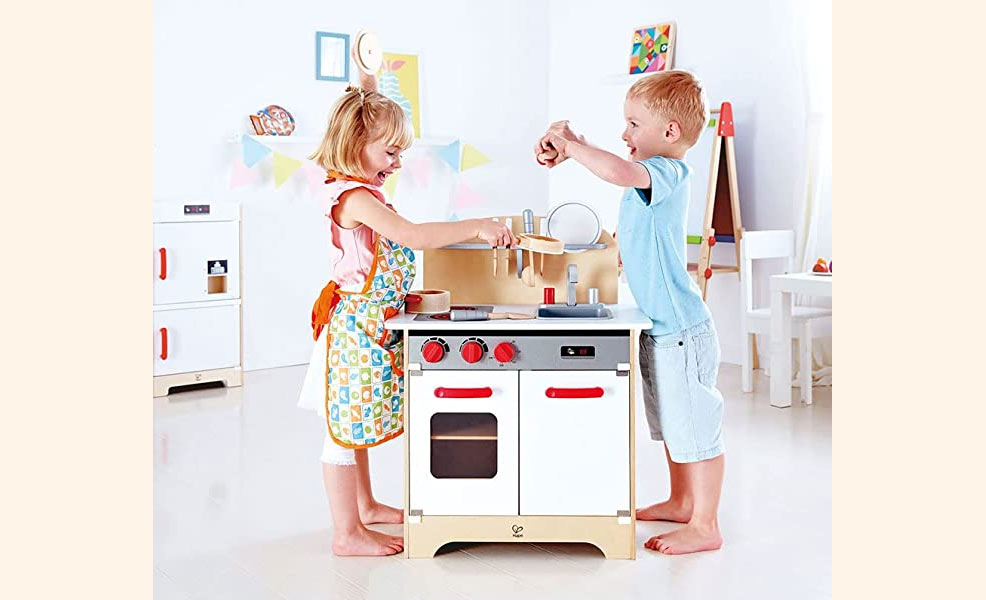 ---
Mommyhood101 independently tests and curates baby gear to help you make informed decisions. If you buy products through links on our site, we may earn a commission.
The play kitchen is an awesome place for toddlers and bigger kids to work and play together, use their creativity, learn to use new tools, and be just like mom and dad!
Play kitchens are not only a great place to get kids working together, they're also awesome for practicing fine motor skills, creating and executing plans, learning to count and measure, and cooperating with other children and adults.
Just for fun, what does ChatGPT-4 think is the best play kitchen!?
"Based on expert and parental recommendations, the KidKraft Uptown Espresso Kitchen is one of the most popular and highly-rated options on the market." -ChatGPT-4
Not a bad recommendation!
We've been reviewing play kitchens for over 10 years, and if we made our own, here is what it would look like:
✔️ Wooden construction.
✔️ Minimal use of plastics.
✔️ Sink with faucet & knobs.
✔️ Stove with light-up burners.
✔️ Oven with temperature knobs.
✔️ Storage cabinet.
✔️ Shelves & hooks.
✔️ Durable hinges & hardware.
✔️ Non-toxic paints & finishes.
✔️ Removable sink for cleaning.
✔️ Includes pretend food toys.
✔️ Stable, not top-heavy.
Of course, you will also want the kitchen to meet your style preferences, fit easily into your house or apartment, and meet your budget constraints. That's a lot to ask, and very few play kitchens meet the needs of picky parents!
Here are the top 5 play kitchens we found, followed by in-depth reviews of several options.
The best play kitchens for toddlers and big kids not only look nice but are high quality, functional, have cause-and-effect relationship toys, and are easy to assemble, safe to use, and last long enough to make a great hand-me-down. Our hands-on reviews found a set of awesome play kitchens and utensils that will be sure to please even the pickiest little chefs out there, and get them pretend playing for hours!
Full disclosure: Some of these kids play kitchens, including the Little Tikes and Rainbow Sophia models, were sent to us as free test samples by the manufacturer.
Here are the Best Play Kitchens of 2023!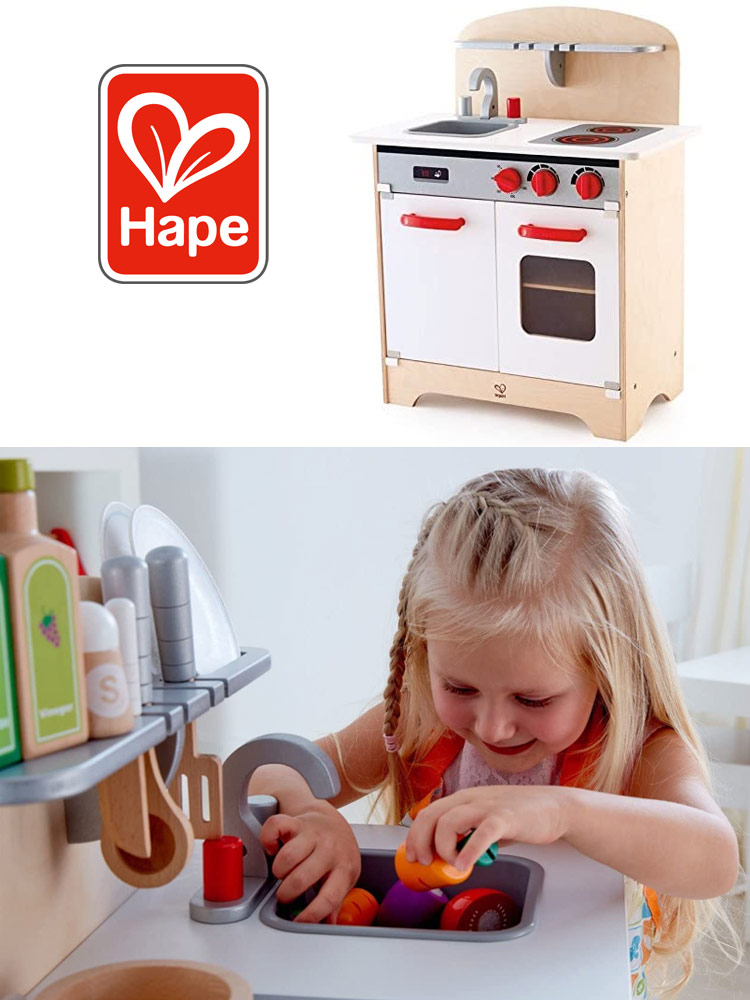 Looking for a simple and high quality toy kitchen that won't take up your entire play room? This might be the perfect option for you! The Hape play kitchen is our favorite overall for the year, and there are so many things we love about it. First, it's made by Hape, which is one of the best overall toy companies with responsible business practices, high quality wood products and paints, and an eye for style and function. This wooden play kitchen is made of premium quality wood (not particle board), and every part feels like it was made with care and precision. Out of the box, it only took us about 15 minutes to assemble, and the instructions were pretty clear and easy to understand (they are a bit like Ikea instructions). Second, once it's assembled, it feels really solid and sturdy, and it's only about 22" wide and 13" deep (28" high), which means that it's a great play kitchen for apartments or parents who want to keep things sparse and simple. Third, one of the cool things about this kitchen is that Hape makes a matching toy kitchen utensil set with about a dozen pieces - pot, pan, utensils, salt/pepper shakers, and plates. And they are all similarly high quality wood, and fit into convenient storage places on the kitchen: the utensils hang up top, the plates fit in a slot up top, and the pot and pan can fit easily into the cabinet or oven. Add a basic pretend food set, like some fruits, veggies, and meats, and you're ready for hours of fun!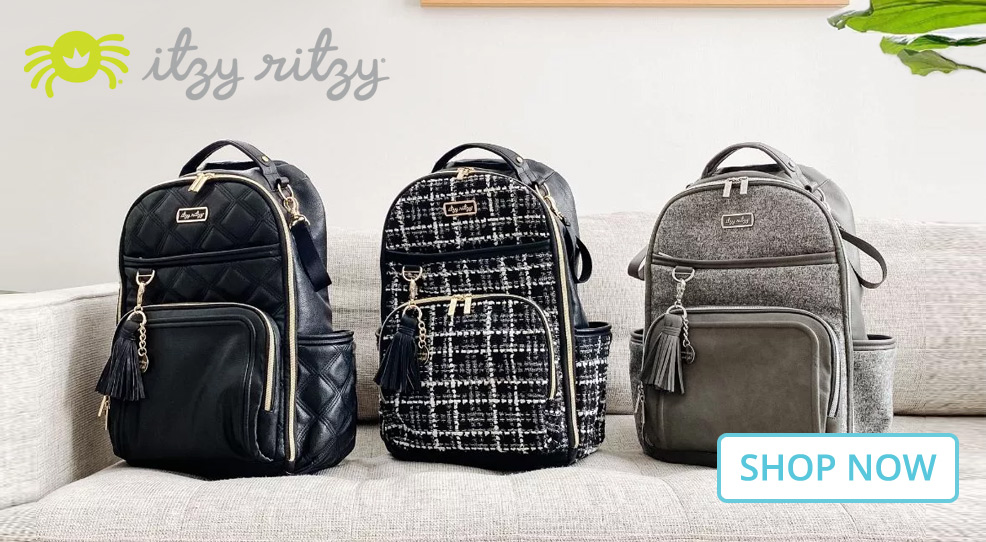 In our testing, we found all the hinges and knobs to be high quality and they worked very well, and there are no batteries or electronic components to worry about. Hape says the kitchen is designed for children ages 3+, but it's definitely low enough and appropriate for 2-year olds as well. We love the quality, style, and simplicity of this play kitchen, and appreciate the reasonable price - usually under $100. The only con is that the countertop comes in at about 24" off the floor, which might be lower than you expected. Outside of that, we really like this play kitchen, and we're impressed with the quality, style, and price. Who else loves the Hape play kitchen? Our friends at The Bump and WhatToExpect also consider it a top pick! Interested? You can check out this Hape play kitchen here.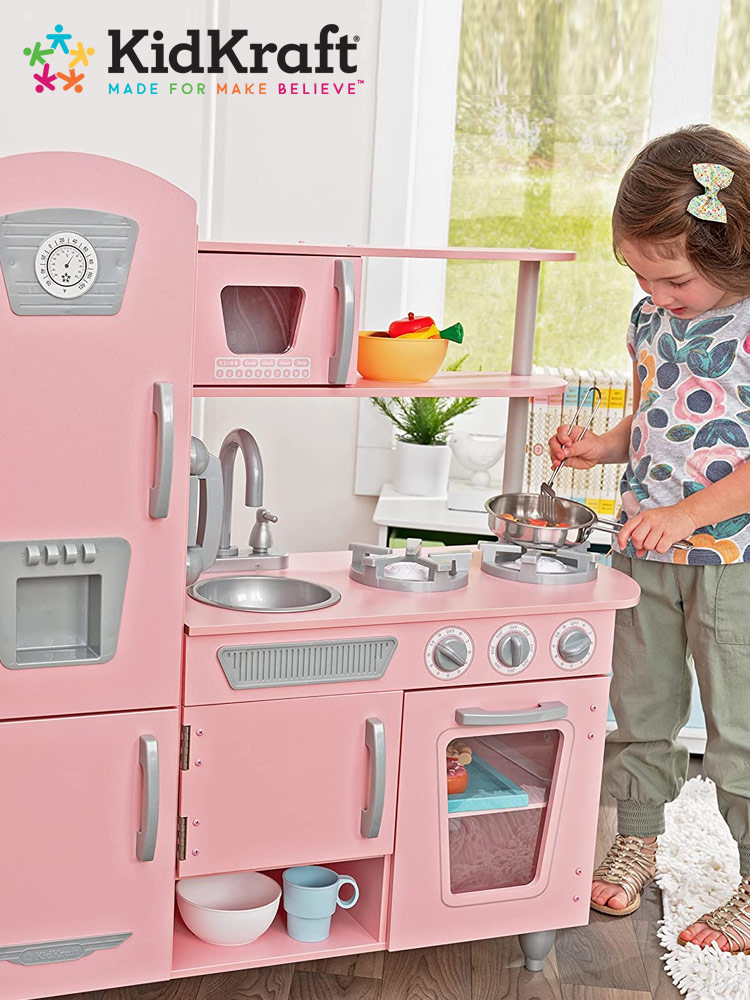 This awesome play kitchen rocks a stylish vintage vibe, and while we show it in the popular pink color, it's also available in white, baby blue, and fire engine red. Coming in at only about $100, we were surprised at the features, quality, and fun! Out of the box, assembly was very involved, taking us about two hours to put together. If you're planning on assembling this before Christmas morning, make sure you give yourself ample time! Once it's put together, it measures about 33" wide, 13" deep, and 36" high, making it a relatively compact play kitchen. The features are a ton of fun: it has two-door refrigerator and freezer combo, an oven, a dishwasher, and a microwave. Just like most others on this list, it has a sink with a removable/washable basin, and rotating stove burner knobs. It also has a cute little phone that hangs up on a hook.
The countertop is only about 18" off the floor, making it ideal for 2-3 year olds; for older and taller kids, it might prove a little small for them. We loved the vintage styling, the good quality construction and moving parts, and the bang for the buck. We were a little disappointed with just how many parts there were and how long it took to put together, but that's really par for the course with a play kitchen like this. Great for the little kids and very reasonably priced! Who else recommends the KidKraft Vintage play kitchen? Our friends at WhatToExpect and The Bump also consider it a top pick! Interested? You can check out this KidKraft Vintage Play Kitchen here.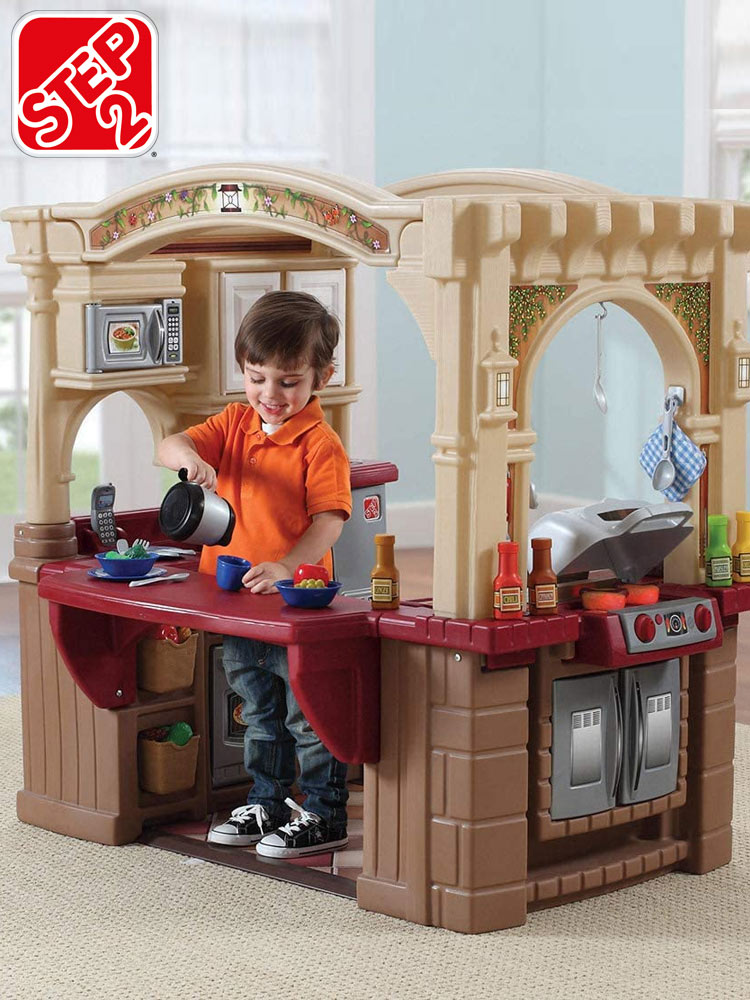 If a two-hour assembly time doesn't scare you away, how about 5-6 hours!? Grab your power tools because this play kitchen comes in over 100 separate pieces! Is it worth it? Well, if you have a large space you can fill and want a play kitchen that can be used comfortably by several children at the same time, this Grand Walk-in Kitchen is a total blast! The biggest and most expensive (about $350) play kitchen on our list, it includes everything your child's little heart could desire: a refrigerator and freezer, microwave, oven, stovetop, double sink, and tons of drawers, cabinets, and shelves. It ended up taking us 2 days (about 2-3 hours per day) to put this together, and once we did we came to the realization that this might actually be nicer than our real kitchen! All of the hinges, drawers, knobs, and doors worked perfectly and looked great. The knobs actually click when you rotate them, we loved the hooks for hanging pot holders and cooking utensils, and there are no annoying electric parts that are noisy and prone to breaking (any no batteries!). We didn't have any missing pieces, and if you follow the instructions carefully everything aligns very nicely together. Once it's assembled, it's big and challenging to move around in the room without 2 adults, so be sure to position it in a preferred position during assembly.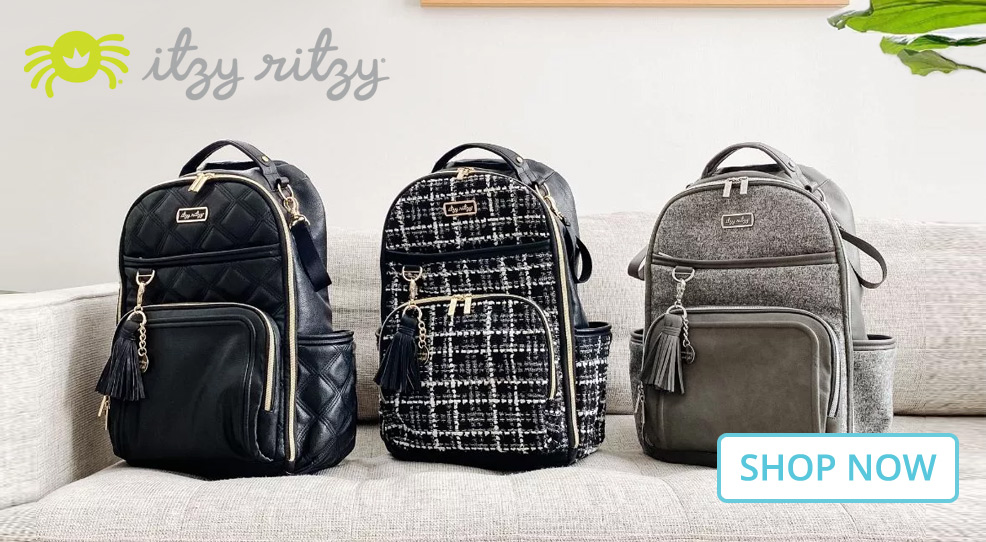 Our kids had tons of fun in this kitchen, and we think yours will too! You can fit 2 kids in the walk-in area, another at the breakfast nook, and another sous chef on the side! We haven't found any other kitchen that can fit so many kids comfortably at once, making this a great option for facilitating cooperative social time with siblings and friends. It's suitable for kids from about 2+ years, and you'll need to separately purchase a utensil and play food set. Cons? Just the extended assembly time and the price, but honestly we think it's worth it if you're looking for something this large and fully-featured! Who else loves the Step2 Grand Walk-in Kitchen? Our friends at Babylist and The Bump consider it a top pick! Interested? You can check out this Step2 Grand Walk-in Play Kitchen here.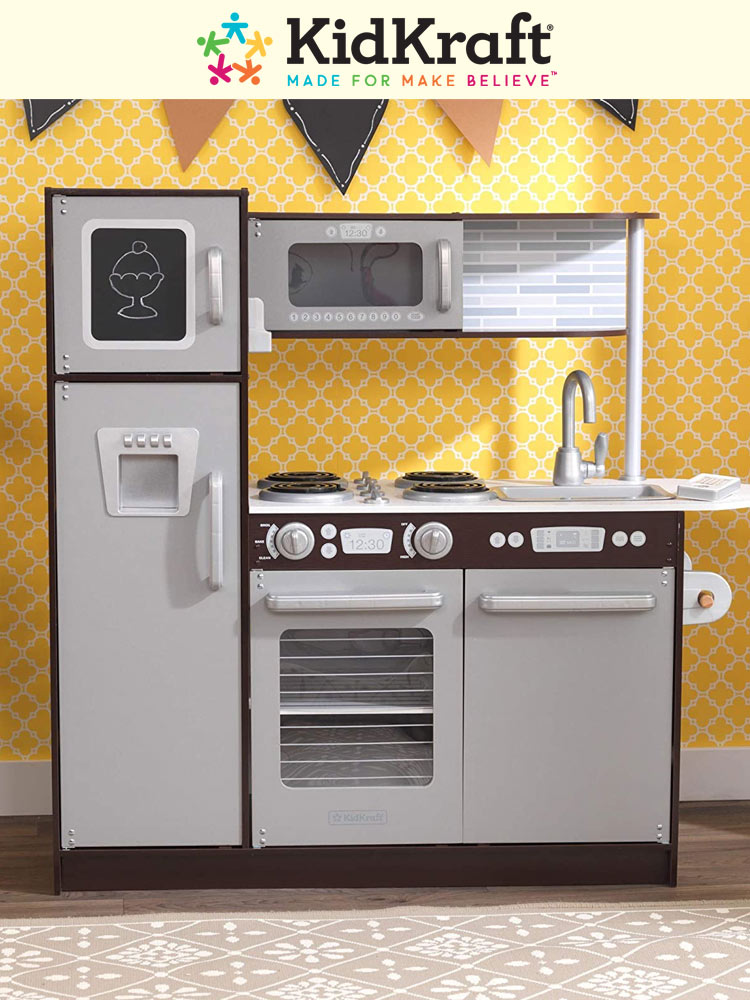 This KidKraft model is a truly excellent play kitchen for babies, toddlers and bigger kids. This is actually the first play kitchen we ever purchased and it had a successful and lengthy lifespan in our home with two rambunctious boys, and that's saying a lot! There are several versions of this play kitchen. There's the espresso version, which is pictured. Then there is the very similar uptown natural version, which changes the colors from the dark espresso cabinets to a natural wood color. There is also the uptown pastel version, which changes it to a beach-style color pattern. Finally, there is a bigger uptown espresso KidKraft Ultimate Corner Play Kitchen that is much larger and designed to fit into a corner. They are all fantastic, though the larger corner version has some added features like a battery-operated ice maker that makes the crunching sounds just like the real thing, and stovetop burners that light up when turned on. In our opinion, they are some awesome extra features, though we totally understand that it might be overkill, get annoying to turn off, and expensive to keep swapping out batteries for.
Back to the basic uptown espresso kitchen. Out of the box, assembly takes about an hour and does get a little arduous; the instructions are just like Ikea play kitchen instructions - mostly just pictures that you need to figure out. Once assembled, it measures about 43" wide, 17" deep, and 41" high. It has impressive quality for its price (about $140), and everything works pretty well. The doors open and shut closed easily and securely, the unit (when tethered to the wall) is sturdy and secure enough to support a little monkey who decides to go for a climb, and everything works pretty well. The dishwasher and oven doors swing open side-to-side rather than downward, which means they don't make a little ramp to stand and jump on (which is good). Over the years, all of the doors took some substantial abuse from our kids, without any issues. One of them did climb on the towel rod (on the side) when he was about 4 years old and ended up breaking it, but that's more a testament to his weight than to the quality of this play kitchen! There are some great little features here: oven knobs that spin and click, a sink faucet that turns on and off, a chalkboard on the little freezer, and an adorable little phone that can be taken off the hook and used to "call" in some take-out (or take orders)! Cons? Well, it is made of particle board, which means that it's quite heavy and the wood itself (hiding under the veneer) isn't very high quality. So if a screws get ripped out of a hinge or anything else, it will be much more of an issue than with real wood. Overall, however, we are impressed with this play kitchen and think the price is reasonable given its size, features, reliability, and overall build quality. Who else recommends the KidKraft Uptown play kitchen? Our friends at Babylist also consider it a top pick! Interested? You can check it out the KidKraft Uptown Espresso Kitchen here.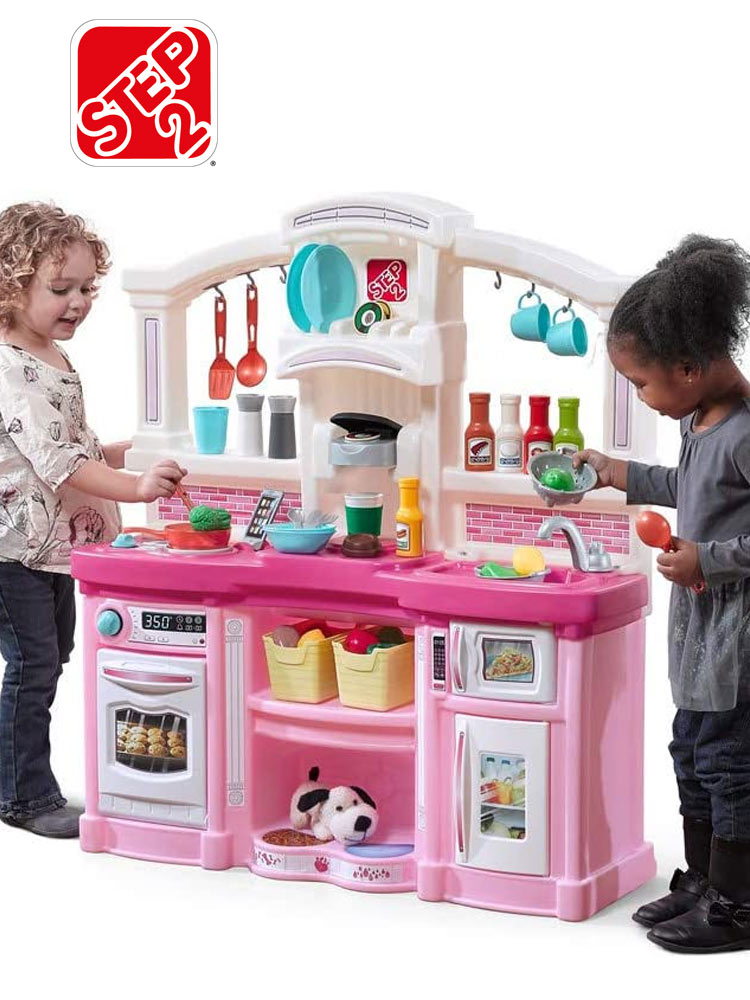 This Step 2 kitchen is a bit different than many of the others on this list, for a few primary reasons. First, instead of a solid wood or particle board construction, this one is completely plastic. That's good and bad. The good is that it makes it lightweight, reliable, and less expensive (this one is only about $85); the bad is that it's not as nice looking or stylish, and the entire kitchen is easy to push around or even tip over (make sure you tether any play kitchen you end up buying!). In our opinion, you can't really go wrong with either material, it's mostly a matter of preference and cost. Second, it includes a large play kitchen set with plastic kitchenware, including pots, pans, plates, utensils, and more. Since plastic is so inexpensive, Step2 can afford to include more for a lower price than most other play kitchens.
Out of the box, there were a lot of little screws to install; we ended up using our power screwdriver for convenience and it took about 15 minutes to put it all together, nothing too difficult at all. It's similar in size to the KidKraft Uptown, coming in at about 36" wide, 13" deep, and 41" tall; the counter height is about 22" high at the shorter part, and 23" high at the taller center area. This play kitchen does require batteries if you want to use light-up stovetop burners and sounds, but that's not really necessary in our opinion. And the battery part is one of the hardest to assemble, so if you don't need or want the lights and sounds you can just leave that part out to save yourself some time, money (batteries), and frustration. Is it great looking and stylish? No. Is it fun, functional, and inexpensive? Yup. So there it is, a lot of bang for the buck here, a perfect option for a cheap play kitchen that packs a ton of fun! Interested? You can check out this Step2 Fun with Friends Play Kitchen here.
This is one of two Little Tikes play kitchens on our list, and we definitely prefer this famer's market model. For basics, it is relatively small at about 26" wide by 32" tall and 12" deep; the countertop measures about 18" above the floor. It has a nice muted color scheme with natural tones mixed with brushed aluminum. Your kids will be inspired by the "farm to table" theme and the ability to turn on the stovetop lights for "cooking," turn the sink knob on and off, and use the diverse set of included utensils, fruits and veggies, and jars. There are hooks to hang the utensils, shelves for the foods and jars, and some simple pots and pans that fit nicely on the stovetop and in the oven. This play kitchen is made entirely of plastic, keeping it lightweight and easy to clean.
Out of the box, assembly took about an hour. There are a lot of small plastic parts to put together, and tons of little screws. The most time-consuming part of the assembly was placing all the stickers. Some of the stickers are very long and difficult to apply level and flatten without any air bubbles hiding under the surface. After wrangling the stickers and screws, once the pretend play kitchen was assembled it was a lot of fun to use! The faucet knob, oven and stove knobs, oven and refrigerator door, and hooks and towel rings all worked perfectly and without any issues. The oven door would pop open on its own sometimes, and we were disappointed to realize that there is no back on this kitchen. If you're putting it up against a wall that won't be an issue, but if you plan on placing it elsewhere you'll need to look at the open back (and it doesn't look so nice!). Outside of those little concerns, we think this is a great little play kitchen that is worth the relatively low price ($100) and looks great with most playroom themes. Interested? You can check out this Little Tikes Farmer's Market Play Kitchen here.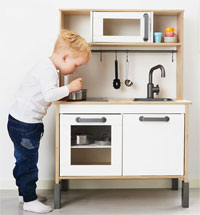 You know we love IKEA products for their relative simplicity, style, and reasonable quality. The biggest challenge with IKEA products is generally the required assembly, which can be frustrating and time consuming. However, with a play kitchen you're going to be required to assemble it either way - and if you're going to be doing all the work, you might as well save some cash in the process! As you know, IKEA products tend to be a bit less expensive, and this Duktig play kitchen is no exception, coming in at about $89. When you compare to other wooden play kitchens of this size, that's a pretty fair price. The Duktig includes a microwave, sink, two burner stovetop, oven, and under-sink storage cabinet. Some unique features include the stove-top burners that can light up (with red lights that look like real burners!) between low and high settings, height-adjustable legs that have three height settings, and hooks to hang pots, pans, and utensils!
Rather than paying for shipping, we picked up the Duktig at our local IKEA. The entire play kitchen came in one big (and heavy!) box. Inside the box are a few large pieces of plywood, some particle board parts (like the doors), and all the little handles and fixtures. Assembly took about 30 minutes total, which is typical for a play kitchen. All of the pieces fit together fairly well, and everything was included except for 4 AA batteries to power the stovetop lights. The entire unit is about 43" tall and 28.5" wide, and the three height settings adjust by about an inch each. The lowest height is perfect for kids about two years old, and the highest one for kids about 4 years old. The doors swing sideways to open, which is much preferred to swing-down doors, and all the handles and knobs (including the faucet knob) worked well. We loved the hanging hooks, which provide a nice visual aesthetic but also help parents (and the kids!) clean up after "cooking" their masterpieces. We also thought the kitchen was sturdy (be sure to tether it to your wall for safety!). Overall, the Duktig play kitchen is a ton of fun, and we think it's a great addition to our list! The only drawback we encountered were some minor alignment issues with the doors that made for uneven gaps around the perimeter. We were also a little concerned about the quality of the hinges but didn't have any major issues over the course of the month of testing. Who else loves the IKEA Duktig? Our friends at Babylist also consider it a top pick! Interested? You can check out this IKEA Duktig Play Kitchen and Restaurant here.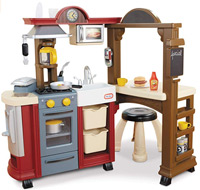 Here's a cool concept - take a play kitchen and combine it with a little restaurant to increase the diversity and social aspects of play! This is such a cool concept and we were happy to get our hands on it for testing! This is a fully plastic kitchen with traditional styling and a ton of little features and accessories, including an oven, panini press, coffee maker, microwave, sink, drawers, shelves, cabinets, chalkboard, and more. If you pop in two AA batteries and add a little water, the panini press makes a subtle sizzling sound and produces steam, which our toddlers really enjoyed. They also liked the little credit card scanner system so they could pretend to charge their restaurant customers (including us)! Out of the (big) box, assembly took about an hour, all the parts felt like good and lightweight quality, and the instructions were pretty clear. Most of the parts simply snap together. Once it's assembled, it has a swivel side that can serve as either an extended kitchen counter, or if you swing it to the side it can serve as a restaurant counter. This restaurant feature is what we fell in love with, and it's a great way to get siblings and friends involved in the play. The counter stands about 22" above the floor, making it a great height for 2-4 year old kids. We didn't really find any cons with this kitchen. We don't necessarily like all the plastic, and the accessories (food, etc) aren't the most realistic-looking or substantial. It should be tethered to the wall, which might help a bit with the wobble when the counter is extended (when it's straight and long, it's not as stable as it is when the counter is angled to the side). Overall, we really liked this play kitchen and think it provides an awesome new concept that can increase parallel and reciprocal social play. Interested? You can check out this Little Tikes Play Kitchen and Restaurant here.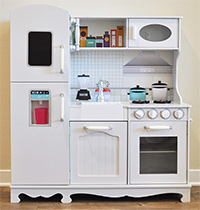 The Rainbow Sophia play kitchens are relatively new to the market, and they are making a splash! Parents love their simple vintage styling, high quality construction, and meticulous design features. Notice the elegantly carved bottom edge, the beaded white trim on the bottom cabinet, the backsplash tiling, and the little chalkboard on the freezer door? It's those little touches that set this play kitchen apart from the others! Out of the box, it came in so many little pieces that we were quickly overwhelmed. We got ourselves a bottle of wine and went at it with a power screwdriver, and it ended up taking about 45 minutes to put together. It's definitely possible that it might take you longer - if you're doing it alone and only have a manual screwdriver, expect it to be a pain in the butt and take upwards of an hour and a half or so. But once it's together, we think it's totally worth it! It has a separate upper freezer and lower refrigerator, a lower cabinet with shelf, an oven with a middle rack, and a top cabinet that can double as a faux microwave. On the countertop, it has a stovetop with 4 knobs that make clicking noise when turned, a little sink with a faucet and knob, several hooks that can be used for hanging pots, pans, and utensils, and a really adorable vintage rotary-style phone. On the front of the refrigerator is a little toy water dispenser, and above it is a little black chalkboard where kids can draw or parents can write out the day's menu! Notice how it doesn't use any batteries or have any speakers that make annoying sounds or music? We liked that, and thought it added to the simplicity of this play kitchen. In our testing, everything was pretty well made and sturdy. The handles and knobs worked well, the hinges were just fine, and nothing gave us any issues. The wood was particle board (MDF) just like most of the other play kitchens, so it's decently heavy and sturdy. It's relatively small, coming in at just over 3 feet wide, about 40" tall, and about a foot deep. It's a good play kitchen for apartments or smaller rooms. There are really only three little cons with this play kitchen - one is that assembly is very involved, another is that it's small relative to other options, and the third is that it's a little more expensive than several others on this list (about $150). Overall, we think it's not the overall best play kitchen on the market, but it's pretty close and deserves this top 5 spot on our list! Interested? You can check out this Rainbow Sophia Timeless Wood Play Kitchen here.
Conclusions
This has been a super fun couple months of testing for us, and for our kids. They cooked up all sorts of imaginary meals, including appetizers, drinks, main courses, and desserts! They fed their animals, their dolls, each other, and us. They opened up their imaginations and experimented with some play food combinations that were downright disgusting (steak in a hot-dog bun anyone!?), and some that got us thinking of new dinner ideas.
I'm not sure if any of their adventurous pretend cooking and eating will be sufficient to solve our picky eater crisis, but it was definitely nice to see them not freaking out over broccoli and asparagus!
We have been running this site for over 10 years now, and this was only our third year reviewing play kitchens. I'm not sure why we waited so long to do this, it was really a lot of fun! We came to realize that a toy kitchen will really last for several years, and realized that every play kitchen we've had in our household was able to be handed down to another child when we were done with it. That seems like a pretty good investment!
In addition to the value prospect of having a good toy kitchen, it will also occupy your child's time and imagination for hours to come! You might realize that your little kids, like 1 and 2 year olds, might first use the play utensils and cooking tools as instruments - using a spatula to bang a pot, or hitting a pot and pan together. Within about a year, when they are around 2-4 years old, the kitchen will come alive with the sound of cooking! Whenever we have play dates, the kitchen becomes a central aspect of parallel play and cooperative play.
While some toy kitchens come with play kitchenware, like pots, pans, tools, and even some food, many of them require that you purchase things separately. This can give you the opportunity to buy all sorts of awesome things, like colorful fruits and veggies, stylish little pots and pans, play cupcake and donut sets, sandwich making kits, and more. One of the things we did was to save old mini cereal boxes, granola bar boxes, etc, and use them as cheap additions to the play kitchen.
Note that we also reviewed two Teamson play kitchens, the pink Retro Wooden play kitchen, and the beautiful Little Chef Berlin Modern play kitchen. Both were absolutely beautiful in their colors and patterns! The Retro Wooden kitchen arrived with several chipped and cracked pieces and several screws missing, so we couldn't fully assemble it. But the part that we did get put together, we thought looked great and seemed pretty good quality. The Little Chef Berlin kitchen had several panels with chipped blue wood, there were some random scratches on it, and the hardware seemed pretty cheap quality. We're going to give them another shot next year, but for now we're going to keep the Teamson play kitchens off our list.
When you decide on which play kitchen to buy, also invest in some storage containers to hold all of the play kitchen accessories when they're not being used. Even better, if you can find some containers that are large enough to hold the gear while also fitting into one of the toy kitchen cabinets (or in the play microwave or dishwasher), that will get things completely out of the way and not take up more valuable play-room space.