Review of the Contours Bitsy Elite Lightweight Stroller
The Contours Bitsy is the newest addition to the Contours line of high quality, versatile, and reasonably priced strollers.
We were excited to test out the Bitsy Elite for possible inclusion in our annual round-up of the best strollers.
The Bitsy Elite adds some style and convenience features to the regular Bitsy, which we detail in our review. But first some specifications!
Bitsy & Bitsy Elite Specifications
| Feature | Specification |
| --- | --- |
| Weight | 15 lbs. |
| Dimensions | 40.5" H, 21.5" W, 23.75" D |
| Folded Dimensions | 23.5" H, 9" W, 23.75" D |
| Floor to Seat | 17.5" |
| Floor to Handlebar | 41" |
| Seat Width | 14.75" |
| Weight Limit | 40 lbs. |
| Height Limit | 40" |
| Our Rating | |
| Price: | Check Price at Amazon! |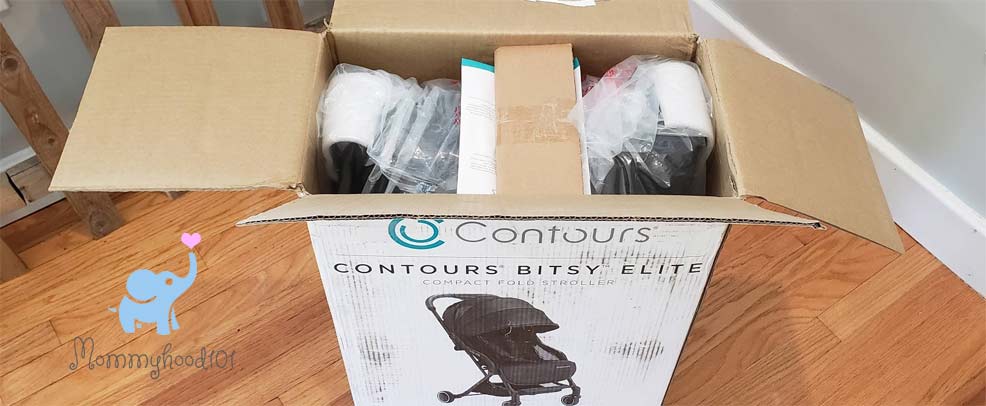 First Impressions of the Contours Bitsy Elite
When it arrived for testing, the Bitsy was packed into a surprisingly small box, which also turned out to be surprisingly lightweight. About 16 pounds to be exact, which includes the cardboard and packing materials. Not bad!
Pulling it out the box, it's packed in a plastic bag and adorned with foam padding that needs to be removed before use. The rear wheels are removed to save some shipping space, but they're super simple to pop back on.
Tipping the folded stroller up and down, we could hear a little metal piece that was loose inside the frame. Maybe a screw or washer? We removed one side of the frame using an Allen wrench and indeed there was a little screw in there. A little strange and made us a bit concerned about quality control. Note that we tested 3 of these strollers (thanks, Contours!) and only one had this issue.
To be fair, not really much of an issue - more of a little nuisance sound that would only be noticed when you're folding or transporting the stroller.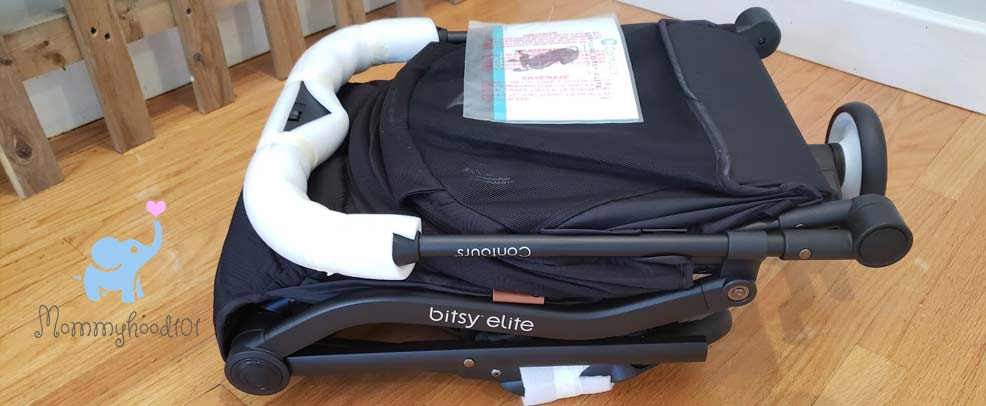 Folded-up and Opening
Look how small that is! This is before we popped the rear wheels on - you can see one sticking out on the right. According to Contours, this is small enough to fit into the overhead bin of most larger airplanes!
After removing all the packing foam, we were pleasantly surprised by how easy it was to open the Bitsy one-handed. Simply push a release with your thumb and squeeze the handle, and the stroller pops open smoothly and easily.
And when you fold it back up, there is no annoying latch you need to secure. It locks right into the folded position automatically. Nice touch!
By the way, look at what it can do... stand on its own when folded! You'd be surprised how many strollers miss the mark here, so we were pleasantly surprised to discover this little feature.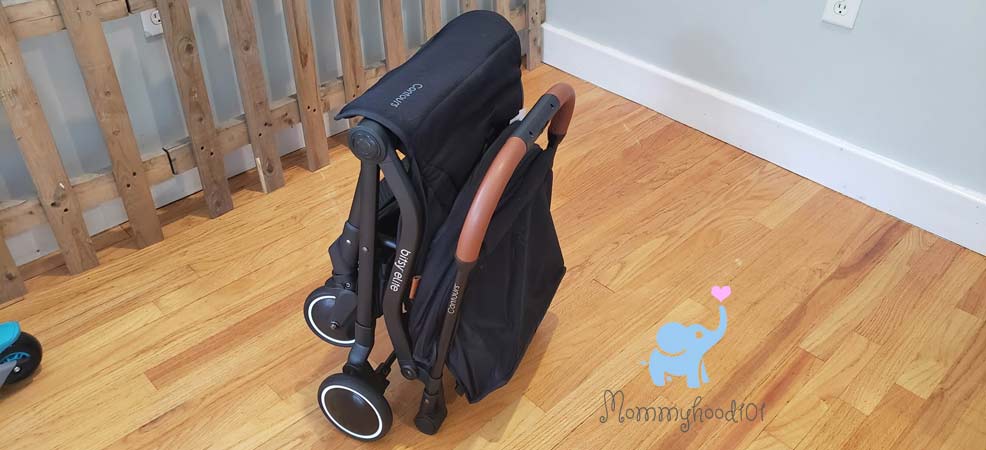 Once the stroller is opened up, it's surprisingly tall given how compact it is. Coming in at only about 22" wide and 24" deep, it has an impressive handlebar height of about 41".
This was comfortable for our shortest mom tester (5' 4" tall) and tallest dad tester (6' 3" tall). It's at a perfect height where it doesn't need adjustable handlebars. Which is a good thing, because it doesn't have that feature!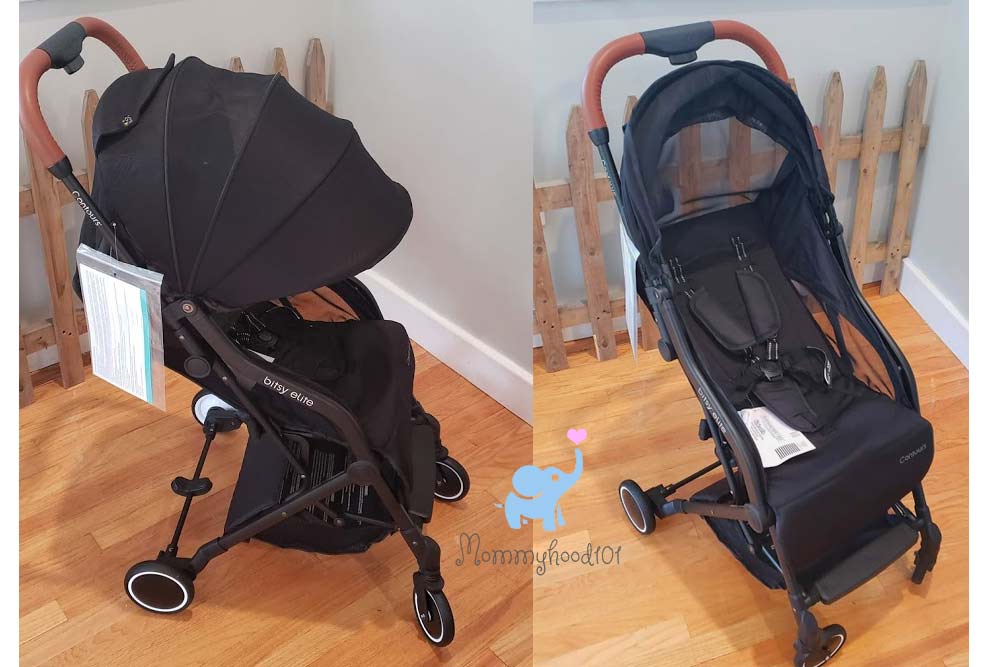 A couple things to point out about the above pictures.
First, notice the huge canopy, which is made possible by a zip-up canopy extension that makes for some serious coverage.
Second, notice the sleek frame lines, attractive lettering, and stylish stitched leather handlebar.
Third, look at all the mesh: it's on the sides and over the head, making for some excellent air flow for the hotter months.
Comfort and Convenience Features
In addition to the one-handed fold and unfold, the Bitsy comes packed with an impressive feature list.
These include front wheel suspension (it says 4-wheel suspension on Amazon, but we didn't find any rear suspension), a foot-pedal parking brake, a UPF50+ canopy, peek-a-boo window up top, five-point harness with shoulder pads and a padded crotch buckle, and a foot rest.
The seat is impressively wide, and reclines about 50-degrees back from the upright position. To adjust the recline, it has the typical adjustable strap behind the seat.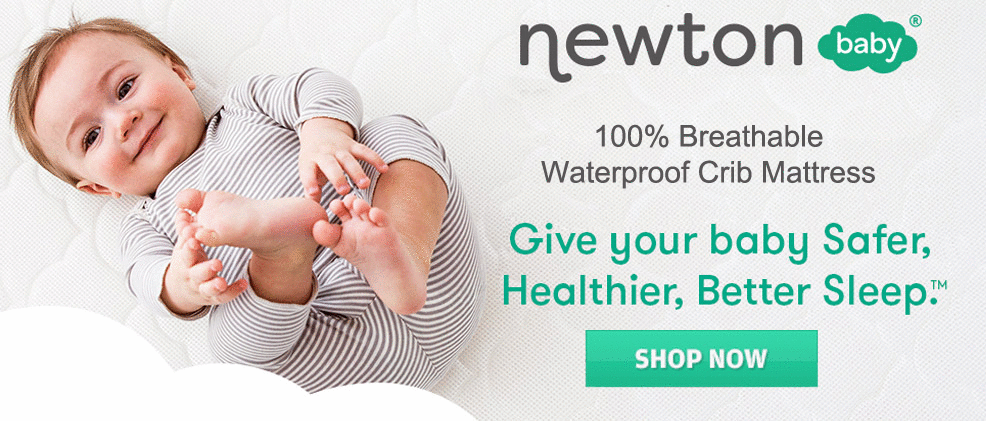 Overall, the seat has a nice stitched high-quality fabric, but it's not very padded. That's pretty typical for lightweight strollers, but it doesn't seem like it would be very comfortable for relatively long rides.
We tried out the Bitsy Elite with an infant car seat and a 9-month old (see below), with a 2-year old, and a 4-year old (38 pounds). The 2-year old was really the perfect size, as would be a 3-year old. The seating area is definitely nice and wide and supportive.
The 4-year old was getting really close to the maximum weight of 40 pounds, and you could feel it affect the ride quality and how easy it was to maneuver. So it's best suited for infants (using an infant car seat) and all the way up to about a 3-4 years old, assuming you're within normal developmental weight and height ranges.
Bitsy Car Seat Compatibility
Did we mention how impressive the Bitsy is for infant car seat compatibility!?
The Bitsy and Bitsy Elite support over 35 different infant car seats, including all of the ones on our Best Infant Car Seats list.
Best of all, it does so without any car seat adapters. Instead, it uses a set of integrated straps that simply clip the car seat into the stroller without an adapter.
We tested it out with the Britax B-Safe 35 and Endeavors, and the Chicco KeyFit and Fit2, and all of them fit into the stroller without any issues.
Placing the car seat into the stroller and buckling the straps isn't super easy, and is much better as a two-person job (one to hold the car seat, the other to buckle the strap).
If you're a more coordinated person (unlike me!), it's definitely possible to do on your own, and you might find it pretty simple. For me, I backed is up against a wall and put the car seat in, keeping some pressure pushing the car seat in with my legs. Then used my hands to secure the strap. After a few tries, it was pretty easy to handle.
Bitsy Maneuverability and Ride Quality
The Bitsy is awesome to use! Easy to steer one-handed, highly maneuverable through small spaces, narrow enough to fit through little doorways, and well-balanced.
Because the Bitsy is so tall, it can be a little top-heavy, so definitely don't attach anything to the handlebar or you will risk having it tip backwards when your baby is removed.
The suspension is good over little bumps, like sidewalk cracks, and the rubber tires help absorb smaller imperfections in the sidewalk. The wheels are little, but we had no issue with them flipping or doing the umbrella-stroller-wag, and we thought it was pretty well-planted on the ground.
Differences between the Bitsy and Bitsy Elite?
Contours makes two Bitsy models: the Bitsy and Bitsy Elite. The Bitsy runs about $150, and the Bitsy Elite is about $199.
The leather handlebar and the cool mesh sides and top are only available on the Bitsy Elite. The non-Elite version has regular fabric in those locations.
The storage basket on the Bitsy is pretty compact, but the Elite adds a Velcro extension to the storage basket, adding another 5" or so of storage space.
The Bitsy Elite also has a softer and more luxurious fabric on the seat, which we think definitely makes it worth the extra money.
There is one thing that the Bitsy Elite does NOT have versus the regular Bitsy, which is an adjustable leg rest. The regular Bitsy has an awesome flip-up leg rest for infants, making it more comfortable for napping. The Bitsy Elite is missing that feature, which we found a little unfortunate.
Pros and Cons of the Contours Bitsy Elite
There's a lot to love about the Bitsy Elite! It's super easy to fold and unfold, smooth and highly maneuverable, versatile, reliable, and comes in at a really nice price point.
Like with all our reviews, there were a few cons we encountered during our testing:
First, we really wish it had at least a little mesh pocket for parents. It's great to have a place to throw your phone, keys, or wallet while perambulating around town with your fancy new Bitsy!
Second, we like the adjustable leg rest on the regular Bitsy, and wish it were included on the Bitsy Elite.
Third, Contours says it has rear suspension but we didn't find any, and they also claim it can fit into most overhead bins on airplanes - but that's probably only possible on very large planes and after popping off the rear wheels. Not huge issues, but worth pointing out.
Our overall conclusion gives the Bitsy Elite a 4.5 out of 5 stars, which is very impressive. It will definitely end up in our list of the best lightweight strollers next year!