The Ultimate Crib Mattress Buying Guide
Sweet dreams start with the perfect crib mattress for comfort and safety.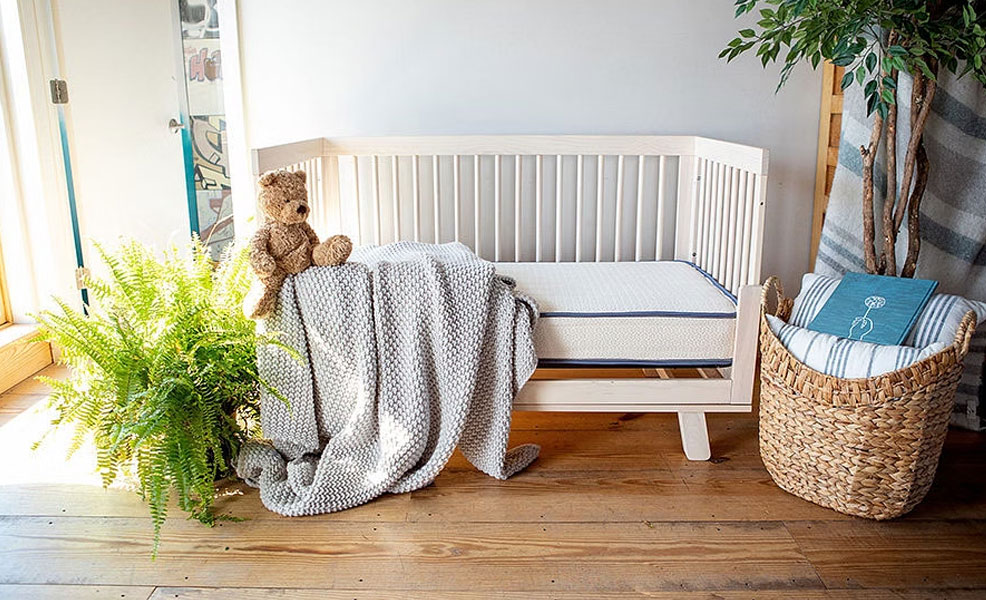 ---
Mommyhood101 independently tests and curates baby gear to help you make informed decisions. If you buy products through links on our site, we may earn a commission.
Crib mattresses vary in price from about $50 to over $1500, with differences in quality, comfort, safety, core construction, durability, and sustainability.
We have been testing crib mattresses for over 13 years, giving us the experience and knowledge to help you find the perfect baby mattress for your infant or toddler. We hope this guide helps you find the perfect crib mattress for your family!
Check out our table of contents to jump to a specific section:
How do we arrive at our annual list of the best crib mattresses? This article will guide you through the process and help you confidently find the best crib mattress for your family.
If you have additional questions, please reach out to us on email or Facebook and we'll be happy to help!
The Basic Features of a Crib Mattress
Size, Dimensions, & Weight
There are two crib mattress sizes, one to fit into a mini-crib, and one to fit into a standard crib.
The mini-crib mattress dimensions are usually 24" wide x 38" long. However, that size is not government-regulated, so you will want to confirm the size of your mini crib.
The standard crib mattress dimensions are 28" wide x 52 and 3/8" (or 52.375) long. That size is government-regulated, with the Consumer Product Safety Commission (CPSC) requiring that all standard crib mattresses be within about 5/8th inch of that size.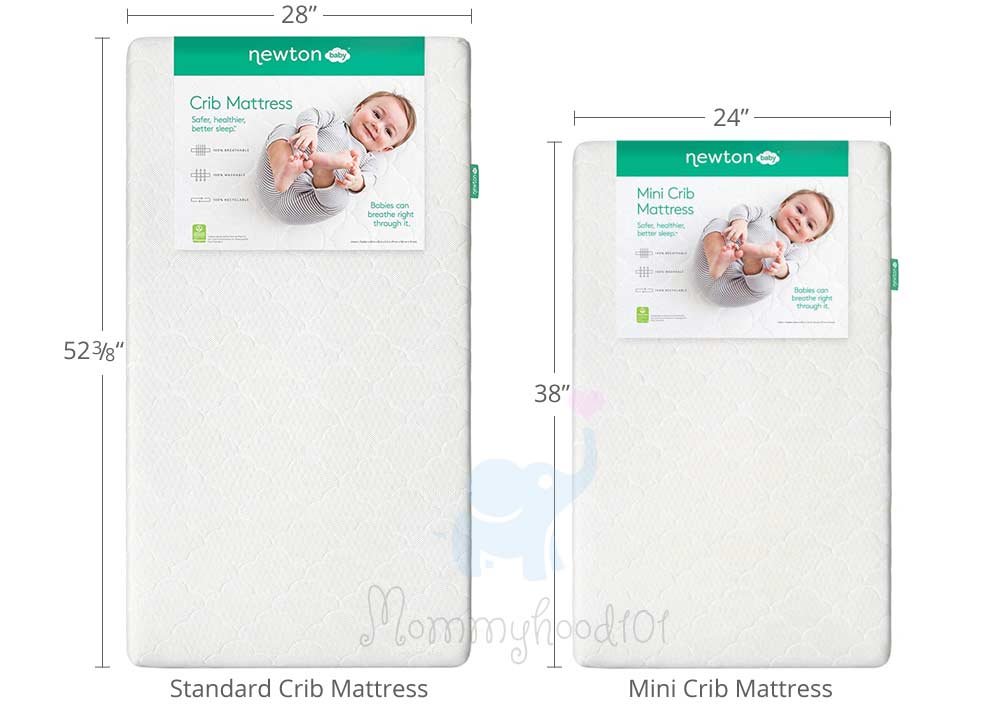 Because there is some allowable variance from that standard size, we have seen mattresses with widths as low as 27.25" and as high as 28.5", and lengths as short as 51.75" and as long as 53".
Most standard cribs have an internal space of 28" wide and 52" long, meaning that most mattresses will fit either slightly loose, perfectly, or slightly snug into the crib. We've never run into gaps greater than about 0.75" when a mattress is slid to one side, which means that when the mattress is centered, that gap is less than half an inch.
If you're worried about achieving the perfect fit, one suggestion is to purchase a crib mattress and crib from the same manufacturer, since they do all their testing in their own products. That approach doesn't always guarantee a perfect fit, given some variability in manufacturing.
In terms of crib mattress thickness, most are between 4-6" thick. The CPSC states that a crib mattress can be up to 6" thick, but does not give a minimum thickness. In our experience, the best crib mattresses are between 5-6" thick, which gives plenty of space for fitting dual-sided support and ensuring comfort.
All that being said, it's important to realize that the mattresses included with bassinets (see our bassinet reviews here!) vary tremendously in size and shape.
Core Construction: Springs & Things
Twenty-five years ago, most crib mattresses had a coil spring construction, for better or worse.
For better, coil innerspring construction offers superior support. Coil springs make for a very even sleeping surface with consistent support for all body parts.
For worse, they were so bouncy that toddlers couldn't resist using it as a trampoline instead of napping, the springs weren't always super comfortable against the body, the springs would sometimes poke entirely through the mattress surface, and the mattresses weighed upwards of 30 pounds!
Nowadays, there are tons of options: innerspring, pocket coil, foam, polymer, wave support, and hybrid: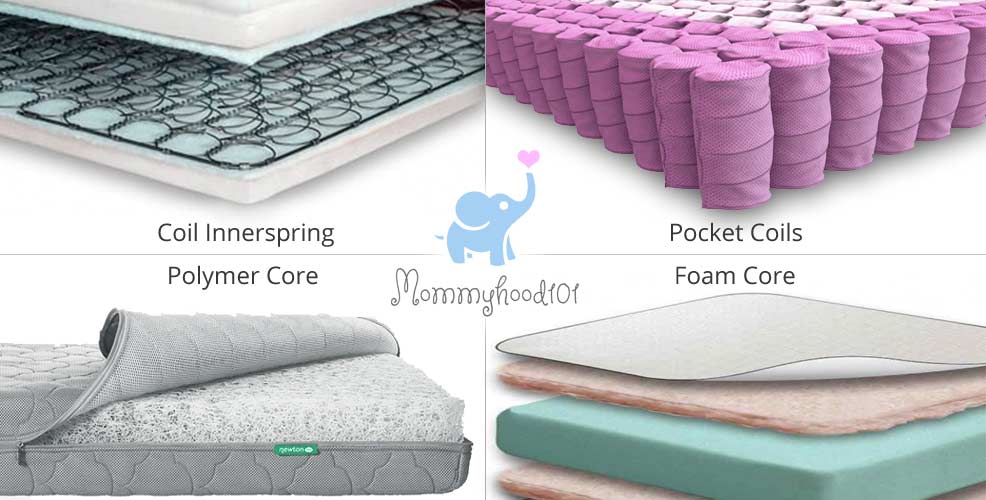 Each of these mattress cores has its own advantages and disadvantages. These include support, weight, durability, VOC content, breathability, and cost.
Support: The most supportive mattresses, in our opinion, include the coil innerspring or pocket coils. These provide deep non-linear support across the entire body, especially when the mattress has a higher innerspring count. The more coil springs, the higher density and more comfortable and supportive the mattress. Polymer and foam cores are also supportive, but not as responsive to movement, and can become dented or sloped over time.
Weight: The heaviest option is the innerspring mattress, especially when it contains a high coil count. These can easily reach over 30 pounds. The lightest crib mattresses use the polymer or polyester core, such as those offered by Newton (see our Newton Crib Mattress review!), Babyletto, and Safety 1st. These typically come in at only about 8-10 pounds. Some of the popular Naturepedic crib mattresses use a unique wave support core that we find both comfortable and lightweight (usually about 14 pounds).
Durability: We hinted at this when talking about support, but foam and polymer core mattresses can develop indentations in common sleeping spots, especially after several years of use and when the mattress fits tightly into the crib (not allowing it to expand after being compressed). Modern innerspring mattresses are very durable, as are mattresses using hybrid (e.g., foam, cotton batting, innerspring, etc.) designs.
VOC Content: Modern parents care about how much volatile organic compounds (VOCs) in their mattresses are off-gassing. A few years ago, a study was published in the journal Environmental Science and Technology, demonstrating the presence of 14 different nasty chemicals in crib mattresses.
Needless to say, most parents don't like the idea of their baby sleeping on a crib mattress that is off-gassing harmful chemicals such as flame retardants, plastic precursors, dyes, and adhesives. Here are some of the most common VOCs that study found in crib mattresses: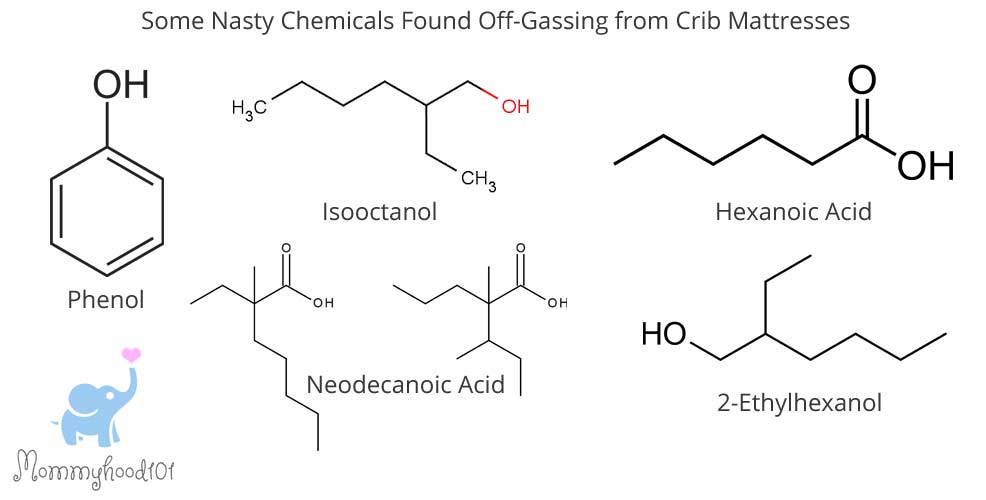 Polyurethane foam core mattresses have an especially bad reputation for VOC emissions, though many newer versions seek CertiPUR certification to help parents be more confident with a foam mattress. The popular Milliard crib mattress is a good example of this.
Breathability: Many parents seek breathable crib mattress covers and cores just in case their baby rolls over and their face is pressed against the mattress. Most foam and innerspring mattresses are not highly breathable. The cover itself might be breathable, but the foam core itself is likely not. The top-rated and amazing Newton Wovenaire mattress uses a polymer core and mattress cover that is both highly breathable, making it a popular option.
Cost: The consistently cheapest crib mattresses use a polyurethane foam core. This saves cost during manufacturing due to the low price and versatility of foam, and also during shipping due to the fact that the mattress can be rolled up for shipping. Innerspring and pocket coil crib mattresses are relatively expensive given the high cost of metal materials used during manufacturing, especially if the mattresses have a high coil count. Polymer core mattresses, like the Newton Wovenaire, are similarly priced to a good quality innerspring mattress.
Edge Support and Corner Angles
One of the major criticisms of foam mattresses is the lack of edge support, with the edges of the mattress easily sagging under weight. In a traditional innerspring mattress, the coils were positioned right up against the outer edge, and a border rod was used to make sagging relatively rare.
Many modern foam and polymer mattresses increase the structural rigidity of the mattress near the edges, to mimic some of the edge support you'd expect in an innerspring crib mattress. We suggest looking for a mattress with ample edge support, to prevent sagging at the sides especially as your baby grows into a toddler.
Another thing to be aware of is the angle of the four corners. Some mattresses have rounded corners, whereas others have squared corners at a 90-degree angle: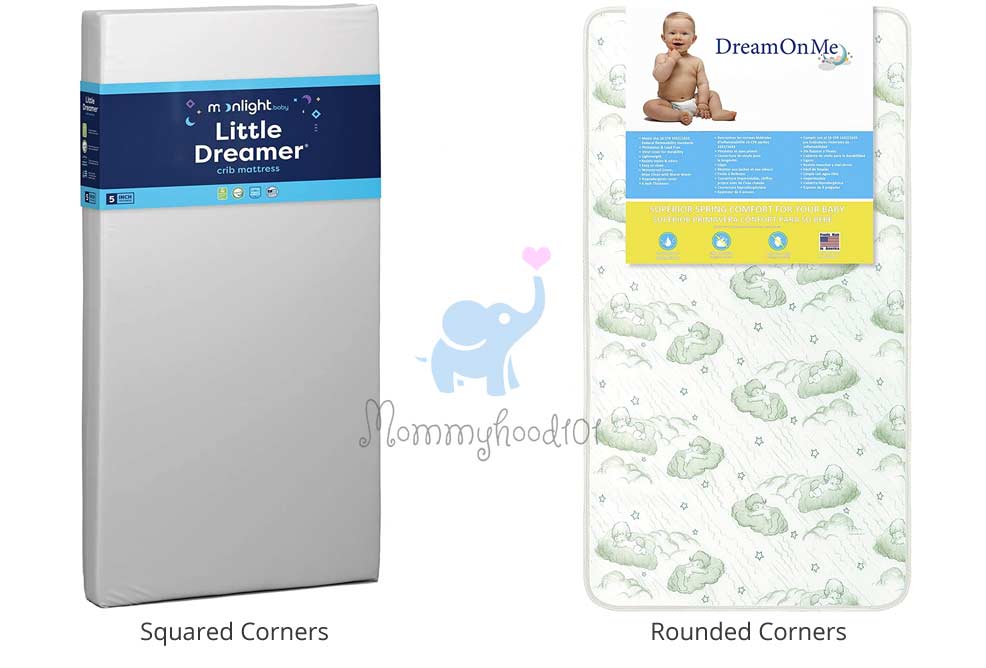 With rounded corners, little objects can fall down into the gap left in the corners of the crib, namely pacifiers. With squared corners, this is less likely to occur; however, the drawback with squared corners is they make it a bit more challenging to pull the mattress out of the crib for sheet and mattress pad changes.
Many modern crib mattresses have a nice compromise, like the amazing Avocado (see our full Avocado Crib Mattress review!) and Newton Crib Mattress, both of which have only slightly rounded corners.
Dual-Sided Support for Infants and Toddlers
This is really a must-have unless you purchase a mattress like the Newton that has a good compromise firmness, firm enough for an infant but not uncomfortable for a toddler.
The Safe Sleep guidelines from the American Academy of Pediatrics (AAP) state that infants only sleep on a firm sleeping surface.
A firm surface is a hard surface; it should not indent when the baby is lying on it. - AAP
Fortunately, most modern crib mattresses have a firm infant side and a softer toddler side. These are called dual-sided, 2-stage, or reversible crib mattresses. Here is how the awesome Avocado crib mattress uses super clear labels to indicate the infant and toddler sides (you can see our full Avocado crib mattress review here):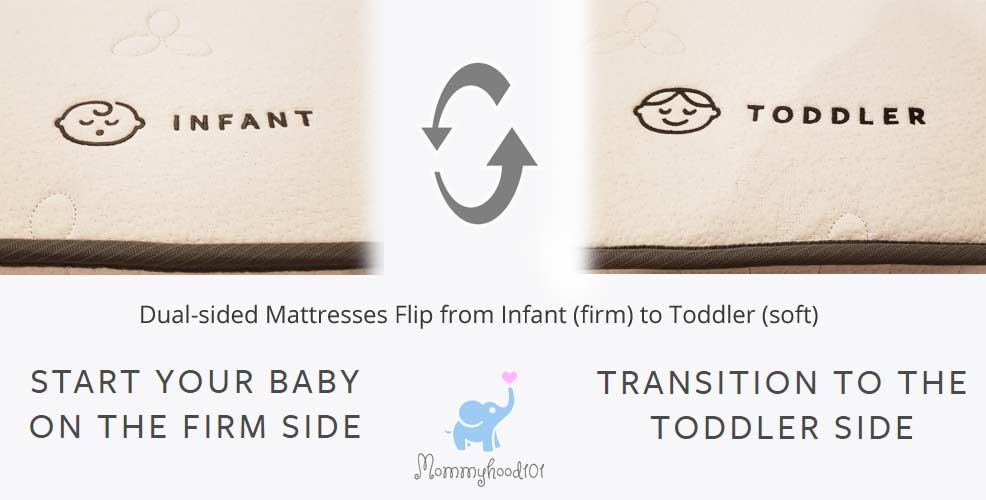 In most cases, your infant will be ready to transition to the toddler side of the mattress once they are about 12 months of age.
We strongly recommend purchasing a dual-sided crib mattress, for safety, comfort, and convenience.
Accidents and Waterproof Covers
Let's face it, accidents are inevitable. Whether in the form of a nighttime diaper blowout, training diaper leak-through, or basic bed-wetting, it's bound to happen at least a couple of times during the life of the mattress.
In those moments, you want to have either a waterproof mattress or a waterproof mattress pad or cover. You can also go to the extreme with the Newton crib mattress, which has a washable cover AND a washable core: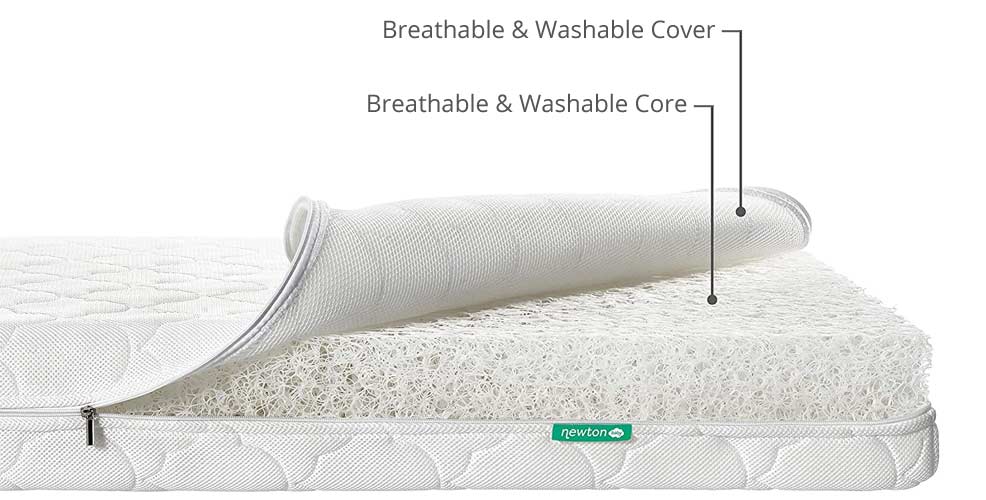 The classic vinyl mattress surfaces that many parents try to avoid due to VOCs, are actually very good for this purpose, and many mattresses still use it for exactly this reason. Others have swapped out vinyl (PVC) for Polyethylene vinyl acetate (PEVA) because it is non-chlorinated and doesn't include phthalates.
Modern crib mattresses without a vinyl or PEVA cover approach this waterproofing issue in three primary ways:
Hybrid Covers: These covers use a cotton or otherwise fabric outer layer coupled with a waterproof inner lining that is made of materials like latex or polyester. This is unfortunately required if you want a truly waterproof mattress cover.
Water Repellent Covers: There are several mattresses using water repellent covers that are made of cotton or organic cotton and treated with a water-repellant coating such as silicone and long polymers. Many of these include perfluorooctanoic acid (PFOA) and other fluorinated compounds. Some newer alternatives exist, such as shorter chain polymer structures that are free of fluorinated chemicals, but to our knowledge, these haven't made it into crib mattresses at this point. In general, water-repellent covers can be effective against very small leaks, but not effective at protecting the mattress core against a soak-through type of situation.
Washable Cover and Core: This is a unique solution to this problem, incorporating a machine-washable mattress cover that zips off, along with a washable (with a hose!) core. This is unique to the Newton product, but we're seeing it slowly pop up with some competitors.
Crib Mattress Safety Considerations
With any luck, your baby will be spending about 12-15 hours in their crib every day for the first several years of their life, including overnight sleeping and napping.
With all that time on the mattress, you want to make sure the mattress manufacturer has taken safety precautions, met CPSC regulations, and received specialized certifications such as Greenguard GOLD Certified, CertiPUR-US, GOTS organic textile certification, GOLS latex certification, UL formaldehyde validation, MADE SAFE certification, and any environmental sustainability certifications the company may pursue.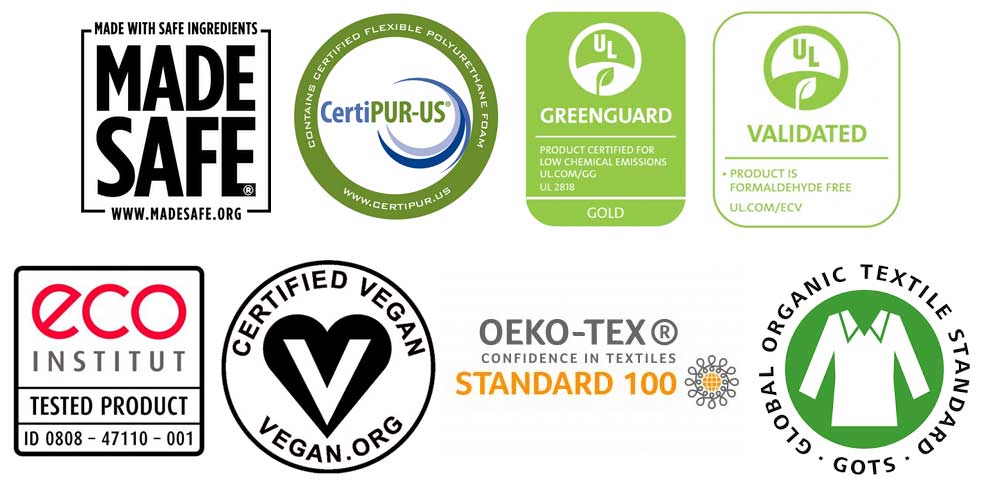 Many of these certifications are related to off-gassing and VOCs, and some require the crib mattress to meet higher standards than others.
In our experience, the most stringent approval processes are Greenguard GOLD, MADE SAFE, and UL Validation. These make sure your product has low or zero chemical emissions (Greenguard GOLD), does not contain formaldehyde (UL Validated), and uses only ingredients that are safe for humans and the environment (MADE SAFE certification).
Off-Gassing and VOCs:
Off-gassing of volatile organic compounds (VOCs) is a major issue with any manufactured textile and consumer product, not just crib mattresses.
The most common VOCs in crib mattresses have been reviewed by scientists in peer-reviewed publications. Suffice it to say, there is some nasty stuff being emitted from crib mattresses.
If you are concerned with chemical emissions from your crib mattress, we strongly recommend purchasing a crib mattress with at least Greenguard GOLD certification. Personally, we prefer to go beyond Greenguard GOLD requirements and value organic and MADE SAFE certified mattresses like the ones offered by Avocado Mattress.
Mattress and Crib Compatibility:
Fortunately, standard crib mattress sizes are federally regulated, so you shouldn't have much of an issue here. Most standard crib mattresses will fit nicely into most standard cribs.
There are exceptions to this rule occasionally, especially with mattresses that are shipped rolled-up from the factory. In this case, sometimes the mattress doesn't expand fully to fill the crib, leaving gaps along the sides or corners. If you can fit more than two fingers between the mattress and the wall of your crib, return the mattress and find a new option.

It's simply not worth the risk to have a mattress that doesn't nicely fit your crib. This is also one of the reasons we strongly prefer mattresses that are shipped flat in a large box, rather than rolled-up, reducing the risk that the mattress will be misshapen or inappropriately small.
Appropriate Mattress Firmness and Softness
Let's be clear: if the mattress feels comfortable, it's not firm enough for an infant.
Infants need to be sleeping on very firm sleeping surfaces, in accordance with the AAP Safe Sleep guidelines.
Never use any sort of mattress topper or pad with an infant under the age of 12 months, it's simply unsafe and can increase the risk of Sudden Infant Death Syndrome (SIDS):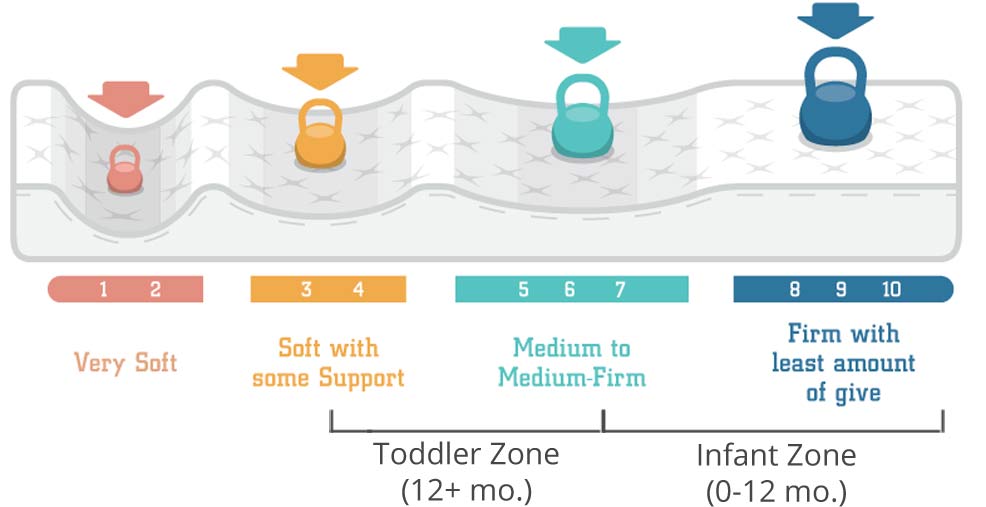 The good news is that many mattresses are either dual-sided, with a very firm infant side and a softer toddler side, or they are a single firmness but sufficiently firm for an infant (like seen with the Newton crib mattress).
Trust us, your baby does not know the difference between sleeping on a 4" thick memory foam versus an appropriately firm crib mattress. It's simply not worth the risk of unsafe sleep. And to be fair, back-sleeping is best on a relatively firm mattress anyway, even for adults!
Transition to the softer side of the crib mattress around 12 months, which is a good time to flip the mattress over. Of course, this might vary based on developmental milestones or if you had a premature baby, so be sure to check with your child's pediatrician before making the decision to flip your mattress.
For more information, check out our dedicated article related to crib mattress safety!
Mattress Breathability
The breathability of a crib mattress applies to both the core and the covering surfaces. Most modern crib mattress covers and protectors are highly breathable unless they incorporate a true waterproof barrier.
Some mattresses, like the Newton crib mattress, use a fully breathable core and cover.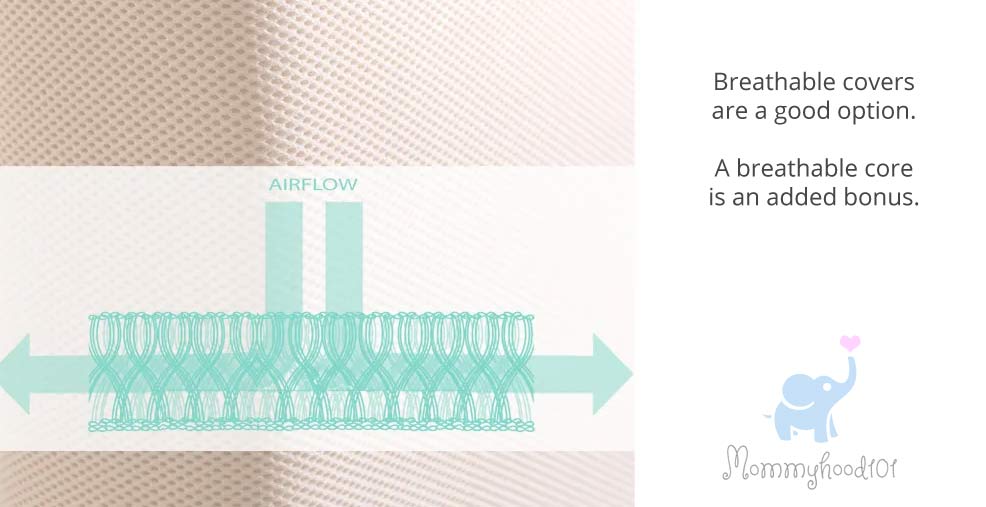 Breathability helps for a few reasons. First, it helps alleviate anxiety about your baby's nose and mouth resting against the mattress and having highly restricted breathing. Second, in warmer months and hotter climates, breathability will help keep the mattress cool.
A foam core mattress, by comparison, has poor breathability and gets very warm: it will trap the body's temperature in the core and be slow to cool.
Appropriate Mattress Covers and Pads
Never use an additional mattress pad on a crib mattress unless your baby is over 12 months of age. The increased softness offered by a mattress pad comes with the trade-off of reduced safety and increased risk of SIDS.
You can definitely use an additional mattress cover on a crib mattress, especially a waterproof one. Many parents use these instead of sheets. You just need to be very sure that the additional cover is very tight-fitting and not cushioned.
Crib Mattress Convenience Features
Crib mattresses have a few convenience features that are worth mentioning, that begin during shipping and extend through the lifetime of the mattress. Here are a few to think about.
Rolled-up versus Flat Shipped Crib Mattresses
Many mattress companies are now offering to ship crib mattresses rolled up and stuffed into smaller boxes. This trend started with big mattresses, like full through king size, that are very expensive to ship and cumbersome to handle. Compressing them and squeezing them into a smaller box made them much cheaper to ship and easier for customers to manage.
For large mattresses, this can make a huge difference when you try to bring the mattress upstairs or squeeze through narrow doorways.
But for a crib mattress, we don't think it's necessary. A standard lay-flat crib mattress box is indeed large, but it fits through almost any place without any hassle at all.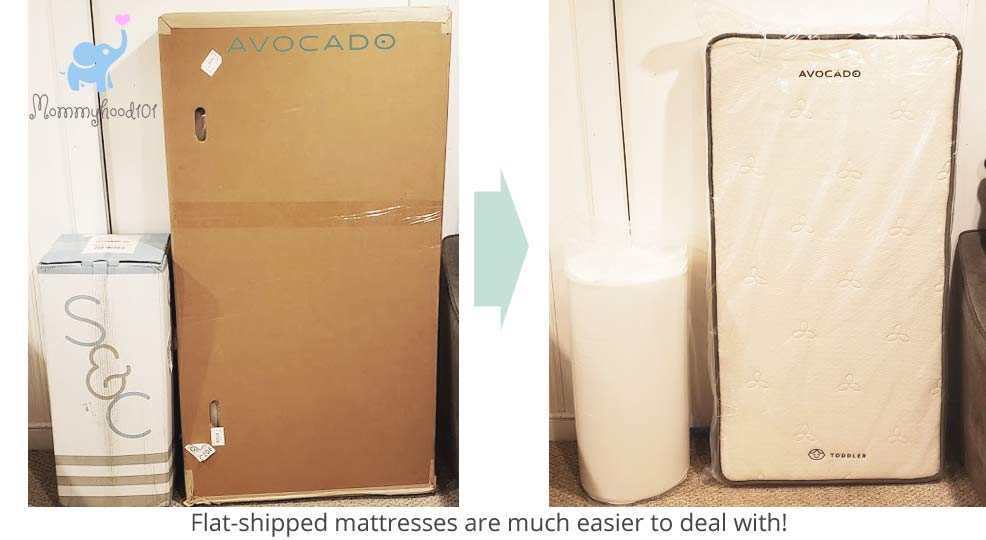 If you can't tell already, we're not huge fans of mattresses that are rolled up for shipping. This is for two primary reasons:
First, the fact that the mattress can even be rolled up for shipping in the first place showcases the type of materials being used inside, which are most likely polyurethane foam or PEVA foam. Mattresses with cotton batting or springs are very unlikely to be rolled up as this will damage or misshape the core of the mattress.
A second reason we don't like this strategy is that the longer a rolled-up mattress sits highly compressed in a small box, the more likely it is that you will not be able to fully expand the mattress once you get it home. And it could be well over a year or two that the mattress has been sitting compressed in the box by the time it makes it from the factory to your home.
We're not huge fans of mattresses that are rolled-up for shipping.
This leads to some mattress shape disasters, whether it's basically flat, uneven, or completely misshapen. Then when you attempt to return the mattress for a refund, good luck trying to get it back into the shipping box! This headache is totally avoidable by purchasing a mattress that ships flat.
Weight and Ease of Lifting
Whether changing the sheets, washing the mattress cover, raising the crib height, or fishing out fallen binkies and toys, you'll be lifting the crib mattress up out of the crib a few times a week.
We've talked about how different mattress cores tend to be different weights, and we think this is important to consider, especially if you don't have great upper body strength. It's also important to consider if you expect grandparents to be doing any chores in the nursery!
In general, there are tons of mattresses available that weigh about 10-12 pounds, which is considered a very lightweight mattress.
The Newton crib mattress is a great example of a mattress only weighing about 10 pounds, and it is a top-rated crib mattress in our annual mattress reviews.
Few mattresses weigh between 13-19 pounds, but several high-quality innerspring coil and cotton batting mattresses can tip the scales at upwards of 20-28 pounds:
For example, the amazing Naturepedic innerspring coil crib mattress weighs nearly 25 pounds, and the unbeatable Avocado crib mattress weighs nearly 30 pounds.
A heavy crib mattress is completely OK. In fact, it's generally preferred and higher quality, as long as someone in the family has the upper body strength to manage it without any issues.
Zip-off Mattress Covers and Pads
Any crib mattress you choose should have a cover that can be zipped off and machine-washed.
Do not risk using a crib mattress without a waterproof cover, it's really a recipe for disaster!
Most of the popular crib mattresses come with a mattress cover included, usually already zipped onto the mattress when it arrives. If not, it will likely be included in a separate package.
Some mattresses, like the Avocado crib mattress, do not come with a cover, but you can purchase one separately.
For example, the awesome organic cotton waterproof crib mattress protector sold by Brentwood Home is a great option.
Machine-Washable Components
Modern parents want to be able to quickly zip off a mattress cover and throw it into the washing machine along with other laundry.
The good news is that most crib mattress protectors, covers, and pads are machine-washable. Most can also go through the tumble dry cycle on low or medium heat.
When choosing a crib mattress, be sure to confirm that the included cover, or any cover you purchase, is machine washable for convenience.
Vibrating Crib Mattresses
What if we told you that a vibrating crib mattress could help your baby fall asleep faster, get higher quality sleep, sleep longer through the night, reduce colic symptoms, and help fussy babies self-soothe?
You want one of those, right!? The only vibrating crib mattress we are aware of is the new Contours Vibes crib mattress, which was released in mid-2021 as the first vibrating crib mattress we've ever tested! Be sure to check out our Review of the Contours Vibes Crib Mattress to learn all about it!
What to Spend on a Crib Mattress
This boils down to personal budgets and preferences.
In general, expect to spend between $100-200 for a good quality mattress, and $200-400 on a premium mattress.
Quality factors into the price, as does whether the mattress is made by a big or small business, where it is made (the USA versus China, for example), and the company's positions on environmental sustainability.
Small Versus Big Business
Depending on your philosophy, you might care a lot about where the crib mattress is made, under what conditions, and by whom.
Totally understandable, and we completely agree! A crib mattress purchase can be a great way to support smaller businesses that are trying to make a footprint in the mattress business. But like with any product, you might pay a bit more by doing so.
Giant companies, like Serta, Sealy, and Tempur-Pedic, control a huge portion of the crib mattress market. They make most of the familiar brands, like Beautyrest, Simmons Kids, Sealy Babyselect, Perfect Start, and more. Some other brands, like Naturepedic and Lullaby Earth, are actually made by the same company.
Some of the best small USA-based crib mattress companies on the market right now include Naturepedic, Newton, Avocado, and MyGreenMattress.
Medium-sized USA-based crib mattress companies include Newton (the maker of the Wovenaire mattress) and Colgate (the maker of the Eco Classica III).
Which Crib Mattresses are Made in the USA?
Good question! Actually, a surprising number of crib mattresses are made in the USA. Here are some notable ones:
This is not an exhaustive list, so if the mattress you're interested in isn't listed here, that doesn't mean it's not made in the USA. Definitely check with the company for further information.
It used to be the case that the less expensive crib mattresses were only made overseas, typically in China, but nowadays you can get a pretty competitively priced mattress made right here in the USA.
Environmental Sustainability
If you're like us, you might care a lot about environmental sustainability. This includes sourcing the components for mattresses, manufacturing, waste management, and the ability to reuse or recycle crib mattresses.
This is becoming increasingly important, and we appreciate the strides that many companies in this space have been taking. Of course, the more careful the company is with the sourcing and use of ingredients, the higher the quality of the mattress, but also the higher the price.
The Avocado brand crib mattress is a great example. Not only is the entire mattress organic, but it also uses textiles and components that have a wide range of environmental certifications.
They are Climate Neutral certified, meet GOTS and GOLS standards, hold the STANDARD 100 by OEKO-TEX certification, are carbon negative by offsetting more than 100% of their emissions, and were awarded the Pinnacle Award by 1% For the Planet due to their environmental responsibility. They are slightly more expensive than their competitors, but if you care about the long-term impact of these issues, it's definitely worth the cost.
Naturepedic has received similar accolades, including awards from the Environmental Working Group, the SUSTY Sustainable Policymakers Award, and the Organic Trade Association Rising Star Award.
In other words, if you're worried about responsible manufacturing practices, then there are definitely some great options out there!
Conclusions
We apologize if this was overwhelming, we know that it's a lot to keep in mind!
Remember that each family is a little different, with different needs and budgets. Do not feel bad if you need to compromise in some areas. It is better to be comfortable with your purchase decision than regret how much you spent or whether you got the features you wanted.
Remember that you can always check out our annual list of the best crib mattresses, where we do the dirty work for you!
Frequently Asked Questions about Crib Mattresses.
Questions about Crib Mattress Size
Are crib mattresses a standard size? Yes, standard full-size cribs use a mattress that is approximately 52" long by 28" wide. The mattress should also be at least 5" thick, but not more than 6" thick. A mini crib, however, uses a mattress that is only 38" long by 24" wide. Regardless of which crib type you have, you should always make sure the mattress fits snugly into the crib; this means that you cannot fit 2 fingers between the mattress edge and the side of the crib.
Are crib mattresses twin size? No, standard full-size cribs use a mattress that is approximately 52" long by 28" wide, whereas a twin bed mattress is approximately 75" long by 38" wide. So the twin mattress is considerably bigger than a crib mattress, and they cannot be used interchangeably.
Are crib mattresses and toddler mattresses the same size? Most convertible cribs will use the same crib mattress in both the crib and toddler bed modes. In these cribs, the front of the crib gets removed and a toddler rail is installed, while still using the crib mattress. The standard full-size crib mattress is approximately 52" long by 28" wide, which therefore will fit most toddler beds. However, some companies such as Ikea use different toddler bed dimensions; be sure to check the specifications before making a purchase of a separate toddler bed.
Will a crib mattress fit in a pack n play? No, standard full-size cribs use a mattress that is approximately 52" long by 28" wide, whereas the Graco Pack N Play mattress is approximately 37.5" long by 25.5" wide. So the crib mattress is considerably bigger than the Pack N Play mattress, and they cannot be used interchangeably.
Will a crib mattress fit an Ikea toddler bed? No, standard full-size cribs use a mattress that is approximately 52" long by 28" wide, whereas the Ikea toddler bed mattress (the Underlig) is approximately 63" long by 27.5" wide. So the crib mattress is considerably smaller than the Ikea toddler mattress, and they cannot be used interchangeably.
Will toddler sheets fit a crib mattress? If the toddler bed fits a crib mattress, then the sheets will fit; for example, if you're using a convertible crib and removing the front side to convert to a toddler bed, you can use the same sheets. Otherwise, if you are using a stand-alone toddler bed, no, crib sheets are likely much smaller than toddler bed sheets.
Will a crib mattress fit in my car? Many modern crib mattresses use a foam core and therefore arrive to the store or home rolled up tightly. These tend to fit easily into a trunk or backseat. If the crib mattress is not rolled up, then you need a space at least 4 feet long and 2 feet wide (which will let you squeeze the mattress in), or a space about 52" long and 28" wide without any squeezing or contorting of the mattress.
How to Choose a Crib Mattress
What is the best crib mattress? Each year, we review over a dozen crib mattresses to find the perfect combination of quality, safety, comfort, versatility, and price. This year, the Newton Wovenaire is at the top of our list. It combines all the best in a crib mattress, making it an obvious top pick for the year. Check out our full review!
What crib mattress to buy? This depends on your budget and needs. If you want to find the best combination of inexpensive and reasonable quality, then Safety 1st makes some great options. If you're looking to maximize safety, comfort, and versatility, then Newton, Naturepedic, Moonlight Slumber, Babyletto, and Colgate make excellent but pricier options. Be sure to check out our full crib mattress reviews to find the perfect option!
Which Naturepedic crib mattress is best? Naturepedic makes a wide range of high-quality crib mattresses. The primary differences are whether it is two-stage dual firmness (one side for infants, the other for toddlers), has a removable cover, is foam or coil core, and has a seamless or seamed finish. The good news is that all Naturepedic crib mattresses are certified organic, comfortable, and high quality, and are made right here in the USA. In our opinion, the best Naturepedic crib mattress without breaking the bank is the Naturepedic Breathable Organic Crib Mattress with 2-stages and Protector Pad; it uses a 3D mesh surface, waterproof layer, machine washable cover, Greenguard Certified, and highly breathable. The best overall and most expensive Naturepedic crib mattress is the Naturepedic Organic Ultra-Breathable Quilted mattress, which is fantastic but also very costly at about 400 dollars.
How to buy a crib mattress? You can either purchase a crib mattress in-store, such as at Buy Buy Baby, or you can choose from a broader range of options online at places such as Amazon. With our comprehensive reviews pointing you in the right direction, free shipping for Prime members, and the convenience of having the mattress delivered to your doorstep, we think purchasing a crib mattress online at a place like Amazon is a great option (even if you try it out in the store first).
Why buy an organic crib mattress? Because of the constant neurodevelopmental changes happening from birth, newborns and infants have increased vulnerability to repeated exposure to toxic mattress emissions. For this reason, we suggest considering a crib mattress that is at least Greenguard Certified, if not also certified organic, which will reduce the likelihood that harsh and potentially harmful chemicals are used during manufacturing and will be off-gassing during use. This includes not only the crib mattress itself but also the crib mattress protector. Remember that your baby will be spending many hours sleeping (fingers crossed!) with their faces and bodies against the crib, breathing the air, and getting fibers on their mucous membranes. Why not lower the risk while also encouraging the safe manufacturing of baby products?
Crib Mattress Safety and Stages
Why are crib mattresses so hard and firm? Organizations like the CPSC, AAP, and NIH agree that a firm sleeping surface is best for newborns and infants. The mattress should not only be firm but also fit tightly into the crib. Never place anything in the crib with a newborn or infant, including pillows, bumper pads, blankets, or toys. The good news is that you'll rest assured that your baby is safer while sleeping on a firm surface, and dual-firmness crib mattresses will let you flip to a softer side when your toddler hits the right age.
When to flip a crib mattress? Most parents flip their crib mattress when their child is about a year old. Because each child follows a slightly different developmental progression, you want to make sure that your toddler is at least 12 months of age and can roll over independently. The longer you wait to flip your mattress, the lower the risk of SIDS.
Why lower a crib mattress? Cribs can be very dangerous if the height of the mattress is not appropriately adjusted for developmental transitions. Children who have begun to sit up, crawl, and pull up on their own are at increased risk for injury or death without a properly lowered crib mattress height.
When to lower crib mattress? When your baby begins to sit up, you will want to lower the crib mattress height from the top setting to about the middle setting. When your baby begins to pull up on their own, you will want to lower the crib mattress to its lowest setting.
How to lower a crib mattress? Remove the crib mattress from the crib. The entire metal or wooden platform that holds up the crib mattress needs to be moved down. To do so, locate the four screws that attach the platform to the corners of the crib. Notice how there are multiple levels of screw holes that these four screws can be placed into. You will need to remove these four screws (likely using an Allen wrench), and screw them back in at a lower level. A trick is to start with one side and only partially tighten the screws into the new position, then do the other side; finally, tighten down all screws.
What is Greenguard GOLD Certification for Crib Mattresses? A Greenguard Gold Certified crib mattress undergoes a rigorous certification process to meet stringent chemical and particle emissions standards, including formaldehyde and other volatile organic compounds (VOCs). The certification process includes a manufacturing review, product evaluations, and compliance testing. After a 4-6 week process, Greenguard will either certify or reject the product for Greenguard or Greenguard Gold certification. Gold certification meets a higher level of emission standards than basic Greenguard certification, and is a relatively rare criterion for a crib mattress to meet.
What is CertiPUR-US Certification for Crib Mattresses? While Greenguard certification examines the overall chemical and particle emissions of a crib mattress, the CertiPUR certification is only for the foam included in the mattress (like in the core). The CertiPUR-US process ensures that foam used in a crib mattress does not: use ozone depleters, PBDE, TDCPP, or TCEP flame retardants, mercury, lead, or other heavy metals, formaldehyde, CPSC-regulated phthalates, or have VOC emissions greater than 0.5ppm (parts per million). The CertiPUR-US certification process does not involve any inspection or testing of the mattress itself, it only regulates the content and VOC emissions of the foam materials.
Questions about Crib Waterproofing and Mattress Covers
Are crib mattresses waterproof? Traditional crib mattresses include a waterproof vinyl mattress cover, but many parents now avoid vinyl mattress covers due to low breathability, and emissions and toxicity concerns. More recently, some crib mattresses include a removable and breathable waterproof mattress cover that will prevent the mattress core from getting wet. One example of this is the top-rated Newton Baby Crib Mattress, which we review in this article. Newborns and infants typically do not need a waterproof layer as long as you're using a good overnight diaper, but toddlers and big kids who are potty training will have accidents; the Newton crib mattress uses a highly breathable cover on the infant side, and then adds a waterproof layer on the toddler side, offering the best of both worlds!
Are crib mattress protectors safe? We suggest avoiding vinyl crib mattress protectors due to breathability, emissions, and toxicity concerns. Modern crib mattress covers use wicking fabrics such as cotton terry, along with a breathable membrane that does a decent job repelling liquids, while also being free from vinyl, PVC, and phthalates. A good example is the SureGuard Mattress Protector. Additional options use a TPU plastic layer for waterproofing, such as the MoMA Waterproof Crib Mattress Cover.
Are crib mattress pads safe? If you are considering a crib mattress protective cover for waterproofing purposes, they are generally safe. We suggest considering the highly breathable options with wicking fabrics, rather than an option that uses vinyl. We also suggest avoiding any thickly padded crib mattress covers, as newborns and infants should be sleeping on a very firm mattress to reduce risks of SIDS or suffocation.
Why use a crib mattress pad? Given the high cost of a premium crib mattress, many parents want to preserve the quality and integrity of their mattress. A crib mattress protector will help lower the risk of urine stains, drool stains, and sweat stains. A great crib mattress pad is not only waterproof, it is also breathable and machine washable.
Do you need to use a crib mattress cover? No, most modern crib mattresses use a water-resistant layer to prevent moisture from getting into the core of the mattress. If you have a deep sleeper who tends to wet the bed, either due to ineffective diapers or potty training, then you may want to consider a mattress protector.