Mockingbird Bassinet Stand - Hands-on Review
This bassinet stand offers serious sleep capability while saving serious cash.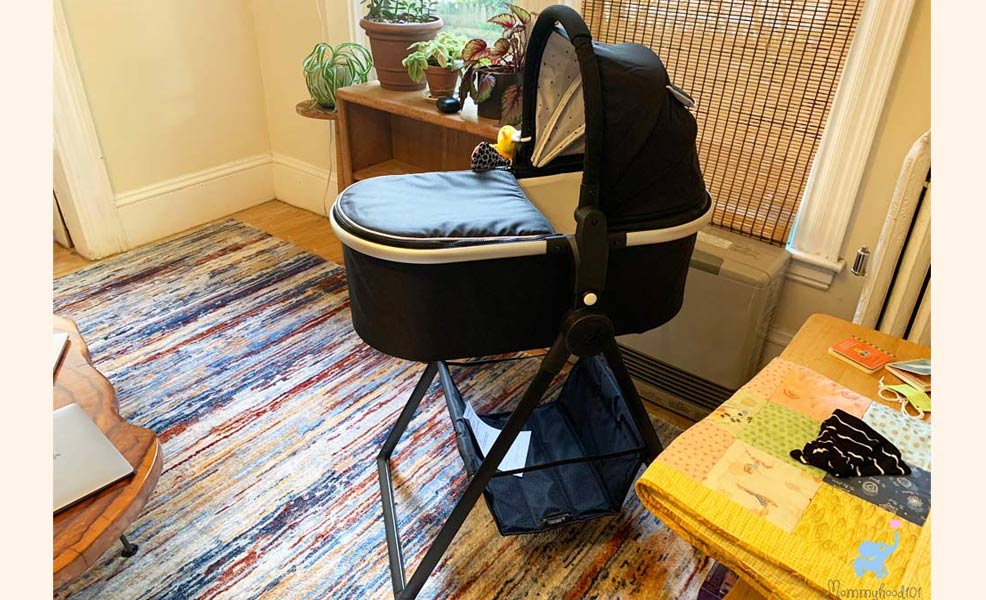 ---
Mommyhood101 independently tests and curates baby gear to help you make informed decisions. If you buy products through links on our site, we may earn a commission.
Mockingbird makes one of the best strollers on the market, and this stroller also has one of the most comfortable and versatile bassinets available.
While the bassinet is typically only used with the stroller, the new Mockingbird bassinet stand allows you to use the awesome Mockingbird bassinet at home - in the nursery, at your bedside, or anywhere else!
Featured near the top of our best strollers list, we all know and love the Mockingbird strollers (check out our in-depth Mockingbird stroller review)!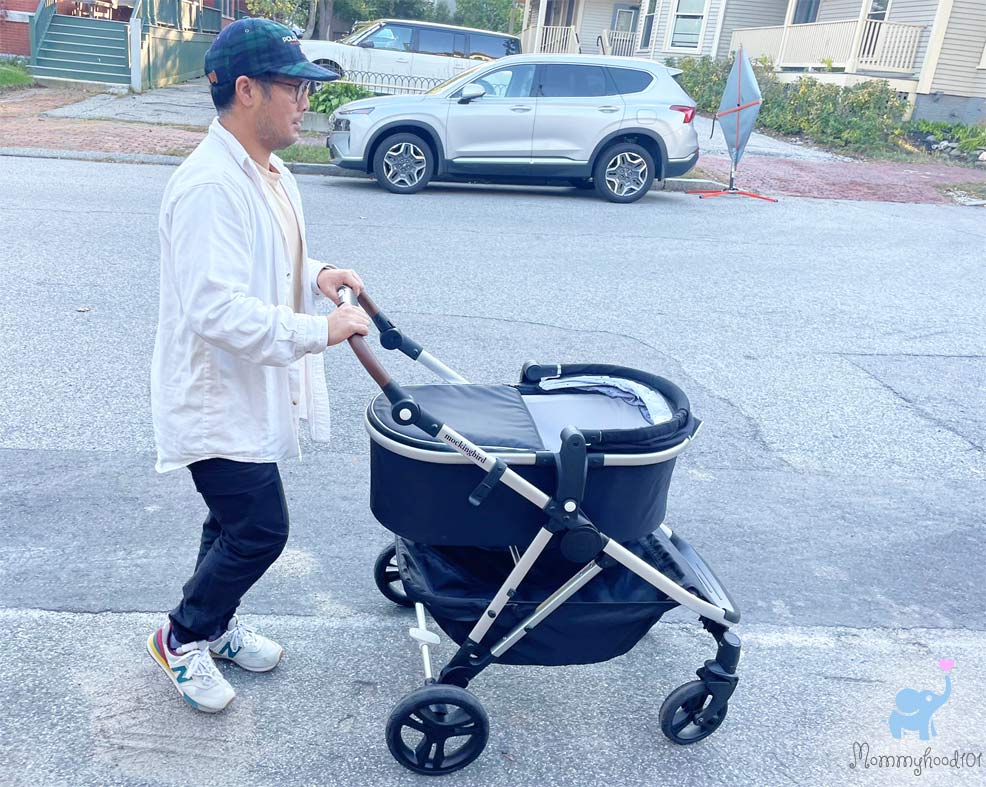 Sold separately, the Mockingbird bassinet is compatible with both the single and single-to-double Mockingbird strollers. And it's beautiful!
The bassinet can be used on-the-go with the Mockingbird stroller, and now the bassinet stand lets you use that same beautiful bassinet for naps and overnight sleep.
Coming in at about $90 we wanted to see whether the bassinet stand is worth the cost, or if you should simply opt for a separate bassinet for at-home use. Spoiler alert: we love it, and think it's worth every penny!
Our Review
Nobody wants to read through an entire article to get to the conclusions, you've got more important things to do! So here are our findings, right up front.
We think the Mockingbird bassinet stand is a great solution for most families who want the convenience and cost savings of a bassinet that can be used on the stroller and at home.
The overall build quality of the stand (and the bassinet itself!) is great, it is very easy to set up and use, and it is generally stable and safe for at-home use.
Here is a summary of what we loved, and a couple of things that could be improved.
✔️ Easy assembly.
✔️ High-quality frame.
✔️ Removable storage basket.
✔️ Washable storage basket.
✔️ Works with sunshade up or down.
✔️ Folds for storage.
✔️ Safe for overnight sleep.
✔️ 20-pound weight limit.
✔️ Lightweight build (9 pounds).
✔️ Easy bassinet attach & detach.
❌ No height adjustment.
❌ No rocking motion.
Clearly, there is a lot to love about this bassinet stand!
The cons are minimal, including no height adjustment (more on that later) or rocking motion.
At this price point, we think those are very minor cons. By comparison, the UPPAbaby bassinet stand is nearly twice the price (about $160), and it also doesn't rock or have height adjustment.
Feel like an expert in the Mockingbird bassinet stand now? You should! But if you're still uncertain, continue reading to see how we reached these conclusions!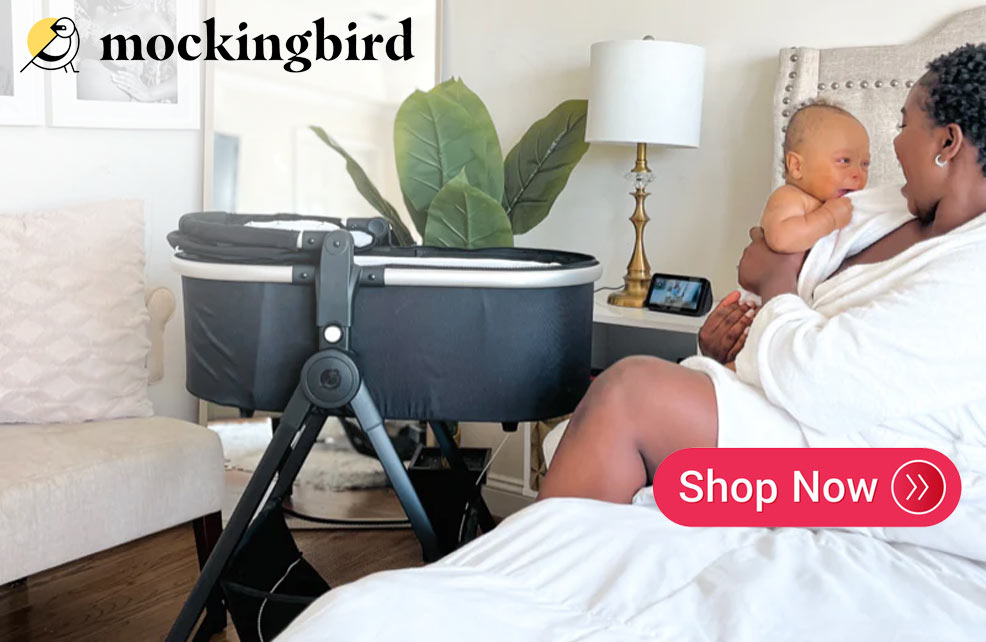 First Impressions
The Mockingbird bassinet stand arrives in a large flat box.
Sliding it out of the box, we first noticed that it is relatively lightweight, coming in at about 9 pounds.
Removing the packaging, we liked the nice, brushed aluminum frame. It's lightweight but also feels sturdy and high quality.
There is no assembly involved, all you need to do is unfold it into the A-frame configuration and you're ready go to!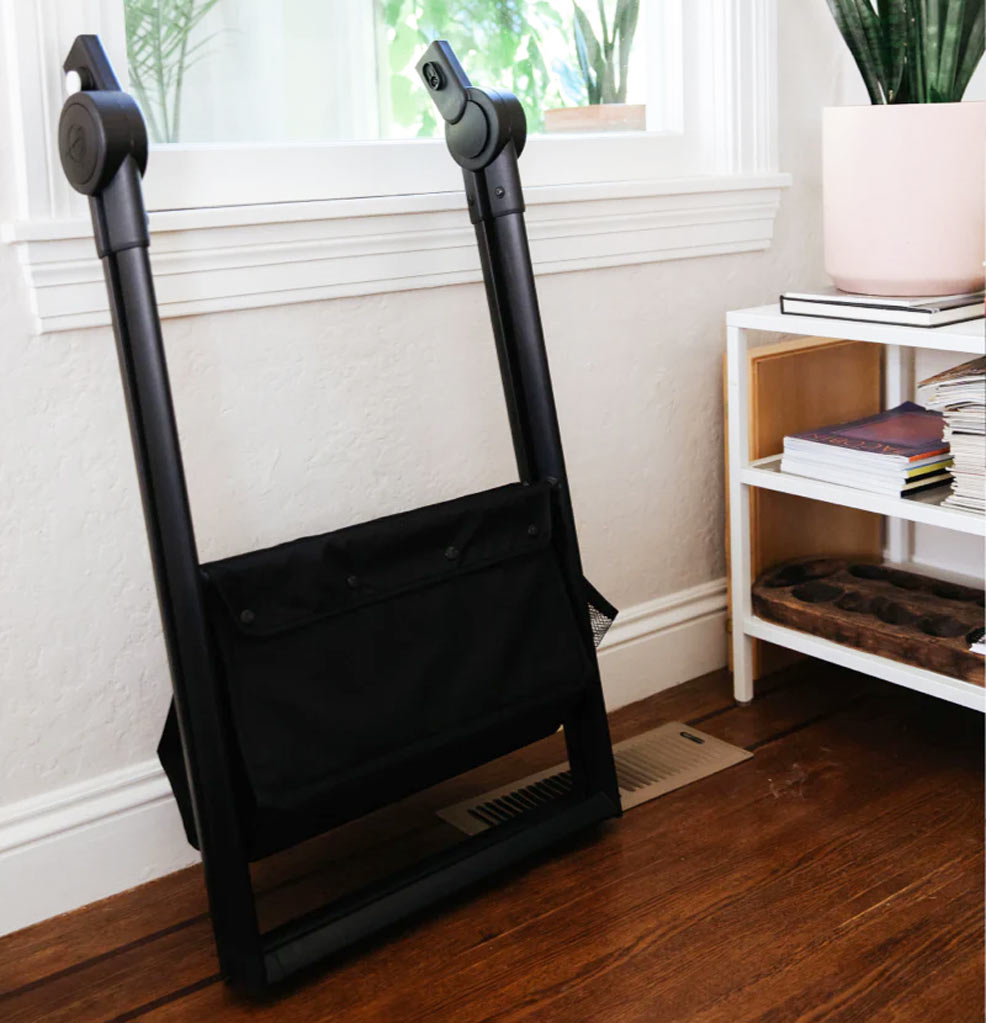 One advantage of this bassinet frame is that it folds flat for storage (see above photo), making it easy to slide under the bed or into a narrow space for storage.
Nice touch! If first impressions mean everything, this bassinet stand is winning already!
Features
The Mockingbird bassinet stand is relatively simple but also thoughtfully designed with some nice convenience features.
First, just like the Mockingbird strollers, this bassinet stand has a convenient and nicely sized basket at its base.
Not only does that basket do a nice job holding necessities (we used it for pacifiers and receiving blankets), but it's also removable and machine washable!
Second, the height is great as a stand-alone or bedside bassinet. The top edge of the bassinet stands about 35" above the floor.
Most beds are about 25-27" tall to the top of the mattress, which means that the bassinet will stand about 8-10" higher than the top edge of your bed. You can see that height difference here: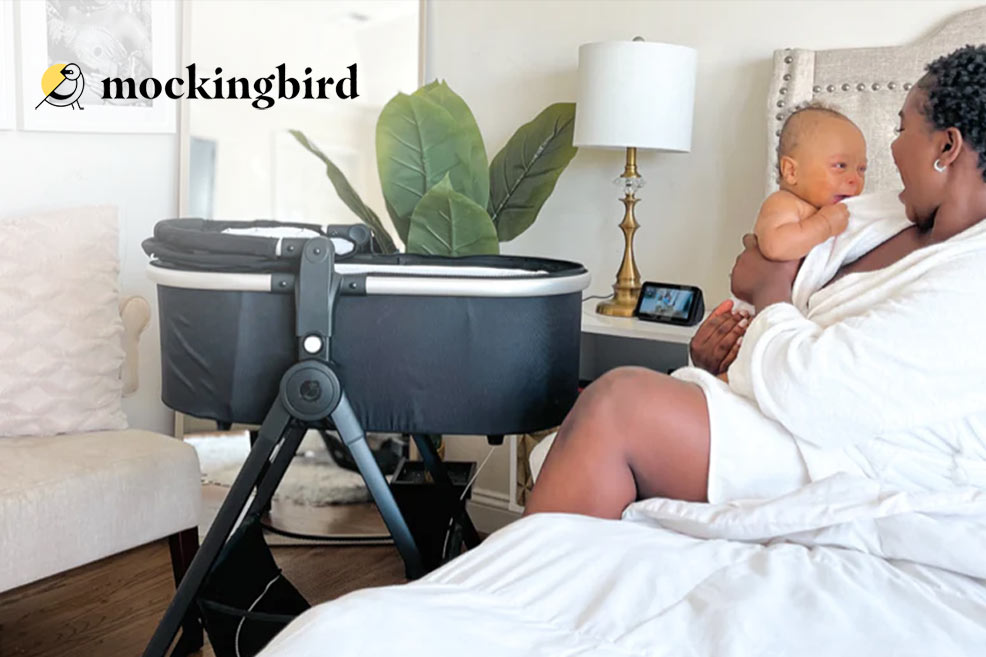 Why is the height difference a benefit?
For safety reasons, you do not want the top edge of the bassinet to be lower than or even with your mattress surface. When it is, there is a serious risk of your blanket, sheets, or pillow falling into the bassinet and posing a suffocation hazard.
We strongly encourage you to read the AAP's Safe Sleep guidelines for more tips!
Note that the overall dimensions of the bassinet stand when open are about 31" tall, 30" wide, and about 20" deep. When folded, the dimensions are a bit taller (35"), about 5" thick, and you maintain the 20" width. It can support a baby up to 20 pounds, or until your baby can push up on their hands and knees.
Third, the bassinet stand does not restrict any functionalities of the bassinet, including its boot cover and retractable sunshade.
Attaching & Detaching the Bassinet
Now that we've covered our initial impressions, features, and dimensions, let's talk a bit about ease of use.
As you know, we love how easily the seats and bassinet accessories attach and detach from the mockingbird stroller. Just push the white buttons on each side and pull the seat upwards.
Yes, it requires both hands, but with some practice, it is smooth and easy.
The good news is that the attachment mechanism for the bassinet stand is the same as with the stroller. If you're already familiar with attaching/detaching the bassinet from the stroller, it will be similarly intuitive to do with the bassinet stand.
And it looks great in the nursery!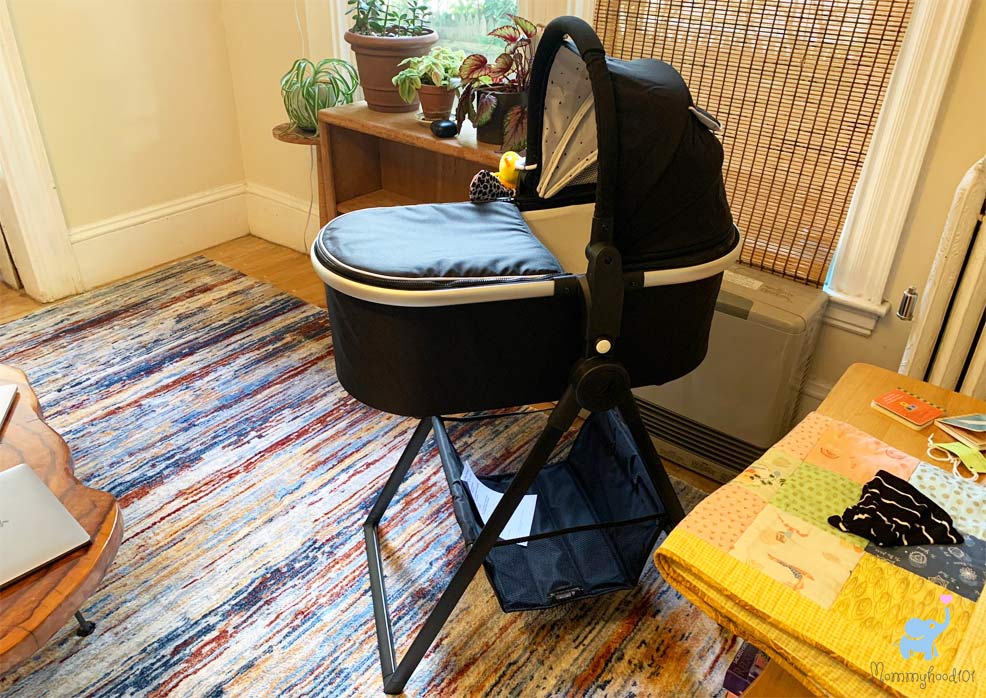 The only difference is that the bassinet stand is considerably lighter weight than the stroller.
This means that while lifting the bassinet off the stand, the stand has a tendency to slightly lift off the floor. No big deal - we simply placed a foot onto one of the lower cross-rails of the stand and this helped give us good leverage.
Remember we mentioned that all bassinet features still work while it's on the stand?
Here is an example of the bassinet's sunshade in the closed position, making it much easier to reach in while laying your baby down to sleep, or taking them out when they are ready for some fun (or feeding!). Obviously, the boot cover can be removed as well: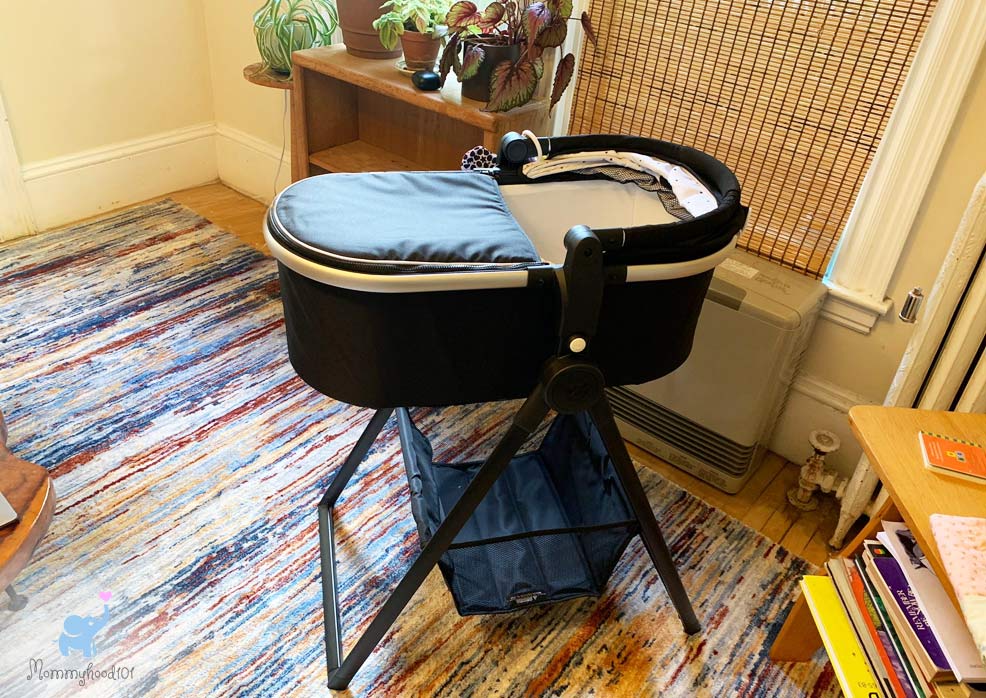 One point to make here is that the bassinet does not have a handle to help with one-handed carrying.
However, we do think the attachment points on the sides make for relatively easy carrying, and we love how the bassinet can be placed down on any flat surface without any issues.
Overall, attaching and detaching the bassinet from the stand was intuitive and easy. No complaints here!
Safety & Stability
Mockingbird has received safety certifications to ensure that their bassinet is safe for overnight sleep.
Among other criteria, this means that the surface is flat and relatively firm, the sides do not collapse when it's off the stroller, and there is nothing in the bassinet with your baby (no buckles, shoulder straps, etc).
When we first saw this bassinet stand, to be honest, we were a little worried that it wouldn't be stable. The A-frame design has the bassinet attached at the top (apex) of the frame, with one attachment point on each side. Looking at it, we thought the bassinet would be prone to tipping front-to-back.
We're happy to report that the entire bassinet stand is very sturdy and stable, and we did not experience any situations where we were worried about it tipping over.
Here is our newborn test infant sleeping soundly in the bassinet!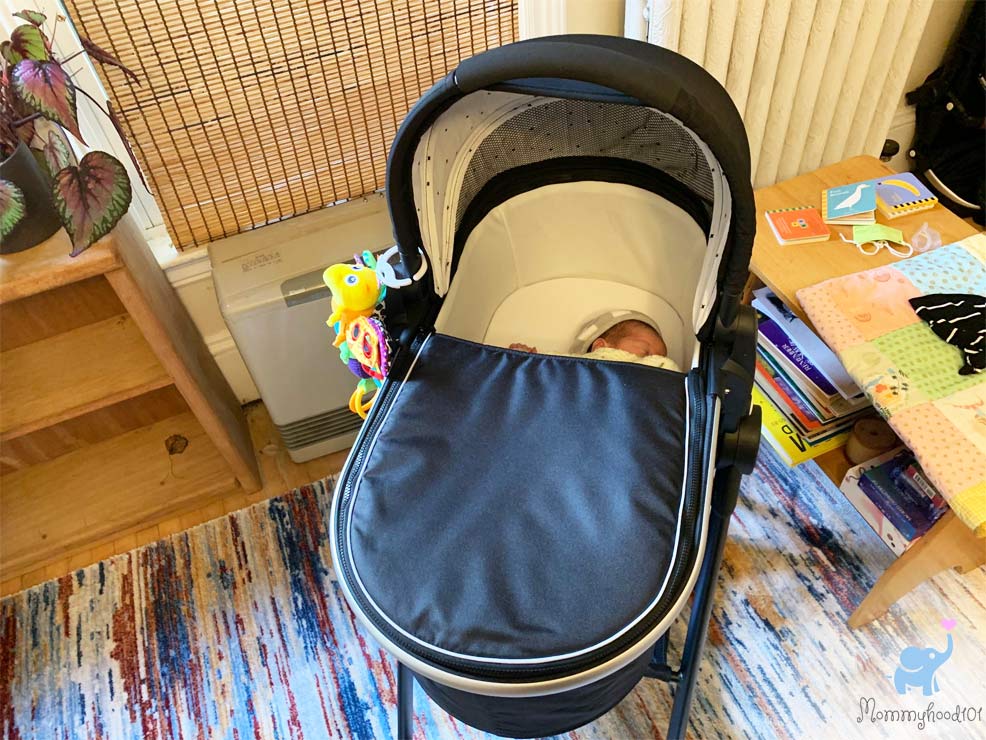 Dad was able to easily pop the bassinet of their single-to-double stroller and onto the bassinet stand, and his little one continued sleeping like a little angel!
A final point about safety: Mockingbird is very clear on their website that this bassinet stand is to only be used with their bassinet, and not with their older carriage model. If you are unsure whether you have the bassinet or carriage, please go here for some additional details.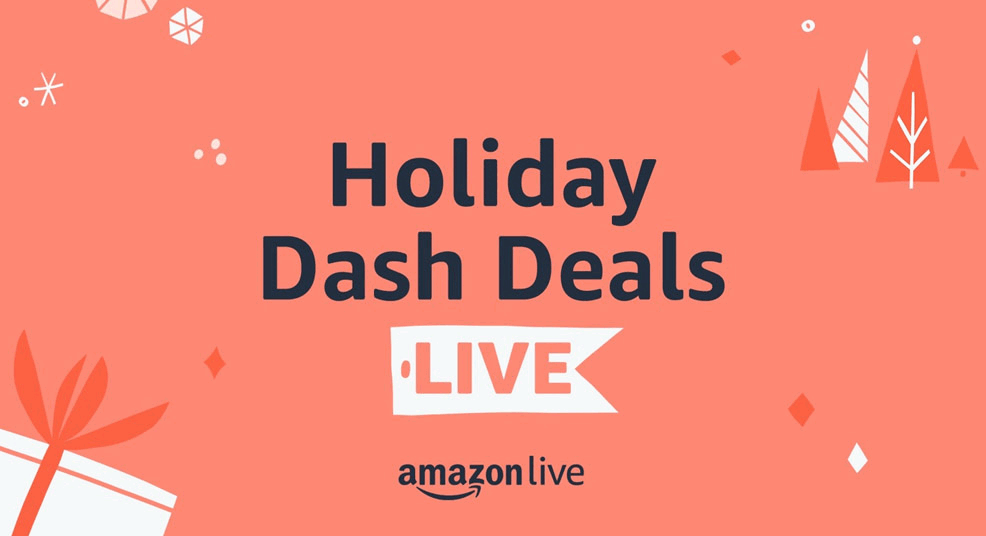 .
Pricing
The Mockingbird bassinet is $140, and the bassinet stand is $90 as of this writing. You can buy them separately or as a bundle; the price is the same either way.
Relative to its primary competition, including the UPPAbaby Vista, these prices are a bargain.
We think that in most situations, the Mockingbird bassinet can be used effectively as your only bassinet for use at home and on the go. Given that it can effectively replace a bassinet for home, we think it's a good deal! Will it get a bit dirty when used outdoors on the stroller? Probably, but it also wipes clean very easily and the fabric can be machine washed.
Also, we should point out that the Mockingbird stroller, bassinet, and accessories hold their value very well. This means that once you're finished with any of the parts, there is an active resellers market where you'll be able to get back about 60-70% of your original purchase price. That's comforting!
Conclusions
While we focused on at-home uses of the bassinet stand, our imaginations quickly ran wild.
Why not take the bassinet stand along with you to a friend's house, a cafe or restaurant, or for the really adventurous - to the campsite!?
The Mockingbird bassinet stand opens up a whole new set of possibilities.
And we love it for that!
Overall, we walked away with a very positive impression of this bassinet stand, and think that it will work very well for most families. Save for some minor cons, including no ability to adjust the height or rocking motion, we give it very high marks - a 4.8 out of 5.0!
References