Nanit Pro Review: Smart Baby Monitor System
Sleep smarter with this awesome new smart baby monitor from Nanit.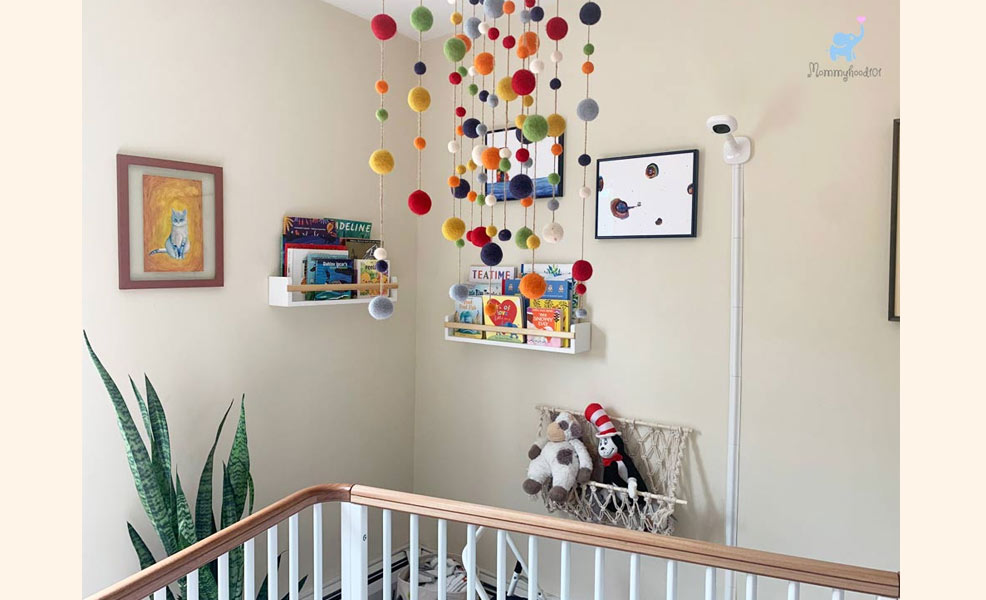 ---
Mommyhood101 independently tests and curates baby gear to help you make informed decisions. If you buy products through links on our site, we may earn a commission.
The Nanit smart baby monitors combine a beautiful high definition camera system with a powerful and well-designed app for your smart phones or tablets.
The result is a super versatile and powerful smart baby monitoring system that truly excels at everything it does. But does it belong on our list of the best baby monitors? Let's find out!
For this review, we were lucky enough to get our hands on samples of the newest, most updated Nanit PRO systems available on the market (thanks, Nanit!) and we put them to the test!
Full disclosure: Legend PR, which represents certain aspects of Nanit product marketing and public relations, was generous enough to provide us with free samples of the new Nanit Pro baby monitor for testing (thank you!).
With the ability to stream audio and video to your smart device no matter where you are in the world, the Nanit is a perfect example of a high quality wifi baby monitor. But it also packs a ton of awesome features that set it apart from the pack.
As of this writing, the newest Nanit Pro smart baby monitors are available directly through Nanit for $299. If you check back every few weeks you might catch a sale at the Nanit site that drops that price by 10-20%!
But is it worth the cost? Let's see how it performs!
Nanit Pro Baby Monitors: Overall Ratings
Based on our hands-on reviews, we give the Nanit Pro baby monitor bundle (including the Smart Sheets, Multi-Stand, and Breathing Band) a whopping 4.8 out of 5 stars:
Overall Conclusions: Nanit Pro Baby Monitor
Most parents (or parents-to-be!) don't have time to read through this entire article, so here is a summary of what we found.
We were excited to get our hands on the awesome updated Nanit Pro baby monitor system, and we were pleasantly surprised by the following aspects:
✔️ Very simple setup & operation.
✔️ Flexible and intuitive installation.
✔️ Cord covers included.
✔️ Remote zoom.
✔️ Nursery temperature monitoring.
✔️ Nursery humidity monitoring.
✔️ Integrated night light.
✔️ Two-way intercom talk.
✔️ Clear infrared night vision.
✔️ Nature sounds & white noise.
✔️ Movement & sound alerts.
✔️ Works with internet outage.
✔️ Pair up to 5 cameras.
✔️ Sleep metrics & insights.
✔️ Growth monitoring (w/ Smart Sheet).
✔️ Breathing motion monitoring (w/Breathing Band).
✔️ Nanit Insights for free (1 year).
✔️ HSA/FSA eligible.
✔️ Alexa integration.
✔️ Fast, high quality streaming.
However, like with any review we write, we had some little gripes worth mentioning:
❌ Limited growth monitoring accuracy.
❌ Nanit Insights subscription-based after 1 year.
Overall, we think the Nanit Pro baby monitor is the best wifi baby monitor on the market, offering an easy and versatile installation, excellent camera and app features, powerful sleep metrics and insights, and a surprisingly smooth and high quality streaming over WiFi and 5G or 4G networks.
We're pretty picky, so that little list of cons is extremely minor - especially for us! The Nanit offers some extremely competitive features for what turns out to be a very reasonable price!

About Nanit
Based in New York City, Nanit has been making baby monitors for over 6 years, starting in 2016 with the idea to make life more manageable for new parents, giving them insights into their child's growth and well-being, and doing so in a super convenient, intuitive, and portable manner.
Nanit quickly became popular among parents looking for a high quality alternative to the traditional parent-unit baby monitors of the past.
As testament to their popularity and growth, they have been a CES Innovation Award 2020 Honoree, they received the NPD Consumer Electronics Industry Performance Award in 2020, and were listed by CNBC as one of the most promising start-up companies of 2019.

All of those awards are very well-deserved, and moms might like to learn that Nanit is run by a woman, Sarah Dorsett (CEO)!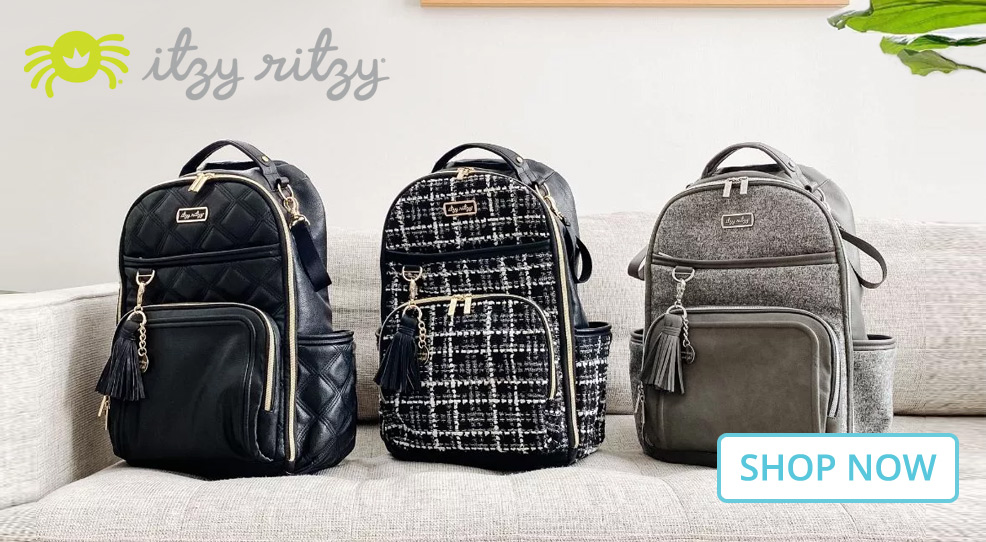 Nanit has consistenly high ratings for product quality and initial customer service, though there have been some concerns about the quality of their product support.
While Nanit is based in the USA, their products are made in China.
About the Nanit App
Like all WiFi-based baby monitors, the Nanit camera streams to an app that you can install on your Android or Apple (iOS) device.
The app does a few primary things.
First, the Nanit app will guide you through, step-by-step, all of the setup and installation instructions in a way that is super easy and intuitive to follow. More on that process later.
Second, the Nanit app will allow you to stream high-resolution (HD) video and audio of your baby wherever you are in the world. As long as you have a WiFi or cellular (e.g., 4G LTE, 5G) connection, you'll be able to stream from the camera.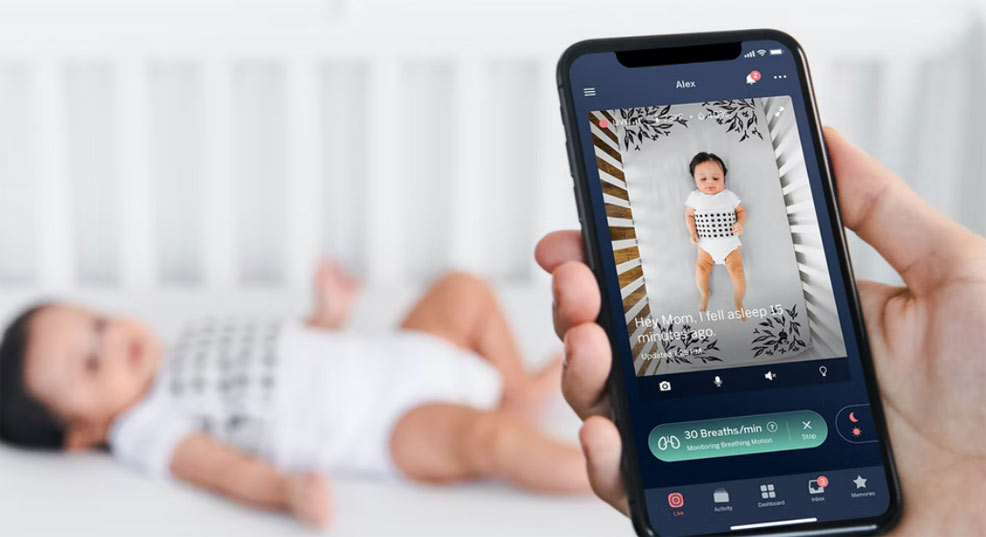 Third, the Nanit app provides a ton of Insights and Metrics into your little one's development (like their growth, using the Smart Sheets) and sleep patterns (like sleep onset time, duration, and efficiency). Parents love having these insights and using them to track progress through any sleep training strategies they might be using.
Fourth, the Nanit app allows you to monitor the nursery remotely, including status indicators (temperature and humidity), your baby's breathing motion (using Breathing Wear), and more.
Finally, the Nanit app allows you to remotely control your camera's features: turning the night light on and off, playing nature sounds or white noise, zooming for a closer view, using the two-way intercom feature, and capturing photos and videos.
Basically, all of the functions you would typically find on the parent unit of a high-end baby monitor are in the Nanit app, plus some extra features that are unique to the Nanit.
The Nanit Pro Baby Monitor System
The Nanit Pro was a ton of fun to setup, install, and use. We tested two of the systems, one in our own home (to test basic features and connectivity) and the other with a mom of an 8-month old infant.
The mom was using a Babysense monitor, and suffice to say she was blown away by the Nanit and donated her Babysense within hours of setting it up!
Below we go through Nanit installation, the basic physical features and options, and then discuss our impressions. Spoiler alert - we love it!
Installation
Out of the box, the Nanit looks and feels high quality. It is packaged nicely and it's clear that Nanit has done a lot of work on their design elements.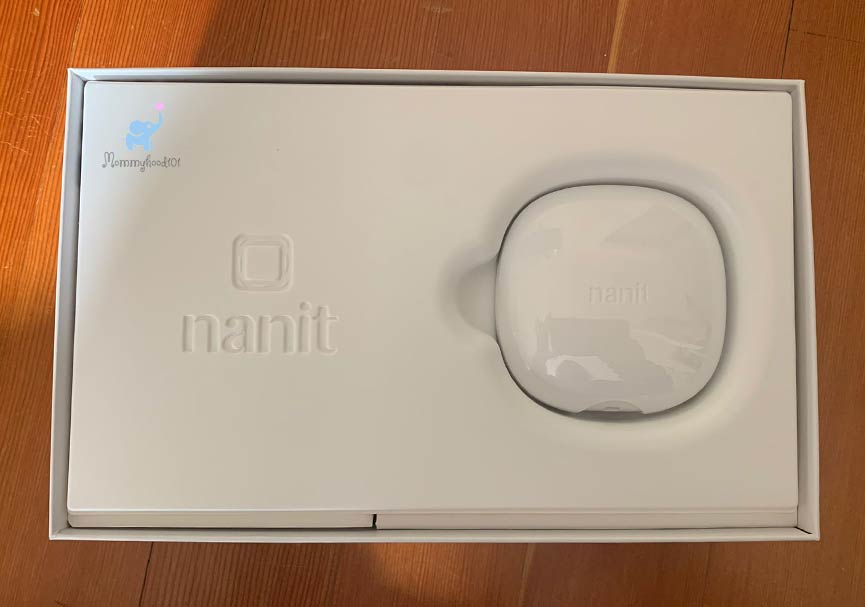 After unpacking the box, we were a little overwhelmed by all the various parts and trying to figure out where exactly to start: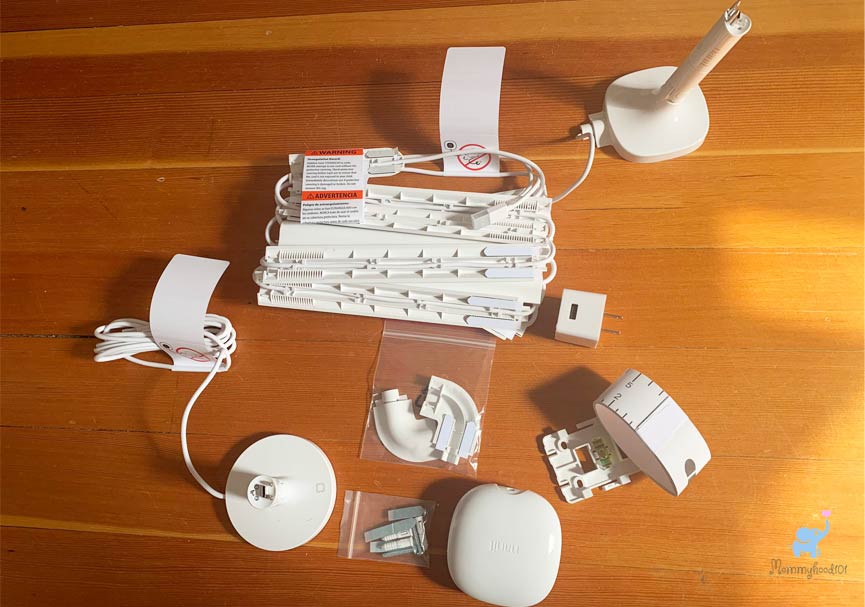 Thanks to a clear instructions manual and the Nanit app's step-by-step instructions, it was way easier than we expected.
We began by installing the included mounting bracket on the nursery wall. You want to install it about 66" above the floor, centered over the crib.
A big thanks to Nanit for including a little bead level on the mounting bracket, which we thought was tremendously helpful!
Here is the mounting bracket attached to our wall with one of the included screws. While we only used one screw, we suggest using all three for a secure installation.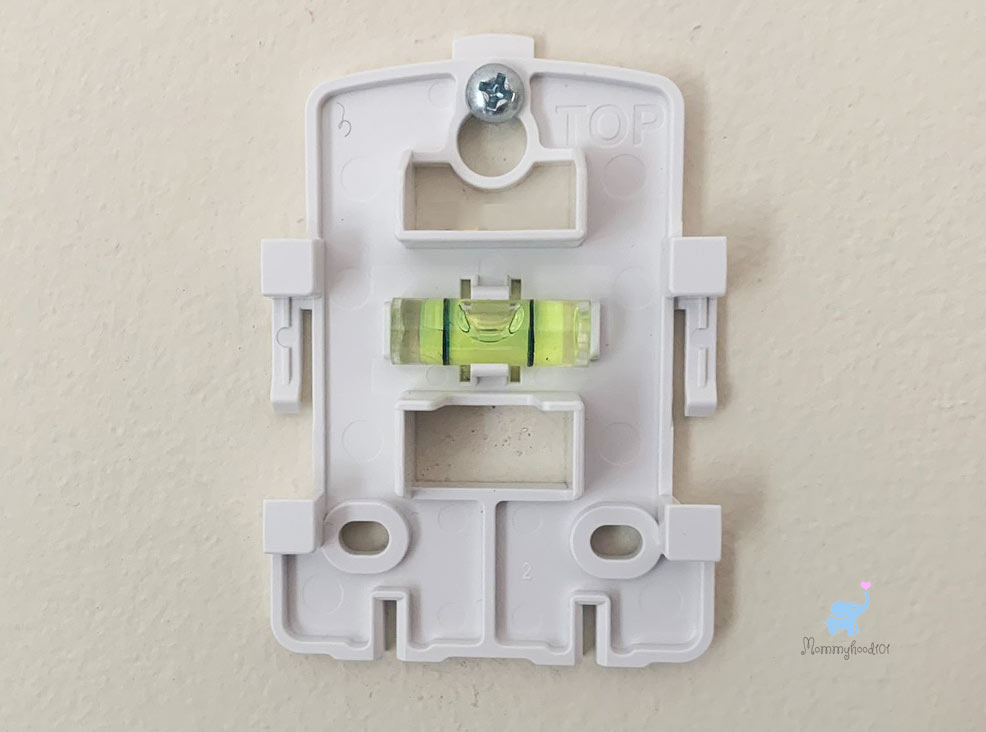 The next step is to attach the camera's wall mount to the bracket, which was super simple. You push it up against the mounting bracket and slide it down to attach securely.
This is what it looks like once you get the wall mount attached to the bracket: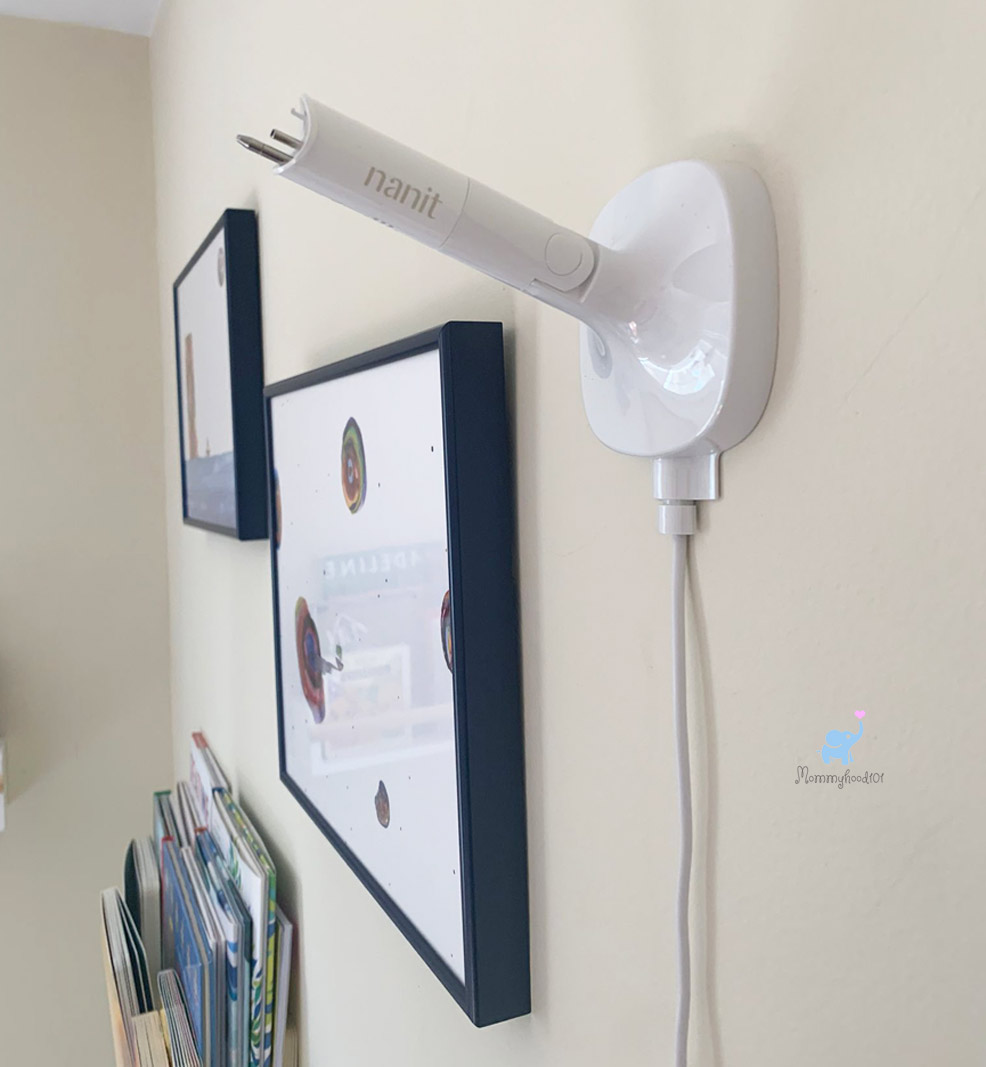 Nanit includes a super long (14 feet long!) power cord to accommodate tricky mounting situations where there isn't a power outlet nearby.
Of course, you'll want to cover it to prevent a strangulation hazard and tidy things up in the nursery. Luckily, Nanit includes 11 straight cord cover pieces and two 90-degree corner pieces.

Here's what each cord cover segment looks like: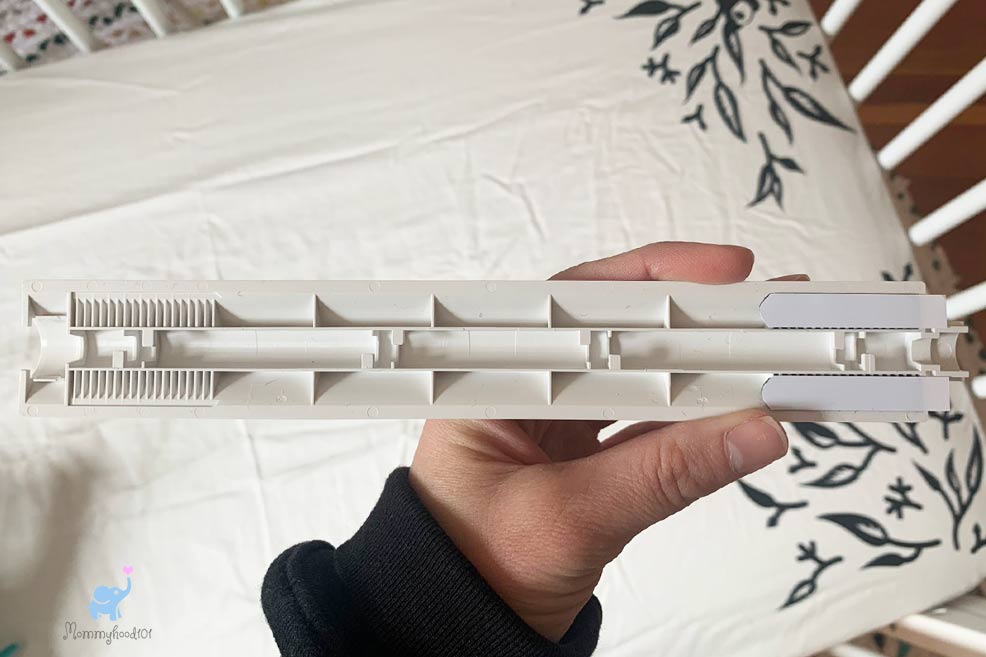 Notice how each piece has two small adhesive pads on the right side? Those will be used to help secure the covers to your wall.
Each cover segment also snaps onto the one next to it, which is super helpful. For most installs, you will use six segments going down the wall, then a 90-degree angle, and a few more segments to reach your power outlet.
Here is what it looks like during installation of the cord covers: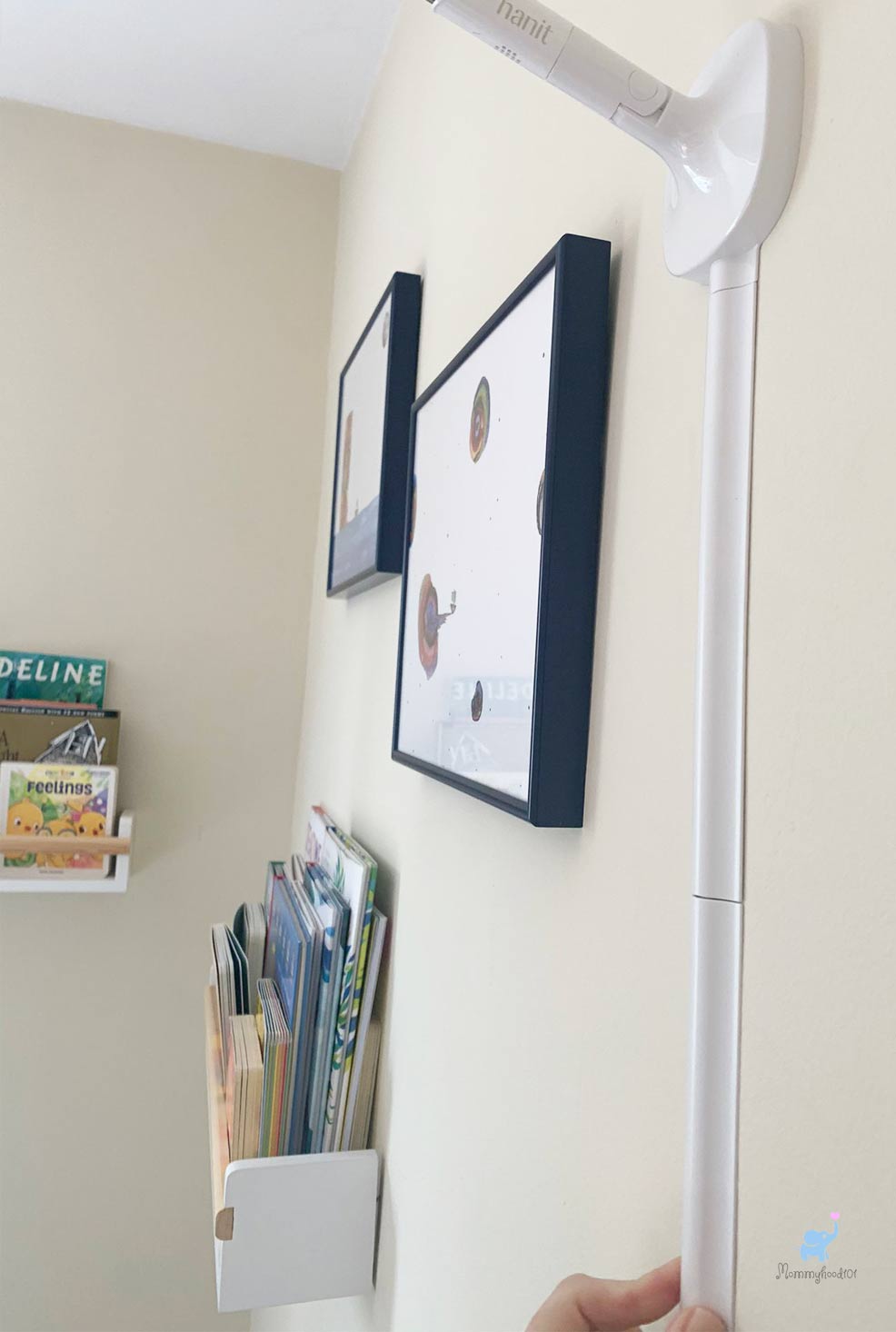 Installation took about 20 minutes. Note that in addition to a wall mount, Nanit also sells a floor stand (which we tested and loved!) and a multi-stand which can be used on an adjacent shelf or surface (more on that later).
Once you get it fully installed, we think it looks great!
Note that for parents considering the Nanit Pro with the floor stand, it's an awesome option if you don't want to attach anything to your nursery walls. It works like a tall camera stand with little tripod-style legs at the bottom, and you can velcro or more permanently attach the stand to anything in the nursery (like a crib slat, dresser, bookshelf, etc). It works excellently, though we definitely prefer the integrated look of the wall mount. Also, when attached to the crib, it wobbles a bit when your baby kicks or wiggles around.
Nanit Camera Unit
The Nanit's camera unit uses a unique design that allows it to be popped off and on various stands.
You can pop it onto the wall stand, the multi-stand, or the floor stand, which we think is a clever way to increase the system's versatility.
The camera itself uses high definition HD 1080p streaming video. It also has a small microphone on the front that does a great job capturing sound in the nursery.
Of course, it also has a little speaker so you can use the two-way talk feature and play nature sounds or white noise.
Together, we thought the Nanit had crystal clear video, and the microphone and speaker were high quality. Both daytime and night vision were excellent!
Here is a quick walk-around video of the Nanit Pro's camera, with a little shot of the Smart Sheets at the end (sorry for the wrinkles!):
Wondering what crib that is? It's the beautiful and amazing Nestig Cloud (see our review here)!
Another awesome feature of the camera unit is a soft-glow night light that provides a subtle upward glow against the nursery wall.
Simply tap the little light bulb icon on the Nanit app to turn it on or off. Here's what that looks like: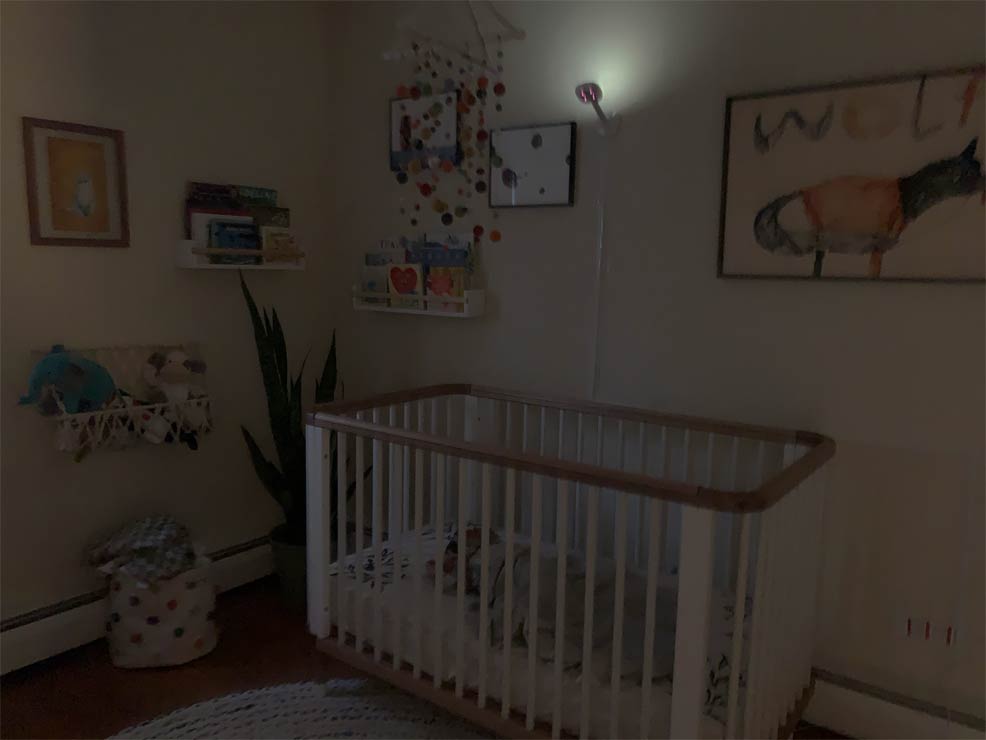 Note that those four purple infrared lights on the camera are not visible to the human eye, only to our camera!
Nanit Multi-Stand
In addition to the wall mount, Nanit was kind enough to give us a sample of their multi-stand.
The multi-stand gives parents the flexibility to use the Nanit on a nearby shelf or other piece of furniture. It also helps if you want to travel with your baby monitor, allowing you to throw the stand and camera into your suitcase without taking up much space at all.
It's also great for when your little one graduates from needing a baby monitor, allowing you to use the Nanit as a security camera anywhere in the home.
Here is what the camera looks like when it's attached to the multi-stand, looking down into a travel bassinet.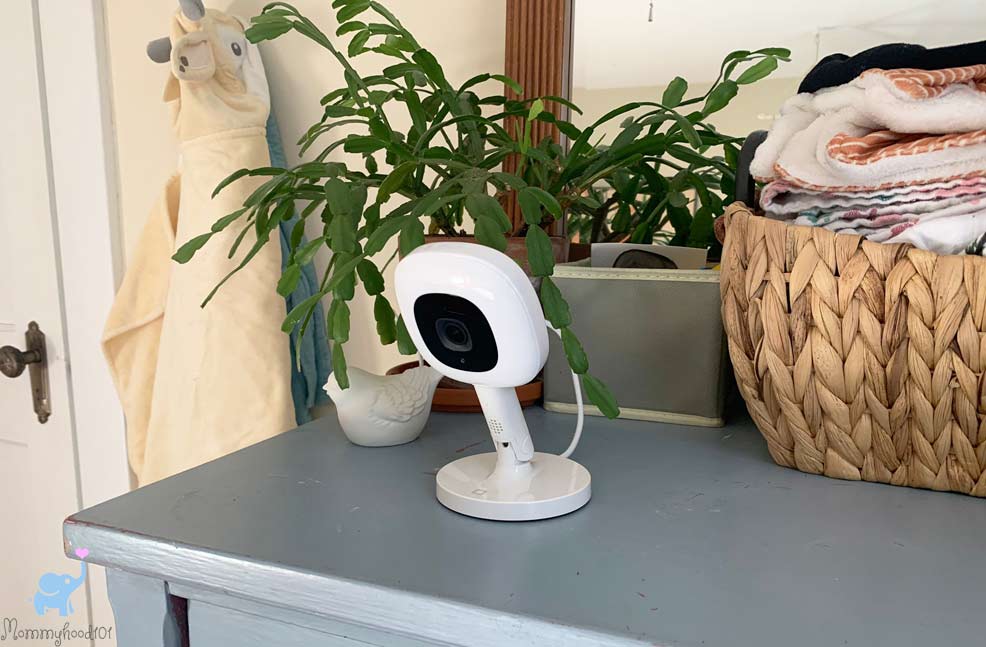 For only about $40, we think the multi-stand is a no-brainer for families on the go!
Nanit Smart Sheets
In addition to the multi-stand, Nanit was kind enough to give us a sample of their new Smart Sheets.
These sheets allow the camera unit and app to use machine vision for tracking the growth of your child.
By placing a cute floral pattern onto the sheets, the camera can judge the height of your baby, and track how it changes over time.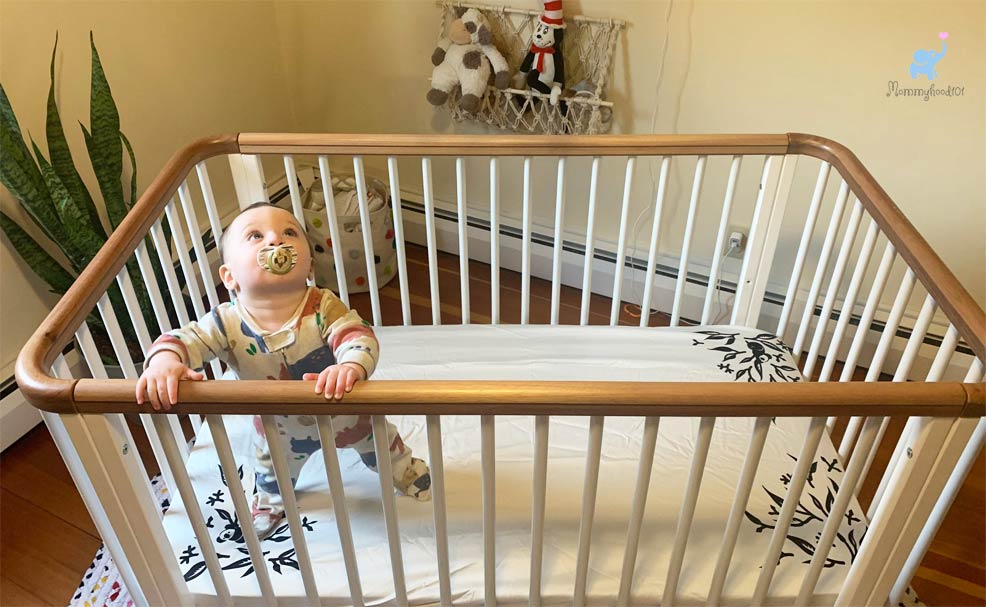 In our testing, we thought the smart sheets weren't necessarily very accurate at determining our test baby's height. In fact it was about an inch smaller than his pediatrician's measurement.
Nanit uses a 10-second calibration phase to help its algorithms figure out your baby's height. Here's what that looks like: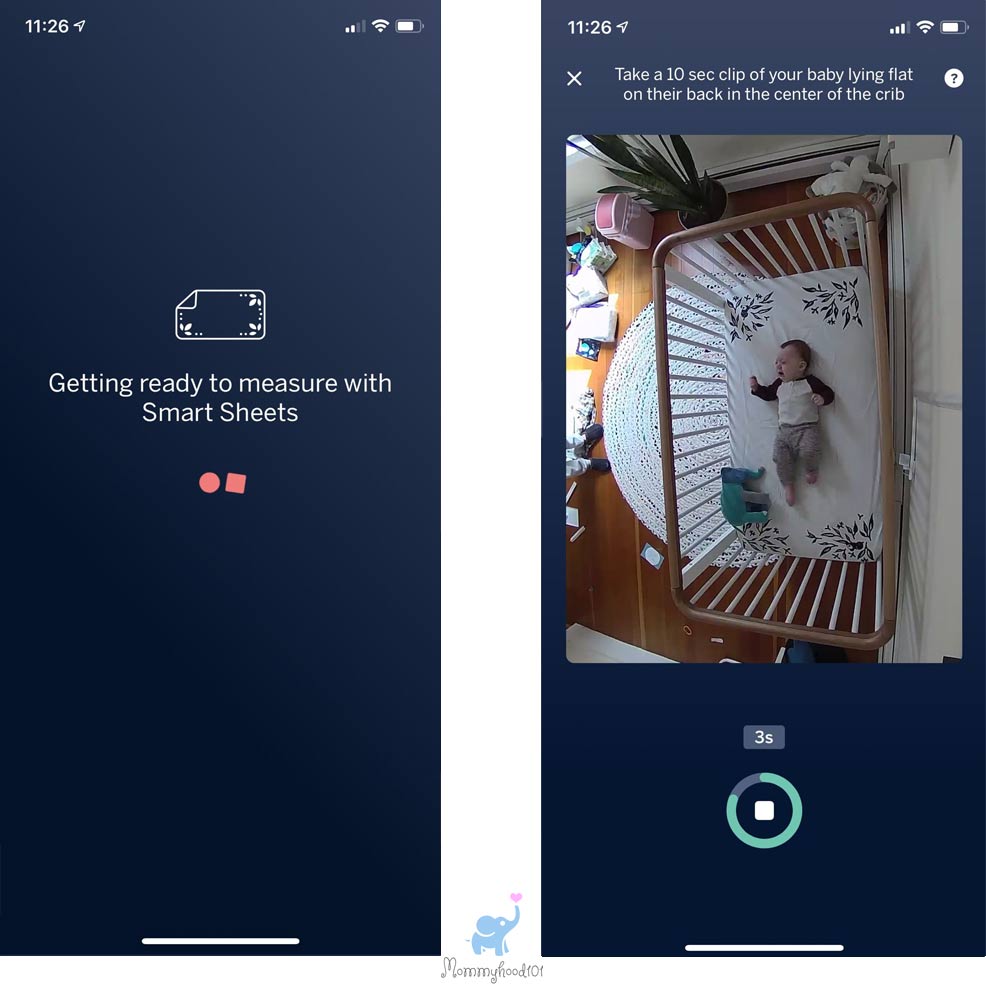 Of course, babies legs rarely fully extend, and if they don't extend during the 10-second smart sheet calibration window, the system might think your baby is a bit shorter than reality.
That inaccuracy may or may not matter as much as the ability to track changes in height over time, which it seems to do a good job of.
Breathing Wear
One of the most unique aspects of the Nanit is its ability to monitor the breathing motion of your baby.
For anxious parents (aren't well all!?), this is a must have!
To make this feature work, your little one needs to be wearing Breathing Wear, which are sleeping clothes printed with a series of shapes (diamonds and squares) that help the camera and app (using machine vision) monitor the rise and fall of your baby's chest.

Nanit provides a free small breathing band, a bit like a Velcro swaddler, that you can wrap around your baby's tummy.
They also provide sleep blankets, swaddlers, and pajamas with the same shapes: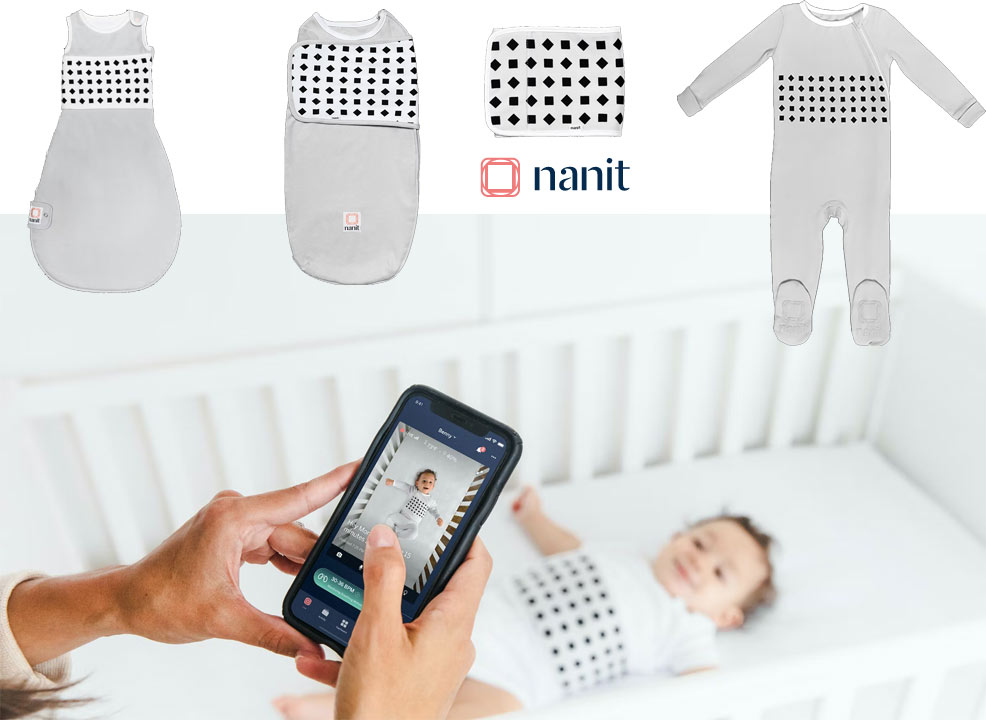 In the rare event that the app detects breathing motion has stopped, it will issue a red alert, which will come out of both the camera (in the nursery) and the device running the app.
While we initially thought it wasn't ideal to have the alert sound from the camera itself (in the case of false alarms), we realized that it's for the best: even if the connection to your phone is lost, the alert will still occur. Also, we didn't experience any false alarms in our testing.
We love how the Nanit can monitor breathing motion without attaching any electronics to your baby, or putting anything under the mattress!
Nanit likes to brag that 94% of parents say they got better sleep with the powerful Nanit tools, which isn't surprising!
Nanit Insights
Another amazing feature of the Nanit is the ability to track not only developmental progress (with the smart sheets) and breathing motion (with Breathing Wear), but also the amazing variety of insights and metrics provided by the app.
Every new Nanit camera comes with a free one-year subscription to Nanit Insights Basic, which includes 2 days of sleep analysis, 2 days of video highlights (sound, motion, sleep events), the ability to save 12 memories, and up to 2 app users/devices.
In our testing, the Insights app was easy to use and very accurate. It tracked when our test baby fell asleep, how long he slept, how many parent visits there were during the night, and the quality of his sleep.
Here is what Nanit Insights data summaries look like: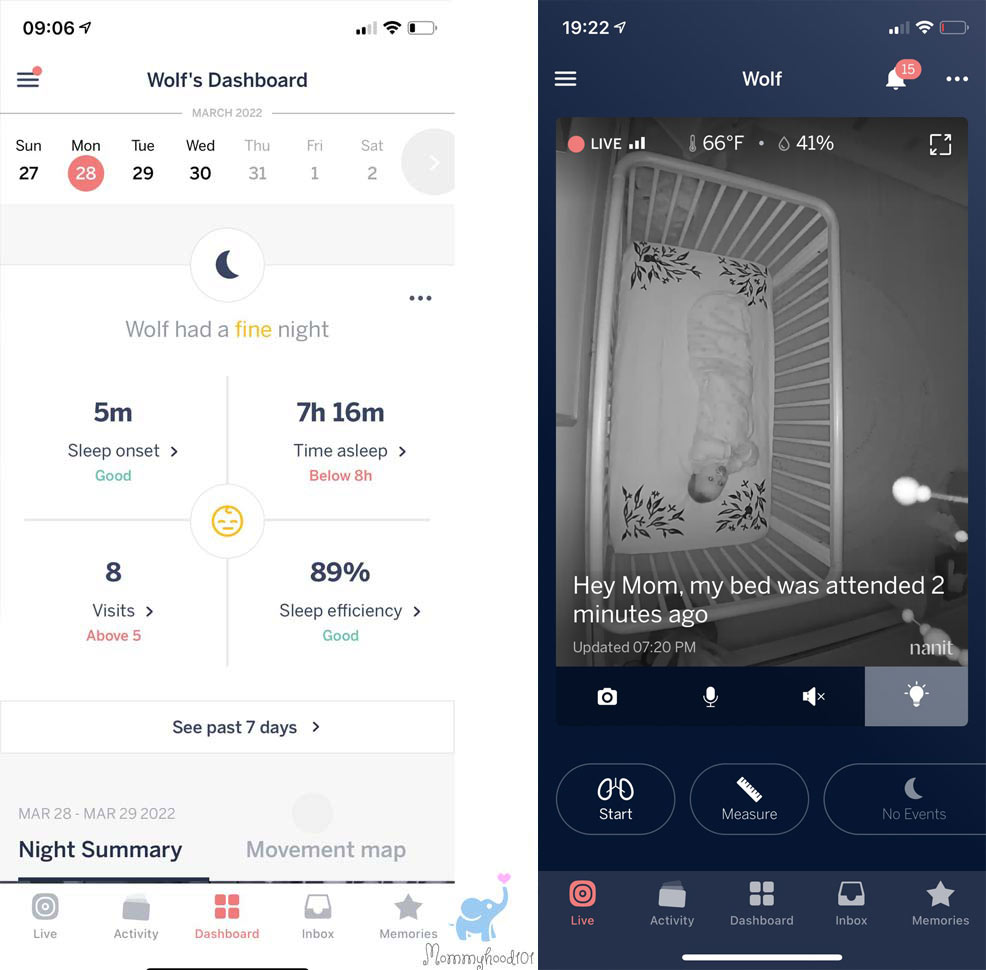 We love data, from wearable fitness trackers and other devices, and we love seeing baby monitors provide parents with high quality and relevant sleep data!
This is a good time to mention how great the Nanit's night vision camera is. Check out the image clarity in the above photo (right side)! Good brightness, contrast, and minimal darkness bleeding into the perimeter.
While we're at it, here's what the camera quality looks like during the day, along with a little preview of what it looks like when you want to play nature sounds or white noise: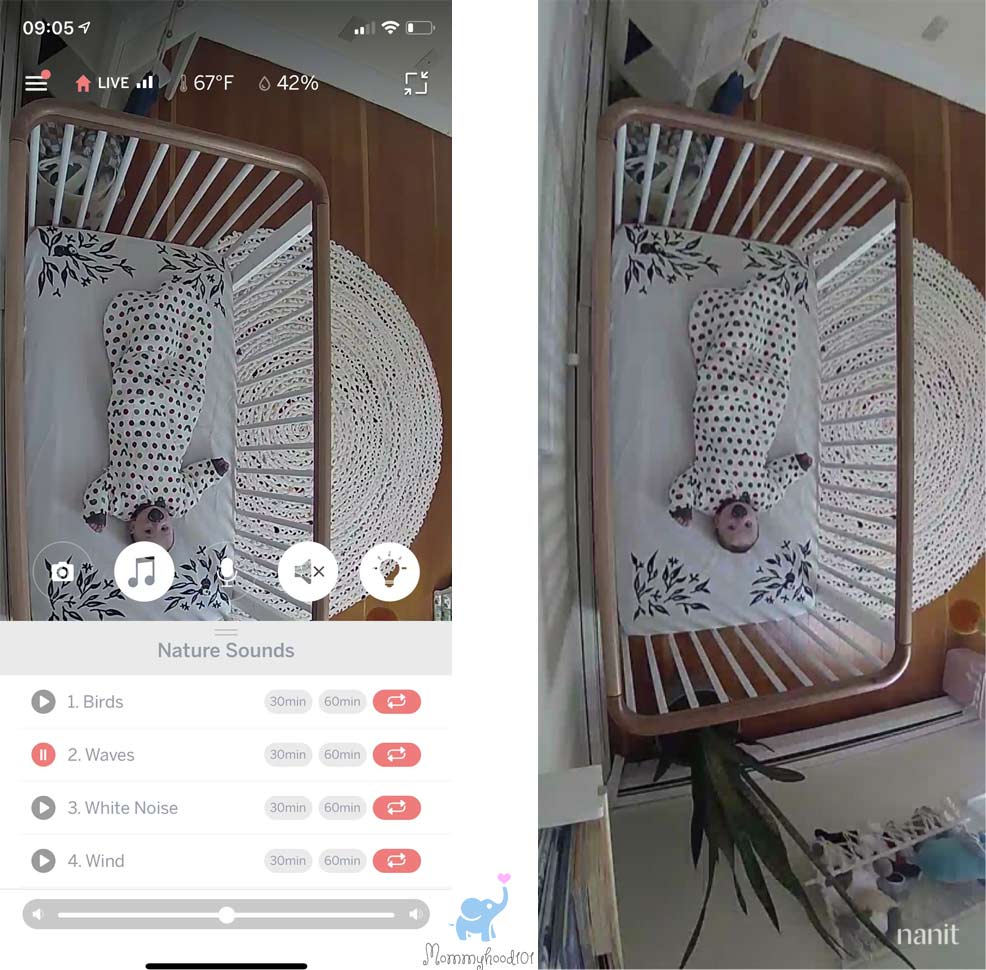 The only thing we didn't like about the Nanit Insights feature is that the included subscription is rather limited.
While it's nice to get a free year of Nanit Insights Basic, once you see the features of Insights Premium and Ultimate subscriptions, you'll realize how much you're missing!
Once the free year of Insights Basic expires, you will no longer get sleep analysis, video highlights, or more than one user.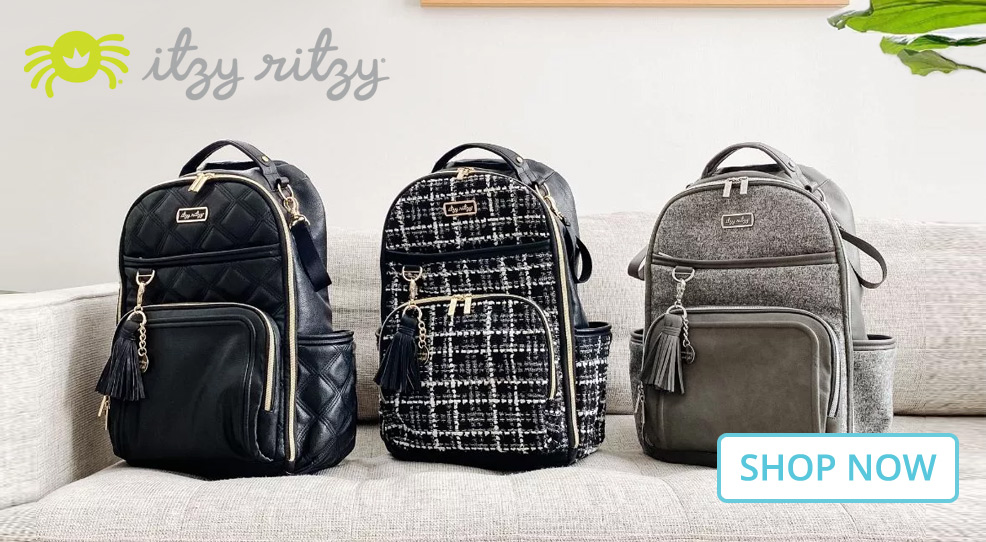 After the first year, the Basic subscription will cost you $5/month (or $50/year), the Premium $10/mo (or $100/year), or the Ultimate $30/mo (or $300/year).
We realize that might seem expensive, but we think at least the Basic option is worthwhile if you're having a second baby or want to continue monitoring your toddler's sleep.

Nanit Pro Baby Monitor: Conclusions
We loved testing out the new Nanit Pro baby monitor and are very grateful to have gotten our hands on it!
Overall, we think the new Nanit Pro is the best WiFi baby monitor on the market, offering superior quality, versatility, and peace of mind at a surprisingly reasonable price point.
We thought Nanit did a fantastic job making their baby monitor super easy and intuitive to set up, from the included mounting hardware to the cord covers and instructions, everything was very thoughtful.
The Nanit app is a powerful companion, offering complete control over the camera unit while streaming high quality video over both WiFi and 4G/5G cellular networks. We found the app easy to use, very stable (tested on Android and iOS), and we loved the Nanit Insights for its sleep-related metrics.
The streaming video and audio were very high quality and low-latency, even on cellular networks (4G/5G), and we love how the system can work even during an internet outage (if you're at home and connected to WiFi).
We also love the style and simplicity of all of the Nanit components, and the accessories (smart sheets, multi-stand, Breathing Wear) were easily integrated and worked quite well.

The only tiny cons we encountered were related to the smart sheets and their ability to accurately determine our test baby's height, and the fact that the Insights Basic subscription was somewhat limited and upgrades are expensive.
Outside of that, we think the Nanit Pro is the perfect option for families looking for a high quality and versatile baby monitoring solution that can help give them peace of mind and improve their baby's sleep habits.
Once we finish a long-term test, we'll return to this article and update you on the system's reliability.
Where to Buy the Nanit Pro Baby Monitor
The new Nanit Pro baby monitors are sold at most major retailers.
To ensure a direct relationship with Nanit and access to any support or returns you might need, we strongly suggest purchasing directly through the Nanit website.
We've found the prices at the Nanit website to be great, and if you stumble upon a sale you can get some hefty savings!
However, you can also purchase the Nanit at Amazon and most other major retailers.