Naturepedic Crib Mattress Review: Hands-on Testing
We fell in love with the Naturepedic during our testing. We think you will too!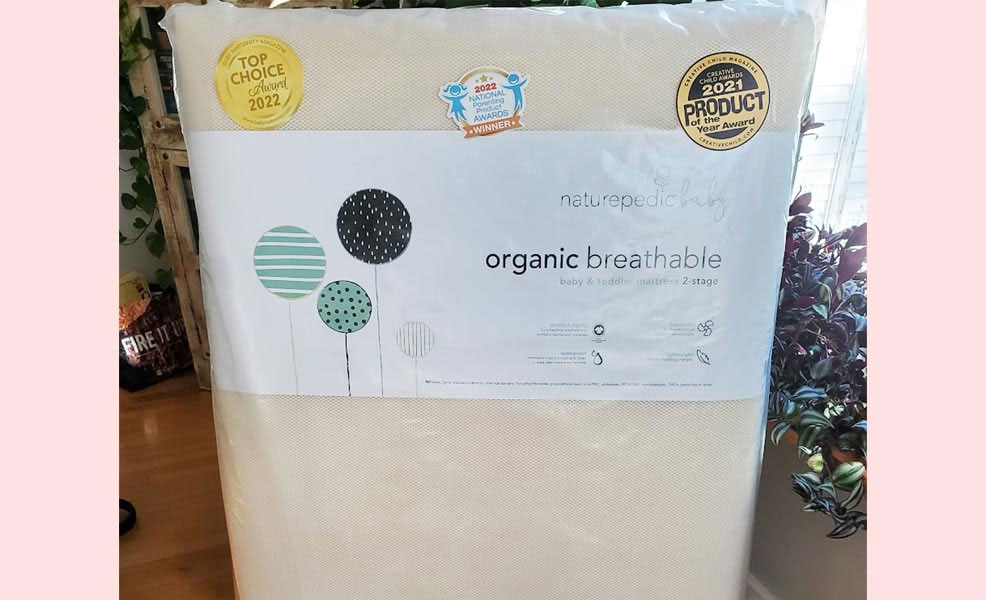 ---
Mommyhood101 independently tests and curates baby gear to help you make informed decisions. If you buy products through links on our site, we may earn a commission.
We put the Naturepedic Breathable Crib Mattress to the test, evaluating comfort, off-gassing, durability, firmness, weight, crib fit, ease of use, breathability, and more!
Let's see how it performed!
Featured near the top of our best crib mattress list, the Naturepedic is up against some serious competition!
Looking at the specs you can't help but be impressed: organic GOTS, MADE SAFE and Greenguard GOLD certifications, dual-firmness, breathable and waterproof surface, and none of the nasty stuff we try hard to avoid (polyurethane foam, vinyl, PFCs, flame retardants, or phthalates).
It has basically everything you could look for in a mattress, and as an added bonus it's made right here in the USA! This Naturepedic breathable crib mattress comes in two varieties: one with a lightweight wavesupport core, and the other with an innerspring foundation.
With a relatively steep price tag (about $399-449), we needed to put the Naturepedic to the test and see if it was worth the cost. Spoiler alert: we love it!
Our Overall Impressions
Nobody wants to read through an entire article to get to conclusions, you've got more important things to do! So here are our findings, right up front.
We are extremely impressed with the Naturepedic breathable crib mattress and are very grateful to Naturepedic for sending us samples (thanks, Naturepedic!). While it's a bit expensive, we think the quality, organic construction, safety certifications, and versatility make it one of the best possible crib mattresses you can get your hands on!
That said, it is definitely deserving of its high-ranking position on our list of the best crib mattresses of the year!
Here is a summary of what we loved, and a couple of things that could be improved.
✔️ Made in USA (Ohio).
✔️ Dual-firmness.
✔️ Breathable organic cotton cover.
✔️ Waterproof cover layer.
✔️ MADE SAFE certified.
✔️ Greenguard GOLD certified.
✔️ Organic GOTS certified.
✔️ UL formaldehyde-free certified.
✔️ Soft, quilted organic cover.
✔️ No polyurethane foams.
✔️ No flame retardants or PFAS.
✔️ No vinyl, PVC, or EVA.
✔️ No harmful glues or adhesives.
✔️ Sturdy Wavesupport or Innerspring core.
✔️ No odors or off-gassing.
✔️ Ships completely flat.
✔️ Quality stitching and seams.
❌ Surprisingly firm.
❌ Not entirely organic.
Clearly, that's a lot to love!
While we appreciate the firmness on the infant side (the firmer the mattress, the safer it is!), a small con is that the toddler side is firmer than some other mattresses. Not uncomfortably firm (the surface is plush) but certainly firmer than we expected.
The second little con is that while the fabric and fill are GOTS-certified organic cotton, the toddler side uses a non-organic fiber (PLA), the core itself uses non-organic polyethylene foam, and the waterproofing on the cover is made of non-organic polyester. None of those materials is toxic or cause for concern, but we want to be clear that the entire crib mattress is not organic (see the Avocado for that).
Outside of those two little cons, the Naturepedic is basically perfect in every way.
Feel like an expert in the Naturepedic breathable crib mattress now? You should! But if you're still uncertain, continue reading to see how we reached these conclusions!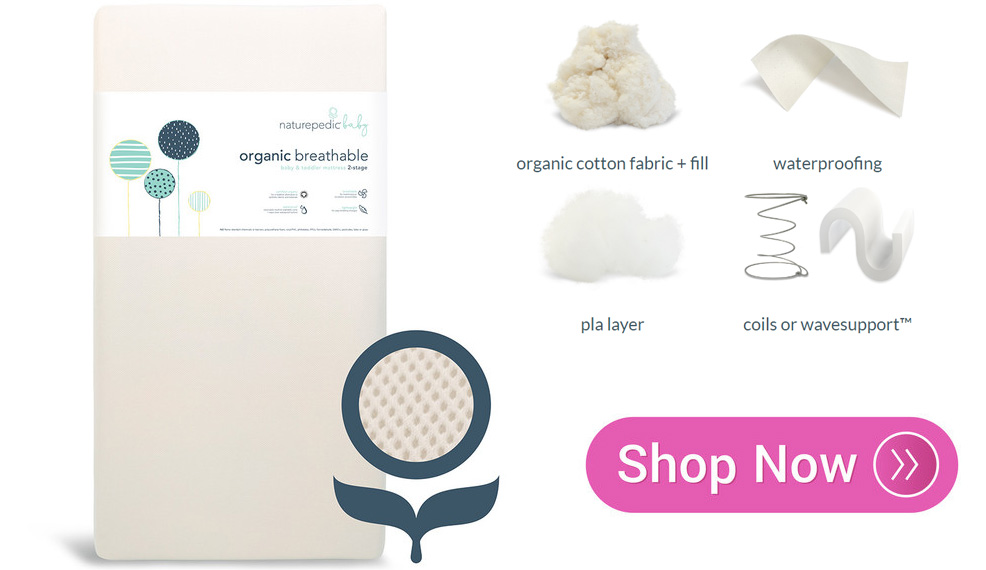 Classic vs Breathable vs Breathable Ultra
Naturepedic makes a few different crib mattresses.
First is the Classic crib mattress, which can be purchased as a lightweight single-stage, a lightweight dual-firmness, or an innerspring (150 coils) dual-firmness. This version does not have the breathable waterproof cover but is otherwise very similar to the one we tested (the Breathable crib mattress).
Second, is the Breathable crib mattress, which can be purchased as a lightweight dual-firmness (using the wavesupport core), or an innerspring (252 coil) dual-firmness. This is the version we tested.
Third is the Breathable Ultra crib mattress, which is the same as the breathable crib mattress but includes a thicker quilted cover for extra surface comfort.
Wavesupport vs Innerspring Core
Naturepedic's breathable crib mattress comes in two varieties: one with a Wavesupport core, and one with an Innerspring core.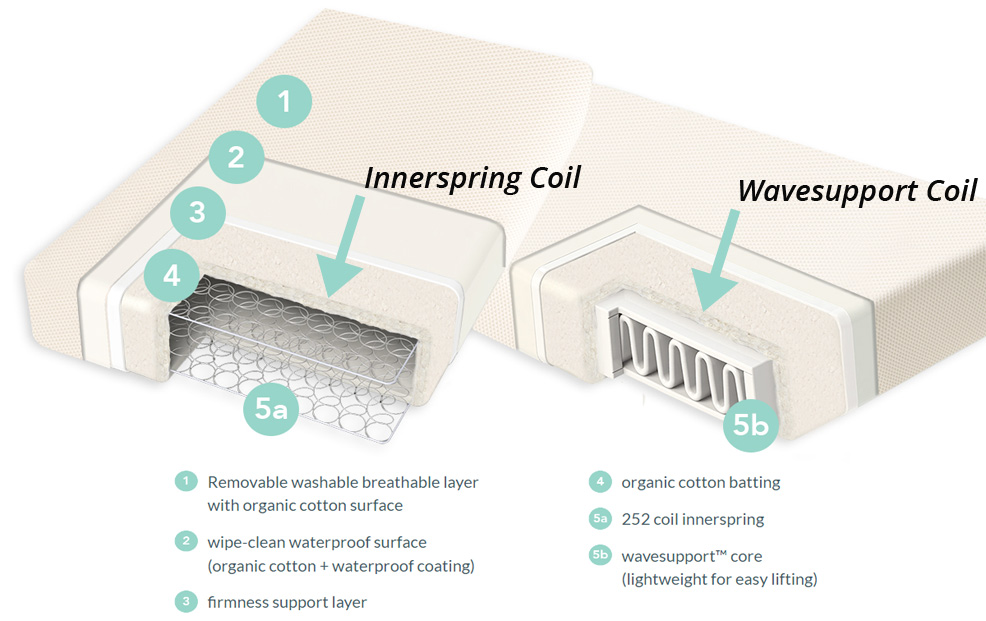 The difference is in materials, support, and weight.
Materials: The wavesupport core uses a wavy array of food-grade polyethylene. While this is a similar core to the Newton, it is constructed very differently. The Newton uses a 3-dimensional web of polyethylene, whereas the Wavesupport core uses a thicker wave of polyethylene. We have no strong preference between the two of them.
What is Polyethylene? Polyethylene is a high-density food-grade plastic that is very strong and lightweight. It has various ideal properties for use in a crib mattress, given that it is resistant to mildew, mold, and insects, and is unlikely to crack or degrade over time. It is the same plastic commonly used in yogurt containers and milk jugs. If it's safe enough to eat and drink out of on a daily basis, we think it's definitely safe and durable enough to be down in the core of your mattress.
Support: The wavesupport core provides a relatively linear response to weight, whereas the innerspring core provides relatively non-linear support. Innerspring is generally preferred in adult mattresses, but most parents prefer the Wavesupport core because the springs tend to be bouncy (turning your crib into a trampoline!) and heavy for a crib mattress. Especially when there are 252 of them!).
Weight: The wavesupport core comes in at an easily manageable 14 pounds, whereas the innerspring core adds another 5 pounds. It will be much easier to change sheets with the wavesupport version!
Overall, we prefer the wavesupport core, but do realize that the innerspring core might be preferred for some parents looking for more traditional support.
Naturepedic Crib Mattress Review: First Impressions
Naturepedic was kind enough to send us a couple crib mattresses for testing (thank you!) in late 2022.
We receive hundreds of product samples every year, and it does not bias our reviews. In fact, due to quality issues we simply don't review about 30% of the samples we receive.
Shipping took about 3 days from order confirmation to arrival at our doorstep.
The Naturepedic breathable crib mattresses are made in Chagrin Falls, Ohio, which is a small suburb about 30 minutes east of Cleveland. According to the label, the mattress is made of both domestic (USA) and imported materials.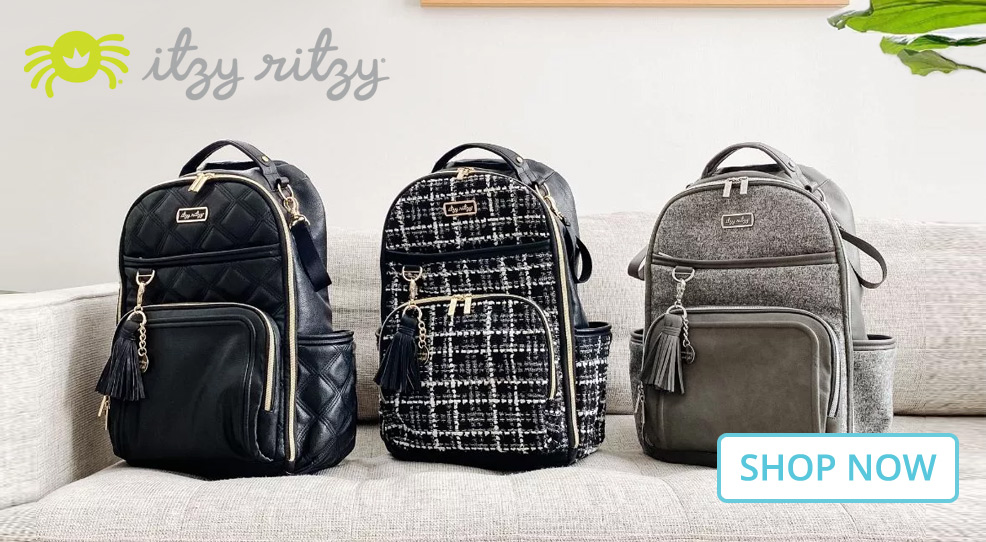 We were happy to see that the crib mattress shipped completely flat in a large box, rather than rolled up. We have mixed success with mattresses that need to be expanded, so this was a welcome discovery!
While this type of box is more expensive to ship, you don't need to wait for the mattress to unroll and expand, and there is no risk of having lumpy and uneven surfaces as a result.
Unboxing the Naturepedic Crib Mattress
When we slid the mattress out of the box, we found it very well-sealed (and hygienic) in a large plastic bag.
Pulling it out of the plastic bag, there are three things we immediately noticed:
First, the breathable cover is very airy and thick. The three-dimensional organic cotton fabric surface is reasonably soft to the touch, plush, and extremely breathable. You can literally mash your face into this mattress cover and still be able to breathe freely.
Here is a close-up photo of the surface: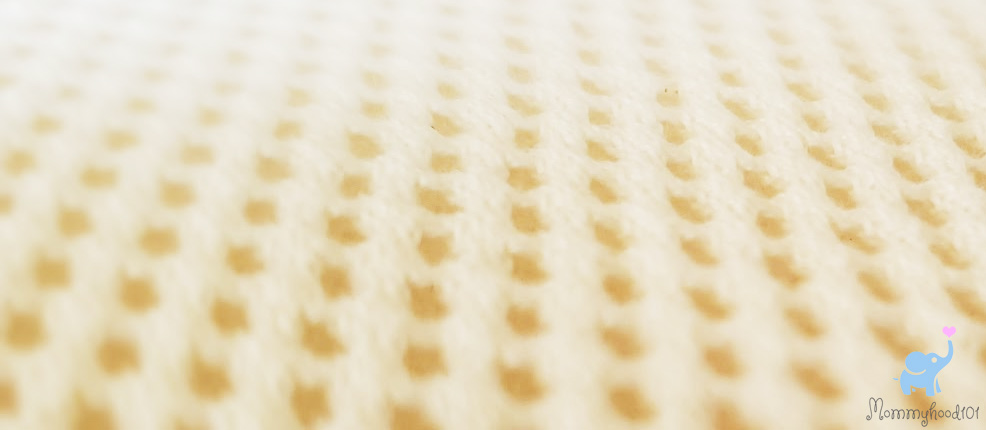 Second, the stitching around the perimeter is very durable and strong. The entire mattress feels extremely well-constructed, and it feels like it would be very difficult to damage or tear on the surfaces or seams.
Third, it's surprisingly lightweight given how sturdy it feels, making it easy to maneuver into and out of the crib.
Another important first impression is that there is also absolutely no off-gassing or odor, which shouldn't be surprising given that there's also no polyurethane foam, vinyl, flame retardants, or other undesirable materials.
Regarding mattress dimensions, according to our measurements, the mattress is 6" thick (plus the thickness of the cover):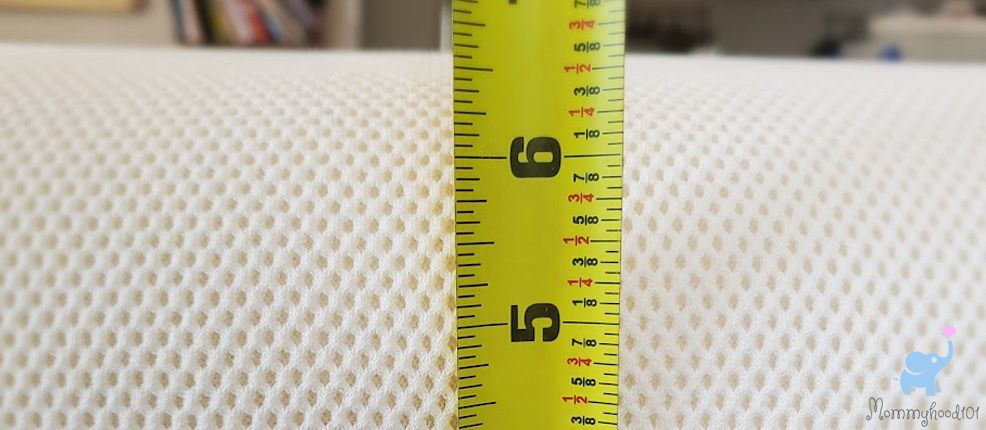 It is about 27.5" wide: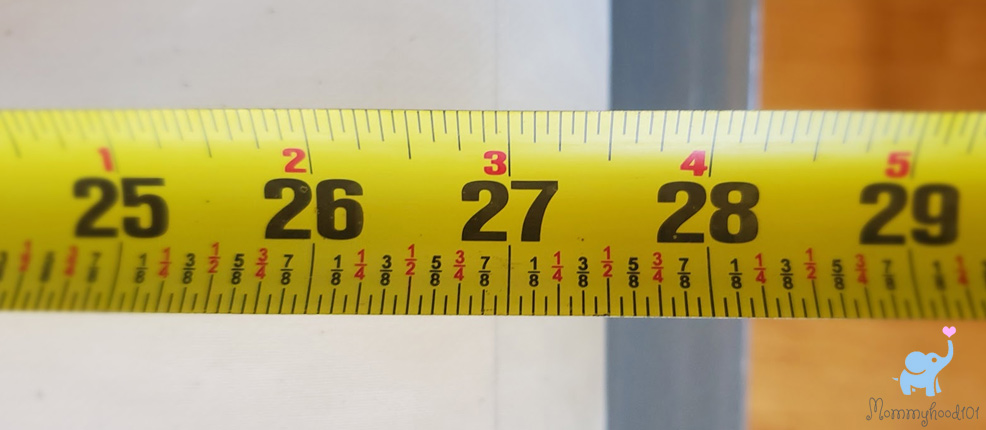 And about 52" long: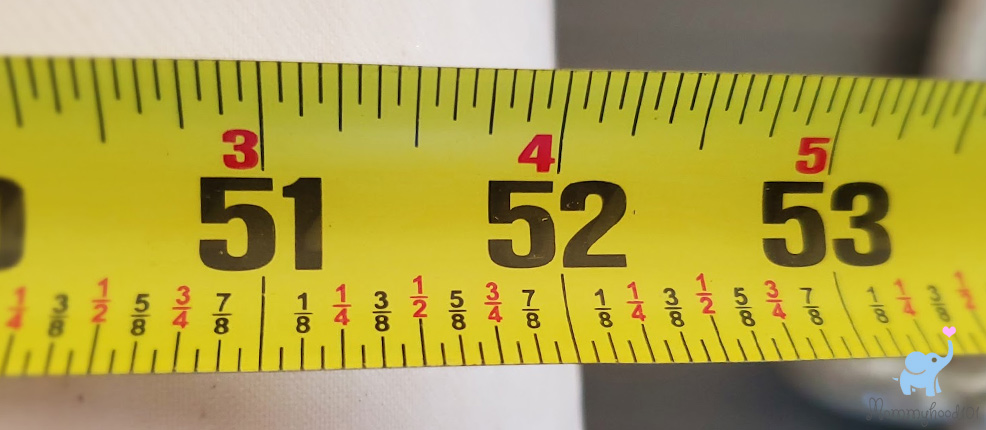 These dimensions should be perfect for fitting snugly into most cribs (we'll do some testing later!).
The Mattress Labels
There are a few labels on this mattress.
First is the government-mandated mattress label, which says:
All new materials consist of Staple Cotton Batting (41%), Polyethylene Foam Pad (40%), and PLA - Polylactide Batting (19%).
REG. NO. OH 80185
Made by Naturepedic, 16841 Park Circle Drive, Chagrin Falls, OH 44023
Finished size 27 1/4" x 51 5/8"
Net weight of filling material 7.9 pounds.
Nothing surprising about this label.
Here is what the second, consumer-friendly, label says: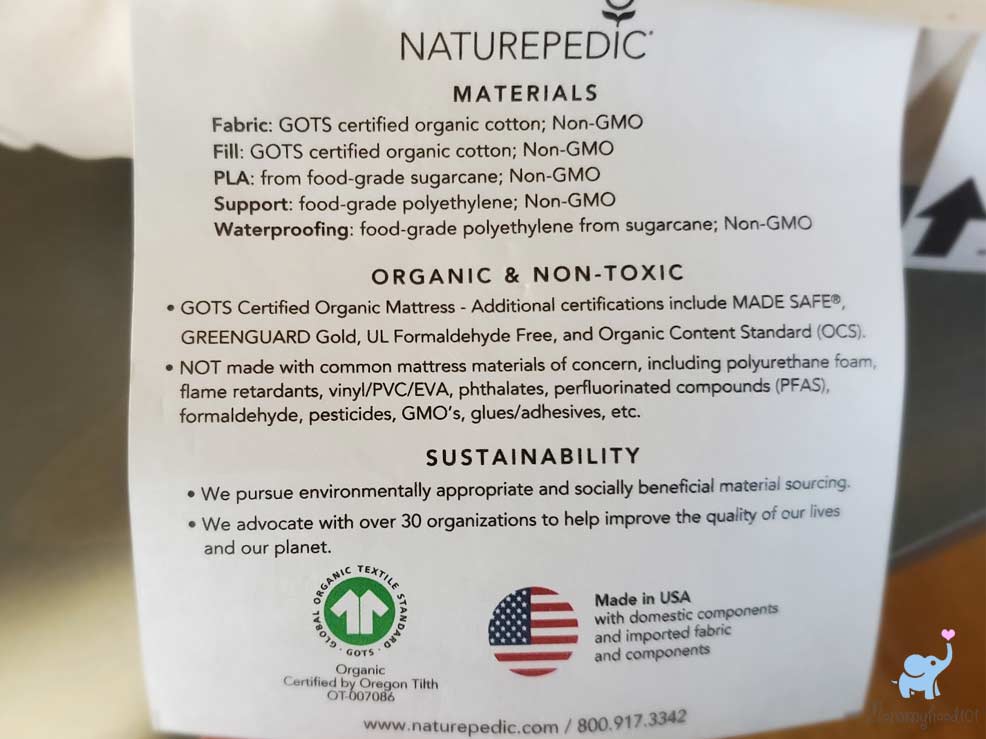 There are a few additional labels, which will we cover in the following sections.
Dual-firmness
The Naturepedic breathable crib mattresses, whether using Wavesupport or innerspring core, are all dual-firmness.
This means that one side is very firm for infants to promote safe sleep, and the other side is relatively soft.
You can identify the two sides very clearly by looking at the labels: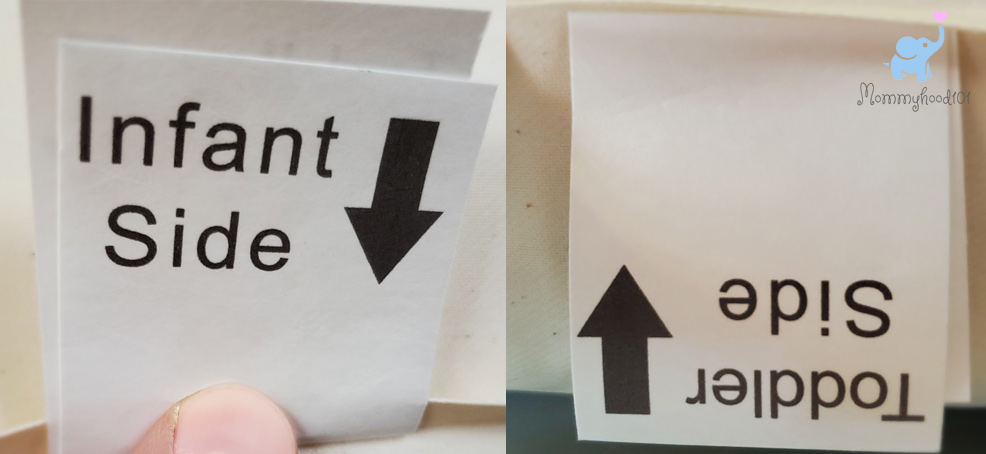 To the touch, the infant side is extremely firm. Definitely firmer than the Newton, but similar to some other dual-firmness crib mattresses.
The only way to judge firmness is to do a compression test!
Compression Test
For all the mattresses we test, we do a simple compression test using an 8-pound dumbbell to approximate the weight of a newborn baby. With this weight, the mattress should compress from 0.5 centimeters to a maximum of about 2 centimeters, fitting the recommendations of the American Academy of Pediatrics.
With the 8-pound dumbbell, the infant side of the mattress sank down less than 1 cm, which is very firm. The toddler side sank down about 2 cm, making it relatively soft and comfortable for a growing little one.
Pictures speak louder than words: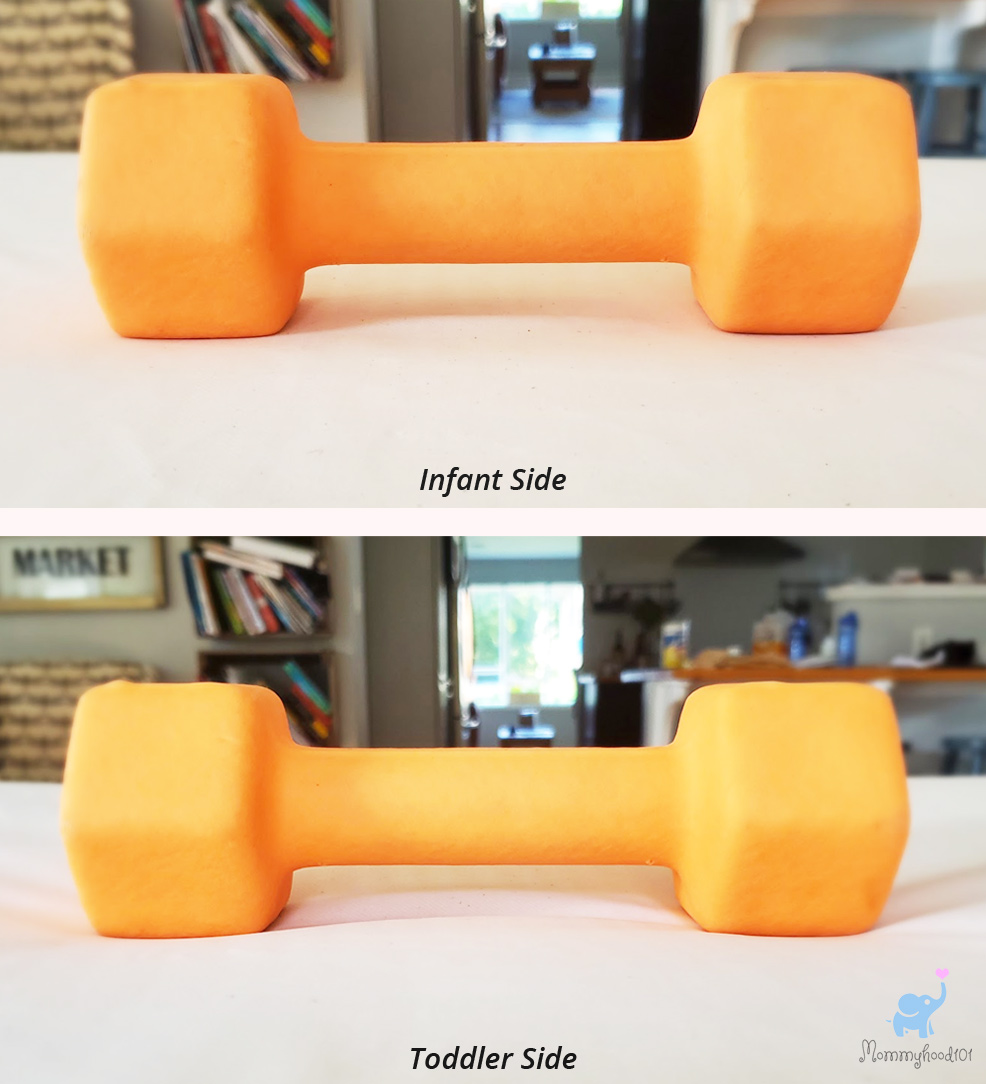 Notice how little the infant side sinks down in response to the weight.
Now notice how much more the toddler side sinks down.
While some parents get concerned that infant mattresses are too firm, there really is no such thing according to the AAP's Safe Sleep guidelines.
Remember, always place your baby on their back for sleeping, on a firm surface without only tightly-fitting bedding (like a fitted sheet) and no pillows or blankets.
When you push down on the mattress with your hand, there is no sound - no crinkling noises, squeaks, or anything else. Excellent!
Mattress Breathability
This is a somewhat odd test because it involves mashing our faces into the mattress and making sure we can breathe normally.
The good news is that the organic cotton surface is highly breathable, even with the waterproof lining at the bottom.
We had no problem breathing through the mattress materials, and even putting our hand against the back of the cover you can tell just how airy the entire surface is!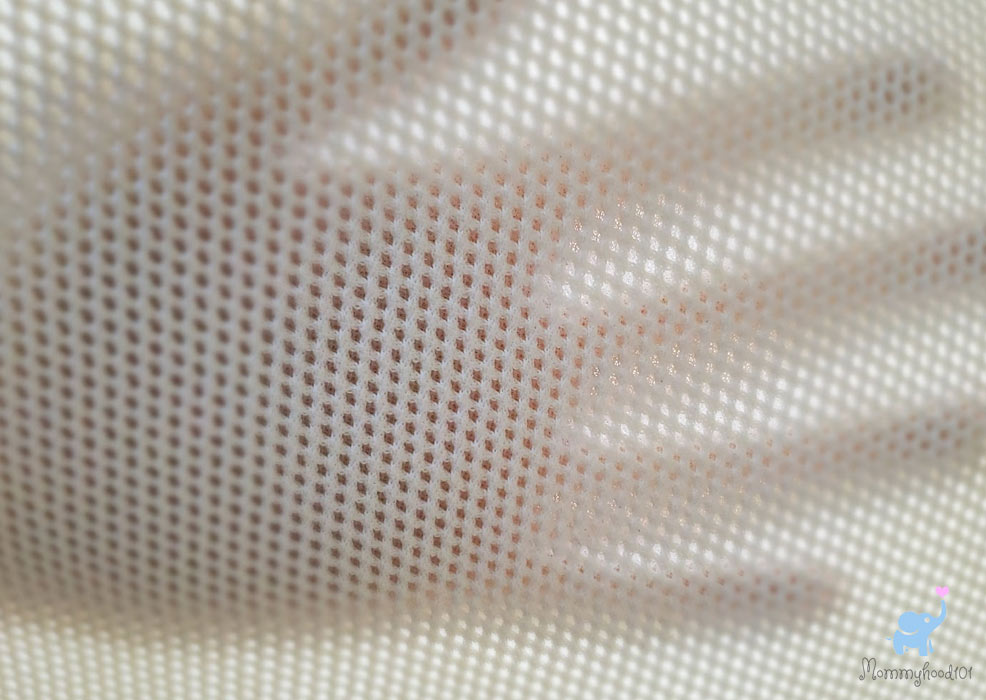 While your baby should always be placed on their back to sleep, some tend to roll over and sleep on their tummy.
A breathable crib mattress surface, like this one, can help give you peace of mind that your baby is safe and sound.
Parents get a little anxious about Sudden Infant Death Syndrome (SIDS) and Sudden Unexpected Infant Death (SUID), and for good reasons. If your baby rolls onto his or her stomach during the night, their face will be up against a breathable surface.
This could possibly reduce the risk of SIDS or SUID if your baby figures out how to roll onto their tummy during sleep; even the American Academy of Pediatrics suggests that a breathable mattress may be preferable to a non-breathable option. They don't go so far as to recommend a breathable crib mattress, but there is definitely some implicit hint in that language. Even if there's no solid evidence that a breathable crib mattress can reduce the risk of SIDS/SUID, we think it's worth the peace of mind.
Another bonus with a breathable mattress surface is that it will help keep airflow high during the hot summer months, helping avoid discomfort and waking up with a sweaty back.
Waterproof Cover
The breathable crib mattress cover is also waterproof.
It uses a thin film of food-grade polyethylene that is derived from non-GMO sugarcane.
Everyone appreciates the thought of an organic crib mattress, but nobody likes the thought of ruining the mattress with a single wetting accident!
Naturepedic figured out how to combine the best of both worlds, a breathable organic cotton surface with a waterproof lining derived from natural materials. Nice touch!
If your child has an accident in bed (wetting, vomiting, or even drooling), you can rest assured that this mattress won't get ruined. Simply remove the cover and machine wash in warm water, and tumble dry on low heat.
Crib Fit & Comfort
In our measurements, the Emily is exactly 53" long by 28" wide, and 6.35" tall (when including the blue perimeter trim in the measurement).
Turns out that's the perfect size to fit snugly into our Nestig test crib, with no gaps around the entire perimeter:
As a rule of thumb (or finger), you want any perimeter gaps to be less than two fingers wide.
This had less than a one-finger gap around the entire perimeter. Nice fit!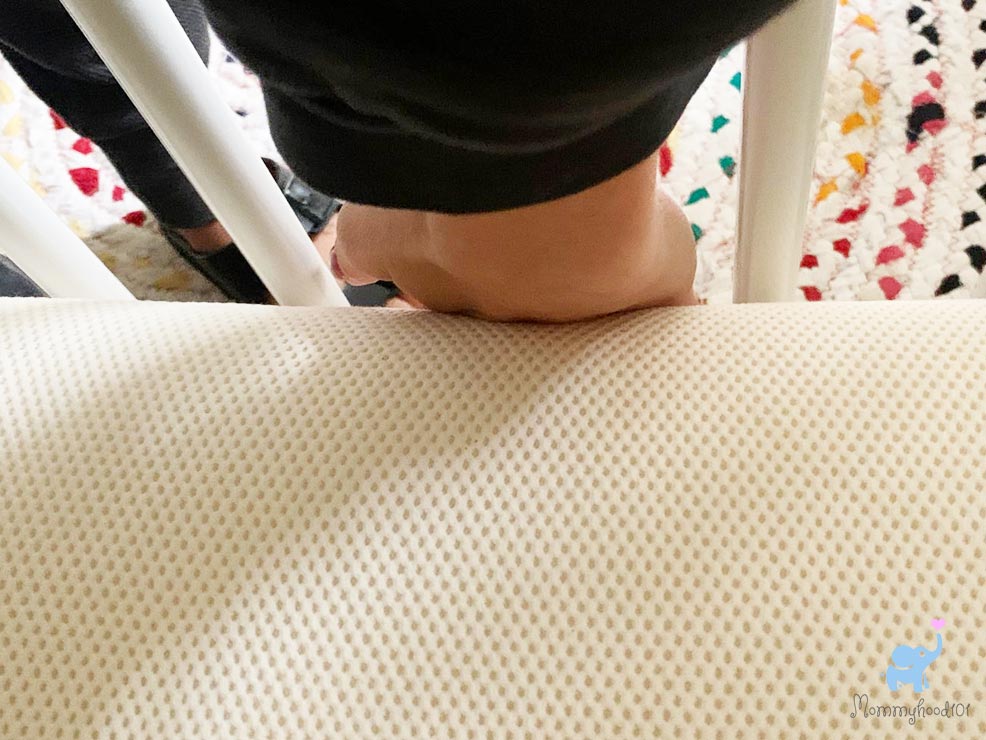 Our test baby, at 13 months old, used the toddler side and fell asleep very easily.
Isn't that one of the most important features of a good crib mattress - luring your child comfortably to sleep!?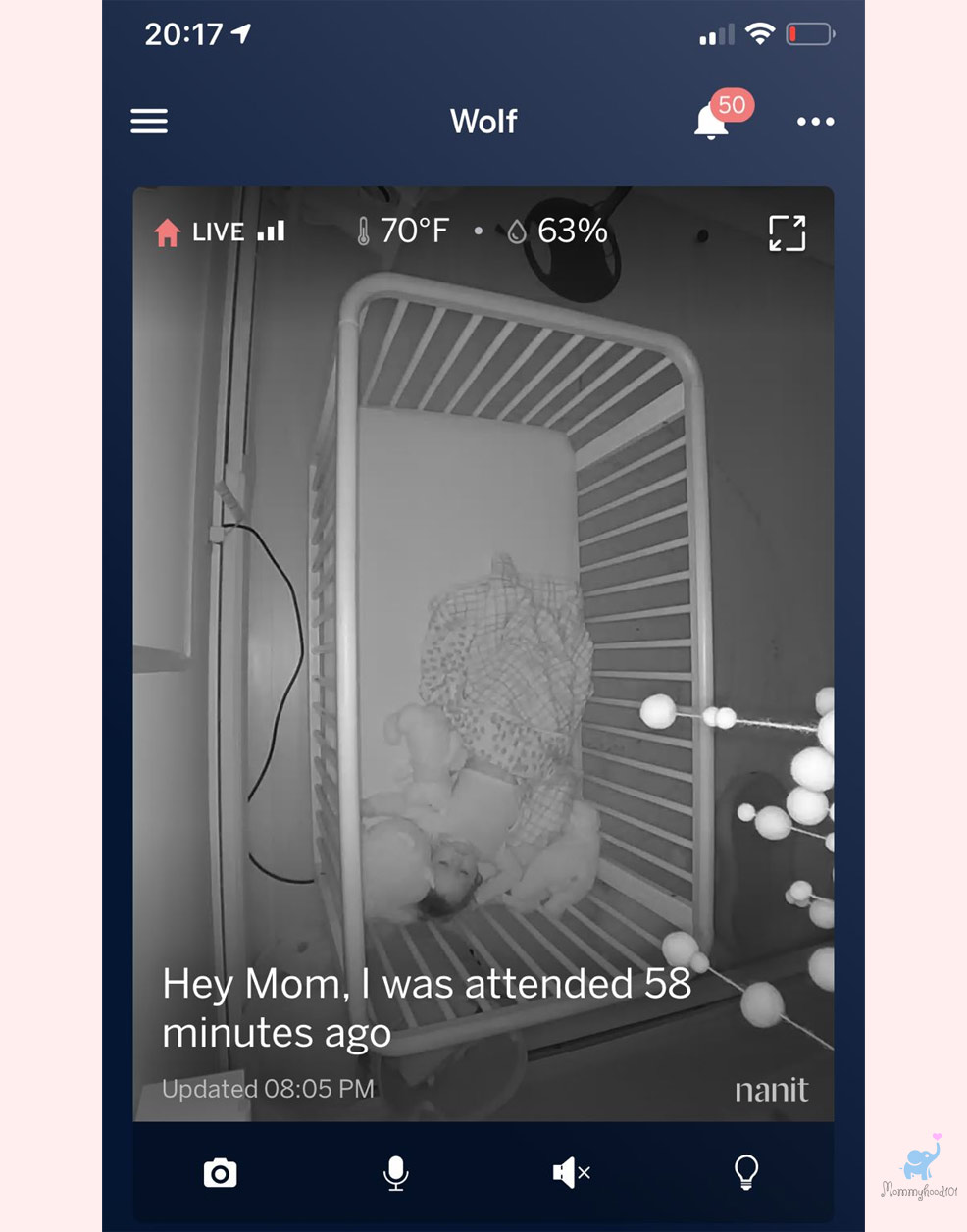 Great sleep on the Naturepedic!
By the way, that's the view from one of our favorite baby monitors of all time; you can check out our Nanit Pro review here.
Feel Good About the Naturepedic
Some of the best aspects of the Naturepedic are not easy to directly perceive, as they involve the sourcing and quality of materials.
Here are some highlights that can help you feel good about this mattress:
✔️ The entire mattress is made in the USA, not China.
✔️ Greenguard GOLD Certified for low VOC emissions.
✔️ Extremely strict MADE SAFE certification.
✔️ GOTS-certified organic cotton cover and fill.
✔️ Organic Content Standard (OCS) certification.
✔️ UL formaldehyde-free certification.
✔️ No polyurethane foam.
✔️ No vinyl, glues, or flame retardants.
✔️ No phthalates, perfluorinated compounds (PFAS), pesticides, GMO's.
✔️ Meets CPSC requirements.
✔️ Company based in USA (Ohio).
We also feel good that purchases of the Naturepedic crib mattress support a small American business that makes these mattresses by hand on a daily basis.
Price Comparison
The Naturepedic breathable crib mattresses are some of the most expensive crib mattresses out there.
The wavesupport core version is typically $399, and the innerspring core version is typically $449.
Yes, it's expensive, but a direct comparison to its competitors shows that the price is very similar. For example, the Avocado is also dual-firmness (but fully organic) and MADE-SAFE certified, but comes in at $439. The Emily and Newton come in at about $299, but neither is dual-firmness.
This is the sort of crib mattress that will last you through three or more children; it's durable and very well-made, and if you take care of it (use a waterproof cover, flip it over periodically), it should last for many years.
Given the features, versatility, and quality, we think the price is reasonable.
Naturepedic versus Avocado Crib Mattresses
Given the similar pricing and features, you might be wondering whether the Naturepedic or Avocado is a better choice for your family.
It's a good question!
Here are the differences we were able to find:
Core construction: The Avocado uses coconut and latex core, while the Naturepedic uses wavesupport or innerspring. Personally, we prefer the comfort of the Avocado over the Naturepedic.
Full vs Partial Organic: The Avocado is fully organic, while the Naturepedic is partially organic. The most important parts of the Naturepedic, the parts on or near the surface, are organic and naturally sourced. Personally, we think partial organic is a good middle-ground given the lower price of the Naturepedic.
Cover: The Avocado has a soft quilted surface that is breathable but not waterproof, while the Naturepedic has a breathable and waterproof cover. With the Avocado, you'll need to purchase a separate waterproof crib mattress protector (about $50 for a good one), while the Naturepedic includes one.
Price: The Naturepedic is less expensive than the Avocado, especially once you consider purchasing a separate mattress protector for the Avocado.
Ease of Handling: The Naturepedic is lighter weight and easier to handle (for sheet changes), whereas the Avocado is heavier and a bit floppy.
Overall, we think both the Avocado and Naturepedic are excellent options, though the Naturepedic is probably more practical for most families.
Conclusions
We were very excited to get our hands on the Naturepedic breathable crib mattress!
It's a very unique crib mattress that excels in its quality construction, eco-conscious and non-toxic materials, superior certifications, and versatility. It has a very sturdy construction and feels extremely high quality while also maintaining a surprisingly lightweight build.
On paper the Naturepedic is great, and in person, it's even better!
The only small limitations were the relatively firm surfaces on both the infant and toddler side, and the fact that it is not entirely organic. For the price, you might expect a bit more comfort and organic materials.
That being said, there is no doubt that the Naturepedic breathable crib mattress is one of the best of the year, and will be perfect for any family looking for a high-quality crib mattress with excellent materials and certifications.
We give the Naturepedic breathable crib mattress a 4.8 out of 5.0, which is one of the highest scores we've ever given a crib mattress!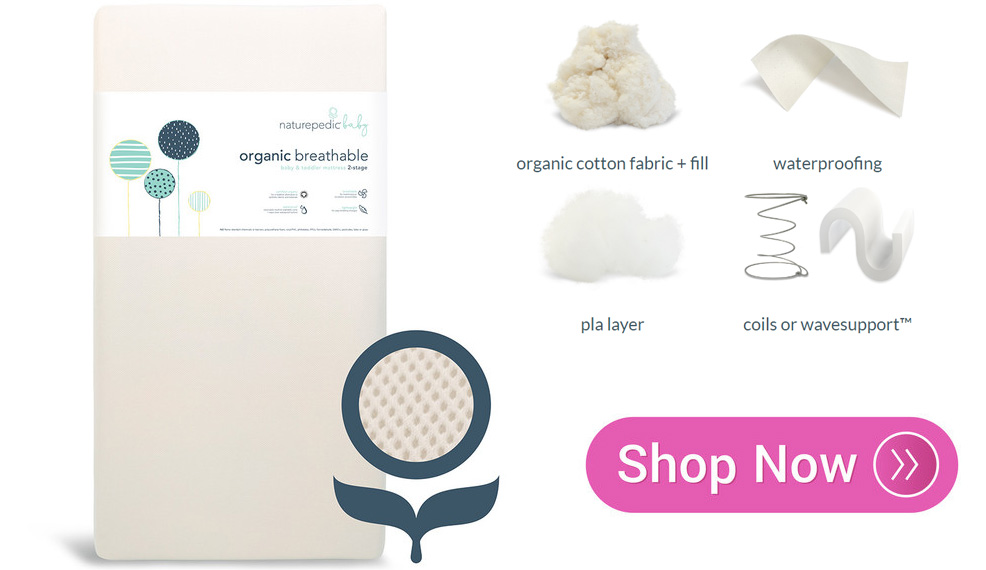 References Cited