We got a group of 8 moms together, with children ranging in age from newborn to toddler, gave them 16 different baby strollers priced under $200 and asked them to rate each one for quality, ease of use, comfort, and durability.
Some of the strollers didn't do so well with quality: they had flimsy plastic parts, the canopy cracked or tore easily, or the wheels broke after a few months. Some also weren't so easy to use: folding was difficult or cumbersome, handlebars were at an uncomfortable angle, wheel brakes were hard to use, steering radius wasn't so great, or the recline adjustment was nearly impossible to use. Finally, some of the options just weren't very comfortable, with hard back rests, poorly positioned foot rests, hard plastic parts along the side where your baby leans while napping, etc.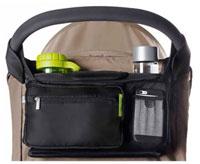 But some of the strollers were truly excellent, and we're excited to tell you all about them. Six strollers made it to the top of our list, showing very high quality, durability, ease of use, and comfort. Parents loved these strollers, and you don't need to take just our word for it - look online at the ratings and you'll see that these are consistently some of the best strollers on the market for under $200. While you're at it, we suggest considering the awesome Ethan & Emma Stroller Organizer caddy that attaches to any stroller's handlebars and provides convenient access to bottles, cell phone, diapers, wipes, snacks, and anything else you might want off your arm/back and onto the stroller! Only about $30, it's a great complement to these strollers!
Here are the Best Strollers of 2017: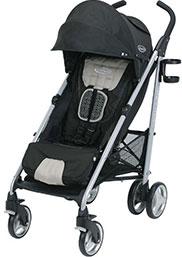 #1. Graco Breaze Click Connect. This is our #1 stroller for 2017, for some excellent reasons. It has fantastic durability, ease of use, comfort and low price (about $130). Here's the deal: the Breaze is a great, versatile, inexpensive stroller that is easy to fold, and won't frustrate the heck out of you! Graco really outdid themselves with the new Breaze. Yes, it's comfortable and fits children up to 50 lbs, and has a great 5-point harness to keep your child securely in their seat over the bumpiest of roads (and the wildest of kids). It's also convenient, with a cup holder for parents, ergonomic handles, and a *truly* one-handed easy folding/unfolding mechanism. It is an umbrella stroller with the comfort, sturdiness, and many of the features of a large travel stroller. In our testing, we absolutely loved Graco's new one-hand fold mechanism. The canopy is awesome, we measured 26" of coverage, and it's 50SPF UV protective as well. Holds kids up to 50 pounds, so that's like 6-8 years old at a minimum. The seat reclines entirely for easy napping, has a nicely positioned leg rest, and a convenient carrying handle when it's folded up. The storage basket underneath is very easy to access unless the seat is entirely reclined. The only real downfall we could find was the weight - it comes in a bit hefty for an umbrella stroller, at 20 pounds. Overall, for this low price and its extensive feature list, the Graco Breaze stroller is a winner! The stroller comes in a few different colors and patterns; nothing fancy, but good options. Here is the Graco Breaze: The Graco Breaze Click Connect Stroller.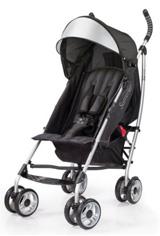 #2. Summer Infant 3D Lite Convenience Stroller. The Summer 3D Lite is an awesome, stylish stroller with a lightweight (only 12 pounds) frame. It has a sleek, curved rear frame that looks really great, and several great color options. It also has a super low 4-position recline that goes way back (almost flat, which is great for naps and diaper changes), comfortable padding and wide seating, fits tall babies (up to 50 pounds), and a large accessible carrying bin on the bottom. It also has an adjustable canopy that blocks 99% of UV rays, but we found that it doesn't come down very far. It's also cheap, coming in somewhere between our cheapest and most expensive options on this list, at about $80-100 depending on color options. We do like the Joovy Groove more than this one overall, in terms of features, durability, and style, but the price point on this stroller is excellent given the bang for the buck. If you can justify the extra $100, then definitely go with the Joovy (below). In terms of negatives, we found that the 3D Lite isn't quite as well made as some of the other options, which according to reviews online, can lead to some issues like broken wheels or locks/levers. We haven't had any issues with it in our 8 months of testing, but it's worth mentioning. Also, we found that when it's reclined all the way back, the baby is exposed to the sun and rain. We also noticed that the folding/unfolding process is a bit more cumbersome than some others, but definitely still very easy. Another negative is that it doesn't stand on its own when folded, which can be a pain. So, some negatives to consider, but in a stylish package with a lot of decent features for the price point. Here is the Summer 3D Lite: Summer 3D Lite Convenience Stroller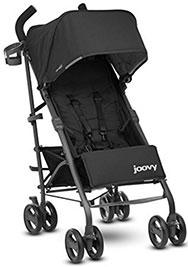 #3. Joovy Groove Ultralight Umbrella Stroller. Coming in at #3 on our list of best baby strollers, the Groove Ultralight is, surprise, the lighter weight version of the Groove, coming in around 14 pounds. To be fair, that's not really what we'd consider an ultralight umbrella stroller; the serious ultralight umbrellas (see our review of those here) are usually around 10 pounds. A bit pricier than the Graco Breaze, it is usually just under $200. But here's what makes the Joovy stand out: it has a huge adjustable canopy, a comfortable seat with 5-point harness, nearly unlimited recline positions, adjustable leg support, and lots of storage for both the parents and the kid! This is one of the best built strollers on the market, and it comes with a convenient shoulder strap to carry it. It also stands on its own while folded, which is very rare - no more leaning it up against something and then having the wheels roll out from under it! Overall, it has some nice bells and whistles that make it worth every penny! We really loved testing this stroller, and would have put it up above the 3D Lite if not for the higher price. Downfalls? Well, we found it much easier to fold than to unfold, with the folding process being a bit cumbersome. Also, the wheels weren't quite as smooth gliding as the Graco or Summer options above. The stroller comes in a relatively limited range of colors, but the ones they have are pretty cute - like "blueberry" and "purpleness." Here is the Joovy Groove Ultralight Stroller: Joovy Groove Ultralight Umbrella Stroller, Multiple Colors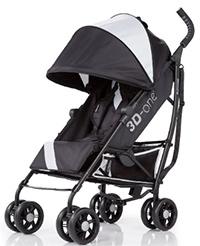 #4. Summer Infant 3D One. Our #4 stroller for 2017, this is one of the most convenient and easy to use strollers on the market. Everything is one-hand operation! Fold it up with one hand, adjust the recline with one hand, adjust the footrest with one hand, and adjust the canopy with.... you guessed it, one hand. Super convenient, especially when you're trying to hold your baby in one hand and fold the stroller up and put it in your trunk. The recline has 3 positions, the large canopy has a peek-a-boo window, and it has a carry/shoulder strap built in for when it's folded up. The seat is comfy and it has some nice extra padding in places that many strollers don't, like on the back of the buckle. A couple more great features are for the parents: a large storage compartment underneath, ergonomically positioned handles, and a rear cup holder and storage pouch. We found the folding really smooth and easy, and didn't require and jerking or shaking around like some others. We also liked that it can stand on its own when folded, using a little kick-stand sort of thing; so you don't need to lock the rear wheels for it to stand upright outside of a store or restaurant. The stroller also feels quite smooth when rolling, but not quite as smooth as the Breaze, and the wheels are very maneuverable. The only real disadvantage here is that you need to rethread the shoulder harness from the back if you need to adjust shoulder strap height. Not a big deal given that you'd probably only do it once every year or two. So only a minor negative, but with some truly excellent positives. Highly recommended! Comes in a few different accent colors, like silver, green, and yellow. Falling down on our list, mostly because it's difficult to find right now. Here it is, usually for under $130: The Summer Infant 3D One Stroller.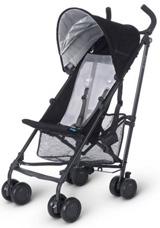 #5. UPPAbaby G-Lite Stroller . Picking #5 versus #6 was difficult because we were choosing between the Chicco Capri and UppaBaby G-Lite, which both have plenty of positive aspects. As it turns out the Chicco has a few more negative aspects so we've placed the UppaBaby G-Lite before it, but really it's a toss-up. The G-Lite, as the name suggests, is very lightweight. In fact, it's the lightest weight stroller on our list, coming in at under 9 pounds. Heck, my first baby was heavier than this stroller (ouch)! Because it's so lightweight, it handles like a dream, hopping over curbs, steering with one hand, folding up and being put away, etc. You won't get tired pushing this stroller around all day, and it's super convenient to fold up and carry with the attached handle. It has a convenient and large storage net underneath, and seems very comfortable for the kid. But here are some cons. It has no recline, which means floppy-head syndrome during naps (if they get there), and parents report its wheels being a bit flimsy. The mesh back is nice for air circulation and staying cool on hot summer days, but it's also not very supportive for smaller kids. Also, while there's a great feature that allows the G-Lite to stand on its own, it gets in the way if you attempt to back the stroller up like when going up stairs backwards. Overall, this somewhat pricey (about $160-180 depending on colors) stroller has a lot of positives, but certainly more negatives than the Graco or Joovy models. Here is the UppaBaby G-Lite Stroller in multiple colors: UPPAbaby G-Lite Stroller, Multiple Colors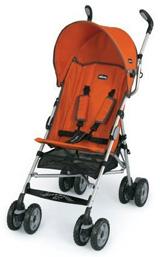 #6. Chicco Capri Lightweight Stroller. The Chicco Capri and UppaBaby came in pretty close to one another in our rankings. Like the G-Lite, the Capri is relatively lightweight, coming in at 11 pounds, just 2 pounds heavier than the G-Lite. But, that's 2 pounds heavier and about $100 cheaper, so keep that in mind. This stroller has a lot of great aspects, including a convenient shoulder strap for carrying, comfortable seat with 5-point harness, some recline functionality, and a canopy. However, parents mention some big negatives. First, they note that the recline function is very limited, and the canopy doesn't extend far enough to block the sun at many angles other than directly above. Also, several parents report that walking behind the stroller can get awkward because if you're over 5'5" you'll find yourself constantly kicking the back wheels, which gets very annoying. Also, there are reports that the crotch strap is in an uncomfortable position and digs into kids' thighs. For a bit more money, we suggest going with the Graco Breaze. Here is the Chicco Capri stroller, in a few color options: Chicco Capri Lightweight Stroller, Multiple Colors