The Best Nursery Chairs & Gliders 2022
A great nursery glider or rocking chair will help lull your little one peacefully to sleep, and become your favorite spot for breast-feeding, reading baby books, and establishing a good bedtime routine.
To help you out, we've tested over a dozen popular models over the past few years, evaluating them for comfort, quality, reliability, safety, and price. Below are the top 5 nursery gliders we found, followed by reviews of several different options.
While the concept of a nursery glider seems simple, gliders also engender a lot of controversy in review sections - parents yelling in caps-lock about how much they hate the model, and others praising everything about it in their 5-star review. This is enough to make any parent worry about whether they're making the right decision!
There are two main types of nursery chairs: the basic rocking chair style, and the newer glider style. Both are relaxing and smooth, though most parents tend to prefer the glider for at least a few reasons: motion can be locked-out when needed, it doesn't cause wear marks on the floor, and there's minimal risk of it tipping over.
Full disclosure: Some of these nursery gliders, including the Babyletto and StorkCraft models, were sent to us as free test samples by the manufacturer.
Here are the Best Nursery Gliders of 2022!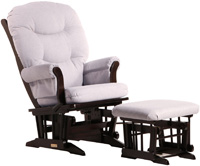 Coming in at over $600, we do realize this is a very expensive glider and ottoman combination, but it does have some very impressive quality and features. Made in Canada, Dutailier takes a lot of pride in their products, using local suppliers, sustainably-sourced hardwood, and high manufacturing standards that exclude lead, heavy metals, formaldehyde, and chemical flame retardants. While expensive, the Dutailier Sleigh Gliders have several excellent features. First, it is one of the few wooden gliders on our list including a locking function that allows you to lock the glider into one of several positions; to us, this feature is critical for the safety of little fingers and arms. Second, this glider includes a recline feature that not only reclines back to a nice 45-degree angle, but also slides the seat forward to maintain comfort. Third, this Dutailier glider chair has the longest gliding range of motion that we've experienced, allowing you to use nice long, gradual forward and backward movements. The included ottoman follows suit. The cushions were very comfortable and soft, gliding was smooth and quiet, and everything felt very stable and high quality.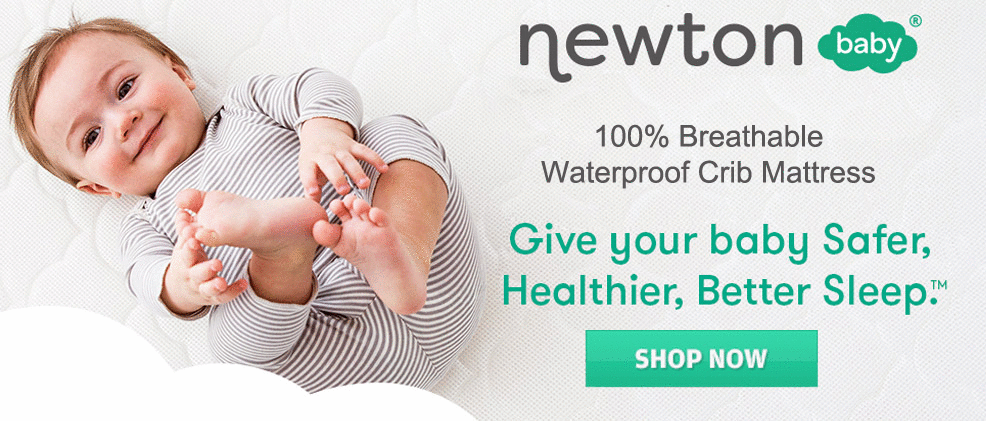 You will definitely thank Dutailier every time your baby falls asleep in this gentle glider, and that alone might be worth the price! The only little cons are that the arm rest fabric doesn't attach perfectly on the inside, and the lumbar support could be a bit more substantial. Overall, we found this glider chair to have superior comfort, quality, and features, and we're really excited to have tried it out. Who else loves the Dutailier Sleigh Glider? Our friends at WhatToExpect also consider it a top pick! Interested? You can check out the Dutailier Sleigh Glider here.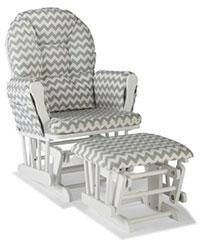 The StorkCraft glider has been around for years now, and hasn't changed much in that time. Though there are some relatively unique patterns available (like the cute chevron pattern), the overall glider keeps the look and feel of their gliders from 5-7 years ago. That's not necessarily a bad thing, and you get good bang for the buck, especially with the less expensive simple beige color option. For about $150 you get a solid glider and ottoman that should last you for the couple of years you'll reasonably need to use it, placing it the top of our list for bang-for-the-buck and overall comfort and reliability. We found the features simple and functional: smooth gliding motion, side arm pockets, an included ottoman, and reasonably comfortable cushions. The bottom cushion was a bit on the thinner side, but the back one is relatively comfortable. We did find the glider and ottoman to be smooth and supportive, and overall thought it was quite easy to assemble, and felt pretty sturdy and reliable.
It's a good piece of nursery furniture that looks nice and performs quite well. It does have some limitations worth mentioning: there is no lockout for the gliding motion, no adjustable recline, and our test sample did have some minor quality control issues (small chips in the wood). Nothing major, but worth pointing out. For this price point, none of this comes as a surprise, and we still think its a great inexpensive glider option for parents looking to save some cash. Who else recommends the StorkCraft Hoop Glider? Our friends at Babylist consider it a top pick! Interested? You can check out the StorkCraft Hoop glider here.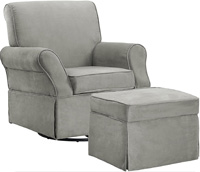 A very different style than the classic wooden glider, this glider looks like a traditional piece of living room furniture with an awesome swivel-glider feature. Instead of simply gliding front-to-back, this chair can also rotate around and move side-to-side. The first time you try it out, all that movement might surprise you - but once you get used to it, you'll realize how comfortable and supportive this type of nursery chair can be! In our testing, assembly took about 20 minutes with a power drill-driver. A trick for assembly is to keep most of the screws relatively loose until everything (arm rests, back section) is attached - then tighten them down. If you tighten everything as you go, you'll have a hard time getting things aligned on the next steps. Once assembled, this chair is a total joy to sit in - it's soft and cushioned in all the right places, and you literally want to curl up with a book and fall asleep in it. The fabric was soft and high quality (ours was microfiber), and easy to spot-clean.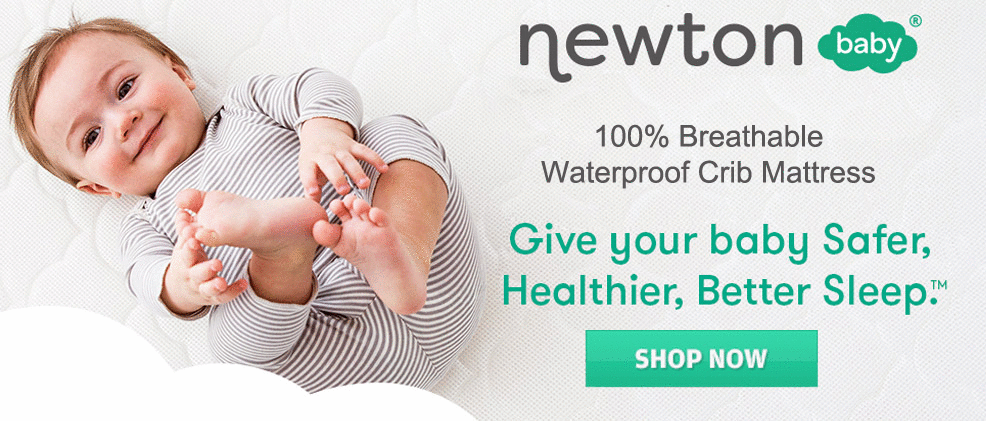 The only con we encountered was that we prefer a higher back on our nursery chairs, so we can rest our head back during the night. Outside of that, we think this is a great option at a decent price for a full swivel glider with comfort and quality. Who else loves the Baby Relax gliders? Our friends at Babylist, WhatToExpect, and The Bump also consider them top picks! Interested? You can check out the Baby Relax Glider here.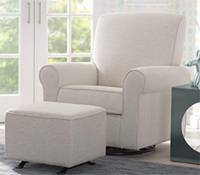 Delta Children makes a wide range of upholstered nursery gliders, including the Emerson, Avery, Blair, Lancaster, Emma, Middleton, Gavin, Ava, Rowen, and more. They are all a bit different in style and functionality: some use traditional whereas other use contemporary styling, some are rocking only (like the Lancaster and Emma), and most others provide gliding, rocking, and swivel functions. Some of them include an ottoman, but most require you to purchase it separately for about $100 extra. The Avery is right in the middle of the road in terms of price, style, and features. It costs about $350 (some are over $400), its style is a good compromise between traditional and modern, and it has some great features. Out of the box, it came disassembled in three primary pieces: the bottom, back, and seat cushion. To assemble the chair, we attached the back to the bottom using the two long bolts and the included Allen wrench. Then all you need to do is attach the seat cushion to the glider. It took about 5 minutes and everything fit together nicely. We really liked how the seat cushion was attached using a strong Velcro strip on the bottom, which prevents the cushion from sliding forward or your child from pulling it off. The chair itself was comfortable, with soft yet firm bottom and rear cushions. The back doesn't recline, but the angle of the fixed recline was suitable, especially for night feedings. The chair has gliding (sliding front-to-back), swivel (spinning around), and rocking (pitching back and forth) features that are smooth and stable. The motion it produces is pretty nice and restful, and the entire chair is heavy and feels sturdy with a solid wood frame construction. The arms are cushioned and soft, and everything feels comfortable. The width of the seating itself is only about 19" wide, so it's not ideal for plus-sized parents, but most people will find it suitable. The only issue we came upon during testing was that when my husband tested it the entire seat would pitch forward a bit too much when getting up from the chair, and in some cases the back of the metal stand actually tipped off the floor. So there is a bit of a stability issue for heavier parents (he's about 220 pounds), or lighter parents carrying heavy babies or toddlers. That's the only major downfall. Minor cons include the lack of recline, the pricey ottoman addition, and the somewhat narrow seating surface. Interested? You can check out the Delta Children Avery glider here.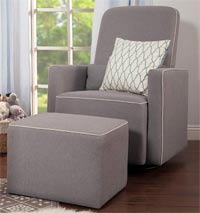 The DaVinci Olive combines a contemporary style with some serious functionality, with its super high back, smooth 360-degree swivel and front-back gliding, an included ottoman and lumbar pillow, and high quality fabrics and construction. Additional perks include Greenguard GOLD certification on fabrics and materials, CertiPUR-US certification of foam padding, sustainable wood from FSC-certified forests, and the DaVinci reputation for quality craftsmanship. Overall, the DaVinci Olive provides an impressive level of features, accessories, safety, and sustainability for a very reasonable price of about $399. But how does it perform!?
One of our local Facebook followers purchased the Olive and graciously let us enter their home to test it out (thank you!)! They also provided some of their own candid feedback about it, which we include in this review. At first glance, the DaVinci Olive gives off some Ikea vibes, with its orthogonal design elements and simple modern styling. If fits perfectly into a more modern home, alongside some of the most popular cribs such as the Nestig and Babyletto models. Sitting down, the seat cushion is reasonably soft and supportive, and the fabrics felt durable and easy to wipe clean. The lumbar support is great, and the high-back design makes this a great nursery glider for taller parents whose heads typically tower over the back of most gliders. The seat itself is a bit narrow, coming in at just about 19" wide, which may be too narrow for plus-sized parents. The arm rests are comfortable though they are a bit narrower and taller than we'd prefer. The swiveling and gliding motions are silky smooth, and we didn't ever feel like we were losing stability or getting close to tipping over. The ottoman is stationary and doesn't have any motion. This was actually nice because you can use the ottoman for leverage to keep the glider rocking even with your feet up. With some other ottomans, its movement absorbs most of the energy and makes rocking with your feet up somewhat challenging. Overall, we think this is an awesome option for a contemporary nursery design ideas, and the features, comfort, quality, and price make it a no-brainer! Who else recommends the DaVinci Olive? Our friends at Healthline, NYMag, and Babylist also consider it a top pick! Interested? You can check out the DaVinci Olive glider here.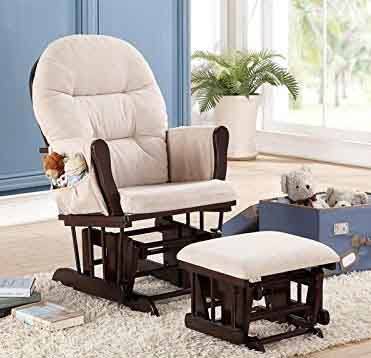 This is a super comfortable glider, with a nice smooth gliding motion, comfortable cushions, and a good build quality for the price (reminds us of the old Shermag and Dutailier gliders, which were also very high build quality). It's up here on our list because it really offers some excellent bang for the buck. There are some great features here: the gliding motion is smooth, though not quite as long as some of the others. Like the others, it took us about 20 minutes to put this together. Some things were really nice: it has a slightly wider hip area which is nice and big enough for baby legs to comfortably lay to the side, and convenient side pockets for books, wipes, or whatever else you'd like to keep at arm's reach. The high-back was nice, not quite as high as the Dutailier, but high enough for the less vertically inclined parents to comfortably rest their heads. The arm cushioning was a bit lacking versus the Dutailier, but again it's about a third of the price. At $150, you're not going to get many of the features that make some more expensive models stand out. There is no lock mechanism on the glider, and sometimes it can be awkward to stand up from while carrying a baby. The gliding motion is smooth but not quite as long as some others, the back is not reclining, and the bottom cushion isn't quite as thick and comfy as others. All that being said, if you're looking for a less expensive glider with good build quality and medium-to-high comfort, this is a great option. Overall, very high bang for the buck, though we wish they had included a locking mechanism. Who else recommends the Naomi Home Brisbane Glider? Our friends at WhatToExpect consider it a top pick! Interested? You can check out the Naomi Home glider here.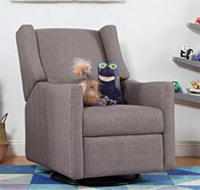 About $700, making it the most expensive nursery glider on our list! Babyletto makes several European-styled nursery gliders with some great features, reliability, and comfort. This specific model, the Kiwi Electric Glider is in a league of its own. As their only electric recline and USB-charger equipped nursery glider, we had to give it a shot! We weren't disappointed, but we also think it's a bit much for a glider! Let's talk about features first. This is the only electric nursery glider we've tested, and it is electric in two ways: first, it has an automated recline feature operated by a button on the lower right inside of the armrest. The recline function first raises the footrest to make it more like a glider with an ottoman, and then it gradually reclines the back. While it doesn't lay flat, it does to back to about a 40-degree angle, which is pretty far. The second electric function is that it includes a little USB port that can be very convenient for charging your device or plugging in your breast pump (some mobile ones recharge with 5V USB). So those are pretty innovative features for a nursery glider! We did like the tall back so that your head is supported during recline (even for my 6'-2" husband), and there is a comfy little lumbar pillow included. The seating area is a bit wider than most, coming in at just under 21" wide, making it a good option for plus-sized parents. The fabrics aren't very soft and don't have a very nice hand-feel, but it's worth mentioning that the fabrics are Greenguard Certified for low chemical content and VOC emissions. We found the swivel and glide movement to be smooth and quiet. The rest of the glider wasn't quite as impressive. The cushions and fabric did not feel like very high quality, especially given the cost. The footrest was a little clunky when being lowered, and the USB port was basically impossible to use while seated because any cord you plug in would push up against your thigh. While we didn't have any issues in our 3 weeks of testing, there are several reports of the recline motor malfunctioning or failing, and Babyletto not responding to warranty inquiries. While we think this is a great new addition to the market and we commend the integration of functional electronics into nursery furniture, there are definitely several cons to consider. Interested? You can check out the Babyletto glider here.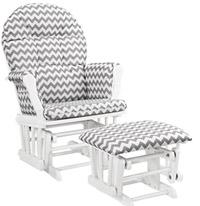 Usually about $150. The Windsor glider and ottoman are one of the lowest priced glider and ottoman combinations on our list, and it has some decent things going for it. First, it was reasonably comfortable, particularly the upper back padding, though the bottom seat padding was much thinner than other options, and lumbar support was severely lacking. Second, the gliding motion on the chair was smooth, as was the ottoman. Third, we though it was a really adorable nursery glider, with some cute colors and patterns. The one we tested had the chevron pattern, which looked really cute in our nursery. While this glider is relatively inexpensive, it's also somewhat limited in features. It does not have the glider lock-out, or recline. The craftsmanship is rather poor and the wood pieces are not very strong. Though we only tested it for a couple weeks and things went well (save for a little squeak from the cushion while rocking), several reviewers have demonstrated that the reliability of this unit is below average. Moms report several issues, including wooden dowels breaking, and gliding mechanisms breaking or sagging. So while it looks pretty darn cute, and the basic functionality is there, this chair isn't likely to last very long with daily use. Interested? You can check out the Windsor glider here.
Details & Conclusions
When we had our first baby, we thought it would be a good idea to go to Babies R Us and lug home a glider and ottoman. Turns out the price was higher than online, and we couldn't fit the boxes into our car. After an on-the-spot return, we ordered a glider and ottoman from Amazon and it came two days later with free shipping! We ended up getting the StorkCraft Hoop Glider and Ottoman set. Back then it was about $250, but now it goes for under $150. Even with the higher price we definitely got our money's worth: we used it many times a day for two years straight, and now a relative continues to use it 5 years later! So we were a bit partial to the StorkCraft, but thought we would put some others to the test and write up a list of Best Nursery Gliders and Ottomans. Here are some details about the factors we considered in our hands-on reviews:
Glider versus Rocking Chair
As a bit of a traditionalist I was convinced that I wanted an old school nursery rocking chair, something wooden and vintage, creaking a bit and bringing back old memories with every push. There's definitely something to be said for rocking chairs, but there's also something to be said for soft carpeted floors, and as it turns out rocking chairs and thick carpeting don't mesh so well. Rocking chairs also aren't great for parents putting their feet up on an ottoman.
While a glider will let you glide back and forth with your feet up on the ottoman by rocking your feet forward/back, the rocking chair responds awkwardly to any attempts at gentle rocking with the feet up. Also, with a traditional rocker you need to strategically place cushions or the chair will get uncomfortable after a few minutes. But there is the style and space benefit: a good wooden rocker is not only great looking but takes up less space than a modern glider. And a foot rest can help bring your knees up a bit and keep things more comfortable. Though we do think that the style of the traditional rocker is a plus, we do think the features and comfort (for baby and parents) of a nursery glider definitely put it at a strong advantage. So our list this year only includes gliders.
High-back versus Low-back
Some modern gliders look more like living room furniture, like the Thomasville Grand Royale Glider. While these can make more comfortable options and fit in nicely with a nursery decor, they have the low-back disadvantage. You won't realize this until you're using it one sleepy evening and you want to put your head back to rest with your little munchkin. The high-back ottomans with the wooden frame and cushions make a better option here.
Think about the trade-off between having a nice furniture-like style versus being able to relax a bit yourself by putting your head back. If the moment comes when you want to take a little nap with your baby, you might regret purchasing a low-back glider. Also, through our testing we came to the realization that the low-back furniture style gliders tend to over-do it a bit on the gliding and swiveling, making it a bit of a wild ride until you get used to how it moves. On the other hand, it is nice that you could use this as a (somewhat) regular piece of furniture once your baby has grown up!
To Ottoman or not to Ottoman
Some of the best nursery gliders include the ottoman in the package whereas some others make you pay a little extra (well, sometimes a lot extra) for the ottoman. In our opinion, the ottoman is always worth the cost. Even if you don't imagine yourself using it at first, your future self will be grateful if you splurge for it now. It definitely adds to the comfort factor for parents, and it also doubles as a convenient little place to put a book or bottle during quiet time with baby. Of course, it does take up more space in the nursery so be sure to take some measurements beforehand!
Locking and Finger Pinching
While wood frame nursery gliders are fantastic and provide a super smooth and comforting gliding rhythm, they also have several pinch points toward the bottom where little fingers or pet paws can get into trouble. We highly recommend getting a nursery glider that has a lock lever so you can lock out the gliding motion when not in use. Babies love standing and pushing the glider back and forth, but the risk of pinching and injury is not worth it! Keep in mind that this is especially important if you will be nursing a baby while their curious older sibling walks around and explores the nursery!
Comfort and Durability
We saved what is probably the most important for last: comfort and durability! The best nursery chairs that made it to the top of our list in terms of comfort. There were many brands that just didn't make the cut because their padding was too firm, the back was to straight up, the gliding was clunky, or the arm rests were awkward. There were also a few nursery gliders that literally started falling apart within the first week of use, usually screws falling out or cushion ties ripping off. But that's another story, and we do not include those in our list!