Best Baby Teething Toys & Teethers 2023
Soothe those sore gums with these top-rated teething toys for your little one.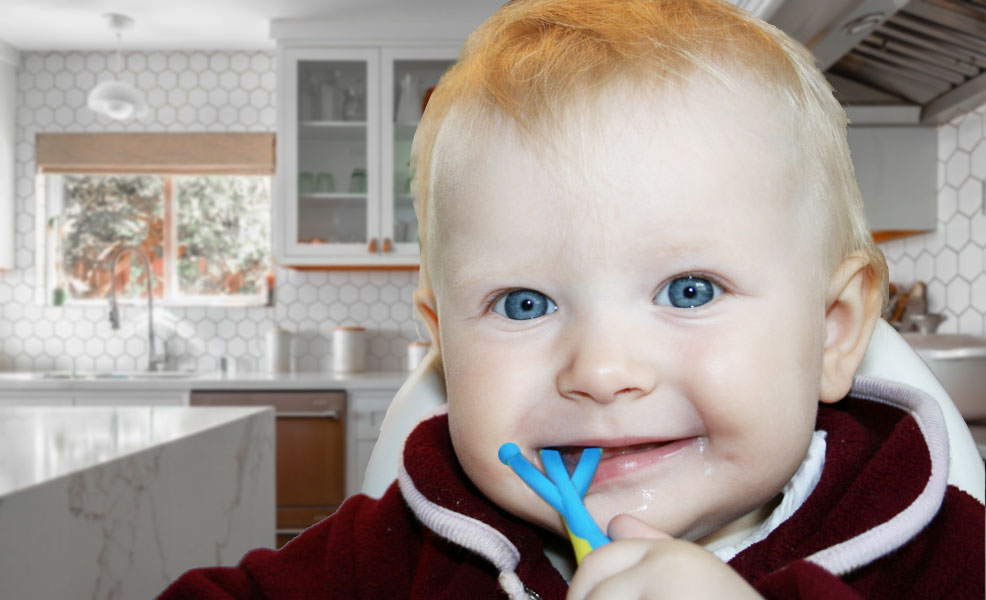 ---
Mommyhood101 independently tests and curates baby gear to help you make informed decisions. If you buy products through links on our site, we may earn a commission.
Teething is a major developmental phase for your baby, with first teeth typically sprouting at around six months of age.
The discomfort associated with teething can last several months, influencing your child's temperament, feeding habits, and sleep quality. Teething toys are the perfect solution, providing your little one with sensory input, gum pressure and stimulation, and mild pain relief.
Below are the top 5 teething toys to help soothe the pain, followed by in-depth reviews of several options.
A good teething toy can help relieve teething pain by cooling the gums, stimulating the gums with different textures, and placing pressure on the gums. We've tested over two dozen different teething toys for their effectiveness, versatility, and overall appeal to infants ranging in age from 4 to 9 months.
Every baby will start teething a bit differently, with some starting as early as two months old, and others delaying teething for a several months. If you're ever unsure, ask your doctor and they can do some poking around and let you know what they find!
We all want to keep our babies safe and happy, and teething is a natural process that we want to proceed without discomfort or pain. We took a bite out of your worry and tested some of the best teethers on the market! We assessed safety, durability, versatility, and overall sensory appeal to narrow down and rank-order our list.
Full disclosure: Some of these teethers, including the Itzy Ritzy, Elefun, Comotomo, and Chewbeads models, were sent to us as free test samples by the manufacturer.
Here are the Best Teethers & Teething Toys of 2023!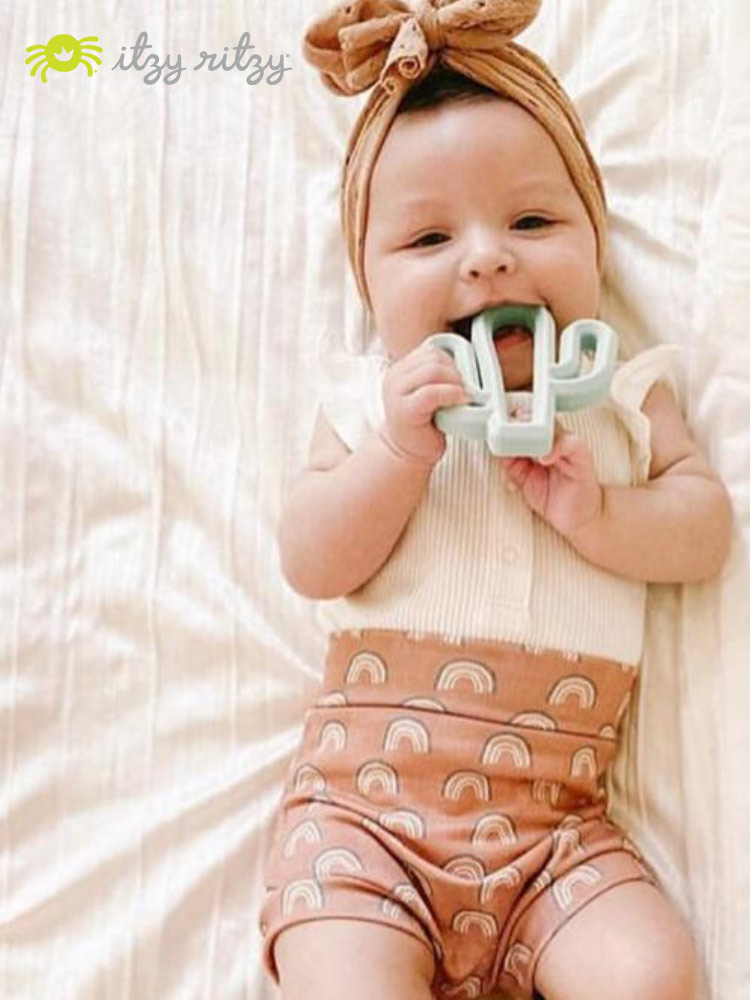 We got our hands on these teethers for testing late last year and fell in love with the beautiful designs. The soft tones and beautiful animal silhouettes are to die for, and they complement even the nicest of outfits! When our two test babies got their hands on them, they also loved them but for different reasons: they are fun, versatile, and provide an excellent sensory experience. The silicone construction is, of course, 100% food grade, non-toxic, and free of BPA, phthalates, lead, cadmium, and PVC. The Itzy Ritzy mitts are perfect for little hands that might be scratching faces, and for babies who haven't yet learned how to hold a teething toy (but are craving to chew on their hands!). They can also be chilled in the refrigerator for some extra-powerful soothing.
The Itzy Ritzy ring teethers are for babies a bit older who have learned to hold onto a teething toy, and they are not only adorable but super effective as a teether; the ring allows you to attach the teething toy to your favorite gear (carrier, car seat, stroller, etc). Both the mitts and rings have textured silicone to provide pressure and stimulation to the gums, and they are durable and strong (even after repeated washings). The mitts can be machine washed in cold water (then air dried), and the rings can be washed with a damp cloth and mild soap. Given how adorable these are, and the great packaging they arrive in, we also think they make an awesome baby gift idea! Interested? You can check it out the Itzy Ritzy teethers here.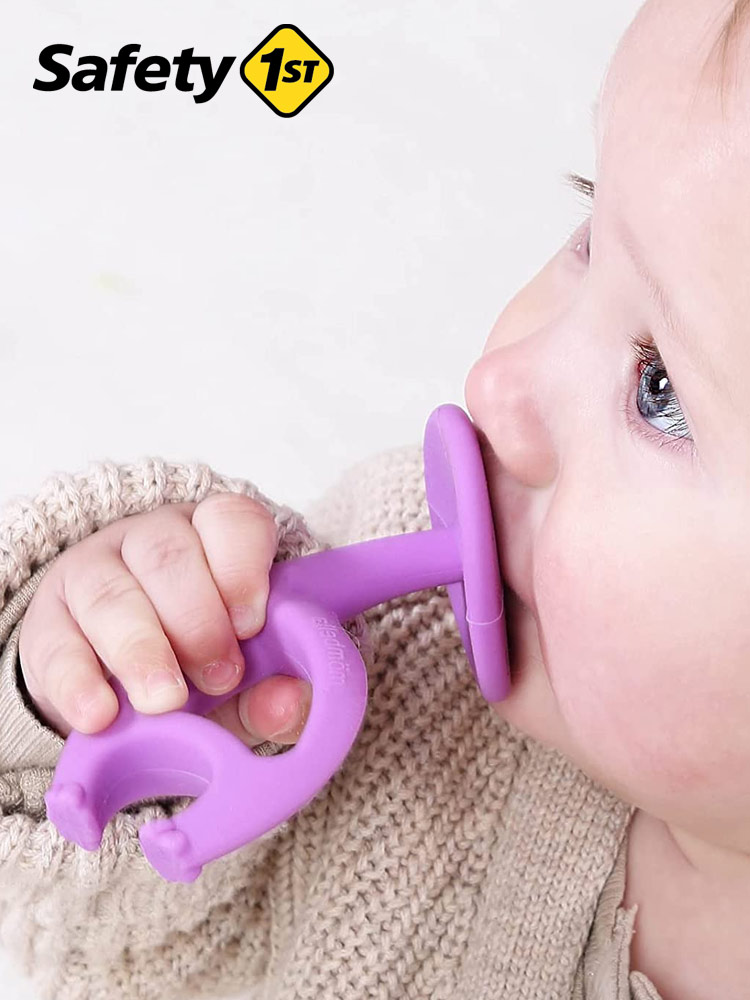 Ellie the Elephant is adorable, functional, and super fun and soothing for infants! It is made of 100% food-grade silicone that is free of all the nasty stuff: lead, phthalates, BPA, and PVC. You can pop it in the freezer for soothing relief, throw it in the dishwasher for cleaning, and put it in the sterilizer along with bottles for convenience. The Mombella teether has a unique elephant shape with a pacifier-like shape with teething bumps on one side, and an easy-to-grip A-shaped body. It is extremely flexible and forgiving, and it includes a convenient strap and clip for attachment to clothing, strollers, and car seats.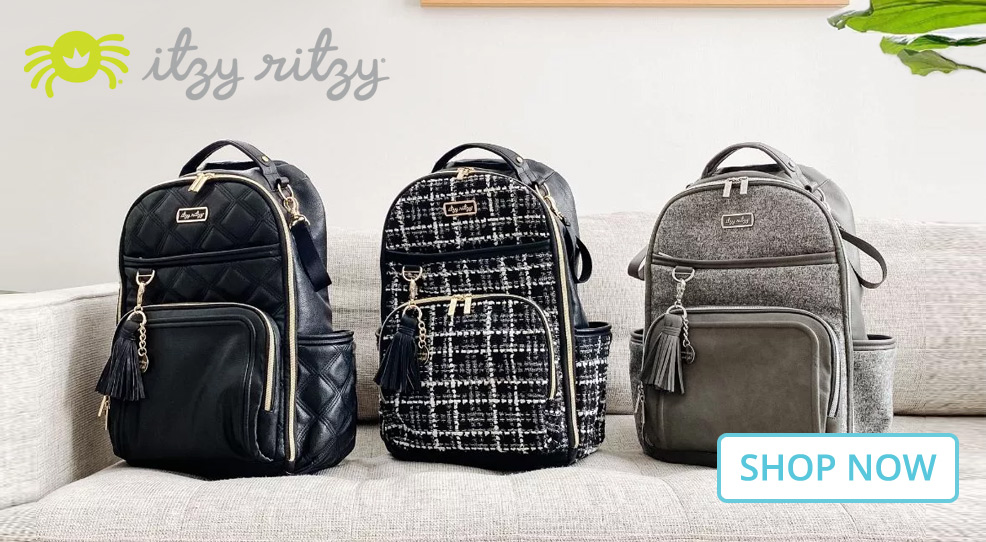 In our testing, the two infants, one 4 months and one 7 months, absolutely loved the look, shape, and feel of Ellie the Elephant. Out of the freezer it can be the ultimate soothing experience for sore gums, and its bright colors make it easy to find among the clutter! Suitable for babies from newborn to 12 months, we found it to be durable and strong, and great at maintaining its shape after months of abuse! Highly recommended! Who else loves the Mombella Ellie the Elephant teether? Our friends at The Bump Babygearlab, and What2Expect also consider it a top pick! Interested? You can check it out the Mombella Teething Toy here.
Wearable teethers like necklaces and bracelets became very controversial around 2018 when the FDA warned against any jewelry worn by either an adult or child and marketed for relieving teething pain or providing sensory stimulation. The Nuby Baby Teething Mitten may be just the alternative we need! This mitten is usually priced around $10 (just above average for this list), and includes a soft, wearable teether without any small parts to break off! The Nuby is made from soft, breathable fabric that doubles as a drool absorber! The high-contrast colors and patterns are visually stimulating, which is great for developing visual perception and hand-eye coordination. The finger-tip area is covered in textured, 100% food-grade silicone for mouthing, and this prevents younger babies from ending up with fingernail scratches on their faces from mouthing their fists and fingers. The Nuby Soothing Teething Mitten provides soothing teething relief on its own, but can be extra powerful when chilled in the freezer. Best of all, the Nuby mittens can be machine-washed and dried! Interested? You can check it out the Nuby Baby Teething Mitten here.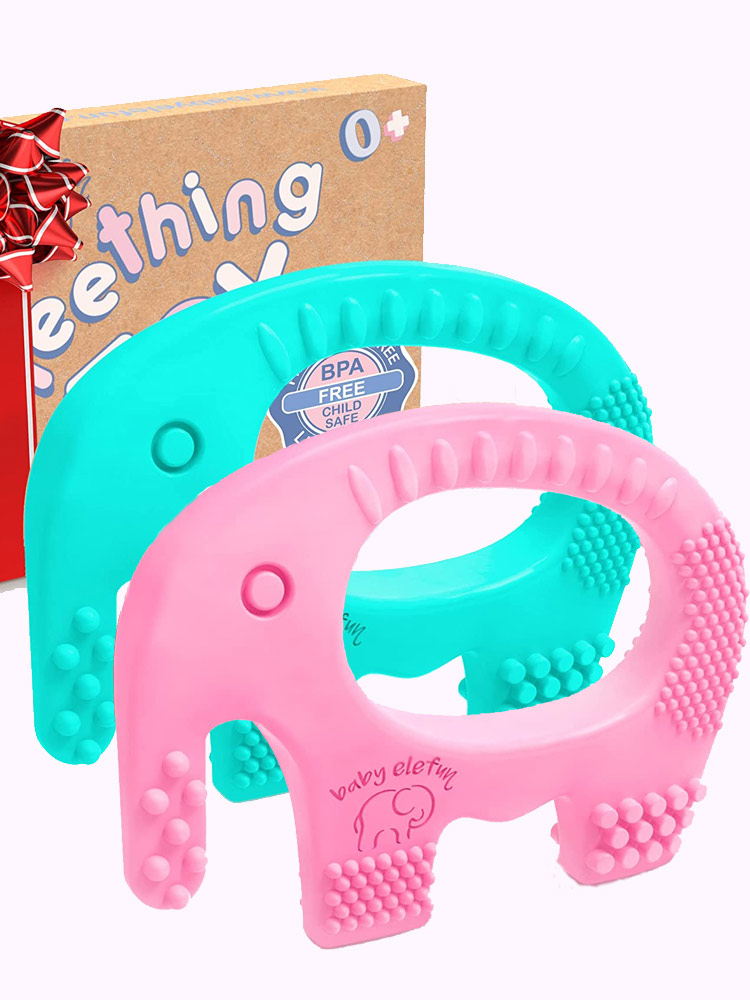 We love that this teether is made from a single piece of durable silicone. The Baby Elefun is dishwasher safe and made from 100% food grade silicone and is free from BPA, PVC, Phthalates, Cadmium, lead, and other heavy metals. This teether's design is certified by the U. S. Consumer Product Safety Commission as safe for babies age 0+. The Elefun Elephant is textured with bumps of varying sizes to give baby different options for massaging their gums. We did notice that the Elefun Elephant was a bit more rigid than some of the other silicone teethers on this list, so this made it a better option for babies in the heat of tooth cutting (since they always want to bite down hard). Baby Elefun Elephant Teether is usually less than $10 and comes is a lovely box, making it a perfect gift option for baby showers! Also recommended by our friends at Babygearlab, you can check out the Elefun Elephant Teething Toy here.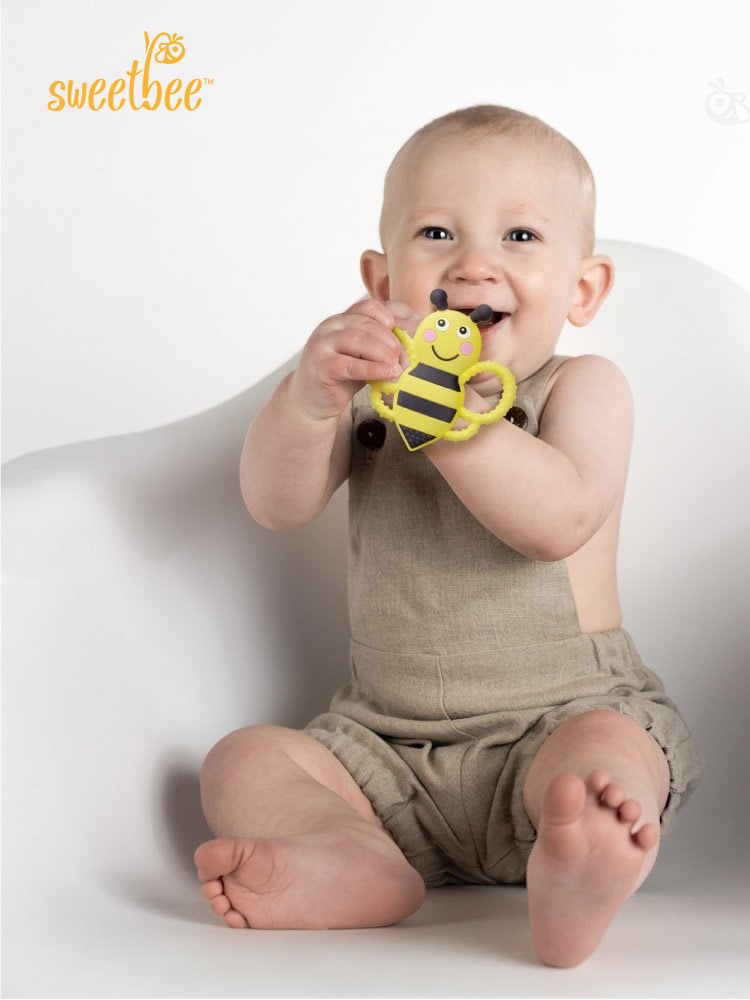 This adorable bumble bee themed teether is about the size of an adult's palm and it is made from a single piece of molded silicone to avoid being a choking hazard. Babies loved playing with and gnawing in the bumpy, easy to grip wings. The wings also allow plenty of space if you want to attach a pacifier lanyard to the teether. Buzzy Bee is both BPA- and latex-free. It is freezer safe, and it stays chilled a little longer than the Elefun (above). Like the Elefun, this teether is also dishwasher safe! Let's face it - the first thing your baby is going to do is throw this (or any) teether onto the floor! This 100% food grade silicone teether can pop right into the top-rack and be good to go! Buzzy Bee is low-average priced for this list at only about $7, making this smiling teether super wallet-friendly! Interested? You can check it out the Buzzy Bee Teething Toy here.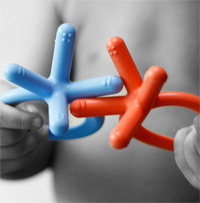 If you know anything about Comotomo, you know that they make the best baby bottles on the market, with simple styling and a unique flexible silicone body. Both of those design features are replicated here with these simple, adorable, and super effective silicone teething toys. Each toy has a single ring for easy grasping combined with a series of four protruding textured "fingers" your baby can chew on. The beauty of this design is that your child can grip the teether and bring it to their mouth at basically any angle and with their left or right hand. In all cases, one of the little fingers of the toy will end up in their mouth, providing them with a great sensory chewing experience. They are little and relatively affordable, coming in at about $7 each. These are best for infants who have not yet begun cutting teeth through their gums; once the teeth become visible, they might be able to bite a piece off of this teething toy (which could become a choking hazard). If you're looking for a great teething toy for the early months of mouthing and teething, this is a great option! Who else recommends the Comotomo teething toy? Our friends at Babylist, Babygearlab, WhatToExpect, and The Bump all consider it a top pick! Interested? You can check it out the Comotomo Silicone Baby Teether here.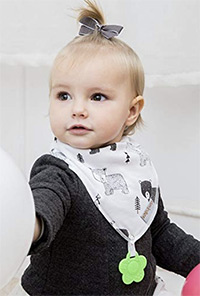 It's a fun name to say, and Vuminbox gained other high praises in our tests, as well! As we mentioned above, teething can come with many other symptoms—and waterfall drooling is very common for teething babies. The Vuminbox Bandana Teething Toys include a super absorbent cotton/ polyester fleece bib to catch the drool. The bibs are secured with premium, nickel-free snaps with two adjustable settings. To wash, simply remove the teether, put the bib through the washing machine, and dry flat. These bandana teethers are sold in packs of 6 for $12 - $14, so while the total purchase price is high for this list, each teether is only about $2 +/-, making this the most cost-effective purchase per toy. Each bandana includes a silky soft teether attached via snap loop. The wide teethers are made from 100% food grade silicone, are dishwasher safe (like the Elefun and Buzzy Bee above), and they include varying shapes and textures to keep babies interested. Interested? You can check it out the Baby Bandana Bib Teething Toy here.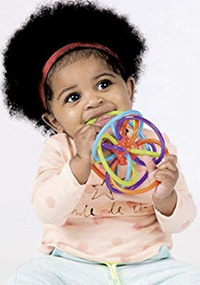 Hands-down one of our favorite teethers of all time, this teething toy is fascinating for baby (and parents!) with its intricate and endless soft tube maze, and its gentle rattle. This teether is large but very lightweight due to its hollow design. The colors are bright and vibrant, and the tubes offer limitless angles for tiny fingers to grasp and explore. This durable teething toy is made from BPA-free plastic and is priced at just under $14. While that makes it nearly the most expensive teething toy on our list, it's also the largest and most fun! The Winkel is suitable for babies from newborn to 24 months, but it is enjoyed by older toddlers, too, and it even has a slight bounce when dropped or bopped around on the floor, making this a perfect crawling motivator! This teether has won multiple newborn toy award, including the Oppenheim Toy Portfolio Blue Chip Award.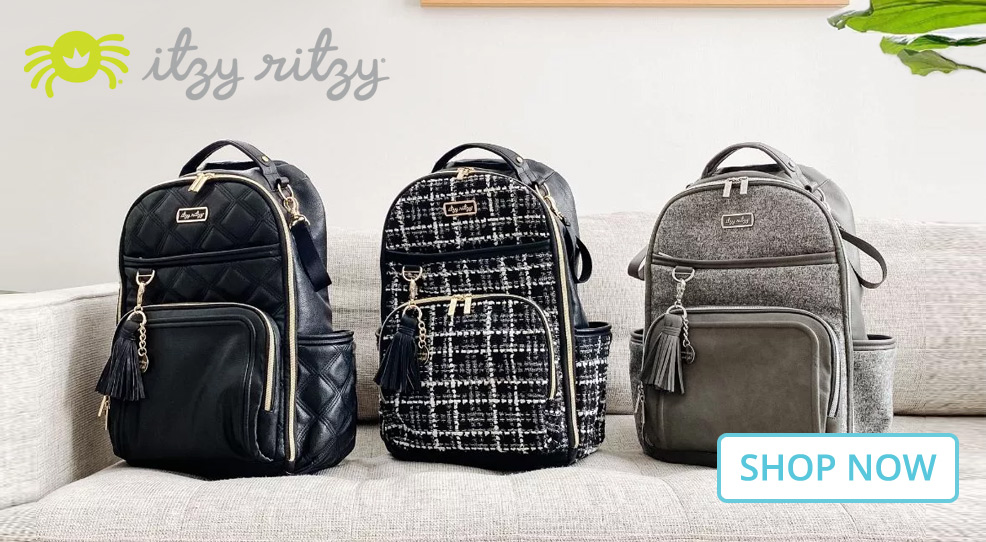 One important note, due to the plastic softness, this toy must not be steam cleaned, boiled, or placed in the dishwasher - it will melt. Instead, you can wipe it clean with baby wipes and then rinse it with water. Who else loves the Manhattan Toy Winkel Rattle and Teether toy? Our friends at Babygearlab and WhatToExpect also consider it a top pick! Interested? You can check it out the Manhattan Toy Winkel Teething Toy here.
This pacifier-looking teether helps relieve teething pain while also offering baby a snack - which is excellent since teething can cause reduced appetite. The pacifier opens on a hinge, and you can insert frozen fruits, vegetables, ice, breastmilk, etc. into the silicone nipple. The nipple is perforated by specially engineered holes to allow only small amounts of food and thawing liquids through when baby chews or sucks on the toy. The small holes also help reduce potential messes, a happy alternative to similar products! The Ashtonbee Feeder is BPA-free, latex-free, petroleum-free, lead-free, and phthalates-free and can be washed with mild soap and water, boiled, or put into the dishwasher. It is sold in packs of two for about $14, making each toy just $7! Who else recommends the Ashtonbee Baby Fruit Feeder as a teething toy? Our friends at Babygearlab also consider it a top pick! Interested? You can check it out the Baby Fruit Feeder here.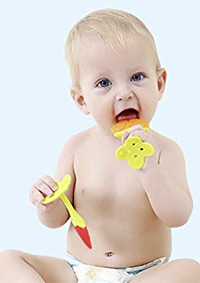 The stems on these soft fruit-shaped teethers are perfectly shaped for your baby to grip. The satiny-smooth silicone is 100% food-grade, FDA approved, and free from BPA, PVC, phthalates. Each colorful fruit has a different texture for soothing baby's gums. In tests, babies seemed most drawn to the bright red strawberry and the purple grapes. Tinabless Fruit Teethers are sold in a five count box for about $15, averaging $3 per toy for a great deal. These teethers can be boiled, steamed, or cleaned in the dishwasher. Tinabless Fruits are marked for babies 3 months and up. We would warn that the chewable ends are not as wide as some other teething toys—making these a possible choking hazard for older babies who may be able to fit the whole toy in their mouths. Additionally, the product images may be a bit misleading—these toys are wobbly and top-heavy; they do not easily stand on their own. Interested? You can check out the Tinabless Fruit Series Teether here.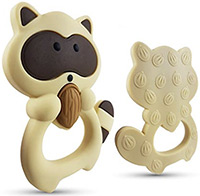 Available in the styles of your baby's favorite woodland creatures including: Raccoon, bear, bunny, fox, and koala, Tulamama Teething Animals are adorably engaging for little babies. These toys have wide shapes to avoid choking hazard, and each has a center cut-out to facilitate gripping and/ or pacifier clip attachment. This $9 teether is made from non-toxic, food grade silicone and is BPA and phthalates free. It is simple enough to handwash, but it is also top rack dishwasher safe. The Tulamama Teether is similar to the Elefun (above) in its flexibility and firmness, and that it doesn't hold much chill from the freezer. Between the two, babies were more visually attracted to the Tulamama animal, but enjoyed chomping the dynamic-textured Elefun for longer. Interested? You can check it out the Tulamama Freezer-Friendly Teething Animals here.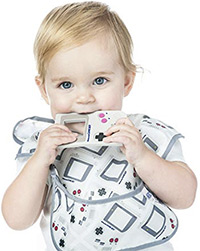 Okay, so maybe parents enjoyed this teether a little more than the children did! This teether offers soft, gum soothing for babies and fun nostalgia for grown-up 90s kids. The front of the Bumpkins Game Boy Teether is a perfect replica of the handheld video game system (including some good contrast with the black and fuchsia 'buttons'), and the back is deeply textured for teething relief. The Game Boy Teether is safe to hand wash, boil, or toss on the top rack of the dishwasher. It is free from BPA, PVC, cadmium, phthalates, and lead. The 'screen' area cut out makes this teether easy for little hands to grip and offers a good space to attach a pacifier clip. This teether is slightly above average price for this list at $9.50, and it makes a great baby shower gift for classic video game lovers! Interested? You can check it out the Nintendo Game Boy Silicone Teether here.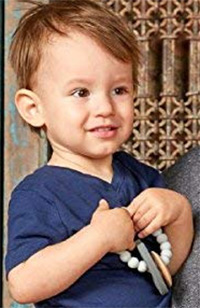 This chic-looking teether includes a very unique component—a smooth, natural beechwood ring. The largest ring and the elephant are made from firm, yet flexible, medical grade silicone. Babies really seem to enjoy the bead-like texture on the largest ring. The wooden ring is an interesting feature, though most babies didn't seem too excited about chewing this piece. The posh style teether comes with a ritzy price tag of $14.50 (the highest on this list). We were surprised that despite the wooden piece, this teether is dishwasher safe. The Brooklyn Teether is free from BPA, phthalates, cadmium, lead, and metals. It attaches easily to pacifier clips, and it holds up to rough testing without breakage or choking concern. Overall, parents loved the look of this teether, but babies didn't seem too interested in the bland color palate - preferring brighter teethers in comparison testing. Interested? You can check it out the Chewbeads Brooklyn Silicone and Wood Teether here.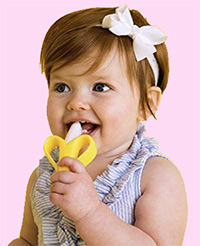 The Banana Baby Teether offers a fun way to introduce oral hygiene while also relieving teething pain. Babies learn by imitation, and they will enjoy copying the motion of toothbrushing while gently massaging their sore gums with Baby Banana's soft, silicone bristles. The peel handles on this teether keep babies from getting the Baby Banana too far into their mouths. This teether costs about $7 - $9, is made from food grade silicone, and is BPA, phthalate, and latex free, and dishwasher safe. Both parents and babies liked this teether, but we do have a few important notes for you to keep in mind: While most of the other teethers on this list are a matte-finish silicone, the Banana Baby has a slick, glossy finish that seems to act as a dust and hair magnet. This teether requires frequent rinsing while in use. Additionally, this Banana Baby is marked for babies through age 12 months. Older babies with stronger jaws/teeth may very well chomp the bristles off the brush. Be sure to check out some of our other reviews if you're looking for an awesome baby toothbrush. Who else recommends the Baby Banana Infant Toothbrush as a teether? Our friends at Babylist, Babygearlab, and WhatToExpect also consider it a top pick! Interested? You can check it out the Baby Banana Infant Training Toothbrush and Teether here.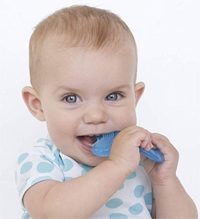 This is a simple and inexpensive teether that hits all the right spots - it's silicone, BPA and phthalates free, fits perfectly in an infant's hand, has a soft bristles gum massager, reaches front and rear teeth areas, can be placed in the freezer for a cold teething toy, and it's only 5 bucks! That's a lot of great features for a very small price - throw in the free carrying case and this is a real bargain! In our testing, we found this to be a very soothing teether that provides a nice gentle massage that hits all the right areas. It's easy for babies about 3 months and up to grip and put in their mouths, and it's even more effective when frozen. The only downside is that after about 5 days of use we noticed that a couple of the silicone bristles broke off. We didn't notice when it happened exactly, but we're assuming it was while our baby was chewing on it. We realize these tiny silicone bits are likely biologically inert and will not harm a baby, but we think it's generally a bad sign that this isn't as durable as we had hoped. Who else recommends the Nuby Silicone Teethe-eez teether? Our friends at WhatToExpect also consider it a top pick! Interested? You can check it out the Nuby Teethe-eez Teething Toy here.
How to Pick the Best Teether for Your Baby
Materials. Much to parent's frustration, babies notoriously put everything into their mouths… but that is the whole point of teethers! So, it is important to find teething toys that are made from safe, non-toxic materials.
Teether Materials to Look For
100% Food Grade Silicone (seen on many of the teethers on this list)
100% Natural Rubber
100% Organic Cotton
Natural, Untreated Wood
Food Grade Plastics
Teether Materials to Avoid
Plastics containing BPA
PVC/ Vinyl
Plastics containing Phthalates
Latex
Amber
Size and Shape. When selecting a teether for your baby, you should consider the size and shape to ensure the teething end is small enough to fit into your child's mouth for proper use, but not so small that entire teether can fit into your child's mouth. If the teether or attachments are too large, they will not be useful and may only frustrate your baby. If they are too small, they may pose a choking of suffocation hazard.
The American Academy of Pediatrics aligns with FDA warnings to avoid teething jewelry for babies:
The risk is two-fold: strangulation and choking, says pediatrician Natasha Burgert, MD, FAAP.
"Major risks occur when the necklaces are worn around a child's neck, especially when unsupervised (such as while sleeping) or if the child were to break the necklace and swallow the beads. The AAP does not recommend that infants wear any jewelry."
For this reason, we recommend extreme caution or avoidance of teething necklaces with beads that may break off and pose extreme risk. The AAP offers additional guidance for parents who choose to use such teethers, and you can read our article about necklace teething toy safety here.
The best teethers are also easy for little hands to hold. As we noticed in testing, many of the top-rated teethers include a center cut out or some sort of handle for babies to wrap their fingers around.
Firmness and Texture. In our testing we explored silicone teethers, plastic teethers, even teethers with cloth and wood. While there were some outliers, we did find that babies seemed to have the most interest and teething success with the soft plastic and silicone models that provided good resistance with some flexibility and tactile feedback.
Of course, all babies are different, so you may need to pick a few different teethers to know which one will work best for your little one, but starting with the flexible plastic and silicone is probably a safe bet (and will likely be the most cost effective, too). In addition to material firmness, teethers come with a variety of embossed textures on their surfaces and edges. In our testing, we found the more successful teethers had a variety of textures (like Elefun) or had deep beading or grooves (like Chewbeads Brooklyn or Buzzy Be); the exception to this rule was the Winkel toy, on which babies could bite down and pull for tension.
Cleaning. Obviously, teethers will need to be cleaned quite often. So, we recommend checking the package for washing instructions. Washing considerations will usually be dictated by the toy's materials—so the plastic Winkel cannot withstand high temperatures, but the cotton Vuminbox can be tossed into the washing machine. Due to the varying care instructions, you may want to do some exploration to find a toy that suits your lifestyle in this regard.
Sensory Stimulation. The best teethers offer even more to engage and pacify your child. High-contrast color depth like the Nibblit mitten fabric, sounds a shape complexity like the Winkel, smiling faces like Buzzy Bee, and freezer safe options like many on this list make all the difference between an okay teether and an awesome teething toy. Check out our list of the best sensory toys, which includes a few options that double as teething toys.
Other Teething Toys we Tested:
Munchkin Fresh Food Feeder. This teether is similar in theory to the Ashtonbee (above), but it is different in application. They both hold frozen fruit to soothe sore gums while also offering your baby a snack. However, while the Ashtonbee uses a perforated, silicone nipple, the Munchkin Feeder holds fruit in a mesh bag. This makes much more mess (and less teething relief) as the fruits and vegetables become mushy, and you can't put frozen breast milk into the Munchkin feeders.
Nuby Ice Gel Teether Keys. These are fun for babies to play with (what baby doesn't like keys!), and they freeze well and stay frozen longer than non-gel teethers. However, this toy cannot be boiled or cleaned in the dishwasher. Must be kept away from heat, and it includes a warning about leaks and punctures. We have genuine safety concerns for the mystery gel in this product.
Chewbeads Tribeca Teething Necklace. This is a pretty silicone-bead necklace on a single cord, with knots between each bead for extra safety. It's a great idea for sensory during nursing, but in general, we don't like the encouragement to chew on jewelry, because you won't always be wearing the teething necklace and other jewelry has small pieces that can easily break off and be swallowed (or pose a choking risk). We recommend additional consideration for the FDA's caution on teething jewelry, even if it's being worn by mom.
Nuby Bug-A-Loop Teether. A colorful, low cost teething toy with lady bugs and bumble bees! It is cute, and babies like it. The hard beads are a mix of BPA free silicone and plastic. We appreciate the thick, double cording to help reduce breaking. However, babies were less interested in actually teething on this teether compared to the others on this list, so we're just giving it an honorable mention down here!
Sophie la Girafe (Sophie the Giraffe). When our kids were infants we had several of these and absolutely loved them! We purchased them at a small boutique baby store in NYC and they were nearly $50 each. They were made with 100% natural rubber and used pigmented rubber colors for the brown dot pattern. They were durable, adorable, and very high quality. Nowadays there are tons of fake Sophie la Girafe copycats found online, and it's really hard to find a genuine one. We tested one that we bought online (at Amazon) but don't think it was genuine, so we're not going to review it here. If you're going to consider purchasing one, we encourage you to go directly to the Sophie the Giraffe website and search for a retailer near you.
Baby Teething Symptoms
All babies are different, even between siblings. Some babies go through teething with a smile, some are mildly irritable, and some hit the symptoms jackpot. In addition to gumming just about everything in sight, teething babies may experience: increased drool production (which can lead to a mild rash around the mouth), trouble sleeping, and a loss of appetite (likely due to sore gums).