The Top 19 Gender-Neutral Baby Gifts
These gift ideas are perfect for baby boys, girls, or gender reveal parties!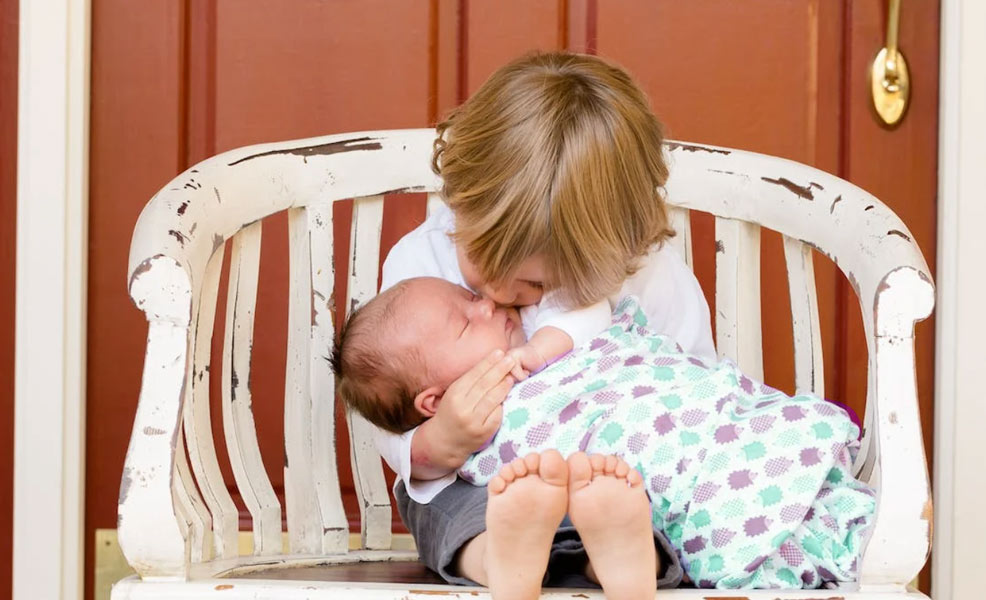 ---
Mommyhood101 independently tests and curates baby gear to help you make informed decisions. If you buy products through links on our site, we may earn a commission.
Many expectant parents choose not to reveal the gender of their child until the baby is born, which can make gift-giving a little challenging!
There is a strong push to shake the constraints of gender-specific marketing. The fact is, unless a product is printed with the words "boy" or "girl" on it, just like gender-neutral baby names, nearly all baby products can be used with girls or boys.
There are no actual rules limiting colors, prints, themes, and styles to one gender only. If you are looking to avoid bumping into gender-specific marketing territory, look for gifts that avoid too much blue or pink, as these colors have been heavily applied to gender-targeting in baby products.
Instead, focus on gifts that are a mix of comfort, entertainment, and practicality. That's what we did when choosing this list of unisex baby gifts!
Below you will find our top gift ideas that are suitable for either baby boys or girls. Our picks include top rated clothes, gear, and toys, perfect for new little bundles of joy. Check out our other articles if you're looking for more traditional baby boy gifts or baby girl gifts!
Here are the Best Gender-Neutral Baby Gifts!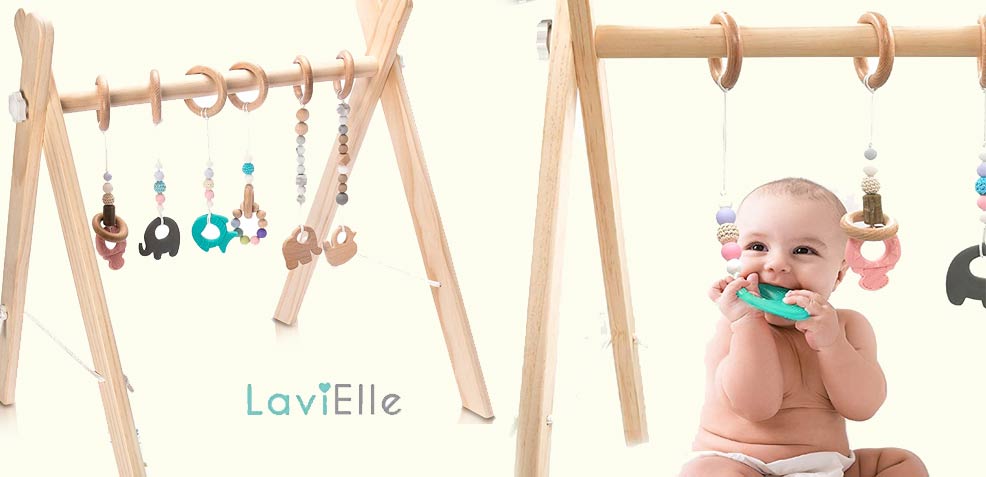 Possibly one of the most stylish and refined baby gyms on the market. The organic baby play gym frame and hanging bar with animal mobiles is made from organic birchwood and food-grade silicone. All the materials used in this original design are 100% chemical-free, and the colors are perfectly gender-neutral. The A-frame construction is held by a fixing rope that keeps things stable, and the elephants, fish, and ducks are simply adorable. Babies from 0-3 months can lie under the hanging mobiles and reach and kick to develop gross motor skills and hand-eye coordination. As baby gets older, colorful teethers can be added during seated play. When baby is finished playing, parents can easily fold and store this compact mobile gym.
---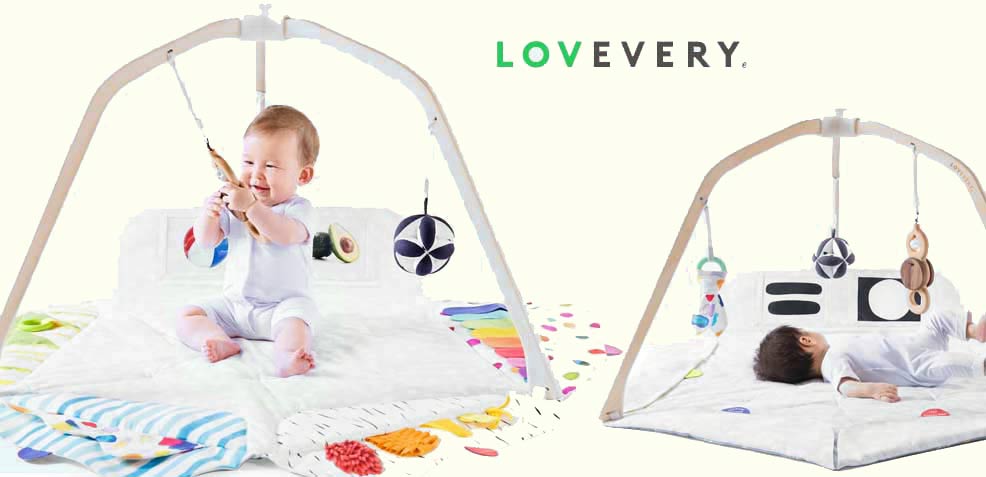 Lovevery makes several very high quality baby toys and gear with gender-neutral colors and styles. The Lovevery wooden play gym is no exception, with its exposed wood, neutral fabrics, and soft colors. This activity center has everything a baby needs to begin exploring their world, rolling onto their tummy, enjoying tummy time, experiencing new textures and sounds, and noticing the high contrast colors. We absolutely love the flip-down play mat edges with their textures, crinkle-fabrics, and teething toys. From laying down and grasping, to rolling, sitting, and crawling, the Lovevery baby gym will facilitate and support all the important infant milestones!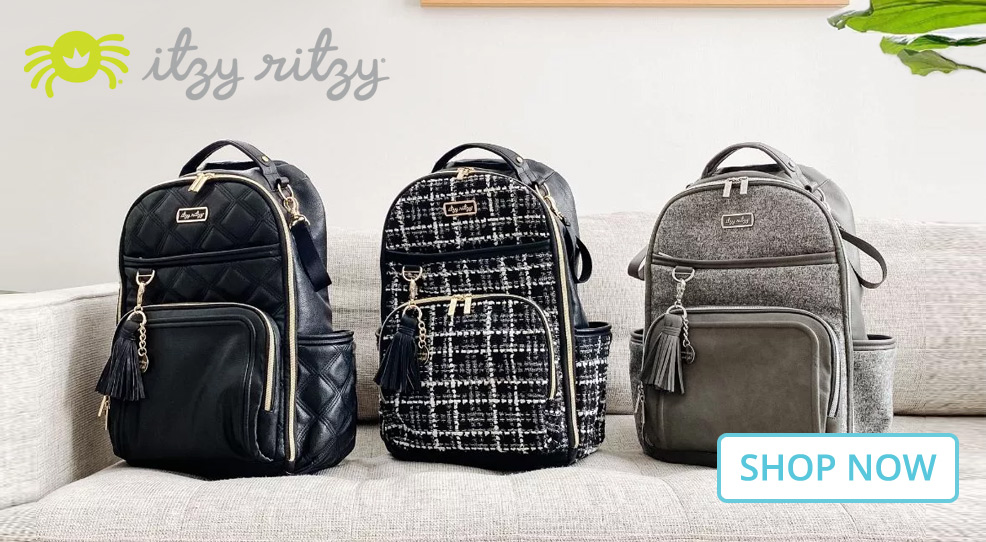 A bit more expensive than most other activity centers, but we think it's worth every penny! Also check out our list of the best exersaucers!
---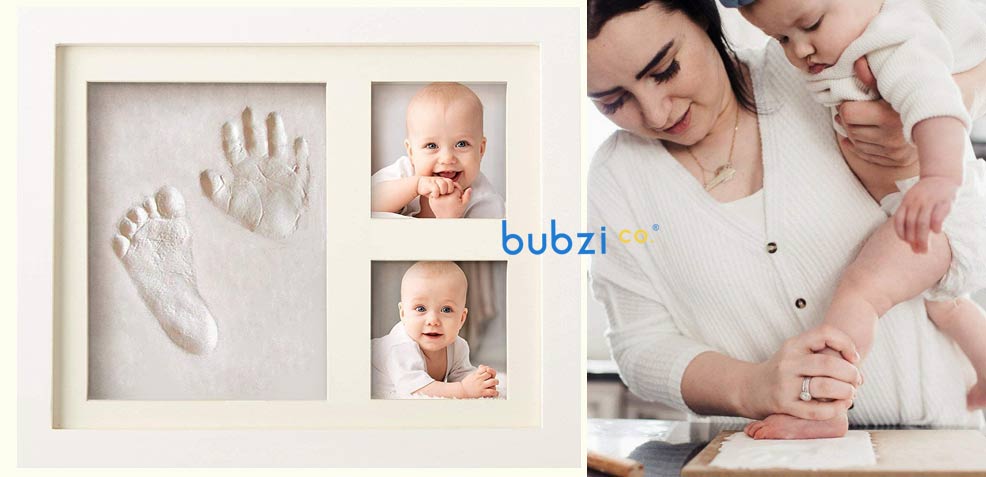 Babies grow and change quickly in the first few months of life. This handprint and footprint keepsake kit makes cherished memories tangible. The kit includes a sturdy, three window picture frame and soft clay. After smoothing the clay into the largest frame window, parents can gently press baby's hand and foot to create a permanent impression. This simple, white frame will perfectly complement any nursery décor, and we also love that every purchase of a Bubzi Co product supports Postpartum Support International, helping new moms look after their perinatal mental health.
---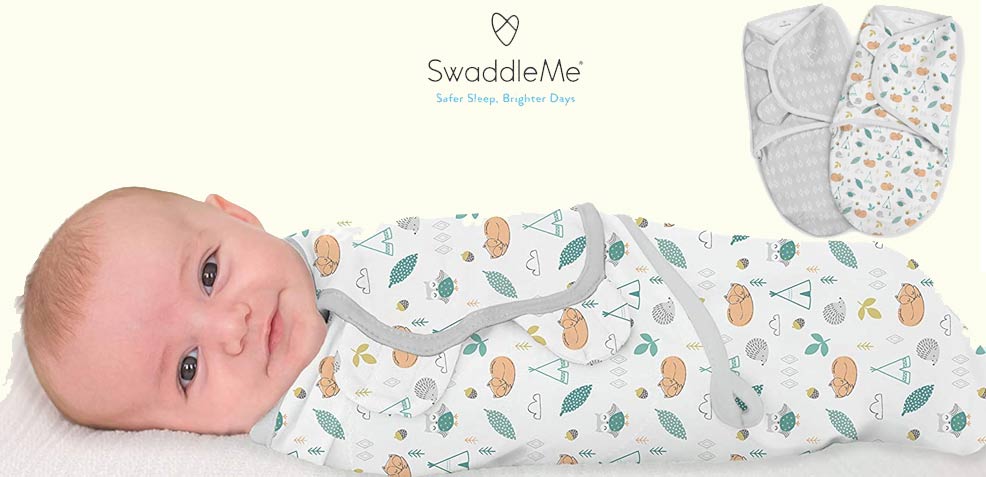 Swaddling is a blanket-wrapping technique that creates a snug and cozy environment to soothe baby. However, achieving a proficient swaddle fold can be tricky, especially with a fussy, flailing baby. The Original Swaddle from SwaddleMe makes a perfect wrap every time. Using soft, hook-and-loop closures on two, custom fit wings, this swaddle creates a womb-like feeling and prevents the startle reflex that can wake baby. The SwaddleMe Original Swaddle comes in three different sizes for babies from birth through six months, and a variety of colors and prints will have something for everyone's palette. Sitting up high on our list of the best swaddlers, the SwaddleMe is a great gift idea!
---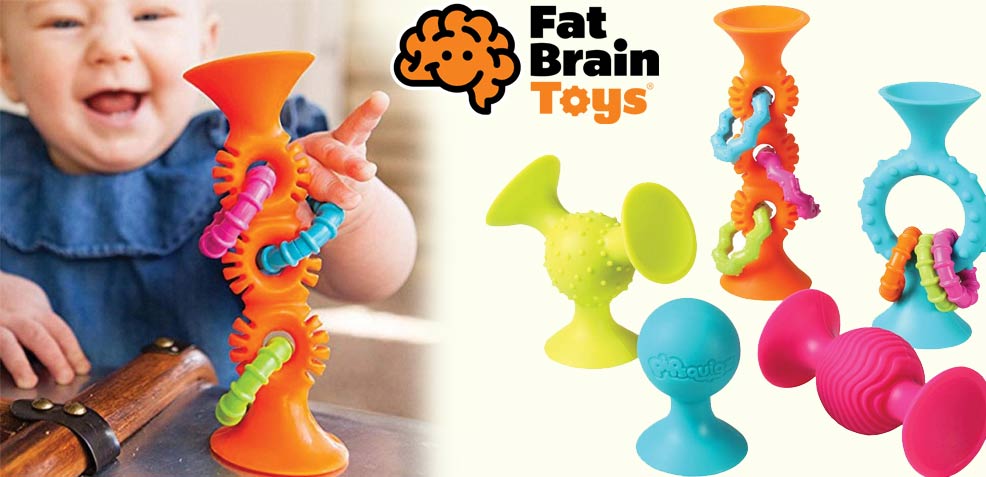 TFay Brain Toys is an award-winning baby, toddler, and big kid toy company that offers tons of unique gift ideas for promoting creative play, curiosity, multi-sensory experiences, cause-and-effect learning, intuitive physics, and more! Not to mention that they have very reasonable prices and their products are high quality, non-toxic, BPA free, and fun for both kids and adults. The Pipsquigs are an awesome example, attaching to the baby's favorite spots - high chair, exersaucer, tabletop, changing table, and anywhere else you can imagine! When our babies were at crawling age we would stick them on front of the dishwasher, refrigerator, coffee table, and more! Tons of fun, and super prices!
---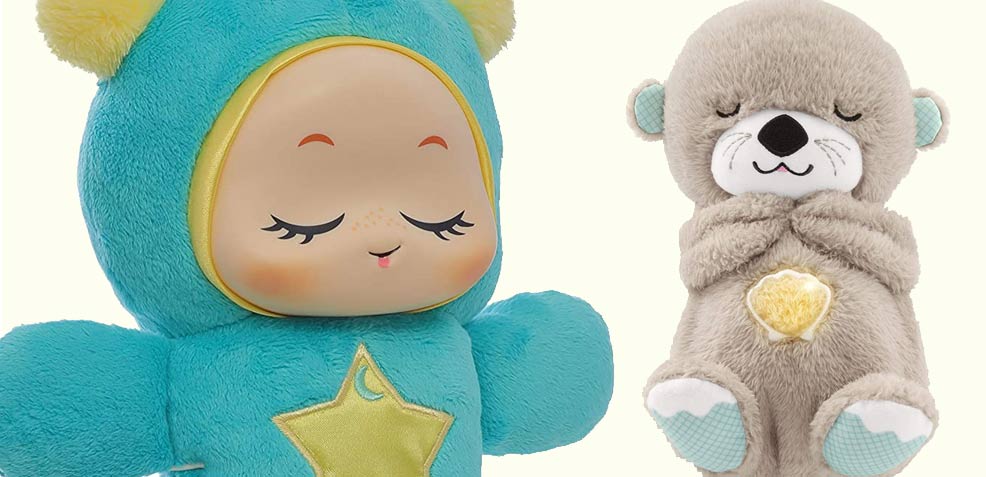 These are some of the most adorable gender-neutral toys on the market. Pictured on the left is the Playskool soothing glow worm, and on the right is the Fisher-Price Soothe 'n Snuggle Otter. Why did we list both of them? Because they both make awesome gender-neutral baby gift ideas! They are soft, durable, adorable, and offer responsive soothing sounds and lights. The Soothe 'n Snuggle Otter is perfectly sized for little baby arms to wrap around. This plush friend includes a dim light feature and up to 30 minutes of music for sight and hearing sensory engagement. Additional sounds include white noise, womb, snoring, and heartbeat. Adjustable volume allows parents to further customize this toy for each unique child. For more calming companionship, the Soothe n' Snuggle Otter also mimics rhythmic breathing motion to make baby feel safe and connected. Otter's soft fur is machine washable (simply remove the electronic pouch first!), so this friend will always be clean and ready to snuggle. The Playskool version has a reliable cry sensor that will trigger soothing sounds and the soft-glow light.
---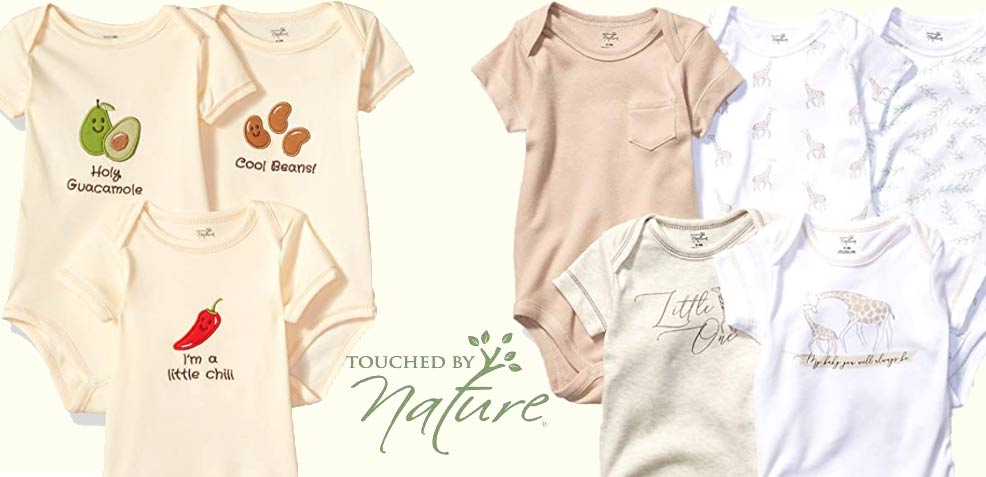 Bodysuits or "onesies" are baby essentials. These single piece outfits can be worn alone in the hot months or with shorts, skirts, or pants. Touched by Nature bodysuits are made from 100% organic cotton (exclusive of decoration) grown without the use of fertilizers or pesticides. These onesies are optimal for everyday use. Their unisex designs featuring happy avocados, smiling beans and peppers, and other embroideries and prints are clever and adorable, making these little outfits perfect for every baby. Touched by Nature onesies use standard snap closures and are machine washable to keep clothes looking brand new!
---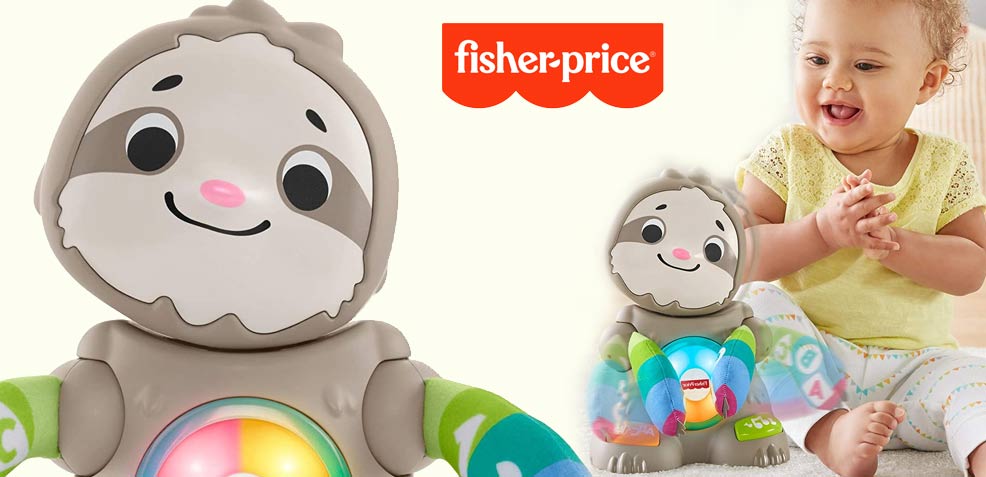 A delightfully educational friend for any baby! The Smooth Moves Sloth is a gender-neutral, happy, musical critter with dynamic movements, lights, and sounds to engage baby and stimulate sensory development. Baby can press the buttons on Sloth's feet to hear fun songs and phrases about the alphabet, numbers, opposites, and colors. While Sloth talks and sings, it claps its hands and bobs its head along with the lights and music. Smooth Moves Sloth is part of the Fisher-Price Linkimals team, which means it will "link and sync" with other Linkimals to play and learn together.
---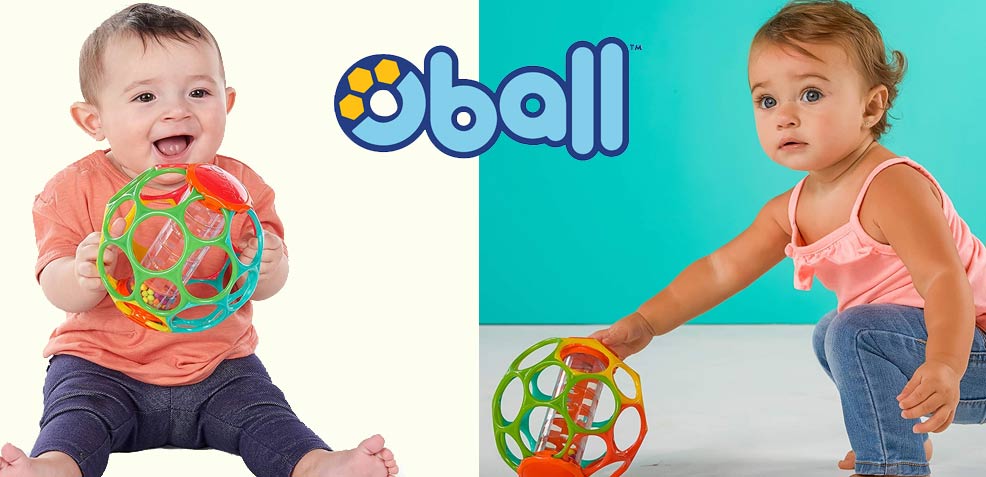 Oball toys are specially designed with large finger holes perfect for even the tiniest baby fingers to reach and grasp around. The ball is made from Oball's flexible and "virtually indestructible" material, and babies will love bending and shaking this Rainstick Rattle to hear the lovely tinkling beads through the inner tube. Unisex rainbow beads inside the clear rattle spin around from end to end, introducing babies to cause and effect as they flip and roll the Oball. Larger than the standard 4" Oball shaker and rattle, this 6" ball will be a favorite, simple toy for many years!
---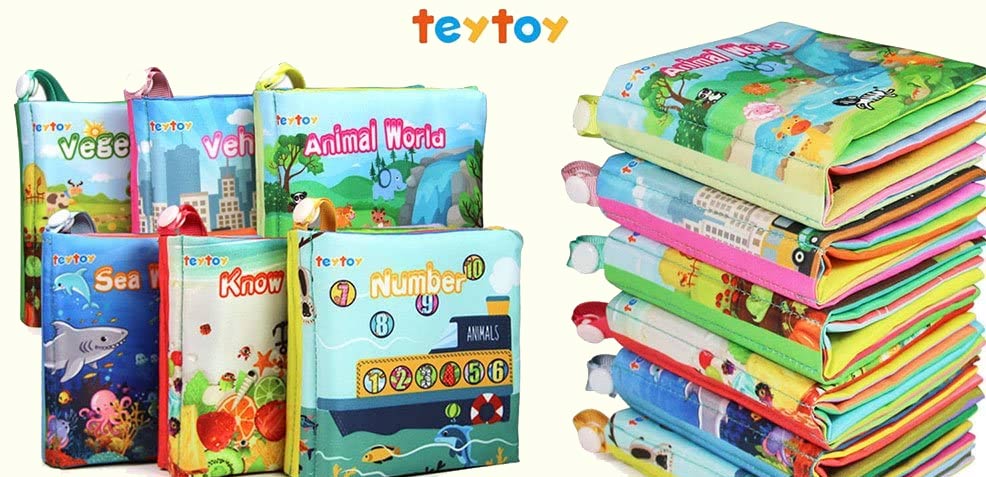 Simple sight word books are perfect for engaging baby and introducing language. The My First Soft Book set includes six gender-neutral books including: Vegetables, Fruit, Animal World, Sea World, Vehicles, and Numbers. Each book has five page spreads featuring large, colorful pictures and themed sight words. Baby will love snuggling and flipping through these soft books with crinkle and squeaker sounds to further engage sensory play. The My First Soft Book set is made from safe, non-toxic material with strong stitching to hold up against inevitable teething. Parents will also love that these durable books are machine washable. Looking for more baby book ideas? Check out our list of the best baby books of the year!
---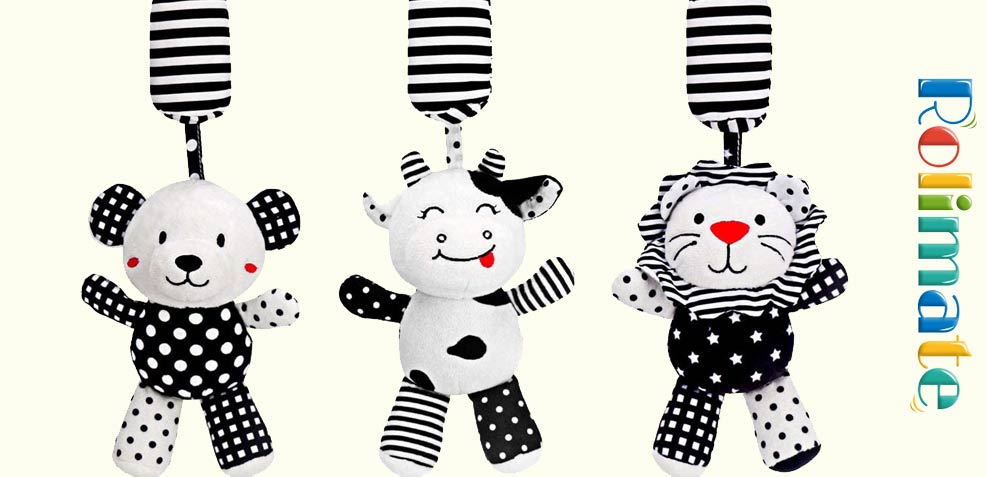 Newborn eyes are still developing, and high-contrast toys are exceptional tools to strengthen baby's vision. The Black and White Series rattle toys were designed with baby's sensory development in mind. These adorable plush pals include high-contrast, black and white patterns with just a touch of red for additional visual stimulation. Each plush also includes a jingling rattle and crinkle paper sound to engage baby's touch and hearing and support cause and effect cognition. Convenient open-ring loops on each plush friend allow these rattles to clip onto high chairs, strollers, or diaper bags. These hanging rattles are durable and made from BPA free material and cotton.
---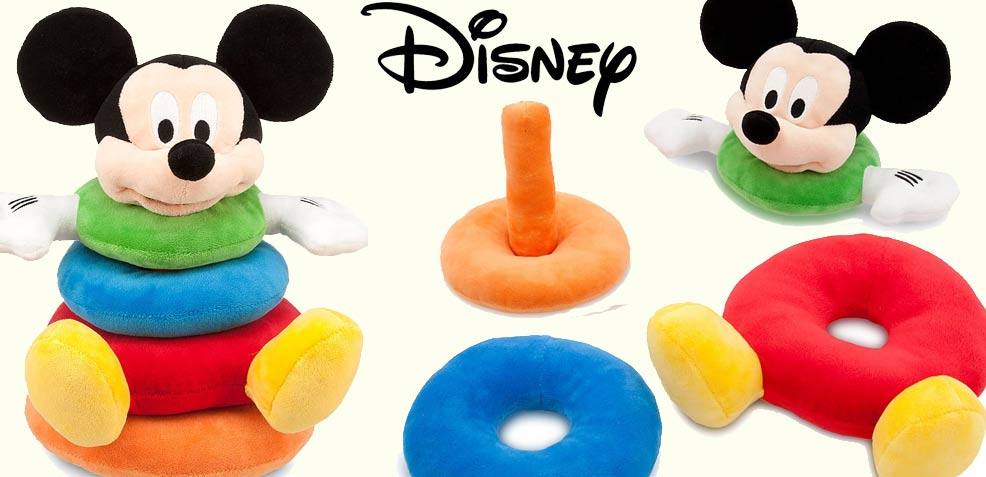 Black and white and primary colors provide the perfect gender-neutral scheme for this awesome soft stacking toy from Disney. Yes, it's Mickey Mouse, which is typically associted with boys (and Minnie for girls), but we think this is just about as gender-neutral as Disney gets! We love stacking toys in general, but this one is super fun. Once parents get over the fact that they can pop Mickey's head off his body (ouch!), they'll soon realize how awesome this is for babies who are learning to sit and play. Stack them, toss them, mouth them, and give them hugs, these adorable Disney stacker will be a baby's best friend!
---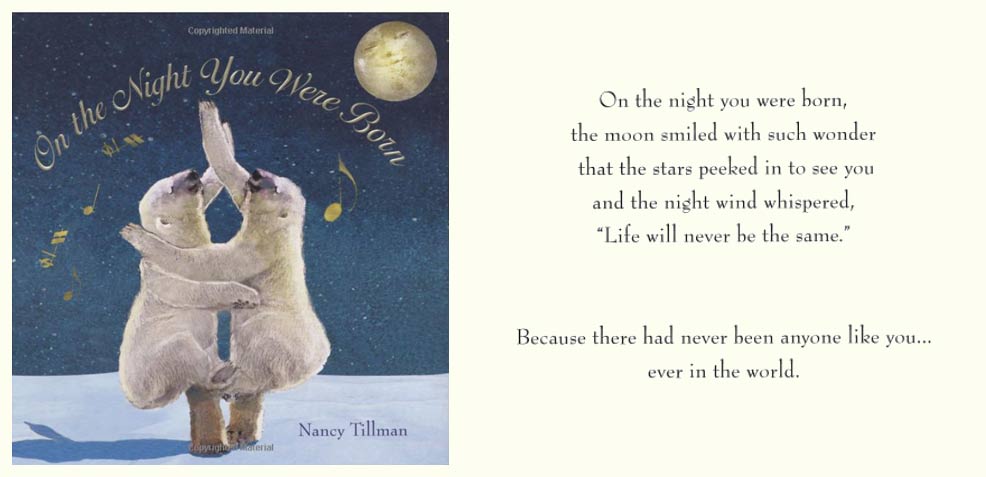 Nancy Tillman is a successful greeting card designer; that is to say, she has made a living developing just the right words and sentiments to convey a special message. The love between a parent and a child is one such sentiment, and Tillman has created numerous books to give parents just the right words to express how they feel about their children. On the Night You Were Born Board Book is a condensed version on Tillman's successful first book of the same title. The board book version makes a perfect gender-neutral addition to any baby's bookshelf, so parents can let baby explore the exquisite composite illustrations! Be sure to see our annual list of the best baby books.
---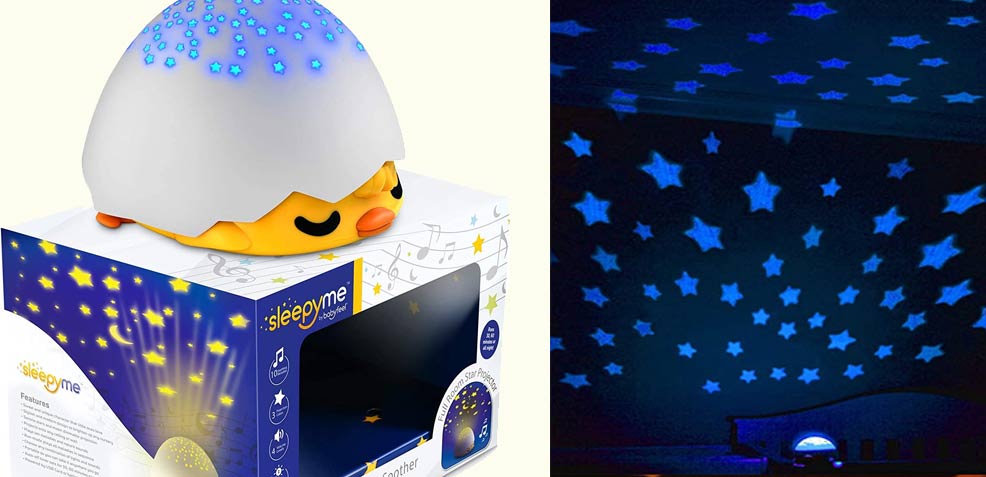 It is no secret that having a baby means saying goodbye to restful nights (at least for a little while). Babies will need some time adjusting to a sleep cycle outside of the womb. This adorable sleepy chick Smart Soother can help lull baby to sleep with softly rotating stars and gentle music and sounds. Gender-neutral colored (yellows, blues, greens, oranges, whites) stars and moon light projection fill the ceiling and walls, and ten high-quality and multi-instrumental sounds can be played in sequence or in repeat mode. Melodies include classical favorites from Mozart, Bach, and Brahms, and nature sounds include forest and lake themes as well as heartbeat and white noise to simulate what baby heard in the womb. Parents can customize sleep routines with continuous play setting for all night soothing, or automatic shut-off after 30 or 60 minutes. Undecided? Check out our annual list of the best baby white noise machines.
---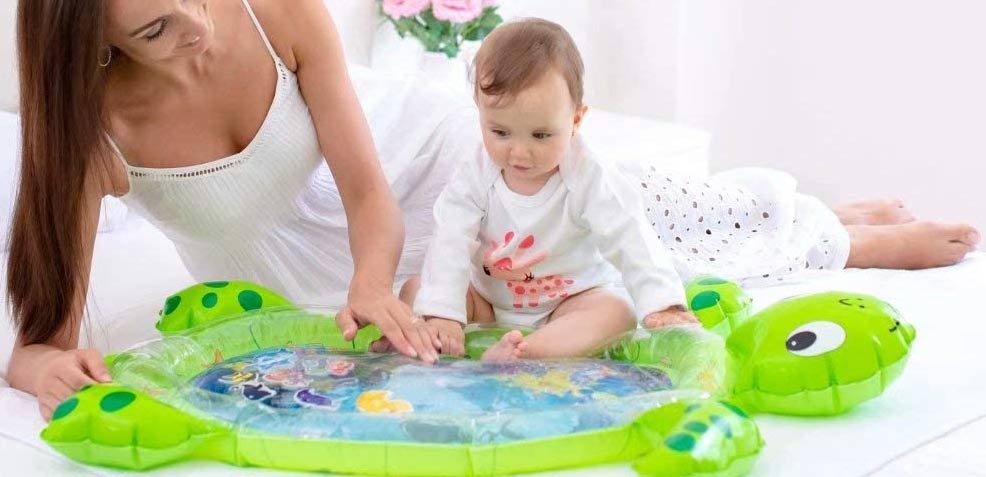 Tummy time is an important developmental exercise to support back and neck development in infants. But babies are not always convinced on the benefits, in fact many infants are incredibly fussy during tummy time. This popular sea turtle tummy time playment stimulates baby's sight, sound, and touch senses to create a more engaging tummy time experience. The gender-neutral water-filled mat features playful ocean life inside, and provides tons of fun during what can be a frustrating developmental experience for babies! Also check out our annual list of the best baby play mats.
---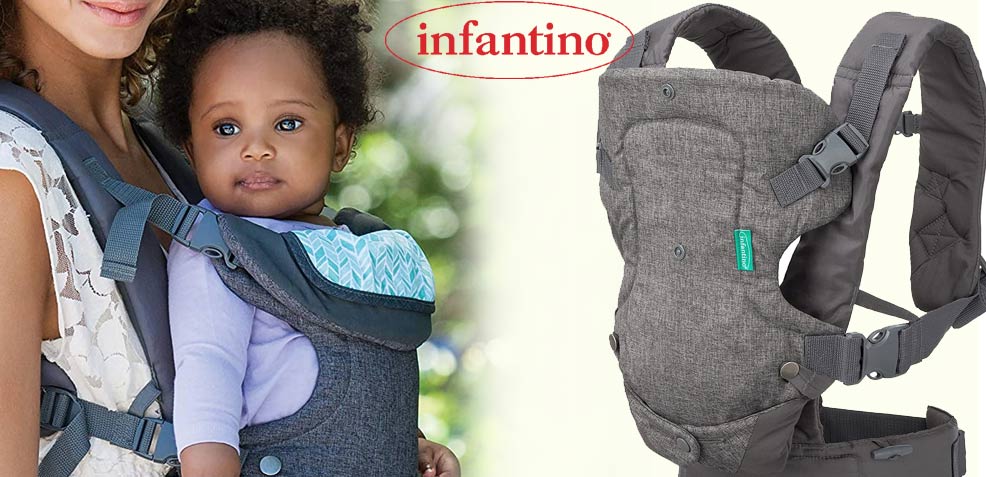 Here's a gift that's a bit more for the parents than the baby - the gift of extra hands! Babies are a busy business. They need a lot of attention, cuddling, and gear! Even with just one baby, parents quickly find themselves with their hands (literally!) full! The Infantino Flip Carrier allows parents to keep baby safe and close while freeing up their hands for housework, grocery shopping, or carrying the diaper bag. This best selling baby carrier has received exceptional reviews from parents, and comes in very gender-neutral styling. The convertible facing-in and facing-out design can facilitate newborns as small as 8 lbs. and babies up to 32 lbs. Highly adjustable, this carrier includes a 2-position seat, padded shoulder straps and supportive waist belt for a comfortable fit. For more options, check out our full list of the best baby carriers of the year!
---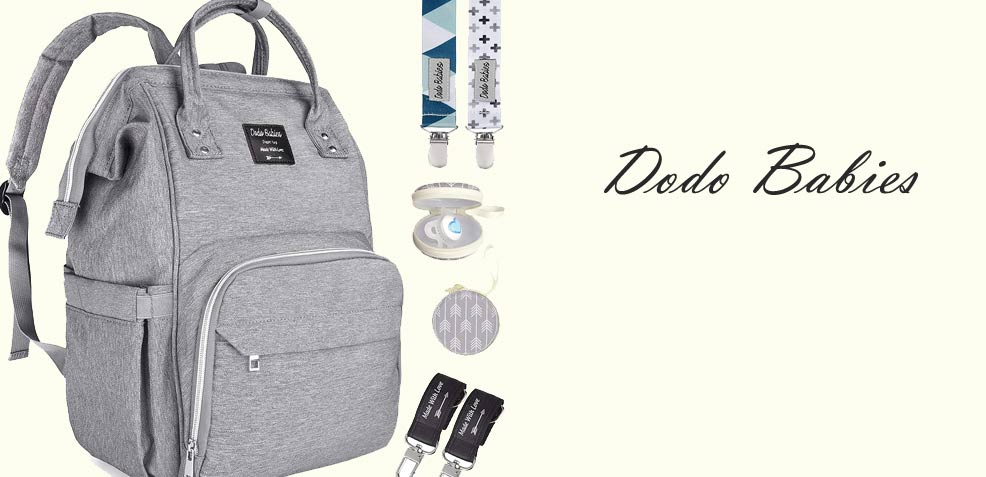 When day-trips or vacations require organization for lots of baby essentials, a quality diaper bag is a must-have for all parents. This large capacity bag from Dodo Babies features a spacious main compartment, separate inner storage pockets, insulated sections, and a waterproof wet clothes pocket (for those unfortunate accidents). The unisex backpack design allows parents hands-free mobility, and the premium cotton texture Oxford cloth is stylish for any parent, mom or dad, without appearing either masculine or feminine. Rear open design allows parents to access contents at the bottom of the bag without digging through, and a secure, anti-theft pocket on the back is the perfect spot to store keys, phone, and wallet while traveling with baby. Want to see more options? Check out our annual list of the best diaper bags!
---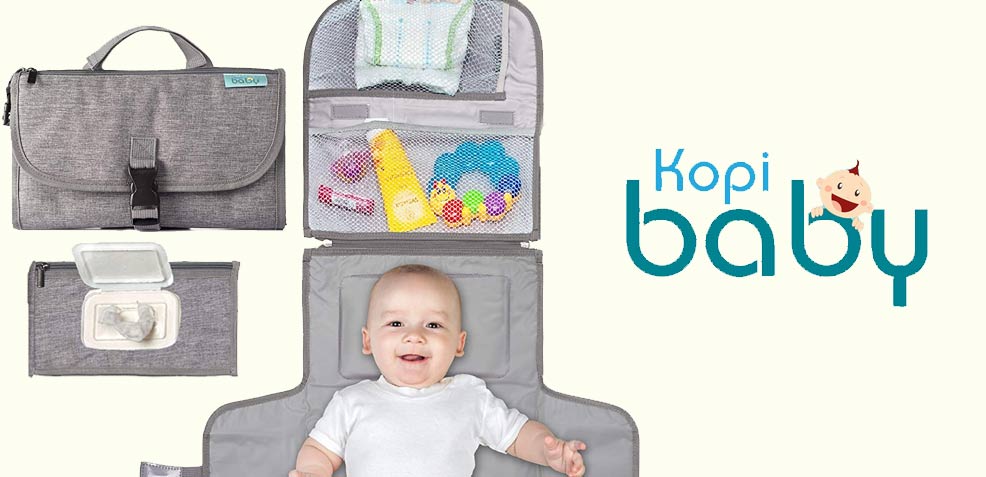 Sometimes a quick trip to the store is over-complicated by a huge, packed-to-the-brim diaper bag. Babies require a lot of luggage; you never know when a pacifier might fall, or a diaper might need changing. But that doesn't mean parents will need to carry all of baby's gear all of the time. The Waterproof Travel Changing Station offers just enough space for essentials without overburdening parents who are already juggling so much. This slim carrier packs a lot of storage, including pop-up space for baby wipes, mesh inner pockets to fit a couple diapers; pacifiers; baby lotions; and an extra onesie, and an outer pocket for keys; phone etc. This kit folds down and easily clips onto wrist or stroller with a convenient, buckle loop! Undecided? Check out our full list of the best changing pads of the year!
---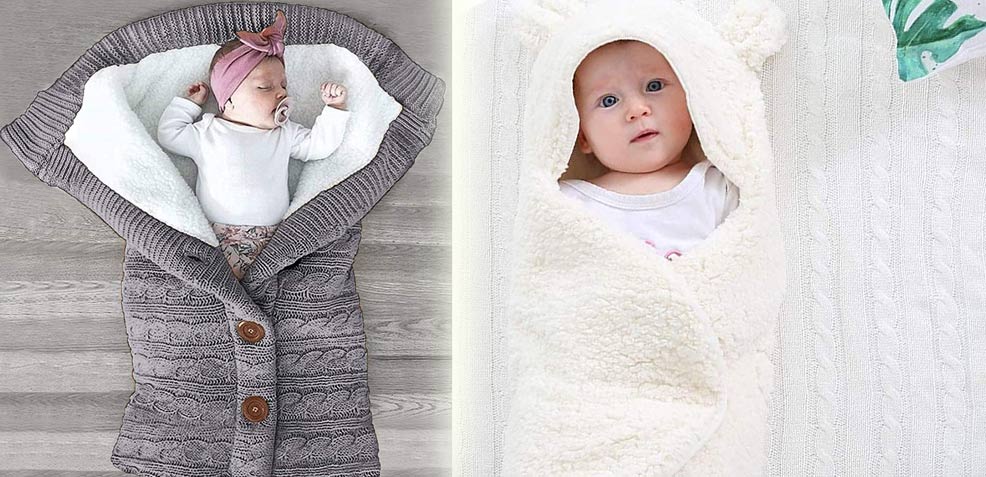 Swaddle blankets are one of many baby essentials that will help provide parents with some sanity during the long nights of the fourth trimester! These swaddling blankets are a little different than most, with their thick and fluffy style, super warm fabrics, adorable buttons and clasps, and a uniquely gender-neutral design. They are perfect for cuddling, staying warm during the upcoming cold months, and infant photo shoots, and they are offered several colors and designs. Not only are they adorable and good quality, they are also very reasonably priced. Buy a few to make an awesome gift for any new parent! Undecided? Check out our annual list of the best swaddling blankets!