Infant Optics DXR-8 PRO Review & Video
Classic design with modern features, the DXR-8 PRO excels in every domain.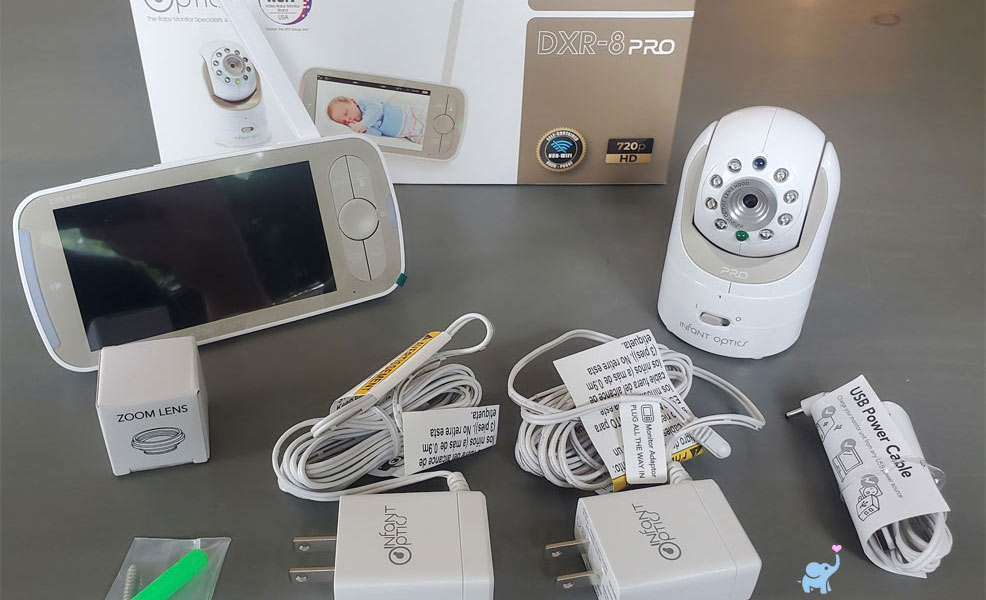 ---
Mommyhood101 independently tests and curates baby gear to help you make informed decisions. If you buy products through links on our site, we may earn a commission.
Coming in at the top of our list of the best baby monitors for the second year in a row, the Infant Optics DXR-8 PRO is one of our all-time-favorites, offering excellent features in a high quality, easy to use, and reliable device.
While it's not the cheapest baby monitor on the market, coming in at about $199 we think it's worth every penny.
Rather than making you read through the entire article, here are the main things we liked and disliked about it:
✔️ 5" display with 720p resolution.
✔️ Remote pan-tilt-zoom camera.
✔️ Expandable to four cameras.
✔️ Nursery temperature monitoring.
✔️ High quality night vision.
✔️ Great reception and range.
✔️ Two-way intercom talk.
✔️ Good battery life.
✔️ Noise indicator lights.
✔️ Sleep mode and lights-out mode.
✔️ Active noise reduction.
✔️ Wide and narrow angle lenses.
✔️ Replaceable battery.
❌ No smart features.
❌ No split-screen camera viewing.
The Infant Optics DXR-8 is definitely one of the best baby monitors we've tested, setting the standard for quality and features.
Coming in at about $199, we think the price is fair given the features and long-term reliability (and resale value!).
After our long-term review, we give it a record-breaking 4.9 out of 5.0, a fantastic score for a fantastic product!
Click the below image to check prices at Amazon.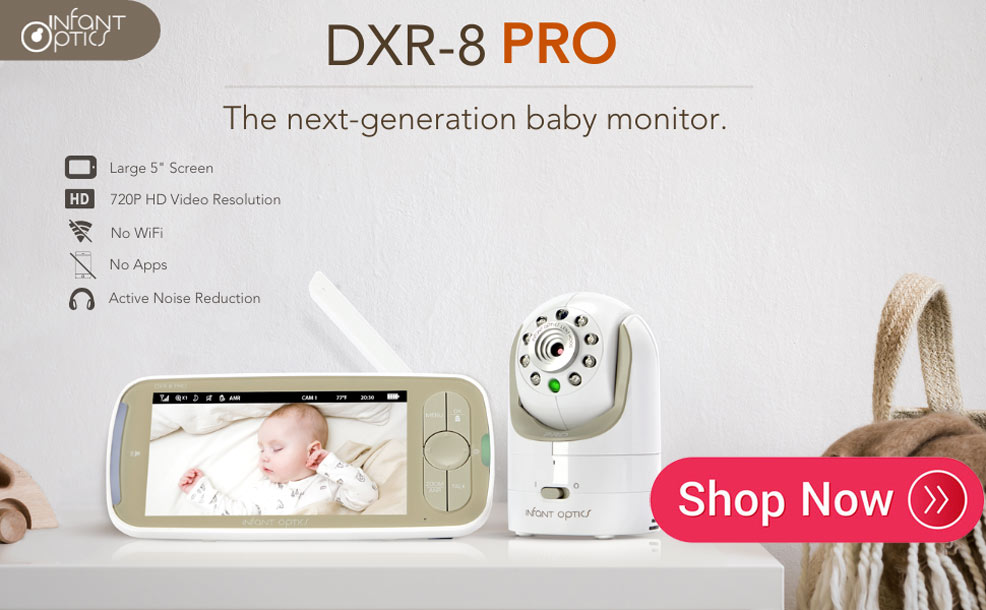 Want to learn a little more about the DXR-8 PRO? Keep reading!
Infant Optics DXR-8 PRO Baby Monitor Review
For some context, Infant Optics released the original DXR-8 baby monitor back in 2015, and it quickly became the #1 selling baby monitor on Amazon and Target for over 3 years.
It was reasonably priced and showed extremely high reliability and quality, with some decent features. In fact, it was the first baby monitor to offer interchangeable lenses (narrow, regular, wide).
The primary limitation was the screen size, coming in at a tiny 3.5" while some competitors (such as the VAVA and Annke) released much more impressive 5" displays.
In late 2020, Infant Optics made a huge update to their DXR-8, calling it the DXR-8 PRO and including active noise reduction and a beautiful 5" display with 720p resolution.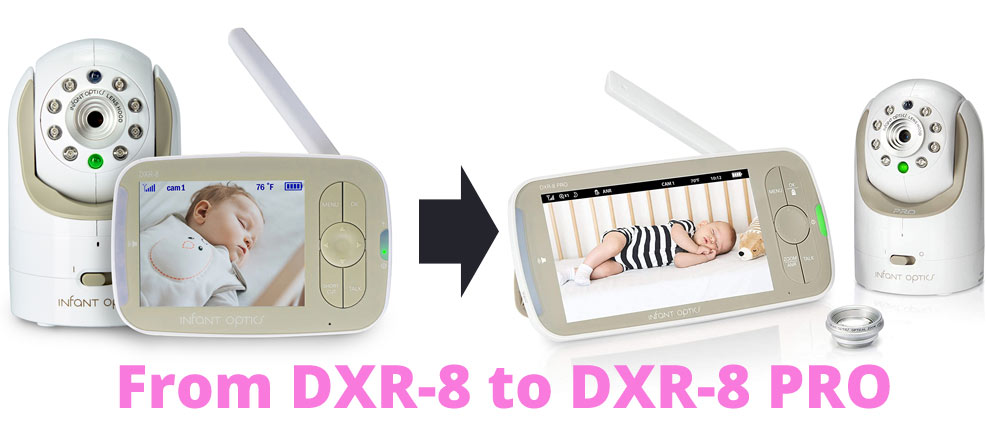 Since that time, it has found its way onto our annual list of the best baby monitors, fighting a fierce battle with the popular Nanit Pro smart baby monitor.
With that history out of the way, let's dive into our review!
We first got our hands on the Infant Optics DXR-8 PRO as a free sample back in late 2020 (thanks, Infant Optics!) and then reviewed it again in late 2022.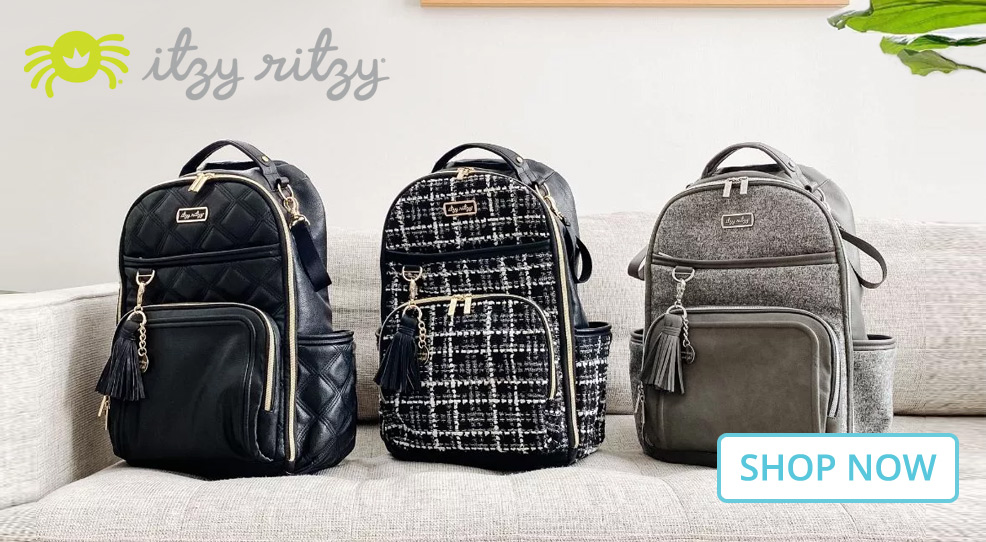 Out of the box, the DXR-8 PRO includes everything you need to get started in 99% of situations.
The only thing missing is the wide-angle lens for close-up (like edge of crib) camera installations.
Here is what's in the box: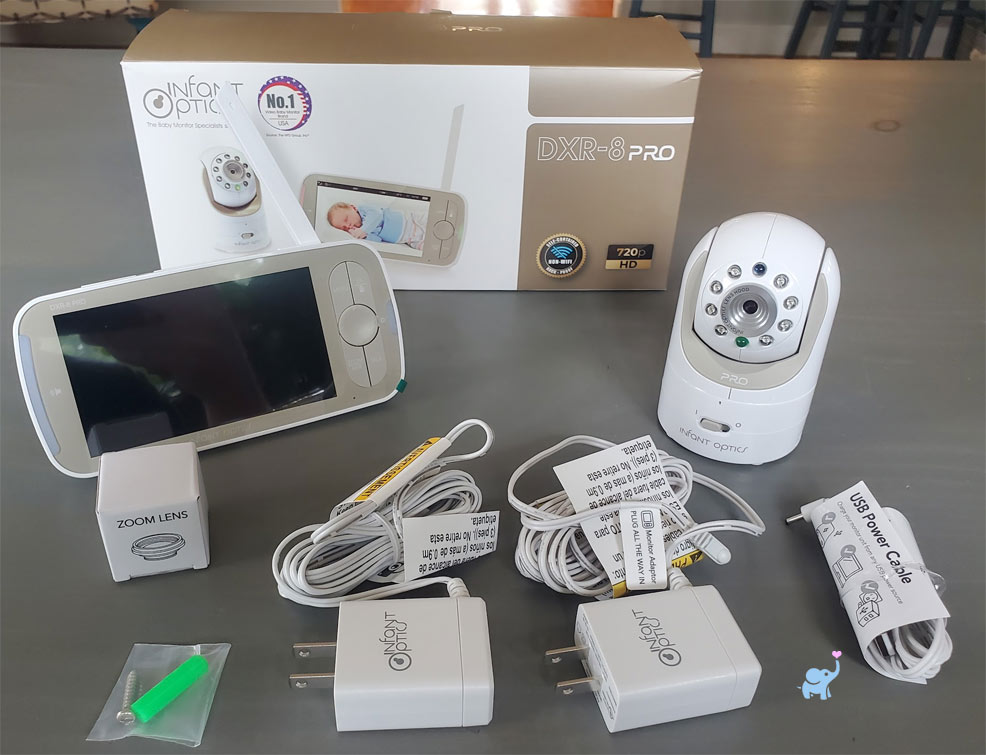 And an itemized list:
The parent unit and battery (pre-installed)
The camera unit
A zoom lens for far-away camera installations
Parent unit power adapter
Camera power adapter
Extra USB power adapter
Mounting screw and anchor
A few little notes.
First, the two wall plug power adapters are labeled, one for the parent unit (monitor) and one for the camera, so be sure to use the correct one and push the plugs firmly into the devices.
Second, the extra USB power adapter is convenient, allowing you to charge the parent unit from nearly any USB power adapter, or even using your laptop. This is a nice feature if you're taking the parent unit away from its usual location (like the bedside table) and want to have a back-up charging method without the hassle of moving the plug.
Third, the lens hood that is installed provides a normal (about 90° visual angle) viewing angle, and the zoom lens will reduce that by about half and provide a very directed view. To swap camera lenses, just simply unscrew the default lens hood and screw on the (included) zoom lens. If you need a wide-angle lens, that it sold separately for about 10 bucks (see it here).
The DXR-8 PRO Parent Unit Review
The parent unit is lightweight and has a good build quality.
The folding antenna is easy to use, as is the full kickstand on the back.
All of the buttons are positioned nicely on the top (brightness, volume, power) and front (menu controls), and feel high quality and responsive.
When you first power it on, the parent unit takes only a few seconds to turn on completely.
If you see a message like this, be sure that your camera is plugged in and powered on!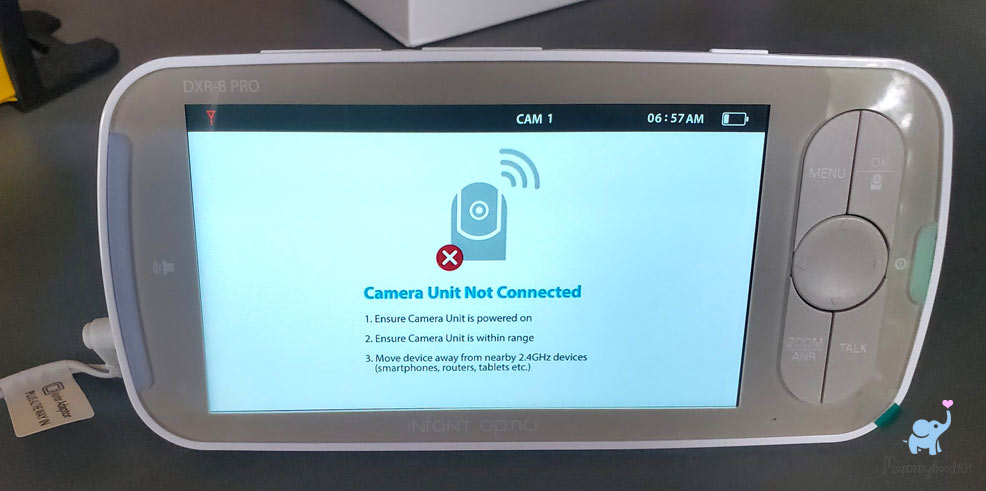 As you can see in the below image, the image clarity is very impressive.
This is with daytime lighting, and you can see that the 720p resolution provides some high granularity, while also maintaining good color reproduction, brightness, and contrast.
Looking great!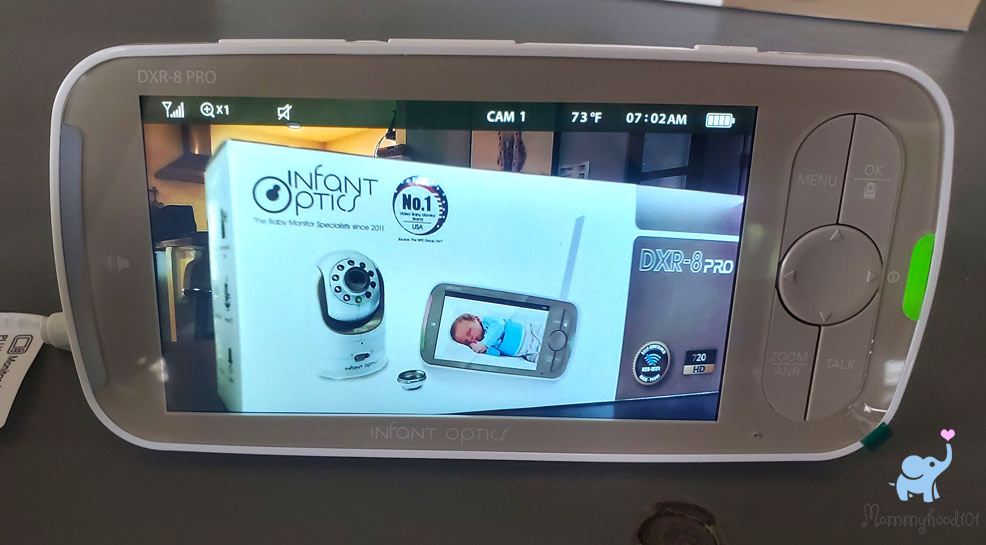 Along the top edge, you see some status indications. These include (from left to right):
Signal strength with the camera
Current zoom level (1, 2, 3)
Volume status (muted)
Camera number being viewed (you can add up to 4 cameras!)
Current temperature in the nursery
Current time
Parent unit battery level
To test the night vision, we set the camera up in our basement guest room (it was daytime when we did our review, and this was the only place we could make completely dark!).
Low and behold, look who we found resting on the bed! Busted!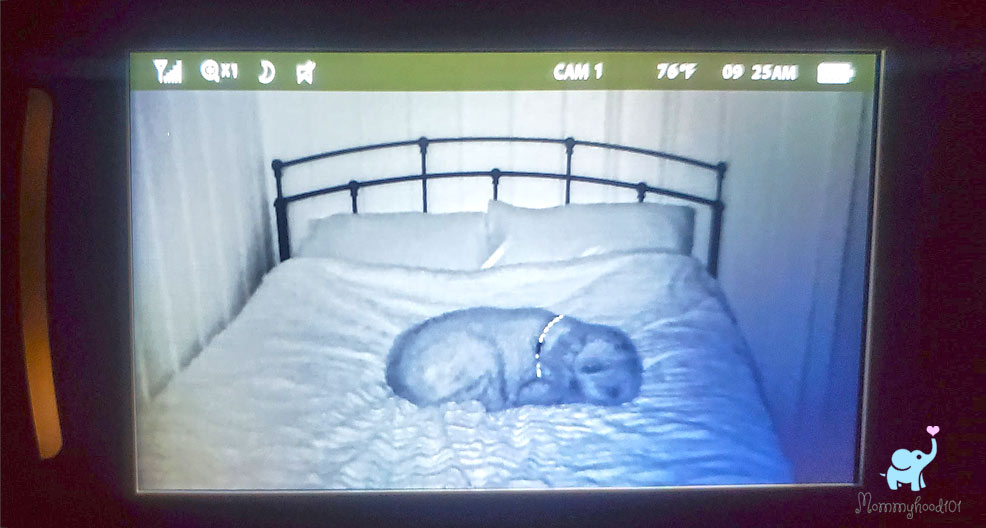 The night vision quality is very good, offering nicely maintained resolution and contrast without significant distortion or blurring.
If there is a subtle light source in the room, you will notice a bit of a dark haze entering from one or more edges of the display.
This is completely normal for night vision cameras, and you can see a bit of that happening on the lower right of the above image.
For an in-depth review of the menu system and functionality, check out our video:
Overall, everything was easy to use and intuitive.
Adding cameras (up to 4 total cameras can be added) was easy using the camera pairing function in the menu.
The adaptive noise reduction (ADR) feature was easy to activate in the menu and did an impressive job masking background sounds such as a fan and window air conditioning unit.
We love the ability to completely dim the parent unit lights (the status light on the right, and the noise indicator light on the left). This allows you to put the parent unit into sleep mode (screen off) and turn off the lights. Perfect for parents (like me) who are sensitive to light while trying to get some much-needed sleep!
The parent unit is large, but not too large to fit into your back pocket, or into normal-sized front pockets (don't get me started on that!).
As a final bonus, did we mention that there is a door on the back of the parent unit that allows you to access the battery!?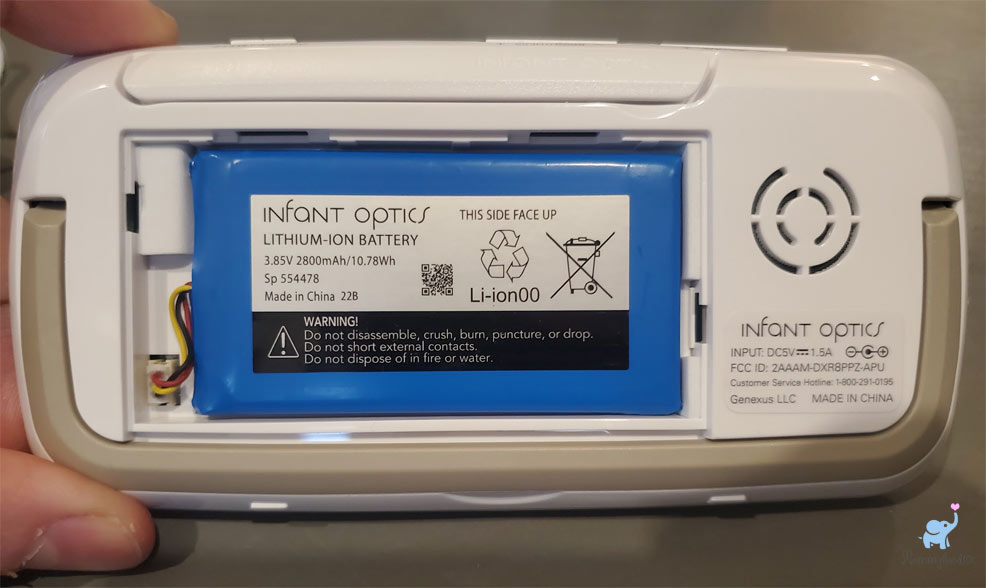 This is an amazing feature of the DXR-8 PRO!
Even the best lithium-ion batteries get old and lose their ability to hold a charge, and this allows you to easily swap in a new battery after a few years of use.
Now if only we could convince Apple to do the same with their iPhones!
The DXR-8 PRO Camera Review
The camera is very similar to the original DXR-8 camera, but note that they are not forward- or backward-compatible. This means you cannot pair old (non-PRO) DXR-8 cameras with this parent unit.
The camera is lightweight and sleek, and blends into most nursery decor.
It has some great capabilities, including remote tilt (it can tilt up about 95° and down about 25°) and remote panning (it can rotate side-to-side by about 135°).
As we learned above, it also has great resolution and image quality during both daytime and nighttime viewing.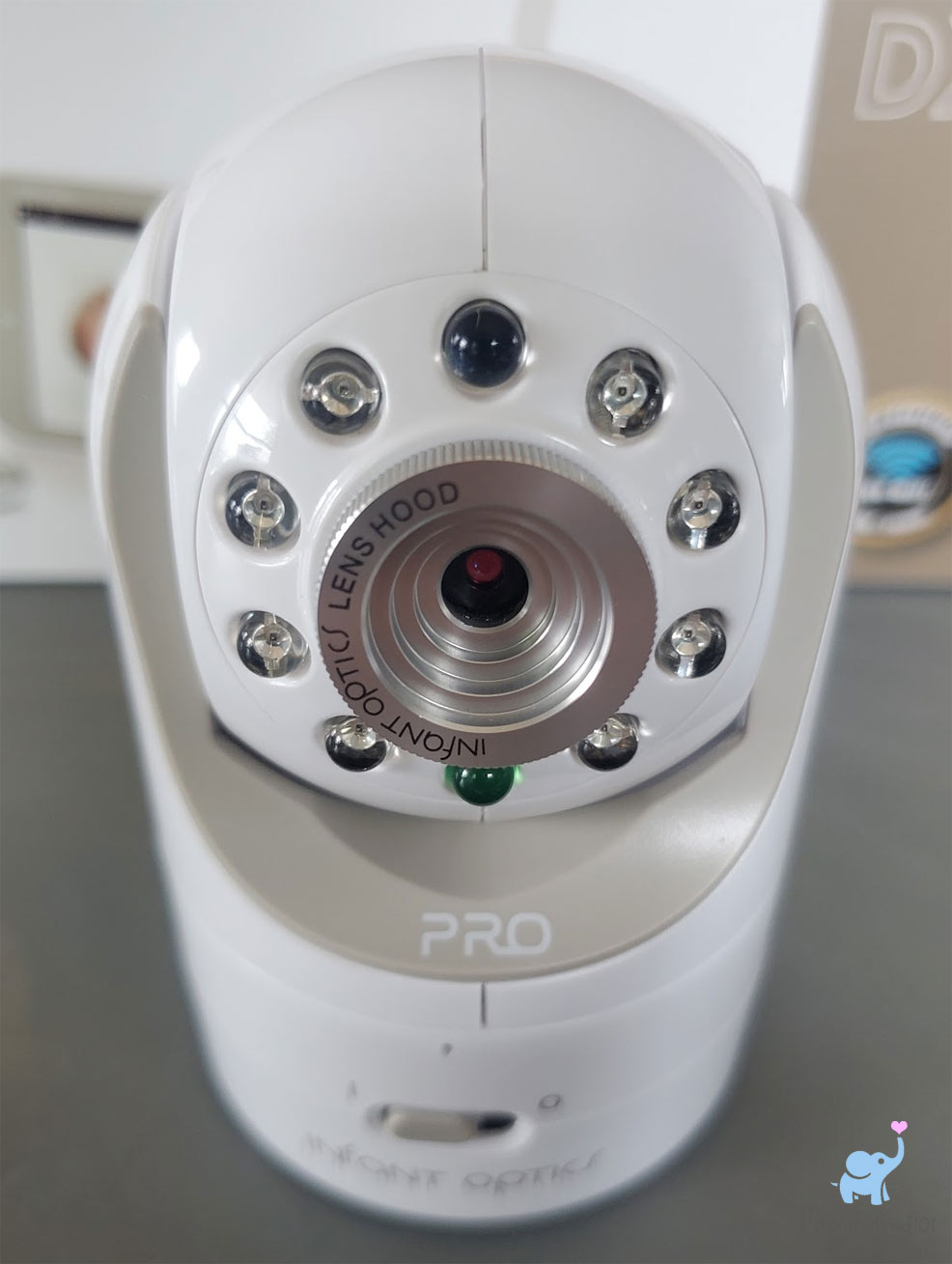 A few things to notice about this camera.
It has a power switch that allows you to temporarily turn off the camera. Maybe for privacy, maybe because you're going out of town. Either way, it's a great feature.
Another little perk is that the base of the camera unit includes a mounting hole that allows you to use the included screw and anchor to mount the camera to the wall.
Of course, the bottom also has a set of four rubberized feet so you can place it onto any flat surface near your crib.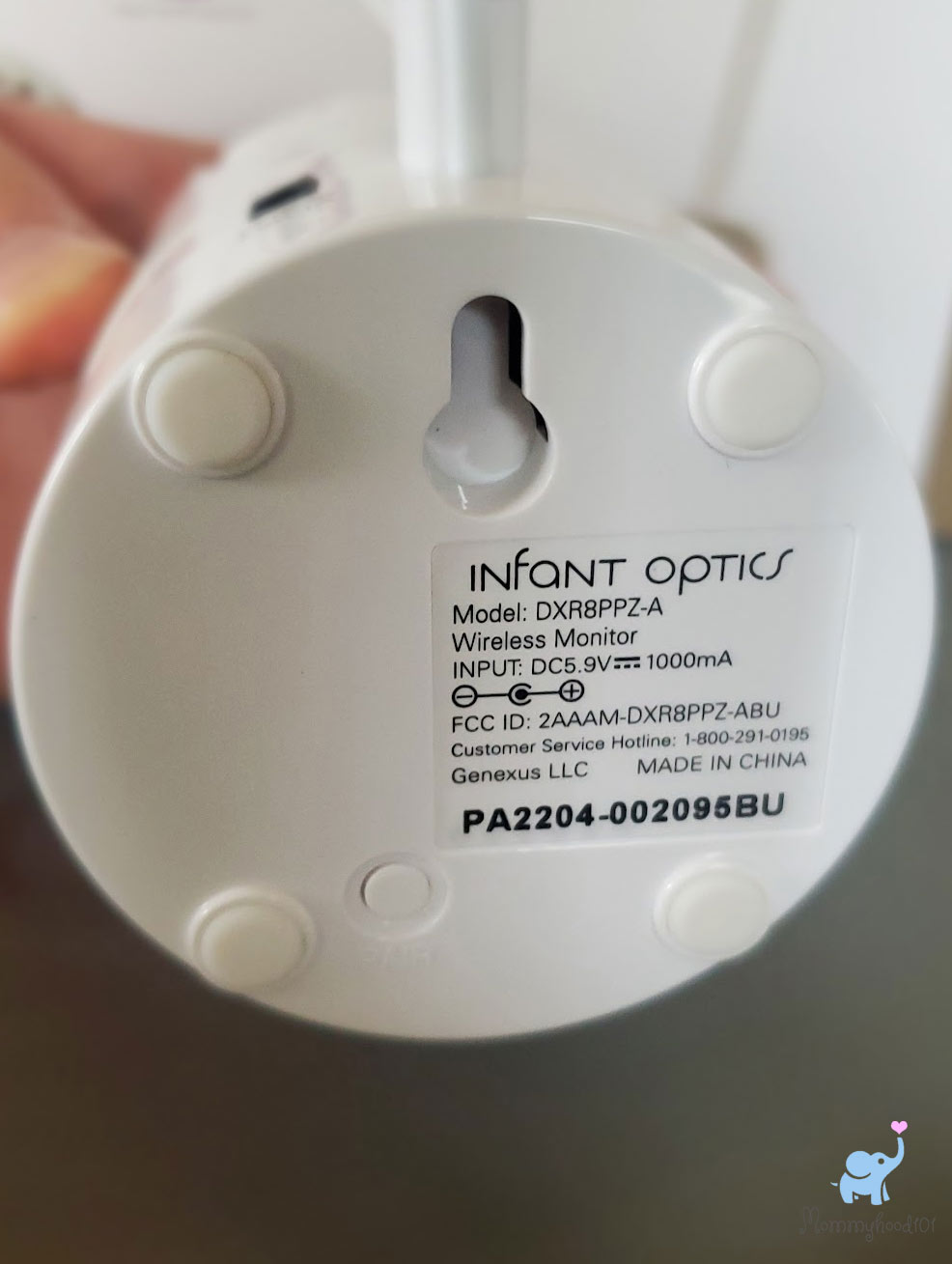 One thing that concerned us when we first started testing the DXR-8 PRO was the small green power light on the front of the camera (see photo below).
We were concerned that this would be too bright in an otherwise dark nursery.
However, we're happy to point out that this light automatically turns off when the camera unit is in the dark.
Nice work, Infant Optics!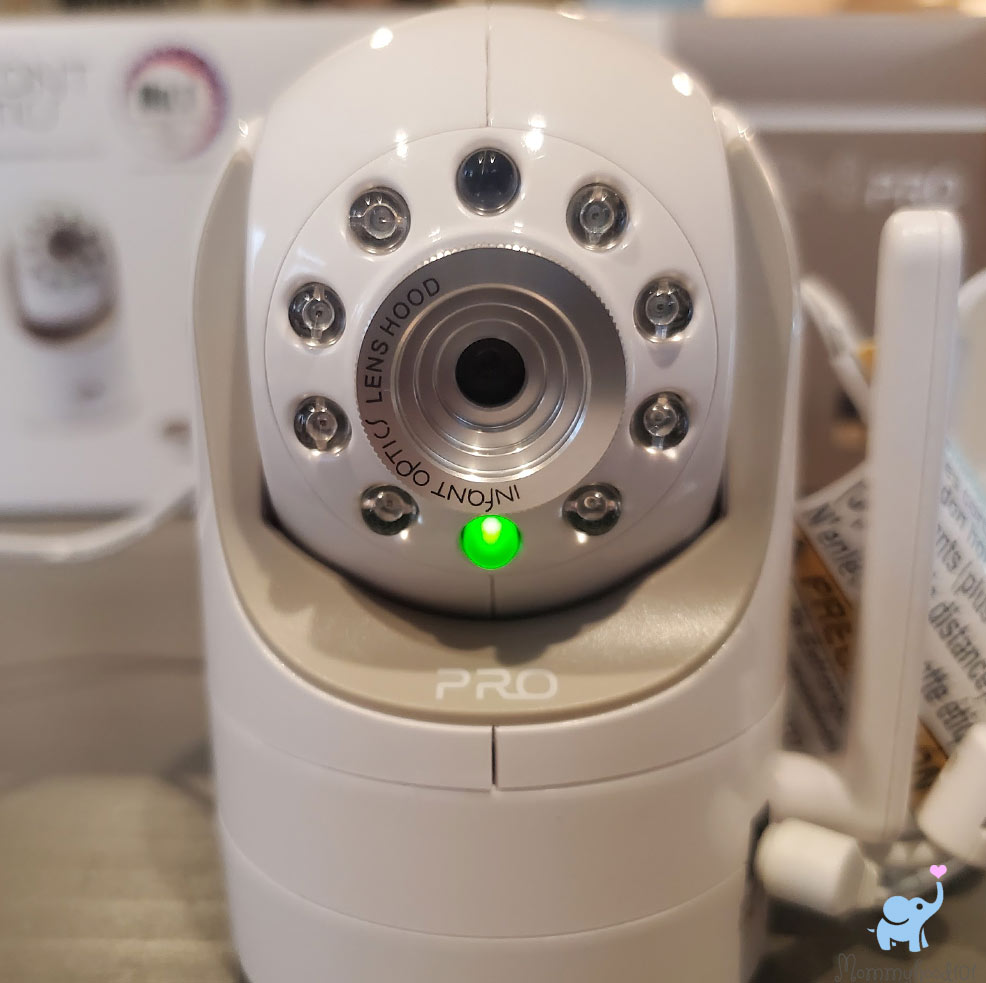 If you need to purchase additional add-on cameras for the DXR-8 PRO they are about $99 each (you can see them here).
Overall, the only thing that would be nice to have is a tripod mounting hole on the base of the camera. This allows for more flexible mounting options.
The DXR-8 PRO Reception & Signal Range
In our testing, we took the parent unit outside, upstairs (one and two levels), and across far corners of our house.
Overall, we estimate the outdoor range to be about 800-900 feet when there is nothing between the camera and parent unit (and the parent unit antenna is fully extended).
Indoor, we had absolutely no issues maintaining great signal reception. The device uses the typical 2.4GHz frequency band with frequency hopping spread spectrum (FHSS).
The FHSS provides superior connectivity and security, constantly hopping between frequencies over time to reduce interference and the ability to intercept its communications.
Overall, we think the DXR-8 PRO has great indoor reception across vertical and horizontal space.
Infant Optics DXR-8 PRO Baby Monitor: Cons
The DXR-8 PRO is truly impressive, and our list of cons is pretty limited.
First, it doesn't have any smart features such as:
Movement monitoring
Breathing monitoring
Smart alerts
Integration with Google Home or Alexa
Integration with your phone
But that's not the intent of the DXR-8 PRO, and any of those features would increase the price considerably. If you're looking for smart features, check out the Nanit and Cubo.
Second, we wish it had a split-screen capability to allow you to view two cameras simultaneously. We do realize that the camera cycling will be perfect for most parents, and that split screen view makes each video stream extremely small, but some do like having a split screen option.
Conclusions
We love the Infant Optics DXR-8 PRO. For parents looking for a traditional-style baby monitor with excellent features, reliability, and quality, we think this is the perfect option.
Overall, we give the Infant Optics DXR-8 PRO a 4.9 out of 5, the highest rating we've ever given to a baby monitor!
Interested? You can check out the DXR-8 PRO baby monitor here.