Kolcraft Pure Sleep Therapeutic Crib Mattress Review
We test out this comfortable and supportive crib mattress option from Kolcraft.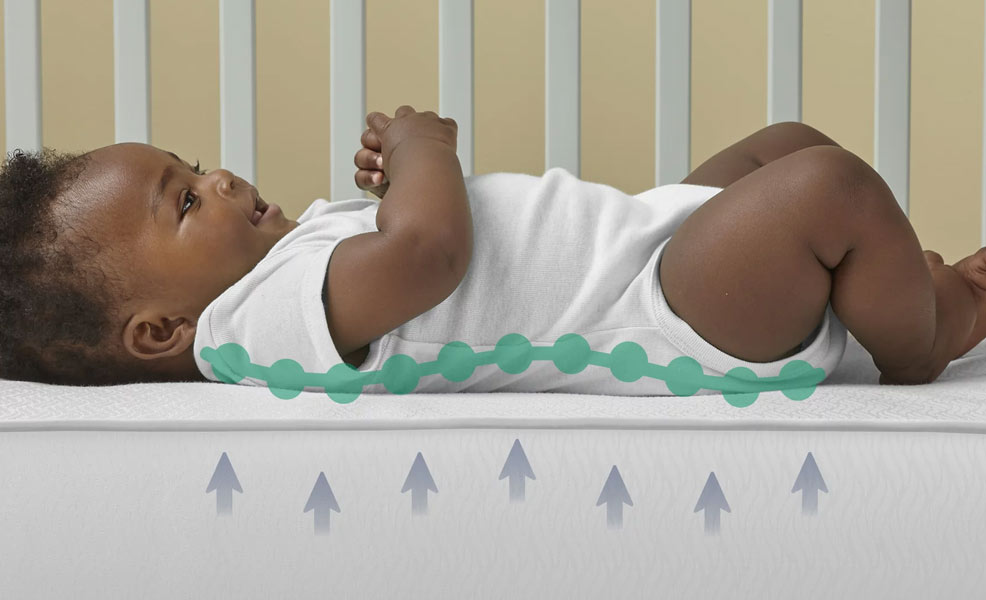 ---
Mommyhood101 independently tests and curates baby gear to help you make informed decisions. If you buy products through links on our site, we may earn a commission.
The Kolcraft Pure Sleep Therapeutic crib mattress is one of the cheapest crib mattresses on the market, offering a coil innerspring core, Greenguard GOLD certification, and sturdy construction for only about $65!
We put the Kolcraft Pure Sleep crib mattress through our hands-on testing and came away with a luke-warm impression. Rather than making you read through the entire article, here are the main things we liked and disliked about it:
✔️ Made in the USA.
✔️ Greenguard GOLD certified.
✔️ 150 innerspring coils.
✔️ Waterproof surface.
✔️ Vented core.
✔️ Fits crib tightly.
✔️ Polyester (no foam) batting.
✔️ No chemical flame retardants.
✔️ Ships flat!
✔️ Very well-priced.
❌ Vinyl cover.
❌ Coils can be felt through cover.
❌ No dual-firmness.
❌ A bit soft for an infant.
❌ Very bouncy.
While the Kolcraft Pure Sleep definitely isn't the best crib mattress on the market, it certainly has some decent bang for the buck!
Coming in at about $65, this is one of the cheapest crib mattresses you can get your hands on, especially with an innerspring coil. Overall, we give the Kolcraft crib mattress a 4.0 out of 5.
Click the below image to check prices at Amazon.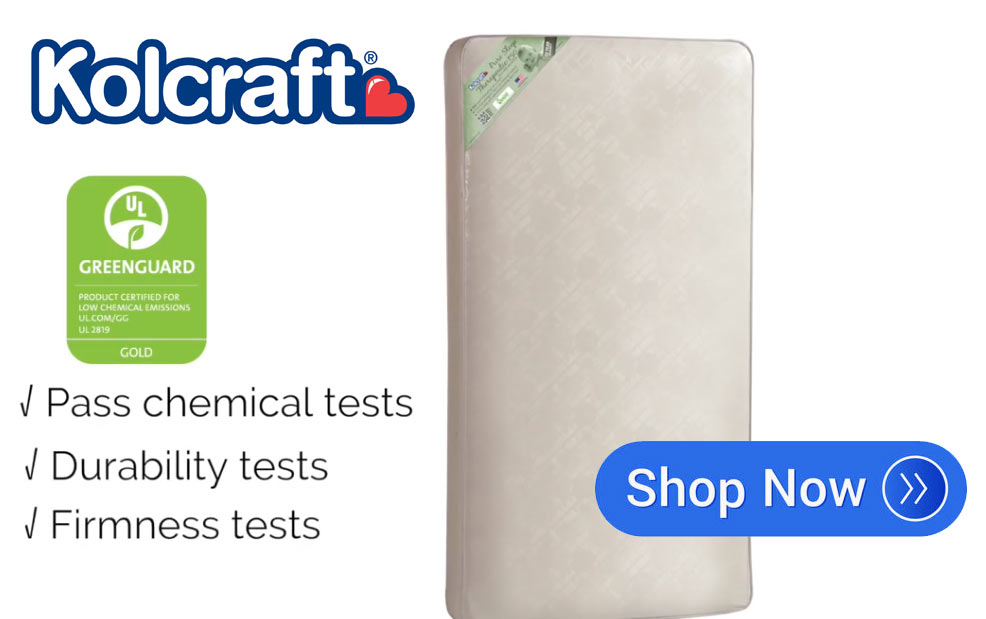 Want to learn a little more about this crib mattress? Keep reading!
Kolcraft Pure Sleep Crib Mattress Review
This top-rated U.S. made crib mattress is from one of the bigger baby gear companies, Kolcraft, which also owns Contours Baby.
Kolcraft also operates Sealy baby crib mattresses, which is the most widely used crib mattress brand in the country. Needless to say, they have some experience in this domain!
Kolcraft makes about 7 different crib mattresses (at the time of this writing). Most of them are coil crib mattresses, meaning that they use an array of innersprings to provide a durable and supportive core. They also have a foam crib mattress, the Kolcraft Fresh Start PolyFoam model.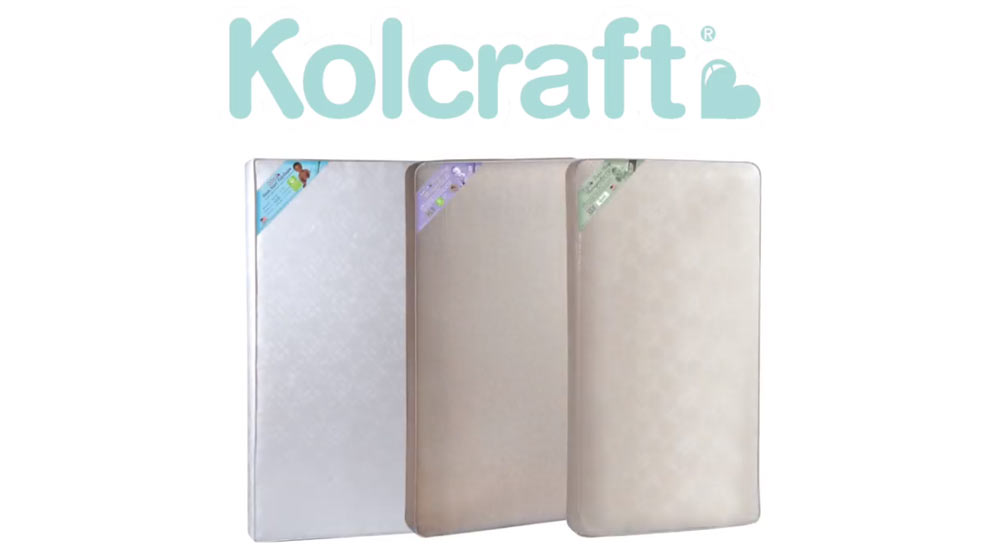 Kolcraft is well-known for offering baby gear at very competitive prices, and this crib mattress is no exception!
Coming in at only about $65, it's one of the cheapest innerspring crib mattresses we've ever tested. To be fair, we weren't really sure what we could expect to get out of a mattress with such a low price point.
But we were pleasantly surprised!
There are two Pure Sleep models, the Therapeutic 80 and the Therapeutic 150. The difference is the density of springs, with the Therapeutic 150 being higher density (150 springs) and therefore more comfortable (it's also about $10 more expensive than the 80).
For our testing, we checked out the Therapeutic 150.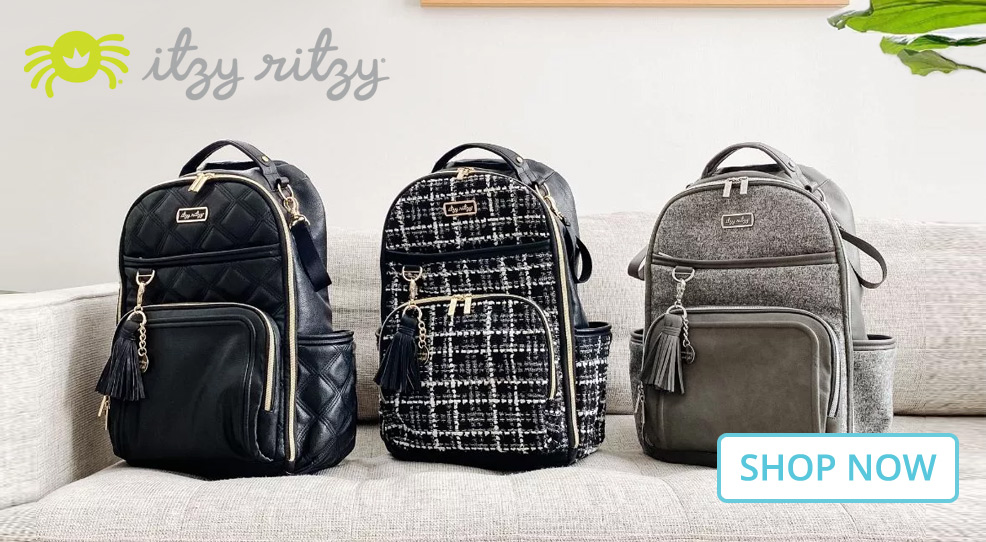 Out of the box (it ships flat!), there were a few things we noticed.
First, the cover is a traditional vinyl material, for better or worse. For better, it's waterproof and cheap. For worse, vinyl always contains some chemicals you may not want your baby's skin coming in contact with (though this one is phthalate-free). Vinyl also tends to get dried out and weaken over time, and might be a little noisy when your baby moves around on it.
Kolcraft says that the mattress uses a "Perma-Dri" waterproof cover. We did some research and found an old trademark registration suggesting that Perma-Dri is a spray-on silicone waterproofing chemical. It's unclear whether this is the same product, or if Kolcraft is reusing the (now expired) trademark.
Note that the cover is not removable, but it can be wiped clean. And it is definitely waterproof!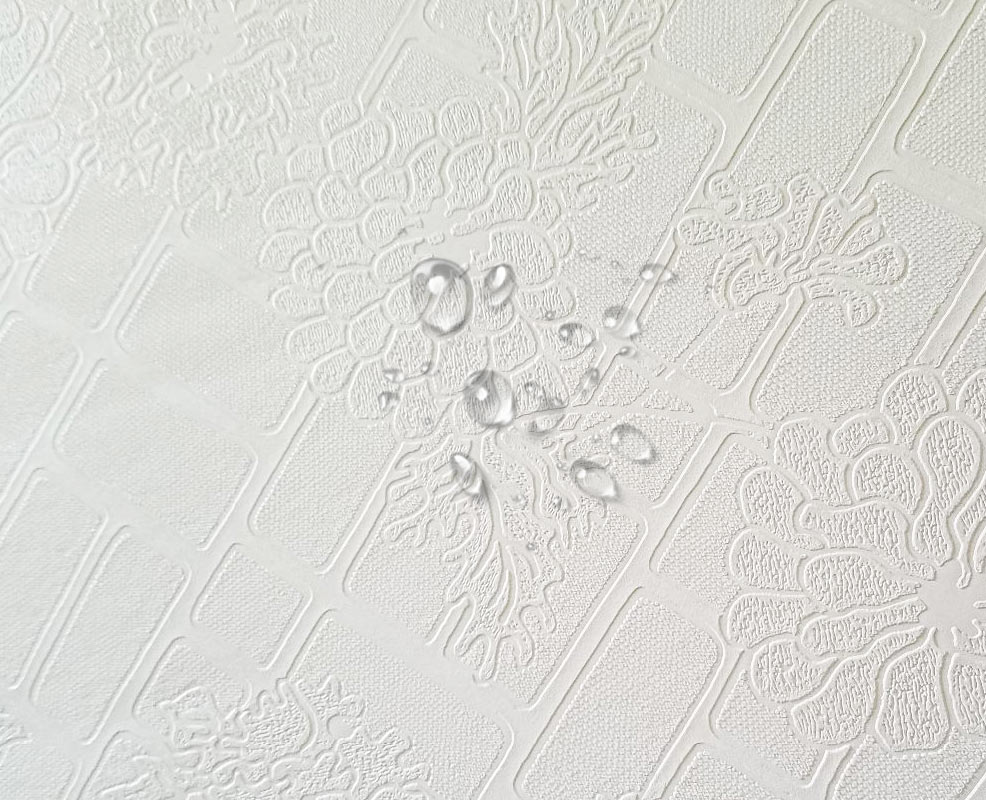 Second, the mattress did have some plastic odor. Not super strong but worth mentioning, and we know that mattress off-gassing can put some parents (like us) on edge. After about a week of airing out in the crib, the odor was undetectable.
We aren't worried too much about the odor given the Greenguard GOLD certification, which means it has relatively low chemical emissions.
Third, the mattress was relatively lightweight for an innerspring crib mattress, coming in at about 12 pounds. This is likely due to the use of thin gauge springs. So while there are 150 of them, each spring is relatively lightweight (more on that topic in the Cons section).
The next test was how well it fit into our DaVinci crib (see our reviews of the best cribs for some ideas!). Overall, the fit was very good.
The Pure Sleep mattress measures about 51.75" long, 27.25" wide, and just over 5" thick.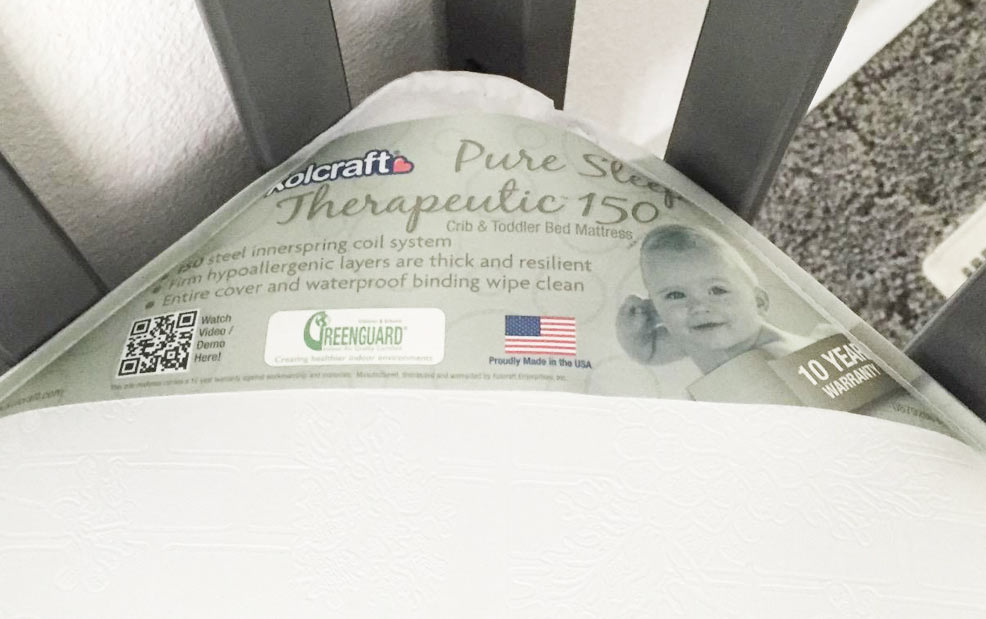 The general rule is that you shouldn't be able to fit more than 2 fingers between the side of the mattress and your crib's spindles. In this case, there was about one finger's width of space around the entire perimeter. Pretty good!
The entire mattress feels very sturdy and well-constructed.
To prevent moisture build-up in the core, there is a ventilation flap along the side to help increase airflow.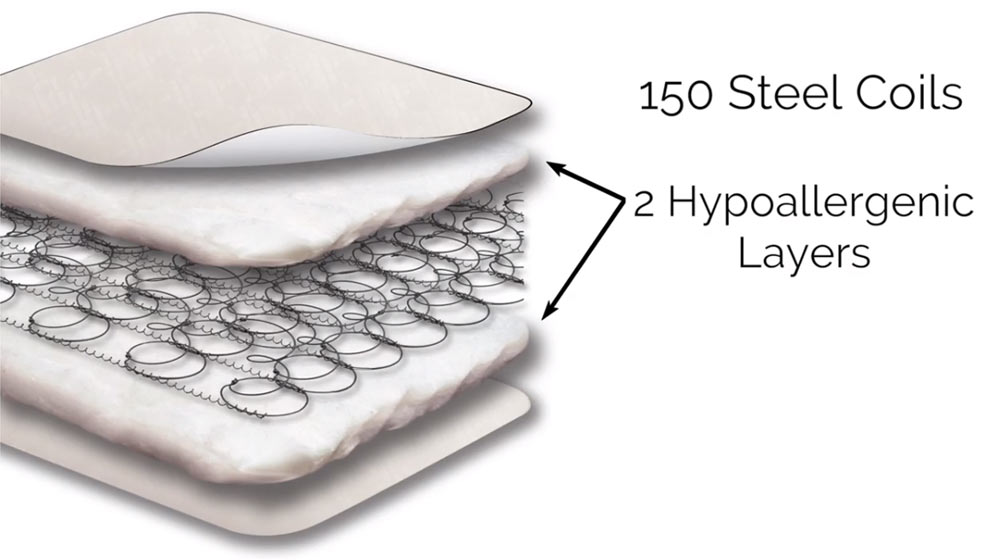 Speaking of the core, it doesn't use any foam, instead relying on a classic combination of springs and polyester batting. The cross-section above shows how the springs, batting, and cover are configured on both sides. We couldn't find much information regarding the batting other than the label reading "polyester fibre" and Kolcraft marketing it as hypoallergenic.
The mattress feels decently supportive, with a non-linear response to weight. Innerspring mattresses generally provide better support and airflow than foam mattresses.
The stitching of the seams was generally good quality. Personally, we prefer the traditional raised seams (like this) because they do a better job providing a last stopping point for a pacifier sliding off the mattress! It's the little things!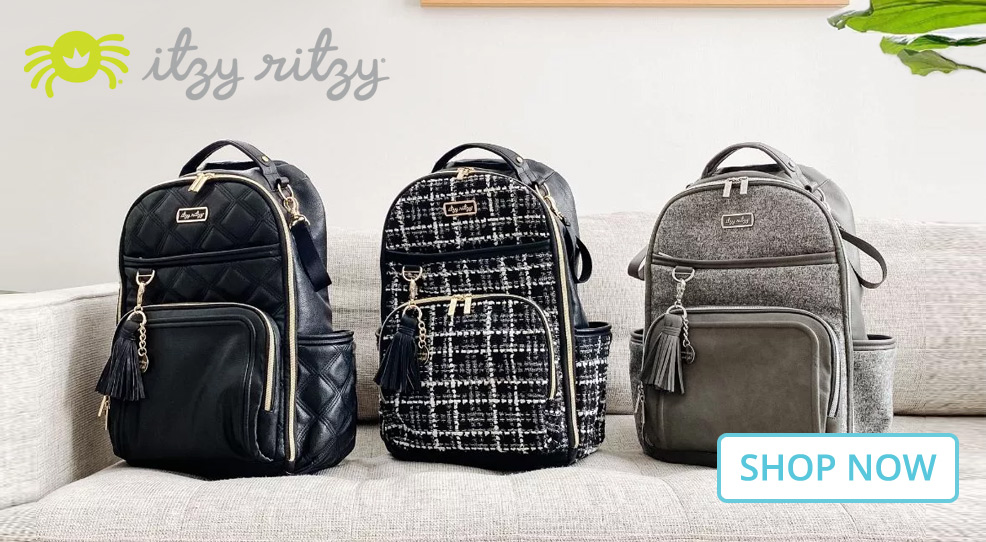 While the Kolcraft Pure Sleep is not a dual-firmness mattress, it does have a relatively firm surface making it appropriate for infant safety. Some parents prefer this type of construction because they can regularly flip the mattress over to prevent dents and sagging.
Overall, we think this is a good option and sufficient for families looking for a great deal on a coil spring crib mattress. Of course, we did encounter some considerable downfalls, detailed below.
The Kolcraft Pure Sleep Therapeautic 150 crib mattress is usually about $65 (check it out at Amazon), which is a very competitive price!
Colgate EcoClassica III Crib Mattress: Cons
While we were impressed with the overall mattress features, including its Greenguard GOLD certifications, reasonably lightweight construction, and waterproof surface, we also found some shortcomings.
First, because the cover is not removable or washable (and a little noisy), you will likely want to invest in a separate crib mattress cover. If there is ever an accident or spill you cannot simply remove and wash the cover or core. For a good crib mattress cover, this will run you another $50 or so.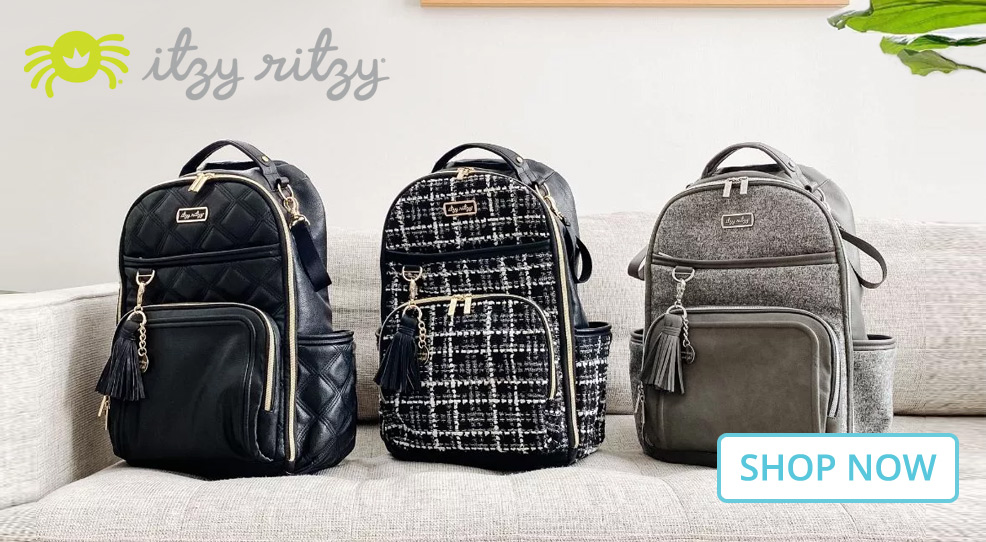 Second, when you push your hand down into certain areas of the mattress, you can sometimes feel the hard steel springs below the surface. They're not sharp or painful, but as your little one grows it might get a bit more uncomfortable. We can only imagine this situation is even worse with the lower-density coil array found in the Therapeutic 80.
There are also reports online that the springs can dislodge themselves from the core and end up poking out of the mattress (usually along the sides). This hasn't happened to us, but it does seem common enough to disclose here. Pocketed coils, such as those found on the Beautyrest Black are generally preferred but also more expensive.
Third, the mattress is extremely bouncy! Our toddler absolutely loved bouncing on this crib mattress, but not all parents will appreciate it as much as he did!
A few other small things: the off-gassing, the vinyl cover, poor edge support around the perimeter, the lack of dual-firmness, and the fact that the entire mattress feels a bit too soft for an infant (at least in our opinion).
To be fair, we're talking about a $65 crib mattress here, so some of these cons are totally understandable.
Overall, we give it a 4.0 out of 5, and think it offers some decent capability and quality at a reasonable price.
Interested? You can check out this Kolcraft Pure Sleep Therapeutic 150.